Best Dropshipping Websites, Suppliers & Dropshipping Companies For Everything You Need
by
Aleksandra -
Aleksandra teaches marketing and management at various levels in High School. She writes about marketing, the economics and logistics of the dropshipping business and ecommerce in general.
Chief of Content Marketing
Are you looking to start your own online business without the hassle of inventory management? Dropshipping might be the perfect solution for you. But with so many dropshipping websites, suppliers, and companies out there, how do you know which ones are the best?
If you're considering starting a dropshipping business, it's crucial to partner with trustworthy and reputable platforms.
To help you navigate through the overwhelming options, I have compiled a list of the best dropshipping websites, suppliers, and companies that cater to all your business needs.
Let's get to it!
What Are Dropshipping Websites?
In general, dropshipping websites are where your visitors come to browse your products. It's like a physical store if it were a brick & mortar business.
Making your dropshipping website look attractive, easy to navigate, and filled with awesome products is crucial if you want your customers to stay longer and hopefully purchase something.
In addition, there are other types of dropshipping websites that exist. Instead of a site where you sell your products, other sites are created to offer dropshipping services.
For example, there are tons of sites that integrate with your website to help you increase sales, streamline processes, automate operations, and so on.
👉 Check out Is Dropshipping Worth It In 2023? The Harsh Truth.
Lifetime deal: Get all-access to everything on Dropshipping.com
Access all DSCOM features, resources, courses, live workshops, discounts, winning products, weekly deep dives, directories and all future updates under all-in-one dropshipping HUB.
DROPSHIPPING IS A REAL BUSINESS, DON'T DO IT ALONE. 4553 MEMBERS ALREADY JOINED. YOU CAN PAY OFF YOUR SMALL INVESTMENT WITH JUST 2 SALES ON YOUR STORE.
Grab the deal before it's gone
Can You Dropship Without a Website?
Technically, no! You need a website that serves as a landing page where all your visitors come when they click on your ads.
On another note, you can use the Facebook marketplace or Instagram profiles to dropship but technically, these are still websites where your customers can come to buy your products.
👉 Check out my Shopline Review: Is It Worth For Setting Up A Dropshipping Store?
Best Dropshipping Websites to Learn the Business for FREE
First things first, you must consume knowledge about dropshipping and learn the ins and outs before starting your store.
Here are the best places to learn about dropshipping and go from beginner to pro quickly.
Shopify may be one of the dropshipping websites and a top eCommerce platforms of 2023, but it's also an amazing knowledge center that has helped countless dropshippers make a lot of money – for FREE!
👉 Check out Is Shopify Legit in 2023? +6 Common Shopify Scams.
Their list of resources is just incredible. It offers a wide range of resources and knowledge centers to help businesses succeed in their online ventures.
The Shopify Help Center is a comprehensive online resource that covers a wide range of topics related to setting up and managing a Shopify store. It includes step-by-step guides, tutorials, and FAQs to help users navigate through various aspects of the platform.
Furthermore, the Shopify Blog is a valuable source of information for e-commerce entrepreneurs. It features articles, case studies, and success stories from industry experts, providing insights and tips on topics such as dropshipping, marketing, design, SEO, and customer service.
What's more, you also have access to Shopify Academy, Shopify Community, Shopify Podcasts, etc.
👉 Read about Sellvia Review: How It Works and Is It Worth It In 2023?
Oberlo is just as reputable as Shopify and another amazing resource to learn about dropshipping. Plus, it is for FREE.
Their knowledge center isn't as massive as Shopify's but there are still many helpful articles. Therefore, on the Oberlo website, you can find various valuable topics about dropshipping, marketing, starting an online business, and more.
Plus, there are lots of success stories of large dropshipping companies to learn and get inspired from.
That's not all! you can also benefit from their blog, ebooks, podcast, and videos.
👉 Check out Oberlo Alternatives: How To Sell & Run Your Store After "Oberlo Era"?
The main goal of Dropshipping.com is to offer valuable knowledge to as many users as possible, all FREE of charge.
With this platform, you can get access to tons of articles on the most important dropshipping topics. Here you will find valuable "how-to-use guides", tips and tricks for success, all needed information for the dropshipping world, and more.
But, that's not all! They also offer you a free supplier directory with over 2000 vetted suppliers to choose from. Hence you can sort out your search based on dropshipping niche, supplier location, shipping costs, etc.
And, you will get valuable information about each supplier's pricing, processing time, MOQ, warehouse location, products, etc.
👉 Discover the 10 Best Dropshipping Suppliers in New York (2023 LIST).
Moreover, they also have a product directory, where you can get knowledge about each product's prices and profit margins.
You also have access to Ecommerce Glossary, Ecom Apps, success stories, etc.
👉 Check out Dropshipping.com 2.0 University – User Manual.
Not many people know about this, but Google has its own platform for educational podcasts.
Here, you can listen to free podcasts by experts and professionals in many fields.
So, simply type in "dropshipping" in the search bar and you can listen to hundreds of podcasts on how to start and scale your store.
5. Facebook (Groups)
You'd be surprised by the amount of valuable knowledge you can find in Facebook groups.
Most of the time, when people can't find something on Google, they come to Facebook groups for specific and expert knowledge.
For example, I am personally a member of a Facebook dropshipping group – Dropshipping.com. This way, I have access to thousands of members, many of which know tips and tricks you don't.
Hence, I find it very helpful because I can share experiences with other dropshippers, and get advice instantly. People are very friendly, so they text me in the comments or DM.
Best of all, it's all free!
AutoDS has a comprehensive hub of information and tools dedicated to helping businesses and individuals succeed in the world of e-commerce and dropshipping.
Hence, this dropshipping websites offers a wide range of resources that can assist users in understanding and implementing effective strategies for their online businesses.
What's more, one of the key features of the AUTODS Knowledge Center is its extensive collection of articles and guides. These resources cover a diverse range of topics, including product research, store optimization, marketing techniques, and customer engagement.
Also, you have access to their webinar, eBooks, podcast, etc. Plus, they also have a youtube channel.
In addition to written content, the AUTODS Knowledge Center also offers video tutorials. These videos provide step-by-step instructions on various aspects of running an online business, such as setting up a store, finding profitable products, and optimizing listings.
Best Dropshipping Courses (Free & Paid)
Without a doubt, a great way to learn any business is with a dedicated course. However, there are a few guidelines you need to follow before choosing a good course, especially when paying for it.
Make sure the creator of the course is an expert and has succeeded in the field
Always check course reviews and see if those who joined are satisfied
It's not always necessary, but it's great if you get some kind of certificate
Make sure that the course is being updated regularly
Having said all that, here are some of the best dropshipping courses you can learn a lot from:
1. Jack Bloomfield's eCom Uni ($80/month)
Jack Bloomfield started his dropshipping courses when he was only 12 years old, and is already a millionaire, mainly through running several dropshipping companies.
Thus, his course offers valuable information on the entire eCommerce business, not just dropshipping. It features a 5-day free trial and then requires a one-time payment of just under $200.
2. Scott Hilse's Simplified Dropshipping (Free)
Scott Hilse is an experienced dropshipper who's been running successful one-product dropshipping stores for several years.
His course features a highly detailed step-by-step process of creating a successful store that can scale well above 6 figures per month.
The course was a paid one for a long time and recently turned completely free.
3. Ethan Dobbins's Shopify Dropshipping Course ($74)
Ethan Dobbins is another young entrepreneur based in Miami.
He's built several 7-figure dropshipping brands, as well as an advertising agency that helps clients quickly scale to thousands per day in revenue with multiple dropshipping websites.
His course focuses on Shopify dropshipping and mainly AliExpress sourcing. It's perfect for beginners and only costs a one-time payment of $74.
4. Davie Fogarty's YouTube Channel (Free)
This isn't exactly a course but it's too good of an opportunity to let pass by.
David Fogarty is the founder of the Oodie, a multi-million dollar clothing business in Australia. Thus, his Youtube channel is filled with vast amounts of knowledge. It's one of the best places to learn about eCommerce without paying a single penny.
5. Rene Lacad's Branded eCom Blueprint ($49)
Rene is a millionaire college dropout who's built his success by creating various eCommerce brands and either collecting their profits or selling them for huge sums.
In addition, he recently created a simple and affordable course on how to build a dropshipping brand and scale it as high as you can. It's ideal for beginners and holds a lot of valuable knowledge.
If you want to learn how to make simple dropshipping websites and implement a great branding strategy, this is a great course to choose from.
Best Dropshipping Websites to Find Winning Products
As a beginner dropshipper, you must know that learning how to find a winning dropshipping product is crucial.
As a result, here are a few dropshipping websites that can help with this step of the process.
Niche Scraper is a simple tool that displays the current status of a dropshipping product. Thus, it scours online directories and finds some of the most popular and best-selling products at any time.
In more specific terms, Niche Scraper scans the top-selling items on AliExpress and Shopify stores. For Shopify users, there is also a convenient one-click integration option available.
What's more, the tool uses powerful search engines to extensively search the internet for successful products. It then generates reports and valuable insights to help you identify emerging trends.
Niche Scraper employs advanced technology to crawl e-commerce websites and extract data, enabling it to analyze trends and uncover truly profitable products.
Hence, this means that using Niche Scraper will provide you with comprehensive research insights, simplifying the process of finding lucrative dropshipping products.
➡ Key Features
So, some of the key features that this product research tool offers are:
Handpicked database of 100+ products
Real-time product scraper
Spy on successful dropshipping stores
Detailed product analytics
Links to top AliExpress sellers
Import unlimited winning products
➡ Pricing
Niche Scraper has two pricing plans:
Free – $0/month
PRO – $49.95/month
💡 Tip: Check out my Niche Scraper Review 2023: The Best Product "Hunt" Tool.
Sell The Trend is an invaluable resource for identifying successful dropshipping products that use advanced data-driven predictive dropshipping A.I. technology
Broadly speaking, it offers a wide selection of trending products, complete automation software for dropshipping, a robust marketing toolbox, and more.
Moreover, they have introduced Sell The Trend Shops, an ingenious new feature that guarantees users a fully prepared dropshipping store in just 5 minutes.
👉 Read my in-depth Sell The Trend Review: The All-In-One Dropshipping Tool.
➡ Key Features
Sell The Trend offers the following features:
Product Explorers
The NEXUS
Store Intelligence
Marketing Tools
Store Automation Software
USA Shipping
Success Academy
Tutorials
Facebook Course
Custom Stores
➡ Pricing
Sell the Trend offers two pricing plans starting at $35.97/month. Plus, they also offer a 7 Day Free Trial.
AliShark can help you find the best dropshipping products that AliExpress and Banggood have to offer.
Instead of going through hundreds of products and wasting dozens of hours, dropshipping websites like AliShark make this a lot easier.
➡ Key Features
Large and constantly updated database
Great product details
Excellent filtering
Real-time data scraping
➡ Pricing
You can start using AliShark for $1. Also, their pricing plan is $20/month.
👉 Check out my AliShark Review: The No.1 AliExpress Product Research Tool.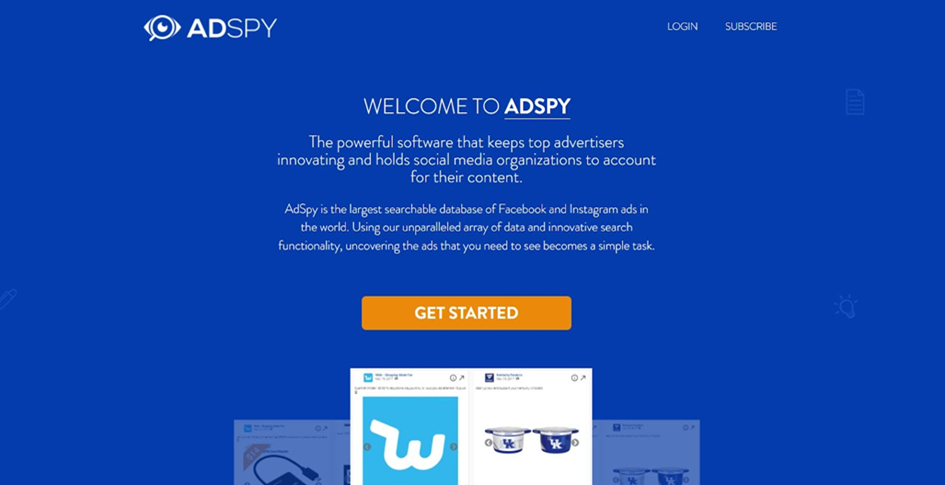 If you have a larger dropshipping budget, AdSpy is the best product research tool you can use to date.
👉 Here's my comparison: Dropispy vs Adspy for Facebook ads and product research.
Thus, it offers incredible features, advanced filters, and a colossal database to search from. It may be expensive, but it definitely works.
AdSpy boasts an incredibly vast database, providing insights into social media ad data from an enormous number of ads.
Furthermore, AdSpy is a trustworthy platform that presents essential data, enabling users to expand their store or identify profitable products to offer next.
Despite sifting through such extensive information, AdSpy remains a user-friendly tool that can be effortlessly mastered by anyone.
➡ Key Features
Massive Data to Search Through
Insanely Accurate Search
Enhanced basic search
Search through comments
Accurate demographics
Affiliate Search
Rapid interface
➡ Pricing
Adspy is a more expensive option than the others on my list. It costs $149/month.
One of the very first and best dropshipping websites I used back in the day to find a winning product was Ecomhunt.
Hence, there's a free version and a paid version. Both offer helpful details about each product, including buy price, sell price, profit margins, who are selling it, and much more.
➡ Key Features
Some of the key features of Ecomhunt include:
Product Research
Product Analysis
Profit Calculator
Facebook Ads Analysis
Supplier Information
Daily Product Hunts
Training and Resources
➡ Pricing
💡 Tip: Use this Ecomhunt review to learn all about how to use this tool in 2023.
DropiSpy is a great tool for product research that caters to both novices and seasoned users. It boasts user-friendly functionality and remarkable efficiency.
What's more, this tool possesses a continuously growing storage of countless dropshipping advertisements, enabling users to effortlessly discover lucrative products.
Furthermore, it offers remarkably supportive customer assistance, setting it apart from other product research tools in the dropshipping industry.
Likewise, DropiSpy stands out as one of the limited dropshipping product research tools that deliver real-time data.
➡ Key Features
Huge product database
A multitude of real-time data
Best Dropshipping stores ranking
Large Ad Database
Accurate Search and Filtering
Inspect Dropshipping Stores
Exceptional Ad Data
➡ Pricing
Dropispy offers three pricing options, starting from $29.90/month. And, they also offer a free plan.
Adserea is perfect for dropshippers. By using this platform, you get access to various features such as product research, compelling advertising, content creation for product descriptions, effortless product importing, and a wealth of insights and new resources for every niche.
Furthermore, the platform provides users with pre-written descriptions, video advertisements, targeted audience suggestions, ad content, competition statistics, and trend analytics for each product.
Additionally, Adserea offers ready-to-import files for Shopify. In addition to these features, they also offer a Facebook audience search engine to assist with targeting specific audiences.
👉 Read my FULL Adserea Review: Best Dropshipping Product Spy Software?
➡ Key Features
Daily Winning Products
Winning Product Analytics
Hand-Picked Winning Products
Live Products Spy
Store Finder
Store Analyzer
Audience Builder
Adserea BONUS features
➡ Pricing
Adserea offers three pricing options. Thus, the pricing depends on the number of months you subscribe for. For example, if you choose a monthly subscription, your pricing will be $19.95/month.
On the other hand, if you choose a 6-month subscription, your pricing will be $14.99/month, and so on.
Minea stands out as the most advanced solution for discovering successful products and advertisements.
Hence, it has garnered immense popularity among dropshippers, marketers, and influencers, thanks to its user-friendly interface, availability on multiple social media platforms, and affordable pricing.
Moreover, Minea's ad spy feature is unparalleled in the realm of dropshipping tools. Also, it boasts the most extensive collection of e-commerce ads for Facebook, Pinterest, and Minea Tik Tok ads, making it the ultimate ad spying tool.
👉 Check out my in-depth Minea Review: Find Winning Products & Spy On Ads For Free.
Additionally, it serves as a comprehensive tracker for product placements by influencers across over 30 markets on Instagram and Snapchat.
➡ Key Features
Minea Facebook & Instagram Ad Spy
Minea Influencer Marketing
Minea Tik Tok Ad Spy
Minea Pinterest Ad Spy
Minea Shops
➡ Pricing
This dropshipping website offers free and paid pricing plans. Hence, the pricing plans start at $49/month. 👇
Best Dropshipping Tools to Set Up Your Online Store
Next up, you need to choose a website where you can build an online store and import your products to.
Here are the top choices that the majority of dropshipping companies are using.
Shopify is among the most popular eCommerce platforms that feature a simple drag & drop editor to help you design your store.
It offers you the ability to effortlessly create an online store, complete with customizable themes, product listings, and payment options.
👉 Check out the Debutify Shopify Theme Review: Is Debutify The Right Theme for Dropshipping?
Also, you have the freedom to select from a wide range of both paid and free themes and can use the user-friendly drag-and-drop editor to personalize your store to your liking.
👉 Read about How To Change Themes On Shopify: A Guide For Dropshippers.
Additionally, Shopify enables users to create captivating product descriptions, add product attributes and images, and optimize SEO.
Moreover, Shopify seamlessly integrates with more than 100 payment gateways, including popular options like PayPal, making it simple for dropshippers to accept payments from their customers.
The most exciting aspect is that Shopify boasts an extensive app store with a vast selection of apps specifically designed to support dropshipping businesses.
💡 Tip: Check out the 18 Best Shopify Dropshipping Apps [Review & Comparison].
➡ Advantages of using Shopify:
No limit to product listings
Relatively affordable
Freedom to customize
No coding skills are required at all
➡ Pricing
Shopify offers three main pricing plans, starting at $32/month, and up to $399/month. Also, it offers a 14-day free trial.
In simple terms, WooCommerce functions as a WordPress theme and plugin that enables you to establish and oversee an online business.
Essentially, by integrating the WooCommerce theme into your WordPress site, you can promptly establish an e-commerce store.
👉 Read my FULL review about Dropshipping WooCommerce: Everything You Need To Know About WooCommerce Dropshipping.
Moreover, this plugin empowers you to create compelling landing pages for your online store, import products from various suppliers like AliExpress, and make necessary adjustments until you achieve desired outcomes.
👉 Check out the 20 Best Dropshipping Suppliers For Amazon In 2023.
Once your products commence selling, you can seamlessly manage order fulfillment through WooCommerce and ensure timely delivery to your valued customers.
➡ Advantages of using WooCommerce:
Easy integration with WordPress
Completely free to use
Extensive customization features
Various WooCommerce plugins
👉 Check out the Best WooCommerce Dropshipping Plugins for Your Store.
➡ Pricing
WooCommerce and WordPress are both FREE to use. However, there are still some costs associated with WooCommerce like, web hosting and domain registration, and they vary. For example, hosting can be something like $3.95/ month, or as high as $5,000.
Squarespace provides a variety of customizable templates that allow you to create a unique and professional website without needing coding knowledge.
Additionally, it offers a user-friendly interface where you can easily add and arrange content on your site. Moreover, you can register and use your own custom domain name for your dropshipping store.
Furthermore, this website builder has integrated eCommerce functionality, enabling you to directly sell products and services from your dropshipping store.
Not only that, but it also offers robust blogging capabilities, including post scheduling, content categorization, and integration with social media sharing.
Furthermore, Squarespace has a limited selection of integrations available and only supports 4 payment gateways: Stripe, Paypal, Apple Pay, and Afterpay.
Furthermore, Squarespace incorporates built-in SEO tools that help optimize your website for improved search engine visibility.
Additionally, you gain access to detailed analytics and reporting tools, social media integration, and exceptional customer support. Squarespace has a slight advantage with its built-in blogging feature, which can be valuable for maintaining an active online presence in your dropshipping business.
➡ Advantages
Excellent blogging features
Unlimited Storage
Easier to use and setup
➡ Pricing
This app offers four pricing plans, for which you can subscribe monthly and manually. Hence, for a monthly subscription, the pricing starts at $16/per month and is up to $49/month. This is very cost-effective. 👇
💡 Tip: Read my detailed comparison of Shopify vs Squarespace For Dropshipping – Which is Better in 2023
BiCommerce is an ecommerce solution that enables you to effortlessly create and manage your online store from any location with internet connectivity, eliminating the need to purchase web hosting or install any software.
This implies that it operates on its own servers, relieving you of the responsibility of server maintenance and the associated expenses. Instead, you simply pay a monthly fee to access the platform as a software-as-a-service (SaaS) solution.
Additionally, it provides customizable templates specifically designed to cater to the needs of all dropshipping stores, regardless of whether you specialize in physical or digital products.
Furthermore, BigCommerce offers a wide range of marketing tools to support the growth of your business.
Moreover, the platform is also an excellent choice for tech-savvy users and developers, as it grants you the ability to modify the HTML and CSS of your store.
➡ Advantages of using BigCommerce:
Excellent for SEO marketing
Easy to customize
A useful dashboard that's easy to read
Excellent scaling potential
➡ Pricing
BigCommerce has four pricing plans:
Standard – $39 per month
Plus – $105 per month
Pro – $399 per month
Enterprise – Custom pricing
eBay dropshipping involves selling products on eBay without the need to physically store inventory.
Instead, when a customer buys a product from you, you provide the order details to a third-party supplier who will handle the shipping directly to the customer.
Unlike traditional eCommerce, eBay dropshipping doesn't require any initial investment in inventory.
To begin with eBay dropshipping, you will need to identify profitable products to sell, select trustworthy suppliers, set competitive prices for your products, create listings on eBay, and share order information with your suppliers.
👉 Read about Dropshipping On eBay in 2023 – Pros, Cons & Tips for Beginners.
➡ Advantages of using eBay:
Very affordable
Lowest start-up investment
No need for marketing knowledge
Less time-consuming
➡ Pricing
Dropshipping on eBay has some costs associated with it. Hence, here I will list some of them:
The cost of selling a product on eBay generally falls between 10% and 13% of the total sale, which includes shipping expenses.
Shipping costs differ based on the size, weight, and destination of the item being shipped. Typically, standard shipping for items weighing less than 1 lb costs approximately $2 to $5 per order. However, heavier items usually range from $7 to $10 or more.
Sourcing fees typically range from 5% to 15% of the actual retail price of each item sourced from suppliers for sale on eBay.
The price range for purchasing a domain name can vary depending on the domain extension and the registrar used but typically falls between $10 and $50 per year.
Website hosting can range from $5 to $50 per month, while dedicated hosting can reach up to $500 per month.
👉 Also, are you interested in Walmart Dropshipping? Check out my Walmart Review.
Don't underestimate the power of Wix dropshipping, as this website has a tool and pricing plan dedicated specifically to eCommerce websites.
Wix is a user-friendly website-building platform that enables dropshippers to transform their online ideas into reality, without the need for coding expertise.
The platform provides a wide selection of customizable templates, easy-to-use design tools, and an extensive collection of apps and plugins to assist users in crafting a website that perfectly suits their individual requirements and desires.
Wix is also extremely affordable, offers the most freedom to customize your store, and includes seamless integration with lots of third-party dropshipping tools and payment processors.
➡ Advantages of using Wix
Ability to customize more website elements
Affordable
Unlimited product listings
➡ Pricing
Wix provides a range of pricing options for business and eCommerce purposes. These pricing plans begin at $17 per month and go up to $35 per month, making them highly cost-effective for individuals starting out.
Best Dropshipping Companies for Website Design
Sometimes, designing dropshipping websites can get frustrating, even with no-code platforms like Shopify.
As a result, you can try dropshipping companies that design gorgeous, high-converting websites for you.
Here are a few amazing picks.
Also, it doesn't leave any blank spaces on the canvas when it comes to creating high-converting and attractive WordPress dropshipping websites.
Dream Developer is committed to delivering exceptional services to their clients, offering a wide range of solutions including web design, development, and comprehensive digital marketing tactics.
Their expertise lies in developing top-tier WordPress websites for both businesses and individuals, all at an affordable cost.
Also, their team of skilled developers excels in creating bespoke WordPress designs that are visually remarkable and user-friendly, guaranteeing that your website not only exudes excellence but also operates flawlessly.
This service covers just about every feature and element dropshipping websites need.
➡

Main Features:
Easily customizable dropshipping websites
100% responsive design
Complete On-Page SEO
Live chat features
Email notification system
Multi-currency design
Highly secure websites
Facebook pixel and Google ads set up
Copywriting
Abandoned cart setup
Blog pages
Monthly auto backups
➡

Pricing

The cost of hiring a WordPress developer varies depending on the level of experience and expertise required.
2. CWD Agency
This dropshipping web design agency is known for its high-quality work yet remarkably affordable prices.
They are an innovative web design firm located in London and Middlesbrough, catering to clients globally with their web design solutions.
Hence, their expertise in web design extends to individuals, as well as small and medium-sized enterprises.
➡ Main Features
Web Design
Logo Design
Graphic Design
Digital Marketing
Mobile Apps
SEO Services
➡

Pricing

The pricing mostly depends on what your requirements are.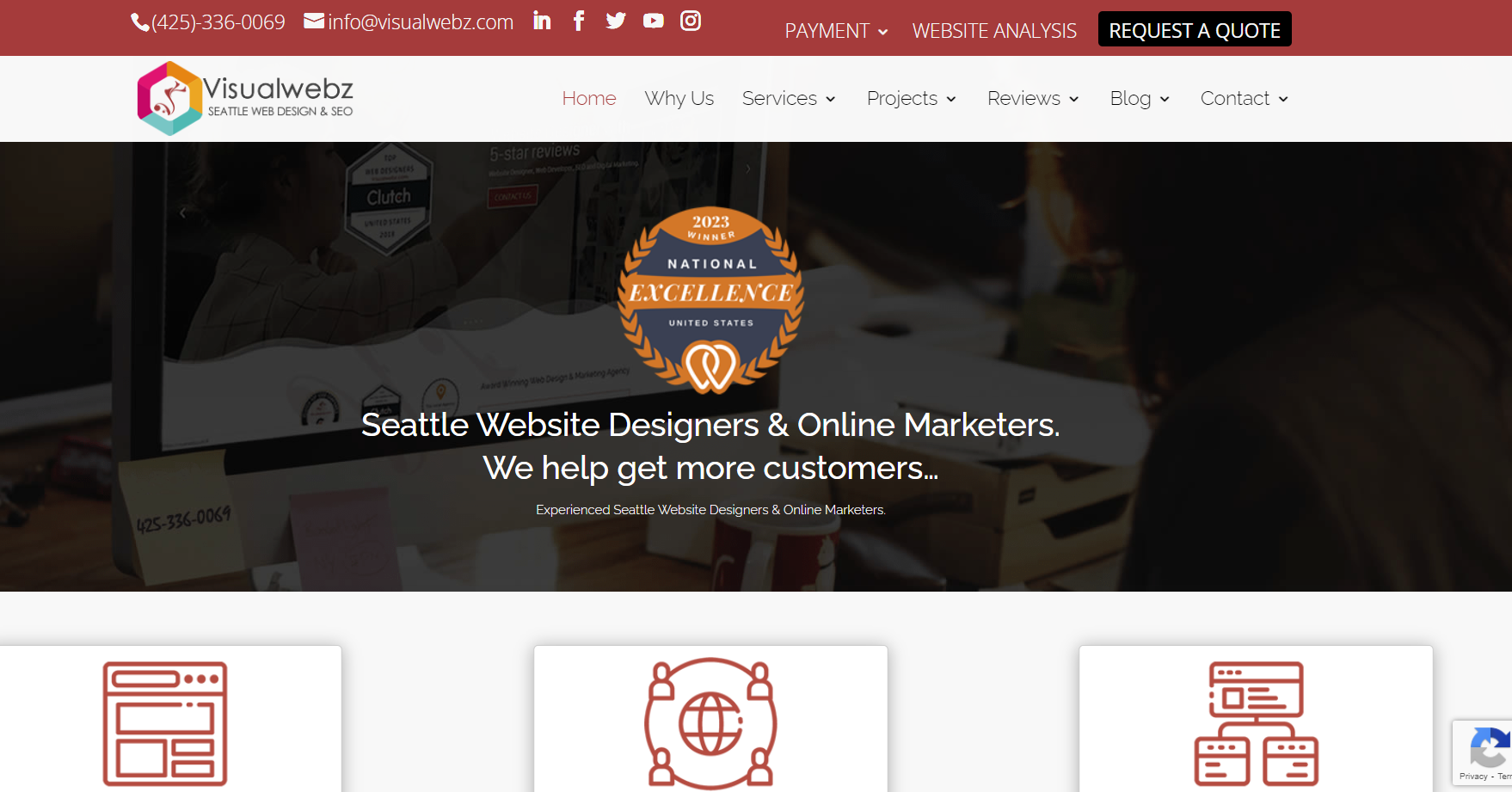 VisualWebz offers many custom website solutions, including a full eCommerce package containing all you need to run successful dropshipping companies.
➡ Main Features
Electronic payments setup
Web Development
WordPress
Web Design
Website Re-design
Maintenance & Website Repair
Web Support
Security & Maintenance
Search Engine Optimization
e-Commerce Solutions
Content Writing
Graphic/Motion
➡

Pricing
To find out about their pricing, it's best that you ask them for a free quote here.
Best Dropshipping Companies to Help Run Your Business
If you can't do it all alone, you can use dropshipping companies that help you with everything from the start. This includes finding products, setting everything up, and processing orders.
Plus, most of these services don't charge you upfront. You only pay a fee on every sale they help you make.

ShipBob is actually a 3PL company dedicated to helping dropshipping companies manage shipping, order processing, and more.
Also, specifically created to enhance your business's customer relationships. It provides expedited delivery services, enabling brands to achieve growth by delivering exceptional customer service.
Additionally, this solution seamlessly integrates with your existing online stores that are already in progress. Moreover, it offers businesses a hassle-free and prompt installation process, automatic updates, and reliable data backup for added security.
➡ Key Features
Complete inventory management, with picking, storing, packing, and shipping.
Inventory management tools that enable you to automate and manage inventory in real-time.
Warehouse management systems
Order management systems
Customer support
Returns management
E-commerce integrations
SLAs,
Support teams to provide the best fulfillment for your business.
👉 Check my ultimate ShipBob review.
Also, it easily integrates with most eCommerce platforms and offers an easy-to-use dashboard for managing daily operations.
Price: There are no pricing plans with ShipBob. You can get a custom quote when you contact them.
Pros: ShipBob can help you with order fulfillment, inventory management, analytics, express shipping, and order management.
Cons: It doesn't help you with marketing or getting more sales.
National Dropshippers is a platform that gives you access to US manufacturers and wholesalers for your dropshipping store. They have plenty of official partners who are ready to ship your orders.
Also, it is based in the United States and specializes in transporting a wide range of items such as luggage, smartphones, drinkware, and kitchen tools.
Furthermore, their products are known for their speedy delivery, making them one of the leading dropshipping suppliers with excellent service.
One of the key benefits of choosing National Dropshippers is that many of their US-based suppliers offer fast shipping, affordable pricing plans, and an extensive range of product listings to explore.
Price: They offer many flexible membership plans, all averaging at around $20 per month just in different ways to pay.
Pros: Plenty of their US local suppliers grant super fast shipping, relatively affordable pricing plans, and lots of product listings to browse.
Cons: This isn't the easiest platform to integrate with your online dropshipping store.
👉 Check out the 21 Best Dropshipping Suppliers In The USA [General + Niche].
Spocket is an online platform that offers a wide range of premium products from various suppliers worldwide, allowing you to effortlessly sell them. It serves as a bridge between dropshipping suppliers and merchants in the European Union and the United States.
Specifically designed for dropshippers seeking top-notch products, Spocket stands out from other dropshipping marketplaces due to its elevated pricing structure.
Moreover, this application seamlessly integrates with numerous e-commerce platforms, including Shopify, Wix, BigCommerce, WooCommerce, and more.
With just a few simple steps, you can establish your own dropshipping store and easily import and sell products sourced from suppliers in the United States, United Kingdom, and European Union.
Price: Spocket has five pricing plans, including a free one, a $39.99/month, a $59.98/month, a $99.9/ month, and a $299/month
Pros: Easy-to-use platform, high-quality dropshipping suppliers, help with finding winning products, amazing customer support.
Cons: Supplier costs can get quite high.
DSers won't run your dropshipping business for you but it can offer incredible help, resulting in a lot of money and time saved.
This platform lets you import, edit, and optimize hundreds of AliExpress products in an instant. It facilitates managing your entire store and lets you focus on growing your business.
➡

Key Features
Supplier Optimizer
Bulk Order
Bundle Products
Auto Sync Tracking Numbers
Auto Update Order Status
Stock Management
Price: DSers costs will vary depending on which platform you're using. All pricing models have a free plan and some Enterprise plans can reach up to $499 per month.
Pros: Fast bulk order processing, excellent product editor, automates some operations, the cheap plans are quite useful.
Cons: It doesn't feature too many integrations, only sources products and suppliers from AliExpress.
👉 Check out my comparison of Spocket vs Oberlo vs DSers vs AliDropship: Which One to Pick in 2023.
Now here's one of the best dropshipping companies that can run your business with little help from you once everything is all set up.
Inventory Source is a comprehensive solution that enables you to discover dropshipping suppliers and streamline your operations. This platform is highly regarded as a top choice for automating dropshipping processes.
Additionally, it serves as a robust tool for managing inventory and processing orders Plus, it grants you access to a wide array of suppliers and facilitates the automatic uploading of products to your online store.
Furthermore, it empowers you to effortlessly synchronize product data and inventory levels with over 25 e-commerce platforms, online marketplaces, and multi-channel management systems.
👉 For the sake of keeping things short, you can take your time with my Inventory Source review and learn how to use this tool.
Price: A $0 per month free directory account, a $99 per month Inventory Automation, and a $199 per month Full Automation.
Pros: It offers lots of ways to manage suppliers, automates various dropshipping operations, lets you track supplier inventory, and centralizes your business.
Cons: Extra services and supplier integrations can get expensive pretty fast with Inventory Source.
BlueCart aims to streamline your eCommerce business by completely taking order management off your hands.
From now on, every order that comes in is BlueCart's responsibility.
Price: A $10/month plan with a 5% transaction fee, a $200/month plan with a $1 transaction fee, and a custom Enterprise plan with lots of unlimited features.
Pros: Helps you find reliable suppliers, a very easy-to-use platform, super scalable, and also great for beginners.
Cons: Pricing gets expensive fast and it doesn't have a free plan.
Hence, it is a service dedicated solely to helping beginner dropshippers start and run their business.
Sup Dropshipping is a specialized service that assists sellers in discovering, procuring, and delivering a diverse range of products from China.
In addition to granting access to an extensive selection of products, Sup Dropshipping offers various supplementary solutions tailored to enhance your business management capabilities. 
For instance, with Sup Dropshipping you can get product sourcing, quality inspection, print-on-demand, logo engraving, and custom packaging, and more.
By taking advantage of Sup Dropshipping and its entire team of experts, you can kick off a successful dropshipping store for free and only then pay them a fee on every sale you make.
Price: Sup Dropshipping charges based on services and fees. Some services cost $5 per product, some reach up to $80. Either way, you pay after making a sale and you get help with every step of the process.
Pros: They offer many useful dropshipping services, you don't pay anything upfront, and prices are affordable.
Cons: Communication can sometimes get difficult due to language barriers.
👉 Check out the 11 Best China Dropshipping Suppliers [General & Niche Dropshippers].
Best Dropshipping Companies to Take Care of Your Marketing
Creating a bulletproof dropshipping marketing strategy is absolutely crucial in order to succeed.
If you don't want to do it yourself, here are some amazing dropshipping companies that can handle all of your marketing for you.
If you want to quickly scale your new store with mainly TikTok marketing for dropshipping, there's probably no better marketing agency to help you with this than Blue Ocean Digital.
It's a Miami-based company that's proven itself over and over to scale to over $1000 per day in under a week.
Blue Ocean Digital Services:
Advanced TikTok marketing strategies
Ad account management
Copywriting
Product research
Website building
Daily analytics and reports
Product testing and scaling
Winning offer creation
Inspiration: 100+ TikTok Bio Ideas For Your Dropshipping Business.
This is another marketing agency dedicated to helping only dropshipping companies.
Shopping Signals Services:
SEO for dropshipping companies
Content marketing
Conversion rate optimization
1:1 strategy sessions
Website audit
Copywriting
Veza Digital specializes in Shopify dropshipping marketing. Their team of Shopify and Digital marketing experts can handle just about everything around your online store to increase sales and traffic.
Veza Digital Services:
Facebook Ads
Google Ads
SEO
Outbound marketing
Graphic design
Web development
UX + UI design
PPC Marketing
Webflow Integrations
PPC for SaaS
Webflow Maintenance
Site Migrations
Short Video Content

COG Digital specializes in Google ads for dropshipping. Their marketing experts are highly experienced with using Shopify and using Google ads to scale beyond what beginners could do by themselves.
COG Digital Services:
Google ads
Content marketing
Social media marketing
Website development
eCommerce apps
Video creation
Linkedin ads
Email marketing
Analytics and user research
Best Dropshipping Automation Software
Dropshipping automation software is what you use to help manage your business. It takes care of boring, day-to-day tasks that are still crucial for a successful dropshipping store.
Here's a list of some of the best dropship automation software platforms and tools you can use to take your store to the next level.
FulfillMan is a fast and easy solution to getting all of your dropshipping orders sourced, quality checked, packaged, and shipped out.
It's one of the easiest dropshipping companies to work with, as the entire process is streamlined and features no complicated steps.
FulfillMan Services: Order processing, shipping, regular updates, product sourcing, branding services, private line delivery, and item bundling.
Price: You can get a free quote for your business with FulfillMan here.
FLXpoint is advanced dropshipping automation software. It's ideal for larger dropshipping companies that need to handle lots of orders and several other important operations.
👉 Check my in-depth Flxpoint Reviews: Dropship Automation Software for High-Volume Sellers.
➡ Key Features
Dropship & Marketplace Solutions
Distributed Inventory Management
Distributed Order Management
Multi-Channel Listing Management
➡ Price: If you want to learn the FLXpoint pricing, you must first request a quote.
Learning about SaleHoo can sometimes make the difference between becoming a successful dropshipper and not.
👉 Check out Salehoo Dropshipping: The Ultimate 2023 Suppliers Directory Review.
It's a highly rewarding dropship automation tool, supplier directory, learning center, and gathering place for dropshippers.
SaleHoo Services: Vast directory of vetted dropshipping suppliers, automation tools and software, educational content from experts, fast product importing, and a very helpful support team.
Price: Access to the SaleHoo supplier directory costs a one-time payment of $127. The dropshipping automation software has two pricing plans, costing $27/mo and $97/mo.
Cymbio is an easy-to-use dropshipping platform that automates the entire dropshipping process. It's an end-to-end service that assists with everything from start to finish.
Cymbio Services: day-to-day operations management, connects with most eCom platforms, amazing customer experience, diverse product edit tools, image editing, inventory updates, order automation, return management, etc.
Price: There's no public information about Cymbio pricing. You can find out how much it would cost by booking a meeting with them here.
Sellvia is one of the rare dropshipping tools that offer marketing guidance in addition to automation software. It helps you increase profits, manage your business, and find great products to sell.
👉 Read my in-depth Sellvia Review: How It Works and Is It Worth It In 2023?
➡ Key Features
eCommerce Platform
Turnkey Amazon Business
Turnkey Etsy Business
Turnkey Dropshipping Store
Vast product catalog
One-Click Import
High Converting design
Process Automation
Marketing Tools
Price: Sellvia features two pricing plans, one that costs $39/mo and the other $69/mo.
This dropshipping website is specifically designed for retailers currently conducting business with a revenue of $1M or higher. It is also suitable for those who have plans to achieve this milestone in the near future.
➡ Key Features
Brightpearl has the ability to centralize and automate nearly all aspects of your eCommerce or dropshipping business. Their range of automation services covers everything from basic order management to accounting, point of sale (POS), supplier management, and more.
The platform is accessible through a web-based Software as a Service (SaaS) model and is compatible with Desktops, Macs, and even iPad.
Also, they provide assistance through email, their own forum, a dedicated knowledge base, phone support, 24/7 live representatives, and chat.
Furthermore, you can gain comprehensive knowledge about using the Brightpearl platform through in-person training, webinars, live online training, documentation, and video tutorials.
 Price: Instead of offering official pricing plans, Brightpearl requires you to engage in a conversation with its experts to establish a price based on your specific needs, requirements, and objectives.
Best Examples of Successful Dropshipping Websites
If you want some inspiration, look at these amazing dropshipping websites that play a huge role in achieving success.
ColourPop is a beautiful and simple website. It has clear and rewarding offers, bright colors, easy navigation, and creative images.
It has a bit over 3 million monthly visitors, resulting in plenty of sales and a secure spot on the top dropshipping websites charts.
BALR. is a popular fashion brand founded by professional football player Demy de Zeeuw less than 10 years ago. It features unique clothing with very simple designs.
Their estimated monthly traffic adds up to about 94k visitors every single month.
MVMT Watches was a viral trend a while back but don't think that they're out of business. In fact, this brand is still quite popular.
With estimated monthly traffic of 744.6K visitors per month, I'd say they aren't doing too badly.
👉 Want to dropship watches? Check out the 10 Best Watch Suppliers and Products to Dropship [+Pro Tips].
Pura Vida is an online store that offers simple, elegant, and high-quality bracelets, rings, clothing, and other accessories. They have a massive product catalog with lots of unique items.
Pura Vida Bracelets receives an impressive number of monthly visitors – around 1.4 million.
Allbirds is yet another fashion brand. If you've ever wanted to learn how to start a dropshipping clothing business, it seems now would be a perfect time.
This store sells unique clothing. It's what sets them apart from many other clothing stores. As a result, Allbirds receives around 6 million monthly visits on average.
GymShark is a well-known fitness clothing maker and e-commerce business headquartered in the United Kingdom. Also, it is known as one of the leading companies using the Shopify platform.
With a substantial social media following and a customer base with over 130 nations, GymShark has positioned itself as a significant player on the global stage.
Additionally, GymShark has over 9.6M visitors per month.
💡 READ: Fitness Dropshipping: Best Fitness Dropshipping Suppliers, Top Fitness Niche Products & Store Examples.
Best Dropshipping Websites for Payment Processing
The best payment processors for dropshipping websites are the ones with the lowest fees, easiest integration, and availability in most countries.
Let's see which ones make it on this list.
It's no surprise that PayPal would be the first to pop up. However, it's not without reason.
Here's why:
PayPal supported countries: 200+
eCommerce platform integrations: Shopify, WooCommerce, Ecwid, eBay, BigCommerce, etc.
PayPal transaction fee: 3.49% + fixed fee
Accepted currencies: 25
Stripe is another US-based payment processing company that offers a diverse list of features and benefits.
Reasons to use Stripe:
Stripe-supported countries: 46
eCommerce platform integrations: Shopify, Wix, 3Dcart, BigCommerce, WooCommerce, etc.
Stripe transaction fee: 2.9% + $0.30 per transaction
Accepted currencies: 135+
2Checkout can be a lifesaver for dropshippers who live in countries that do not support PayPal, Stripe, or other bigger payment processors.
Reasons to use 2Checkout:
2Checkout supported countries: Every country on Earth, except North Korea, Cuba, Sudan, Iran, Syria, and Myanmar.
eCommerce platform integrations: 120+ carts
2Checkout transaction fee: 2Sell: 3.5% + $0.35 per transaction. 2Subscribe: 4.5% + $0.45 per transaction. 2Monetize 6.0% + $0.60 per transaction.
Accepted currencies: 101
Skrill is an online payment solution that integrates easily with a secure API, offers quick checkout, and supports plenty of countries and currencies.
Reasons to use Skrill:
Skrill-supported countries: 120
eCommerce platform integrations: 23
Skrill transaction fee: up to 4.99% per transaction
Accepted currencies: 40
Last but not least, Authorize.net is another great eCommerce payment solution that offers much more than just a great checkout experience.
Reasons to use Authorize.net:
Authorize.net supported countries: Everyone within the US, Canada, Europe, Australia, and the UK.
eCommerce platform integrations: 145
Authorize.net transaction fee: 2.9% + $0.33 per transaction
Accepted currencies: 13
Best Dropshipping Suppliers Based on Popular Niches
We've seen some of the best websites for dropshipping and companies to take advantage of, but none of that will be meaningful if you don't find the perfect supplier.
As a result, we've collected a list of some of the most reliable dropshipping suppliers within a range of trending niches.
Printful – ideal if you want to print your own clothing and apparel and sell it directly to your customers.
Shewin – is a great dropshipping supplier if you are looking for high-quality clothing, shoes, and accessories at very affordable prices.
Royal Apparel – find premium clothing and shoes from this supplier based in the US. They feature fast processing time and mid-priced products.
Annamar Clothing – is another respected clothing and shoe supplier that ships worldwide.

Minden Intl – Minden can help you Source and store products, Pick and pack them, and send them to your worldwide customers according to your orders. From product sourcing, warehousing, branding, quality check, pick and pack to dropshipping, we work as your one-stop dropshipping agent in China

Loomes Apparel – offers leading services including custom clothing vendors in the USA along with cut & sew clothing manufacturing services to private labels.

👉 Check out Shopify Clothing Stores: Top 10 Examples For Dropshippers [2023].
Koehler Home Decor – US-based supplier with amazing shipping prices, fast processing times, and unique products within the niche.
Cooper Classics – specializes in unique wall clocks and mirrors, has excellent customer service, and very fast order processing.
Bird Dog Lighting – sells some of the most high-quality home decor and lighting products worldwide. A great chance to enjoy high-profit margins with their premium products.
MyDepot – My Depot offers more than 10.000 products from home organizations, including furniture, home organizations, lighting, kitchen & tabletop, outdoors, and more.
Ashcroft Furniture – it is a Texas-based wholesale furniture supplier that specializes in modern and contemporary furniture. They sell everything from sofas, chairs, and tables to beds and TV stands.
👉 Check out the 11 Best Home Decor Wholesale Suppliers in the USA.
Chinavasion – ships worldwide and features a huge product catalog. It's based in China and offers around 4-7 day processing time.
MegaGoods – this is another verified supplier with 1 day processing time, decent shipping costs, and lots of high-quality products to sell.
CWR Electronics – based in the US, offers worldwide shipping, affordable products, 1-day average processing time.
Sunsky – Sunsky is an online B2B and B2C platform based in China that offers a wide range of electronic and other consumer products at wholesale prices. It fulfills and delivers thousands of orders to consumers in over 200 countries daily.
VidaXL – is a dropshipping supplier based in Venlo, the Netherlands. It is a dropshipping program by vidaXL, an online retail giant that specializes in home and garden furniture at an affordable price.
👉 Discover the Top 10 Electronics Dropshipping Suppliers To 10x Your Sales.
BellaHair – sources hair extensions, wigs, frontals, and more hair products from one place.
Lotus Light – a gold mine filled with countless health products. Everything from natural cosmetics, skincare products, healthy foods, and much more.
👉 Check out the Top 11 Best Health and Beauty Dropshipping Suppliers & Trending Products.
💡 Tip: Learn How to Sell Perfume Online via the Dropshipping Model.
Deltech Fitness – a fitness equipment supplier and distributor based in the US. Expect all products to be shipped within two days max.
Vitalabs – source high-quality health and fitness supplements for general or niche dropshipping companies.
FitnessZone – FitnessZone is one of the best US fitness dropshipping suppliers. With brands like Kettler, Ab Coaster, Body-Solid, and others have dropshipping options on a global scale. Also, free shipping is available for specific orders, and users may trade with used equipment.

Deltech Fitness – it is a Kentucky-based fitness equipment supplier and distributor, offering dropshipping services only in the U.S.

The majority of their products are shipped within two business days. However, bulk items take around 3-7 business days, due to size. Moreover, their product costs range between $100-500.
Turn14 – one of the best dropshipping websites filled with premium auto parts suppliers. You can find almost any product here from various suppliers.
Wheel Pros – sell premium wheels, tires, suspensions, and accessories. Allows you to set high-profit margins that you can firmly stand behind.
AIM Wholesale – is one of the biggest auto part supplier dropshipping companies out there. Features everything from car accessories, lights, safety products, and more.
👉 Check out the 10 Best Auto Parts Dropshipping Companies, Wholesalers, And Suppliers.
ZooDrop – dropship high-quality pet supplies from this European dropshipping supplier. It's perfect for targeting European customers.
K9 Bites – if you want your customers to spoil their pets with fun toys, delicious treats, and more then this is an amazing pet products supplier to work with.
Pet Stores USA – this is a supplier with streamlined services designed specifically for dropshippers of pet products.
👉 Check out the Top 10 Pet Dropshipping Suppliers & Products [2023 UPDATED].
BrandsGateway – offers premium clothing products from famous brands. You also get premium product images, premium service, and products that can easily back up high-profit margins.
Griffati – get affordable prices on designer clothing from over 300 exclusive designer brands. Griffati also offers fast shipping and amazing customer service.
Nordstrom – features various dropshipping luxury clothing suppliers all in one place. You get to pick from a lot of different products, prices, and suppliers as well.
Join the only community and resource hub you'll ever need to succeed with dropshipping
Find winning dropshipping products, learn marketing, download templates and engage with real dropshippers
Never pay for a "guru's" course again. See why 4543+ dropshippers joined us this year!
💡Try DSCOM Hub Now
Summary
Make sure you save this article saved in your bookmarks. Why? 
It will most likely come in handy whenever you quickly want to find some useful dropshipping websites or companies for the benefit of your business.
You have it all here. The best websites for dropshipping automation, finding suppliers, choosing products, learning about the business, shipping companies, payment processors, and the list goes on.