If you are looking to skyrocket your conversion rate and boost sales, you need a high-converting ecommerce landing page.
So, grab a cup of your favorite coffee and read the rest of this article. It is well worth a few minutes of your precious time. And yeah, we mentioned coffee, so why don't you check our Free List of Coffee Suppliers?
What makes a great ecommerce landing page?
First things first, an ecommerce landing page is a standalone web page, designed specifically to improve your marketing strategy and persuade visitors to act on an offer.
That's to say, it is the page someone "lands" on when they click on a link (e.g., when they click on your online ad on Google.)
So, if a visitor does not find what they are looking for on the page, they will probably click away and look elsewhere.
Now that you know the definition of the term, let's talk about what makes a great ecommerce landing page.
When it comes to dropshipping, landing pages definitely matter. Therefore, you must understand what makes a great dropshipping landing page and how to avoid the most common ecommerce mistakes.
We will give an example of what a good landing page includes to help you better understand what we mean.
Let's suppose that a girl has an upcoming birthday celebration and likes to buy a new stunning dress. And she searches on Google for "Best special occasion dresses". In the Google search results, she clicks on a link with the title "Special occasion dresses for a memorable night".
When she lands on the page, she sees a headline that matches the ad ("It is your day to shine! You deserve a unique dress." There are also high-quality photos of beautiful dresses on the page and a CTA button offering a promo code for a 15% discount.
Furthermore, the landing page also includes subheadings emphasizing the dresses' benefits and testimonials from existing customers.
As you can see, this ecommerce landing page offers exactly what the girl was looking for. And that's why she can't help but click the CTA button, i.e., buy that dress.
BONUS: Learn Dropshipping for FREE (Top ecommerce blogs)
Find your next winner in less than 5 minutes
Find your first winning dropshipping product. No credit card required. No commitment.
USE COUPON: DROPSHIPPING30 and get a 30% discount immediately
Start for €0
Different types of landing pages
In fact, there are different types of landing pages. Namely, an ecommerce landing page created for first-time visitors that just want to become familiar with the brand is different from a page created for existing customers.
In a nutshell, as a dropshipping store owner, you need to create different landing pages for different marketing campaigns, ranging from increasing brand awareness to turning existing customers into repeat buyers. And remember that each page has a different goal.
So, you need to create four types of dropshipping landing pages such as:
1. Top of funnel landing page
Though many dropshipping businesses put most of their efforts into their home pages, there is a good chance customers might arrive on this landing page instead.
This dropshipping landing page may be your new visitor's first experience with your brand. This is the reason why it is so important to get it right.
And it should include things like:
• Your brand story to build a connection with your audience;
• Solutions; (Explain how your dropshipping products can solve your visitors' problems.)
• Social proof to show that other people have bought and found value in your product.
2. Mid-funnel landing page
This ecommerce landing page is created for those that have visited your dropshipping site but have not made a purchase yet. Moreover, they know who you are and what you sell but are unsure whether they want your product or not.
So, this page should include things like:
• Content revolving around a specific product; (For instance, if you are selling a smartphone, you can create an engaging headline like, "Perfect. Inside and Out.")
• Limited time offers to make your visitors hurry up, buy now, or place their orders fast; (For example, you can write something like, "Get Early Access Deals with 20% Off in the Next 60 Minutes.")
• A CTA button with the text "Buy Now";
• Social proof.
3. Bottom-funnel landing page
This page is created for those that have visited your site, and added a product to their shopping carts but left your site before completing the purchase.
It is important to understand that those visitors are already in a buying mindset. So, it would be wise to try to close the deal first and then offer them additional items.
Make sure to add the following things to this ecommerce landing page:
• Content revolving around products that are typically complementary to the first product; (Yeah, we are talking about adding something like, "Frequently Bought Together.")
• Bundle offers; (For example, you can create a bundle offer like, "Buy one get two.")
• Discounts related to cart abandonment like free delivery;
• A CTA button with something like, "Make Your Order Complete."
4. Customer retention landing page
The goal of this ecommerce landing page is to keep your existing customers coming back to your dropshipping store.
As the content of this page is primarily intended to target your existing customers, it is not necessary to put too much importance on what your business is about. Your existing customers already know who you are and what you sell. Thus, you need to strengthen your connection with them and encourage them to buy from you over again.
Ensure this page includes:
• Promotions;
• Top-selling or best-performing dropshipping products;
• Category pages featuring products based on what your existing customers have bought previously;
• Customer loyalty, rewards, or referral programs (e.g., discount coupons and rewards);
• A CTA button with something like, "Refer a Friend. Enjoy 15% Off Your Next Purchase."
5 must-know tips for designing a high-converting Ecommerce landing page
With a dropshipping landing page, less is more. Remember that your landing page should be more actionable than educational.
DON'T MISS: 10 Ecommerce Trends for Shopify Themes Design.
So, here are a few general dropshipping tips on how to design a high-converting dropshipping landing page, regardless of whether your aim is to attract new customers or retain the existing ones:
1. Create a simple, attention-grabbing headline
There is no doubt that your headline is the first thing your visitor notices when they land on your page. That's why it is imperative to make a great first impression with your headline. You would better do so, otherwise, your visitor will leave the page.
A short, eye-catching headline will grab the attention of your visitor or customer without distracting them. Moreover, it will entice them to stay on the page.
Therefore, when creating your headline, be as specific and clear as possible. Limit the number of words to only the most essential description. And make sure your headline concisely communicates the value of your offer.
Simply focus on your headline and a short descriptor. Both must speak to what you are offering and how it can improve your visitor's life. Needless to say, your headline must match the rest of your campaign.
2. Add one clear CTA button
If you display multiple CTA buttons, it will reduce the power of your ecommerce landing page. This is why you need to give your prospective or existing customers only one or two options to focus their attention on.
Plus, ensure your CTA button is large. You also need to use eye-catching colors that stand out from the background of your page.
3. Upload one high-quality background image
Obviously, many elements play an important role in creating a high-converting dropshipping landing page. Selecting the right images is one of the most crucial aspects of that process.
Your page should be visually enticing and look professional. In addition, your images should convey that your dropshipping business is reputable and trustworthy. Therefore, stick to your color scheme and upload only one high-quality, relatable background image.
However, one of the most significant factors affecting landing page images is their size. Keep in mind that the size of your image can dramatically decrease the speed at which your landing page loads in your visitor's browser. But the good news is that thanks to this free tool, you can test your pre-existing landing page and your image, of course.
4. Add social proof
Social proof is a powerful marketing tactic. Furthermore, the basic concept behind this tactic is the bandwagon effect. This is a psychological phenomenon that implies that someone is more likely to engage in an activity if someone else is doing it.
When a person lands on your landing page, they have no idea if your offer is any good. But if they see that those who have consumed your offer are happy with it, that person is more likely to trust you.
And adding social proof to your landing page for dropshipping can be a smart move. The most common forms of social proof include customer testimonials, reviews, case studies, embedded social media posts, etc.
5. Make sure your page is distraction-free
With human attention spans growing shorter nowadays, it does not take much to get distracted by other content and leave your page.
So, you should remove any potential distractions from your ecommerce landing page if you want it to be a high-converting one.
Ensure you remove any distractions like navigation/menu links to keep your visitors or customers focused on your offer. And your CTA button should be the only available next step.
3 high-converting ecommerce landing page examples
Now, we are ready to share with you 3 examples of high-converting e-commerce landing pages that will help you see what a good landing page should look like.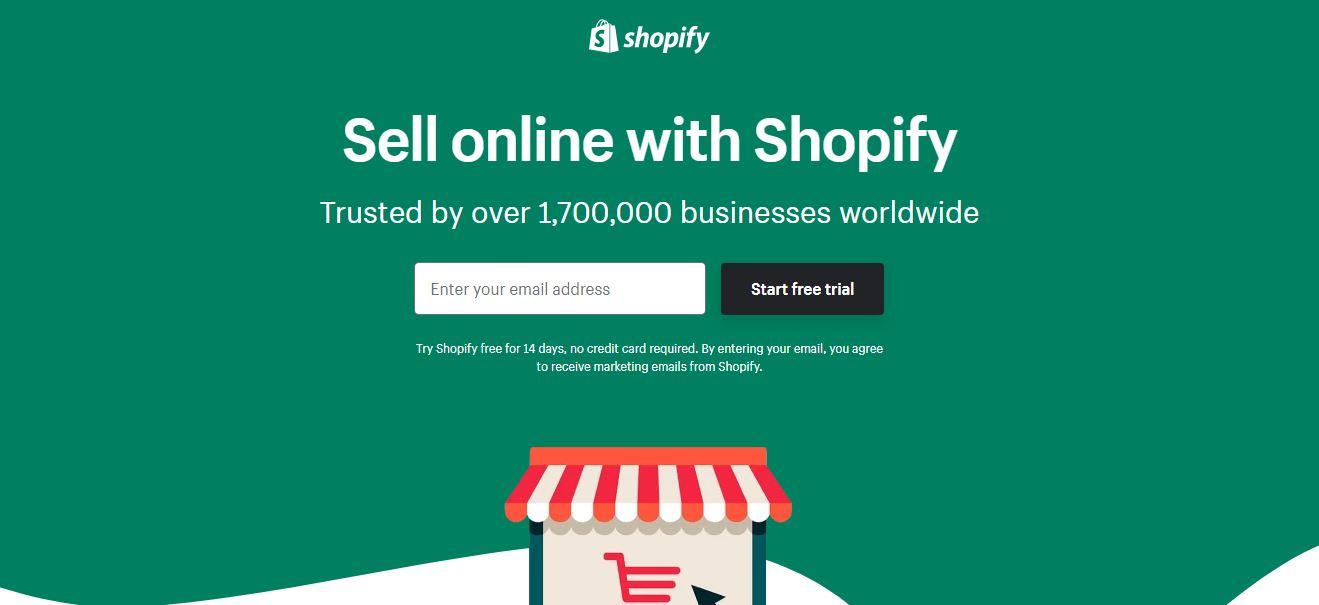 Yeah, Shopify. Even though it is our favorite vendor for creating perfect ecommerce stores, we can learn from Shopify on every stage of our dropshipping journey. Here, you can learn how to set up your first Shopify Store.
This is perhaps one of the simplest landing pages on our list. Specifically, the user-oriented headline is just a few words, and the page relies on simple bullets to communicate the details and benefits of the free trial.
Explore – Spocket Dropshipping!
The aim of this page is to motivate you to sign up. True to landing page best practices, there is only one CTA button on the page saying, "Start free trial."
However, those who are unsure if they should sign up can scroll through and find more information, including themes, pricing, and social proof.
We will generally suggest going over our ultimate review on the best Shopify Theme at the moment Debutify.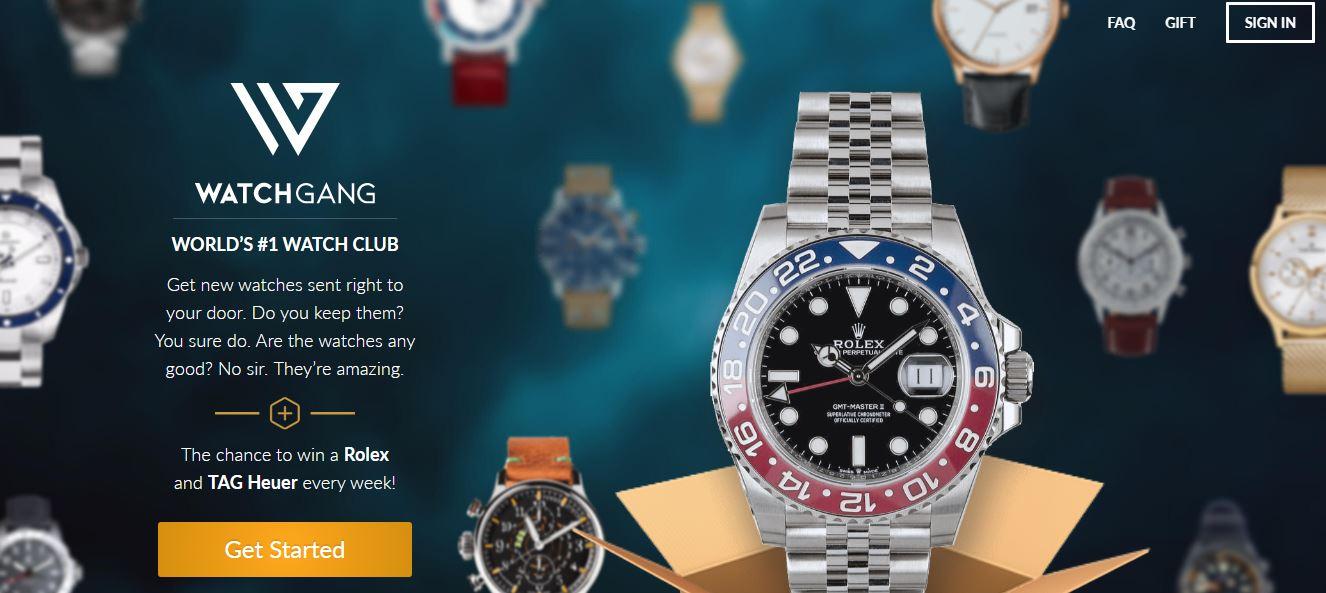 As you can see, the headline is eye-catching. And there is a clear, contrasting CTA button on the page.
If you scroll down, you can see customer testimonials at the bottom of the landing page. This may just add more weight to the purchase decision.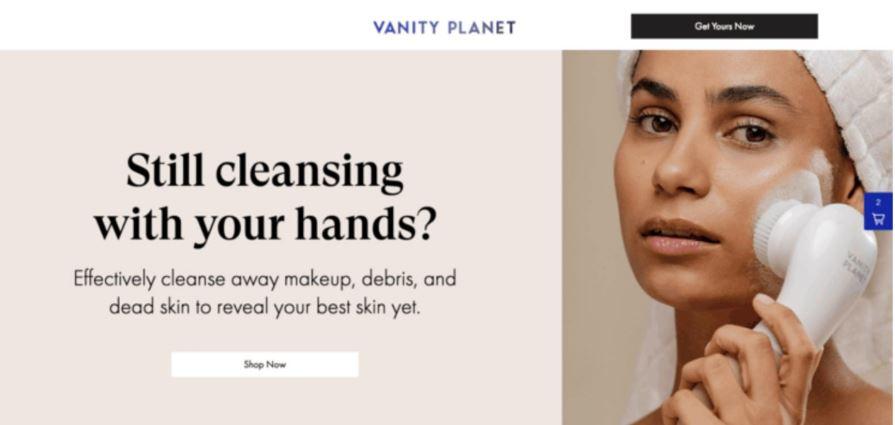 This landing page is a good example of how landing pages can be used for selling specific items. Rather than focusing on all its products, the company decided to focus solely on one product.
What's more, the heading is short and captures visitors' interest in the first few seconds. Plus, the CTA button "Shop Now" is highly actionable and has a clear meaning.
Dominate The Ecommerce Space With Zendrop
Start your free dropshipping account and get access to 600K+ ready-to-ship products!
Upgrade to a paid plan for 50% OFF for 3 months → Use code: DROP350
Try Zendrop For Free
Conclusion
To summarize, your ecommerce landing page should persuade your visitors to act on an offer. In essence, there are different landing pages for different marketing campaigns.
So, you need to synchronize your landing page with your marketing campaign.
Just follow our tips and you will build a landing page that converts! Also, we hope that our examples of high-converting landing pages can stimulate your creativity and spark your imagination.
Want to learn more?
• How To Find The Best Dropshipping Niche for Your Business in 2021;
• Best E-commerce Platforms In 2022: How To Choose One For Your Store?
• 15 Most Successful Shopify Dropshipping Store Examples;
• Branded Dropshipping: Is Branding Helpful When Dropshipping?
• Dropshipping on Shopify vs Amazon FBA [Expert Advice];
• 10 Best Shopify Themes for Dropshipping In 2022;
• SEO for Dropshipping Stores: How to Improve Your Rankings?