In the world of e-commerce, building a strong branded dropshipping business is crucial for success. But when it comes to dropshipping, how can you establish a strong brand that stands out from the competition?
Branded dropshipping is not just about selling products. Hence, it's about creating an experience and building a loyal customer base. And, by implementing the right tactics and strategies, you can establish a strong brand that sets you apart from the rest.
In this article, I will explore the best tactics for building a strong brand in the world of branded dropshipping. Let's start!
What Is Branded Dropshipping?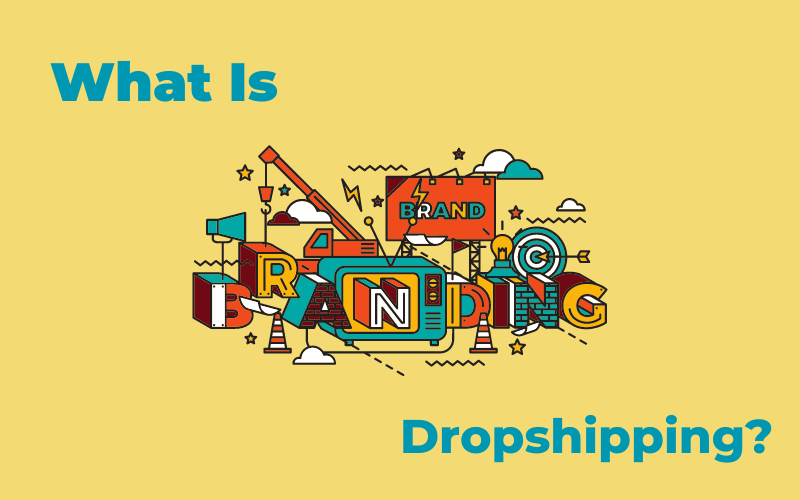 Branded dropshipping is a popular business model that enables dropshippers to partner with manufacturers or suppliers to fulfill orders directly to customers.
With this model, the dropshipper creates a unique brand and website to market and sell products, while the supplier handles inventory management and shipping logistics.
In fact, this approach allows entrepreneurs to launch a dropshipping business without the upfront costs and risks of holding inventory.
In addition, branding is creating a powerful & well-recognized name for a certain business.
So, when a customer thinks about you, they either think of you based on your name, logo, product, etc. This is all done through the trust & loyalty built over time with your customers through your services.
Why Is Branded Dropshipping So Important?
Branded dropshipping is important because it creates trust and builds relationships with customers. For example, if you compare buying the same product from Amazon versus a brand new site, most people would choose Amazon because they already have a level of trust built with the brand.
Branding is essential in creating a connection with customers. So, when a customer like dropshipping branded products, they are more likely to recommend them to others, thereby increasing the brand's reach and recognition.
Moreover, branding encourages customer loyalty, which is crucial in building a sustainable business. Studies have shown that a significant percentage of customers buy from a particular company just because they are loyal to that brand.
Discover top dropshipping suppliers of original US/EU products
You're 2 minutes away from building your ecommerce empire
No credit card required. No commitment.
Get started for free
Why Do People Prefer Branded Dropshipping?
It is obvious why. All because they have trust. Not everyone can just buy from random companies and feel safe. Here are a few reasons why many prefer buying from branded drop shippers:
The trust and quality of the product & services
The name of the brand
Feel safer buying from a branded business
There is more professionalism in branding.
Furthermore, what most will confuse is thinking that what product or service they sell will increase branding. It doesn't always work that way.
Thus, make sure the people that visit you know why they are visiting you. For instance, if you sell home decor accessories, you must already give a clear image of that. Check the best home decor suppliers in the USA.
What's more, potential buyers will think about your website, and they will know why they are visiting. This is one of the main ways to create a unique brand name.
However, don't promote a general image of your dropshipping business. You want to be very clear about what your business is all about.
6 Best Tactics For Building a Strong Branded Dropshipping Business
🔸 Choose The Right Niche
First of all, don't always chase the highest profit margins, and end up not knowing how to sell your products. So, think about choosing a niche that you have a passion or knowledge about.
Also, when you choose a specific niche, your dropshipping store will show what it is all about. This increases your brand uniqueness and when that happens, your branding will also go up.
The more specific your niche is, the easier it will be for you to stand out from the rest. So, instead of going on with a niche or general store, you might want to choose a one-product store here.
Once you know which path you are going, you start standing out from the rest of the dropshipping stores. That is your chance to shine.
💡 Tip: Learn How To Find The Best Dropshipping Niche for Big Profits [Top 10 Niches].
🔸 Find Reliable Suppliers
Next, dropshipping suppliers are everything here! First, you need high-quality products. Also, most of all original! So, you must find the ones you can trust. However, I know that this might be a daunting task to do.
So, we recommend you save your time and instead of googling it, try using online directories. For example, Dropshipping.com has a huge supplier directory with over 2000+ to choose from. 👇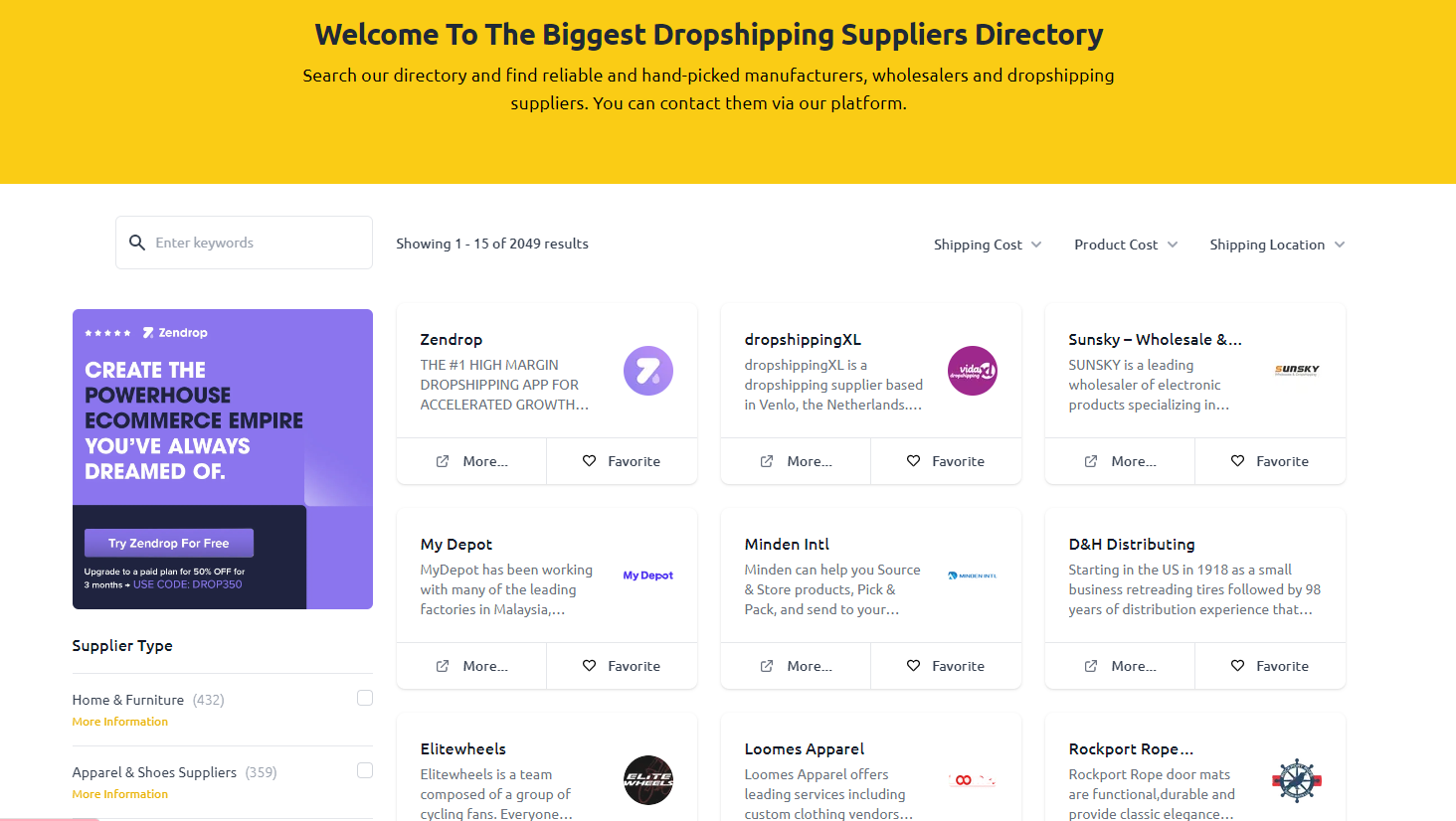 In addition, have you heard about Brands Gateway? This is one of the most reliable dropshipping suppliers for luxury products.
💡 Tip: Read about Dropshipping with BrandsGateway: Review, Comparison, Pros & Cons, How-to Guide.
Also, have you thought about print-on-demand dropshipping? Hence, if you are a creative little fella, you can design your own dropshipping products, and add them to your dropshipping store. For instance, you can check on dropshipping suppliers like Printful, which can provide you with custom dropshipping. 👇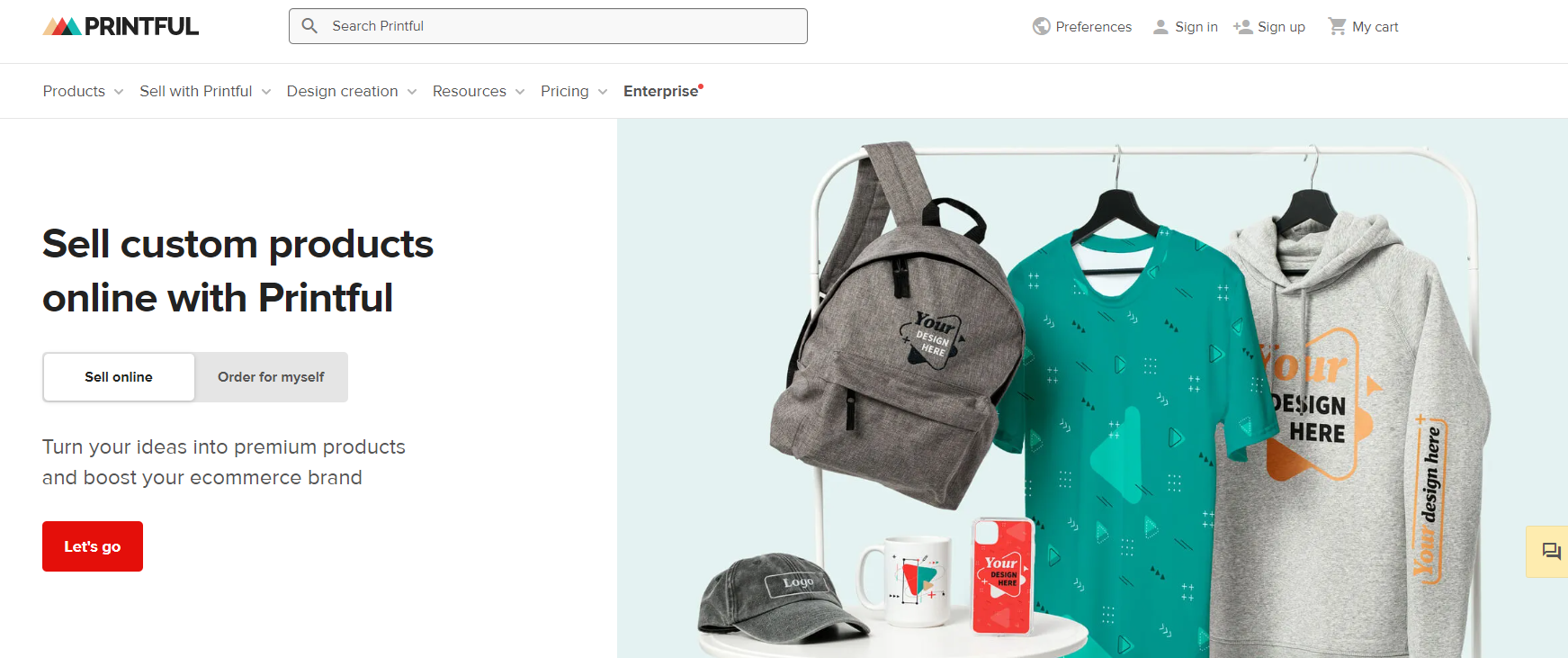 👉 Check out Printful vs Printify – Which Platform Is Better for print-on-demand dropshipping?
🔸 Create a Strong Brand Identity
Of course! Why else would you want to do branded dropshipping? You must represent uniqueness!
In fact, a strong brand identity can help you stand out in a crowded marketplace and attract more customers.
Therefore, develop a unique brand voice, logo, and color scheme that resonates with your target audience.
Thankfully, there are various Shopify apps that can help you with logo creation, choosing colors, etc. Moreover, you can use apps like Canva and design your own logo. 👇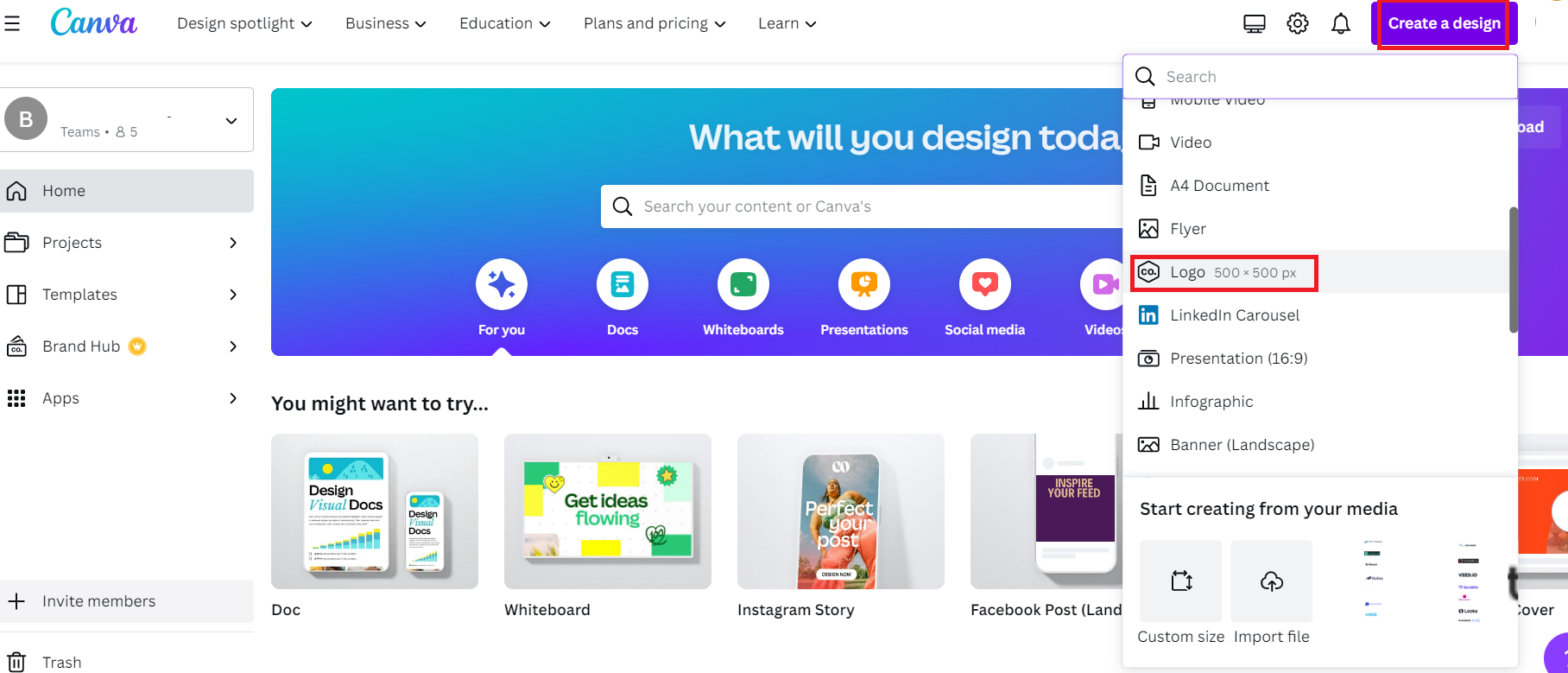 Also, your branding should be consistent across all your marketing channels, from your website and social media profiles to your packaging and shipping materials.
Plus, to give you an extra idea, with private-label dropshipping you can customize and design your products according to your brand image and target market. This allows for greater brand differentiation and uniqueness in the market, helping businesses to stand out from competitors.
For instance, I have tried private label dropshipping for quite some time. So, if you make up your mind about this option, I recommend you check on Zendrop. 👇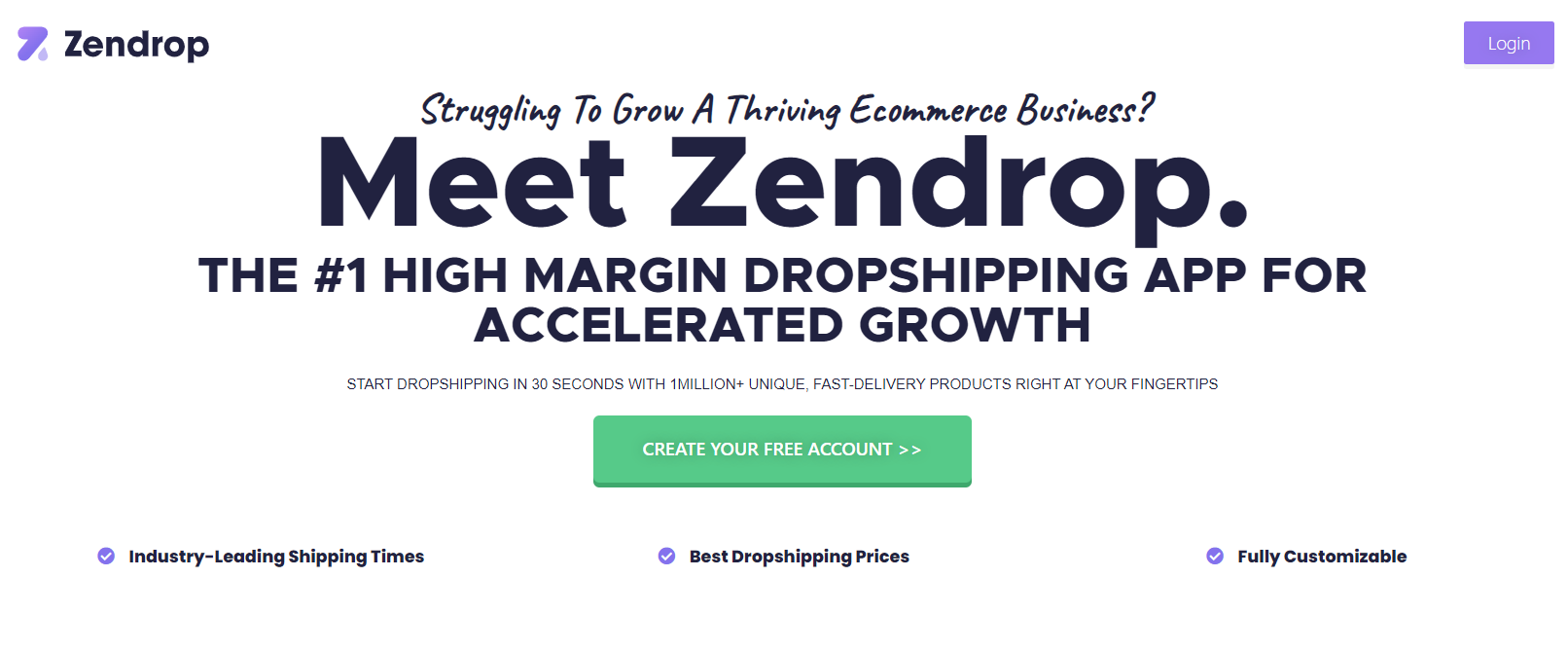 🔸 Create Your Dropshipping Store
You can choose from various marketplaces to sell your products on, like Facebook Marketplace, eBay, Amazon, etc.
Instead, I recommend you build your own dropshipping store. Wondering why? When customers seek reliability and trust, they think it this way: "They have their own website filled with their information, and they sell their own products. So, these sellers are reliable".
I bet you want this opinion about your custom dropshipping business as well. Therefore, you have these options:
Hire a website developer
Build your store from scratch (if you know how to code)
Use website builders
👉 In addition, Learn How to Build an Ecommerce Website from Scratch – My Process.
More importantly, make sure that your layout and its colors represent your brand. So, when customers land on your website, they actually have the feeling that they are at a specific brand's store.
For instance, I am using Shopify as my website builder. Hence, this eCommerce platform definitely offers a wide range of customization options. Plus, you need zero coding skills. 👇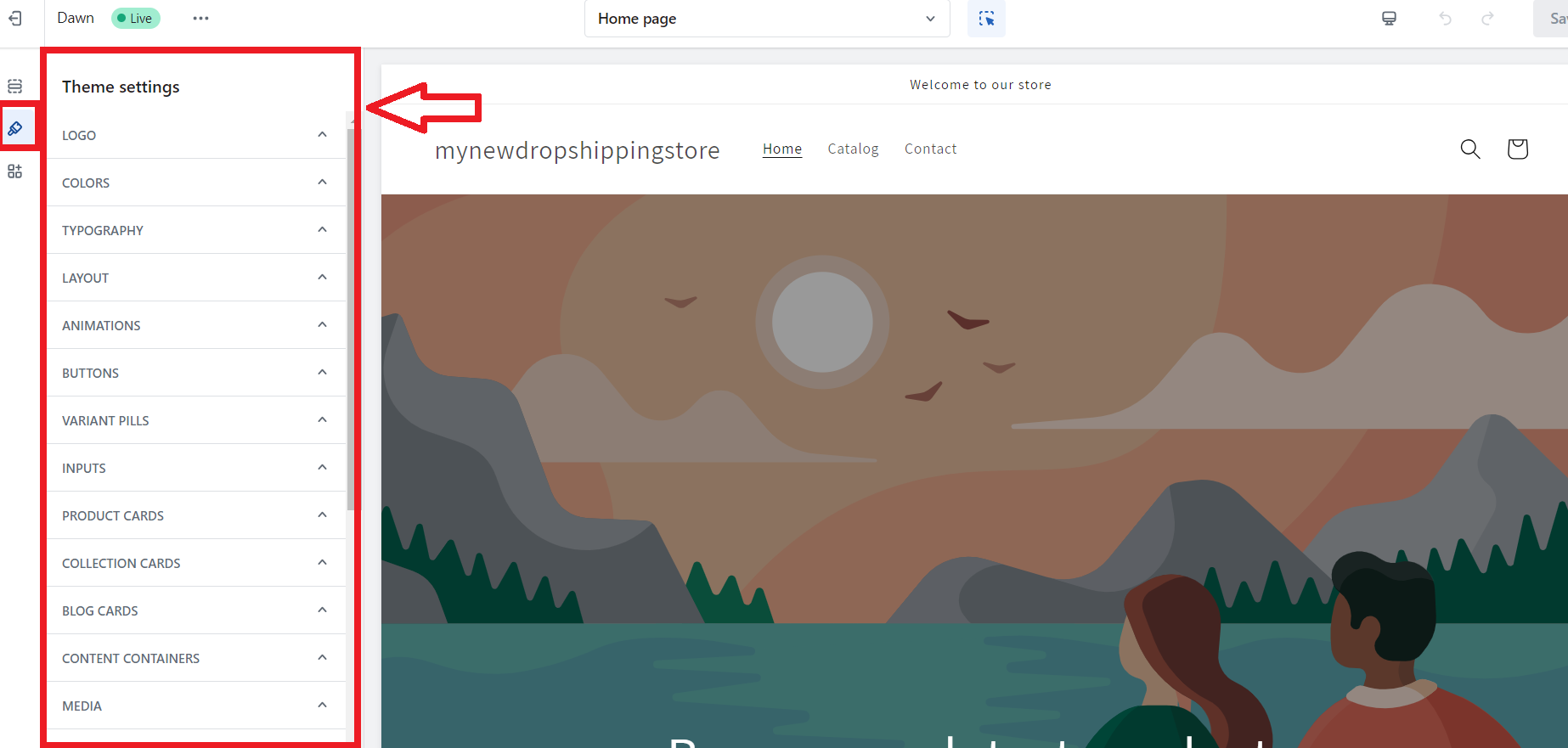 Not to mention that it has an app store with over 450 apps for dropshipping, and it also has various paid and free store templates to choose from. 👇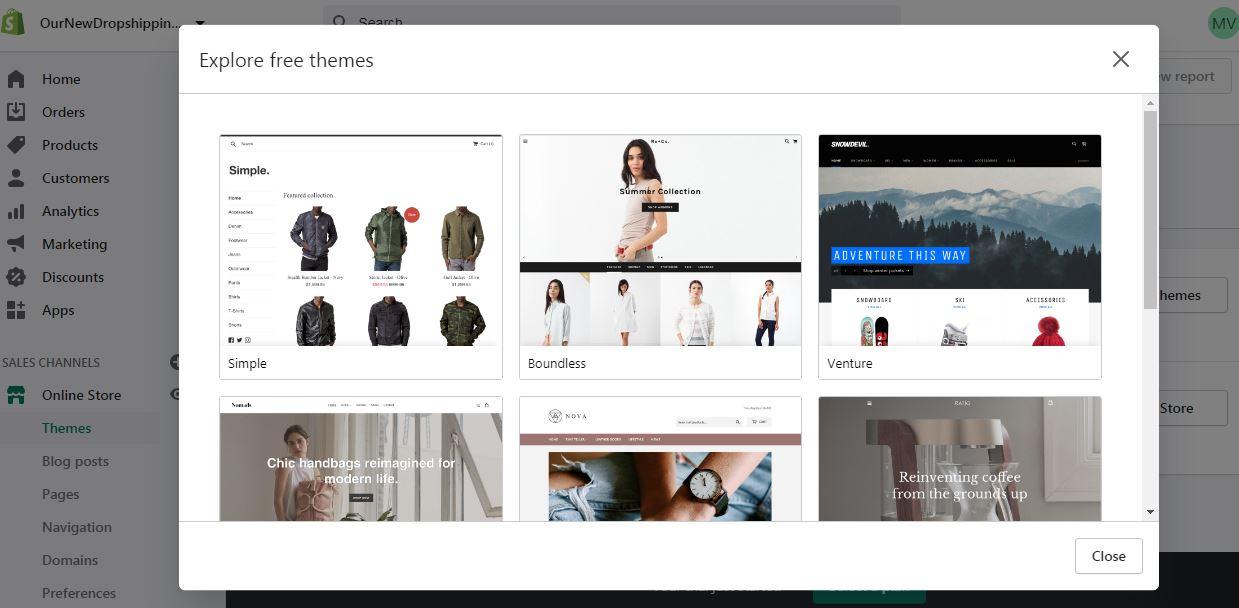 Hence, for me is a No.1 option. So, I suggest you learn How To Set Up Your First Store On Shopify [No.1 Beginners Guide].
🔸 Optimize Your Website For Conversions
Another important matter! You can't sell if you don't bring traffic to your dropshipping store. Therefore, you better use strong marketing strategies for this.
To start, make sure your website is easy to navigate, loads quickly, and is mobile-friendly. Use high-quality product images and descriptions, and include customer reviews and ratings.
But, most of all, you need the best SEO strategy. Therefore, read our article: SEO for Dropshipping Stores: How to Improve Your Rankings?
🔸 Focus on your customer service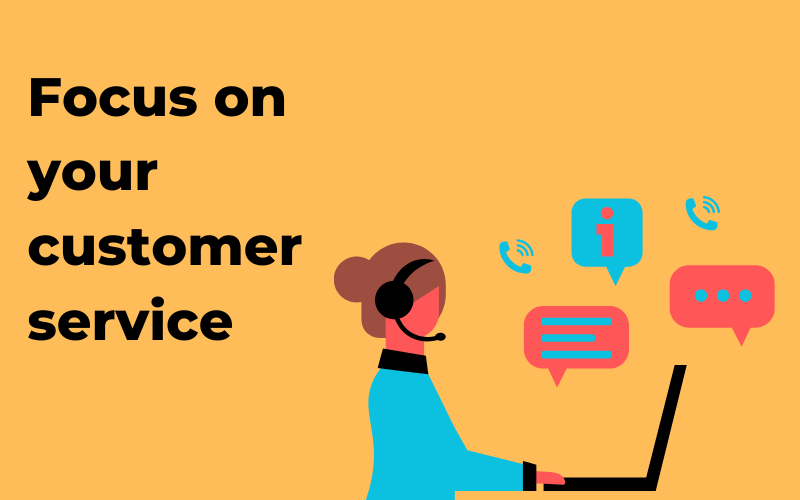 Now, since you are dropshipping pricier products than others, and customers are the ones giving you their money, you must make sure to deliver the best customer service.
Not just that, but since you are a branded dropshipper you must be professional at every step.
Therefore, make sure you provide various communication channels, like contact numbers, email addresses, Live chat, etc. More importantly, be there 24/7.
💡 Tip: Read about Customer Service for Dropshipping: The Ultimate Guide of 2023.
Moreover, you can use customer data to personalize your customer experience. This can include personalized emails, recommendations, and promotions, which can help increase customer loyalty and satisfaction.
💡 Tip: Read about The Power Of Product Advertisement: How To Increase Your Sales?
White Label or Private Label – What is Better for Branded Dropshipping?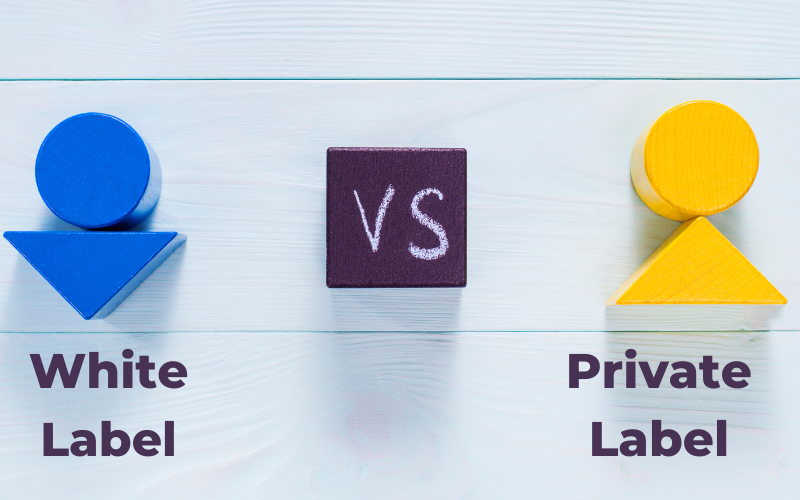 First, let's give a quick explanation of what is white-label and private-label dropshipping. 👇
White label products are pre-manufactured products that are produced by a manufacturer and then sold to various retailers who can then brand the products as their own.
Private label products are products that are manufactured specifically for you with your branding on them. With private label products, you work directly with a manufacturer to create a product that meets your exact specifications, from the design to the packaging.
Now, I will give you our opinion about which is better for branded dropshipping!
First, I want to point out that this depends on what are your desires, and how you want to build up your dropshipping business. Second, both options offer benefits and drawbacks, so it's important to consider your priorities when deciding which to use.
White-label products are pre-made products that can be branded by retailers. With a white label, you can quickly and easily source products that are already made and branded by the manufacturer. This means you can skip product development and go straight to branding. However, because the product is not exclusive to you, there may be more competition.
On the other hand, Private label products are created specifically for your business. You work directly with the manufacturer to design and package a product that meets your exact specifications. This offers more control and allows you to create a unique selling proposition, but the process can be more time-consuming and expensive.
Ultimately, if you're looking for a fast and easy way to start your branded dropshipping business, a white label may be a good option. If you want to create a unique product and are willing to invest time and money, a private label may be the better choice.
How To Choose the Right Brand-Name Products To Sell?
Next, if you are not choosing white-label or private-label dropshipping, maybe you are thinking about dropshipping brand-name products. Therefore, here are a few steps on how to choose the right brand-name products. 👇
➡ Research Your Market
Before choosing a brand-name product to sell, it is important to research your market. Therefore, look for products that are in high demand and have a loyal customer base.
Thus, you can use tools like Google Trends, Amazon Best Sellers, and Social Media analytics to get insights into what people are searching for and buying.
For example, you can type in some brand's name, let's say "Gucci", and you will get insights about its demand. 👇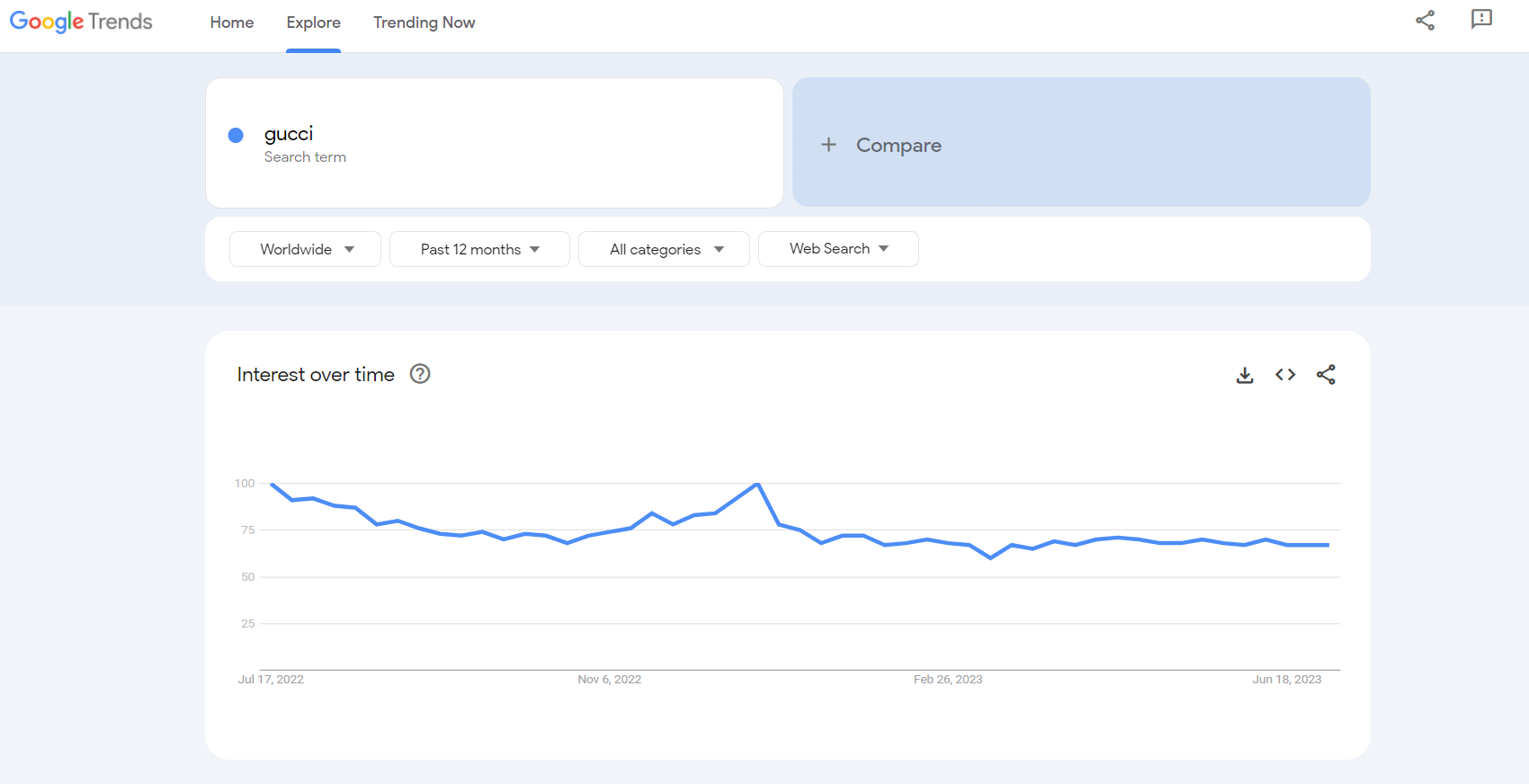 Moreover, you can scroll down and even see for which Gucci products customers mostly search. 👇
➡ Consider the Brand's Reputation
When choosing a brand-name product to sell, consider the brand's reputation.
Therefore, look for brands that are known for their quality, reliability, and customer service. In fact, a brand with a good reputation can help you build trust with your customers and increase sales.
What's more, seek out unique products that have a competitive advantage to stand out in a crowded market.
➡ Evaluate the competition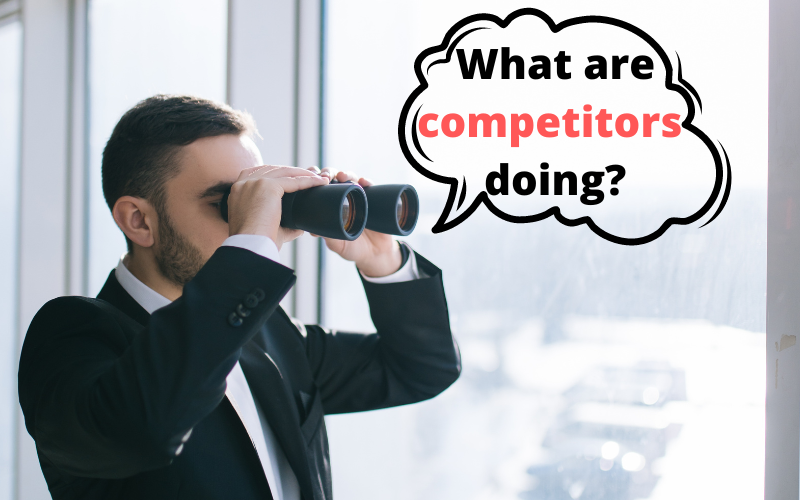 The first thing to remember, since you are going to dropship some branded products, doesn't mean that there aren't any others that do the same.
Brand products are highly demanded, and it is expected that there is a high supply as well!
Therefore, evaluate the competition and seek ways to differentiate yourself. Look for opportunities to offer better prices, superior customer service, or a unique selling proposition.
For example, there are various ad spy tools that can help your spy on competitors.
Hence, as for my candle dropshipping business, I find AliHunter very useful. This is an AliExpress Google Chrome Extension. However, it helps me spy on my competitors. So, once I visit my competitor's website, I quickly gain access to valuable insights regarding their performance, top-selling items, and more. 👇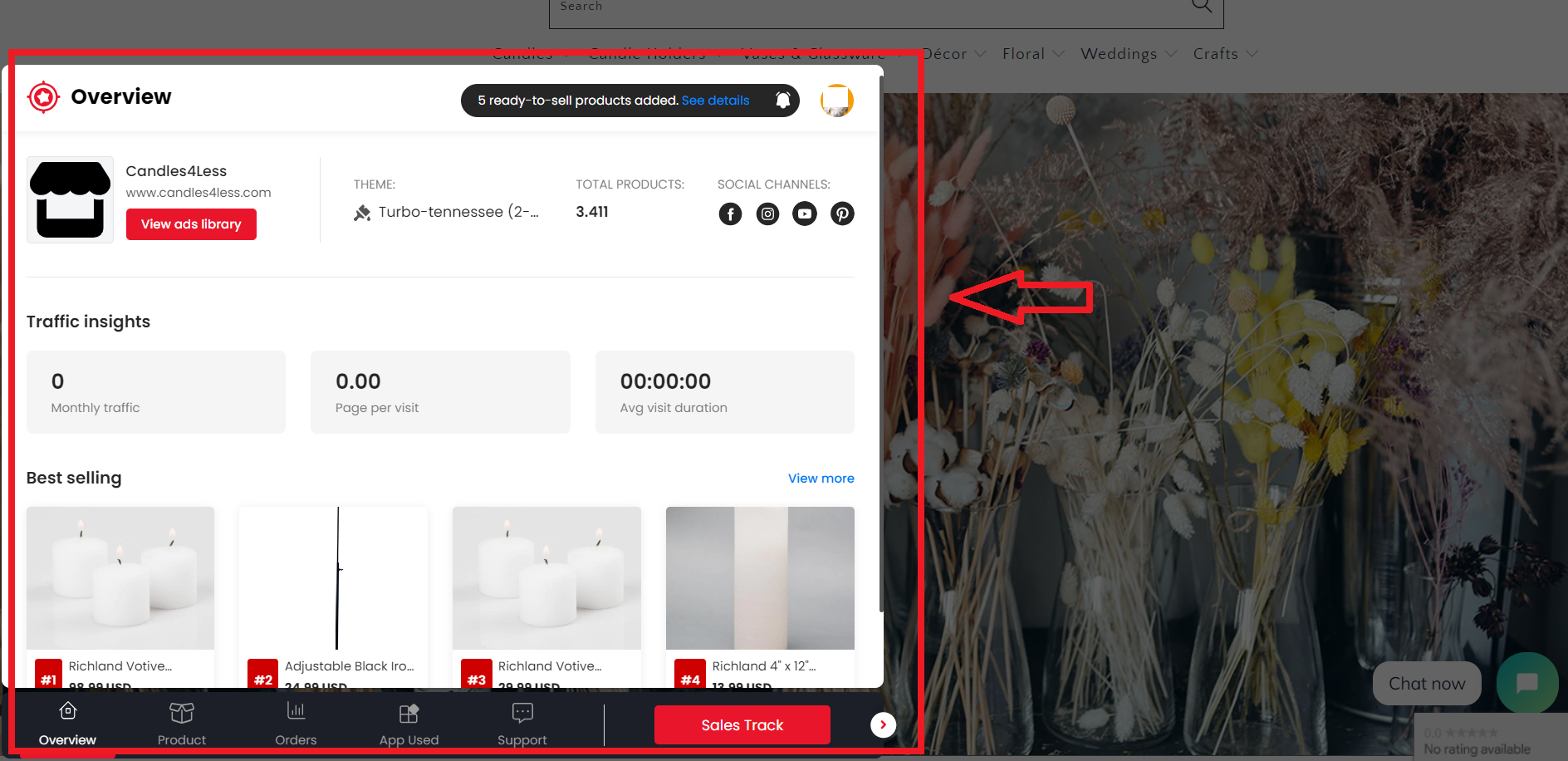 ➡ Consider The Profit Margin
Finally, consider the profit margin when selecting a brand-name product to sell. Find products that offer a good profit margin while staying within your budget.
Keep in mind that while lower-priced products may have higher sales volume, higher-priced products may yield a higher profit margin per sale.
💡Tip: Learn how to calculate your Dropshipping Profit Margins.
Tips On How To Increase Your Dropshipping Branding And Customer Experience
If you want to be unique (increase branding), you have to increase your credibility. Credibility is all the special features your dropshipping brand offers that no one else or a few offer.
Here are a few tips to increase your branding and user experience:
🔹 Use Easy Navigation
First and foremost, branding is very connected to first impressions.
Always remember that you never have a second chance to make a first impression!
That is why you should pay close attention to how your website looks when a new customer visits it.
You want to make sure it looks very premium, professional, max quality, and easy/simple to navigate around. Nothing makes a customer leave faster than a complex website.
So, if potential buyers visit your website, and as we mentioned before, it is slow and hard to navigate through, they will run away.
Make sure you hire the right people that maintain your dropshipping website. Focus a lot on the speed and well-organized categories/subcategories of your website. The easier it is to buy, the better your branding will be.
Furthermore, don't forget about the checkout process because you don't want cart abandonment at the end.
👉 Check out the 13 Most Successful Shopify Dropshipping Store Examples.
🔹 Ship Fast
The faster you ship your product, the better your customers will feel. That is because nobody likes to wait. When you show your customers that you are fast, this is a huge step forward to holding a unique identity in the dropshipping business.
👉 Check out the Free List of the Best 10 Dropshipping Suppliers in Europe [General & Niche].
🔹 Sell Premium Products
Most people, especially those of the higher class love to buy premium products or as I call them "brand name products".
For instance, it is just like buying a phone without a brand and buying an iPhone. The branding has a huge difference between them.
Therefore, the kind of products you have greatly affected your brand name. Also, your level of branding will be very different if you are selling products that say "made in the USA" vs those made in China!
READ BEFORE YOU GO: Wish Dropshipping: Everything You Need To Know As A Beginner
🔹 Use Social Media To Reach Out
If it is one good tip I can give you, it is to use social media. Social media marketing is the golden ticket to promoting your business.
👉 Learn How To Create a Winning Social Media Marketing Plan For Your Dropshipping Store?
Thus, it is one of the main ways brand name dropshippers take advantage of to promote their business. Wondering why? Well, social media channels have billions of users, so this might be the easiest way to reach your potential customers.
So, depending on your target audience, consider using Facebook, Instagram, TikTok, or Pinterest. For example, if your products are mostly demanded by millennials aged between 18-24 years old, you can consider using TikTok, or Instagram.
For example, TikTok has gained a lot of popularity nowadays. So, why not think about making some Tiktok Short videos and promoting your dropshipping brand?
👉 Learn How To Make Money On Youtube Without Making Videos [2023].
For instance, you have probably heard about GymShark. It is a well-known fitness apparel brand that has gained immense popularity and success in recent years
The turning point for Gymshark came when they started using social media platforms, particularly Instagram, to showcase their products. They leveraged the power of fitness influencers and athletes who promoted their brand and products, which helped them gain a significant following and attract a loyal customer base.
Also, here I have explained the 14 Best Practices For Your Online Store in 2023. Check them out and get your best marketing strategy.
Hence, all you have to do is to get the word around! That is simple, just set up some paid ads and everything is set from there.
When looking to improve your dropshipping branding, remember: Your brand is how people think about you, not how you want them to!
Branded Dropshipping Pros & Cons
Increased customer loyalty
Takes more time to build a brand
Limited control over product quality
✅ PROS
Strong brand recognition
Branded products are often associated with quality, reliability, and trustworthiness. By selling branded products, you can leverage the brand's reputation and capitalize on the trust and recognition it has built with customers.
Higher profit margins
Branded products often command higher prices than generic or unbranded products. This means you can earn higher profit margins by selling branded products, even if the cost of goods is higher.
Increased customer loyalty
Customers are often loyal to specific brands, which can lead to repeat business and word-of-mouth referrals. By selling branded products, you can build a loyal customer base and create long-term relationships with your customers.
❌CONS
Takes more time to build a brand
Building a dropshipping brand can take more time due to various factors. Firstly, creating a strong brand identity requires a lot of effort in terms of designing a unique logo, selecting the right products, and creating a consistent visual language.
Moreover, it takes time to build customer trust in your brand, especially when you're not handling the shipping or fulfillment process yourself.
Limited control over product quality
As a branded dropshipper, you are reliant on your supplier to maintain high product quality standards. If your supplier does not provide high-quality products, this could harm your reputation and result in negative customer reviews.
Legal liability
As the branded dropshipper, you are responsible for any legal issues that arise from the products you sell, such as liability for defective products or intellectual property infringement.
Branded Dropshipping: To Be Or Not To Be?
In conclusion, branded dropshipping is becoming increasingly important and popular among entrepreneurs as it enables them to launch a dropshipping business without the upfront costs and risks of holding inventory.
Also, the key to building a successful branded dropshipping business lies in creating a powerful and recognizable brand name that inspires trust and loyalty in customers. Thus, you must choose the right niche, find reliable suppliers, create a strong brand identity, and create a dropshipping store.
By following our best practices, you can improve your branded dropshipping and gain the necessary exposure to stand out from the competition.
For more weekly updates, tips & tricks on how to improve your dropshipping experience, visit my Free Dropshipping Knowledge Center.
Find winning dropshipping products & spy on your competitors
Minea analyses all online advertising to help you find the best products to launch, and the best creatives in your niche in just a few clicks.
Use coupon: DROPSHIPPING30 and get a 30% discount
💡Try Minea For Free
Frequently Asked Questions
Is Branded Dropshipping Legal?
Branded dropshipping is a completely legitimate business model, but it's important to adhere to certain rules in order to operate smoothly. Thus, this includes refraining from copyright violation and avoiding the sale of prohibited items such as tobacco, alcohol, and weapons.
Additionally, it's crucial to stick to all relevant online business laws and regulations within your country to ensure that your business operates within the legal framework.
Is Branded Dropshipping Profitable?
Branded dropshipping can be a profitable business model. Since you are the one setting up your product pricing, you can always set it up for higher profit margins.
How Does Branded Dropshipping Work?
In branded dropshipping, the dropshipping owner creates a website and a brand to sell products. Next, they partner with a supplier or manufacturer to fulfill orders. Also, when a customer places an order on the dropshipper's website, the supplier ships the product directly to the customer.
What is the difference between branded dropshipping and dropshipping?
The main difference between branded dropshipping and traditional dropshipping is the level of control and branding that the seller has. In branded dropshipping, the seller can create their own brand identity, including custom packaging, logos, and marketing materials.
This allows for a more personalized and unique customer experience, as well as the potential for building brand loyalty. In traditional dropshipping, the seller is limited to promoting the products without the ability to establish their own brand identity.