Shopline Review: Is It Worth For Setting Up A Dropshipping Store?
by
Aleksandra -
Aleksandra teaches marketing and management at various levels in High School. She writes about marketing, the economics and logistics of the dropshipping business and ecommerce in general.
Chief of Content Marketing
Looking for the best Shopify alternative? Stop scrolling Google, you've come to the right place! With my Shopline review, I really got you covered.
Shopline is not just an e-commerce platform. It's a comprehensive solution that simplifies the journey of establishing and managing your online shop.
With Shopline, you can seamlessly connect with your followers, sell globally, and create a consistent omnichannel experience. It's the one-stop shop for all your e-commerce needs, offering features that encompass web stores, social media, chat, retail, and marketplaces.
Interesting, right? In this blog article, I will guide you through the key Shopline features, pros, cons, how-to-use guide, and more. So, let's start!
What Is Shopline?
Shopline is a full-featured platform that allows you to easily build your online shop, sell around the world, connect with your followers, and deliver a seamless omnichannel experience. Hence, they empower merchants to sell via Web Store, Social, Chat, Retail, and Marketplaces.
Moreover, the platform also supports multiple payment methods and shipping methods to provide an integrated logistics experience for dropshippers.
Also, Shopline provides real-time ordering status and allows you to manage orders efficiently.
Not only that, but with their data visualization tools you can easily track your sales and boost your marketing strategy.
Now, let's skip to the Shopline Review.
Lifetime deal: Get all-access to everything on Dropshipping.com
Access all DSCOM features, resources, courses, live workshops, discounts, winning products, weekly deep dives, directories and all future updates under all-in-one dropshipping HUB.
DROPSHIPPING IS A REAL BUSINESS, DON'T DO IT ALONE. 4553 MEMBERS ALREADY JOINED. YOU CAN PAY OFF YOUR SMALL INVESTMENT WITH JUST 2 SALES ON YOUR STORE.
Grab the deal before it's gone
Quick Shopline Review
For my busy dropshippers, here's a quick Shopline review. 👇
The best
Free 14 -Day Trial

Diverse Pricing Options

No Feature Limitations

B2B Support

Live Streaming

Customer Engagement

Multilingual and Multi-currency
The worst
Local Policy Impact

Transaction Fees

Limited Web Design Customization
Starting from
14-day free trial; Starter-$29/month; Essential $79/month; Standard- $159/month; Premium- $269/month
Now, let's get to the in-depth Shopline Review.
Benefits Of Using Shopline For Your Dropshipping Store
💎 Enhance Your Marketing Tools and Promotions
Shopline provides a range of helpful marketing features to boost your product visibility and dropshipping sales.
Thus, these tools include integrating with social media, using email marketing, and various other promotional channels.
Additionally, you can promote your products through free shipping, manage multiple campaigns, offer free gifts, and run discount campaigns.
Moreover, you can also use simple add-ons for upselling, cross-selling, store credits, affiliate marketing, and subscription orders.
💡 Tip: Check out the 16 Best Marketing Apps On Shopify.
💎 Analytics and Reporting
Shopline allows you to access detailed real-time analytics and business metrics for your dropshipping store. This data provides valuable insights to make informed decisions and enhance the customer experience.
Thus, you can monitor key information such as new registrations, cart abandonment, and other essential figures.
Also, for more comprehensive real-time data, you can opt for the Shoplytics (Pro) add-on, which provides data on store traffic, sales, and orders. You can also generate quick product analysis and inventory reports.
💎 Boost Sales Across Multiple Channels
Shopline allows you to expand your sales reach by selling on various platforms, including popular social media channels like Facebook and Instagram.
Thus, you can manage multiple sales channels effortlessly, thanks to Shopline's integrated order and centralized inventory management system.
Moreover, streamlined product management ensures that your product listings are updated automatically, maintaining consistency across all channels.
💎 Tailor Your Brand's Look
Last but not least, this dropshipping platform allows you to customize your online store to reflect your brand identity. Plus, they offer numerous omnichannel customization options.
You can incorporate logos, choose color schemes, and select fonts that match your brand. Shopline also offers a variety of templates to help you customize the layout and design of your store.
So, you can explore the diverse themes available to cater to different business types, such as clothing and fashion, B2B, electronics, beauty, and more. You can find these themes on Shopline's themes page.
Shopline Review: Key Features
Creating An Online Store
This is one of the best features that I will mention in my Shopline Review. So, this platform has a user-friendly drag-and-drop website builder. Thus, without any coding, you can pick a theme that provides an attractive foundation for your website, which you can later customize to make it your own.
Also, there are more than 20 themes available, each inspired by different industries.
💡 Tip: Check out the 11 Best Shopify Themes for Dropshipping Stores.
Also, when it comes to customization. You can select fonts, change your website's colors, add content, and customize images. You even have the option to enhance functionality with features like mega navigation, product filters, and featured products and collections.
Plus, you can modify features through a sidebar, adjust widgets, and edit your footer and header.
However, keep in mind that customization has some limitations. You can only place elements where the page builder permits, indicated by a green area. Also, there are limited options for customization beyond altering colors and fonts.
💡 Tip: Learn How To Set Up Your First Store On Shopify [No.1 Beginners Guide].
Live Streaming
With Shopline, you can go live and sell on social media, integrating seamlessly with Facebook Live. So, you can create custom live streams and set up chat interactions that automatically respond to keywords, making it easy for customers to place orders within the chat. And, following up on this Shopline Review, this is one of the users' favorites.
During your live stream, you can highlight specific products, manage order keywords, conduct polls, and even run prize draws.
Moreover, you can control the number of winners and specify the correct answer customers should provide in the chat. Shopline will select a winner and provide instructions for them to get in touch.
Additionally, you have the option to manage your audience by blocking or muting users and include a checkout reminder to boost conversions.
Store Management System
Managing your products is a breeze with ShopHub, your store management dashboard. Here, you'll find all your products, orders, and inventory details.
Moreover, listing your products in ShopHub allows you to easily manage and edit them. You can add and move products in bulk across multiple sales channels and synchronize product information edits across all channels.
Plus, you can also "lock" your inventory to prevent overselling when stocks are low. Shopline simplifies keeping track of inventory across different locations, allowing you to list multiple stores and warehouses separately and optimize them as needed.
Marketing Management
Shopline offers various marketing features to increase conversions. You can create coupons, display countdown timers to create a sense of urgency, and use affiliate links to turn loyal customers into brand advocates.
So, what you can use is:
Facebook Business Extension
Google Ads Tracker
Facebook Messenger and WhatsApp Plugin
Google Remarketing Tag Setup
Centralized Message Center for Broadcasting
Google Tag Management Tool
Google Analytics Tracking Tool
Bing and Yahoo Ad Tracking
Moreover, with their tool SmartPush you can also get access to an extensive email template and copywriting library, get an automated welcome subscription email, abandon order recall, etc.
Also, you can organize real-time synchronized data by tags and precisely target specific customer profiles with personalized content and promotions.
Omnichannel Sales Management
Shopline makes omnichannel selling a breeze, allowing you to manage multiple sales channels simultaneously.
Moreover, you can synchronize inventory and product details across various platforms like Lazada, Shopee, Bukalapak, Tiki, Tokopedia, and more.
So, using this tool you can leverage"
Sync your product catalog across Facebook and Instagram– Let customers browse and purchase directly from your social media accounts.
Connect with your audience in real-time– Showcase your products and build brand awareness with interactive events via live streams.
Advanced targeting– Reach your target audience with precision through Google Ads' advanced location options.
Easy and customizable– Customize your product listings and ads with Google Shopping and Google Ads to match your brand identity and messaging.
Seamless integration– Easily set up and managed short-form video marketing with integration for TikTok Ads, TikTok LIVE, and TikTok Shop.
Increased sales– Drive more traffic and boost your online store sales by leveraging TikTok for Business.
Real-Time Analytics
With real-time analytics provided by Shopline, you gain insights into customer data, traffic, marketing performance, and top-selling products. This information empowers you to optimize your store effectively.
Moreover, the Pro versions of Shopline offer the ability to review up to a year's worth of data, compare data across different periods, and assess analytics for specific site pages.
CRM System
With Shopline, you can build customer loyalty with multi-tier reward systems, which offer higher discounts to customers with higher scores.
You can also set conditions for automatic customer tier upgrades based on their purchase history. Additionally, you can use affiliate links to reward those who promote your products with a commission on sales.
Moreover, with this feature, you can also offer:
Set your tiers to offer points, discounts, free shipping, and more.
Reward your most loyal customers, with birthday discounts and personalized privileges that make them feel truly valued.
Free shipping
Customized privileges
Shopline is actively working on expanding its customer management features, including the addition of customer groups for more precise audience segmentation, complete with group analytics.
Social Commerce
For social commerce, Shopline provides tools to manage your Facebook, TikTok, and Google ads from your dashboard.
It also offers a centralized messaging center to handle business correspondence across platforms like Facebook, Instagram, and your website. You can synchronize your products on social selling platforms and use Facebook's Pixel for tracking data. Shoppers can also log into your online store conveniently using their Facebook accounts.
Dropshipping
When it comes to dropshipping, Shopline streamlines the process of interacting with major dropshipping marketplaces like AliExpress.
Their plugin, Shopline Catcher, assists in selecting and analyzing products for your store. You can create automatic product listings and publish chosen items in bulk, making it easy to establish a catalog of quality dropshipping products.
Shopline even automatically places customer orders with the appropriate AliExpress suppliers, eliminating the need for manual approval.
B2B
Shopline offers specific features tailored to B2B businesses, making it a valuable choice for wholesale selling. You'll find online store and landing page templates designed exclusively for B2B enterprises.
Furthermore, you have the flexibility to create custom inquiry forms with data linkage and generation capabilities. This enables you to identify your existing customers by matching their information in the inquiry form with your customer database. Each inquiry is conveniently organized in a dedicated inquiry dashboard, simplifying your responses.
Additionally, Shopline's custom pricing feature allows you to establish tiered pricing and set minimum order quantities. This feature is particularly advantageous for companies that offer services with multiple subscription tiers or have more complex order requirements.
Shopline Integrations
Shopline seamlessly integrates with various social and online shopping channels, including
TikTok
Shopee
Lazada
Tiki
Line
Facebook
Bukalapak
Tokopedia
However, in comparison to some other eCommerce platforms, the availability of native integrations with non-sales channel apps is somewhat limited. Beyond this category, Shopline currently only offers integration with MailChimp.
To make the platform work with additional components of your tech stack, you may need to create your own webhooks and API requests, for which documentation is provided.
Shopline Payments
SHOPLINE offers an in-house solution known as SHOPLINE Payments, which serves as an all-in-one platform for handling payments, simplifying the process of managing orders and refunds for your store without the need to engage with third-party payment providers.
➡ Credit Card Compatibility
SHOPLINE Payments is compatible with major credit card companies, including Visa, Mastercard, American Express, and UnionPay.
Hence, the transaction fees vary based on your chosen SHOPLINE plan. In the most budget-friendly plan, the fee structure is 3.20% of the transaction amount, plus SGD 0.50.
➡ Diverse Payment Options
Currently, SHOPLINE Payments also extends support to various other payment methods such as FPX online banking, Atome, e-wallets like GrabPay, PayPal as well and debit and gift cards.
Thus, this broad spectrum of payment options ensures that your customers can choose their preferred method of payment.
➡ Protection Against Fraud
SHOPLINE Payments incorporates an advanced AI detection algorithm designed to identify potential instances of credit card fraud.
So, in cases where a transaction is flagged as potentially risky, a 3D verification process is employed to enhance the security of the transaction.
Check out the 7 Best Payment Gateways For Shopify In 2023.
Shopline Shipping & Fulfillment
Shopline offers dropshippers a cost-effective option for delivering their services. So, with their OneShip integration, you can:
Integrate Your Sales Channels- Effortlessly synchronize and oversee orders originating from your e-commerce storefront, various marketplaces, and social media platforms, all from a unified dashboard.
Efficient Order Processing– Drive the expansion of your business with a streamlined workflow. Centralize the management of multiple orders, making it more efficient to import, execute, and print labels.
Optimal Shipping Rates– Seamlessly link up with top-tier carriers through OneShip agreements or integrate your preferred carriers. Utilize our shipping calculator to explore a comprehensive range of shipping options, ultimately saving you both time and money.
Comprehensive Shipment Tracking– Stay up-to-date with real-time updates on your shipment information and tailor your branded tracking page. Send shipping notifications at your discretion, ensuring a personalized and timely experience for your customers.
How To Setup Your Dropshipping Store With Shopline?
Setting up an online store with Shopline requires going through several easy steps. So, next on my Shopline Review, I will discuss the three main steps of setting up a Shopline dropshipping store.
Step 1- Create an account
So, if you want to start dropshipping using Shopline, the first thing you need to do is create an account. So, navigate to their website, and click on the "Free Trial" button in the right upper corner.
Once you are there, Shopline will ask for your personal information, like email address, password, etc. Next, you will be required to answer some questions about your business in order to create your store.
Moreover, you will also set up a store name, business location, store currency, etc.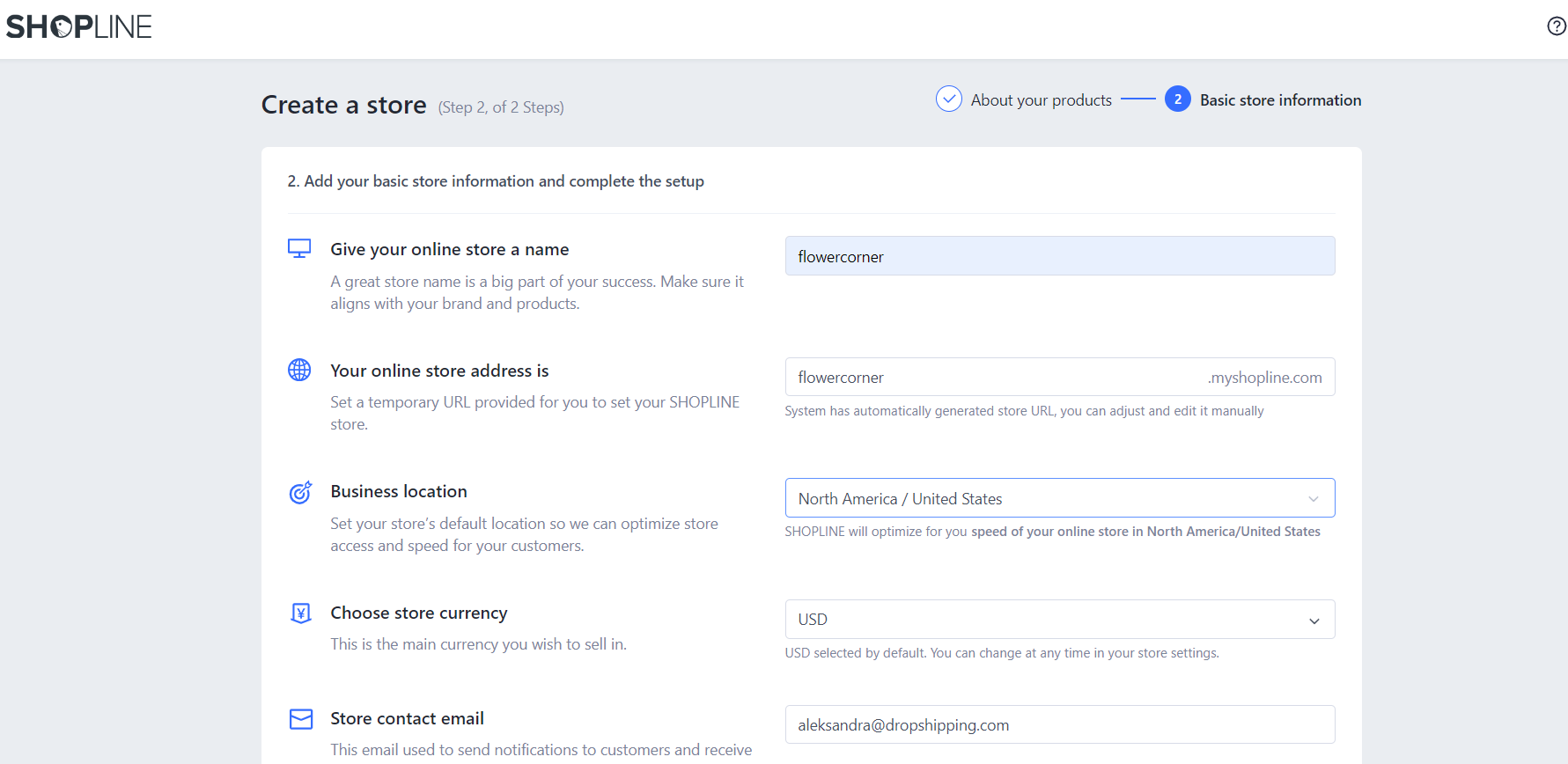 After the registration process, you will access the Shopline dashboard. And, this is where the real magic begins.
Step 2- Customize Your Store
Next, the first thing I do is navigate to the "Online Store" section, next, I go to the "Theme Store". Here, I search through the available themes that match my dropshipping business needs best.
Once I find the theme, I click on it, and then I click on the "Add Theme" button.
Thus, this button actually redirects me to the "My Theme" section, where I can start customizing the chosen theme. So, to start, I click on the " Design" button.
Now, you will be redirected to the Shopline editor. Here you can select fonts, change your website's colors, add content, and customize images.
Plus, you even have the option to enhance functionality with features like mega navigation, product filters, and featured products and collections.
You can modify features through a sidebar, adjust widgets, and edit your footer and header. However, there are limited options for customization beyond altering colors and fonts.
Keep in mind that customization has some limitations. You can only place elements where the page builder permits, indicated by a green area.
Also, it's important to note that Shopline's online stores are designed for a global audience and support multiple languages and currencies.
In addition, once you are done, you can click on "Save", and proceed with your setup process.
Furthermore, when it comes to setting up your store, you can also create more pages, and you can customize your store navigation.
👉 Read about How To Change Themes On Shopify: A Guide For Dropshippers.
Step 3 – Set up Shipping and Payment
Hence, going back to the admin panel, your next step is to set up your payment and shipping methods. To do so, you need to navigate to "Settings".
Thus, in the "Shipping and Delivery" section you can set up your shipping fees, local delivery, and in-store pickup, enable integrated third-party shipping providers, create package dimensions, and more.
On the other hand, by navigating [Settings] > [Payments] > [Other payment methods], you can select your desired payment method.
Step 4- Add Products To Your Store
Afterward, you need to add products to your store.
So, from the Shopline dashboard, click 'Products' and then click the 'Add product' button to create your first product listing.
Thus, this is the section where you can set the product title, and product description, add images, set pricing, etc. Moreover, you can add product variants like size or colors.
Step 5- Install Apps
Lastly, from the Shopline dashboard, you can also install numerous apps that can support your dropshipping business. For instance, there are various apps helpful for boosting your marketing strategies.
So, navigate to the Apps section, and here you can get access to the Shopline app store.
Shopline Review: Pricing
Shopline has a very similar pricing system to Shopify. Firstly, you can enjoy a 14-day free trial and check whether this platform is the best option for your business.
Afterward, the platform offers three main pricing plans, starting at $29/month.
The Starter Plan is most suitable for dropshippers just starting out. It offers 5 staff accounts, and numerous features like an online storefront, unlimited products, abandoned cart recovery, setting up discounts and coupons, and many more.
However, the transaction fees are higher compared to other pricing methods, around 2%, and payment rates of 3.6%+$0.3 USD. Also, this pricing plan does not include product customization, the B2B feature, product 3D&AR Display, and affiliate marketing.
The Essential Plan is for dropshippers that want to grow their business. This plan includes 10 staff accounts. Also, it has all lower transaction fees at 0.8%, and payment rates of 3.6%+$0.3 USD.
What's more, the platform offers product customization, the B2B feature, and affiliate marketing which are excluded from the Starter plan.
Lastly, the Premium pricing option includes 100 staff accounts, and all of the features are available even the 3D&AR Display. Moreover, with this pricing option, you get the lowest transaction fees, which are at 0.20%, and payment rates of 3%+$0.3 USD.
Moreover, the platform also offers a Lite plan, which is $5/month and includes 3 staff accounts.
On the other hand, you have a Standard Plan which costs $159/month. Thus, with this plan, you get:
SHOPLINE Payment Rates:3.3%+$0.3 USD
Transaction Fees for Third-party Payment Providers: 0.5%
20x Admin Accounts
5x Facebook Pages
1000x One-page Store and Online Store
Up to 100 inventory locations
SHOPLINE FLOW
Shopline Pros & Cons
Next in my Shopline review, I will list the main pros and cons of using the app.
Multilingual and Multi-currency
Limited Web Design Customization
Pros Of Using Shopline
✅ Free 14 -Day Trial
Shopline offers a free trial, which gives you the opportunity to check on how the app works and whether it meets your business needs.
✅ Diverse Pricing Options
Shopline provides various pricing tiers, making it affordable for businesses of all sizes.
✅ No Feature Limitations
Pricing plans from Shopline don't restrict your access to features.
✅ B2B Support
Shopline offers features suitable for B2B businesses, which not all platforms provide.
✅ Live Streaming
You can launch and manage live streams directly from your Shopline dashboard.
✅ Customer Engagement
Access customer engagement features like loyalty programs, affiliate programs, and memberships.
✅ Multilingual and Multi-currency
Shopline supports multiple languages and currencies.
Cons Of Using Shopline
❌ Local Policy Impact
Pricing details, including payment processing fees when using Shopline's native processor, may vary due to local policies, making it challenging to predict smaller costs.
❌ Transaction Fees
Unfortunately, each plan is subject to transaction fees, which means higher costs for you.
❌ Limited Web Design Customization
Customizing web design on Shopline is somewhat restricted.
What Do Customers Say About Shopline?
Shopline review by customers show divided opinions. For instance, going through Trustpilot reviews, there are lots of satisfied customers from their services, or around 62% of comments are positive.
These users claim that it is cost-effective, simple to use, and suitable for manu dropshipping niches.
On the other hand, negative reviews talk about poor customer support and are restrictive in terms of what you can write in your content.
Also, check out some Shopline partners' testimonials, and learn how they benefit from using this tool.
Shopline Alternatives
So, after reading my Shopline Review about its features, pricing, pros & cons, you can have a better understanding of whether it is or is not for you. Thus, if you think that this is not the best fit for you, here are some Shopline alternatives:
Shopify stands as one of the most favored eCommerce platforms, boasting an intuitive drag-and-drop editor for effortless store design.
It provides the capability to effortlessly craft your online store, complete with customizable themes, product listings, and payment options. Thus, you can choose from a diverse array of both paid and complimentary themes and utilize the user-friendly drag-and-drop editor to tailor your store to your liking.
Furthermore, Shopify allows users to create captivating product descriptions, add product attributes and images, and optimize SEO.
The platform also seamlessly integrates with over 100 payment gateways, including popular choices like PayPal, facilitating smooth payment processing for dropshippers.
Also, one of the best things is Shopify's extensive app store, offering a wide selection of apps tailored for the support of dropshipping businesses.
💡 Tip: Check out the 18 Best Shopify Dropshipping Apps [Review & Comparison].
When it comes to pricing, Shopify offers three main pricing plans, starting at $32 per month and going up to $399 per month. Additionally, it provides a 14-day free trial.
WooCommerce serves as a WordPress theme and plugin combo that empowers you to establish and manage an online business. By integrating the WooCommerce theme into your WordPress site, you can swiftly create an e-commerce store.
This plugin further allows you to create compelling landing pages for your online store, import products from various suppliers like AliExpress, and make necessary adjustments until you attain your desired results.
As your products start selling, WooCommerce facilitates seamless order fulfillment and timely delivery to your valued customers.
👉 Learn How to Cancel a Dropshipping Order? [A Step-By-Step Guide].
WooCommerce and WordPress are both free to use. However, there are still associated costs, such as web hosting and domain registration, which can vary, starting from approximately $3.95 per month and ranging up to $5,000.
👉 Read my FULL review about Dropshipping WooCommerce: Everything You Need To Know About WooCommerce Dropshipping.
Squarespace offers an array of customizable templates that empower you to craft a distinctive and professional website without requiring coding expertise. It boasts a user-friendly interface for the easy addition and arrangement of content on your site.
Furthermore, you can register and utilize your own custom domain name for your dropshipping store. Squarespace also features integrated eCommerce functionality, allowing you to directly sell products and services from your store.
Additionally, it offers robust blogging capabilities, including post scheduling, content categorization, and integration with social media sharing.
However, it has a limited selection of integrations and supports only four payment gateways: Stripe, Paypal, Apple Pay, and Afterpay. Squarespace includes built-in SEO tools to enhance your website's search engine visibility.
You also gain access to comprehensive analytics and reporting tools, social media integration, and exceptional customer support. Squarespace stands out with its built-in blogging feature, which can be valuable for maintaining an active online presence in your dropshipping business.
When it comes to pricing, Squarespace offers four pricing plans, available for both monthly and manual subscriptions. Monthly pricing starts at $16 per month and goes up to $49 per month, making it cost-effective.
💡 Tip: Read my detailed comparison of Shopify vs Squarespace For Dropshipping – Which is Better in 2023
Join the only community and resource hub you'll ever need to succeed with dropshipping
Find winning dropshipping products, learn marketing, download templates and engage with real dropshippers
Never pay for a "guru's" course again. See why 4543+ dropshippers joined us this year!
💡Try DSCOM Hub Now
Conclusion
In conclusion, Shopline offers a comprehensive solution for individuals looking to set up a dropshipping store. This platform simplifies the process of establishing and managing an online shop, providing a wide range of features that cover web stores, social media integration, live streaming, marketing tools, and more.
It enables users to enhance their marketing strategies, access real-time analytics, and expand sales across multiple channels.
Shopline's pricing structure offers flexibility, and it caters to businesses of various sizes, from small startups to larger enterprises. However, it's important to note that transaction fees are associated with each plan.
The platform's user interface is user-friendly, with a drag-and-drop website builder for customizing your online store. While customization options are somewhat limited, Shopline's focus on multilingual and multi-currency support makes it suitable for a global audience.
In this Shopline review, I provided you with the most valuable insights about Shopline, its features, pros, cons & how-to-use guide. So, make an informed decision, and see whether this is the best option for you.