Are you looking for tools that offer support and more insights into discovering new products with "winning" potential that only a few dropshippers sell? Stop here, because this Adserea Review is all you need!
If you want to succeed and sell for profits in today's dynamic environment, of course, you start by choosing the winning product for your dropshipping business. And, doing it right saves your time, effort, and money. What's more, it gives you a large potential to quickly scale.
Thus, you have multiple ways of finding winning products and winning your competition nowadays, but one of the best known is by using the best product research tool and ad spy tool for you. 
In this article, I will provide you with a full guide and an ultimate Adserea Review. Let's find out what it is, and how this fantastic Adserea software can help all dropshippers transfer the way they are finding winning products!  
What Is Adserea?
I start my Adserea Review by giving you a brief explanation of what Adserea actually is, then I will go in depth.
Adserea is a one-stop solution for dropshippiers. And by using it, you get access to everything you need to start and run a lucrative dropshipping business.
Finding winning products, ad copy, converting advertising, content product descriptions, one-click product import, and insights & new resources for every niche are just a few examples you can get from using the Adserea tool.
Although, for each product, the platform includes launch-ready descriptions, video advertisements, targeting, ad content, competition statistics, and trend analytics, as well as ready-to-import to Shopify files. On top of that, they also provide a Facebook audience search engine to aid with audience targeting.
Adserea also helps you find trending products on Tik Tok and sell them on your dropshipping store.
Moreover, this fantastic ad spy tool has a Blog, where customers can educate themselves on eCommerce and dropshipping content.
Also, the Adserea tool strives to save you time and money by handling all of the hard work. Interesting right? Let's dive into my Adserea review!
Discover top dropshipping suppliers of original US/EU products
You're 2 minutes away from building your ecommerce empire
No credit card required. No commitment.
Get started for free
Quick Adserea Review
So, before I dive into every little detail of Adserea Review, let me give you some quick notes. Or, as I say – a quick AdSerea Review. 👇
The best
Lots of spying features and filters

Affordable pricing

Wide range of competitor data

Extensive product catalog

Research Facebook and Tiktok audience & products
The worst
Lack of transparency

You must sign up to see the pricing options

There's a learning curve
Starting from
Billed monthly – $19.95/ month; Billed every 6 months – $14.99/month; Billed Annually – $12.50/month
Sounds good? Hence, let's skip to my in-depth Adserea Review.
Adserea Review: Features
In addition, I will narrow down the features that Adserea software provides.
Thoroughly, they help you choose your winning product and discover untapped products before your competitors! Let's see how! 👇
Adserea has a straightforward feature for finding daily winning products. So, how it works?
Firstly, if you want to find information about a specific product, you can simply add an image URL or a product name, and Adserea A.I will find it. 
Besides, if you don't have a specific product you want to find, you simply click the "Find New Products" button, and Adserea displays the daily winning products.
Next, once you clicked the "Find New Products" button, another window will pop up, where you can see the list of products. And if you want to go further and find product insights and analytics you click the button "A.I analyze".👇
What's next? I will learn in the next listed feature!
Now, once you clicked on "A.I Analyze" on a specific product, the tool renders all the necessary analytics. Thus, the metrics you can see are:
Cost price
Sale price
Profit
Profit margin
Number of suppliers
Number of vendors
Number of stores selling the product
Strength index
Engagement analysis (engagement, marketing, audience insights)
Videos from product usage (on TikTok)
Sales Analysis
Competition Analysis
Thus, let's see this through a real example. 👇
Once I clicked on the A.I Analyzer button, which I lent on the  "Product Analyzer" page. Here, I have full analytics on all the profit metrics. Therefore, I check the product's costs, sale price, profit, profit margin, no. of suppliers, vendors, stores, etc. 
Also, the engagement analysis gives us a complete overview of the number of visitors, likes, shares, comments, conversions data, etc.
However, that's not all! This amazing tool enables us to see product videos, see TikTok post results, and open on TikTok as well.
➡ Sales Analysis Feature
Furthermore, the Sales Analysis is pretty impressive too. Also, you can see all the important insights for a specific product, like 
Average Monthly Sales
Average Price
Average Monthly Revenue
Average Rating
Opportunity Score
Orders statistics (monthly/ daily)
Customer distribution map
Suppliers list
Now, let's take a look at the Sales Analysis for the product I chose – Abs Hamburger Meat Press Maker: 
Here, I get info about every single important thing that is helping me choose my winning product. 
Thus, I have an insight into the average monthly sales that I can make from the specific product, the average price, rating, revenue, where the products sell most, the best supplier options, etc. 
Also, there's a great customer demographics review too. Thus, I can check the customer distribution map by country! Thanks to that now I know that most of my customers are based in the Russian Federation, but Israel buyers are right next to them too!
Also, I can't complain about this, right? It really is helpful! 
Also, the competition analysis gives you detailed info about the top sellers, with links guiding you to also check their websites. Likewise, their competition meter is an interesting metric showing you the percentage and level of competition.
So, this Adserea tool makes it a lot easier for you to find winning products. 
The Hand-Picked winning products tool helps you search products by name, and also by a specific product niche. Its product directory is updated daily, so, it is more likely that you will find your winning product here. 
👉 Also, check out How To Sell Stickers Online: Dropship Stickers vs. Make Your Own.
But, that's not all! Once you click on the "See product details" button you enter the Product Analysis again.
Indeed, here you have insights about the product's COGS, sale price, profit margin, google trends data, product source, number of orders, engagement analysis, product description, videos, and more! 
What's more, you also get information about the audience you should target, like age range, interests, and more! Let me also guide you through an example of the BrakeSecurer -Anti Theft Handle Bar Lock. 👇
And, no need to use a calculator, and formulas to measure my profit margin. Hence, this Adserea tool has already done it for every product I am interested in.
Just like in the photo below, I can see that I've chosen a great product deal, with a profit margin of $22.71. Not bad, right? 
As I scroll down, I get even more insights, like profit metrics, sales analytics, engagements, supplier links, and the real-time product chart. 👇
Not to mention the full product descriptions you get. Adserea reviews the products in depth with all their features, materials, Video ads, Thumbnail & Ad Copies, Suggested Targeting, and Product Reviews. etc. 👇
This is a one-of-a-kind Adserea product spy tool. It focuses on displaying the most recent goods that are added to retailers' stores.
Therefore, this might be useful for locating untapped items that dropshipping stores are only now testing.
Hence, since dropshipping is so competitive these days, speed is essential.
Using this Adserea tool, you can search products based on product names, or list products in a specific niche.
Once you get the products list you can see information about when the product is published, on which platforms, on which dropshipping stores, sales, traffic rank, and more.
All this data, helps you choose the most profitable products for you since you can see whether you have low or high competition, the product selling, the prices, and more, from one single place – the Adserea best product spy tools! 
👉 Check out the Best Dropshipping Products In Any Niche For Max Profits.
Let's see why this feature is very popular right now! As its name says – it's a store finder, but what can you do? Here's how I use its filters! 
First, I use the " Filter by platform"  and choose a specific eCommerce platform. Adserea has a huge choice of platforms. For example, let's say that I choose Shopify. 
Next, I select " Filter by age". You can select a store age that is relatively new, like 3 to 6 months, or a little bit older like 1 or 2 years. Let's say that I choose- less than six months. 
Further, if you already have built a brand over a specific niche platform you can also choose a specific niche category, or if not, just leave it.
Then, you can also filter by store monthly revenue, language, specific store tag, and country.
Last, I click on "Filter Results", and the tool displays its results based on the required filters and the metrics.
Also, keep in mind that most of the dropshippers use this ad spy tool to search for winning products specifically over Tik Tok. Now, if you ask yourself how it can help you with this matter, consider that there is filtering by specific store tag.
Then, you can choose "Trending on TikTok". However, you can choose any other Social media too.
To sum it all up, Just take a look at the photo below! 👇
Again, just like the name implies, this Adserea tool helps you analyze a specific store. So, how it works?
You simply enter a specific store URL. For example, I can enter the URL of some Shopify store, let's say Allbirds.com. Then this ad spy tool renders you all the important information about the store, like 
Store Description,
Estimated Monthly Sales,
eCom store rank( global rank,
Shopify rank, category rank),
Social profile engagements,
Latest added products,
Bestseller products, etc.
Moreover, you can analyze each product in the store from this tool too, using the A.I Analyze.
This really is a one-stop solution for your dropshipping business! Take a look.👇
Last but not least, the Audience Builder tool! Using this Adserea tool you can select your niche/category to generate a list of prospective Facebook ad targets.
They also provide data on Instagram hashtags and related hashtags if you prefer Instagram influencers over Facebook advertisements.
For example, I will search the "beauty products" keywords. Let's see what I got! 👇
First, the Audience Builder displays the audience-related interest on Facebook, as you can see once I searched for beauty products, the results has shown us that 1.5B people are interested in/searching for beauty products under the "Beauty" keyword.
Next, the Audience builder also lists the top hashtags on Instagram and related hashtags. And, once I searched for Beauty products, look what I got! 👇
Furthermore, I am also able to check the Google Trends for my winning products, through the Audience Builder.
Adserea BONUS features
Further, I am not finishing my Features Adserea Review without giving you a BONUS! Adserea has new very helpful features added to their software: 
1. TikTok Spy Tool
Using this tool can help you search products on TikTok based on several metrics. Hence, these metrics help you to specify exactly what you are looking for, and find it much quicker! Take a look.👇
💡 Tip: Also, check out the 100+ TikTok Bio Ideas For Your Dropshipping Business In 2023.
2. Adserea Blog
The Adserea Blog support dropshippiers by giving them a lot of valuable information about how to keep up with their dropshipping business (just like Dropshipping.com does). There are a lot of great blog posts to read and educate yourself from.
👉 Check out: How to Start and Scale Your Shopify Dropshipping Store Quickly
Adserea Review: Pricing
Adserea has three pricing plans, starting at $19.95, each of which has different features available. Take a look at the pricing plans! 👇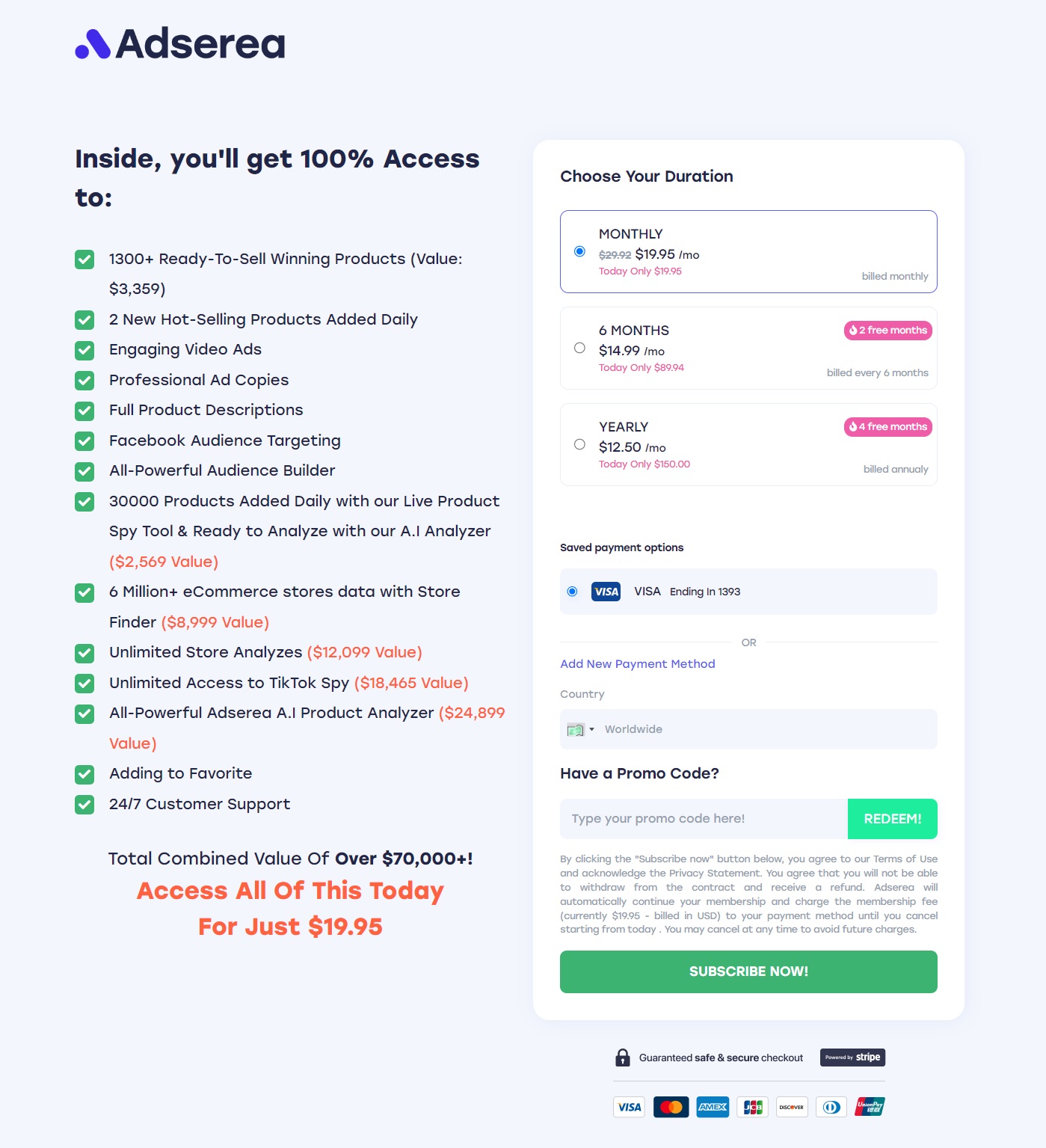 Also, you have the Adserea free trial. So, what are you waiting for?
Adserea Alternatives
There are many other alternatives to Adserea, but are they all cost-effective just like the Adserea tool is? Let's see it all in one comparison table!
| | | | | |
| --- | --- | --- | --- | --- |
| | Adserea | Sell The Trend | AliShark | Ecomhunt |
| Price | Starting at $19.95/month | Starting at $39.97/month | Starting at $20/month | Starting at $29. |
| Daily winning products | ✅ | ❌ | ✅ | ✅ |
| Winning product analytics | ✅ | ✅ | ✅ | ✅ |
| Live Products Spy | ✅ | ❌ | ❌ | ❌ |
| Store Finder | ✅ | ❌ | ✅ | AliExpress and eBay only |
| Store Analyzer | ✅ | ✅ | ❌ | ❌ |
| Audience Builder | ✅ | ❌ | ❌ | ✅ |
| TikTok ads | ✅ | ❌ | ❌ | ❌ |
| Analyze products from any Tiktok video | ✅ | ❌ | ❌ | ❌ |
| Shopify product data | ✅ | ✅ | ✅ | ❌ |
| Engaging Video ads | ✅ | ❌ | ✅ | ✅ |
| Influencer engagement calculator | ❌ | ✅ | ❌ | ❌ |
| Full product descriptions | ✅ | ✅ | ✅ | ✅ |
| Facebook audience targeting | ✅ | ✅ | ❌ | ✅ |
| Customer service | 24/7 | 24/7 | 24/7 | 24/7 |
| Chrome extension | ❌ | ✅ | ✅ | ✅ |
| 1-Click order fulfillment | ❌ | ✅ | ❌ | ❌ |
Also, If you ask me whether Adserea is a good choice for finding winning products – YES, it is, and it's more than that! This Adserea Review gives you an answer to all the "should I" and "why to " use questions.
I can see that Sell The Trend can be a serious competitor to Adserea, however, it lacks a few important features, that are essential for finding the winning untapped products for your dropshipping business.
What's more, Sell The Trend costs almost double. So, I do not need to overpay when I can get all this at Adserea.
💡 Tip: Also, check out the Minea Review: Find Winning Products & Spy On Ads For Free.
Adserea Review: Pros & Cons
So, based on my experience with Adserea, I will list you the pros & cons from my point of view.
Lots of spying features and filters
Wide range of competitor data
Extensive product catalog
Research Facebook and Tiktok audience & products
You must sign up to see the pricing options
Adserea Review: FAQ
Is Adserea Legit?
YES. Adserea is absolutely legit and safe to use. It's not a scam!
Is there a free trial for Adserea?
Adserea offers a free trial. However, it has limited access to its tools. If you want to use them all fully, you should subscribe.
How does Adserea locate winning products?
Adserea's staff are taught to use exclusive in-house technologies that provide them with exclusive and sensitive information about the most successful items on the internet.
They employ various ad spy techniques, such as Live Product Spy, TikTok Spy, and A.I Analysis, Store Finder, Store Analyzer, Product Analyzer, and so on.
Does Adserea provide refunds?
No. They do not provide refunds due to the nature of their goods (services). However, you may cancel your membership at any moment.
How To Find Untapped Winning Products on Adserea?
Let us show you how I use this fantastic ad spy tool to find the untapped winning products I sell! 
I will break down the whole simple process into a few steps:
Step 1 – Log in to the Adserea platform, and once you do, their home page will display.
Step 2 – Then, on the upper left corner (right next to the search bar) click on the three horizontal lines, and a sidebar menu will appear on the left side.
Step 3 – Next, once the sidebar menu appears, choose the "Live product spy" category.
Step 4 – The Live Product Spy tool will display. Now, follow up carefully on what I do!
Furthermore, once the Live Products Spy tool displays, I choose the niche I am interested in. So, my choice is Consumer electronics.
Also, first, I click on the drop-down form and click on the Consumer Electronics niche/category. In the meantime, I also use a product keyword to search for the specific product I am interested in Wireless Charger. So, I type it in the search box right next to the niche/category form. 
💡 Keep in mind that you don't have to use a specific product keyword if you don't have an idea of what you want to sell.
The next thing I see on my display is the product I am searching for wireless chargers.
What I do here is collect information about when the product is published, on which dropshipping stores, store sales, and traffic rank. 
Also, I always enter the platforms where the Adserea tool tells me that these products are available there too. Here I check for those specific products, but I try to find other complementary products too. 
Next, I make a decision based on previous characteristics. As you can see in the picture below, I chose the second rendered product. Furthermore, I click on "A.I Analyze", where I have a full analysis of this specific product.
Moreover, after I click on the "A.I Analyze" button, the tool pops up a new window, where it gives me thousands of other same products at different prices, or similar products as well. 
Hence, I choose the product based on the closest match to what I am looking for. Again, I click on A.I Analyze. 
Now, the Adserea tool gives us a specific analysis of the winning product, like
profit metrics
the number of suppliers
the number of vendors
the number of stores selling the product
the top sellers
strength index
engagement analysis (engagement, marketing, audience insights)
videos from product usage (on TikTok)
sales analysis
competition analysis
It's not a secret that all of these analyses and metrics are very helpful in finding winning products for busy dropshippers!
Find A Winning Product With Adserea Quickly- My Method  
And, last, from my Adserea Review, I will show you what I do while using the Adserea software. 
Hence, I start by using the "Store Finder". It's not that I skip all other tools which are specifically for finding winning products, like their Hand-picked Winning Products. However, be aware that Adserea has a lot of users daily, and they also see the same products.
So, what I do is enter "Store Finder" and "play" with the amazing filters they have! Thus, I do as follows:
I choose Shopify to Filter by platform
Next, I select the store age with the store age filter. I tend to use a new dropshipping store, and what works for me best is usually a less than 6-month-old store.
Then, I select my niche/ category – consumer electronics.
Thereafter, I pick a store's monthly revenue by using its filter. Again, what works for me best is a revenue set of less than $250,000. This range will display stores that make revenue between $50,000 -$250,000.
Please NOTE that you can also use other filters like store tag,  and store language, but I don't force them because I have no need right now. 
After this, the Store Finder tool displays stores based on my needs. Thus, I look through the Store's monthly sales, global rank, and Shopify platform. Of course, you can also check the niche too, but since I already have specified mine, I don't do that.
Further, I click on "Analyze this store" and I get on to more store analytics with only one click. I have insights into social media engagements, the installed store apps, the latest added products, popular products, etc.
Hence, this is my method of finding winning products quickly, using the Adserea tools. I hope you find it helpful.
Find winning dropshipping products & spy on your competitors
Minea analyses all online advertising to help you find the best products to launch, and the best creatives in your niche in just a few clicks.
Use coupon: DROPSHIPPING30 and get a 30% discount
💡Try Minea For Free
Adserea Software – Is It Worth It?
Let's get straight to the point. Is Adserea actually worth it?
Definitely! With all the Adserea tools you can use for targeting winning products and spying on competitors, customers, and following changes constantly, you get it all ( only with a few clicks).
So, who doesn't want to save time and money? Thus, Adserea really seems to be the all-in-one dropshipping solution it claims to be. 
They provide a huge amount of information and analytics to assist you with your dropshipping company. Moreover, all that is available at only $19.95 each month!
I hope you find this Adserea Review helpful and easy to guide!