Debutify Shopify Theme Review: Is Debutify The Right Theme for Dropshipping?
by
Aleksandra -
Aleksandra teaches marketing and management at various levels in High School. She writes about marketing, the economics and logistics of the dropshipping business and ecommerce in general.
Chief of Content Marketing
Are you a dropshipper looking for the perfect Shopify theme to boost your business? Have you heard about Debutify Shopify Theme?
Among the many Shopify themes available, Debutify has gained a lot of attention and praise. It claims to be the ultimate theme for dropshipping, offering a range of features specifically designed to optimize conversions and boost sales.
But is Debutify really the best theme for dropshipping? In this review, I will delve into its features, benefits, and potential drawbacks to help you make an informed decision for your dropshipping business. Let's start!
Debutify Shopify Theme: General Overview
Debutify is a popular Shopify theme that is designed to help you create highly converting and visually appealing online stores. It offers a range of features and customization options to enhance the overall user experience and drive sales.
The theme focuses on conversion optimization by providing various add-ons and features that are proven to drive dropshipping sales. These include a customizable product page layout, optimized checkout process, and strategically placed call-to-action buttons.
What's more, this Shopify theme offers a wide range of customization options. So, you can easily modify colors, fonts, layouts, and other design elements to create a unique and visually appealing storefront.
What makes this theme famous is its speed and performance, ensuring that your online store loads quickly and provides a smooth browsing experience for your customers.
Furthermore, Debutify is designed with SEO best practices in mind, making it easier for search engines to crawl and index your website. This helps to improve your organic search visibility and attract more targeted traffic to your online store.
Plus, Debutify seamlessly integrates with various Shopify apps, allowing you to enhance the functionality of your online store.
Also, the app is rated ⭐ 4.7/5 stars on Trustpilot. And, I talking about reviews from 10,000 customers. And, I stand with them too! ✌️
Thus, customers mostly comment about their amazing customer service, excellent add-ons, and features, ease of use, etc.
But, as I always search out for negative comments and want to hear all parts of the story, I came on to comments where customers point out Debutify's drawbacks. Hence, they talk about some theme bugs, accidentally charged for a canceled plan, etc.
Lifetime deal: Get all-access to everything on Dropshipping.com
Access all DSCOM features, resources, courses, live workshops, discounts, winning products, weekly deep dives, directories and all future updates under all-in-one dropshipping HUB.
DROPSHIPPING IS A REAL BUSINESS, DON'T DO IT ALONE. 4553 MEMBERS ALREADY JOINED. YOU CAN PAY OFF YOUR SMALL INVESTMENT WITH JUST 2 SALES ON YOUR STORE.
Grab the deal before it's gone
Why Is Debutify One Of The Best Shopify Themes for Dropshipping?
In my opinion, Debutify is one of the best Shopify themes for dropshipping for several reasons.
💎

Wide Range of Customizable Features

Firstly, Debutify offers a wide range of customizable features and add-ons that allow me to create a unique and professional-looking online store.

The theme provides various pre-designed sections and layouts, making it easy to build a visually appealing website without any coding knowledge.

This flexibility me to showcase my products in an attractive and engaging manner, helping to capture the attention of potential customers.
💎

Speed and Good Performance

Secondly, Debutify is optimized for speed and performance. With fast loading times, I can provide a seamless browsing experience for my customers, reducing the chances of them leaving the site due to slow-loading pages.
💎

Designed With Conversion Optimization In Mind

Additionally, Debutify is designed with conversion optimization in mind. The theme incorporates various elements and features that are proven to enhance conversions, such as a sticky add-to-cart button, trust badges, and optimized product pages.

These elements helped me to build trust with my customers and encourage them to make a purchase.

👉 Check out the 15 Ways to Double Your Dropshipping Conversion Rate On Your Store.
💎

Excellent Customer Support

Furthermore, Debutify offers excellent customer support. The theme provides a dedicated support team that is readily available to assist users with any technical issues or questions they may have.

Lastly, I must say that Debutify is constantly evolving and improving. The theme regularly releases updates and new features based on user feedback and industry trends.

👉 Here is a demo preview of the theme. Take a look.

Also, check out my Booster Theme Review: The Ultimate Shopify Theme for Dropshipping?

Now, let's start with the Debutify Shopify Theme in-depth Review.
Debutify Shopify Theme: Key Features
Now, we will analyze the Debutify Shopify theme thoroughly, so you can make a well-informed decision.
As I have already said, Debutify has pre-built e-commerce features that enable you to deliver the best possible user experience for your customers. Here are some of the best features it offers:
🔸 General Store Features
➡

No coding required

Debutify is a game changer for e-commerce newbies looking to create a stunning online store without any coding expertise.

With Debutify, you can easily install and customize the theme within minutes, regardless of your coding experience. The theme comes with a beginner-friendly interface that makes it simple to navigate and understand.

Also, the quick installation process allows you to get their store up and running in no time. Once installed, you can customize various elements of your website including the layout, colors, fonts, and more, without ever having to touch a single line of code.
➡

Reliable 24/7 Support
Debutify understands the importance of providing reliable support to its customers. With their dedicated customer support team, they ensure that any queries or concerns are addressed promptly and efficiently.
Hence, customers can reach out to Debutify's support team through various channels. They offer email support, allowing customers to get in touch at any time and receive a timely response. For those who prefer real-time assistance, the live chat feature is available in all pricing plans regarding the free plan.
Furthermore, they also offer phone support for customers who prefer a more personal touch. This helps to ensure that customers have a range of options to choose from when seeking assistance. However, keep in mind that this is only available in their Enterprise pricing plan.
For customers who prefer self-learning, Debutify also provides an excellent resource called Launchpad. This feature offers a range of courses that cover various aspects of using the Debutify theme. 👇
These courses allow customers to become more familiar with the theme's features and customize it to their specific needs.
Plus, there's technical support as well. So, you get development support, a dedicated success manager, an onboarding expert, a theme migration specialist, etc.
What's more, at their Help Center, you have articles about getting started, integrations, add-ons, FAQs, etc. 👇
➡ Currency converter
With the Debutify Shopify theme, you can also take advantage of its currency converter. Namely, due to this feature, your site can automatically detect the country of your website visitor and display pricing in their local currency.
➡ Seamless Integration
There are various Shopify apps that are compatilbe with Debutify. Plus, Debutify offers seamless integration capabilities with them, making it the go-to choice for dropshippers. Thus, it seamlessly integrates with apps such as:
Billo
Loox Reviews
Cart Loop
Firepush
Spocket
Cart Hook, and many more.
👉 Read my in-depth Billo Review: The Best UGC Video Marketplace For Dropshippers.
Furthermore, what sets Debutify apart is its use of the innovative Primary Parlance Protocol, which ensures that these app integrations do not slow down the website. This means that online stores powered by Debutify can enjoy the benefits of these apps without compromising on loading speeds or performance.
Not to mention that the app integration process with Debutify is incredibly simple. Hence you can easily download the desired app from the Shopify App Store and enable it from the Debutify theme settings.
Also, one of the key apps offered by Debutify that I find very helpful is the review collection app. It helps me collect reviews from customers, which can significantly boost credibility and improve conversion rates.
By showcasing social proof, this app helps me build trust with potential customers and encourages them to make a purchase.
👉 Also, check out the 39 Must-have Shopify Tools for Your Dropshipping Store In 2023.
➡ Free Lifetime Updates
Debutify offers an incredible feature that sets it apart from its competitors – free lifetime updates. Similar to other leading themes like PageFly, Debutify includes these updates in one comprehensive package.
Thus, you can rest assured knowing that your theme will always stay up-to-date with the latest features and functionalities.
➡ Available In 20+ Languages
Debutify theme, the leading Shopify theme, is now available in 20+ languages, making it accessible to global audiences. This significant feature allows you to expand your reach and cater to a larger customer base around the world.
Thus, by offering the theme in multiple languages, Debutify enables you to target multi-geo audiences more effectively. This is crucial for reaching potential customers and converting them into loyal customers.
Another notable advantage of this feature is the improvement in SEO rankings. With the ability to optimize your website with local keywords, you can rank higher in search engine results in various regions. This not only increases visibility but also boosts organic traffic to the website.
🔸 Customization Features
➡ Customizable Layouts
At first glance, the theme's default layout and design are simple and easy to navigate. The main reason for this is that the theme has easy-to-find sections for each page.
Also, you can choose from a variety of fancy ready-made templates for specific dropshipping niches. So, whether you want to build a general dropshipping store or a single-product store, this Shopify theme has got you covered.
But you can customize your dropshipping store to your liking with ease thanks to the plenty of customization options the theme offers.
Hence, whatever the colors of your brand are, you should not worry. Why? Because with the Debutify Shopify theme, you have a choice of 29 different colors.
👉 Also, you can check out the 11 Best Free Shopify Themes For Dropshipping Stores.
In short, you can quickly set up the desired dropshipping business and see sales coming immediately using Debutify.
👉 Check out the 13 Most Successful Shopify Dropshipping Store Examples.
➡ Product Displays & Slider
By using the Debutify Shopify theme, you can ensure your products are presented professionally. Or more specifically, you can choose from several layout and slider options to display your product collections. Also, the theme offers a variety of modes to display your product photos.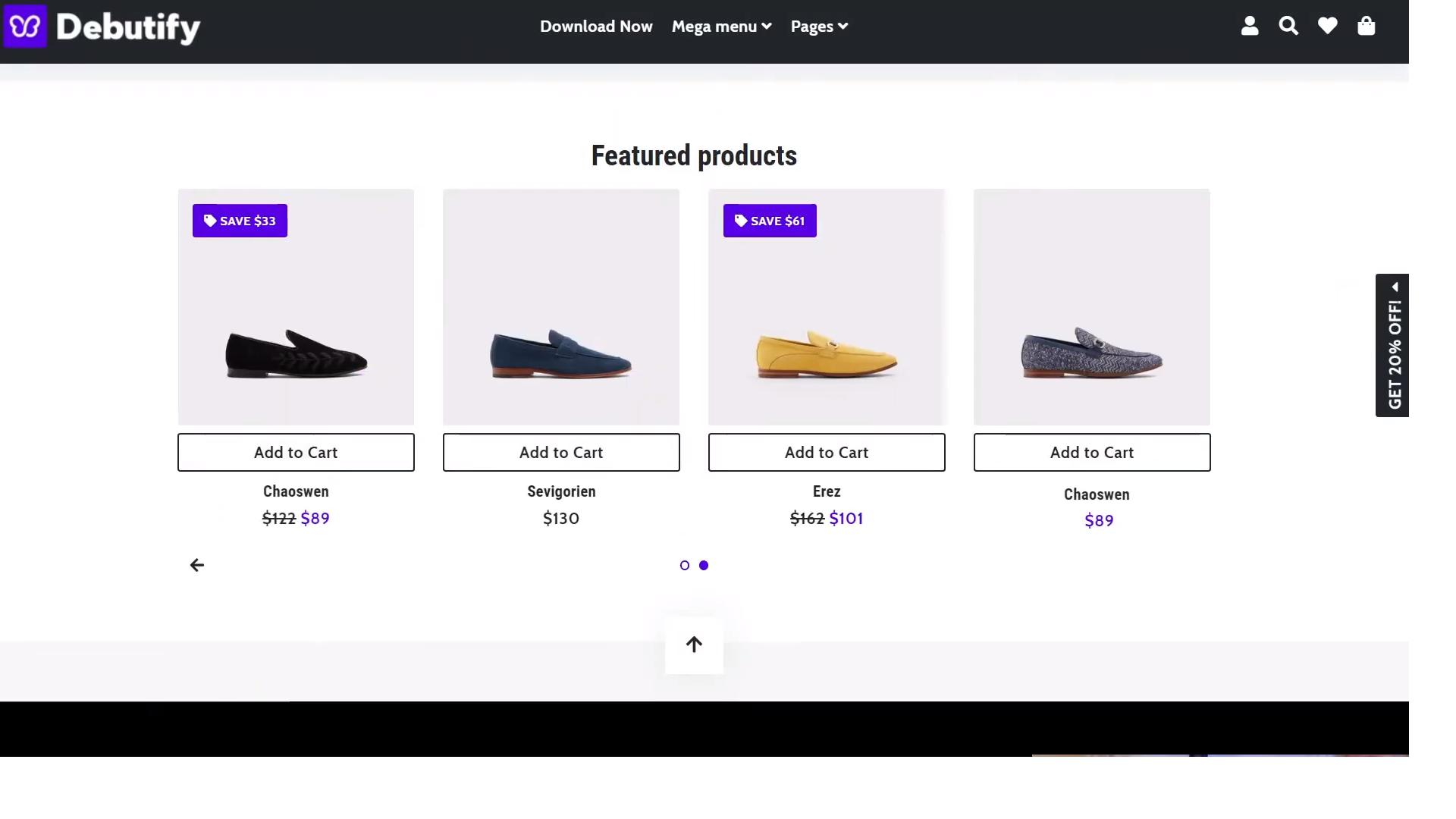 Hence, the product sliders can make your dropshipping products even more attractive and engaging among your website visitors. You can use this Debutify Shopify theme's feature to display products from your catalog.
By installing Debutify on your Shopify store and using a product slider, you can:
Choose the number of items to show with the slider.
Make use of desktop and mobile swipe.
Create autoplay sliders and change the speed.
Choose between the viability of dots and arrows.
Along with all these product page customization options, Debutify also lets you optimize your product pages for both your website visitors and search engines.
What does this mean? This means that by using it, you can use related product modules throughout your site.
Just ensure you keep your related product listings relevant and uncluttered. Otherwise, you will overload your customers and even push them away from your store.
How to do that?
So, if you want to do all these edits, and add featured products, you can do that from the "Featured Collection" section of your Debitfy Dashboard. Hence, you can click on the blue "Add Section" in the "Gallery" section, and add your collection.
Next, you can add it to your home page, or wherever you want.
➡ Customizable Slideshow
In a similar way to product sliders, customizable slideshows can be used for sales promotions, new arrivals, etc.
They are an excellent way to "tease" your customers with intriguing photos and some text and encourage them to explore your offerings.
How to do that?
From the Debutify dashboard, from the left sidebar menu, navigate to the Home Page, next go to "Slide Show", and click on "Add Slide".
Hence, on the right corner, there's a window where you can upload your photos for the Slide Show, or simply use their free images.
➡ Product Testimonials
Are you aware of the persuasive power of product testimonials in dropshipping? Well, product testimonials are more important to your conversion rate than you might expect.
💡 Tip: Read about Testimonial Advertising: 11 Proven Examples To Sell More.
With the Debutify Shopify theme, you can add testimonial sliders under your product pages. That way, you can reduce uncertainty for customers and increase your conversion rate.
➡

Shopping Cart Customization

The Debutify theme offers multiple cart types that can be customized to suit individual needs. Whether you prefer a traditional cart layout, a minimal cart, or a floating cart, the theme provides options to align with your store's branding and design.

Hence, you can edit the shopping cart layout from the Debutify dashboard, by navigating to the "Cart" landing page.
Here you can change colors, fonts, cart type, cart icon, buttons, etc.
👉 Check out the Top 11 Shopify Checkout Apps: How to Optimize Your Checkout Page?
➡ Sticky, Animated Add-to-Cart Button
The Debutify Shopify theme offers a game-changing feature that enhances the user experience and boosts conversion rates: the sticky, animated add-to-cart feature. This supercharged add-to-cart button sticks to the screen, ensuring it remains visible to customers no matter where they scroll on your website.
The sticky, animated add-to-cart feature serves as a constant reminder for customers to add products to their carts, increasing the chances of them making a purchase.
➡ Countdown Timer
One standout feature is the built-in countdown timer, designed to create a sense of urgency and encourage customers to make quicker purchasing decisions.
By setting a limited-time offer or discount, the countdown timer creates a sense of urgency that motivates potential customers to complete their purchase before time runs out.
➡ Multi-purpose Announcement Bar
This exciting feature allows you to showcase multiple messages to your visitors, all in a sleek and automated carousel format. So, if you want to edit your announcement bar, go to your Debutify dashboard. Next, navigate to Home Page > Announcement bar.
With the Multi-purpose Announcement Bar, you have the flexibility to inform your shoppers about promotions, discounts, free shipping conditions, and more.
Also, you can easily customize the messages and ensure that your customers stay up to date with the latest offerings.
🔸

Add-Ons And Extensions
When using the Debutify Shopify theme, you can add various add-ons and extensions to the theme to give it additional features and functionality. Plus, they will not affect your site's load speed.
Also, keep in mind that all these add-ons and extensions are already built-in. And you just have to unlock them, depending on your chosen pricing plan. (Later in this article, you will learn more about the pricing plans and the number of add-ons you can unlock with each plan).
Though a large number of add-ons and extensions are available to you, here, we will focus on the most important ones. And they are as follows:
➡ Shopping Cart Add-Ons
| | |
| --- | --- |
| Add-ons | Functionality |
| Add-to-cart animation | Allows you to add an animation to your product page add-to-cart button. |
| Cart goal | Helps you to create free shipping offers when a specific total amount is reached. |
| Cart reminder | Display a cart banner on the bottom of the page, when the customer has a product in the cart. |
| Cart savings | Shows the customer the total amount of savings in the cart. |
| Cart upsell | Allows you to add up-sells and cross-sells directly in your cart. |
| Collection add-to-cart | Allows customers to add products to their cart directly from the collection page. |
| Gift Wrap | Allows customers to mark orders as gifts and add personalized gift messages. |
| Minimum order | Allows store owners to set minimum order amount before customers can go into the checkout. |
➡ Conversion Trigger Add-Ons
| | |
| --- | --- |
| Add-ons | Functionality |
| Cart discount | Customers can enter discount codes in the cart before they checkout. |
| Customizable products | Different options and fields that help you customize your products. |
| Discount saved | Allows you to show the saved amount of on-sale products on the product page. |
| Skip cart | Allows you to remove the cart page from your website and send customers directly to checkout. |
| Social discount | You can reward your customers with a discount if they share your products on their social media pages. |
| Sticky add-to-cart | Allows you to create a sticky add-to-cart button. |
| Trust badge | You can add payment icons and custom trust badges under your checkout and add-to-cart buttons. |
| Upsell pop-up | Customizable upsell pop-up that triggers when customers add products to the cart. |
| Upsell bundles | Helps you to create a bundle so customers can buy multiple products in one click. |
💡 READ: The Guide To Upselling and Cross-Selling When Dropshipping.
➡ Loyalty Builder Add-ons
| | |
| --- | --- |
| Add-ons | Functionality |
| Newsletter pop-up | Create a customizable newsletter pop-up that helps you to collect customer emails before they leave your site. |
| Order feedback | Custom field that helps you understand your customers better by asking them questions like "How did you hear from us"? |
| Wish list | With this add-on, customers can add their favorite products to their wish list, which they can later come back to. |
👉 Check out the Dropshipping Email Marketing: 16 Best Email Marketing Tools For Shopify.
Shopping Enancer Add-Ons
What's more, there are lot's of other shopping enhancer add-ons. So, here I will list you a few of them:
| | |
| --- | --- |
| Add-ons | Functionality |
| Back In Stock | Allow customers to fill back in the stock request |
| Collection Filters | Allow visitors to filter the products on the collection page by the parameters they want. |
| Color Swatches | Add Color Swatches to your product options. |
| Delivery Time | Display an approximate date of delivery. |
| Facebook Messenger | Add a Facebook Messenger chat widget to your store. |
| FAQ | Add a searchable question and answers module to your store. |
| Inactive Tab Message | Display a different page title when the user goes to another tab |
| Infinite Scroll | Replace paginations with a 'Load more' button or by automatically loading items as you scroll down the page |
| Instagram Feed | Display the latest images of your Instagram page |
| Linked Options | Hide unavailable product variant combinations |
| Mega Menu | Add nested menus, products, collections, articles, and more to your header navigation |
| Menu Bar | Add a simple scrollable menu below the header |
| Order Tracking | Let your customer track their orders directly from within your store |
| Page Speed Booster | Improve your conversion rate by making your store faster |
Debutify Shopify Theme: Pricing Plans
As you can see, when it comes to Debutify pricing, the theme offers four pricing plans. To be more specific, you can get the right plan if you choose to install the Debutify Shopify theme on your store.
Free Plan – US$0 per month: With the Free Plan, you get limited access to the above-mentioned e-commerce features.
Growth Plan US$29 per month: With the Starter Plan, you can pick 5 add-ons, enjoy advanced support, etc.
Pro Plan US$79 per month: If you select the Pro Plan, you can increase your conversion rate with free access to 30 add-ons and many other powerful features.
Enterprise Plan US$149 per month: Sure, the Enterprise Plan is a complete package that comes with VIP support, access to 50 add-ons, a chance to win weekly one-on-one mentoring calls, etc.
Custom Plan – This plan is for businesses that have specific requirements. So, the pricing is negotiable, based on what users need.
👉 Learn about Shopify Pricing Plans: What's The Cost Of Dropshipping With Shopify?
Free Or Paid Plan For Beginners? My Opinion
When it comes to choosing between a free or paid plan for beginners using Debutify, it mostly depends on your needs and goals.
➡ If you are just starting out and have a limited budget, the free plan can be a good option. It allows you to get a feel for the Debutify platform and its features without any financial commitment. You can explore the basic functionalities and see if it meets your requirements.
➡ However, you should choose the Growth Debutify plan if you are just starting your dropshipping business or have a small-scale operation. This is because this plan offers basic features and functionalities that are suitable for beginners.
Also, it provides a solid foundation for building an online store and includes essential tools for customization, branding, and product showcasing.
For instance, if you are a small dropshipping business that requires 1 Store license, and requires more simple store that can run with around 6 standard add-ons, then you can start with the Growth plan.
Hence, in my opinion, I will try the free plan to see if the Debutify theme meets my needs. And, if it does, I will definitely subscribe to the Growth Debutify plan. For me, its great for start.
But, I must point out to you that this plan does lack some of the standard add-ons for driving sales and conversions. In my opinion, this might not be the most affordable option if you want to scale up your business. So, if you want more than 6 standard add-ons, The Pro Plan offers you up to 30 add-ons and advanced support. So, this might be your best shot.
This way, you will also get additional tools and functionalities that can enhance the user experience, such as advanced analytics, email marketing integration,etc.
How To Get Started With The Debutify Shopify Theme – Step-By-Step Process
First thing first, go to the Debutify website so you can sign up for Debutify. Hence, you will get a Fill Form to add your info. Once you do, click on "Create my account". 👇
Once you do that, there will be a few other steps, like verifying the email, etc.
Next thing you know, you will land on Debutify Dashboard. From the dashboard, you can navigate through each of the Debutify sections, like add-ons, integrations, support, etc. 👇
Also, their Chatbot support is there, in the right bottom corner. So, whenever you need them you can text them for help.
However, the next step I do is to download Debutify Theme so I can use it in my Shopify store. Now, from the left sidebar menu, go to the "Download Theme" section, and click on the "Download" button. Now, the theme will download automatically as a zip file. 👇
Furthermore, go to your Shopify admin, and navigate to Online Store > Themes. From here, scroll down a little bit, and click on "Add Theme". Now is the time to upload the zip file. 👇
Now, once your Debutify theme is set, you can start customizing it with all the add-ons and features it has. 👇
👉 Learn How To Change Themes On Shopify: A Guide For Dropshippers.
Debutify Shopify Theme Pros & Cons
Various customization options
High-converting Product pages
Numerous performance based Features and Add-ons
Lack of Features on lower-priced plans
Not very affordable option
Debutify Shopify Theme Store Examples
Jennifer Lay Lash Supplies has emerged as a prominent supplier of individual and lash artist supplies in Australia.
After encountering a period of stagnation, Jennifer took the initiative to enhance the performance of her Shopify Store. It was during this time that she discovered the benefits of incorporating the Debutify Theme into her online platform.
Firstly, upon entering their website, multiple pop-up windows are presented, including one that features a Newsletter sign-up form.
Additionally, they utilize a Full-Screen photo layout and a grid of cards to effectively organize the content displayed on their Home Page. Moreover, the call-to-action buttons actively encourage users to progress further in the purchasing process.
Furthermore, the Product Page provides comprehensive information about the product, encompassing photos, descriptions, how-to-use, and more.
Also, if you scroll down a little bit, you will also find the "related products" section.
Plus, what I find like a big PLUS is that they add customer reviews on each product page.
Lastly, their footer serves as an excellent "site map," containing essential sub-categories that showcase social proof and customer services, such as FAQs, their Blog section, Bulk discounts, payment methods, links to their Social Media presence, and more.
Tucann is a leading online store specializing in the sale of beach shorts for men. Their main objective is to instill a sense of confidence and comfort in customers when wearing beach shorts.
Tucann effectively utilizes the Debutify theme to enhance user experience and streamline navigation on their website. First, their slideshow is amazing! Hence, it consists of multiple photos from their products.
Also, I like their fly-out menu. As you can see, they really took benefit from Debutify add-ons. Hence, the menu has well-defined categories and also showcases featured images of their products.
What's more, by simply clicking on a product, users are presented with a wide range of color options, accompanied by a convenient size chart that ensures a perfect fit.
Hence, their product page also includes informative descriptions, shipping info, a "you may also like" section, etc.
Furthermore, Tucann's website showcases high-resolution images and engaging videos, providing customers with a clear and detailed view of their products.
👉 Learn about Dropshipping Mens Fashion 101: Top 8 Mens Fashion Dropship Suppliers.
Starting as a business in Melbourne that specialized in selling personalized cookies and candles, Milkie Co expanded its offerings to include handmade customized trinkets for various occasions.
👉 Interested in candle dropshipping? Check out the Best Supplier List, Products & Tips For Getting Started.
As they gained a devoted following on Instagram, the owner of Milkie Co made the decision to launch a Shopify store, which resulted in a consistent daily revenue of $200 for a period of six months.
Consequently, after incorporating the Debutify Theme into their Shopify store and implementing remarketing strategies, Milkie Co experienced a remarkable increase in revenue, generating a total sales volume of over $28,000 within four months – a staggering 500% growth despite operating in a fiercely competitive market.
So, how did the Debutify Theme contribute to Milkie Co's success?
First and foremost, I must admit that their design is amazing. Hence, starting from the multiple image slideshow to the grid layout, and their footer.
Moreover, the inclusion of the cart discount add-on enables customers to apply discount codes during the checkout process.
Additionally, by utilizing the order feedback add-on on the cart page, Milkie Co can track the sources of their customers, a vital component of their remarketing strategy.
Moreover, the customizable newsletter popup entices visitors to sign up for Milkie Co's email newsletter by offering them exclusive discounts.
Given that Milkie Co ships its products globally, the custom currencies add-on is invaluable in displaying product prices in multiple currencies without relying on Shopify Payment's multi-currency converter.
Furthermore, this store also utilizes other add-ons such as trust badges, color swatches, cookie boxes, and more.
Join the only community and resource hub you'll ever need to succeed with dropshipping
Find winning dropshipping products, learn marketing, download templates and engage with real dropshippers
Never pay for a "guru's" course again. See why 4543+ dropshippers joined us this year!
💡Try DSCOM Hub Now
Conclusion
Debutify is a modern, attractive, and responsive theme. Not only will it positively affect the appearance and feel of your Shopify store, but it will also help you increase your conversion rate and skyrocket your sales. So, it is safe to say that it is one of the best Shopify themes for dropshipping.
To stay motivated and start dropshipping with Shopify, check out these Shopify dropshipping store examples. Also, learn more about the start-up costs or the minimum budget to start a Shopify dropshipping business.