How To Change Themes On Shopify: A Guide For Dropshippers
by
Aleksandra -
Aleksandra teaches marketing and management at various levels in High School. She writes about marketing, the economics and logistics of the dropshipping business and ecommerce in general.
Chief of Content Marketing
Are you looking for hassle-free ways how to change themes on Shopify? Stop your research! You are at the right place.
In this article, We'll provide a step-by-step guide on how to change theme on Shopify, including backing up your store's content.
Thus, we will give you insights about each method, like uploading a Zip file or connecting from GitHub, buying a premium theme from Shopify, and changing your current theme with a free Shopify theme.
But, that's not all! We will also help you choose the right Shopify theme for your dropshipping store, and answer to the most common dropshipping FAQs.
So, let's get started!
What Is A Shopify Theme?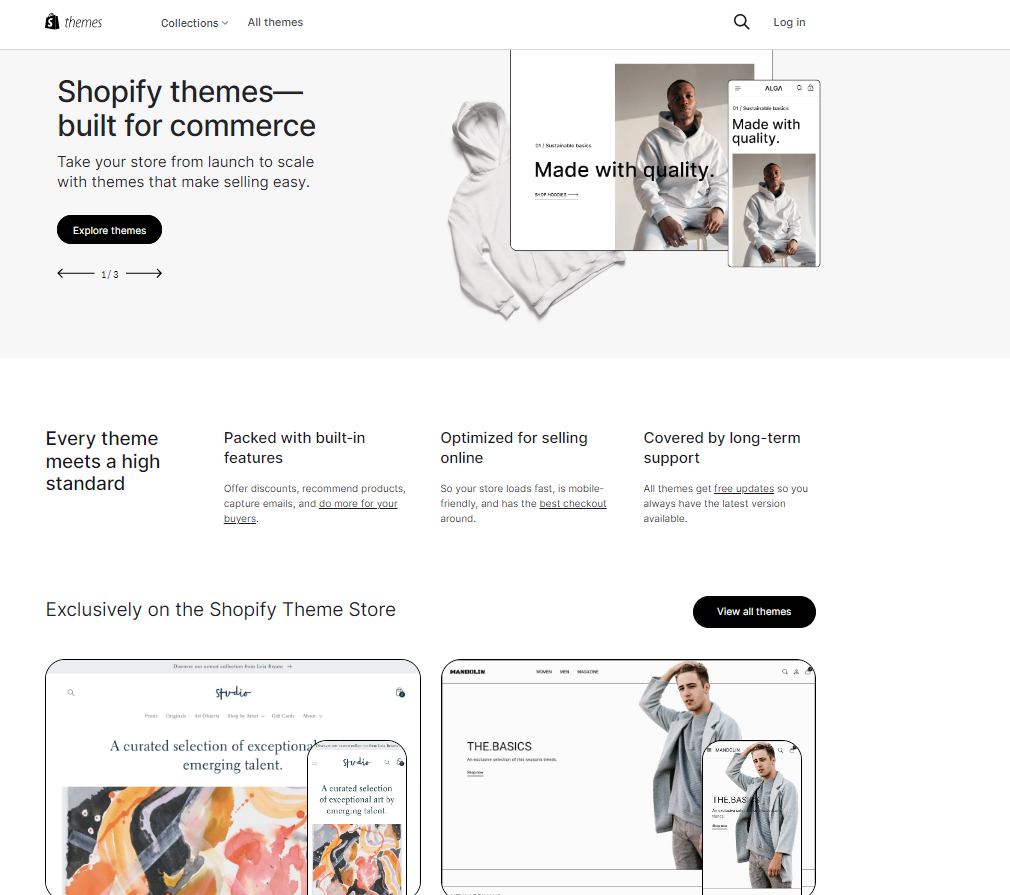 Shopify themes are sophisticated templates that determine your website's functionality, user interface, and overall usability.
They contain a variety of customizable features that can help you optimize your sales funnel, drive conversions, and boost customer engagement.
So, you can adjust the theme's settings, colors, fonts, and other design elements to create a truly unique dropshipping store.
However, Shopify themes are much more than just a pretty design. They provide the foundation for your online store's success, and they offer endless options to create a truly unique customer experience.
What's more, Shopify offers both free and paid themes.
Lifetime deal: Get all-access to everything on Dropshipping.com
Access all DSCOM features, resources, courses, live workshops, discounts, winning products, weekly deep dives, directories and all future updates under all-in-one dropshipping HUB.
DROPSHIPPING IS A REAL BUSINESS, DON'T DO IT ALONE. 4553 MEMBERS ALREADY JOINED. YOU CAN PAY OFF YOUR SMALL INVESTMENT WITH JUST 2 SALES ON YOUR STORE.
Grab the deal before it's gone
How To Choose A Shopify Theme?
As a dropshipper, choosing the right Shopify theme can be a daunting task. With so many options to choose from, how do you find a theme that not only looks great but also meets your unique business needs and goals?
The answer lies in balancing the art and science of theme selection.
On one hand, choosing a theme is a creative process that requires a deep understanding of your brand's visual identity and customer experience. On the other hand, it's a strategic decision that should be informed by data-driven insights.
So where do you start?
🔸 Step 1 – Define your business goals
The first step is to define your business goals and target audience. Are you looking to increase conversions? Improve customer engagement? Cater to a specific industry or niche? Once you have a clear understanding of your dropshipping business needs, you can begin to narrow down your theme options.
👉 Learn about Dropshipping Business Plan: Tips for Creating A Short Business Plan.
🔸 Step 2 – Consider features and functionality
Next, consider the theme's features and functionality. Does it have built-in capabilities for cross-selling and upselling? Can it help you segment your customer base and create personalized shopping experiences?
How easy is it to navigate and use for both you and your customers? These are all important factors to consider when choosing a theme.
🔸 Step 3 – Choose a theme that loads fast
As a dropshipper, you know that every second counts when it comes to delivering an excellent customer experience.
Thus, one of the most important factors that impact this experience is page load speed. In fact, a slow-loading store not only frustrates customers but also negatively impacts your search engine rankings.
Therefore, consider using a Shopify theme that has clean code, optimized images, and efficient scripts.
🔸 Step 4 – Consider third-party apps compatibility
Third-party apps can add valuable functionalities to your Shopify store, from marketing automation to inventory management.
Hence, as your business grows, you'll likely need to add more apps to your store to support your expanding needs. So when selecting a theme, make sure that it's compatible with the apps you need.
👉 Also, check out the Trends to Launch an Ecommerce Site with Shopify Themes in 2023.
How To Change Themes On Shopify?
Now, the most important part we will discuss in this post is how to change themes on Shopify. Well, there are several methods to do that, and it depends on the type of theme you want to use. Thus, you will probably use one of these methods:
Upload a Zip File or Connect from GitHub
Buy a Premium Theme From Shopify
Change the Current Theme with a Free Shopify Theme
However, before changing anything here's some friendly ADVICE:
Always consider making a backup of your store content. So, we recommend you backup on:
Products
Orders
Customers
Theme files
Thankfully, Shopify has made it easy for dropshippers to manage and maintain their online stores with the help of backend pages equipped with Export buttons. These Export buttons are a lifesaver, allowing you to save and download important data, such as product details, theme files, and more.
To get started, focus on the backend areas of your Shopify store. For instance, the Products page is an excellent place to start. Simply click the Export button, and voila! You can download a CSV file with all the product details you need. Also, you can do the same for customers, and other content as well. 👇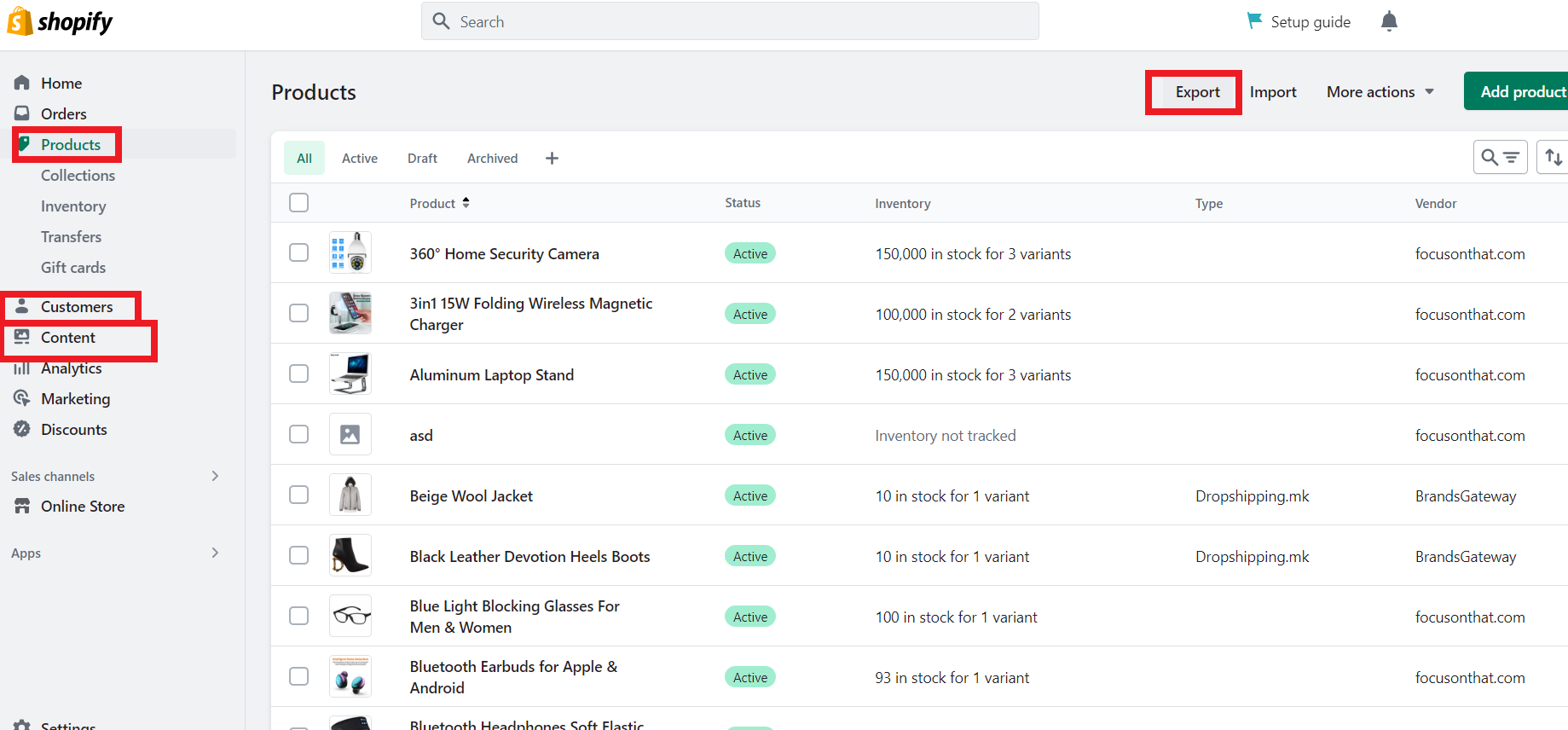 Also, you can do this another way. Thus, to download your theme files, go to Online Store > Themes. Look for the Current Theme section and open the Actions dropdown menu. From there, choose Download Theme File to save the theme's entire collection of site files to your computer. 👇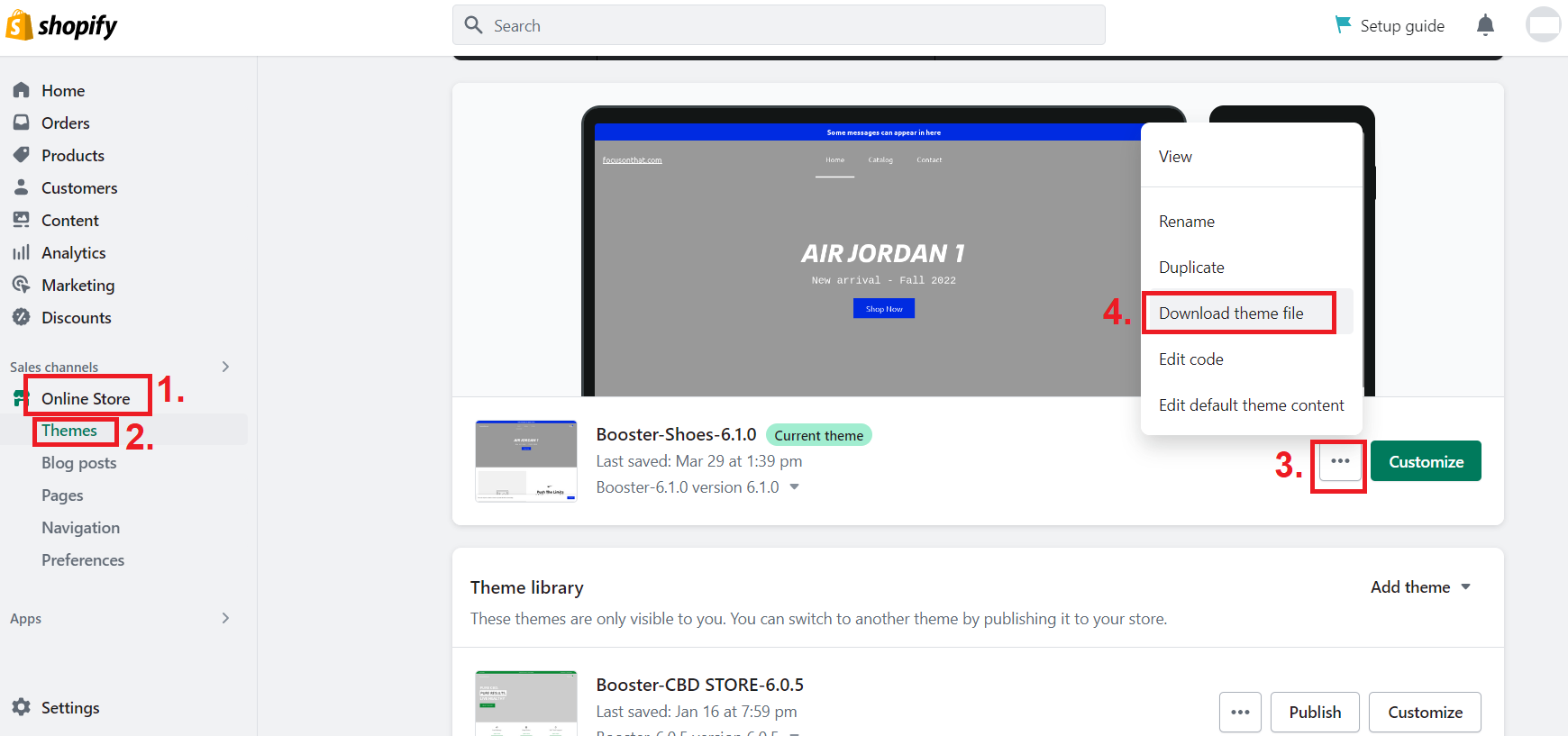 Now, let's start with each of the methods on how to change themes on Shopify. 👇
1. Upload a Zip File or Connect from GitHub
There are dropshippiers that want to use third-party themes for their dropshipping store. And, if you are one of them, this is for you!
Now, these themes often come with downloadable Zip files that you can easily upload to Shopify. Additionally, you can find free or premium themes on GitHub, and you can connect them to Shopify.
Regardless of where you source your theme files, Shopify has made it simple to upload them with just a few clicks. To begin, go to your Shopify dashboard. Next, click on Online Store > Themes. 👇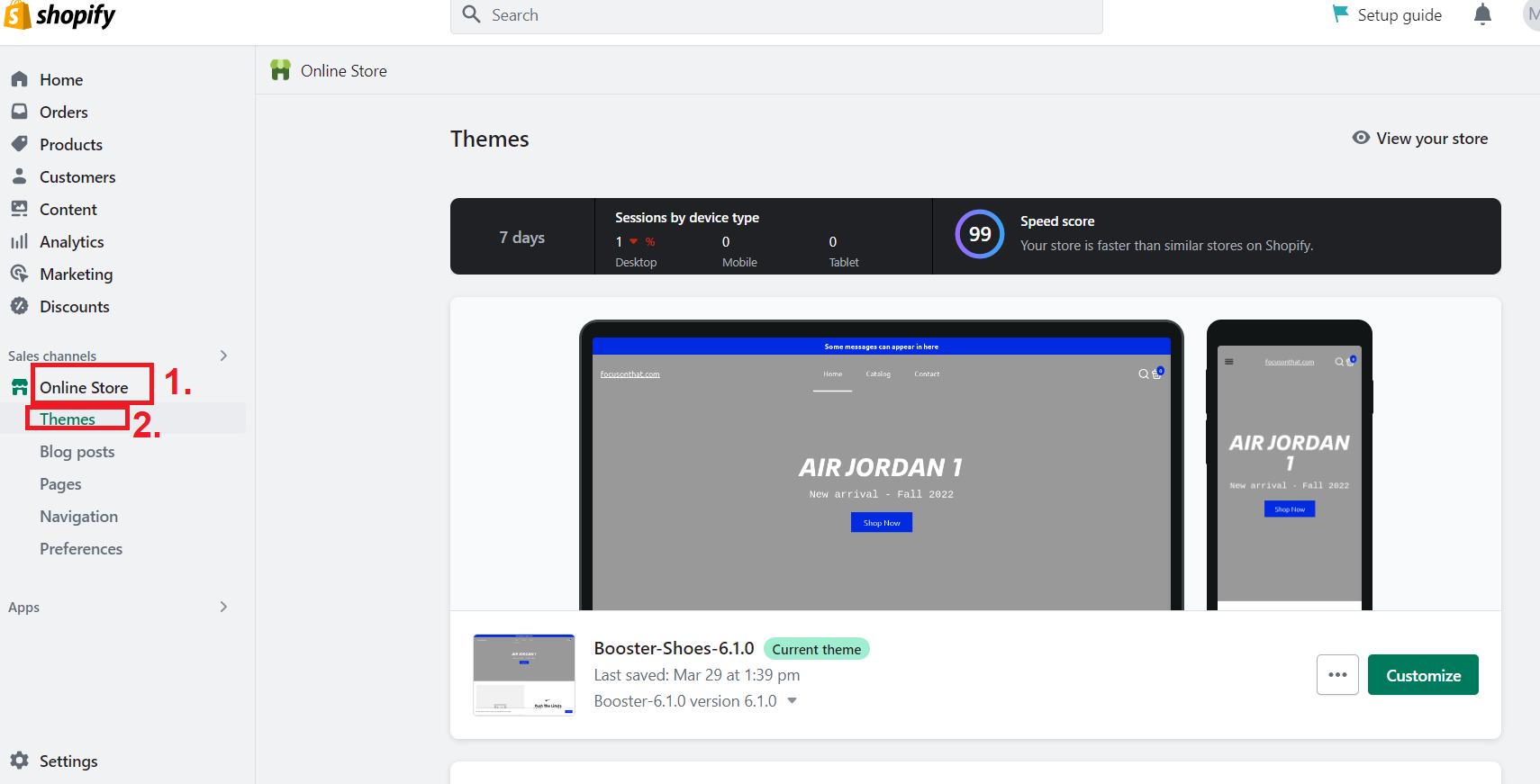 Next, you'll see the current theme installed at the top, along with the Theme Library section at the bottom. So, what you need to do is scroll down a little bit, and find the section "add theme". So, click the Add Theme dropdown button to reveal two options: Upload Zip File and Connect from GitHub. 👇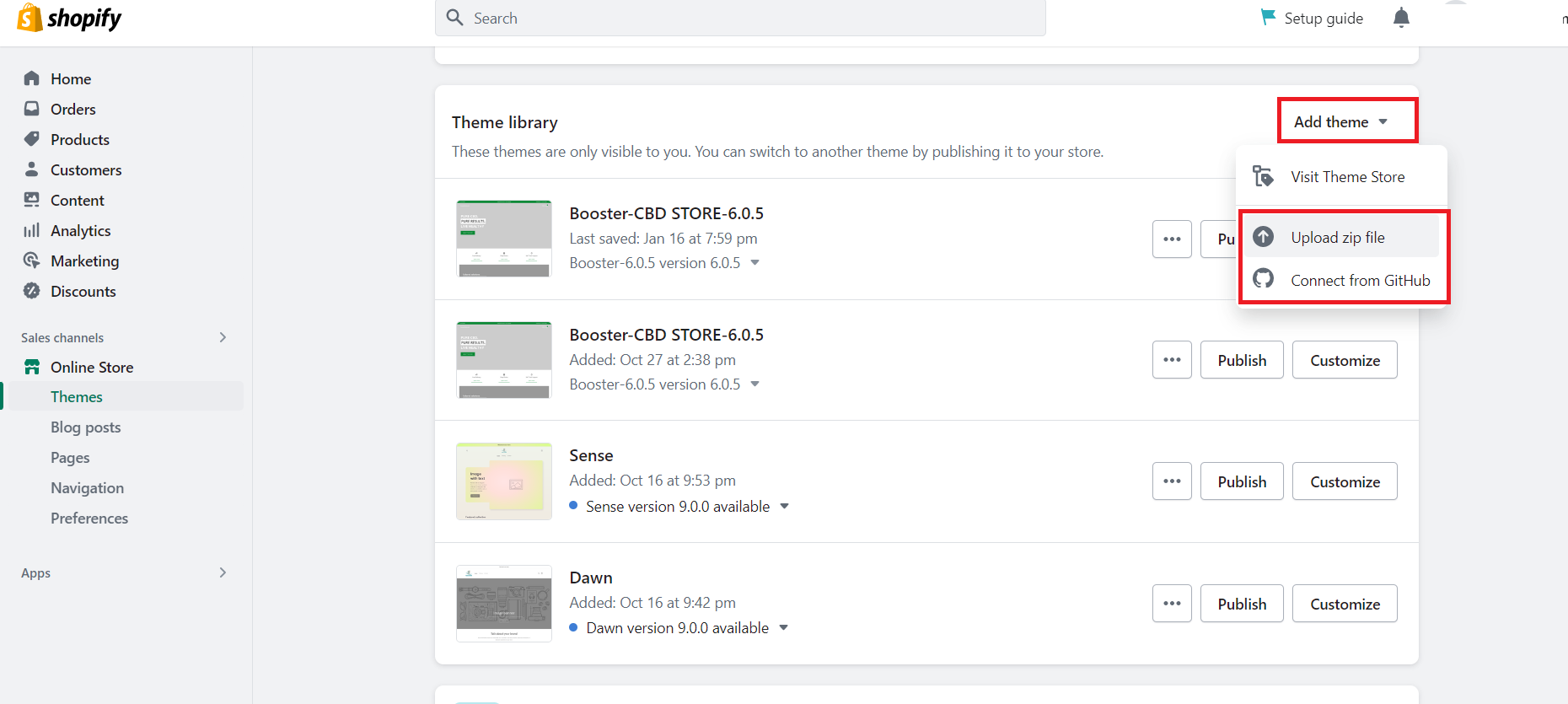 Further, if you have the theme file saved on your PC, select Upload Zip File. This will open a pop-up window where you can click the Add File link to find the file on your computer. This way you can upload theme to Shopify. 👇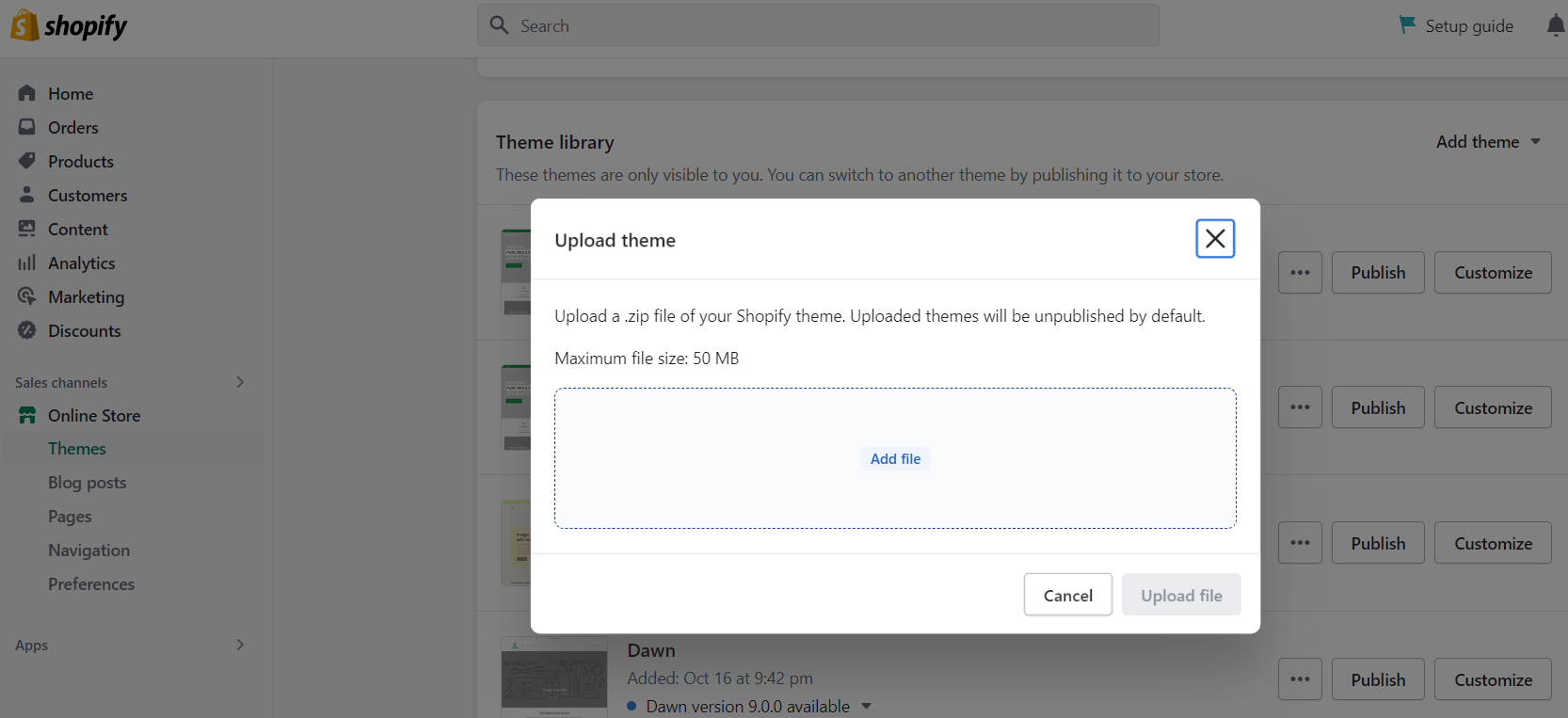 So, once you locate the file, select the Upload File button to add the new theme to your dashboard.
On the other hand, if you find a theme you like on GitHub, select "Connect from GitHub" to connect the storage to your Shopify account.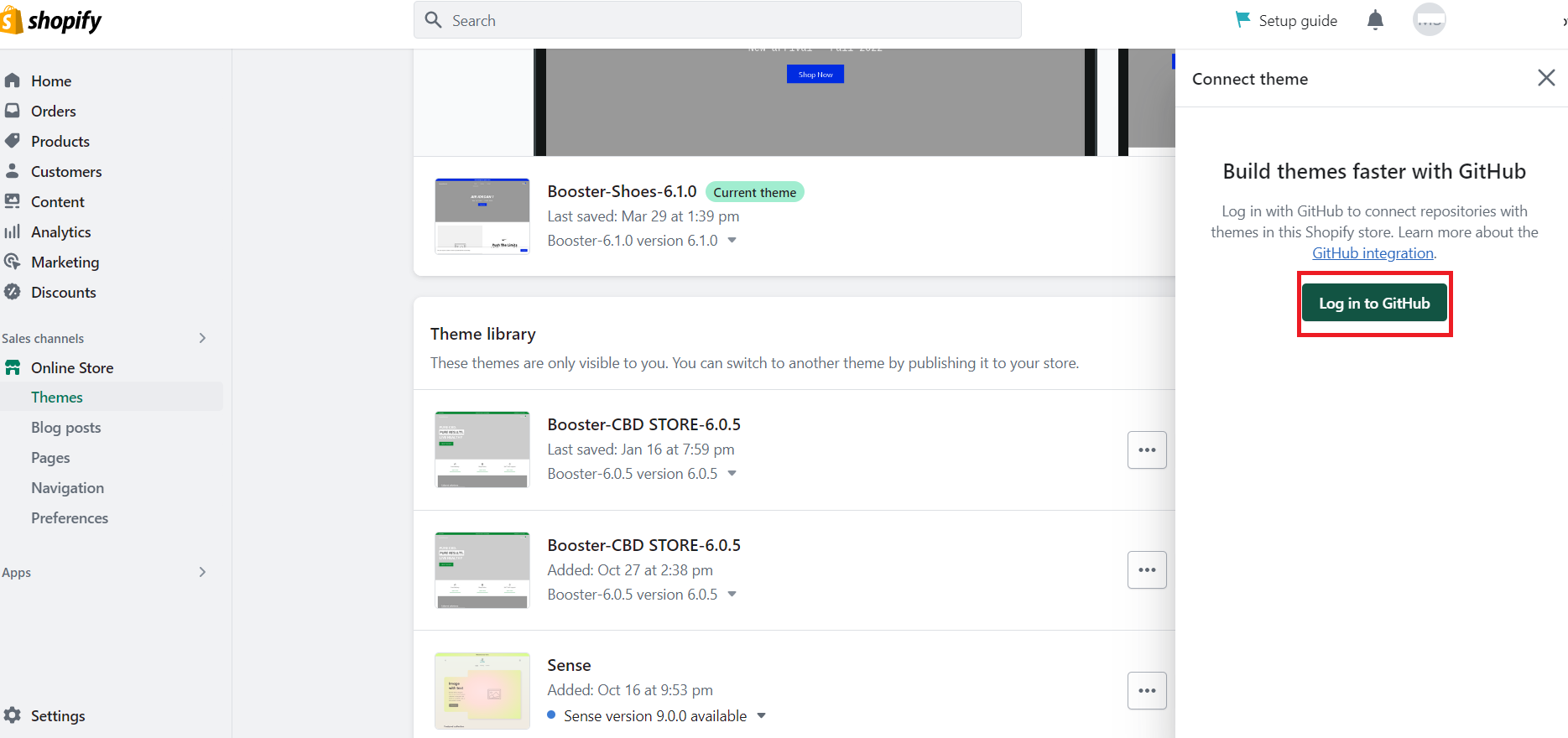 This option allows you to keep the theme files updated automatically and keep track of version history.
2. Buy a Premium Theme From Shopify
The second method for how to change themes on Shopify is for dropshippers that want to use paid Shopify themes.
Thus, from your Shopify dashboard, you navigate to Online Stores> Themes. Then, you scroll down and find the "Themes Library" section.
Once you click on the " Add Theme" button, this time you choose the "Visit Theme Store" option. 👇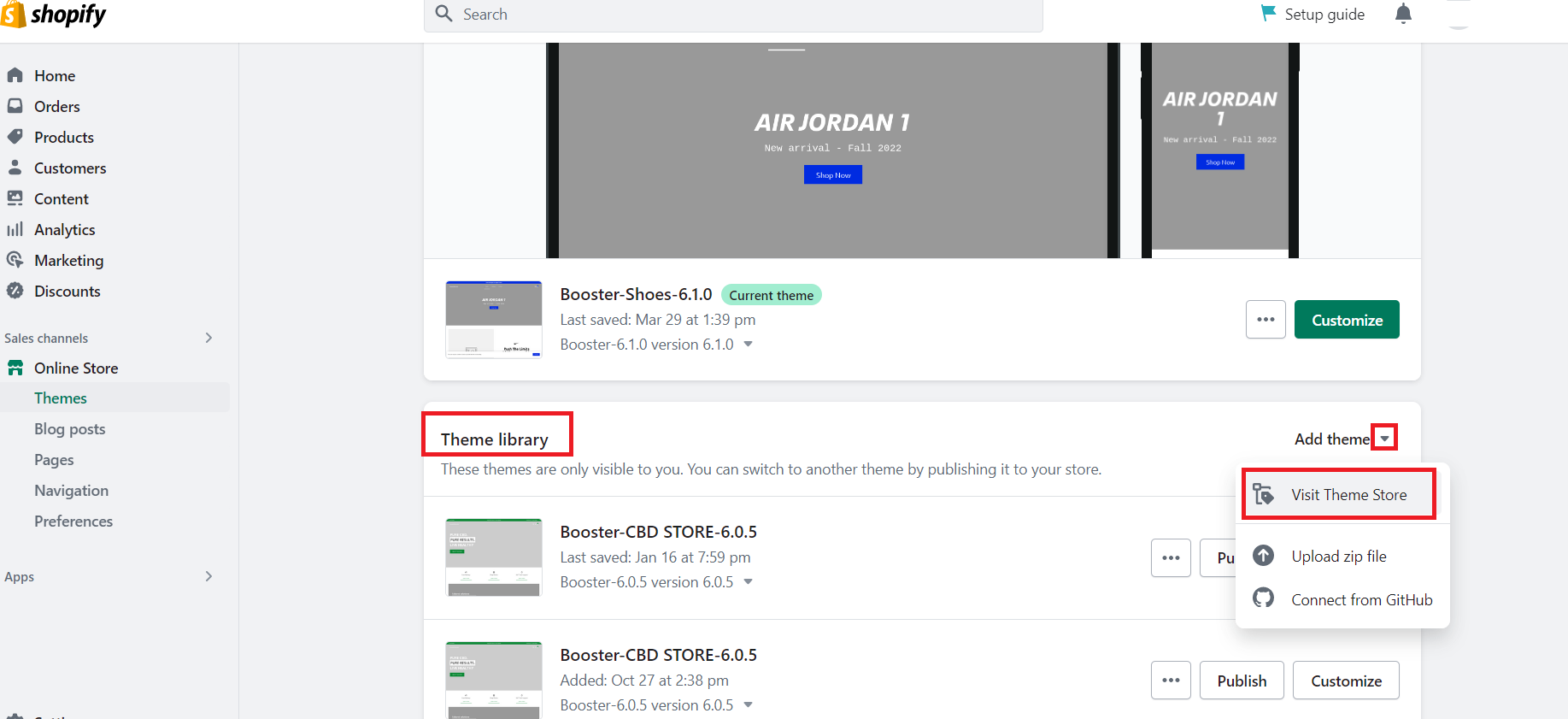 Next, you will be led to Shopify themes. Here, you can sort them based on category, price, popularity, etc. 👇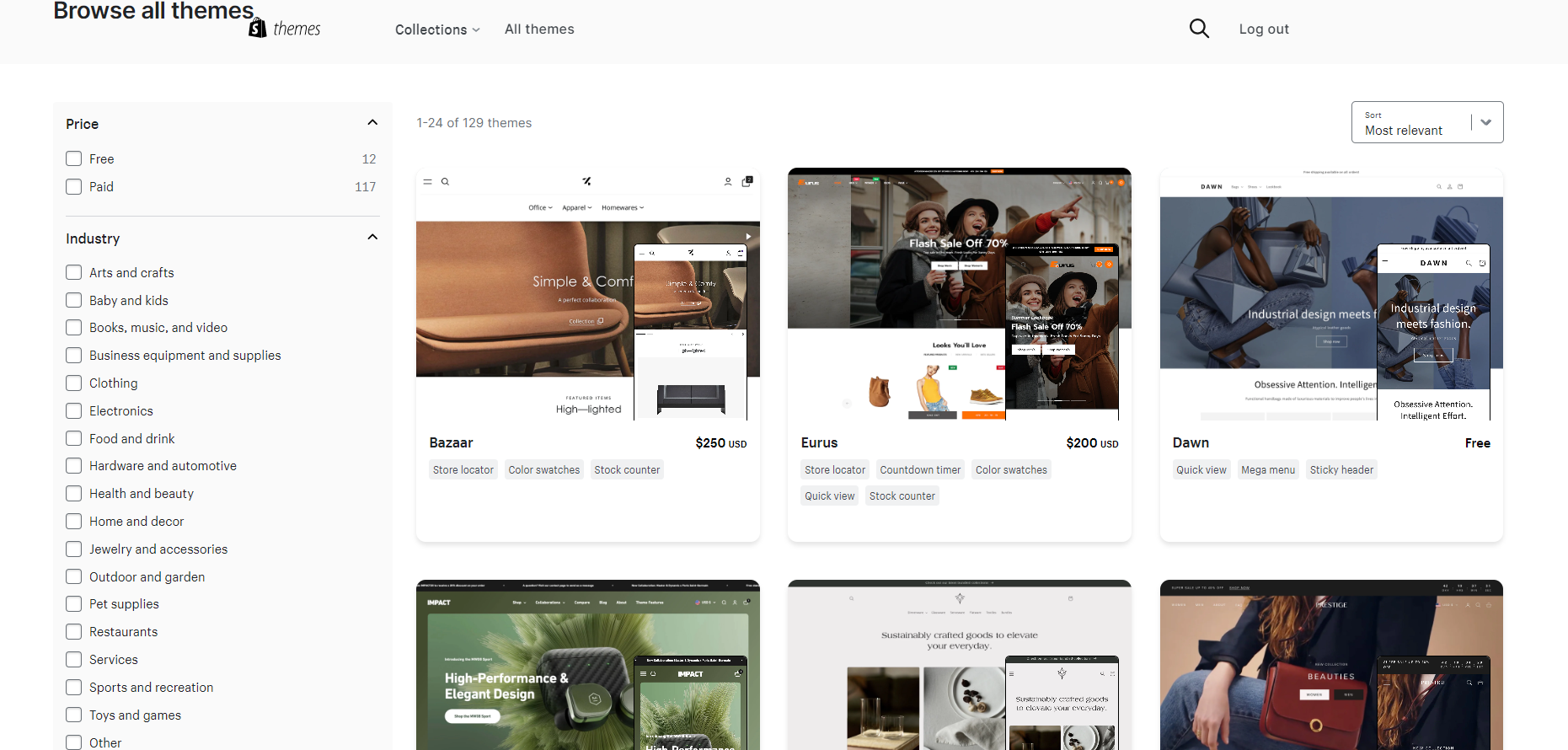 Secondly, once you choose your theme, you click on it, and then click on the "Try Theme" button.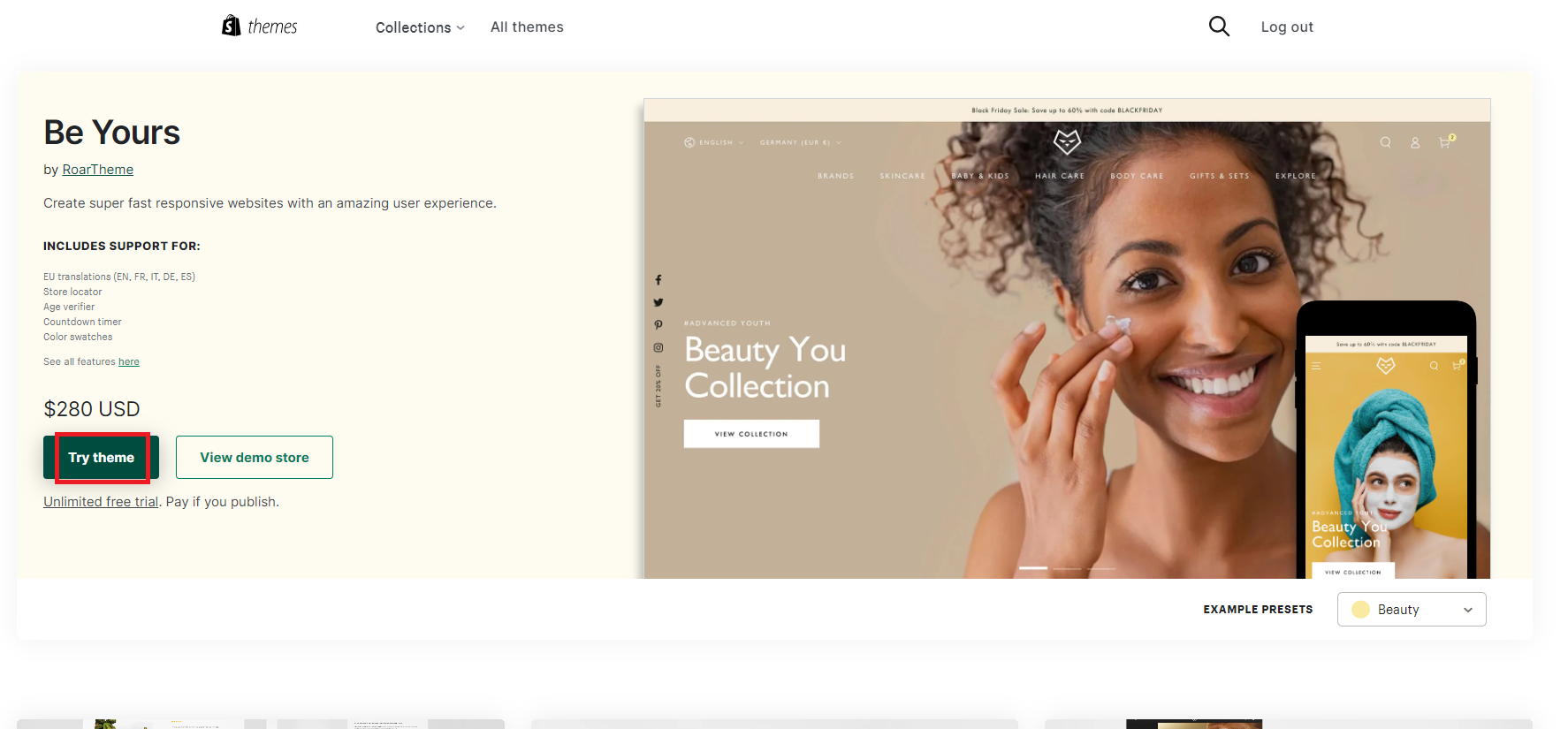 Furthermore, as you click on the " Try theme" button, you will be led to the Shopify dashboard > Themes Library. Here, you will see the theme you chose. So, you have two buttons: "Buy" and "Customize".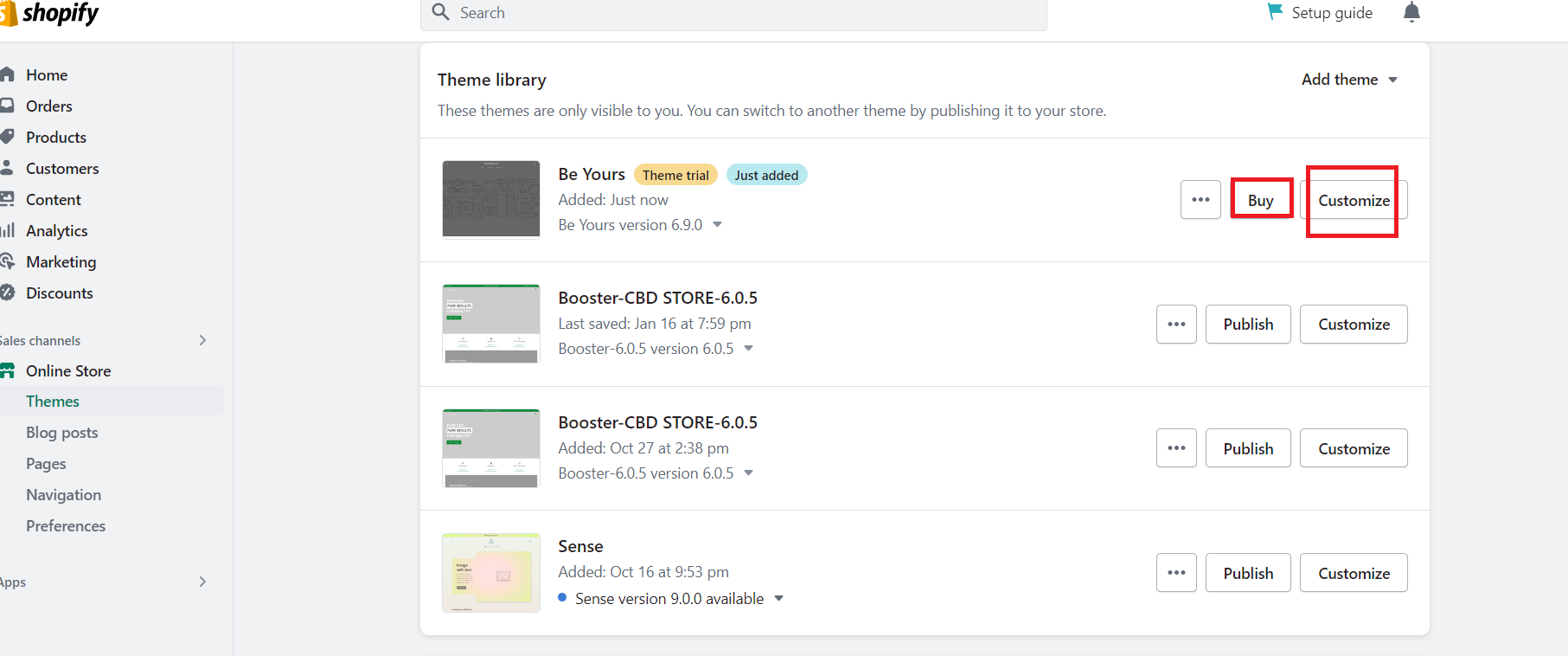 So, in order to modify the theme as you see fit, click on "Customize". Here you can make any changes you want.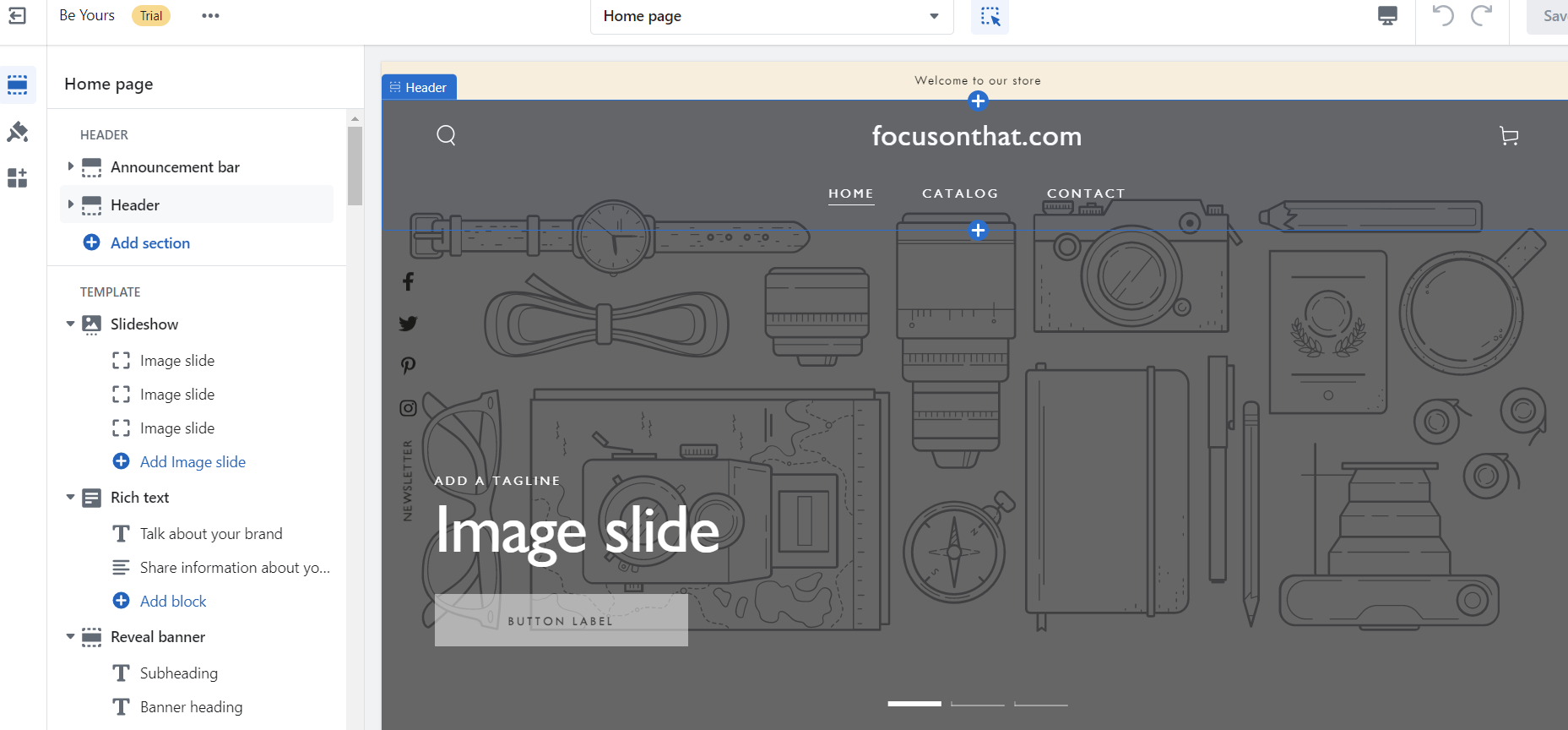 However, keep in mind that any changes you make using this button won't be saved unless you buy the theme using the Buy Theme button.
So, once you decide to buy the theme, you should provide the necessary payment information.
Furthermore, once you purchase a new theme, it's essential to activate it as your primary theme to ensure that all customizations get saved on your website.
This step is crucial as it ensures that any changes you make to the website's design and functionality are maintained, even after you log out of the backend.
However, it's important to note that activating a new theme may cause some of your homepage content to disappear. But, this doesn't mean that you've lost any of your content. And, that's why is it a good idea to keep a backup of your website's content.
3. Change the Current Theme with a Free Shopify Theme
Last but not least, if you want to learn how to change themes on Shopify while using their free collection, here's what you should do!
💡 Tip: Check out the 11 Best Free Shopify Themes For Dropshipping Stores.
Firstly, navigate to Sales dashboard > Online Store > Themes. Under Theme Library, you'll find the Free Themes area. Click on Explore More Themes to browse through the available themes.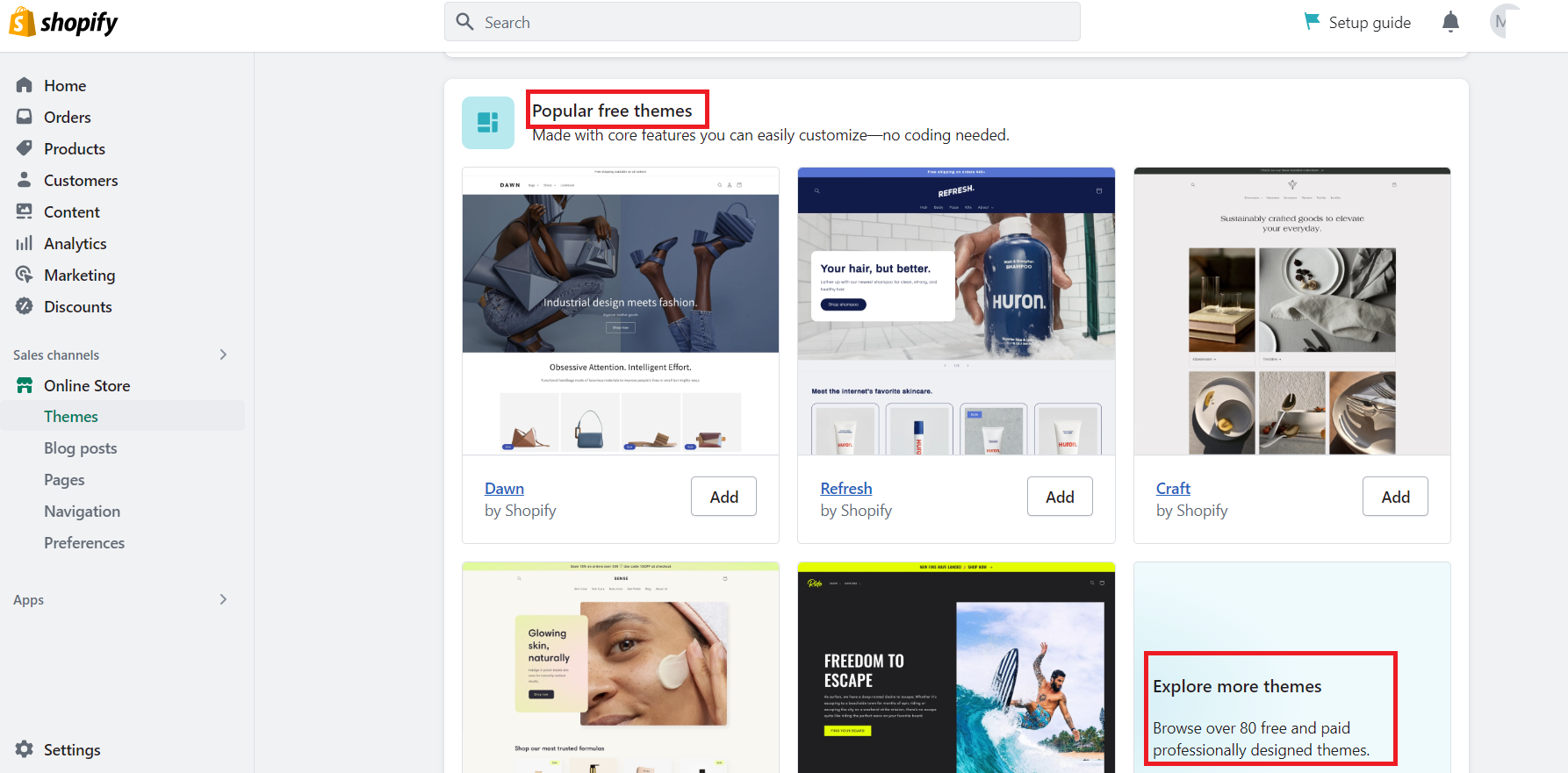 Once you've found a theme that catches your eye, click on it to check out its features. If you're happy with your choice. Next, click on the "Add" button to add it to your Theme Library.
Furthermore, go back to the "Themes Library" section. Here you have two options: "Publish" and "Customize".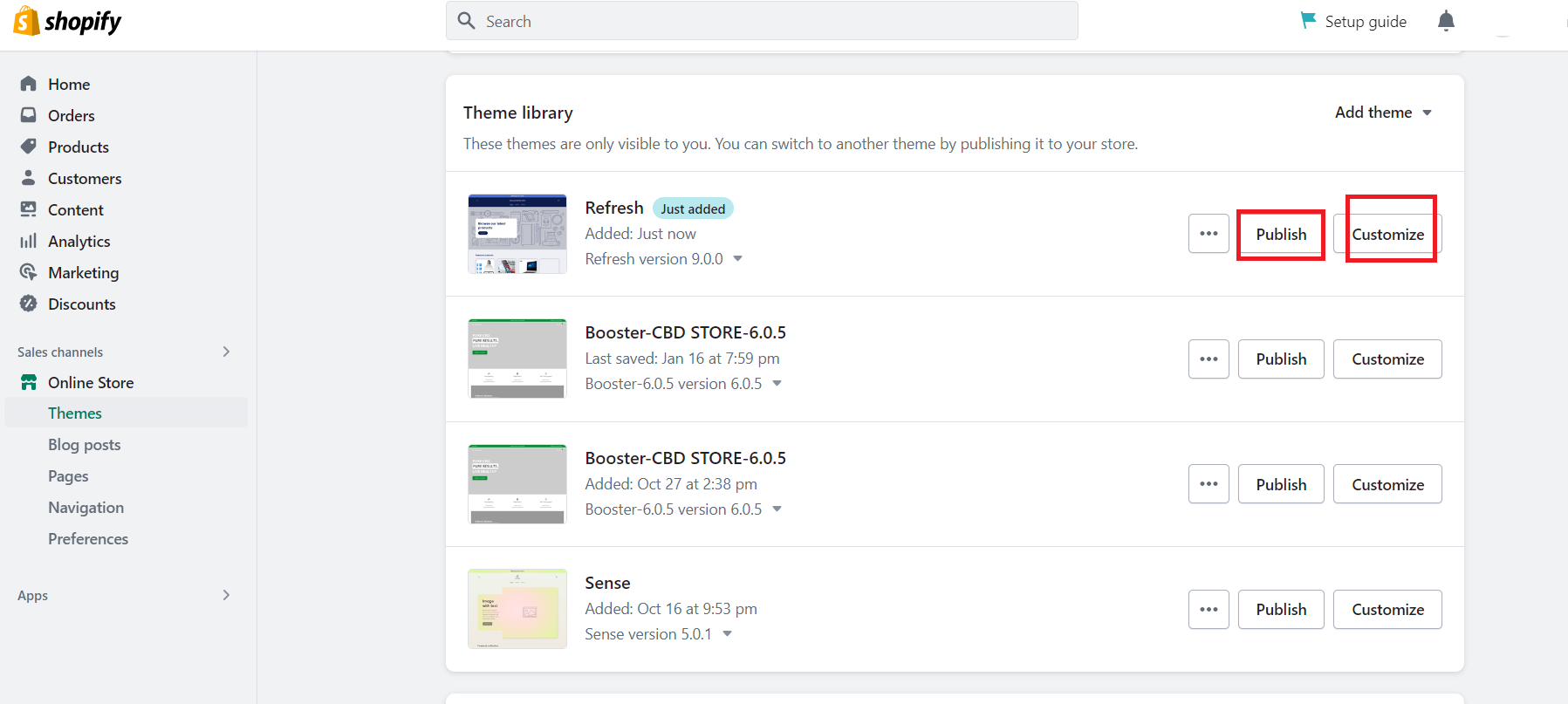 So, we recommend you first customize your dropshipping store in the way you want. Here you can change colors, elements, buttons, etc. So, once you do that, click on the "Publish" button in the right upper corner.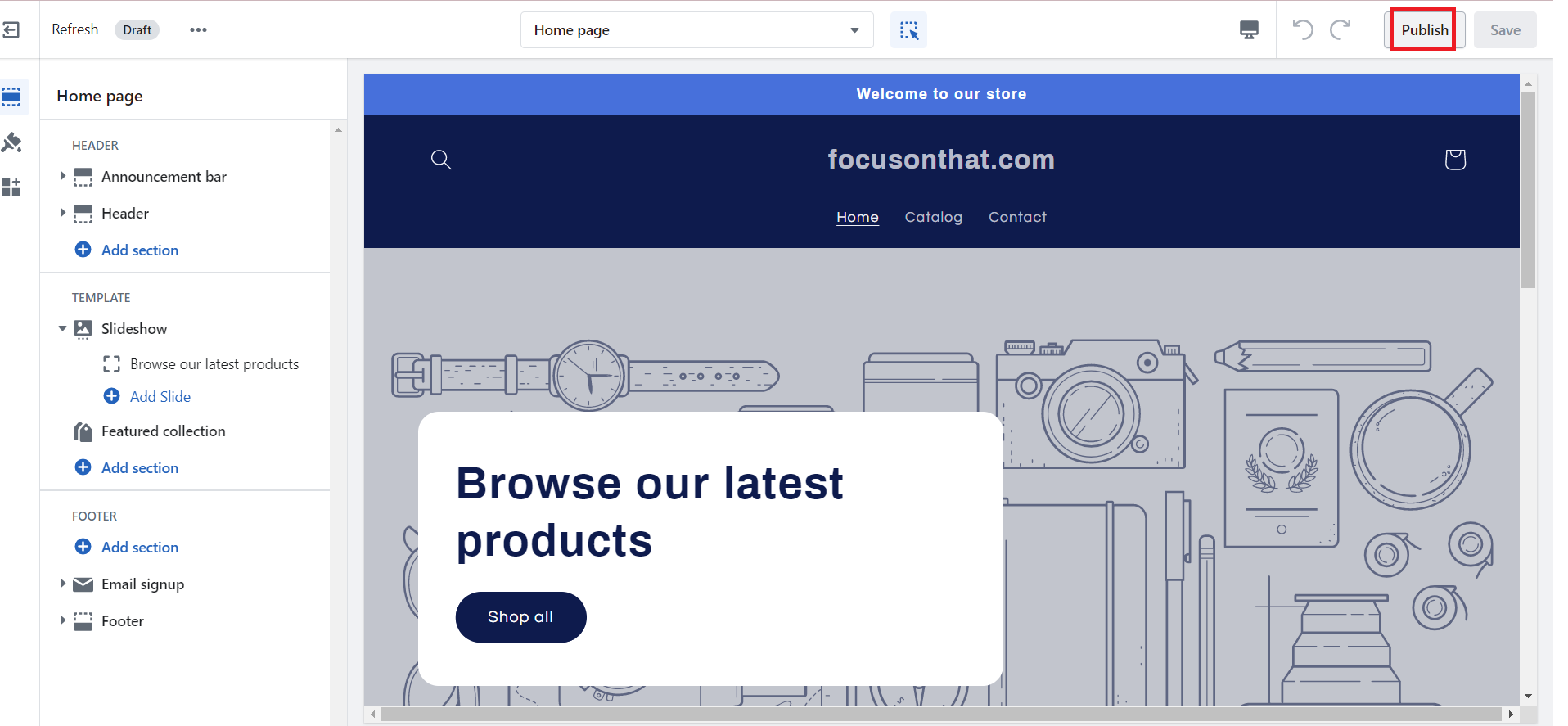 Once you click on the "Publish" button, Shopify will display a pop-up window, asking you again if you want to save changes and publish your theme. So, if you are sure about your changes, simply click on " Publish", and you are done.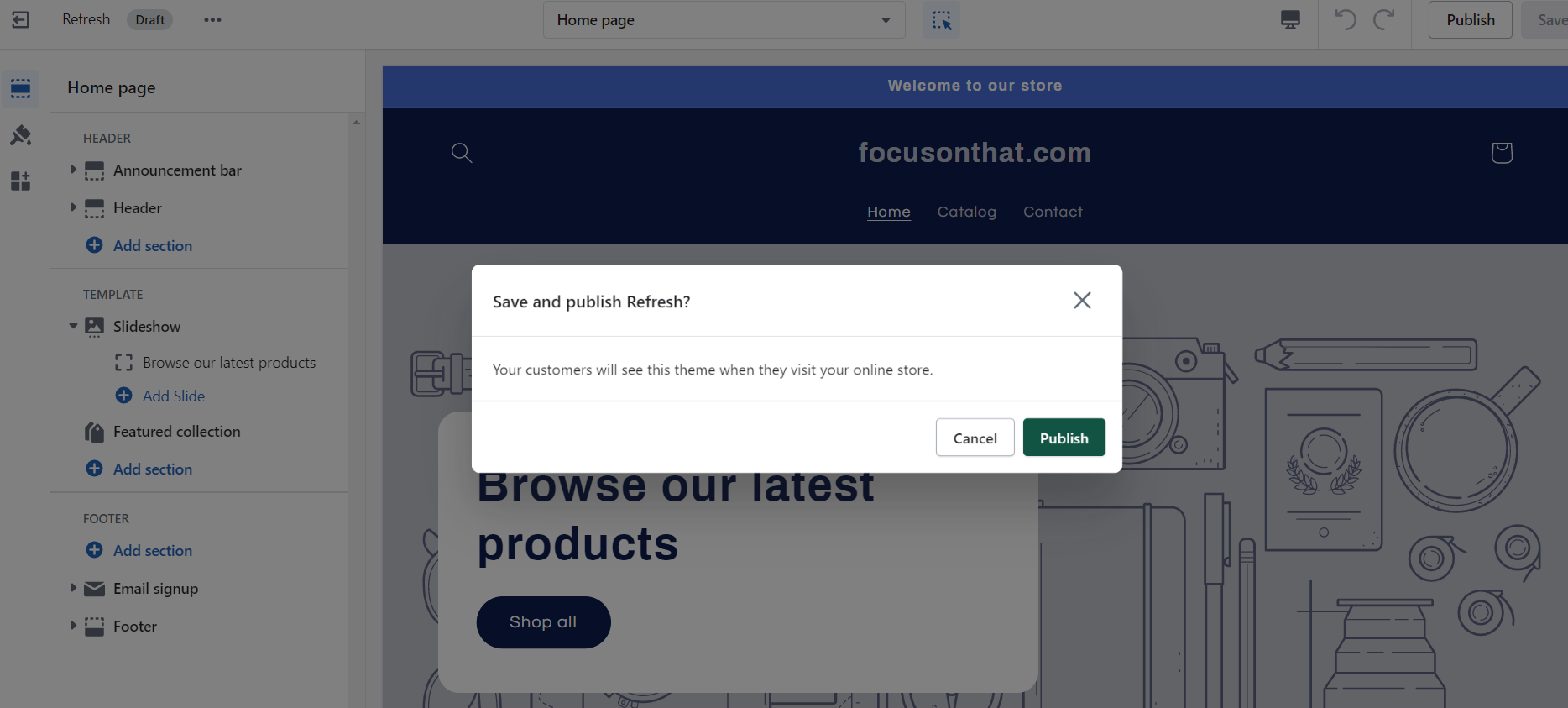 Top 5 Shopify Themes For Your Dropshipping Store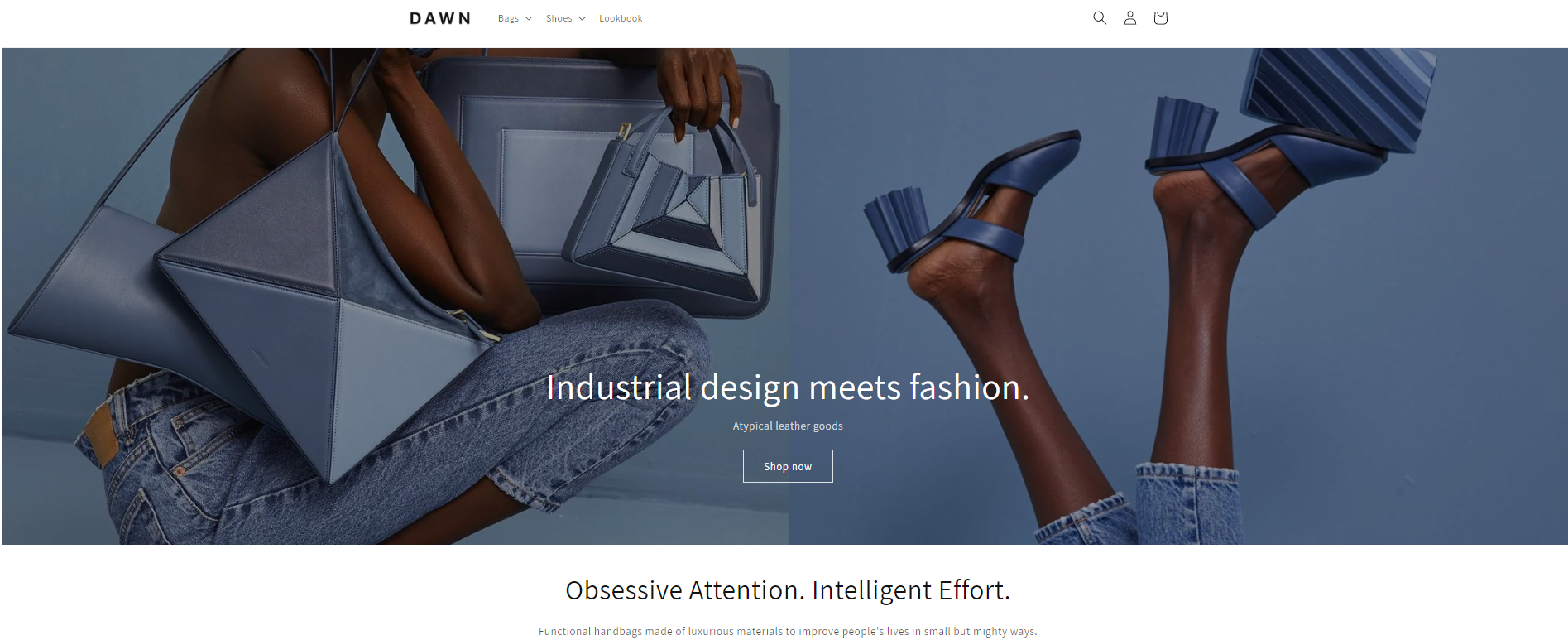 Looking for a free Shopify theme that's both modern and easy to navigate? Consider Dawn.
With its clean and minimalistic layout, this theme is perfect for small to medium-sized businesses.
Plus, it's designed with plenty of white space, making it easy on the eyes and simple to navigate.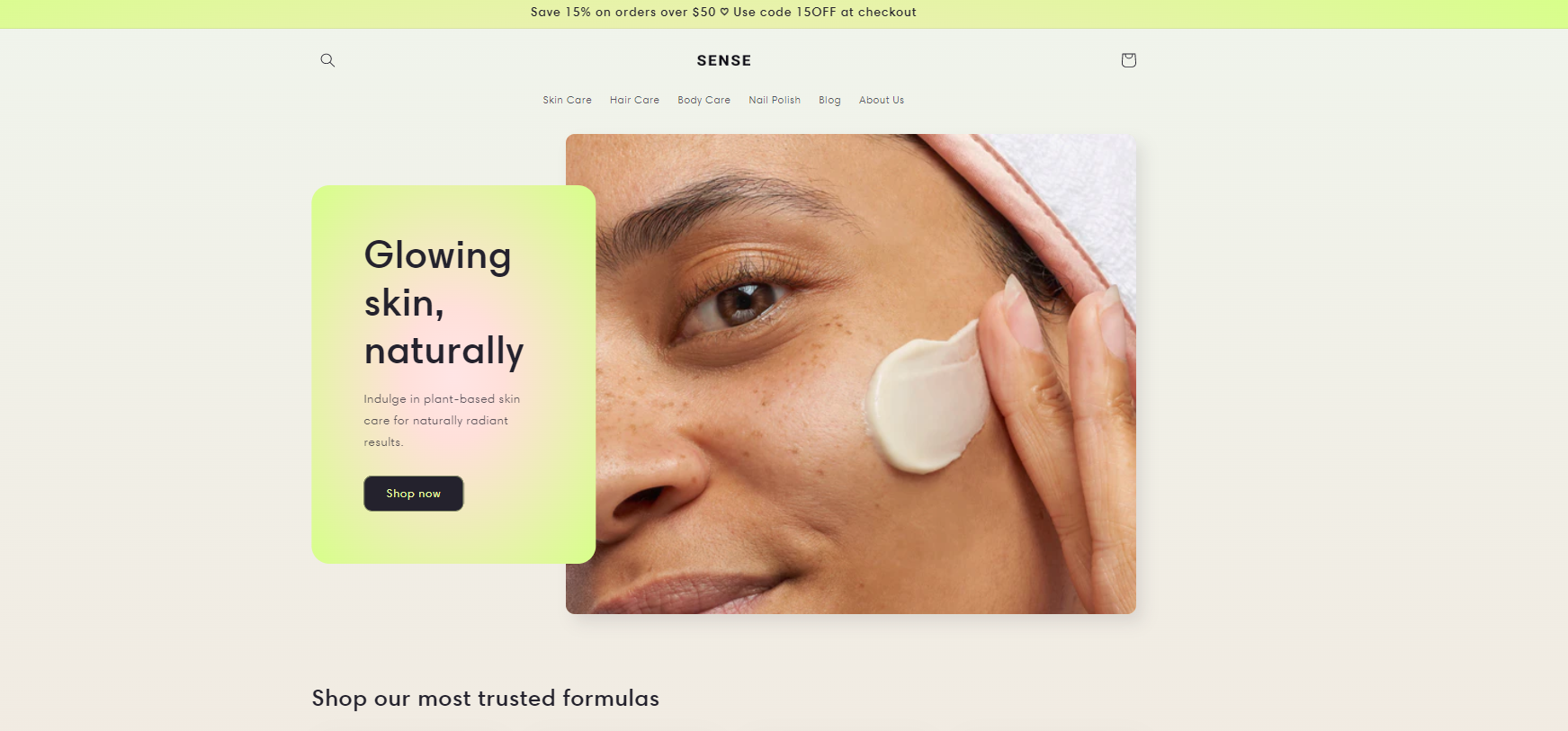 If you want a responsive theme that's adaptable to different devices and screen sizes, check out Sense.
Its minimalistic design is easy to navigate, and the Full-Screen Image on the homepage provides a stunning visual experience. Plus, its customizable layout options let you place any kind of information on the homepage.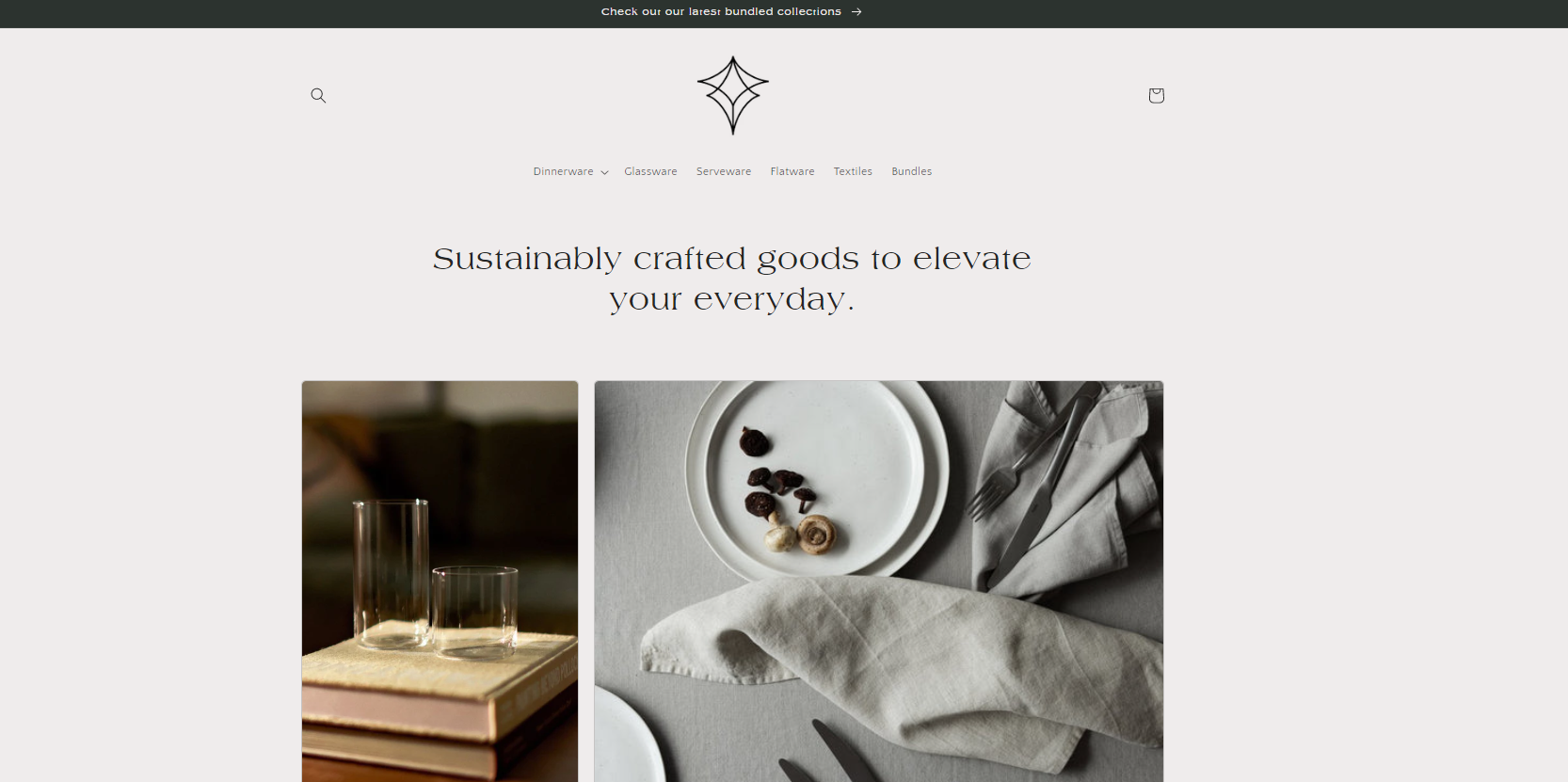 For a theme that elegantly showcases your products, Craft is the way to go. With its modern and minimalist design, it's perfect for highlighting your products.
Plus, the theme's drag-and-drop editor allows you to customize your website without any special coding. So, you can create custom pages and make your store stand out from the crowd.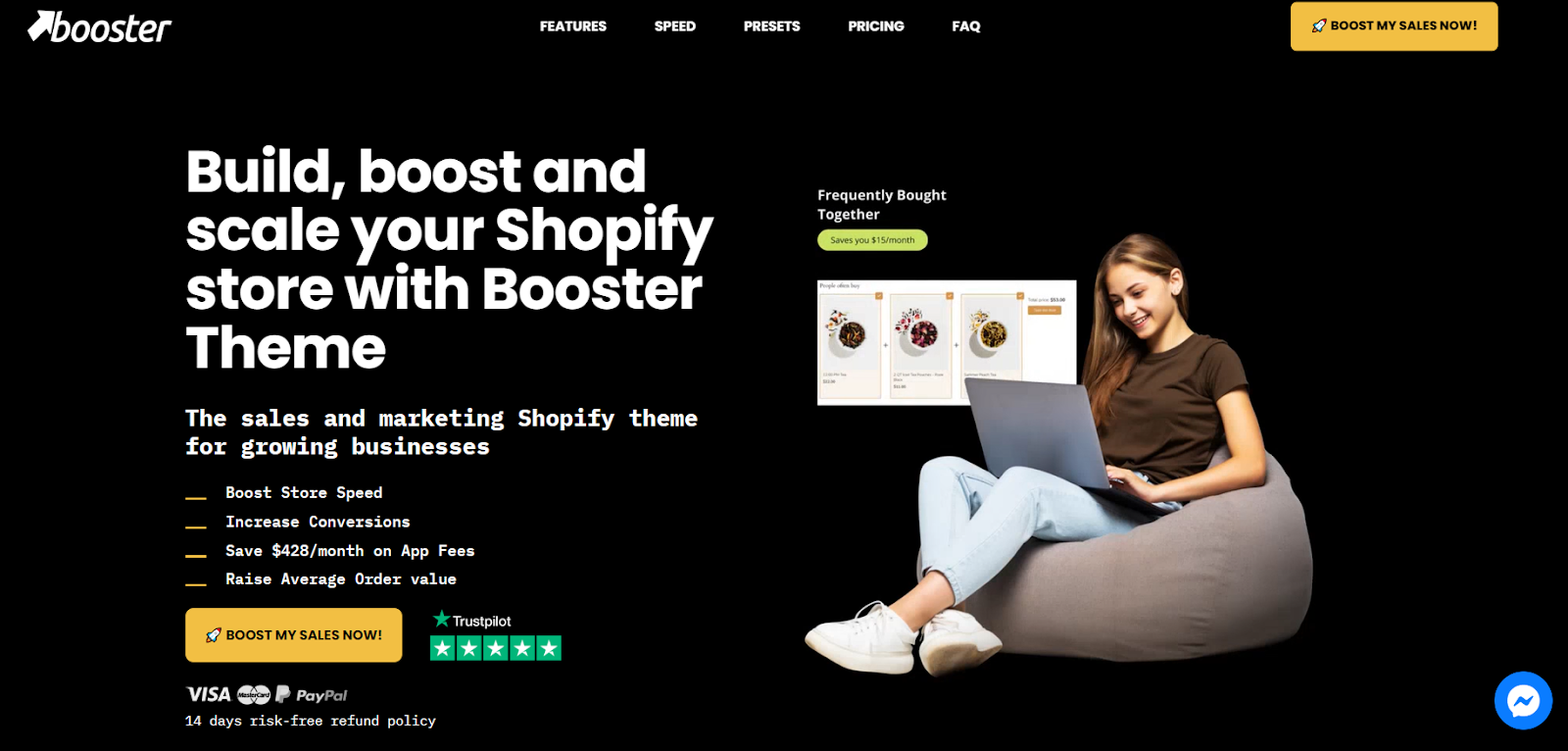 Looking for different ways how to change themes on Shopify? Look no further than the Shopify Booster Theme. This theme is the ultimate solution for increasing conversions and scaling your dropshipping store.
With everything you need in one place, you can easily enable the most important features without wasting time on installation or searching for the perfect app. From Lookbook to Sales notifications, Countdown Timers to Currency Converter, the Booster Theme has got you covered.
Plus, with pricing plans starting at just $249, the Booster Theme is a cost-effective solution that will help take your dropshipping business to the next level.
👉 Check out our FULL Booster Theme Review: The Ultimate Shopify Theme for Dropshipping.
Kalles is the Shopify theme that every brand needs to build a remarkable dropship store that offers a seamless shopping experience to customers.
Its modern design, minimalist feel, and versatile demos make it perfect for a variety of dropshipping businesses.
With Kalles, you can showcase your products in a stylish and elegant way, while making it easy for customers to explore, choose, and buy. Plus, at an affordable price of $89, it's a smart investment that will pay off in the long run.
👉 Also, check out the other 11 Shopify Themes for your dropshipping store.
Frequently Asked Questions
Does All Content Stay the Same When Changing Shopify Themes?
First, this typically depends on the Shopify theme. However, some elements of your dropshipping store, such as navigation menus, products, and blog posts, are typically easily transferable between themes.
Nonetheless, some items like frontend banners, product galleries, and related product listings may look completely different, or even disappear altogether after installing a new theme.
But, all of this content is still saved on the backend, and you can easily re-insert it into your new theme.
Can I Upgrade and Downgrade Themes in Shopify?
Yes! Whether you're using a paid Shopify theme or looking to try out one of the free options in the library, you can easily switch out your current theme for a new one. In fact, you can even downgrade to a less expensive theme without any issues.
Can I change the Shopify theme's language?
While many of Shopify's themes are in English, there are options available that support multiple languages.
Also, Shopify provides tools such as the language editor and localization apps to make it easier for dropshippers to create translations and offer their dropshipping store in various languages.
How to Change Themes on Shopify Safely?
Here are some tips on how to change themes on Shopify safely:
Don't Delete Your Old Theme – If you're not happy with the new theme you've chosen, don't delete your old one. It will still store everything, including any customizations you've made. This way, you can always switch back to your old theme if necessary.
Duplicate Your Theme – Before making any changes to your theme, make a duplicate of it. This way, you can experiment with different customizations without worrying about breaking your site. You can test and refine your new design until you're completely satisfied with it.
Preview Your Theme – Always preview your new theme before publishing it to make sure everything is displayed correctly. This will help you catch any errors or issues before they go live, ensuring a seamless transition for your customers.
Join the only community and resource hub you'll ever need to succeed with dropshipping
Find winning dropshipping products, learn marketing, download templates and engage with real dropshippers
Never pay for a "guru's" course again. See why 4543+ dropshippers joined us this year!
💡Try DSCOM Hub Now
Conclusion
In this article, we provided you with the most valuable information about how to change current theme on Shopify. So, you will find valuable insights about each method for how to change Shopify theme.
But that's not all! You will also learn about the Top 5 Shopify Themes for your dropshipping store, and how to choose the right one.
So, collect your step-by-step guide info & START!