Sunsky-Online Review: Top China Supplier for Electronics Dropshipping
by
Aleksandra -
Aleksandra teaches marketing and management at various levels in High School. She writes about marketing, the economics and logistics of the dropshipping business and ecommerce in general.
Chief of Content Marketing
Are you an electronics dropshipper, or do you want to dropship from China? Either way, you are at the right place!
First, we know that dropshipping from China can be a little challenging, due to language barriers, product quality, etc. But, all that worries go off if you have the right dropshipping supplier.
Therefore, in this article, we will make an in-depth review of one of the TOP China dropshipping suppliers for electronics. Let's see what Sunsky got for you!
Quick Sunsky Review
First, for our busy dropshippers, check out the quick Sunsky Review! 👇
The best
Large selection of products

Customized packaging

Low prices

Real-time data inventory

Same-day shipping

Convenient payment and delivery methods
The worst
Errors in delivery and order picking

No free shipping
Now, let's begin with our FULL Sunsky Review!
Lifetime deal: Get all-access to everything on Dropshipping.com
Access all DSCOM features, resources, courses, live workshops, discounts, winning products, weekly deep dives, directories and all future updates under all-in-one dropshipping HUB.
DROPSHIPPING IS A REAL BUSINESS, DON'T DO IT ALONE. 4553 MEMBERS ALREADY JOINED. YOU CAN PAY OFF YOUR SMALL INVESTMENT WITH JUST 2 SALES ON YOUR STORE.
Grab the deal before it's gone
What is Sunsky?
Sunsky is an online B2B and B2C platform based in China that offers a wide range of electronic and other consumer products at wholesale prices. It fulfills and delivers thousands of orders to consumers in over 200 countries daily.
What's more, this online platform is actually owned by a big Chinese company called Shenzen Sunsky, located in Shenzhen, China.
It is important to note that this is more than just an online store. It is also connected with the development, purchasing, sale, and after-sales support system, as well as the e-commerce platform.
Thus, thanks to their eCommerce platform, Sunsky Wholesale & Dropshipping now connects Chinese manufacturers and suppliers with buyers worldwide, allowing them to purchase products in bulk at lower prices.
The best part, Sunsky also provides dropshipping services, where you as a dropshipper can purchase products and have them shipped directly to your customers, without having to stock inventory.
How Does Sunsky Dropshipping Work?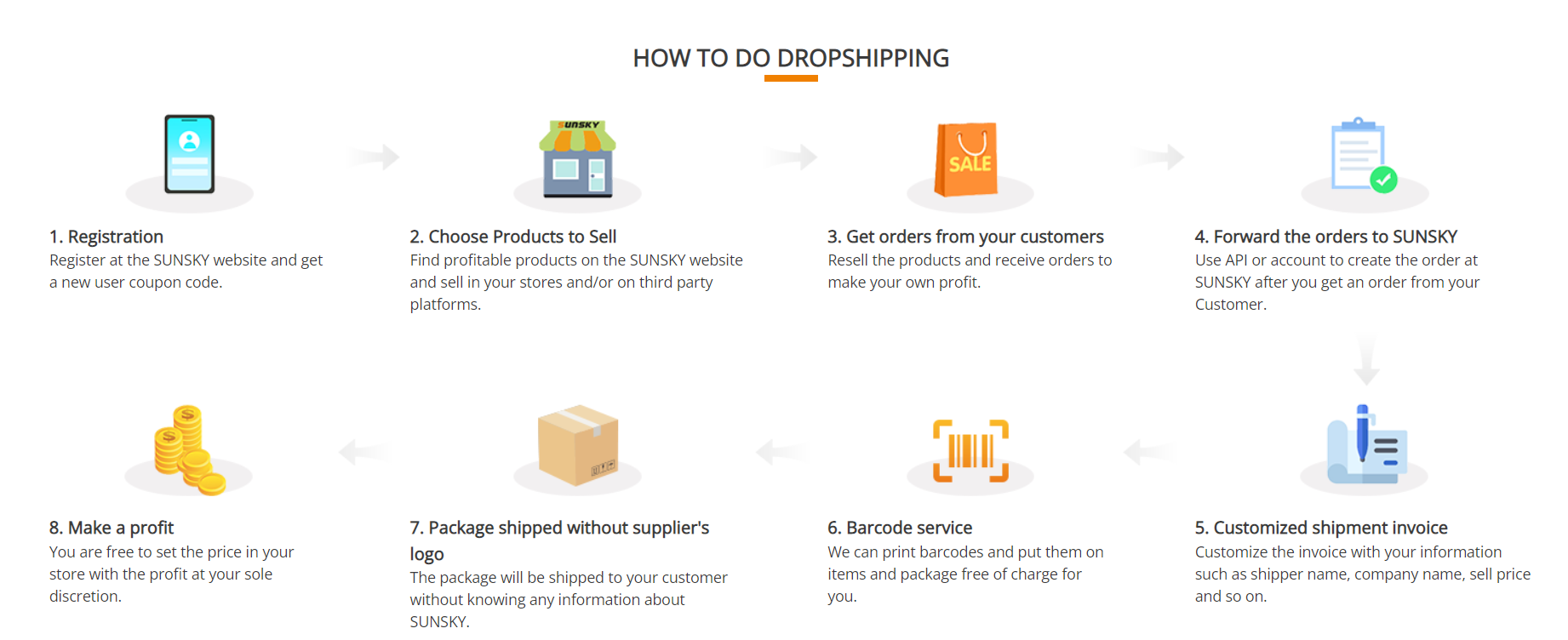 Exactly! As we already mentioned, Sunsky has its way with dropshipping! Thankfully, it is pretty easy and convenient for dropshippers to sell a wide variety of products here.
So, to start with dropshipping on Sunsky, you'll need to register for an account on their website. Then, check out their selection of products and pick the ones you want to sell on your own platform.
Next, list the products on your own dropshipping store and set your own prices for each one. But, also make sure to write down all the important details, like product descriptions, images, and prices.
Next, when a customer orders a product from your dropshipping store, head over to Sunsky's website and place an order for the product, using your customer's shipping information.
Make sure to pay for the product using your preferred payment method. Sunsky will then ship the product directly to your customer, without any Sunsky branding or pricing info.
Once they ship your product, let your customer know and provide any relevant tracking information. When your customer pays you, subtract the cost of the product and keep the difference as your profit.
☝️ Remember, Sunsky has its own rules for dropshipping, so make sure to read and understand them before starting.
Also, consider that you are the only one responsible for setting your own prices and handling customer service for your dropshipping store.
So, make sure to price your products fairly. Another tip – respond to any customer questions or concerns as quickly as possible since that's not what Sunsky includes in its services.
👉 Check out Customer Service for Dropshipping: The Ultimate Guide of 2023.
Sunsky Review: Key Features
🔸Wide range of products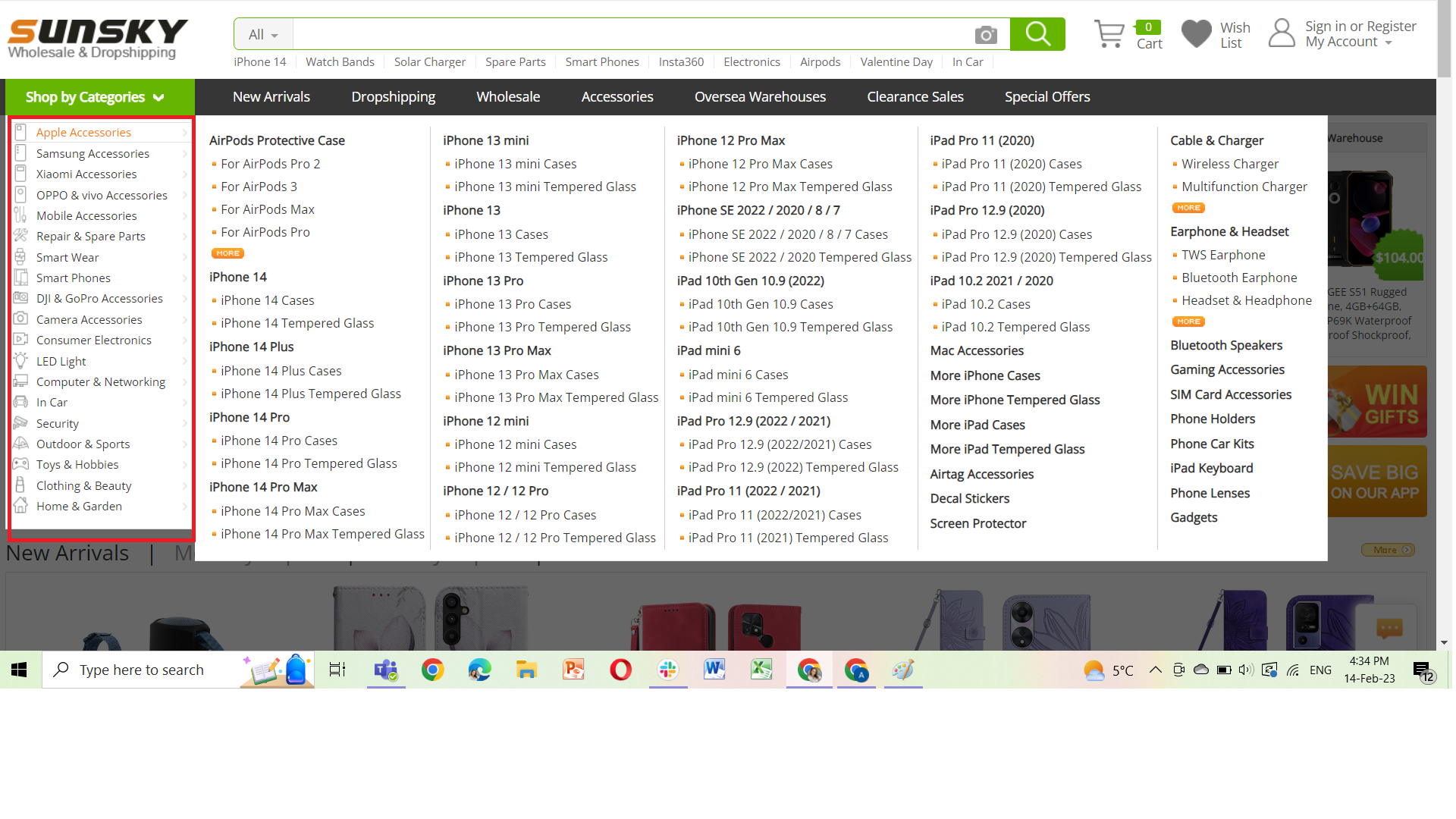 Sunsky offers over 20,000 electronic products, and that's what makes them a one-stop shop for electronics. Hence, the products are placed in over 19 categories:
Apple Accessories
Samsung Accessories
Xiaomi Accessories
OPPO & Vivo Accessories
Mobile Accessories
Repair & Spare Parts
Smart Wear
Smart Phones
DJI & GoPro Accessories
Camera Accessories
Consumer Electronics
LED Light
Computer & Networking
In Car
Security
Outdoor & Sports
Toys & Hobbies
Clothing & Beauty
Home & Garden
What's more, they collaborate with over 800+ Brands, and their own brands like own brand PULUZ, HAWEEL, and iPartsbuy👇

Also, if you go to any product page you can see that there is all important information about the product, from which you can benefit as well.
So, you can get information about the product's quality, material, size, manufacturer, pricing shipping methods, reviews, and more.
This means you can collect the data, make a decision then decide whether you want that product in your dropshipping store.👇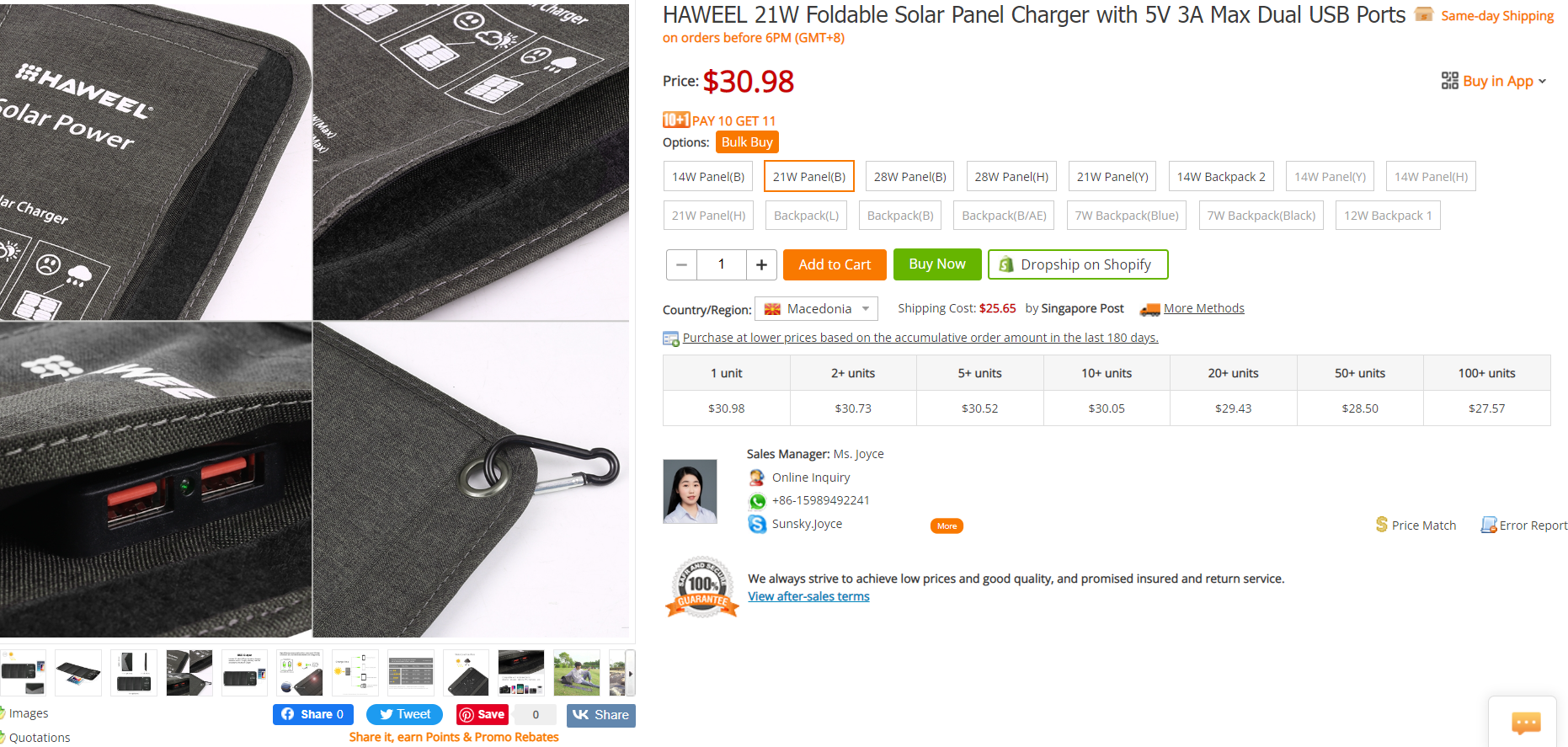 Also, Sunsky supports both small-quantity and large-quantity orders. However, they require a MOQ.
🔸Wholesale Pricing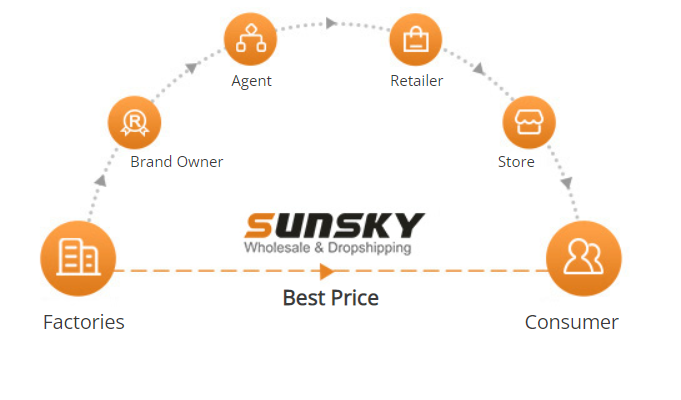 Sunsky dropshipping works directly with factories to give the greatest prices while also ensuring top-quality items and quick shipping service.
The price range of Sunsky products varies depending on the category and the item you are interested in purchasing. For example, mobile accessories pricing can range from $0.28-60, and it all depends on the product type, features, and specs.
Generally, the prices of Sunsky products are quite competitive compared to other similar wholesale companies in China.
In fact, they support bulk pricing which is pretty competitive, and they offer free mail shipping on any product.
🔸Fast and reliable shipping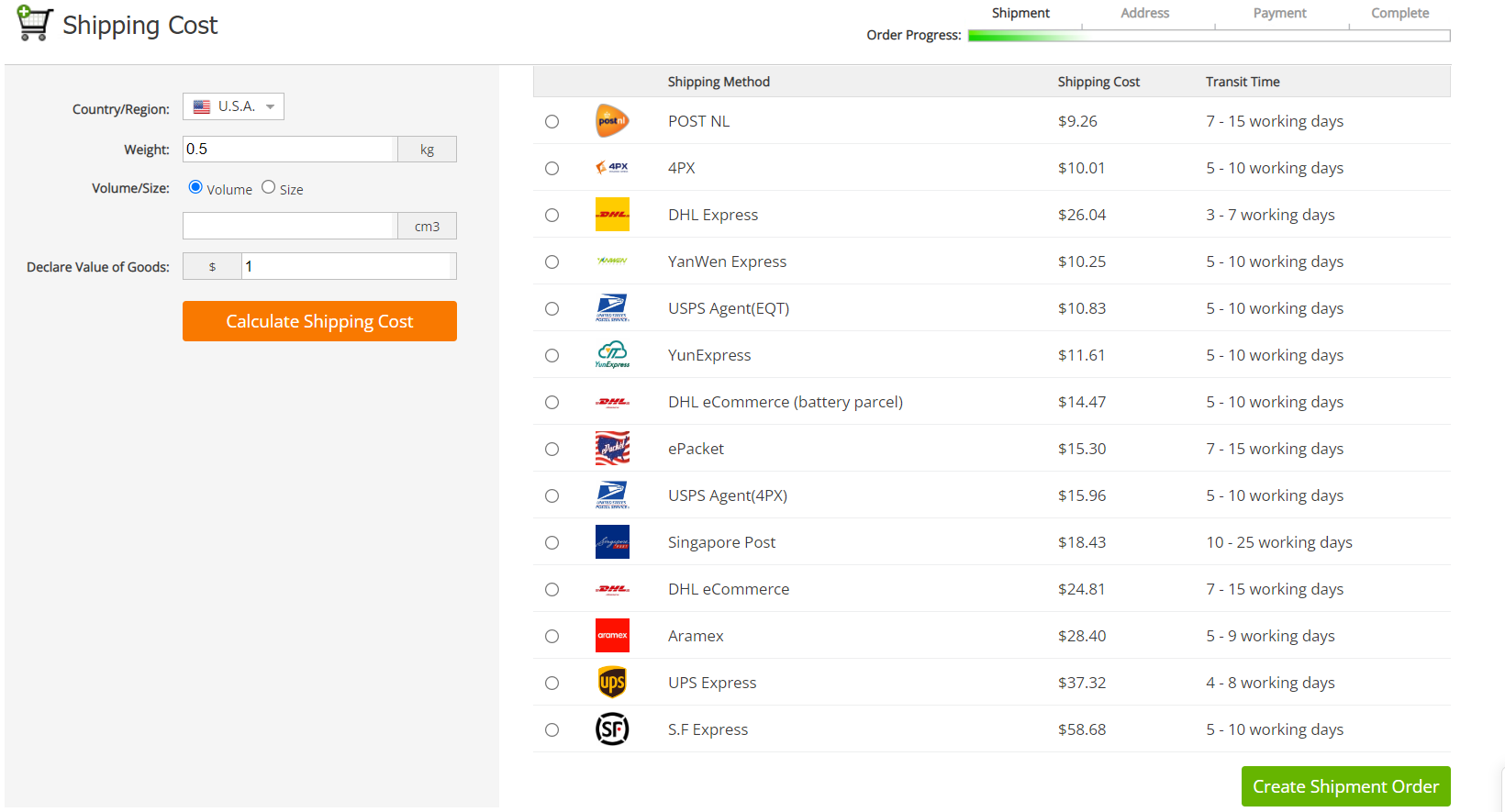 First, Sunsky warehouses are located in China, Hong Kong, the United States, the United Kingdom, and the United Arab Emirates, allowing for faster shipping and more efficient and convenient after-sales services for worldwide users.
This dropshipping supplier offers logistical transit services, so you can have items from other sources delivered to one of SUNSKY's warehouses and have them packaged and shipped to your customer's location.
Also, Sunsky ships products worldwide, and provides various shipping methods, including DHL, UPS, and FedEx. They also offer free shipping on selected products. In fact, all items dispatched from a local warehouse are duty-free and arrive in 3 days or less. Also, there's an option for same-day shipping.
Mostly, the shipping cost and time depend on the customer's location, and the product size, or volume.
🔸Sunsky API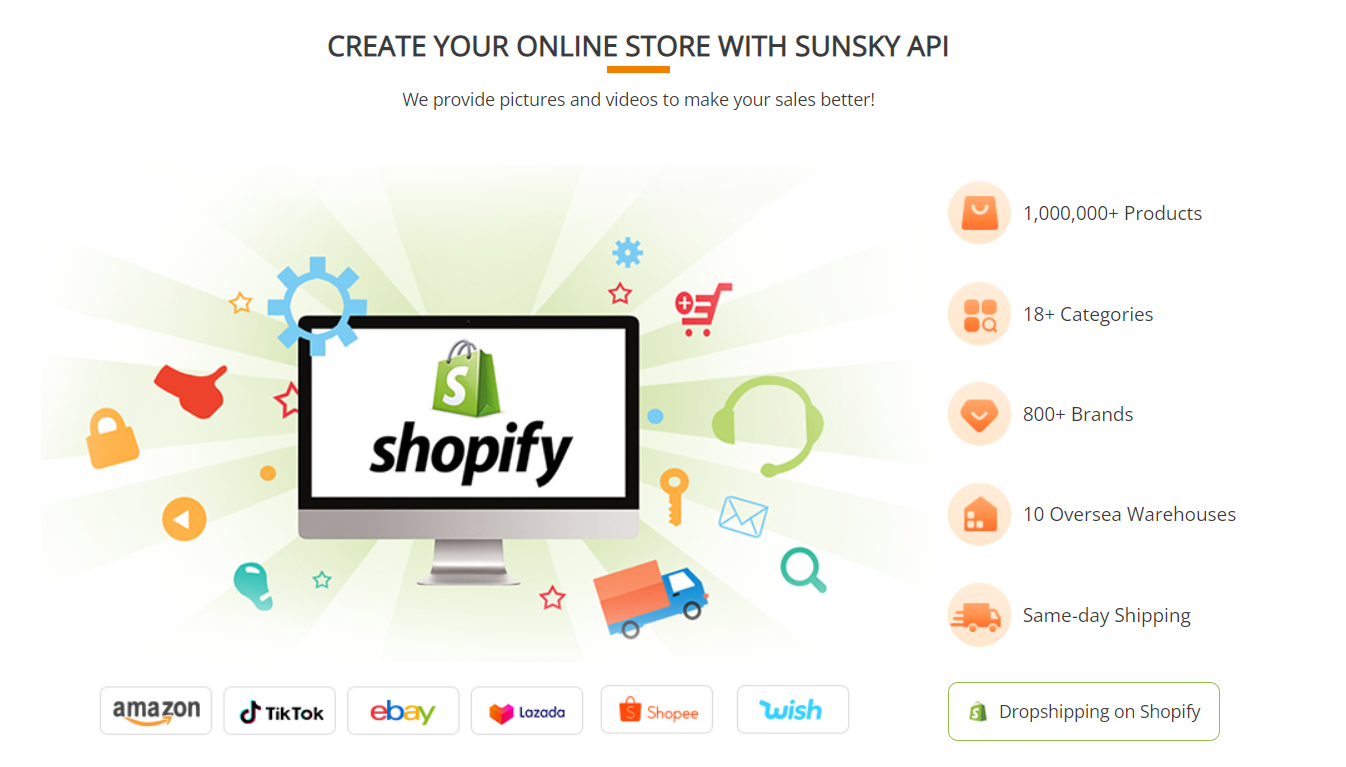 By using the Sunsky API, you can easily access product details, pricing, and images, and list them on your dropshipping store.
Also, you can receive orders directly from your customers and place those orders on Sunsky's website, without having to manually input the order details.
Actually, this saves you a lot of time and resources and streamlines your operations.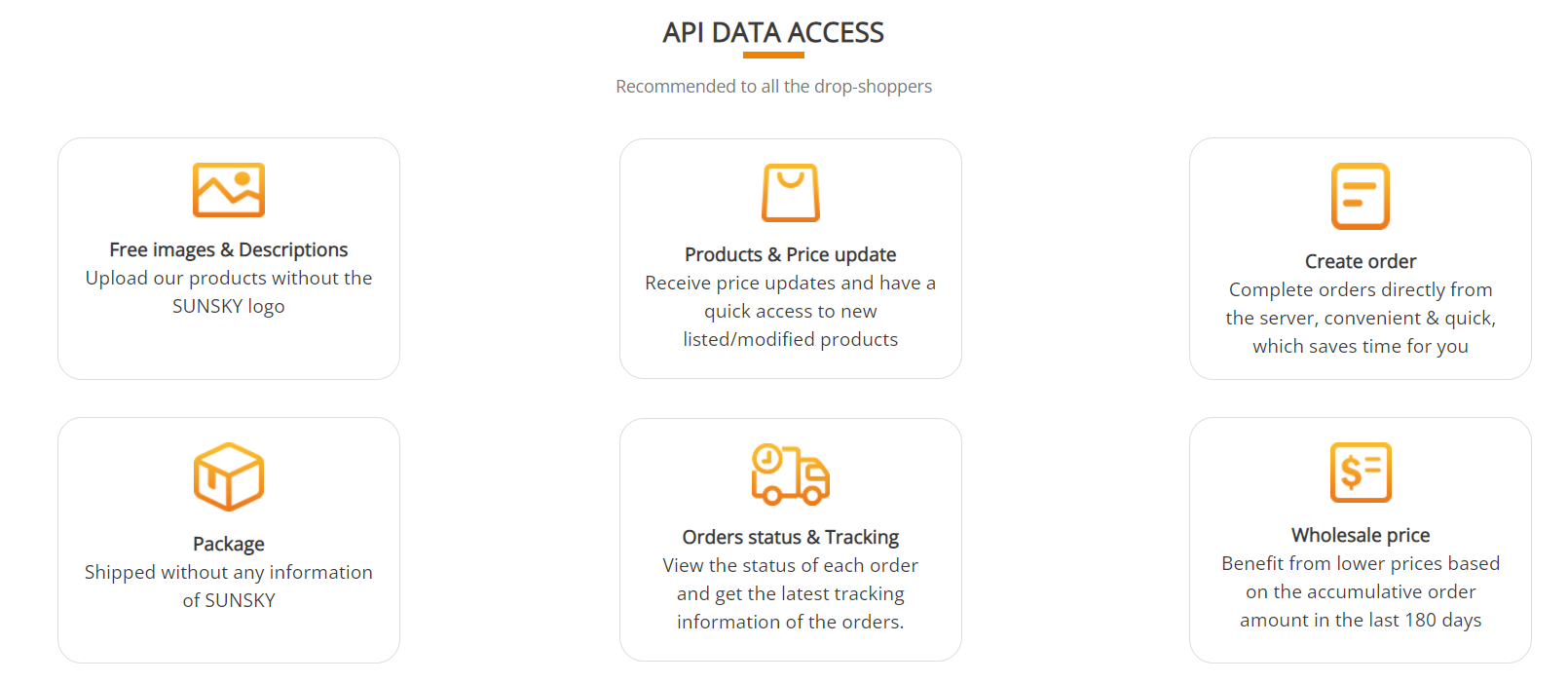 Moreover, the Sunsky API also provides real-time inventory data, so you can ensure that you are offering products that are in stock and available for purchase.
Not just that, but Sunsky API provides shipping and tracking information, so you can keep your customers informed about the status of their orders.
👉 Here you can check on API documentation.
🔸Quality control

Sunsky has a team that monitors product quality and ensures that products meet certain standards.
So, all products go through comprehensive quality control. So, they experience supplier review, arrival inspection, and scan, and are tested to strict quality control standards.
👉 Learn How To Convert Asian Size Chart to US Size for Dropshipping.
🔸Customized packaging
Next, Sunsky dropshipping offers customized packaging options for products, allowing sellers to add their own branding to products.
Actually, branding your orders is very important if you want to build an image for your dropshipping store.

More importantly, Sunsky provides free labeling and repackaging services. Thus, you can create barcodes online using the online customize option. Plus, it also allows multiple labels for a single SKU.
Therefore, before shipping, the Sunsky warehouse will print the label and apply it to your package.
🔸Multiple payment options

SUNSKY offers over 40 global payment methods. Also, their risk control system assures the security of your payments. So, here are some options that customers have:
Credit/debit cards: Sunsky accepts major credit and debit cards, including Visa, MasterCard, and American Express.
PayPal: Sunsky accepts payments through PayPal, which is a secure payment option for many customers worldwide.
Bank transfer: Customers can choose to pay for their orders through a bank transfer. However, this option may take longer to process, and customers should be aware of any fees that their bank may charge for the transfer.
Western Union: Customers can also choose to pay for their orders through Western Union. This option may be more convenient for customers who do not have access to a credit card or PayPal.
Sunsky Review: Pros & Cons
Next, we are not leaving our Sunsky review without checking on its pros and cons. So, let's see what we got:
Large selection of products
Convenient payment and delivery methods
Errors in delivery and order picking
Is Sunsky Legit?
Yes, Sunsky is a legitimate company that has been in business for over a decade. Also, if you scroll around their website, you will find a lot of social proof.
Not just their physical evidence with the 4000 square meters warehouses, but also they are all over social media platforms. Thus, you can check them on Facebook, Instagram, TikTok, Youtube, Twitter, and Pinterest.
Join the only community and resource hub you'll ever need to succeed with dropshipping
Find winning dropshipping products, learn marketing, download templates and engage with real dropshippers
Never pay for a "guru's" course again. See why 4543+ dropshippers joined us this year!
💡Try DSCOM Hub Now
Conclusion
To wrap it all up, if you're thinking of starting your own dropshipping business, Sunsky dropshipping can be a great option for you.
Thus, you'll find a wide range of quality products available at competitive wholesale prices, which can help you attract more customers and increase your profits.
The best part is that you won't have to worry about holding inventory or shipping products, which means you can start your business without a big investment.
Also, Sunsky offers reliable and fast shipping, excellent customer service, and secure payment options, all of which are essential for a smooth dropshipping experience.
Plus, with its comprehensive API, Sunsky also offers integrations with many popular eCommerce platforms, making it easy to manage and automate the dropshipping process.