Dropship Luxury Brands: How to Find Luxury Dropshipping Suppliers?
by
Aleksandra -
Aleksandra teaches marketing and management at various levels in High School. She writes about marketing, the economics and logistics of the dropshipping business and ecommerce in general.
Chief of Content Marketing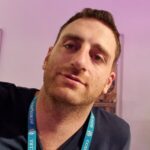 REVIEWED BY:
Michael Tekin
Founder of BrandsGateway - the fastest growing online B2B fashion marketplace where wholesale vendors, retail buyers, and dropshippers from around the world successfully connect. The catalog of high-end clothing and accessories from luxury brands is sold by thousands of clients globally, including dropshippers, small retailers, department stores, and eCommerce stores.
Founder at BrandsGateway
Are you one of those people who can hardly resist luxury brands? If so, why not open up more opportunities for your passion? Why not select one of the best luxury dropshipping suppliers listed below and start your own dropshipping business?
Dropship Luxury Brands 101
In this article, we will discuss everything from why you need to dropship luxury brands to expert tips on how to succeed in the industry.
So, let's now take a look at the numbers.
Lifetime deal: Get all-access to everything on Dropshipping.com
Access all DSCOM features, resources, courses, live workshops, discounts, winning products, weekly deep dives, directories and all future updates under all-in-one dropshipping HUB.
DROPSHIPPING IS A REAL BUSINESS, DON'T DO IT ALONE. 4553 MEMBERS ALREADY JOINED. YOU CAN PAY OFF YOUR SMALL INVESTMENT WITH JUST 2 SALES ON YOUR STORE.
Grab the deal before it's gone
E-commerce luxury industry Stats & Insights
When you visit a mall to do some window shopping, you will surely notice many luxury brand stores. These stores look super stunning. In short, they are a world of their own.
But many luxury brands were a bit skeptical about their chances of success by moving online, regardless of the fact that e-commerce has witnessed a rise over the past few years.
They used to believe that they could lose their elite status because of selling their luxury goods online.
However, today, the e-commerce revolution begins to transform the luxury goods industry.
In 2022, about 9% of the global luxury goods sales were made online, to be more specific. And believe it or not, according to Statista, a whopping 25% of luxury goods sales in the world will be made online by 2025.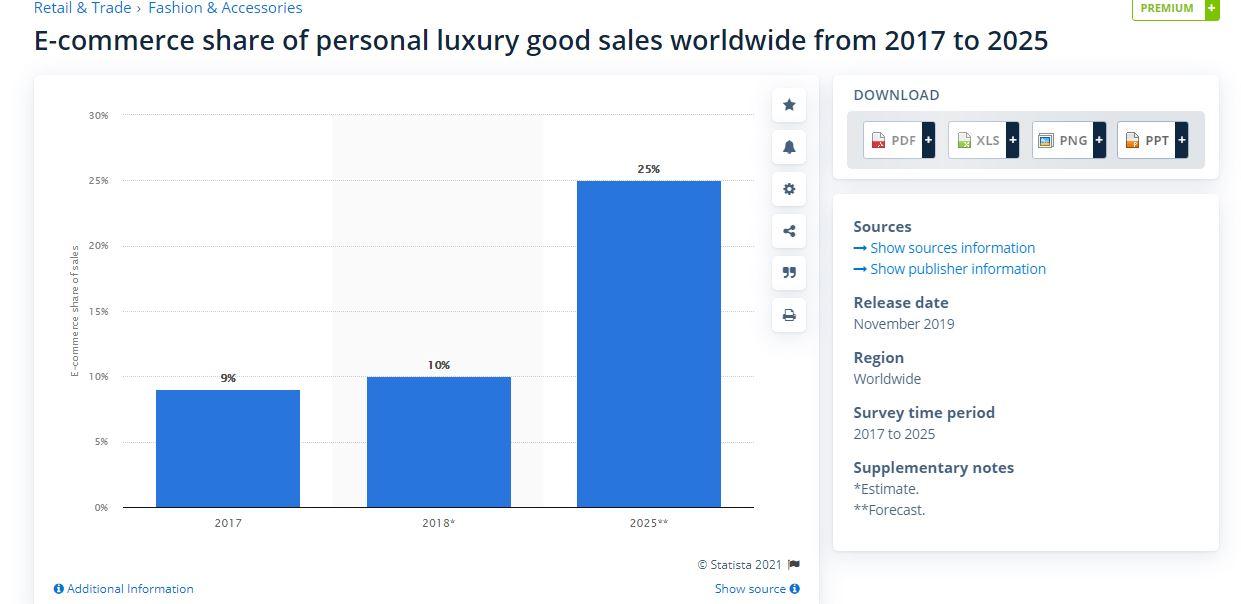 What does this mean? This means that more and more luxury brands are moving online, and the total online luxury sales are increasing. More and more people are doing their luxury shopping online.
Does this seem like a good opportunity for you as a dropshipping store owner?
If the answer is yes, keep reading to learn how to dropship luxury brands and find the best luxury dropshipping suppliers.
👉 Check out Dropshipping Berluti: How To Dropship Handmade Luxury?
How to dropship luxury brands
Dropshipping luxury products may not be an easy task for you. However, with the right approach, dropshipping can be a profitable business model for your start-up in the luxury industry.
So, here are some useful tips for dropshipping luxury goods:
1. Define your target audience
Luxury goods are the opposite of necessity or essential products. Unsurprisingly, people tend to purchase them as they want to communicate their economic and social statuses.
So, as a luxury dropshipping store owner, you are not going to sell products to the average customer. And you need to identify and analyze the target audience for your luxury brands.
You might believe that it would be an older generation that typically builds up a target audience for luxury brands. But it turns out that younger shoppers are becoming the target audience of luxury retailers.
That's why it is very important to decide what kind of luxury goods you are going to sell and define your dropshipping target audience. Also, make sure you create a short dropshipping business plan.
2. Promote your dropshipping business on social media
Social media marketing can play an important role in helping you convert your visitors into real consumers.
So, you may want to consider using some social media networks to engage copious visitors and potential consumers with your brand identity and generate engagement with your luxury goods.
Here is how to do so:
• Use quality product photography to elevate your visual brand. Though this tip isn't unique to luxury goods, it should be repeated frequently. Social media sites, particularly Facebook and Instagram, are inherently visual media. And, therefore, if you want to create a luxury look for your products on social media, you need to add a touch of class and luxury to your product images.
• Take your customers behind the scenes. Take your potential customers behind the scenes with your social media posts. For instance, you can upload quality videos to your social media profiles. By doing so, you can communicate the luxury status of your items.
3. Highlight consumer individualism and deliver impeccable customer service
Today, customers like to be treated individually. Plus, you are going to sell your luxury goods to a smaller customer base, meaning that you will have more time and resources to focus on providing flawless dropshipping customer service in comparison to dropshippers who sell to a larger customer base.
This means that if you choose to dropship luxury brands, you must evoke the same exclusive and extraordinary service that a customer may convey in-store. And here is how to do that:
• Treat your customers with respect and understanding. You might be knowledgeable about your products. However, if you fail to treat your customers with respect and understanding, they will not feel well cared for. So, do your best to always be available for them and make them feel like their voice is being heard.
• Offer personalized/individualized experiences. When you dropship luxury brands, you need to deliver individualized experiences on your dropshipping site. One great way to do so is by recommending products to your customers based on their previous actions, including their browsing behavior and purchase history.
4. Work with the best luxury dropshipping suppliers
Yeah, we know that this section should come first on our list of expert tips on how to dropship luxury brands.
But, as we know that finding the best luxury dropshipping suppliers is of utmost importance for the success of your online business, we decided to pay special attention to this section.
Plus, not only will we share our knowledge with you about how to find the right supplier for your business, but we will also give you a list of the best luxury dropshipping suppliers.
So, let's get started.
How to find the best luxury dropshipping suppliers
As you probably know, finding the right dropshipping supplier for your e-commerce business is far from easy. But, when you want to dropship luxury brands, you might face another challenge.
Namely, you might come across a dropshipping supplier that carries fake, unauthorized replicas of luxury products.
It's worth pointing out, however, that there are many luxury dropshipping suppliers on the market that offer 100% authentic luxury goods from popular brands.
But to avoid dealing with an unreliable supplier of "luxury" goods, it is a good idea to ask them to provide proof of authenticity for their products. That way, you can ensure they ship genuine luxury products to your customers.
Another important thing you need to do to avoid dealing with an unreliable supplier is to pick up the phone and make the call. Reputable luxury dropshipping suppliers are accustomed to having people call them.
So, even if you are new to dropshipping, do not be afraid to pick up the phone and make the call.
If you get a dedicated sales representative on the phone (e.g., they are knowledgeable about their luxury products, and they are friendly and happy to answer your questions), it is a clear sign of professionalism and top-notch customer service.
Also, it is important to understand their shipping and return policies and have a good grasp of their subscription fees or any other fees that they may charge for their dropshipping services.
This allows you to calculate your dropshipping profit margins and make your online business more profitable.
And here is the list of the best dropshipping suppliers of luxury goods in the world.
List of the best luxury dropshipping suppliers
The suppliers listed below are definitely the cream of the crop.
And whatever you are looking for, one of these suppliers is going to be right for your online business.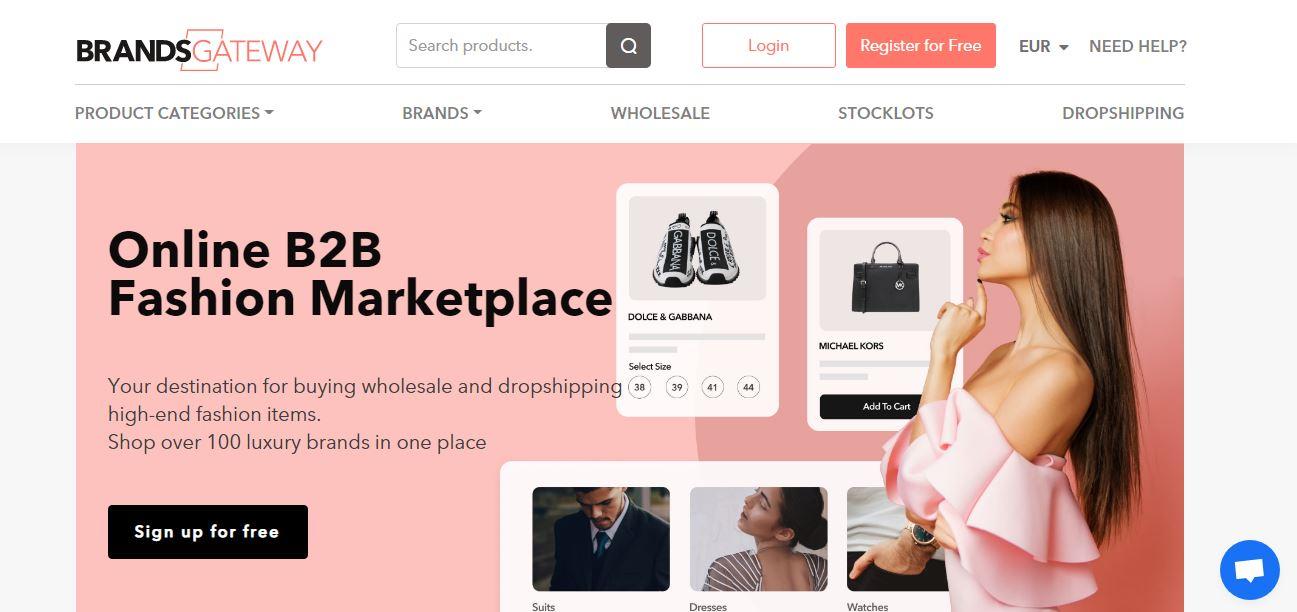 One of the best luxury dropshipping suppliers in the world, BrandsGateway carries designer clothing, shoes, bags, jewelry, watches, sunglasses & frames, and accessories from 100 luxury brands.
👉 Learn How To Start Reselling Shoes: 2024 Guide To Reselling Sneakers.
Its brands include Dolce & Gabbana, Armani, Tommy Hilfiger, and many others that have defined the world of fashion on a global scale.
But the major thing that separates this supplier from the others is that it carries a wide array of luxury items with discounts of up to 90%.
And by working with this European supplier, you can take your dropshipping business to the next level.
In brief, BrandsGateway offers worldwide express delivery within five days and no minimum orders. Check our ultimate BrandsGateway Review.
Moreover, to entice your prospective customers, it is key for you to use professional product images and descriptions.
And BrandsGateway offers exactly that – it allows you to use its professional product images and descriptions in your dropshipping store.
Want to help your shoppers live their most glamorous lives and build timeless wardrobes they will not throw out after one season?
Now is the time to realize the brilliance of BrandsGateway as your dropshipping partner and create a free account to browse through its outstanding product catalog.
Another great company on our list of the best luxury dropshipping suppliers, Nordstrom offers a variety of luxury items from famous brands.
Some of the brands you can find on the site include Fendi, Balenciaga, Alexander McQueen, Gucci, and more.
What started as a small Seattle shoe shop has now become a large retailer selling everything from shoes and clothing to fragrances and beauty products. The company was founded more than one century ago, and it has been winning the hearts of true fashionistas ever since.
Aside from having multiple locations in the US and Canada, the company also serves its customers online and offers international shipping.
In addition, the company wanted to optimize its dropshipping program so that it partnered with Dsco. As a result, it now offers an integration platform to serve its customers better.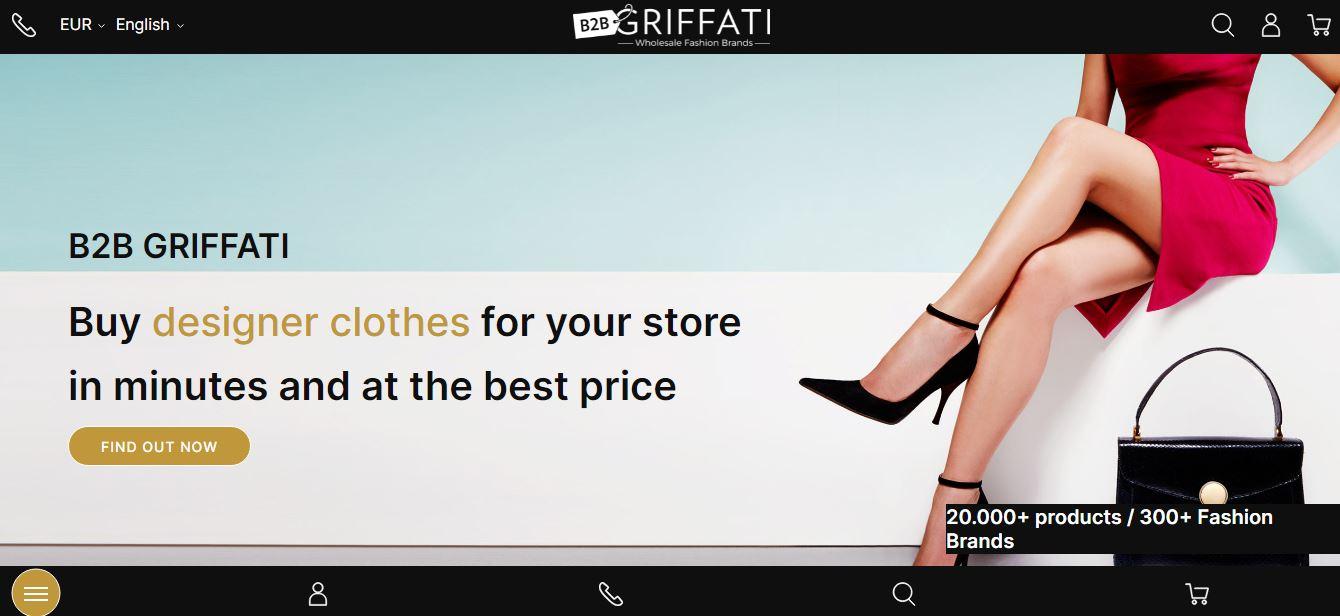 Griffati is an Italian company, serving customers from all over the world. Needless to say, it is also one of the most popular luxury dropshipping suppliers.
Furthermore, because of its partnerships with some main fashion brands and distributors, the company offers designer clothing with discounts of up to 75%.
What's most interesting about Griffati is that its product catalog is available in 24 languages, including Italian, English, German, French, and so on.
When working with this drop shipping supplier, you do not have to worry about keeping any stock. Also, you do not have to order a minimum amount of units from them.
If you want to dropship designer clothing mainly from Italian fashion brands, Griffati may be your best bet.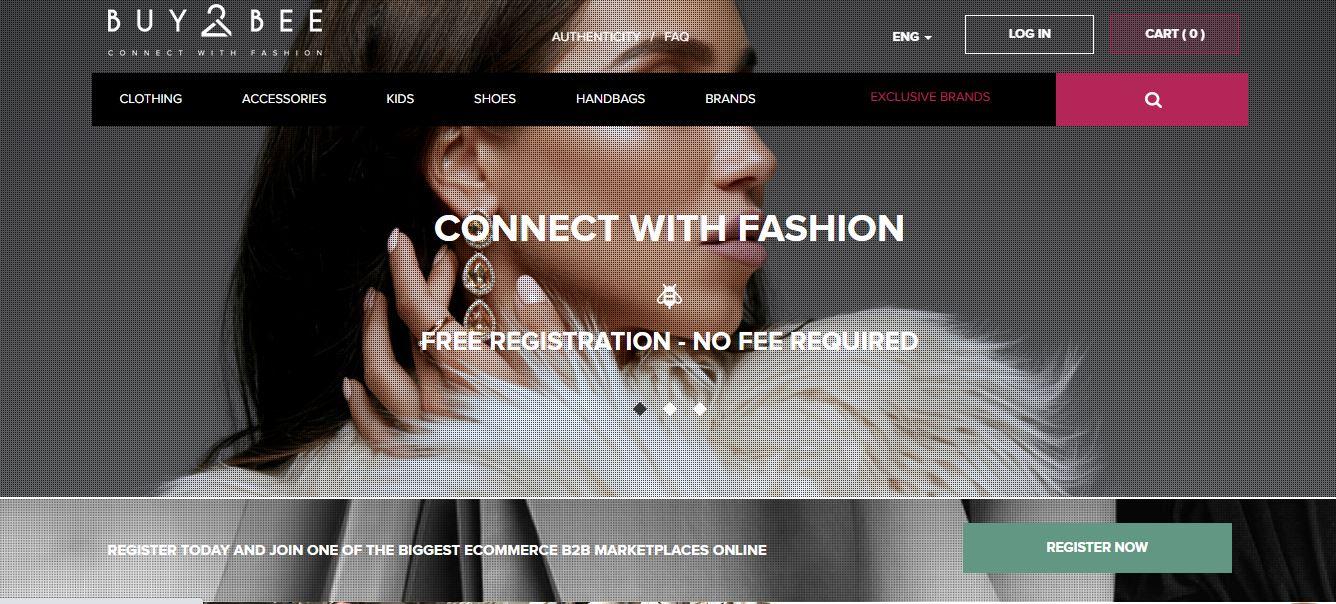 Buy2Bee is also a supplier of branded clothing, shoes, and accessories, but with a smaller product portfolio compared to the luxury dropshipping suppliers mentioned above.
But this does not mean that it can't be a great dropshipping partner for your online business. Buy2Bee carries some cutting-edge and iconic designs that your customers will fall in love with.
Sure, each of its luxury items is 100% authentic and comes directly from the brand.
Plus, with two warehouses in the United States and Italy, the supplier ships worldwide. But its shipping and delivery costs vary.
Let us explain it in more detail. The shipping and delivery costs vary, depending on the weight of an order and the destination country.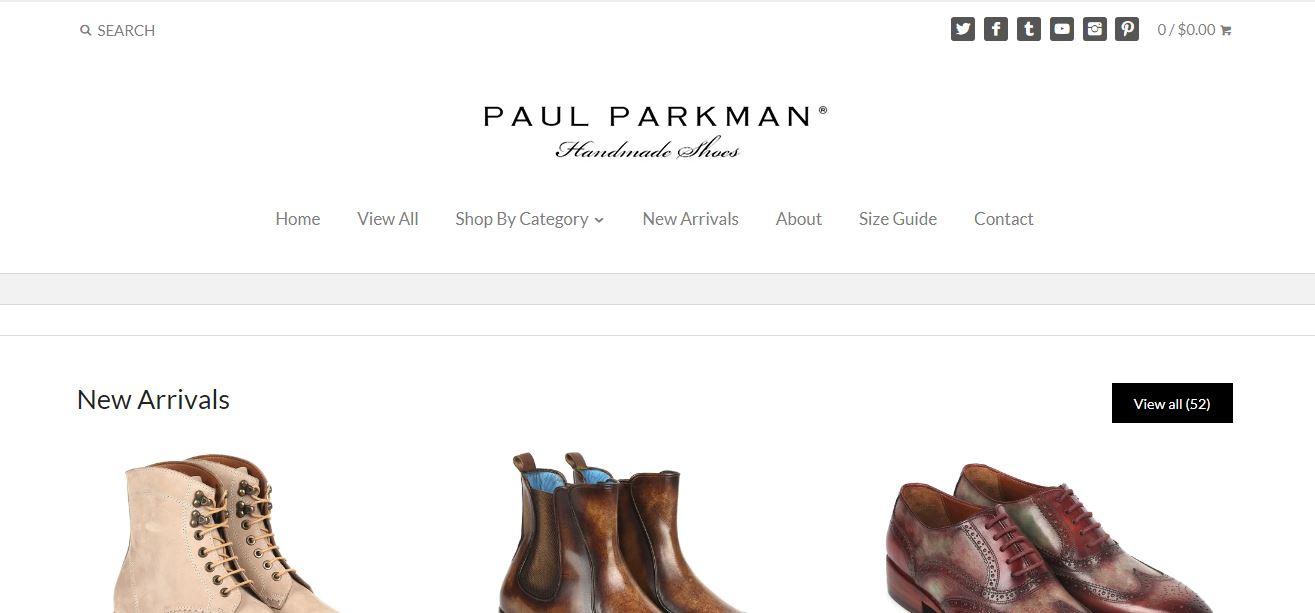 Based in the United States, Paul Parkman deserves its place on our list of the best luxury dropshipping suppliers.
The main reason for this is that the company is a sophisticated brand of luxury men's footwear. In short, Paul Parkman, claims to manufacture some of the highest quality men's dress shoes in the world.
The company has not displayed enough information about its dropshipping services on its website.
But to start dropshipping with Paul Parkman, you need to fill in the application form provided on the site and provide as much information as possible about your online business.
Just keep in mind that the company has a strict approval process and it does not work with everyone.
If you get approved to resell Paul Parkman's shoes online, you will let your male customers step out in style with these amazing shoes.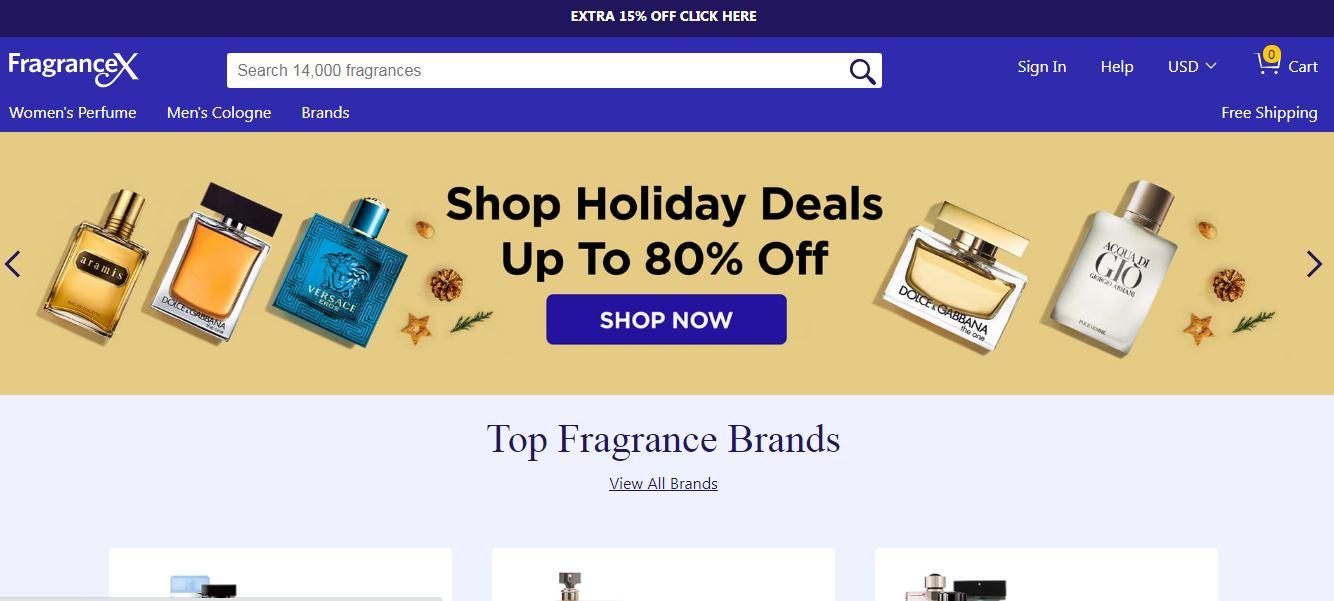 Want to dropship luxury brands, i.e., resell 100% genuine brand name fragrances, perfumes, skincare, and cosmetic products online through your dropshipping store? If the answer is yes, consider partnering with FragranceX.
FragranceX is also one of the greatest luxury dropshipping suppliers that can help you succeed in the luxury perfume market.
💡 Tip: Learn How to Sell Perfume Online via the Dropshipping Model.
By working with this supplier, you will be able to add as many luxury fragrances, perfumes, and skincare products as you want to your site from world-known brands.
Some major brands the company carries include Hugo Boss, Giorgio Armani, Ralph Lauren, Chanel, etc.
And FragranceX ships to over 220 countries across the globe. This means that it may also help you internationalize your dropshipping business.
BONUS: Explore the best Adult Products Suppliers in the world.
Join the only community and resource hub you'll ever need to succeed with dropshipping
Find winning dropshipping products, learn marketing, download templates and engage with real dropshippers
Never pay for a "guru's" course again. See why 4543+ dropshippers joined us this year!
💡Try DSCOM Hub Now
The bottom line
Looking for the best luxury dropshipping suppliers for your e-commerce business?
In this article, we gave you some insight into what the luxury industry looks like, how to dropship luxury brands like a pro, and how to find the right supplier for your business.