Are you an aspiring dropshipper looking to start a dropshipping business in New York? Choosing the best dropshipping suppliers in New York can make or break your success. But with so many options out there, how do you know which ones are reliable and offer high-quality products?
Hence, if you're planning to venture into dropshipping in New York, it's essential to partner with reliable suppliers who can provide quality products, timely shipping, and excellent customer service.
To help you make an informed decision, I have compiled a list of the 10 best dropshipping suppliers in New York for 2023.
Whether you're starting a new business or looking to expand your product offerings, these suppliers can help you achieve success in the competitive dropshipping market. So, let's start!
Best New York Dropshipping Suppliers – Short List
| | | |
| --- | --- | --- |
| Dropshipping Supplier | Dropshipping Niche | Dropship Program Pricing |
| 2decorate | Home decor niche | Free; only sells in bulk* |
| Sellvia | Wide range of high-quality products | The platform offers two pricing plans: Sellvia Plan – priced at $39 per month; Sellvia PRO – priced at $69 per month or $399 per year. |
| Doba | Products in almost every dropshipping niche | Doba offers a 30-day trial period, allowing you to experience their services before making a commitment. After the trial, you can choose from four pricing plans, each tailored to meet different needs. |
| Brook & York | Specializes in Modern Jewelry | Free |
| FragnanceNet | Specializing in beauty and wellness products | Free |
Discover top dropshipping suppliers of original US/EU products
You're 2 minutes away from building your ecommerce empire
No credit card required. No commitment.
Get started for free
How to Find Dropshipping Suppliers From New York
In the world of dropshipping, finding reliable suppliers is essential for a successful business. New York is known for its bustling retail scene, making it a prime location to find high-quality dropshipping suppliers.
In this article, I will share with you some effective strategies and resources to help you find the best dropshipping suppliers from New York. So let's dive in and discover how to find dropshipping suppliers.
➡ Estimating Suppliers' Quality & Reliability
First and foremost, when evaluating dropshipping suppliers, product quality should be at the top of your list. After all, you want to provide your customers with high-quality products that meet their expectations.
What's more, shipping times are another crucial factor to assess. Customers expect their orders to be delivered promptly, so it's essential to work with suppliers who can meet those expectations.
What's more, customer service is also vital as you want to partner with suppliers who are responsive and helpful in resolving any issues that may arise. So, make sure that these dropshipping suppliers are responsive and have multiple communication channels like chatbots, email, phone calls, etc.
Furthermore, it's essential to evaluate the reputation of potential suppliers. So, look for reviews and testimonials from other dropshippers to get an idea of their reliability and track record.
👉 Discover the 10 Best Dropshipping Suppliers in Texas + Tips To Start.
➡ Tips & Tricks For Researching Dropshipping Suppliers In New York
When researching the best dropshipping suppliers in New York, there are several tips to keep in mind. First, you can use Google Search to find the best dropshipping suppliers in New York.
To get started, initiate a basic search using keywords such as "best dropshipping suppliers in New York" or "wholesale suppliers in New York." This will provide you with a general list of possibilities to explore.
However, conducting your own supplier search can be time-consuming and overwhelming. This is where online directories come in handy.
In fact, I highly recommend avoiding the steps of searching on Google altogether when there are dropshipping supplier directories that have already done the legwork and have established partnerships with dropshipping suppliers. Plus, you are risk-free of starting to work win a dropshipping supplier that is a scam.
One example of an incredibly valuable resource that I consistently utilize is the supplier directory offered on Dropshipping.com. This directory presents a wide range of over 2000 trusted suppliers that are available for selection, completely free of charge. 👇
The dropshipping.com supplier directory allows me to filter my search based on my specific dropshipping niche, the supplier's location, shipping costs, and other preferences.
Furthermore, I have the advantage of accessing valuable information regarding each supplier's pricing, order processing time, minimum order quantity (MOQ), warehouse location, product variety, and other pertinent details.
What's more, you can go to trade shows like New York Fashion Week, the New York International Gift Fair, and the New York Toy Fair, which bring together suppliers, distributors, and manufacturers in the city. These events present valuable networking prospects and offer valuable information on the latest trends and products.
👉 Read my FULL review of Trendsi Dropshipping: Is It Good For Fashion-Based Dropshipping?
➡ How To Negotiate With Dropshipping Suppliers In NYC
When it comes to negotiating with dropshipping suppliers in NYC, there are several effective strategies that can help you get the best deals.
First and foremost, do your research and come prepared. Know the market value of the products you're interested in and have a clear idea of what you're willing to pay.
Next, establish a strong relationship with your suppliers. Building trust and rapport will go a long way in negotiating better terms. Keep lines of communication open and be transparent about your needs and expectations.
Consider bundling orders or increasing your order volume to leverage better wholesale prices. Suppliers may be more inclined to offer discounts if they see the potential for a long-term, mutually beneficial partnership.
Negotiate shipping costs by exploring different shipping options and comparing prices. Sometimes, suppliers may be willing to split or absorb some of the shipping costs to secure your business.
Lastly, be willing to compromise. Negotiations are a two-way street, so be open to finding a middle ground that works for both parties.
By following these strategies, you can maximize your chances of securing favorable terms and conditions with dropshipping suppliers in NYC.
List Of 10 Best Dropshipping Suppliers in New York
In this article, I will provide you with a list of the 10 best dropshipping suppliers in New York.
These suppliers have been carefully selected based on their high-quality products, reliable service, affordable prices, and wide range of product offerings. So, let's see! 👇
💡 Tip: Before you dive in, also check out the 21 Best Dropshipping Suppliers In The USA [General + Niche].
Regarding the best dropshipping suppliers in New York, one name that stands out to me is 2decorate. Established in 2006, they have emerged as the leading independent supplier in this industry.
2decorate specializes in the home decor dropshipping niche. They offer a wide range of high-quality home décor products that are perfect for any online store.
Their extensive product range includes top-notch duvet cover sets, decorative ceramic vases, curtains, metal planters, and drapes. Plus, their products are made from 100% cotton, ensuring exceptional durability.
What's more, they have even established a trademark name, Dolce Mela, which is synonymous with the 2decorate brand. So, whenever you come across this name, it signifies the excellence of the 2decorate company.
One of the things I appreciate most about 2decorate is their reliable dropshipping service. As someone who runs a dropshipping business, it's important to have a supplier I can rely on for prompt and efficient product delivery.
However, what I see as an issue is that they only sell in bulk.
👉 Check out the 10 Best Dropshipping Suppliers In California (2023 LIST).
Petdropshipper is a top-notch dropshipping supplier based in New York that focuses on pet supplies. They have an extensive inventory source, allowing them to offer a wide range of wholesale products.
One of the standout features of Petdropshipper is its reliable shipping times. They understand the importance of getting products to customers quickly and efficiently.
With Petdropshipper, you can rest assured that your orders will be delivered promptly, ensuring customer satisfaction.
Hence, they have an extensive product catalog of over 14,000 items. So, whether you need food, toys, or accessories for your beloved furry friends, Petdropshipper has got you covered. Also, you can find products for dogs, cats, birds, fish, and lots of others.
Also, they partner with leading shipping providers such as USPS, UPS, and FedEx. Additionally, you have the opportunity to save 15-30% on shipping costs, whether it's for local delivery in NYC or international shipping.
👉 Read about Dog Niche Dropshipping: Top Dog Products & Suppliers for Sellers.
Gooten is actually a print-on-demand service site with a vast product catalog. Hence, they offer a wide range of products for customization in various dropshipping niches, like fashion, apparel, home and lifestyle, wall art, baby products, etc.
Also, Gooten simplifies the online selling process for brands by seamlessly connecting them to our print-on-demand intelligent distribution network.
What's more, with a majority of production taking place in the United States, they have selected a handful of globally dispersed production partners who serve over 70 different locations. The main office is situated in New York, in the United States.
Also, this dropshipping supplier integrates with the major dropshipping platforms like Shopify, BigCommerce, WooCommerce, Etsy, and their own API. So, you can connect your dropshipping store and their supply chain.
Thus, Gooten offers an automated order fulfillment. So, it automatically processes, produces, and ships orders for you so you can be hands-off to focus on your business.
Also, Gooten provides a flat-rate shipping option for all of their products, ensuring that there are no unexpected costs in this aspect.
However, the process of signing up for Gooten can be cumbersome as it requires reaching out to a Gooten sales representative through a contact form. On a positive note, Gooten does not charge any monthly fees.
👉 Check out the Best 8 Profitable Niches With Low Competition For Dropshippers.
Sellvia is one of the best dropshipping suppliers in New York. It offers a simple method to import and sell a wide range of high-quality products. Also, it presents a fulfillment center based in the United States and a personalized store service, empowering store owners to customize their online stores to match their brand and boost conversions.
Sellvia prides itself on a premium product catalog that offers unique offerings tailored to meet the specific needs of its customers.
Notably, their product pages caught my attention by showcasing both the retail price and the supplier price, enabling you to calculate your forthcoming profits.
With Sellvia, importing product catalogs is a seamless process, requiring just a single click to feature carefully selected products on your online store.
Additionally, the platform provides various marketing materials, including ad campaigns, email marketing, search engine optimization, and social media promotion.
Moreover, Sellvia ensures fast product delivery within 1 to 3 business days, limited to shipping within the United States due to its US-based operations.
The platform offers two pricing plans:
Sellvia Plan – priced at $39 per month
Sellvia PRO – priced at $69 per month or $399 per year.
👉 Check out my in-depth Sellvia Review: How It Works and Is It Worth It In 2023?
Doba is one of the largest dropshipping suppliers in the United States. They offer an extensive range of products from numerous vendors across various categories.
So, in their catalog, you can find products in almost every dropshipping niche, at affordable pricing. Thus, you can choose from:
Home, Garden & Tools
Beauty & Health
Outdoor
Clothing, Shoes & Jewelry
Toys, Kids & Baby
Sports
Pets
Computers, Office Supplies, and many more.
Furthermore, connecting to Doba's inventory is a straightforward process. Simply choose the items you wish to sell, export them to your dropshipping store, and start selling to your customers. Doba takes care of the rest, handling the logistics and fulfillment.
Additionally, Doba offers a 30-day trial period, allowing you to experience their services before making a commitment. After the trial, you can choose from four pricing plans, each tailored to meet different needs.
What's more, Doba integrates with 7 other platforms, which are:
Shopify
Amazon
eBay
BigCommerce
WooCommerce
Wix
Newegg
👉 Read my Doba Dropshipping Review: Is It Worth It & How to Use It in 2023?
When it comes to the best dropshipping suppliers in New York, one of the best options that comes to mind is Brook & York.
Brook & York is an exceptional dropshipping supplier of stylish jewelry in New York. This establishment creates and produces an impressive selection of jewelry in the vibrant heart of Rhode Island.
In their store, you can find jewelry in a variety of categories, like:
Necklaces
Bracelets
Rings
Earrings
Anklets
Pendants
Chains
Charms
What's more, Brook & York distinguishes itself through its unwavering dedication to ethical artistry, using solely the finest locally sourced materials.
Also, as a dropshipper, it is important to consider that Brook & York integrates with Dsco, Commerce Hub, Shopify, Mirakl, etc.
Plus, they partner with shipping providers like UPS, FedEx, Postal Service, World Shipping, and Third Party Billing.
The team at Brook & York ensures quick order processing, with a fast turnaround time for all orders. So, a wide range of their products are dispatched within 24 hours of placing your order. However, monograms and a limited selection of items will require 3 to 5 business days for processing. E
Furthermore, this enterprise led by women designs jewelry that seamlessly completes every event, time of year, or location.
👉 Check out Dropshipping Jewelry: Best Products & Suppliers for Jewelry Dropshipping.
FragranceNet.com is a highly respected online marketplace specializing in beauty and wellness products, including cosmetics and fragrances. So, they provide competitive pricing on an extensive selection of 15,000 well-known skincare, makeup, hair care, and candle items.
Moreover, they offer free shipping within the United States for orders that meet the minimum quantity requirement.
Additionally, FragnanceNet typically has a processing time of over 7 days for orders, and their product pricing ranges from $50 to $100.
Luckily, the FragnanceNet dropshipping program is free. However, consider that you will need to manually submit orders for each item via FragranceNet's website to fulfill your dropship orders.
VICCI Brands stands out as one of the best dropshipping suppliers in New York, specializing in high-quality gifts and home décor items.
With a wealth of expertise spanning a decade, this supplier curates an impressive selection of design brands hailing from the UK, US, France, Sweden, South Korea, Taiwan, and Spain.
Also, VICI Brands has since expanded its offerings to include table tops, home decor, and a diverse range of accessories. However, it is important to note that VICI Brands does not provide an automated connection.
Nevertheless, you have the opportunity to join their dropship program by completing the registration process.
Furthermore, VICI Brands adopts a flat fee structure for their dropship program, where all products priced above $100 are eligible. However, a $40 flat fee is applied per item, encompassing processing, packing, and shipping services.
If you're looking to target individuals who own bars, work as baristas, or enjoy hosting family gatherings with a drink in hand, the New York Bar Store is the perfect solution for you!
The New York Bar Store has taken immense pride in its expertise in the New York Bar & Restaurant Industry since 2005. They have dedicated themselves to tasting, testing, pouring, mixing, and enjoying their bar products.
So, in their store, you can find various products for bartending, like muddlers, pourers, holders, etc.
As a result, they are well-equipped to assist you in designing the finest home or commercial bars and nightclubs in your area. Furthermore, select products from the New York Bar Store can be personalized with your own logo or branding.
This dropshipping supplier also offers fast product delivery within a day, ensuring that you receive your items the very next day.
To establish a partnership with the New York Bar Store, simply complete their form, and they will promptly send you an email outlining their dropship program policies.
While the New York Bar Store does not explicitly disclose its pricing structure, this likely means that they do not charge any monthly fees. To obtain detailed pricing information, it is recommended to reach out to them directly.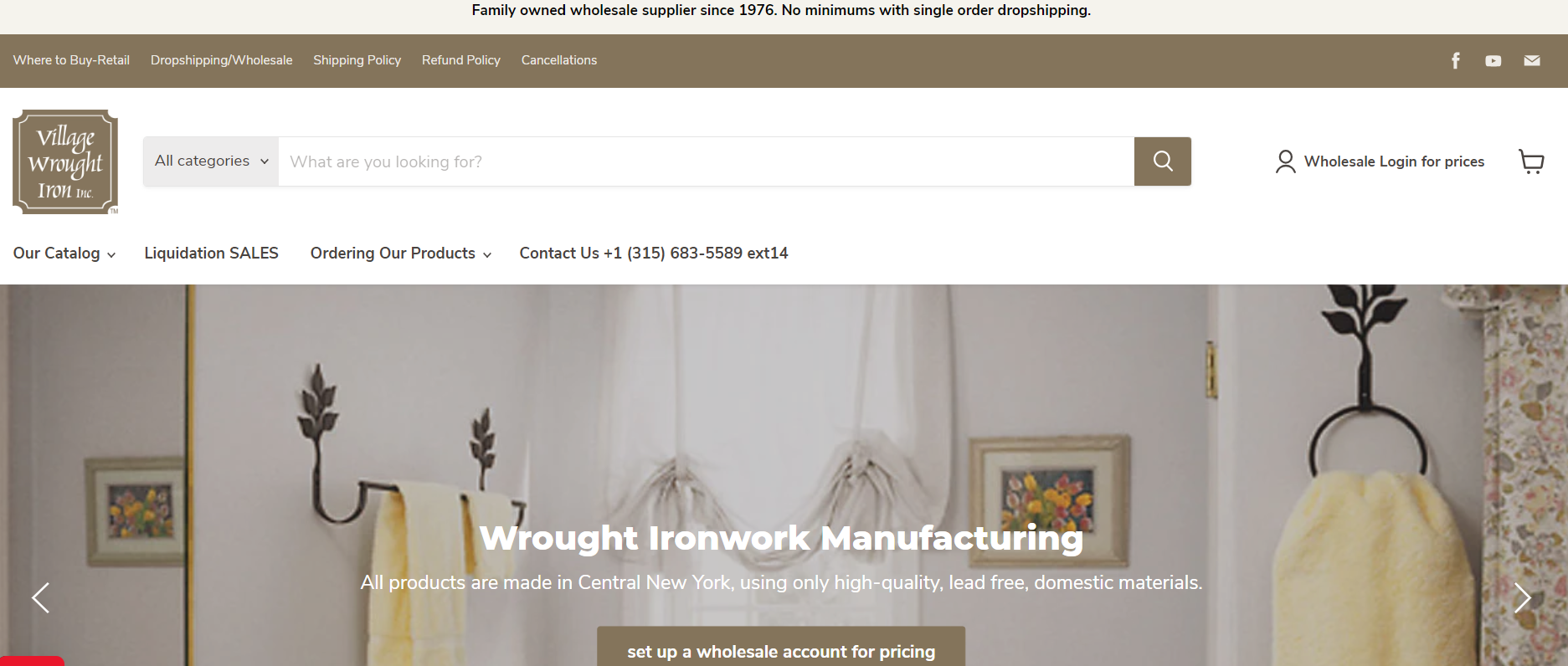 Village Wrought Iron is a locally owned and operated business located in the heart of Central New York.
What really sets them apart is their experience in this industry. Also, it's important to note that while they use the term "Wrought Iron," the material itself is no longer commercially available.
Instead, Village Wrought Iron uses domestically manufactured low-carbon iron that closely resembles wrought iron.
Their product selection includes a variety of items, ranging from garden designs to candleware and interior accessories.
Also, each item is meticulously handcrafted using traditional techniques such as shaping, punching, hammering, and grinding. For added durability, products labeled as "Flat Black" are finished with a long-lasting baked-on powder coating, making them suitable for both indoor and outdoor use.
It is worth mentioning that Village Wrought Iron requires a $15 application fee to process dropship account applications, but only if the application is approved. Additionally, there is a $5.50 charge per order, excluding shipping costs, which will be calculated separately and added to your invoice.
How Do You Choose The Best Dropshipping Suppliers In New York?
With New York being a hub for commerce and trade, there is no shortage of dropshipping suppliers to choose from in this bustling city. However, with so many options available, it can be overwhelming to decide which one is the best fit for your business.
In this article, I will guide you through the process of choosing the best dropshipping supplier in New York, ensuring that you find a reliable and high-quality partner to help you scale your business.
🔸 Reliability
Reliability is a vital aspect to consider when choosing dropshipping suppliers from New York. The track record of a supplier speaks volumes about their ability to deliver high-quality products consistently.
Also, customer reviews offer valuable insights into the supplier's reliability, as they reflect the experiences of previous buyers. So, don't forget to check on them, especially the negative ones.
Furthermore, the supplier's order fulfillment capabilities, including their shipping times and delivery efficiency, play a crucial role in ensuring a smooth and reliable dropshipping experience.
For example, what I do to examine this is ask for order samples. Or, if they don't provide order samples I usually act as a customer and make an order. This way, I can see their product quality, shipping times, packaging, customer services, and the order fulfillment process overall.
Also, for starters, I use one AliExpress Chrome extension – AliHunter. It helps me check on suppliers' sales volumes, pricing, the orders they get, and more
🔸 Shipping Details
The shipping rates offered by dropshipping suppliers vary depending on factors such as the weight, size, and destination of the package. Plus, delivery times also vary but are generally within a reasonable timeframe.
Also, it is important to note that some suppliers may have additional charges for services such as express shipping or special packaging.
Therefore, it is crucial to review the shipping details provided by each dropshipping supplier in New York to ensure they align with your business needs and budget.
So, my advice on this is when you contact the supplier, make sure to ask all these questions about shipping, MOQ, etc.
🔸 Cooperation & Communication
Let's clear this up – dropshipping suppliers are the ones that can even make or break your business. Hence, they are the ones that have direct contact with the goods sent to your customers.
Unfortunately, customers don't know that, so if anything goes wrong, you are the one to blame.
Therefore, building strong relationships with these suppliers is vital for smooth operations and customer satisfaction.
To foster effective cooperation, it is important to establish clear communication channels right from the start. Whether it's email, phone calls, or instant messaging platforms, ensure that both parties are comfortable with the chosen method.
👉 Read about 14 Best AI Tools for Ecommerce In 2023 (Free + Paid).
Also, prompt responses are key to maintaining a healthy relationship with your dropshipping suppliers. By promptly responding to their inquiries, concerns, or requests, you show them that you value the partnership and are committed to resolving any issues that may arise.
🔸 Production
When evaluating the best dropshipping suppliers in New York for their production capabilities and processes, there are key factors to consider.
Firstly, it is important to assess how potential suppliers handle manufacturing. Do they have the capacity to meet your product demands? Are they equipped with state-of-the-art machinery and technology?
Additionally, understanding how suppliers approach packaging is crucial. Do they prioritize using environmentally friendly materials? Are they able to provide customized packaging options for your brand?
Lastly, evaluating their quality control measures is essential. Do they adhere to strict quality standards? Do they conduct regular inspections and tests to ensure product integrity?
So, make sure to get answers to all these questions before partnering with them.
🔸 Additional Charges
When considering dropshipping suppliers in New York, it is important to be aware of any additional charges that may be associated with their services.
These charges can add up quickly and have a significant impact on your overall dropshipping business costs.
One potential fee to consider is shipping costs, which may vary depending on the supplier and the destination of your products. It is crucial to have a clear understanding of these costs upfront to avoid any surprises later on.
Another potential expense to keep in mind is handling fees, which some suppliers may charge for the packaging and processing of your orders. These fees can vary and should be factored into your pricing strategy. Additionally, some suppliers may have restocking fees if you need to return any merchandise.
👉 Also, learn about Dropshipping Taxes and Payments – Must-Know Facts.
Find winning dropshipping products & spy on your competitors
Minea analyses all online advertising to help you find the best products to launch, and the best creatives in your niche in just a few clicks.
Use coupon: DROPSHIPPING30 and get a 30% discount
💡Try Minea For Free
Conclusion
When it comes to finding the best dropshipping suppliers in New York, several factors should be taken into consideration. The reliability of the supplier is crucial to ensure that they consistently provide high-quality products and meet delivery times.
Also, shipping details and reasonable shipping rates play a significant role in customer satisfaction. Plus, you need to consider building a strong relationship and ask all necessary questions about additional charges before partnering with them.
However, while there are many dropshipping suppliers in New York, it is crucial to carefully evaluate each one based on their product offerings, customer service, and overall reputation.
Thus, in this article, I've listed the best dropshipping suppliers in New York and provided you with valuable insights about each of them. So, make your choice and start!