One Product Dropshipping Store: Pros & Cons, Guide & Examples
by
Aleksandra -
Aleksandra teaches marketing and management at various levels in High School. She writes about marketing, the economics and logistics of the dropshipping business and ecommerce in general.
Chief of Content Marketing
Building a general or one product dropshipping store – which will come out on top?
For most dropshippers, selling more than just one product is the way to go. But selling only one dropshipping product also has its perks.
If you are considering focusing on only one product but are unsure if you are on the right path to success, worry not. We will not let you simply go with your gut and listen to your instincts.
Instead, we will help you understand what a one product dropshipping store is and weigh the pros and cons of building such a store. We will also give you a few simple tips on how to put in the work to make it happen.
And, of course, we will also provide a few one product store examples to draw inspiration from.
What is a one product dropshipping store?
As you can assume, it is a dropshipping store that sells only one product. It is a dropshipping site built around a single product.
But why would an online business limit itself to offering a single product to its customers?
Well, oftentimes, you do NOT need a massive product catalog to be successful. It is possible to conquer the dropshipping market with only one good product idea.
There are tremendous benefits to offering only one product to your dropshipping target audience. However, it is not for everyone.
If you are new to dropshipping, here you can learn how to build an ecommerce website from zero.
To decide whether to launch such a store or not, you should learn what you will face when going this route. So, keep reading.
Lifetime deal: Get all-access to everything on Dropshipping.com
Access all DSCOM features, resources, courses, live workshops, discounts, winning products, weekly deep dives, directories and all future updates under all-in-one dropshipping HUB.
DROPSHIPPING IS A REAL BUSINESS, DON'T DO IT ALONE. 4553 MEMBERS ALREADY JOINED. YOU CAN PAY OFF YOUR SMALL INVESTMENT WITH JUST 2 SALES ON YOUR STORE.
Grab the deal before it's gone
Pros and cons of running a one product dropshipping store
As noted previously, to determine if you should set up a single-product store, it is important to pay special attention to its advantages and disadvantages. Therefore, let's now take a look at them.
Pros
• Better brand positioning
When you are selling many dropshipping products, your message is more likely to become diluted.
However, if you have only one product, then you can position your brand to perfection.
Simply put, you can give your one incredible product idea the attention it deserves and develop a strong brand positioning strategy.
You can more easily connect the dots between what you are selling and who you are trying to reach. And you can more easily create a recognizable brand identity for your single product.
• Easier for you to market your store
To create a bulletproof dropshipping marketing strategy for a general store, you might need to recreate content, and change text and colors for your ads.
👉 Check out the 10 General Dropshipping Store Examples To Inspire Yours.
You might need to focus on different pain points to discover what exactly your potential customers like.
To do all this, you will have to invest an enormous amount of time and effort, not to mention money, in your marketing strategy.
Also, you might not be able to do all this alone. You might need a professional team of marketing specialists, which will cost you money.
But when it comes to promoting a one product dropshipping store, it will be easier for you to create great e-commerce landing pages, optimize your social media pages, and write content that aligns with the interests and beliefs of your potential customers.
Why? Because you will only have to focus on one product and talk to a single customer base.
• Higher conversion rates
Sometimes, giving your customers too many choices can be quite distracting and prevent them from making a purchase.
This is some sort of consumer psychology. And it has everything to do with being overwhelmed by too many choices.
As a result, less is more when it comes to doubling your conversion rate.
In other words, when you are selling only one item, you are actually distracting your customers far less than a store selling, let's say, 100 items.
Hence, the fewer distractions, the better. It is as simple as that!
Cons
• Thorough product research
When you want to sell only one product, you may wonder what types of products work best with a one product dropshipping store. And that's perfectly understandable.
With a general store, if a product is not selling, another product may be a winner and make you a lot of money.
However, to become a successful single-product e-commerce store owner, you must have the right product to sell.
Although it does not have to be something everyone is dying for and no one else is selling, your single product has to outshine your competitors.
You just have to sell one thing. So, it should be a really awesome product that solves a customer's pain point.
The process of finding that awesome product that will sell is admittedly a little tricky. And it takes time to do that.
This is considered to be one of the disadvantages of setting up and running a single-product dropshipping store.
• No cross-selling
With a single-product store, you cannot use a technique called cross-selling to increase your revenue and customer retention.
In addition, this technique is all about marketing additional products to your existing customers.
And it helps you identify products that satisfy additional, complementary needs that are unfulfilled by the original product.
For instance, if you sell only one product, let's say, coffee, you will not be able to recommend an additional product (e.g., a personalized coffee mug) to your customers.
• Fewer returning customers
Returning customers is a valuable asset worth investing in since that asset can help you drive consistent revenue.
As mentioned above, giving your customers too many choices can be distracting. However, a limited choice can result in fewer returning customers.
Let us give an example. Let's say you are selling a product such as a portable baby bottle warmer.
Your customers will not come back in a few months unless they want to buy another portable baby bottle warmer as a gift. This means that when running a one product dropshipping store, you will have fewer returning customers.
How to create a one product dropshipping store?
Follow the steps below to create a single-product dropshipping store:
1. Find the perfect product to sell
This is the first thing that you need to do if you want to build a dropshipping store that focuses on one product.
As mentioned previously, this is not going to be an easy task. And you will have to decide if your product idea is feasible.
But, fortunately, there are hundreds of ways to effectively research product ideas such as using dropshipping product research tools.
We do not like to favor one tool over the others.
However, Sell the Trend is unquestionably one of the best tools for this purpose. And it uses data sources from AliExpress, Amazon, and Shopify stores.
If you think that using such tools does not suffice, take a look at our list of 20 trending products to sell in 2022.
💡 Tip: Learn about Dropship Baby Products: A Step-By-Step Guide + Top 24 Products
Or to give you an idea, we can share with you a few factors you need to consider when choosing your single product:
• Usefulness.
There are many useful products out there that can help make your potential customers' lives easier.
For example, a product that can uniquely solve a common problem is an amazing choice for a one product store.
• Limited in availability.
As your store will only have one product, you must ensure that it cannot be easily found. Your potential customers should not be able to easily find your item online or at their local stores.
• Emotionally engaging.
For a one product store to be successful, you must choose a product that triggers impulse purchases. Simply put, your product must be simply irresistible.
2. Set up your store on Shopify
There are many e-commerce platforms that you can use to set up a dropshipping store. You can also use the online marketplaces like eBay or Amazon for dropshipping.
Still, since you will only have one product, you must have a unique store and not sell your product on a marketplace.
So, now, we will talk about how to set up your one product store using an e-commerce platform such as Shopify.
Shopify is a simple, easy, hassle-free option to create an online store. So, let's get started.
Yes, you can try this platform for 14 days without having to pay anything. You just need to enter some information to sign up.
And you do not have to enter any card details until you go live. Then, you must choose a paid plan to launch your store.
• Give your store a name.
You know what you are going to sell, so you should probably have a business name idea in mind.
Use the free Business Name Generator created by Shopify to find out if your business name is unique.
• Pick a single product Shopify theme.
To increase your dropshipping conversion rate and create a professional dropshipping site, pick a theme that's specifically designed to make your core product pop.
Check out the best Shopify themes for dropshipping.
But keep in mind that some of the most powerful themes for a one product dropshipping store are Narrative, Debut, and Boundless.
And the good news is that all these three themes are free to use.
• Build your homepage.
You will not have to optimize multiple pages. Therefore, you need to do your best to create two pages that will knock your customers' socks off.
BTW, when we are mentioning socks, why not share our list of top socks dropshipping suppliers?
And these two pages are your product page and your homepage. We will talk about your product page in a minute.
When it comes to building your homepage, it should have a product-centered design. In short, it should showcase your product in the best way possible.
You can design this page like an e-commerce landing page. These high-converting Shopify landing page examples will probably give you an idea.
3. Add your product and optimize your product page
Now is the time to add your single product and optimize your product page. To add your product, you need to go to "Products" > "All products" from your Shopify admin. Next, tap "Add product".
Then, add a product title and some product info such as availability, variants, price, etc. (Just make sure you add customer-oriented product info.
For instance, you can describe how your product can benefit your customer.) Finally, click "Save".
You should now optimize your product page.
Do not forget that a seductive product page is of the utmost importance for your single-product store. But how can you make a product page seductive?
• Add a clear CTA button.
For those who do not know, CTA stands for "call to action".
It is a type of button you need to add to your product page. A good example of a CTA button is the "Add To Cart" button.
• Use professional product photography.
Add professional product photos to your product page. This way, you can make your product look as presentable as possible.
• Share testimonials and customer reviews.
Incorporate a short snippet of a review to your product page. But do not fill the entire page with text to avoid overwhelming your customers.
4. Create a strong brand identity
Do not you think it is time to build a brand identity for your single-product Shopify store? Your brand identity is all about bringing your store to life.
And you need to focus on things like your color palette, logo, images, company mission, values, etc.
• Tell your brand story.
Your brand story should inform people of what encouraged you to establish your dropshipping business. Your dropshipping business must have a purpose (beyond simply making money).
As long as you are able to create a compelling brand story, people will remember who you are, understand you, and, eventually, care about you.
• Establish your brand's look.
You need to help people identify your online business at a glance. To do so, you need to focus on your logo, colors, fonts, imagery, etc.
• Integrate your brand into your marketing strategy.
Now, you should share your brand with the world. And this means that you must ensure your brand is clearly visible in your marketing strategy.
Yeah, make sure your brand is visible, whether you are using social media marketing, e-mail marketing, etc.
One product dropshipping store examples
Let's look for some inspiration. Here are three great single-product dropshipping store examples that might help you find inspiration: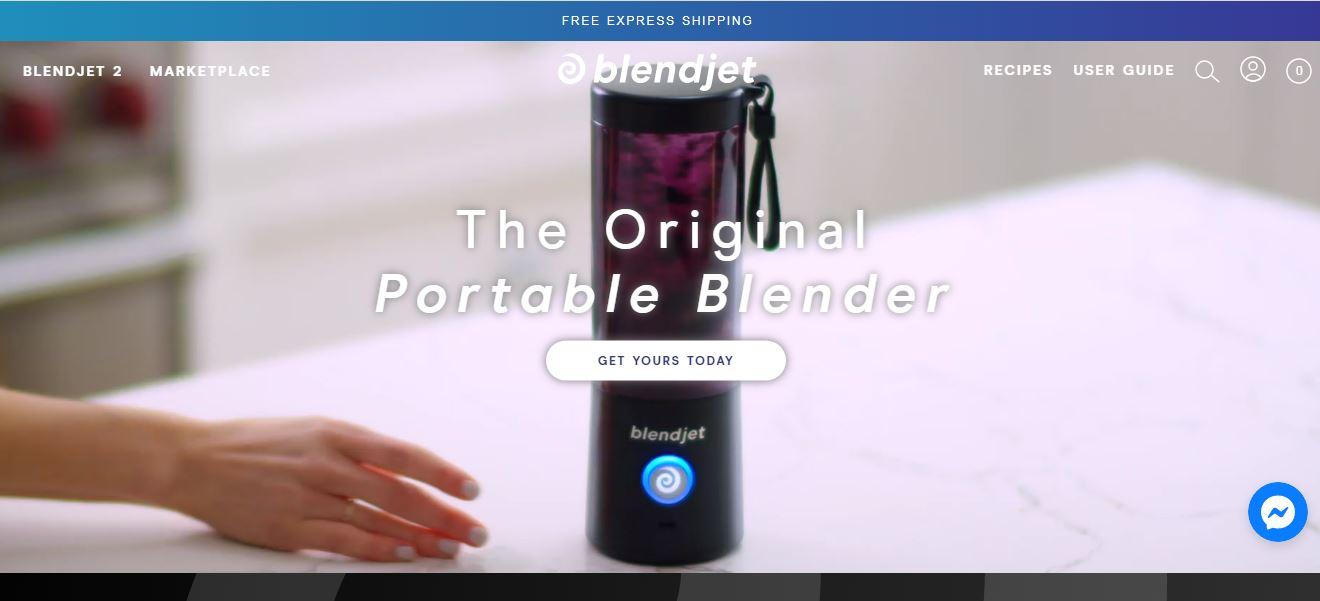 As you can see, this dropshipping store focuses on one product. And that product is a portable blender.
• Why did we choose this one product store?
We chose this store because we think that it is the perfect Shopify store to use as a model for your one product dropshipping store.
• Why is it so special?
Blendjet is so special since it has a simple, yet original homepage. And it has a blog with recipes as well as a super helpful user guide.
Make sure you check our ultimate BlendJet Review.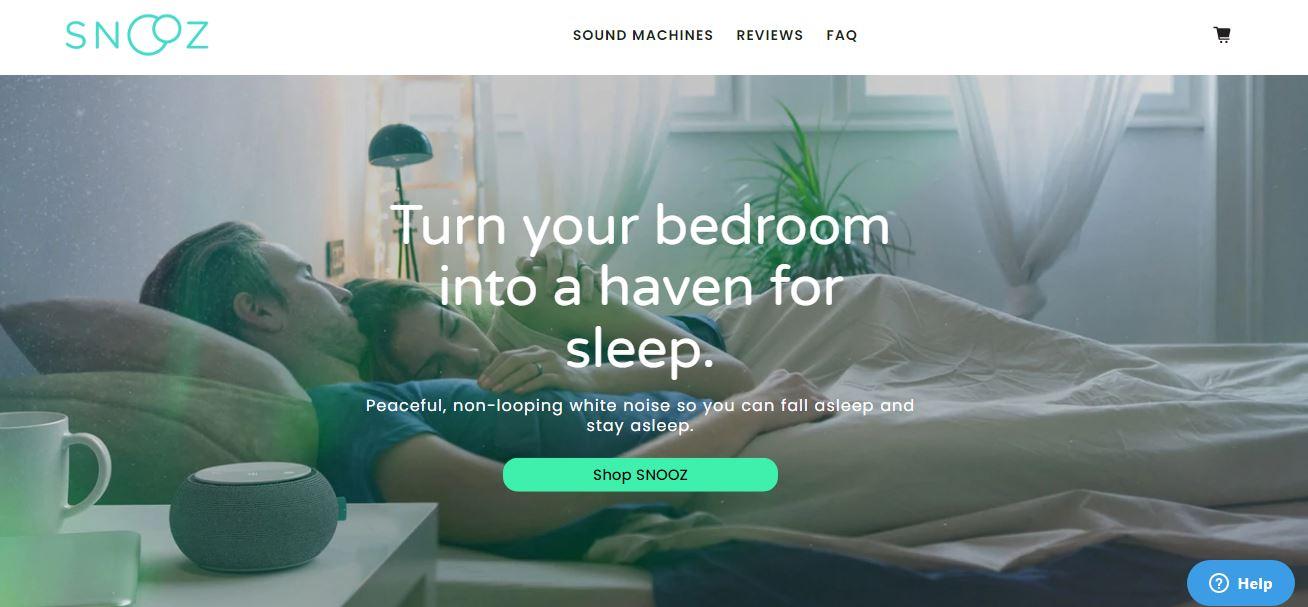 This one product store offers a product that helps people, who have difficulty falling asleep, solve their problems.
• Why did we choose this one product store?
We added SNOOZ to our list of one product store examples because it sells a problem-specific product.
As mentioned above, this can be great for a one product store.
• Why is it so special?
The stunning hero image and the killer headline outlining the main benefit of its product make this store so special.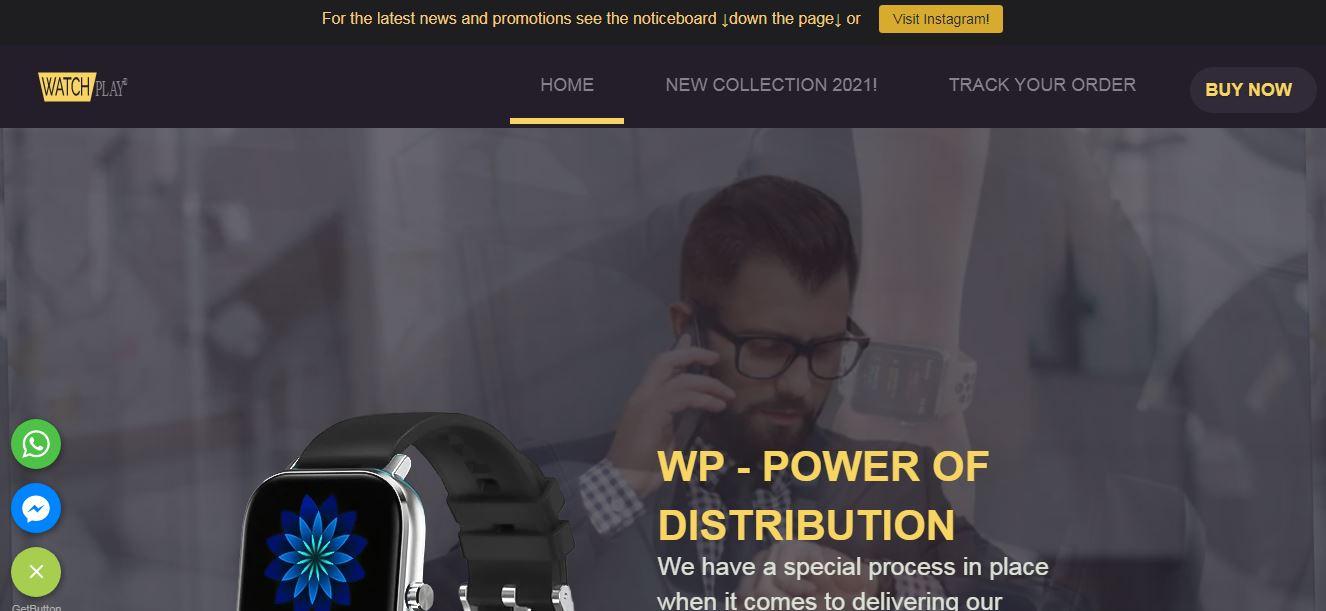 This is a relatively new dropshipping store. But it sells a high-quality smartwatch with exceptional features and benefits.
• Why did we choose this one product store?
This store is hosted on Shopify. And it is one of the best Shopify one product stores.
• Why is it so special?
WatchPlay has a custom Shopify theme and a clean, modern, & professional design.
Plus, it allows its customers to track their orders with ease.
Join the only community and resource hub you'll ever need to succeed with dropshipping
Find winning dropshipping products, learn marketing, download templates and engage with real dropshippers
Never pay for a "guru's" course again. See why 4543+ dropshippers joined us this year!
💡Try DSCOM Hub Now
Final Thoughts
Although the majority of dropshipping store owners tend to sell more than just one product, some choose to start a one product dropshipping store. Of course, running such a store has its perks.
And if you find the idea of a one product store appealing, follow the steps above and use our examples as your source of inspiration.