Inventory Source Review: The Best Automation Software for Dropshipping?
by
Aleksandra -
Aleksandra teaches marketing and management at various levels in High School. She writes about marketing, the economics and logistics of the dropshipping business and ecommerce in general.
Chief of Content Marketing
Even if you are new to dropshipping, you have probably heard of Inventory Source.
So, below, we will go over what Inventory Source is and whether it is the best automation software for dropshipping.
In brief, we will provide a detailed Inventory Source review that covers everything you need to know about the platform, from its pricing plans to its most important features.
What is Inventory Source?
Inventory Source is an all-in-one platform that allows you to find dropshipping suppliers and automate your workflows.
The platform is one of the most popular dropshipping automation software solutions in the market.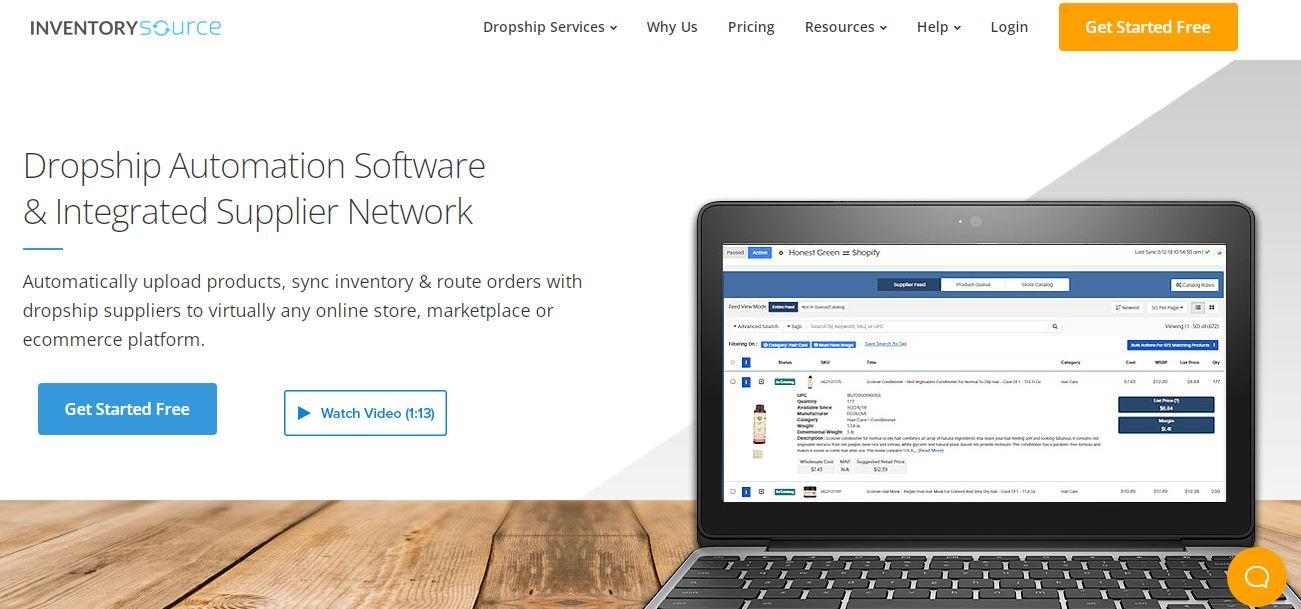 Moreover, it acts as a powerful dropshipping inventory and order automation tool for dropshipping businesses.
What does this mean? This means that it allows you to choose from a large number of suppliers and automatically upload products to your online store.
It also enables you to automatically upload product data and sync inventory quantities with 25+ e-commerce platforms, online marketplaces, and multi-channel management platforms.
Lifetime deal: Get all-access to everything on Dropshipping.com
Access all DSCOM features, resources, courses, live workshops, discounts, winning products, weekly deep dives, directories and all future updates under all-in-one dropshipping HUB.
DROPSHIPPING IS A REAL BUSINESS, DON'T DO IT ALONE. 4553 MEMBERS ALREADY JOINED. YOU CAN PAY OFF YOUR SMALL INVESTMENT WITH JUST 2 SALES ON YOUR STORE.
Grab the deal before it's gone
Inventory Source Review: Key features
Now, in this Inventory Source review, we will talk about the platform's most important features.
So, let's dive right in.
1. Supplier Directory
Inventory Source has a free wholesale & dropshipping supplier directory. You can browse it and find 4,000+ wholesalers & dropshipping suppliers.
By using it, you can get access to 240+ pre-integrated dropshipping suppliers and a large number of dropshipping products.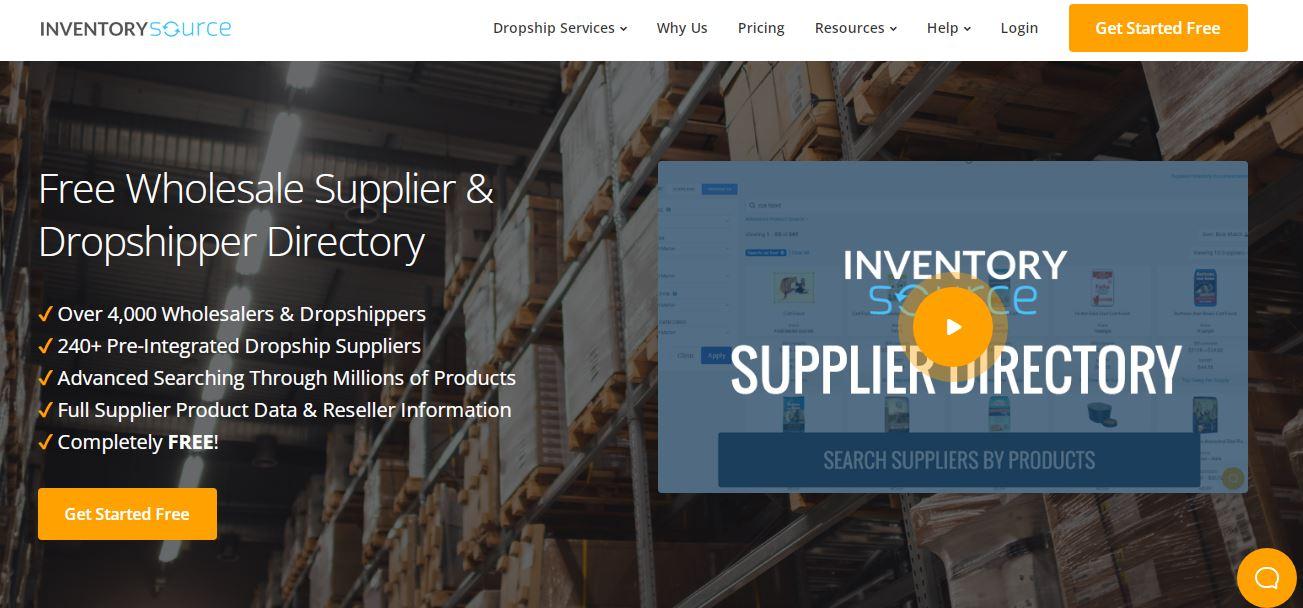 In addition, the directory includes trustworthy suppliers across every niche.
Some of the niche categories you can find include:
Fashion, apparel & jewelry;
Vitamins & supplements;
Consumer electronics;
Baby, kids & toys;
Pet products & supplies;
Survival, tactical & camping, etc.
Plus, the directory offers advanced filtering, sorting, and searching options. And these options can help you find the right supplier with ease.
Furthermore, Inventory Source claims to be the only supplier directory that lets you view full product data for free.
Thus, if you use it, you will be able to make informed business decisions.
To access the free supplier directory, you just need to create a free account.
2. Dropshipping automation software
When it comes to dropshipping automation, this platform is fully equipped. You can choose between its Inventory Automation Service and the Full Automation Service.
Of course, your choice depends on your needs.
With the first option, you can automatically upload your product data, like the supplier's product titles, descriptions, images, and categories, to your online store.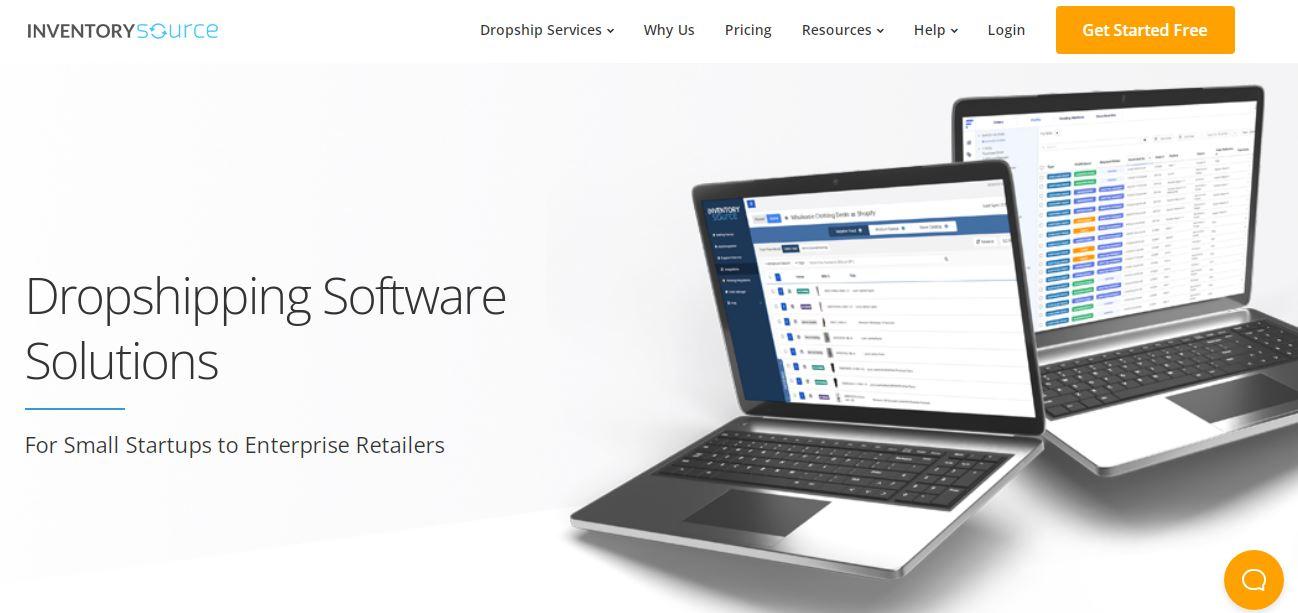 And with the second option, you can automate the process of getting and managing orders from your customers.
Also, you can automate the process of filling in details and sending them to your suppliers.
👉 Check out my Avasam Review: The Ultimate Guide For Dropshippers.
3. E-commerce integrations
As we have already said, Inventory Source has integrations with 25+ online marketplaces, e-commerce platforms, and multi-channel management platforms.
Some of these marketplaces and platforms include:
Shopify;
BigCommerce;
Magento;
WooCommerce;
PrestaShop;
Shift4Shop;
Amazon;
eBay;
Walmart, etc.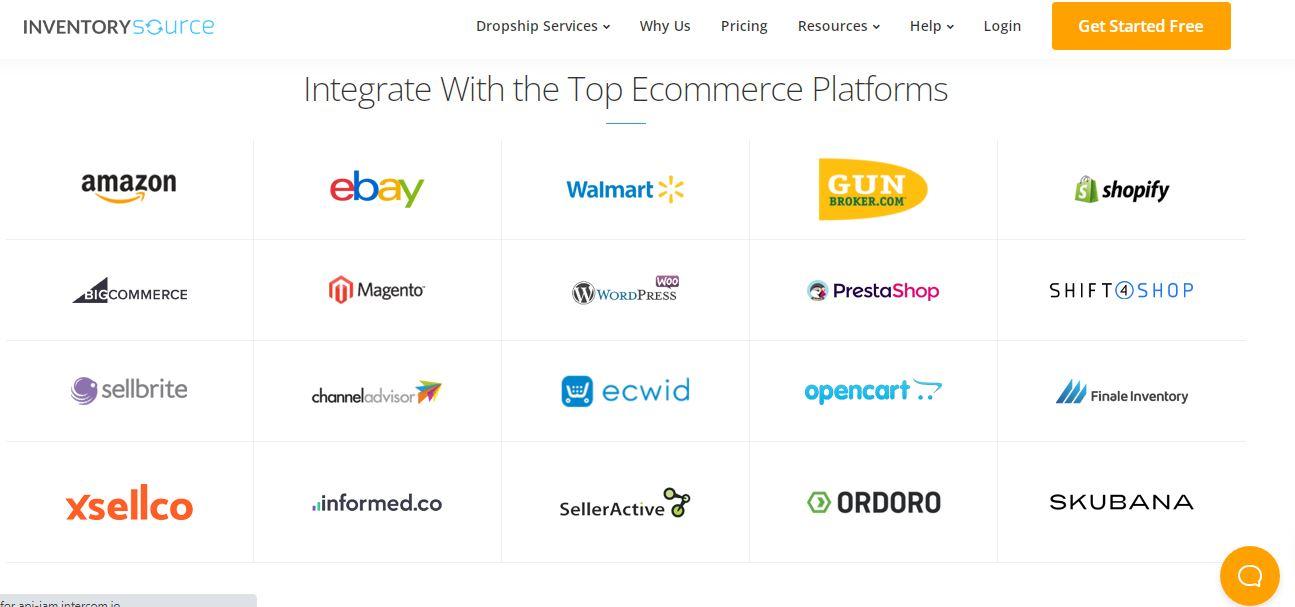 This means that you can sell your products literally wherever you like.
4. US direct sourcing
This is another great feature of Inventory Source.
It is a beneficial feature if you want to source products from US suppliers.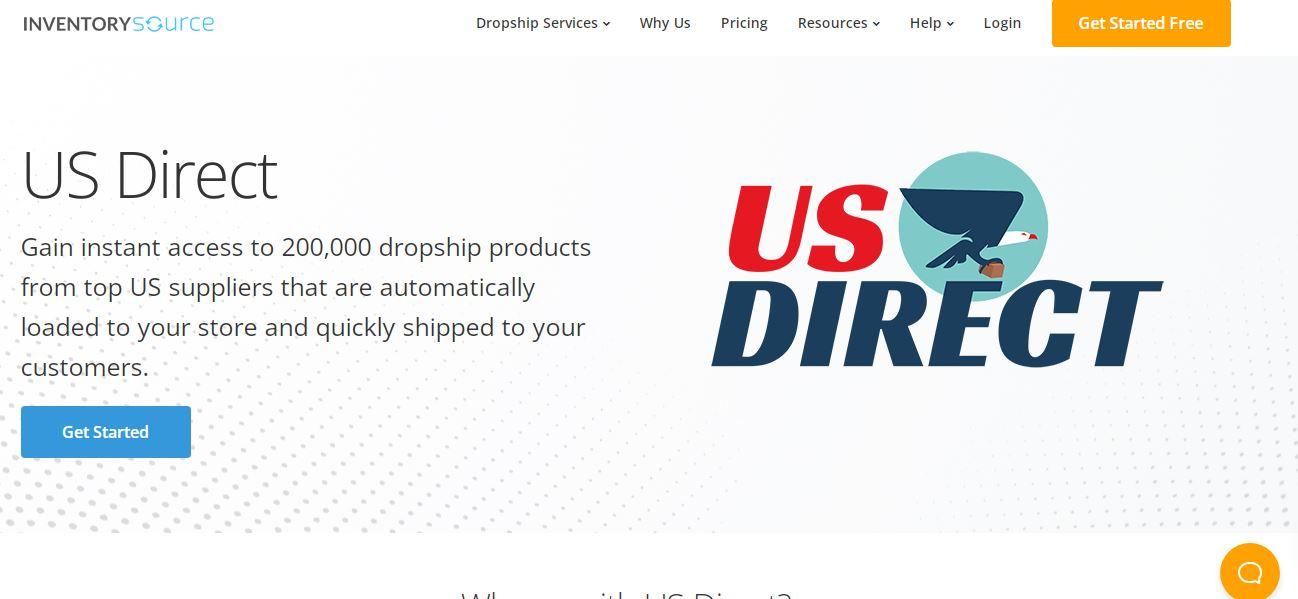 By using this feature, you can choose from 200,000 products from top suppliers based in the United States.
And you can automatically add products to your site. Orders will be shipped directly to your customers within 3-5 days.
You can become a member of US Direct without having to pay anything. But it is advisable to check out its pricing plans.
To get started with US Direct, you need to register for a free account and then follow the steps given to you.
5. FLXPoint
FLXPoint is another powerful solution that can help you take your online business to the next level.
It not only helps you select suppliers from the supplier directory, but it also enables you to connect to your own private suppliers.

Additionally, with FLXPoint, you can also list products on more sales channels and automate every aspect of your dropshipping operations.
Here is our in-depth review of Flxpoint with its features, pros & cons, integrations & more.
Inventory Source Review: Pricing
The platform offers a few flexible pricing plans. So, you can surely find what works best for your dropshipping business.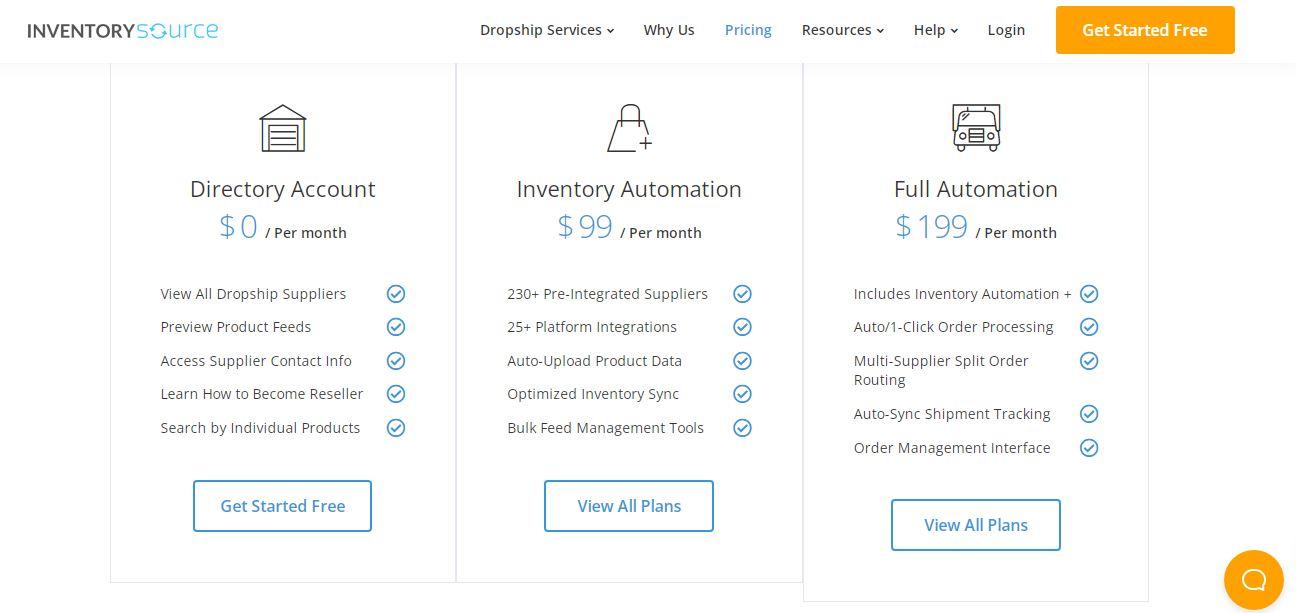 Directory Account
Inventory Source offers a free plan. If you choose it, you will get free access to the supplier directory. This way, you can find suppliers and products for free.
Though it is called a free plan, it is actually a trial. As a result, you will have to upgrade to a paid plan as long as you want to gain access to Inventory Source's full suite of services.
Inventory Automation
This is divided into three plans such as:
The Basic Plan – $99/month: This plan comes with 50k SKU limit, two daily syncs, and a single integration. But if you need more integrations, you will have to pay $75 per month for them.
The Plus Plan – $149/month: The Plus Plan comes with 250k SKU limit, optimized sync, and two integrations. For additional integrations, you will have to pay $50 per month.
The Power Seller Plan – $299/month: This plan is most suitable for bigger online stores. It includes 500k SKU limit, optimized sync, and six integrations. Additional integrations will cost you $50 per month.
Full Automation
Also, Full Automation is divided into three pricing plans such as: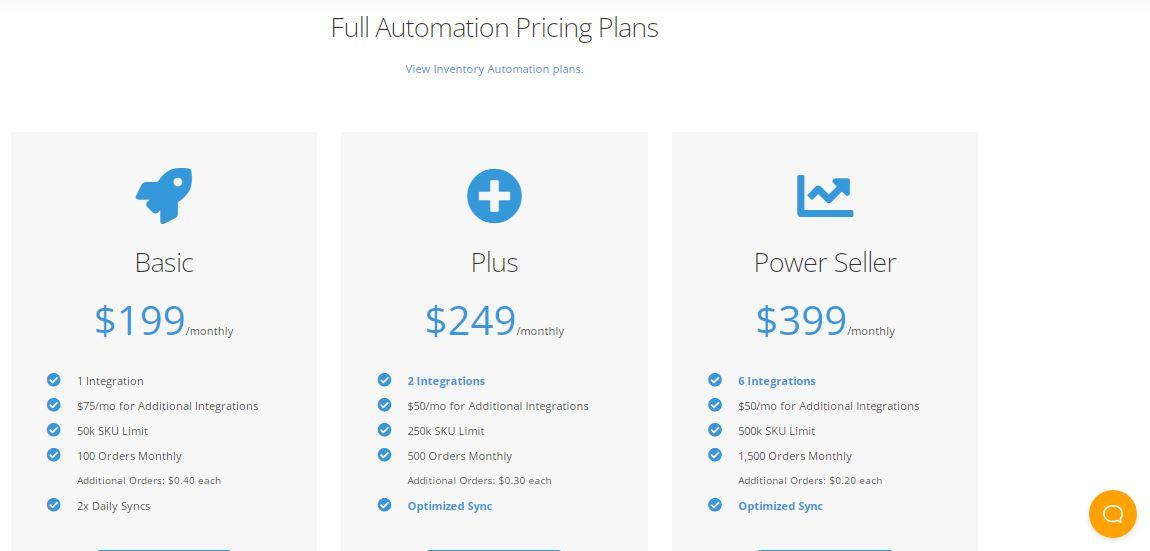 The Basic Plan – $199/month: This plan includes all the benefits of Inventory Automation's Basic Plan plus the ability to automatically route 100 orders per month to your suppliers.
The Plus Plan – $249/month: As is the case with the previous pricing plan, this plan includes all the benefits of Inventory Automation's Plus Plan plus the ability to automatically route 500 orders per month to your suppliers.
The Power Seller Plan – $399/month: In the same way, the Power Seller Plan offers all the features of Inventory Automation's Power Seller Plan. But it also allows you to automatically send 1,500 orders per month to your suppliers.
Inventory Source Review: Customer support
The dedicated customer support team at Inventory Source wants to give you the best customer experience possible. This is the reason the team offers 24/7 customer e-mail support.
There is also a live chat option available so that you can connect directly with somebody on its support team.
What's more, Inventory Source also offers scheduled calls to help answer any questions you might have regarding the platform.
Pros and cons of Inventory Source dropshipping
In this Inventory Source review, we must also include the most important benefits and downsides of the platform. H
ere are some pros and cons to consider, or to remind yourself of, before deciding to use Inventory Source for dropshipping:
Pros
You can literally sell on any online store, marketplace, or platform;
Every aspect of your business can be automated;
You can get access to a supplier directory with top-notch suppliers for free;
The customer support team is super helpful.
Cons
You cannot analyze your competitors or determine the profitability of your products because of the lack of market research tools;
The prices this platform charges for using its automation services are a bit higher than the prices of its competitors such as Spocket and Wholesale2B.
Join the only community and resource hub you'll ever need to succeed with dropshipping
Find winning dropshipping products, learn marketing, download templates and engage with real dropshippers
Never pay for a "guru's" course again. See why 4543+ dropshippers joined us this year!
💡Try DSCOM Hub Now
Inventory Source Review: Final verdict
In this Inventory Source review, we analyzed in detail what the platform offers.
Also, we discussed how it can improve your online business and make it stand out from the competition.