Shopify Clothing Stores: Top 10 Examples For Dropshippers [2023]
by
Aleksandra -
Aleksandra teaches marketing and management at various levels in High School. She writes about marketing, the economics and logistics of the dropshipping business and ecommerce in general.
Chief of Content Marketing
Want to build Shopify Clothing stores for your dropshipping business? Searching for some inspo? Don't worry, we got your back!
This article will guide you through the Best Shopify Clothing Stores ever! We will discuss their content, navigation, design, marketing tactics, and all other high-converting elements.
Plus, we will give you EXTRA information about the best apps for Shopify store owners. Let's start!
10 Best Shopify Store Examples
💡 Learn How to Start a Dropshipping Clothing Business in 2023 [+Suppliers List].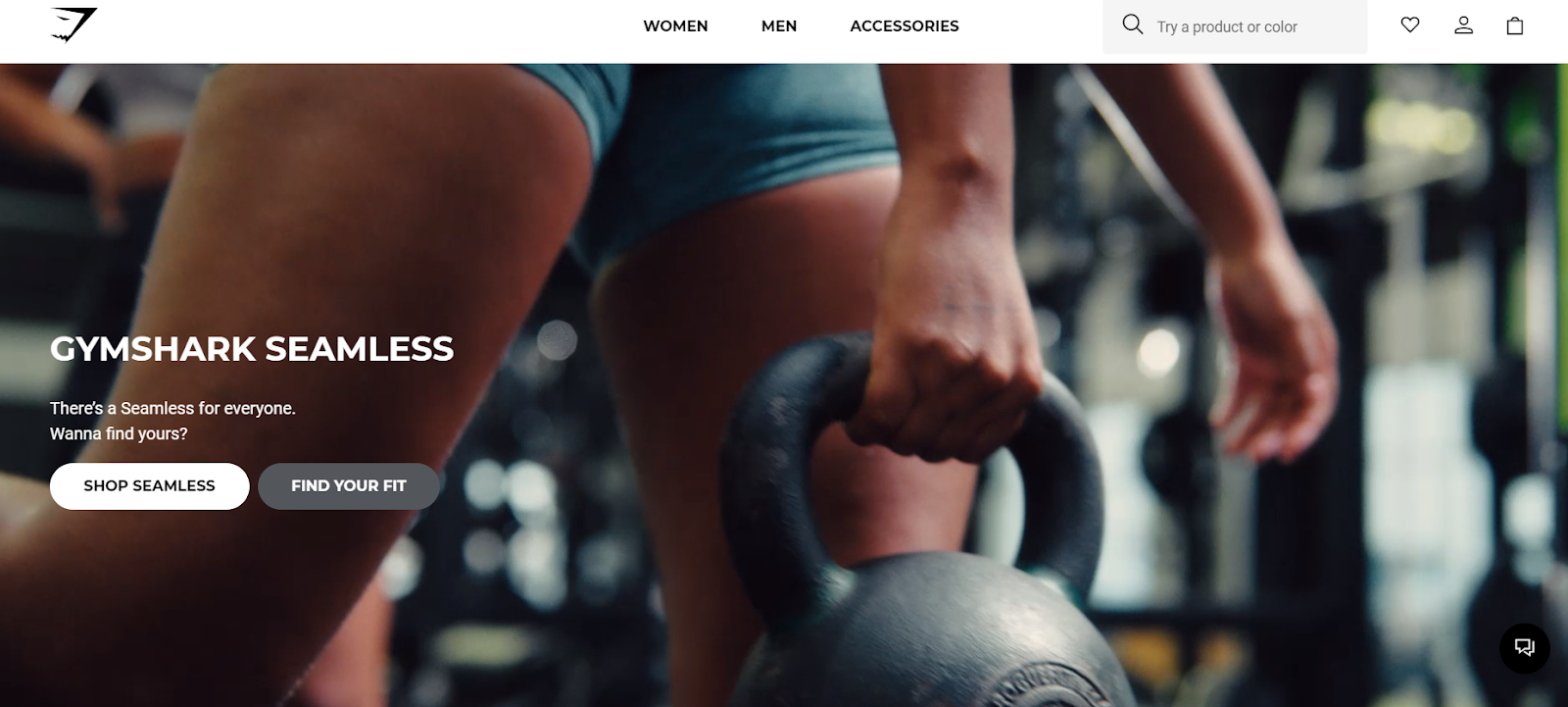 GymShark, a prominent fitness apparel manufacturer and online retailer based in the UK, stands out as one of the largest companies leveraging the Shopify platform.
With a massive following on social media and customers spanning more than 130 countries, GymShark has established itself as a global force.
Moreover, GymShark has opted for Shopify to customize their dropshipping store, and they have chosen the popular "Brooklyn" theme for this purpose.
👉 Check out the 11 Best Free Shopify Themes For Dropshipping Stores.
In fact, the "Brooklyn" theme offers convenient pre-built features, including a visually appealing slideshow banner, filtered navigation for seamless browsing, and a product search function, further enhancing the overall shopping experience.
Store Design & Navigation
We must point out that this is one of the best Shopify clothing stores we've seen. And we talk about store design and easy navigation.
First, they use high-quality photos. And, not just that, but photos are taken by them and their models.
Moreover, they use a Full-Screen Image layout to showcase their brand. Plus, there are videos with their products all over their homepage.
Also, all the crucial navigation buttons and elements are right there- on the home page. You can see call-to-action buttons, the search box, etc. Also, the logo, navigational menu, and log-in button are all in the right place!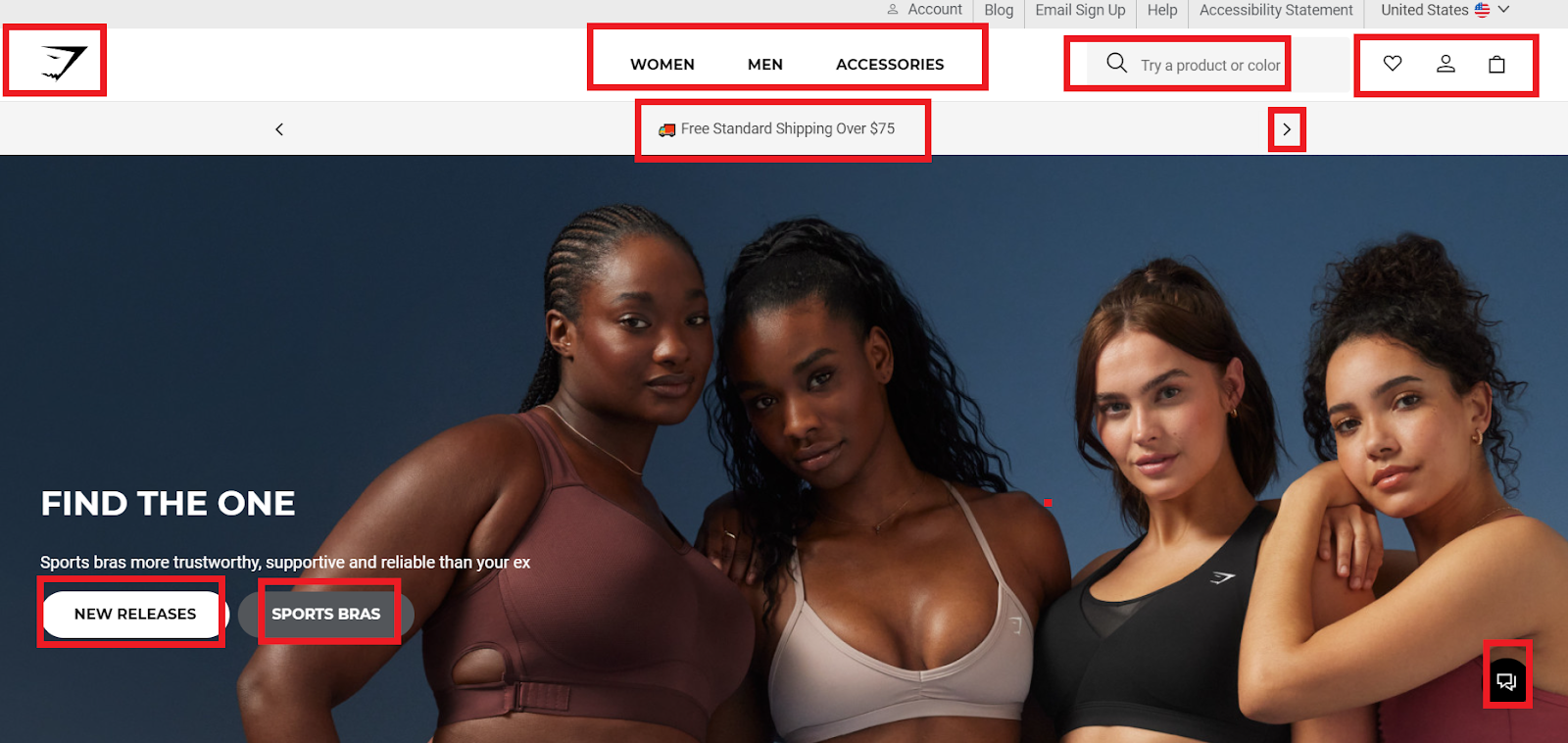 In addition, most of their content is accessible through their homepage. Still, all that looks neat and organized, thanks to a grid layout.
Plus, what we found interesting is, when you navigate to a certain product on the homepage, you have a "quick add" option. This points out great navigation, and a great marketing tactic so customers won't leave without buying.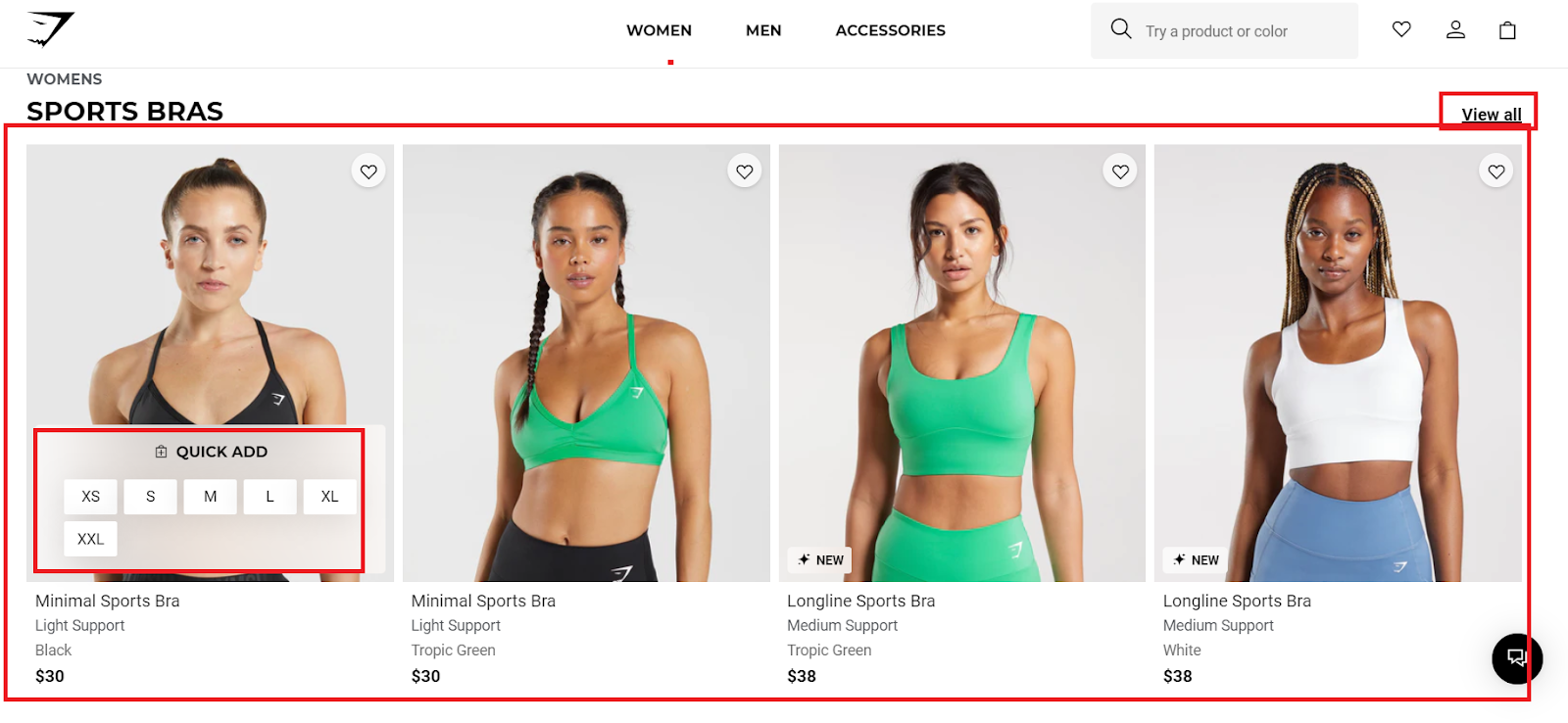 Finally, the footer is huge! In fact, it contains links to all categories and sub-categories on the website. This way, it serves as a sitemap and makes navigation easier for customers.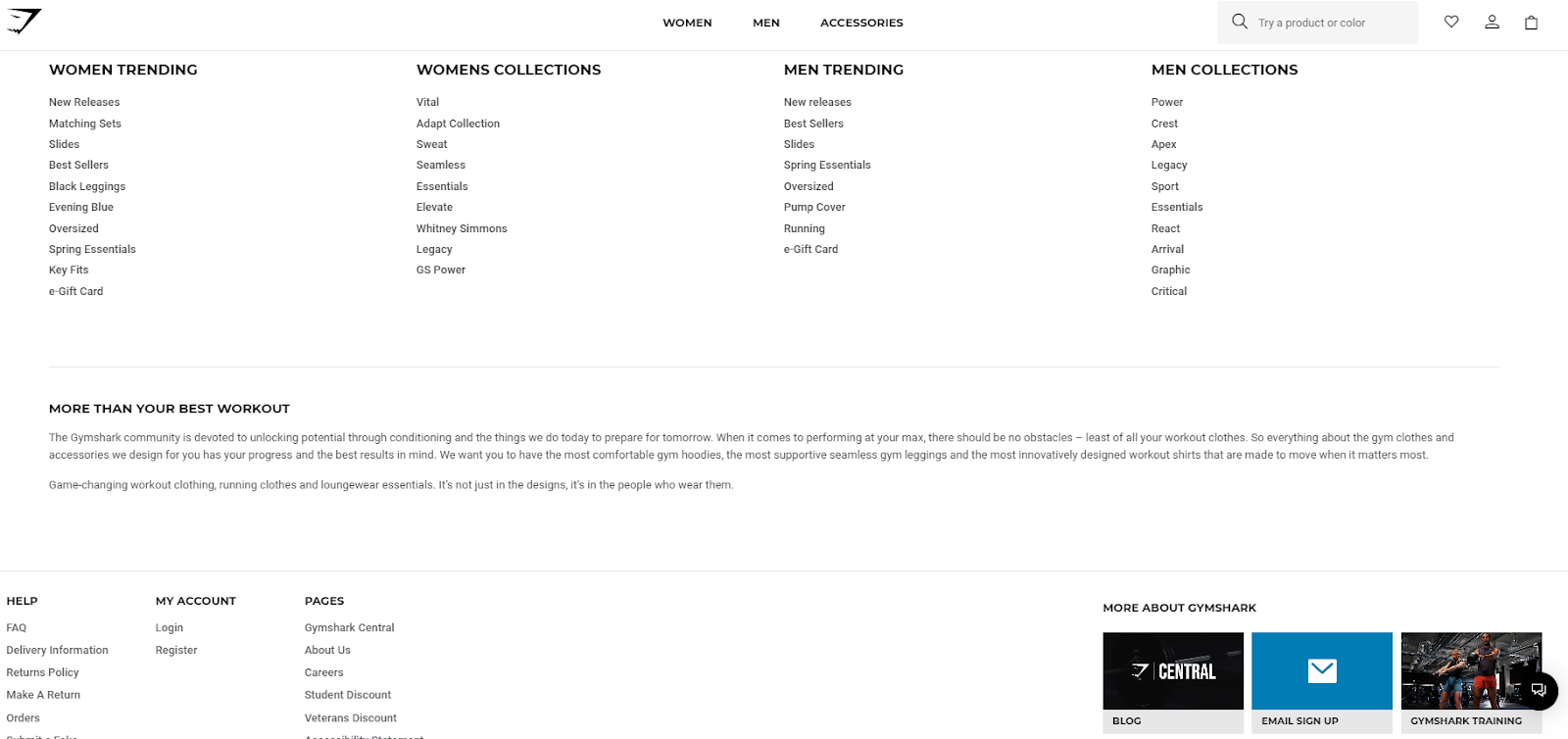 In addition, the product page is also easy to navigate, and it has all the needed information and navigational elements. High-quality photos, call-to-action buttons, product descriptions, and "you may also like" section, etc., it is all there!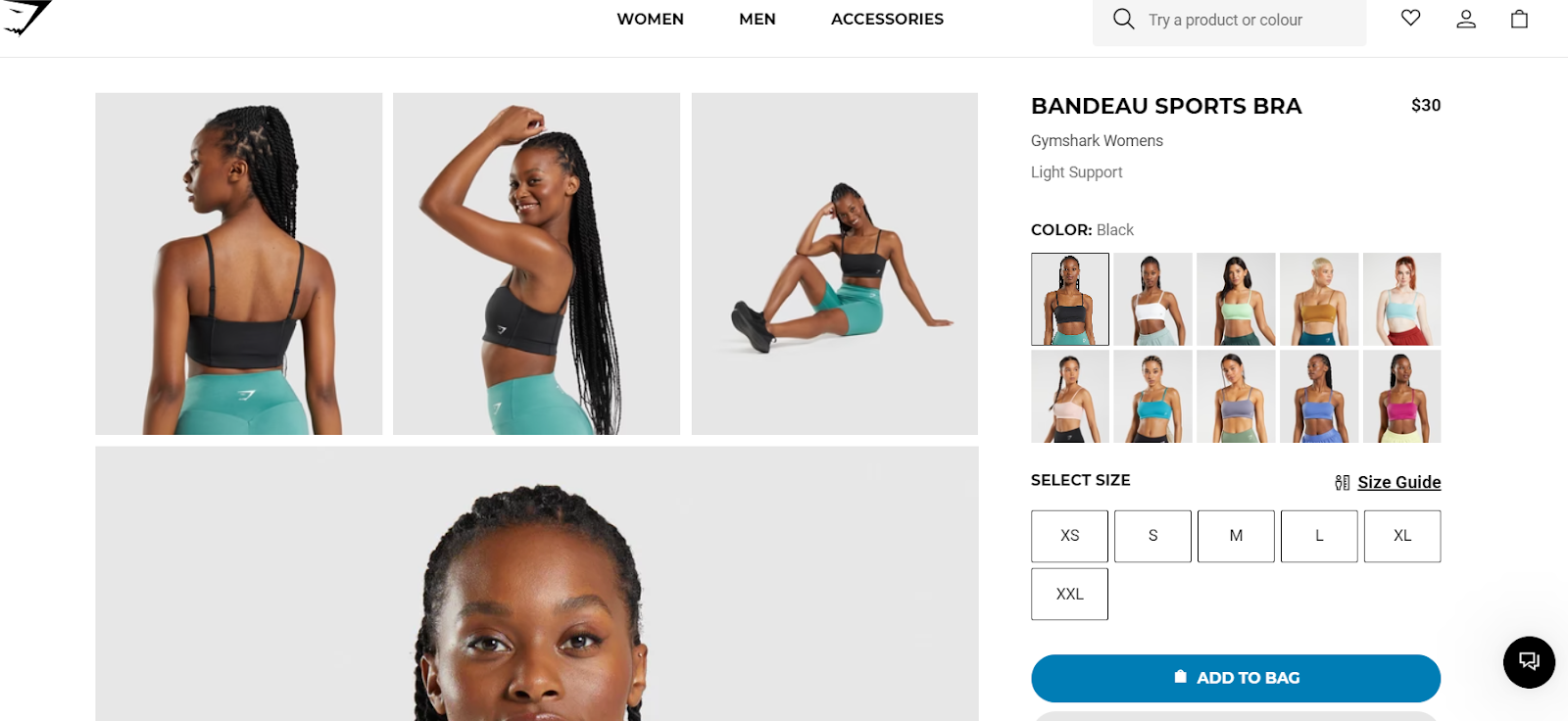 Marketing Tactics
They use several marketing tools:
Plus, you can see all the promotional deals and info served on their homepage. For instance, in their header, there are several promotions like: "Free Shipping over $75", "10% Studen discount", etc.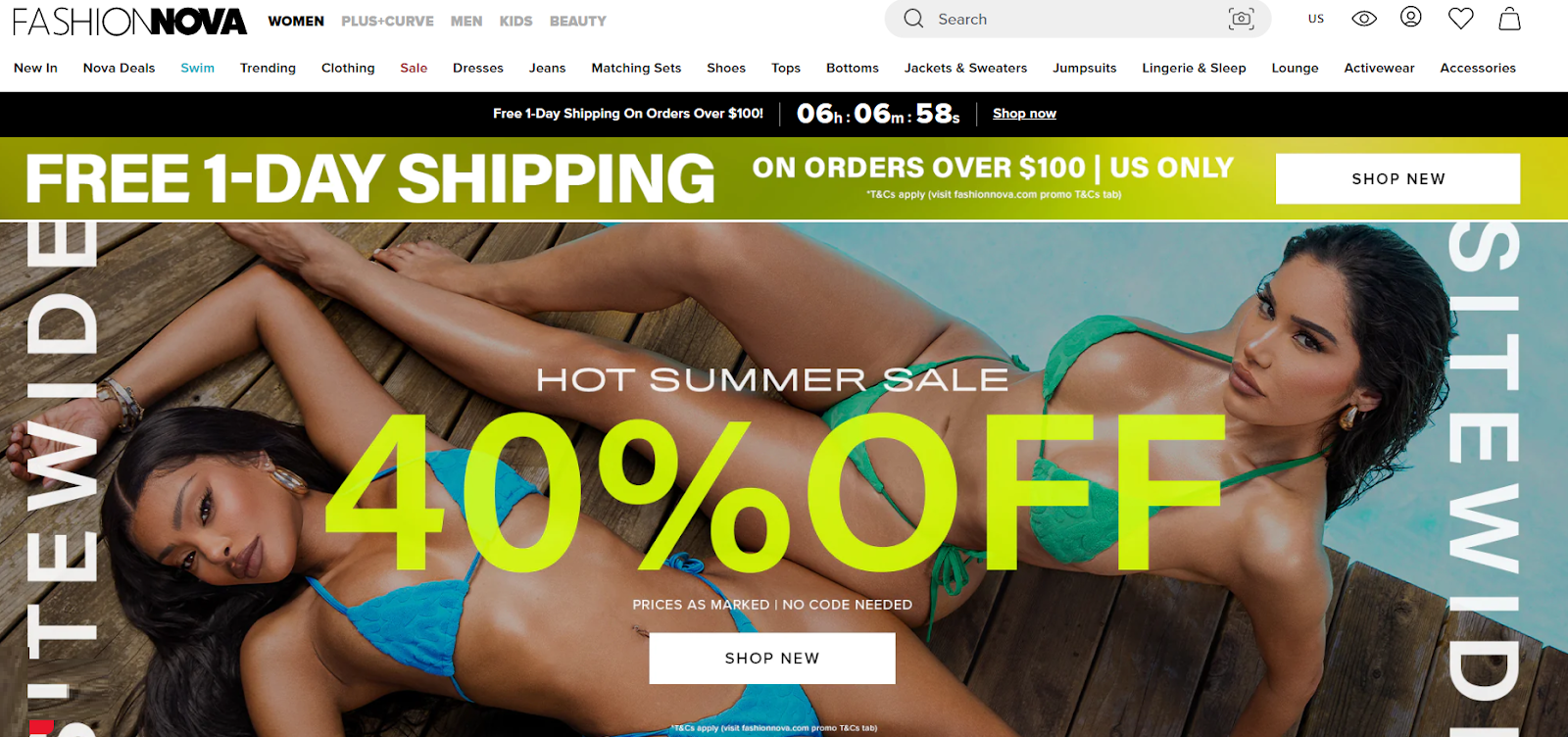 Fashion Nova stands proudly as one of Google's most sought-after fashion brands, revered worldwide for its ability to deliver the most coveted styles.
This reputation is further bolstered by the endorsement of renowned celebrities such as Cardi B and Kylie Jenner. Plus, they've reached 2.4M in sales revenue.
Store Design & Functionality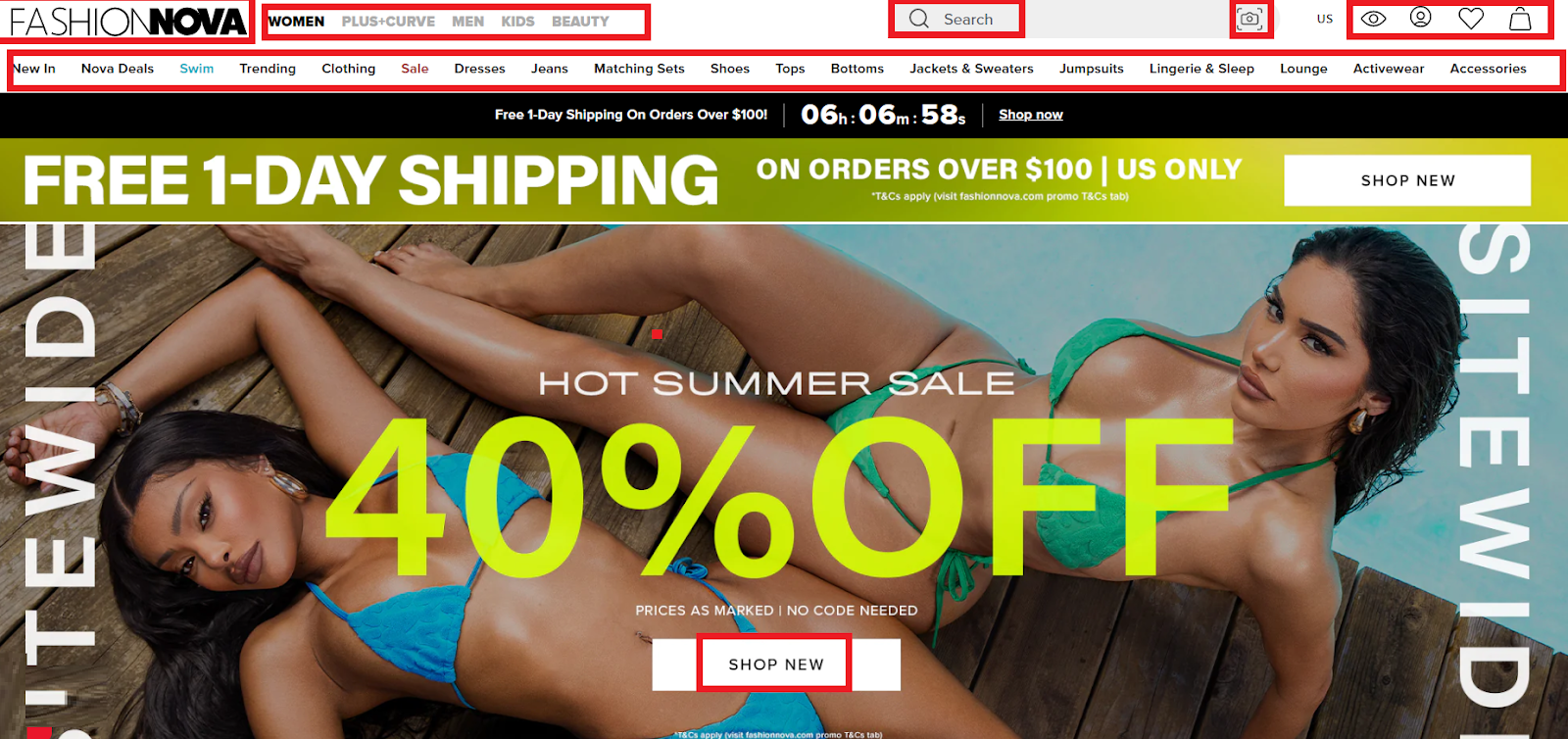 The site shows high-quality photos and a range of product collections, leaving visitors eager to explore further.
What helps their navigation be simpler is that they use a lot of call-to-action buttons, and organize navigation elements just in the right place. Plus, the logo is a link leading customers to the home page.
Also, what we found interesting is that you can search for items using photos.
However, what we found as a flaw in their navigation is the menu. On the plus side, the menu is a fly-out, and all the categories and sub-categories are well-defined. This way, customers won't be confused.
But, what is frustrating about it is that there are a lot of categories. And, a web design rule suggests not more than 5-7 categories, so you can bring easy navigation, and avoid customer frustration while searching for products.
Unfortunately, the website loads slowly. Therefore, keep in mind that customers are not that patient, and you are not Fashion Nova, but you want to build a dropshipping brand. And, fast loading website is a must!
Furthermore, their footer contains links to categories that are not represented on their website as much as the main product categories. Also, there are links to their store mobile apps, and social media presence links. Thus, this might be a good inspiration for your dropshipping store. 👇

Marketing Tactics
Distinguished as the "Instagram Brand," Fashion Nova strategically harnessed the power of Instagram to drive customer engagement.
Leveraging captivating feeds, influential collaborations, and a robust content marketing strategy, they have successfully captured the attention and loyalty of their audience.
💡 READ: Influencer Marketing For Dropshipping In 2023 – Beginner's Guide.
In addition to its innovative marketing tactics, Fashion Nova employs captivating contests as a means to attract and engage customers.
These contests not only serve as a vehicle for increased website traffic but also offer participants the opportunity to be featured on the brand's homepage and receive exclusive gifts, promoting a sense of excitement and exclusivity.
Additionally, Fashion Nova entices online buyers with generous discounts, creating a sense of urgency and encouraging them to make their purchases without delay.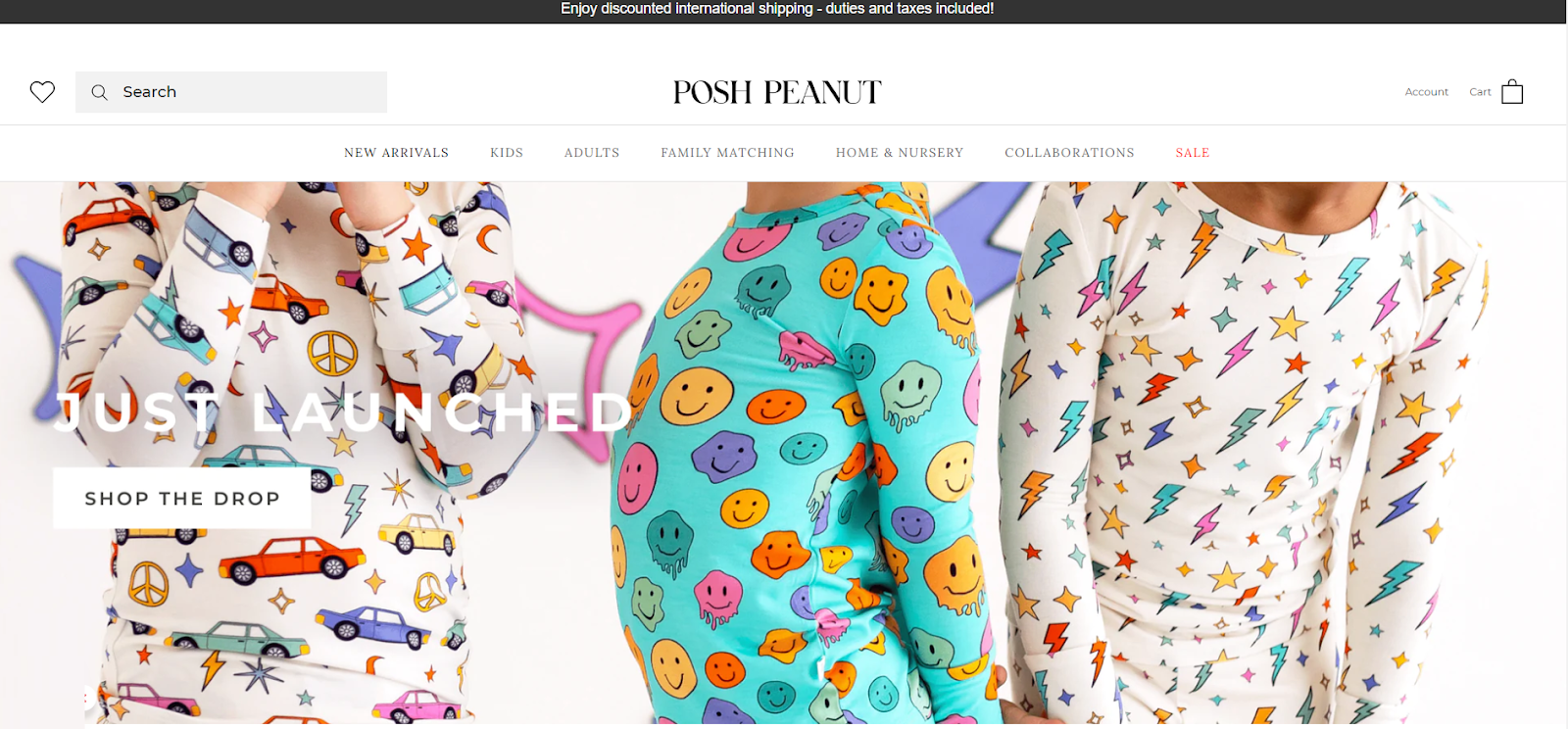 There are various Shopify clothing stores catering to babies and children, but Posh Peanut stands out as a captivating and unique example.
Posh Peanut marries practicality and fashion, presenting a brand that caters to the desires of modern parents.
Also, with a true commitment to delivering adorable and high-quality products, they place the utmost importance on the customer experience.
👉 Read my FULL review of Trendsi Dropshipping: Is It Good For Fashion-Based Dropshipping?
Store Design & Functionality
Posh Peanut charms visitors with its simple yet elegant and modern design. Through the use of cute real-life images, parents are able to imagine how the clothes would adorn their little ones.
Navigating the website is a breeze, allowing customers to swiftly locate exactly what they seek. First, their fly-out menu offers easy navigation thanks to the well-organized and defined categories and sub-categories.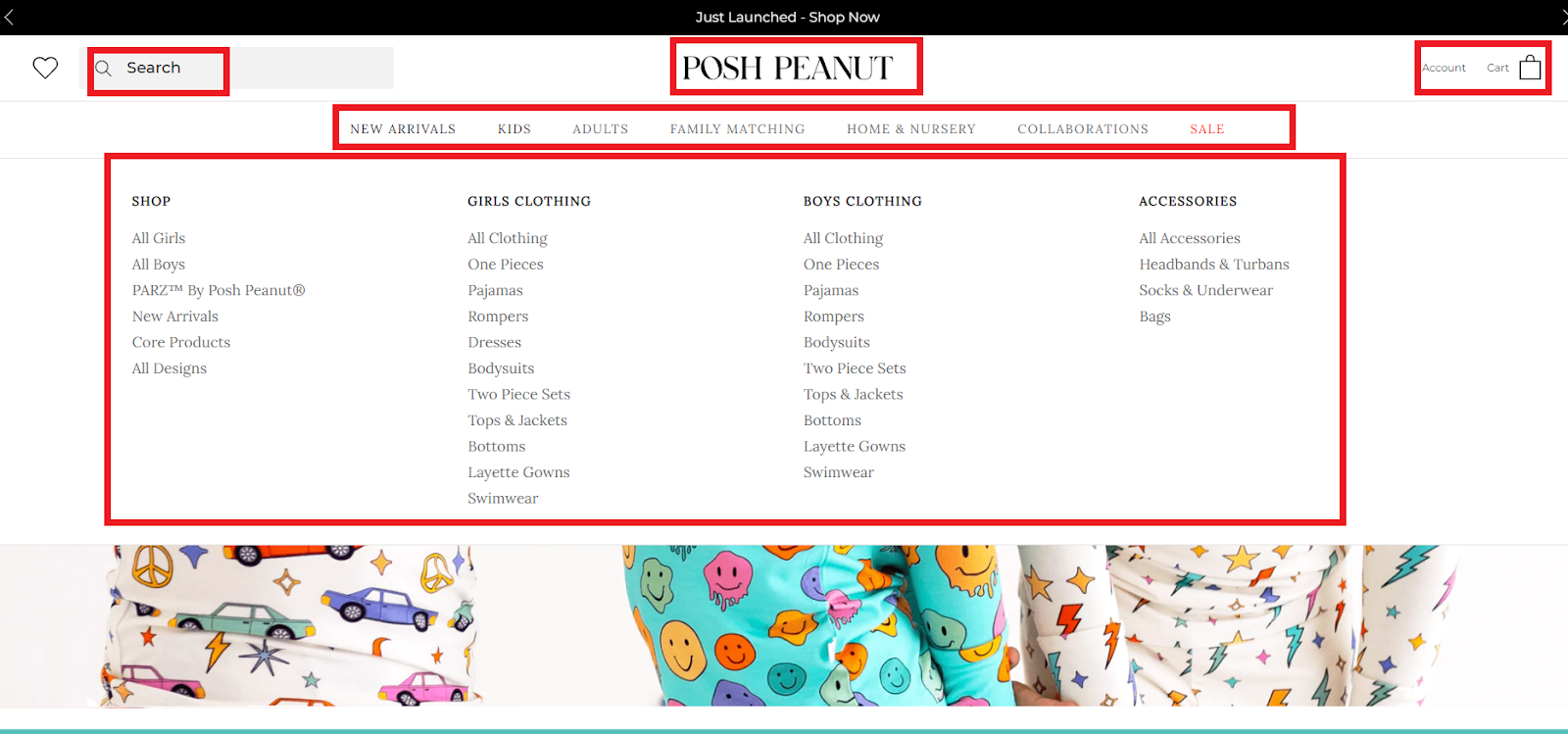 Also, there are call-to-action buttons in visible place on the home page. The logo is a link that leads customers to the home page.
However, what we found inconvenient is the placement of their search bar. Typically, these forms are placed in the right upper corner. And, this is where customers first seek it as well.
Also, their content is organized and neat thanks to the grid layout.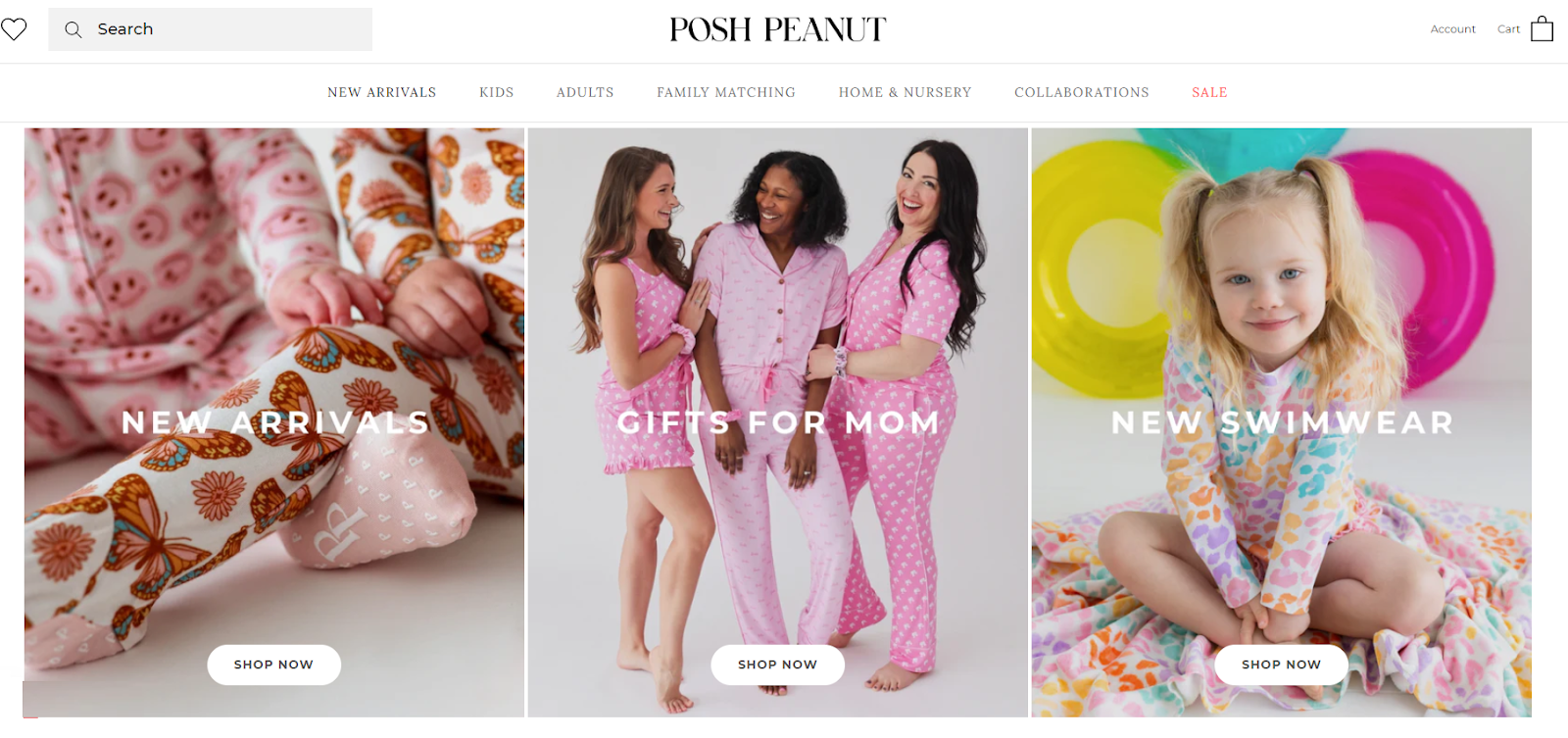 Marketing Tactics
This dropshipping store uses various marketing strategies like email marketing, social media advertising, etc.
What's more, they have a specific product category "SALE" where they give discounts on their products. Plus, they have a FAQ section, and help customers make buying decisions.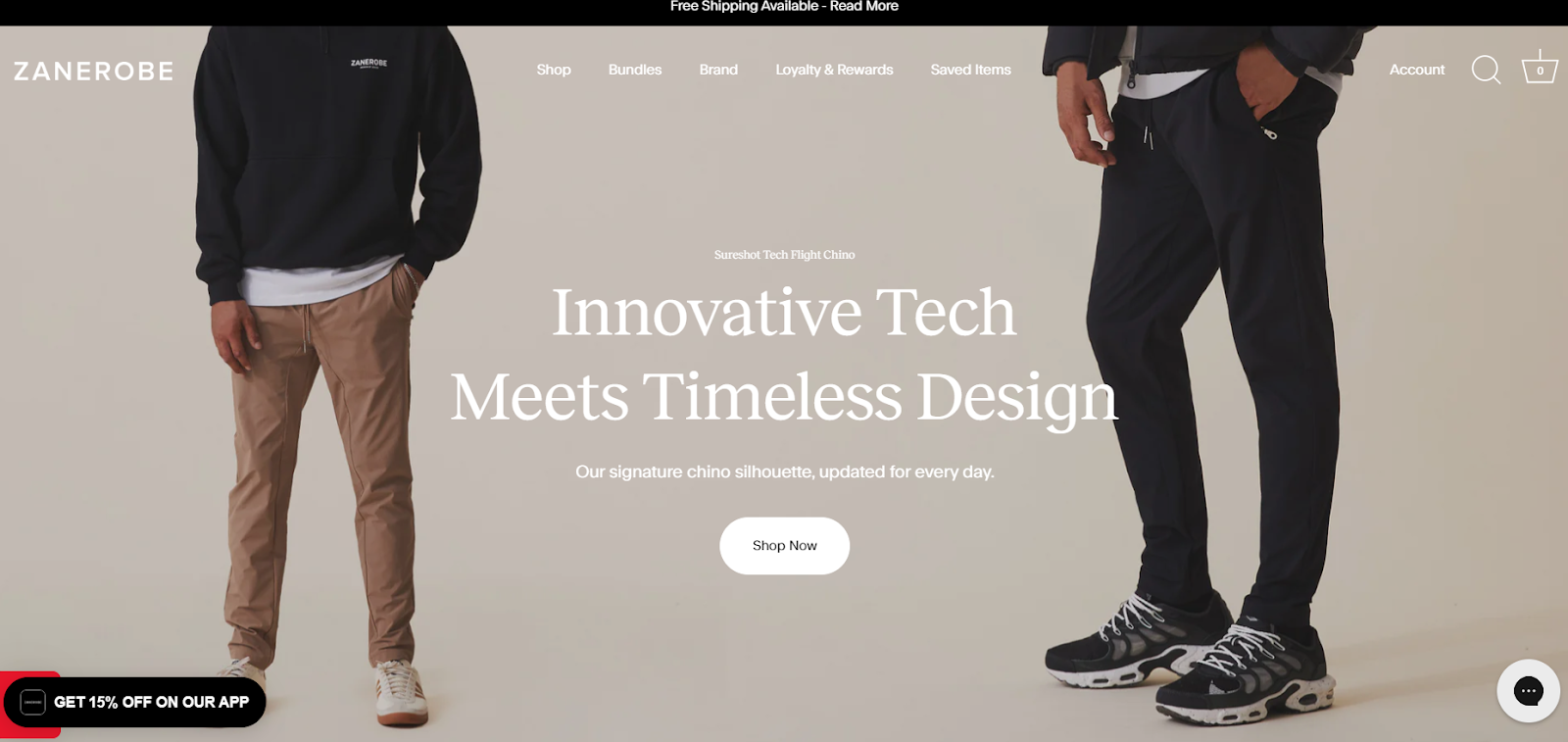 Zanerobe is one of the best Shopify clothing stores. It has captured the hearts of many with its iconic joggers and flintlock tees.
Thus, their product range is diverse, and includes pants, shirts, tees, jackets, accessories, hoodies, and more. When it comes to product details, Zanerobe leaves no stone unturned.
With stores in the U.S., Canada, Japan, and Europe, Zanerobe has made shopping a breeze. They offer flexible payment options, including PayPal, Visa, GPay, MasterCard, and others, ensuring a seamless checkout process.
Also, what truly sets the Zanerobe brand apart is its commitment to delivering an exceptional customer experience.
Let's see how!
Store Design & Functionality
As with most Shopify stores, this store also provides users with easy navigation. Starting from their huge, but clean menu, to all the navigation and call-to-action buttons.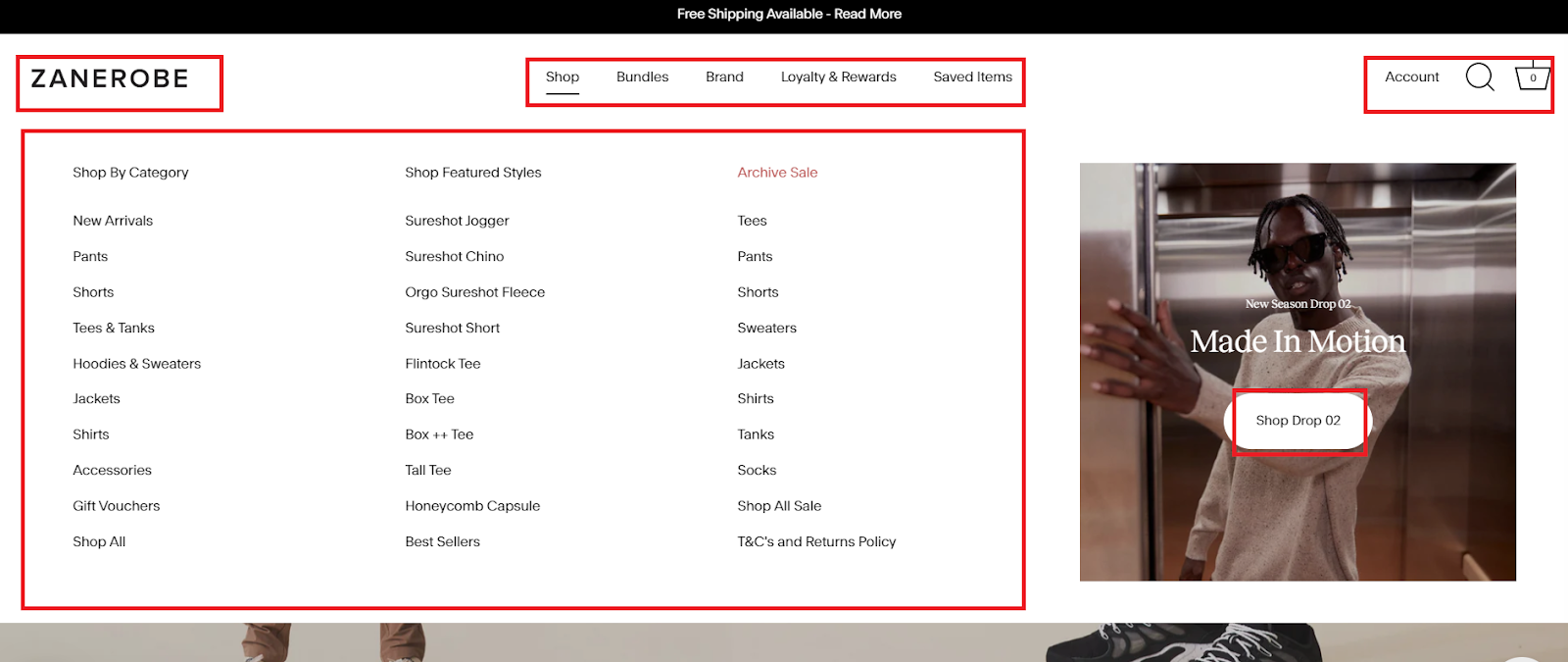 Moreover, the store uses high-quality photos. This is very important if you want to leave your customers with a first positive impression.
However, what we found interesting and unique about this store is how they suggest their customers download their mobile app, and make their shopping experience easier.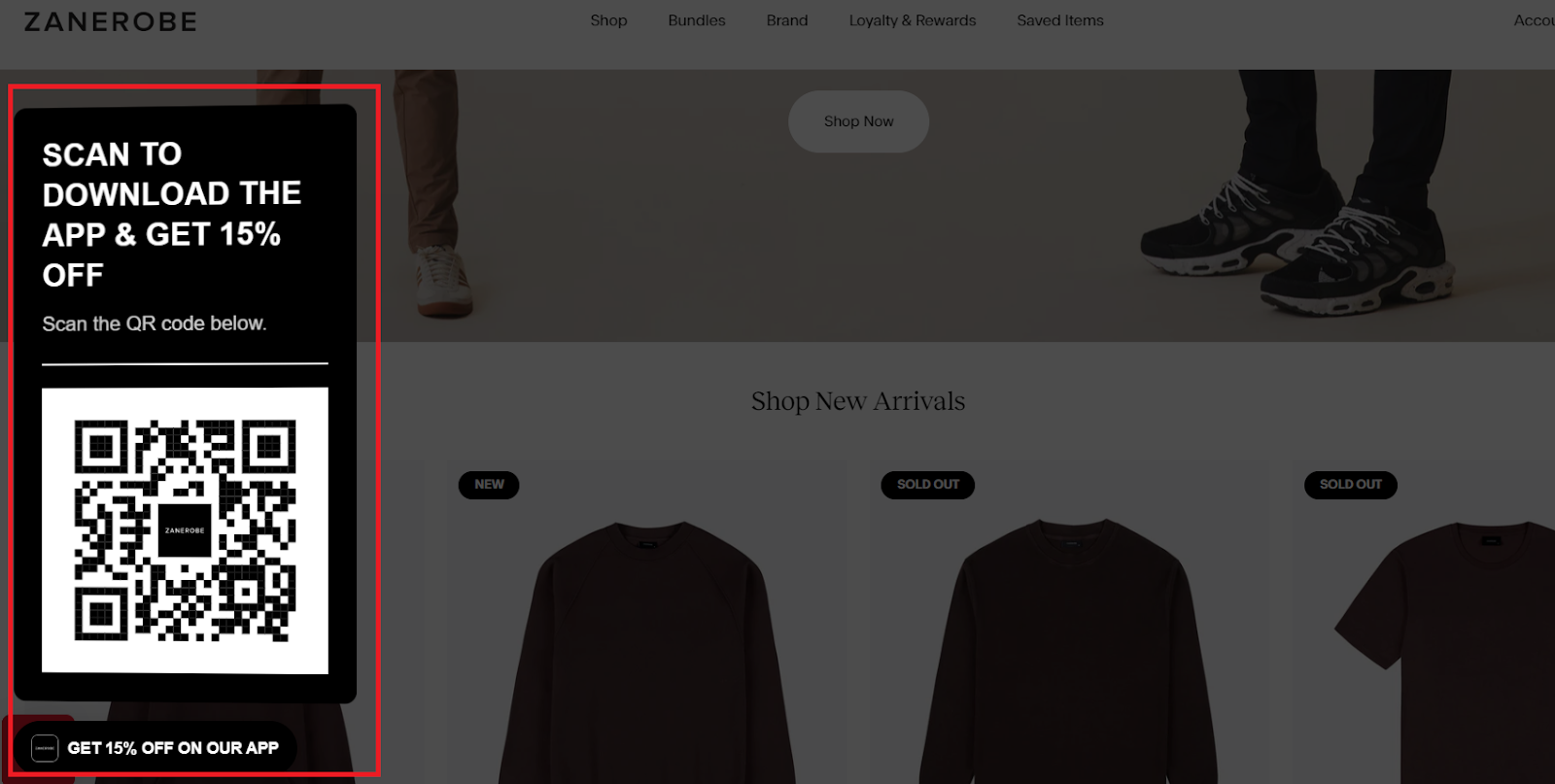 It is a simple pop-up window and customers only need to open their camera and scan.
Marketing Tactics
Zanerobe uses multiple marketing strategies, like email marketing, social media advertising, discounts, promotions, etc.
Also, they display site reviews and product reviews. Thus, this builds customer trust.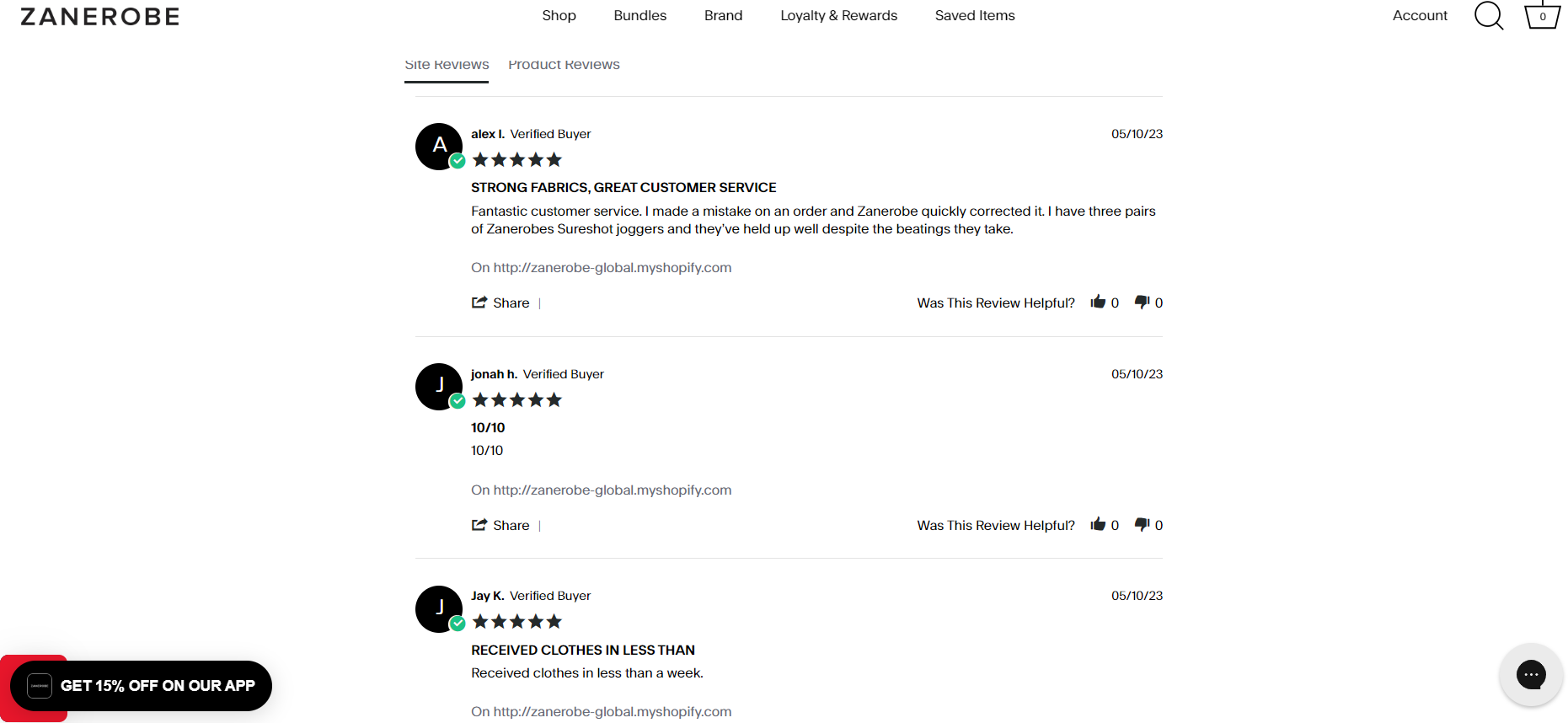 What's more, they have a Help & FAQ section, providing customers with helpful information about any service of their store.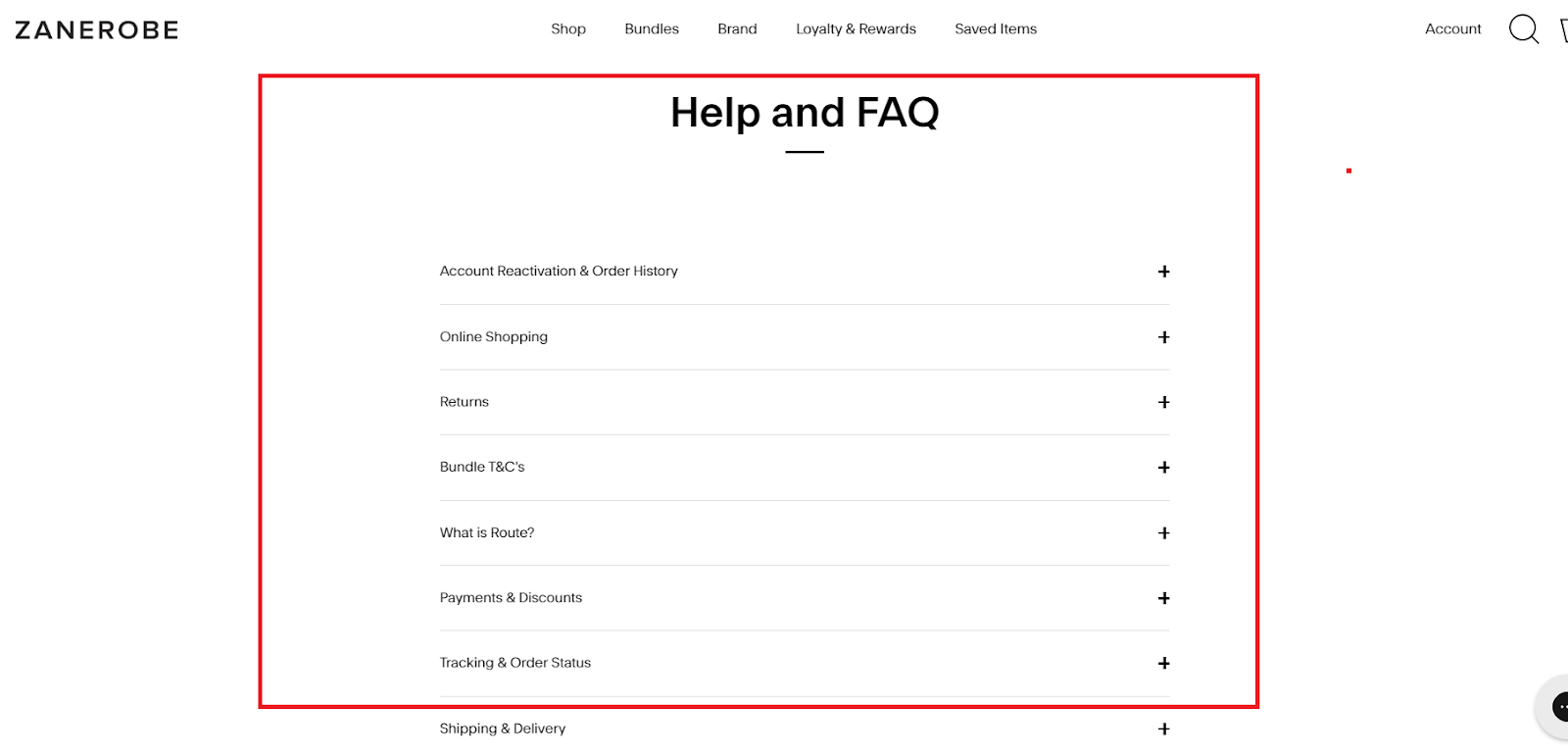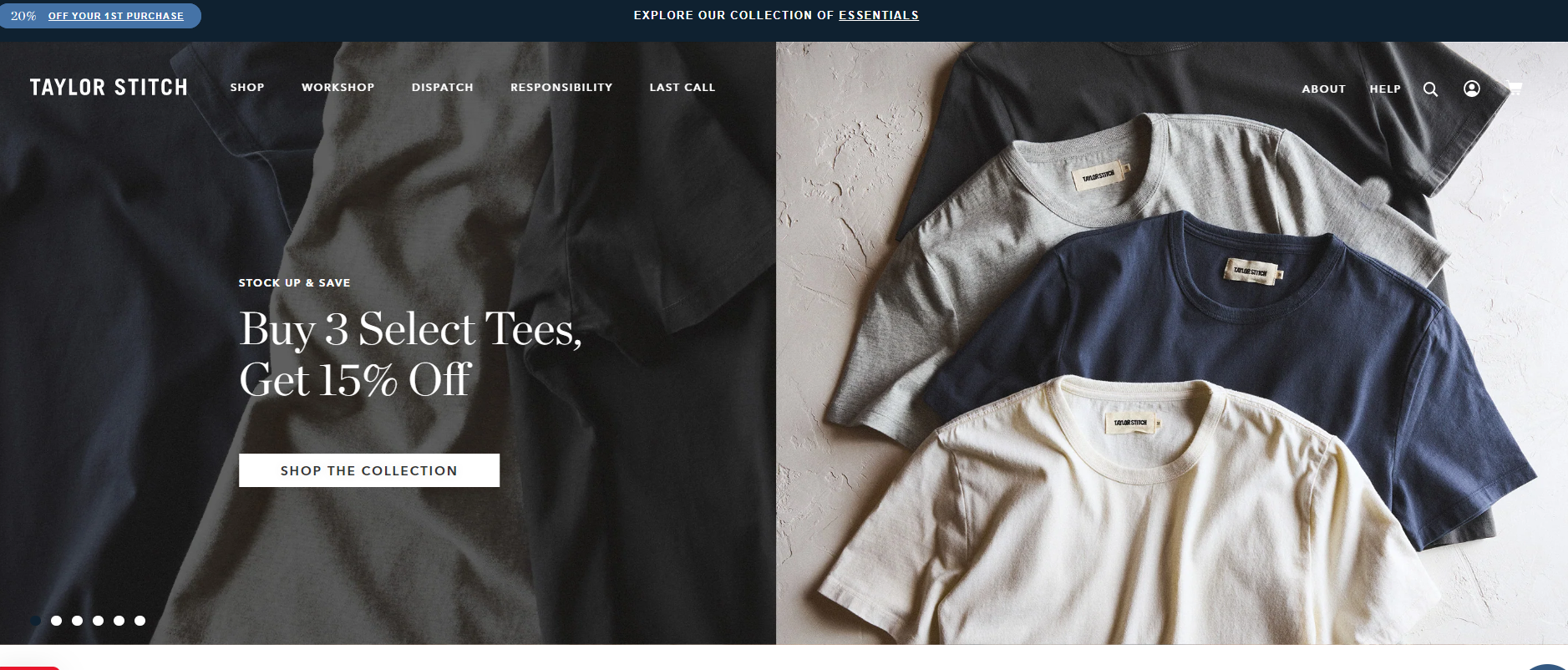 Taylor Stitch is a brand dedicated to high-quality menswear that can withstand any situation, be it surfing, wood chopping, or simply a day at the office.
👉 Read about Dropshipping Mens Fashion 101: Top 8 Mens Fashion Dropship Suppliers.
Beyond durability, Taylor Stitch places great importance on using natural materials to avoid the use of harmful chemicals and pesticides, which not only protect workers but also contribute to environmental preservation.
Store Design & Functionality
When you land on their home page, you immediately sense the aura of a premium retail store, exuding an air of sophistication and luxury.
Operating on a hybrid business model, this Shopify clothing store adopts a unique approach. They choose to keep limited stock. This approach minimizes waste and helps reduce overhead costs.
Moreover, they have a "Last Call" category where they place products that are last time in stock and give discounts for them as well. A great marketing trick, and a great way to increase dropshipping sales!
By adopting a similar mindset as Taylor Stitch, your Shopify clothing store can effortlessly capture the attention of customers through captivating visuals, and elegant design, and ultimately stand out from the competition.
Plus, they include navigational elements, starting from their home page, like logo, navigational menu, shopping cart button, call-to-action buttons, etc. Also, the content is organized thanks to the grid layout.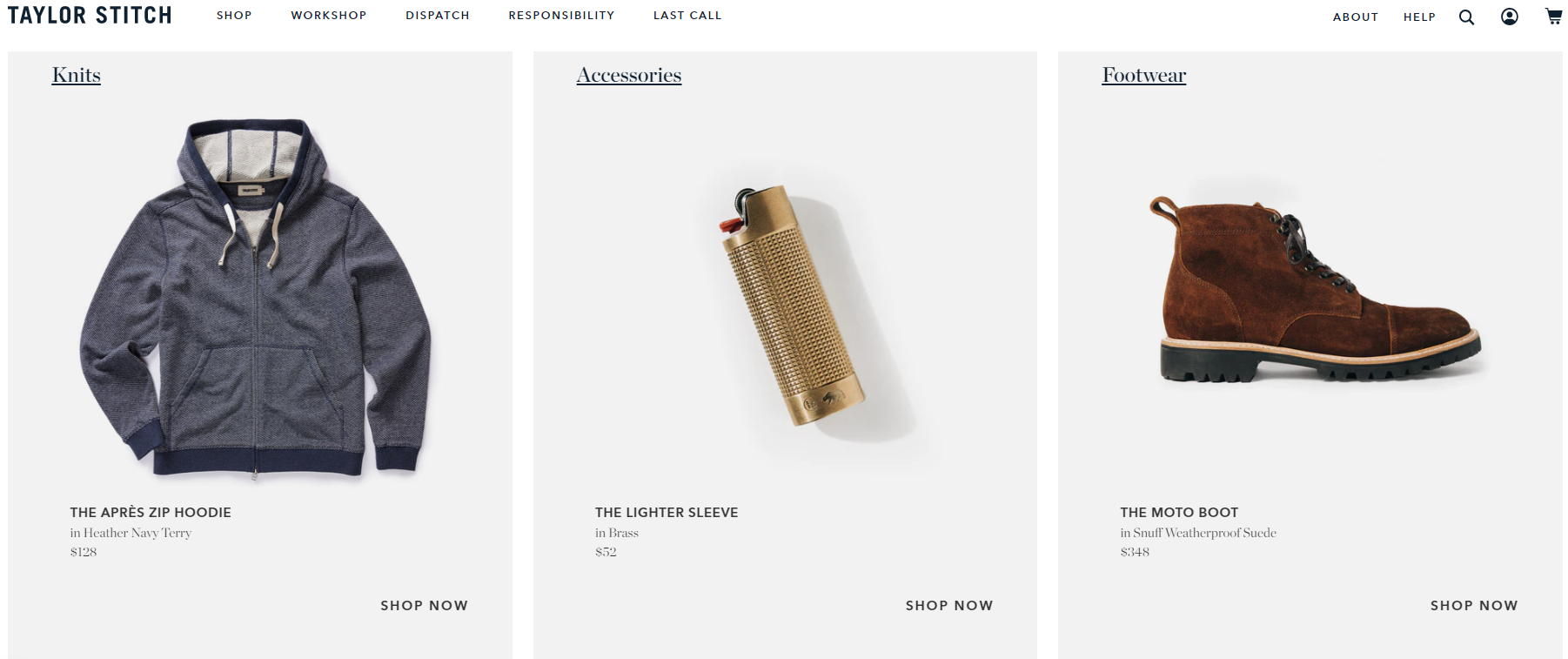 Nonetheless, what we want to point out is the checkout page. This Shopify clothing store has all the necessary elements and info on its checkout page, like payment options, personal info forms, etc.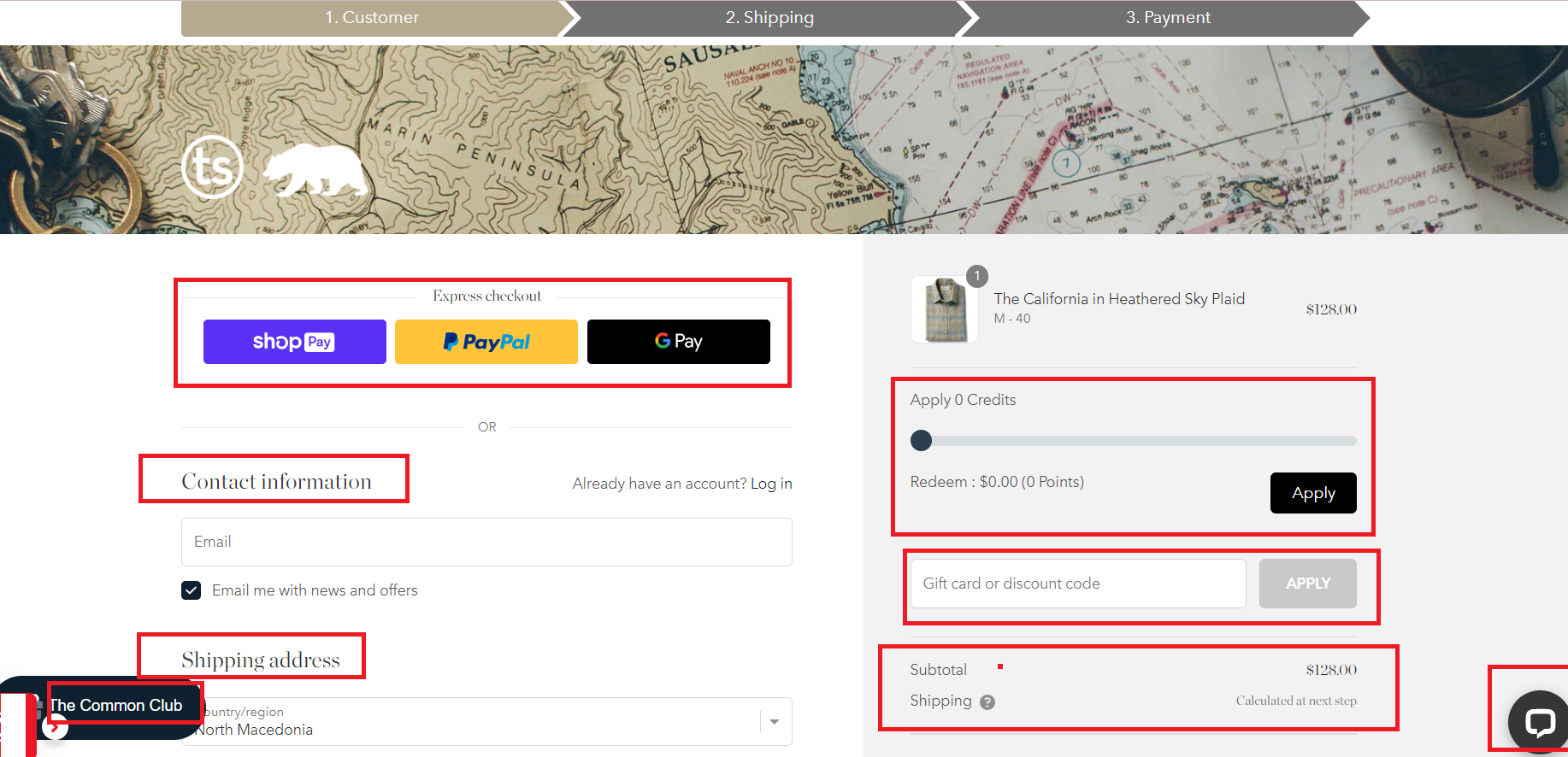 But, what really got our attention is the "Why Choose Us" section.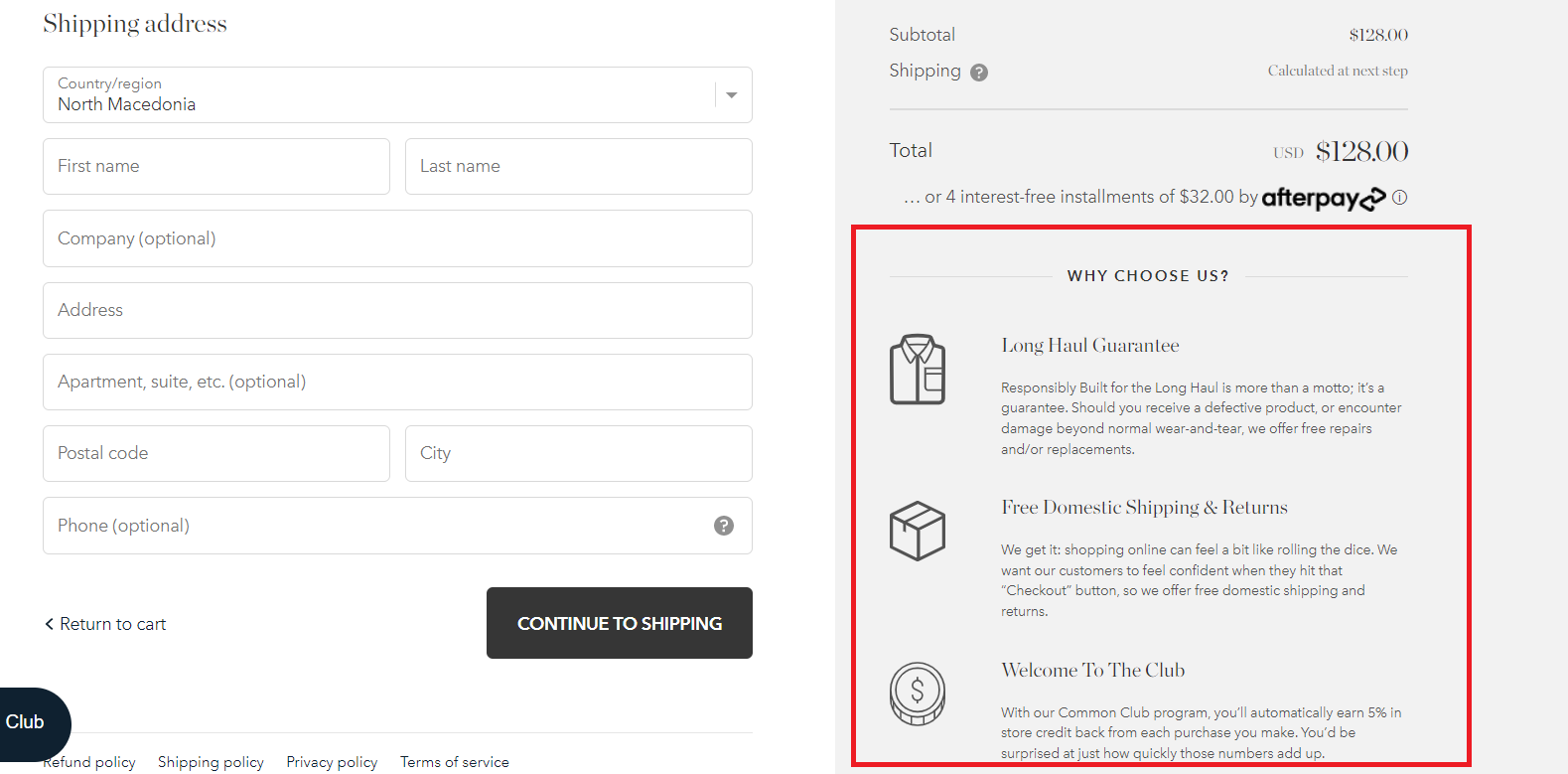 They guarantee product replacement and repairs, and free domestic shipping and returns.
Plus, their Common Club enables customers to earn 5% in-store credit for each transaction they make. In fact, these are all great marketing tactics.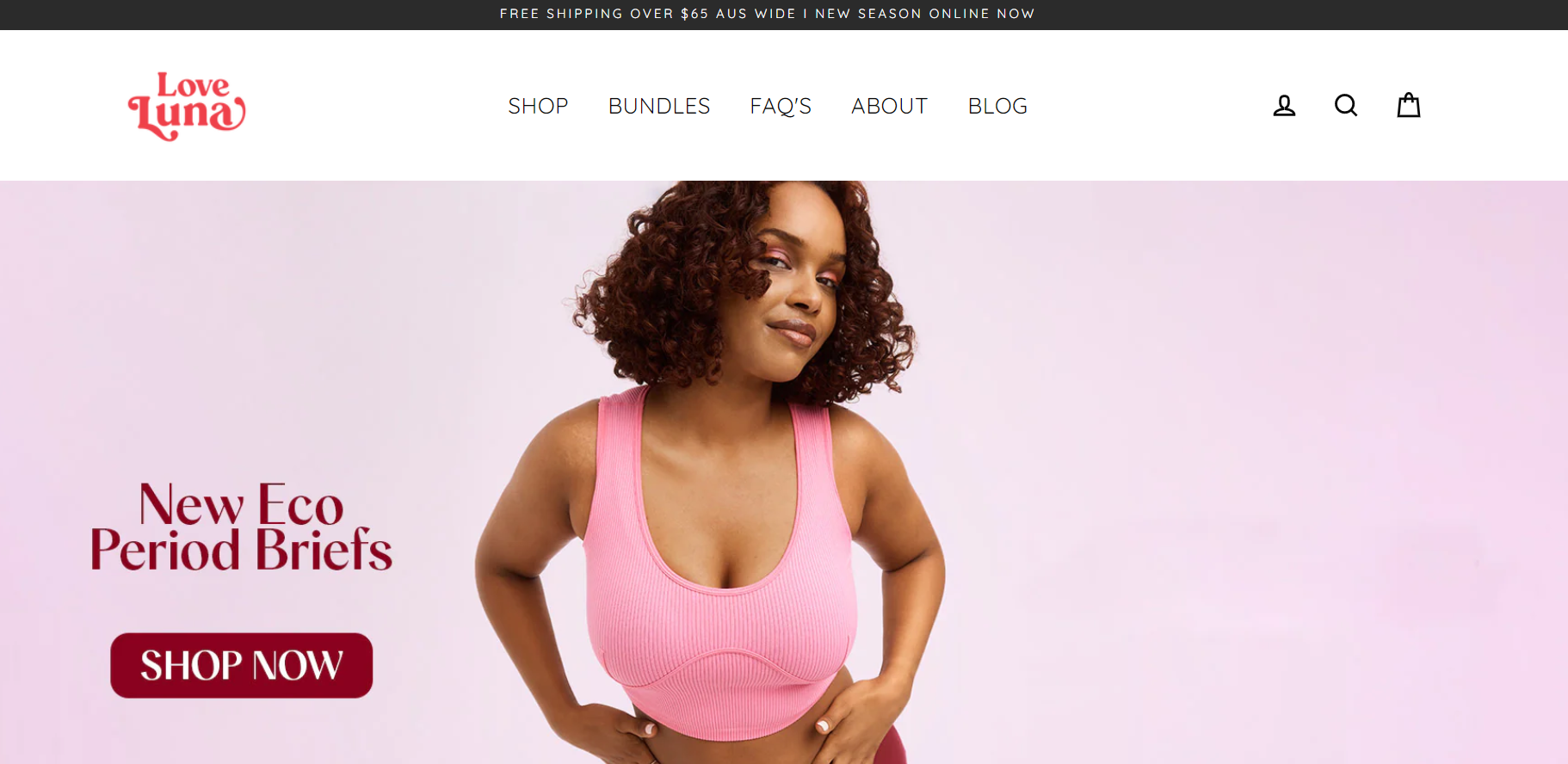 Love Luna is a clothing store that mostly sells women's underwear and swimwear. 
💡 Tip: Read about Selling Underwear Online Without Holding Inventory.
Aligned with its core mission of offering reusable sanitary products and clothing for women, Love Luna makes sure their products and practices leave a positive impact on the world.
This moral approach echoes throughout their store and shows their dedication to making a difference.
Store Design & Functionality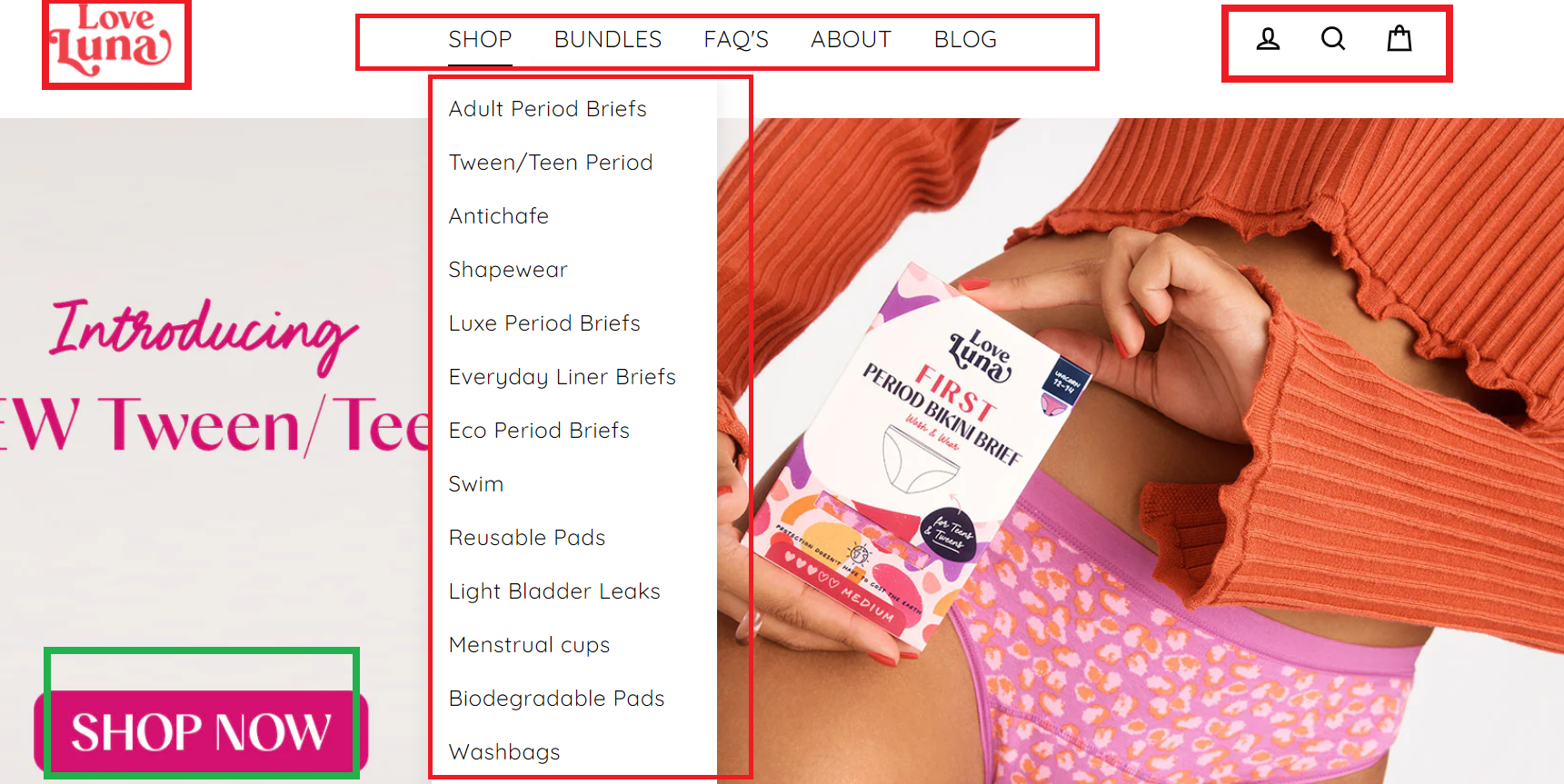 Love Luna presents a harmonious blend of elements that exemplify what a clothing store should be: vibrant colors, an intuitive user interface and experience, and a website tailored precisely to its target audience. Thus, they use a high-quality Full-Screen Image slider as a background.
Also, their store is easy to navigate, starting from the fly-out navigation menu and well-defined categories. Moreover, their logo is a link that leads customers to the homepage. Furthermore, there are call-to-action buttons ( like "Shop Now") that force customers to take action.
Also, all the navigation buttons are right in place. Thus, the login button, search button, and shopping cart are at the right upper corner, while the logo is at the left upper corner.
Marketing Tactics
Moreover, Love Luna employs an upselling technique to enhance sales, presenting customers with relevant product suggestions. By using this approach, they not only provide value to their customers but also drive business growth.
Additionally, Love Luna enhances the overall customer experience by offering free shipping, eliminating any barriers that may deter potential buyers.
However, Love Luna goes beyond these surface-level attributes, showing a genuine commitment to social and environmental responsibility.
Also, they have a FAQs section and a Blog on their website. Plus, they share customer reviews for each product. This adds additional value for potential customers and helps you build trust.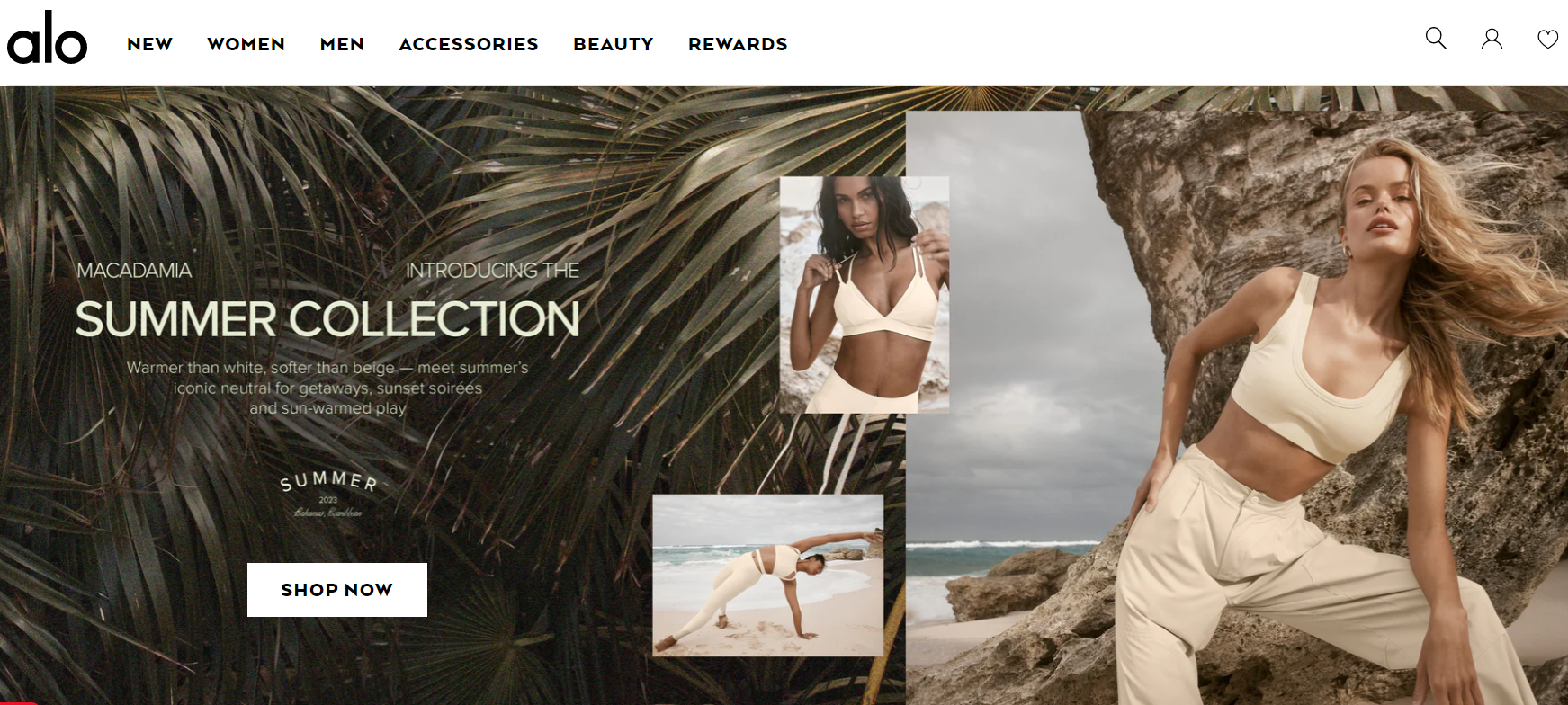 Alo Yoga, an elegant Shopify store, specializes in offering a diverse range of fitness clothing.
Their mission extends beyond merely selling apparel; they strive to spread the practice of yoga worldwide while providing high-quality, sustainable clothing suitable for both on and off the yoga mat.
Also, Alo Yoga is truly inspiring in numerous ways. Firstly, unlike many other fitness dropshipping companies, they use distinctive headings throughout their store, making a lively and engaging atmosphere.
Through the use of emojis, commas, bullet points, and capitalized letters, they create captivating headlines that grab attention.
Store Design & Functionality
First, they use a Full-Screen Image on their homepage, and they include all navigational elements like logo, call-to-action buttons, log-in buttons, shopping cart, etc.
Their design is simple and neat, sorting various information with the grid's layout. Plus, this technique helps you present diverse information, and still make your page easy to navigate.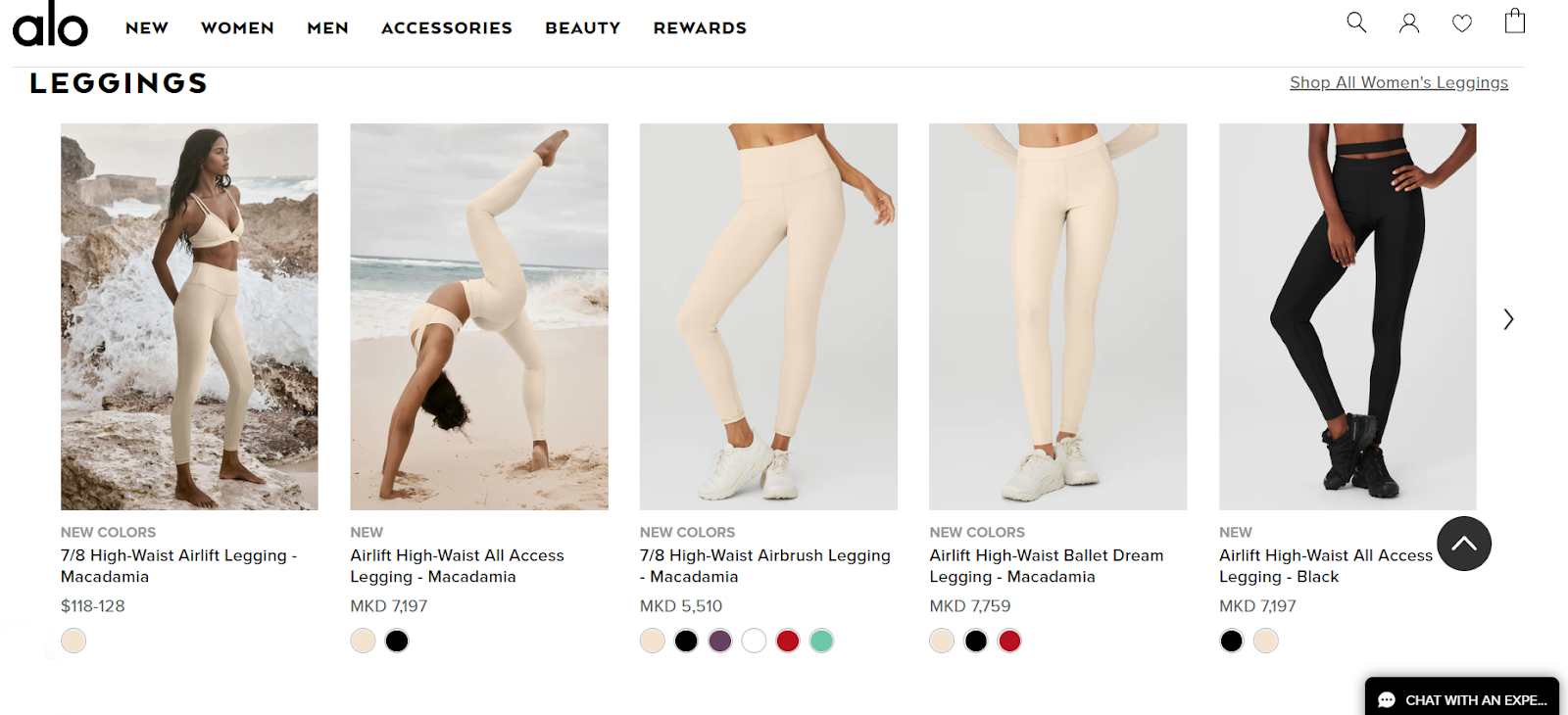 Also, their fly-out menu is well organized, and all the categories are properly defined. This way, customers can navigate with ease.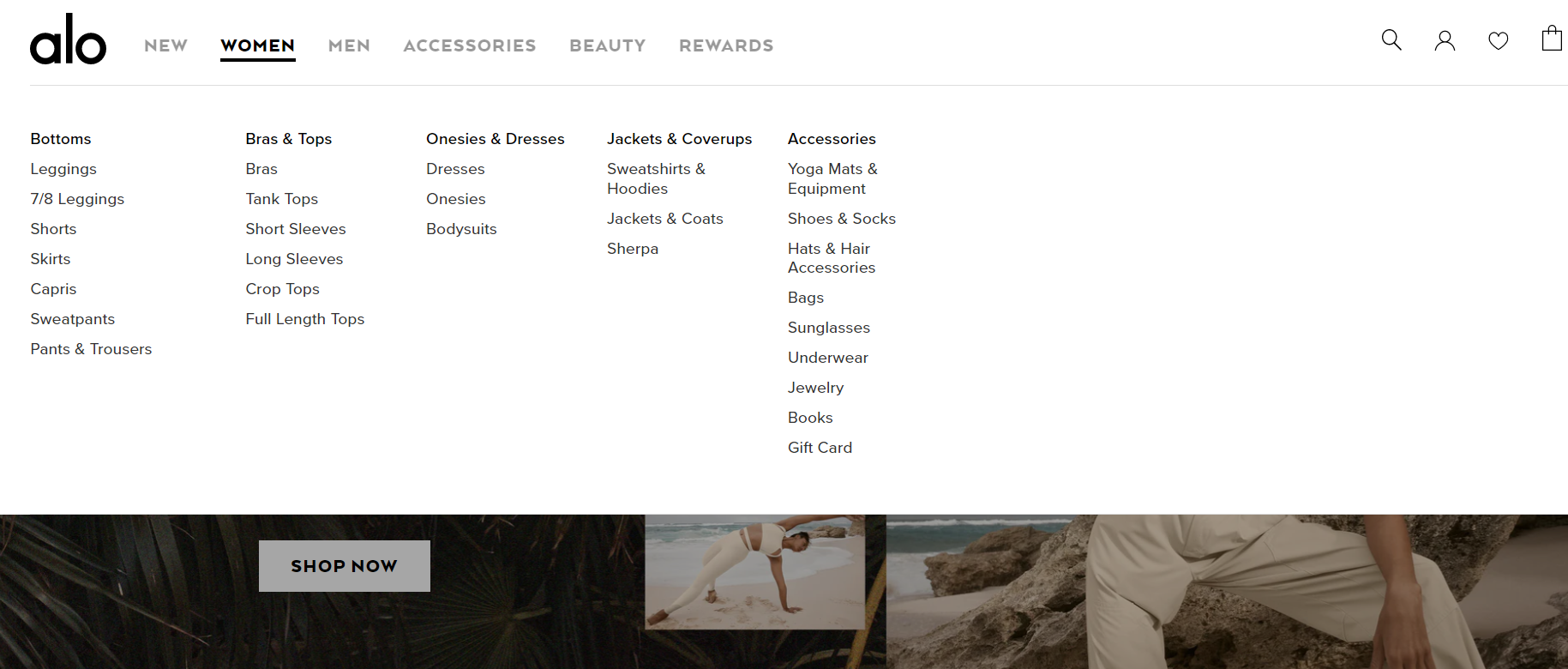 Marketing Tactics
Alo Yoga boasts a substantial following on social media. With 2.7 million Instagram followers and a YouTube channel featuring free yoga classes and 90,000 subscribers, they have developed a dedicated community of yoga enthusiasts.
Plus, they use influencer marketing as a marketing tactic and post photos on their website as well.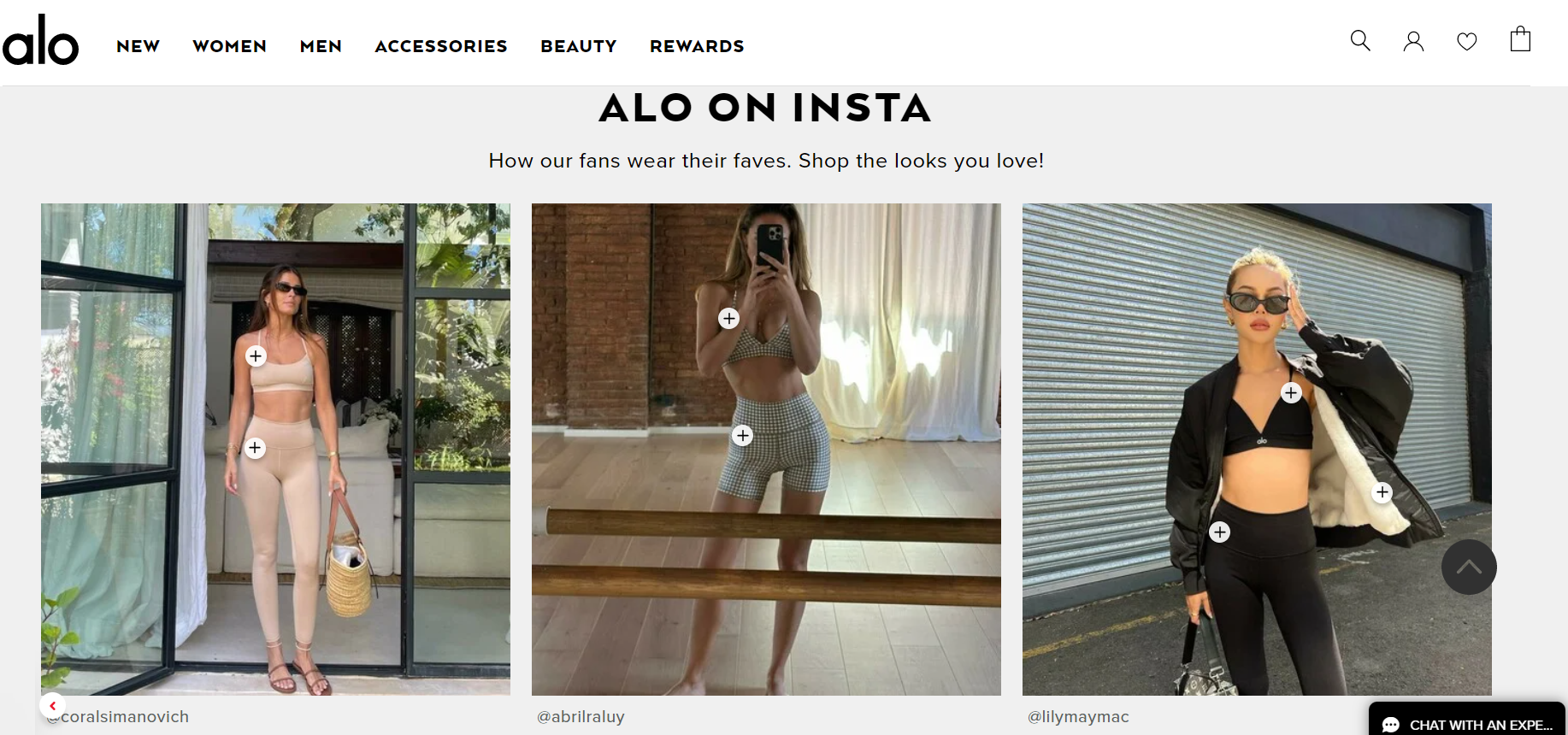 Furthermore, they do have a blog, giving their customers informative articles about yoga.
Also, they have a newsletter, which is the first action that Alo Yoga actually asks customers to perform. Thus, with their pop-up, they ask for their subscription.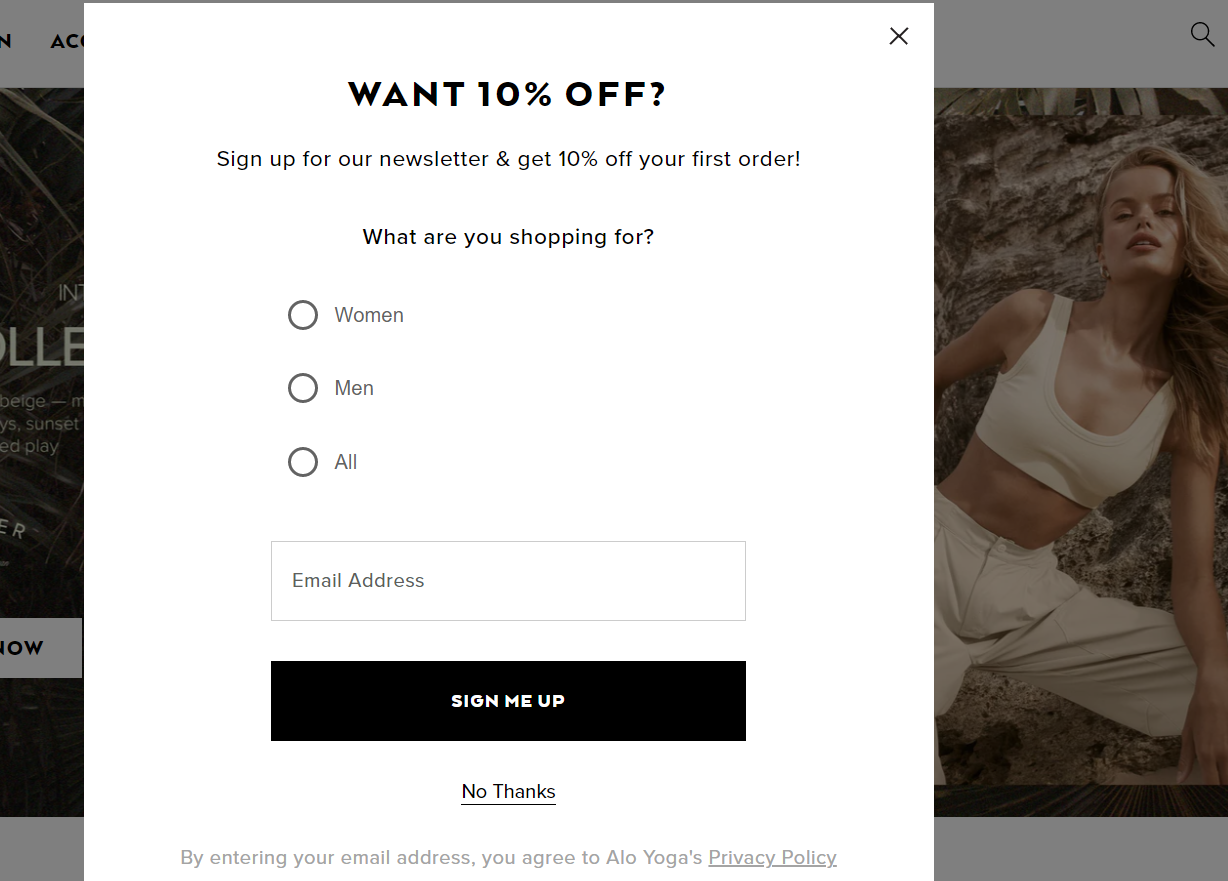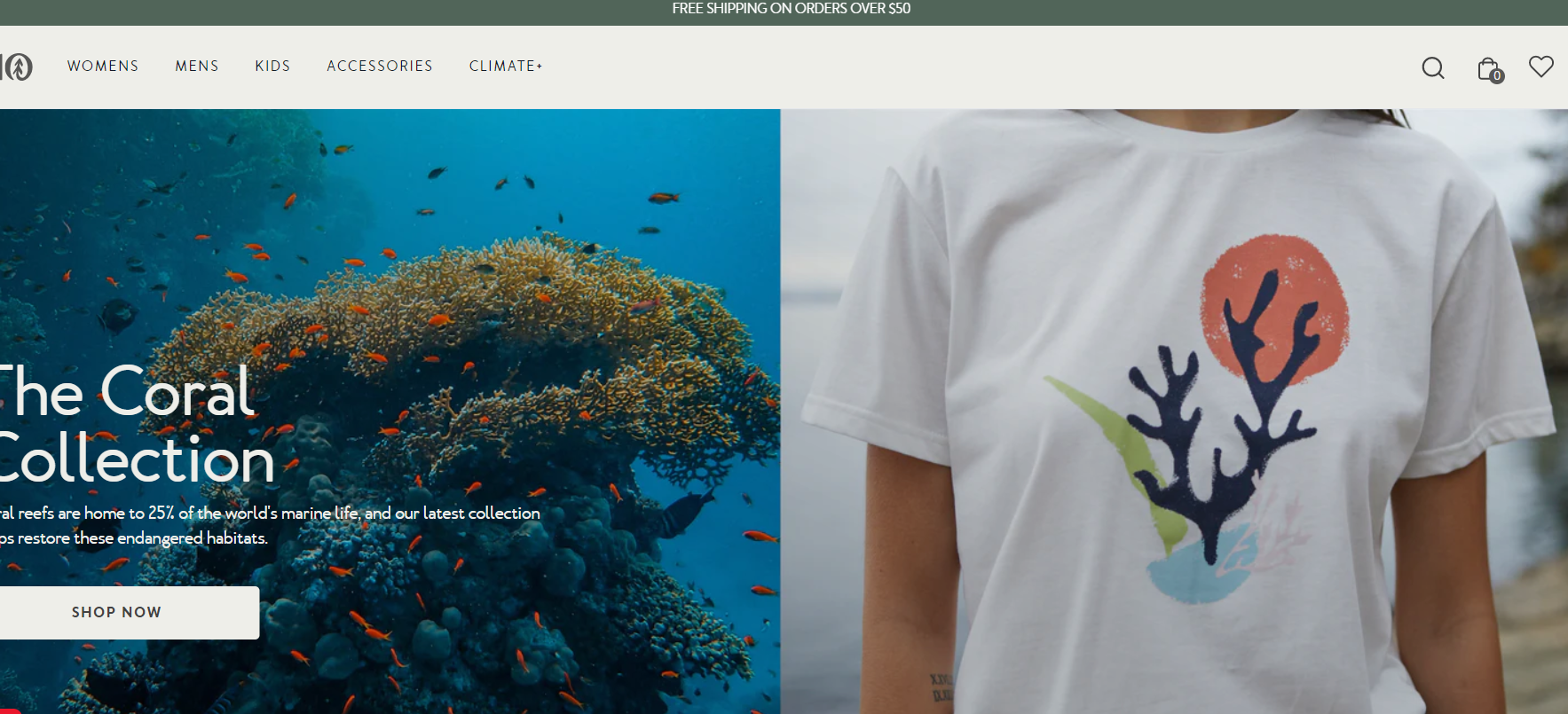 Tentree is another Shopify clothing store that sells women, men, and kids' clothing. Thus, in their store you can find:
T-Shirts & Tanks
Tops & Shirts
Sweaters & Cardigans
Hoodies & Sweatshirts
Jogger, Pants & Leggings, and more.
Store Design & Functionality
So, like most of the Best Shopify Clothing stores does Tentree include all necessary, etc. navigational elements and buttons, like the log-in button, search button, and shopping cart
Plus, their logo is a link that navigates customers to the homepage. This way, it also serves as an escape hatch for customers that can't find their way out from any other landing page.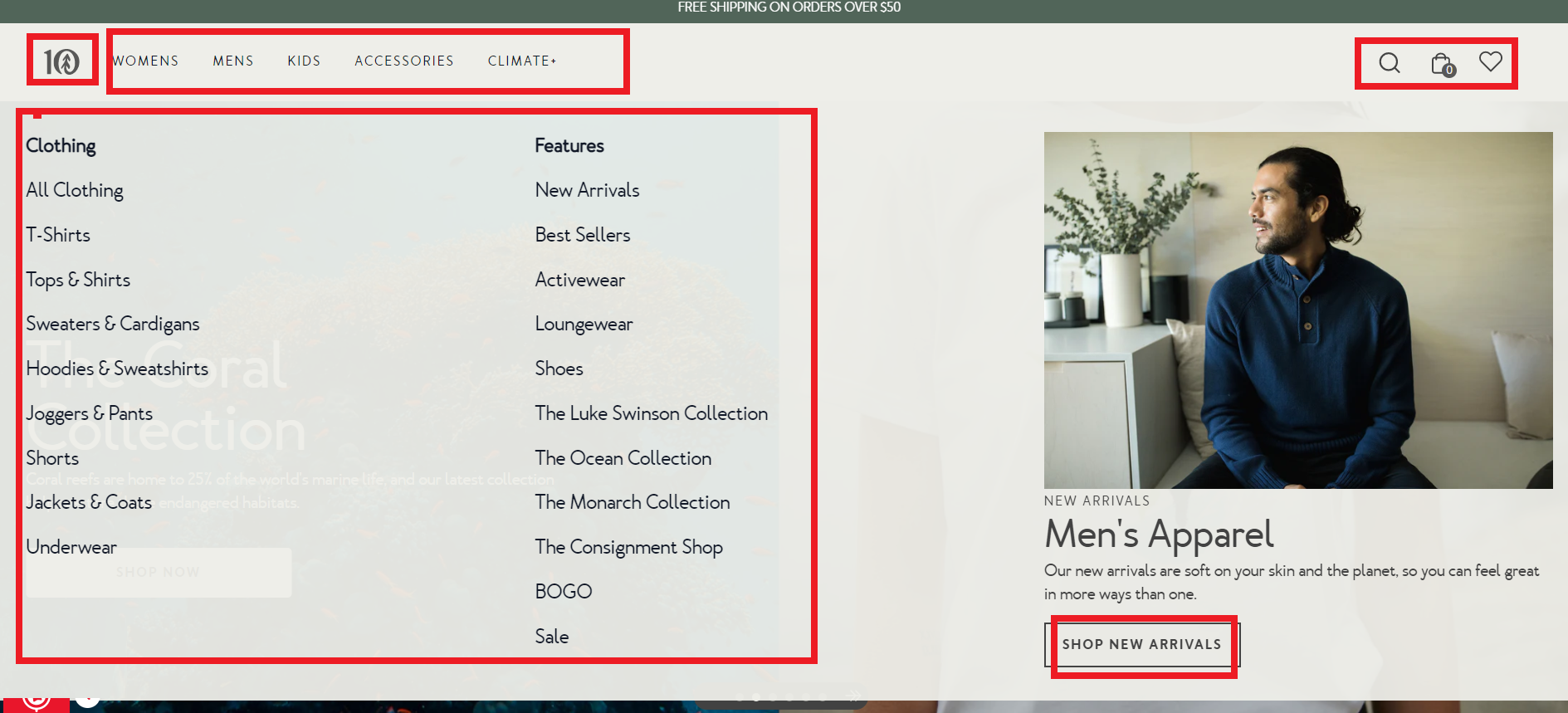 What we find interesting is their fly-out menu. All the categories and sub-categories as well-defined and organized. Thus, this serves customers with easy navigation.
Also, they organize their content with the grid's layout. 👇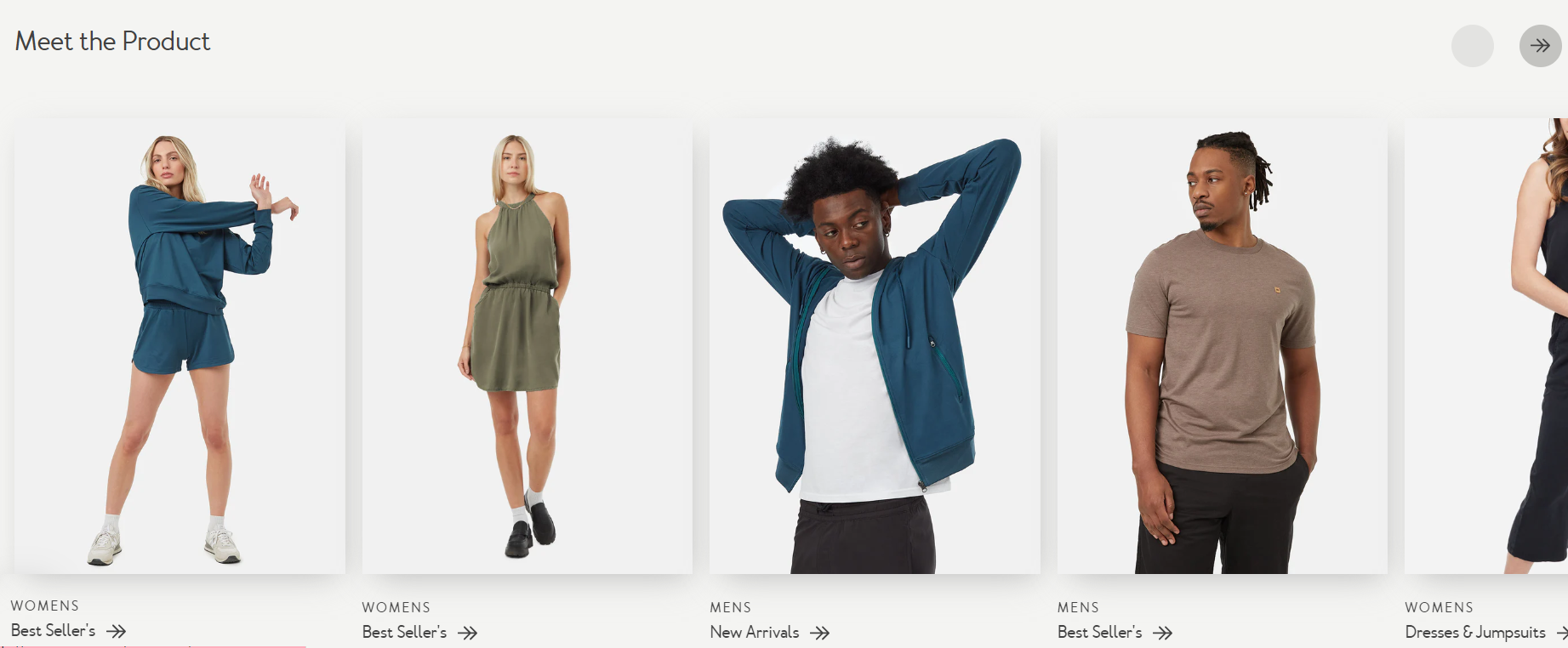 However, what we want to point out is their checkout page! Upon entering the checkout process, customers immediately feel at ease, as helpful breadcrumbs guide them along the way, ensuring they won't get lost.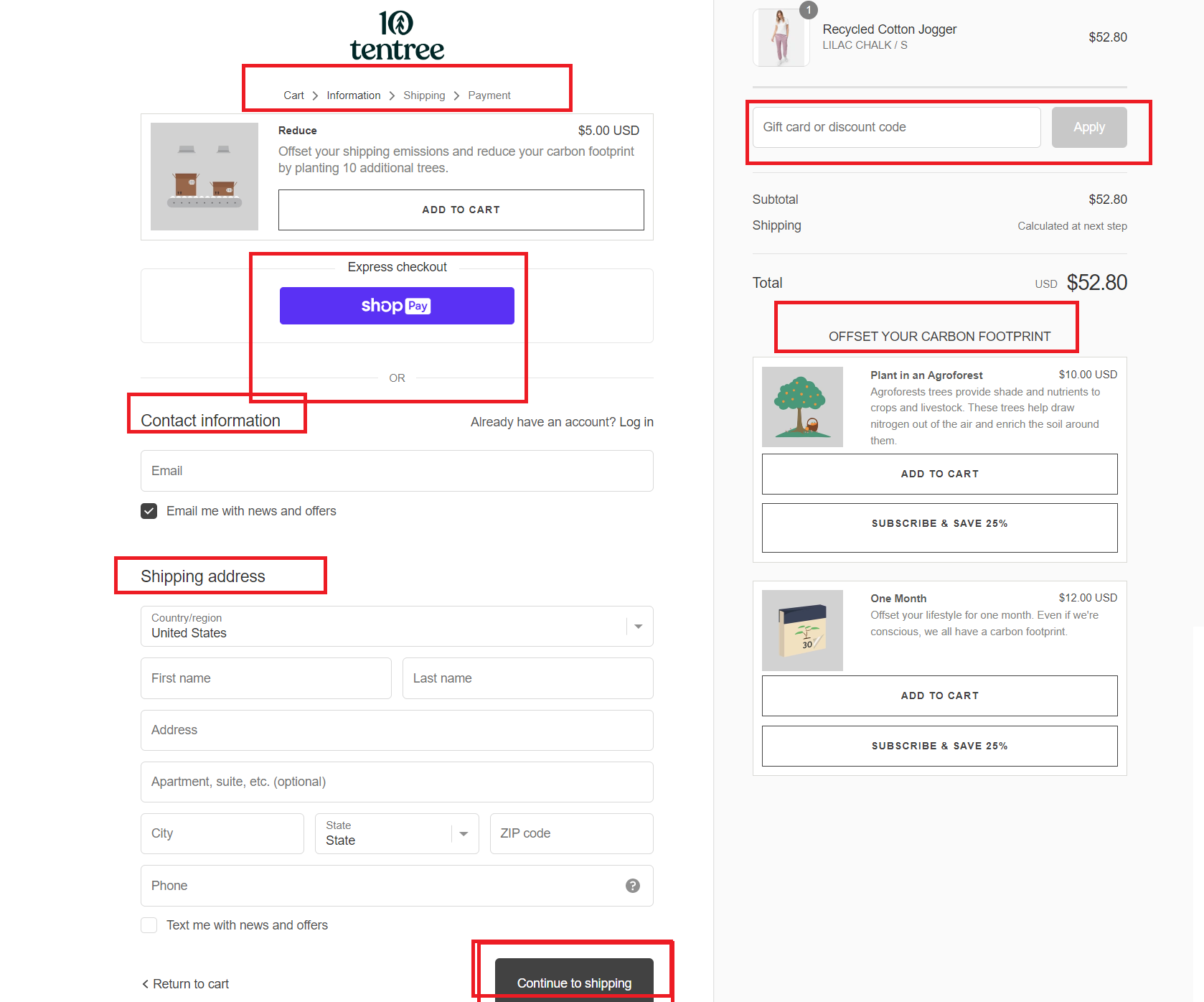 Marketing Tactics
Furthermore, as part of their strategic approach, they offer unique add-ons that allow buyers to have an additional 10 trees planted for just $5 more—a compelling offer that is likely to resonate with their environmentally conscious customer base. Great marketing trick as well!
Additionally, they have simplified the information-gathering process to avoid overwhelming customers. The fields are clear, enabling buyers to breeze through the checkout process effortlessly. Moreover, they provide the option for customers to check out as a guest.
Further, the gift cards and discount codes, helps out the shopping experience.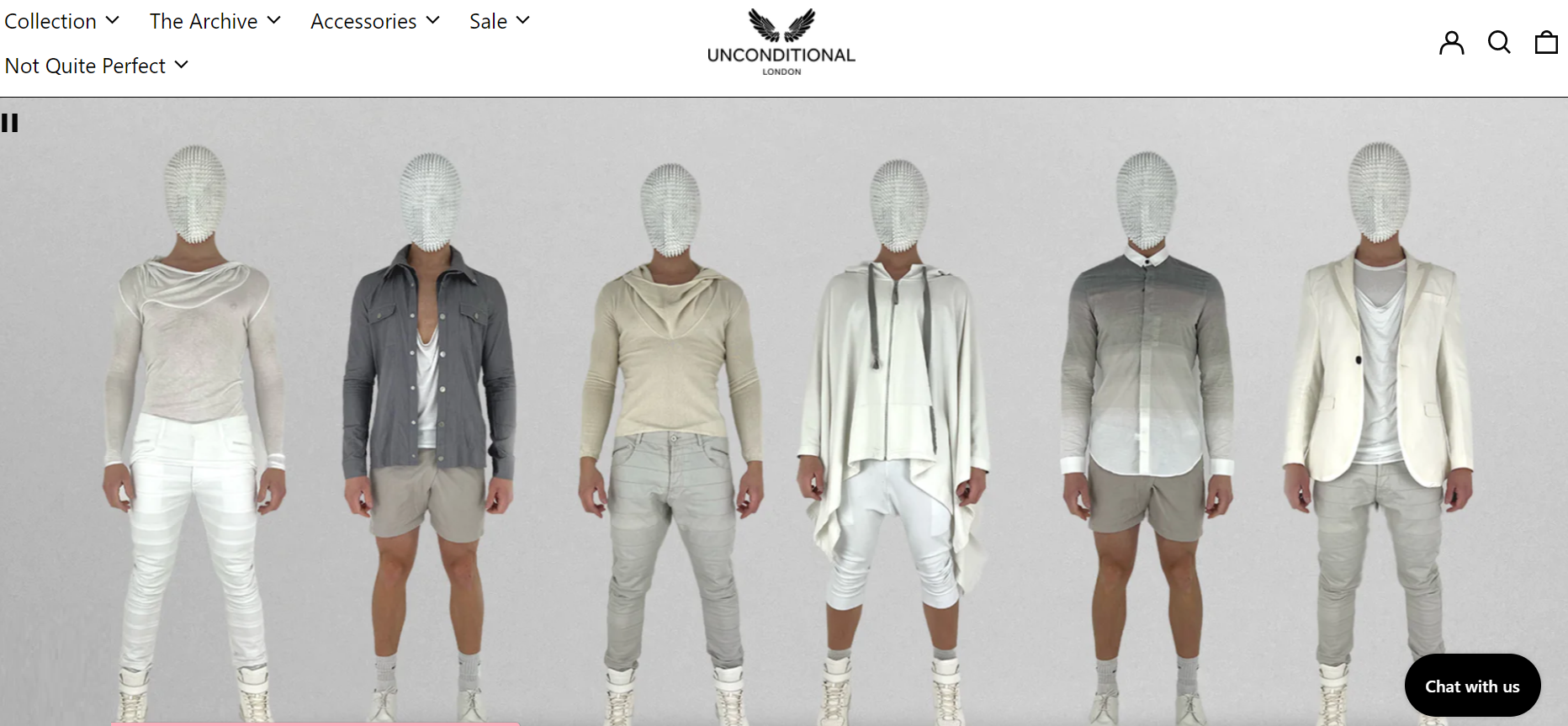 This is a Shopify Clothing store based more than 10 years ago in London.
By simply observing their design, it becomes apparent that their main focus is on high-quality clothing. Thus, they offer t-shirts, hoodies, joggers, pants, jackets & more.
Upon exploring their website, you are immediately immersed in its stylish ambiance, evoking a desire to make a purchase solely based on the timeless design and captivating photography.
Now, let's discuss the functionality of their store and product pages, as there are notable aspects worth discussing.
Store Design & Navigation
Upon entering their website, you will encounter a few pop-up windows, such as a location confirmation and a newsletter sign-up form.
Their home page is organized using a full-screen photo layout and a grid of cards, effectively showcasing all their content. Additionally, their call-to-action buttons prompt users to take the next step in the purchasing process.
Moving on to the product pages, they provide comprehensive information, including photos, descriptions, and a size guide, among other details.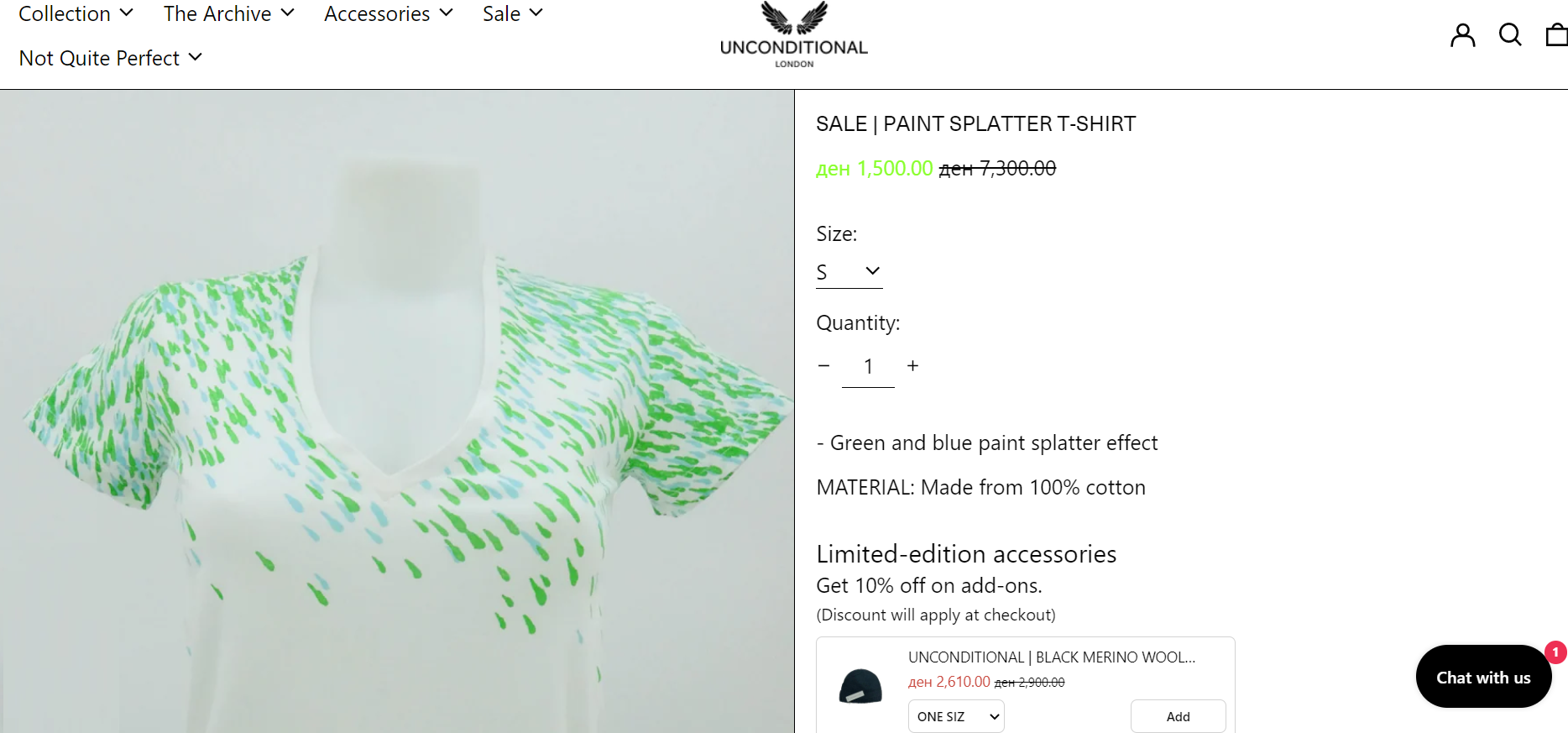 Furthermore, they engage users by incorporating a "You may also like" section on every product page, enticing them to add additional items to their shopping cart.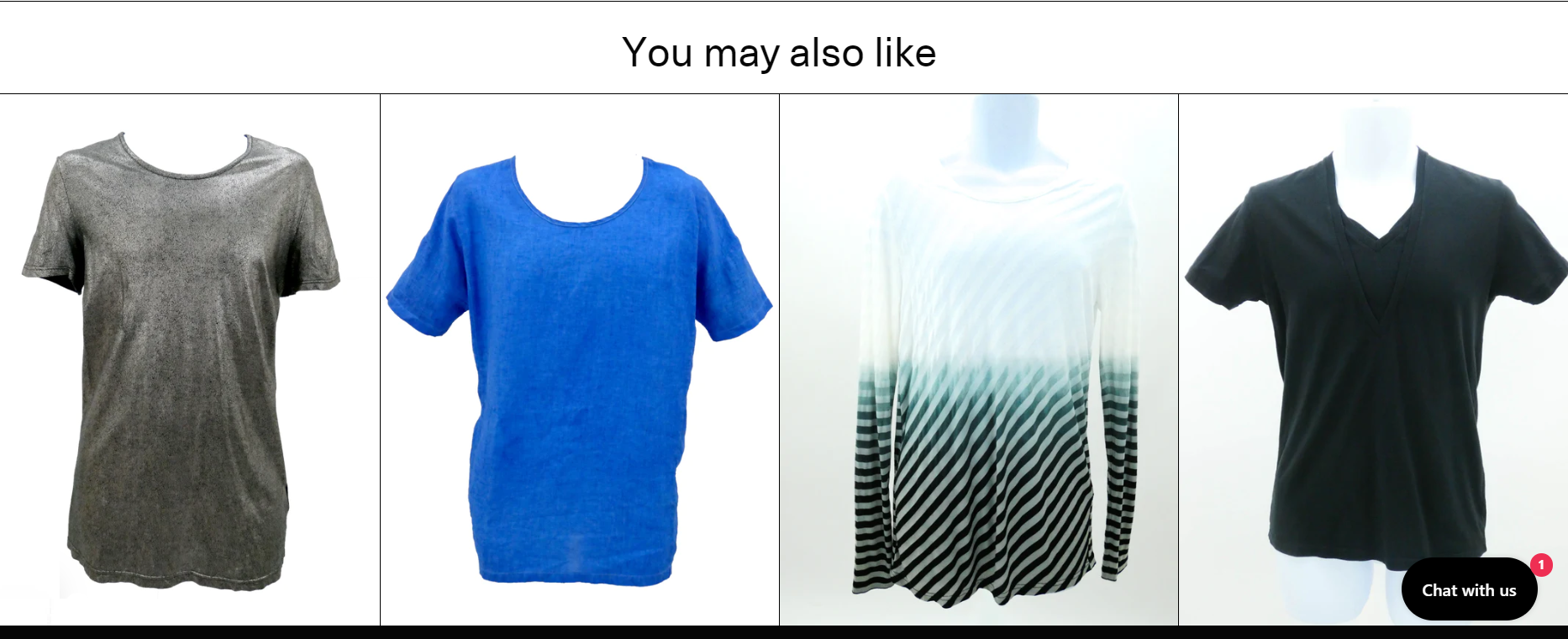 Their footer serves as a valuable "site map," featuring essential sub-categories that provide social proof and customer service, such as "Our story," "Contact us," links to their social media presence, and more.

However, what we found a little bit frustrating is their zoom-in design. Thus, all the elements are too big for customers' eyes. Hence, just open their Shopify clothing stores and you will get us.
Marketing Tactics
As we already mentioned, once you open their store, a pop-up comes in. Well, one of their marketing tactics is email marketing. By subscribing with an email address, you will get information about their promotions, discounts, new arrivals, and more.
Furthermore, Moreover, establishing trust with customers by sharing a story and offering contact information shows the reliability of the business. And, that's what they do.
Additionally, they show a social presence on popular platforms such as Facebook and Instagram. This serves as a valuable marketing tactic.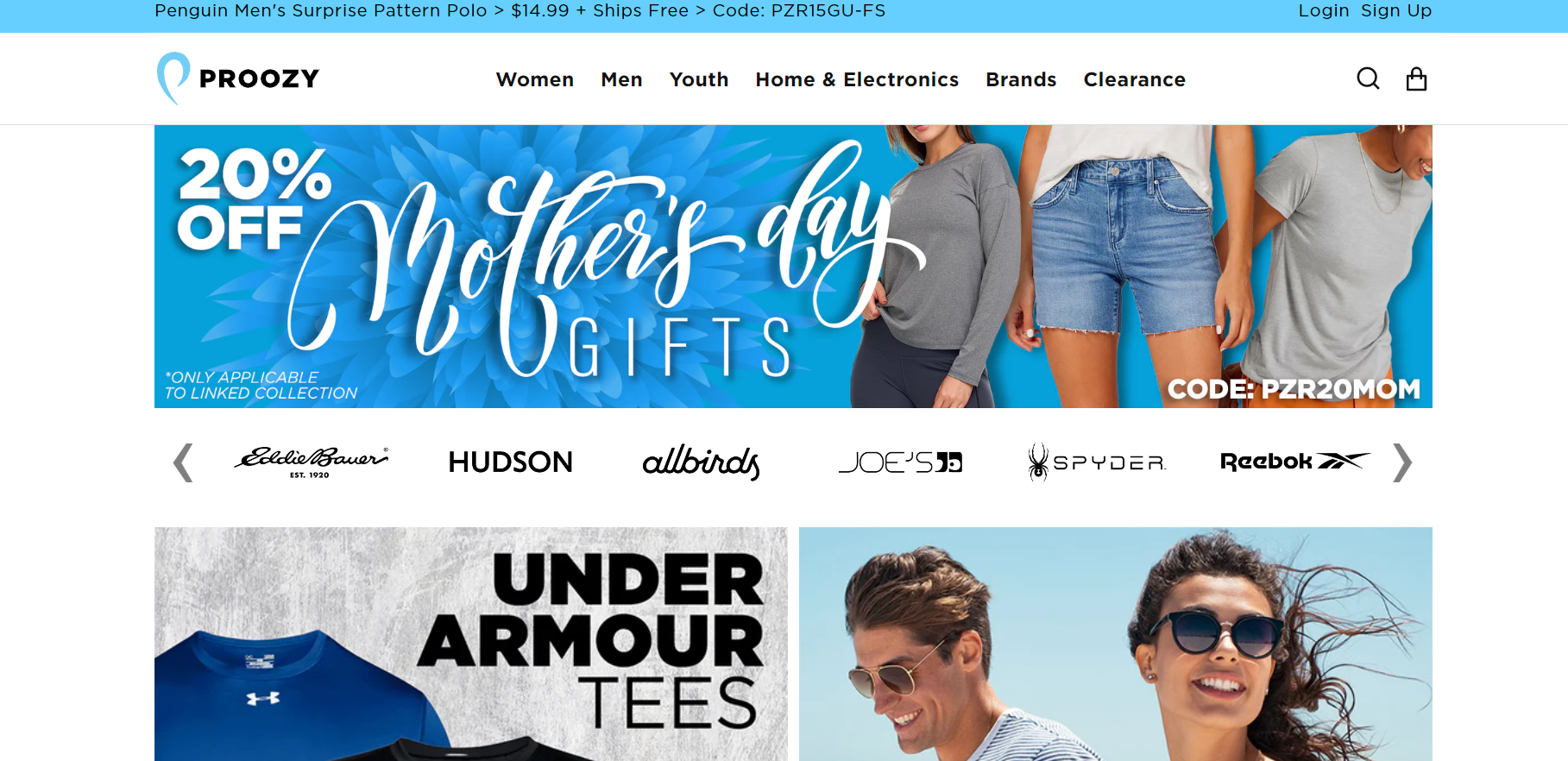 Proozy stands as an online outlet store, specializing in clothing, footwear, and accessories.
Their astute employment of clever email marketing, pop-ups, and captivating product photos has helped them to drive sales and deliver customer satisfaction.
For those seeking inspiration on what to sell on Shopify, Proozy offers brilliant ideas, ranging from fitness apparel to accessories, and even encompassing bedroom, kitchen, and electronic products.
Store Design & Functionality
In short, Proozy's design is brief yet informative, showing its products and great deals. Plus, the daily discounts and product zoom make shopping with them even more exciting.
Also, their navigation is pretty easy. They have a huge, but well-organized fly-out menu. Also, all navigation buttons ( log-in, search button, shopping cart, etc) are in the right place, making it simple for users to navigate.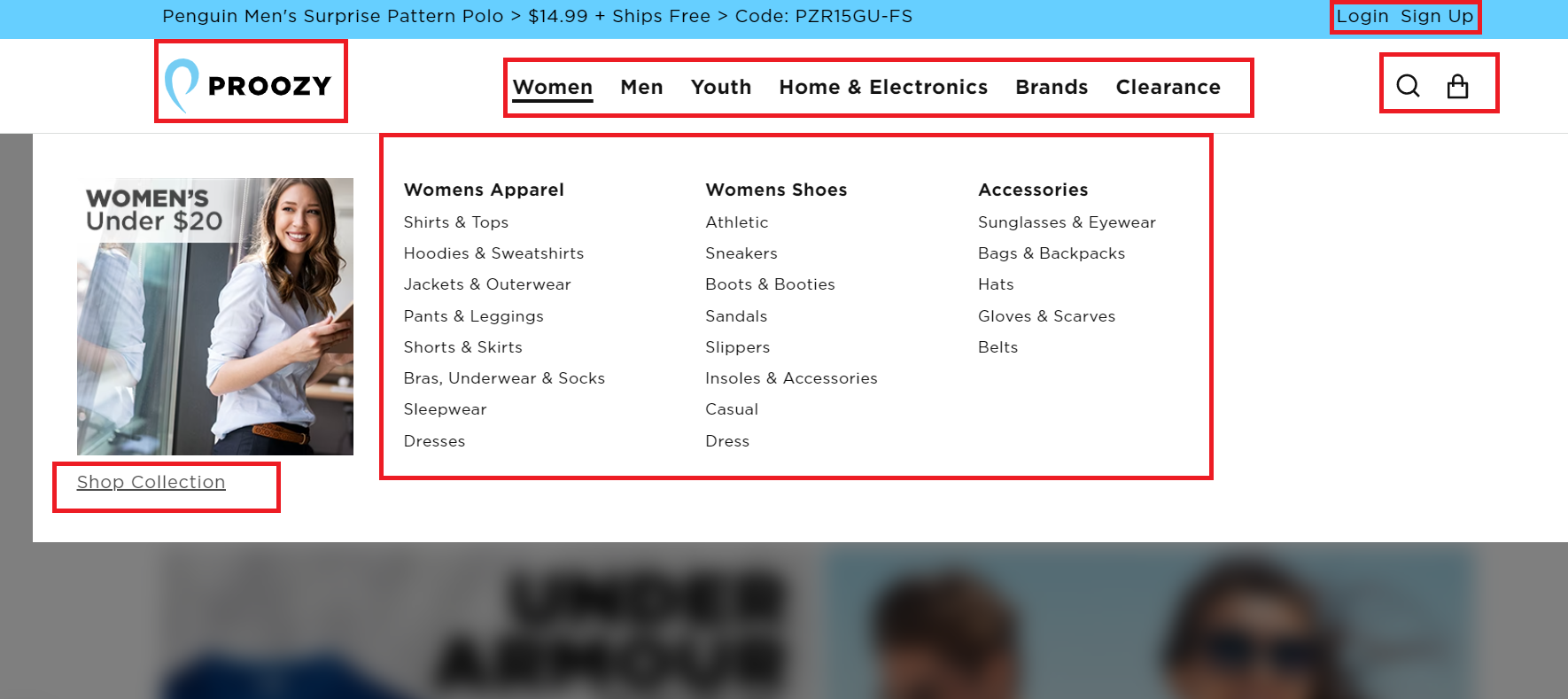 What's more, they have a lot of information on their home page, and still, they manage to sort it out, and make it look clean and simple. And, that's why you should use a grid layout.
Furthermore, the product page elements got our attention. Of course, they do have all the necessary content here, like images, call-to-action buttons, size charts, etc.
But, what adds value to navigation and customer satisfaction is that there's a breadcrumbs section, showing customers where they are, and how to go back. Also, they include customer reviews about each product.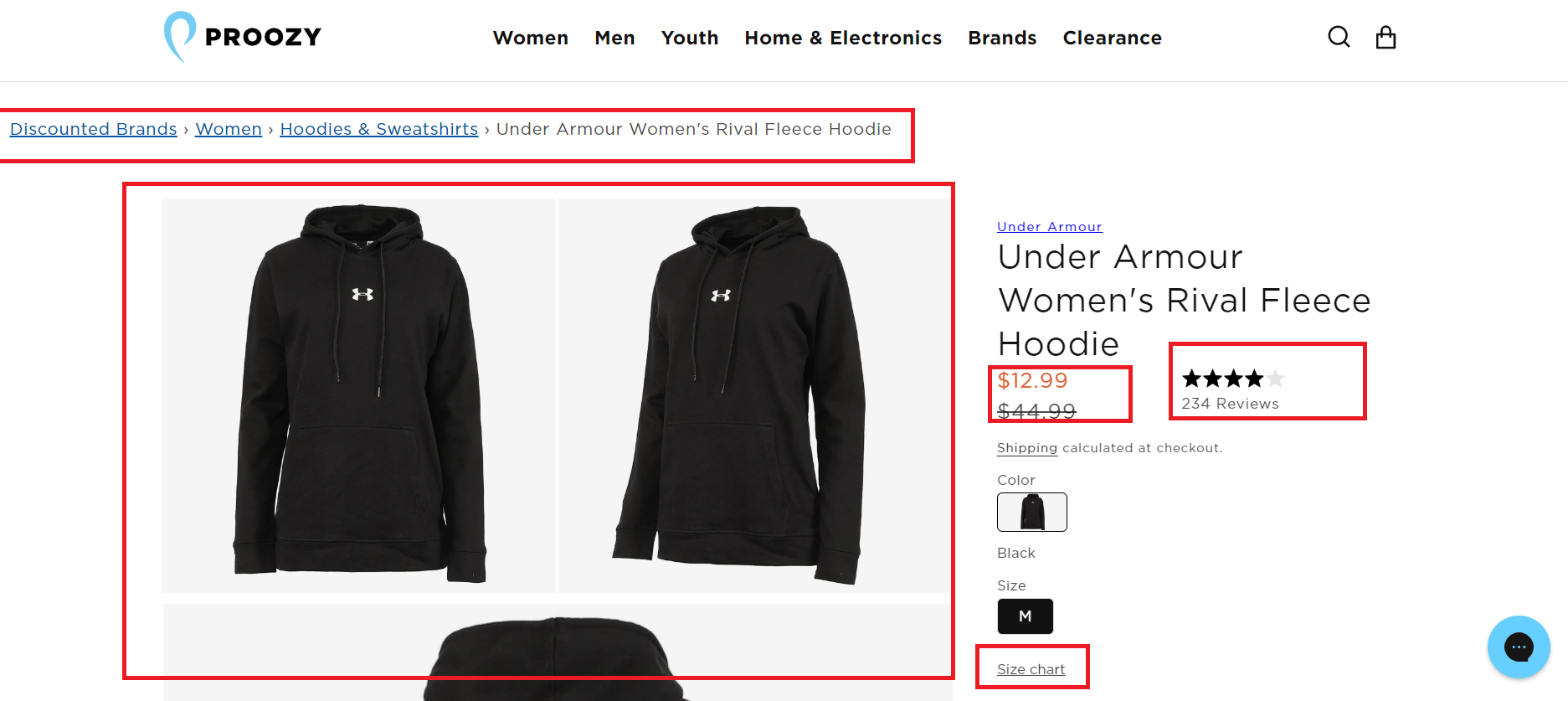 Marketing Tactics
Furthermore, as a marketing tactic, they also use promotions and discounts Thus, the first thing you will see once you enter their store is a popup that requires you to sign up in order to get 15% OFF.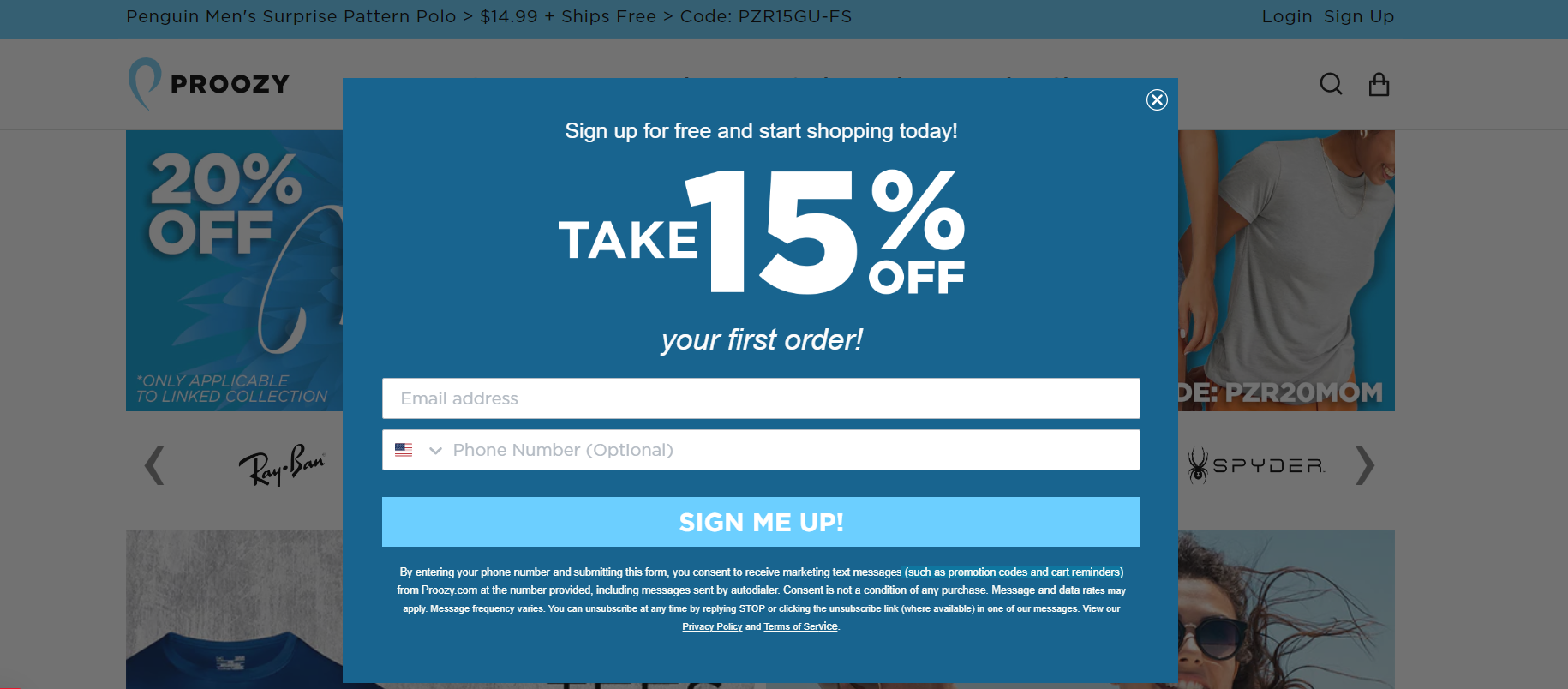 Plus, they use social media advertising as well. So, on their website, you can find their Facebook and Instagram profile links.
Lifetime deal: Get all-access to everything on Dropshipping.com
Access all DSCOM features, resources, courses, live workshops, discounts, winning products, weekly deep dives, directories and all future updates under all-in-one dropshipping HUB.
DROPSHIPPING IS A REAL BUSINESS, DON'T DO IT ALONE. 4553 MEMBERS ALREADY JOINED. YOU CAN PAY OFF YOUR SMALL INVESTMENT WITH JUST 2 SALES ON YOUR STORE.
Grab the deal before it's gone
3 Great Apps for Shopify Store Owners
Thankfully, Shopify has a huge base of dropshipping apps and tools that can help you run your business with ease.
However, here we will list only a few. Also, check out our list of the 39 Must-have Shopify Tools for Your Dropshipping Store In 2023.
Klaviyo – Best Shopify Clothing Stores App For Email Marketing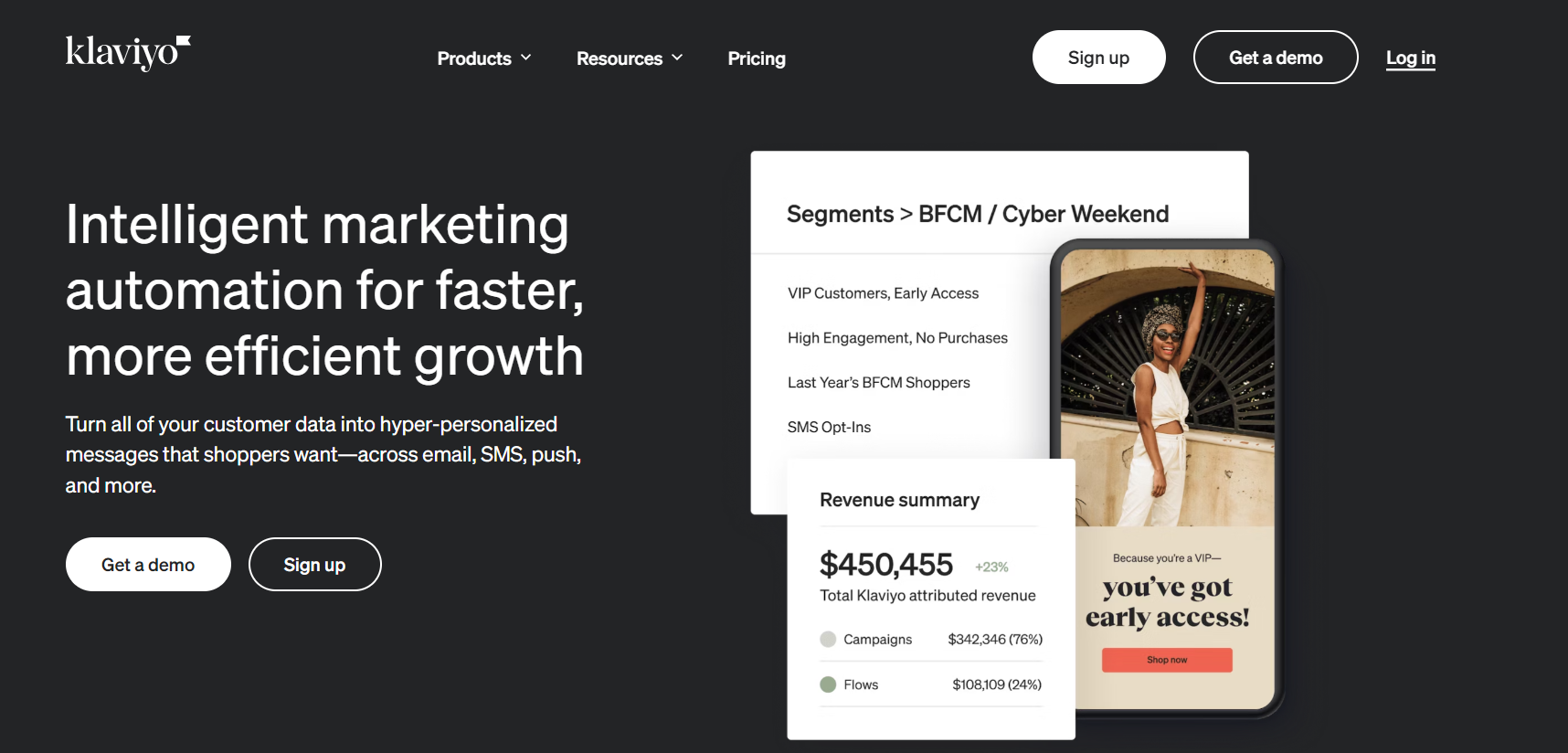 Leveraging the power of Klaviyo, email marketing, and SMS software, you can benefit the way you manage client and visitor communication.
Thus, using their email and SMS templates, you can deliver personalized notifications such as price drop alerts, cart reminders, timely suggestions, etc.
Empowering you with complete control over customer data and interactions, Klaviyo enables you to dissect the psychology behind clicks, bounces, and purchases, transforming one-time transactions into profitable, long-lasting relationships.
This remarkable Shopify dropshipping app features include:
Two-way messaging
A/B Testing
Robust analytics and ROI tracking
Auto-responders
Captivating landing pages and web forms
Image library for visually stunning campaigns
Seamless campaign management
Comprehensive contact database
User-friendly WYSIWYG editor
Strategic drip campaigns
Customizable CTAs to drive conversions
Dynamic content to captivate your audience
Compliance with CAN-SPAM regulations
Streamlined list management
Effective subscriber management
When it comes to pricing, Klaviyo offers flexibility based on your contact volume. For instance, if you have up to 250 contacts, you can benefit from their free plan.
On the other hand, if your contact number is above 251, Klaviyo offers three other pricing plans starting at $20/month.
💡 Tip: Check out our Klaviyo Pricing Guide & Alternatives for Dropshipping Businesses.
Zendrop – Best Shopify Clothing Stores App For Finding Suppliers & Products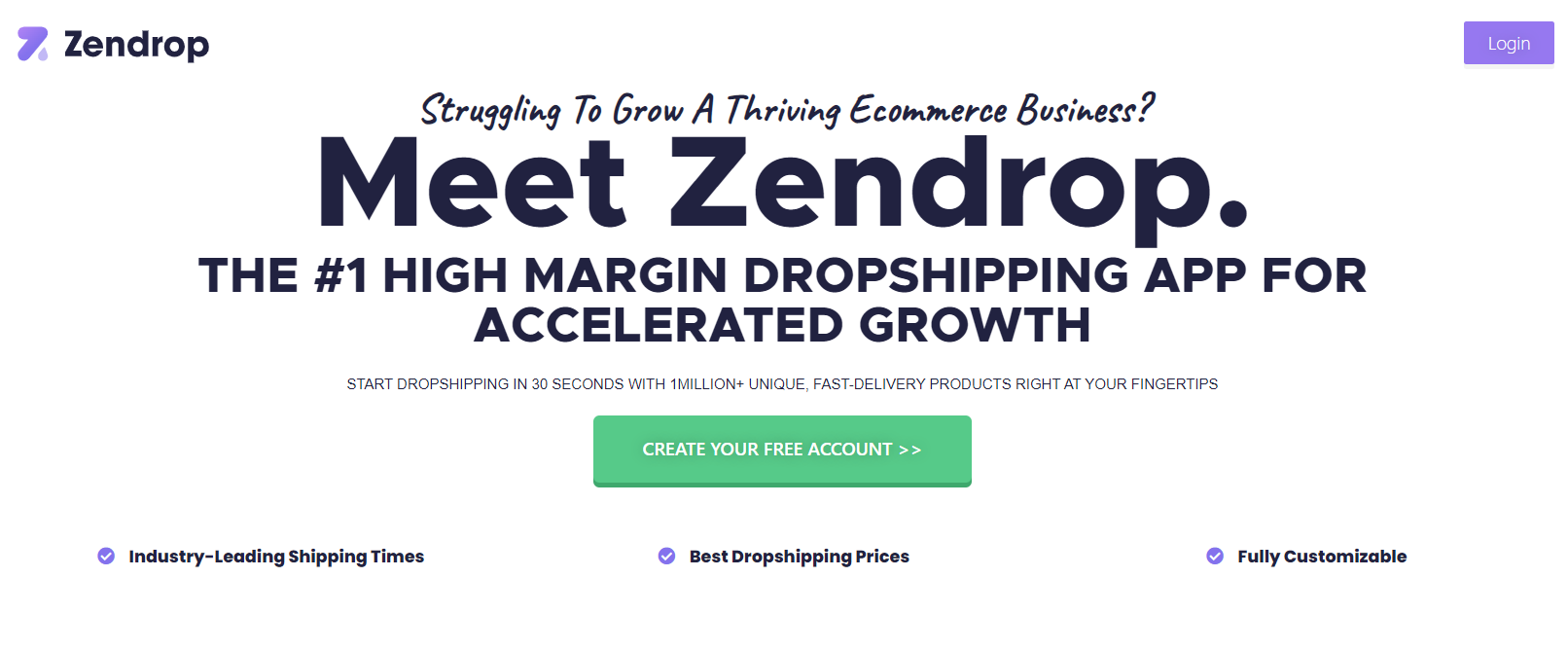 Zendrop is a dropshipping platform created by experienced dropshippers. It offers a convenient marketplace for business owners to discover affordable products to enhance their stores and sell at a profitable margin.
With Zendrop, the burden of product packing and delivery is lifted as your dropshipping suppliers take care of these aspects on your behalf.
This Shopify tool presents a range of valuable features:
Thank You Cards
Auto Fulfillment
Tracking
Product Sourcing
Custom Packaging & Private Labeling
Zendrop offers three pricing plans: a free plan, along with two monthly subscription options priced at $49 and $79, respectively.
👉 Check out our FULL Zendrop Review: Zendrop Shopify Pricing, Features, Pros & Cons, Shipping Times.
ShipMonk – Best Shopify Clothing Stores App For Fulfillment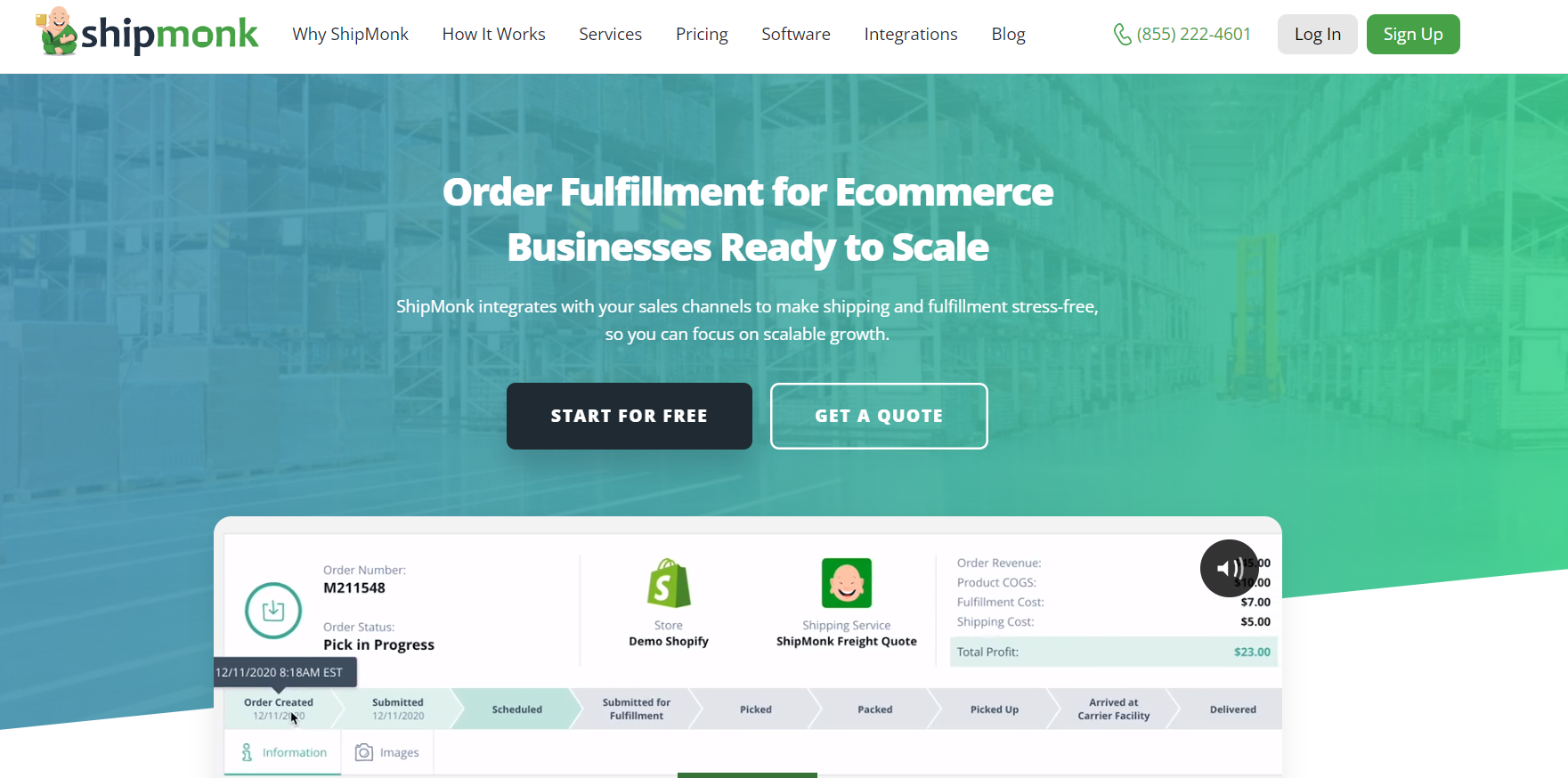 ShipMonk simplifies the process of selling products online by handling the selection, packaging, and shipping of goods worldwide.
Thus, this versatile Shopify tool seamlessly integrates with numerous shopping carts, management tools, merchants, and platforms, ensuring a streamlined experience.
Key Features of ShipMonk include:
Comprehensive Analytics and Reports
Order Fulfillment AutomationBranding Services
Inventory Management
Subscription Box Fulfillment
Exceptional Customer Service
Reliable Order Tracking
To determine the pricing, ShipMonk provides a user-friendly price calculator that estimates fees and total costs.
👉 Check out the 18 Best Shopify Dropshipping Apps [Review & Comparison].
Join the only community and resource hub you'll ever need to succeed with dropshipping
Find winning dropshipping products, learn marketing, download templates and engage with real dropshippers
Never pay for a "guru's" course again. See why 4543+ dropshippers joined us this year!
💡Try DSCOM Hub Now
Best Shopify Clothing Stores Examples: Conclusion
In this article, we've explored the best examples of Shopify clothing stores for dropshippers in 2023.
These stores not only serve as inspiration but also provide valuable insights into effective content, navigation, design, and high-converting elements.
Plus, for dropshippers who want to succeed with their Shopify Clothing stores, we gave some extra information about the 3 Great Shopify apps.