Are you on the lookout for the best ways to find winning dropshipping products? Then, you are in the right place because today we will analyze one powerful product research tool in our Niche Scraper review.
You probably do not need to be told which tool we will analyze today as you already know that we are talking about Niche Scraper.
So, let's get started.
Niche Scraper review: General overview
When you are starting out as a dropshipper, finding the right products to sell is critical to your long-term success.
So, we want you to know one thing about this. Many dropshipping businesses enjoy longevity as their owners do product research from the very start.
They do so to understand what their audience wants, what they can offer to meet their demands, and what their competitive landscape looks like.
Having a greater understanding of what people actually want to buy and being able to scan and identify the best products to sell in your niche will allow you to develop a solid dropshipping business plan, establish a dropshipping business that stands out from your competitors, and sell the best dropshipping products.
Niche Scraper is one of the best dropshipping product research tools for this purpose. So, why not find out if it can be a goldmine for your dropshipping business?
Thanks to our in-depth Niche Scraper review, you can weigh up whether or not it is worth using this tool to uncover interesting, profitable dropshipping products.
To begin with, Niche Scraper is a great product hunt tool that can assist you in researching the best products to offer on your dropshipping site, whether it is hosted on WooCommerce, Shopify, etc.
It scans best-selling products across AliExpress and Shopify stores, to be precise. And there is a one-click integration option for Shopify users.
However, as already mentioned, even if you do not have a Shopify store, you can import any product found on Niche Scraper into your store, regardless of which e-commerce platform you use.
With this tool, you can also find potential products for your online store, no matter what dropshipping niche you are in.
Discover top dropshipping suppliers of original US/EU products
You're 2 minutes away from building your ecommerce empire
No credit card required. No commitment.
Get started for free
Niche Scraper review: How does Niche Scraper work?
Now that you know what kind of product research tool Niche Scraper is, it is time to learn more about how it works. So, how does Niche Scraper work?
Well, the tool uses high-functioning search engines to scour the internet for winning products. And it provides you with reports and insights to help you discover trends.
To put it another way, Niche Scraper utilizes advanced product web crawling technology, so it extracts data from e-commerce sites and analyzes trends to reveal true winning products.
Also, the tool boasts a "hand-picked" section, which includes products that are selected manually by experts on a daily basis.
This means that the tool will provide you with a high level of research insights, thus making the process of finding winning dropshipping products a breeze.
Niche Scraper review: Niche Scraper features and what's included
The main features of this product hunt tool are divided into four categories.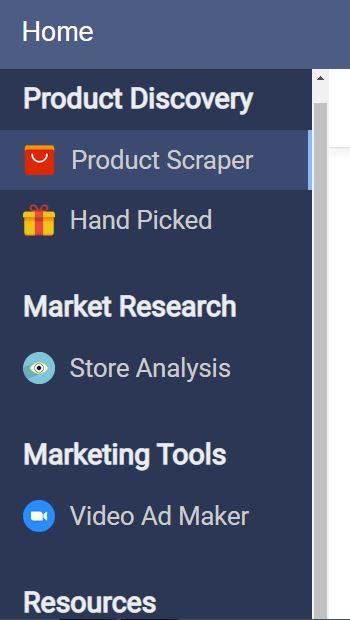 In our Niche Scraper review, we will explain each feature in a bit more detail, so that you can decide whether this tool is suitable for you.
1. Product discovery
As mentioned previously, Niche Scraper was originally designed to help its users find winning products for their online stores.
And "Product Scraper" and "Hand Picked" are the two features of Niche Scraper that fall under the product discovery category.
• Product Scraper
The Product Scraper is the main feature of this tool because it uses the above-mentioned advanced product web crawling technology.
Thus, this is a time-saving "tool" that allows you to scan and access trending products in your dropshipping niche across AliExpress and Shopify stores.
Long story short, when using the Product Scraper, you have two options. The first one is to find AliExpress products, whereas the second one is to find Shopify products.
AliExpress products
This option enables you to find dropshipping products from AliExpress.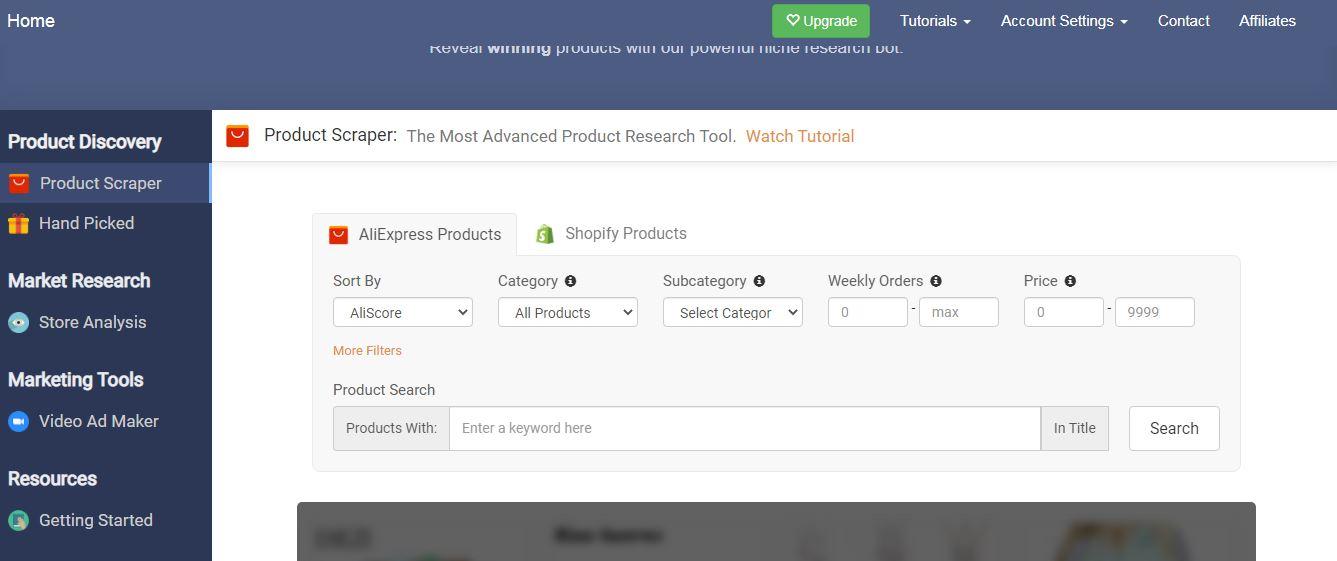 Although there are so many products available on AliExpress, you can still find a profitable item from AliExpress to sell through your dropshipping store. But how is that possible?
The good news is that with the Product Scraper, you have several options available to sort through AliExpress products. You can sort the items by:
Category; (You can search for products across 20+ different AliExpress categories. This is perfect in case you want to start a dropshipping business and specialize in one niche.)
Subcategory;(Not only can you sort by category, but you can also sort by subcategory. For example, if your chosen category is women's clothing, the list of subcategories will include things like dresses, blouses & shirts, and so on.)
Weekly orders; (You can use this filter if you are interested in searching for products with a certain amount of orders.)
Price;(You can fill in a maximum and minimum price of the item. Perhaps you do not want to see items above $15?)
Just take a look at the picture below.

However, you also have more filter options to choose from, including:
Competition score;
Growth rate;
AliScore;
Top country;
Has video;
Ships from US.

Shopify products
This option is similar to the first one. But as its name suggests, it enables you to find products from Shopify stores.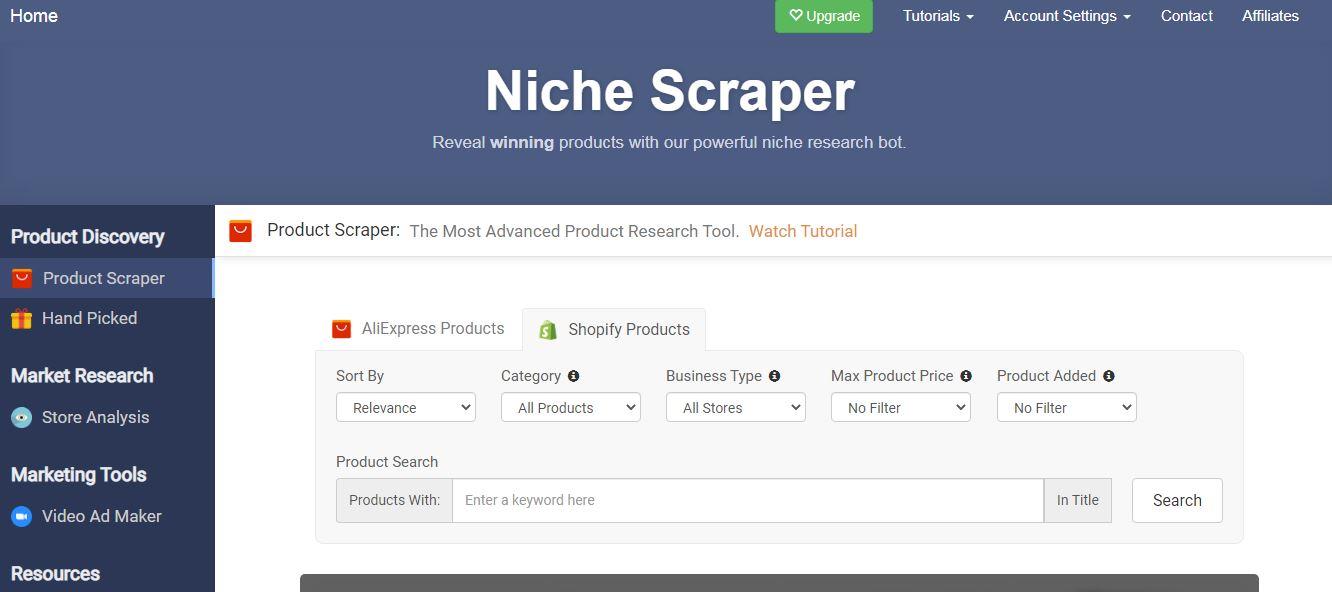 And unlike the first option, you do not have so many filter options here. The filter options available here include:
Relevance or Store Popularity;
Category;
Business type;
Max product price;
Product added.

However, you can sort by "Verified Dropshipping", which is not the case with the previous option.
If you sort by "Verified Dropshipping", you will only get access to items from Shopify dropshipping stores rather than all Shopify stores. This filter option will simplify your product research process because not all Shopify stores do dropshipping.
• Hand Picked
In this Niche Scraper review, we will also cover the "Hand Picked" feature of the tool. Basically, Niche Scraper's team manually picks and lists new winning products every day.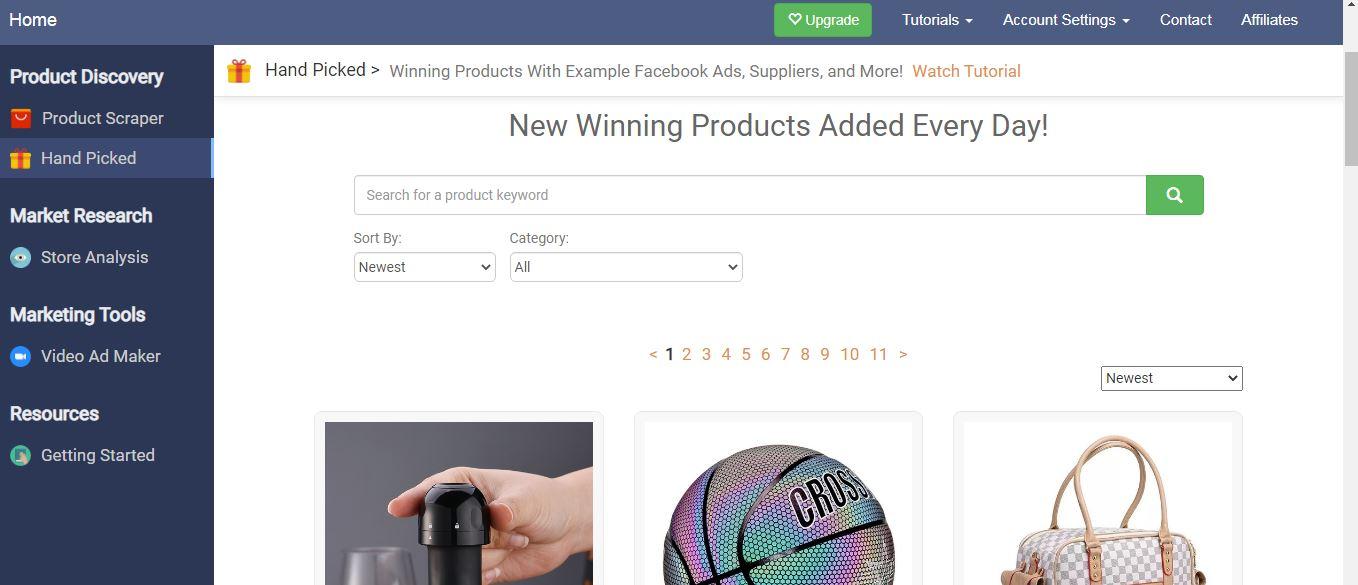 Moreover, the team also adds a lot of information about every single product. Let us give a handpicked product example to show you what we mean.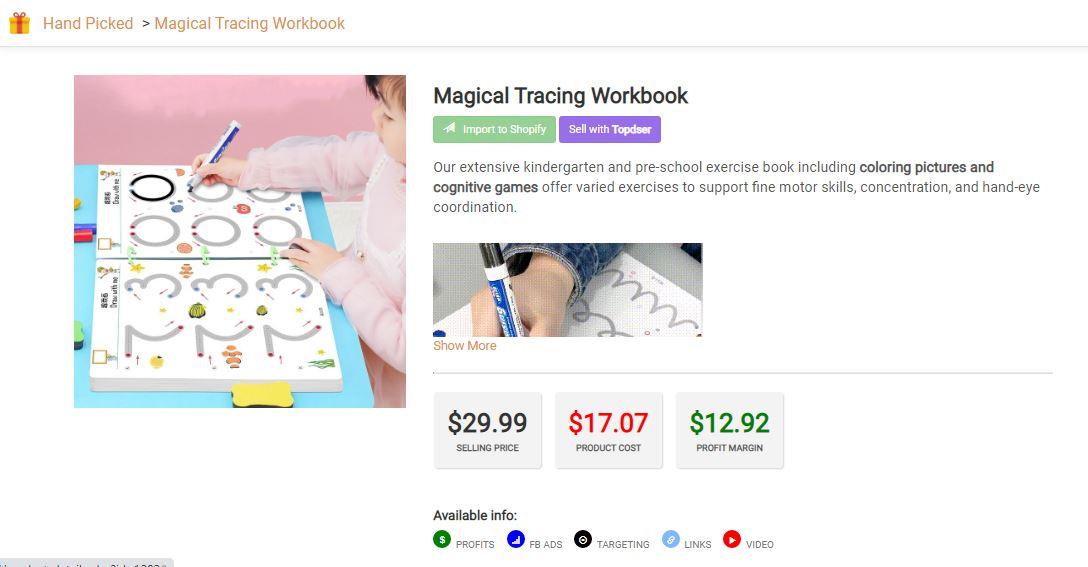 You can click on a handpicked product and get access to its description, selling price, product cost, and profit margin. Sure, you can also get all the details, which can help you get more valuable insights about the item, including:
Product videos;
Recent sales trends;
Targeting; (FB ad targeting suggestions.)
Links; (Links to Facebook Ads, Shopify stores, and AliExpress suppliers.)
Buyer reviews from AliExpress; (An indicator of whether or not buyers are satisfied with their purchases.)
This is super useful if you are just starting out.
But many other users will see these handpicked products, as well. And some of them will probably add them to their stores.
Therefore, do not reuse the descriptions and names of these products. Instead, write unique product descriptions and develop a solid dropshipping marketing strategy.
2. Market research
Analyzing store data rather than relying on guesswork empowers you to make smarter decisions toward profitable products to sell.
What we are now trying to say in this Niche Scraper review is that by using Niche Scraper, you can analyze competitor stores and make smarter decisions regarding what to sell on your dropshipping store.
• Store Analysis
Thanks to Niche Scraper's Store Analysis, you can find thousands of top Shopify stores and see their best-selling products.
To do that, you need to type a certain niche or keyword in the search bar. Plus, you can sort by "Verified Dropshipping", "Relevance", and "Popularity".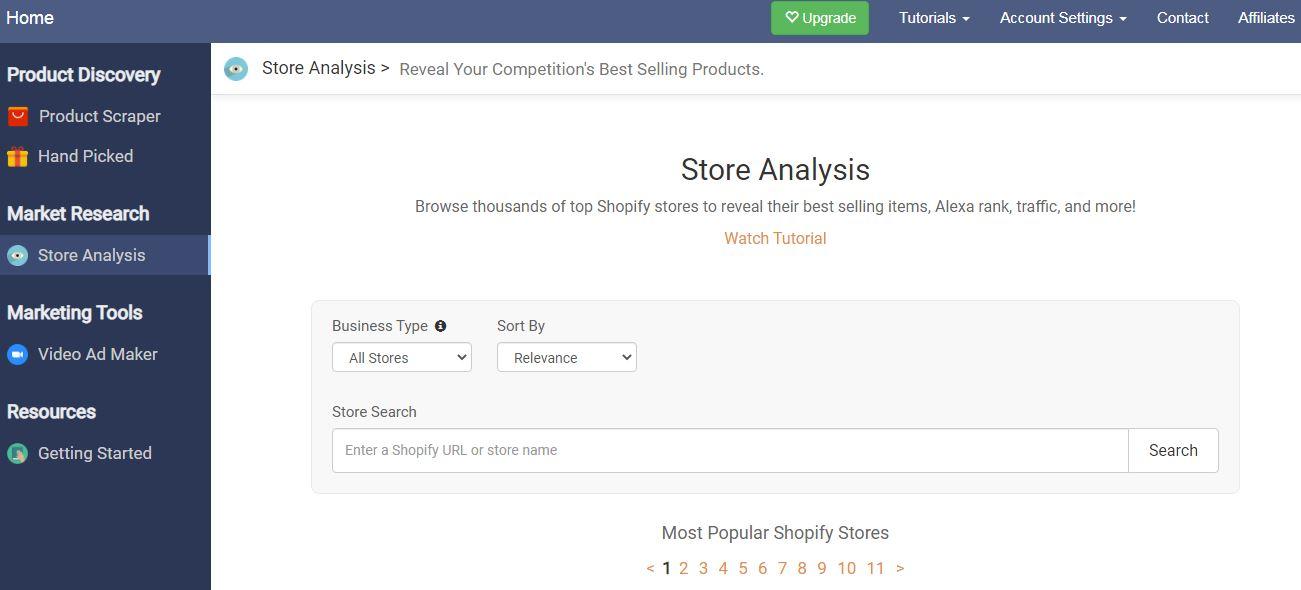 For example, if you type the keyword "cat" in the search bar and select the filters "Verified Dropshipping" and "Popularity", the most popular Shopify dropshipping stores selling cat products will appear.
What's more, when you click on a store, you will see its best-selling and latest products added, estimated monthly revenue & traffic, etc.
3. Marketing tools
Niche Scraper also boasts a marketing tool that can help you improve your video advertising campaign, build customer engagement, and boost sales. Now, we will tell you what it is about.
• Video Ad Maker
The next feature we will include in our Niche Scraper review is the Facebook Video Ad Generator. As its name implies, it is a tool for creating Facebook video ads.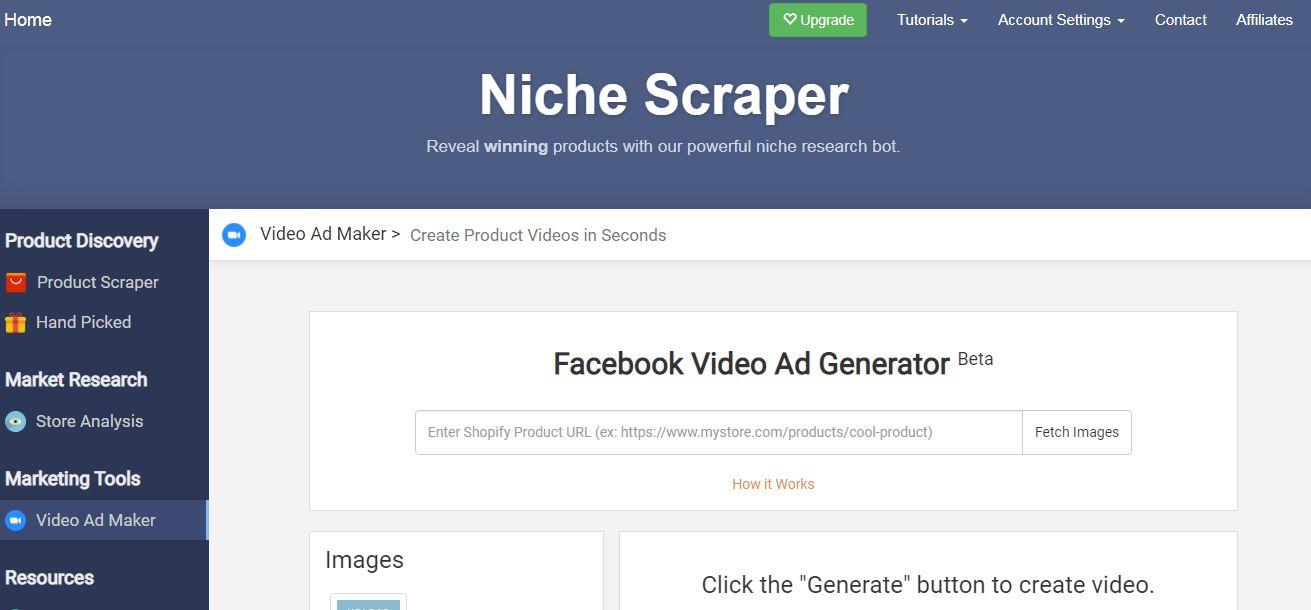 With it, creating a Facebook video ad is a simple and quick process. That's to say, with it, you can create a unique Facebook video ad using product images, text, and music within seconds.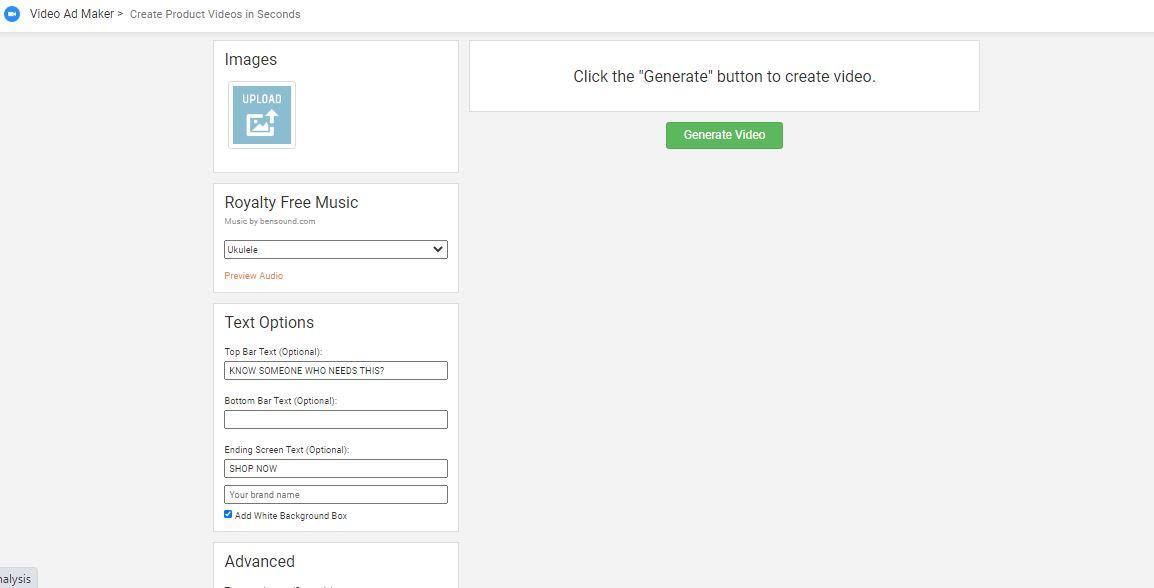 This is a very useful feature for dropshipping beginners who are not skillful marketers and do not have any experience with creating video ads.
4. Resources
In this Niche Scraper review, we must also point out that Niche Scraper has a section called "Getting Started" dedicated to tutorials and instructional videos.
• Getting Started
The Getting Started section includes free tutorials, with very clear instructions for how to use the tool. So, if you get stuck, you can watch the videos that will walk you through the various features of Niche Scraper.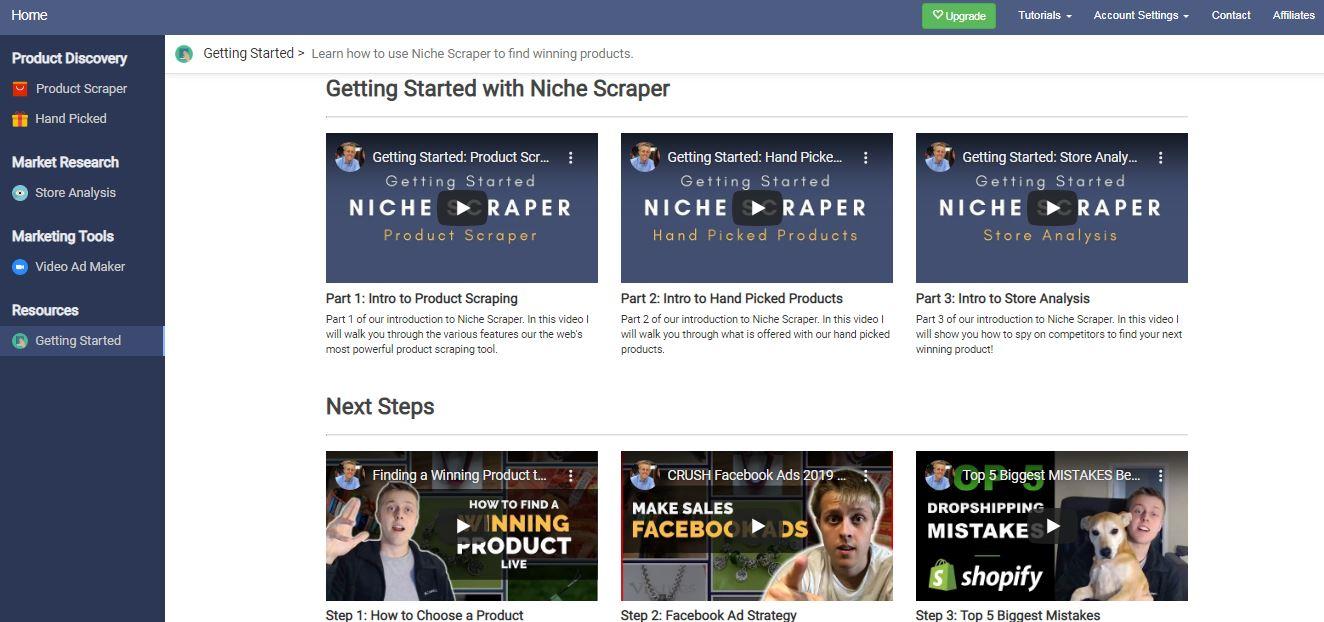 Aside from offering instructional videos about Niche Scraper, the tool's "Getting Started" page also includes other how-to videos that will show you how to choose a winning product using Niche Scraper within a few minutes, how to develop your Facebook Ad strategy, etc.
Niche Scraper pricing plans
Niche Scraper offers two pricing plans, such as:
• Free: $0/month
In this Niche Scraper review, we must highlight that the tool offers a free trial.
To get access to a few free searches in each category and test the tool to see whether it is suitable for you, you need to create a free account.
You can use your free account for as long as you want without providing your credit card details. But the problem is that your free account will have certain limitations. Take a look at the picture below.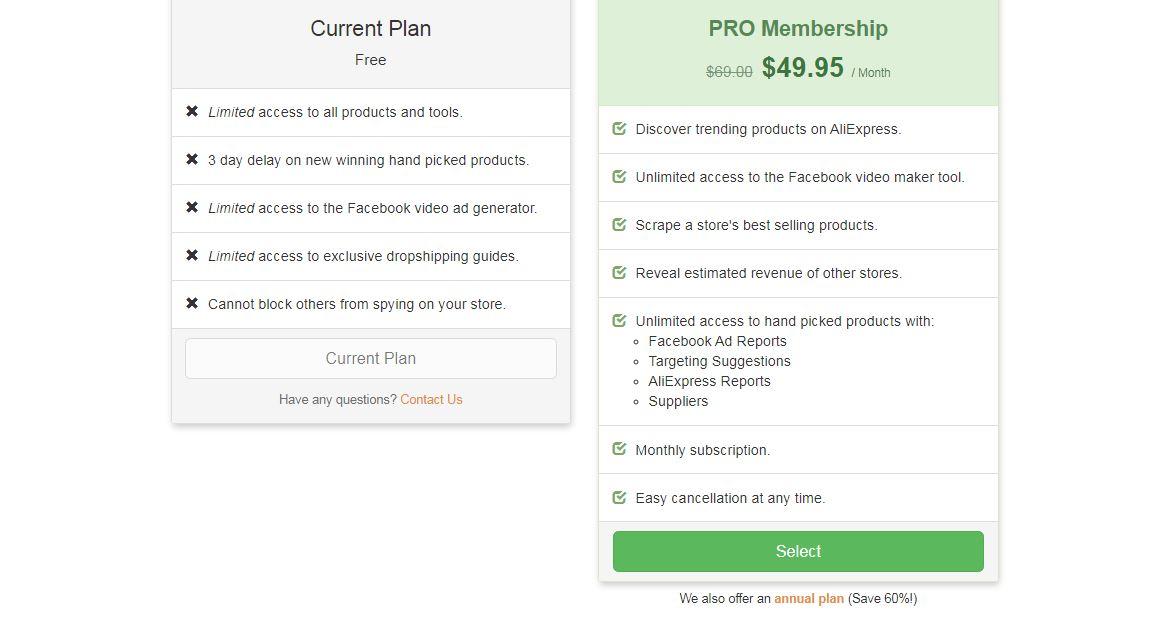 • PRO: $49.95/month
But to get unlimited access to all Niche Scraper's features, you need to upgrade to the PRO plan and pay a sum of $49.95 every month.
However, if you select the annual billing option, you will get up to 60% off.
Niche Scraper pros and cons
Successful dropshipping store owners know how to use their time efficiently. They do not take on all of the work themselves.
Thus, they see the value in using product research tools. And many do use Niche Scraper.
But if you are still in some doubt about whether to use this tool or not, weigh the pros and cons and then make a decision.
Pros:
The tool lets you scan trending products across AliExpress and Shopify stores.
It is quite simple and easy to use. Plus, the free tutorials on the site are useful for beginners.
There is a one-click integration option for those who use Shopify.
The Video Ad Maker is an awesome tool, particularly if you are new to video advertising.
Cons:
The Free plan gives you a limited number of scrapes. And with it, you cannot test Niche Scraper's premium features.
Niche Scraper alternatives
Niche Scraper is undeniably a great tool for finding winning dropshipping products. But despite all its advantages, you might be looking for a product hunt tool beyond Niche Scraper. And that's totally okay!
So, in this Niche Scraper review, we would like to list the top three Niche Scraper alternatives to help you make a better choice.
Namely, a tool called Sell The Trend is a strong alternative to Niche Scraper.
It provides one of the most comprehensive dropshipping solutions on the market, combining a huge database of winning products, dropshipping software or dropship automation software, and a set of marketing tools.
Here's our in-depth Sell The Trend Review.
Another good Niche Scraper alternative is Ecomhunt. The most interesting thing about Ecomhunt, however, is that it has a large database of best-selling products handpicked by experts.
And the last alternative option for finding dropshipping products in our Niche Scraper review is AliShark. This is a "spy tool" for analyzing products on AliExpress. If you want to learn more about this tool, you can read our in-depth AliShark review.
Find winning dropshipping products & spy on your competitors
Minea analyses all online advertising to help you find the best products to launch, and the best creatives in your niche in just a few clicks.
Use coupon: DROPSHIPPING30 and get a 30% discount
💡Try Minea For Free
Final thoughts
To sum up, we examined everything this product hunt tool has to offer. So, now, the most important question you need to ask yourself is the following one: "Is Niche Scraper really the right tool for me?"
We hope that you do not have a hard time answering that question and that you find our Niche Scraper review article compelling and useful.