Do you have a dropshipping store and looking for ways to increase your SEO ranking with all the competition out there?
Increasing your SEO ranking is definitely not easy but that is not something you should worry about.
With the right techniques and research, our mini SEO for dropshipping stores Guide can help you to build your legacy easier than you think. 
Before we dive into some tips on how to improve the SEO for dropshipping stores, let's first check what SEO is and how important it is for your dropshipping store.
What is SEO for Dropshipping Stores?
SEO or search engine optimization can also be classified as the Search Engine Ranking of your site on Google. Your SEO is well-optimized when you manage to hit the first page of Google. Especially being on one of the top 5 websites on the first page.
Most users that search for something on Google will not look beyond the top 3rd link. This is all because either the first or second link will have the answer they need. That is why it is very important to have a well-optimized SEO for your dropshipping store.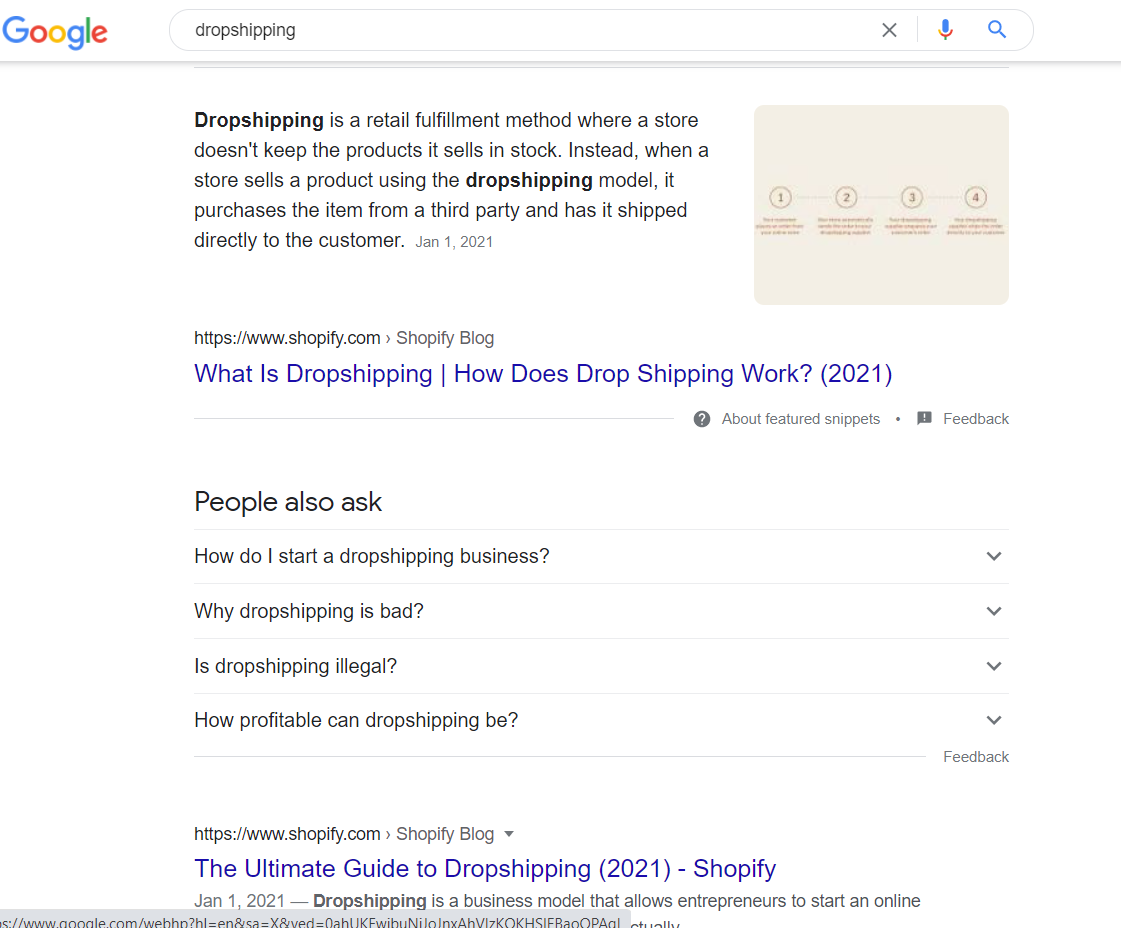 As you can see in the photo, the keyword "dropshipping" will show you the links that are most searched on the web. The first two links come from Shopify, meaning that when most people search for dropshipping, they will tend to search Shopify's content the most.
Discover top dropshipping suppliers of original US/EU products
You're 2 minutes away from building your ecommerce empire
No credit card required. No commitment.
Get started for free
Keywords
There can't be a good SEO ranking without good keywords. Keywords are one of the main reasons SEO ranking increases, especially for dropshipping SEO.
You can use all kinds of keywords that are related to your content. Getting ranked is the hardest when you just start your own website since the competition is much higher and your online presence is low.
How can you avoid this?
The best thing to do is to search for low competitive keywords. You can do this just by using SEMrush. It does have a paid premium plan but has LOTS of keywords you can use.
The best thing about SEMrush is that it will also show you how competitive the keyword is, and in which country the keyword is competitive. Some keywords may be competitive in one country and not very competitive in another one.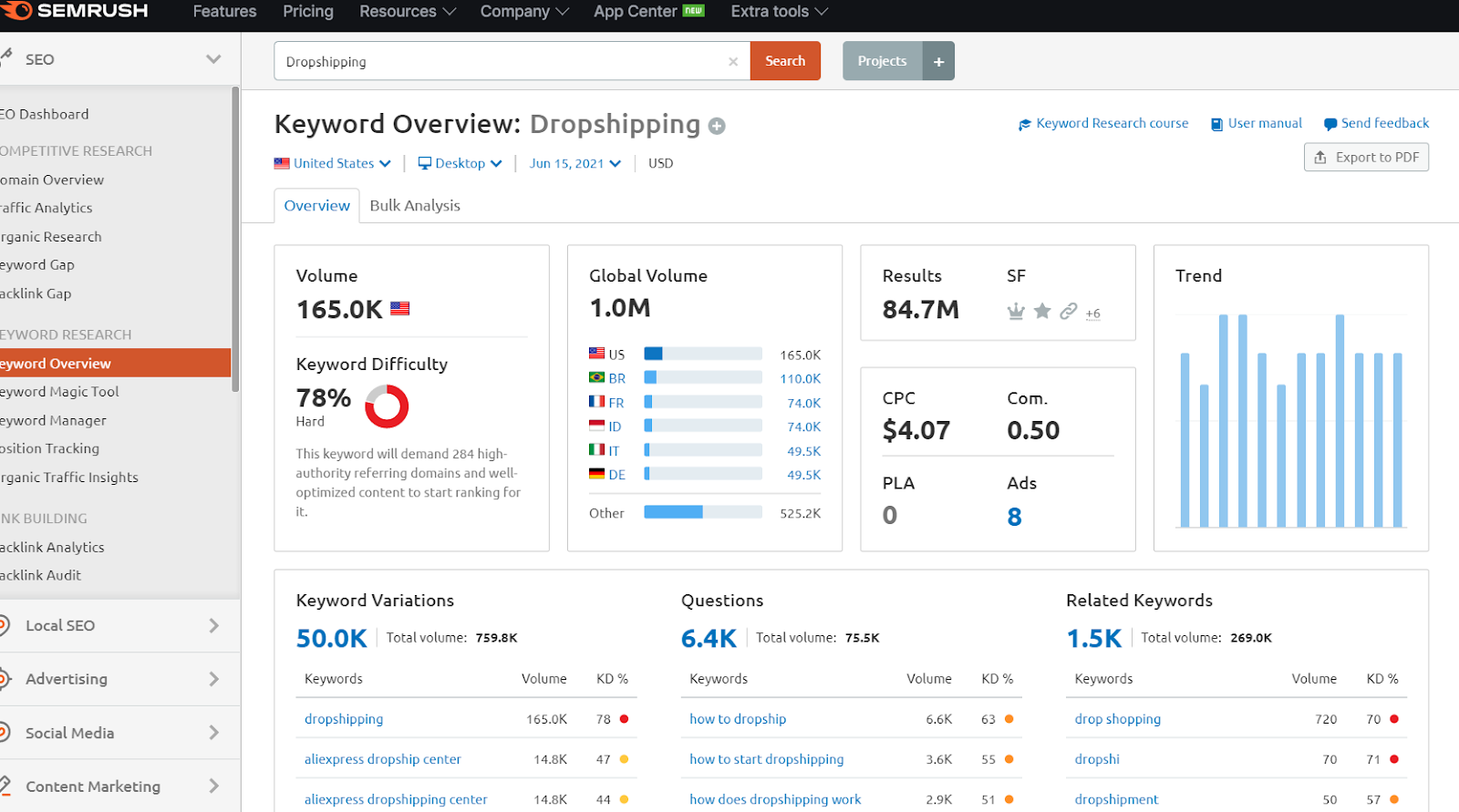 In the photo above, we are using the keyword "dropshipping", and in the USA, the overall keyword difficulty seems to be very competitive at 78%. Below, you have some suggestions from SEMrush.
These are some keyword variations that are less competitive or even related keywords and questions you can use as keywords.
Other than SEMrush, a good alternative is also Google keyword planner. Below, you will find another photo of the keyword "Dropshipping".
Keyword planner also gives you alternatives to see how competitive the keyword you are looking for in the country you are trying to increase your SEO ranking.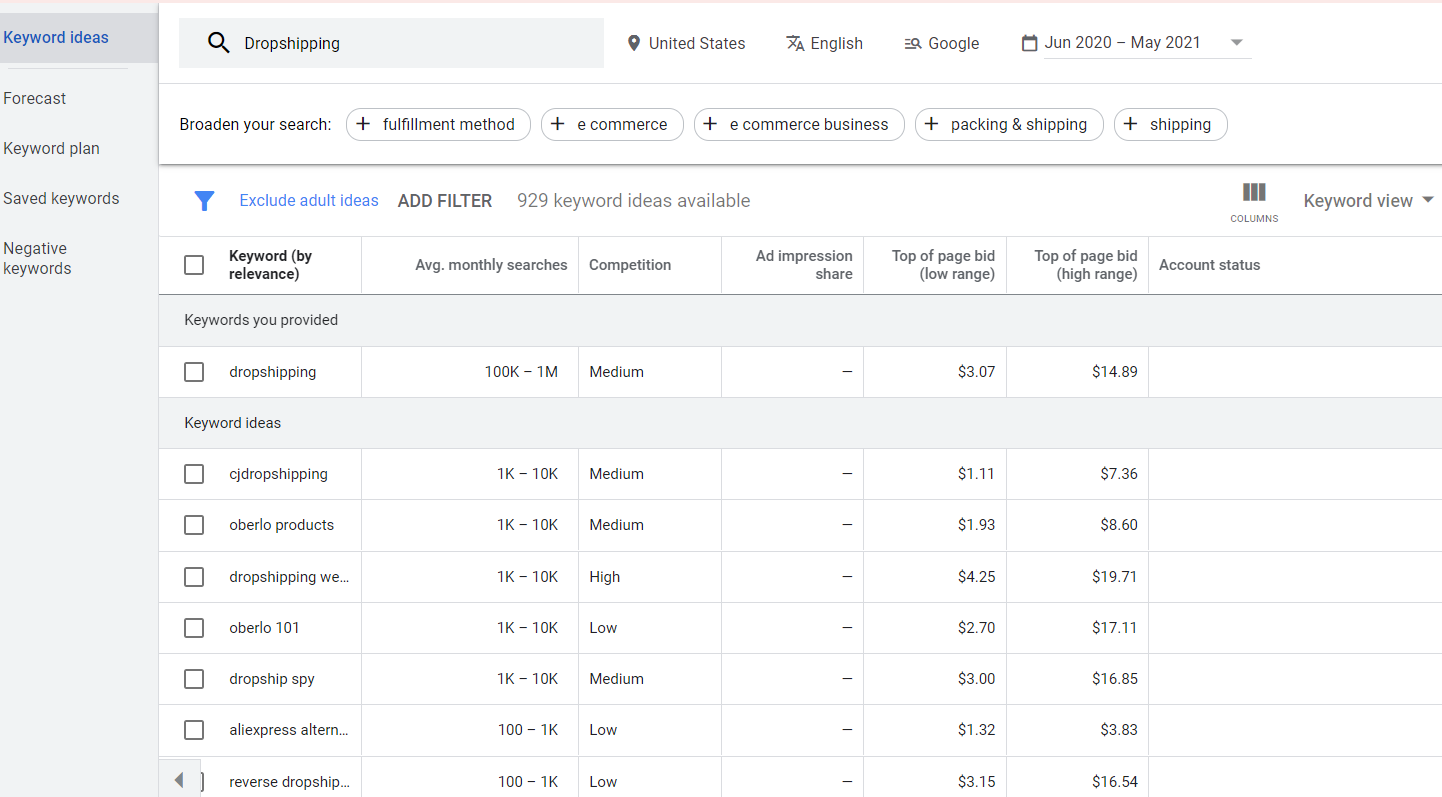 Whether you use Google Keyword Planner or SEMrush, they will both give you great suggestions based on the area you are targeting.
If you are trying to open a dropshipping store in Europe, then the keyword competitiveness will differ.
Meta Descriptions
Highly underestimated, meta descriptions are one of the core reasons someone will click on your link before visiting your dropshipping website. It is the description you see just underneath the headline.
Meta descriptions shouldn't be very long because most people won't want to read them. Try to keep them shorter than 180 characters.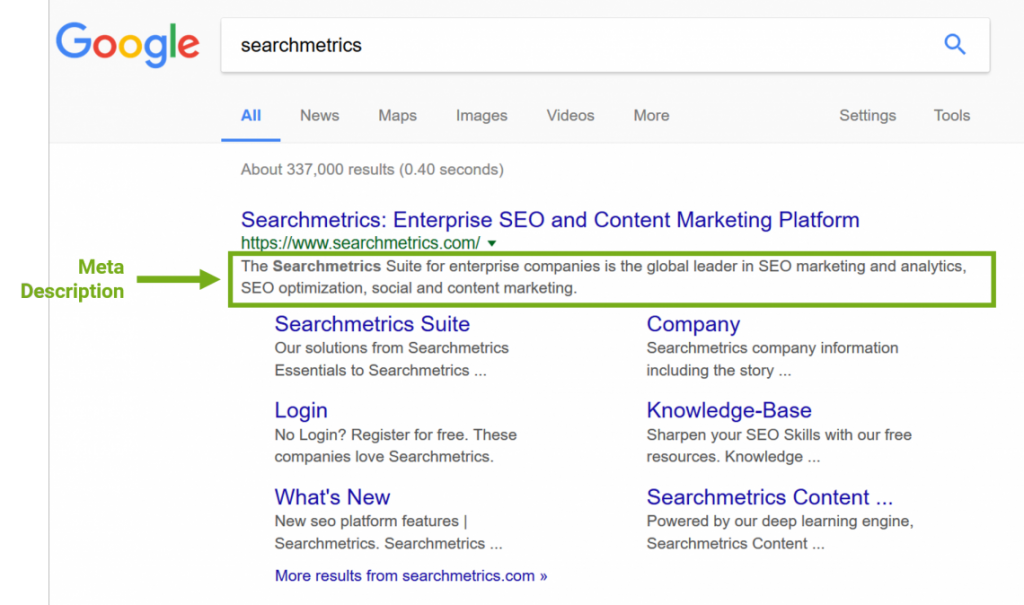 People don't like to read long descriptions because it just looks complex. Since you are dealing with dropshipping, you want to make sure you include something unique in your description that will make someone want to click. This may be a special price, a special item, etc.
Internal and external links
The definition of internal links is to use a link from your own website from a piece of content that links to another content (article). Internal links are one of the best things to have on a dropshipping website, especially when you have a lot of content.
Dropshipping stores that just start out may have a harder time achieving this because they lack content. That is why you should write as much content as you can when you start a dropshipping store.
When you have lots of traffic moving on your website, you are exchanging views from one article to the other. The best thing about internal linking is that you don't need any permission to use the link because it belongs to you.
External links are links that you use from other websites. They are also called hyperlinks. Some websites don't allow you to use links from their website, since many sites before using them as a way of "cheating" to increase SEO rankings.
External links are good to use from sites that allow permission, such as Wikipedia. You can use them also from sites or partners you are collaborating with.
This can be a very good way to increase your Dropshipping SEO. SEO plugins like YOAST and others will let you know if you can or can't use a certain external link!
Headlines
If you have a bad headline, almost no one will click on your dropshipping link.
Headlines are something many content producers will spend half an hour to over an hour thinking about. It is the main reason someone will click on your article or your website. If you have a bad headline, then your article won't be read!
To get someone to read your content, your headline needs to be catchy. You have to give the main idea before someone clicks on it. The more clicks you will get on your dropshipping website, the more your SEO will rank higher.
Some great examples of good headlines about dropshipping (in general) are:
Best dropshipping products

5 great dropshipping ideas

How to increase your dropshipping sales

50 dropshipping ecommerce ideas

How to build a successful dropshipping website etc.
These were just some examples, of course, it all depends on what you are targeting for your dropshipping website. But one thing they all have in common is actually the purpose of structuring SEO headlines – including the main keyword.
Are you talking about products, sales, SEO, ideas, or something else? Let your headline always be strongly connected to the content.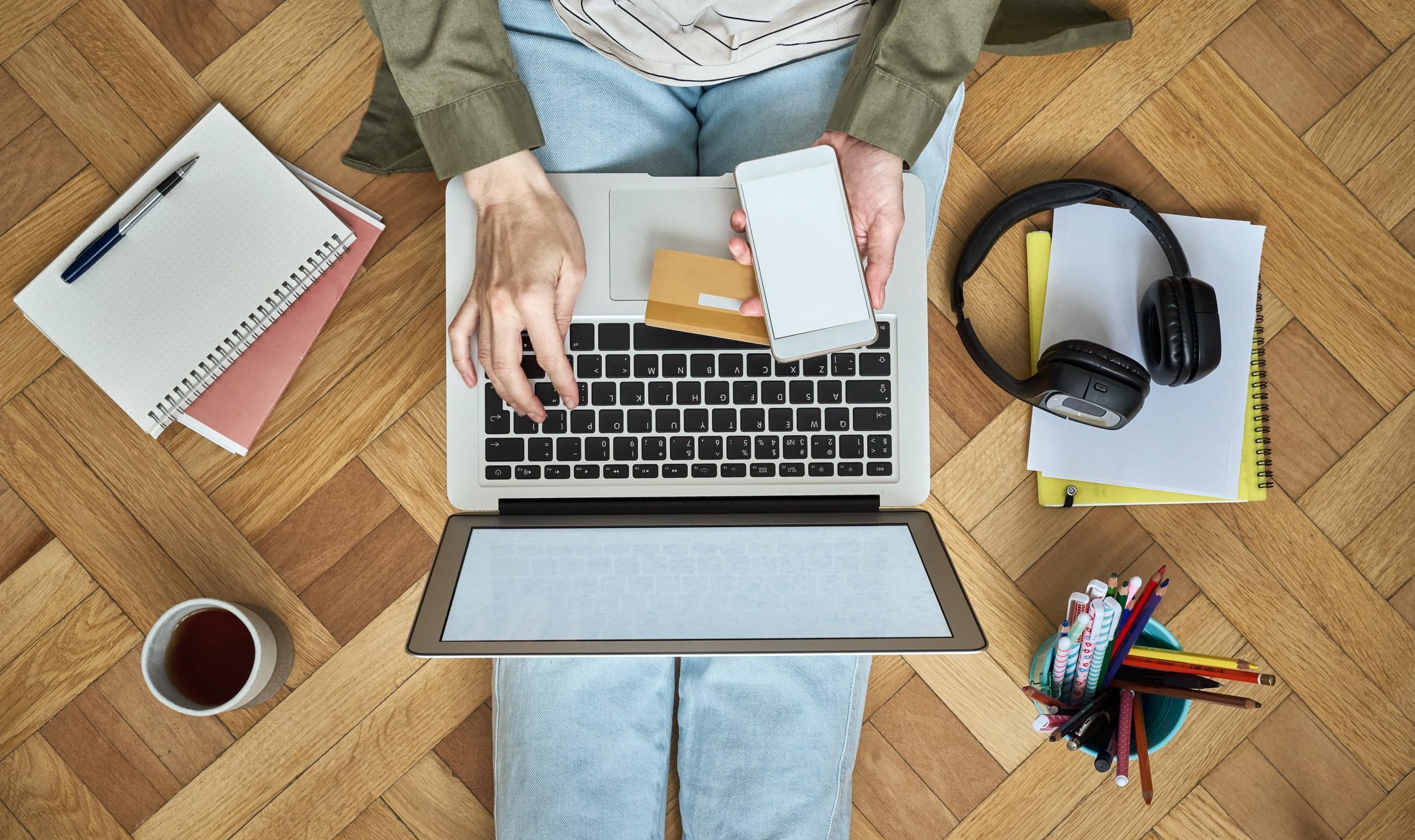 Plugins you can use – SEO for dropshipping stores
Especially if you are a beginner, SEO is really hard to optimize. Whether you use WordPress, or Wix, or have your own website built from scratch, plugins or SEO optimization tools can be really helpful to use. It can be expensive to get optimization tools for your website but it's still cheaper than hiring a dedicated SEO expert.
They'll also help you learn about SEO, which is perfect for any dropshipping store. You still need to choose wisely the correct plugin for your needs. Not all plugins are right about everything when it comes to SEO.
Here are a few plugins you can use that have proven to give results for many users:
Yoast

– A great plugin that assists you in optimizing your content, meta descriptions, blog length, and how many backlinks you should include in your content. The downside of Yoast is that you can

only use it for WordPress

. If you have your own website or are using Wix, then you can't use Yoast.

All-in-One SEO –

Many users will claim that Yoast is

not

better than All-in-One

SEO. That is because All in One gives you a very accurate score on how your content is doing. The best thing about this plugin is that it is the best one for dropshipping sites. The plugin gives you an overall score out of 100 on how your content is doing. Yoast only gives you a green light. Again, this is only available for WordPress users.
Wix SEO – this is an automatically installed plugin for Wix users. The pros of Wix SEO are that it handles the meta descriptions for you (you can edit them

too), and has a site booster that will help your content rank higher if it is doing good. Many people complain about Wix because the cons of it are that if you just started using SEO-optimized content, then Wix can't help you. If you are an advanced user of SEO, then your dropshipping site can also do good on Wix!

SEOPress

– Another WordPress plugin, but very helpful for

beginners.

SEOPress will teach you everything you need to know about SEO even if you don't know about it. If you just started a dropshipping website and don't know anything about SEO, then SEOPress is your golden ticket to increasing your rankings!
UI/UX Design/Website structure
The overall UI/UX design and structure of a website impact SEO also. Websites that show an easy and simple design tend to look more quality and give a pleasant experience.
Low-quality UI and user experience will make you lose many visitors. They will see your dropshipping website as more of a joke than something serious.
NOTE: If you are using WordPress, go and check our WoodMart WordPress Theme Review.
Now we come to website structure. By website structure I mean, having clean, simple, easy-to-read categories on your site. Google will also rank your website higher because you are using fewer codes to structure your website.
The best thing you can do is to structure your categories, sub-categories, products, and so much more in the simplest way possible. A good example would be sites like Shopify, Amazon, Shopee, etc.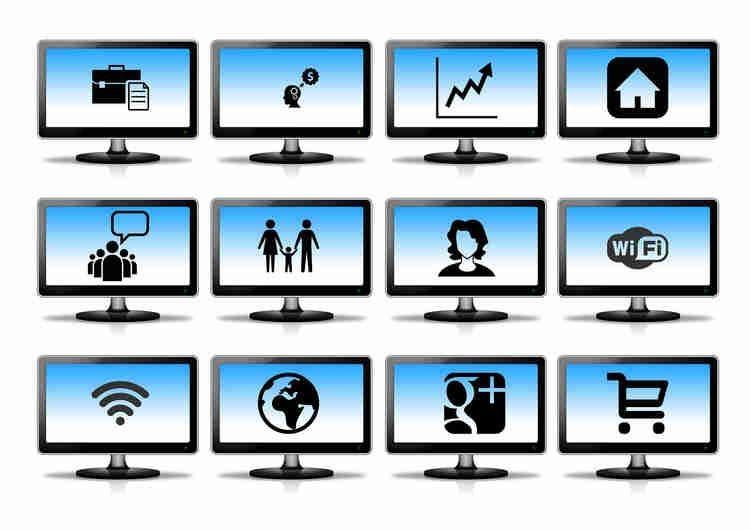 Find winning dropshipping products & spy on your competitors
Minea analyses all online advertising to help you find the best products to launch, and the best creatives in your niche in just a few clicks.
Use coupon: DROPSHIPPING30 and get a 30% discount
💡Try Minea For Free
Website Speed
We are not saying your dropshipping site should have the fastest internet on the planet but should be well-optimized. You wouldn't know how many people complain about websites that have slow speeds, and when that happens, many potential customers will run away.
To keep your website at the greatest speed, use good themes. WordPress and Shopify have great optimized themes. You can also try using compressed images that will lower the loading time.
You can land on this link- How to Score a Perfect 100% on Google PageSpeed, to learn more about how you can fully optimize your website speed and not lose visitors with your SEO for dropshipping stores.
More marketing-related articles for your dropshipping journey:
Best Marketing Practices for Your Online Dropshipping Store
How To Pick An Marketing Agency for Your Dropshipping Business?
$0 Budget Masterclass: How To Advertise Your Dropshipping Store For Free?
Learn Dropshipping for Free: Top 12 Dropshipping & Ecommerce Blogs
15 Best Shopify Blog Examples To Double Your Organic Traffic.