Dropshipping with BrandsGateway can help you turn your luxury fashion business idea into reality. Yeah, the business idea you have always dreamed of. Therefore, keep reading to learn more about that.
Comfort, elegance, perfection – these are perhaps the three words that best describe luxury fashion products. Luxury brands occupy a special place in every person's mind.
For example, the appeal of luxury clothing is undeniable – the fabric is softer, the logo is flashier, the quality is superior, etc.
And it is no secret that these products come with a higher price tag. But they are really good value for money. This is what makes luxury brands so special.
Now, let us familiarize you with BrandsGateway. Also, in this article, we will discuss why you should choose this company as your dropshipping and wholesale supplier and how to start dropshipping with it.
What type of company is BrandsGateway? And what does it do?
What do you know about BrandsGateway? If you already have a clothing dropshipping business, chances are you have heard of BrandsGateway so far. But if you are new to dropshipping and unfamiliar with the dropshipping business model, you probably have no idea what the company does.
Either way, let us inform you about the company's products and its current positioning in the market.
BrandsGateway is a big B2B luxury fashion marketplace, successfully linking branded clothing manufacturers with retail buyers from all over the world. Additionally, it acts as a reliable and reputable high-end clothing dropshipping and wholesale supplier.
In short, the EU-based company offers everything from clothing and shoes to jewelry and accessories from brands that have established themselves as the top choice within their industry.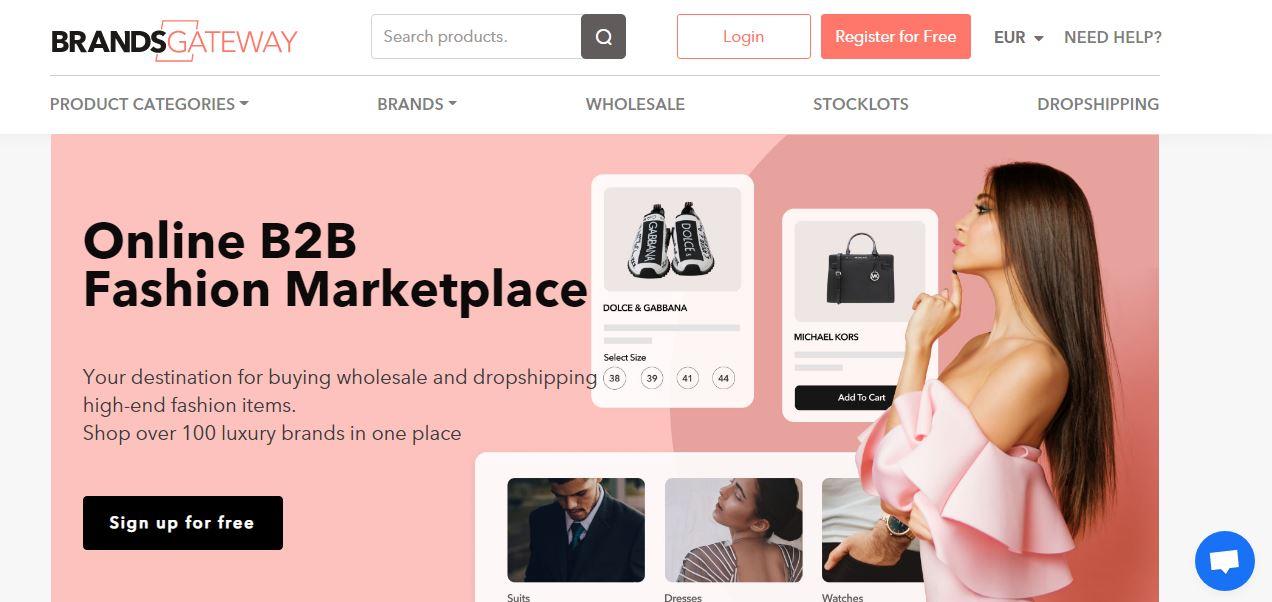 Why should you choose BrandsGateway as your dropshipping and wholesale supplier?
There are countless reasons why you should choose this company as your dropshipping and wholesale supplier. But, here, we will cover the most important ones. And they are as follows:
• Uniqueness
Ever purchased, let's say, a dress from an online store and then spotted many other women wearing the same dress shortly thereafter?
Most probably, yes (if you are a woman, of course). The main reason for this is that many people prioritize trends over classic symbols.
However, luxury goods, like brand-name clothing pieces, are unique. Why?
Because branded clothing manufacturers make limited quantities of an item. What's more, they also add individualization touches to provide each luxury item with a special and unique element.
And BrandsGateway sells unique products made by experienced and eccentric designers. In addition, these products have a distinct and clear image and a strong brand identity.
So, by collaborating with this company, you will let your customers wear unique luxury pieces that not everyone has.
• Reliability and loyalty
Established in 2017, BrandsGateway is one of the most reliable dropshipping suppliers you can work with within the luxury fashion market.
The company's dedicated team of professionals strives to deliver flawless customer service, meet shipping timelines, and help you improve the financial health of your business.
In brief, to cater to the requirements of its customers, BrandsGateway constantly pursues the notions of responsibility, competence, and professionalism.
• Big market opportunities, low competition, and high-profit margins
Brick-and-mortar businesses that sell high-end fashion products tend to face fierce competition. But when it comes to dropshipping such products, the competition is not so high.
And dropshipping with BrandsGateway has another benefit – low competition and high-profit margins. Again, the competition in the dropshipping luxury brands – clothing and accessory market is low.
This can be great for your dropshipping business because you will not probably face an intensely competitive environment.
Moreover, BrandsGateway also offers high-profit margins. This means that some luxury items found on the site can have a profit margin of as high as 250%.
Here is a BrandsGateway dropshipping success story that may inspire you to start your own business and choose this company as your supplier.
BrandsGateway dropshipping review
Let's first analyze BrandsGateway's dropshipping services in detail. Ultimately, it is up to you to decide whether they are the best fit for you or not.
1. Pricing plans
As shown in the picture below, BrandsGateway's dropshipping program includes three pricing plans, starting from £253 per month.
Each plan offers no minimum order quantity, real-time inventory synchronization, automated order placement, WooCommerce and Shopify plugins, and more.
Some might say these packages cost more than the average dropshipping supplier charges. Yes, this is true. And this may be the only disadvantage of dropshipping with BrandsGateway.
But, after all, you are going to start your own high-end clothing dropshipping business and collaborate with one of the best companies in the industry. A
nd dropshipping with BrandsGateway is one of the best things you can do for your luxury clothing business.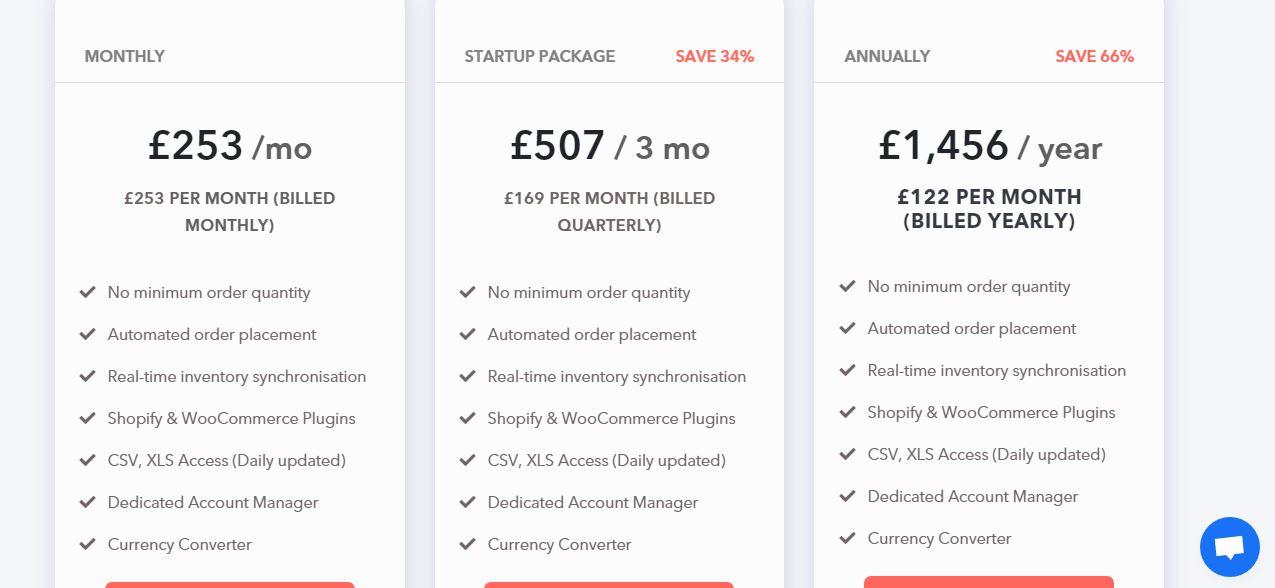 2. Shipping times and fees
With independent offices and warehouse locations in Europe (Sweden, Estonia, Finland, Germany, Italy, and North Macedonia) and the United States (Florida and Minnesota), BrandsGateway offers fast shipping worldwide.
If you are curious, here's our guide on how to start and run your company in Estonia.
Or more precisely, it delivers to over 170 countries around the world. The company can deliver orders to your European customers within 3-5 business days.
Here you can check the extended list of the best dropshipping suppliers in Europe.
When it comes to shipping to the United States and Asia, the average delivery time takes 5-10 business days.
And the company charges a worldwide shipping fee starting from 15€ per order, regardless of the size and weight of the package. Sure, your buyers will receive the order with your business' name on the shipping label.
3. Products and brands
The company has a vast product portfolio, which is updated on a regular basis. Additionally, it has a wide range of luxury items across several categories, including:
To be more specific, by dropshipping with BrandsGateway, you can choose from 90,000+ designer items from well-established, world-famous, luxury brands, including:
Armani;
Cavalli;
Dolce & Gabbana;
Moschino;
John Galliano;
Balenciaga;
Calvin Klein;
Carolina Herrera;
Cerruti 1881;
Christian Dior.
Here is the list of luxury brands that the company offers.
It is also very important to know that every single luxury item featured in its portfolio comes with the assurance of authenticity. This means that every single product is a genuine branded good that comes with an original tag and box.
Furthermore, registered dropshippers can get access to exclusive deals and discounts on luxury brands (up to 90% off).
So, as a BrandsGateway's dropshipping partner, you can cater to customers looking for genuine luxury items without the premium price tag.
4. Returns
Returns are unquestionably a big headache for many dropshippers worldwide. But you can solve any return problems quickly and effectively if you start dropshipping with BrandsGateway.
Namely, the company's flexible return policy allows you to accept returns within 14 days after shipping. BrandsGateway will cover the costs of return shipping in case of damaged or wrong order.
However, if your customer wants to return an item as they have simply changed their mind, they will have to pay for return shipping.
5. E-commerce platform integrations
Thanks to the seamless integration with several e-commerce platforms, dropshipping with BrandsGateway is easier than you might think.
Some of the platforms you can use for starting a "BrandsGateway" dropshipping store are as follows:
If you decide to use WooCommerce or Shopify for dropshipping with BrandsGateway, you can take advantage of real-time order syncing, automatic inventory updates, a currency converter, etc.
And choosing one of the above-mentioned pricing plans gives you access to Shopify and WooCommerce plugins. This automates everything for your dropshipping business and helps it run smoothly.
However, the company offers CSV integration for Magento, BigCommerce, PrestaShop, and ChannelAdvisor.
So, you should decide which platform is ideal for you, depending on your needs and preferences.
6. Customer reviews
On Trustpilot (a consumer review website hosting reviews of businesses across the globe), you can find many reviews left by BrandsGateway's customers.
As you can see, BrandsGateway has a 4.6-star rating on this consumer review website. And the majority of customer reviews are actually positive.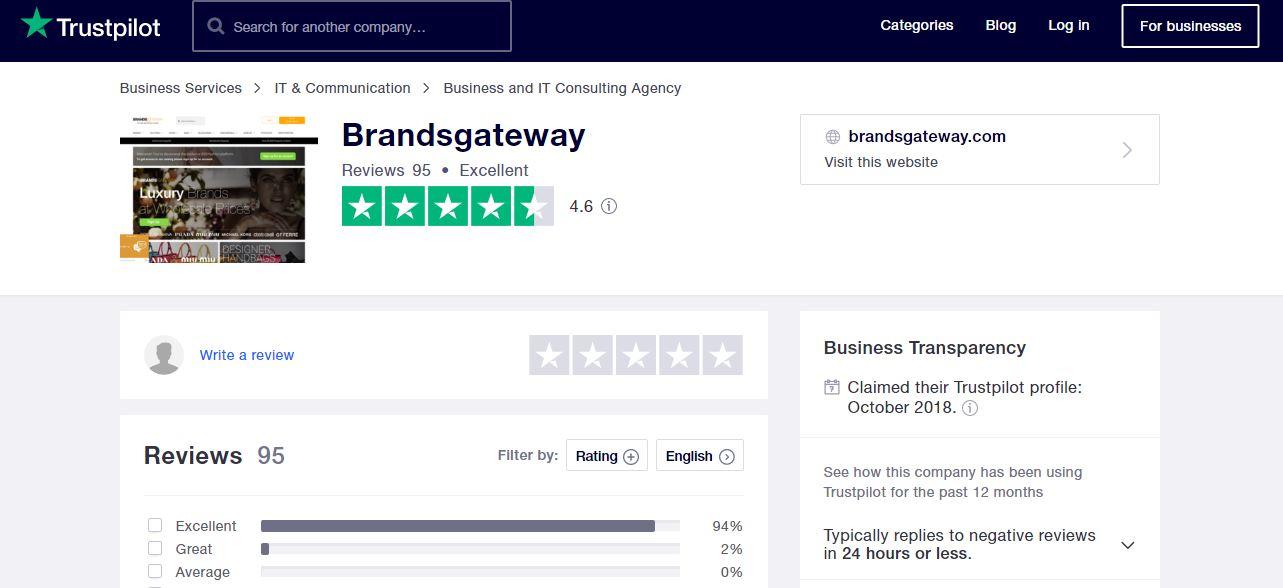 Here is one of the positive reviews.

This can help you understand and give you a more detailed view of how this company is performing.
Plus, BrandsGateway's team knows that there is always room for improvement and is always eager to hear customers' thoughts and suggestions.
And here are some of the reviews posted by satisfied dropshippers on the site.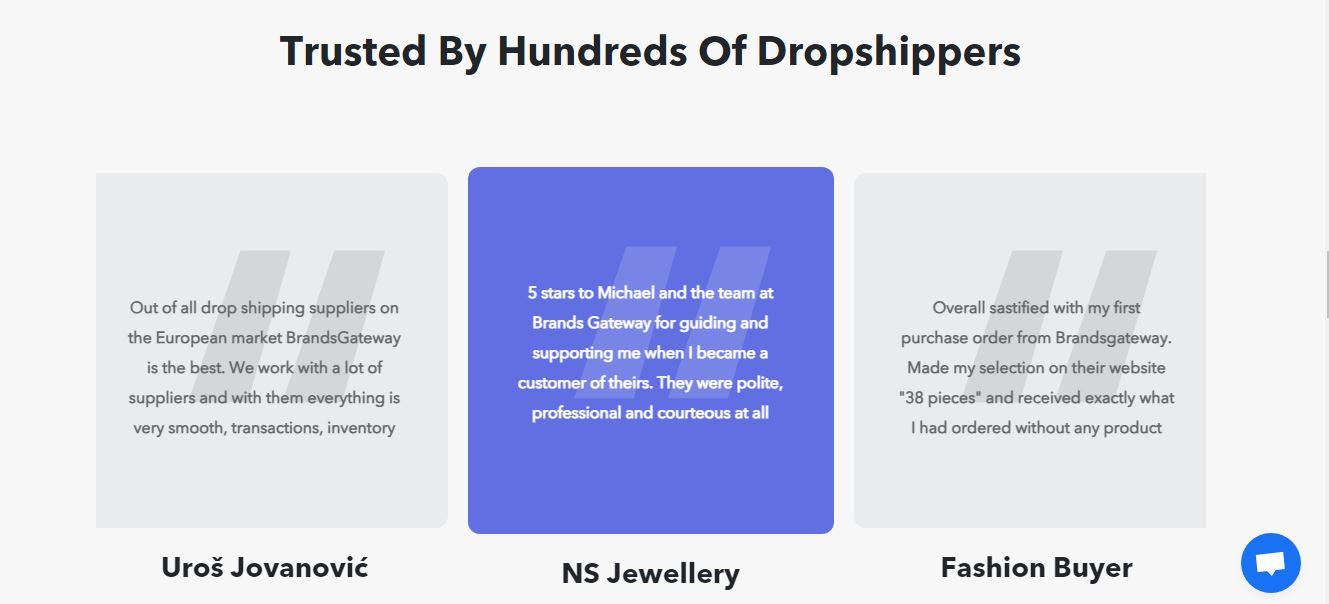 How to start dropshipping with BrandsGateway
Again, it is not that hard to start dropshipping with BrandsGateway. In just a few simple steps, you can start a dropshipping store and sell luxury items online.
1. Go to BrandsGateway.com and pick one of the pricing plans mentioned above. Choose the one that suits you best.
2. Sign up by entering your personal and billing information. You need to enter some information like your first and last name, country/region, e-mail address, credit card details, etc. Then, you will receive your BrandsGateway plugin along with certain instructions on how to import products to your store.
3. Select the luxury products you want to sell through your dropshipping store. Your chosen products will be visible in your store in a couple of hours.
That's it! And once a customer places an order through your online store, it will be automatically forwarded to BrandsGateway and delivered to your customer within a short period of time.
BrandsGateway competitors and alternatives
A few businesses boast about their professionalism in the dropshipping luxury fashion niche as well as their top-notch dropshipping customer service.
DON'T MISS: Choosing the best dropshipping niche in 2022.
Namely, Griffati and BrandsDistribution are the two major companies operating in the same industry as BrandsGateway. They are both great companies with years of experience in the industry.
But why should you choose BrandsGateway over its competitors? Well, to start dropshipping with Griffati, the company will first have to approve your business.
And when it comes to BrandsDistribution, some people haven't had excellent experiences with its dropshipping services.
Conclusion
Are you feeling ready for a new online venture and passionate about your luxury fashion business idea? Then, dropshipping with BrandsGateway is the way to go.
By choosing BrandsGateway as your dropshipping partner, you can let your customers discover and buy some of the most iconic pieces in luxury fashion at reasonable prices.