Shopify offers a wide variety of Shopify dropshipping apps.
Our guide will lead you right to the ones that deserve a place in your dropshipping store.
Therefore, we will cover the best Shopify dropshipping apps to use in 2023.
But, first, we will discuss the real reasons Shopify is so popular among dropshippers.
If you haven't tried Shopify yet, here's your chance to get a 14-day free trial deal by signing up for Shopify 🙂
What Is Shopify Dropshipping?
First, let us explain in short – what dropshipping is.
Long story short, Dropshipping is a business model where you start selling products without keeping inventory of them. Instead, to fulfill orders, the seller buys inventory as required from a third party—typically a wholesaler or manufacturer.
The selling merchant serves just as an intermediary, which is the main distinction between dropshipping and traditional online business.
💡 However, if you want to learn about it in-depth, we recommend you start with How Does Dropshipping Work – Everything You Need To Know?
Now let's discuss what exactly is Shopify dropshipping.
Without a doubt, Shopify is the "automation" of the dropshipping business model.
Shopify serves as the basis for your online store. It is an eCommerce platform that offers dropshipping businesses the framework they require to launch and design their store.
Moreover, its back end enables you to operate your dropshipping store without paying any hosting expenses.
When you do Shopify dropshipping, you'll never have to worry about having too much inventory since you'll only ever order what you need to satisfy customer demand.
Also, there are the best free Shopify apps for dropshipping that support and automate almost every aspect of your dropshipping business, like inventory management, order fulfillment, marketing, and more!
That's why in this article we will discuss the Best Shopify dropshipping apps. Shall we begin?
Find your next winner in less than 5 minutes
Find your first winning dropshipping product. No credit card required. No commitment.
USE COUPON: DROPSHIPPING30 and get a 30% discount immediately
Start for €0
Benefits of Shopify apps for dropshipping
Shopify is the most widely used platform with over 2 million merchants using the best dropshipping apps. Also, it helps you select and discover the best items from various international dropshipping suppliers.
Indeed, Shopify is removing the drawbacks and establishing substantial advantages in terms of sales, marketing, and store administration for Shopify dropshipping businesses.
All thanks to its large App Store of over 2000 apps from more than 1000 app developers.
From the standpoint of a dropshipper, the advantages of Shopify dropshipping are:
It is flexible
Customizable
Simple to operate
Simple to start with a large choice of items to offer
It takes substantially less cash than alternative online businesses
In addition, as the logistics, sourcing, and order fulfillment are taken care of by trustworthy dropshipping suppliers, these apps let you concentrate on expanding your company and building popularity in your dropshipping store.
What to look for when picking the best Shopify dropshipping apps
Dropshipping apps vary greatly in quality. In essence, there are several drawbacks to the dropshipping business (but it is definitely not a scam), especially if you work with unsuitable dropshipping suppliers or apps.
Therefore, some of the criteria you should consider when picking the best Shopify dropshipping apps are:
🔸 The Price
There are various Shopify dropshipping apps available, and you should pick them according to a predefined budget.
Therefore, be honest with yourself, and learn how much you are willing to pay to increase productivity, usability, reporting quality, or any other goal you may have.
It's still great to have the best free app for Shopify that fulfills your needs just as well as a premium one. However, using free software blindly will usually end up costing you more in the long term, both financially and in terms of time.
As we are already aware, Shopify dropshipping app prices vary depending on features like automation, global usage, upgrading, etc.
🔸 Rating and Reviews
Reviews may provide important information about how consumers engaged with the app's creators as well as a lot about how a product functions. There are more indications as there are more reviews.
The marketing team at Shopify App Store shows reviews for a variety of apps. Therefore, both four and five-star ratings are proof of outstanding user experience and customer service.
Therefore, investing in highly-rated applications has to be at the top of your list. As a result, you will receive fewer complaints and apps will integrate easily with your current system.
🔸 The app that provides great customer support
Reading reviews might be insufficient when "providing support" is the matter. To pick the best Shopify dropshipping apps, you must also assess the trustworthiness of the support platform.
Links to the FAQ, website, 24/7 live chat, phone number, address, privacy statement, and email address of the developer can help in delivering the best customer support.
Therefore, first, check what your dropshipping supplier apps provide for you.
🔸 Dropshipping apps that offer product samples
For a manufacturer, testing is essential for any product. When you realize the quality is there, you might consider moving on to the next phase.
Requesting product samples from your dropshipping suppliers is one of the best ways to make sure they are the right ones.
So, if the best dropship app for Shopify contains product samples in its plan, do not hesitate, to take it!
🔸 Dropshipping apps that offer fast shipping times
Who wants to wait in today's dynamic way of living? Let me guess… No one!
Find the top Shopify apps for dropshipping with worldwide dropshipping suppliers that are well-reviewed.
For instance, locating suppliers in the US might be beneficial for a Chicago-based dropshipping business. Otherwise, it's possible that your clients would have to wait a month for delivery if you hire a China-based dropshipping supplier.
🔸 Dropshipping apps that let you use your own branding on the packaging
Branded dropshipping builds trust, and helps you build brand awareness.
The customer may associate you with your name, brand, or products you sell. All of this is made possible by the loyalty and trust you have earned from them over time as a result of your offerings.
As a result, you don't want your items to arrive at your customer's destination without any of your branding visible on the packaging.
Customers will find this puzzling since they won't identify the names on the product because they sound foreign. Therefore, make sure that the Shopify dropshipping app you choose offers to brand.
18 best Shopify dropshipping apps
In fact, Shopify dropshipping apps are divided into multiple categories.
But, in this section, we will focus on three very important Shopify app categories like Shopify dropshipping apps for suppliers and products; sales and conversion; and marketing and advertising.
Whether you are a new dropshipper who is just starting out or an already established one, start with this list of the best dropshipping apps for Shopify in 2023.
First, make sure to check our extensive list of the best Dropshipping and Ecommerce Podcasts to update your general knowledge.
Also, explore our ultimate comparison of the two biggest e-commerce platforms: Ecwid vs Shopify.
Improving the functionality of your Shopify store starts here! So, dropshipping beginners and seasoned pros, gather around!
Best Shopify dropshipping apps for suppliers and products
Spocket is also among the most prominent Shopify dropshipping apps. Additionally, this app is similar to the previous one because it also helps you find winning products from various suppliers.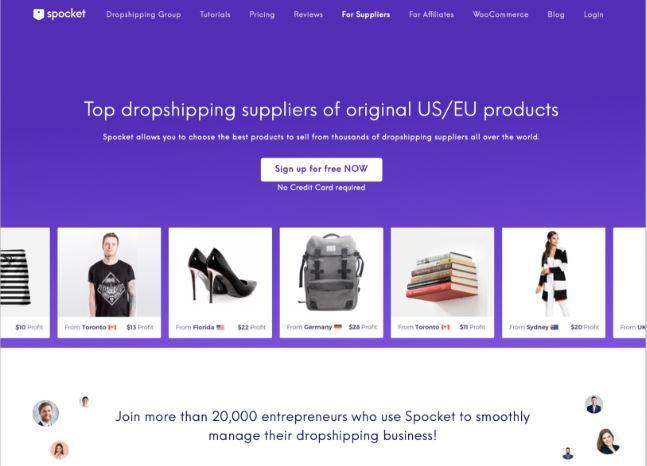 Unlike Oberlo, Spocket is a bit more advanced in terms of the quality of suppliers. That's to say, most of the suppliers come from the US and Europe, which's great for sellers located in those parts of the globe.
As a result, it offers fast shipping to European and North American countries (within 5 business days).
That's not all that this app has to offer. With it, you can even order a sample product from a supplier.
This means that you can evaluate products for yourself first-hand before listing them on your dropshipping store.
Pricing plans:
Free: $0 per month
Starter: $24 per month
Pro: $49 per month
Empire: $99 per month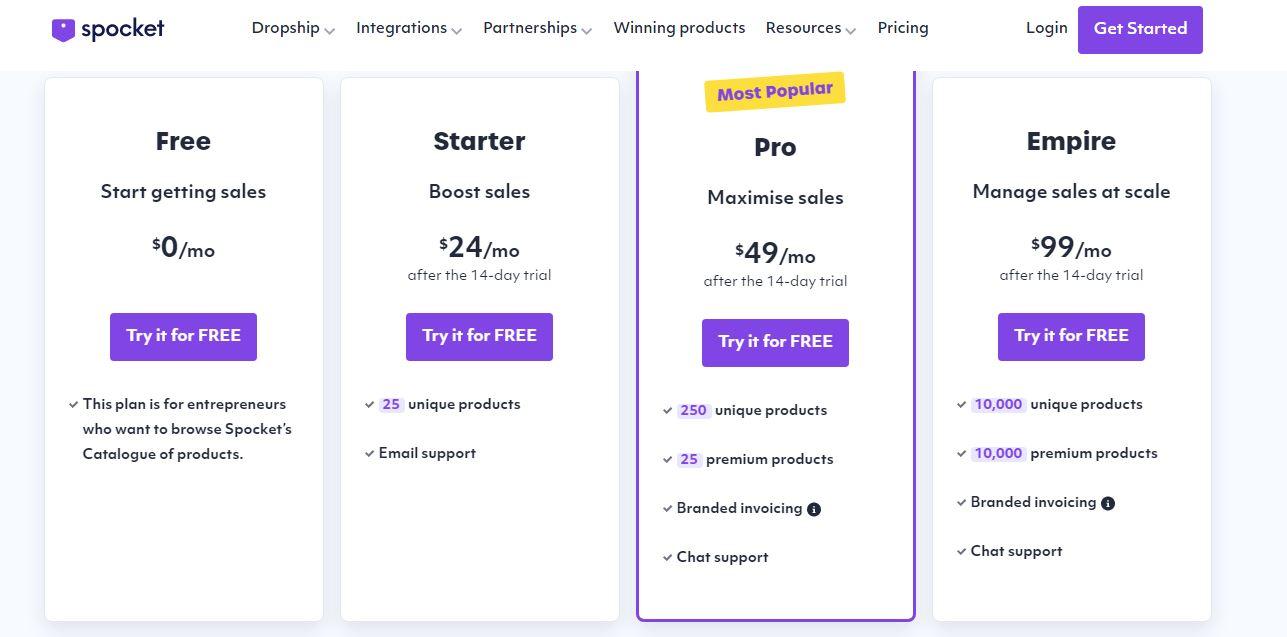 Want to sell custom print, embroidery, and engraving merchandise on your Shopify store?
Then install one of the best Shopify dropshipping apps for this purpose. In short, install Printful!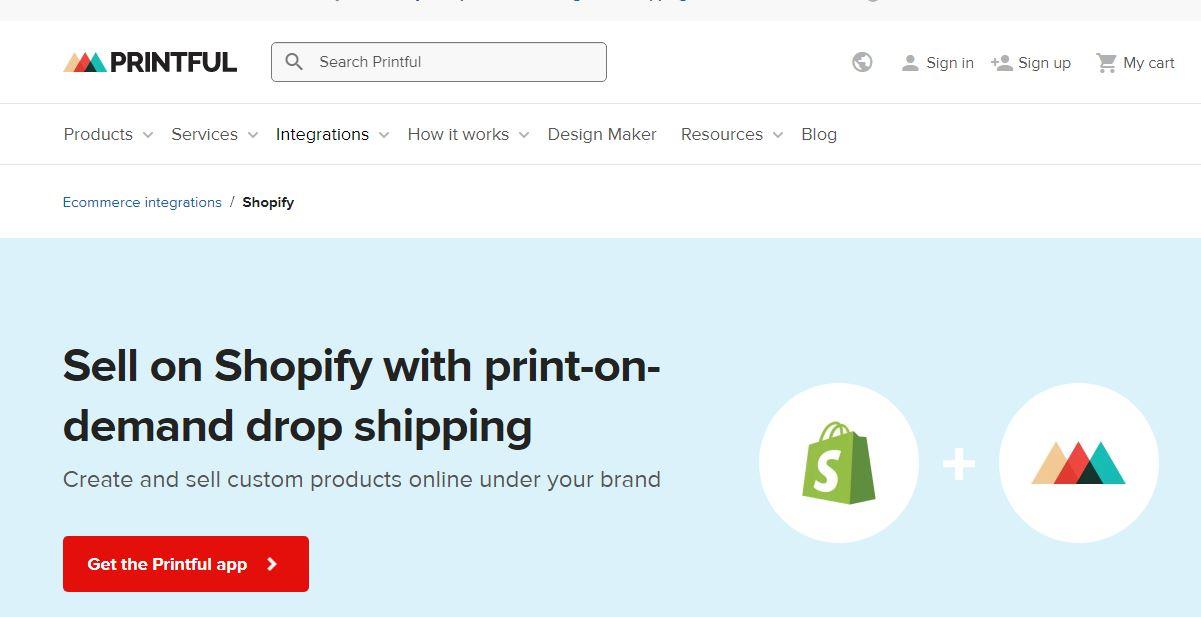 With Printful, you can create customized designs for various items and sell them under your brand.
Moreover, it combines custom printing and dropshipping, enabling you to sell anything from t-shirts and pillows to mugs and accessories.
And the best part – you do not have to worry about printing and shipping. Printful will take care of that. But what does this mean?
Well, when a customer places an order, Printful will automatically fulfill and ship the order to them.
Interestingly enough, Printful also provides an on-site mockup generator, which lets you see exactly how your designs will look on their items.
Pricing plans:
To use Printful, you do not have to pay any upfront or monthly fees. Once you receive an order, you will only have to pay for fulfillment and shipping.
This is another dropshipping product importer app that enables you to automatically upload products, sync inventory, and route orders with suppliers to your Shopify store.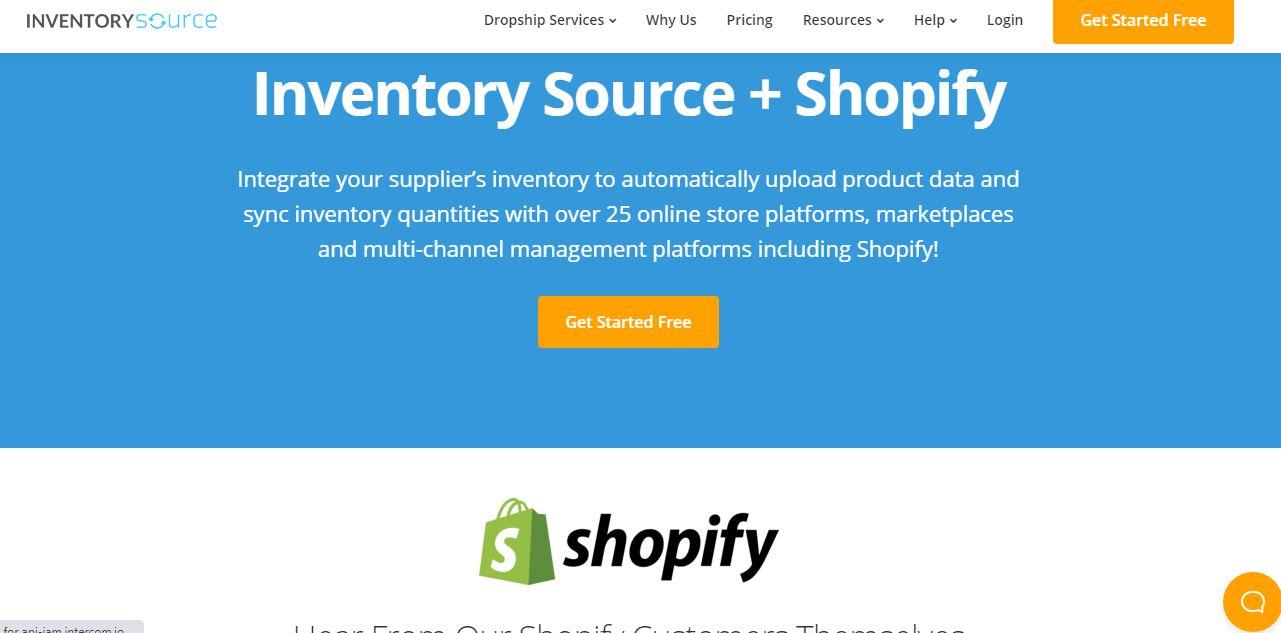 In addition, this app makes dropshipping product sourcing and inventory management a much simpler process.
And you do not have to deal with manual file imports. Plus, it is a user-friendly app.
Another great thing about this app is that it does not charge any middleman fees. To clarify, the only thing you need to pay is the monthly subscription fee.
In addition, check our complete Inventory Source Review.
Pricing plans:
Free: $0 per month
Inventory Automation: $99 per month
Full Automation: $199 per month

Best Shopify dropshipping apps for sales and conversion
As a dropshipper, you surely want to boost your sales. To accomplish that, you can't just focus on finding new customers.
You should also make sure that you are getting repeat purchases from your existing customers.
Fortunately, there are many Shopify dropshipping apps out there to increase sales.
Namely, ReConvert Upsell & Cross-Sell is a dropshipping app that helps you customize your thank you page, thus turning new customers into repeat ones.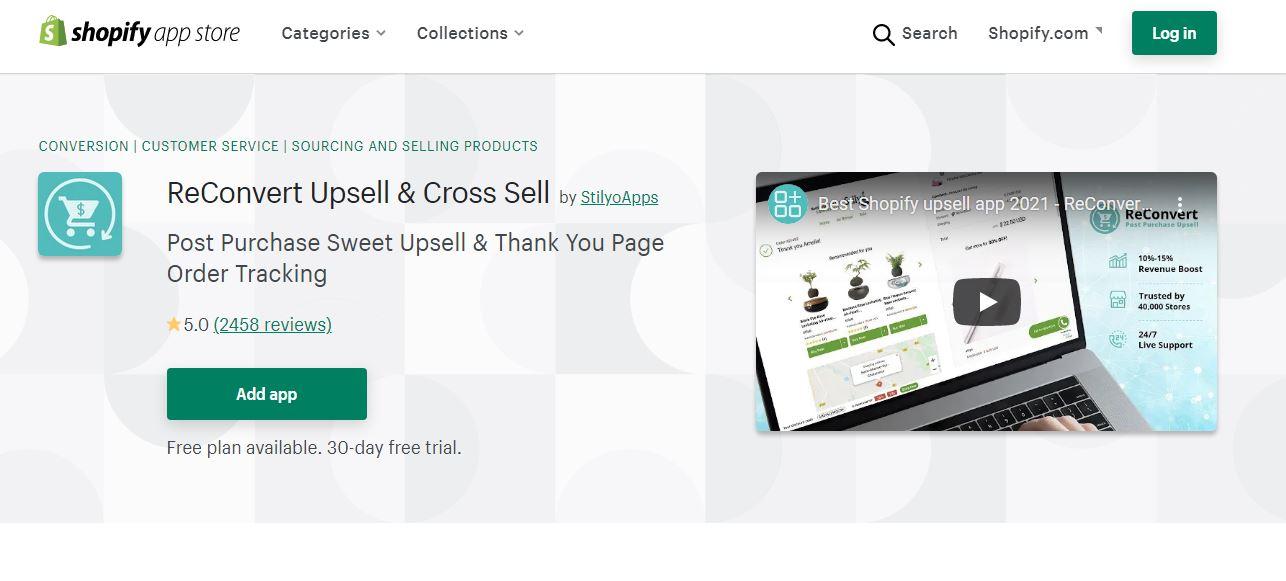 Or, to be more specific, it enables you to customize your landing page with a drag-and-drop builder and access features like reorder buttons, post-purchase surveys, personalized recommendations, and countdown timers.
With this app, you can automatically re-engage customers that just made a purchase.
Pricing plans:
Free: $0 per month
Pro: $7.99 per month
MVP: $14.99 per month
VIP: $29.99 per month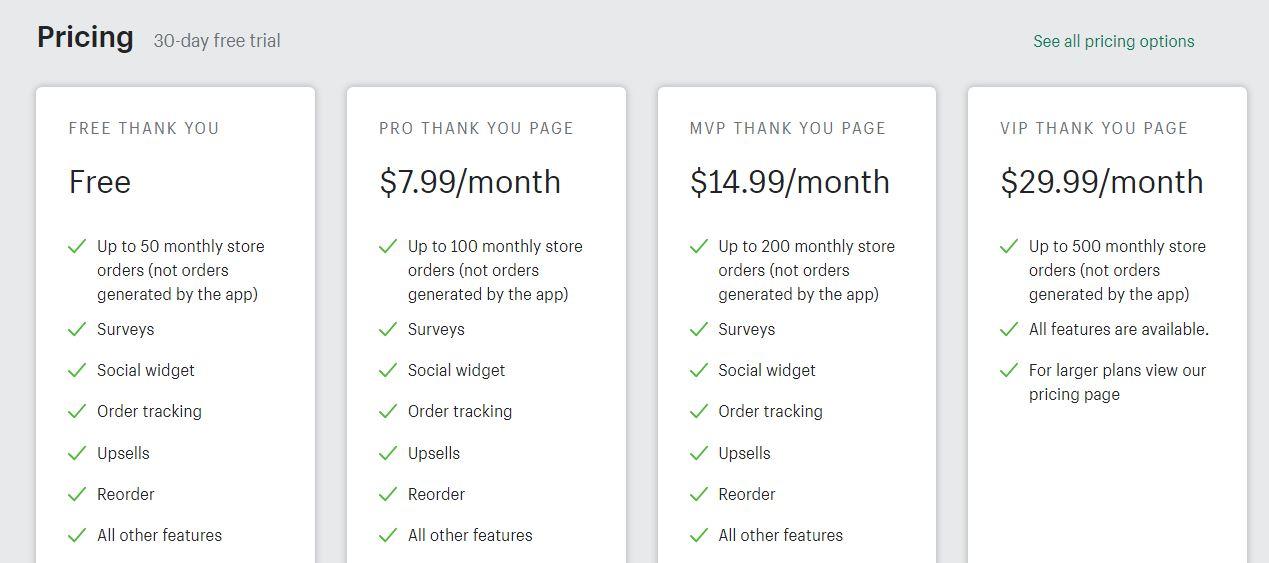 This app, as its name suggests, is a sales conversion notification app.
Furthermore, it helps you encourage purchases through sales notifications, i.e., by displaying the recent sales on your store.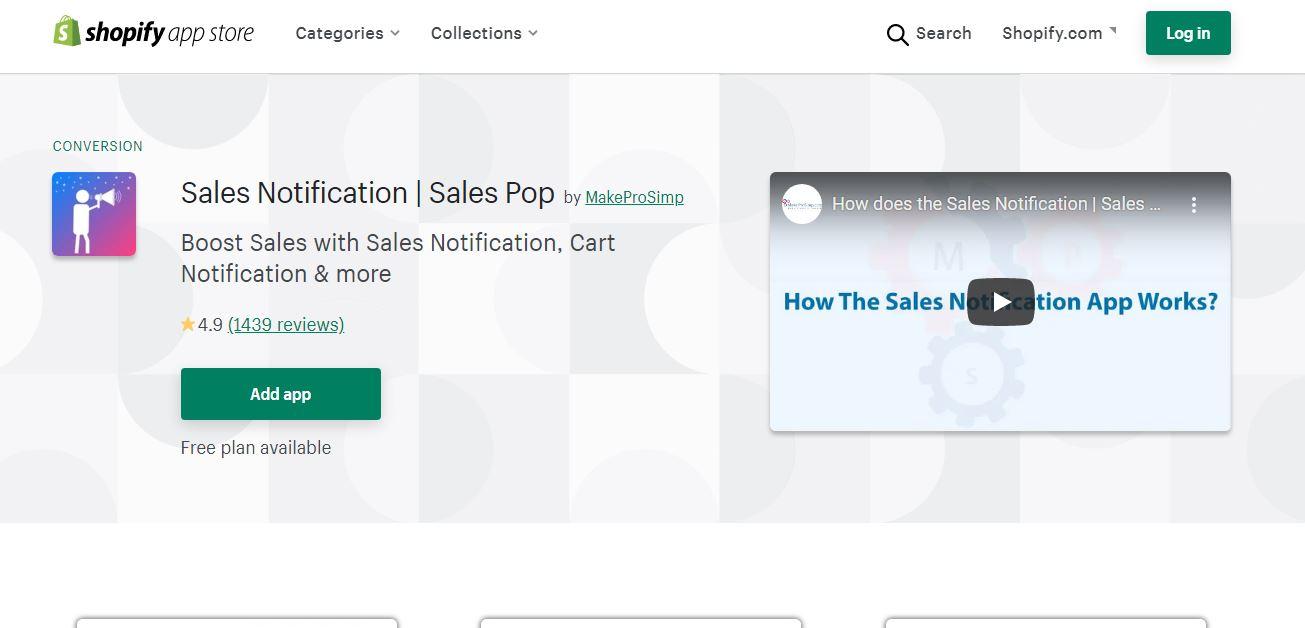 Specifically, it is one of the best Shopify dropshipping apps to boost your sales because it allows you to display recent sales notifications to your visitors, encouraging them to purchase an item from your store. That's how this app works.
Learn More: Top 10 Best Shopify Affiliate Apps for Shopify Affiliate Marketing
When your visitors know that other people are making purchases in your store, it can have a positive impact and motivate them to buy your products.
Pricing plans:
100% Free Forever: $0 per month
Best Value: $4.99 per month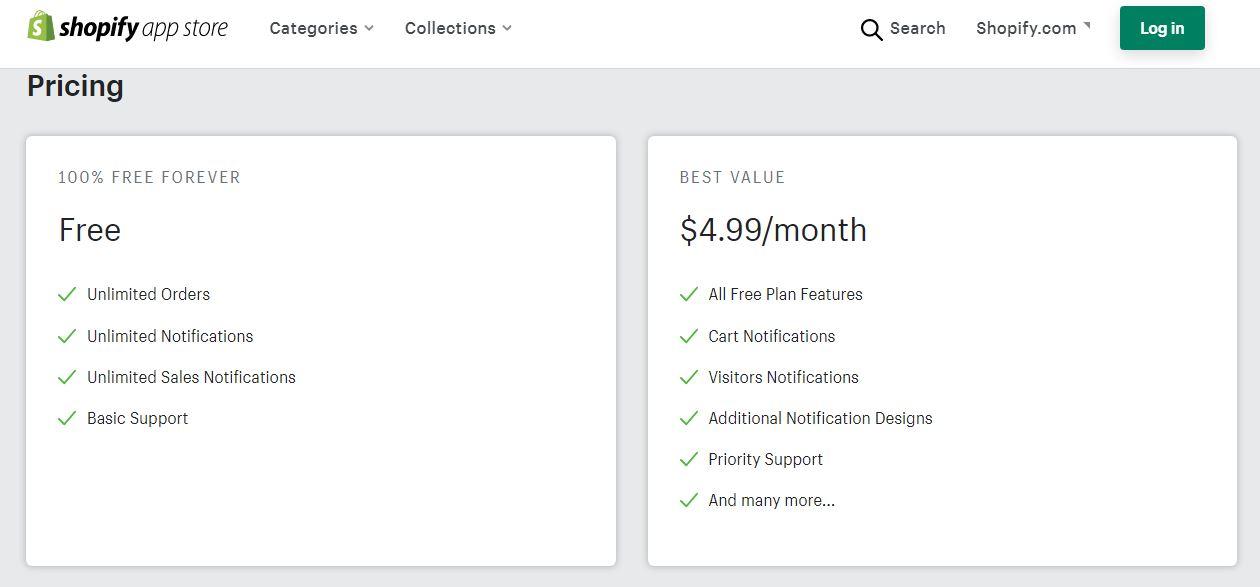 Showing your customers you appreciate them is important because it can contribute to repeat purchases, more sales, and loyal customers. And this is what you want, right?
So, building an engaging rewards program that seamlessly aligns with your brand is an effective way to do so.
Curious about how you can build a rewards program? You can do so by installing the Smile app on your general or one product dropshipping store.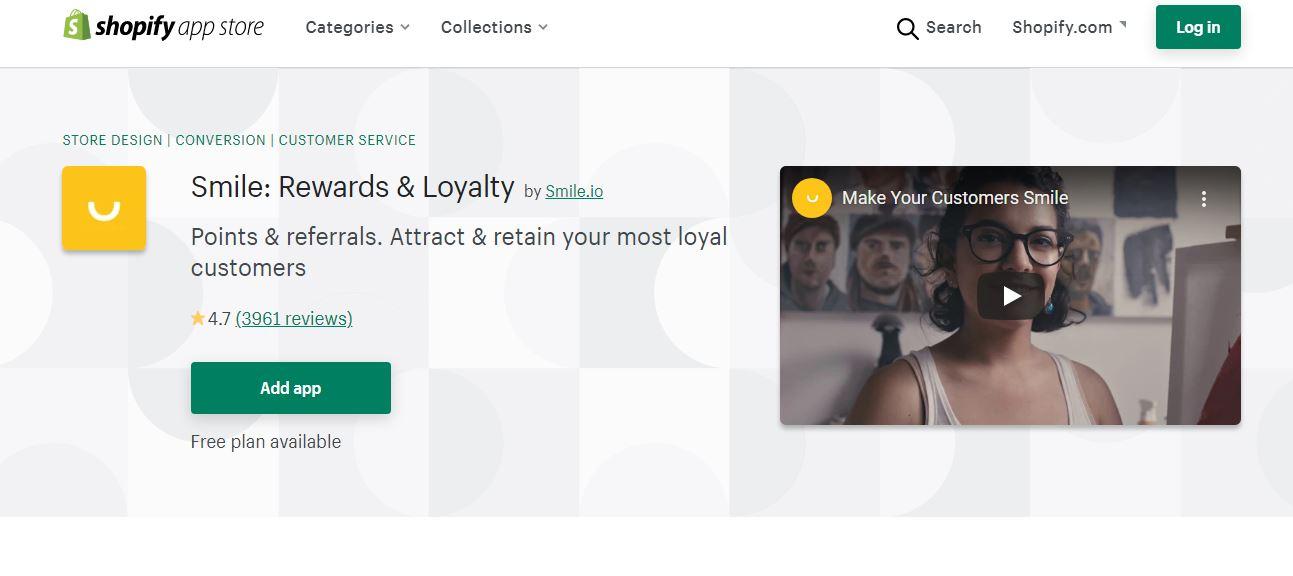 Namely, this app gives you a chance to create and manage reward programs with customer referrals, loyalty points, and VIP tiers.
Then, your customers can use their points to redeem special offers like free shipping, free products, discounts, and more.
You get more sales and your customers enjoy special offers. It is a win-win situation for you and your customers alike.
Pricing plans:
Free: $0 per month
Starter: $49 per month
Growth: $199 per month
Pro: $599 per month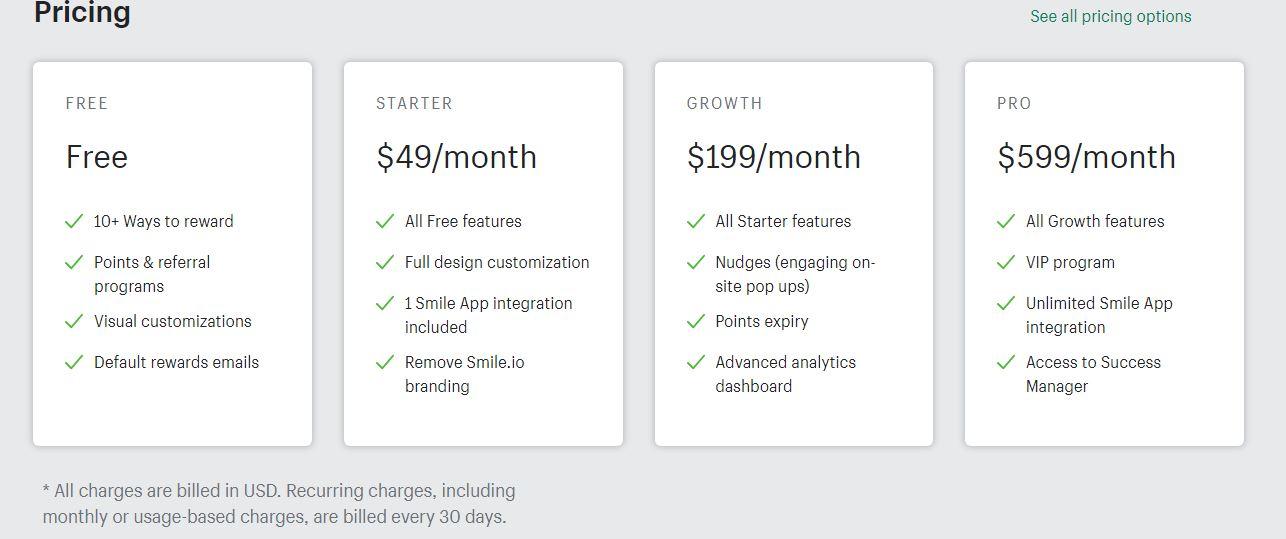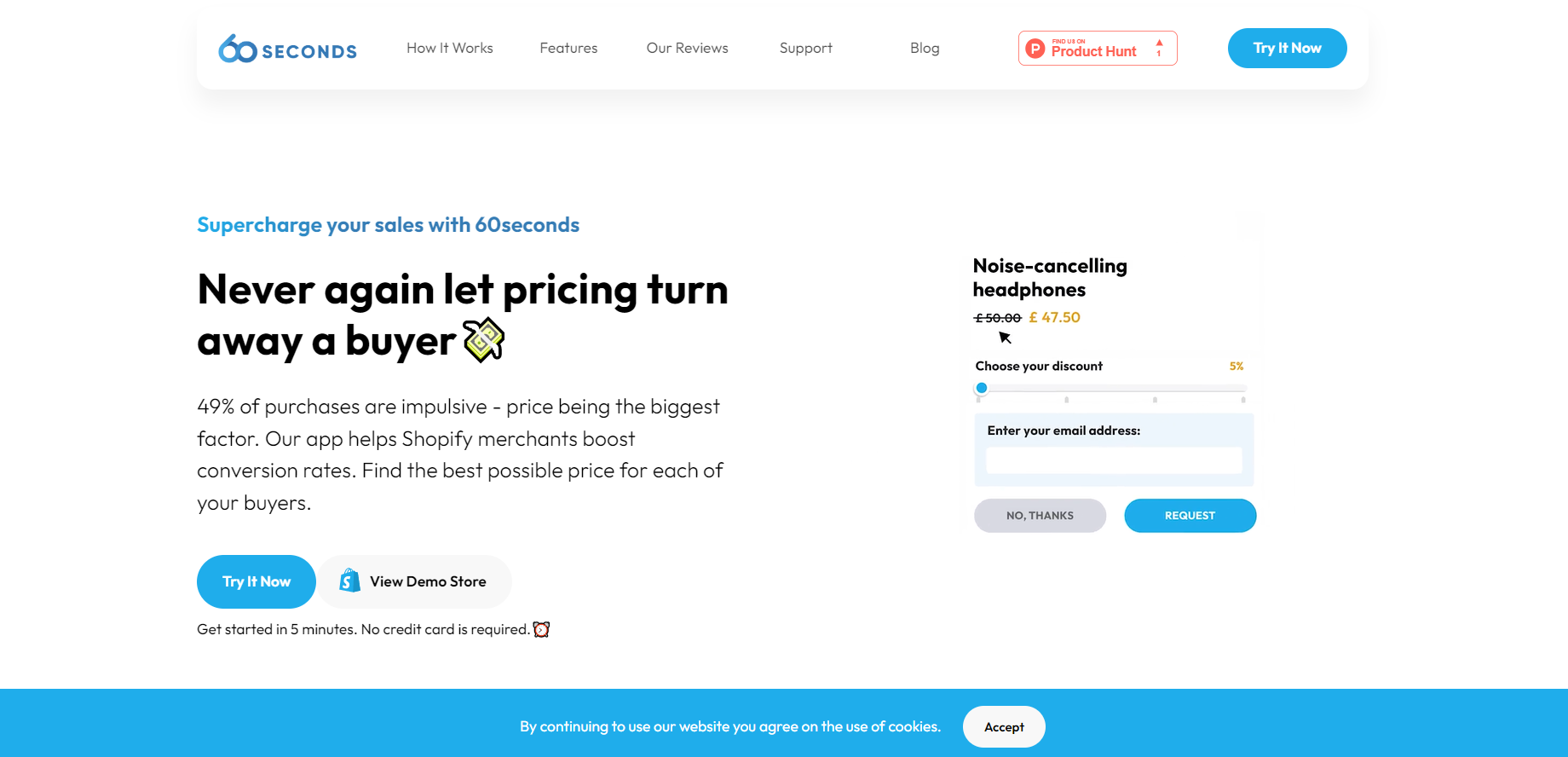 60 Seconds Shopify app is an amazing tool for increasing conversion sales. Not just that, but this tool helps you with reducing bounce rates, tracking revenue and sales, etc.
Actually, the app lets you set predefined discount rates for your customers. With this, you have the ability to make customers feel like they are important, and that their wishes are being heard.
However, you as a dropshipping owner have full control over the discounts set, since the customers first must send you an offer, and you must accept it.
Plus, this tool appears as a pop-up on every product page you have set the discount rate, so it is pretty visible to users.
60 Seconds App Pricing:
This dropshipping Shopify tool offers three pricing plans, starting at $9/month. Also, they offer you a 14-day free trial. Check other pricing plans.👇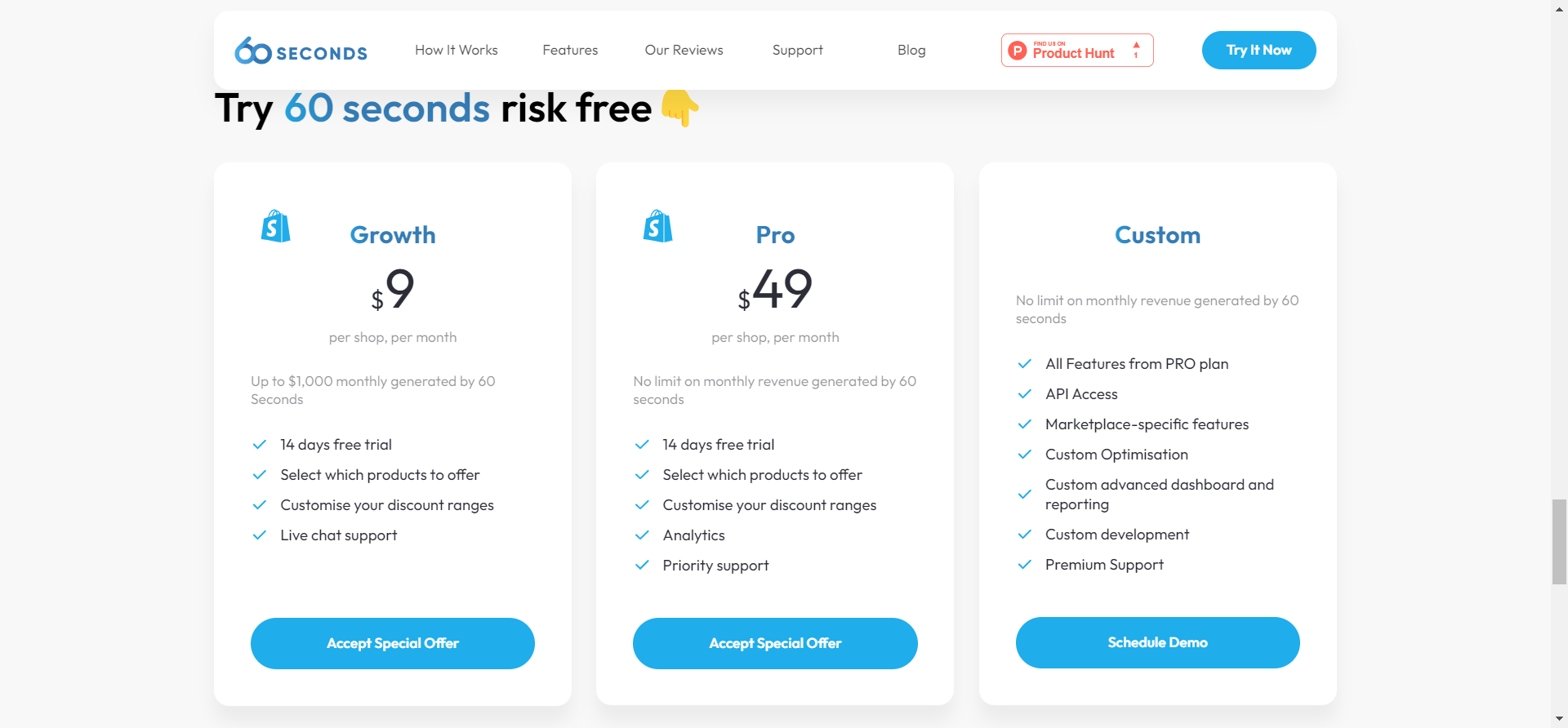 Furthermore, it seems like this Shopify dropshipping app is a TikTok trend right now. A lot of dropshippers talk about how it helped them with increasing dropshipping sales. Also, the app has a ⭐5/5 star rating on the Shopify app store.👇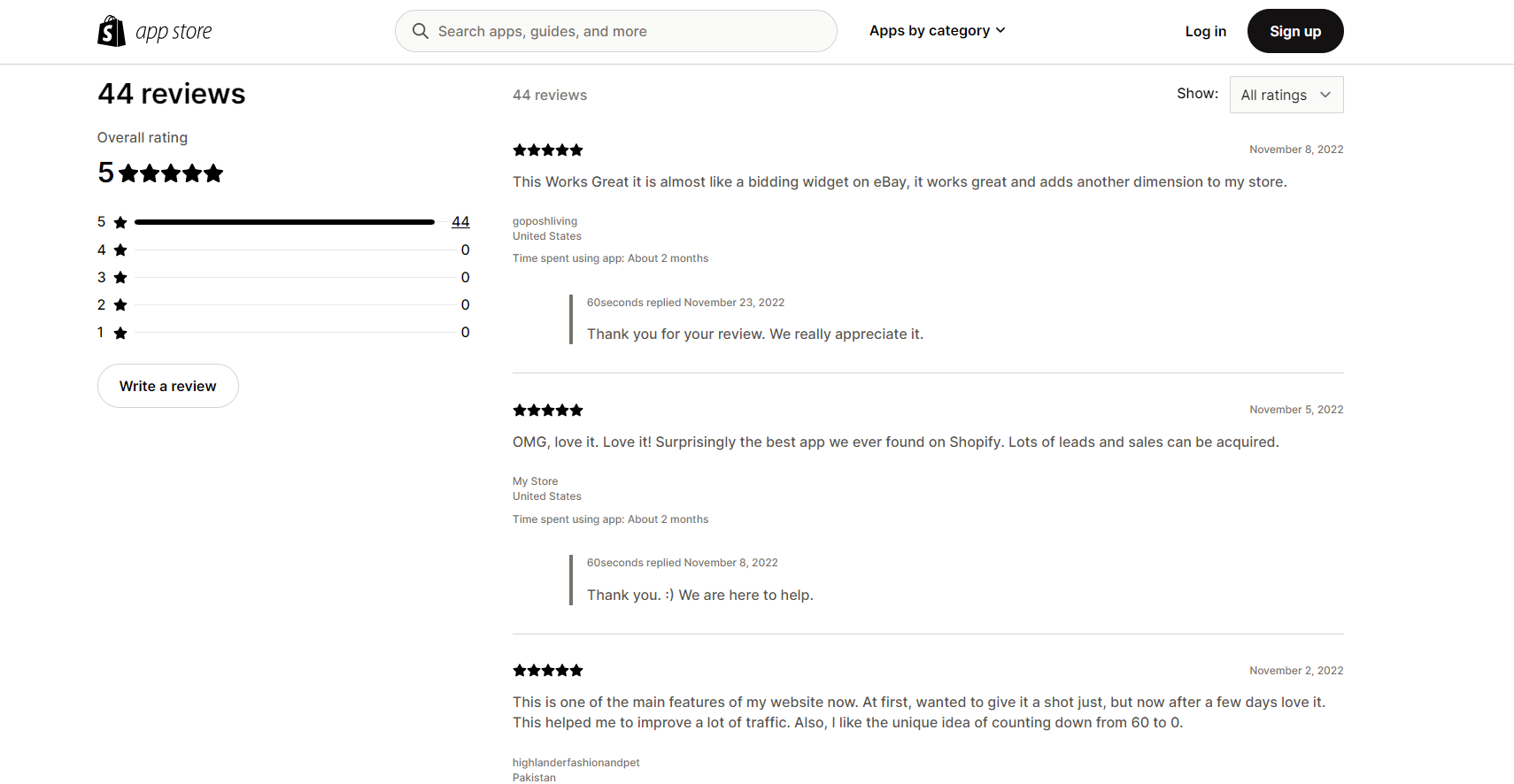 Best Shopify dropshipping apps for marketing and advertising
When running your dropshipping business, managing your focus, energy, and time is essential for success.
You cannot solely focus on one thing and overlook another (e.g., social media marketing) that is really important. Do not let that happen!
Therefore, consider using one of the Shopify dropshipping apps for social media automation. One of these apps is called Outfy – Automate Social Media.
Furthermore, this app can save you time and help you promote your dropshipping items or engaging content on several Social Media networks.
These Social Media networks include Instagram, Facebook, Pinterest, Twitter, YouTube, and more.
GUIDE: How To Sell More With Free Traffic From Pinterest for Ecommerce?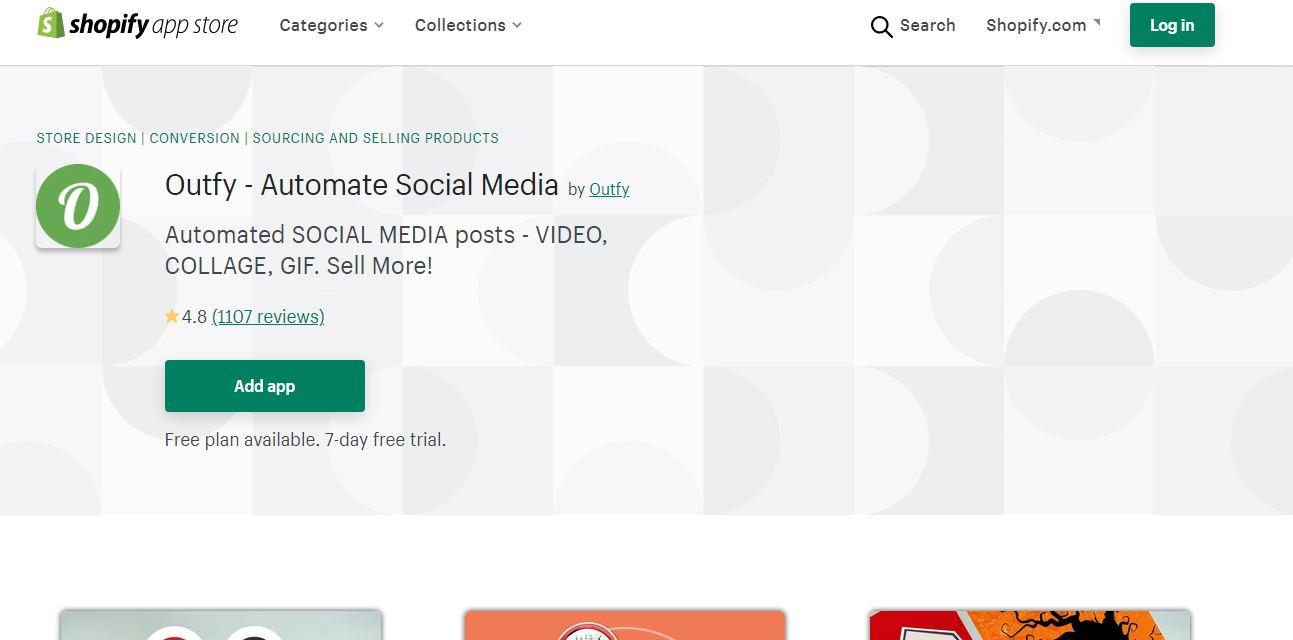 What's more, by using this app, you can promote your products to reach more customers; create videos, collages, ads, GIFs, and more in no time; and, of course, automate tasks.
We know that you want to learn more about the automation part. With Outfy Autopilot, you no longer have to worry about managing your social media content schedule daily.
All you need to do is to enable it and set your preferred time and the number of products you want to share daily. The app will do the rest.
Why not promote your business on multiple Social Media networks and get it in front of more potential customers?
Pricing plans:
Free Forever: $0 per month
Starter: $15 per month
Pro: $30 per month
Ultimate: $60 per month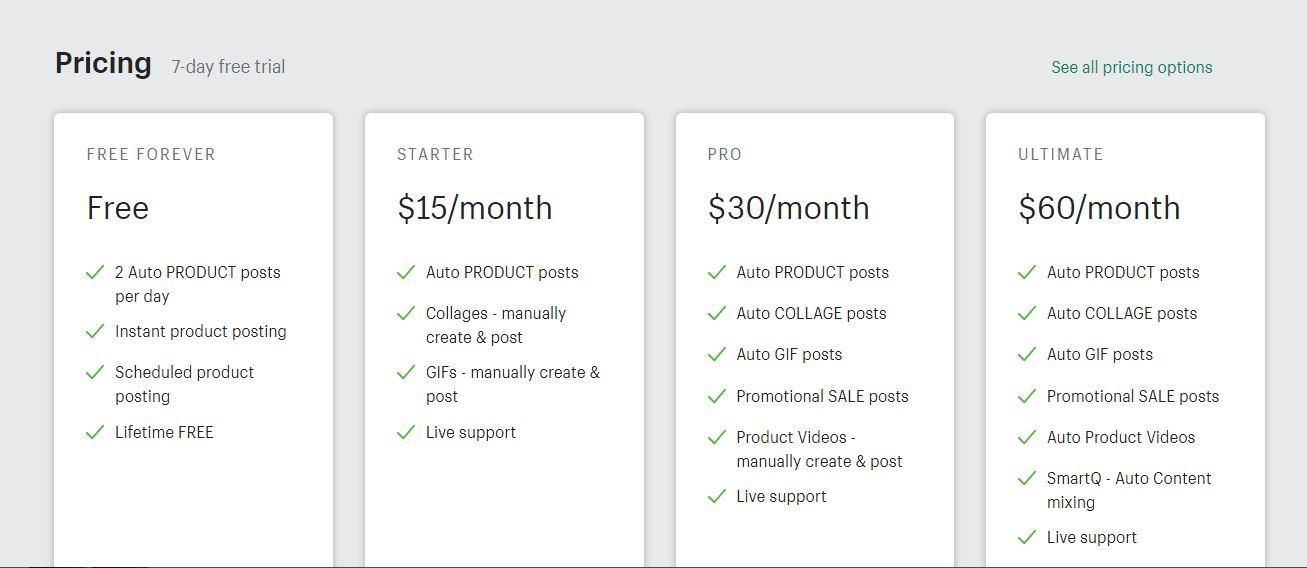 SEO is a real challenge for many new dropshipping entrepreneurs.
It takes time, money, and effort to create a website and rank it high in search engines. However, with Plug-in SEO, you can take a weight off your mind.
With this app, you can automate SEO optimization as well as drive more traffic to your Shopify store.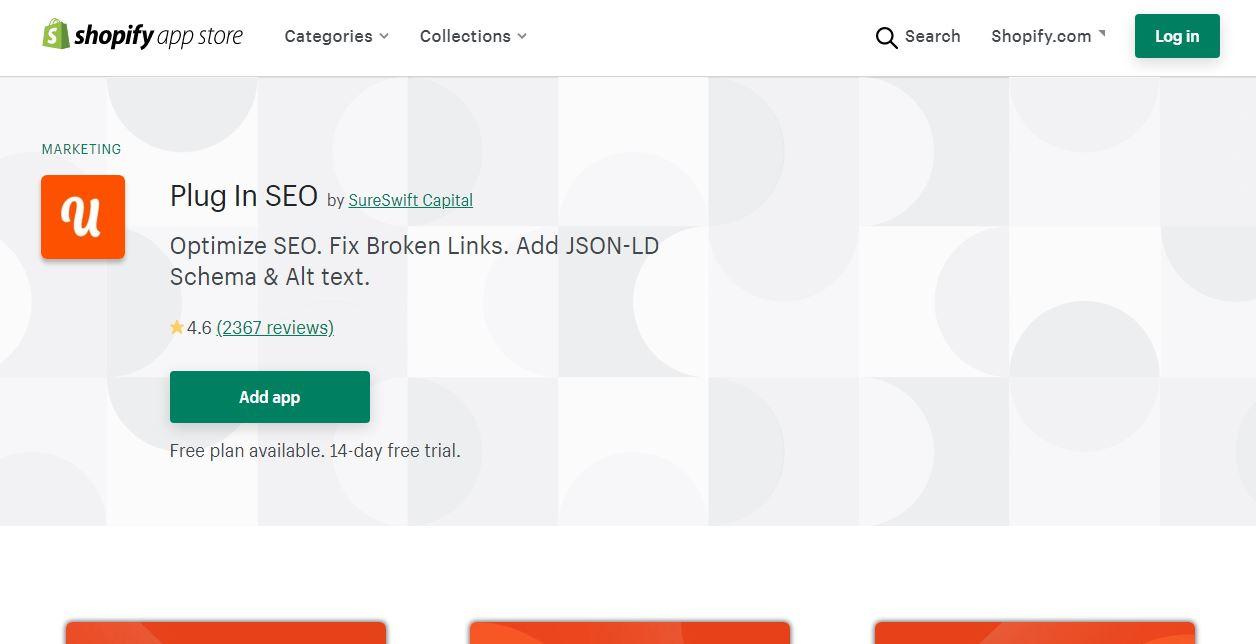 Simply put, this app offers:
Keyword tools and suggestions;
SEO for a product, collection, home, and blog pages;
Google Search Console integration;
Bulk Meta Title and Description Editor;
Comprehensive JSON-LD Structured Data/Schema Markup;
Great Support and Training Videos.
So, it is no wonder that it is among the top-rated Shopify dropshipping tools for SEO.
Pricing plans:
Free Forever: $0 per month
Plug in SEO Plus: $20 per month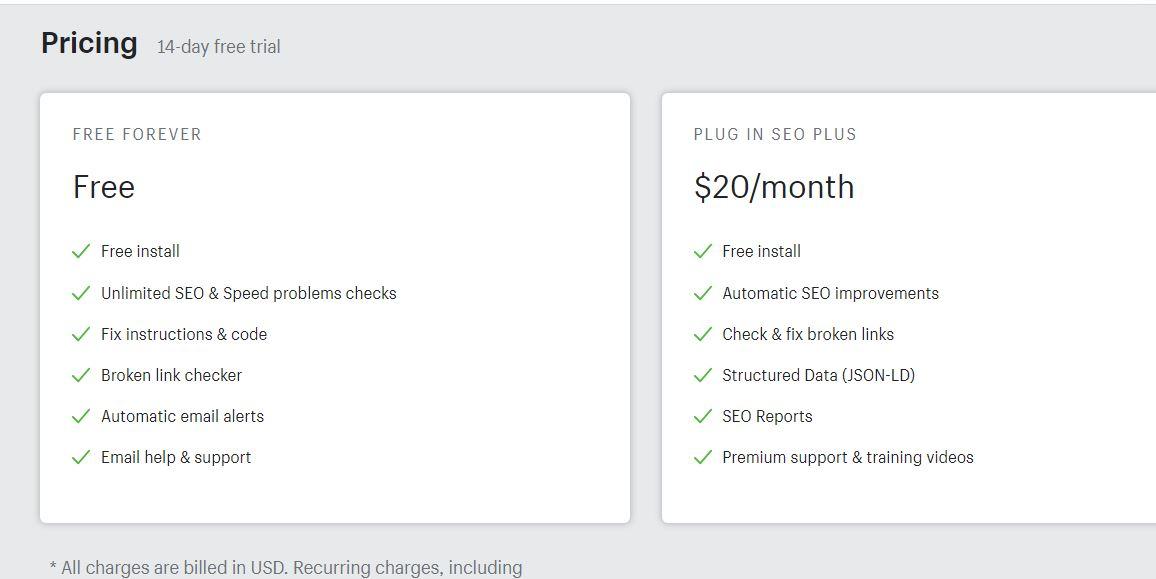 The UpPromote: Affiliate Marketing software has been selected because it can enable you to boost customer loyalty by implementing a rewards scheme.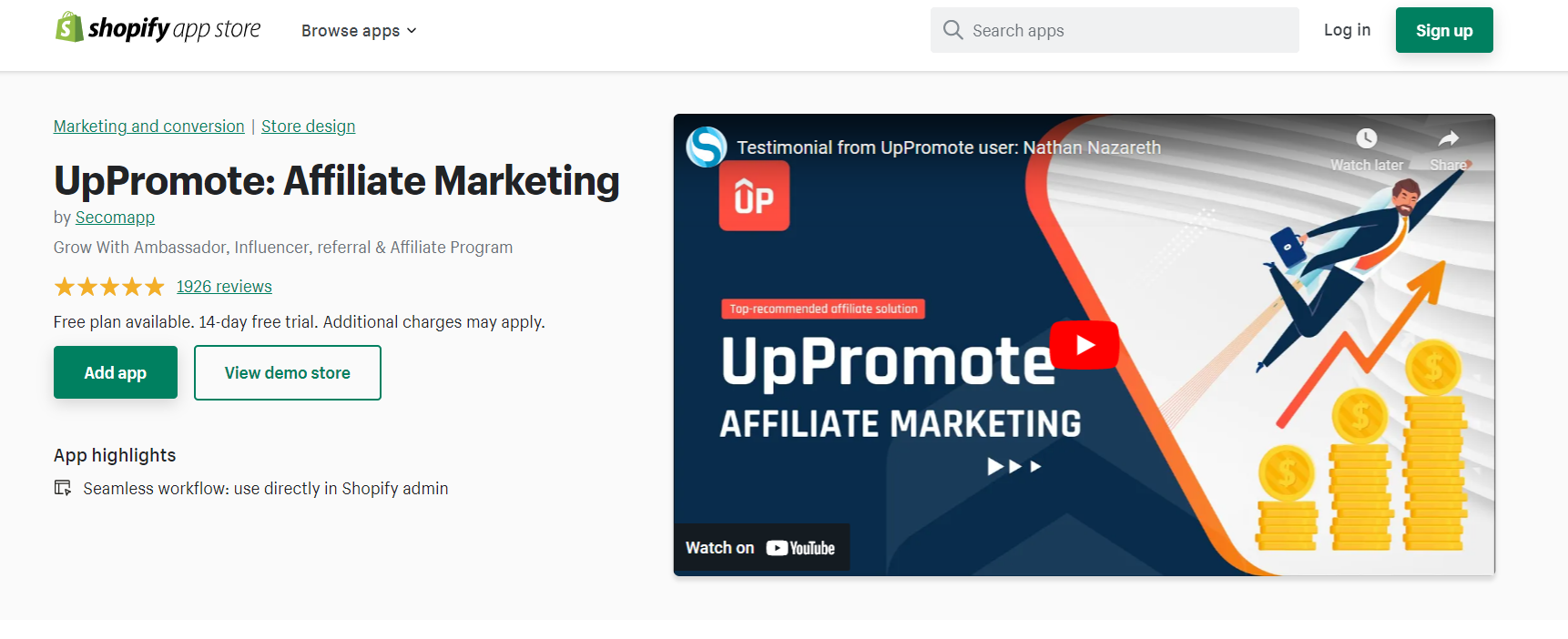 These days, it is really useful to have a one-stop, automated affiliate and influencer marketing solution. You can rapidly put together a reliable affiliate program and contact prospective affiliates.
With Uppromote, you can quickly approach potential affiliates and create a professional affiliate program. There is live chat assistance accessible 24/5.
In brief, this Shopify dropshipping app has various features, including
Expand your affiliate network
Empower affiliates
Facebook pixels, Postback URL, API support
Effective affiliate management
Monitor the performance
Multi-language Support
Connect to email services and subscription applications.
Sync affiliate contact information with Shopify customers
Enterprise solutions, including multi-stores and customized development
Lastly, Uppromote offers one free plan and three other pricing plans. So, let's take a look!👇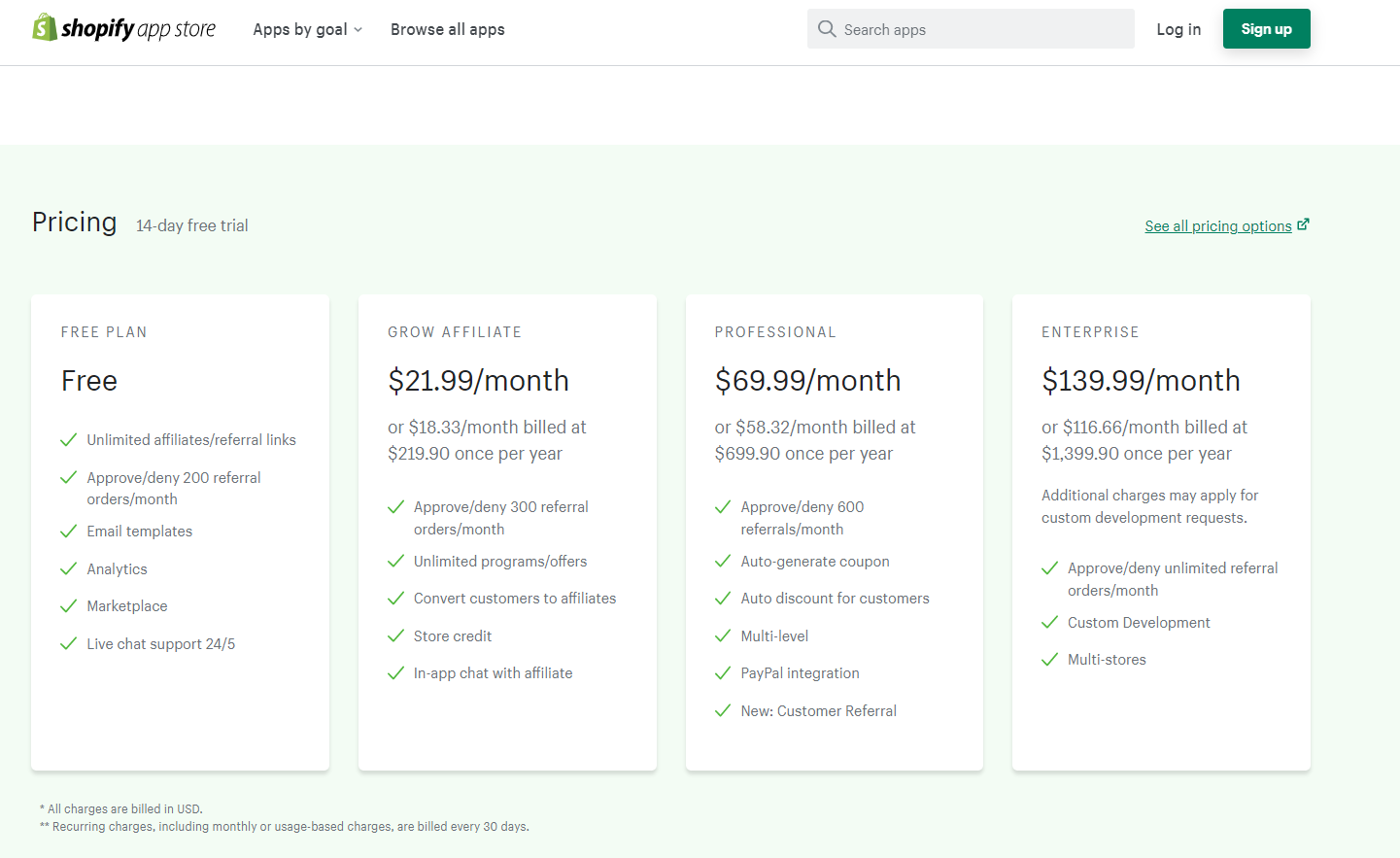 Best Shopify dropshipping apps for email marketing
With the help of the email marketing and SMS software Klaviyo, you may more effectively manage the messages you get from clients and site visitors.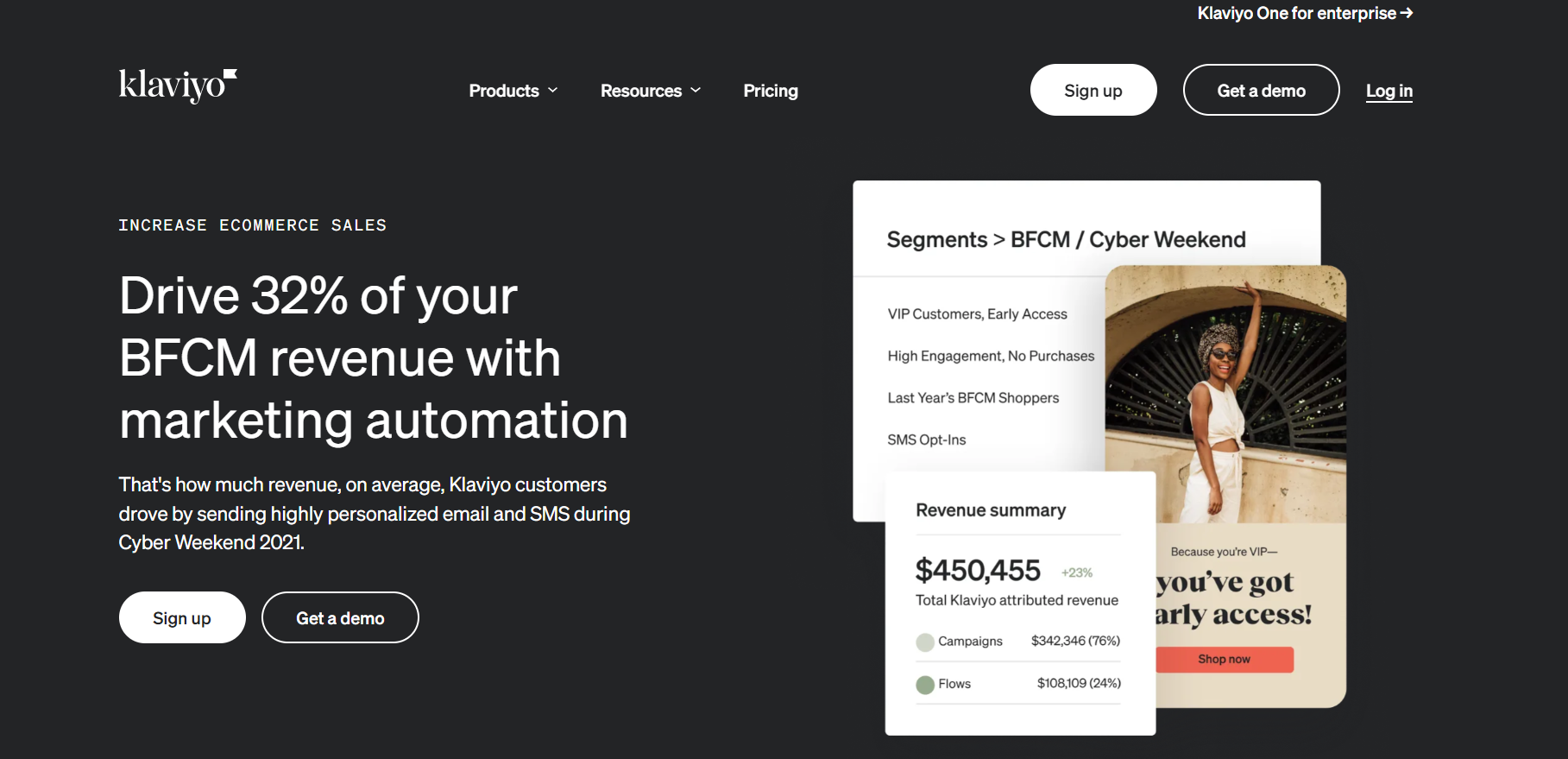 Indeed, you can also use their email and SMS templates to automatically send customized notifications like warnings for price declines, cart reminders, and suggestions that arrive just in time.
In contrast, you can have total control over your customers' data and any kind of interaction. You may analyze what makes a visitor click, bounce, or make a purchase in order to turn consumer transactions into lucrative long-term relationships.
Furthermore, this amazing Shopify dropshipping app contains various must-have features if you want to succeed in email marketing:
2-way messaging
A/B Testing
Analytics/ROI Tracking
Auto-responders
Landing pages/web forms
Image Library
Campaign management
Contact database
WYSIWYG Editor
Contact management
Drip Campaigns
Customizable CTAs
Dynamic Content
Email Marketing
Event-triggered actions
CAN-SPAM Compliance
List management
Subscriber management
Klaviyo Pricing plans:
Klaviyo pricing depends on the contacts you have to manage. For example, if you have a number of contacts ranging from 0-250, Klaviyo offers one pricing plan that is free.
On the other hand, if your number of contacts is between 251-500, then Klaviyo offers three pricing plans. Check them out.👇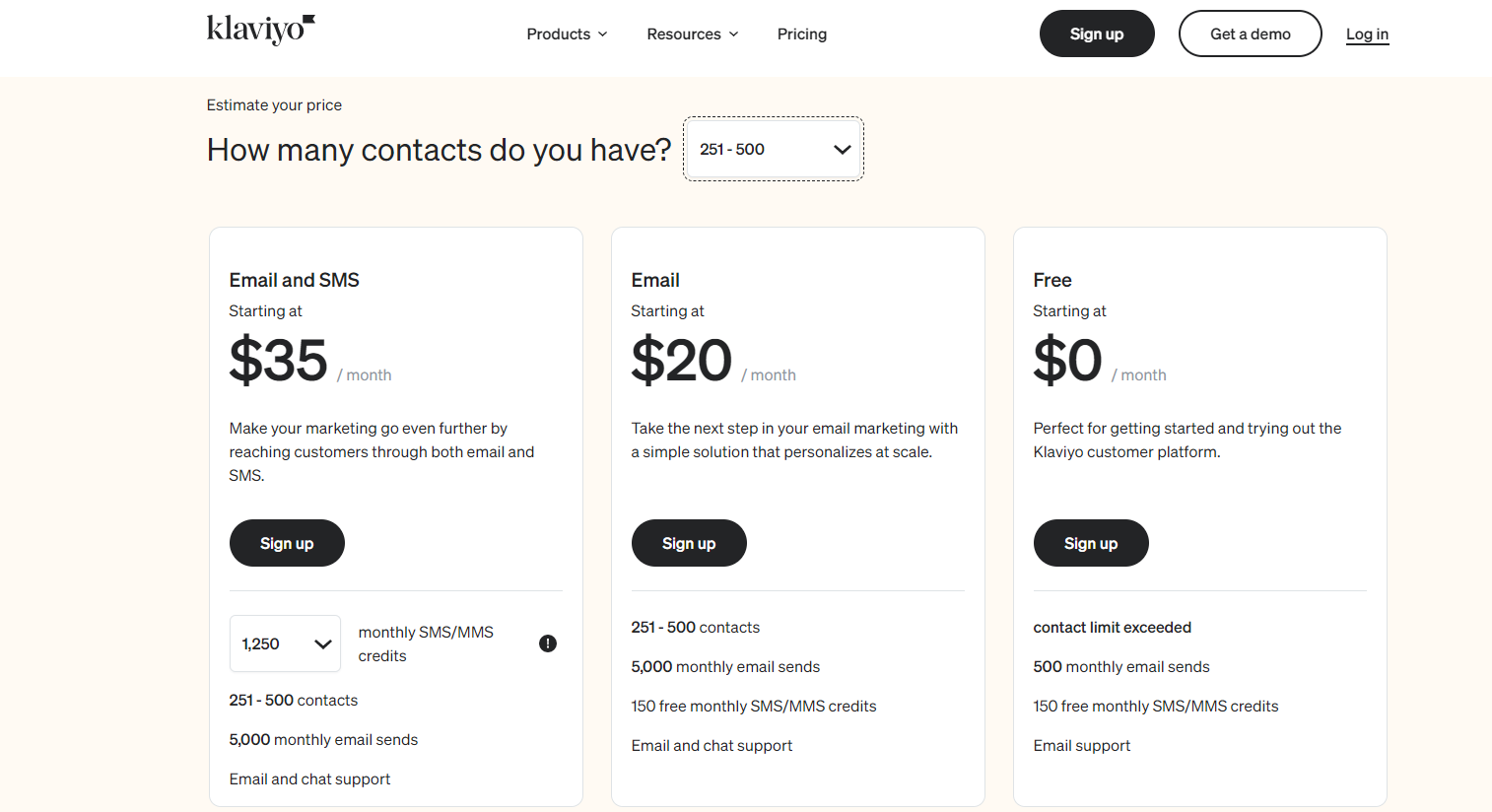 Further, check the pricing for your number of customers here. It is very simple, just choose your criteria.
Additionally, customer feedback is always valuable. In fact, Klaviyo has received over 1500 customer reviews and a rating of 4.2/5. Also, the majority of responses express satisfaction with this email marketing app.
👉 Check out our Klaviyo vs Privy compassion article.
One of the most powerful Shopify dropshipping apps for marketing, Omnisend helps you stay connected with your customers.
Of course, this app really does a whole lot more than that.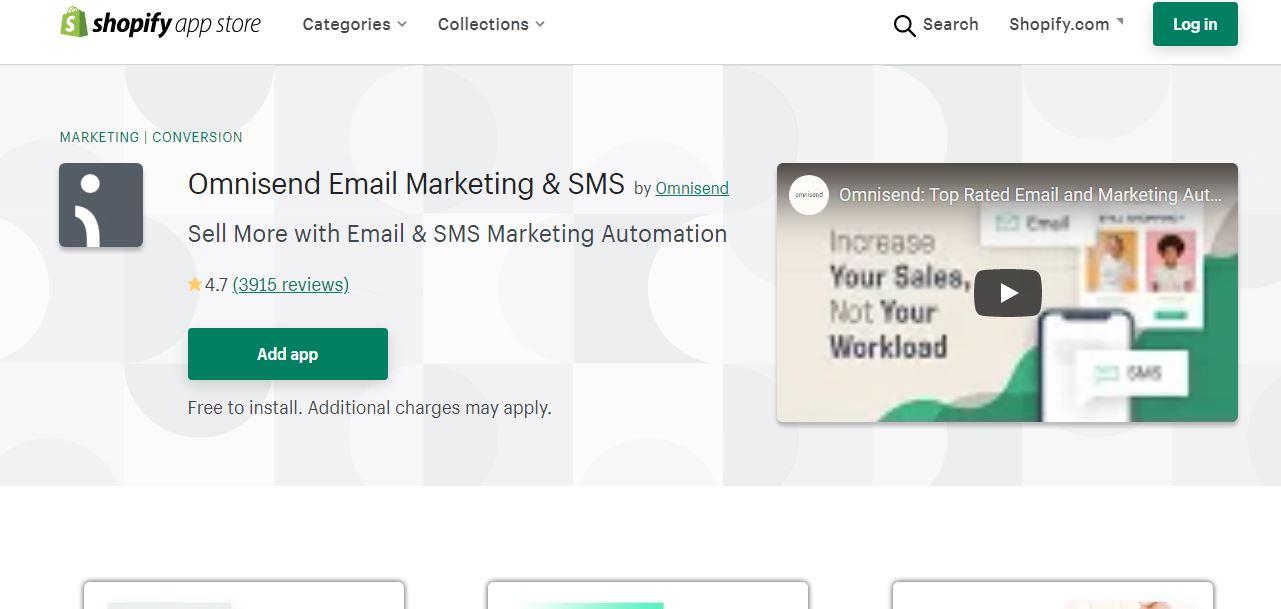 Unlike many other e-mail marketing apps for Shopify, this one takes it further than just email. Let us explain.
By installing this dropshipping app on your Shopify store, you can create robust automation workflows and add multiple channels to them, including e-mail, WhatsApp, Facebook Messenger, SMS, etc.
It is no surprise that Omnisend can help you automate your marketing efforts as well as take your e-mail marketing campaign to the next level.
Pricing plans:
Free: $0 per month
Standard: $16 per month
Pro: $99 per month
Enterprise: Custom pricing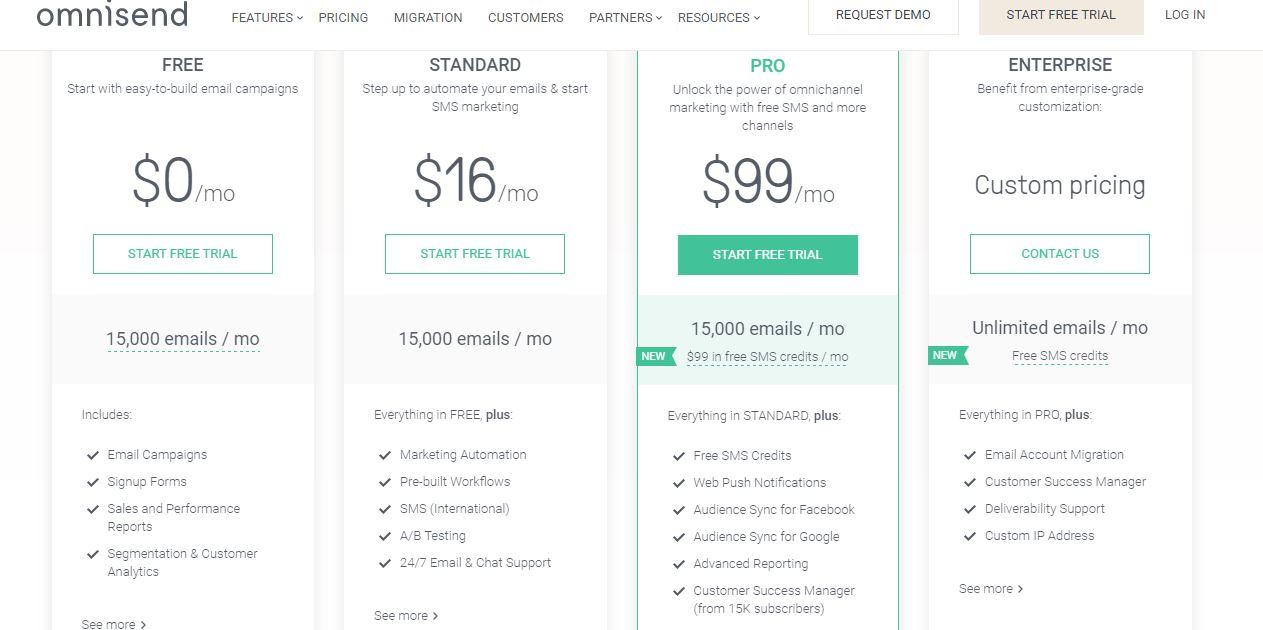 Automizely Marketing is an all-in-one eCommerce marketing automation platform.
With top-notch sales and marketing tools and simple sales and marketing tools and user interfaces, dropshippers can be empowered to generate leads, customer engagement, and sales.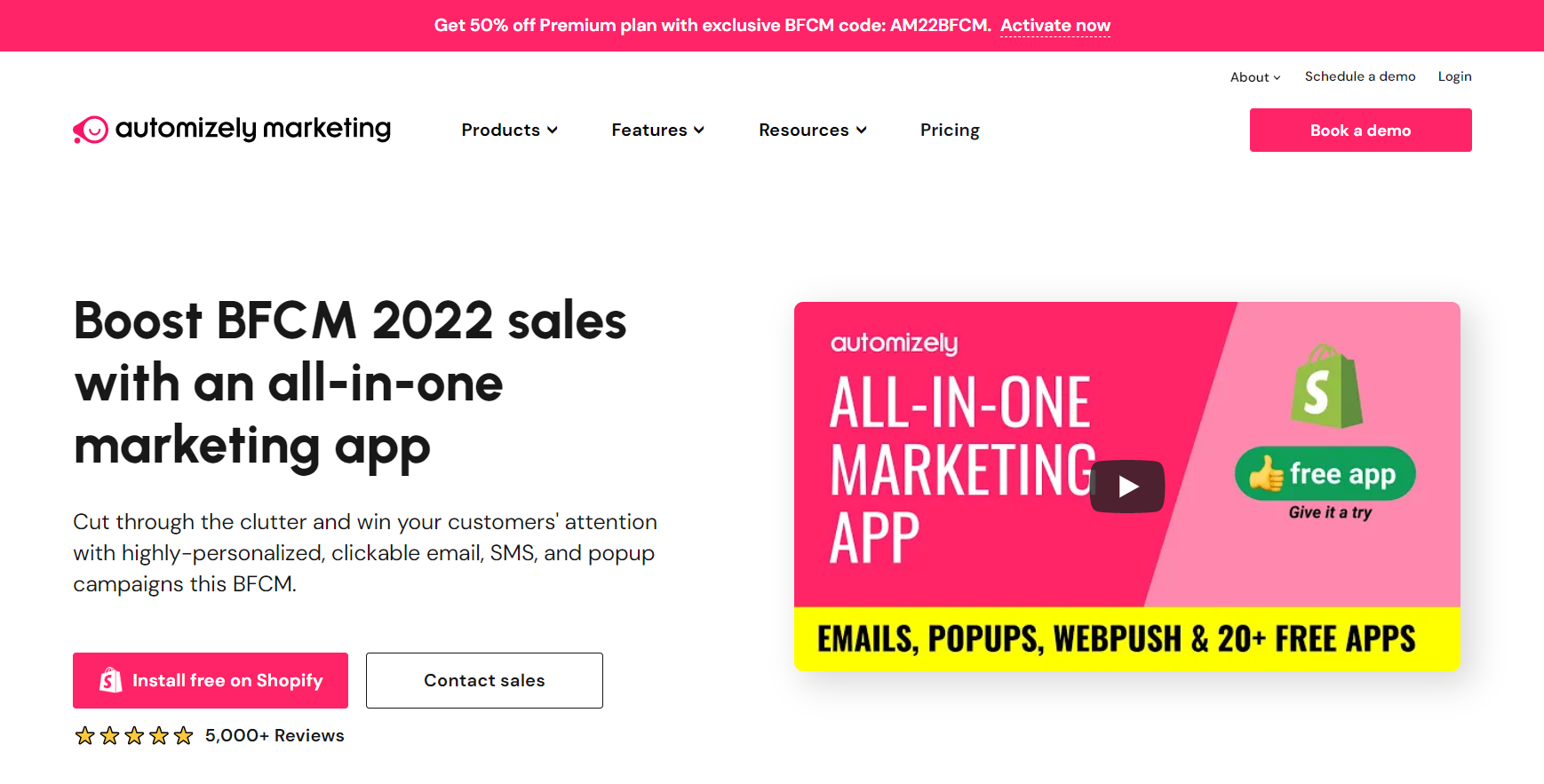 Automizely Marketing offers dropshipping businesses additional cutting-edge tools like AI-powered product suggestions, countdown timers, promotional bars, and email and SMS marketing promotional bars that help in increasing sales.
Moreover, there are all other amazing features that they offer, like
Email newsletter
Product recommendations
Web push notifications
Stock countdown bar
Blinking browser tabs
Email marketing automation
Social proof popups
Free shipping bar
Sales stickers
Instant search bar
Facebook live chat widget
Website popups & forms
Contact management(CRM)
Announcement bar
Countdown timer
Mobile app builder
Supercharge conversions with better delivery date estimates
AI-predictive EDD widget (coming soon)
Furthermore, none of these tools requires technical knowledge or support. Therefore, you can use it immediately with little effort.
Automizely Pricing Plans:
There are four pricing plans for email marketing on Automizely.👇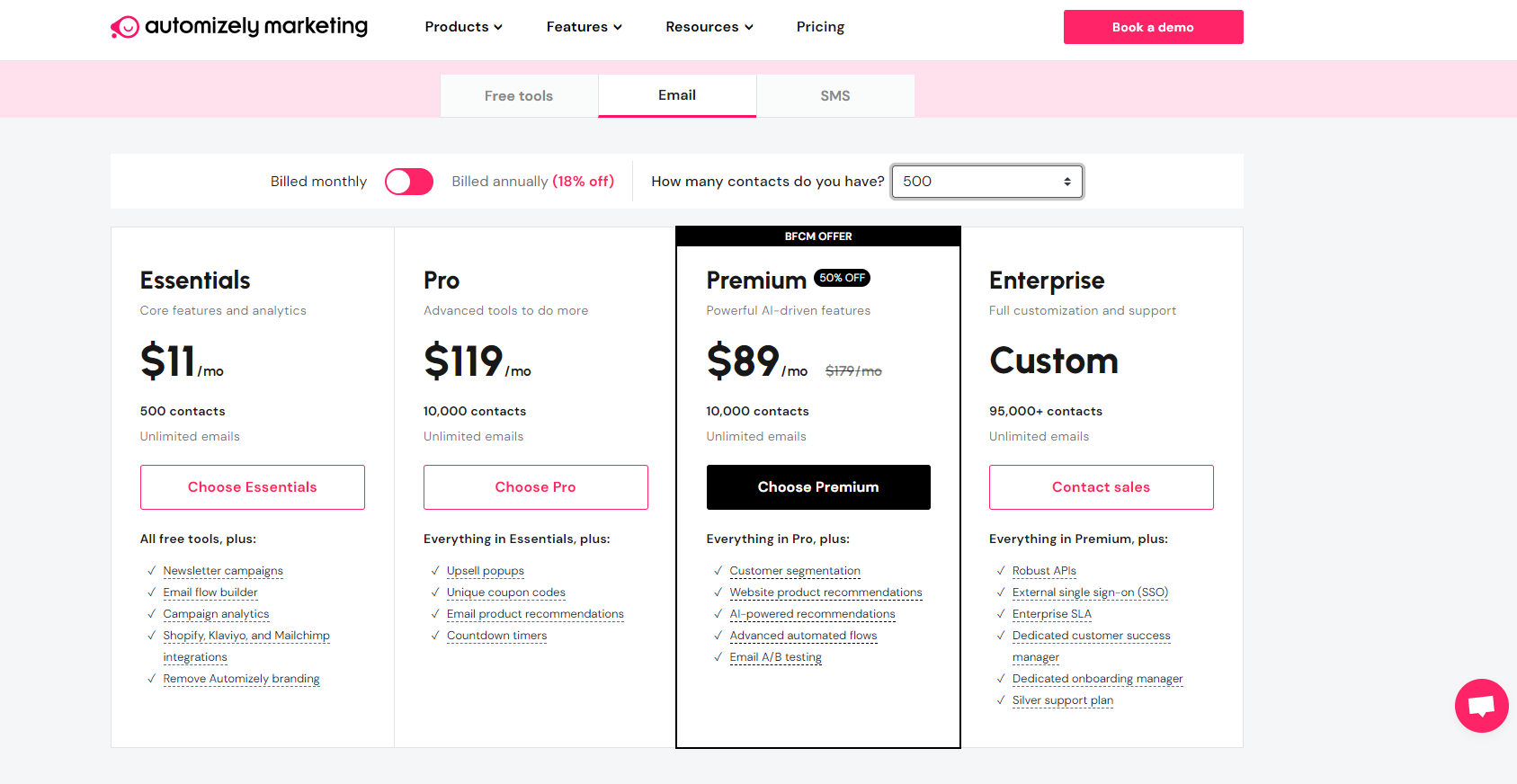 However, please NOTE that the pricing for the Essentials plan changes according to the number of contacts you have.
Best Shipping apps for Shopify
This is one of the best shipping apps for Shopify known as an end-to-end shipping platform for all kinds of businesses.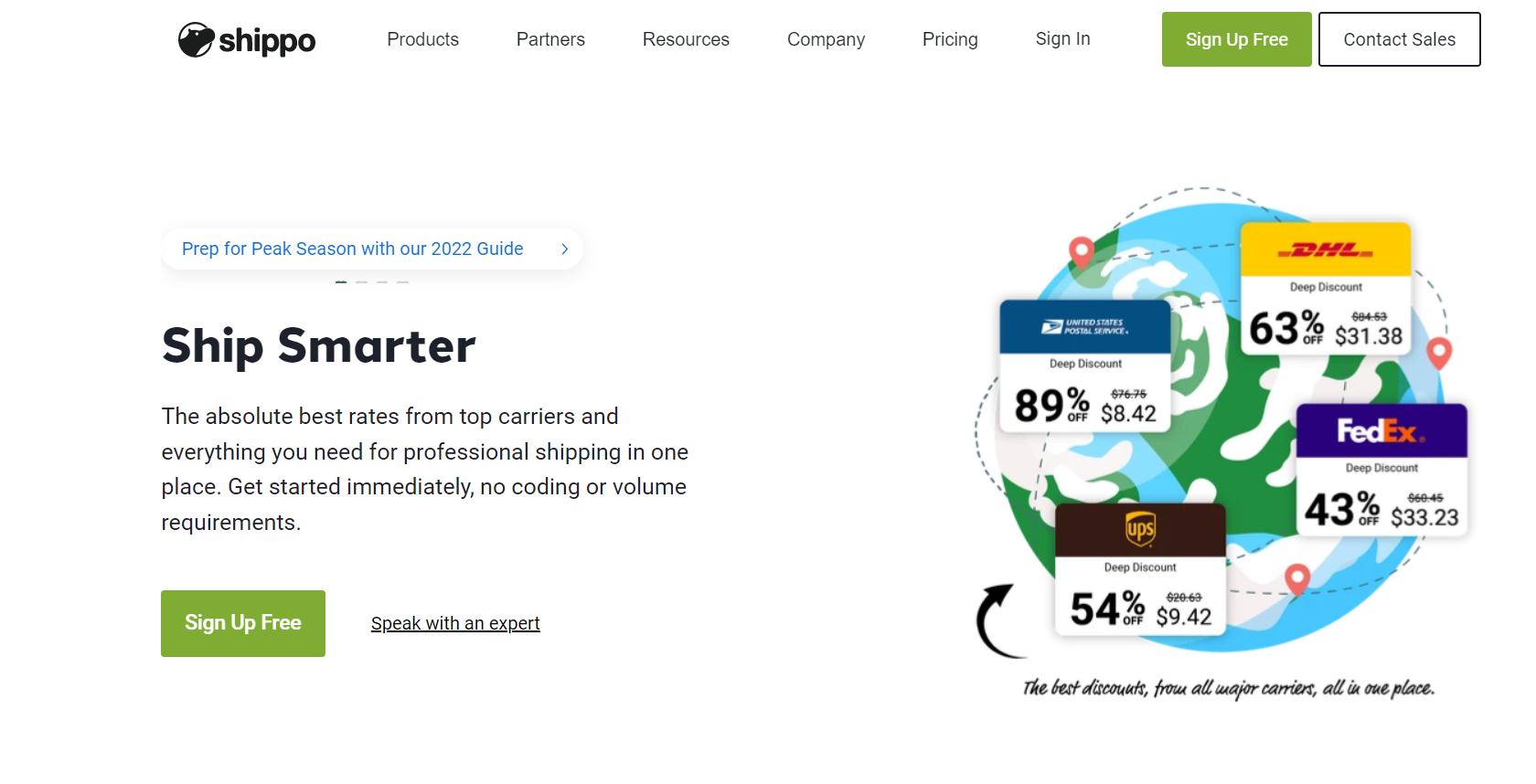 Shippo helps dropshipping save a ton of time. Most of the shipping process is automated and you can handle all your shipping requirements in one place.
Also, you can find low-cost shipping options, create labels, and automatically email your clients tracking information.
The best part is that Shippo collaborates with major carriers like UPS, FedEx, Amazon, Etsy, USPS, and DHL. This translates into significant shipping savings for both you and your clients.
This Shopify dropshipping app offers free return label printing. By making returns straightforward for your customers, you improve their overall experience.
Thanks to one of the best Shopify dropshipping apps- Shippo, you can
Easy Access to the Best Rates on the Most Carriers
Link natively to the most widely used e-commerce platforms
Analytics, insights, and reports, together with adjustable automation and intelligent defaults
Build your brand with fully customizable packing slips, tracking pages, and shipment emails
Create labels more quickly by using previously stored and filled-out package data.
Manage shipments and import orders from your Shopify store all in one spot
Automatically prepared business invoices and customs paperwork
Distribute goods or partially-fulfilled orders to separate places, and divide orders into numerous shipments
Place return labels within the box and create a post-purchase experience that encourages customers to make repeat purchases
Make complete fulfillment decisions with Shippo's API
💡Tip: Shippo vs Shipstation: Extensive Comparison For Dropshippers
Shippo Pricing plans:
Shippo offers one FREE plan, and two pricing plans, from which in order to get the price for the Premium plan, you must first contact them. 👇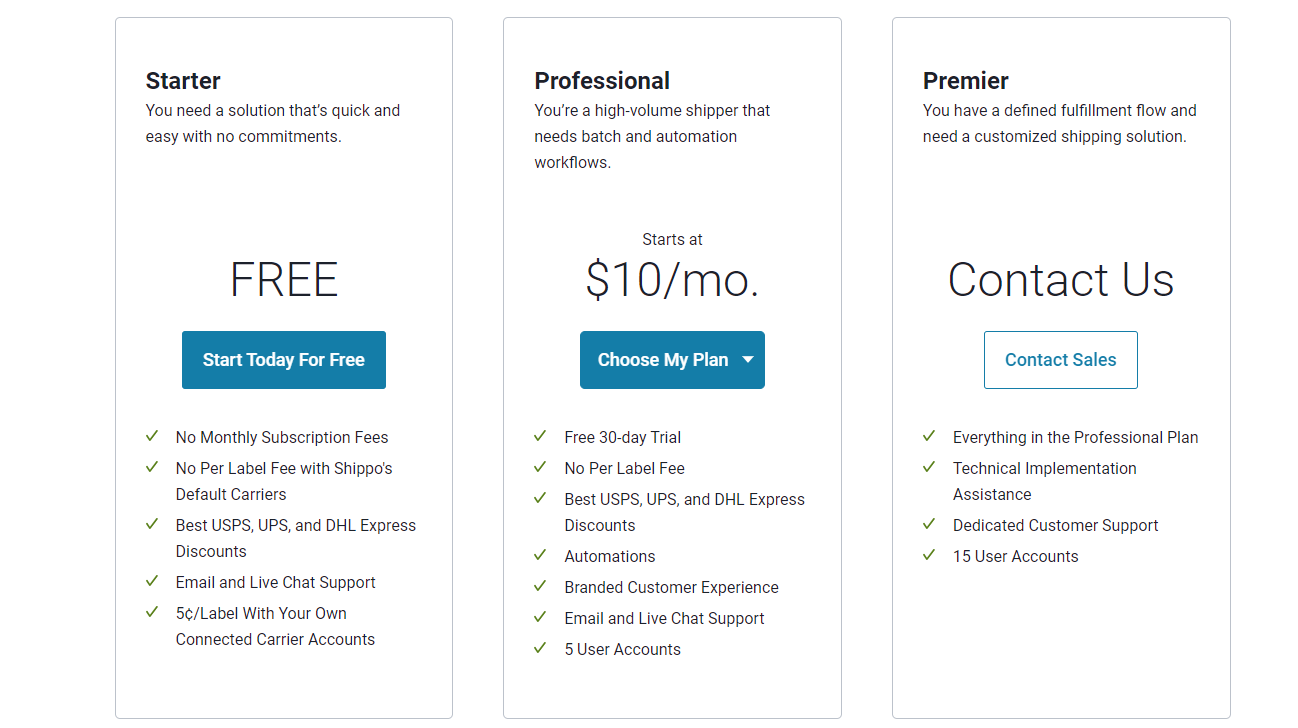 This Shopify dropshipping app is the most popular cloud-based shipping platform in the world. Easyship enables Shopify stores to grow internationally and save time.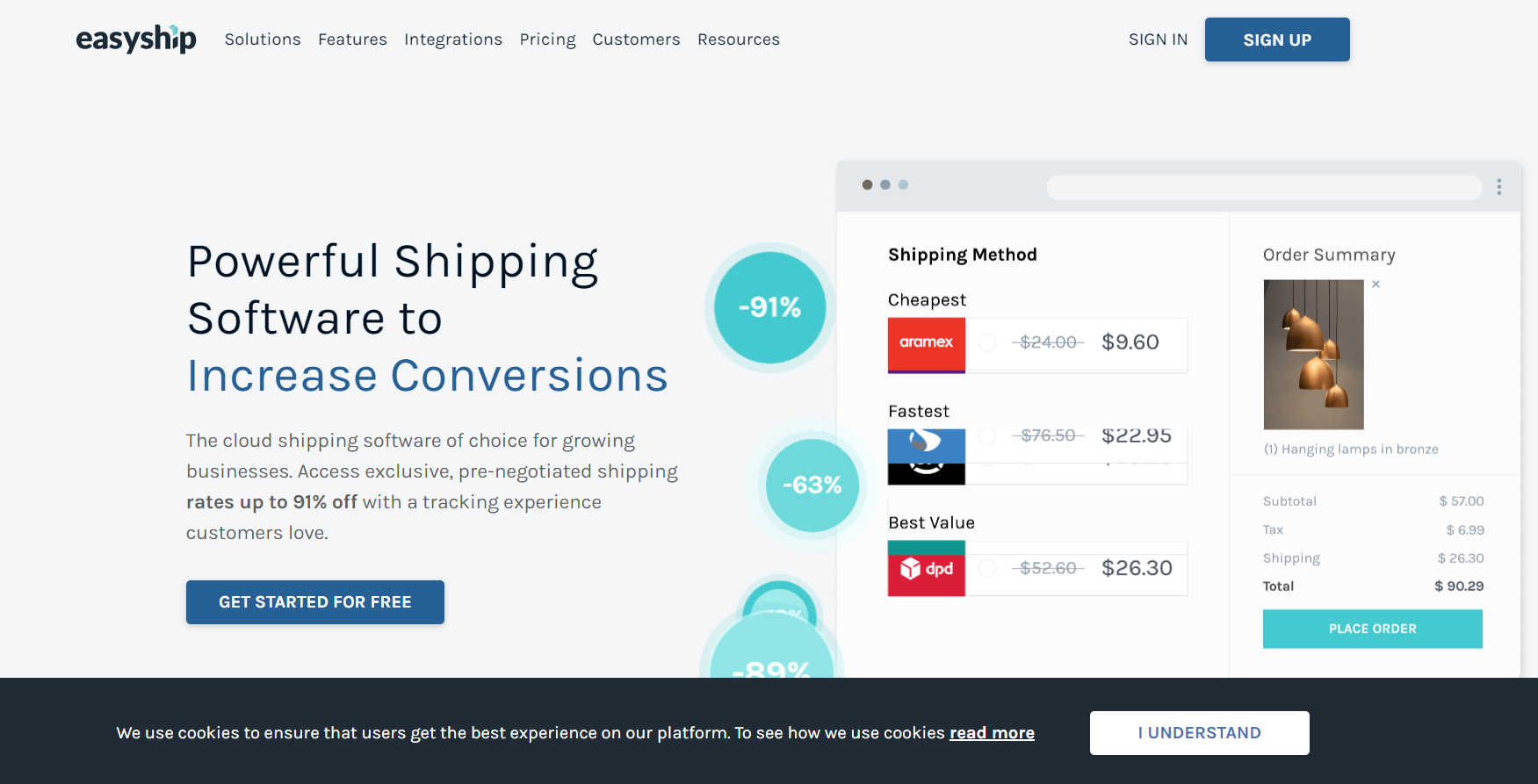 They provide you access to more than 100 international businesses, which is the first of many characteristics that make it the perfect choice for foreign Shopify dropshipping stores.
Furthermore, Easyship offers:
seamless tax and duty calculations,
automatic order updates,
automatic order synchronization with Shopify sites
one-click label printing, USPS discount rates
free membership
What's more, this integrated app is an all-in-one shipping platform that makes labels, prepares customs paperwork, maintains orders, and creates shipments. Easyship offers free monitoring to customers as well.
Accordingly, the main features that Easyship provides are:
Shipping Dashboard
Discounted Shipping Rates
Duties & Taxes Visibility
Global Fulfillment
Optimized Store Checkout
Branding Suite
Shipping Insurance
Easyship Collect
👉 Explore our ultimate list of the top 11 Shopify Checkout Apps.
Easyship Pricing plans:
This Shopify dropshipping app has a free plan, and also offers a 14-day free trial. However, there are three pricing plans:
Plus Plan starts at $29/month (up to 500 shipments)
Premier Plan at $49/month (up to 1500 shipments)
Enterprise pricing is available upon request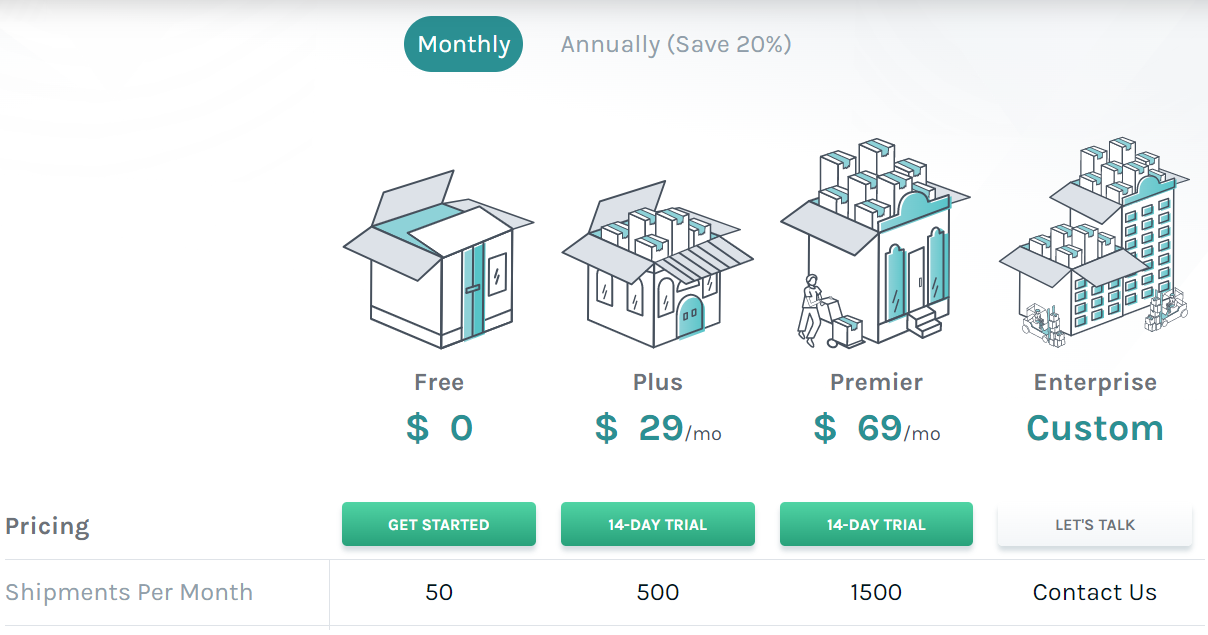 We already mentioned Automizely Shopify dropshipping app. Well, here we have its "sibling" – AfterShip. This is one of the top Shopify shipping applications, with more than 3,000 reviews. Also, it has a 5-star rating attesting to its effectiveness.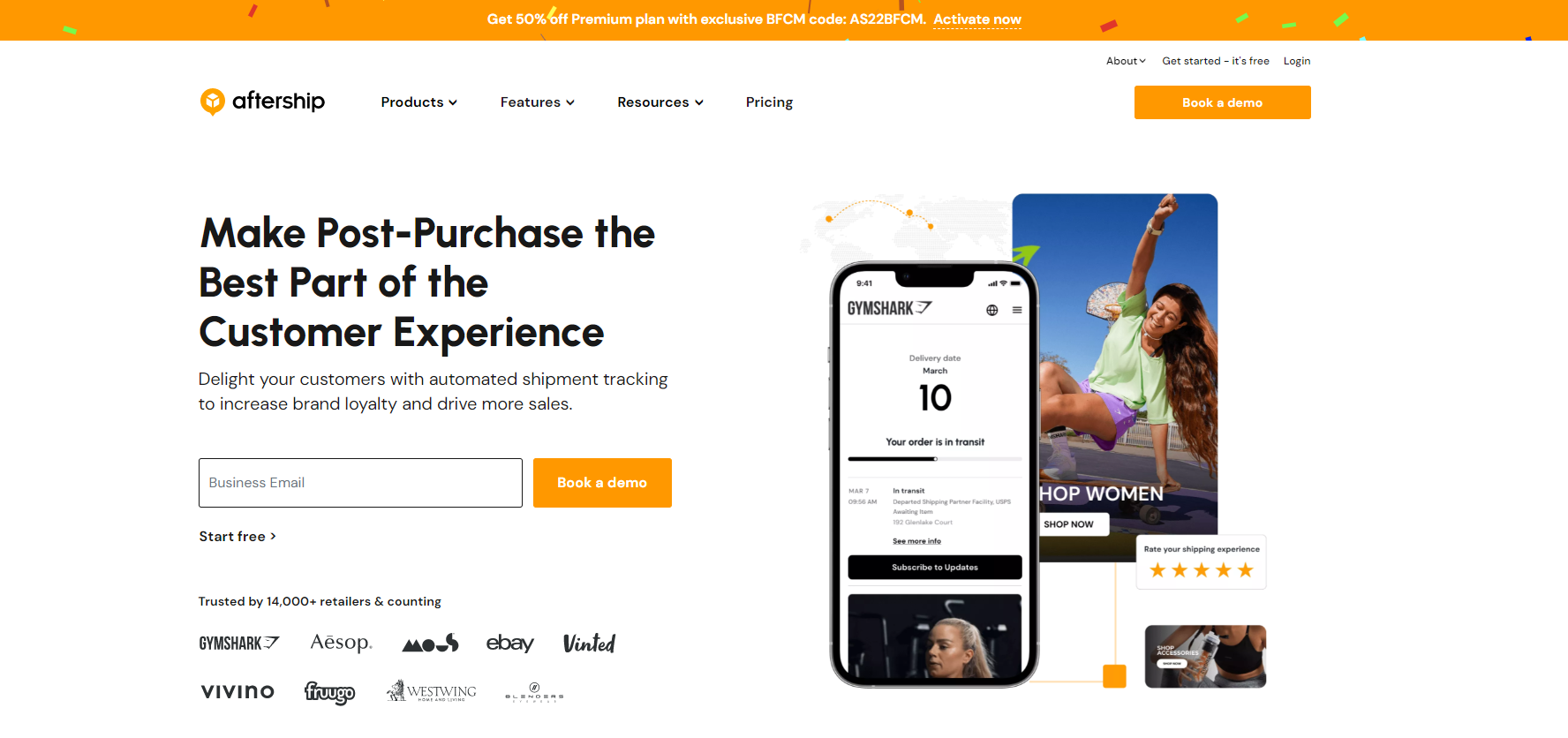 AfterShip makes it simple to follow a customer's order once it has been sent. It continuously updates you and your clients on the status of the shipment.
Besides, you are able to make a page for your own branding. Include a link to your website, your social media accounts, and your logo.
Additionally, AfterShip insures your delivery through the InsureShield insurance agency. The insurance coverage is adaptable, beneficial, and quickly applied when necessary.
AfterShip Pricing Plans:
AfterShip offers one free plan and three other pricing plans. 👇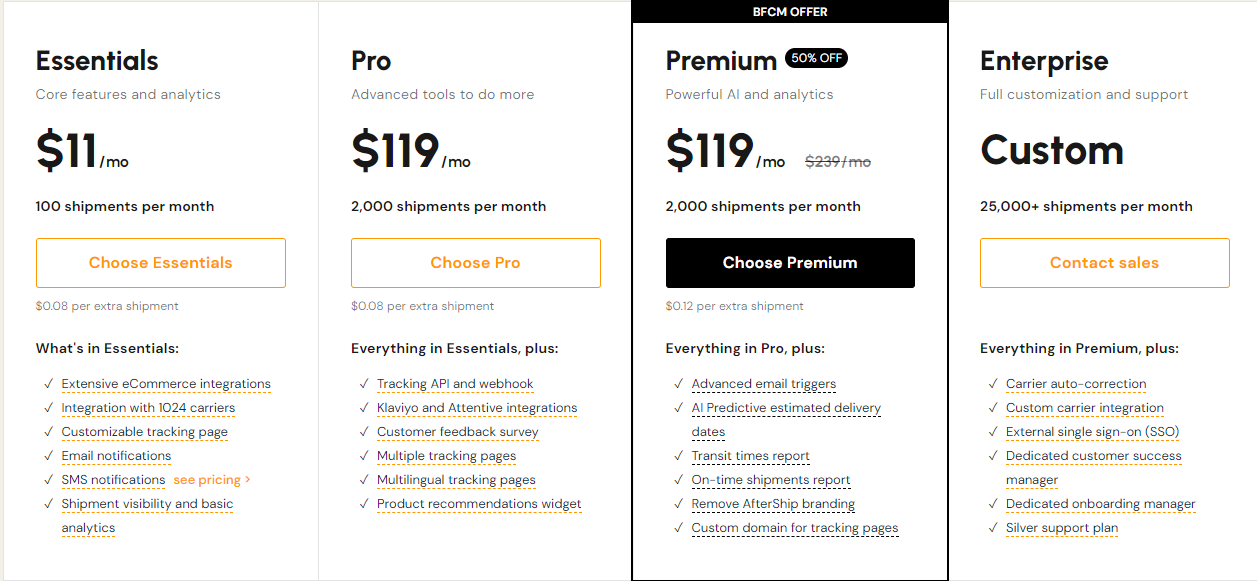 However, if you change the number of shipments you receive per month, then the pricing for the Essentials plan will change accordingly.
Best Review apps for Shopify
Judge.me is one of the many must-have apps for Shopify dropshipping.
Their user-generated content can help you boost your conversion rate, organic traffic, and consumer engagement.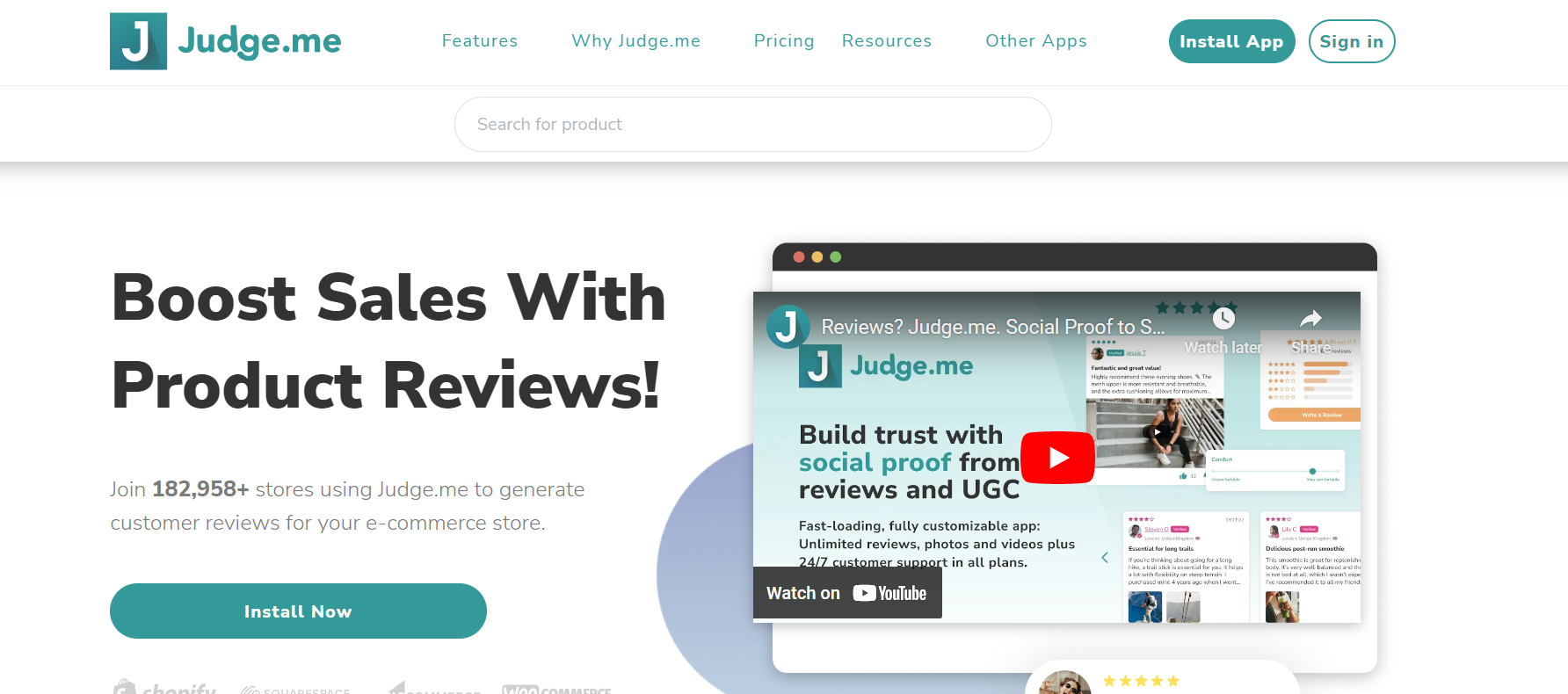 Furthermore, the user-friendly UI of this top dropship app for Shopify allows users to upload photos and videos of their product evaluations.
Also, you can write them directly from their email inbox. Convenience and usefulness are also important factors here.
For your review widgets, Judge.me offers extensive customization and style choices. This strengthens your branding and establishes a unified aesthetic for all components of your Shopify site.
In addition, the key Judge.me features are:
Install & Customize Widgets
Collect More Reviews Automatically
Manage Reviews
Share Reviews Across Multiple Channels
Judge.me Pricing Plans:
Judge.me has one free plan and one pricing plan that costs $15.👇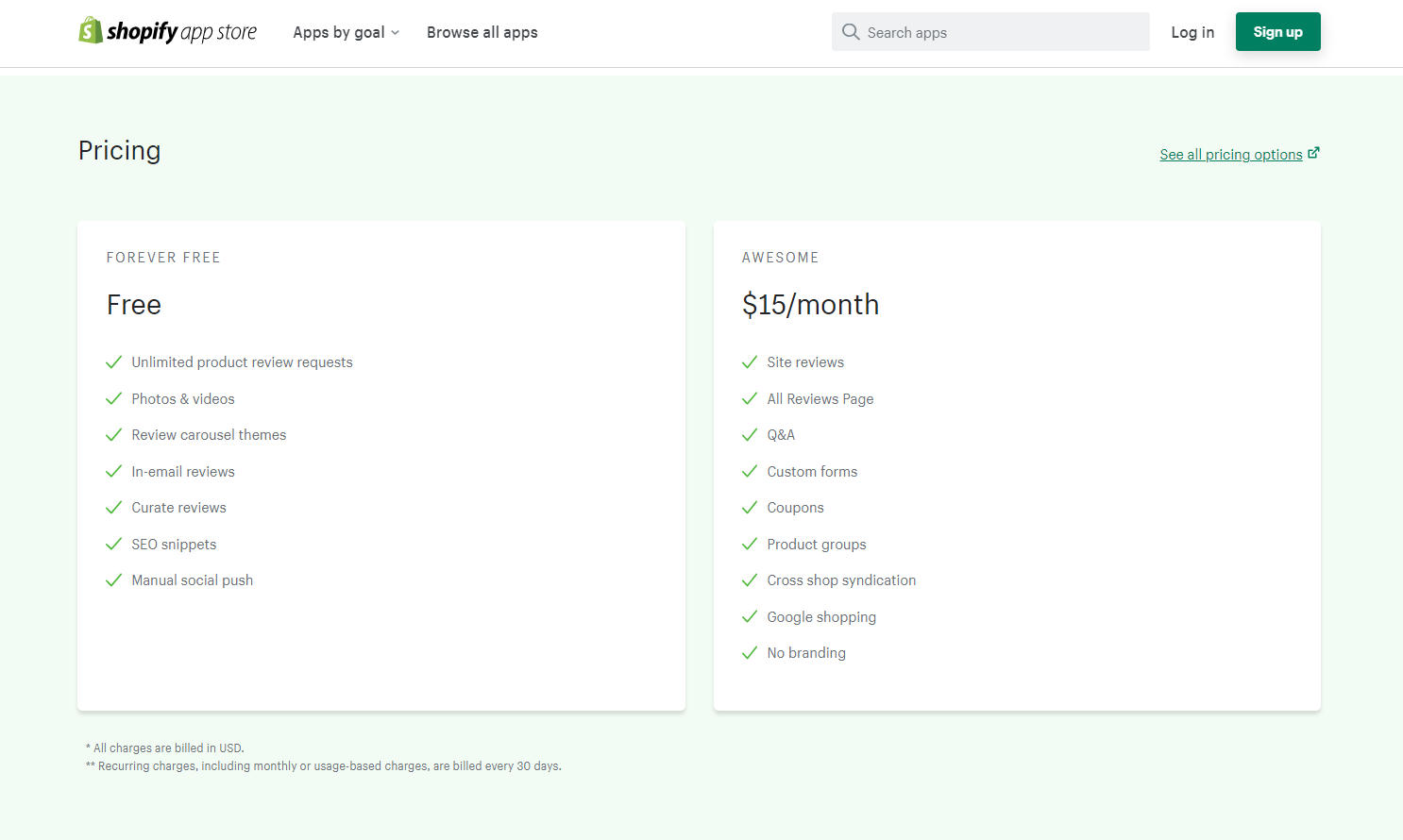 On the Shopify App Store, Loox is one of the most well-liked marketing applications.
Photo and video review rewards and recommended discounts, it is a great way to promote word of mouth and repeat sales.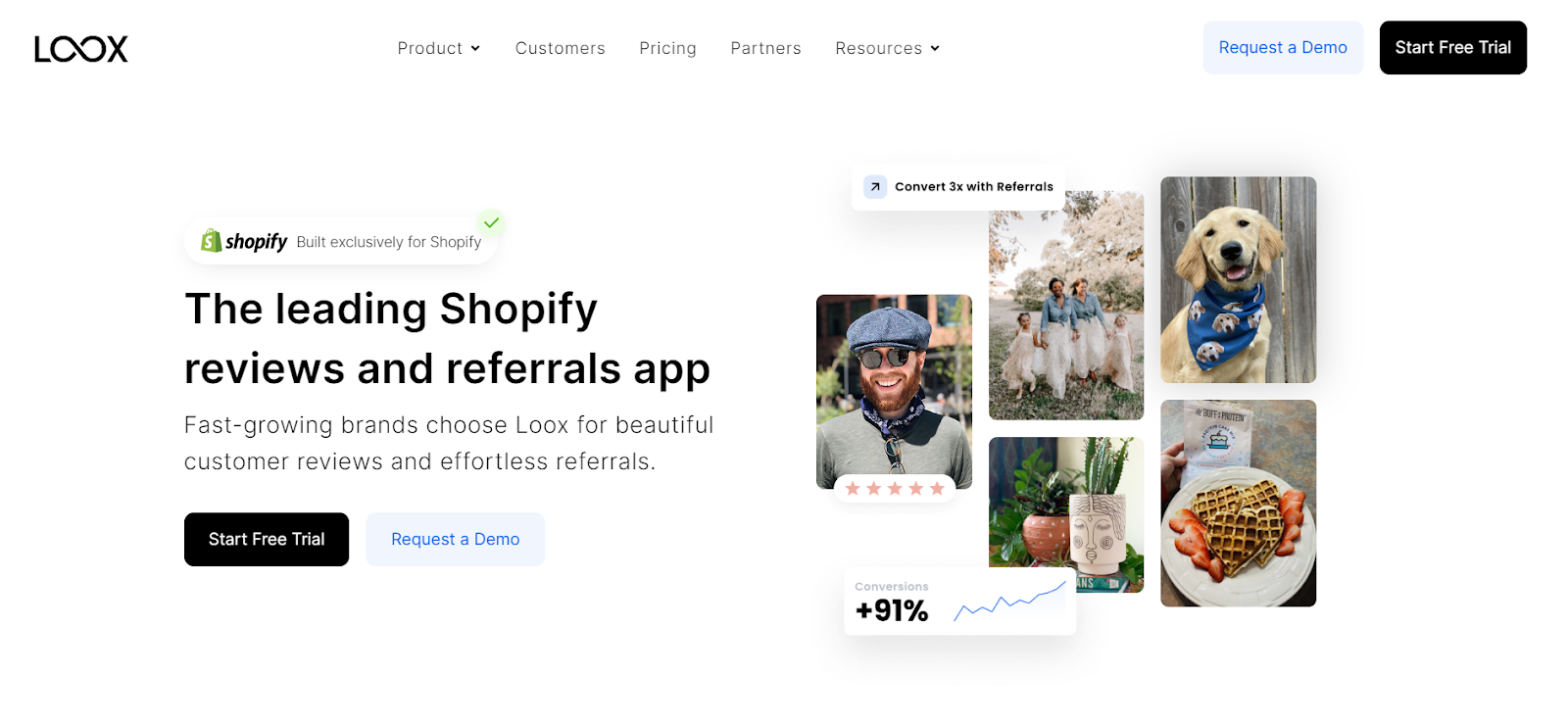 Using clever and personalized review request emails, Loox collects genuine customer product reviews. You can gather more testimonials, images, and videos, as well as make stunning presentations that represent your company.
The Loox Shopify reviews software also provides attractive widgets for promoting your content from pleased customers.
Loox Key Features include:
Authentic product reviews using thoughtful, individualized review request emails
Attractive widgets for showcasing happy customer content
Site-wide referral widgets
One-sided and two-sided incentives
Using Google Shopping and social media to raise brand awareness
Simple setup and round-the-clock assistance
Instant content delivery network (CDN) that provides all scripts and image
Evaluate import from any source
Branding and customization
Inline SEO
Loox Pricing Plans:
This Review app for Shopify has three pricing plans, starting at $9.99/month.👇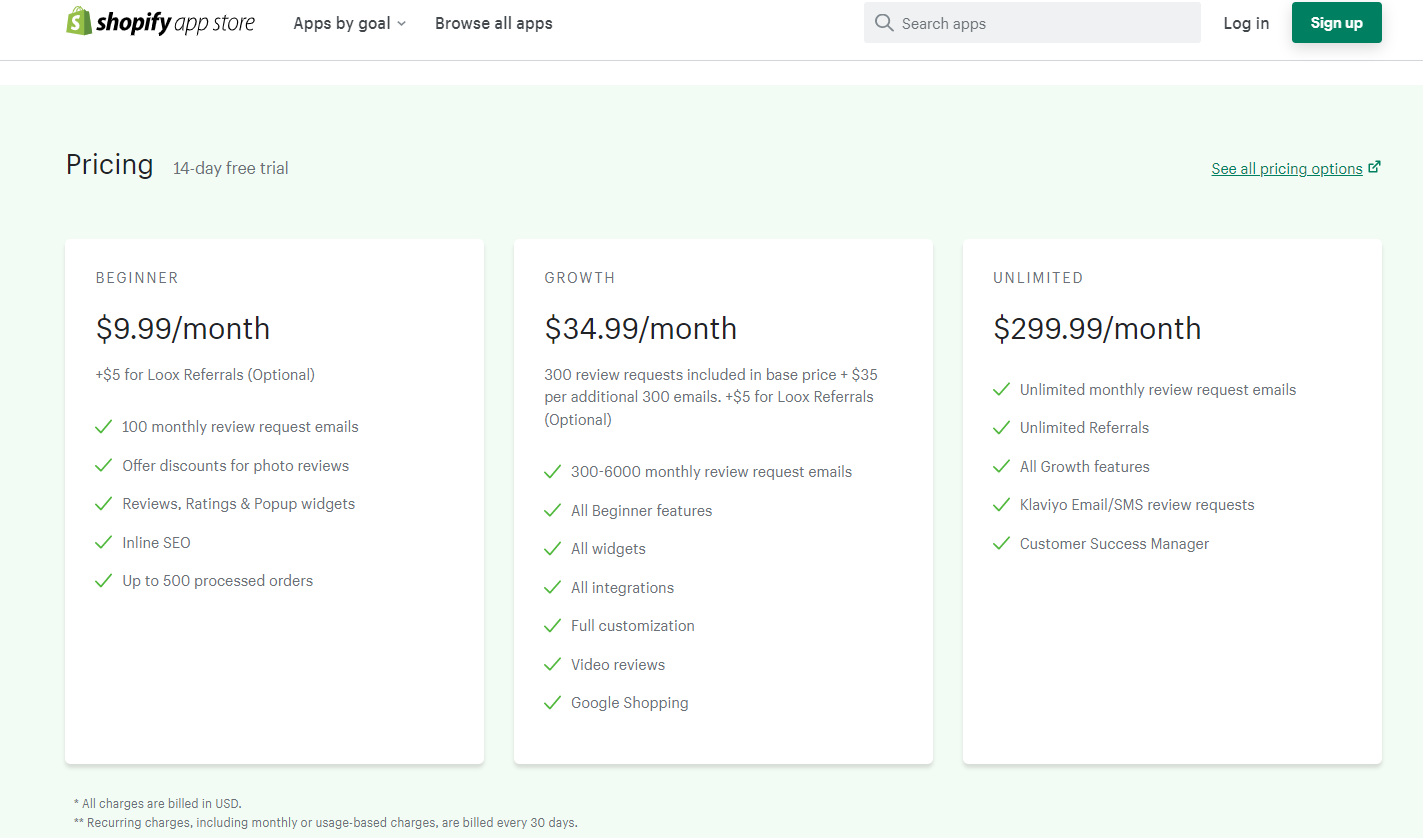 The Rivyo app is packed with incredible features to increase store sales and make online shopping profitable.
Rivyo enables you to import reviews directly from AliExpress onto your Shopify store if you are dropshipping.
By using a short piece of code, you can place the reviews anywhere on your dropshipping store and make use of personalization options to achieve consistent branding.
When it comes to importing reviews from other sources to your Shopify store, this Shopify AliExpress app excels it all.
Correspondingly, Rivyo makes the procedure rather simple regardless of whether it's AliExpress or another eCommerce platform.
Rivyo Pricing Plans:
This Shopify app for dropshipping has one free plan and three other pricing plans. It also offers a 7-day free trial for the pricing plans. Check them out.👇

Why is Shopify one of the best e-commerce platforms for dropshipping?
Although there are many e-commerce solutions for dropshipping out there, Shopify is definitely one of the most popular.
It has become synonymous with e-commerce, and for good reason. Believe it or not, more than one million businesses in about 175 countries worldwide use this platform.
And here are some of the most successful Shopify dropshipping stores examples.
Plus, it is an affordable solution that can power your dropshipping business. Check our previous article to find out how much money you need to start dropshipping with Shopify.
Or, if you are willing to start your journey at no cost, here's our ultimate guide on starting a dropshipping business for free.
It might seem obvious that you need some technical experience to build a beautiful dropshipping store. But by using this platform, you do not need to have any design knowledge to do so.
One of the best things about this platform is that everything you need is already integrated into it: from storefront design to in-depth performance analytics.
And once you have the basics set up, you can easily upgrade and extend the functionality of your Shopify store with third-party dropshipping apps and extensions.
As mentioned above, with over 2,000 apps being available in the comprehensive Shopify App Store, it is easy to find what you are looking for.
Now, let's focus on the best Shopify dropshipping integrations and apps.
Dominate The Ecommerce Space With Zendrop
Start your free dropshipping account and get access to 600K+ ready-to-ship products!
Upgrade to a paid plan for 50% OFF for 3 months → Use code: DROP350
Try Zendrop For Free
The bottom line
There is nothing better than starting a dropshipping business and witnessing it reach new heights. Part of that process inevitably involves integrating your online store with third-party apps, plugins, and extensions.
If you have a Shopify store, you can take advantage of the best dropshipping apps for Shopify in 2023 listed above.
These apps have become ubiquitous with Shopify and proved to be essential for finding what to sell, bringing in new customers, and increasing conversion rates.