Avasam Review: The Ultimate Guide For Dropshippers
by
Martin -
Martin is an agency owner and SaaS projects maker. His work is featured in the leading ecommerce brands, magazines and podcasts. Talks about Marketing, Business Development, and Growth Hacking!
CO-founder at Dropshipping.com
Are you looking to supercharge your dropshipping business and tap into a world of unparalleled opportunities in the United Kingdom and beyond? Stop Googling, because my Avasam Review got you covered!
With a network of over 100 suppliers within the UK and international suppliers in the United States and Asia, Avasam offers a diverse catalog boasting a staggering 200,000 products across 18 different categories.
What's more, this catalog continues to expand with fresh suppliers welcomed on board each month.
In this Avasam Review, I will dive deep into the key features that make this platform a game-changer for dropshippers. From effortless product sourcing and automated order processing to top-notch post-sale support, you have it all here! So, let's start!
What Is Avasam?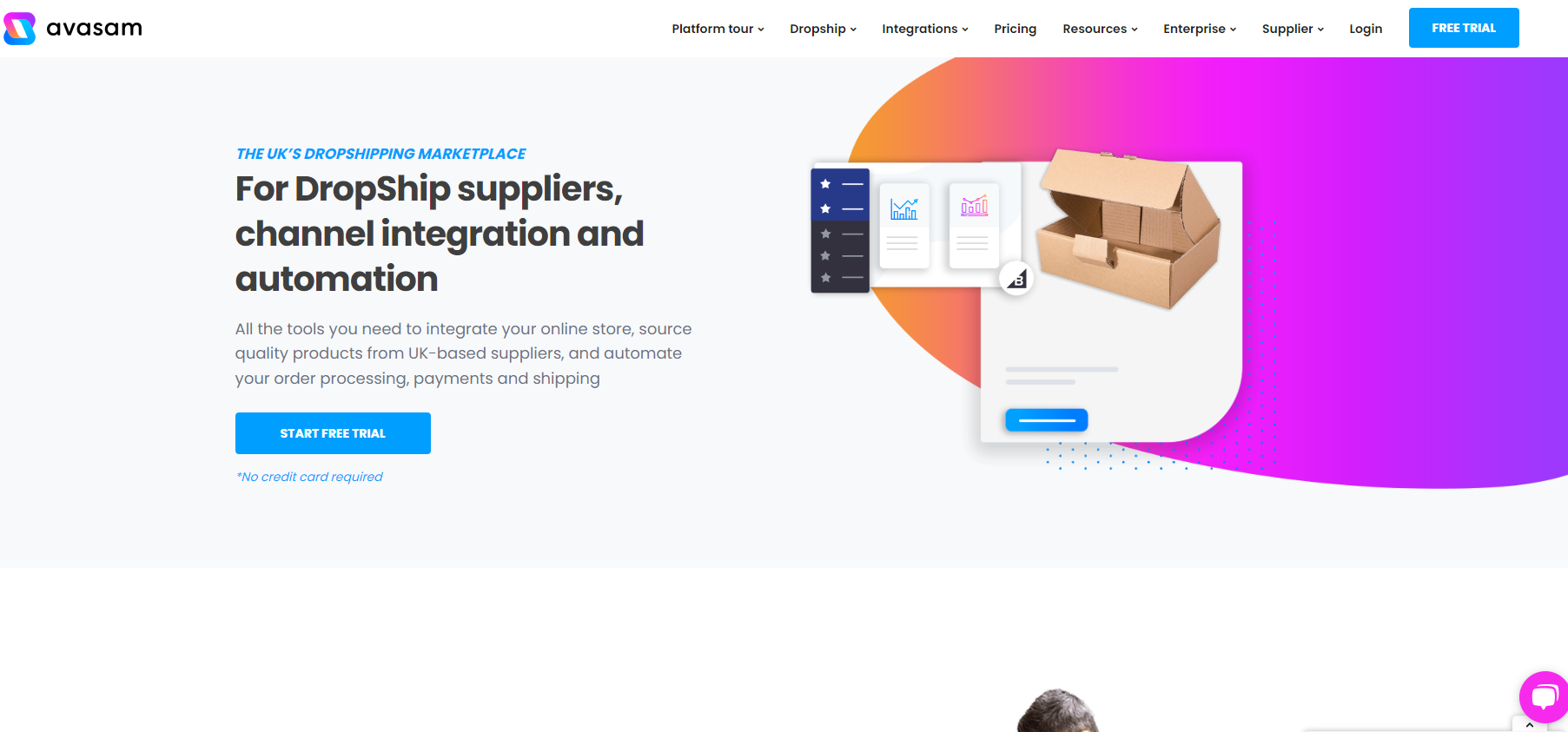 Avasam is the sole multi-channel dropshipping marketplace in the United Kingdom. It offers a comprehensive suite of tools to empower dropshippers to seamlessly integrate their online stores, procure products from reputable UK-based vendors, and streamline tasks such as product listing, order processing, shipping, and inventory management.
Also, Avasam boasts a network of over 100 suppliers within the United Kingdom and international suppliers in the United States and Asia.
Currently, Avasam's catalog encompasses a staggering 200,000 products spanning 18 different categories, with fresh suppliers continually being welcomed on board each month.
💡 Tip: Check out the 20 UK Dropshipping Suppliers for Your E-commerce Store.
Lifetime deal: Get all-access to everything on Dropshipping.com
Access all DSCOM features, resources, courses, live workshops, discounts, winning products, weekly deep dives, directories and all future updates under all-in-one dropshipping HUB.
DROPSHIPPING IS A REAL BUSINESS, DON'T DO IT ALONE. 4553 MEMBERS ALREADY JOINED. YOU CAN PAY OFF YOUR SMALL INVESTMENT WITH JUST 2 SALES ON YOUR STORE.
Grab the deal before it's gone
Quick Avasam Review
Busy to dive into details? Check my quick takeaways on Avasam. 👇
The best
Shares Updated Information

Reliable Customer Service

Trustworthy UK Suppliers

Automated Order Processing
The worst
Limited Shipping Options

No PayPal Accepted
Starting from
Free- 0 euros; Avasam Starter – £15.75 per month; Avasam Advanced- £34.99 per month; Avasam Business- £59.99 per month; Avasam Guru- £74.99 per month
Want to learn everything? Please continue your reading.
Avasam Review: Key Features
Avasam is a fully automated dropshipping platform providing tools for sellers to source products from verified suppliers and sell them to online shoppers in the UK.
In this Avasam Review, I will explain the key features you can benefit from. Let's see!
🔸 Product Sourcing
Using these features Avasam allows you to access their catalog of products and find inventory quickly from UK-verified suppliers.
Thus, in the product catalog, you have over 200,000 products in various dropshipping categories, like health and beauty, garden, home, fashion and lifestyle, sports, DIY, Office supplies, and more.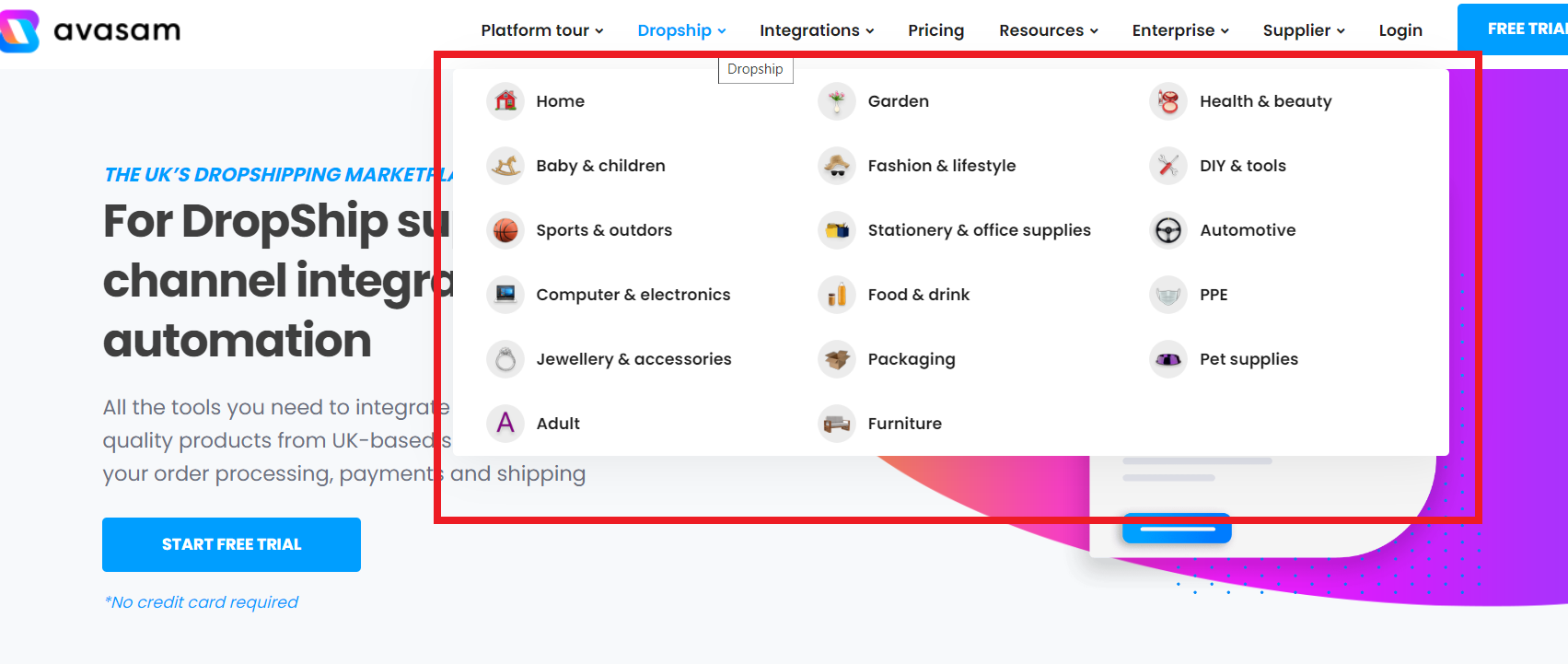 Also, you can filter their extensive product catalog to narrow down the products most suited to your business. Hence, you can filter products based on product categories, profit margins, price, date, marketplace, shipping, and more.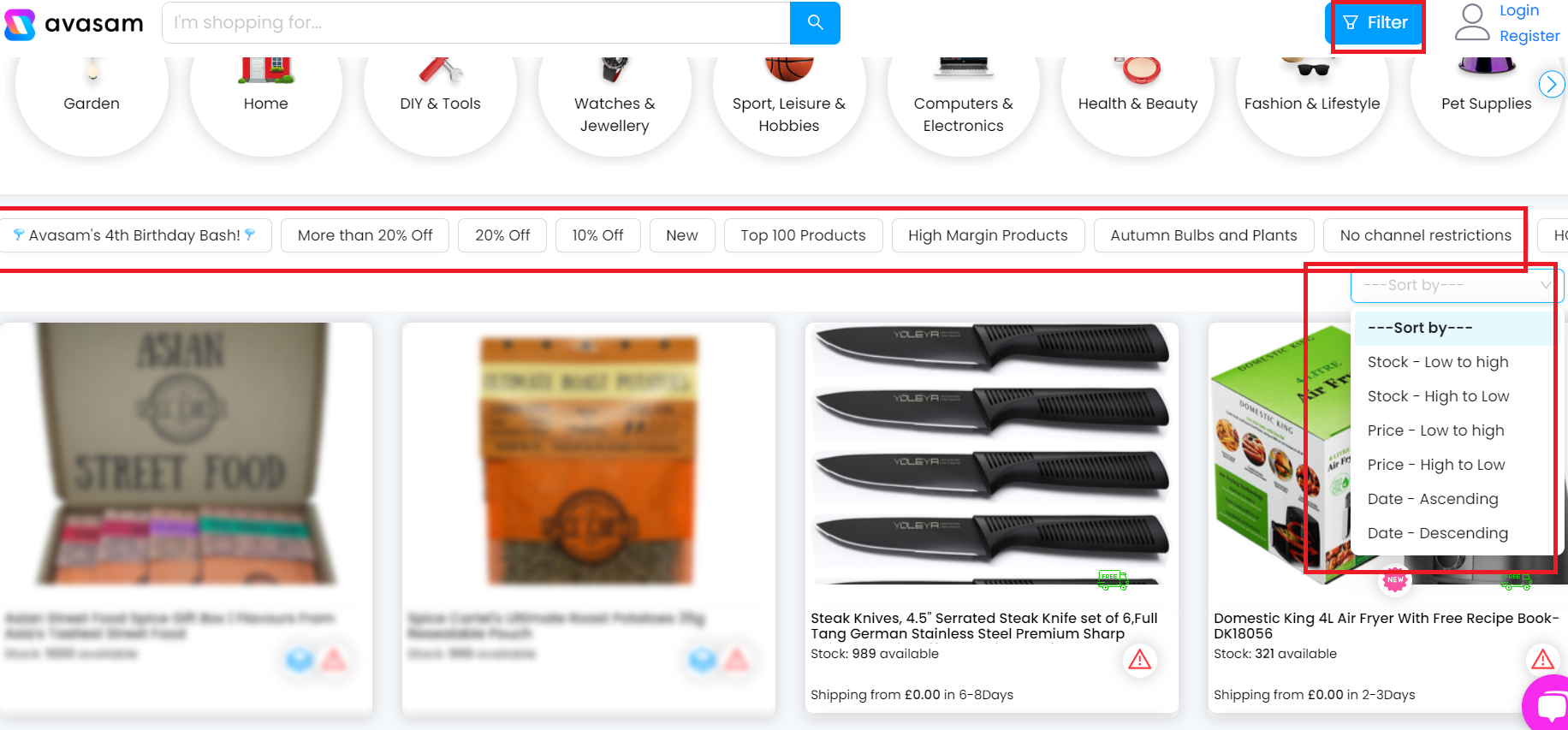 Moreover, all of their suppliers complete a thorough 10-step onboarding and verification process. Plus, if the platform gives you a brief explanation for each supplier.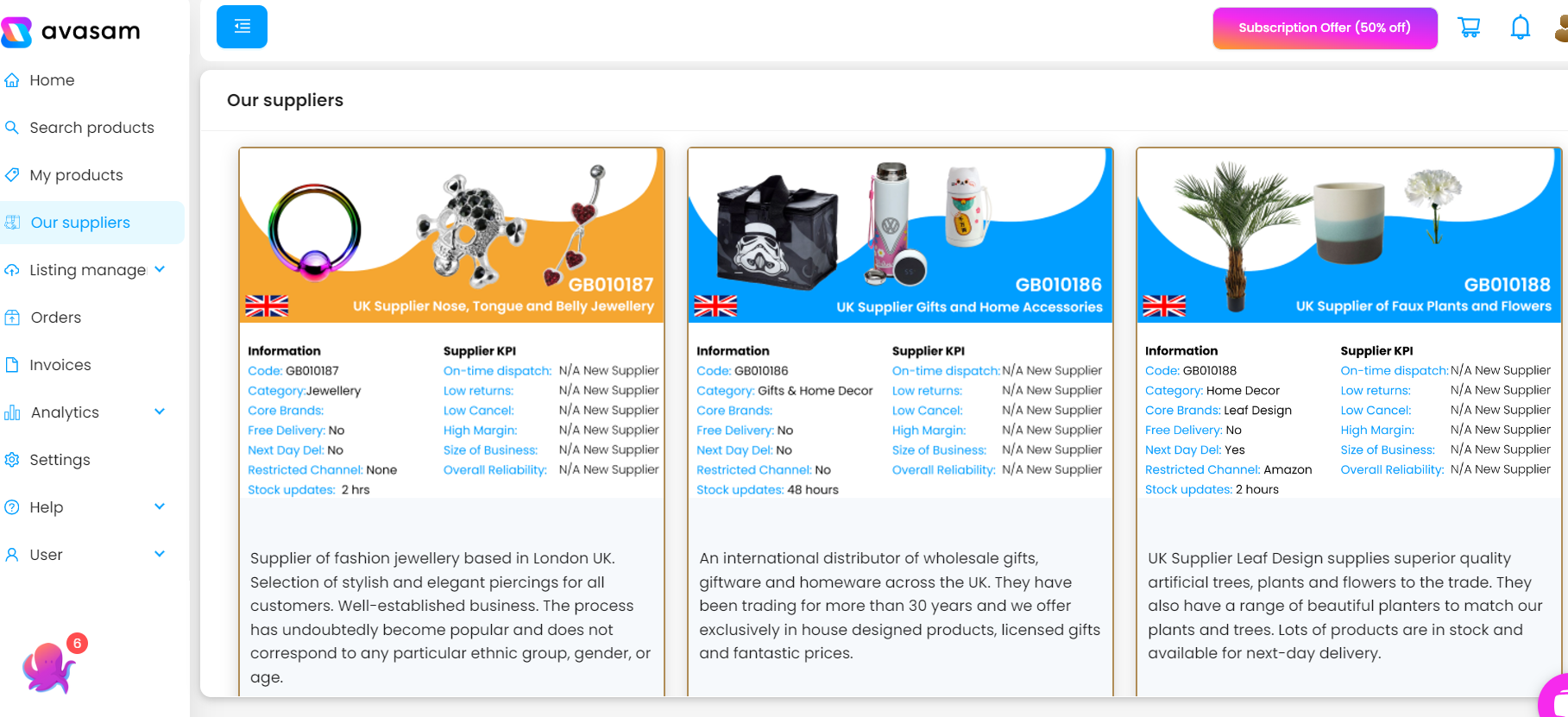 And, if you click on the supplier you are interested in, you will be redirected to the product page where you can see the products listed from that specific supplier.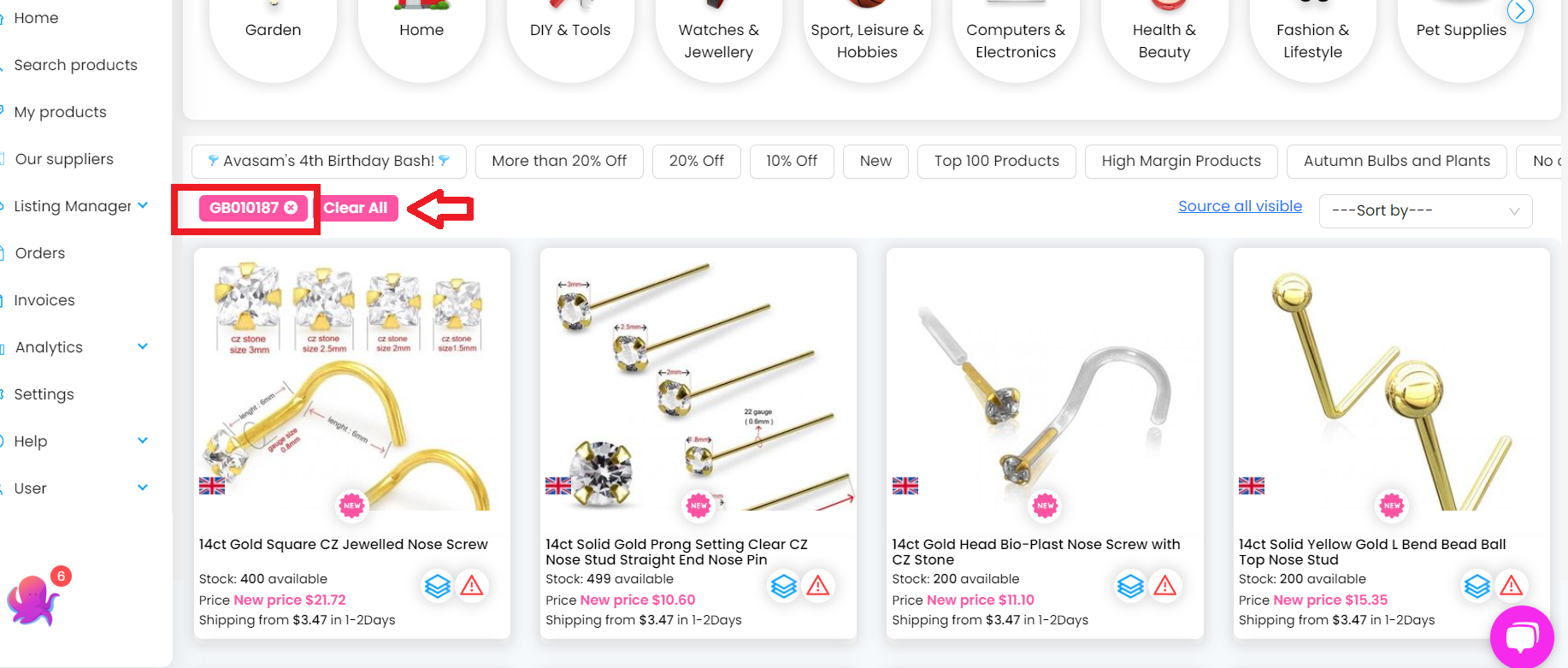 Also, Avasam handles sourcing inventory and supplier background checks, so you can find the products you want and start selling right away.
👉 Learn How To Connect a Dropshipping Supplier to Your Store.
🔸 Order Processing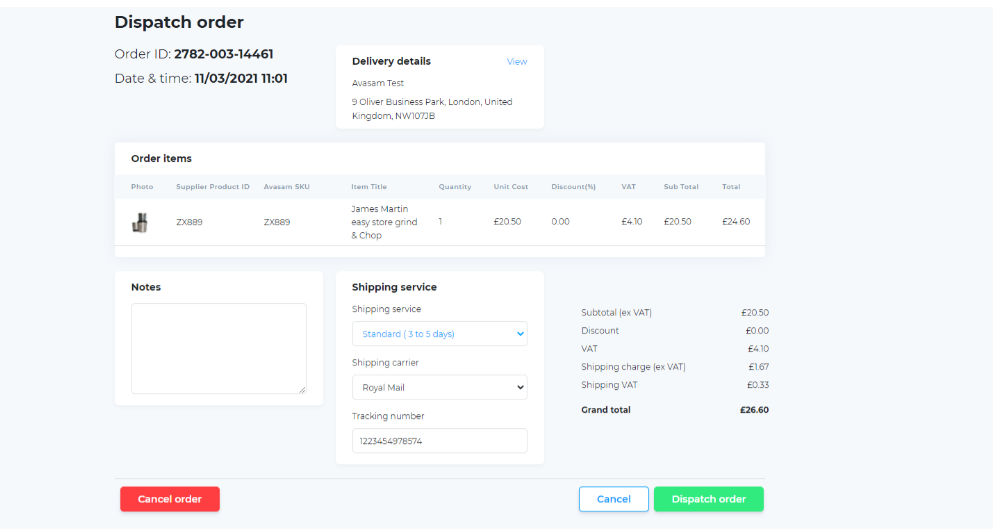 This dropshipping platform automates the end-to-end order, so your orders get fulfilled quicker and with fewer errors.
Avasam sends the orders from your dropshipping platform directly to your supplier. Moreover, it ensures that all orders are automatically paid from your registered credit card.
Furthermore, it also provides tracking details to your customer and shipping instructions sent to your suppliers.
Also, to help you avoid overselling, inventory levels are automatically synchronized every 30 minutes across all of your sales channels.
Also, from their dashboard, you can check on your order status, raise a ticket, edit your orders, or even cancel your order.
🔸 Post-sale Support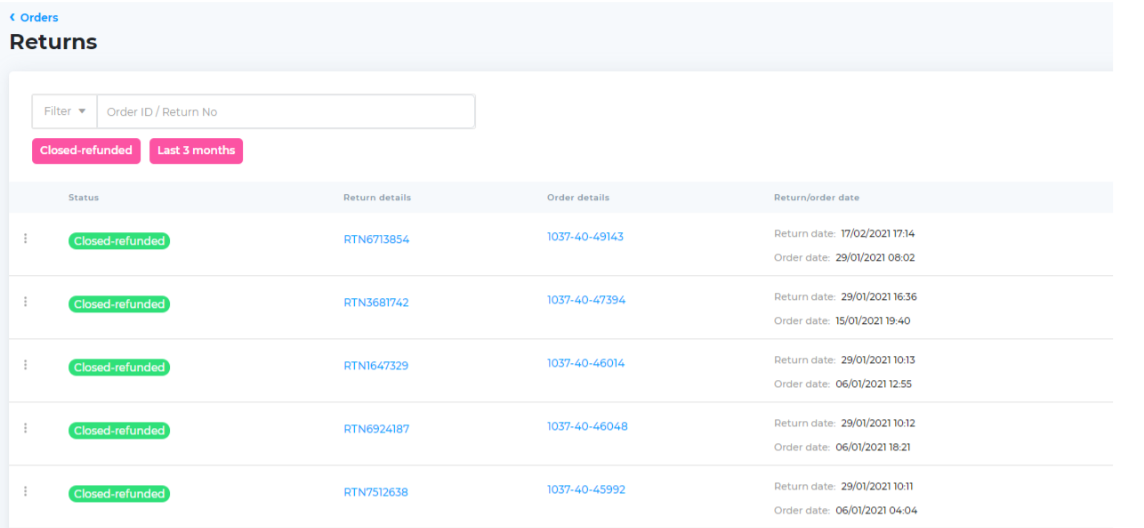 Avasam also has a refund and return policy for you. Thus, in this Avasam review, I will mention the key facts you need to know about it.
Firstly, for items that are new arrivals, you have the flexibility to initiate a return within a 30-day window from the date of delivery. This allows you to reconsider your purchase if you find the product doesn't quite meet your expectations.
Furthermore, in cases where an item is damaged or mistaken, Avasam policy extends to cover a 60-day period after delivery. This ensures that you have ample time to detect and address any issues that may arise with your purchase.
It's important to note that, when eligible for a refund, Avasam will reimburse you for the entire invoice value, which includes not only the cost of the item but also the outbound shipping expenses you may have incurred.
Lastly, in situations where disputes with your supplier prove challenging to resolve, their system allows you to escalate the matter to the Avasam team for further assistance. This additional layer of support ensures that you can seek resolution even when direct communication with the supplier reaches an impasse.
🔸 eCommerce Tools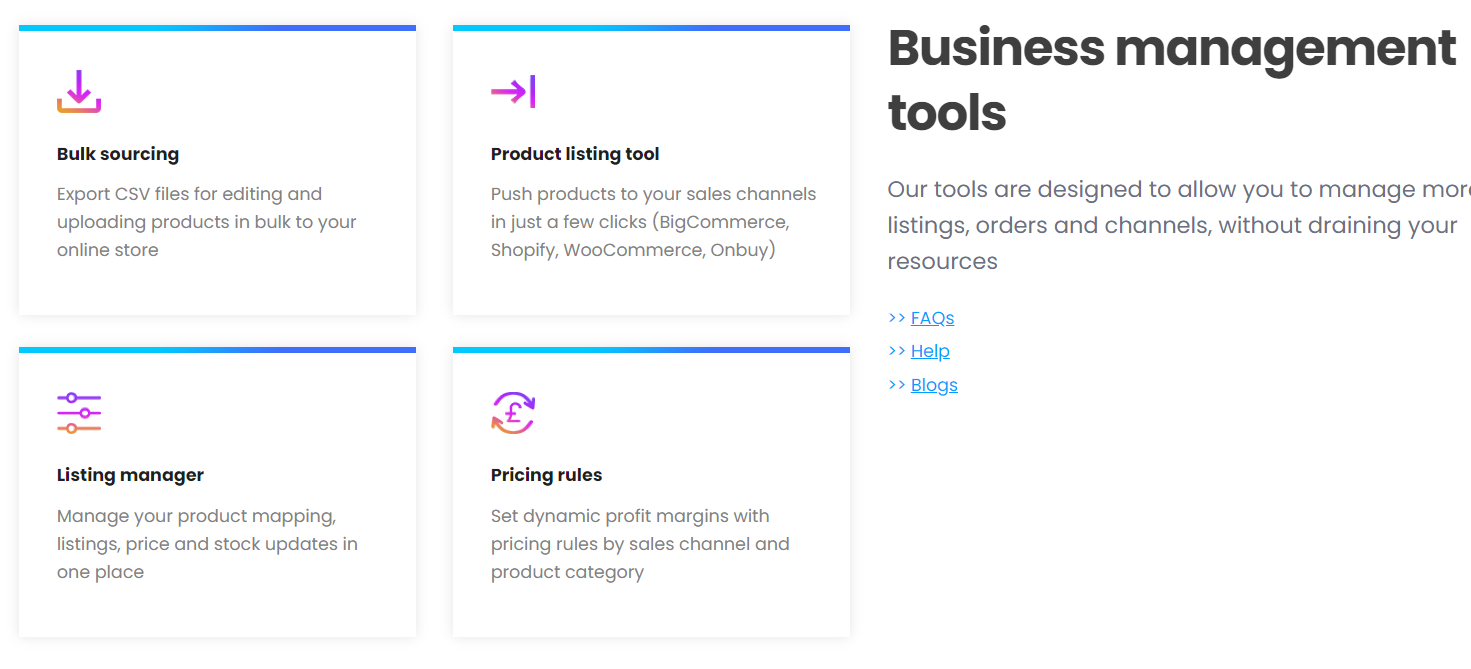 Avasam offers various tools to help you manage more listings, orders, and channels, without draining your resources.
➡ Bulk sourcing
With this tool, you can export CSV files for editing and uploading products in bulk to your online store
➡ Listing manager
Listing management helps you manage your product mapping, listings, price, and stock updates in one place
➡ Product listing tool
With this eCommerce tool, you can push products to your sales channels in just a few clicks (BigCommerce, Shopify, WooCommerce, Onbuy)
➡ Pricing rules
This Avasam tool allows you to set dynamic profit margins with pricing rules by sales channel and product category
Moreover, it also provides free dropshipping tools, like:
Purchase order template – Create a high-quality ready-to-print purchase order using our free generator
Barcode generator– Create a personalized barcode to track your products easily
Invoice generator Simple tool for generating invoices
URL shortener- Shorten your URLs to make them more appealing to users
Business loan calculator Easily calculate your business loan repayments
QR code generator- Create a QR code for your mobile phone users
Free Product Content- Ingest free product content from Icecat to optimize conversion and customer journey.
🔸 Customer Support

First and foremost, our team is readily available through various communication channels such as telephone, support tickets, live chat, email, and more.
To streamline your initial setup process and make it as seamless as possible, you can take advantage of following their user-friendly onboarding wizard. This step-by-step guide will help you get started quickly and with ease.
Not only that, but they also provide you with video guides, how-to guides, blog articles, FAQs, etc.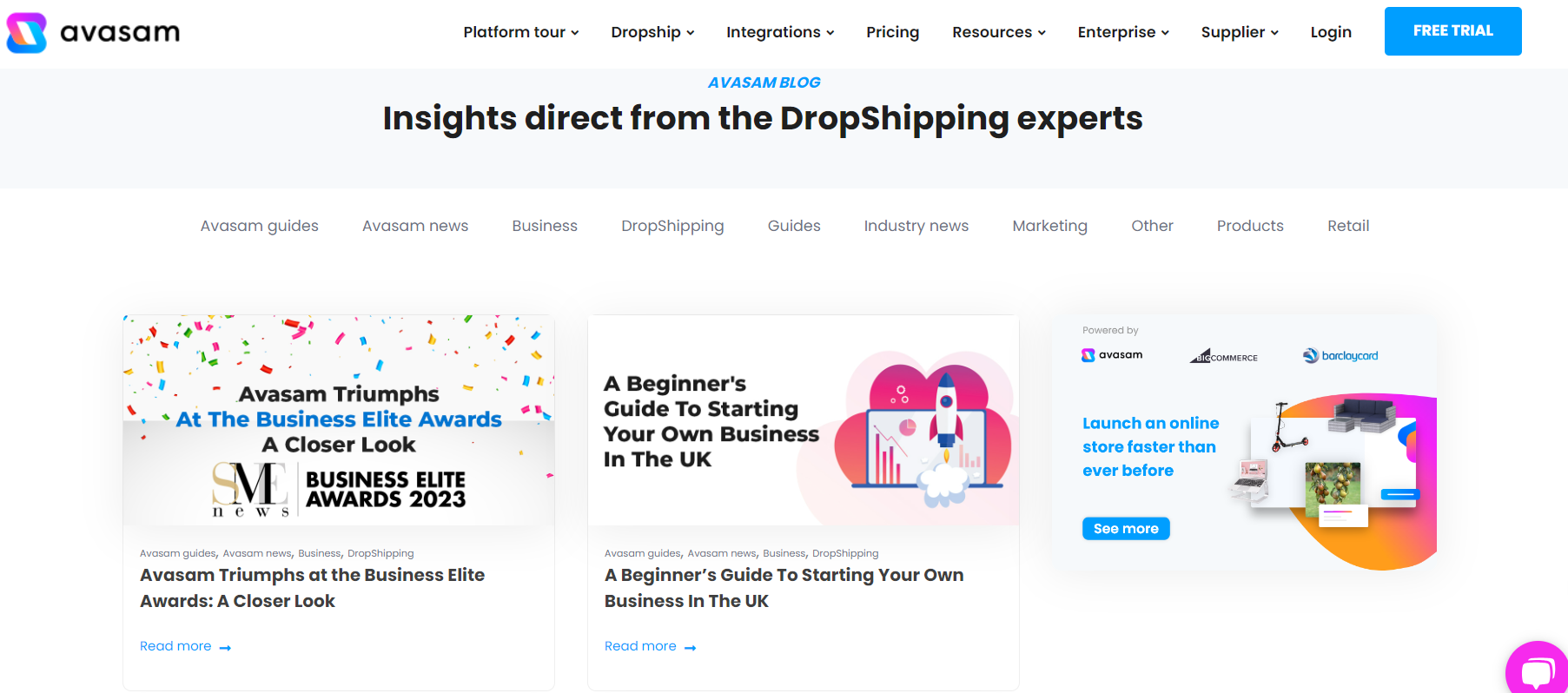 Additionally, if you're a visual learner or simply prefer a more interactive approach, I encourage you to explore their comprehensive help pages. These pages offer in-depth, interactive, and visual step-by-step instructions to guide you through the process.
Avasam Review: Integrations
Avasam offers numerous integrations with popular eCommerce platforms, social media channels, and marketplaces. So, whether your dropship on eBay, Shopify, or BigCommerce is your preferred platform, Avasam has got you covered.
So, their integrations are ready to go, meaning you can simply plug in without requiring technical expertise. Also, once you are connected, you can seamlessly integrate your order management system allowing transactions to flow with little to no manual processes required.
Thus, what integrations does Avasam offer? Check it out here. 👇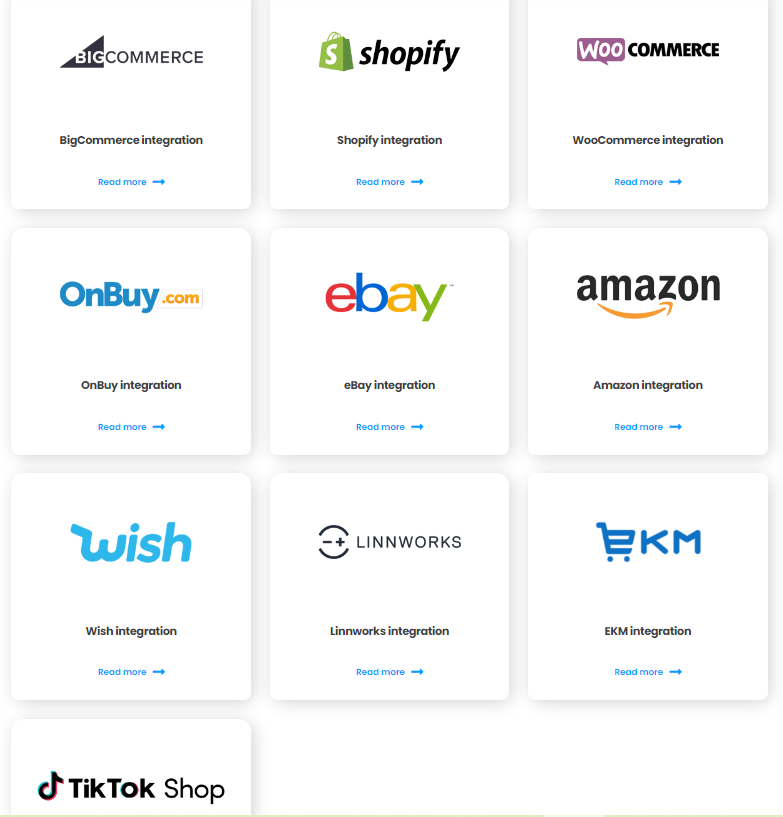 How Does Avasam Work & How To Use It? (My Step-by-Step Process)
Next on my Avasam Review, I will share with you my way of using Avasam. Let's start!
Create An Account
As for any platform out there, the first step for using Avasam is registering to the platform. So, once you land on their website, in the right upper corner, there's a "Sign up" button. Thus, click on it, and you will be redirected to the registration page.
Here, you need to fill out your information, and then, click on " Register". 👇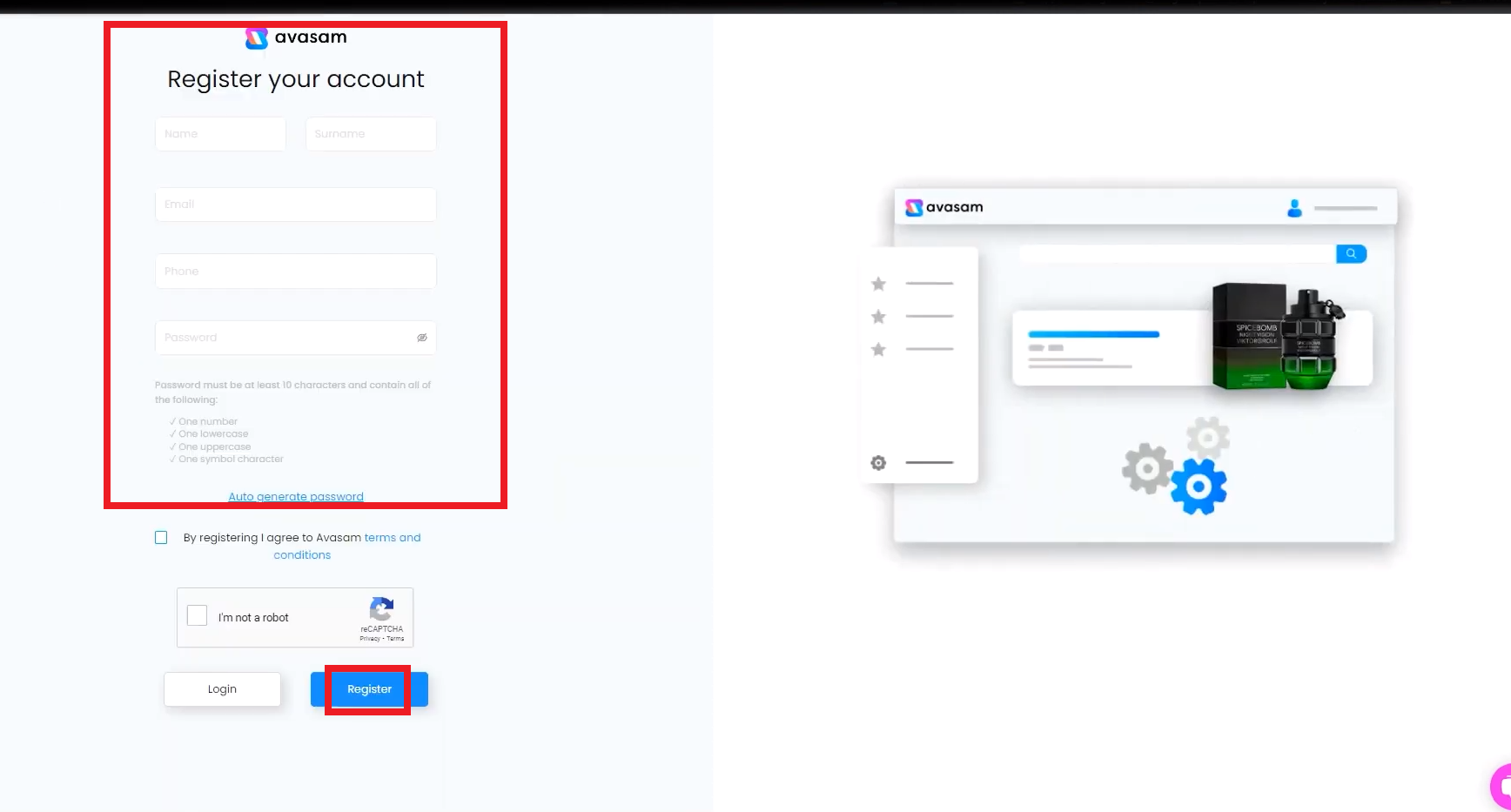 Furthermore, the registration process also includes several other easy steps, which require your dropshipping business information. And, after that, you can access the dashboard. 👇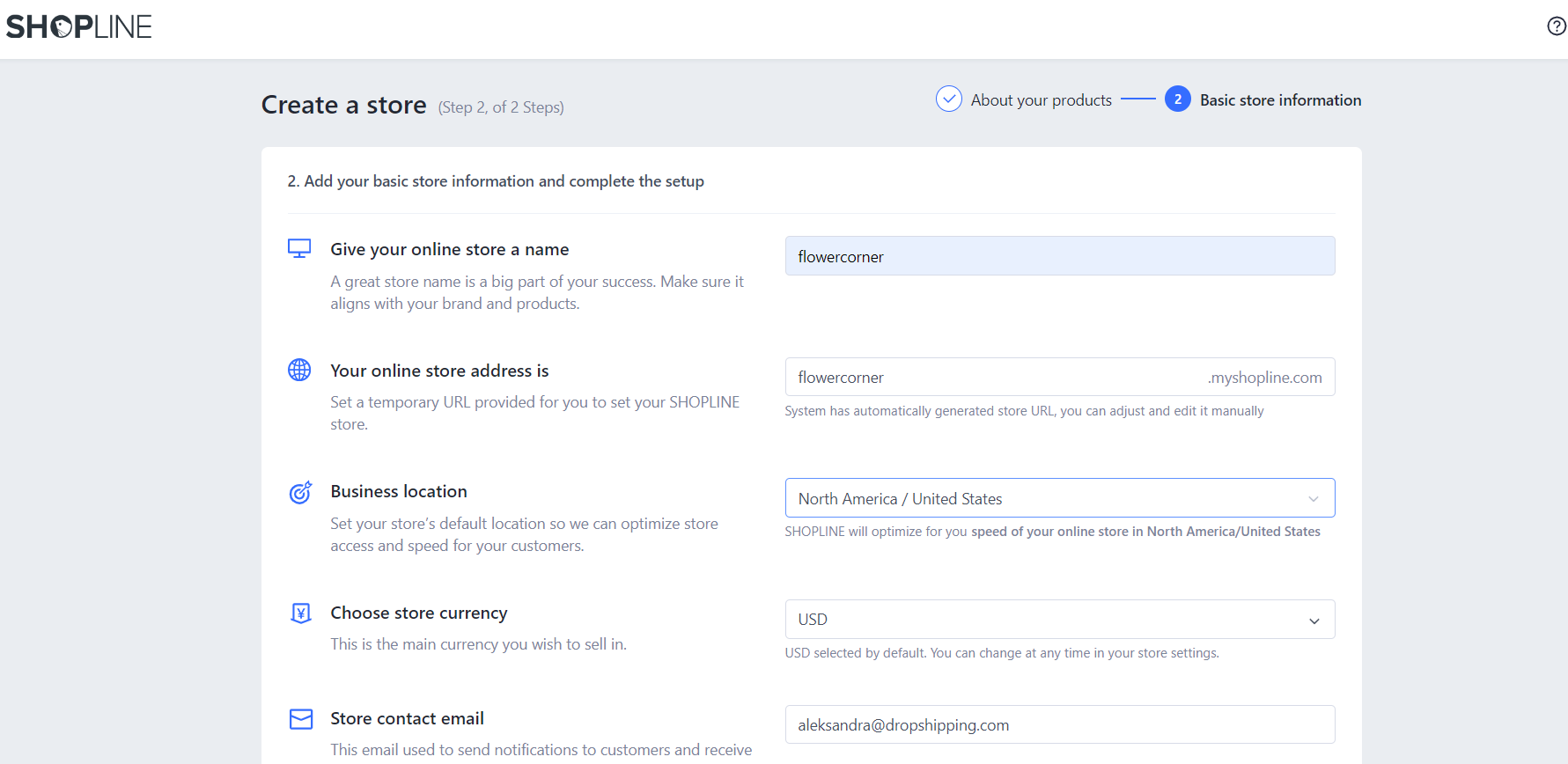 Search and Source Your Products
Now, the first thing I do when accessing the Avasam dashboard is navigate to the "Search Products" Section. 👇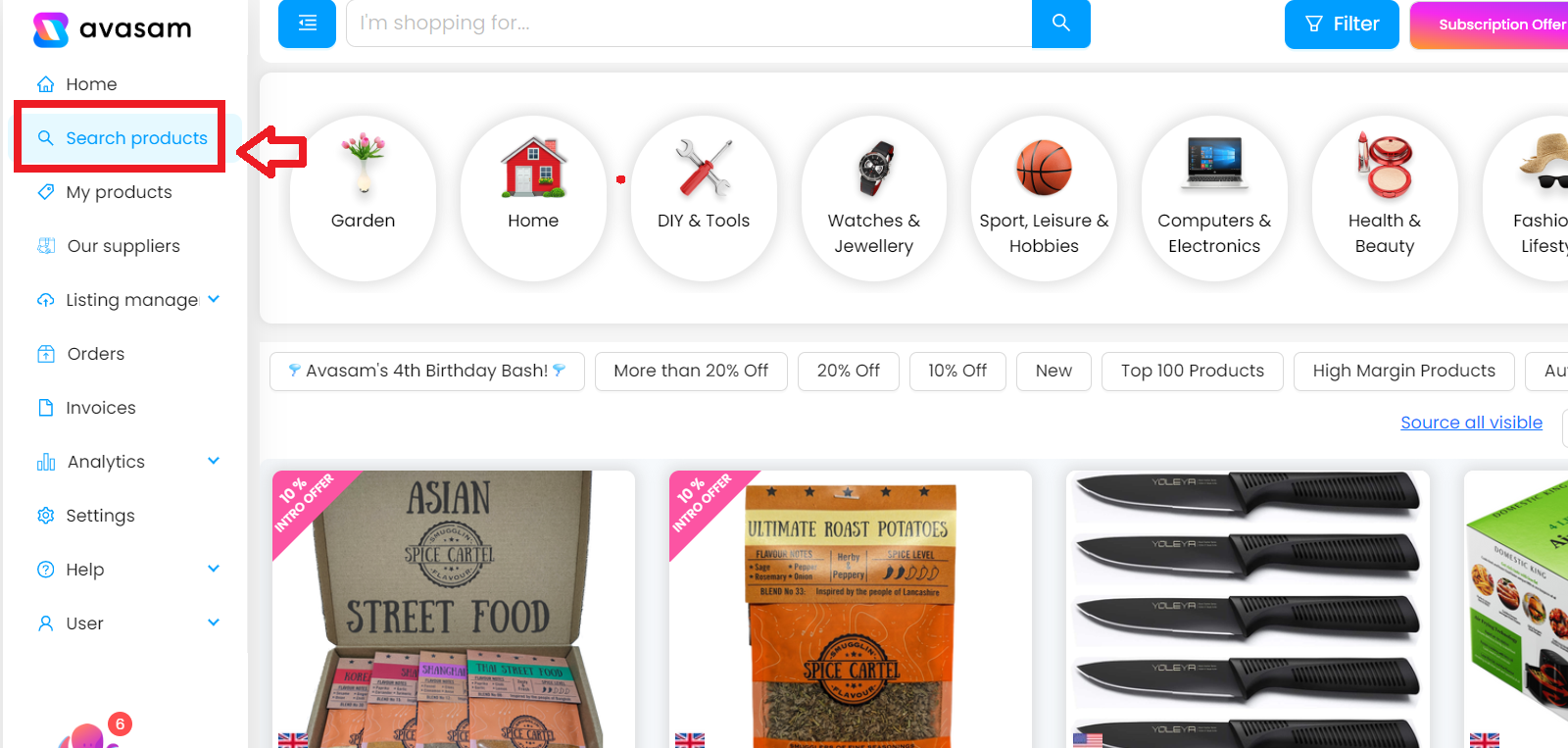 Here I can find my winning products based on numerous filters, like, product categories, profit margins, price, date, marketplace, shipping location, and more. 👇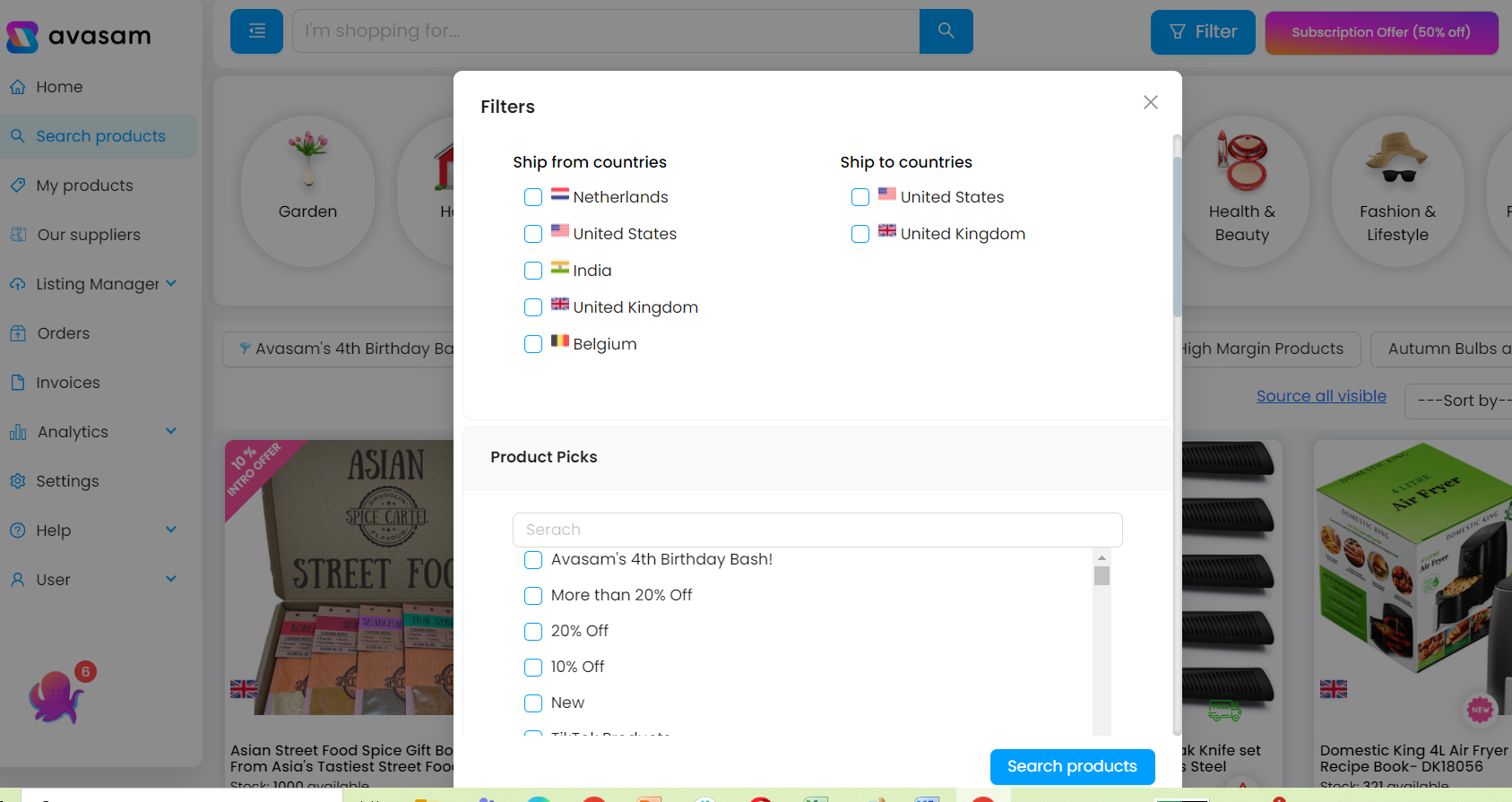 Thus, once I find the product I want to add to my store, I simply click on the "Source Product" button. Now, the product is added to my Avasam inventory, which I can check on in the "My Products", section. 👇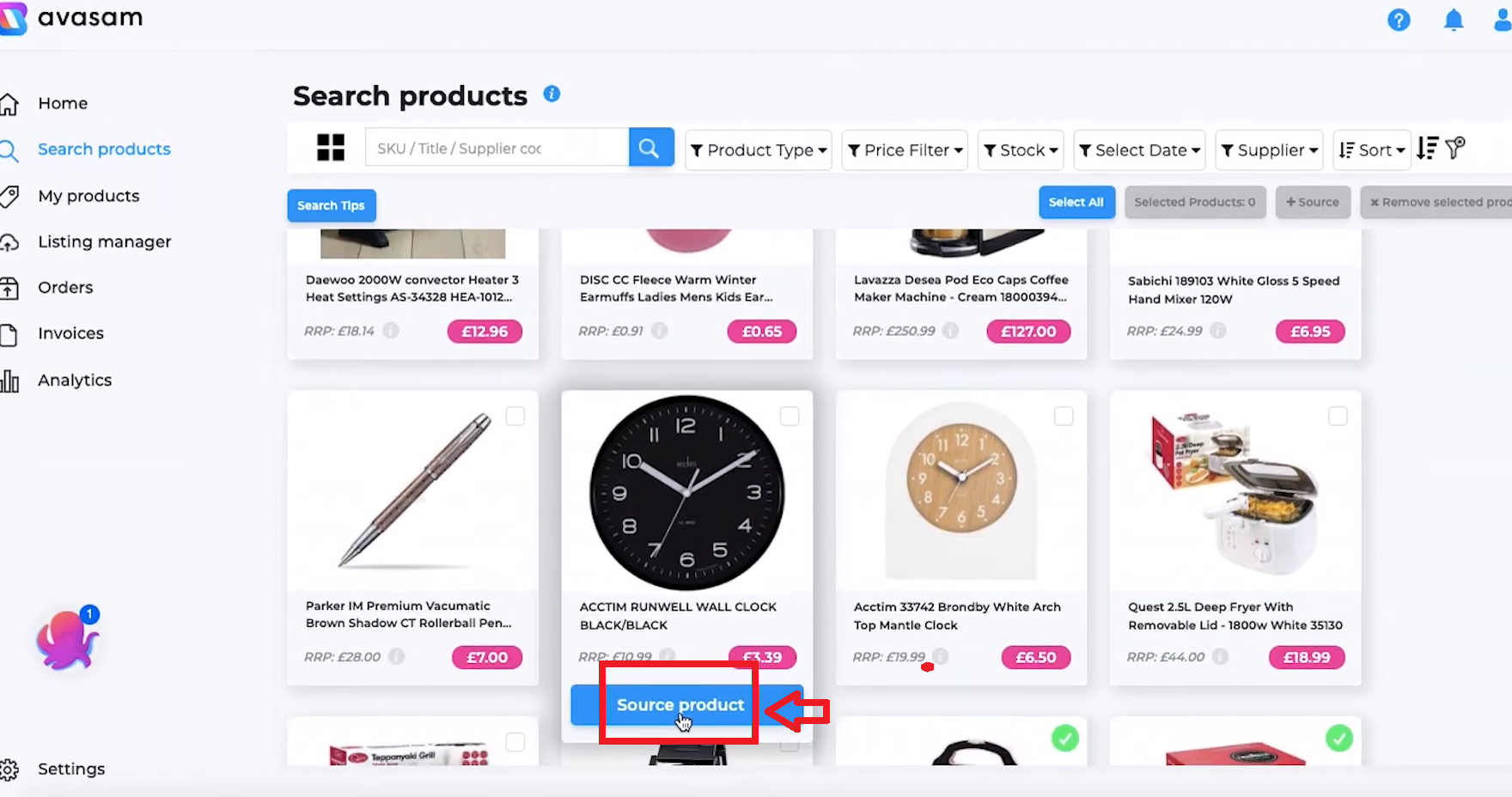 However, keep in mind that this does not mean that your products are added to your dropshipping store.
For this purpose, you need to integrate your Avasam account with your platform and use the Listing Manager. So, let's discuss that in this Avasam Review.
Connect With Your eCommerce Platform
Since I am using Shopify, I will show you how to integrate Avasam with Shopify. But, if you are using any other platform or marketplace, you can simply check on Avasam Help Center and get help.
Now, the first step requires you to enter your dashboard and navigate to "Settings". From here, choose the "Sales channel integrations" options. 👇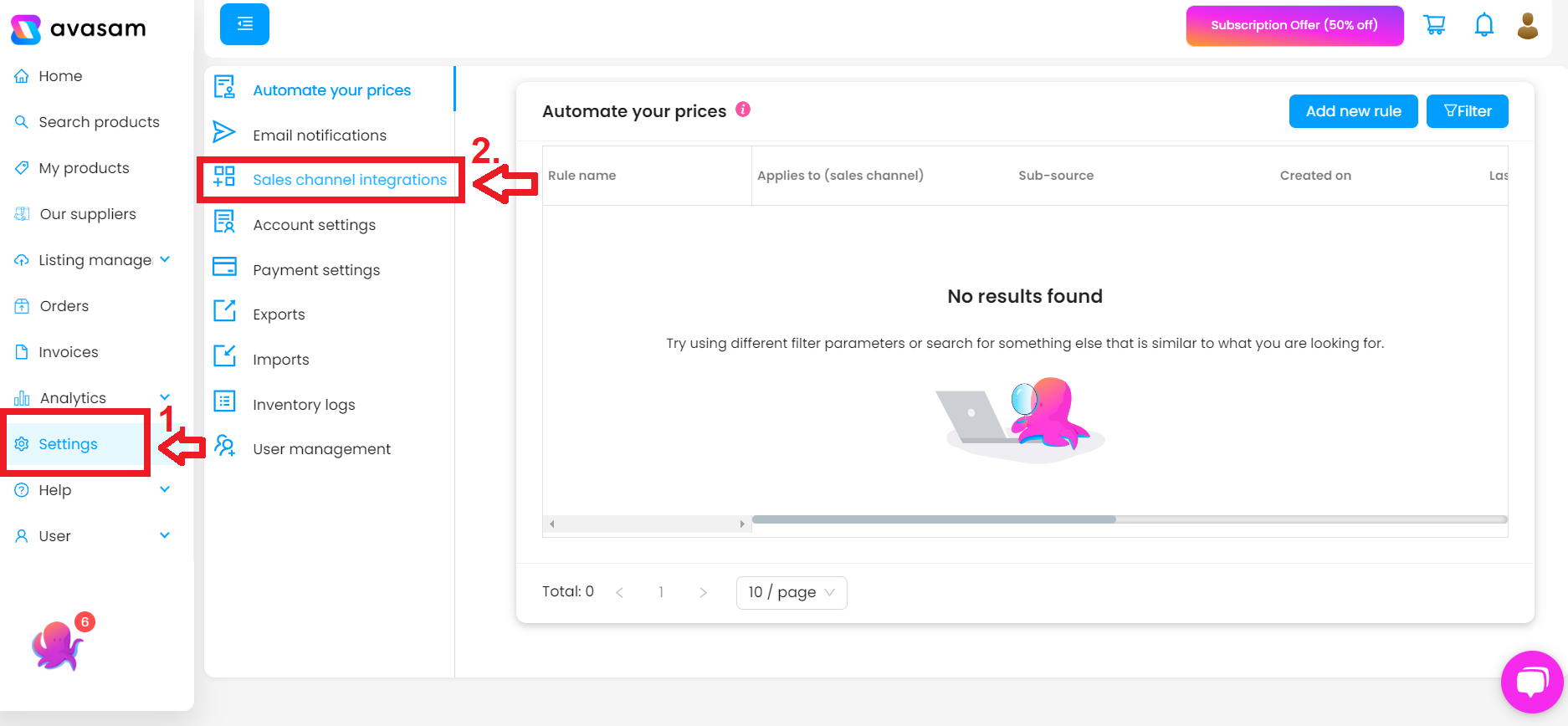 Next, click on the "Add Sales Channel" button. 👇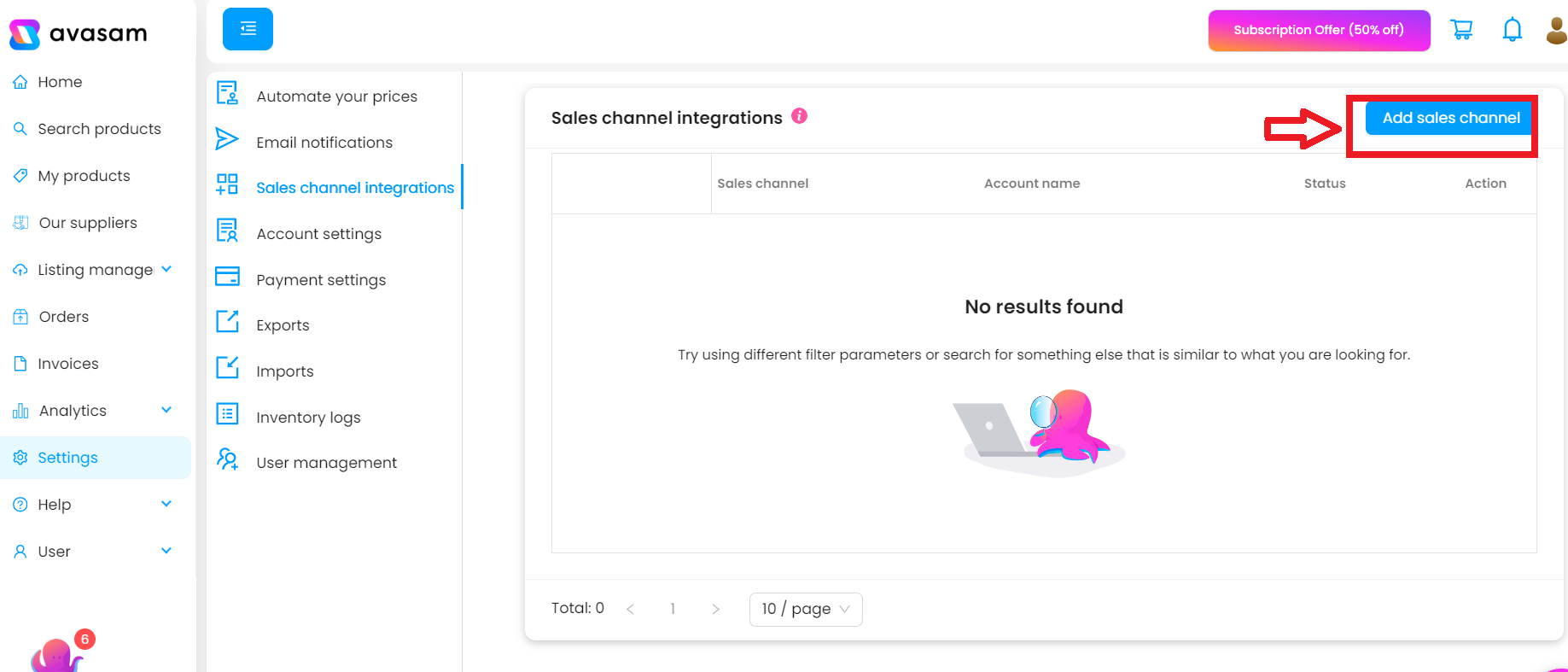 This will open up a new window with all the Avasam Integrations. So, I will just scroll down a little bit, and find Shopify. Then, I will click on "Add". 👇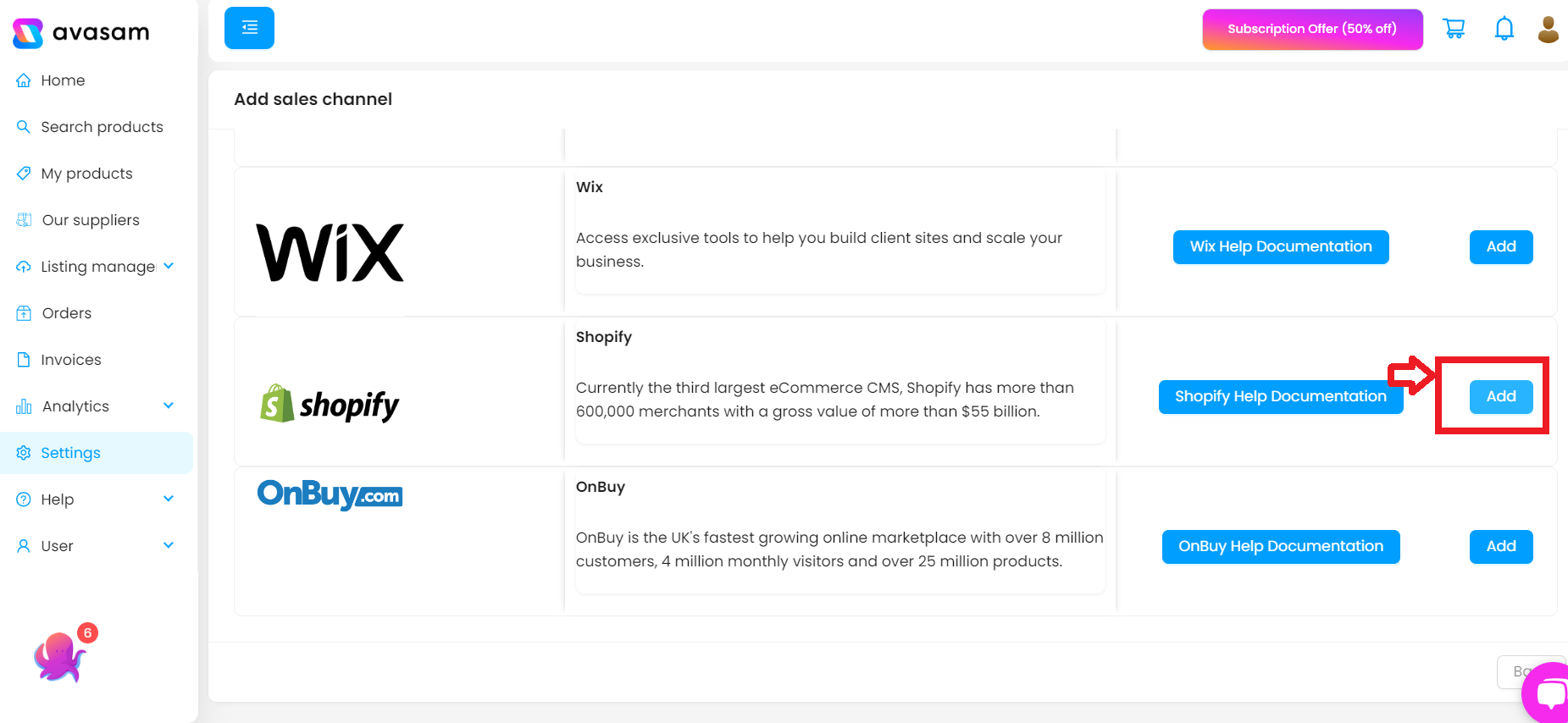 Now, you need to provide your Shopify store information, like store name, site URL, authentication key, order processing information, etc. 👇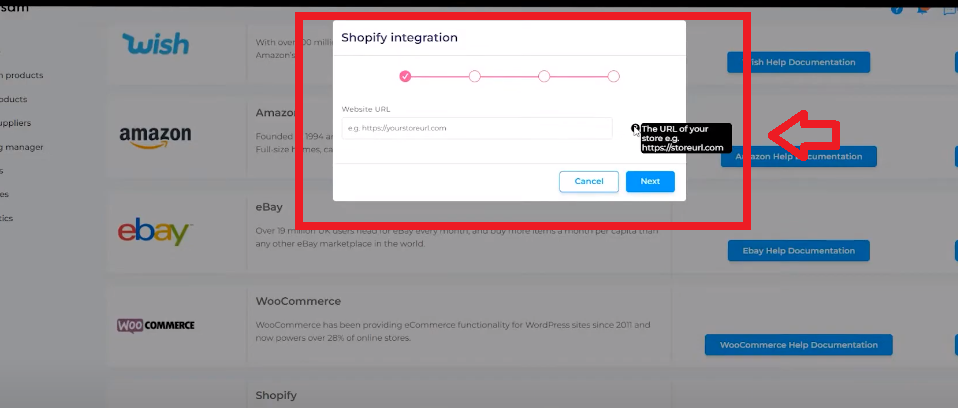 Afterward, you will get a confirmation notification. And, once you go back to your "Sales Channels Integration" section, you can see your platform integrated.

Now, all the orders will be automatically transferred from Avasam to Shopify.
Also, to fully integrate your account with shipping mapping, skew mapping, etc., and fully get access, I recommend you to follow their Help Center steps, which are very helpful.
Furthermore, from the "Listing Manager" section, you can also make order updates, price updates, and stock updates. And, of course, check if your synchronization is running smoothly, access SKU mapping, Shipping mapping, etc. 👇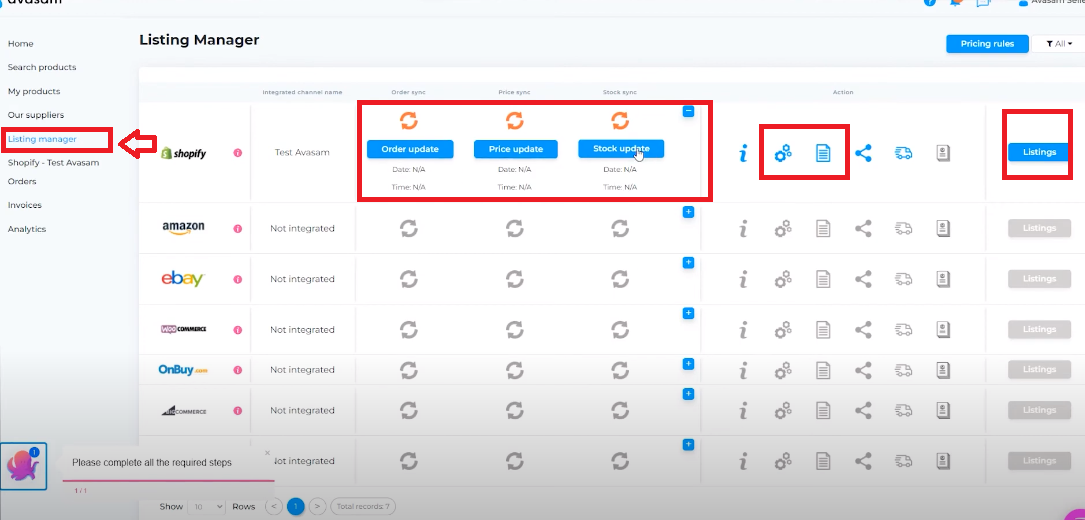 Manage Your Orders
In addition, if you want to check on your order status or any details, you can do that through your Avasam dashboard.
So, you can navigate to the "Orders' section. From here, you can view, edit, or cancel your orders. Or, you can raise a ticket as well. Also, you can check on your returns, whether the order is paid, dispatched, or not. 👇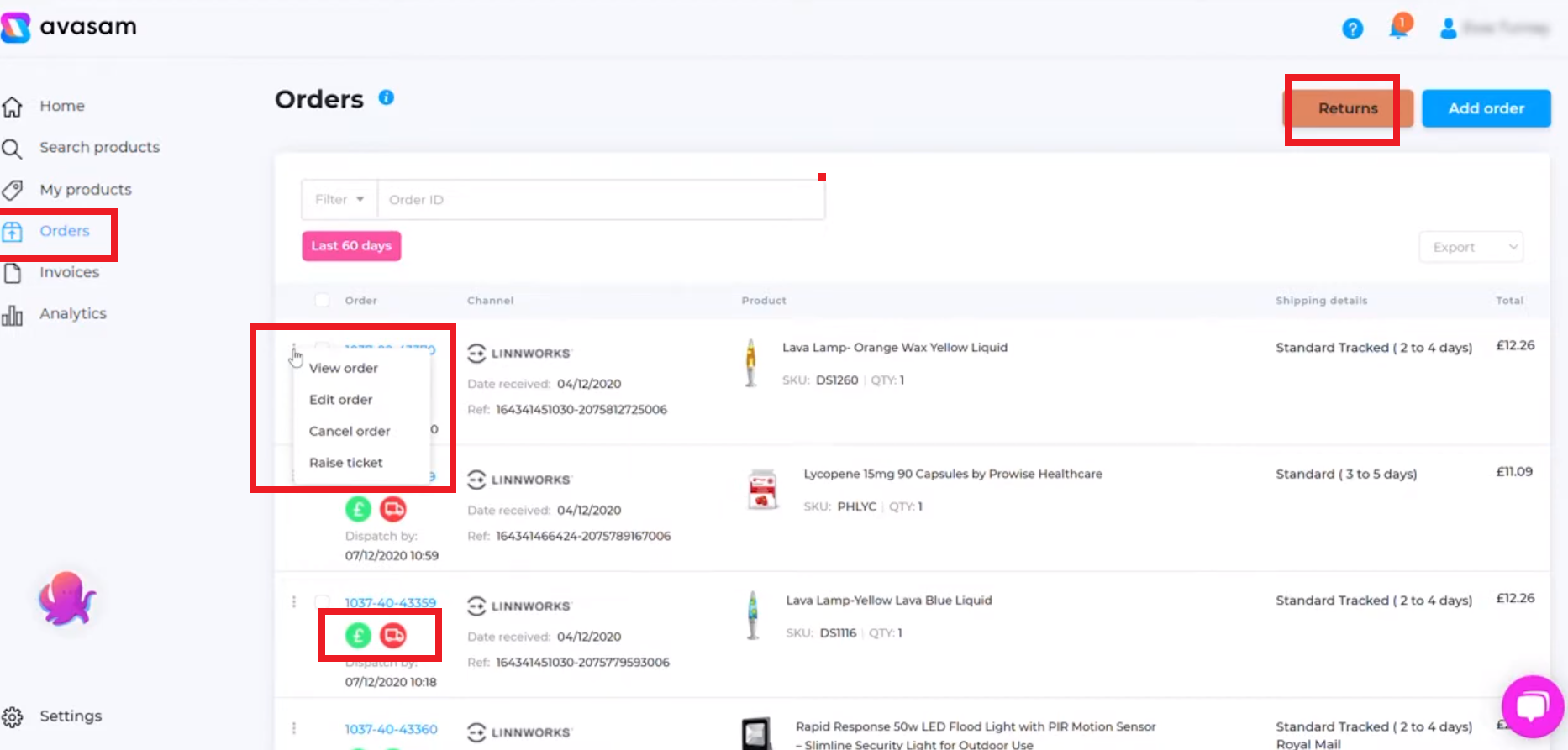 For example, my order here is not dispatched, that's why the icon is red. Otherwise, it will be green. But, it is paid, since the "currency" icon is green.
Plus, if the order was "green" I would have the return order option as well. Like this. 👇

Furthermore, the open orders (like mine here), you can also export them in CSV, PDF, or XLS files. 👇

Also, remember that Avasam processes the orders and payments automatically. So, once the order is shipped, and the payment processed, you can see that on your dashboard.
Lastly, I would like to mention, that you can also add orders manually if you like. 👇

And, it is pretty simple, requiring just 3-4 simple steps like, adding products ID, SKU details, select shipping service, etc.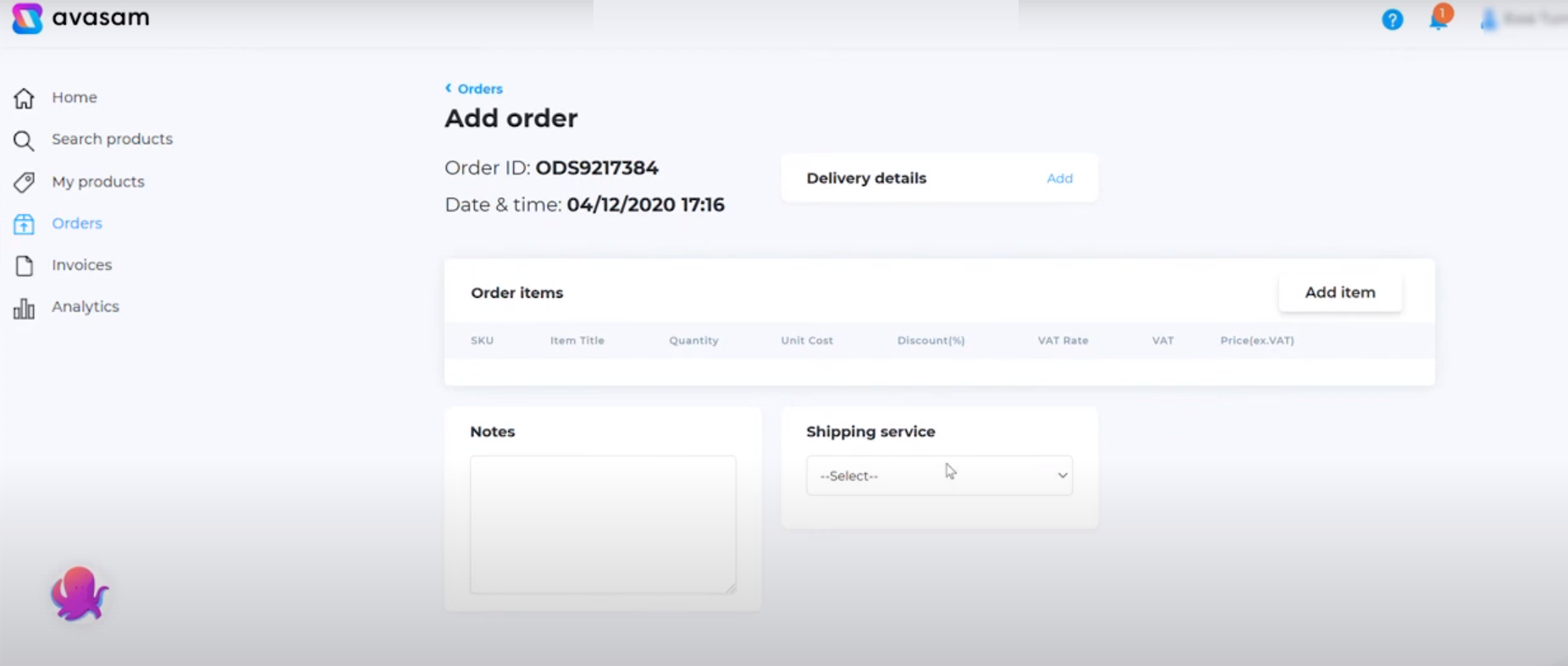 Avasam Review: Pricing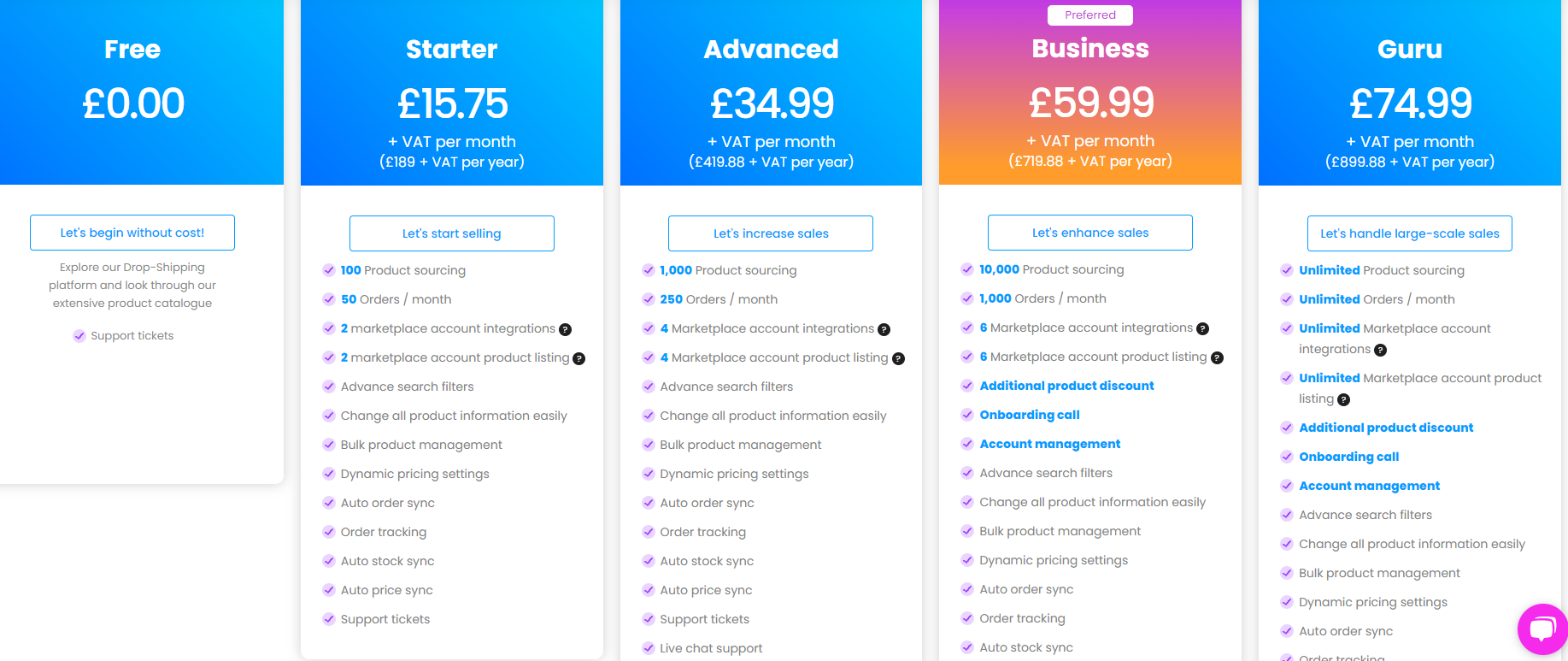 Avasam offers 4 pricing options, starting at (£15.75 per month. Moreover, you also have a free plan, with which you can only explore their dropshipping platform and check out their product catalog. Plus, there are support tickets included as well.
However, in this Avasam review, I will take a closer look at the pricing options you have. 👇
🔹 Avasam Starter – £15.75 per month
This plan gives you unlimited integrations and 50 orders per month. Plus, you have 100 products for sourcing and 2 marketplace account integrations.
However, once you start getting more than 50 orders per month, you'll have to upgrade.
🔹 Avasam Advanced- £34.99 per month
This pricing plan gives you 250 orders per month. Moreover, you have 1,000 products available for sourcing. And, you can have 4 marketplaces integrations and product listings.
Also, when it comes to customer support, here you have live chat and phone calls included.
🔹 Avasam Business- £59.99 per month
With this option, you have 1,000 orders per month. So, if you have already established a dropshipping business, this option is for you.
Moreover, with Avasam business, you get 10,000 products sourcing, and 6 marketplace accounts integrations and listings. Plus, you get:
Additional product discount
Onboarding call
Account management
🔹 Avasam Guru- £74.99 per month, billed monthly
Avasam Guru gives you unlimited orders per month. Plus, you have unlimited product sourcing, marketplace account integrations, and listings.
Moreover, your options are endless. You get even more product discounts, and account management.
Pros & Cons Of Using Avasam
Pros of Using Avasam
✅ Shares Updated Information
Avasam excels in keeping you informed with its proactive approach. They regularly share YouTube videos and send emails featuring new suppliers and trending products.
✅ Reliable Customer Service
Avasam's excellent customer service is a common theme in Trustpilot reviews. Their support team is known for being dependable and helpful, as most of the customer testimonials claim.
In addition, 70% of the reviews are 5-starred, and 4.2/5 is really not a bad rating, right? 👇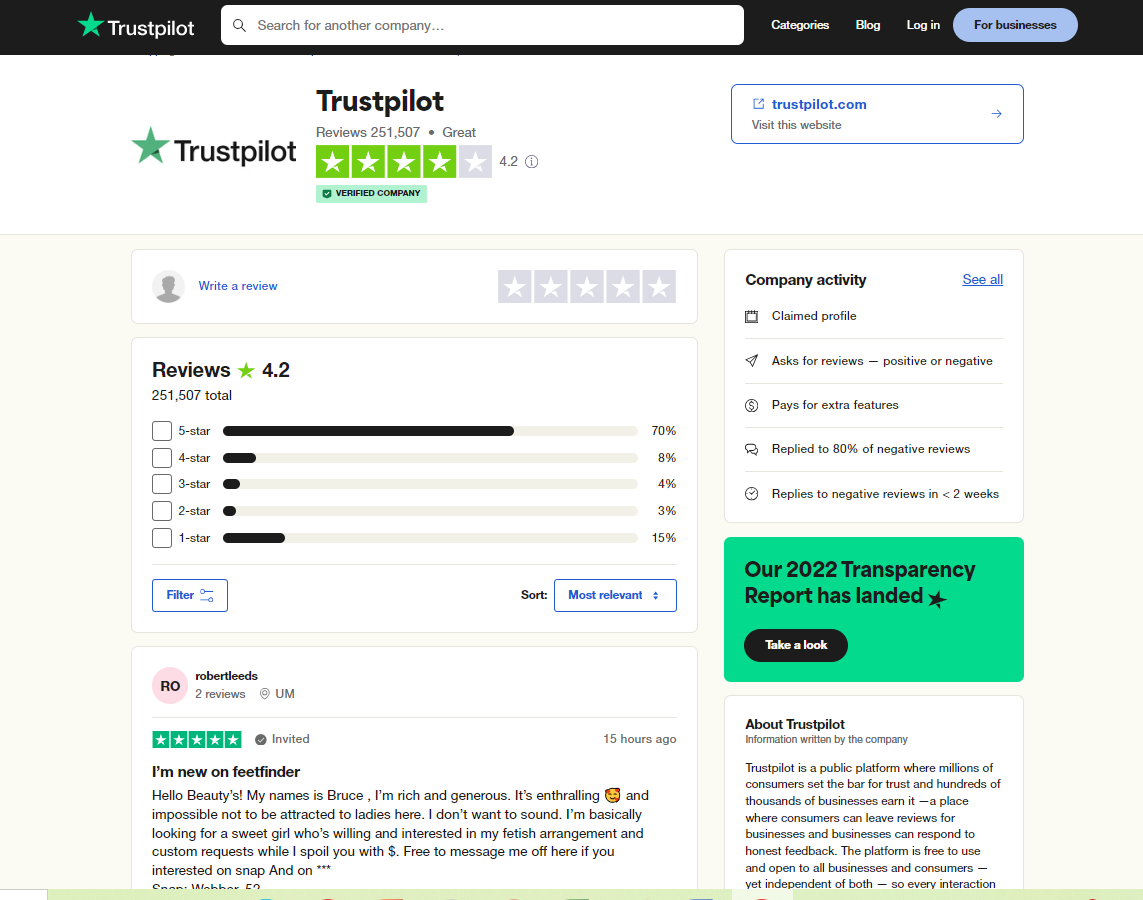 ✅ Trustworthy UK Suppliers
Avasam's supplier verification program ensures that the suppliers on their platform are likely to be trustworthy.
✅ Automated Order Processing
Avasam streamlines your order process by automatically passing your customer's orders on to the supplier.
Cons of Using Avasam
❌ Limited Shipping Options
Currently, Avasam limits its shipping services to the UK and the US, with no support for other countries.
❌ No PayPal Accepted
While you can use PayPal for accepting payments on your chosen sales channel, Avasam does not support PayPal as a payment method for settling transactions with suppliers. Therefore, you'll need to register a payment card for this purpose.
💡Tip: Read about Dropshipping PayPal: How To Use It & Not Get Banned.
Avasam Alternatives
As you read my Avasam Review, if you are not finding your best spot for dropshipping, here you can check its alternatives.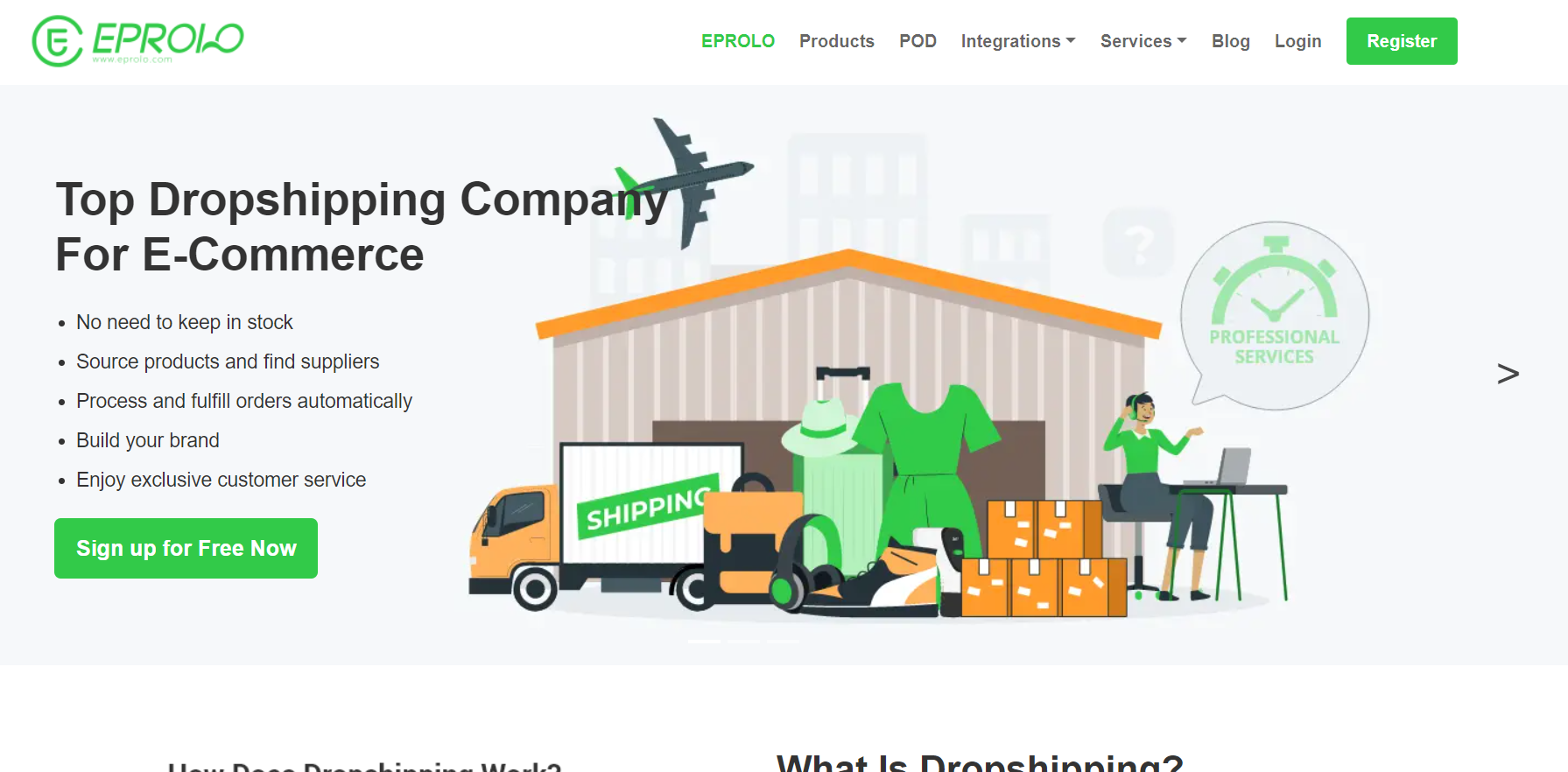 Eprolo serves as a comprehensive dropshipping hub, providing a wide array of services and capabilities to cater to the needs of online shop proprietors.
By offering an extensive inventory of top-notch products and comprehensive branding assistance, Eprolo strives to be the ultimate destination for dropshippers seeking to procure premium items and elevate their customer engagement.
Key Features:
Sourcing From Reliable Suppliers
Extensive Product Catalog & Filtering Options
Global Warehouses
Automated Order Fulfillment
Print on Demand
Branded Dropshipping
When it comes to pricing, Eprolo offers different account types and product import limits based on your monthly spending. So, there's no specific subscription plan, like with Avasam. Hence, Eprolo services can cost you from $0-$20,000, based on your needs.
👉 If you want to learn more, Read my Eprolo Review 2023 (Features, Pros, Cons, Pricing).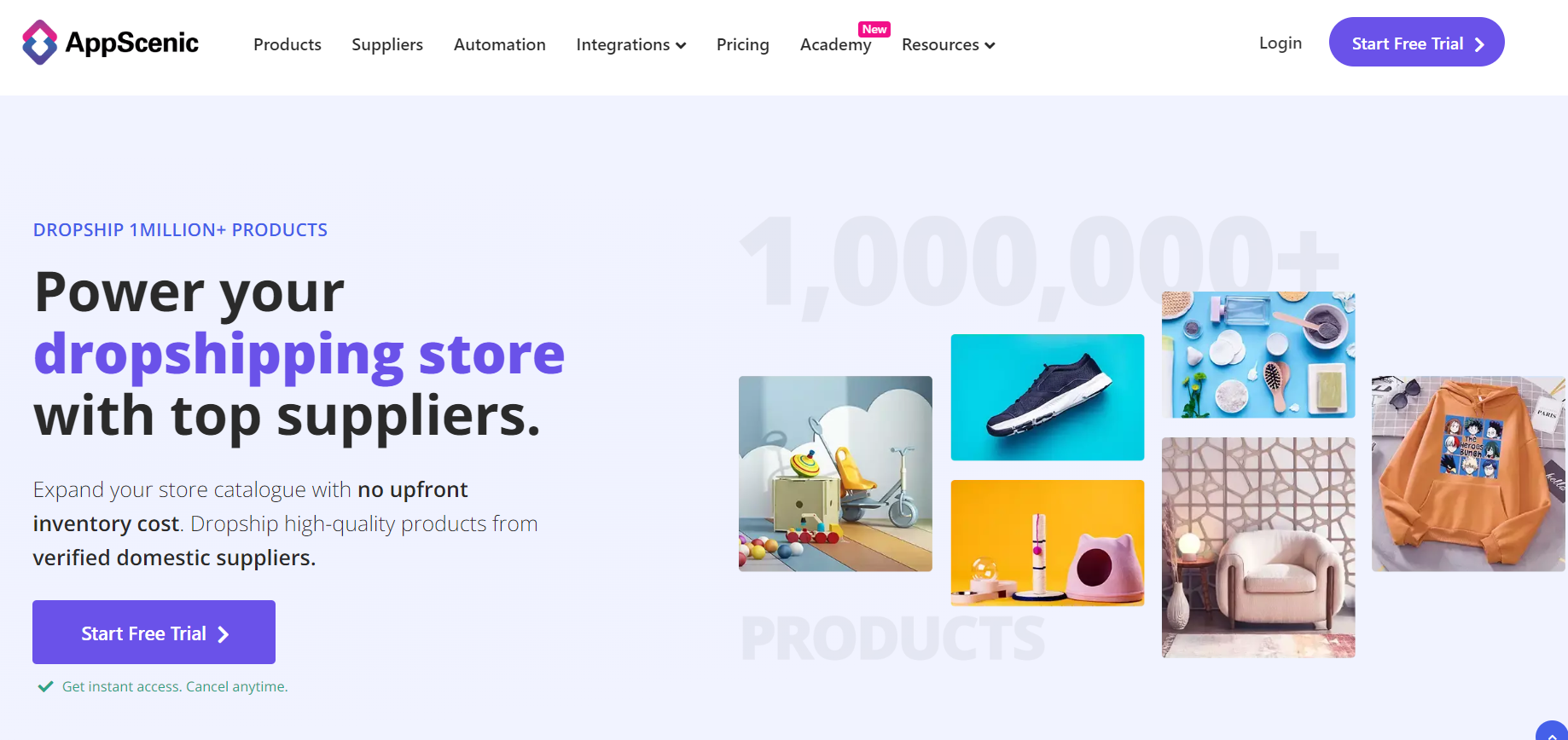 So, the next alternative I will mention in this Avasam Review is Appscenic. It is a comprehensive dropshipping and wholesale solution that establishes a vital link between e-commerce store proprietors and top-tier suppliers.
This platform functions as an indispensable resource for dropshippers seeking to streamline their operations and maximize their revenue. Through AppScenic, you gain access to a wide array of dependable suppliers, each offering a diverse array of products spanning various categories.
A standout feature of AppScenic is its capacity to completely automate the entire order process, covering product imports, order fulfillment, and shipment tracking. This automation eradicates the need for manual labor, thus saving users valuable time and effort.
Furthermore, AppScenic simplifies inventory management by seamlessly synchronizing stock levels across multiple platforms, guaranteeing precise and real-time inventory data.
Key Features:
Fast Dropshipping Time
Innovative Payment System
Reliable Dropshipping Suppliers
Unique Products on AppScenic
AppScenic Automation
When it comes to pricing, the platform offers four plans that are similar to Avasam:
Free Plan – $0/month
Standard Plan – $24/month
Pro Plan- $47/month
Elite Plan- $78/month
👉 Check out my AppScenic Review: Dropshipping Automation App [Who Is It For].
Join the only community and resource hub you'll ever need to succeed with dropshipping
Find winning dropshipping products, learn marketing, download templates and engage with real dropshippers
Never pay for a "guru's" course again. See why 4543+ dropshippers joined us this year!
💡Try DSCOM Hub Now
Conclusion
In conclusion, if you're looking to supercharge your dropshipping business in the United Kingdom and beyond, Avasam is a game-changing platform.
This platform offers access to a diverse catalog of over 200,000 products across 18 different categories, with constant growth as new suppliers join the platform.
Also, it automates the end-to-end order process, from sending orders to suppliers to providing tracking details to customers and ensuring inventory.
Not only that, but Avasam provides tools like bulk sourcing, listing management, product listing tools, pricing rules, and various free dropshipping tools to optimize your operations. And, it integrates with various sales channels and popular ecommerce platforms.
Moreover, while Avasam has its strengths, such as proactive information sharing and reliable customer service, it's important to note that it has limited shipping options and doesn't support PayPal for transactions with suppliers.
So, is Avasam your go-to option for dropshipping, or you will consider its alternatives?