If you are looking for a comprehensive Wix dropshipping guide, then you have come to the right place.
Whether you are already active in the world of e-commerce or want to start a dropshipping store for the first time, we can help you with that.
In this article, we will guide you through the whole process of how to dropship on Wix, its pricing, pros & cons, and more!
Shall we begin?
Wix Dropshipping: Quick Review
First, here's a quick Wix Dropshipping Review for our busy dropshippers.👇
The best
Beginner-friendly

500+ templates for online stores

Various payment gateways
The worst
Lack of powrrful dropshipping apps for products and suppliers

No stock management alerts
Starting from
Business basic – $17/month; Business unlimited- $25/month; Business VIP – $35/month
Now, let's continue with the real work!
Discover top dropshipping suppliers of original US/EU products
You're 2 minutes away from building your ecommerce empire
No credit card required. No commitment.
Get started for free
What Is Wix Dropshipping?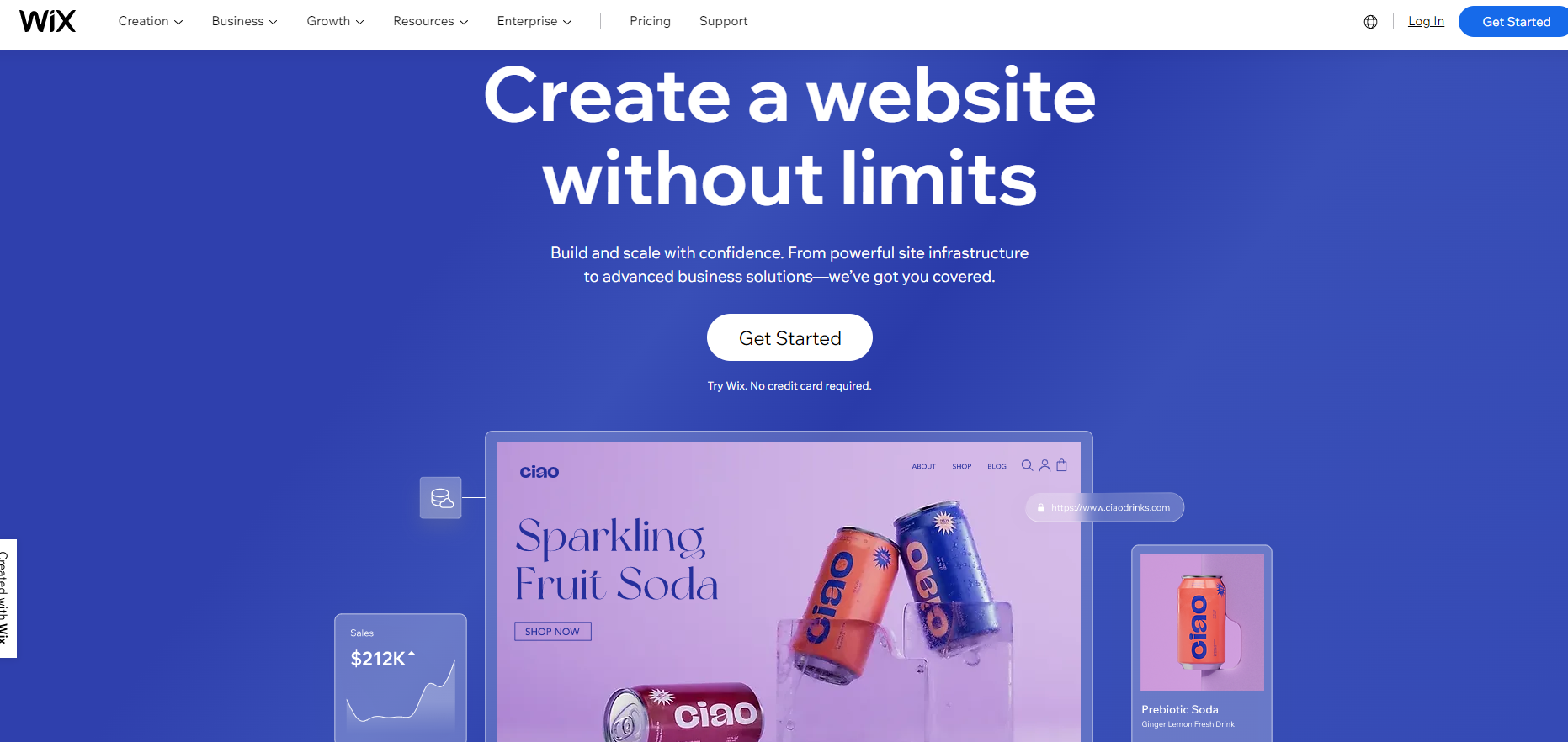 Wix is a website builder that empowers dropshippers to bring their online vision to life, with no coding skills required.
The platform offers an impressive array of customizable templates, drag-and-drop design tools, and a vast library of apps and plugins to help users create a website that's tailored to their unique needs and preferences.
At its core, Wix is all about accessibility and ease of use. Its intuitive interface allows users to create a website quickly and efficiently, without the need for technical know-how.
Now, let's start our full Wix Dropshipping review!
Can You Start A Wix Dropshipping Store?
Yes, of course. You can build a dropshipping store with Wix and make money online.
As a website-building platform, Wix allows you to get online with a personalized, professional web presence.
Wix is much more than just a website building platform, though.
Namely, it offers a complete set of eCommerce tools to help you build your online presence and create an amazing and fully functioning dropshipping store.
So, instead of asking yourself, "Can I start a Wix dropshipping store?", you should be asking yourself, "How can I do that?"
Sure, we will also answer that question in one of our following sections. Just read on…
How To Dropship With Wix?
?Now that you have decided to use Wix for dropshipping, it is time to learn how to create your Wix dropshipping store. Just follow the steps below.
1. Sign up for Wix dropshipping
First and foremost, head over to Wix.com to create a Wix account. Then, click "Get Started."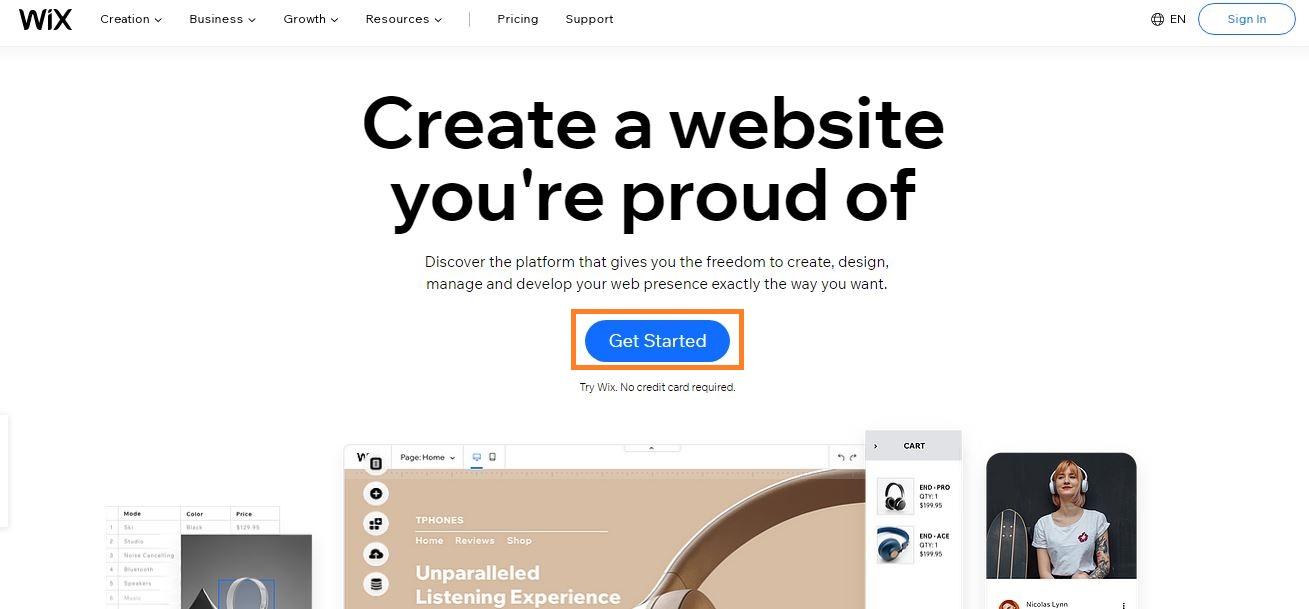 After clicking"Get Started", you will have to enter your personal information, like your e-mail address. Also, you can sign up with your Google account, or Facebook.👇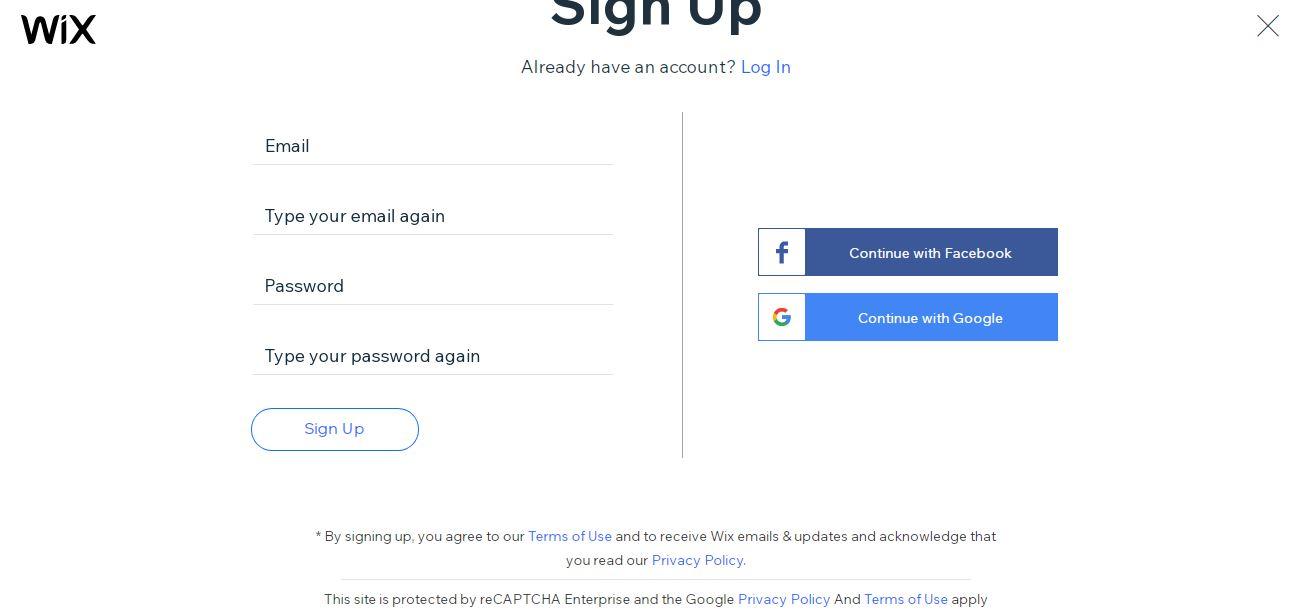 Next, you will see a headline saying, "Let's bring your ideas to life." And Wix will do exactly that – It will bring your dropshipping idea to life. So, once you are at the Wix dashboard, click on the "Create New Site" button.👇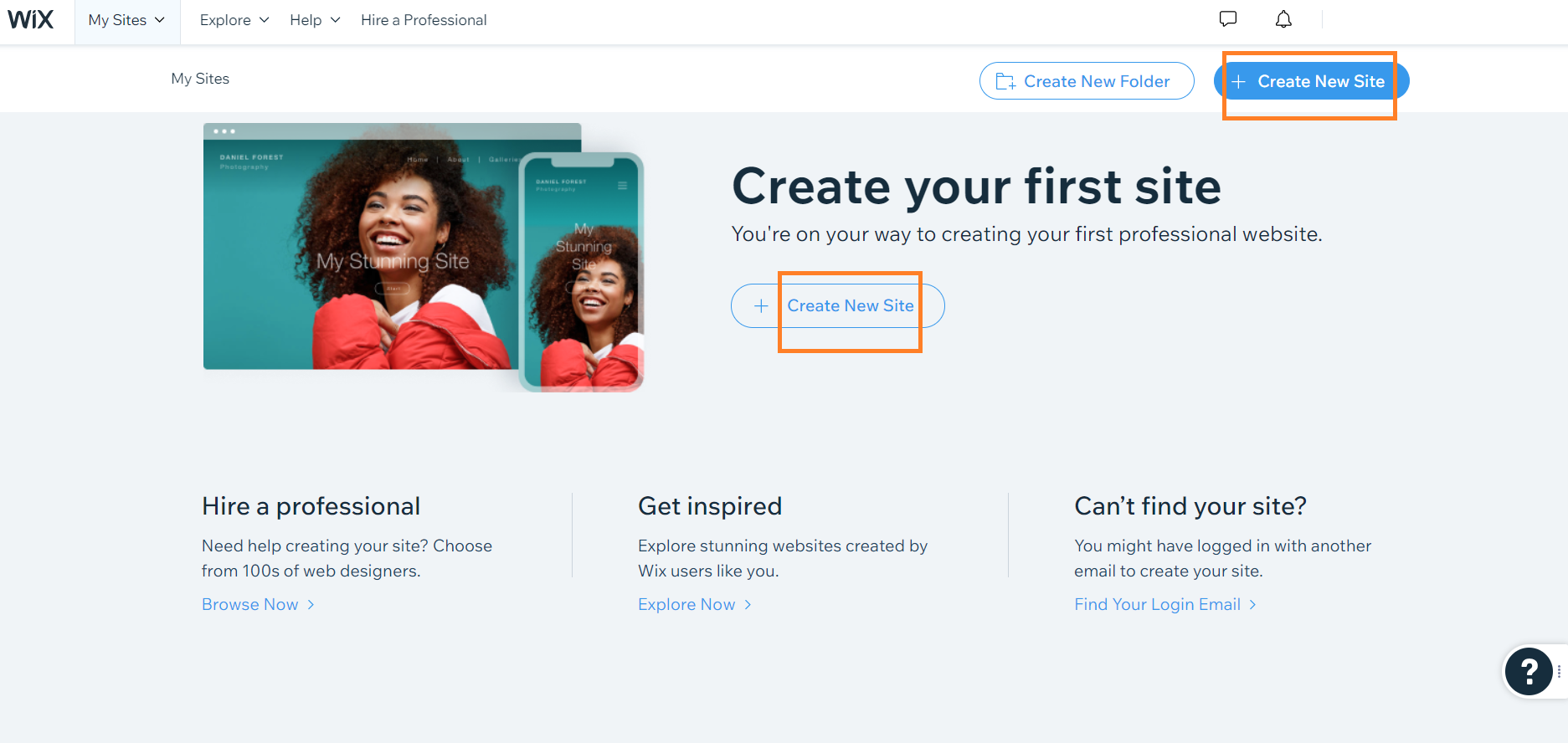 Now, the first thing you need to do is choose your dropshipping store name. So, this is why you need to make a dropshipping business plan and come up with a name that reflects your business.👇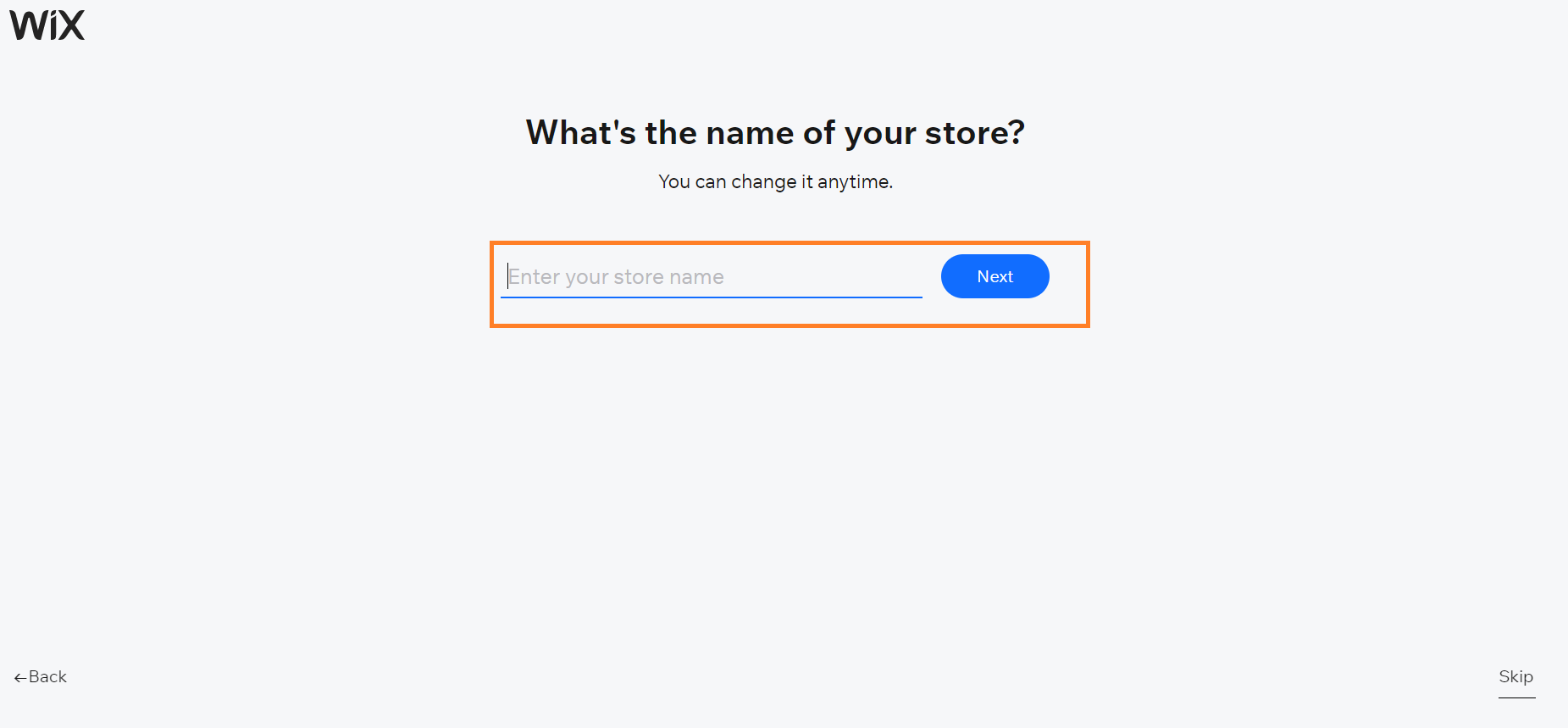 Furthermore, prior to going to your site editor, you will have to answer a few questions, like "What type of website are you creating," etc. 👇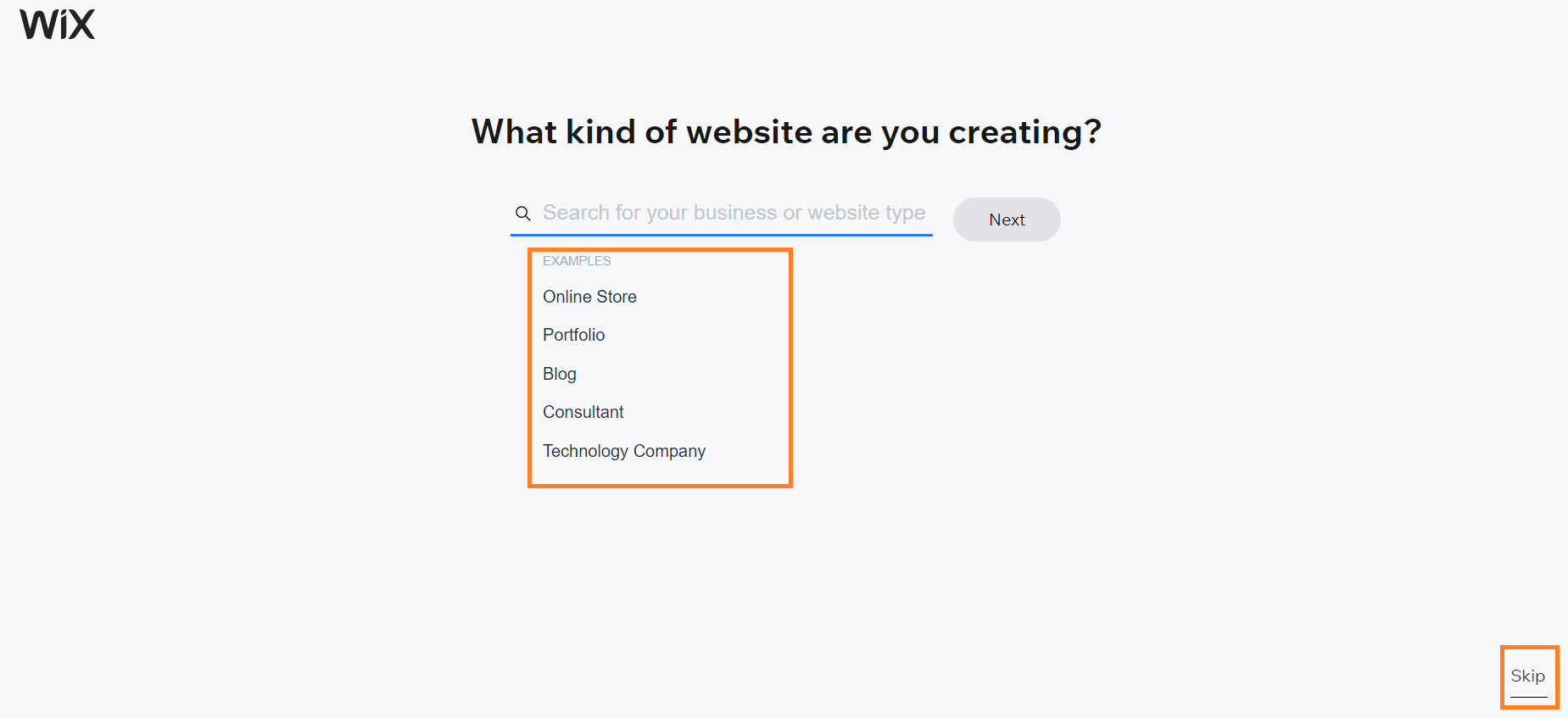 Next step, you can choose the categories your dropshipping store will include. Or, you can simply skip the step.👇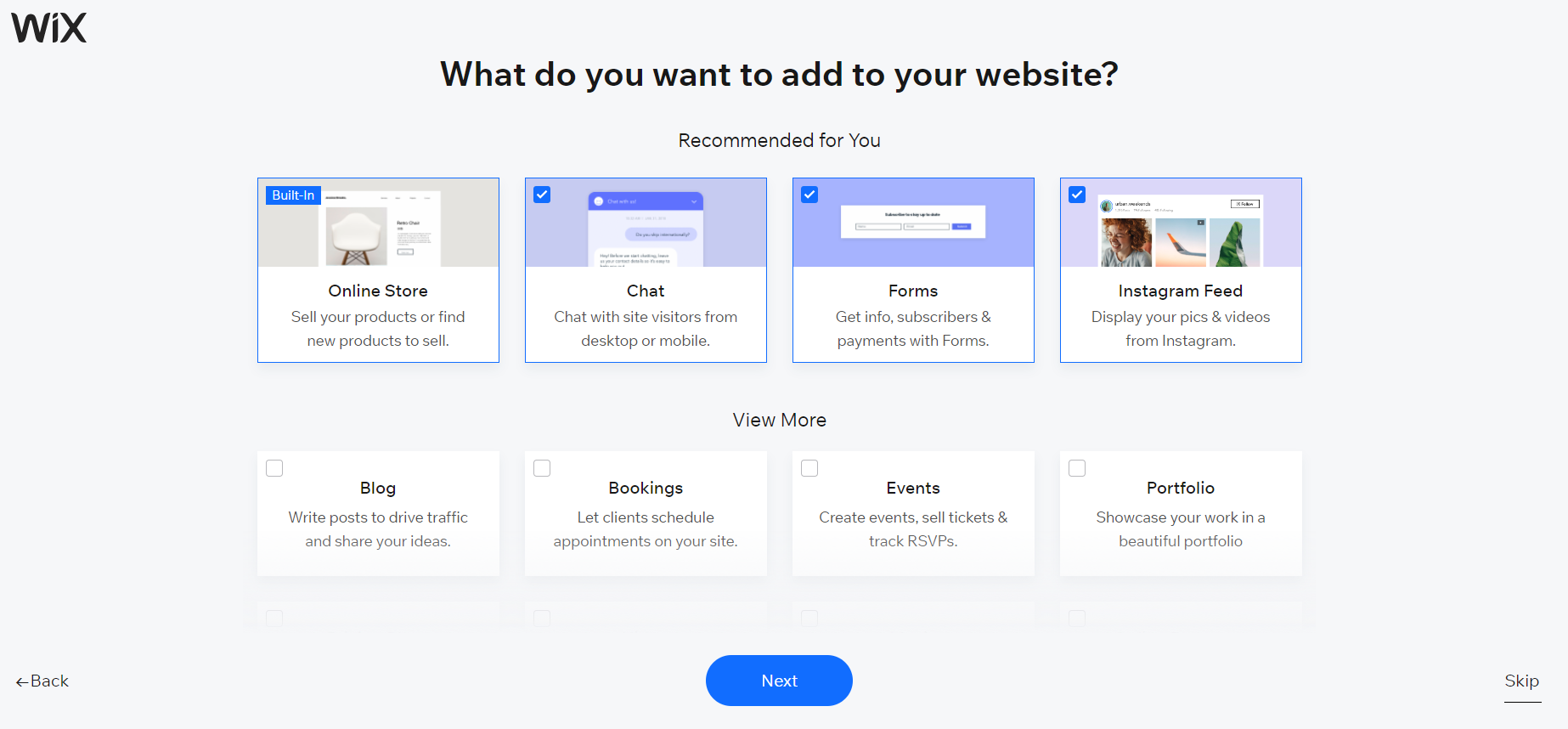 2. Select a template for your dropshipping store
It is time to pick a template for your Wix dropshipping store. As mentioned previously, you can choose from a wide array of templates specifically designed for online stores.
When that is all done, you need to choose between three options – whether you want to start setting up your store on your own, begin with a template, or use a custom-built site.👇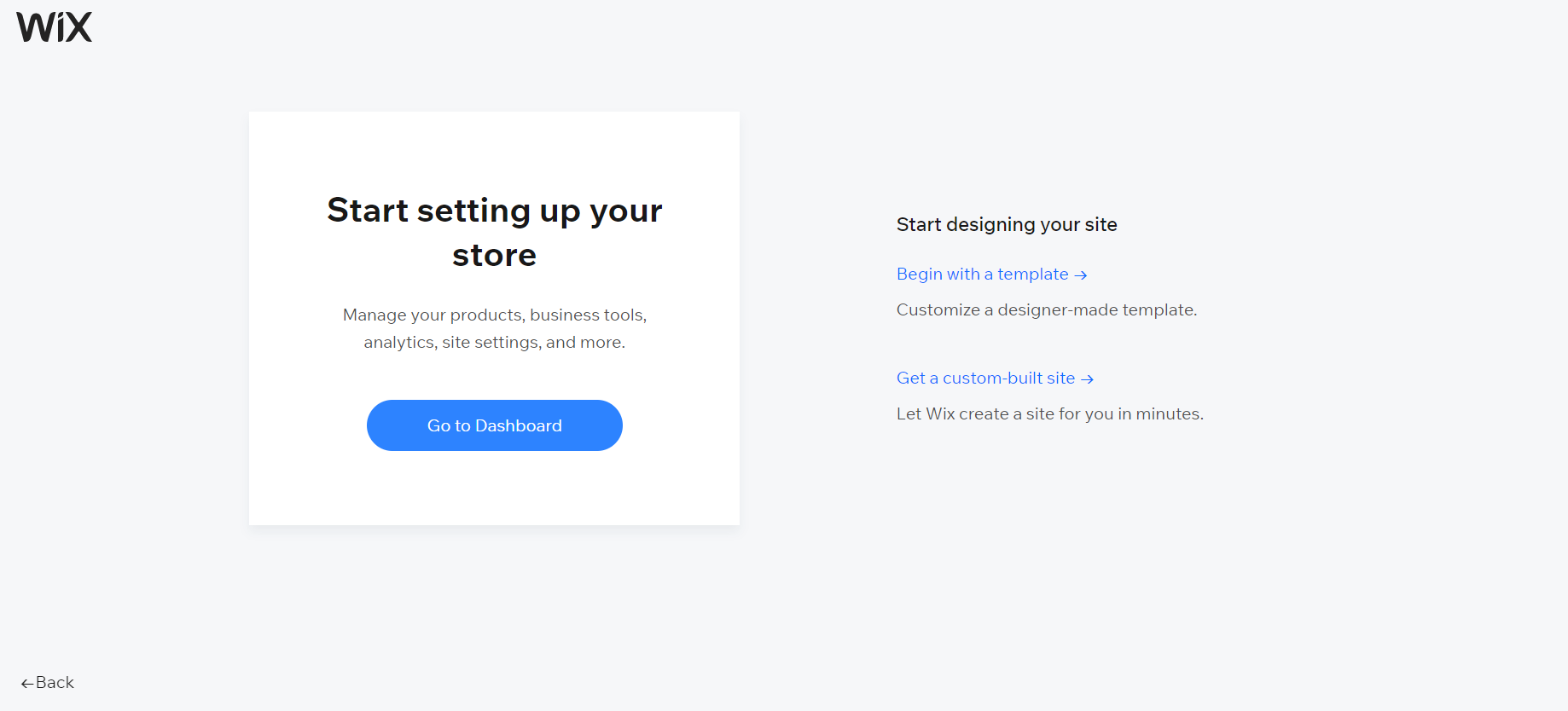 In this article, we will choose the second option, or we will begin with a template because it offers greater flexibility. In case you choose the ADI, it will offer a bit of guidance for your site. This can be great for beginners.
So, once you choose this option, this is the next thing you will see.👇

Now, when you find your template, navigate to the template, and click on Edit.
Thus, your template will define the look, feel, and usability of your dropshipping store. As a result, it is a very important element in creating a professional, stylish, and inviting online store.
So, make sure you choose a template with features that make it ideal for your dropshipping niche. Also, take the size of your product catalog into account before making the decision.
3. Customize your Wix dropshipping store's design
Once you have picked a template that suits the needs of your Wix dropshipping store, you need to customize your store's design to fit your brand identity.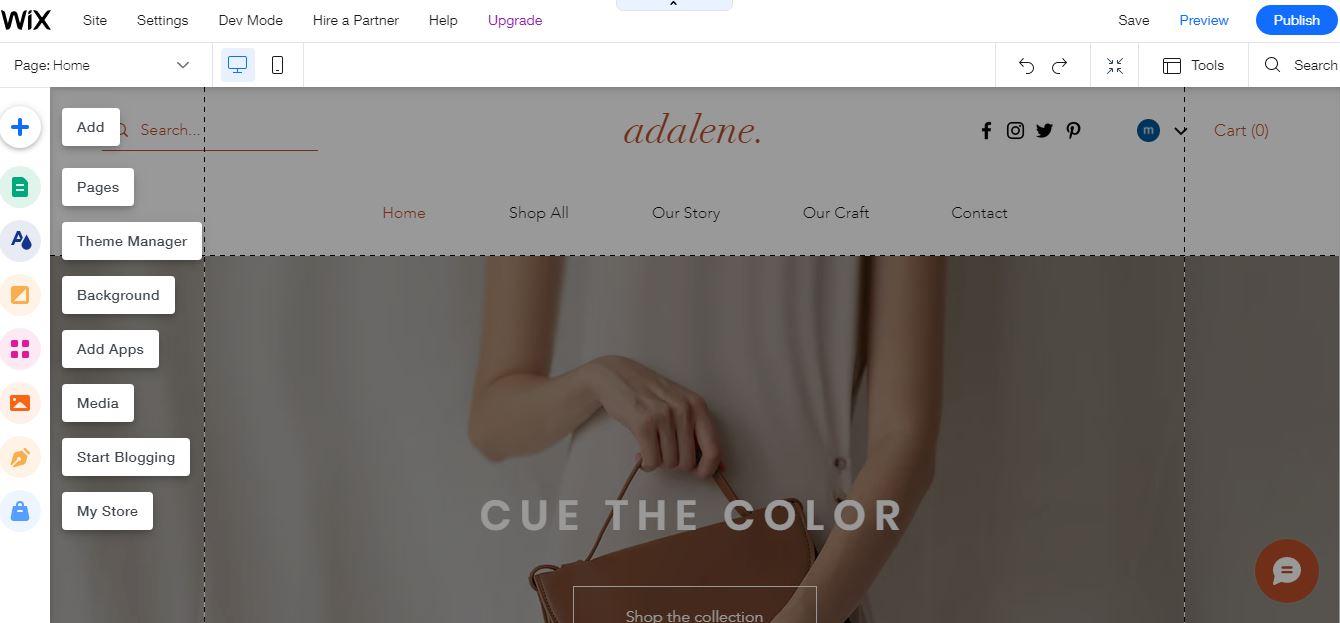 This means that you need to customize fonts and colors, upload photos, and design the layout of your pages.
That way, you will start creating a strong brand identity, thus setting your store apart online and building trust with potential customers.
Once you finish, click on the "Publish" button. Next, once you click on publish, a new window will pop up. So, you will have to choose your domain name. And, you got two options.👇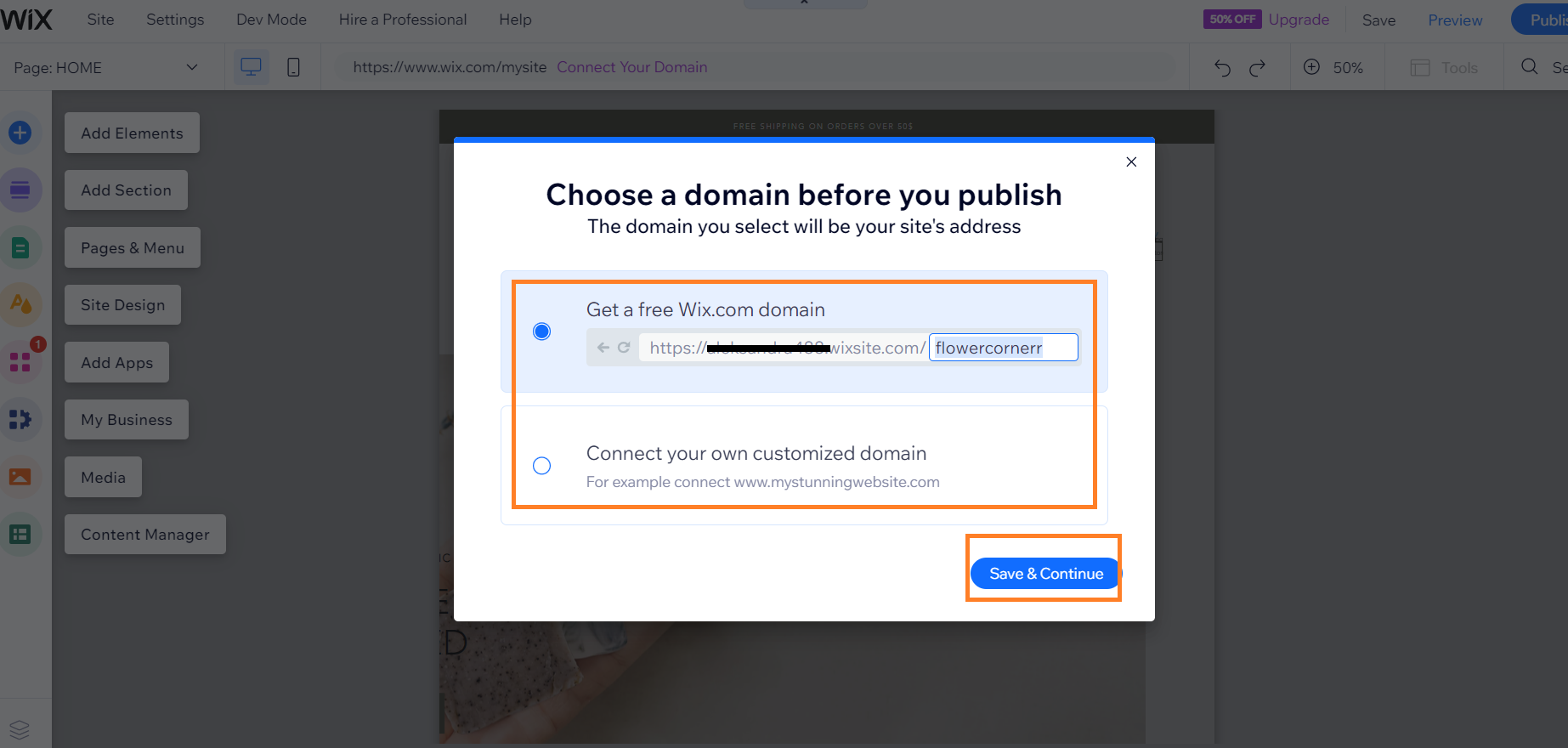 Hence, choose your option, and click save & continue because the next step is important!
4. Choose a dropshipping app to find suppliers and products
Still unsure what you are going to sell online? Check out some of the best dropshipping products in any niche for max profits in 2023, and learn how to find products for dropshipping.   
Now, let's assume that you've found your dropshipping niche, and you've customized your Wix dropshipping store. However, you cannot start dropshipping with Wix yet.
Why? Because you do not have an app to find Wix dropshipping suppliers and products.
As we have already said, Printful, Modalyst, and Spocket are some of the best dropshipping apps, which can help you find high-quality products in no time.
👉 Learn the main differences: Printful vs Printify – the ultimate review.
Sure, there are other great apps on Wix for this purpose. But in this article, we will discuss the above-mentioned ones.
To install these Wix dropshipping apps to your store, you need to find them in Wix's App Market. So, go to the Wix dashboard, and navigate to Apps > App Market.👇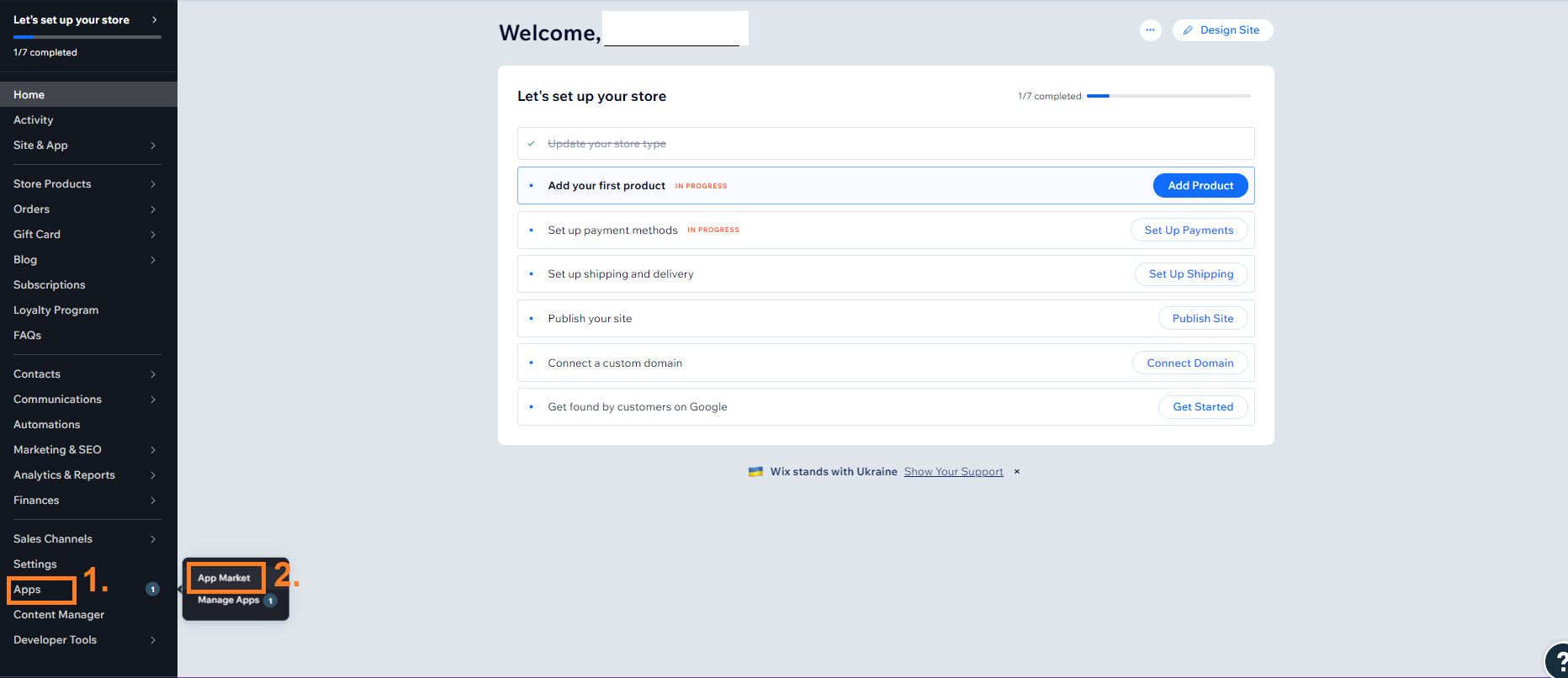 Next thing, you will land on the Wix App market. So, you can scroll over, and find the apps you need.👇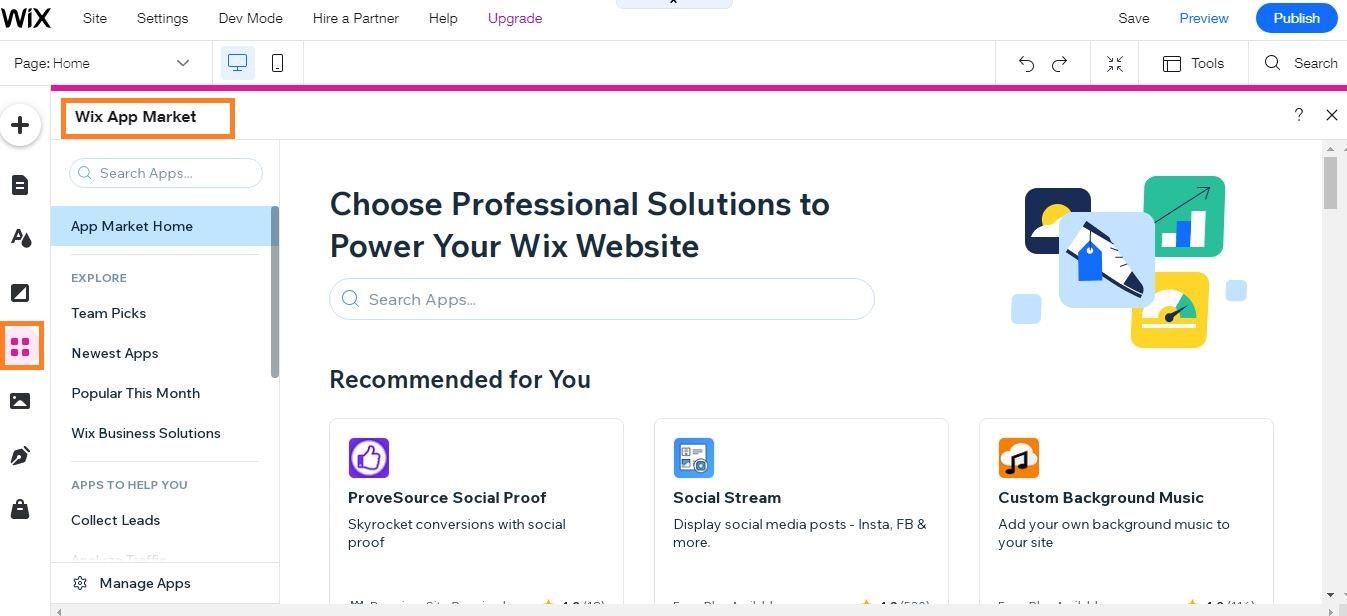 Once you have found the app, just hit the "Add to Site" button.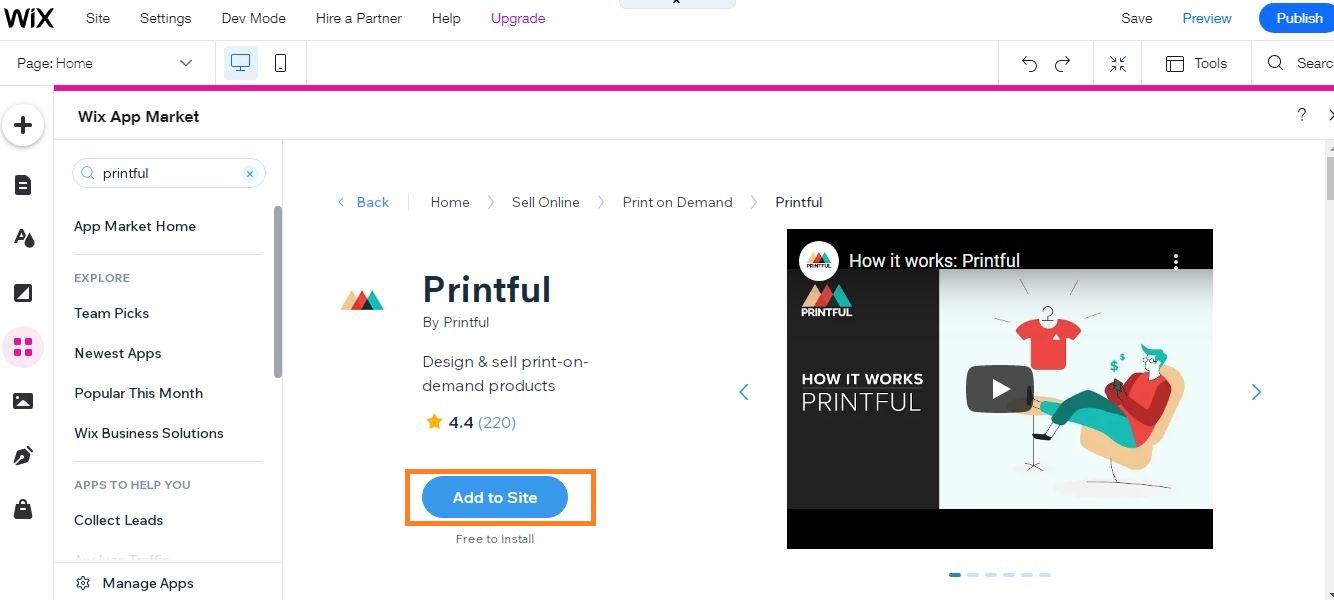 Printful. Want to sell printed products, like T-shirts, jewelry, hats, bags, phone cases, etc.? Then this Wix dropshipping app might be your best bet.
Modalyst. By installing Modalyst in your store, you can find millions of quality products from vetted US suppliers and suppliers from all over the world.
Spocket. If you plan on dropshipping high-quality, European and US products through your Wix dropshipping store, then consider installing Spocket.
👉 Check out our full review of Spocket Dropshipping: The Ultimate Guide to Dropshipping With Spocket in the EU & US.
5. Add products to your store and customize your product details
The platform will automatically create individual product pages as you add inventory to your storefront.
But if you are about to create a new product catalog from scratch, you need to add your items individually to your store on your dashboard.
We have chosen Printful as one of our Wix dropshipping suppliers. And the process of adding products from Printful to Wix looks like this.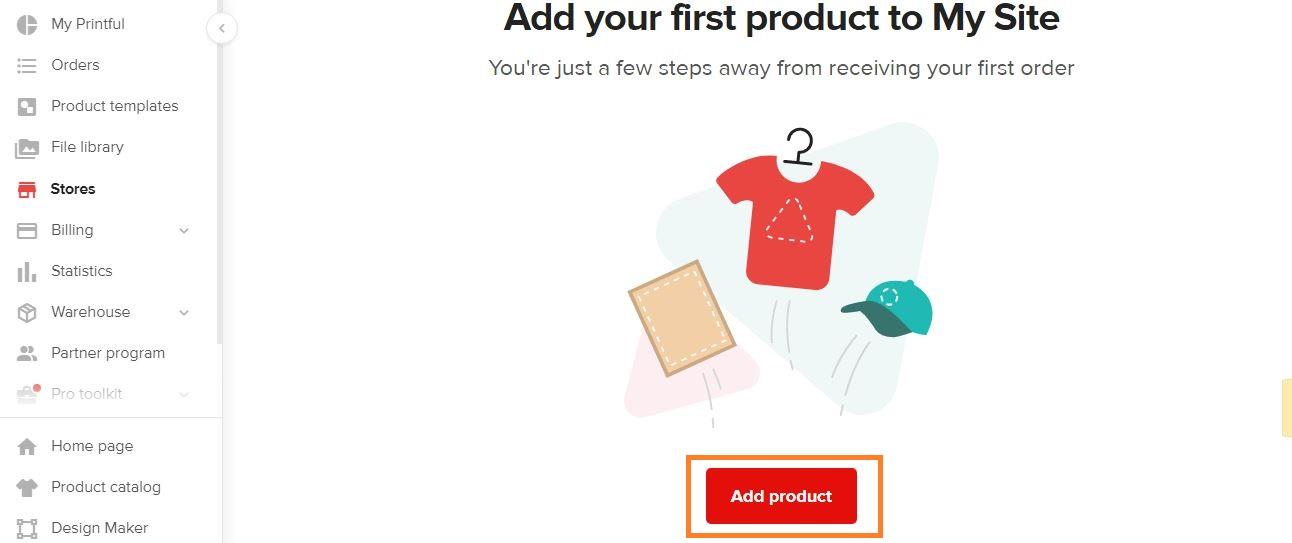 And when you select an online store template, it already has an optimized layout to sell. Still, you need to customize and add unique content to your product pages.
Simply put, you need to customize your product titles, descriptions, and images to ensure they match your unique Wix dropshipping business. And here is how to do that.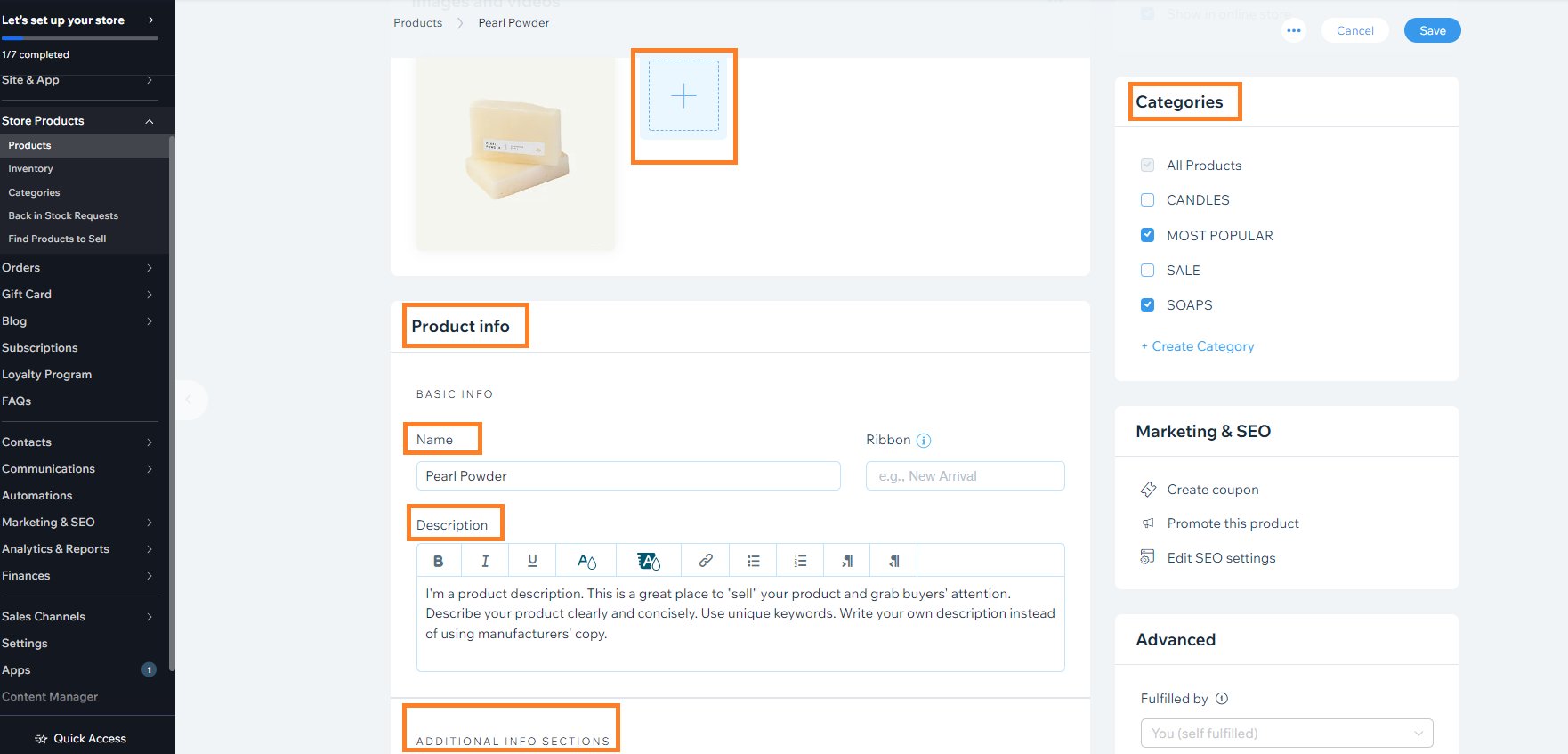 Product titles and descriptions. The most important things to focus on for your product title descriptions are uniqueness, creativity, and consistency. You may source your items from a few suppliers using different formatting and wording for their items. Therefore, you need to write unique and informative descriptions, which are consistent with one another.
Images. Also, ensure your product images are consistent across all of our items. Simply make sure that all of your items have the same aspect ratio as well as the same style of background. This will improve the SEO on your dropshipping store too.
6. Set up your shipping and payment settings
You can set up your store settings under the "Settings" category in your Wix dashboard. And, here you will find sections for setting up your shipping and payment settings.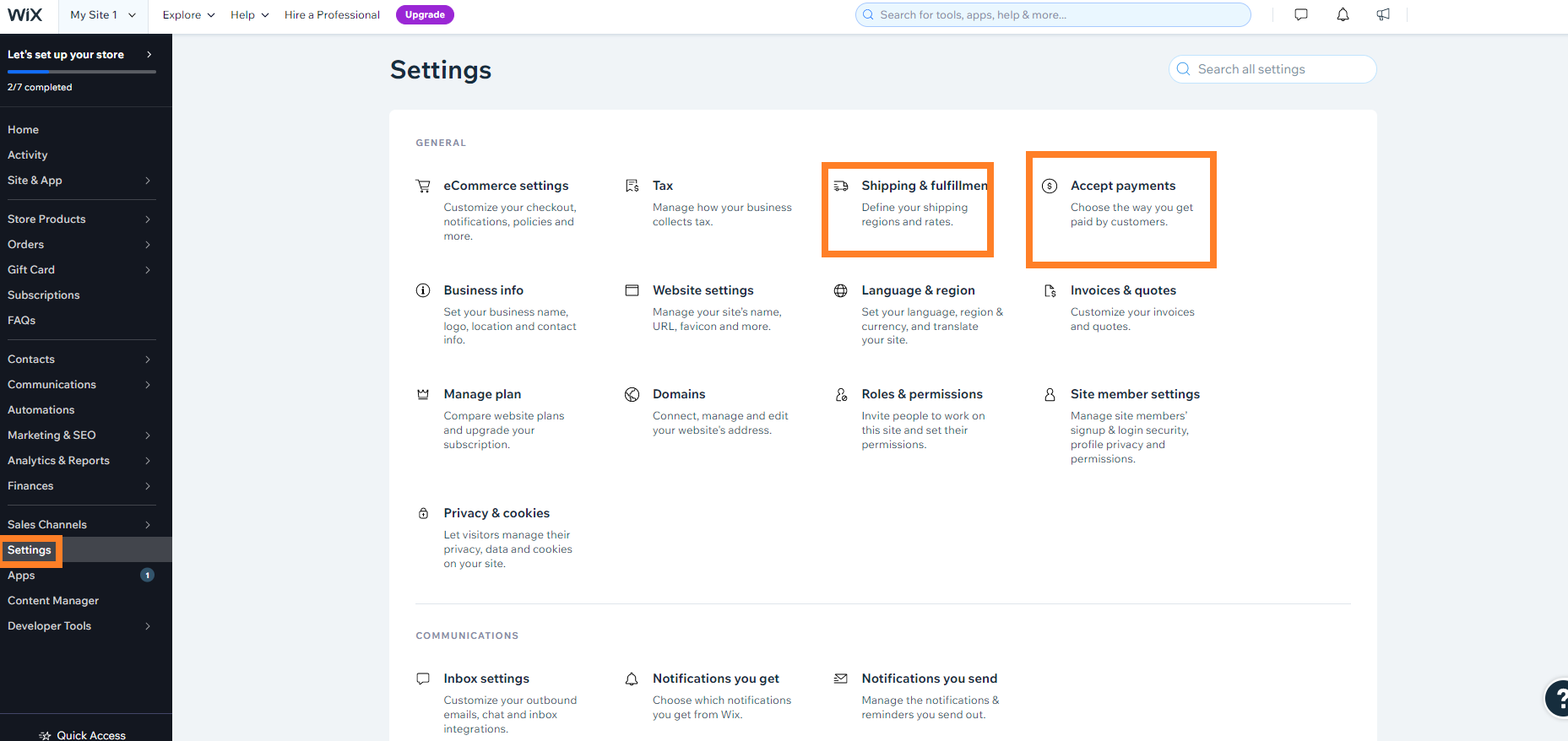 Shipping. Both Spocket and Modalyst offer shipping guidance. In a product listing, you can see where your chosen supplier ships to, and how much it costs to do so. When adding your items to your store, you will have to set your shipping fees manually in your dashboard. That way, you can choose between adding a shipping charge and increasing the retail price to offer free shipping. One more thing that we want to mention here is that you have to make sure you do not offer to ship to places your supplier does not ship to.
Payments. Select the best payment methods, so your customers can make hassle-free payments. Some of the most popular payment methods you can select for your Wix dropshipping store include 2Checkout, PayPal, and Stripe. Sure, you can switch or add payment methods at any time.
Is Wix Dropshipping Available For Free?
This platform offers an entirely free plan. But its free plan is limited in functionality. This means that you cannot connect a domain to it or sell anything with it. Thus, you can try any premium plan for 14 days free.
So, to turn your website into an online store, sell products online, and accept payments, you will have to upgrade to a premium plan.
Therefore, you need to learn more about its pricing plans. But, more about that you will read below in this blog article.
In brief, if you plan on building a general content-based website, Wix is a cheap option. However, to start Wix dropshipping, you have to choose one of Wix's three business and e-commerce pricing plans, starting from just US$17 per month.
Wix Dropshipping: Pricing Plans
Wix offers three pricing plans for business and eCommerce. Thus, this pricing starts at $17/month, and it is up to $35/ month, which is really affordable for beginners.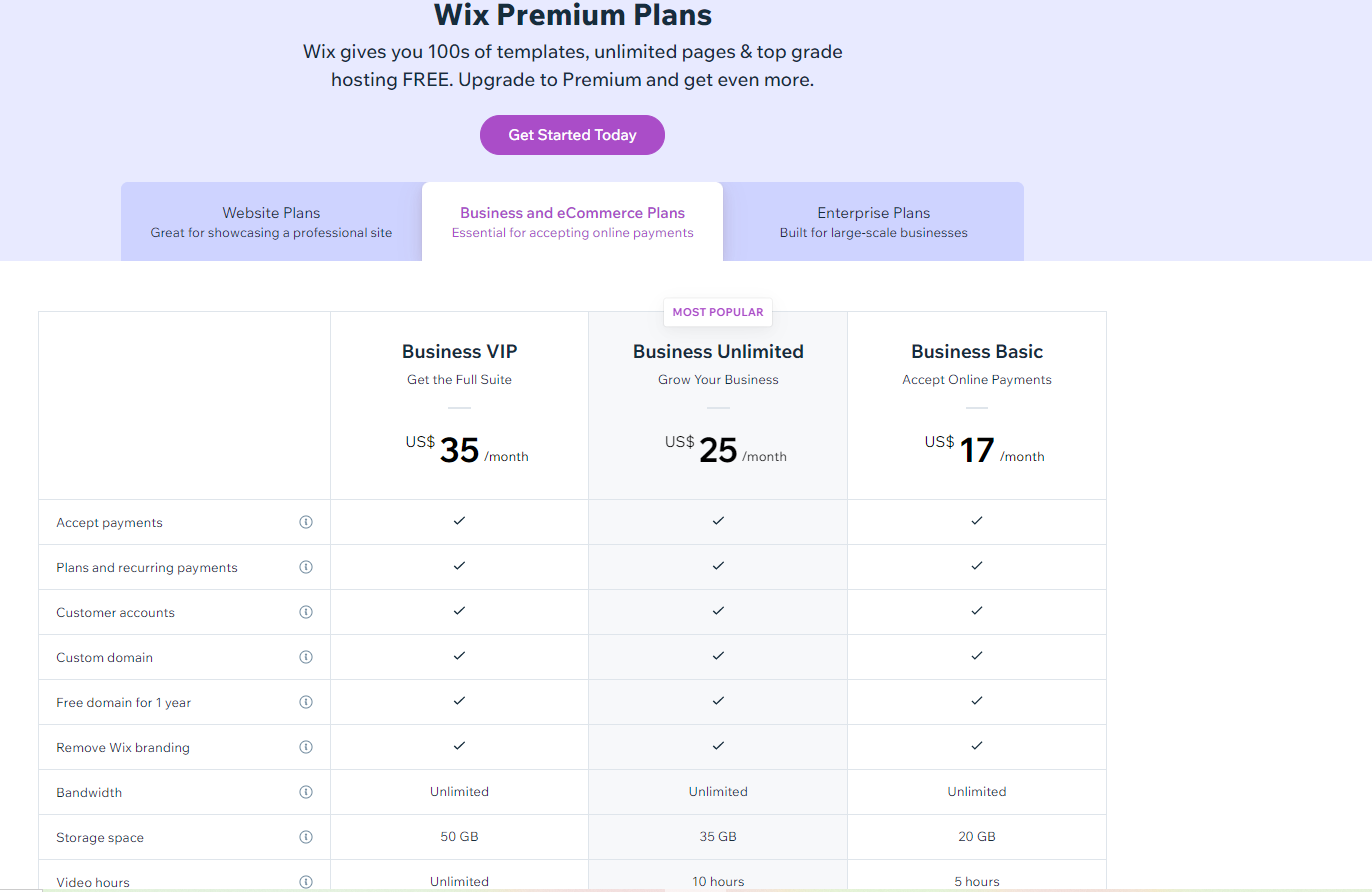 What's more, if you want to have a complete eCommerce, or dropshipping platform with Wix, here's what each of the pricing plans has for you! 👇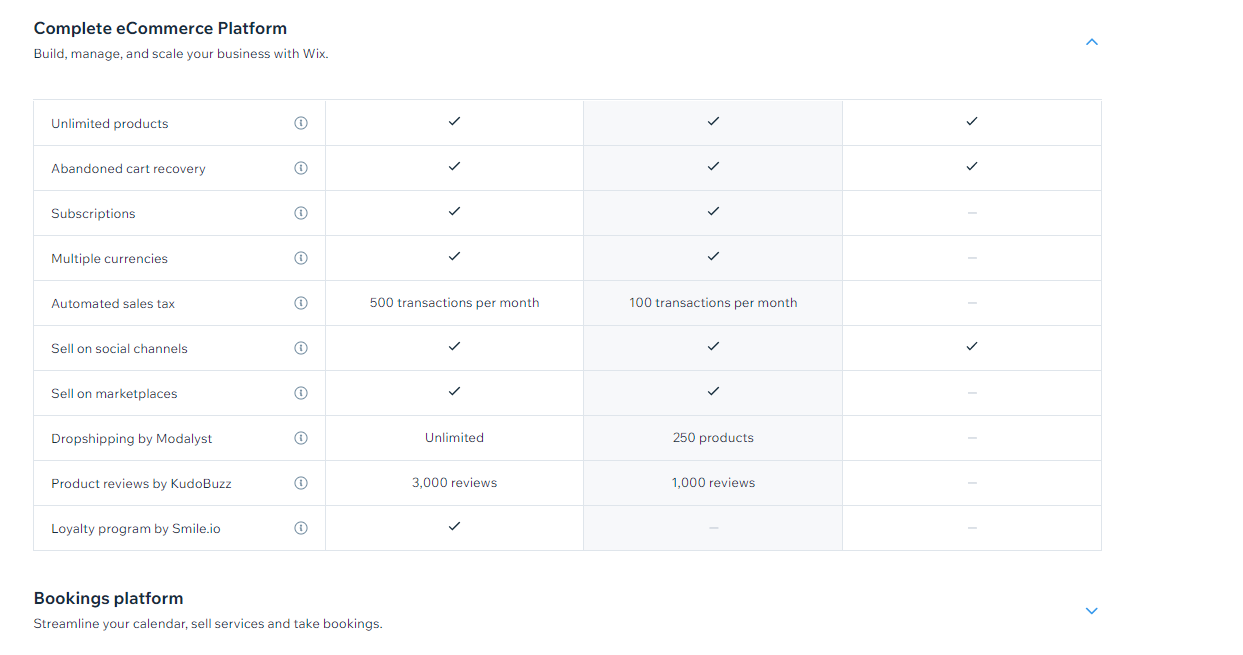 Wix Dropshipping: Pros & Cons
In a world of website-building platforms that all claim to have the right features for building a successful online store, why should you start dropshipping with Wix?
The platform boasts plenty of benefits, all of which combine to make an incredible option for a dropshipping business idea like yours.
So, let's now see the advantages and disadvantages of starting and running a Wix dropshipping store.
Lack of powerful dropshipping apps for products and suppliers
No stock management alerts
✅ Pros
➡ Beginner-friendly
It can be incredibly frustrating to try to build a dropshipping store using a platform that is not easy to navigate, but so badly want to.
However, Wix is arguably one of the easiest-to-use e-commerce platforms. You can use it to design a stunning website using the Wix artificial design intelligence (ADI) tool or the drag-and-drop editor.
With the Wix artificial design intelligence tool, you just have to answer a few questions, and the platform will automatically build your site. Sure, you can customize it later.
Because of its super-simple setup, this platform enables you to create a dropshipping store within a short period of time.
You can do so even if you have no prior experience. Plus, you can connect one of the powerful Wix dropshipping apps to your e-commerce store with ease.
➡ 500+ templates specifically designed for online stores
This platform has about 800 different website templates to choose from. Luckily, about 500 of them are suitable for online stores, including dropshipping ones. And this is considered to be a great advantage of Wix dropshipping.
It is advisable to use the filter at the top of the template catalog to narrow your search down and browse templates by industry. Needless to say, you need to choose a template depending on your industry.
➡ Various payment gateways
Wix supports all the standard payment gateways, such as PayPal and Stripe. Or more specifically, the platform supports over 50 different payment gateways – hence more options for your dropshipping store.
It does not support Apple or Amazon Pay. However, it definitely has enough other options to make up for that.
Plus, the platform even has its own in-house payment gateway called Wix Payments. With Wix Payments, you can easily manage your orders and payments all in one place.
❌ Cons
➡ Lack of powerful dropshipping apps for products and suppliers
With Wix's App Market, the sky is the limit. In short, you can find many great apps to power your Wix website.
But when it comes to dropshipping apps to find products and suppliers, Wix does not offer as many quality dropshipping apps as other e-commerce platforms do.
This might be a major disadvantage of running a Wix dropshipping store.
Well, you can definitely find some powerful dropshipping apps to find trusted suppliers and source high-quality products for your Wix store. And Printful, Modalyst, and Spocket are some of the best dropshipping apps for this purpose.
➡ No stock management alerts
If you decide to start dropshipping with Wix, it is important to understand that you will not receive an e-mail notification when your product is out of stock. Still, you will receive a notification in your site's dashboard.
But the good news is that you can use a third-party app to receive stock management alerts when stock is low. This can help you optimize your inventory levels.
Shopify Vs Wix Dropshipping: A Quick Comparison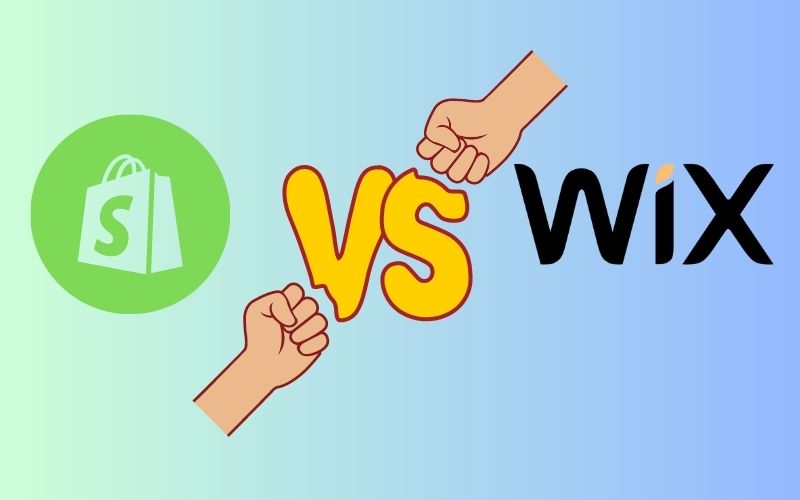 Both Shopify and Wix are great platforms to use for dropshipping. But we want to make a quick informative comparison between them to help you see the difference.
🔸 Wix Dropshipping
Wix was first developed as a website builder for those looking to create a content-based website, including a blog, brochure website, and news site.
Thus, it used to be a great choice for small service-based businesses and freelancers. However, Wix has evolved in many ways since its inception, thus offering a good amount of e-commerce features nowadays.
In fact, It's a website builder that lets you create a stunning online store and blog, all in one platform. So, Wix's ecommerce features are not as extensive as Shopify's.
Wix's pricing is simpler. It has three plans: Business Basic ($17/month), Business Unlimited ($25/month), and Business VIP ($35/month). Unlike Shopify, Wix does not charge any transaction fees for your sales.
🔸 Shopify Dropshipping
Unlike Wix, Shopify was created to help people build and manage online stores. Consequently, millions of dropshippers, e-commerce business owners, and entrepreneurs use Shopify.
As you can see, the main difference between them is that Shopify is completely focused on business tools, while Wix is a powerful website builder with great e-commerce features.
Another key difference is that Shopify offers better e-commerce tools than Wix, whereas Wix provides more creative freedom than Shopify.
What's more, It offers a wide range of apps and plugins that help store owners manage their inventory, shipping, and payments. Plus, it integrates with popular marketplaces like Amazon and eBay, making it easy to expand your business.
Shopify offers three pricing plans: Basic ($29/month), Shopify ($79/month), and Advanced Shopify ($299/month). Each plan comes with different features, and the higher the plan, the more features you'll get.
However, keep in mind that Shopify also charges transaction fees on each sale you make, unless you use their own payment gateway.
Although Shopify is more popular than Wix for dropshipping, they both enable you to create a website without coding skills and start dropshipping.
Find winning dropshipping products & spy on your competitors
Minea analyses all online advertising to help you find the best products to launch, and the best creatives in your niche in just a few clicks.
Use coupon: DROPSHIPPING30 and get a 30% discount
💡Try Minea For Free
Conclusion
For many dropshippers, launching a dropshipping store using Wix is a good way to break into e-commerce.
Why not be one of those people and let yourself build your own dreams? After all, it is not that hard to do so.
Just follow the practical steps listed above and let them be your guide in your quest to become a new Wix dropshipping entrepreneur.
We hope this will be the start of a successful online venture in your life. Good luck!