Salehoo Dropshipping: The Ultimate 2023 Suppliers Directory Review
by
Martin -
Martin is an agency owner and SaaS projects maker. His work is featured in the leading ecommerce brands, magazines and podcasts. Talks about Marketing, Business Development, and Growth Hacking!
CO-founder at Dropshipping.com
Salehoo dropshipping – to get started with Salehoo or not? The act of finding dropshipping suppliers and products might scare some new online sellers off. But it shouldn't.
Sure, they have to spend a great deal of their time doing that kind of research. But what if you could do the research in minutes?
Are you one of those dropshippers who want to find certified suppliers and profitable products without wasting your precious time?
Do you want to learn more about dropshipping with Salehoo? Since you are currently reading this article, chances are you have answered "Yes" to both questions.
Though many dropshipping product research tools are available nowadays to help you determine what to sell online, you are probably looking for a platform or a tool that offers more than that.
And perhaps that's why you want to better understand what Salehoo offers.
In this extensive Salehoo review, we aim to do just that – to help you understand if Salehoo is worth your time and money, of course.
What is Salehoo?
Salehoo was launched in New Zealand in 2005. It is a fantastic research tool, supplier directory, and online community for online sellers, wholesalers, and dropshipping store owners.
Salehoo is not just a handy tool for e-commerce merchants. It is actually a platform that can help you find the best suppliers and products for dropshipping in no time.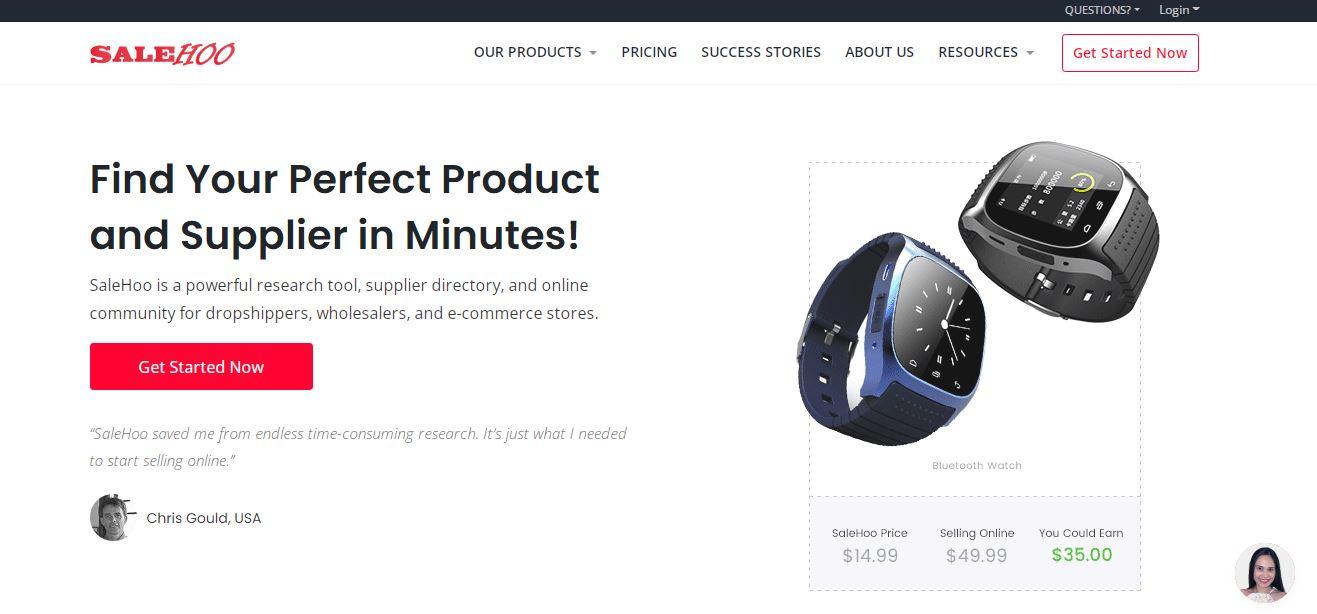 But how did the co-founders of Salehoo come up with the business idea? Namely, one of the co-founders got the idea for Salehoo because he wanted to solve a problem he was experiencing.
He had difficulty finding wholesale and dropshipping suppliers with real wholesale prices. And he made many mistakes as an online seller.
Finally, he learned from his mistakes and managed to run a profitable online business.
And he started Salehoo with the aim of giving online merchants everything they need to be successful in one affordable place.
Lifetime deal: Get all-access to everything on Dropshipping.com
Access all DSCOM features, resources, courses, live workshops, discounts, winning products, weekly deep dives, directories and all future updates under all-in-one dropshipping HUB.
DROPSHIPPING IS A REAL BUSINESS, DON'T DO IT ALONE. 4553 MEMBERS ALREADY JOINED. YOU CAN PAY OFF YOUR SMALL INVESTMENT WITH JUST 2 SALES ON YOUR STORE.
Grab the deal before it's gone
Salehoo dropshipping: General overview
Since its inception, Salehoo has helped nearly 140,000 online sellers, dropshippers included, set up and run successful online businesses. Speaking of dropshipping, how does Salehoo dropshipping work?
Perhaps you know how dropshipping works. But when using a "tool" such as Salehoo for dropshipping, you will no longer have to spend endless hours doing product research and hunting for the right supplier.
With it, you can identify the best suppliers for your dropshipping niche and get access to their products in minutes. Of course, you can do so without breaking the bank.
Salehoo Review: Is Salehoo dropshipping worth it?
Before we get any further, let's see if dropshipping is worth it in general. Check out our previous article to find out that.
Now, we will focus on helping you understand whether Salehoo dropshipping is worth it or not.
1. Supplier directory
Though you could certainly go the route of some dropshippers and partner with a dropshipping supplier short-term, finding some long-term partnerships can surely have a positive effect on your online business.
Securing and working with the best suppliers plays an important role in building a successful dropshipping store.
And while this sounds simple, it is not. But one thing is clear – more often than not, it is much easier to identify a bad supplier to work with than a good one.
Luckily, if you want to start Salehoo dropshipping, you can take advantage of its supplier directory to find reliable suppliers.
Salehoo has one of the best supplier directories with a database of over 8,000+ trusted wholesale and dropshipping suppliers from New Zealand, Australia, the UK, the USA, Canada, and China.
Here you can find the best Chinese Dropshipping Suppliers.
Here's our free list where you can find the best dropship suppliers from Canada.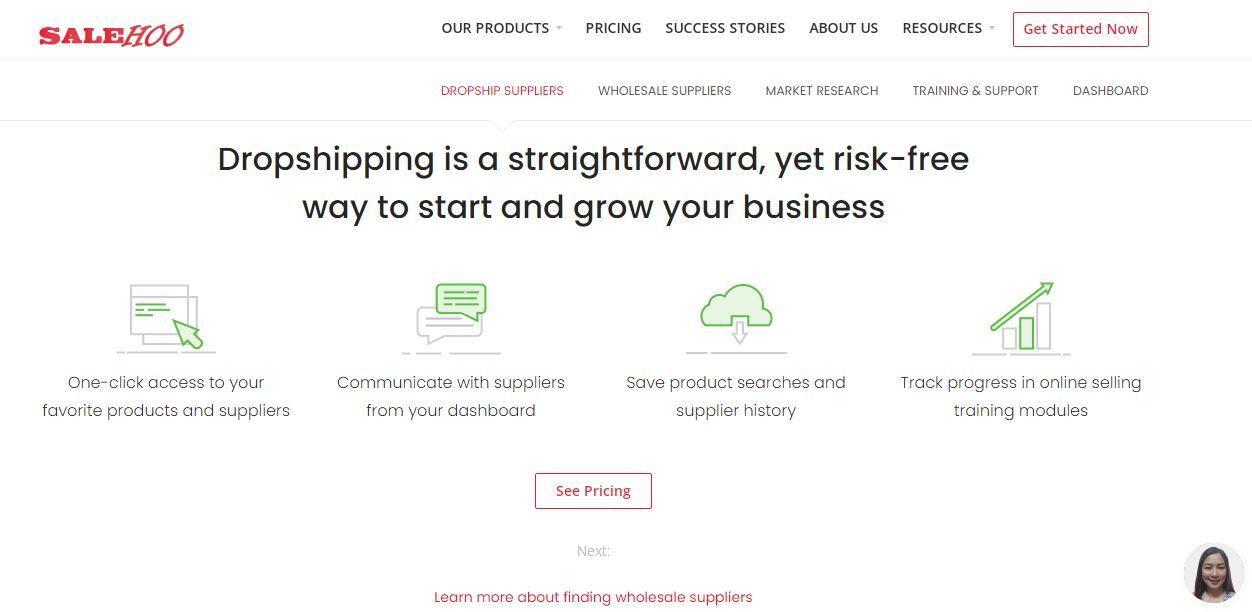 Out of the total number of suppliers, about 1,000 are able and willing to ship a product directly to your customers. This means that the supplier directory includes about 1,000 trusted dropshipping suppliers.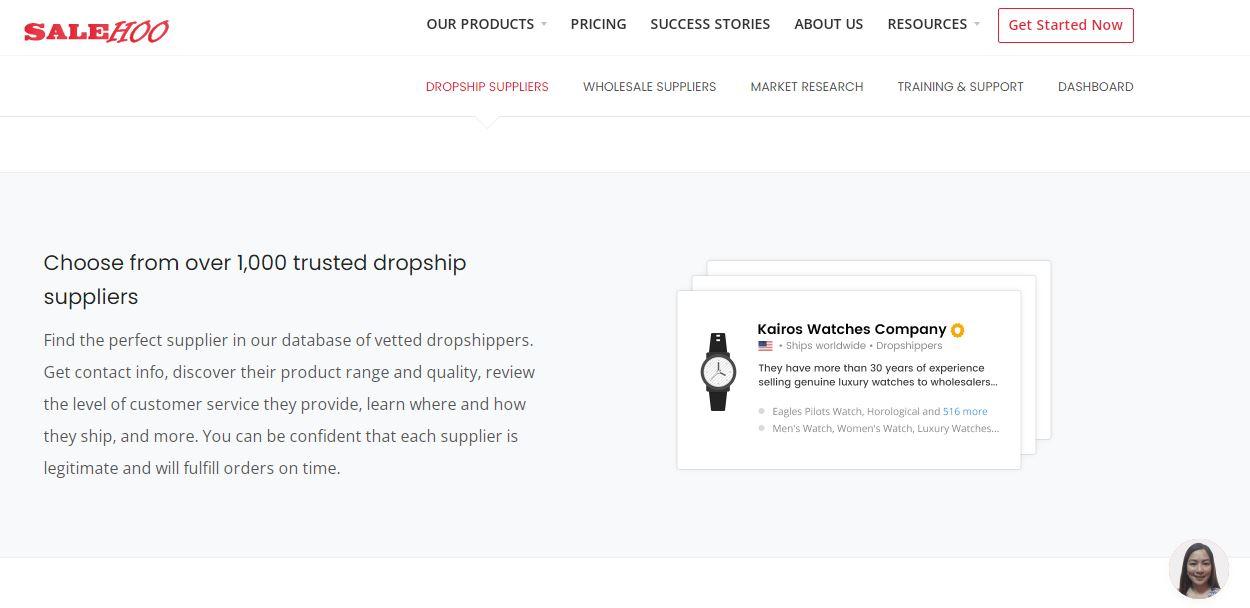 All these suppliers have undergone a strict vetting process. In short, they are all certified and reliable.
Moreover, they ship domestically and internationally. This can be good news for you if you are looking to sell globally.
By using the supplier directory, you can find a lot of information about a supplier. For example, you can find some info such as:
Product range;
Product quality;
Shipping information; (where they ship to and how they ship their products.)
Customer service reviews;
Contact information.
You can also find dropshipping suppliers with no MOQ. Plus, about 70% of suppliers found in the directory do not have a set-up fee.
2. Research tool
As a dropshipper, you can use tons of different ways to find products for dropshipping. But not all dropshipping products can bring you money.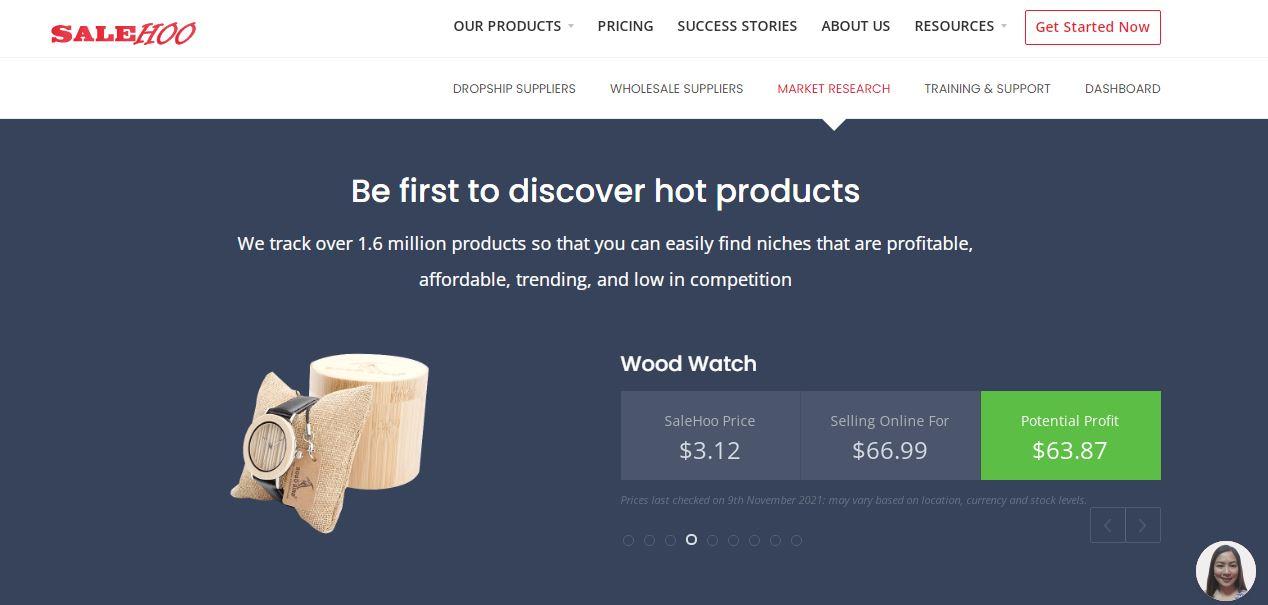 Fortunately, Salehoo offers a research tool called "Market Research Labs". It tracks 1.6 million+ products, thus making it easy for you to find a profitable and low-competition niche.
This means that this tool displays the best-selling products on a few online marketplaces such as eBay, Amazon, and AliExpress.
So, you can find products that sell well and leave plenty of room for profit.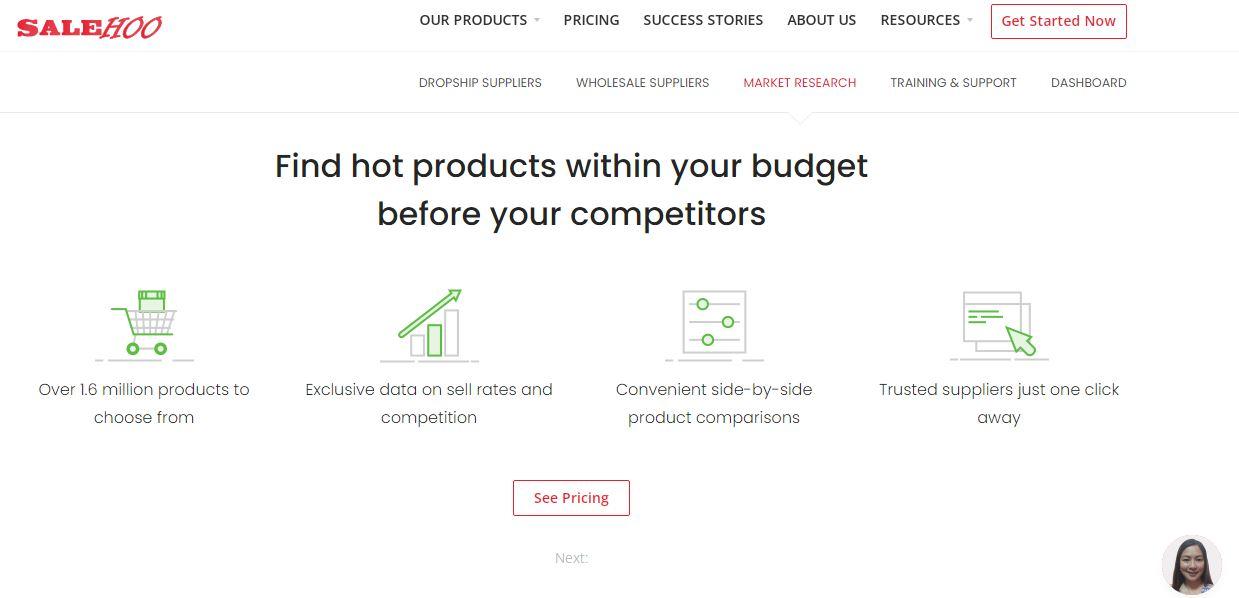 Or more specifically, with this tool, you can do product research and see if a product can make you money on Amazon, eBay, AliExpress, or where you want to sell.
When it comes to product categories, you can find hot products across dozens of categories such as:
Food & beverages;
Home & garden;
Health & beauty;
Clothing & fashion;
Baby gear;
Toys & games;
Jewelry & watches;
Cameras & photo;
Sporting goods, etc.
Also, the research tool provides you with valuable info about each product, including:
Sales averages and trends for a specific product;
Level of competition;
How often a product is listed;
Price;
Trending.
3. Salehoo dropshipping tool
Salehoo also offers a powerful dropshipping tool. The tool gives you access to thousands of hand-picked, trending AliExpress products. Also, it lets you add them to your Shopify store.
Haven't you built a Shopify store yet? Read our ultimate guide to setting up your first Shopify store.
In addition, this tool will do the hard work for you so that you can focus on creating an effective dropshipping marketing strategy and increasing your conversion rate.
What does this mean? Well, it means that the tool can save you time.
For instance, it allows you to do the following things within a short period of time:
Choose from a large number of trending AliExpress products with plenty of room for profit; Again, all the products are hand-picked by dropshipping experts that have done the research for you so that you do not have to do it yourself.
Import products to your Shopify store with one-click import; This way, you will not waste your precious time adding one product at a time.
4. Training program
Salehoo offers many free guides. And the good news – you can take advantage of them even if you aren't a member yet.
They are comprehensive. Also, they are great for new dropshippers. Some of them are as follows: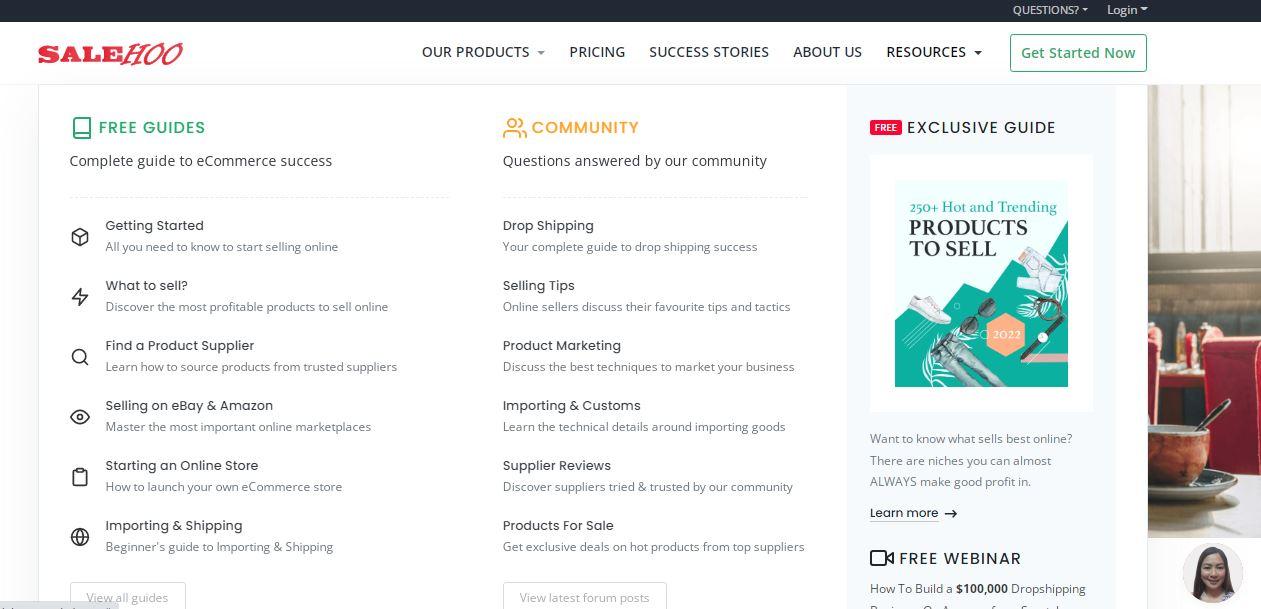 Getting Started: How to become an online seller;
What to Sell: How to find the best products for your online store;
Find a Product Supplier: How to find reliable suppliers;
How to Start an Online Store: How to launch your store;
Selling on eBay and Amazon: How to sell on these two marketplaces.
What's more, Salehoo also has a forum. You can use it to get your questions answered by seasoned dropshipping entrepreneurs.
5. Award-winning support
Again, Salehoo offers a good collection of guides and tutorials, which will give you instructions so that you know how to start a dropshipping business the right way. Plus, it has a forum.
When it comes to customer support, you can contact Salehoo via live chat, phone, or e-mail.
It is important to mention that the live chat is available Monday through Friday (9 am – 1:30 am). A Salehoo expert will assist you with any feedback or inquiries you might have.
6. Pricing
Now, let's talk about pricing. We know that it is your favorite part of our Salehoo review. Just joking! To start Salehoo dropshipping, you need to choose a plan, depending on which feature you want to use:
• Salehoo Directory & Market Research Labs
As you can see in the pictures below, to use the Salehoo directory and the product research tool, you have two options:
1. You can get annual access for US$67;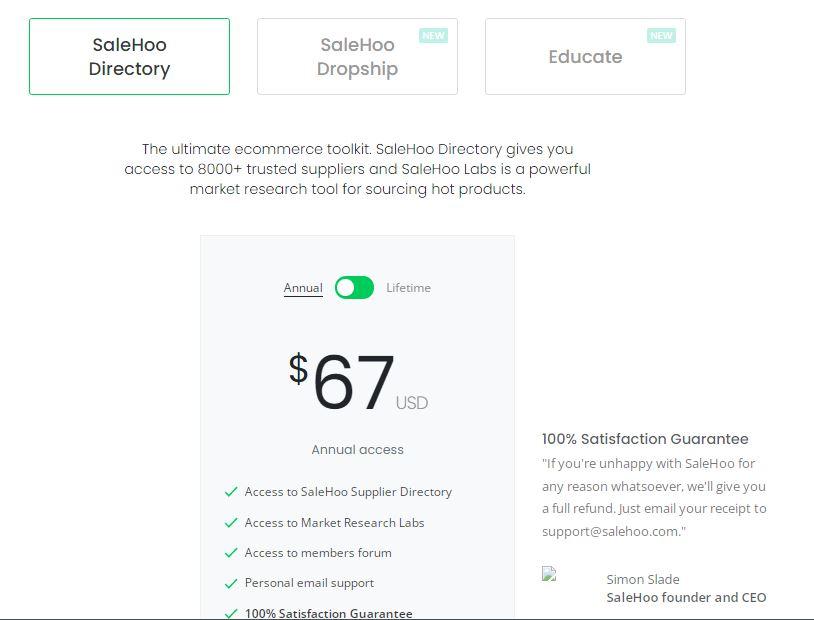 2. Or you can get lifetime access for US$127.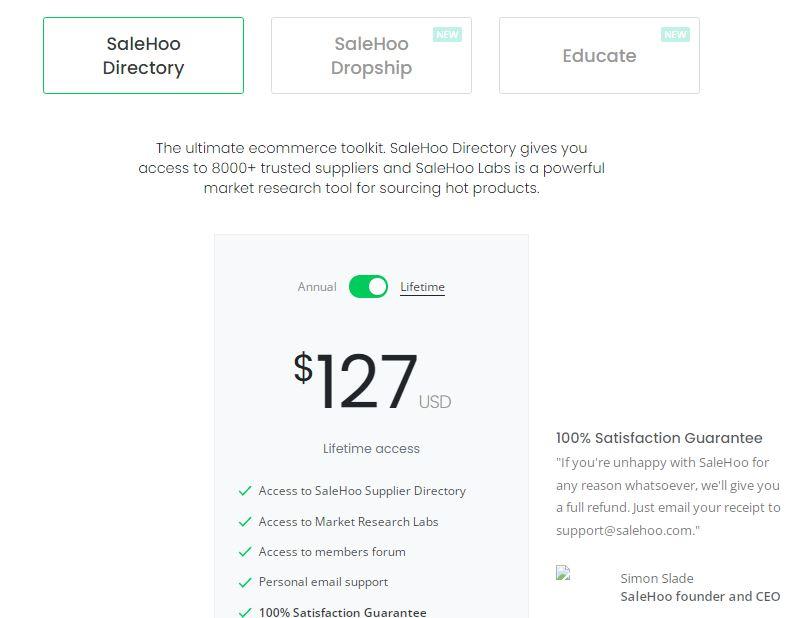 • Salehoo Dropshipping Tool
And if you want to use Salehoo dropshipping tool and add products from AliExpress to your Shopify store in no time, you also have two options:
1. You can pay a monthly fee of US$27 or US$97;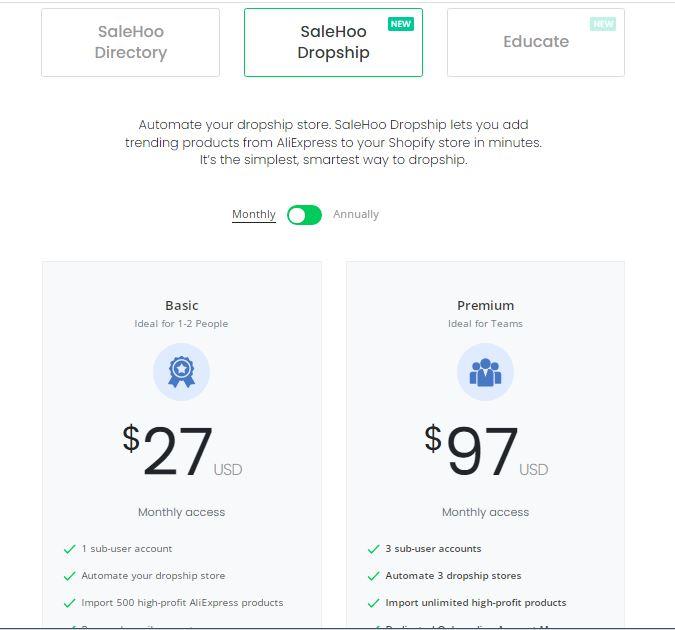 2. Or you can pay an annual fee of US$270 or US$970.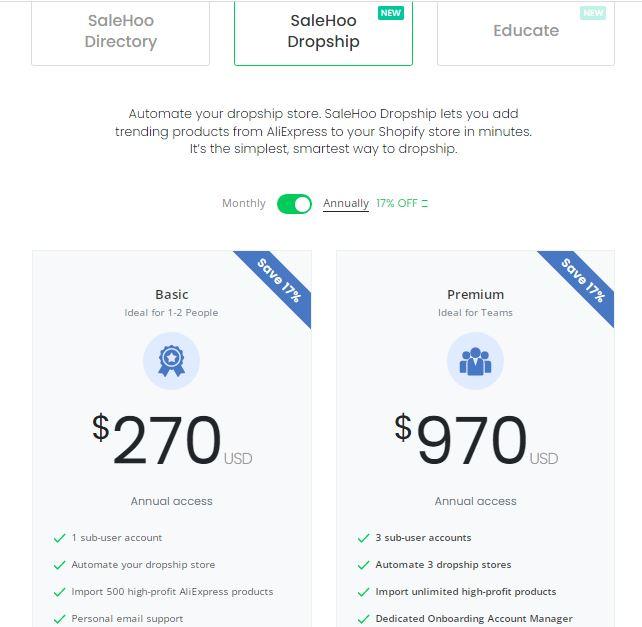 Money-back guarantee
There is no free trial on the site. However, you can ask Salehoo for your money back if you are not satisfied with what it offers.
Keep in mind that you have to do that within 60 days of signing up. You will certainly get your money back if you send an e-mail to support@salehoo.com within 60 days of signing up.
Summary of the pros and cons of Salehoo dropshipping
So what exactly are the pros and cons of using Salehoo when dropshipping? Take a look at our list:
Pros:
Easy to use; Salehoo is relatively easy to use. This can be great for new dropshipping beginners.
Vetted suppliers; As we have already said, all suppliers found in the directory are certified and reliable. Just sign up for Salehoo and choose a plan. Then, you will get immediate access to its database of vetted and approved dropshipping suppliers.
Market research tool; The research tool is quite useful and can save you time. Also, you will get access to 1.6 million+ products that you can search by category, type, and brand.
Salehoo dropshipping tool; With it, you can choose fromthousands of hand-picked, trending AliExpress products and add them to your Shopify store very quickly.
Low or no MOQ; Most suppliers have no MOQ, which is great for the dropshipping business model.
Money-back guarantee; Salehoo offers a 60-day 100% money-back guarantee. This enables you to test Salehoo for up to two months before you decide whether you want to commit to it or not.
Free training; The free guides mentioned above include useful information and actionable tips so that you can get started with Salehoo dropshipping without hassle.
Cons:
There is no filter for a location-based search; Because of that, you will not be able to filter suppliers by location.
The number of products listed; When using Salehoo, you can choose from more than 1.6 million products. It sounds a lot. But Salehoo does not give you access to as many products as Worldwide Brands does, for example.
Salehoo alternatives: Salehoo vs. Worldwide Brands
One of the best Salehoo alternatives is Worldwide Brands. So, let's look at the similarities and differences between Salehoo and Worldwide Brands.
Both Salehoo and Worldwide Brands are supplier directories. And they have a lot in common. So, here are the similarities between them.
Similarities between Salehoo and Worldwide Brands
They both have extensive databases of certified, legitimate suppliers;
They both feature suppliers with low or no MOQ;
They both offer really helpful support;
They both offer training for new online sellers;
They both allow you to pay a one-time lifetime membership fee.
Now, let's see the key differences between these two supplier directories.
Differences between Salehoo and Worldwide Brands
It is significantly cheaper to access the Salehoo directory than the Worldwide Brands directory.
Although they both offer one-time lifetime memberships, Salehoo offers an annual membership, as well.
Salehoo lists suppliers from across the globe, whereas Worldwide Brands mainly lists suppliers from Canada and the United States.
Suppliers listed in the Worldwide Brands directory undergo a rigorous verification process, whereas Salehoo has a slightly less strict supplier verification process.
Worldwide Brands has 16 million+ products, whereas Salehoo has 1.6 million+ products to choose from.
Salehoo offers market research tools, whereas Worldwide Brands does not.
Join the only community and resource hub you'll ever need to succeed with dropshipping
Find winning dropshipping products, learn marketing, download templates and engage with real dropshippers
Never pay for a "guru's" course again. See why 4543+ dropshippers joined us this year!
💡Try DSCOM Hub Now
The bottom line – Can you make money dropshipping with Salehoo?
Still unsure whether Salehoo dropshipping is worth it? Wondering if you can make money dropshipping with Salehoo?
Well, it depends. It is hard to predict just how much money you can make using Salehoo because your effort will determine the outcome.
But you can use it to conduct in-depth market research and get some competitive insight.
Also, you can use it to find legitimate dropshipping suppliers with wholesale prices that can really help you make money.
However, you must also consider the additional fees you will have to pay if you want to sell on eBay, Amazon, or your own dropshipping store.
For instance, check out our article to figure out how much money you need to set up a Shopify dropshipping store.