Minea Review: The No. 1 Winning Product & Spy Tool?
by
Aleksandra -
Aleksandra teaches marketing and management at various levels in High School. She writes about marketing, the economics and logistics of the dropshipping business and ecommerce in general.
Chief of Content Marketing
Finding a winning product for your dropshipping business is your KEY to success.
So, you probably have heard of hundreds of best product research tools that are most suitable for your business.
But, do they all provide you with the necessary information about well-performing products that are already generating sales in dropshipping?
For that purpose, you should employ ad spy tools. So, have you heard of one of the best ad spy tools – Minea? It is a 2-in-1 dropshipping product research tool and an ad spy tool as well. And it is exactly what you need!
Therefore, in this article, we will provide a FULL Minea review. Let's start!
Minea Review 2023: Quick Overview
No time for reading our in-depth Minea Review. Don't worry, we think about busy people too. Here is our quick Minea Review. Check it out!👇
The best
Huge database of winning products

Ease in finding winning products

Information from almost all social media platforms

Up-to-date with the latest products

It is affordable compared to other adspy tools
The worst
Only for a single user

Not easy to conduct your product search
Starting from
Lite – 0$; Starter – $49/month; Premium – $99/month
Lifetime deal: Get all-access to everything on Dropshipping.com
Access all DSCOM features, resources, courses, live workshops, discounts, winning products, weekly deep dives, directories and all future updates under all-in-one dropshipping HUB.
DROPSHIPPING IS A REAL BUSINESS, DON'T DO IT ALONE. 4553 MEMBERS ALREADY JOINED. YOU CAN PAY OFF YOUR SMALL INVESTMENT WITH JUST 2 SALES ON YOUR STORE.
Grab the deal before it's gone
What is Minea?
Minea is the most sophisticated tool for finding winning products and advertisements. With this tool Ads are tracked throughout all networks, so you won't miss any that may be of interest to you.
Minea tool has gained popularity among dropshippers, marketers, and influencers in particular because of its user-friendly interface, availability across several social media platforms, and reasonable cost.
Also, Minea ad spy is the most complete dropshipping tool out there!
First, it has the greatest collection of e-commerce ads for Facebook, Pinterest, and Minea Tik Tok ads. This makes Minea the best ad spy tool
Second, it is a tool for tracking product placements made by influencers across 30+ markets on Instagram and Snapchat.
And last, the information was gathered to keep an eye on the largest online stores.
Ultimately, Minea is a win-win solution for users. If you are not convinced about purchasing Minea, you can also sample Minea's Free Plan.
Currently, the Minea tool analyzes influencer placements on Instagram, Tik Tok, Snapchat, Pinterest, Youtube, and Facebook. However, a test version of the Snapchat analysis is now being prepared and will be available shortly.
Minea Review 2023: Pros and Cons
Huge database of winning products
Ease in finding winning products
Information from almost all social media platforms
Up-to-date with the latest products
It is affordable compared to other adspy tools
Not easy to conduct your product search as a result of the different large platforms
💡Try Minea For Free
Since Minea has such a large database, it is possible to identify practically any winning product or ad, which is a feature that not all ad spy tools offer.
Additionally, this ad spy tool has spying tools for Shopify, Facebook, TikTok, Pinterest, and influencer marketing. This includes all forms of paid traffic for dropshipping stores.
Additionally, the Minea tool offers a list of successful goods each month, which is excellent if you're still conducting product research.
Now, let us guide you deeper through our Minea Review!
Minea Advanced Filters
The Minea spy tool also offers several advanced filters that help you in finding your winning product.
These advanced filters are mostly based on demographics, language, Ecom platform, shares, comments, media type, gender, CTA, and more.
Hence, what we most like are the following filters:
🔸 Keyword Research
You can conduct a search using the text domain, page name, and keywords. So you don't have to try to remember the details of an ad you saw on social media but simply have a keyword or page name in mind. The rest is Minea's work!
🔸 Date
You can make an analysis in Minea dropshipping tool based on the date, the first seen, the last seen, the creation date, and other criteria.
💡 Tip: You can determine whether a product is profitable by checking the adverts' creation date. Also, you should consider how many days the advertisements have been running. Then, look at the number of likes and other interactions within that period.
🔸 Reactions
Thanks to the Minea spy tool, you can examine your customers' interactions with your ads or the ads of your competitors.
This way you can easily see whether the customers want the product or not. Also, according to comments, you can see customers' feedback about product usage.
Also, consider that these interactions might differ from one social media platform to another, so as the purpose of using them. For example, Facebook users mostly use Haha, Like, Love, or Angry options to express their emotions about a certain product.
🔸 Media Type
You may use this filter to choose which advertisements are for visual use. Marketers frequently choose to employ videos to demonstrate how to use the product.
Thus, videos from this filter increase your chances of finding profitable products for your dropshipping store.
💡 It is important to always take the ad format into account. Dropshipping performs better with video advertisements.
🔸 Country
You may find advertisements that work in one country and then duplicate them to use in another by using the "country" filter.
Also, since the majority of successful product trends originate outside of the United States, this filter is helpful for quickly identifying products that are doing well elsewhere.
🔸 Ecommerce Platforms
Commonly, dropshipping stores are created on all-purpose platforms like WooCommerce or Shopify. Make sure to only display advertisements with user engagement by using this filter.
💡Try Minea For Free
What Social Media Channels Are Covered With Minea?
Minea covers various popular Social Media Channels, so we can certainly say that for sure you will find your fit here!
More precisely, currently, Minea analyzes influencer placements on TikTok, Instagram, Pinterest, Snapchat, and Facebook advertisements.
Now, let's have a quick overview of these features in our Minea Review.
Minea Facebook & Instagram Ad Spy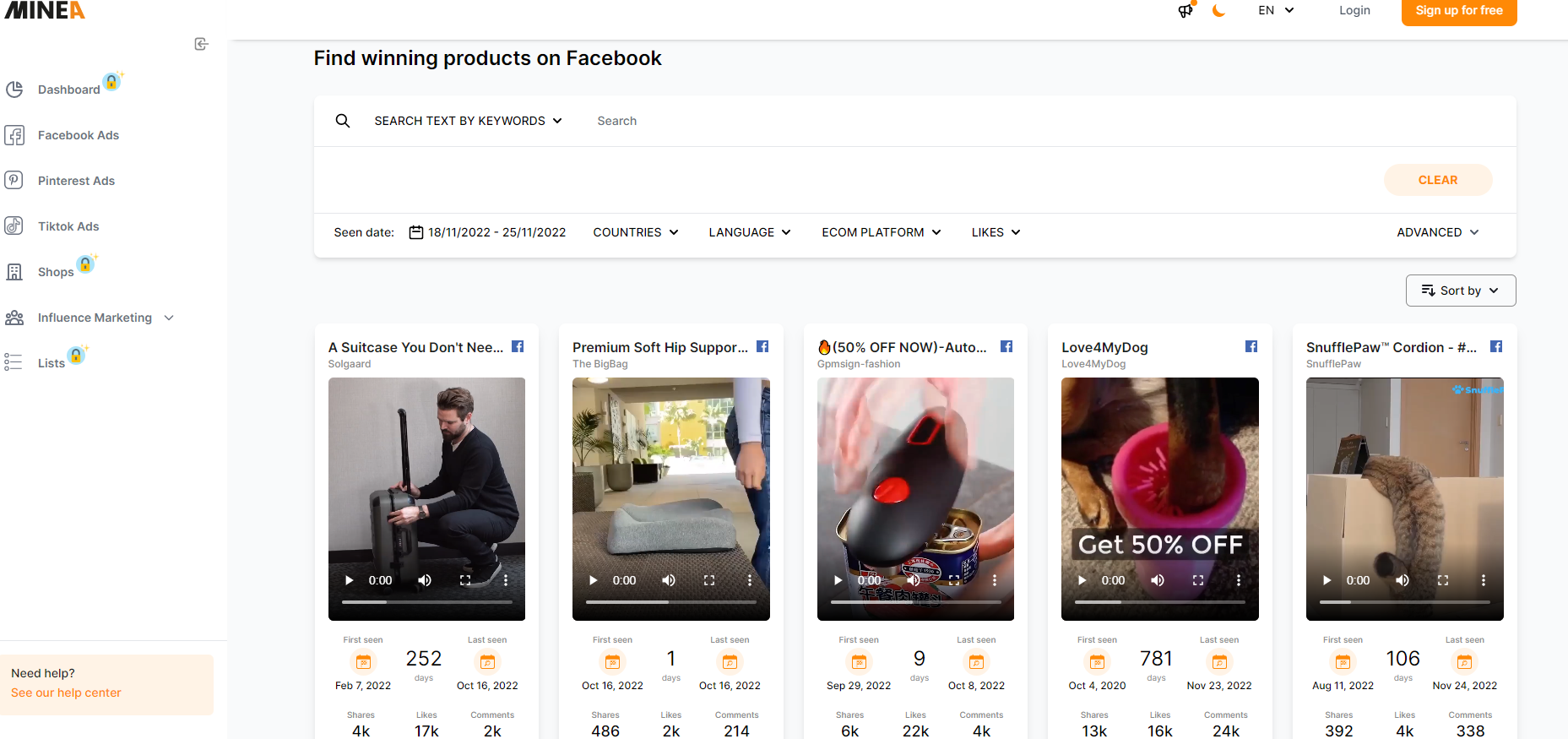 You can browse through a large database of Facebook ads with this tool. You can now greatly benefit from Facebook Ads as a result of Minea!
👉 Check them out on Facebook.
First, Minea is useful as a tool for finding winning products. On Facebook, you can use sophisticated search filters like date, media type, gender, country, and language to focus your search.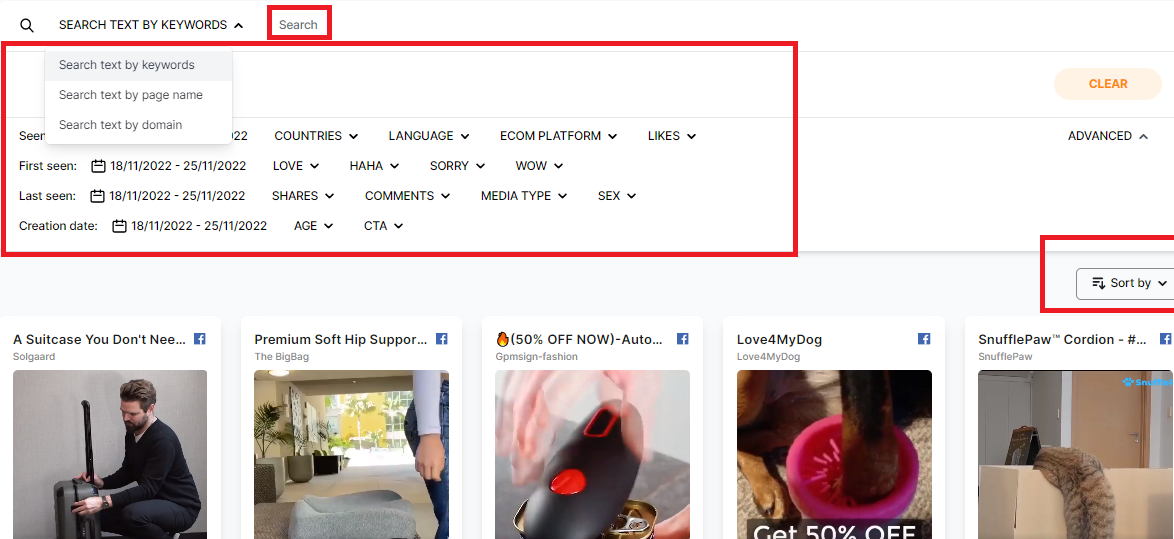 Additionally, you may adjust the CTA to "Shop Now" and the E-commerce Platform to Shopify if you're searching for dropshipping ads.
👉 Check out the Facebook Ads for Dropshipping: The Ultimate Guide For Beginners.
Next is Minea a competitor's spy. As such, you can spy on your competitors to see what marketing tactics they're employing and how effective they are.
Simply search using a keyword, page name, or domain. Additionally, they provide a plethora of precise data and analytics for each ad.
However, that's not all. Minea ad spy also provides links to the Facebook post and online store that is selling it.
Moreover, it saves videos and makes ad copies since many dropshipping ads get deleted.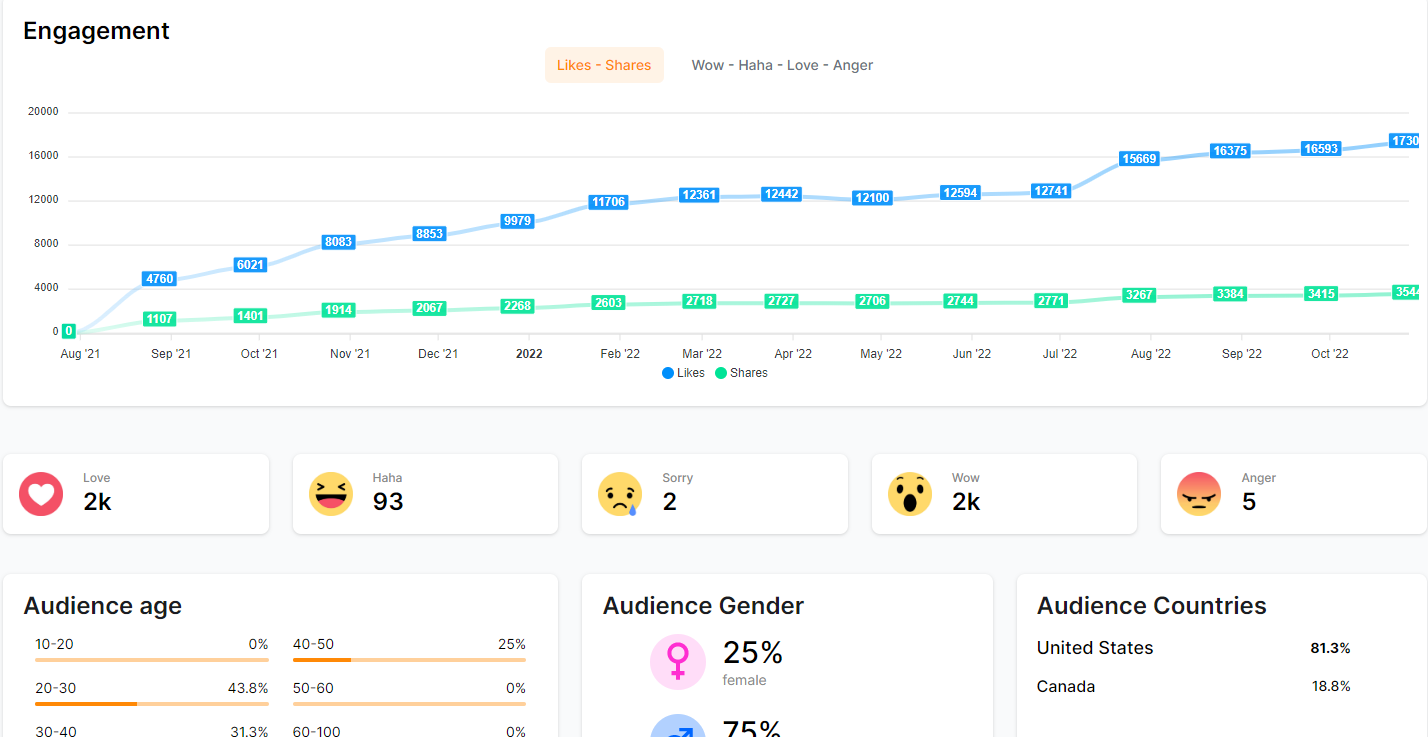 Not to mention, Minea gives you analytics for every Facebook post and its engagement, target audience details, and more.
Furthermore, you can promote your items on Instagram right from Minea, and you can look at the analytics to see how well the advertisements are working.
👉 Read our Step-By-Step Guide to Instagram Marketing For Dropshipping.
Instagram Ads make it much simpler to connect with your audience. This is a result of all the characteristics that improve visibility.
Minea Influencer Marketing
Influencer Marketing is becoming essential for the dropshipping business too. As such, Instagram is also a good platform to leverage influencer marketing.
For each placement, Minea allows you to view the shoutout they posted and the engagement rate.
And this is how it works:
There are three categories:
placements and promotions
brands
influencers
You can sort results for Placements by platform (Instagram or Snapchat), category, nation, and a number of followers.
Additionally, you can get anything from the Brands section. Maybe you think that this is less beneficial because the majority of these brands are already well-known.
But, if your company's brand is very similar to one of these well-known ones, you can visit this page to learn more about their marketing techniques. Then you might use that as a template for your influencer marketing techniques.
Lastly, a large database of Influencers is available through Minea's influencer search tool.
Also, there are several criteria in the influencer marketing window, which makes it simple to discover what you're looking for.
Additionally, you can sort them by the number of placements to see which goods these influencers have lately been promoting. This is also highly useful for identifying products that will succeed.
💡Tip: Read about Influencer Marketing For Dropshipping In 2023 – Beginner's Guide.
Minea Tik Tok Ad Spy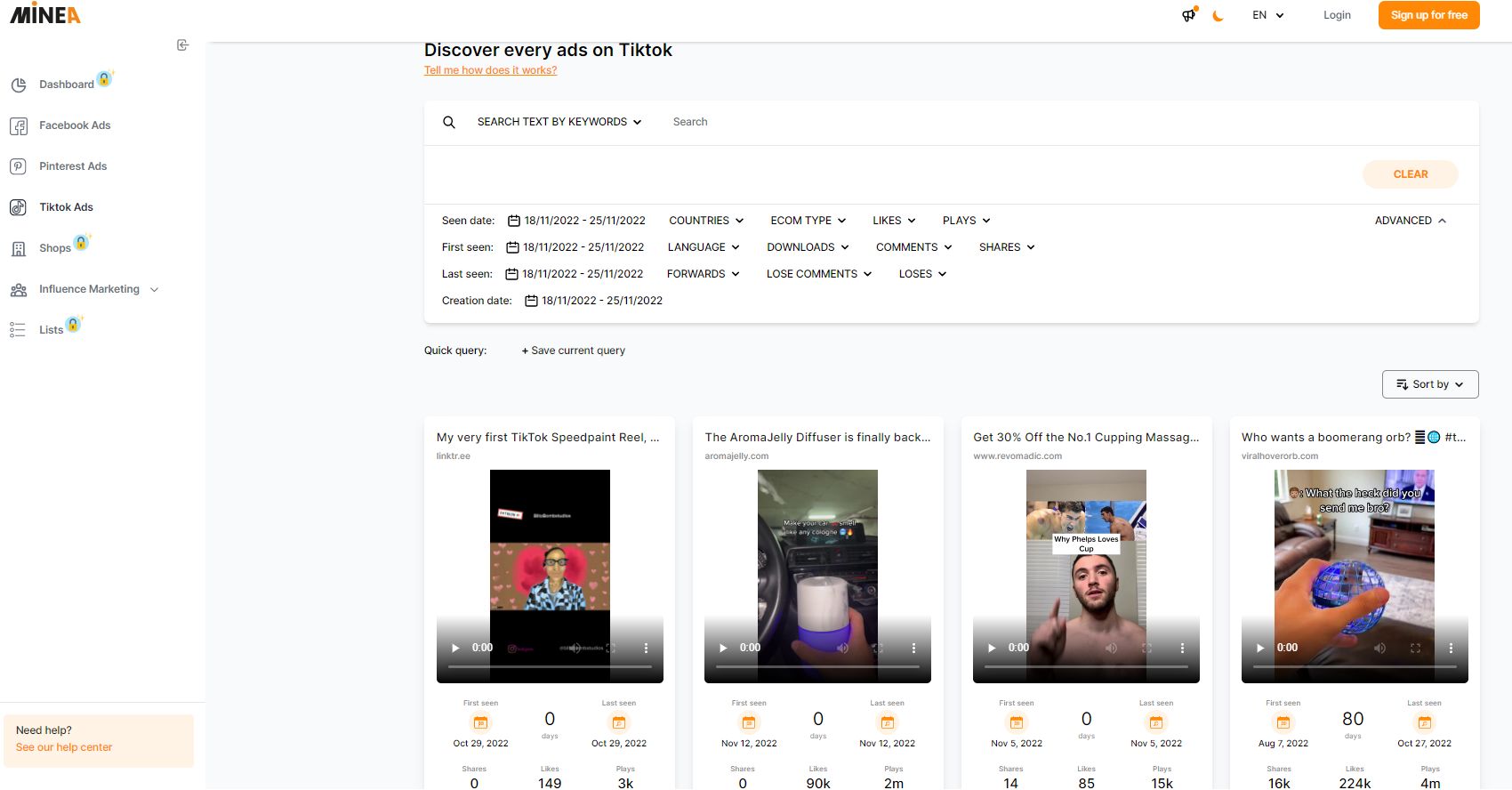 You can discover the greatest and most popular TikTok ads from e-commerce stores with our Minea ad spy tool.
There are several non-e-commerce ads here, though, and you may find it difficult to avoid them. Therefore, using this might require a little extra time from you.
👉 Learn about TikTok Marketing For Dropshipping: How To Go Viral on TikTok.
But, this Minea tool also has the same analytics that Facebook, Instagram, and Pinterest tools provide.
So, to save you time and not repeat information, we can certainly say that thanks to the various filters, sort by options, and data analytics they provide, you will have no problem finding your winning product!
Also, the engagement chart, which enables you to track likes and shares for any successful product over time, is one of the greatest TikTok ad spy features.
Minea Pinterest Ad Spy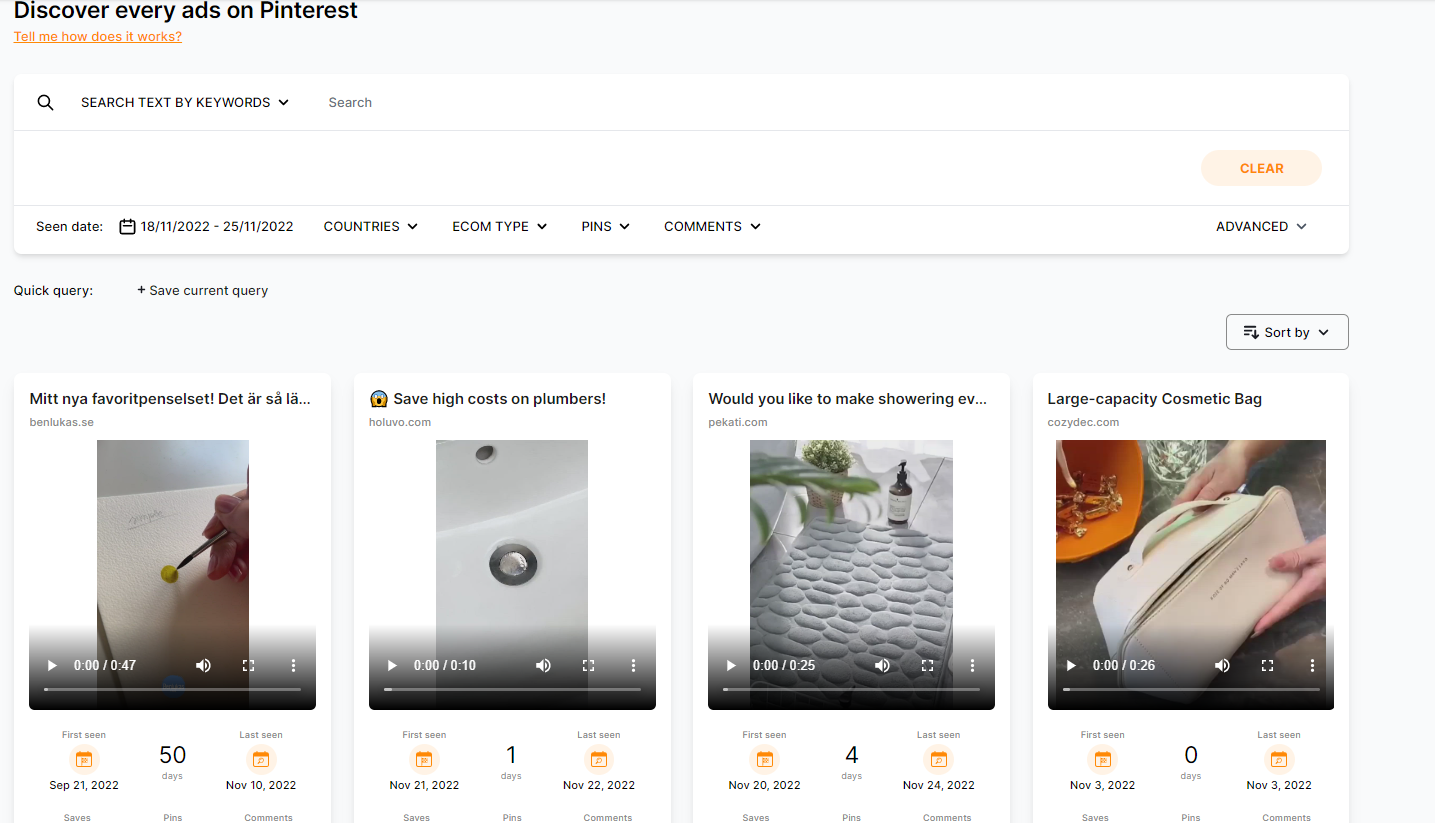 The Minea Ad Spy tool for Pinterest works pretty much the same as for Facebook and Instagram.
For each Pinterest post, they offer a wide variety of filters and stats. This means that you can easily find your winning product and check the post engagement, target audience, etc.
However, you can use this tool to identify a product that will succeed but that no one else is currently aware of. And this is a big PLUS for you!
Minea Shops
Even though we listed Minea's Social Media channels, we must mention Minea Shops.
The focus of this tool is online stores, which means dropshipping stores as well!
While it is possible to look for new e-commerce sites, this tool works best when you already have a dropshipping store that you want to analyze
It displays the website's traffic statistics and the advertising that is currently running.
Even more, All of the dropshipping business ads campaigns are available to view on Facebook, Pinterest, and TikTok!
Additionally, Minea offers additional crucial analytics like traffic source and location.
We are not finishing up our Minea review without showing you how this ad spy tool actually works! So, are you interested in taking a glance at our guide?
💡Try Minea For Free
How Does Actually Minea Works? (Our Guide)
Next in our Minea Review, we will show you our step-by-step Guide to How Minea works! Let's start!
Hence, we are using the Starter pricing plan, and according to the features it includes (later on Minea Review) here's what we do.
First, we log in to the Minea tool and the Dashboard displays. On the left sidebar, you have all their features listed and broken down into specific categories.
Thus the first one we use (and most of the time) is the Facebook ads feature. So, once the Facebook ads tool displays we start by setting up the filters, so we can get the best results.
So, we will pick The US and Canada for "Country", English for "Language", and Shopify – as "Ecom Platform".
Next, we will use the advanced filters as well, like setting a particular date under the "seen date" and " creation date, and lastly, we will sort it by "Shares".
💡Tip: You can also use other filters like CTA's, ad format (media type filter), age, sex, number of interactions, etc. if this is important to you.
Let's see what we got!👇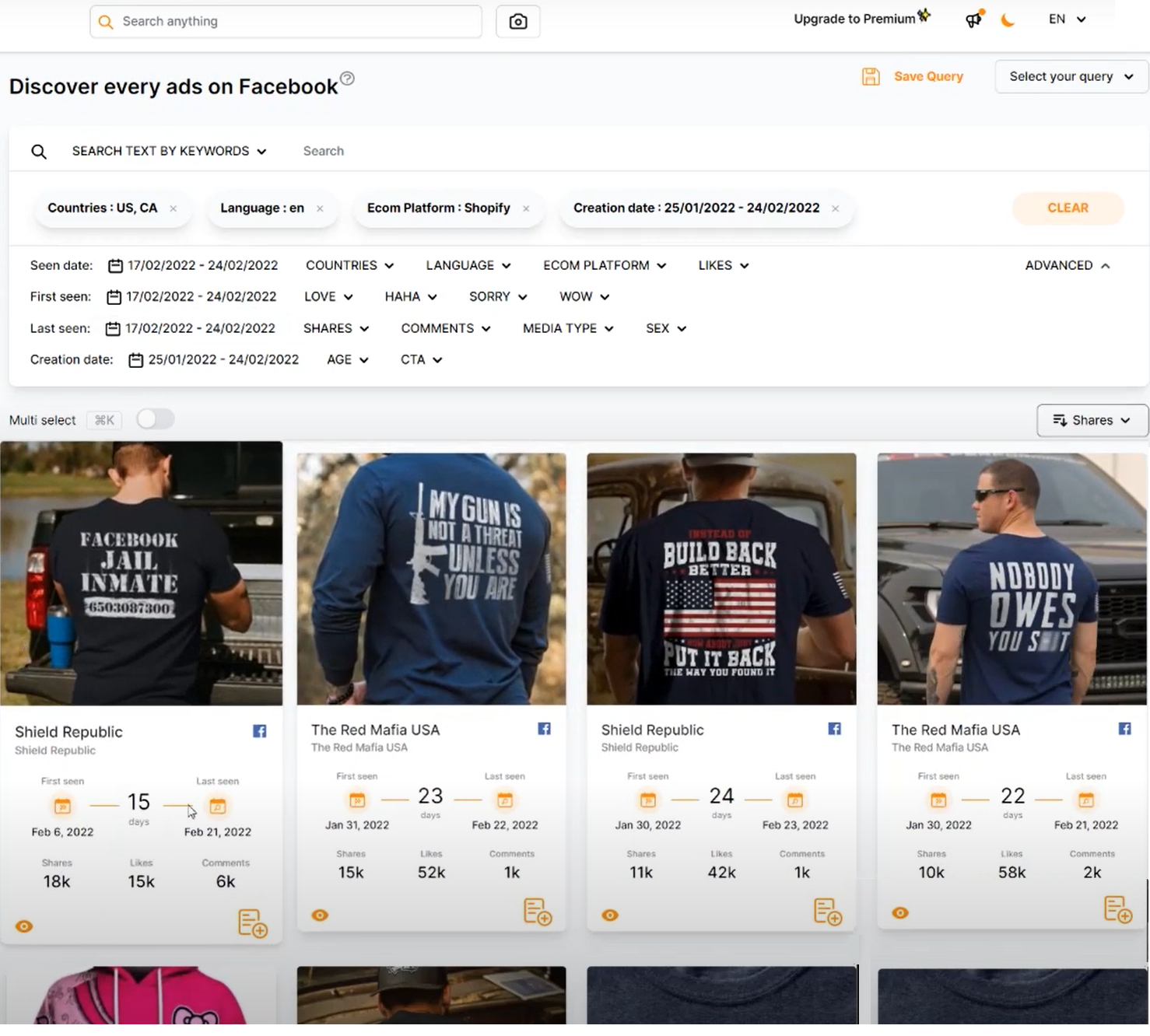 Here we have all the ads listed according to our filters set, in the last 30 days. We must say that this platform has very easy navigation.
So, the next thing we do is, once we find a specific ad attractive ( we will pick one randomly now), we simply click on it, and a whole in-depth analysis about the ad displays. And, here's what we can see.
We have a total review of the number of interactions and how they grew over time (a specific date given). Also, we can see the exact interaction the customer used.
So, we can realize that this product is likable because it mostly has positive interactions used, like Love (6K), Like (55K), Wow (1K), Share (21K), etc. 👇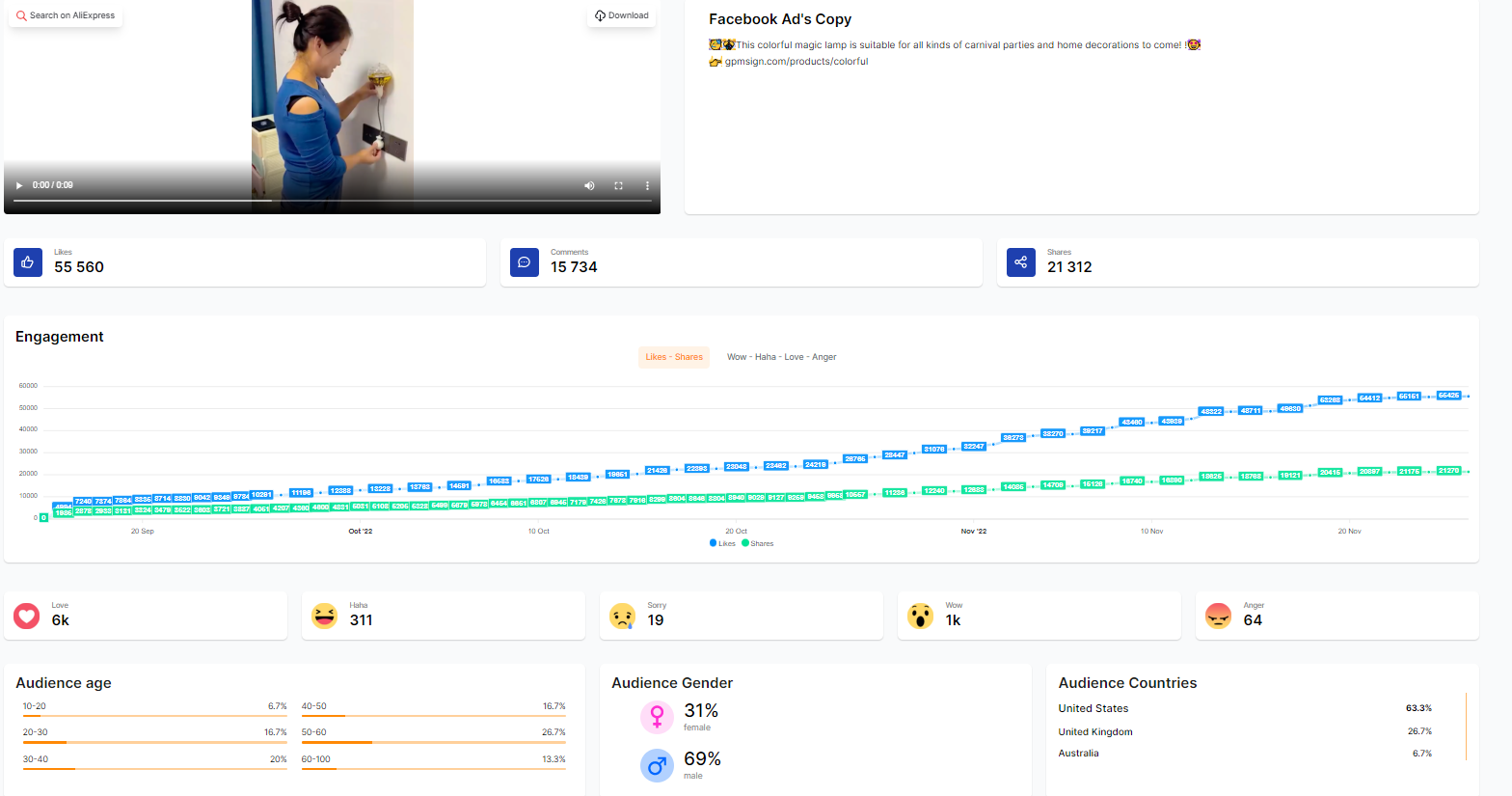 Furthermore, we have a target audience review, according to their age, gender, country, etc. These results showed us that most of the customers that search for this particular product are aged between 50-60 years old are male, and live in the UK, and the US and a very small percentage of customers are based in Australia. 👇

This information is really helpful when creating a marketing campaign, deciding where to dropship, or more importantly deciding whether this is your winning product.
Moreover, you can also be redirected to the store where this product actually sells right now, by simply clicking on the "see shop analysis" button.

In addition, to save up on your time, we just want to inform you that this is pretty much the same way how other Minea Features work.
You simply use their filters (where you have a wide choice btw), and you get all the results you need to make the most informed decision about your dropshipping business.
Minea Pricing
Minea dropshipping tool offers three pricing plans, of which one is FREE, and the other two are paid plans. Also, you can be billed monthly, or annually.
First, if you choose the monthly subscription, here's what you will get. 👇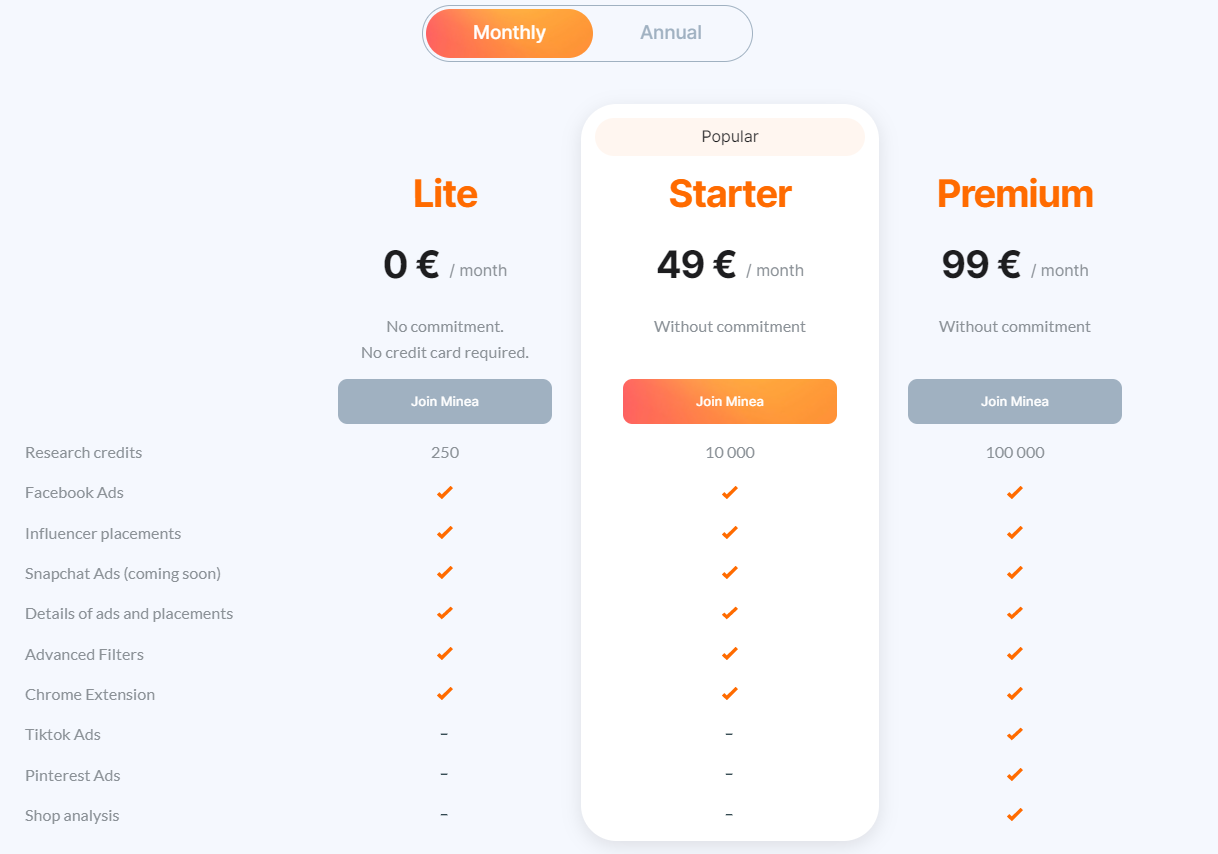 On the other hand, choosing the annual payment might be a more cost-effective option for you, since you get to pay less. It means you get around 30% OFF if you choose the Annual payment, instead of the monthly payment. 👇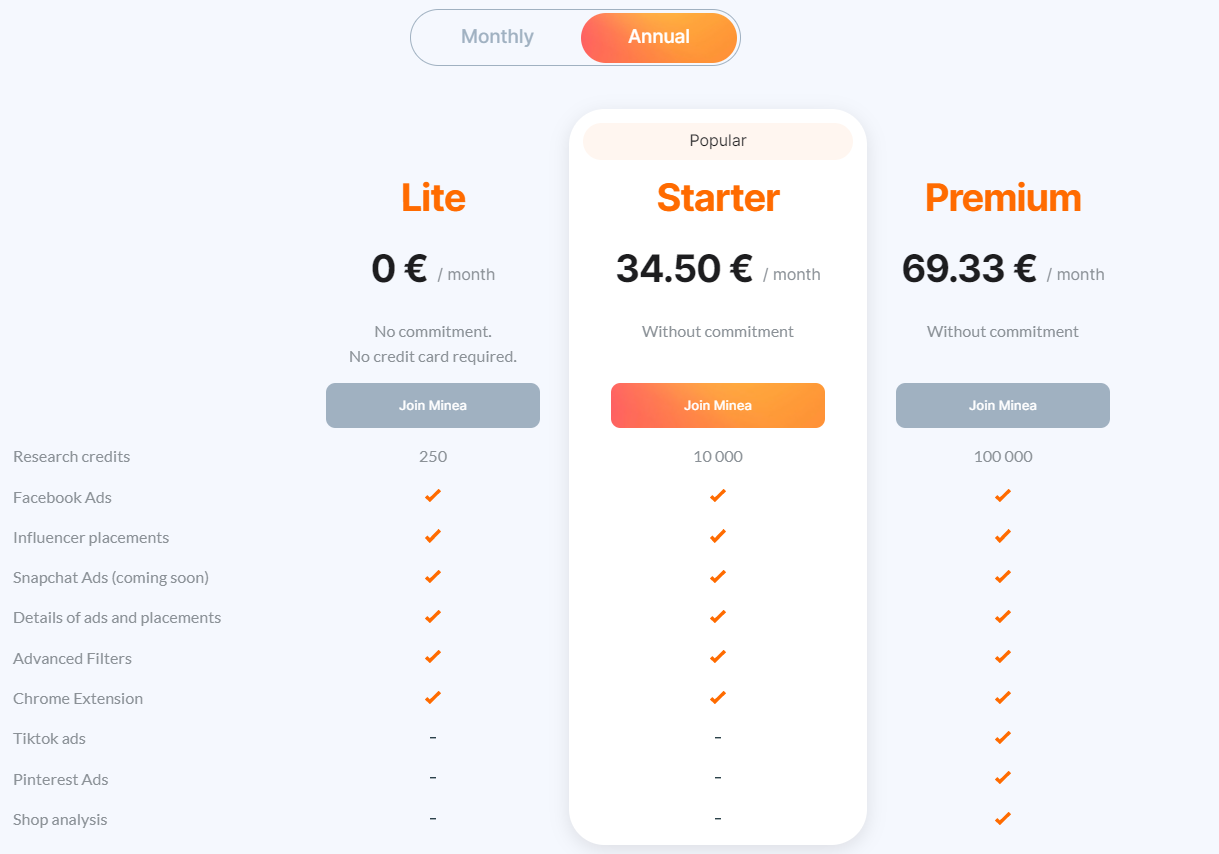 💡Try Minea For Free
Minea Alternatives
Minea is one of the best ad spy dropshipping tools, but there are several Minea alternatives, which are its great competitors.
We chose one of the biggest rivals to compare in our Minea Review. Therefore, let's make some comparisons.
👉 READ: Peeksta Review: Finding Best Selling Products Online.

Minea vs Adserea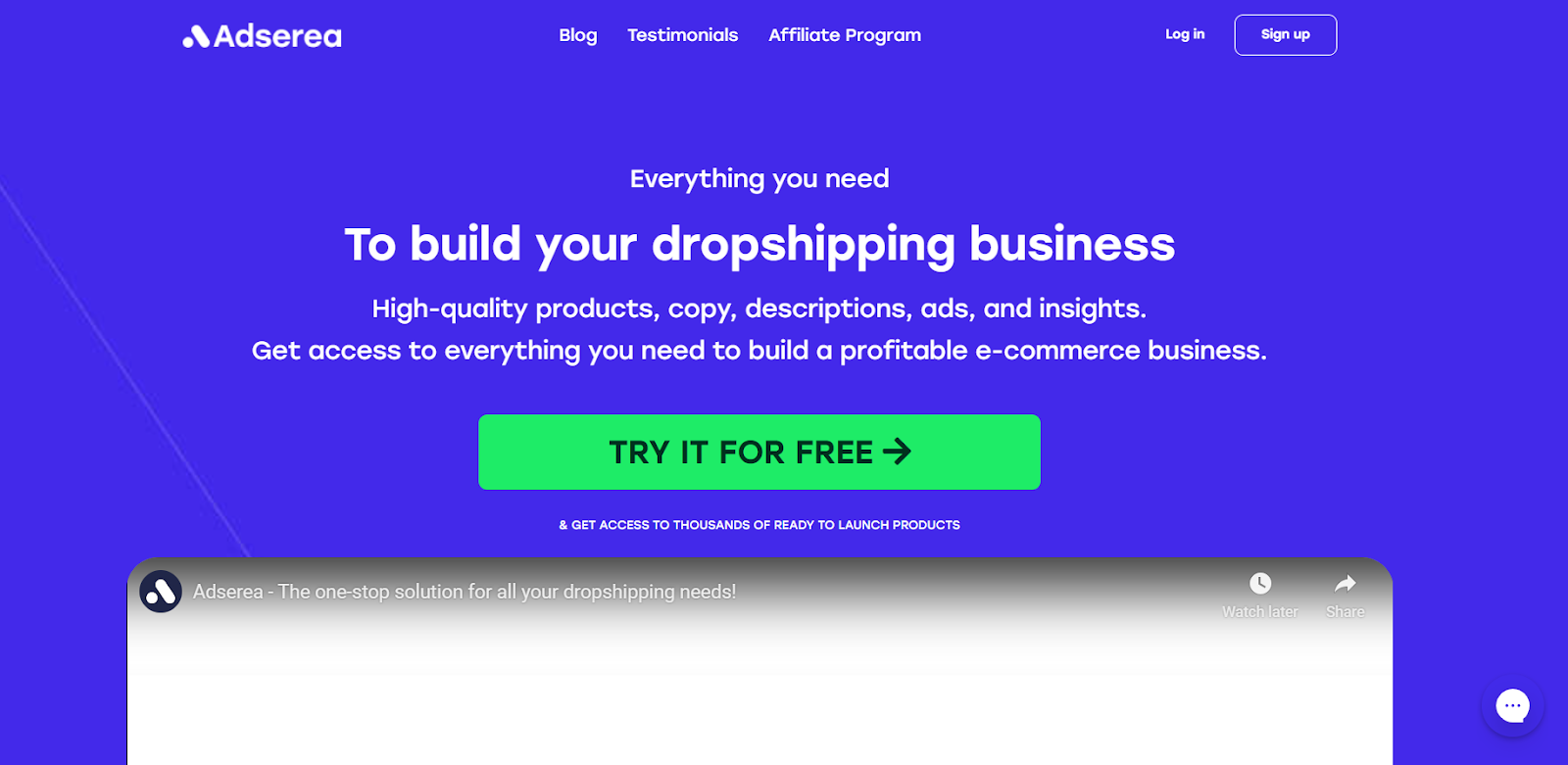 Adserea is known as a one-stop solution for dropshippers, but is it? Using Adserea, you have access to everything you need to launch and manage a successful dropshipping business.
Using the Adserea tool can help you find winning items, write ads that convert, create content product descriptions, import products with only one click, and discover new resources for any niche.
Here is a list of every feature Adserea can provide as part of the all-inclusive package:
Daily Winning Products
Winning Product Analytics
Hand-Picked Winning Products
Live Products Spy
Store Finder
Store Analyzer
Audience Builder
Adserea BONUS features
TikTok Spy Tool
As you can realize, Minea has all of the above features that Adserea offers, but it has more than that! It also includes tracking product placements made by influencers, Instagram Ads, Facebook Ads, Snapchat ads, Pinterest ads, and many more.
However, Adserea has more detailed analytics for a certain winning product. Some of the information, like supplier info, the number of stores selling the product, and sales analysis, is something that Minea lacks.
👉 Check out our FULL Adserea Review.
👉 Check out my Intelligynce Review: Is This Shopify Spy Tools Still Useful?
Minea vs BigSpy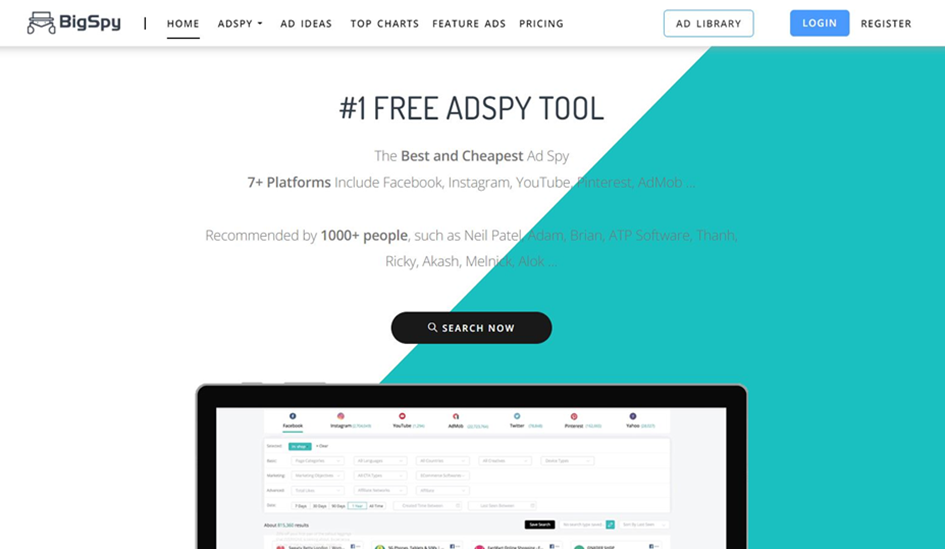 If you are using Minea mostly because of its Facebook ads, or Minea Tik Tok ad spy feature, BigSpy is one of its first competitors.
The BigSpy software monitors the ads, gathers the winners, and makes them accessible on its platform for advertising.
This is how the BigSpy software assists you in understanding your competitors' strengths and weaknesses so that you may adapt your strategy and achieve your goals.
However, you will be able to find the best product for your need using the Minea ads spy tool, thanks to its various amazing features. What's more, Minea has a more user-friendly interface, and it is easier to use.
Minea vs Dropship Spy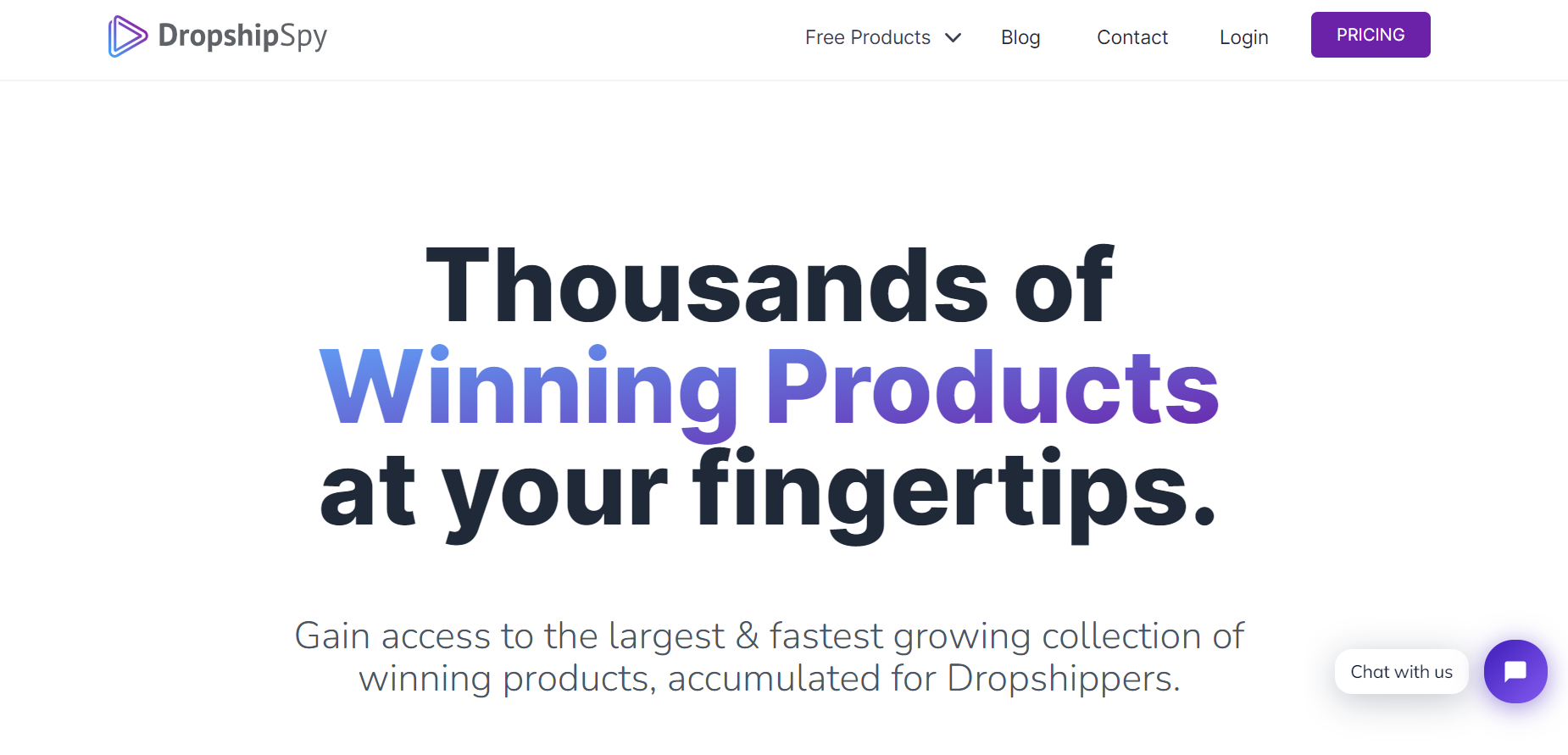 Dropship Spy is a fantastic Facebook Ad Spy tool that adds new Social Proof Items acquired from social media and runs them through a formula intended to determine the engagement score of the products.
Additionally, it helps you with advertisements, which is beneficial for dropshippers who lack experience and skills.
You may use targeted audiences in your Facebook advertising thanks to this feature.
That's all nice, but again – Minea has it all. As such, Minea is way ahead of Dropship Spy since it provides that information for ads on various social media platforms, not just Facebook ads.
Also, check out The Top 15 Best Facebook Ad Spy Tools For Dropshipping.
Minea vs Dropispy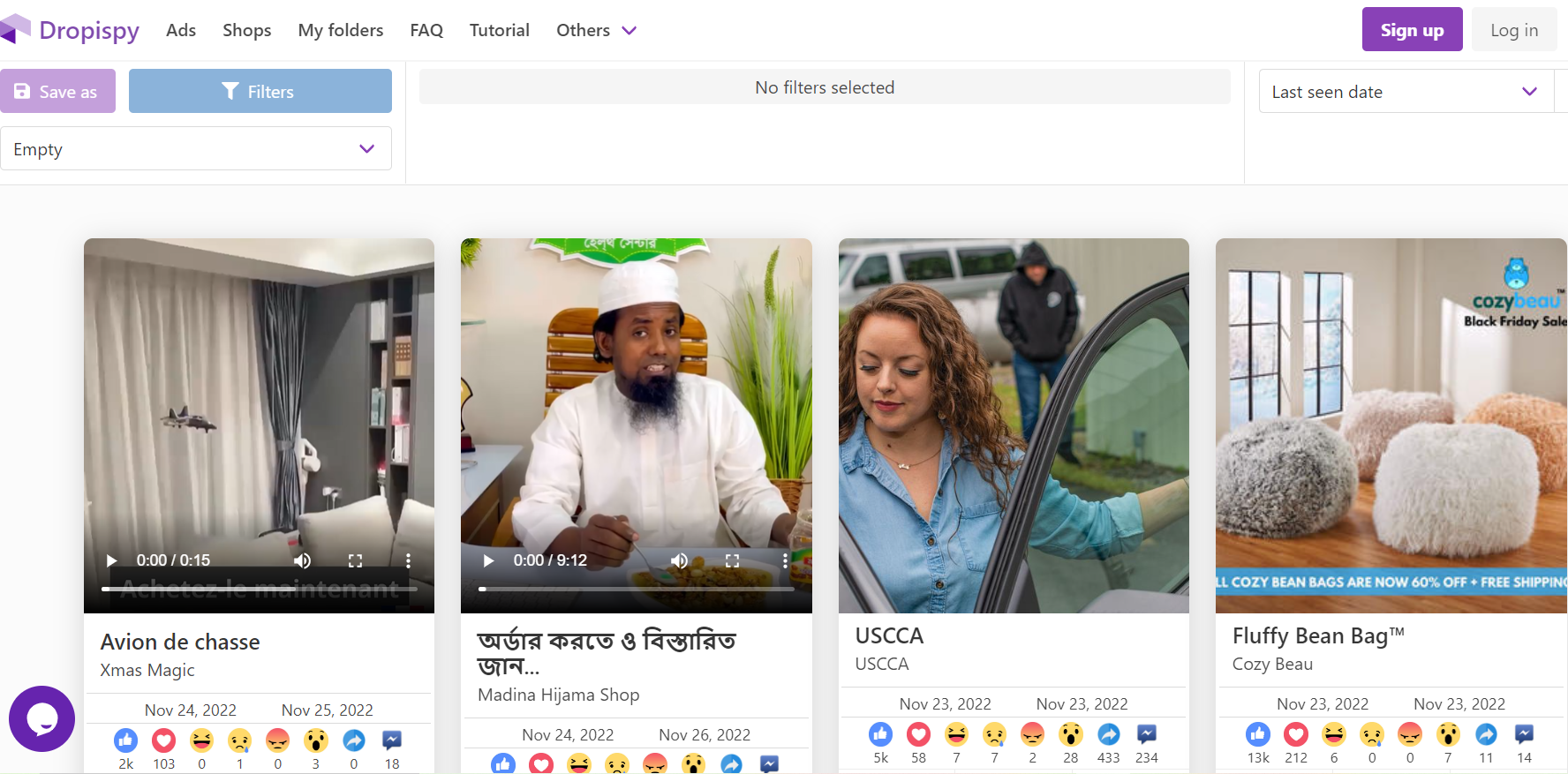 With the use of the competitive intelligence tool Dropispy, you can monitor your rivals' social media activity to discover what items they are promoting and how.
Thus, if your product is identical, you can also quickly duplicate the exact advertisement and run it on your advertisements account.
The fact that Minea vs Dropispy both have so many intriguing features for such a low cost means that you will be able to pick the finest solution for your requirements with both of them.
Also, both of them are simple to use and feature intuitive user interfaces. They provide free plans with a variety of amazing features.
However, the fact that Dropispy is an ad spy tool only for Facebook ads, sets it away apart from Minea.
Minea simultaneously collects advertisements from several social media platforms, such as Facebook, Snapchat, Pinterest, and TikTok.
👉 Check out Dropispy vs Adspy: A to Z Comparison & Expert Review For Dropshipping.
👉 Check out my SimplyTrends.co Review – Is It Good For Shopify Stores Spying?
Is Minea Worth it?
We can confirm the Minea tool's worthiness by simply taking a glance at Minea reviews. For example, on Trustpilot, this amazing tool is rated 4.4/5⭐, with 78% 5-starred reviews and positive comments.👇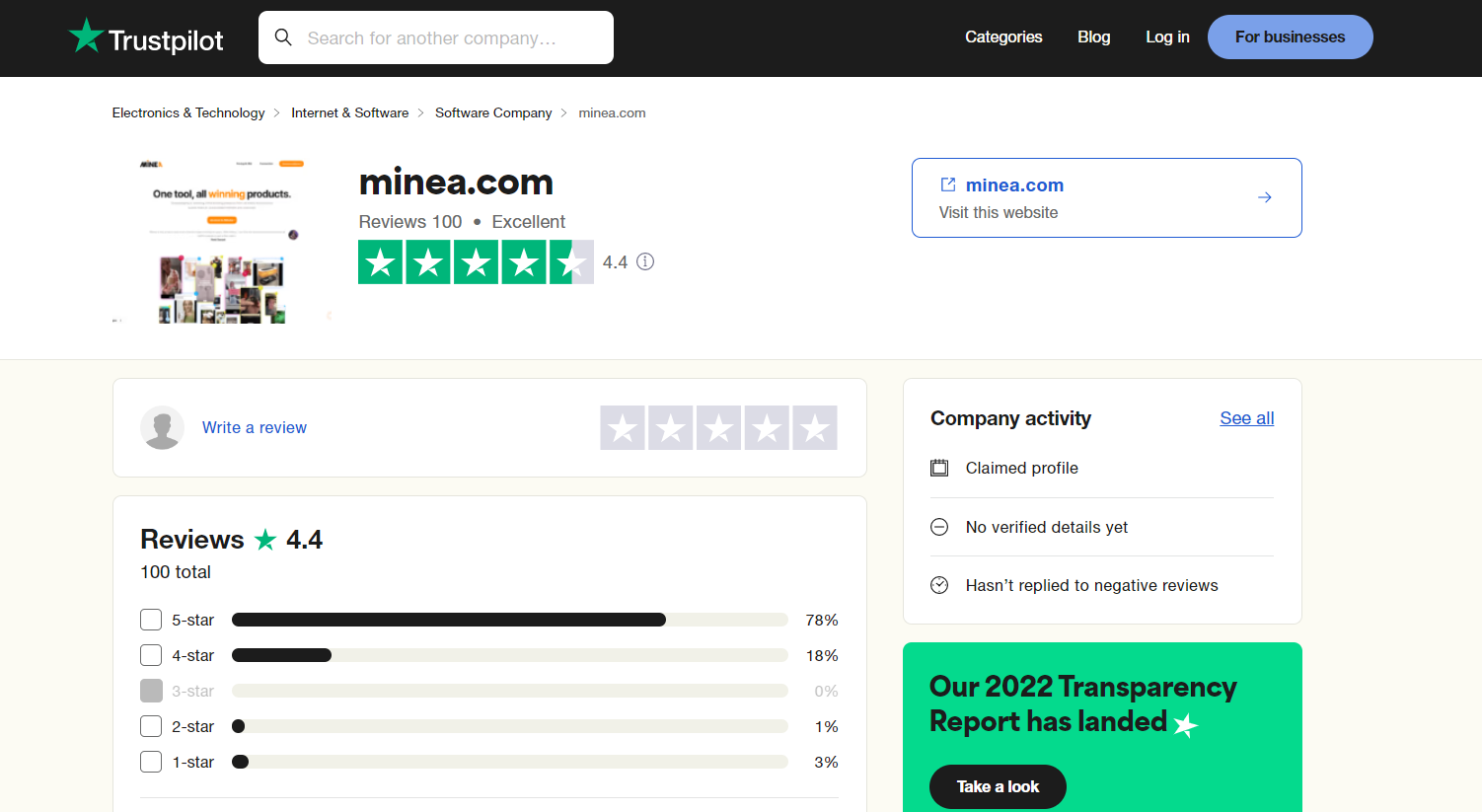 Also, it is a cost-effective tool, since it offers various must-have features for only $49.
Furthermore, It is important to NOTE that Minea has several superior features when compared to the other ad spy tools that are currently on the market.
The combination of all these features and effective spy tactics may completely shift the superiority of your dropshipping business.
But, we talked about all of this in-depth, in this Minea Review. Don't miss it!
Join the only community and resource hub you'll ever need to succeed with dropshipping
Find winning dropshipping products, learn marketing, download templates and engage with real dropshippers
Never pay for a "guru's" course again. See why 4543+ dropshippers joined us this year!
💡Try DSCOM Hub Now
Is Minea Legit?
Last concern of our Minea Review – Is Minea actually legitimate?
Minea is 100% LEGIT. There's no way that this dropshipping tool is a scam since you have huge social proof about it.
What's more, any dropshipping company will find Minea to be a highly valuable all-in-one tool.
You can use it to find a winning product as well as spy on your competitors and uncover the greatest advertisements.
Minea provides spy tools for ALL of the different methods that dropshipping businesses may increase visitors.
💡Try Minea For Free