Dropshipping Watches: 10 Best Watch Suppliers and Products to Dropship [+Pro Tips]
by
Aleksandra -
Aleksandra teaches marketing and management at various levels in High School. She writes about marketing, the economics and logistics of the dropshipping business and ecommerce in general.
Chief of Content Marketing
Thinking about dropshipping watches? This can be a potentially lucrative business for you. But, only if you choose the best dropshipping suppliers and products We know, this can be a hell lot of work, and it's not as simple as it sounds. But, we got you on this!
Just stop scrolling over the internet, and don't waste your time. We have your homework done – a list of the Best dropshipping watches suppliers. Not just that, but we will list the winning dropshipping products as well. Let's dive in!
Why Should You Start Dropshipping Watches?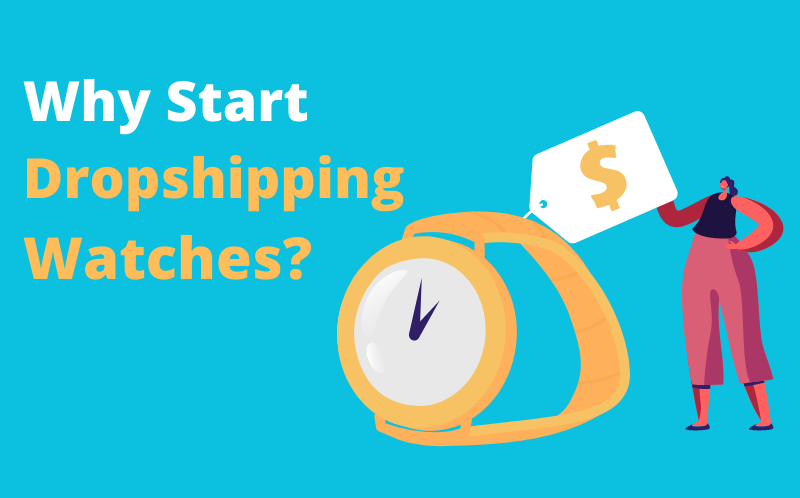 With the recent global boom in technology and smartphones, everybody expected the watch to become extinct. However, people still wear watches, and they really love them.
Some people believe that watches have fallen out of fashion because smartphones display the time of day. But the truth is that a good watch does not just show what time it is. It is also a piece of jewelry that enhances a person's style and makes them feel good.
However, we can say that this jewelry is evergreen!
Plus, in 2023, revenue in the watches industry is expected to be $75.75 billion USD. Also, the market will expand by 4.44% each year (CAGR 2023-2026). Consequently, this market emerges as an attractive investment space.
In a nutshell, watches are a big business nowadays. And choosing to dropship watches can be a great decision.
Lifetime deal: Get all-access to everything on Dropshipping.com
Access all DSCOM features, resources, courses, live workshops, discounts, winning products, weekly deep dives, directories and all future updates under all-in-one dropshipping HUB.
DROPSHIPPING IS A REAL BUSINESS, DON'T DO IT ALONE. 4553 MEMBERS ALREADY JOINED. YOU CAN PAY OFF YOUR SMALL INVESTMENT WITH JUST 2 SALES ON YOUR STORE.
Grab the deal before it's gone
How To Find The Best Dropshipping Watches For Your Online Store
Now that you know your dropshipping niche, it is time to choose the right products for your online store.
Namely, there are multiple ways to determine what types of dropshipping watches best suit the online market at any given time. And here are some of them:
🔸 Use the Google autocomplete function to find out common and trending searches on Google
Autocomplete is an amazing feature within Google Search. Thanks to this feature, you can complete your searches more quickly.
To put it another way, Google automatically generates predictions when you type something into the search engine.
👉 LEARN DROPSHIPPING MARKETING: How To Setup Google Ads For Your Watches Store?
For instance, with the feature enabled, when you start typing "re…" into Google, you might see autocomplete predictions like "restart" or "restaurant." Now, let's see what autocomplete predictions will appear when typing "buy watches".

This can help you understand what types of watches people are searching for.
🔸 Determine what dropshipping watches sell well using Google Trends
This tool is pretty handy at letting you know what dropshipping watches sell well.
Simply head over to Google Trends and enter a keyword or brand name. That way, you will find out how popular a particular type of watch is. And here is an example of what it would look like. 👇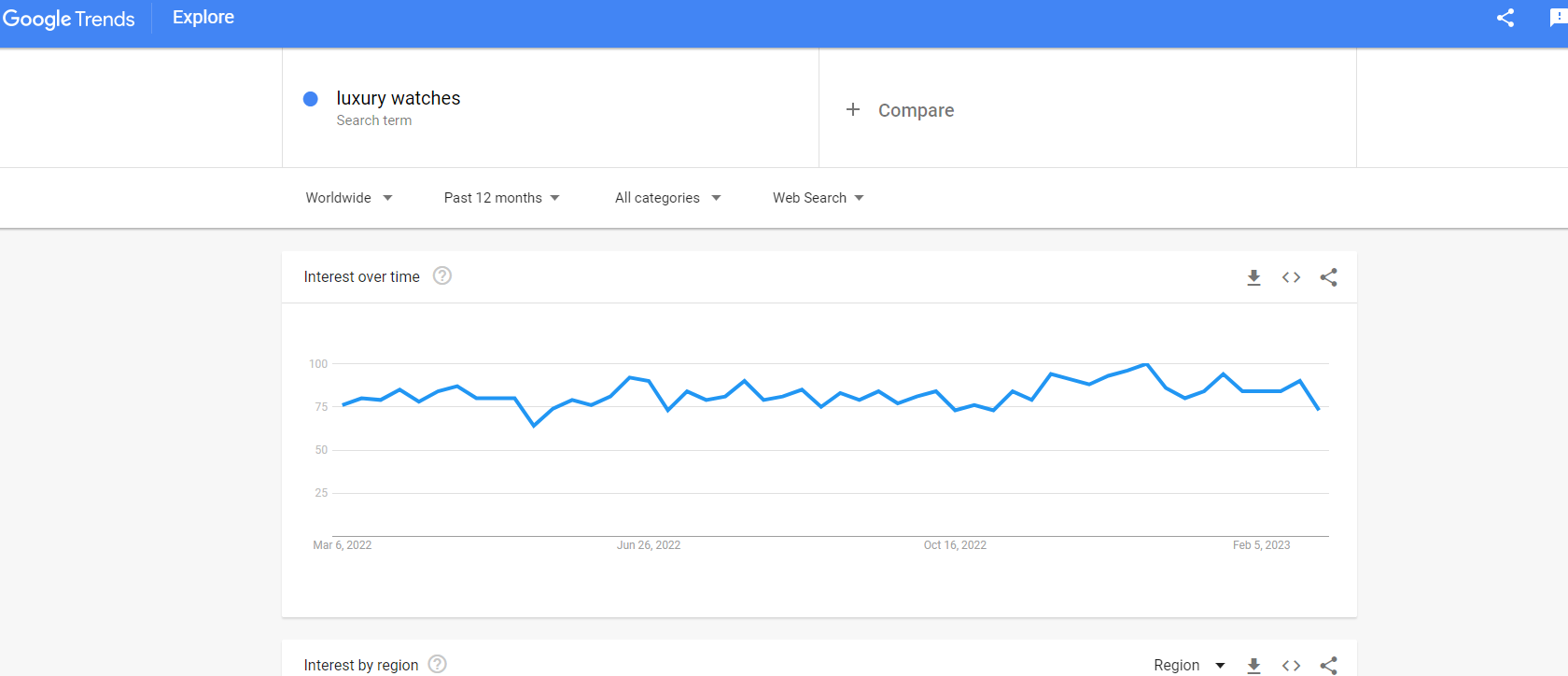 👉 Check out The Ultimate Guide: How to Use Google Trends for Dropshipping.
🔸 Use AliExtractor for effective AliExpress product research
AliExtractor is a useful tool that can help you a lot with your AliExpress product research. So, you should use it if you want to dropship with AliExpress.
For example, if you are searching for smartwatches, this tool will help you identify exactly how many smartwatches a seller is already selling per month in both units and sales dollars. By using this tool, you can make smarter product choices for your online store.
Also, you can use some of these Dropshipping Product Research Tools, and find your winning products.
If you can't decide what kind of market research you need to do, do not worry. We have made a list of 6 top trending dropshipping watches to sell online. Just read on.
6 Top Trending Watches To Dropship
Here are some of the best-selling products that you can add to your dropshipping watch store:
1. Luxury watches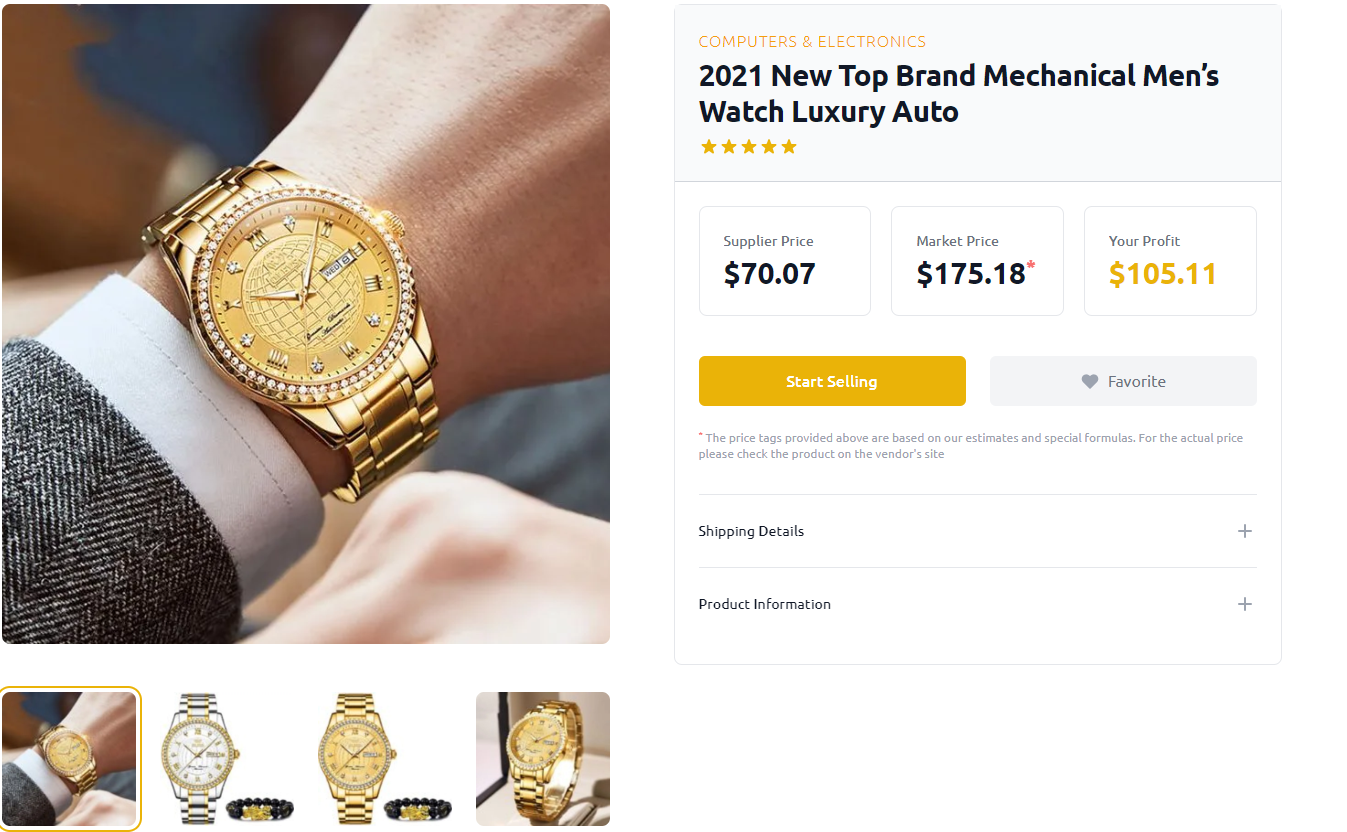 Luxury watches have long been regarded as symbols of wealth. And they are seriously expensive. But many people simply love them because nothing beats the exceptional elegance of a beautifully crafted timepiece on the wrist.
The product prices range between $10-500. Also, the profit margins for around 60%.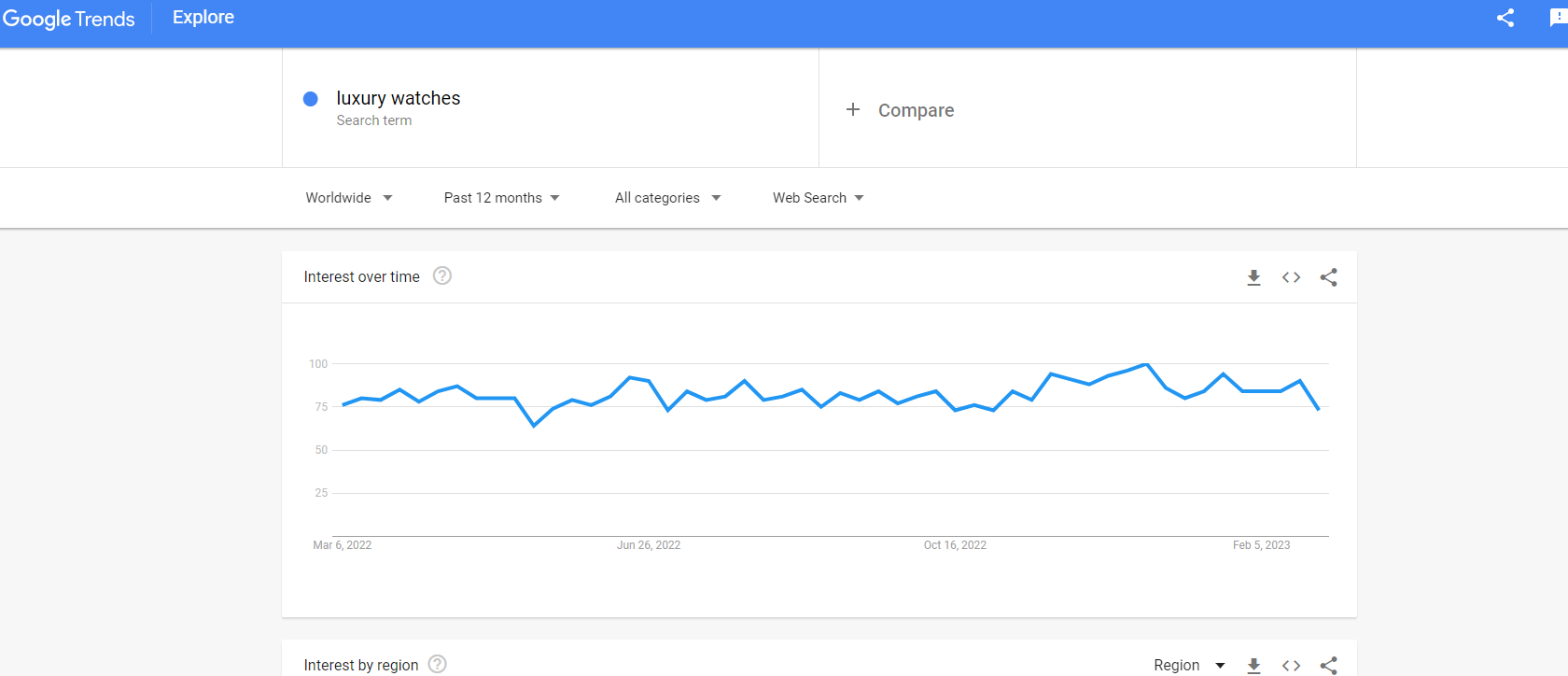 However, as Google Trends results point out, this product type is constantly in demand. So, you better think about including it in your store.
2. Casual watches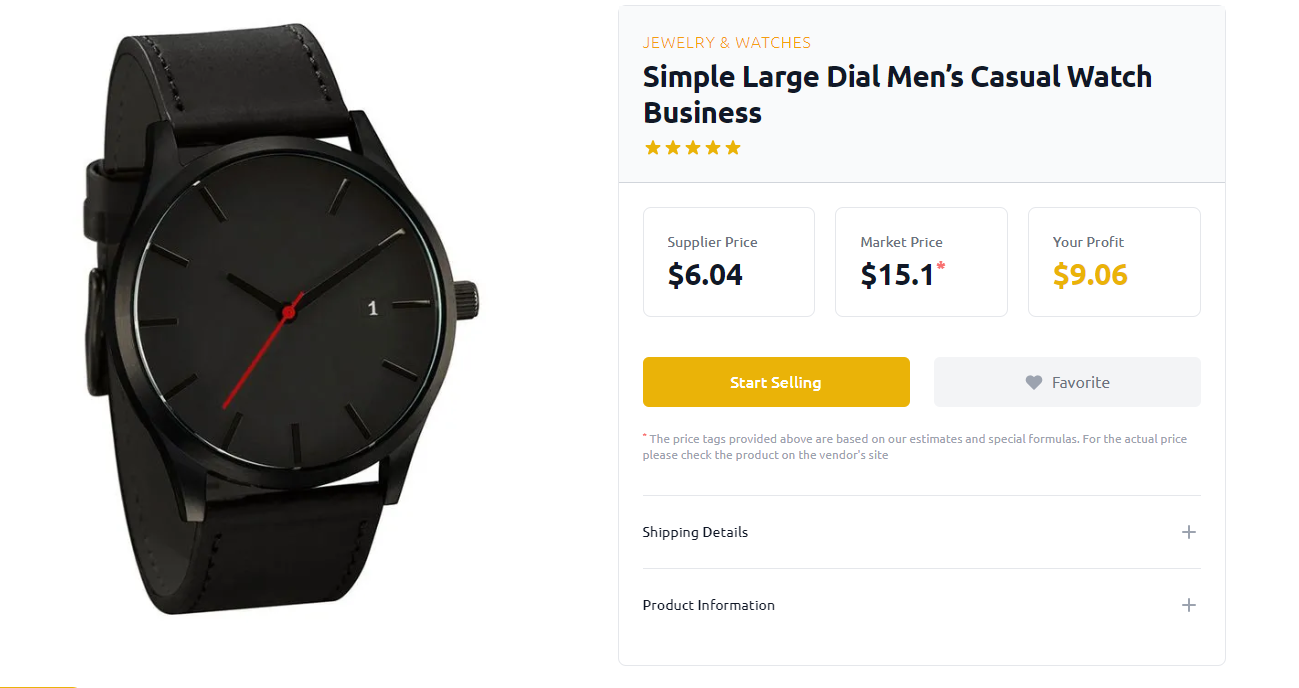 These are more reasonably priced watches. They are not considered luxury items. And they are trending dropshipping watches that can pair perfectly with your customers' outfits.
What's more, the product costs range between $5.50-80. And, the profit margins are around 50-60%.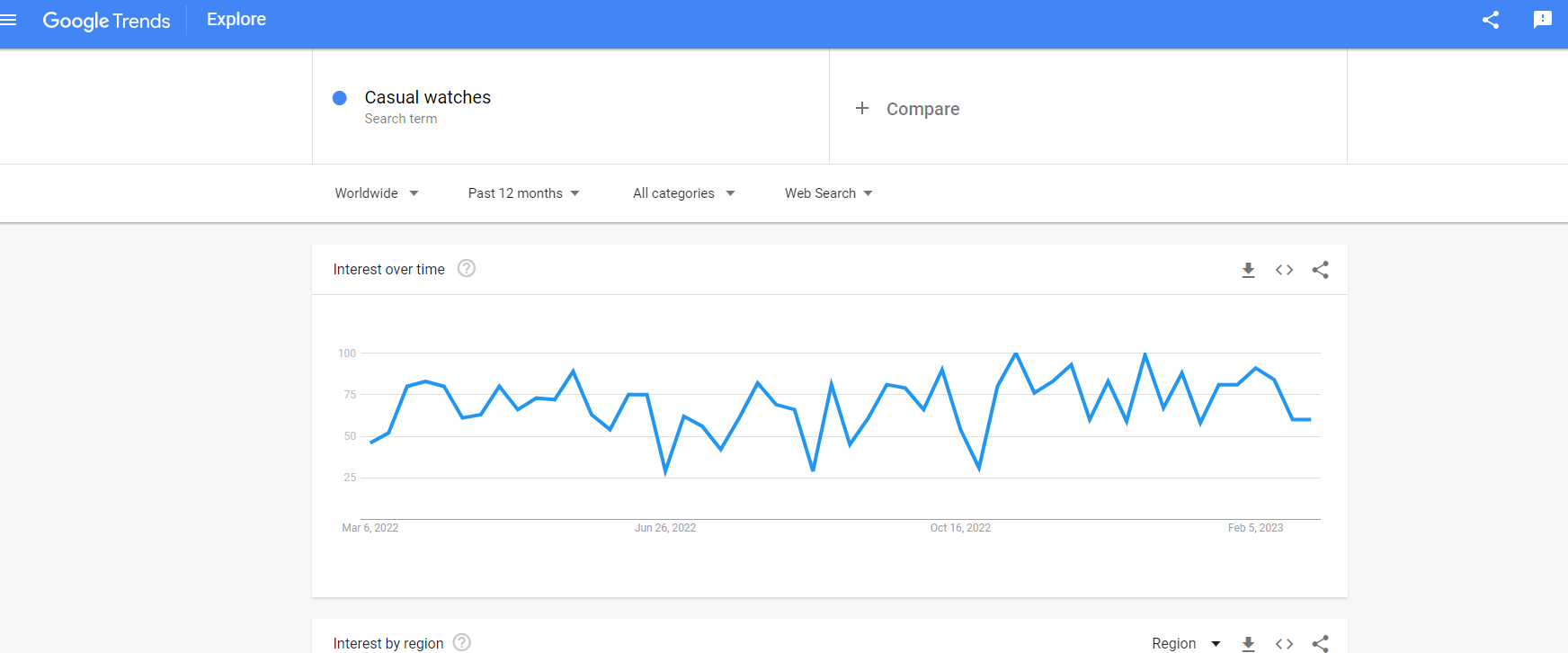 So, according to Google Trends, google searches tend to drop off from time to time. However, they never lose on the demand. More importantly, the demand is growing at the moment of February-March 2023.
3. Digital watches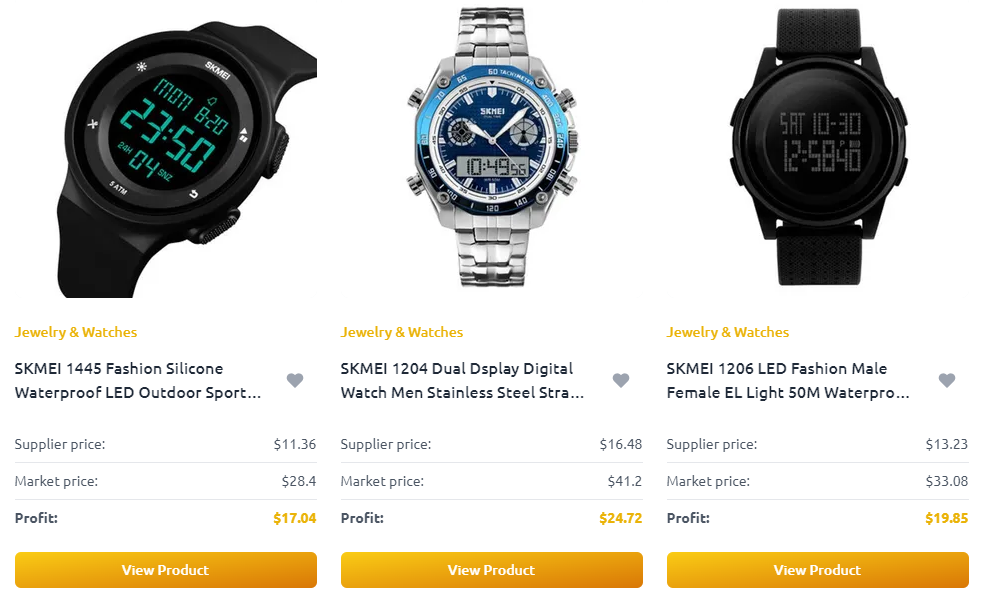 Wow! According to Google Trends, digital watches have no signs of stopping! So, our advice on this – is don't miss them out! 👇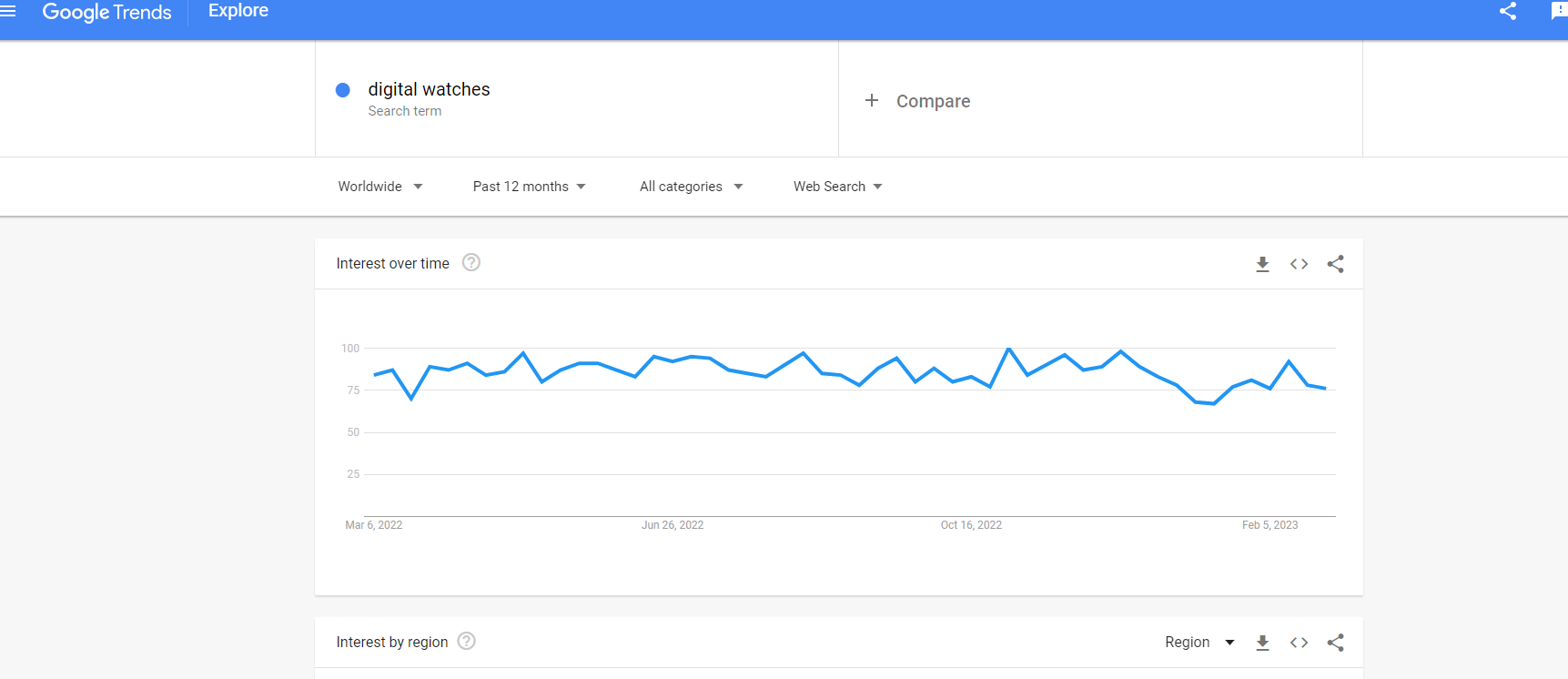 Due to their special features like alarm functionality, easy-to-read displays, stopwatches, etc., these digital timepieces are perfect for active watch wearers.
What's more, the product costs range between $10-40, and the profit margins are around 60-61%.
4. Smartwatches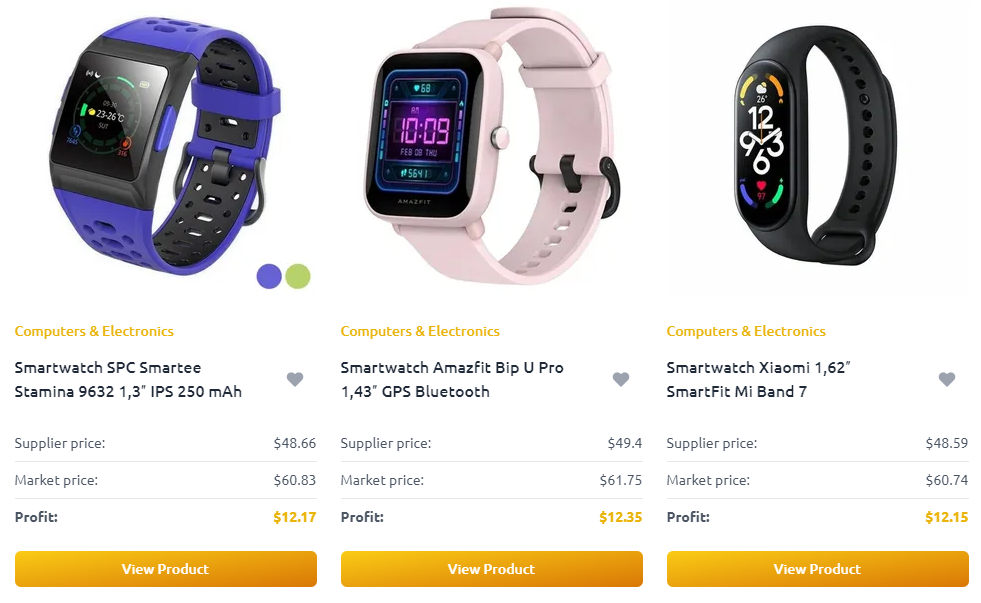 Exactly, customers love them! And, Google Trends confirms the same. The popularity of these devices doesn't stop. So, consider adding them to your store. 👇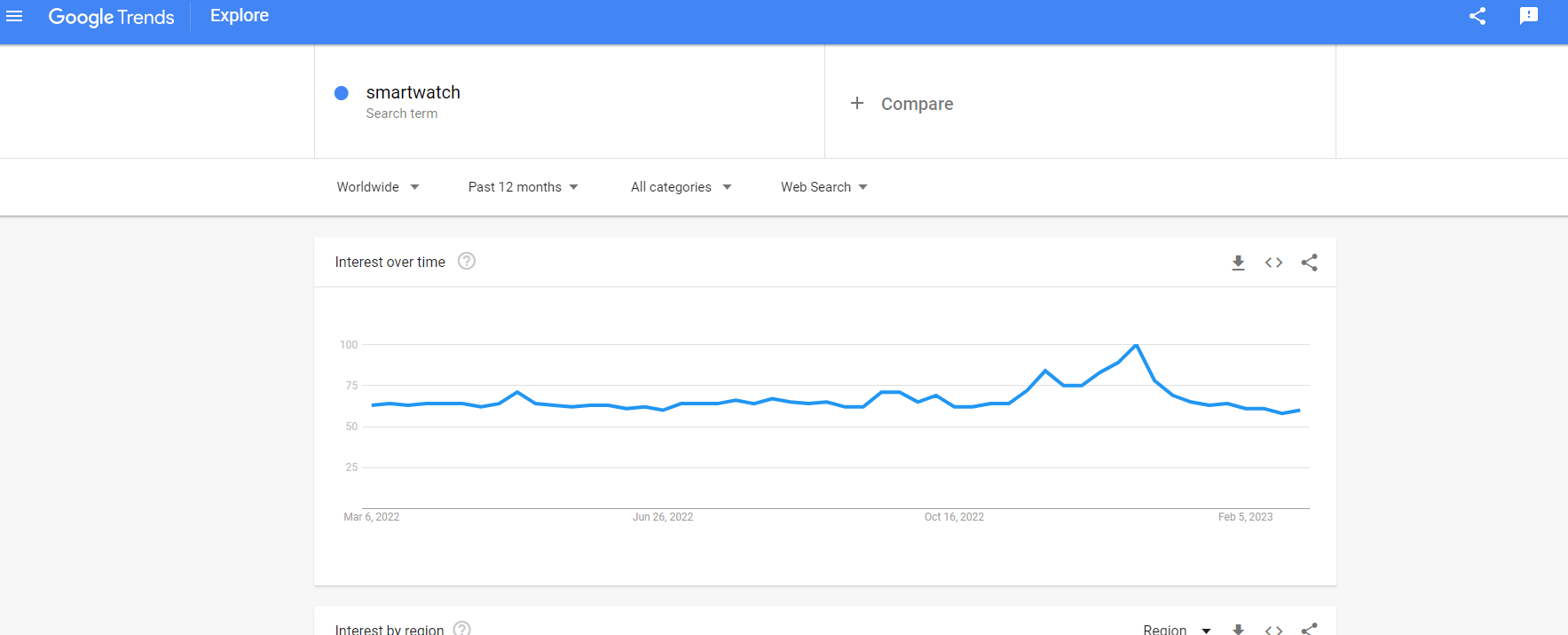 Smartwatches have grown in popularity in recent years. They are actually small "smart" devices with smartphone-like abilities. Though this may sound unbelievable, they are often connected to smartphones notifying the user of e-mail messages, incoming calls, notifications from apps, etc.
Moreover, the product prices for smartwatches are from $10-500, and the profit margins are around 30-40%.
5. Bracelet watches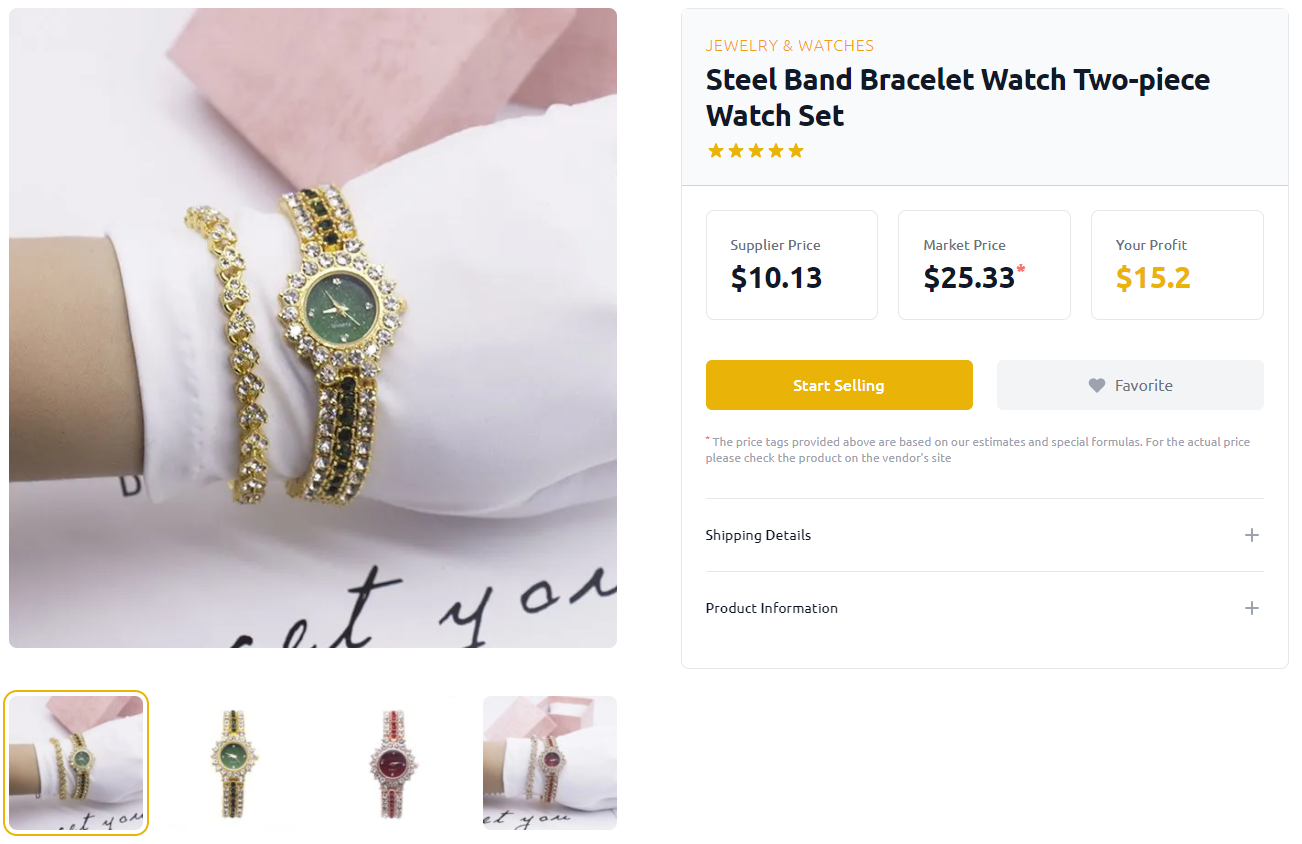 Women love bracelet watches since they see them as pieces of jewelry. And really, no woman can resist a new piece of jewelry. Therefore, these dropshipping watches can be a great addition to your product range.
Also, the product costs range between $6-30, and the profit margins are around 50-60%.
What's more, Google searches for these products don't stop. So, the product demand is expected to grow in the period that comes.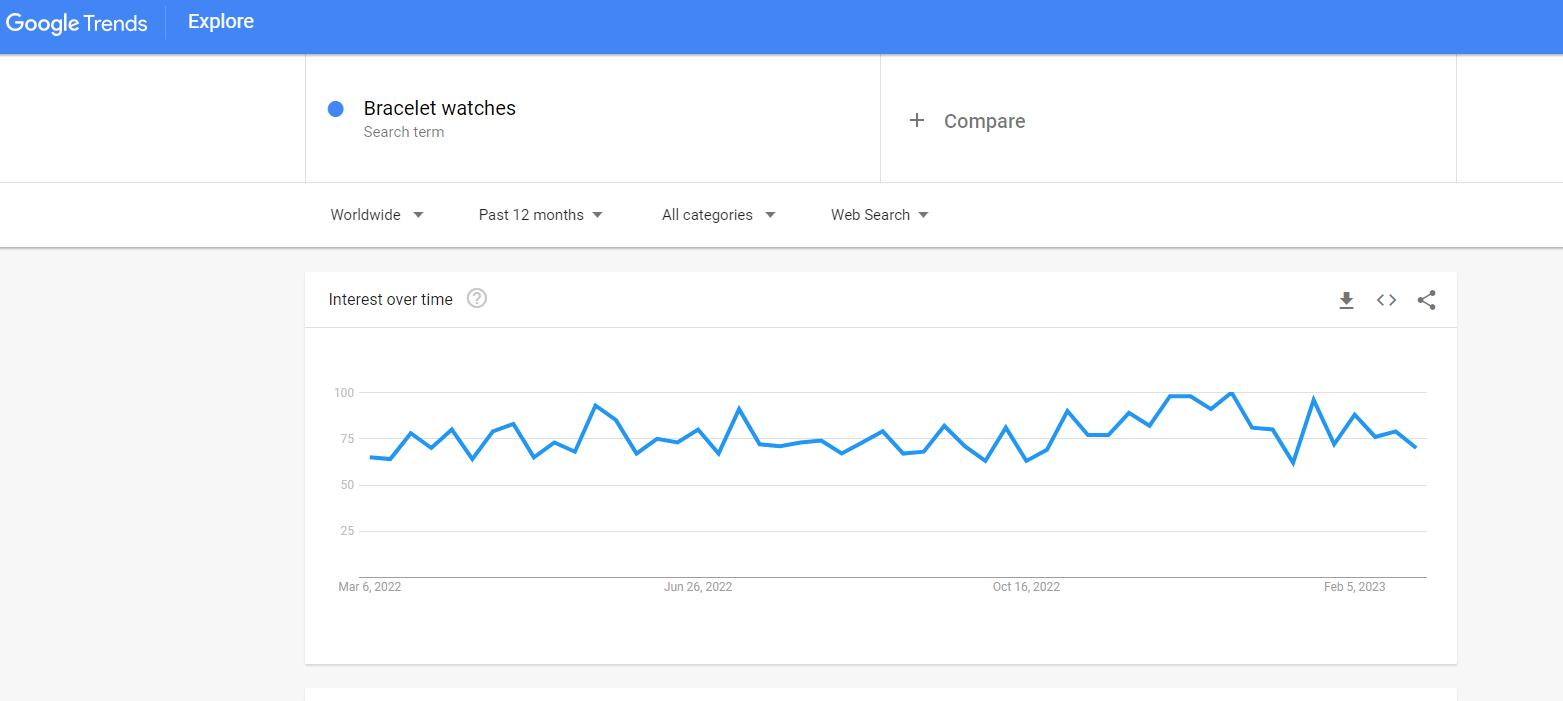 6. Sports watches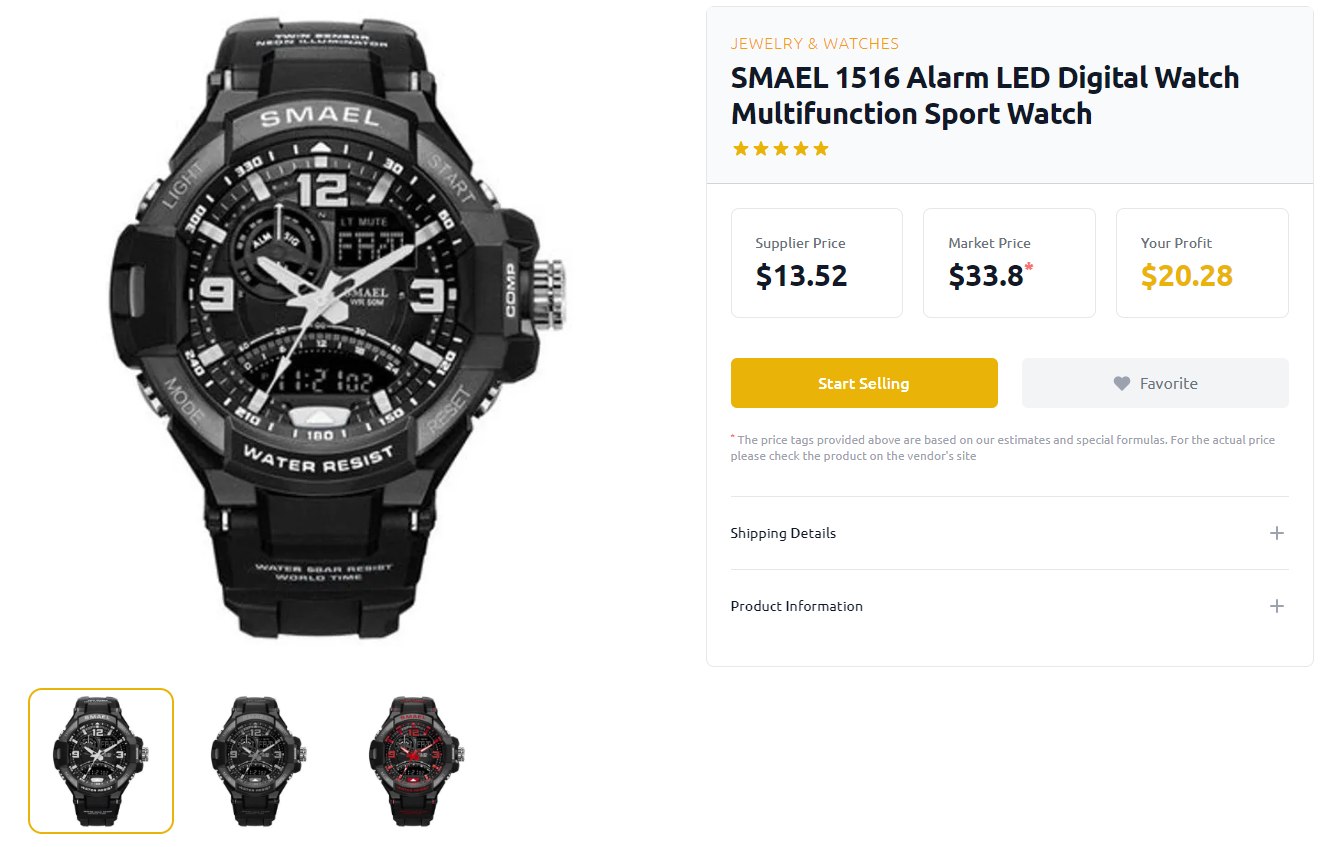 People have become more health-conscious lately. So, it is unsurprising that sports watches have witnessed a rise in demand. Why not start selling them and allow your customers to track their daily activities and their workouts?
Moreover, the product prices range between $10-30, and the profit margins are around 50-60%.
Also, according to Google Trends, the product demand for these products is always on the rise. 👇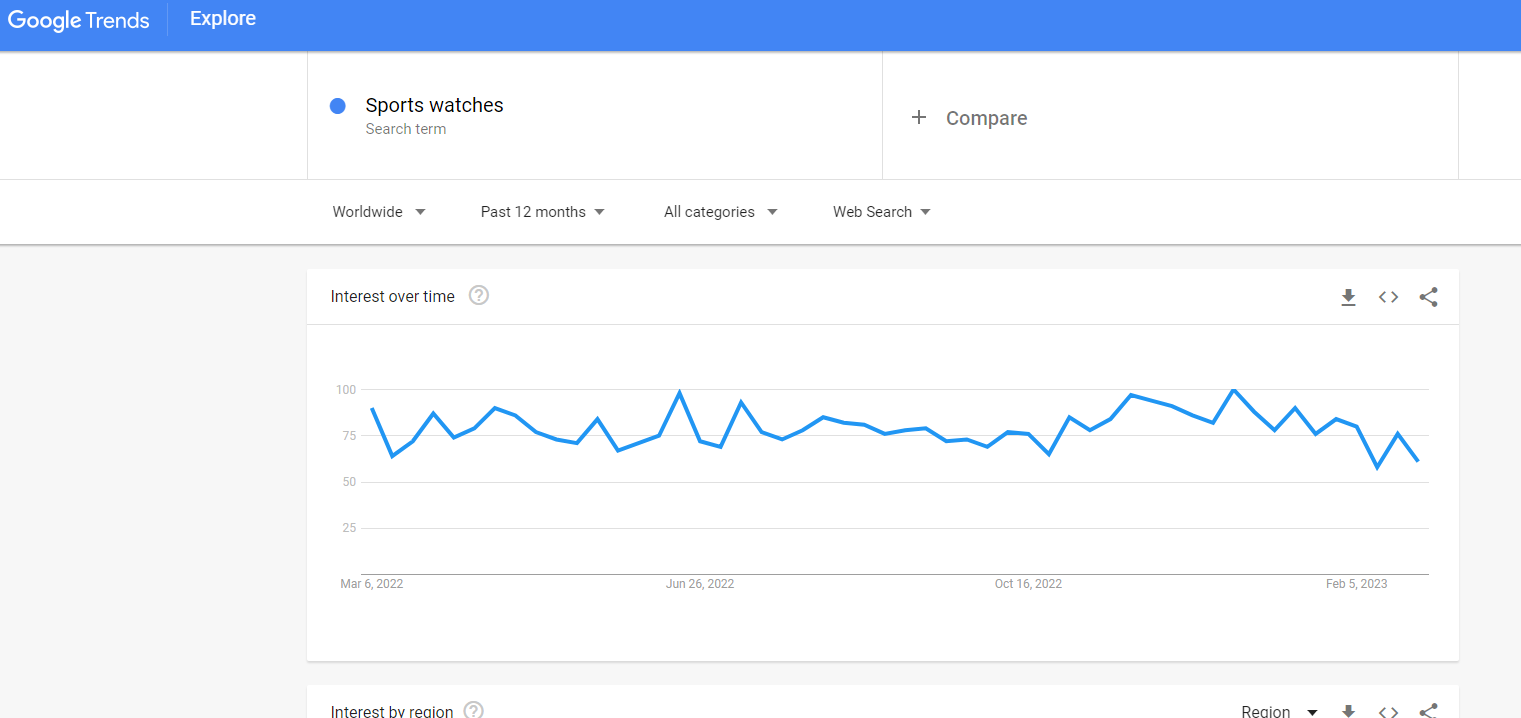 Here are the top Health & Beauty Dropshipping Suppliers Worldwide.
7 Best Dropshipping Watches Suppliers in the World
Before we dive into the list, we want to point out that the suppliers you choose to work with will be your business' secret competitive weapon. Therefore, choose the best supplier for your online business.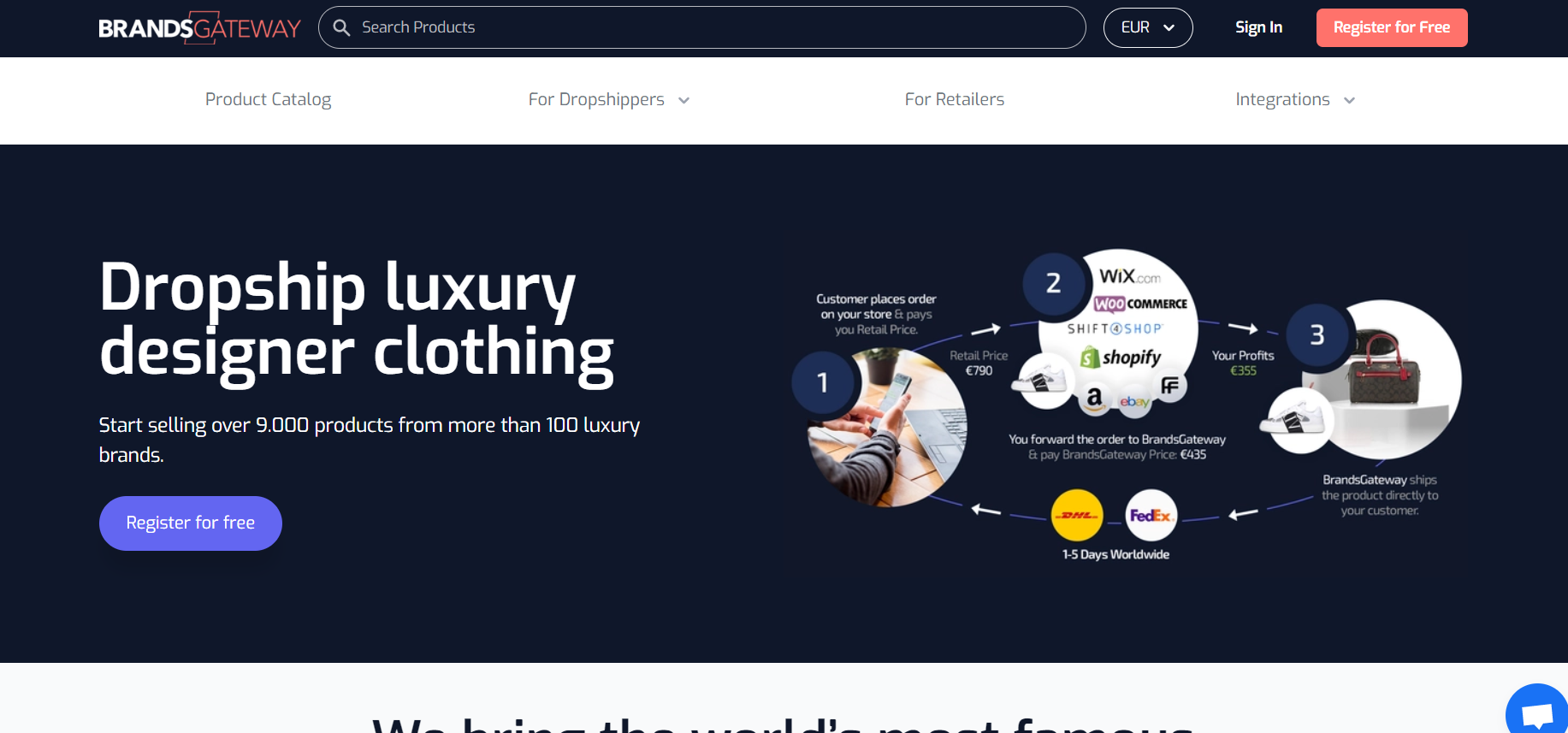 BrandsGateway is a leading B2B luxury fashion online marketplace. In addition, the company tends to introduce new products and brands in order to offer a wide range of luxury products to its customers.
So, it has recently introduced new branded watches as an amazing addition to its luxury product collection. Specifically, the company offers dropshipping watches from famous brands like Hugo Boss, Emporio Armani, Diesel, Orient, Cerruti 1881, Esprit, and more.
These watches are the undisputed champions when it comes to brands that hold their value. Also, the price range is from $50-1000. So, you can choose the pricing that mostly fits your business need.
What's more, the average order processing time is around 4-7 days.
Though BrandsGateway is an EU-based company, it offers worldwide shipping. And your customers will receive their watches within 5 business days if you partner with this dropshipping supplier.
If you want to dropship luxury watches, look no further than BrandsGateway.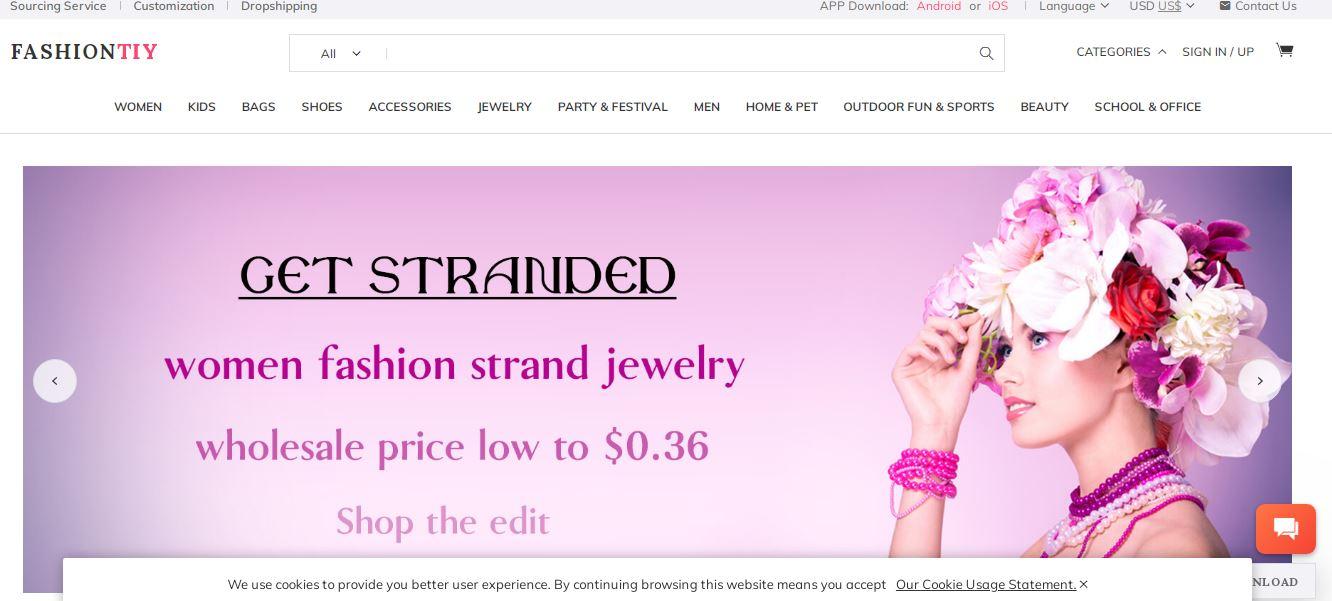 FashionTIY is a multi-category supplier that specializes in supplying various products for small and medium-sized retailers and wholesalers all over the globe.
Moreover, it is primarily a professional wholesale market platform serving wholesalers and retailers. Sure, it also offers dropshipping services. Hence, it is recommended to emphasize that you are a dropshipper when placing an order.
Furthermore, FashionTIY is a Fashion and Beauty supplier of clothing, shoes, jewelry, and accessories, including dropshipping watches. So, to save up your time searching, just click Accessories —> Watches, and there you go!
On the site, you can find watches for both men and women at low prices. In fact, the product price range is $1-100. Also, the average order processing time is around 4-7 days.
The supplier also claims to ship any product from its warehouse after strict quality inspection and packaging.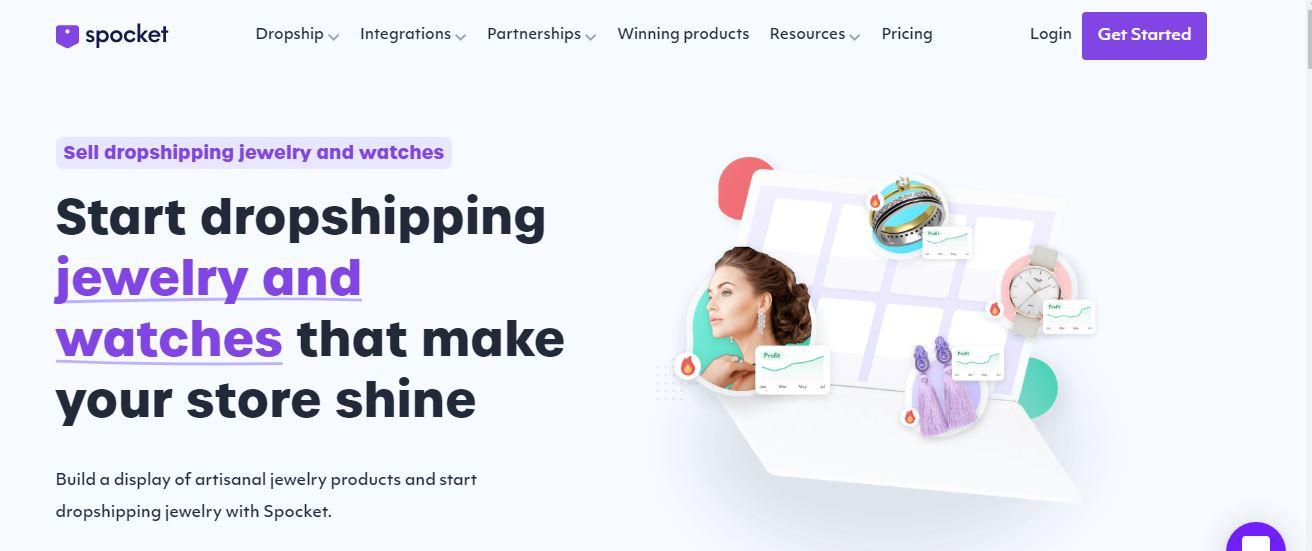 As a dropshipping platform/app revolutionizing the e-commerce world, Spocket enables online sellers to connect directly with dropshipping suppliers in the US, Europe, etc.
With reliable suppliers from Europe and the United States, you will have faster delivery and high-quality watches for your customers.
First, you can find various choices of watches here. In fact, they guarantee around $80 profit and free shipping within 1-2 days.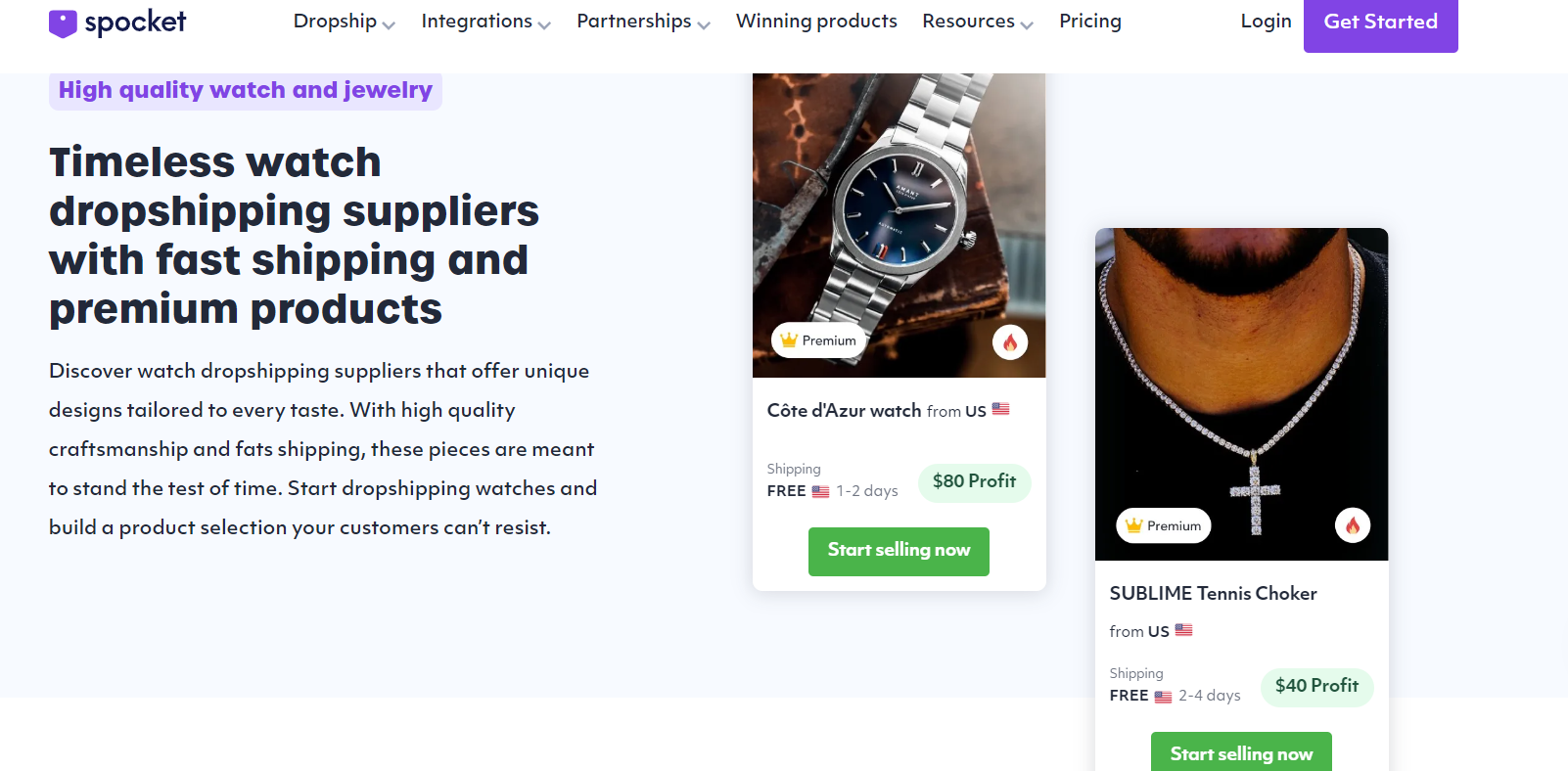 What's more, Spocket integrates with almost all e-commerce platforms, including Shopify, BigCommerce, Wix, Ecwid, Squarespace, and more.
Start dropshipping watches with Spocket and entice customers to shop for their favorite timepieces.
💡 Tip: Read about Spocket Dropshipping: The Ultimate Guide to Dropshipping With Spocket in the EU & US.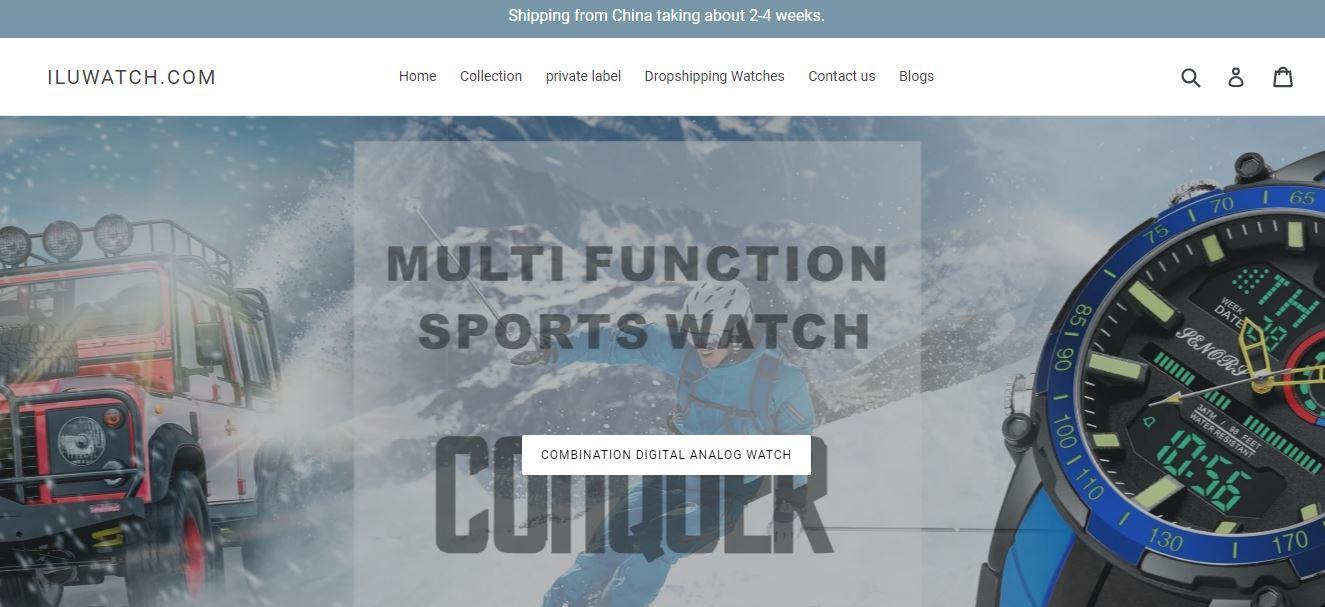 Want to excite your audience with dropshipping watches made in China? Then, consider partnering with Iluwatch.
Namely, the company offers a wide watch collection, including white and private label watches.
Also, you can Private Label your dropshipping products. Or, you can think of white label dropshipping.
This means that the company can apply its own logo to its existing watch collections or create unique custom-made pieces depending on the desires and preferences of your customers.
What's more, their product's price range is between $15-100.
Just keep in mind that shipping from China takes 2-4 weeks. So, if your customers do not mind such delivery times, this supplier may be worth considering.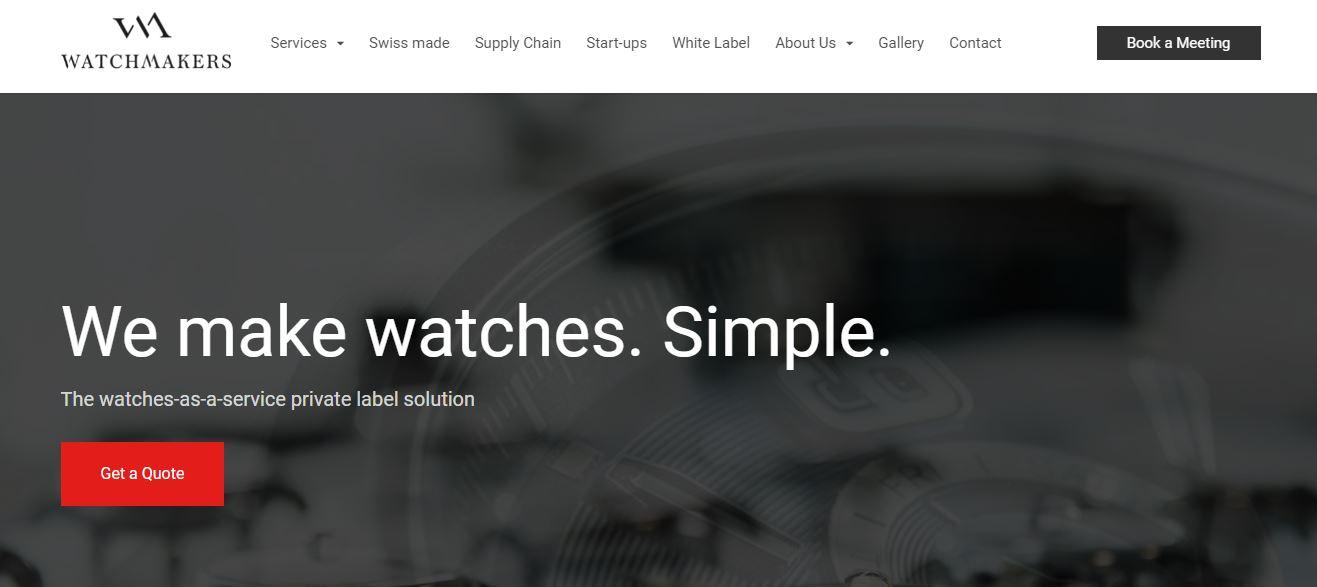 Watchmakers can empower you to succeed in the watch industry by offering competitive Swiss Made productions.
Moreover, with its private-label watch management solutions, you can start a new watch brand or extend your existing collection. And thanks to its warehousing and fulfillment services, the company can help you optimize your online sales delivery.
Also, the pricing is negotiable, and it depends on your smartwatch requirements.
But remember that things like starting your own watch brand take time. As a result, if you want to start and run a typical dropshipping business, you may want to consider other options, i.e., other dropshipping watches suppliers.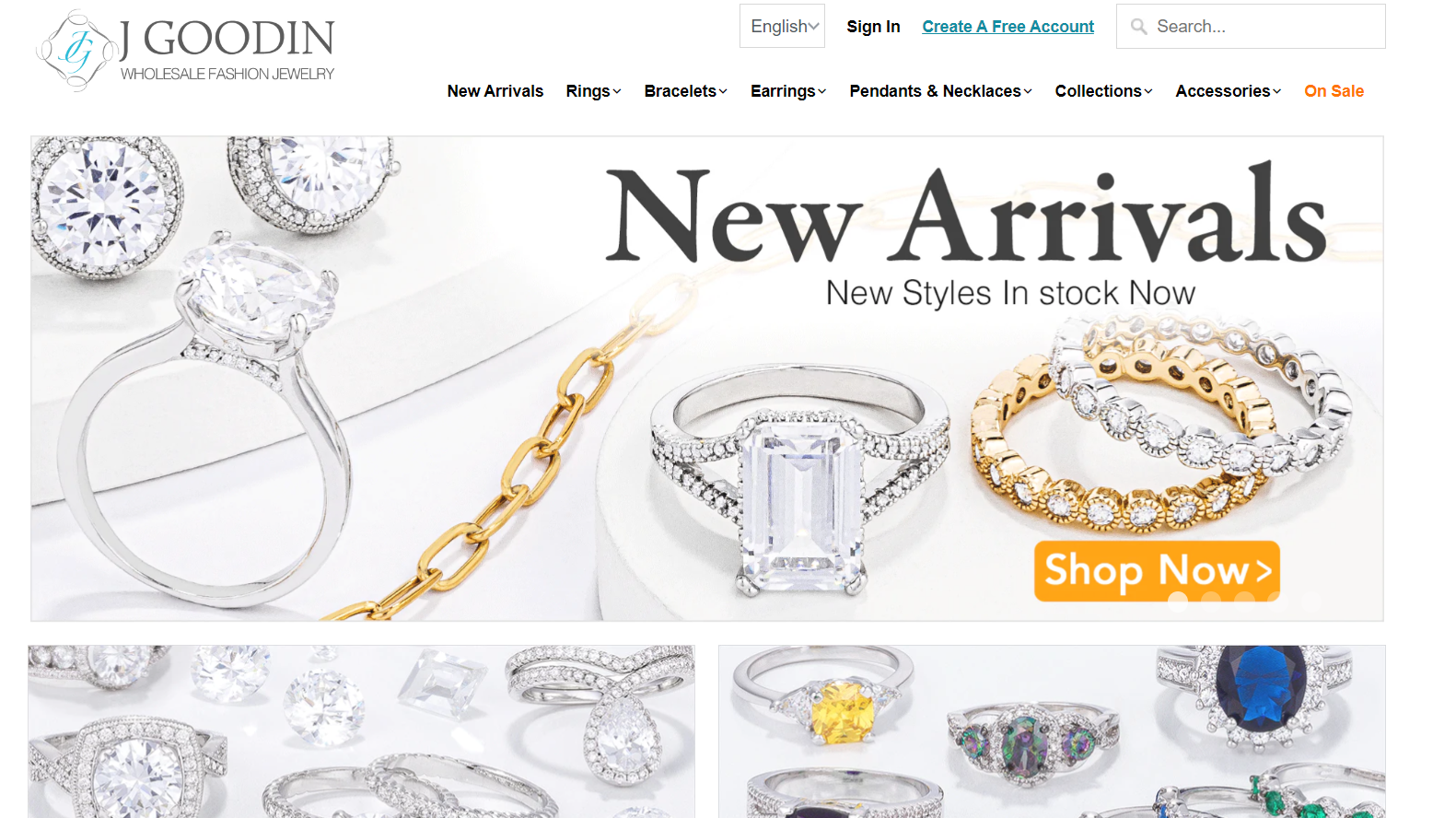 JGoodin is a leading wholesale supplier of watches, rings, bracelets, earrings, pendants, necklaces, and more.
With a factory in China and an in-house design team based in California, JGoodin offers a wide range of affordable products with a minimum order of 100 pieces starting at just $24.
What's more, they also offer international shipping via USPS and dropshipping orders from USA warehouses.
JGoodin offers dropshipping with your brand name and return address and accepts payment methods such as Google Pay, PayPal, and credit cards.
Additionally, they offer discounts for wholesale orders but note that there is a membership fee for drop shipping programs.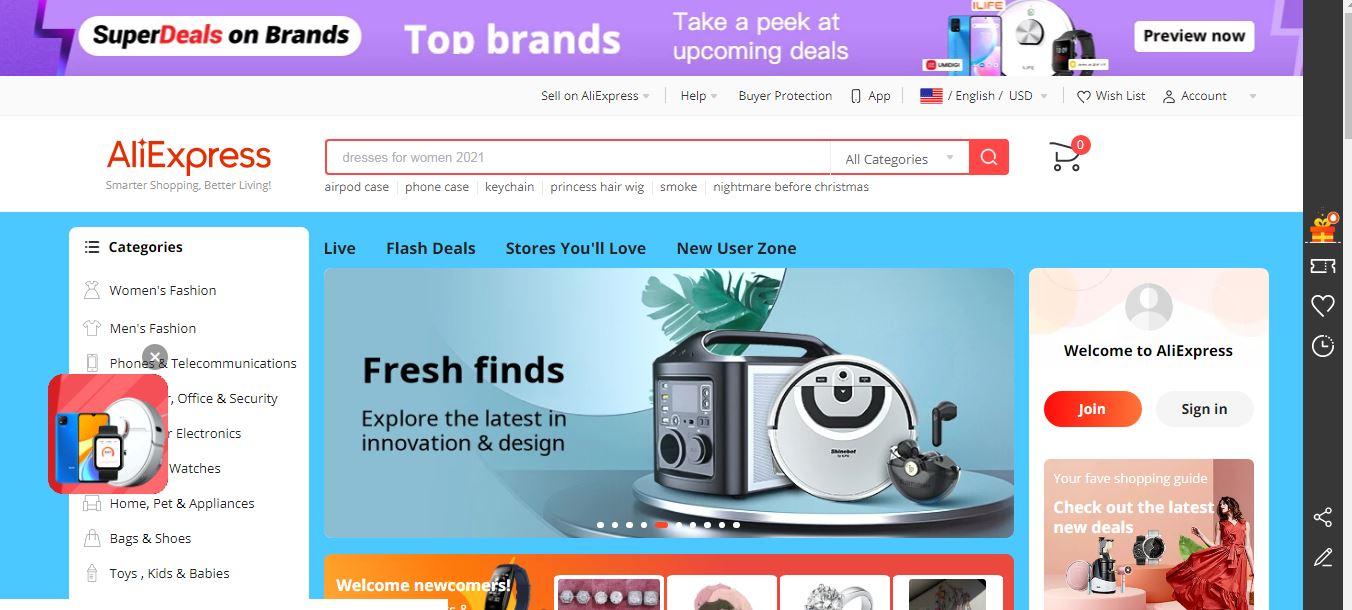 AliExpress needs no introduction – this online marketplace is so well-known that everyone knows what it is.
Many beginners start dropshipping with AliExpress. As the largest dropshipping supplier in China, the company offers a great variety of products at low prices.
Also, you can choose products with prices as low as $1, or higher as $2000.
From clothing and shoes to jewelry and watches, you can find almost anything you would want to sell here.
When it comes to Chinese products, you may be doubtful of their quality. Therefore, before sourcing from AliExpress, make sure the seller is reliable and their watches are of good quality.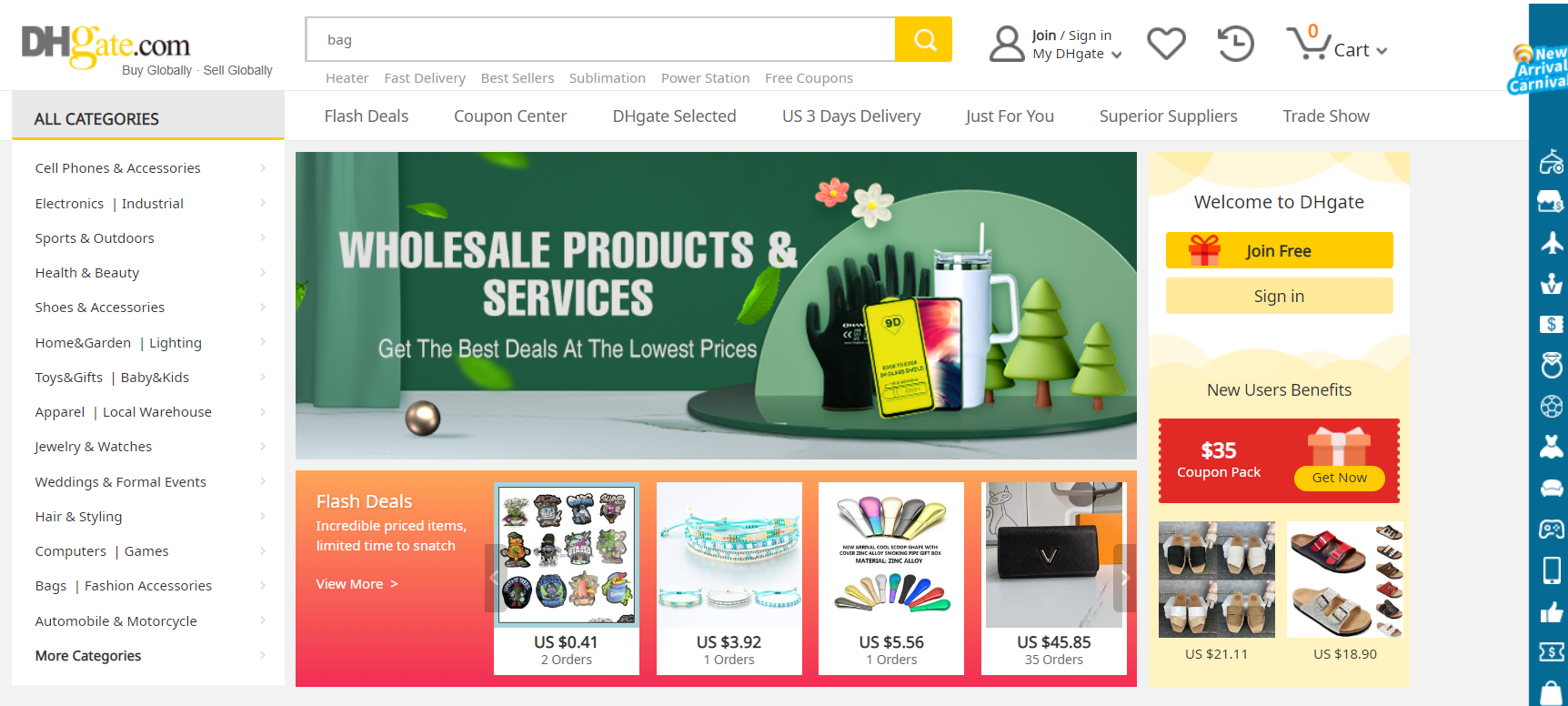 DHgate is a well-known Chinese e-commerce platform that offers a wide range of products, including electronics, fashion, home and garden, sports, and more.
It boasts an impressive selection of nearly 22 million products, making it highly unlikely for customers not to find what they're looking for. More importantly, they have 84,833 watches to choose from!
Also, their product costs range from $1-130. This means you get to offer cheaper products and get higher profits.
Moreover, DHgate offers various secure payment options, including PayPal, credit cards, wire transfers, and similar methods, ensuring that customers can make safe transactions.
Furthermore, DHgate provides global shipping services to over 200 countries, with the added advantage of US and EU warehouses for faster and more cost-effective delivery.
Most orders are processed and delivered within 3-15 business days. Additionally, DHgate integrates with various e-commerce platforms, including Jumpseller, Wix, Shopify, eBay, WooCommerce, and product import applications like Importify and Myyshop.
👉 Check out the 10 Best Dhgate Sellers In 2023 & How To Pick The Best One?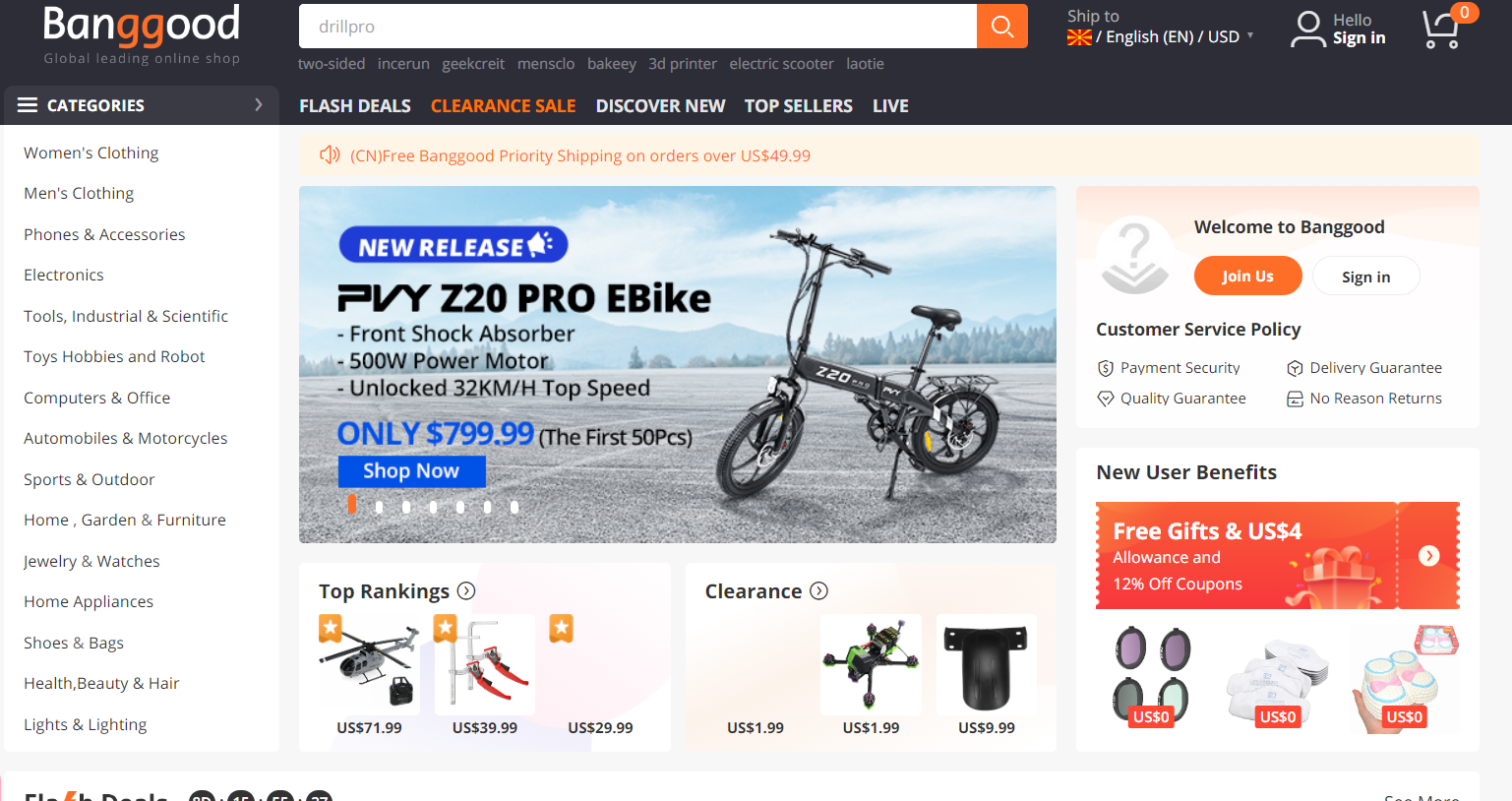 Banggood is a Chinese dropshipping supplier that sells a lot of products in different categories, including many watches. They have a huge catalog of more than 250,000 products, with over 2108 watches in the watch category alone.
One of Banggood's main features is its global warehouses, which helps them to process and ship orders quickly from nearby warehouses. They also ship internationally and have low-priced products in the dropshipping watches niche, starting from $5 to $450.
Banggood accepts over 40 different payment methods, including Klarna, PayPal, MasterCard, Visa, and American Express. They can also connect with popular e-commerce platforms like WooCommerce, Shopify, and Wix through API integration.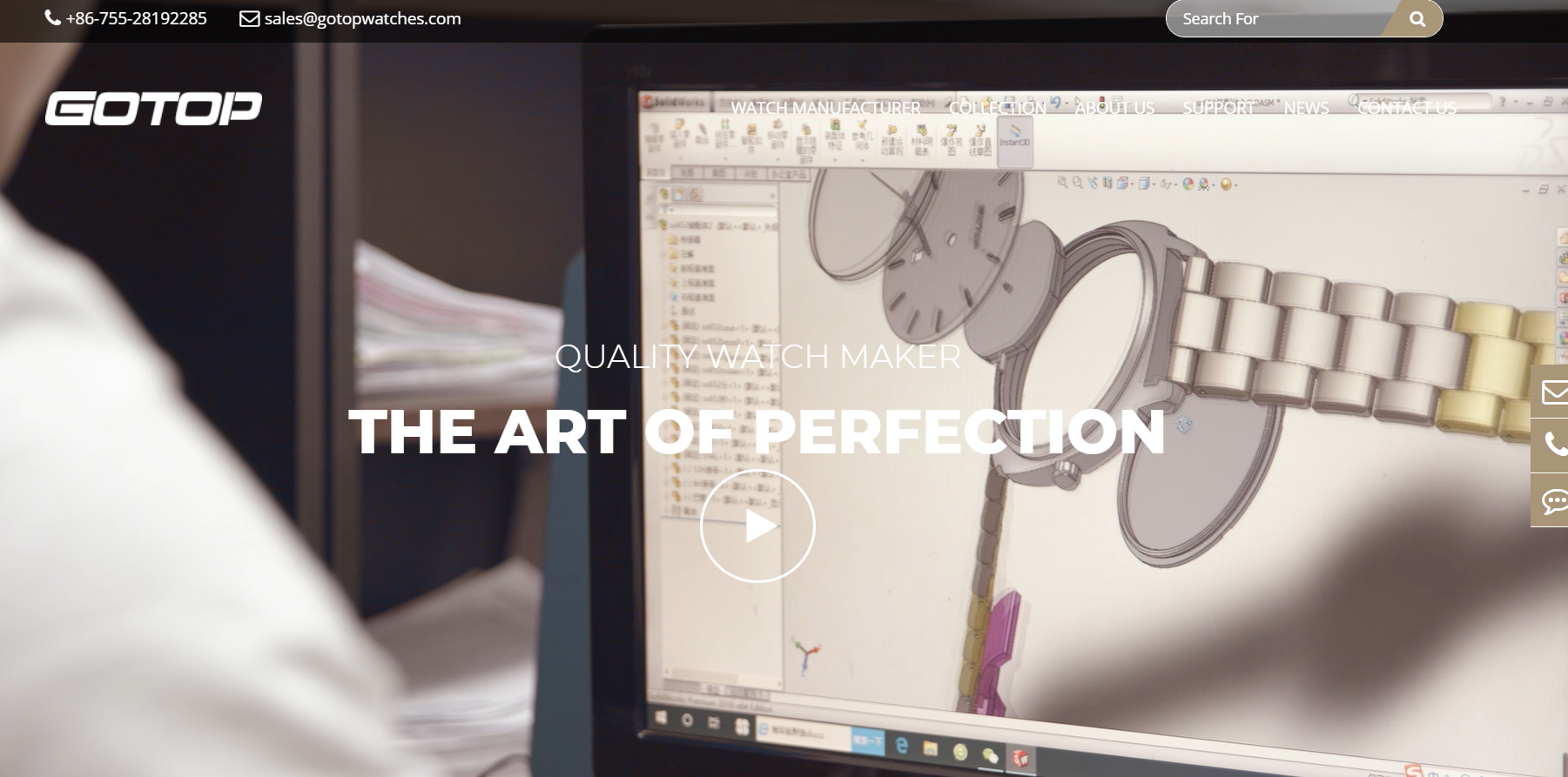 GoTop is a company that makes really good watches and can ship them directly to customers. They have a special place where they work that is very clean, and they offer this service for both men's and women's watches.
The best part, If there is something wrong with a watch after it has been bought, they will fix it in about a week.
Furthermore, they accept different kinds of payments like wire transfers, letters of credit, PayPal, and O/A. However, they require an MOQ of at least 100 watches or less.
How To Dropship Watches Like a Pro
You do not want your items to go unnoticed, do you? That's why we would like to help you learn how to dropship watches like a seasoned entrepreneur.
Just employ the following tactics that will keep your customers coming back for watches again and again.
1. Put your website visitors in the mood to spend
Create an online store that reflects the kind of watches you are about to sell. You need to choose the right theme, upload high-quality product images, display contact information, set up diverse payment methods, write a great brand story, etc.
Also, you can start a blog and publish valuable posts about how to wear a watch with style, gift ideas for watch lovers, watch trends, and so on.
2. Turn features into benefits when creating your product descriptions
When creating your product descriptions, ensure they are both comprehensive and simplified. Avoid overwhelming your customers with unnecessary info.
Instead, focus on what your dropshipping watches offer to satisfy the needs, desires, and wants of your customers. Also, make sure you present the product info in a clear and sort of bullet-point method.
3. Price your watches correctly
Dropshipping profit margins and pricing are two very important things you need to consider when dropshipping watches.
To price your watches correctly, it is imperative to add up all of the costs involved in bringing your watch to market, set a good profit margin, and there you have it.
And remember that your first price will not be your last. Sure, you can change your prices later. But it is important to pick a time frame that makes sense.
Also, you need to find the right balance between growing your dropshipping business and not driving away your customers.
4. Expand your product range
Even though we strongly recommend that you focus on and specialize in one specific niche, it may be a good idea to add related items like belts, sunglasses, jewelry, and other accessories to your portfolio of products. The choice is yours, of course.
Check the Free List of the top 10 Dropshipping Sunglasses Suppliers.
Join the only community and resource hub you'll ever need to succeed with dropshipping
Find winning dropshipping products, learn marketing, download templates and engage with real dropshippers
Never pay for a "guru's" course again. See why 4543+ dropshippers joined us this year!
💡Try DSCOM Hub Now
The bottom line
If you're thinking of dropshipping watches, it can be a potentially lucrative business for you. With a revenue of $75.75 billion USD and a 4.44% annual expansion rate in the watches industry, it's an attractive investment space.
The good news is we have done the work for you! We've listed the 7 Best dropshipping watches suppliers and winning products to make your life easier.
What's more, we got you some EXTRA info on this topic. Some of the top-trending dropshipping watches to sell online include luxury watches, casual watches, digital watches, smartwatches, bracelet watches, and sports watches.
Don't wait any longer, start dropshipping and capitalize on the evergreen jewelry trend today!