Free Dropship Websites: Start Dropshipping With $0
by
Aleksandra -
Aleksandra teaches marketing and management at various levels in High School. She writes about marketing, the economics and logistics of the dropshipping business and ecommerce in general.
Chief of Content Marketing
Are you looking to start a dropshipping business but don't have the budget? Don't worry, there are free dropship websites out there that can help you get started with no upfront costs.
In this article, I will cover the basics of free dropship websites, how they work, and which ones are the best for your business.
By the end of this post, you'll have a better understanding of how to start dropshipping with $0.
What Is Dropshipping & How Does It Work?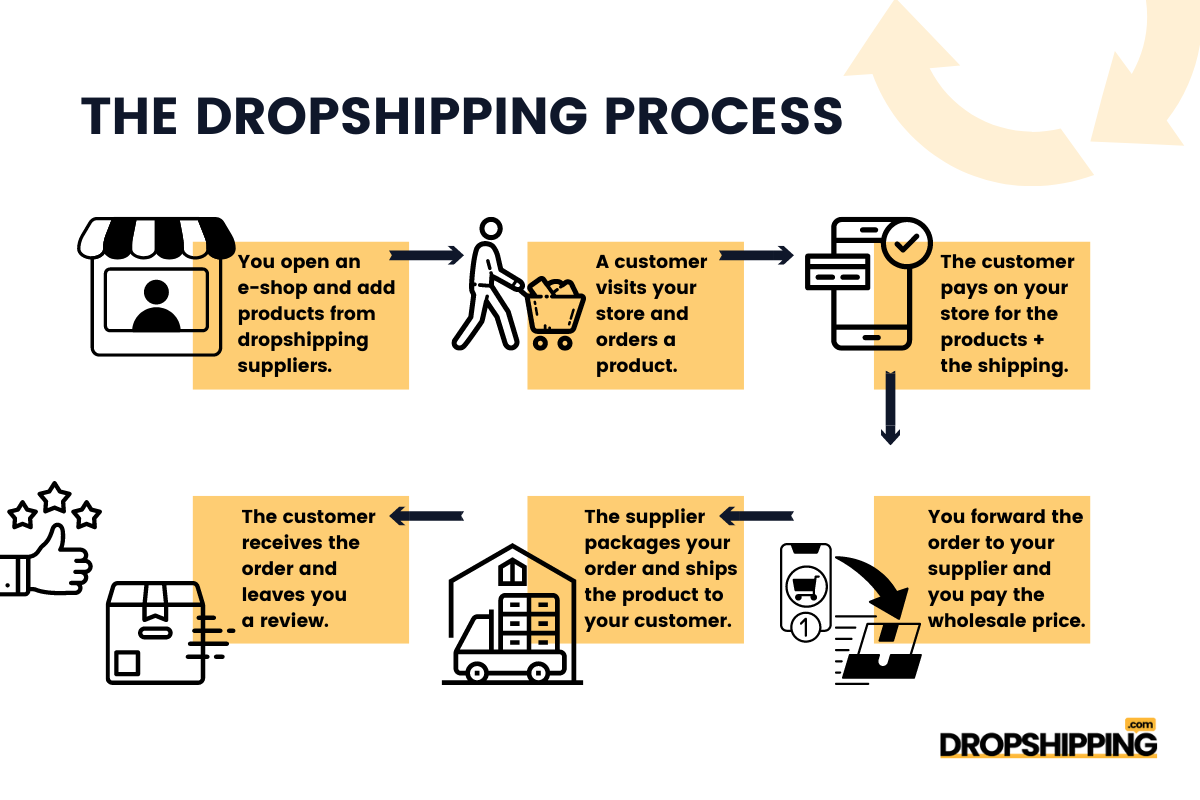 First, let's give a quick explanation of what dropshipping is.
Dropshipping is a retail fulfillment method where a store doesn't keep the products it sells in stock. Instead, when a customer orders, the store purchases the item from a third party and has it shipped directly to the customer.
Thus, this means that the store doesn't have to handle the product physically or keep inventory, making it a low-risk and low-cost option for e-commerce businesses.
💡Tip: Everything You Need To Know: Dropshipping Business Model Explained.
Lifetime deal: Get all-access to everything on Dropshipping.com
Access all DSCOM features, resources, courses, live workshops, discounts, winning products, weekly deep dives, directories and all future updates under all-in-one dropshipping HUB.
DROPSHIPPING IS A REAL BUSINESS, DON'T DO IT ALONE. 4553 MEMBERS ALREADY JOINED. YOU CAN PAY OFF YOUR SMALL INVESTMENT WITH JUST 2 SALES ON YOUR STORE.
Grab the deal before it's gone
Benefits of Dropshipping
Dropshipping business can be highly profitable, and it has many benefits. Of course, I am not saying there aren't struggles you would have to deal with. There are! However, there are various dropshipping tips and tricks to win this struggle.
👉 First, read about the Pros And Cons Of Dropshipping: Does It Actually Work?
Now, let's see what you can benefit from when dropshipping!👇
1. Low start-up costs
While every business has startup costs, dropshipping businesses have lower startup costs compared to other online or brick-and-mortar businesses.
To begin with, you have the option of building a dropshipping store from scratch or using website builders, which offer a range of options from free to premium memberships.
👉 Check out my Shopline Review: Is It Worth For Setting Up A Dropshipping Store?
Similarly, the costs of hosting, marketing, and dropshipping tools vary depending on your preferences. This means you can start dropshipping for free if you choose to.
💡 Tip: Discover How To Advertise Your Dropshipping Store For Free.
👉 Learn more about How to Start Dropshipping for Free in 2023? (Risk-Free Guide).
2. Wide range of products
When it comes to the range of products to offer, dropshipping businesses have a wide variety of niches and products to choose from.
However, beginners should conduct thorough research to find winning products and choose the best dropshipping niche accordingly.
👉 Check out How To Find The Best Dropshipping Niche for Big Profits [Top 10 Niches].
What's more, while there are many products to sell, remember that sometimes less is more. So, consider trying a one-product store as well. In fact, if you want to build a dropshipping brand, this might be the greatest option.
For example, I personally use Pipiads as my product research tool since I am searching for winning products on TikTok. So, what I love the most about this tool is that it allows me to filter and sort products based on various criteria such as location, price, category, ad impressions, and likes. 👇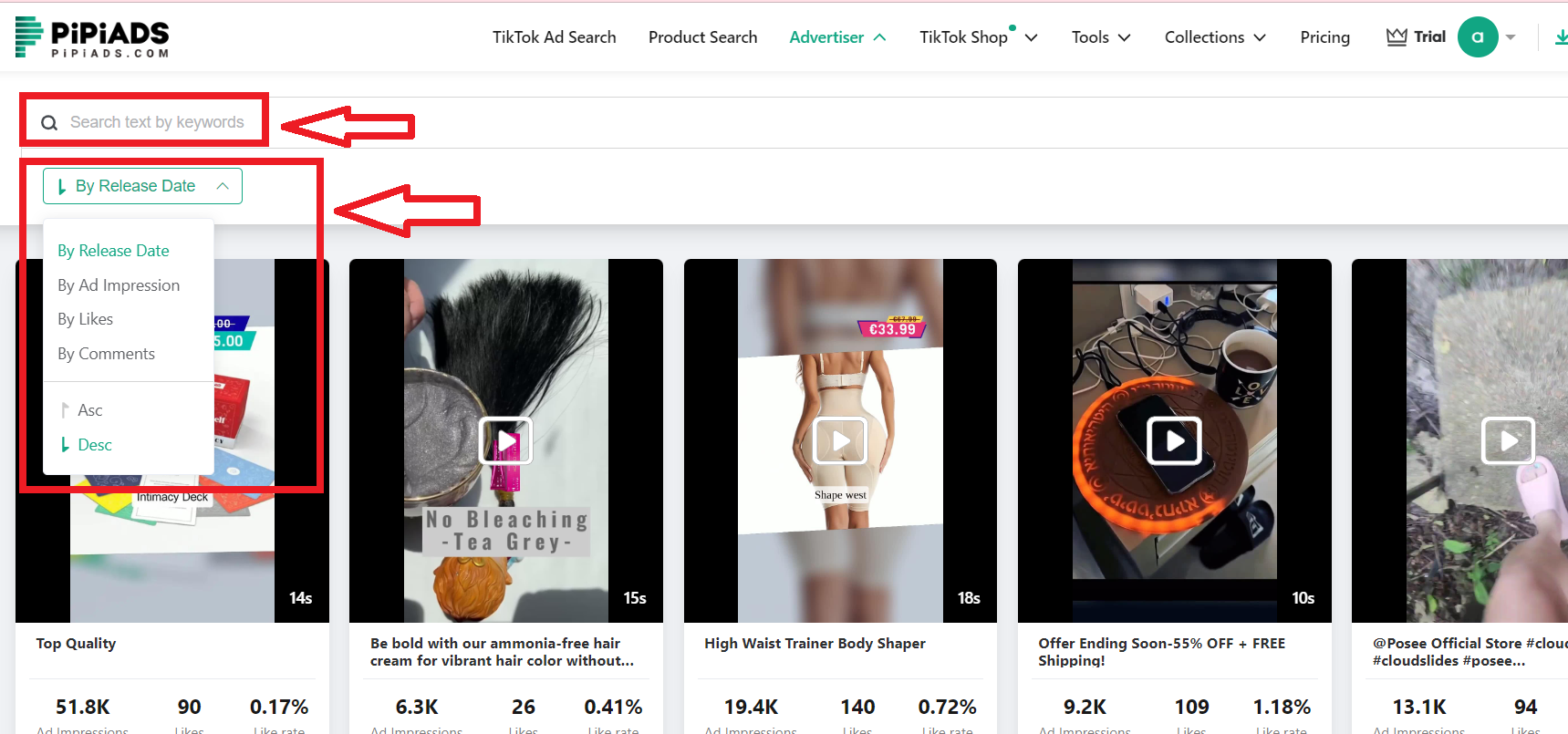 💡 Tip: Also, check out my PiPiADS Review 2023: Is This The No. 1 TikTok Ad Spy Tool?
3. Low inventory costs
Another advantage of dropshipping is that it has low inventory costs.
Thus, unlike traditional businesses, dropshippers don't need to maintain an inventory, store goods, or invest in a warehouse.
Instead, they delegate all these responsibilities to their dropshipping suppliers, who have warehouses and act as warehouse facilities.
For example, I use Inventory Source automation tool to help me track my inventory.
👉 So, check out the Inventory Source Review: The Best Automation Software for Dropshipping?
4. Scalability
Finally, dropshipping businesses have a scalable business model that allows you to grow and expand your reach, traffic, and revenue.
Hence, by adjusting your product prices and marketing methods, they can easily scale growth without the complex cost accounts.
👉Read about Dropshipping Profit Margin: A Step-By-Step Guide For Beginners.
Dropshipping with Zero Start-up Costs: Is it Possible?
Starting a dropshipping business with no money may seem daunting, but it's definitely possible with a bit of effort and research. In fact, there are a variety of ways to get started without breaking the bank.
👉 Also, read about What Is The Minimum Budget To Start Dropshipping With Shopify?
Here are some tips to help you get started:
🔹 Use free website builders
First, you can take advantage of free website builders like Shopify, Wix, or PageFly to create your online store and showcase your products. This makes it accessible to beginners without a large budget for web development.
👉 Check out the 12 Best Shopify Spy Tools To Do Competitor Research.

Also, you can create a professional-looking online store without the high costs associated with custom web development.
These platforms offer a variety of customizable templates, ensuring your store looks unique and appealing. Plus, many free website builders ensure your store is mobile-responsive, which is crucial in reaching a broader audience.
👉 Check out the 8 Best Alternative Dropshipping Website Builders.
🔹 Source free dropshipping suppliers
Finding reliable and cost-effective dropshipping suppliers is critical to the success of your business.
For example, the Dropshipping.com supplier directory offers a range of suppliers that won't cost you a dime.
Thus, free supplier directories like this one can significantly reduce your initial business costs. You don't have to pay for access to a list of potential suppliers. Also, they often include a wide range of suppliers, allowing you to explore different niches and product offerings.
🔹 Take advantage of free shipping options
Many suppliers offer free shipping or low-cost shipping options, allowing you to save money on shipping costs. So, this can help you start dropshipping with $0 costs as well.
Not just that, but you can use free shipping as a selling point in your marketing strategies to attract more customers.
🔹 Market your store for free
There are a number of free marketing strategies you can use to promote your dropshipping store, including SEO (Search Engine Optimization).
Thus, by incorporating relevant keywords, meta descriptions, and tags into your website and product pages, you can attract organic traffic to your website.
Also, leveraging free social media platforms can help you reach a broader audience and build a community around your brand.
What's more, building an email list and sending targeted, valuable emails to subscribers can drive sales without significant costs.
👉 Check out the 14 Best Dropshipping Marketing Practices For Your Online Store in 2023.
This is all nice, but why waste your time searching for free dropship websites? That's why I will list you as the TOP 24 Free Dropship Websites for many dropshipping purposes. 👇
Top Free Dropship Website to Find Dropshipping Suppliers
👉 Check out the Top FREE 12 Dropshipping & Ecommerce Blogs.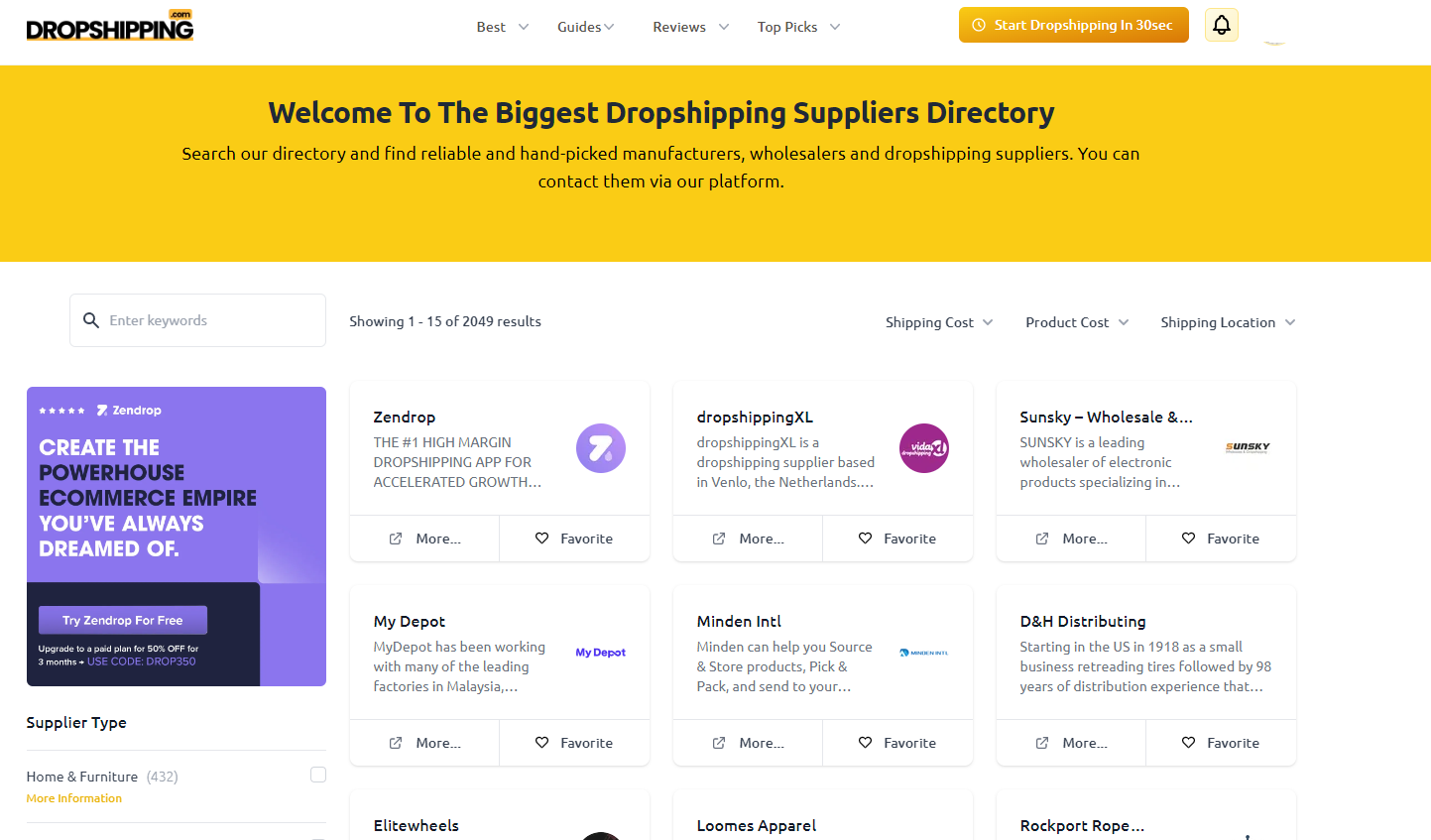 Dropshipping.com has a huge supplier directory with over 2000+ dropshipping suppliers to choose from. Thus, you can list the suppliers according to category niche, or other filters, like
shipping costs
location
product costs
What's more, it is totally free!
Also, once you click on a specific supplier, you will get all the information you need about them, such as
supplier description
location
product costs
average order processing time
shipping cost
MOQ requirement
Contact info
For example, take a look. 👇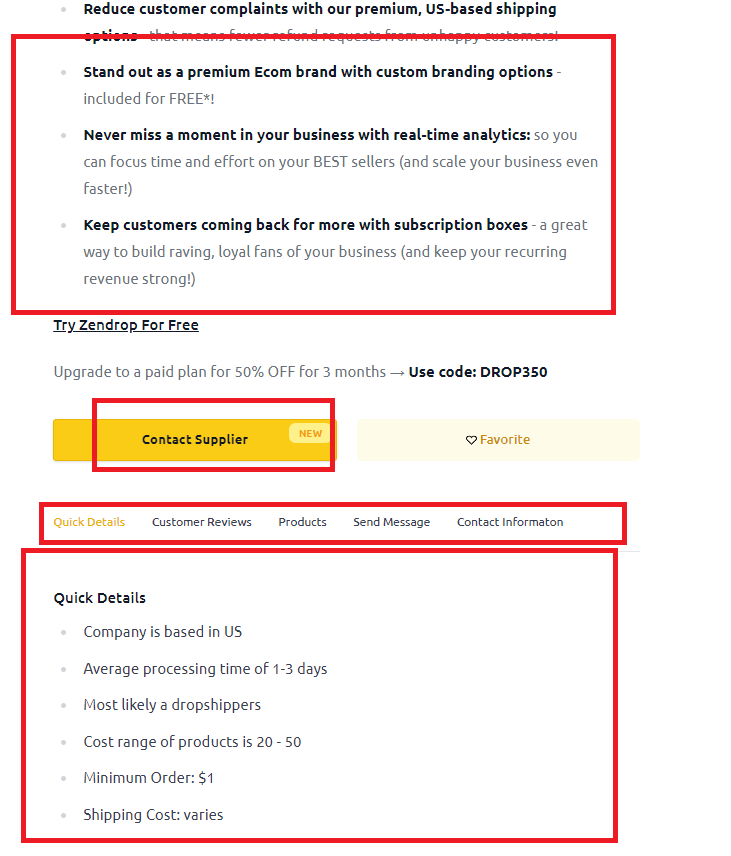 What's more, you can also ask the Dropshipping.com team to contact the suppliers for you.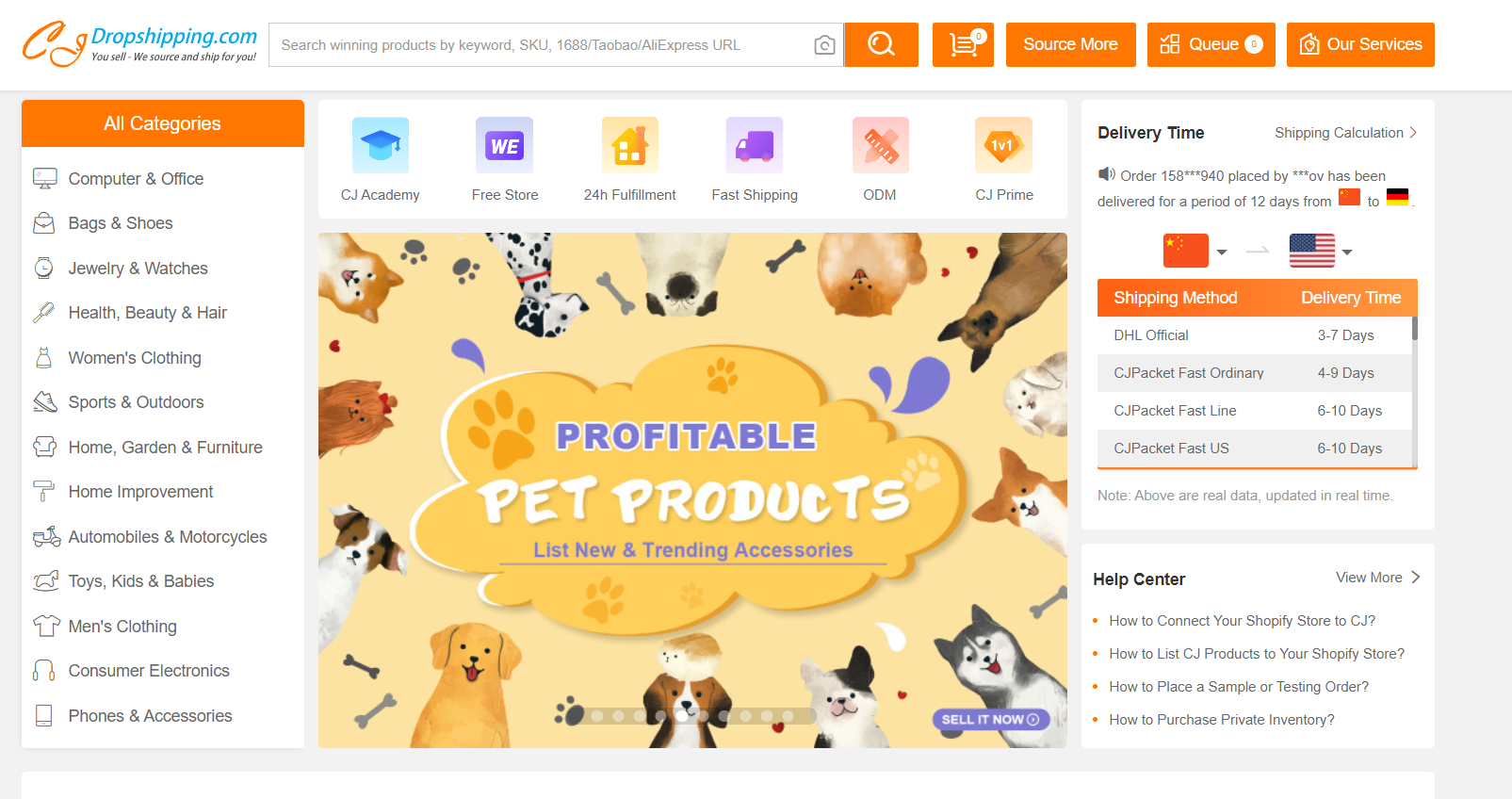 This is a dropshipping supplier and fulfillment service that's become a trusted partner for dropshippers across the globe.
Thus, CJ Dropshipping's extensive supplier base spans thousands of suppliers and wholesalers from all over the world. Moreover, they have warehouses in multiple locations, including the US, Europe, and Asia.
Plus, they offer a variety of products, ranging from trendy clothing and top-of-the-line electronics to must-have home goods and beauty products.
Moreover, one of the biggest draws of CJ Dropshipping is its keen eye for quality. Their supplier base includes many high-quality, reliable suppliers that are carefully vetted and monitored by the company's team of experts.
But that's not all! CJ Dropshipping offers a variety of features that streamline the dropshipping process, making it a breeze for businesses of all sizes.
Thus, their easy-to-use platform allows dropshippers to easily import products, manage orders, track shipments, and access real-time inventory information, all from one central location.
The best part, it is free to use!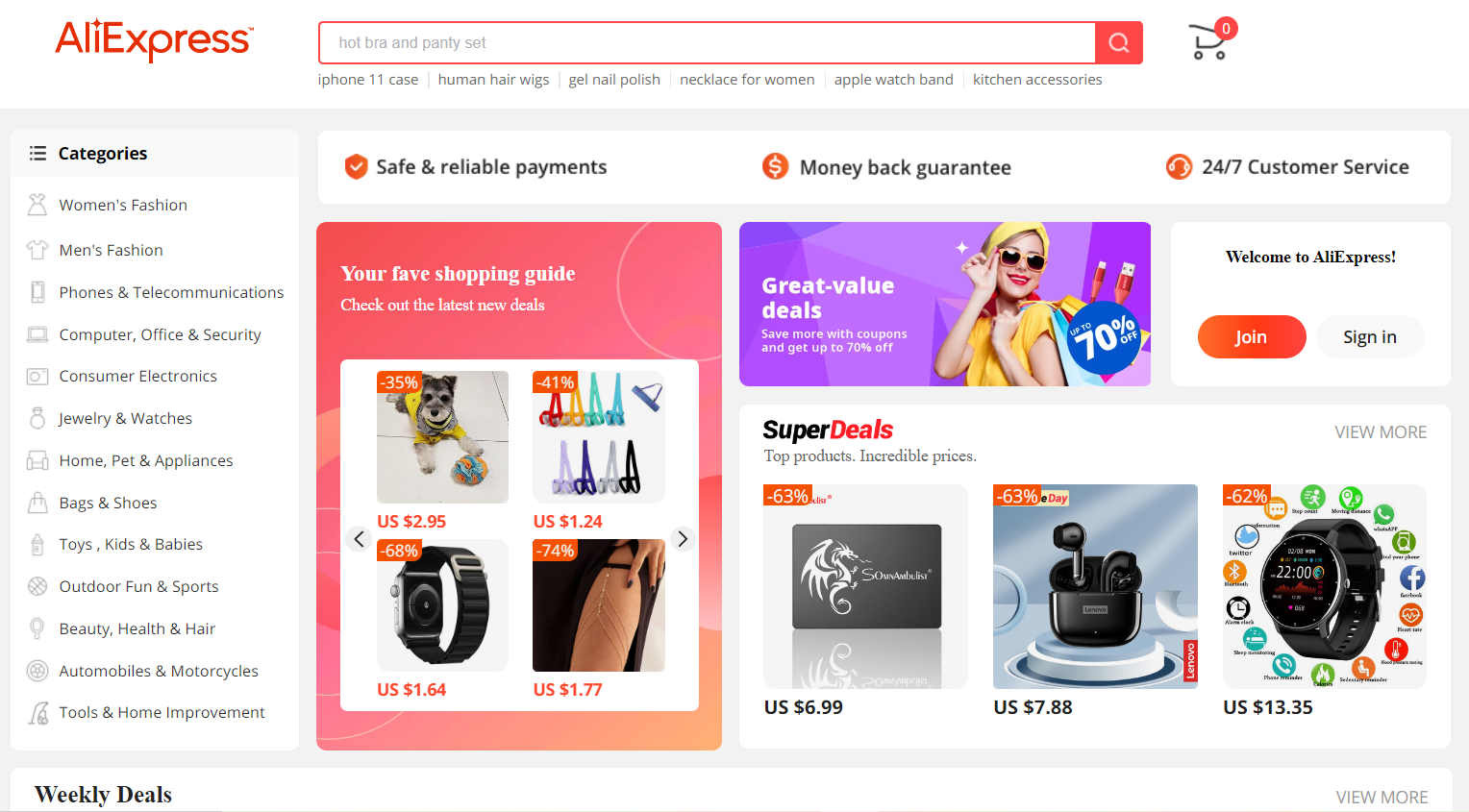 AliExpress is one of the world's leading online retail platforms, connecting buyers and sellers from around the globe. The platform boasts a vast supplier base that includes over 100 million products from over 200 countries and regions.
What's more, suppliers are carefully vetted and undergo a strict screening process before they are allowed to sell on the platform. This ensures that buyers have access to products from reliable and trustworthy suppliers.
Furthermore, you can view detailed supplier profiles that include information such as:
supplier's location
products offered
transaction history
customer feedback
👉 Check out the Top 11 Dropshipping AliExpress Chrome Extensions.
Also, to access supplier data on AliExpress, you can use the platform's built-in search filters, like
product category
supplier location
customer ratings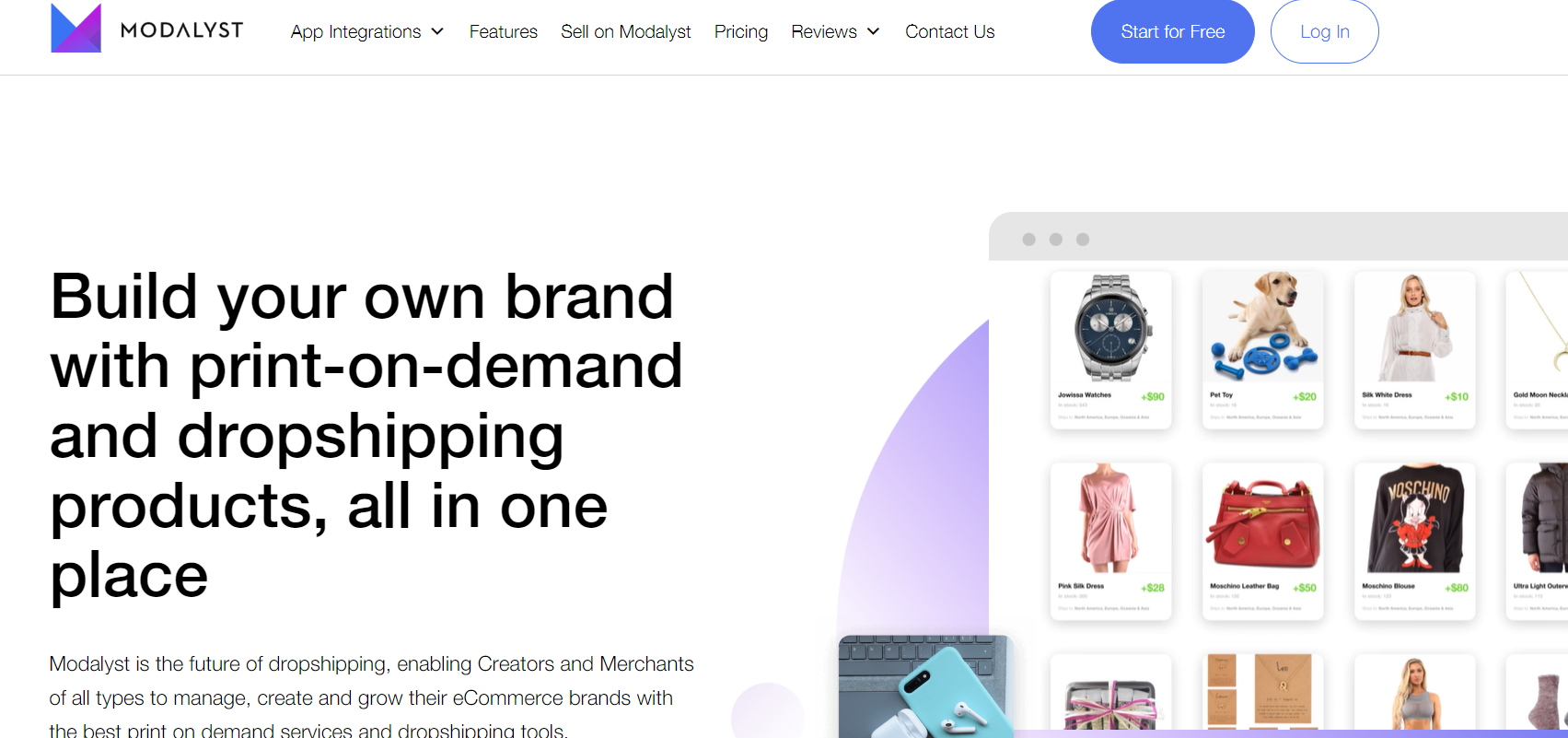 Modalyst is a free dropship website that connects retailers with a network of reliable suppliers from around the world. But what truly sets Modalyst apart is the unique features and benefits offered by its supplier base.
First, they offer a carefully curated selection of suppliers who have been rigorously vetted and selected for their quality products and services. Thus, this ensures that retailers have access to only the best suppliers.
What's more, you can view comprehensive supplier profiles that include information such as
product catalogs
pricing information
customer reviews
More importantly, Modalyst's supplier base is focused on dropshipping. Hence, this means that they handle the logistics of shipping products directly to customers on behalf of the retailer.
Furthermore, if you want to upgrade for more features, here are the pricing plans of Modalyst.👇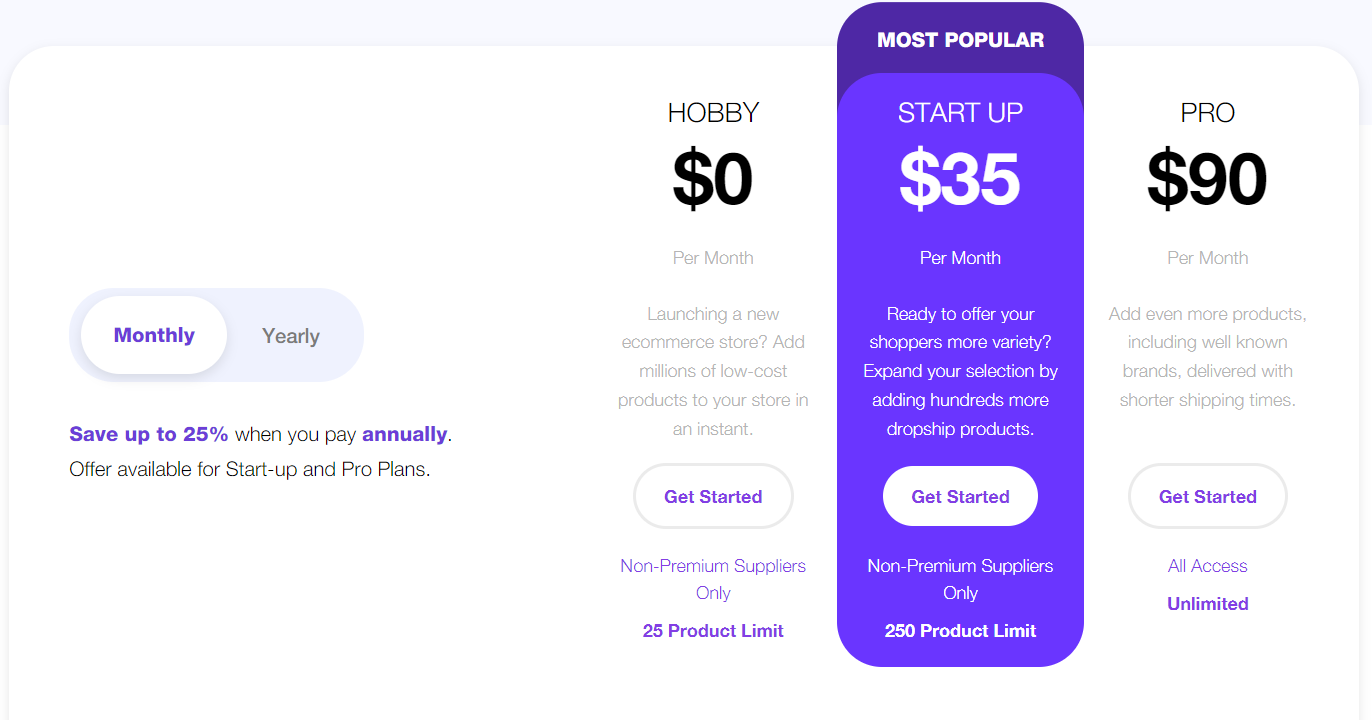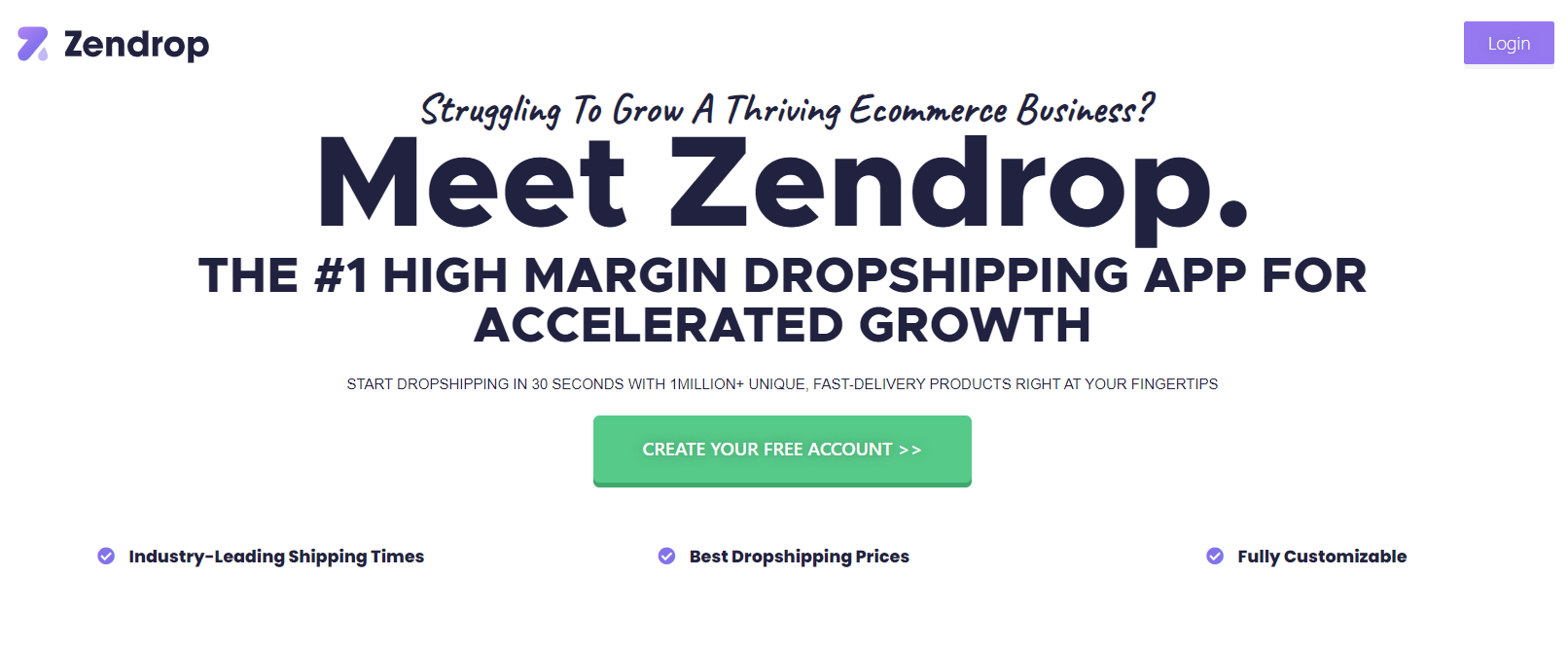 When it comes to sourcing from reliable dropshipping suppliers, Zendrop stands as my preferred choice. Consequently, it ranks among the top-notch options for dropshippers looking for free dropship websites.
Zendrop is a purpose-built dropshipping platform, thoughtfully crafted by seasoned dropshippers for fellow dropshippers. This software effectively addresses the common challenges associated with conducting dropshipping operations originating from China.
In essence, Zendrop serves as an expansive marketplace, offering a diverse array of budget-friendly products primed for integration into dropshipping stores, subsequently fetching higher selling prices.
The platform boasts an extensive product catalog, encompassing a staggering one million items across a multitude of categories. These encompass fashion, home and kitchen, beauty and personal care, electronics, sports and outdoor gear, children's products, and more.
What's particularly noteworthy is Zendrop's auto-fulfillment feature, which seamlessly routes customer orders directly to designated dropshipping suppliers, who, in turn, handle the order fulfillment process.
Furthermore, Zendrop affords the option for custom packaging and private labeling, albeit with a minimum order quantity (MOQ) requirement.
Zendrop offers three distinct pricing plans: one that is entirely free, another priced at $49 per month, and a premium plan available at $79 per month.
👉 Check out my Zendrop Review: Zendrop Shopify Pricing, Features, Pros & Cons, Shipping Times.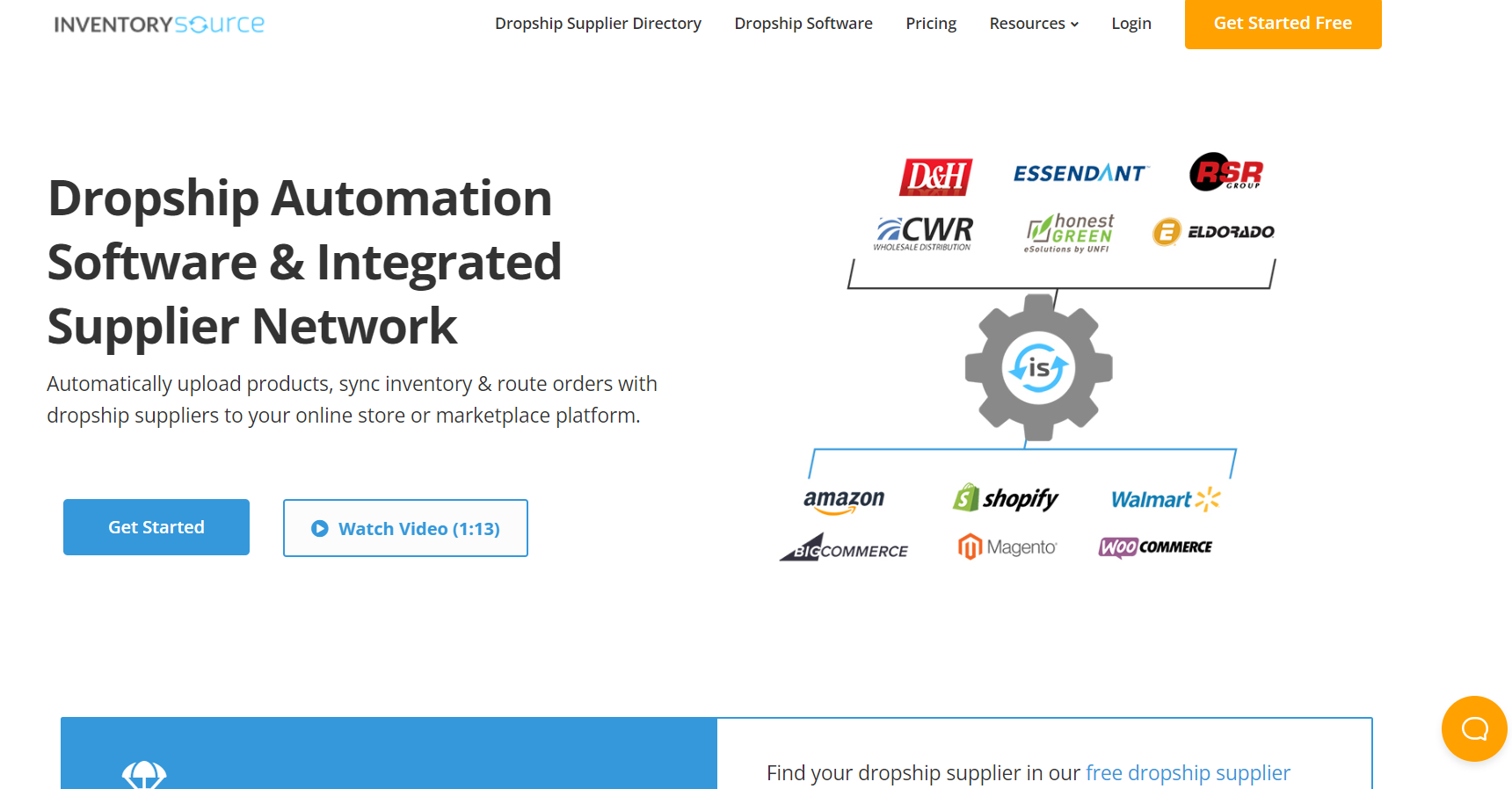 Inventory Source offers an extensive solution that empowers you to uncover dropshipping suppliers and optimize your operational workflows. It's widely recognized as a leading choice for automating dropshipping procedures.
Moreover, it functions as a robust tool for inventory management and order processing. Additionally, it provides access to a diverse range of suppliers and facilitates the automatic importation of products to your online store.
Furthermore, it enables you to seamlessly synchronize product information and inventory levels across more than 25 e-commerce platforms, online marketplaces, and multi-channel management systems.
Inventory Source offers various pricing tiers, including a free directory account with no monthly cost, an Inventory Automation plan for $99 per month, and a Full Automation plan for $199 per month.
Top Free Dropship Websites to Find Winning Products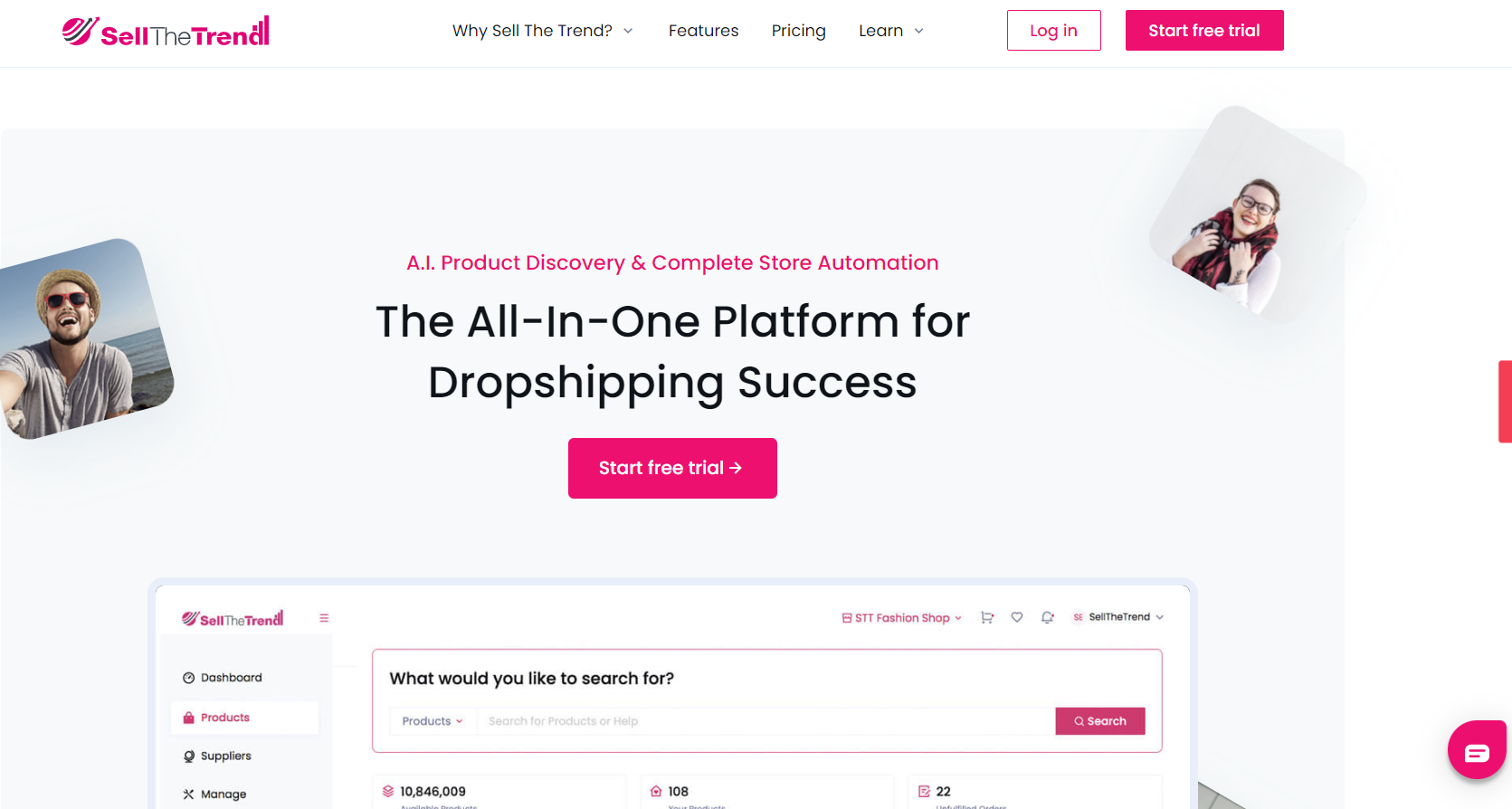 Sell The Trend is one of the best free product-finding tools with cutting-edge data-based predictive A.I. technology.
Thus, this powerful tool takes the guesswork out of finding winning products and allows dropshippers to focus on what really matters: building and growing their store.
The best part, one of the standout features of Sell The Trend is its three product explorers, which include AliExpress, Amazon, Shopify Store Explorer, and CJ Dropshipping Explorer.
These explorers provide valuable insights into the top trending products on each platform, giving dropshippers a leg up in the crowded and competitive world of dropshipping.
Hence, with a range of filters that allow you to sort products by price, order amount, positive feedback, and more. In other words, they make it easy to find products that are sure to sell. 👇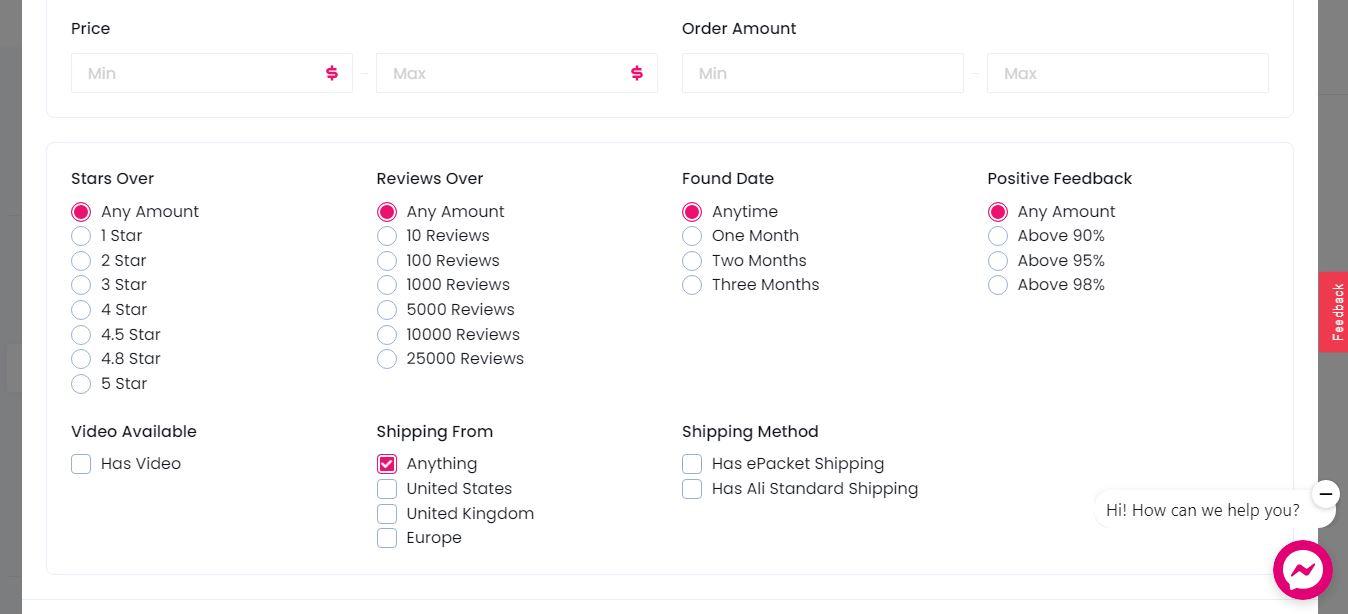 What's more, with the added bonus of product images and detailed information about suppliers, it's never been easier to make informed decisions about which products to add to your store.
Furthermore, Sell The Trend's NEXUS product research tool is another powerful tool that leverages A.I.-powered product discovery algorithms. 👇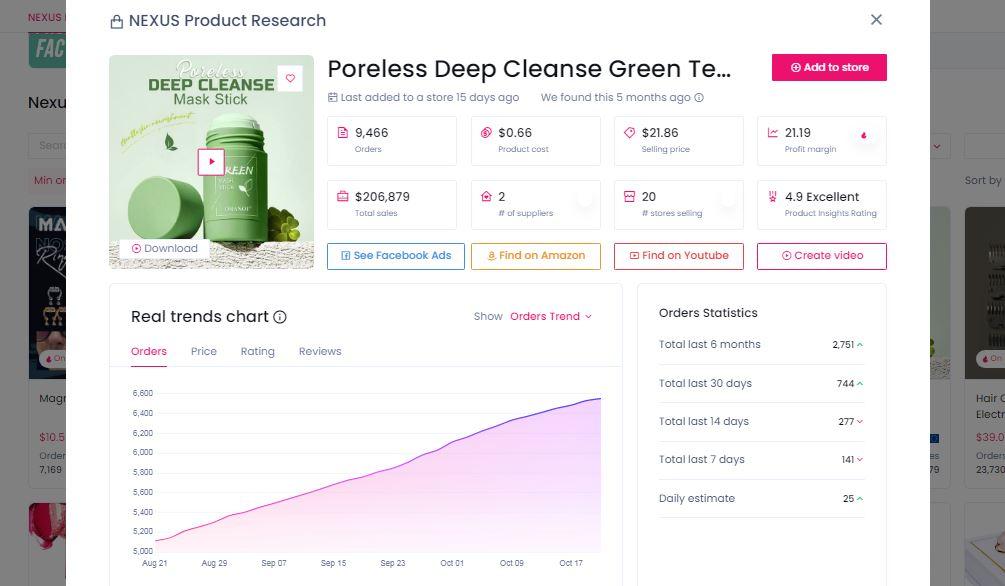 It gives critical insights into product profitability, like
selling price
product cost
profit margins
total sales
supplier information
product insights rating
Furthermore, this dropshipping tool offers a 7-day free trial. Afterward, you can subscribe to some of their pricing plans, starting at $17.97.👇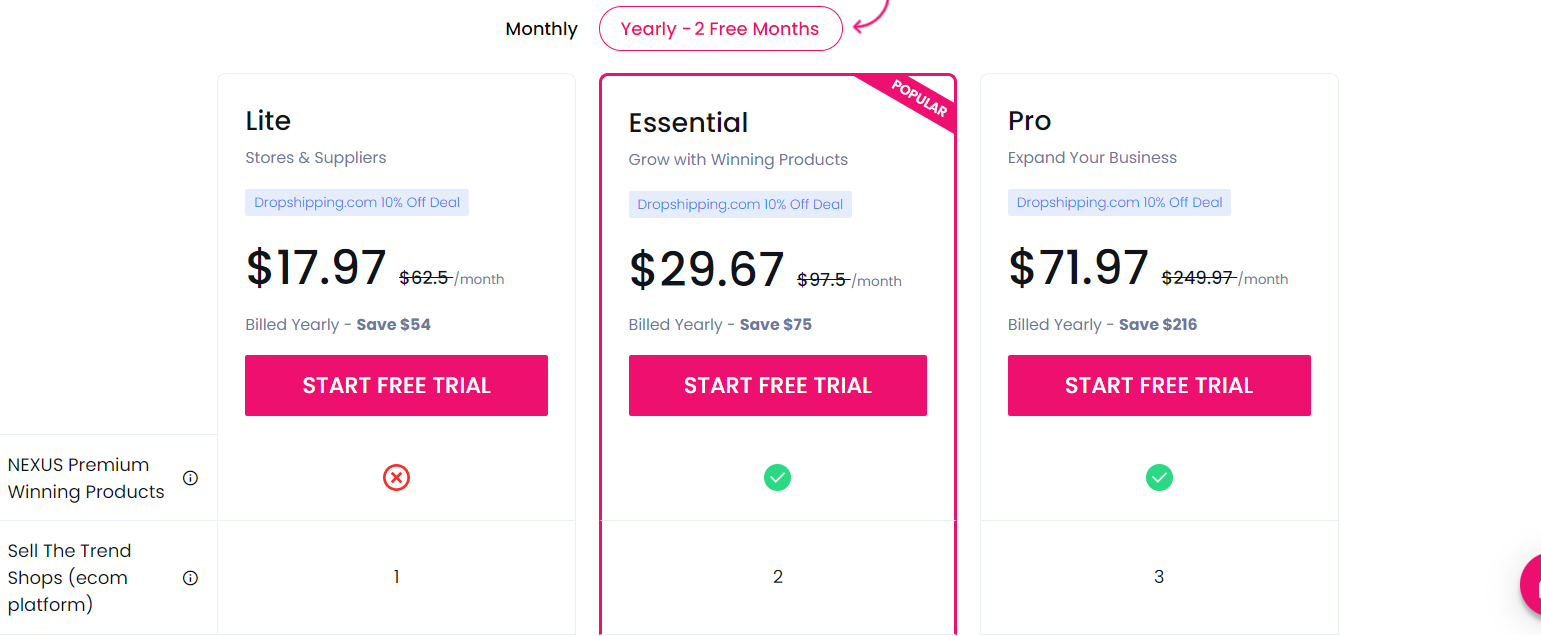 👉 Check out our FULL Sell The Trend Review: The All-In-One Dropshipping Tool [UPDATED].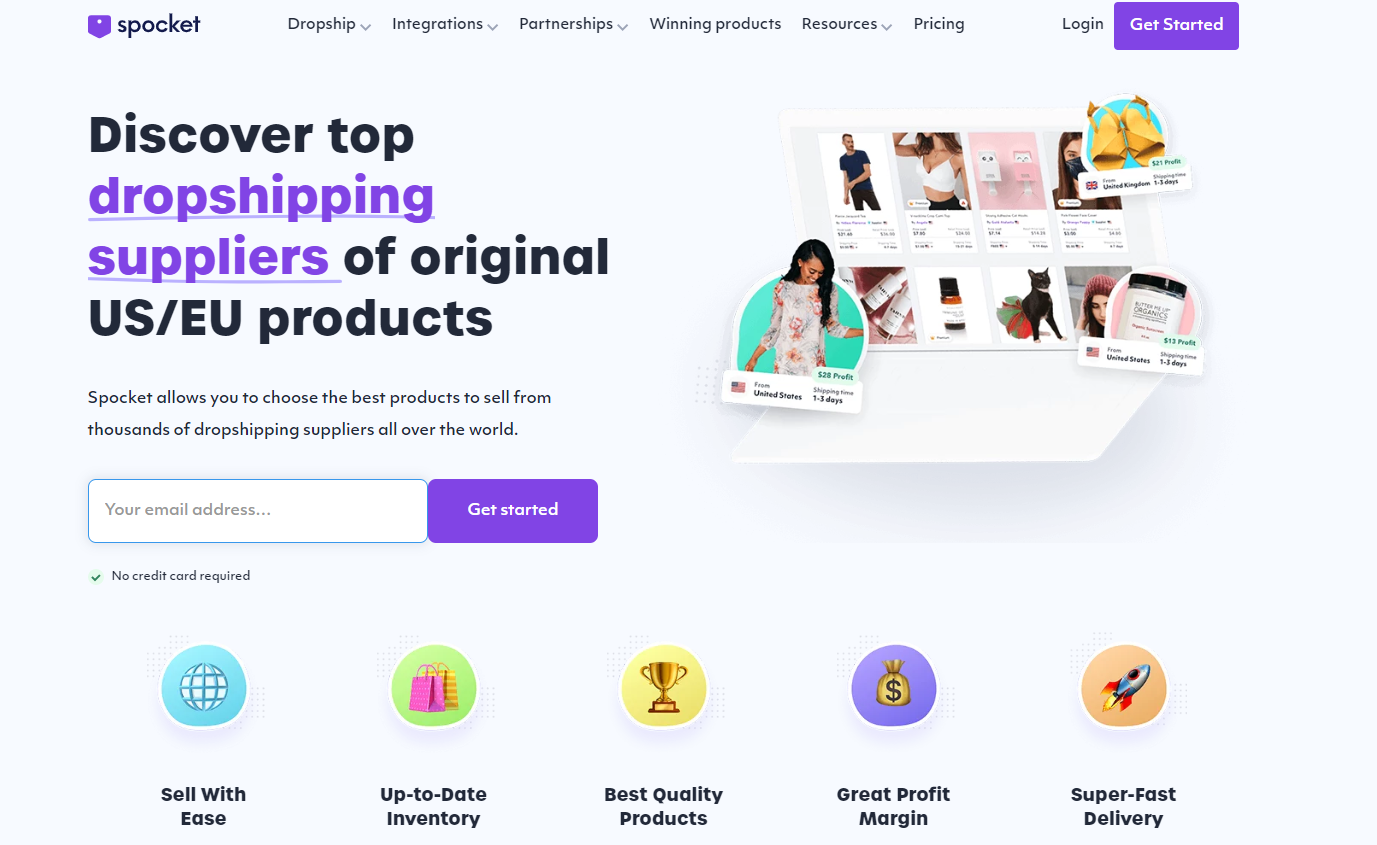 If you're a dropshipper looking for a reliable platform to source products from US and EU suppliers, Spocket has got you covered. Spocket is a marketplace where you can discover unique and high-quality products to sell in your store.
First, one of the most valuable features of Spocket is the product performance data. This data allows you to analyze the sales, revenue, and profit margins of the products that you're interested in. With this information, you can make data-driven decisions on which products to sell in your store.
Furthermore, automatic order processing allows you to focus on growing your business rather than managing orders. Thus, whenever a customer places an order in your store, Spocket automatically processes the order and sends it to the supplier for fulfillment.
Furthermore, Spocket is available for FREE for 14 days, and it has three other pricing plans starting at $24/month. 👇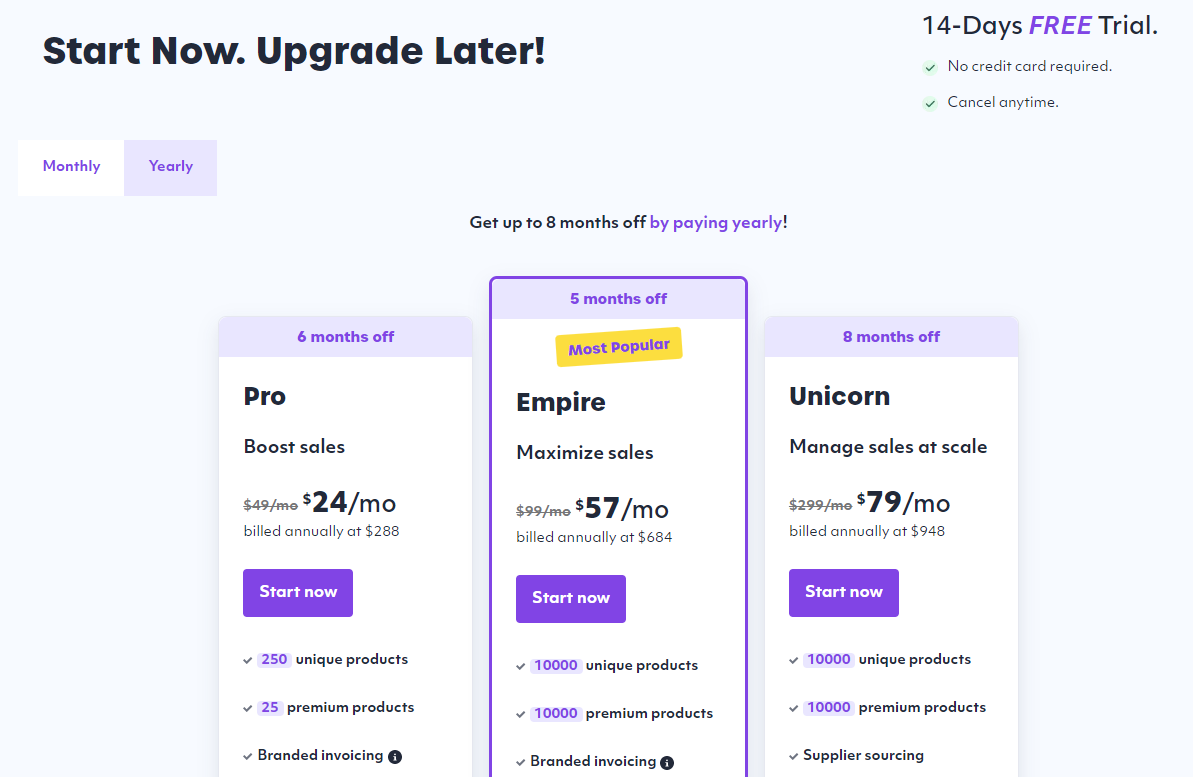 👉 Also, check out our review Spocket Dropshipping: The Ultimate Guide to Dropshipping With Spocket in the EU & US.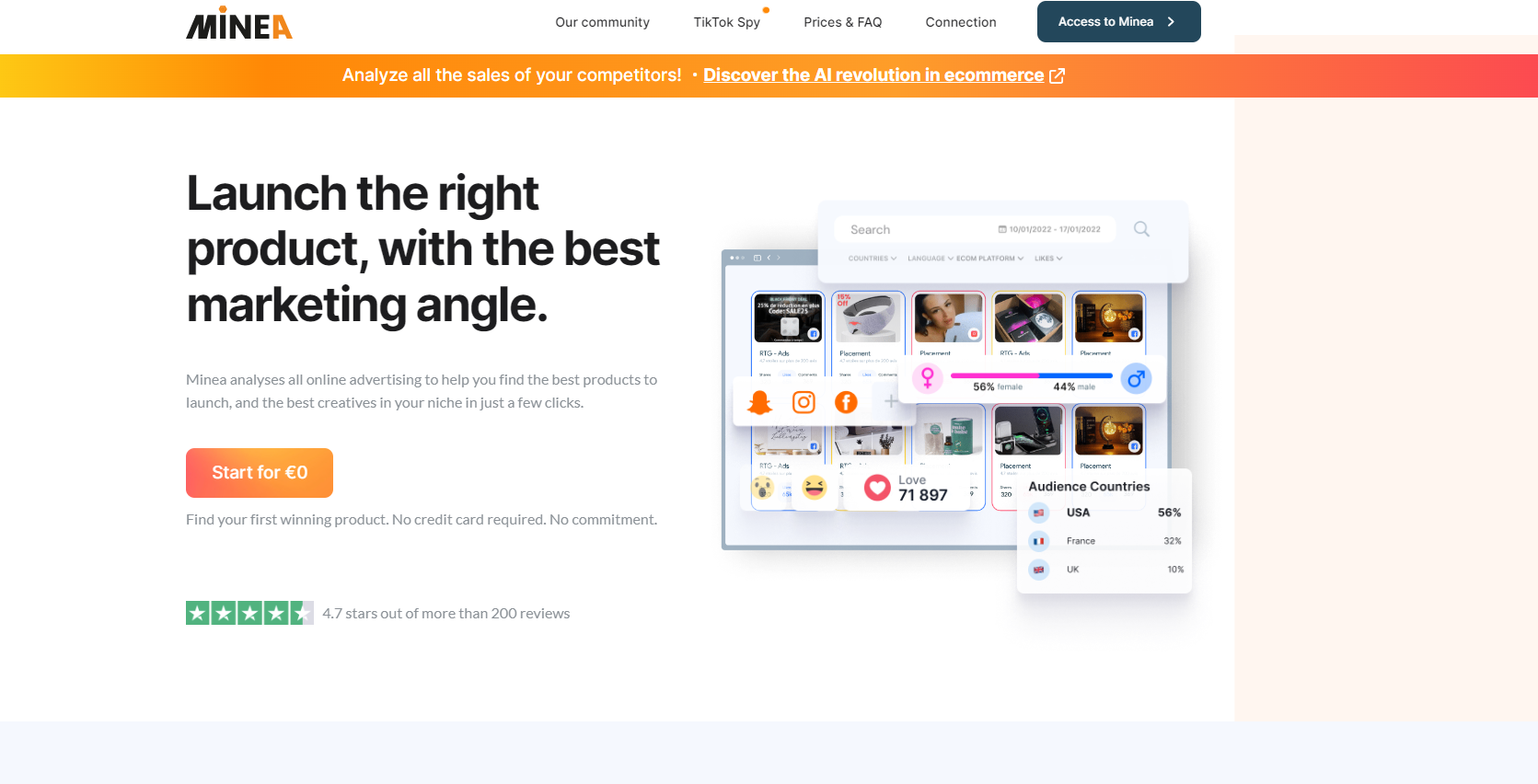 If you're looking for a complete tool for finding winning products and advertisements, look no further than Minea. This innovative platform is packed with features designed to help dropshippers stay ahead of the game and maximize their profits.
First, one of the standout features of Minea is its vast collection of ecommerce ads for Facebook, Instagram, Pinterest, and TikTok. This allows you to keep up with the latest trends and discover the best ads of the moment across all platforms.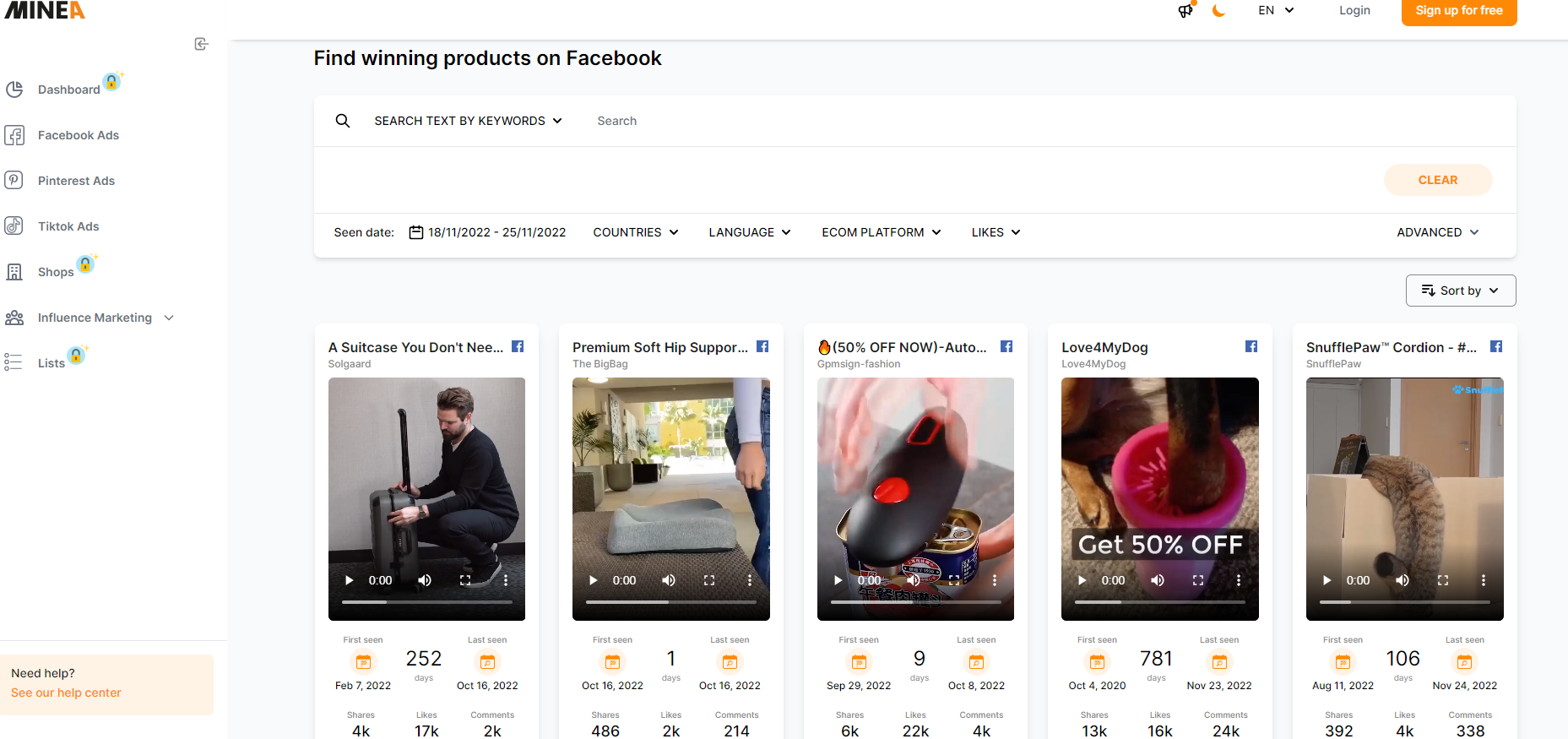 However, Minea isn't just about tracking ads. It's also a powerful tool for tracking product placements made by influencers across 30+ markets on all major social media channels.
Also, if you're looking for a competitive edge, Minea has you covered there too. So, with a detailed analysis of all dropshipping store's advertising strategies and results. So, you can spy on your competitors' creatives and marketing angles and learn from their mistakes.
Furthermore, you can try Minea for FREE. Also, if you want to upgrade, there are three pricing plans, starting at $49.👇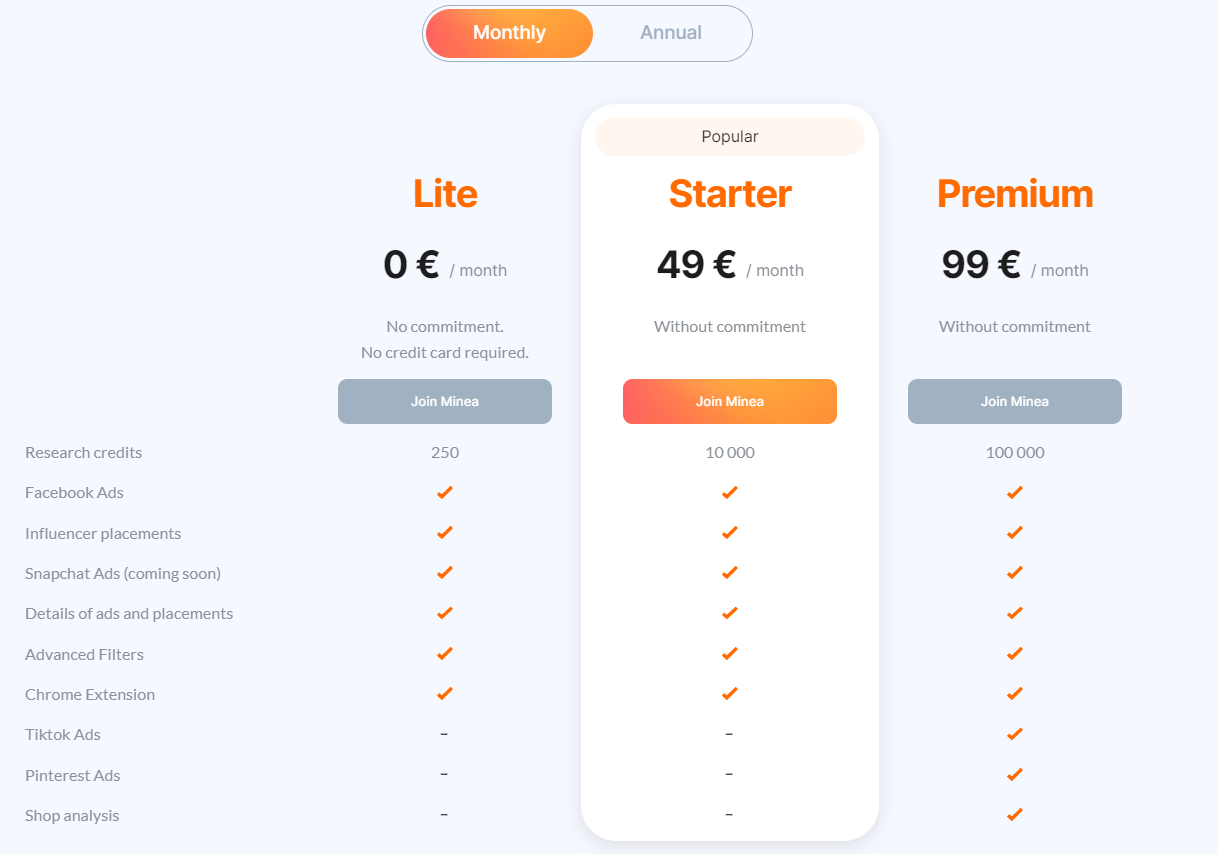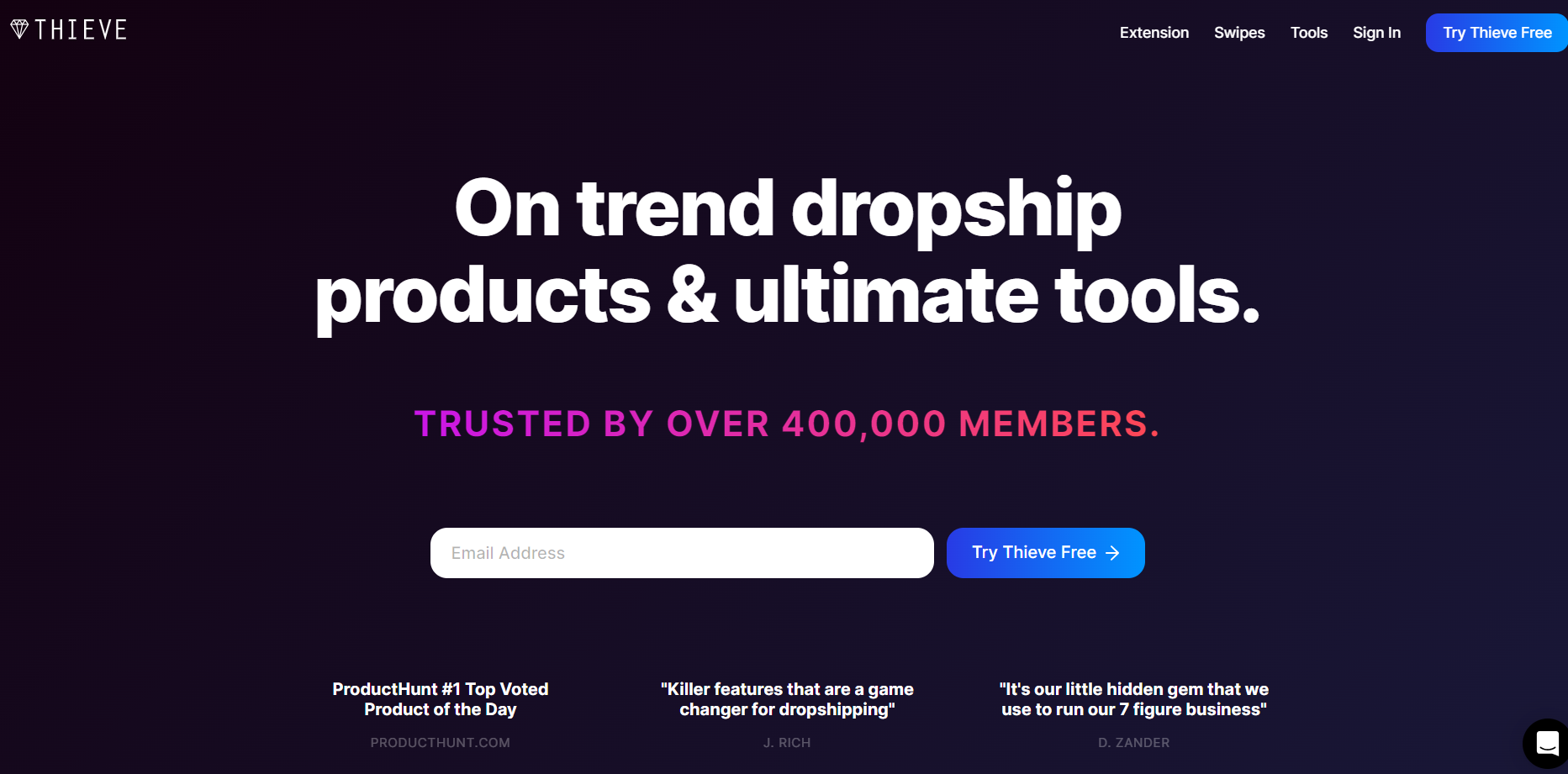 Thieve.co has proven to be an invaluable asset in my journey as a dropshipping store owner, revolutionizing my product research efforts entirely.
It offers a wide array of features that streamline the intricate process of finding the ideal products for my business. Notably, Thieve.co shines with its meticulously curated lists of products sourced not only from AliExpress but also from other renowned online marketplaces.
So, you can find products in various dropshipping niches, like Homeware, Electronics, Outdoors, Men's, Women's, Kids, Music, Sports, and many more. These lists are thoughtfully curated, guaranteeing access to the hottest and most sought-after products spanning a multitude of categories.
Furthermore, Thieve.co equips me with powerful search and filtering tools that enable precision in product discovery. I can effortlessly narrow down my quest based on keywords, niches, and even specific stores, aligning my product selection perfectly with my business model.
Also, the tool offers two pricing plans, starting at $8.08/month. However, both plans come with a 14-day free trial, allowing you to try out the platform before committing to a subscription.
👉 Check out my Thieve.co Review: Is This Product Research Tool Worth It?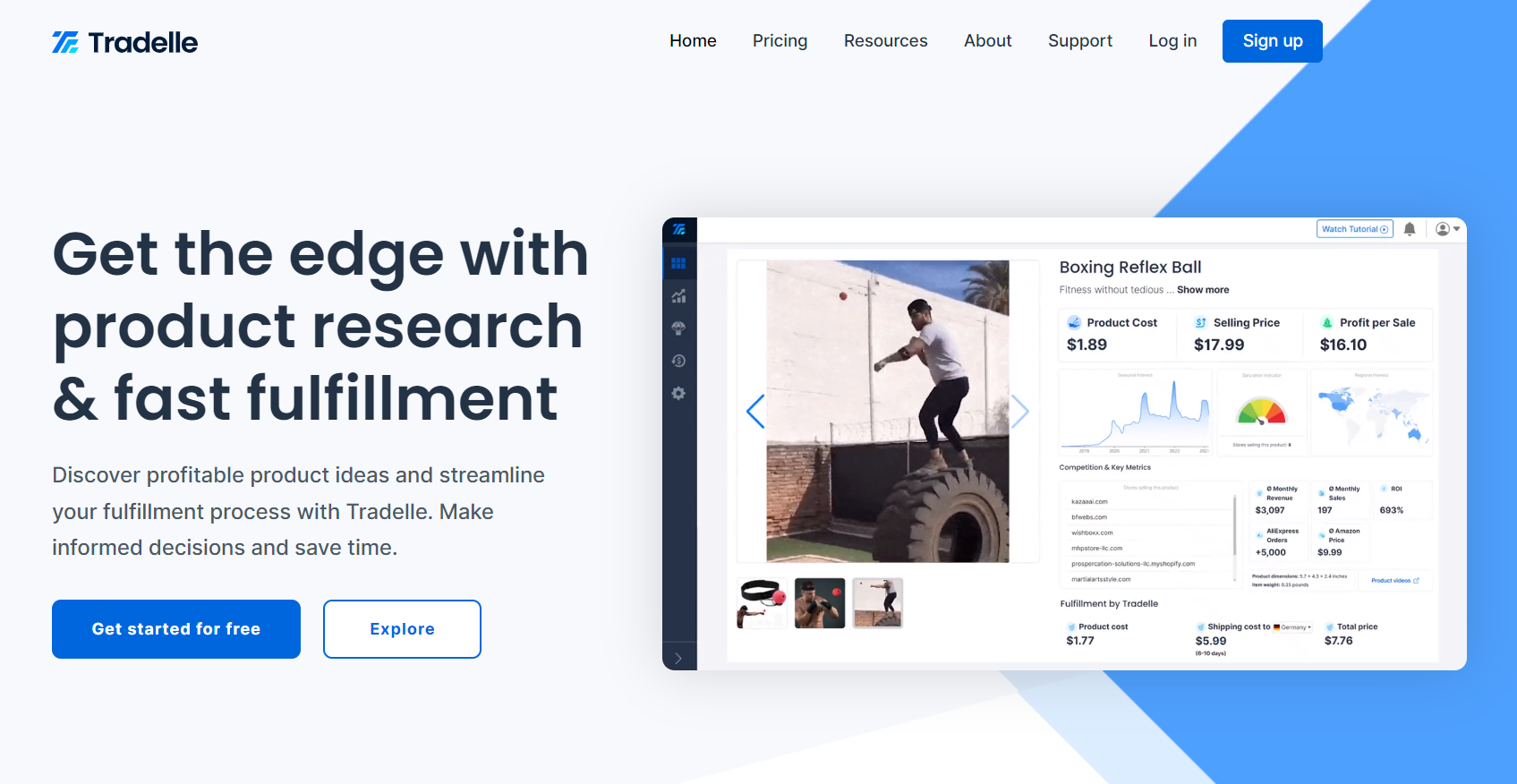 Tradelle.io stands as an all-encompassing product research tool, catering to the needs of dropshippers and online sellers seeking lucrative product opportunities. Also, with its diverse set of tools and a comprehensive platform, Tradelle.io emerges as a robust solution for conducting product research and facilitating informed decision-making.
Moreover, what truly distinguishes Tradelle.io from other product research services are its intelligent and potent features, delivering in-depth metrics and analytics to empower users in making well-founded choices.
The tool also has a vast catalog comprising millions of products, allowing users to seamlessly filter and evaluate factors like performance, profitability, and availability.
Moreover, the platform provides extensive market trends data, enabling users to track interest trends over time, assess market saturation, identify key selling stores, and gain insights into regional interest dynamics and product hotspots worldwide.
Tradelle offers a range of pricing plans, including a free trial option, a monthly subscription at $39.99 per month, and an annual subscription at $29.99 per month, making it accessible to users with various needs and budgets.
👉 Read my in-depth Tradelle.io Review 2023: Is It Worth For Dropshippers In 2023?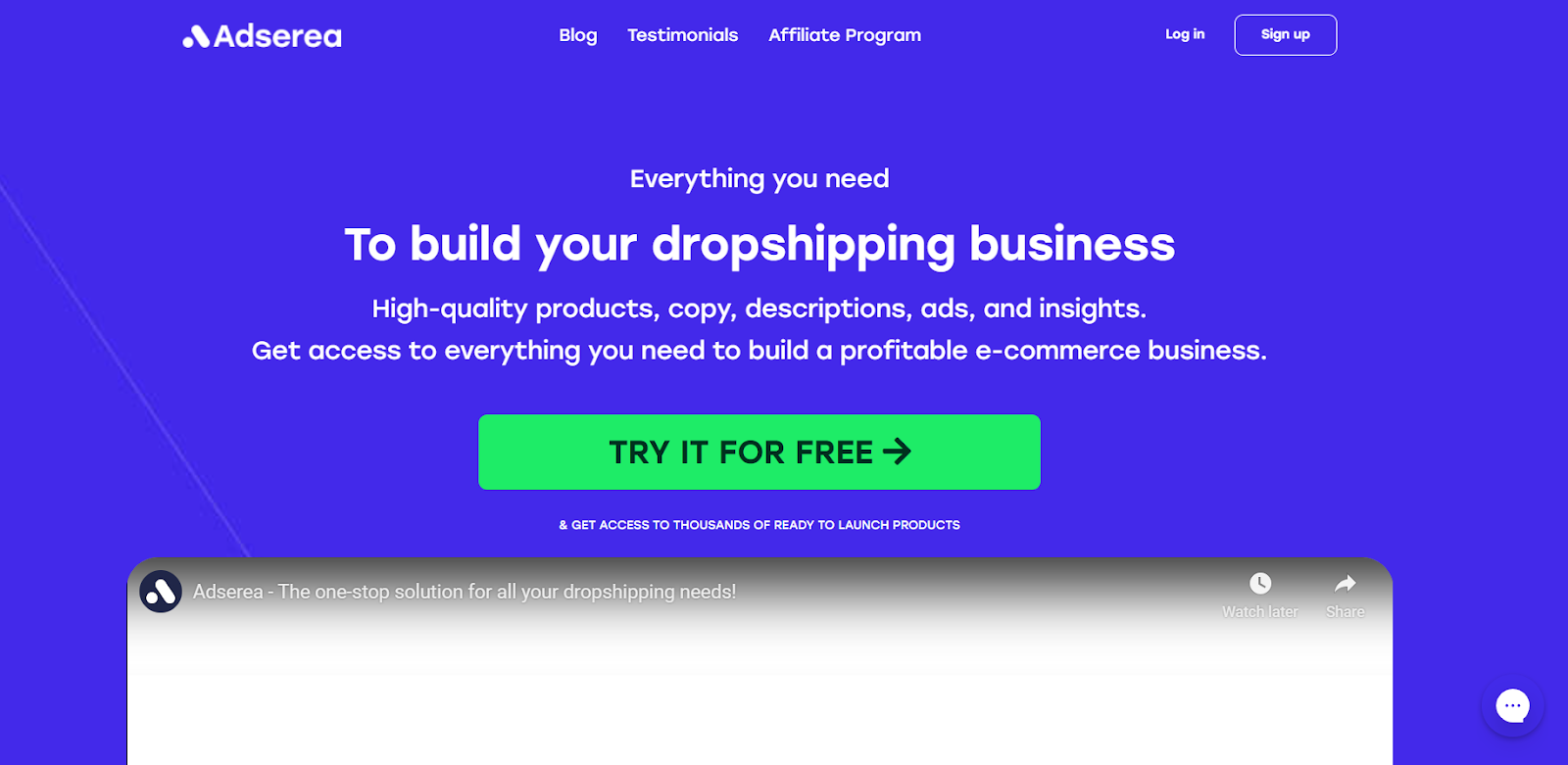 Adserea serves as an all-encompassing solution tailored to the needs of dropshippers, offering a complete toolkit to kickstart and manage a thriving dropshipping venture.
With Adserea, you gain access to a plethora of essential resources, including product research for identifying winning products, compelling ad copy, effective advertising strategies, content-rich product descriptions, seamless one-click product imports, and a wealth of insights and new resources spanning various niches.
For every product, the platform provides a wealth of invaluable assets, such as pre-designed product descriptions, attention-grabbing video advertisements, precise targeting parameters, engaging ad content, comprehensive competition statistics, and trend analytics. Moreover, they offer easily importable Shopify files for added convenience.
On top of these features, Adserea equips you with a powerful Facebook audience search engine, facilitating precise audience targeting and enhancing your advertising endeavors.
Notably, Adserea goes the extra mile by aiding in the discovery of trending products on TikTok, enabling you to seamlessly incorporate them into your dropshipping store and capitalize on emerging trends.
👉 Read my Supliful Review: Is It Good For White Label Dropshipping?
Top Free Dropship Websites to Create Dropshipping Store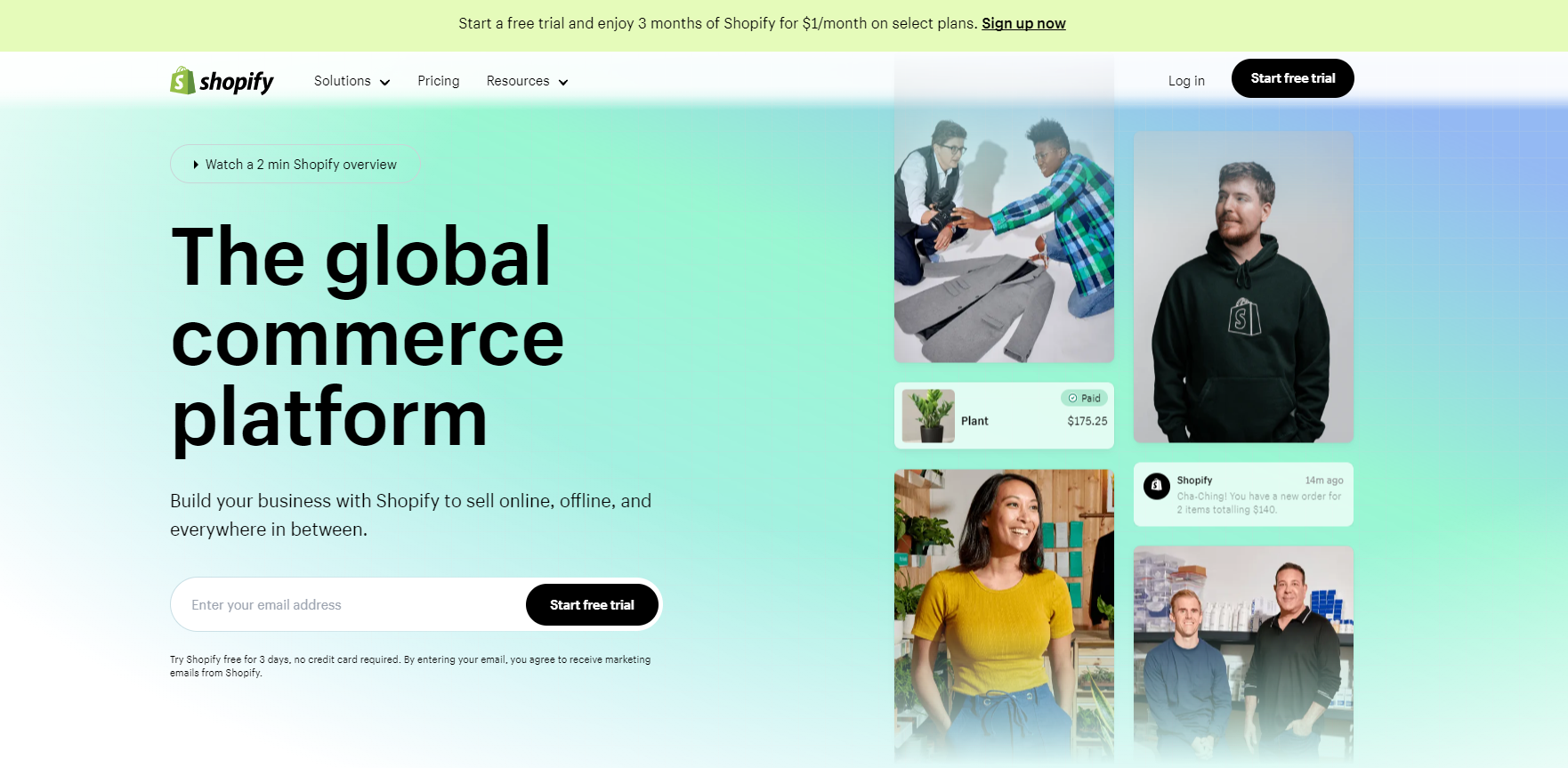 Do I still need to explain Shopify? Is there still anyone that wants to start dropshipping that hasn't heard about it? I don't think so!
This all-in-one dropshipping platform allows businesses of all sizes to create and manage their online stores. Thus, with over 1 million merchants worldwide, Shopify has become the go-to platform for entrepreneurs looking to sell their products or services online.
What's more, it offers a user-friendly interface, with drag-and-drop tools that allow you to design and customize your store without any coding knowledge.
Additionally, Shopify provides a wide range of templates and themes that you can use to make your store stand out.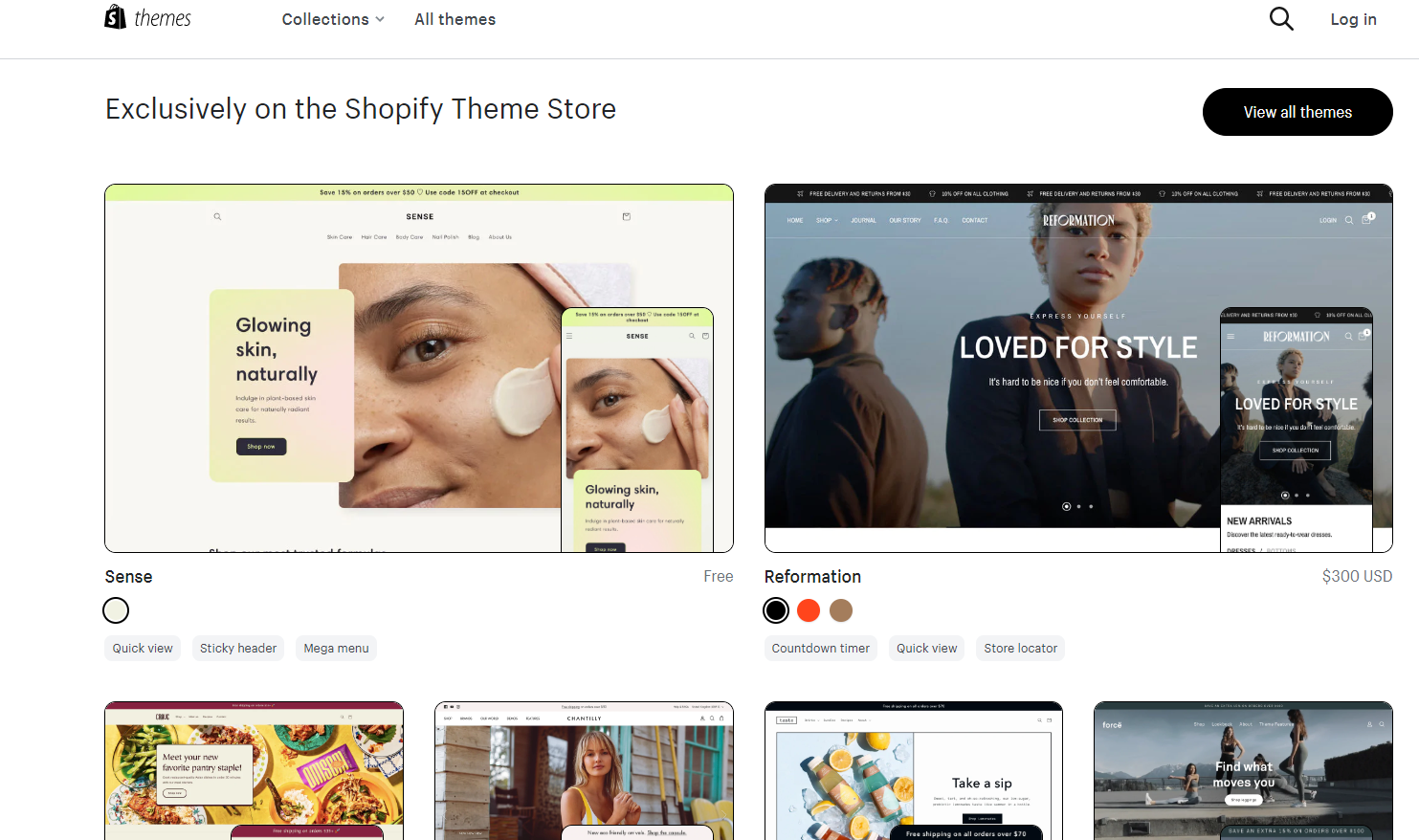 Shopify also offers a suite of features that can help you manage your online business. You can use the platform to
Additionally, Shopify integrates with a variety of third-party apps and tools, allowing you to extend the functionality of your store.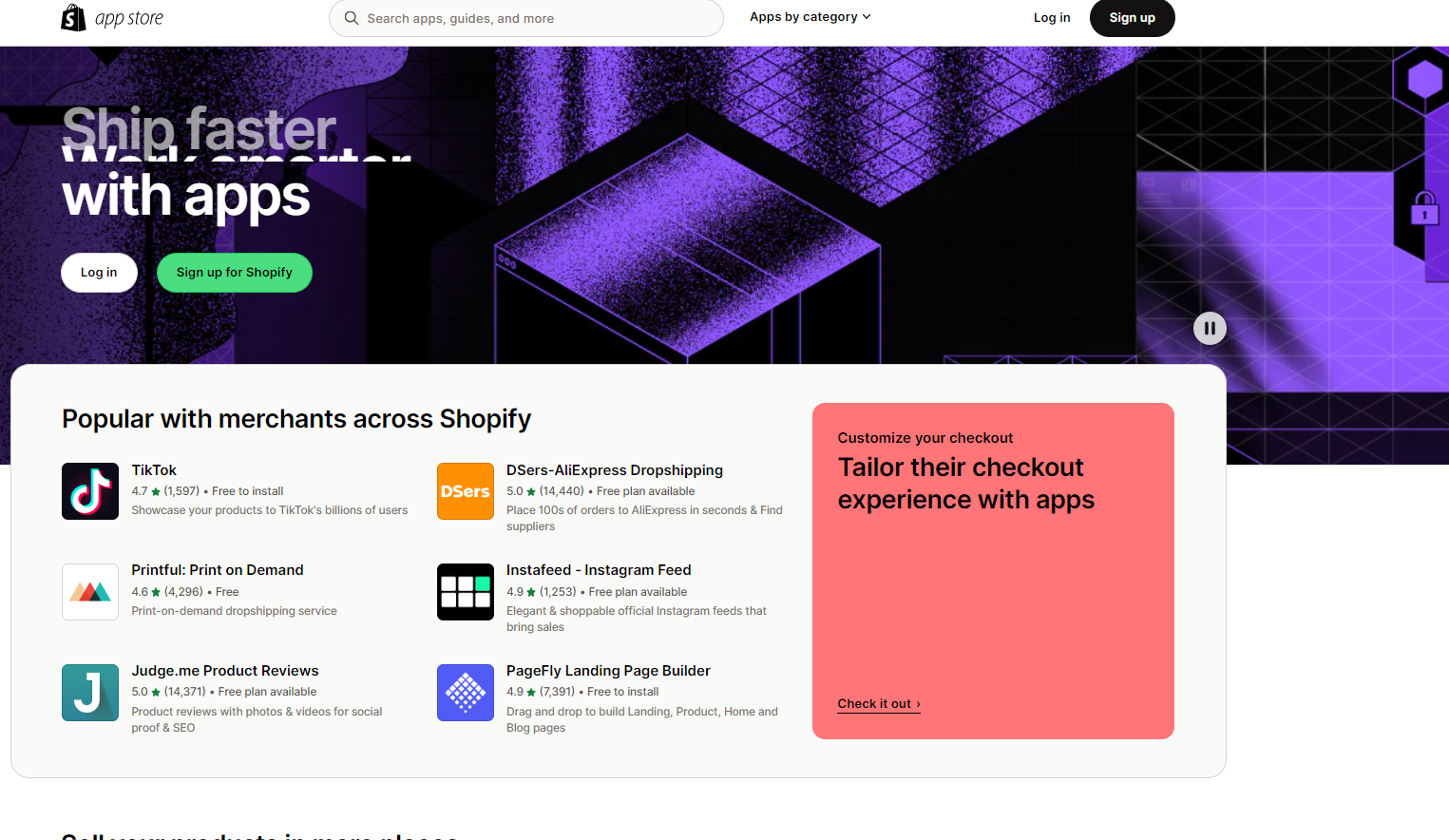 The best part, you can try all this for FREE. Also, here you can check out all Shopify Pricing Plans.
👉 Furthermore, learn about 10 High-Converting Shopify Landing Page Examples.
💡 Tip: Check out the 13 Most Successful Shopify Dropshipping Store Examples.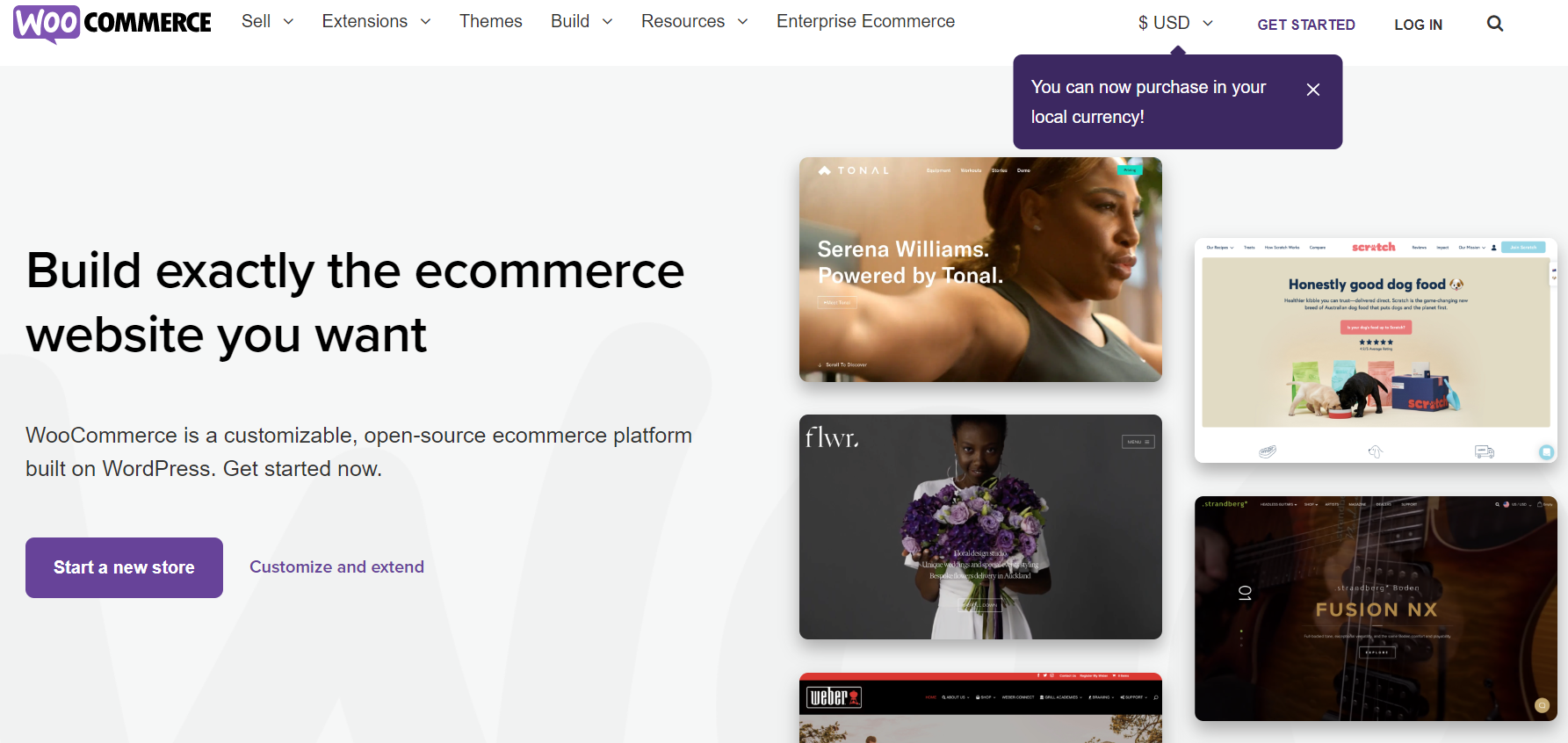 WooCommerce is an online platform that can meet your unique requirements. To achieve this, it is built on top of WordPress, which is one of the most widely-used website management systems.
In addition, WooCommerce helps you to customize your product and category pages. Furthermore, the platform provides essential tools to help you track your sales and analyze data. To enhance its capabilities, WooCommerce also offers numerous add-ons, including email marketing and social media integrations.
👉 Check out the Best WooCommerce Dropshipping Plugins for Your Store.
Furthermore, its easy-to-use interface makes it an ideal choice for non-technical users.
The best part, you can use WooCommerce for FREE.
💡 Tip: Check out Dropshipping WooCommerce: Everything You Need To Know About WooCommerce Dropshipping.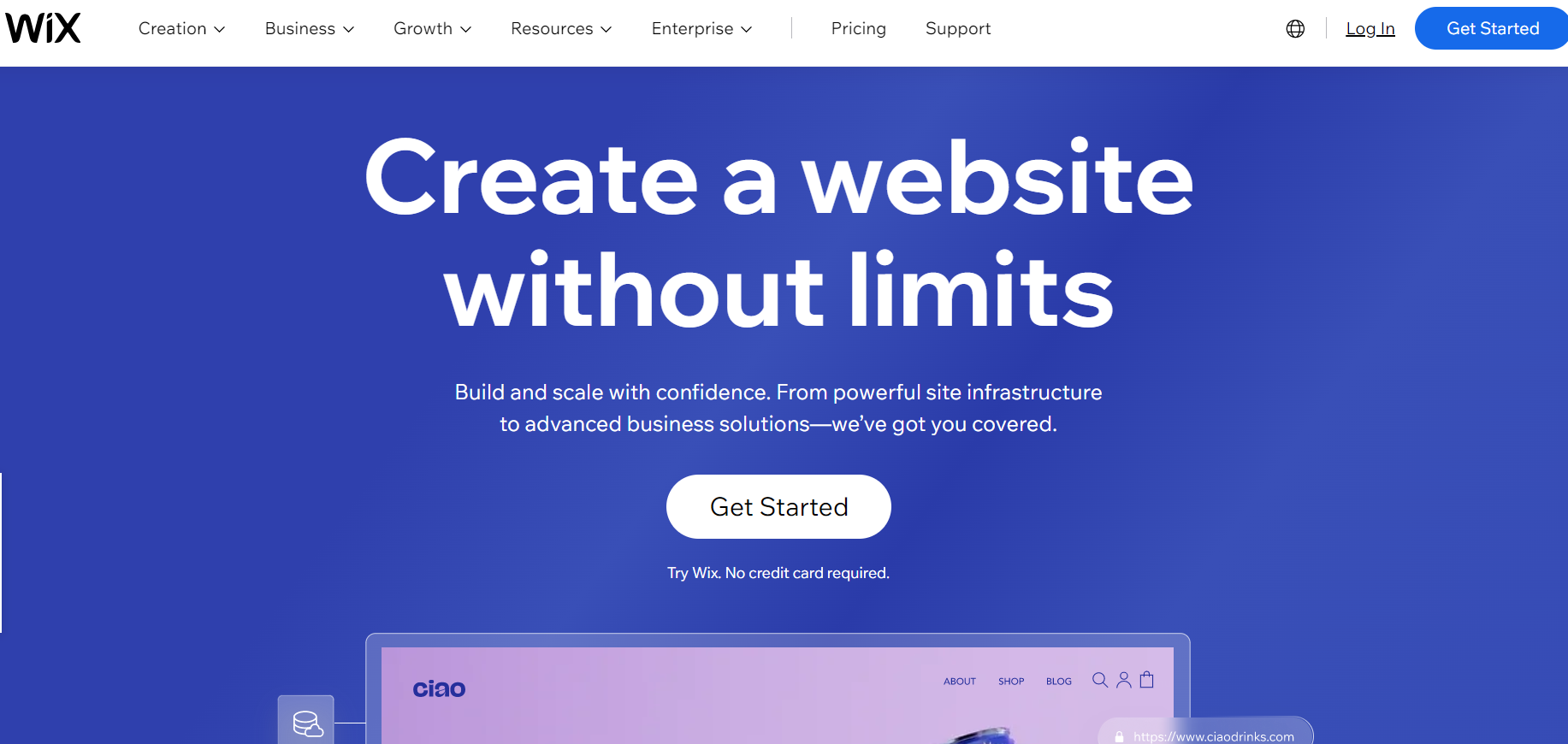 Creating a dropshipping store with Wix is a great way to earn money online. With Wix, you can create a customized, professional-looking website in no time.
Thus, Wix provides you with a collection of templates to choose from.👇

The best part, after selecting a suitable template for your Wix dropshipping store, it's important to personalize the design to match your brand's identity. This involves modifying the fonts and colors, adding images, and designing the page layout. 👇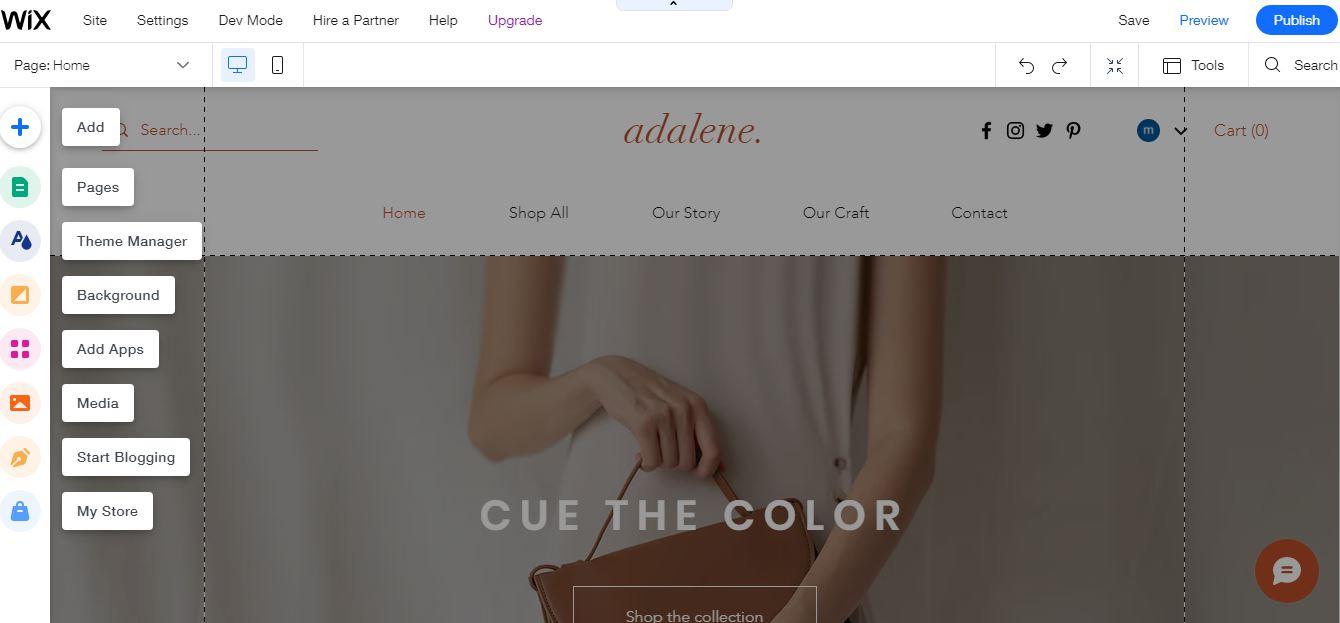 💡 Learn here and NOW: Wix Dropshipping 101: How to Start and Grow Your Wix Dropshipping Store.
However, Wix is not just a website builder. It offers a complete suite of eCommerce tools to help you establish an impressive and fully functional dropshipping store.
While Wix has a free plan, it's important to note that it comes with limitations. For example, you won't be able to connect your own domain or sell products.
To unlock more functionality, you'll want to explore Wix's pricing plans. Thankfully, Wix offers affordable pricing options, so you can create a website that fits your budget.👇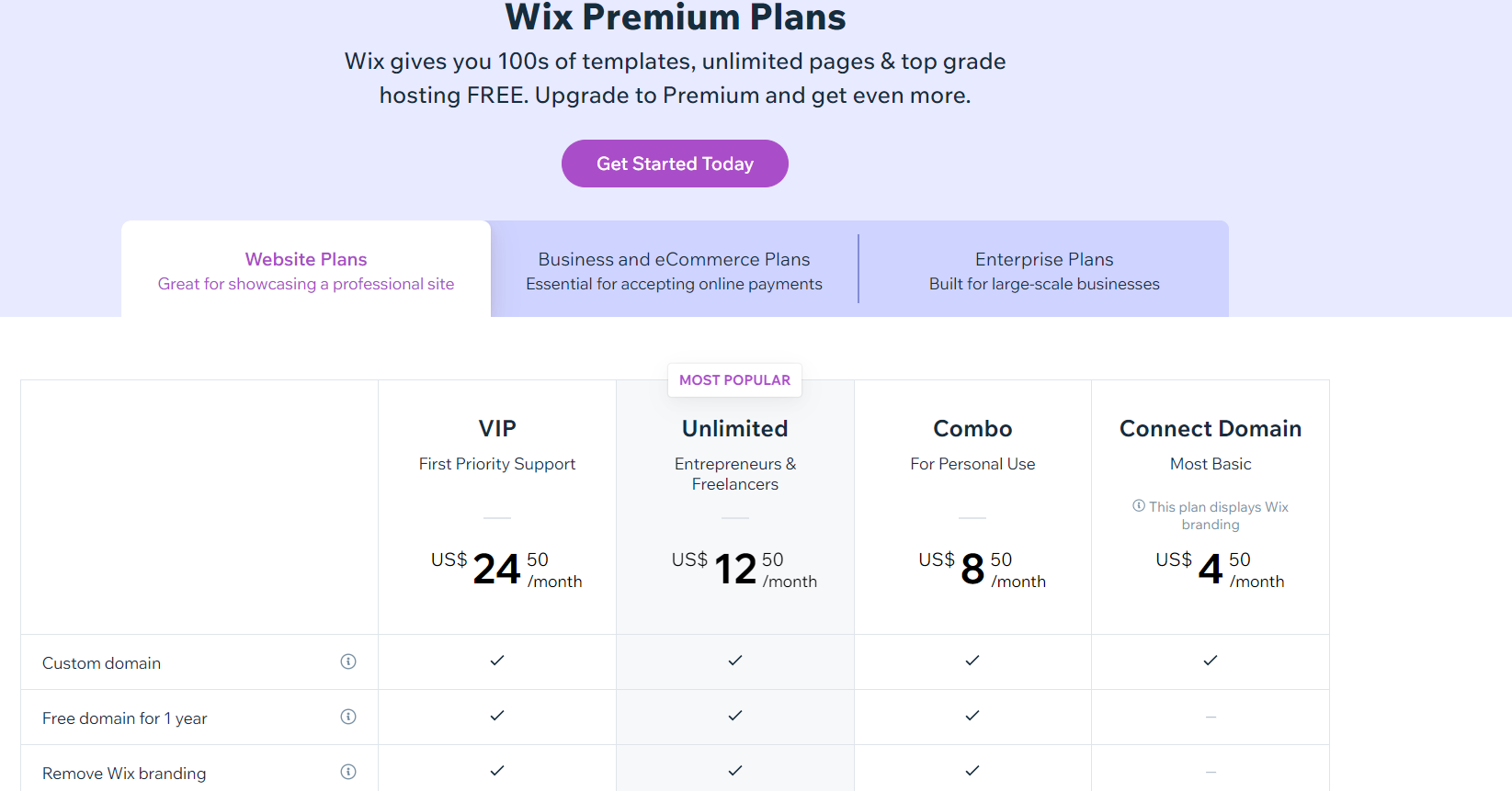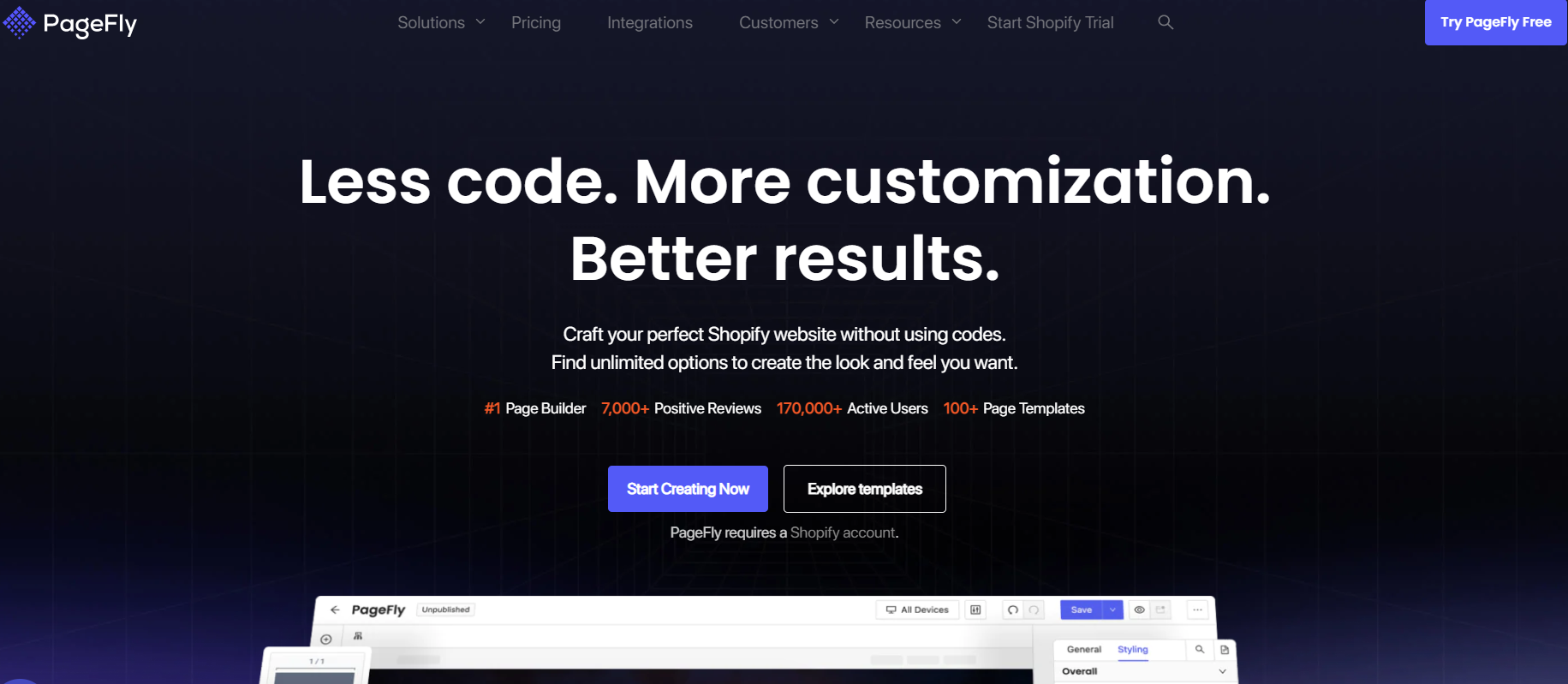 Looking to create custom pages for your Shopify store without needing to know how to code Look no further than these free dropship websites- Pagefly, a simple and user-friendly drag-and-drop page builder app.
With Pagefly, you can easily create and customize a variety of pages for your store, including
landing pages,
password pages,
product pages,
blog post pages,
collection pages, and more.
But that's not all. Pagefly also offers the flexibility to publish your pages immediately to your Shopify store or export them as HTML documents for manual submission.
What's more, you can use PageFly for FREE. Also, you have two other pricing plans.👇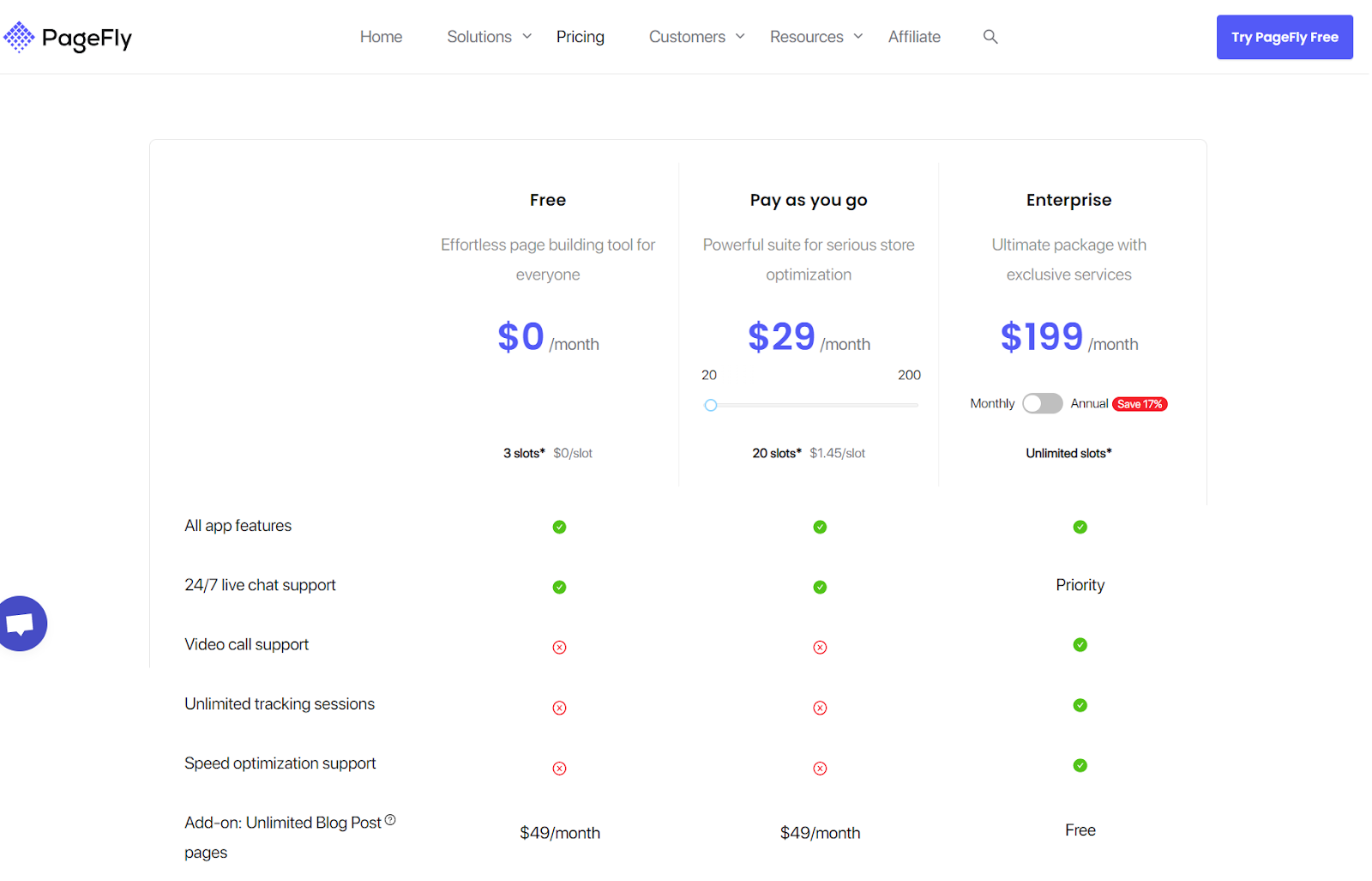 👉 Check out my in-depth PageFly Review: Website Builder To Customize and Optimize Your Shopify Stores.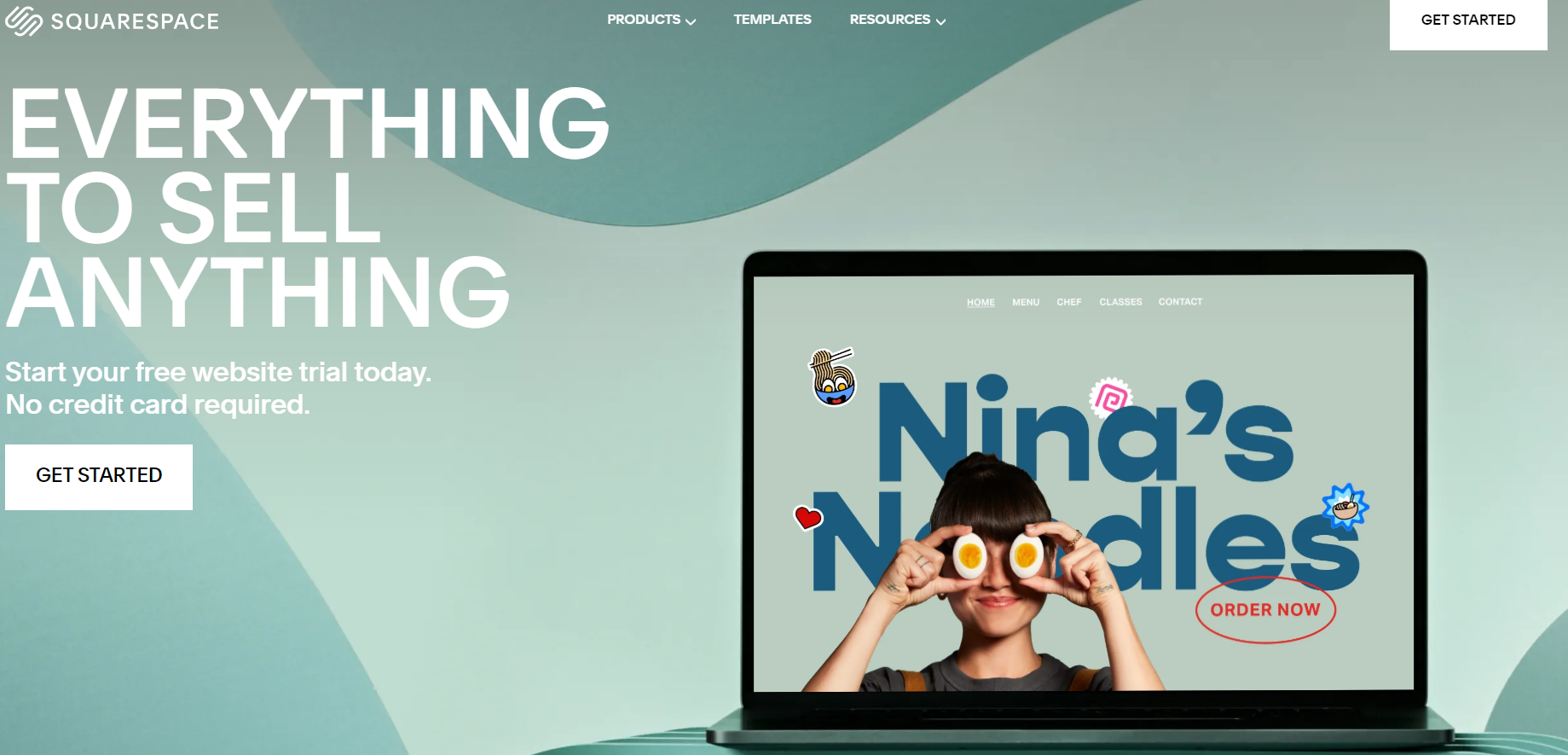 Squarespace emerges as a compelling alternative to Shopify among dropshipping website builders. Initially designed for creative individuals, Squarespace has evolved into one of the premier choices for dropshipping businesses.
This makes Squarespace an excellent option for your venture, as it provides robust eCommerce features tailored to your dropshipping store needs, including complimentary domain name registration.
Squarespace boasts a diverse array of customizable templates, enabling you to craft a distinctive and professional website even if you lack coding expertise. It features pre-designed website templates and an intuitive drag-and-drop tool for seamless website creation.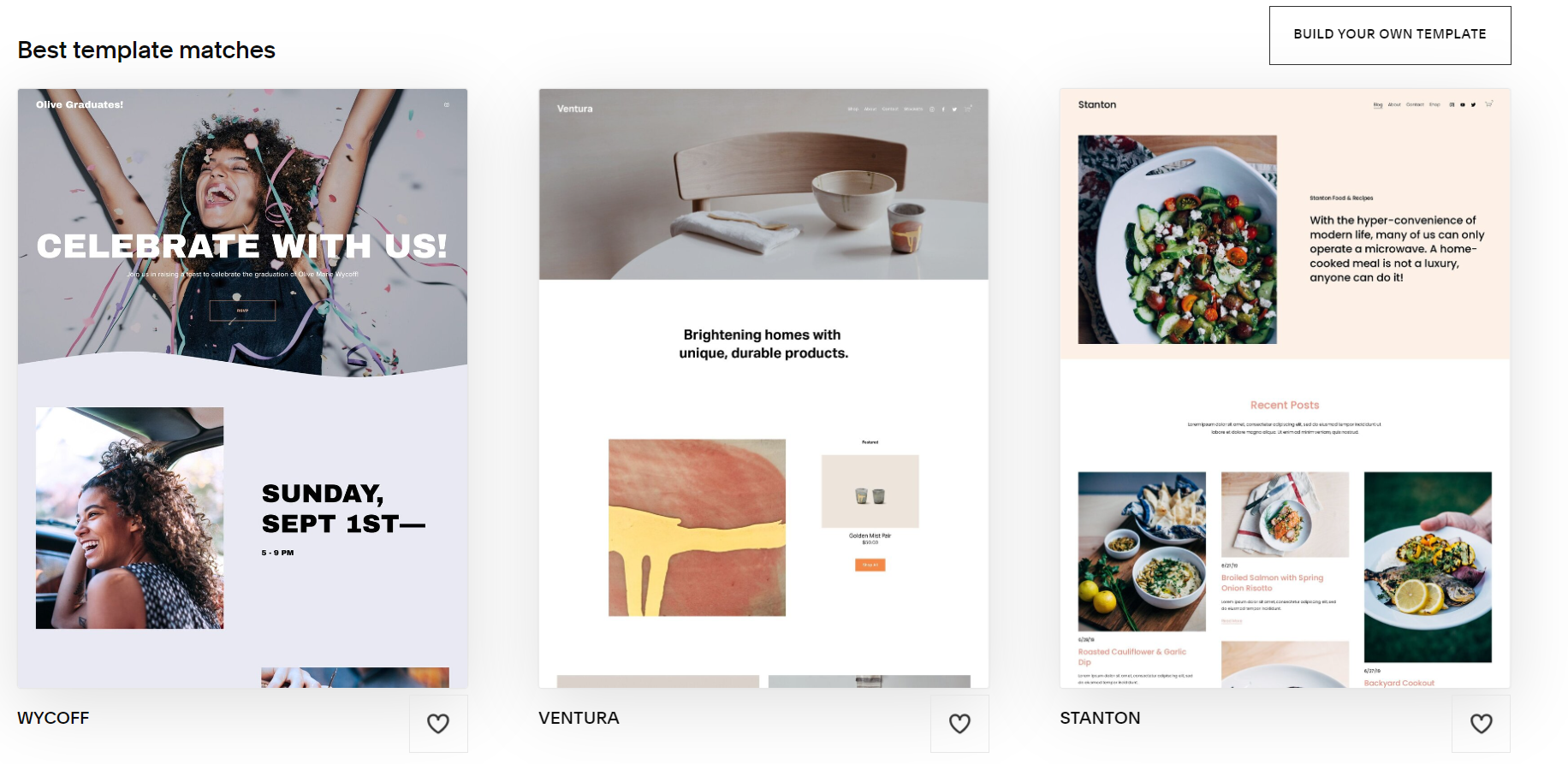 Additionally, Squarespace offers round-the-clock customer support and guidance to assist you in constructing your dropshipping store. Furthermore, the platform extends a 14-day free trial plan, allowing you to explore its offerings before committing.
👉 Read about Shopify vs Squarespace For Dropshipping – Which is Better in 2023.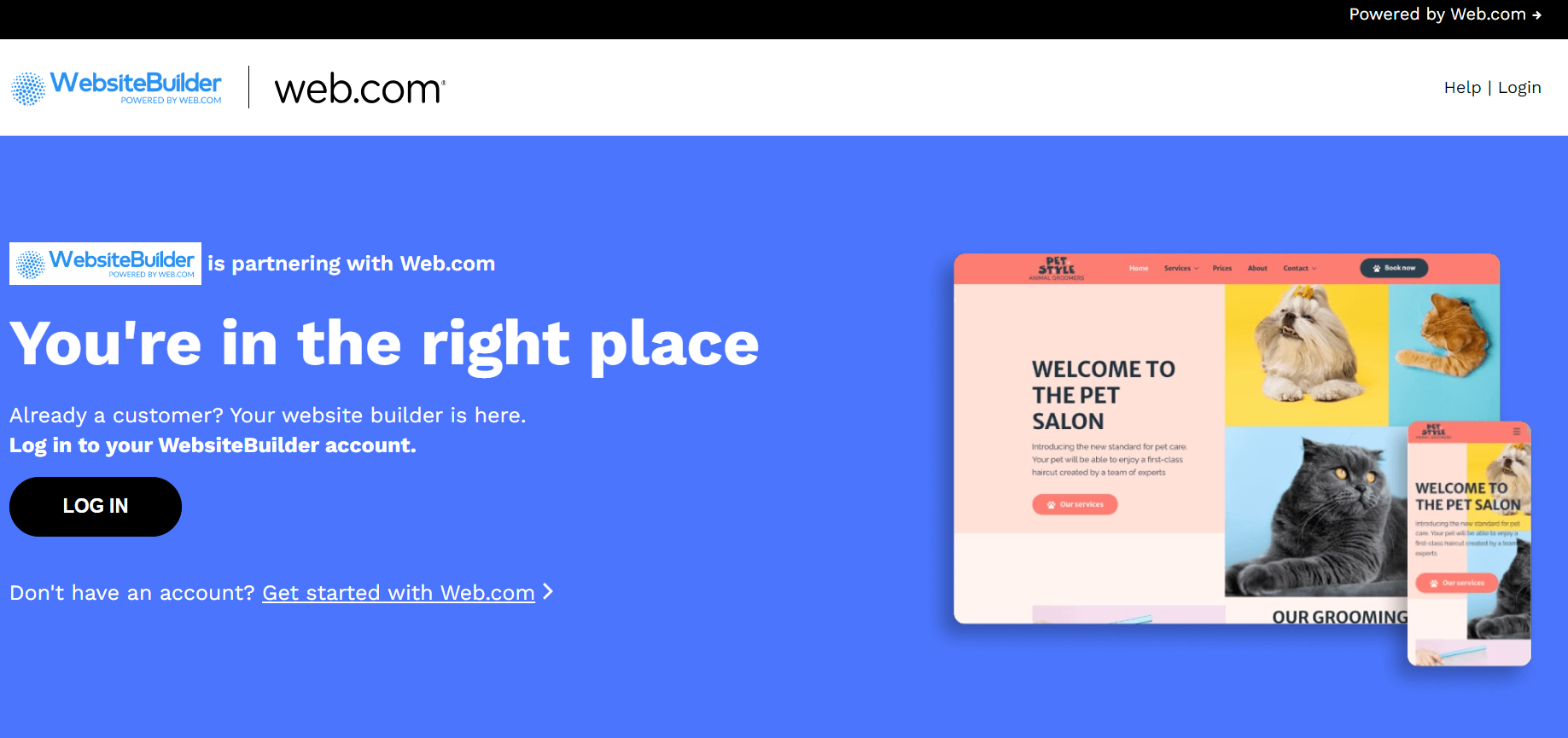 WebsiteBuilder is one of the top free dropship websites for setting up a dropshipping store. They leverage a sophisticated website builder to craft your website, and you're given the freedom to fine-tune the design to align perfectly with your brand.
What sets WebsiteBuilder apart is its utilization of AI tools that begin by asking a few questions to understand your specific requirements before proceeding to build your dropshipping store.
Key Features:
Streamlined and swift website development
Professional customization options for your design
Access to eCommerce apps
AI-driven tools for efficiency
Mobile-responsive themes
Over 100 pre-designed layouts at your disposal
Font customization for a personalized touch
Easy domain switching
Enhanced security through SSL certification
Convenient one-click installation
Seamless PayPal integration
Built-in analytics for tracking performance
Robust SEO and social media tools
Revision history for tracking changes
Website Builder offers four pricing plans, including a free forever plan. The pricing options start at just $7.58 per month, making it accessible to a wide range of users.
💡Tip: Read about Dropshipping PayPal: How To Use It & Not Get Banned.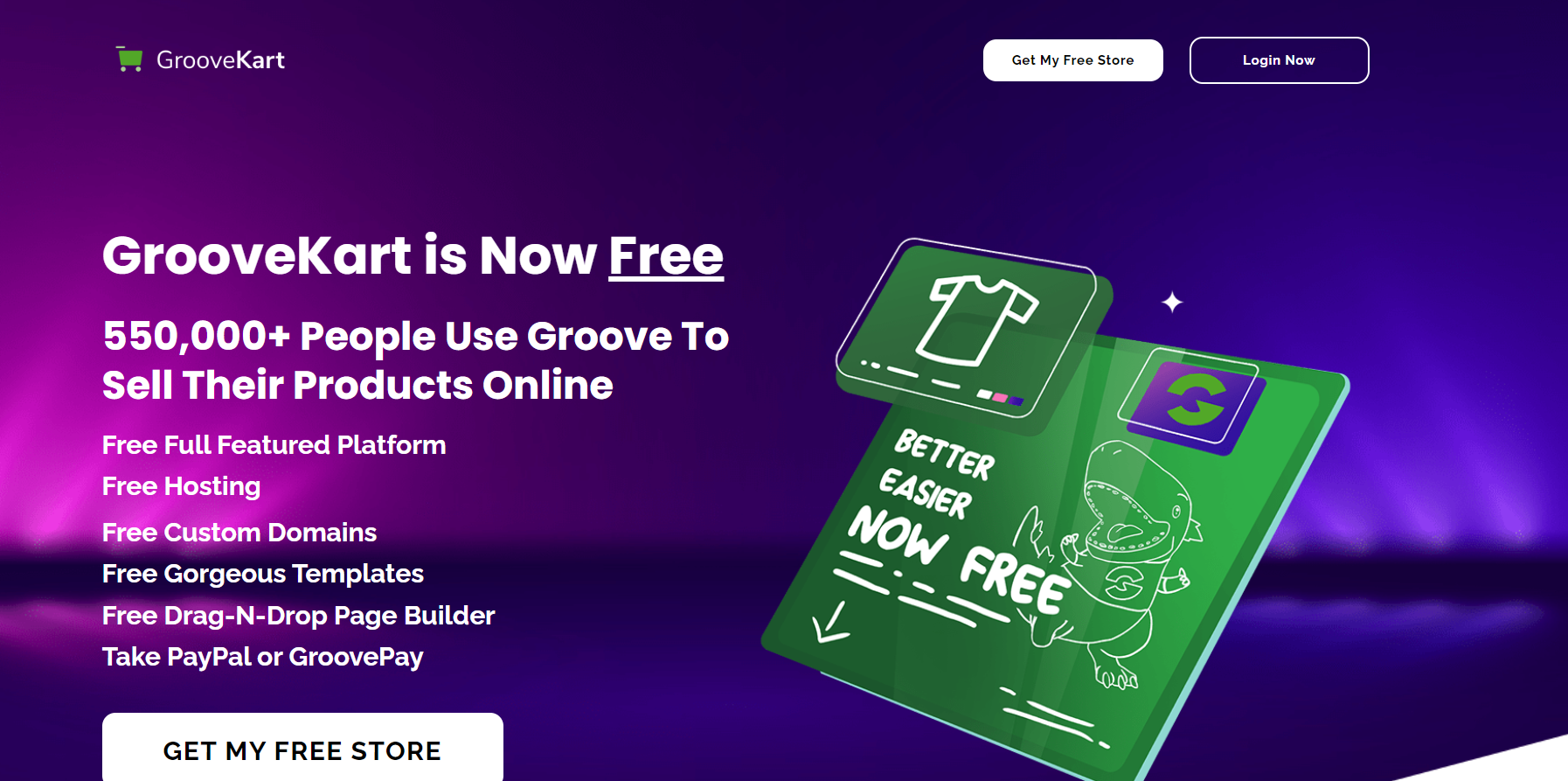 GrooveKart stands out as a robust e-commerce platform that empowers you to establish and manage your very own dropshipping store.
👉 Groovekart Review: Free Dropshipping Store Builder? (Read This)
This software offers a diverse array of templates to choose from, accompanied by a host of valuable features designed to significantly enhance your efficiency in the dropshipping industry.
But that's not all! GrooveKart's dropshipping features encompass complimentary web hosting, custom domain integration, both local and international selling capabilities, comprehensive market research tools, and a range of useful apps.
Furthermore, GrooveKart facilitates the sale of physical goods through its platform, broadening its utility.
Moreover, it's important to note that GrooveKart is a FREE eCommerce platform. It's user-friendly, cost-effective, and equipped with an extensive set of built-in features, eliminating the need for expensive third-party applications.
Top Free Dropship Websites To Help You Learn More About Dropshipping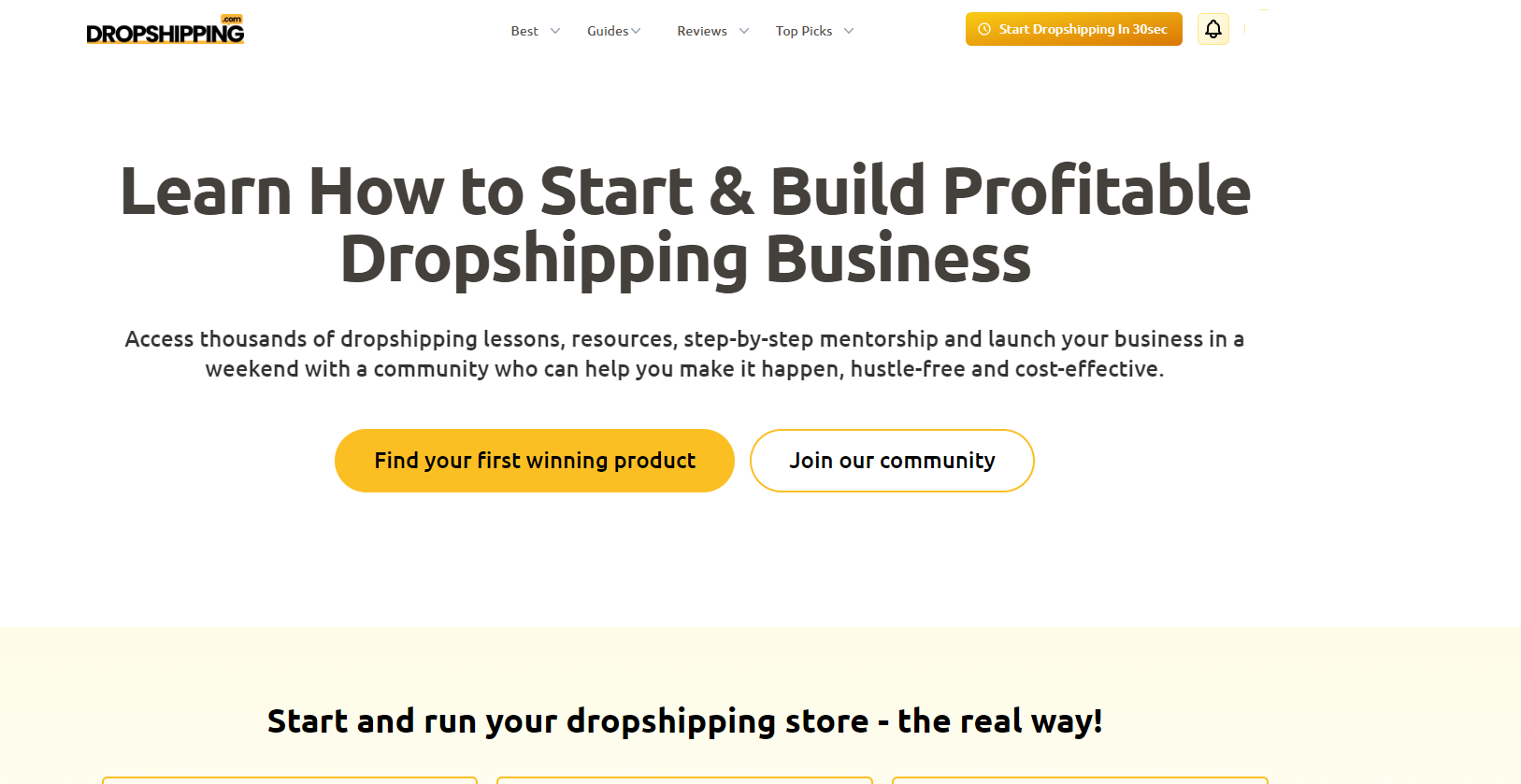 This is one of the TOP free dropship websites for gaining knowledge about dropshipping. Where to start, hmm…?
First, it offers more than 250 blog articles with all the tips and tricks, how-to's, and full reviews about every aspect of dropshipping.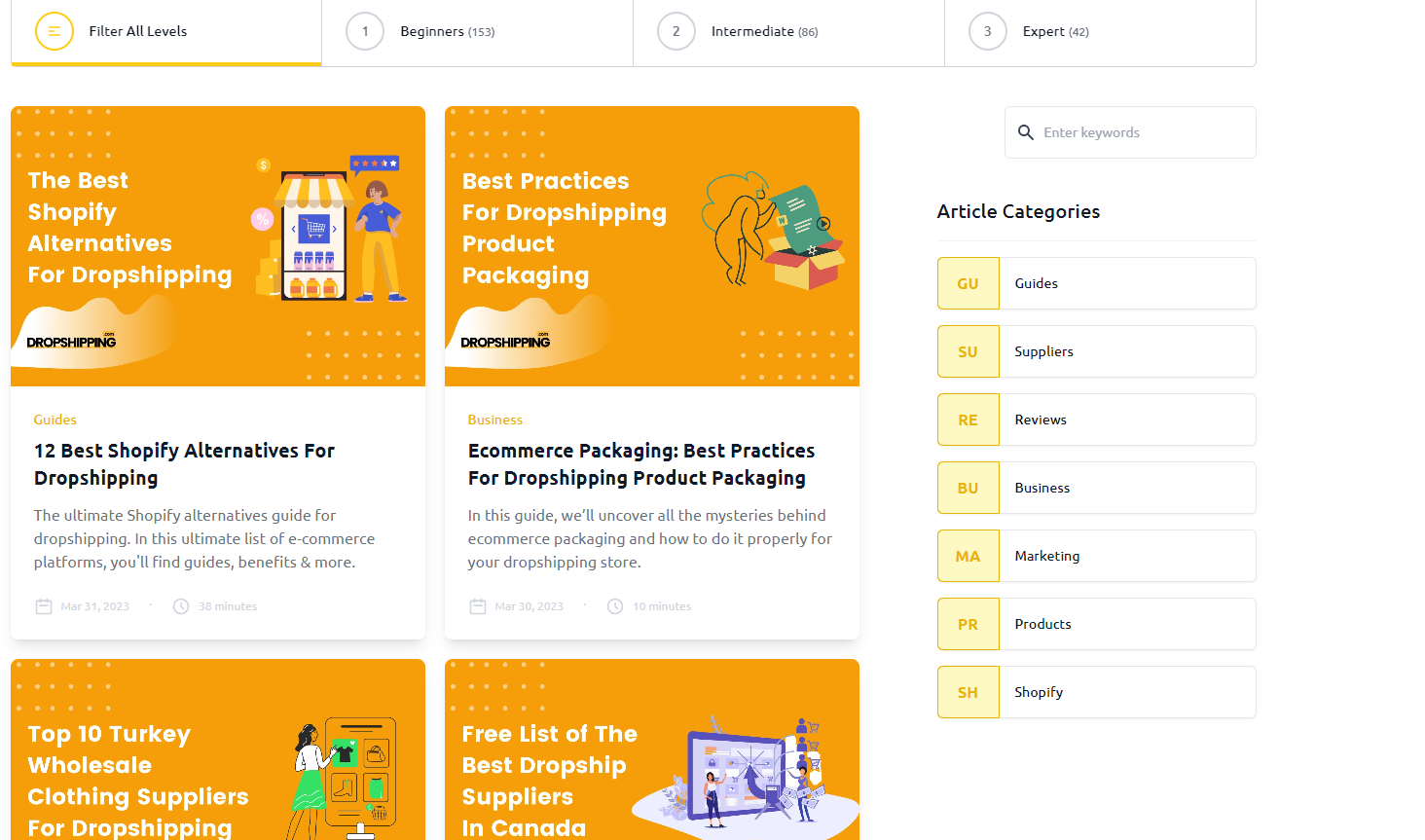 What's more, they have a FREE dropshipping community where you can:
Get video training, tutorials & case studies worth $5,652+, yours FREE when you join.
Feedback and help from 10+ expert moderators and hundreds of dropshippers.
Exclusive Dropshipping. com-only access to directories, tools, offers, guides & special industry reports.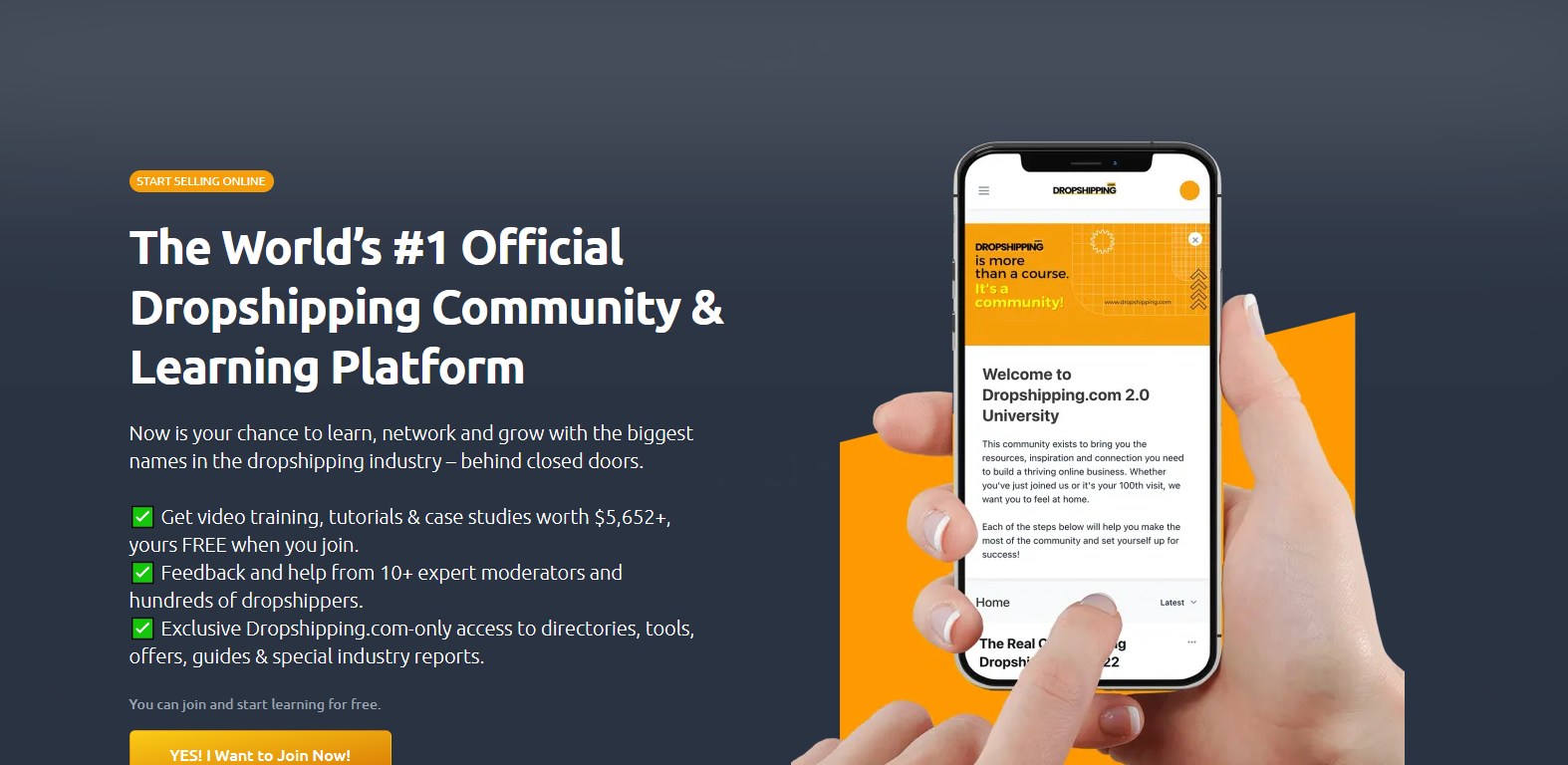 Also, you can get access to guides about Ecom Apps, tools, trending products, suppliers, etc.
However, if you want to gain even more dropship knowledge you can subscribe and access to their Swipes and Niche trends.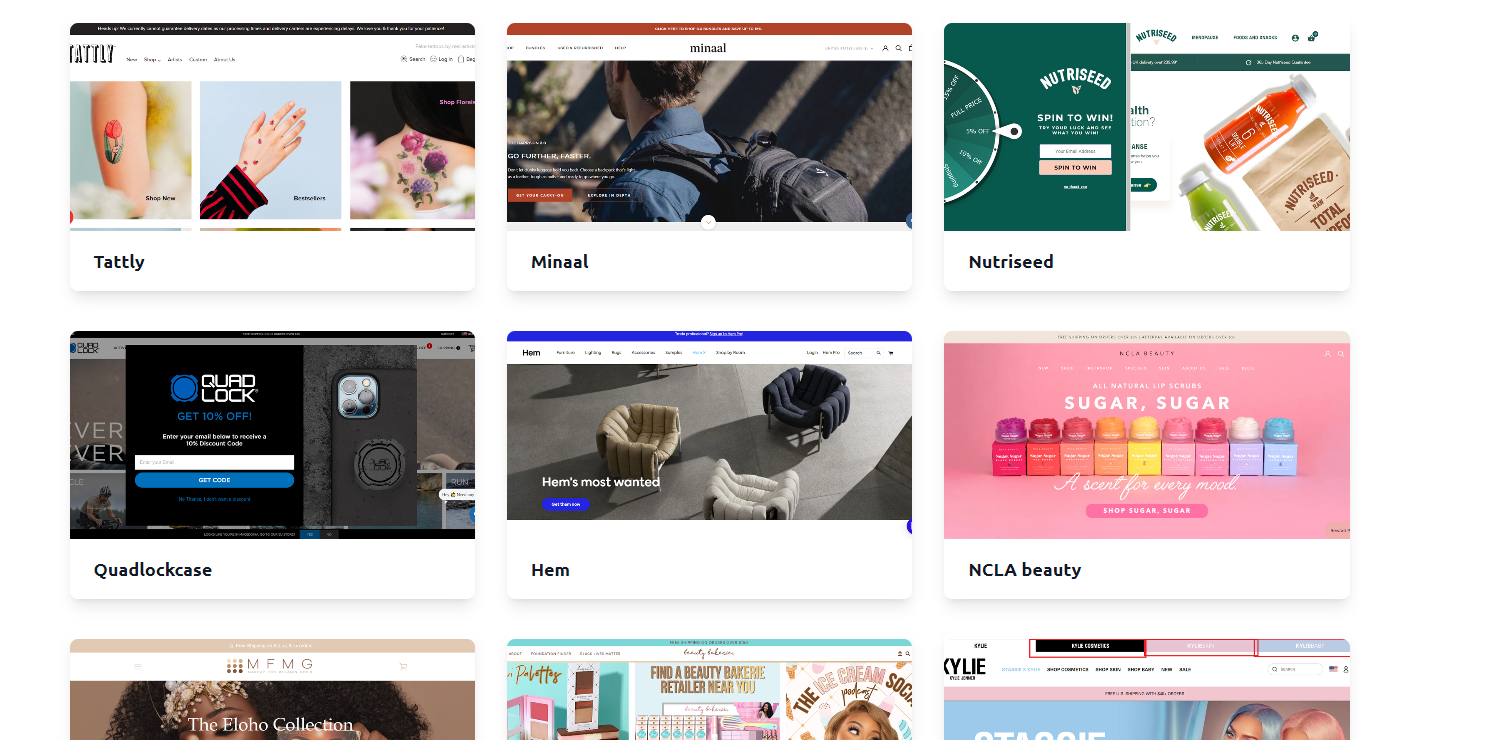 But, that's not all. Dropshipping.com has a FREE Facebook community, Instagram reels, TikTok videos & Guides, etc.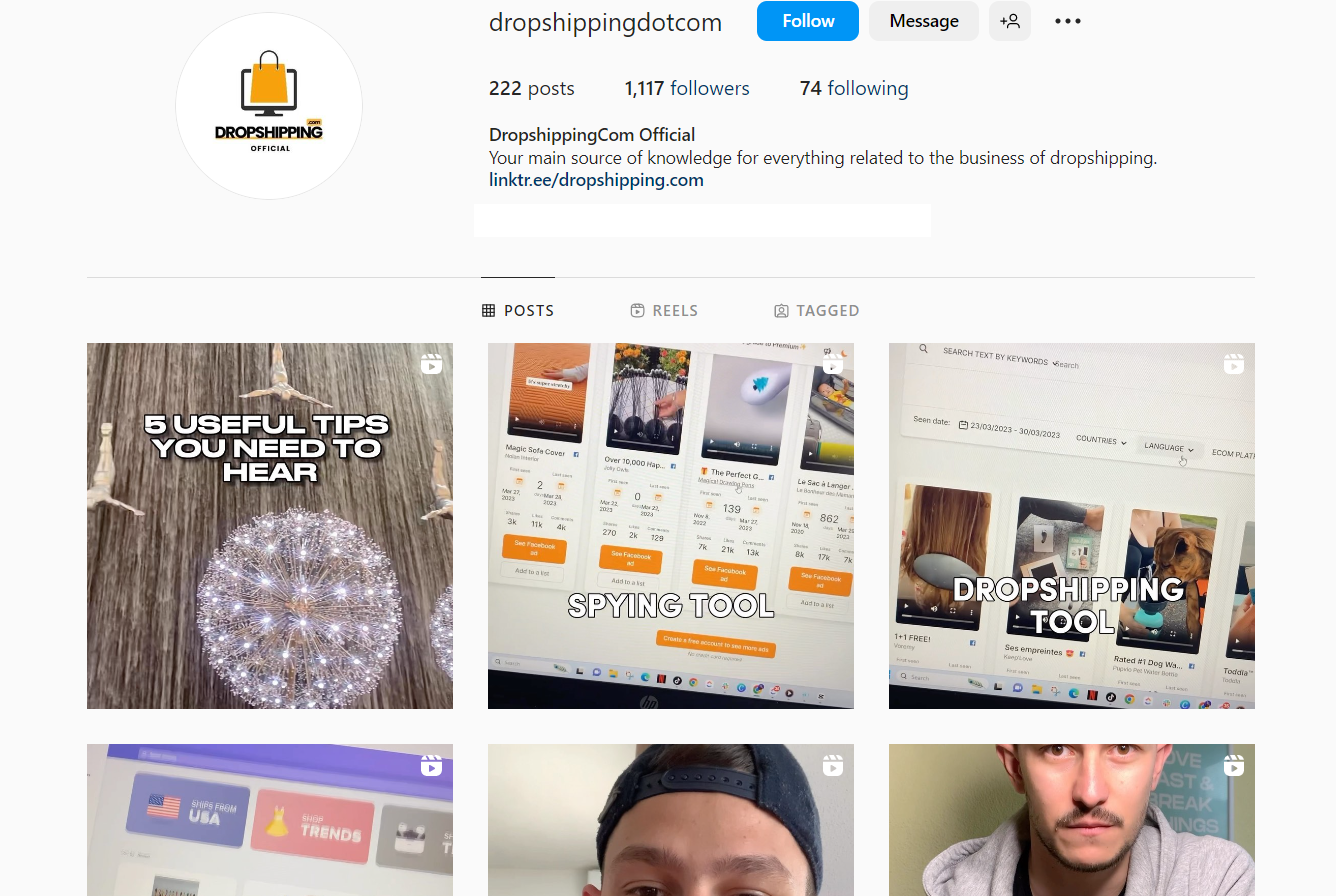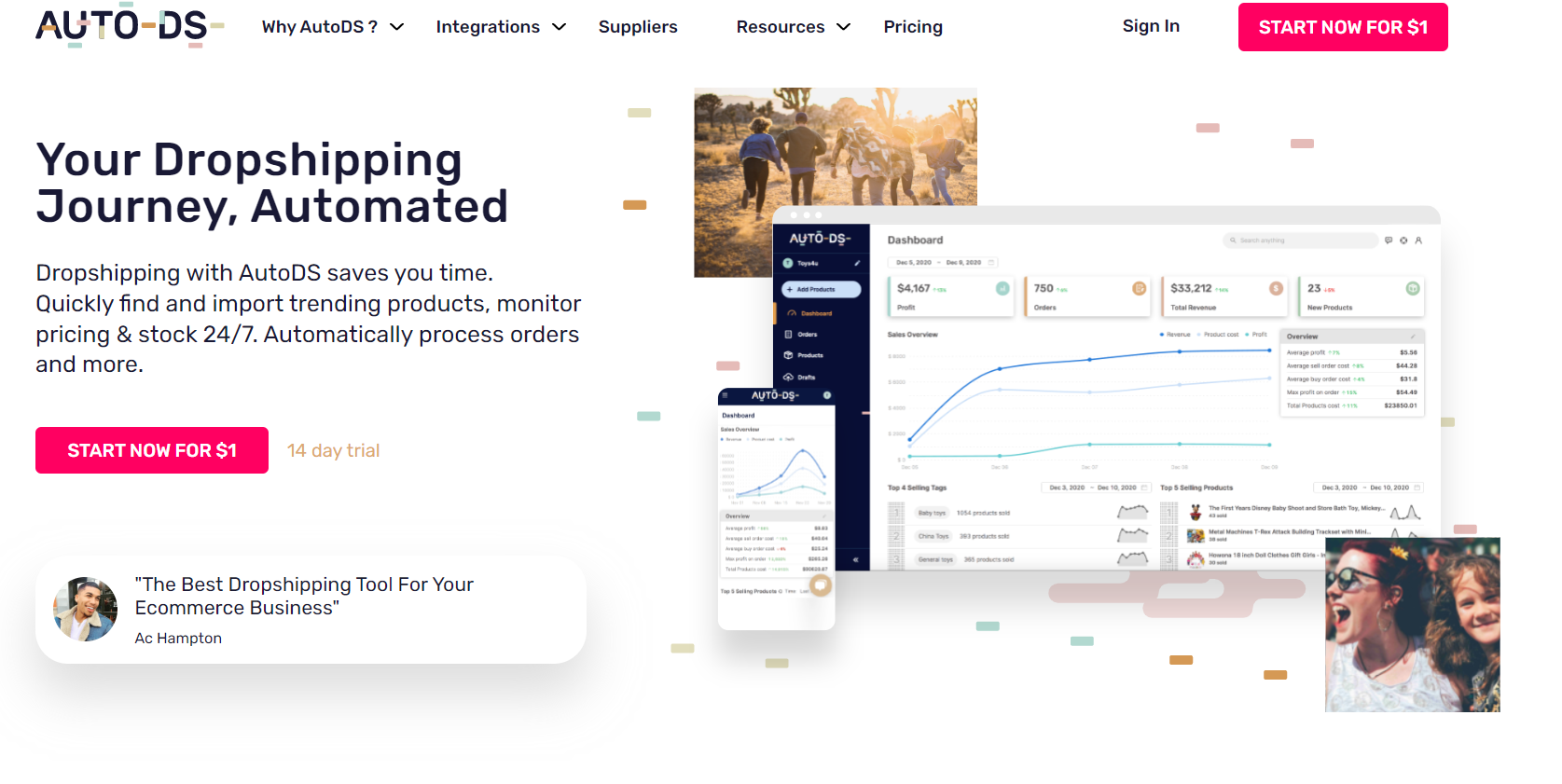 AutoDS is a dropshipping platform that helps you learn everything you need to know about dropshipping. So, if you want valuable information about this, you can take advantage of AutoDS resources, like:
Blog
Courses
Webinars
Podcast
eBooks
Mentorship Program
Furthermore, they also have a YouTube channel with more than 65K subscribers. Thus, they have various dropshipping guides.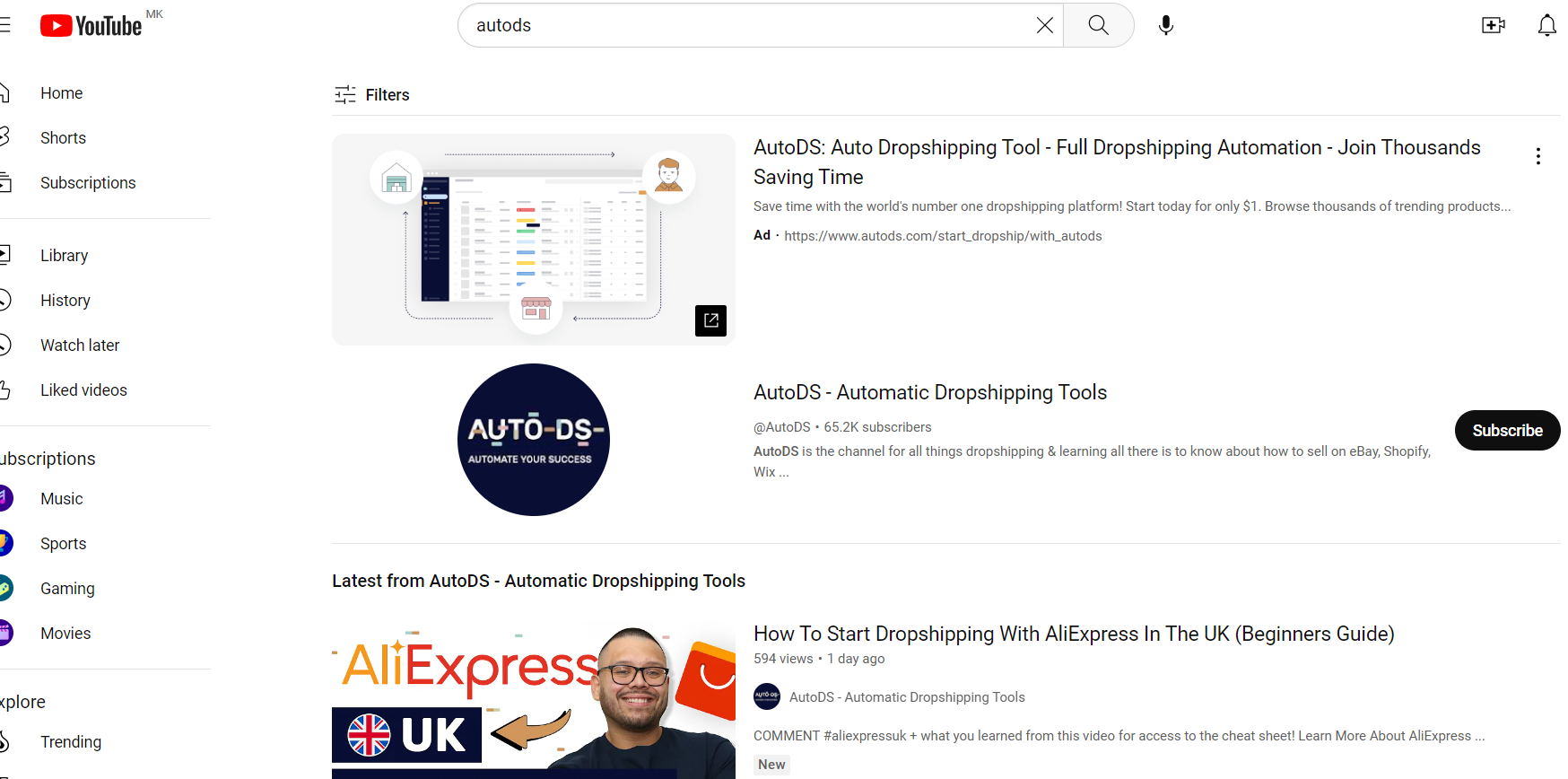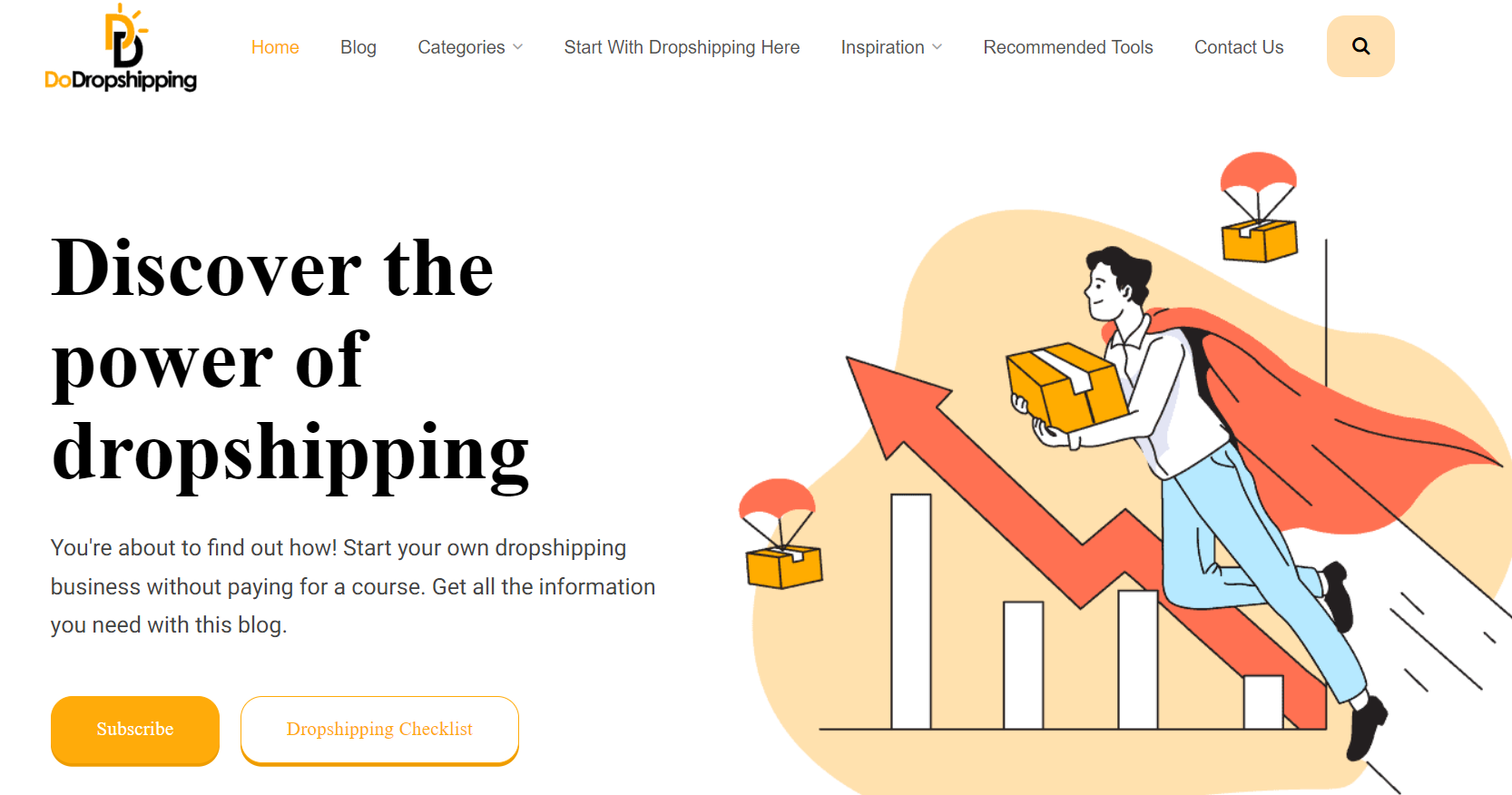 Do Dropshipping is one of the free dropship websites that offer free guides, resources, and courses on dropshipping. It covers topics such as:
niche selection
product research
marketing strategies
provides step-by-step instructions on how to start a successful dropshipping business.
What's more, they new articles on a weekly basis. Also, if you want more, you can subscribe to their newsletter.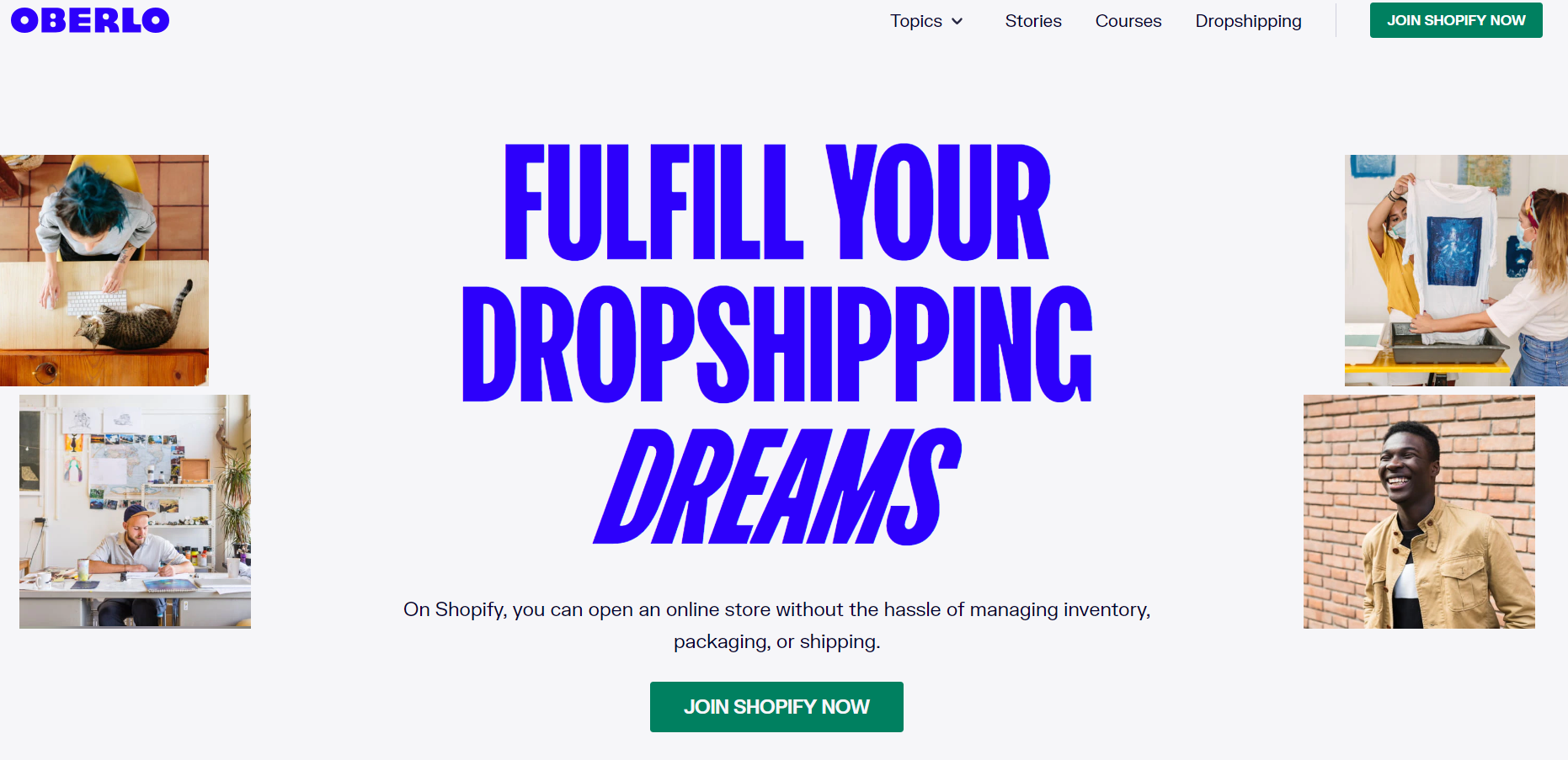 Oberlo is held in high regard much like Shopify and serves as another exceptional learning resource for aspiring dropshippers. The best part? It's entirely free.
While its knowledge center may not be as extensive as Shopify's, you'll still discover a wealth of helpful articles on Oberlo's website. These cover a wide range of valuable topics, including dropshipping strategies, marketing tips, launching an online business, and more.
Moreover, you'll find a plethora of success stories from prominent dropshipping companies that offer inspiration and insights into the industry.
But that's not the extent of it! Oberlo goes the extra mile by providing a blog, ebooks, a podcast, and a collection of informative videos to further enrich your knowledge and skills.
Join the only community and resource hub you'll ever need to succeed with dropshipping
Find winning dropshipping products, learn marketing, download templates and engage with real dropshippers
Never pay for a "guru's" course again. See why 4543+ dropshippers joined us this year!
💡Try DSCOM Hub Now
Conclusion
In this article, I provide you with the TOP 24 free dropship websites to help you start dropshipping with ZERO budget.
Thus, you can check on the features, and capabilities of each of these free dropship websites. Also, you have information about free product-finding tools, free websites for dropshipping suppliers, building online stores, etc.
What's more, you can take advantage of FREE dropship websites like Dropshipping.com to learn everything you need to know about dropshipping. Collect your info & START!