Looking for a good product research tool for your dropshipping business? Look no further! Tradelle.io has gained a lot of popularity nowadays. So, my Tradelle.io Review is all about Is this product research tool worth it for dropshippers, or not.
In this review, I will take a closer look at Tradelle.io and assess whether it is a worthwhile platform for dropshippers in 2023.
I will examine its features, pricing, customer support, and overall user experience to help you make an informed decision about whether or not to use Tradelle.io for your dropshipping business.
So, let's dive in and see if Tradelle.io is the right fit for you in the ever-evolving world of dropshipping.
What is Tradelle.io?
Tradelle.io is an all-in-one product research tool that helps dropshippers and online sellers find profitable products to sell. With its variety of tools and comprehensive platform, Tradelle.io offers a robust solution for product research and decision-making.
One of the unique features that sets Tradelle.io apart from other product research services is its intelligent and powerful tools, which provide detailed metrics and analytics to help users make informed decisions.
Actually, with Tradelle.io, you have access to an abundance of products from various catalogs, including AliExpress, and can filter products based on sales volume, product costs, and performance indicators.
Discover top dropshipping suppliers of original US/EU products
You're 2 minutes away from building your ecommerce empire
No credit card required. No commitment.
Get started for free
Tradelle.io Review: My Take On Tradelle.io
As a dropshipper, I recently had the opportunity to explore Tradelle.io, a prominent product research platform in the e-commerce space. In this Tradelle.io review, I will share my personal opinion on this leading platform and its key features.
With a variety of powerful tools and intelligent features, Tradelle.io offers a catalog of millions of products, allowing you to filter and analyze the performance, profitability, and availability of products.
The platform's advanced product indicators and deep analytics features provide a deeper understanding of trends and sales volume, empowering businesses to identify profitable product ideas. Additionally, Tradelle.io offers inventory management and fulfillment processes to streamline operations.
However, I must admit that there's a learning curve you need to pass on before using Tradelle.io. Plus, be ready for slow assistance because their response times are pretty slow.
So, here's my rate for this dropshipping tool. 👇
The best
Large Product Database

Trend Analysis Tool which helps to stay ahead of the competition

Comprehensive insights into the performance of each product

Automated order fulfillment

Excellent customer support
The worst
Slow customer support response times

There's a learning curve for new users
Starting from
7-day- free trial – $0/month; Monthly subscription – $39.99 per month; yearly subscription at $29.99/per month.
What's more, the app also has a good rating on Trustpilot, with 4.5/5 stars. Plus, 90% of the comments are positive. However, the negative comments talk about not getting the free trial because there's no need.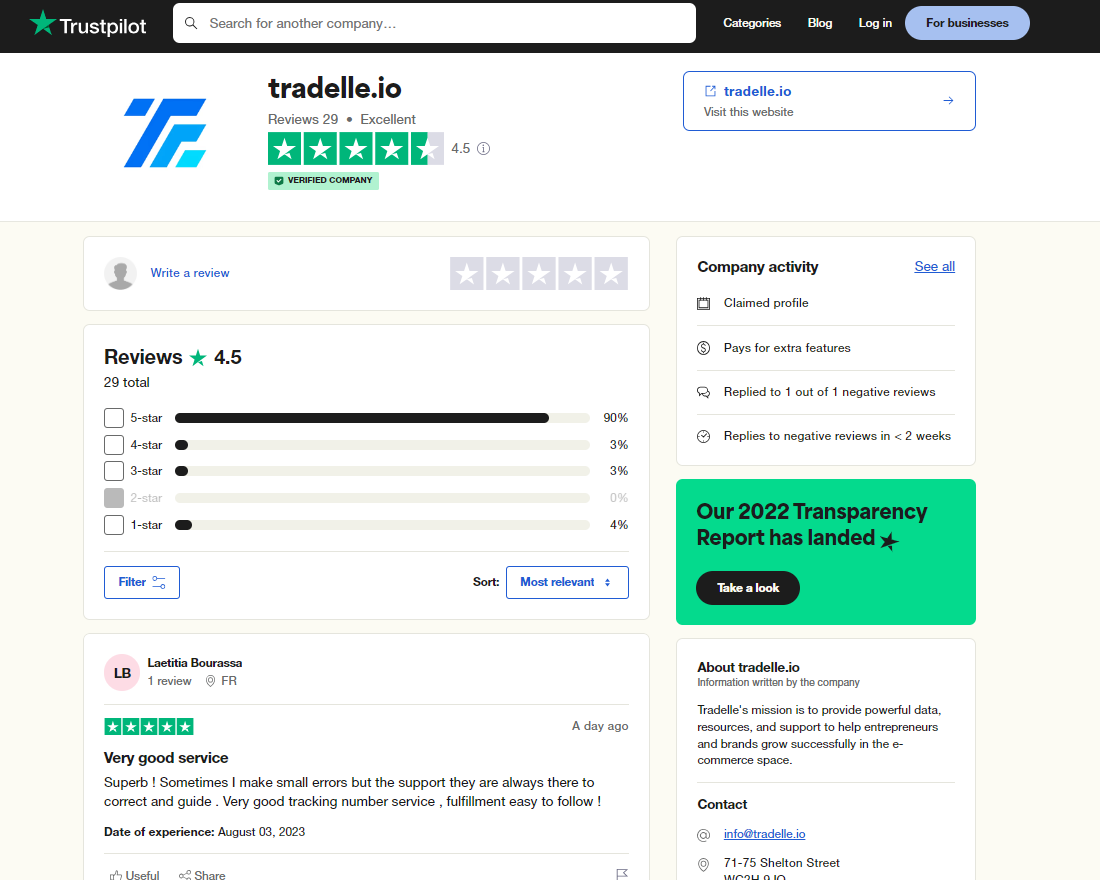 In fact, here's what a Tradelle.io customer says. 👇
Overall, Tradelle.io is the ultimate tool for anyone looking to find profitable product ideas and make successful business decisions. So, let's dive into my in-depth Tradelle.io Review.
Tradelle.io Review: Pros & Cons
In this Tradelle.io review, I will highlight the pros and cons of using Tradelle.io as a product research tool for your dropshipping business.
Trend Analysis Tool which helps to stay ahead of the competition
Comprehensive insights into the performance of each product
Automated order fulfillment
Excellent customer support
Slow customer support response times
There's a learning curve for new users
PROS
✅ Large Product Database
When it comes to finding profitable products, Tradelle.io stands out from the crowd. With its large product database, you have access to millions of products to choose from, ensuring that you always find the perfect fit for your business.
✅ Trend Analysis Tool which helps to stay ahead of the competition
One of the most impressive features of Tradelle.io is its trend analysis tool. This powerful tool allows you to stay ahead of the competition by identifying trending products and capitalizing on them before they become oversaturated.
✅ Comprehensive insights into the performance of each product
Detailed metrics are another key benefit of using Tradelle.io. By providing you with comprehensive insights into the performance of each product, you can make informed decisions about what to include in your inventory.
✅ Automated order fulfillment
Automated order fulfillment is a game-changer when it comes to saving time and resources. With Tradelle.io's integrated fulfillment process, you can automate your business operations and focus on growing your sales instead.
✅ Excellent customer support
What sets Tradelle.io apart is its dedicated advice. With a team of experts ready to assist you, you can rely on their guidance to make the best business decisions. They will help you filter products, analyze catalog data, and provide recommendations to ensure your success.
CONS
While Tradelle.io offers numerous benefits, there are a few cons that should be addressed.
❌ Slow customer support response times
One area of improvement is the customer support response times, which can sometimes be slow. To minimize this issue, it would be helpful for Tradelle.io to invest in additional customer support resources or implement a ticketing system for more efficient communication.
❌ There's a learning curve for new users
Another aspect to consider is the learning curve for new users. Tradelle.io could provide more comprehensive onboarding tutorials or video guides to help users navigate the platform more easily. This would allow users to quickly understand the features and maximize the platform's potential.
In my opinion, when considering a dropshipping tool, I advise you to take advantage of free trials. This will give you an opportunity to test out Tradelle.io and determine if it meets your specific needs and requirements. Additionally, carefully consider your budget and business needs to ensure that Tradelle.io is the right fit for your dropshipping business.
Tradelle.io Review: Key Features
Tradelle.io aims to provide dropshippers with the tools they need to make informed decisions and run their businesses efficiently.
Therefore, in this Tradelle.io review, I will take a closer look at some of the key features of Tradelle.io and see how they can benefit your dropshipping business.
🔸 Detailed Metrics For Informed Decisions
Tradelle.io offers a comprehensive platform with a variety of tools that provide in-depth insights into product performance. So, on their dashboard, you can find the winning dropshipping products for your store.
Thus, instead of running over AliExpress, Amazon, or Facebook Marketplace searches, Tradelle.io has it all in one place. Plus, you have numerous filters to set that can help you narrow down your search. Hence, you can set filters based on profits, prices, revenue, ROI, dropshipping niche, etc.
For example, I personally filter products by the highest net profit, since these are the ones that work as the easier-to-scale ones.
Now, I will choose one product, and check on all metrics I get. First, the app instantly displays the selling price, cost, and profits I can earn. This way, I can see if the product is profitable.
Also, once I enter the product page, I gain deeper insights into the product's characteristics. Hence, I can see the ROI, revenue, Amazon sales, AliExpress orders, Amazon price. Next, I also get the best product description, competitors, and the top stores selling this product.
Furthermore, I get direct links from the product pages on AliExpress, Amazon, and Facebook ads. Also, I even get product videos.
Luckily, this doesn't stop there! The app gives me access to the best suppliers, Instagram influencers, product reviews on Amazon, possible product complements, etc.
Also, I can check on the target audience for the product, and import the product directly to my Shopify store with a single click.
By providing these detailed metrics, Tradelle.io enables dropshippers to make informed decisions based on data-driven analysis, ultimately increasing their chances of success in the competitive dropshipping landscape.
🔸 Overview Of Market Trends
Google Trends has become an invaluable tool for analyzing the popularity of products or niches. By using this powerful feature, I can gain a deeper understanding of which products are trending and how the demand for certain items fluctuates over time.
Then, I use this data to tailor marketing campaigns, optimize product selection, and stay ahead of the competition.
Well, Tradelle.io takes this concept a step further with its advanced product indicators.
Thus, in the "Current Trends" section, under "Product Demand & Saturation", you can check on interest over time, the saturation, and the stores that are selling this product. Also, you get information about regional interest over time, and the parts of the world where the product sells the most.
Hence, in my case, this dropshipping baby product sells best in April-July, and it is in most demand in the USA, Canada, South Africa, and Australia.
🔸 Automated Order Fulfillment & Payments
In order to use this Tradelle.io feature, it is necessary to have your own Shopify store and a bank account that supports automatic credit card payments or SEPA direct debit. Additionally, a paid subscription to Tradelle is required.
So, here are the steps you need to follow: 👇
1. Integrate your Shopify store and Tradelle.io by clicking on the "Connect Shopify" button.
2. Connect your bank account for automatic payment deductions. Access the "Payment Methods" section and add a SEPA direct debit or use a credit card.
3. Add a product to your store by selecting "Import product" on the product page within the Tradelle Dashboard.
What's more, through collaboration with local suppliers, Tradelle ensures faster delivery times of 6-10 days for EU customers and 6-12 days for US customers. This is achieved by utilizing warehouses worldwide and selecting premium delivery services for long-distance shipments.
After customers make purchases from your store, Tradelle will automatically charge your bank account for the product costs and handle direct shipping to your customers. However, it is important to note that there is a fee of $8.50 for SEPA chargebacks.
What's more, the secure Stripe payment processing ensures that transactions are safe and seamless. Accepted forms of payment include Visa, Mastercard, American Express, and PayPal, giving you flexibility and convenience in choosing your preferred payment method.
👉 Check out the 7 Best Payment Gateways For Shopify In 2023.
🔸 Custom Quotes For All Products
One feature that stands out from all mentioned in my Tradelle.io review is their option for custom quotes on all products. This means that you have the flexibility to request pricing and availability for any product, even if it's not listed on the dashboard.
This is made possible through Tradelle's extensive manufacturer network, which allows them to source products directly.
With the ability to eliminate expensive middlemen like Alibaba or AliExpress, you can save both time and money by accessing products directly from trusted manufacturers.
🔸 Shopify Integration
And luckily, Tradelle.io seamlessly integrates with Shopify, making it a powerful combination for any online business. With this integration, you can automate your fulfillment process, ensuring that your products are shipped to your customers without any hassle.
Plus, importing products from Tradelle.io to your Shopify store is a breeze, allowing you to add new items to your inventory with just a few clicks. This integration streamlines the e-commerce workflow, saving you valuable time and energy that can be better spent on growing your business.
So if you're looking for an easy and efficient way to manage your Shopify store, don't hesitate to give Tradelle.io a try. Trust me, you won't be disappointed.
💡 Tip: Learn How to Remove 'Powered by Shopify' – Short Guide.
🔸 Support Available 24/7
Tradelle offers great customer support. However, I must point out that sometimes it can be pretty slow.
Also. I have experienced helpful assistance from their dedicated support team. They have gone above and beyond to address my queries and provide solutions to any challenges I have encountered.
So, you can get customer support via email, FAQs, and Live chat. Also, you can leave a question/ comment directly on their website.
🔸 Advanced Product Indicators
Tradelle's team of experts has truly mastered the art of developing these indicators, providing dropshippers like me with a deeper understanding of the performance and potential of various products.
These indicators go beyond basic metrics, offering powerful insights that drive profitable product ideas. Thus, the advanced product indicator consists of individuals who have experience as successful business owners, researchers with advanced degrees, and experts in analyzing data specifically for product research.
With Tradelle's advanced product indicators at my disposal, I can confidently filter through the abundance of products and focus on those with the highest sales volume and profitability. It's like having the ultimate tool to navigate the complex world of dropshipping.
Whether it's analyzing product costs, pricing trends, or the availability of features, these indicators arm me with the knowledge needed to make sound business decisions. With Tradelle, I can rely on their expertise to take my dropshipping business to the next level.
Now, let's proceed to the pricing section of my Tradelle.io review.
Tradelle.io Pricing Packages
Tradelle offers three pricing plans: a free trial plan, a monthly plan at $39.99 per month, and a yearly subscription at $29.99/per month.
With the yearly subscription, you get 33% OFF. Also, the platform offers a 7-day free trial, and it has a money-back guarantee as well.
Tradelle.io Alternatives
Next, I will also list some of the best alternatives for Tradelle in my Tradelle.io Review. So, if you are not satisfied with this option, consider these ones. 👇
Minea is another alternative worth mentioning in this Tradelle.io review. It stands out as the most advanced solution for uncovering successful products and advertisements.
Firstly, Minea constructs and presents an extensive compilation of ecommerce ads for Facebook, Instagram, Pinterest, and TikTok ads.
Secondly, it serves as a tool for monitoring influencer-driven product placements across more than 30 markets on all major social media platforms.
Lastly, Minea delivers comprehensive information and insights about the largest online stores.
Key Features:
1. Minea empowers users to discover the most effective ads across any platform.
2. Provides detailed analysis of advertising strategies and outcomes for all dropshipping stores.
3. Enables users to spy on their competitors' creatives and marketing approaches, learning from their mistakes.
4. Keep users informed about the latest marketing campaigns from major brands.
5. Allows users to explore optimal strategies for influencer marketing.
Pricing:
This tool offers three main pricing packages: Free – $0/month, Starter – $49/mo, and Premium – $99/mo.
👉 Check out my in-depth Minea Review: The No. 1 Winning Product & Spy Tool?
Adserea is a comprehensive solution for building your dropshipping business. It provides everything you need, including top-notch merchandise, ad copies, descriptions, advertisements, and valuable insights. Additionally, it offers store spy features to enhance your experience.
Key Features:
When it comes to product research, Adserea goes above and beyond. Its dashboard is user-friendly and easy to navigate, but what sets it apart is its innovative functionalities.
Instead of spending a significant amount of money on multiple tools, Adserea simplifies the process. It grants you access to thousands of products that have a proven track record of converting well. Moreover, it provides you with two high-converting products every day. You can also utilize the Facebook audience search engine to effectively plan your campaigns.
The list of features offered by Adserea is extensive and includes daily winning products, winning product analytics, hand-picked winning products, live product spy, store finder, store analyzer, and audience builder. Additionally, Adserea offers bonus features such as the TikTok Spy Tool.
Pricing:
Adserea offers three pricing plans, with the starting price at $19.95. Each plan comes with its own unique set of features to cater to your specific needs.
👉 Check out my Adserea Review: Best Dropshipping Product Spy Software?
Also, check out my Thieve.co Review. This is also one of the best product research tools out there. It provides a diverse array of functionalities and resources that streamline the search for ideal products to offer.
Furthermore, one of the remarkable aspects of Thieve. co is its thoughtfully curated compilations of merchandise obtained from AliExpress and other renowned online marketplaces.
FAQs
Frequently Asked Questions about Tradelle.io:
1. How does Tradelle.io compare to other dropshipping platforms?
Tradelle.io stands out with its comprehensive product research data and powerful tools. It offers an all-in-one platform for dropshipping businesses, making it easier to find profitable products and make informed decisions.
2. Can I integrate Tradelle.io with my Shopify store?
Yes, Tradelle.io seamlessly integrates with Shopify, allowing you to sync your inventory and streamline your fulfillment process. This integration makes it convenient to manage your business in one place.
3. Are there educational resources available to help me succeed?
Absolutely! Tradelle.io provides a range of educational resources, including tutorials, videos, and guides, to help you navigate the world of dropshipping. These resources offer insights and tips for maximizing sales and optimizing your store.
4. What kind of customer support can I expect from Tradelle.io?
Tradelle.io is proud to offer a dedicated customer support team that is responsive and ready to assist you. They are available to answer any questions or address any issues you may encounter on the platform.
Also, you can contact them via email, and live chat. And, you get great assistance from their FAQs section.
5. Is there a money-back guarantee?
Yes, Tradelle.io offers a 7-day money-back guarantee. If you are unsatisfied with the platform for any reason, you can request a refund within the first week of your subscription.
Find winning dropshipping products & spy on your competitors
Minea analyses all online advertising to help you find the best products to launch, and the best creatives in your niche in just a few clicks.
Use coupon: DROPSHIPPING30 and get a 30% discount
💡Try Minea For Free
Conclusion
My Tradelle.io review highlights the platform as a powerful tool for dropshippers. With its comprehensive product research data and variety of tools, Tradelle.io offers all the necessary features to find profitable products and make informed business decisions.
Also, the seamless integration with Shopify makes managing inventory and fulfillment processes a breeze. Additionally, the availability of educational resources ensures that dropshippers have the knowledge to succeed in the competitive dropshipping industry.
While Tradelle.io offers a 7-day money-back guarantee, its pricing may not be the most affordable option for all dropshippers. However, considering the advanced product indicators, detailed metrics, and powerful features provided by Tradelle.io, the platform is still highly recommended for dropshippers in 2023.
Overall, Tradelle.io proves to be a reliable and comprehensive platform for dropshippers, making it a worthwhile investment for those looking to thrive in the dropshipping industry. So, why not give it a try?