What Is The Minimum Budget To Start Dropshipping With Shopify?
by
Aleksandra -
Aleksandra teaches marketing and management at various levels in High School. She writes about marketing, the economics and logistics of the dropshipping business and ecommerce in general.
Chief of Content Marketing
Are you on a tight budget to start dropshipping? Feeling a little confused, and don't know how to start? Don't worry, we have all been there. But, we got your back!
To begin with, each type of business has its own financing needs. Luckily, certain types of businesses, including dropshipping businesses, have lower financial entry barriers.
In this article, we will give you a FULL guide about how to start dropshipping on a minimum budget with Shopify.
Also, we will give you some tips on how to start a dropshipping business with no money.
This guide will help you learn the ins and outs of dropshipping and how to get started with this exciting business model. So, let's start!
What is Dropshipping and How Does it Work?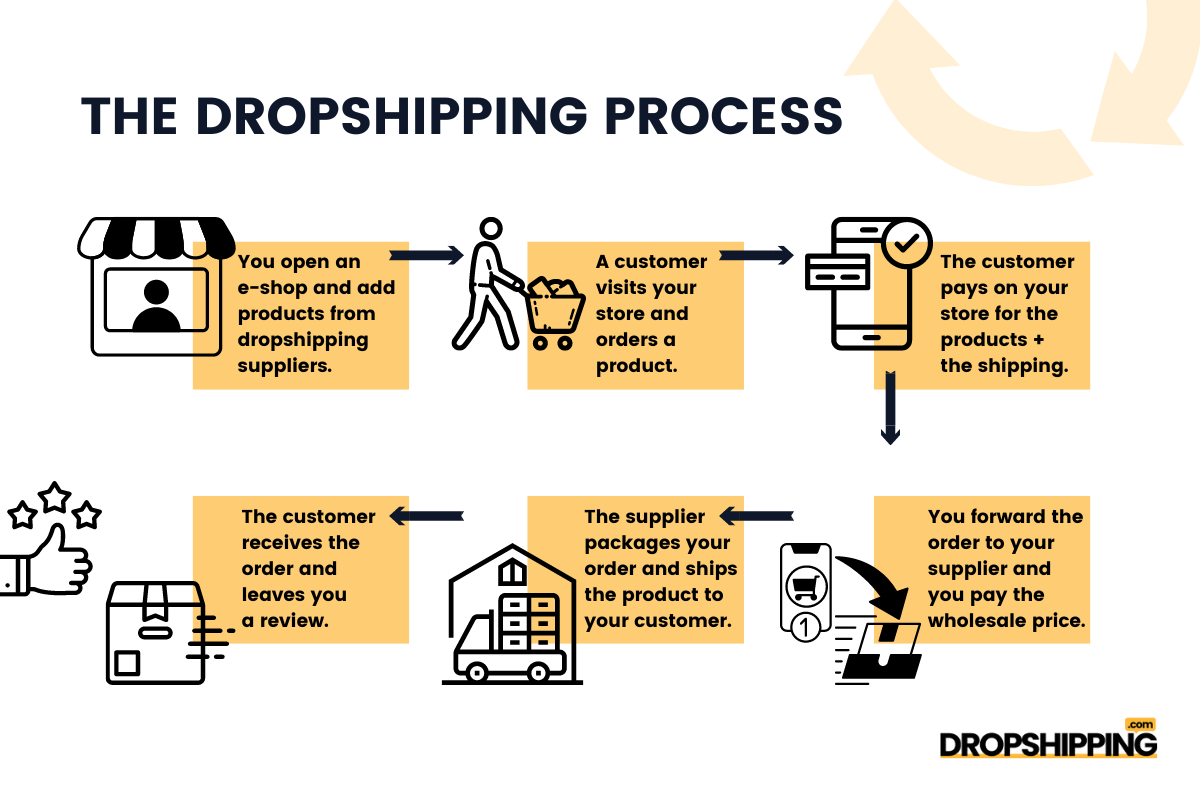 Here's a quick explanation for newbies, or enthusiasts that want to start!
Dropshipping is an eCommerce business model that allows you to sell products online without the need for inventory.
Basically, you act as a middleman between the supplier and the customer. So, when a customer places an order on your Shopify store, you forward the order details to your dropshipping supplier who then ships the products directly to the customer.
💡 Tip: Learn more about Is Dropshipping Worth It? The Truth Revealed by the Pros.
Lifetime deal: Get all-access to everything on Dropshipping.com
Access all DSCOM features, resources, courses, live workshops, discounts, winning products, weekly deep dives, directories and all future updates under all-in-one dropshipping HUB.
DROPSHIPPING IS A REAL BUSINESS, DON'T DO IT ALONE. 4553 MEMBERS ALREADY JOINED. YOU CAN PAY OFF YOUR SMALL INVESTMENT WITH JUST 2 SALES ON YOUR STORE.
Grab the deal before it's gone
How Much Money Do You Need to Start Dropshipping?
Starting a dropshipping business can require varying amounts of capital depending on several factors. These include the types of products you plan to sell, the platform you choose to host your store, and the marketing strategies you intend to employ.
Typically, it is possible to launch a dropshipping business with as little as $50 to $100. This amount would be sufficient to cover the cost of domain registration, web hosting, and initial marketing expenses, such as paid social media advertising or Google AdWords.
But, keep in mind that, as you grow, your costs might come up to $500, or even more to $1000. For instance, you may need to upgrade your web hosting plan to handle increased traffic, utilize premium marketing tools, or enlist virtual assistants to assist with day-to-day tasks.
In general, the typical costs of establishing a dropshipping business include:
Building a dropshipping and customizing it
Promoting your store
Adding additional functionality
Ultimately, the cost of starting a dropshipping business will be unique to your specific business needs and objectives. To ensure long-term success, it's essential to have a clear understanding of your costs and budget accordingly.
💡 Tip: Learn How To Escape The Rat Race The Real Way? – Leaving The 9 To 5.
Is It Possible To Start a Dropshipping Business With No Money?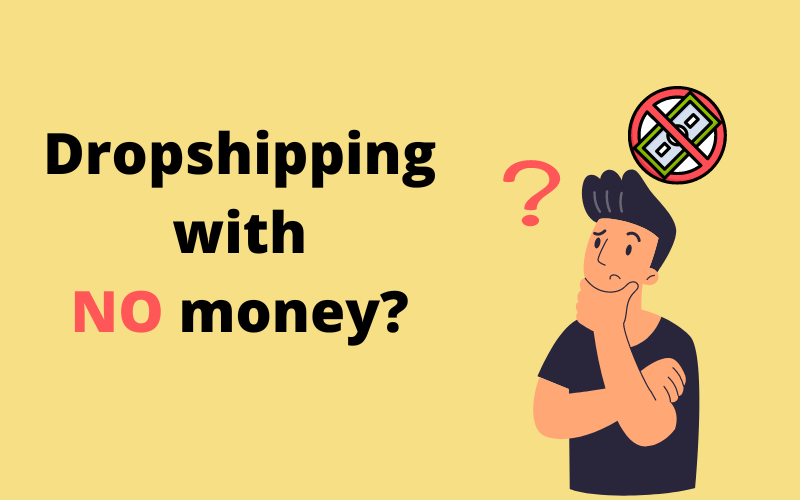 As mentioned, setting up a dropshipping business requires a much smaller investment than opening an actual retail store. But, is it possible to start dropshipping with no money? Well, yes.
Starting a dropshipping business without spending any money may seem difficult, but it's achievable with some effort and research. And, we saved you a little time, so check out our tips on this! 👇
➡ Use free website builders
One way to start your dropshipping business without money is to use free website builders like Shopify, Wix, PageFly, Spocket, etc. These website builders offer free trials to help you create your online store and showcase your products.
👉 For example, check out the PageFly Review: Website Builder To Customize and Optimize Your Shopify Stores. You have a FULL guide about customizing each of your website pages.
➡ Find dropshipping suppliers for free
Another crucial aspect of dropshipping is finding dropshipping suppliers. You can use platforms like Dropshipping.com and Aliexpress dropshipping center to find dropshipping suppliers for free. These suppliers can help you source products at a lower cost and make your business more profitable.
➡ Marketing and advertising your dropshipping store
Marketing and advertising your dropshipping store and products can be done for free through strategies like SEO (Search Engine Optimization). You can use relevant keywords, meta descriptions, and tags to optimize your website and product pages to attract organic traffic to your website.
💡 Tip: Read about The Power Of Product Advertisement: How To Increase Your Sales?
➡ Free shipping
Lastly, shipping products can also be done for free. Many suppliers offer free shipping or have low-cost shipping options to help you save money.
For example, on the Dropshipping.com supplier directory, you can list only the suppliers that offer free shipping costs for free. Just set your filters and there you go! 👇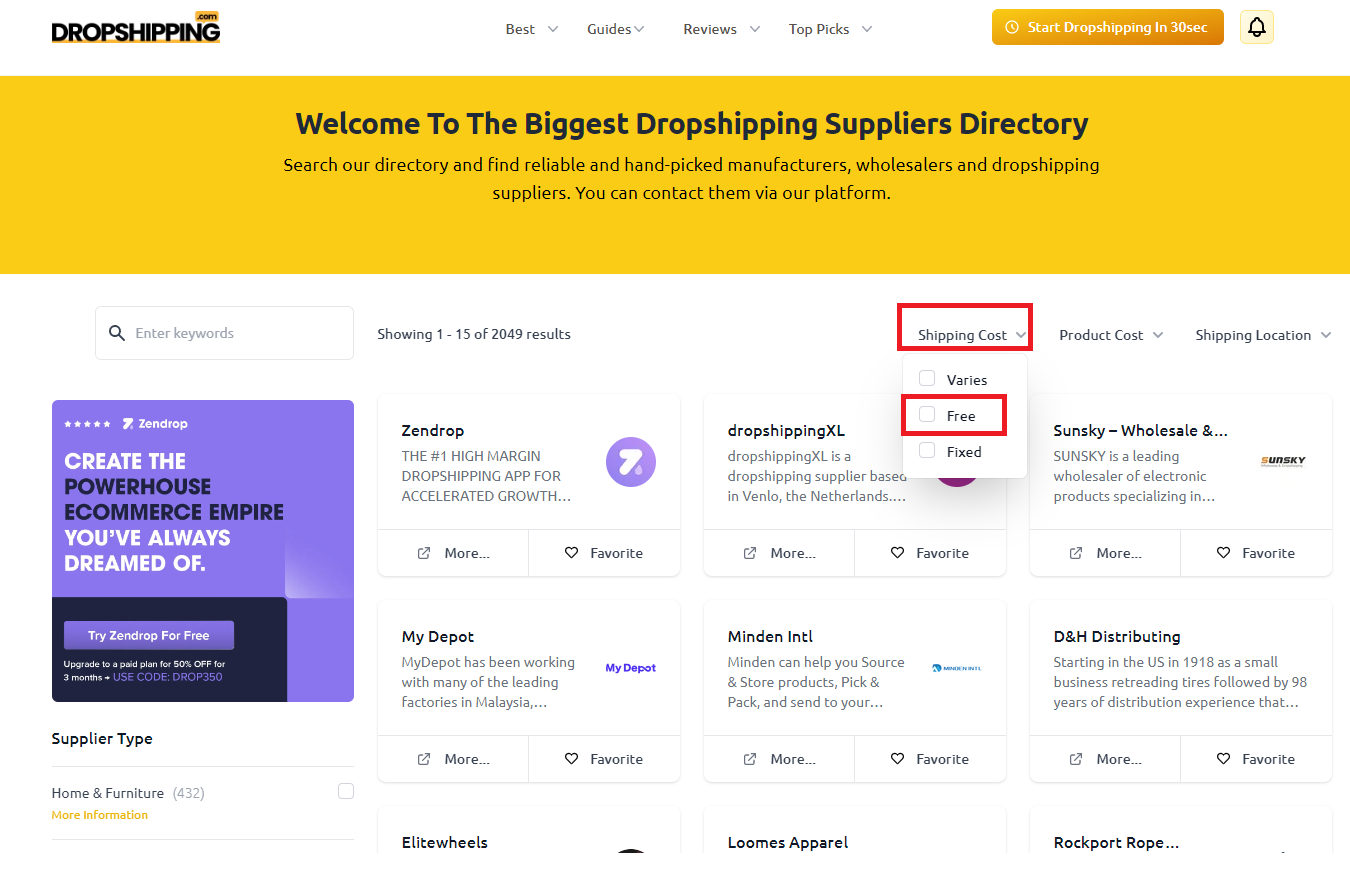 Remember that you can start a dropshipping business with no money. But you will have to invest money in your business sooner or later. In a nutshell, you cannot run a profitable business without investing in anything.
So, now, we will focus on the minimum budget to start dropshipping with Shopify.
💡 Tip: Learn about Dropship Baby Products: A Step-By-Step Guide + Top 24 Products
What Is The Minimum Budget To Start Dropshipping With Shopify?
Shopify is an easy-to-use e-commerce platform that allows you to create a dropshipping store and sell your products online. Whether you are a total newbie or a tech expert, you will love it.
But what are the actual and unavoidable Shopify dropshipping start-up costs?
In this section, we will talk about the budget you need to start dropshipping with this e-commerce platform. In essence, these start-up costs or expenses are typically incurred during the process of creating a Shopify dropshipping store:
Shopify store building costs
Fortunately, this e-commerce platform offers a free 14-day trial, meaning that you can try Shopify free for 14 days. You can start your free trial here. Just bear in mind that your free trial starts when you first sign up, not when you begin to work on your store.
Sure, you can build your dropshipping store during the free trial. However, you should select one of the Shopify pricing plans before you begin to sell online.
Therefore, let's review the pricing plans here! Right at this moment, Shopify offers three main pricing plans giving you the option to build and customize a dropshipping store. 👇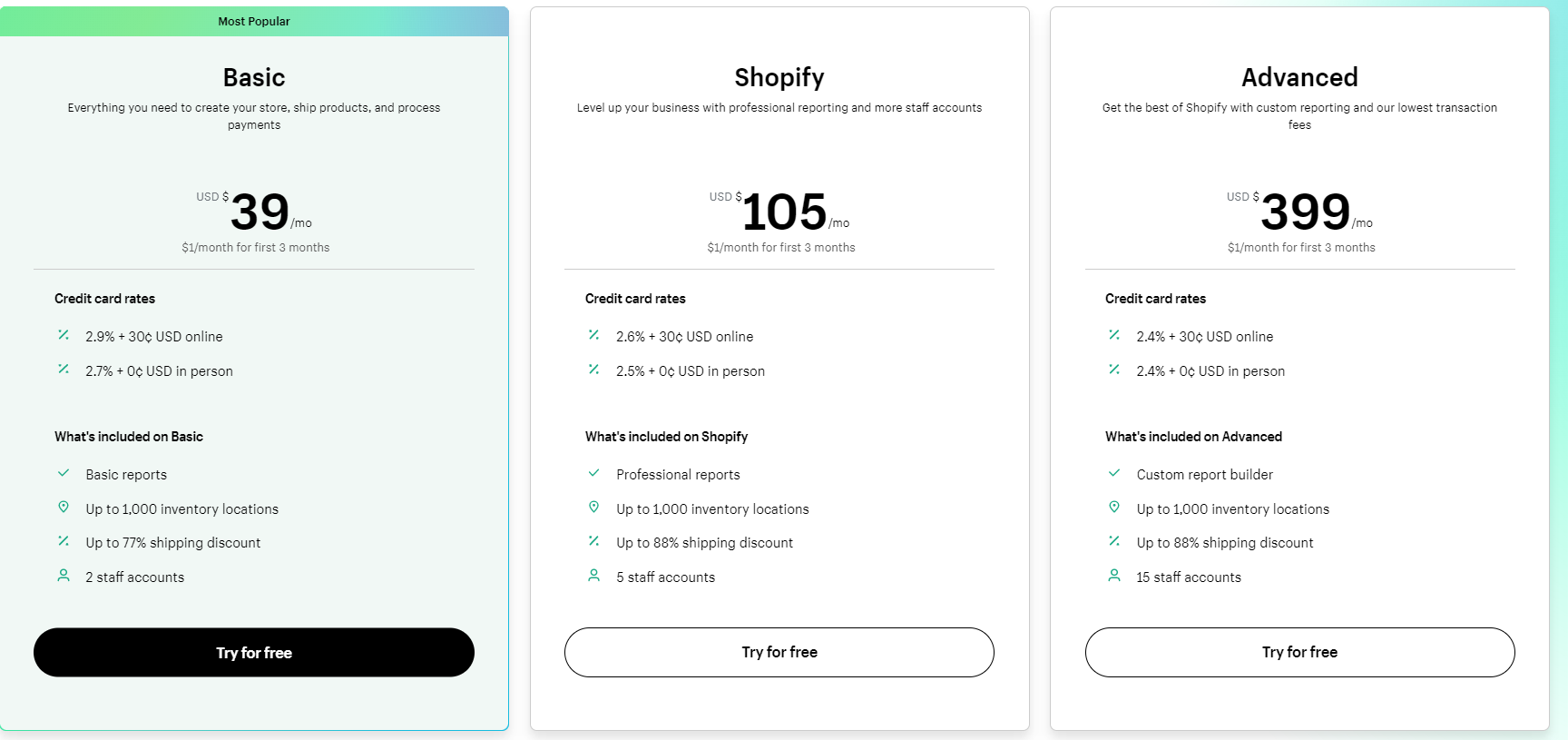 💡 Tip: Read our FULL Review about Shopify Pricing Plans.
So, as a beginner with a minimum budget to start dropshipping, you can choose the Basic Shopify plan that costs only $39 per month. In addition, this plan is great for new dropshippers because it offers some basic features, allowing you to sell online with ease.
Then, you can buy a domain name that reflects your brand. And it costs $15 per year.
💡 However, there's a Shopify promotion right now where you can start a free trial and enjoy 3 months of Shopify for $1/month on a selected plan. So, don't wait, take this!
How much does improving the functionality of your store cost? Can it have a great effect on your budget to start dropshipping with Shopify? Let's find out, shall we?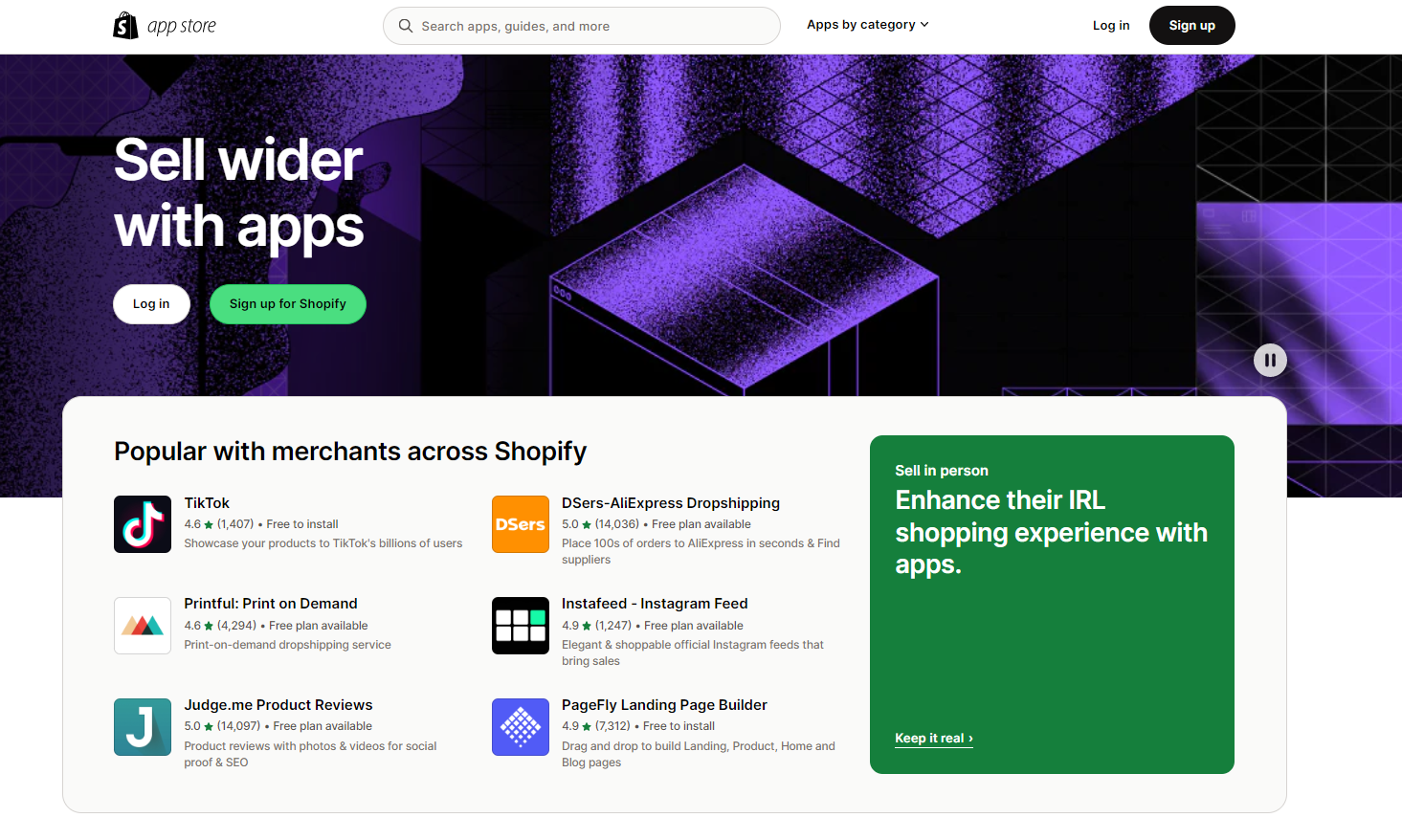 Although Shopify offers some free apps/extensions, they may not help you meet the needs of your customers. Thus, you may want to install certain paid apps/extensions to add more specialized features to your Shopify store.
With numerous apps in the Shopify App Store to choose from, you can certainly improve the functionality of your store.
Do you want to get in-depth analytics? Or do you want to connect your Shopify store to Facebook? If so, there is surely a specific app for that purpose.
Thus, most of these apps cost around $9.99-$29. Of course, some are less expensive, whereas others cost so much more. When it comes to Shopify app pricing, it depends on the app and the features it offers. Also, the average cost of a Shopify app is around $20 to $50 per month.
However, every single app available on the Shopify App Store can add so much value to your dropshipping store. Just find the app that's right for your online store and pay for it.
Also, it is important to note that with some Shopify apps, you get a free trial period just to test them. At the end of the free trial period, you can pay for the app if you like it. As you can see, the concept is very similar to that of Shopify.
Based on researchers, the average website conversion rate in 2023 is 2.35%. To show you what we mean, we will give an example.
Hence, let's say you get 1,000 visitors to your online store within a day. You can expect 25 of them to buy something from your store. But, how can you get 1,000 visitors to your store? You can do so with marketing and advertising, of course. Do you want traffic? You need marketing!
However, the right question here is, what are the marketing costs for your store using Shopify?
The price range for Shopify marketing apps and tools can vary depending on the specific features and functionality offered. Some apps and tools are free, while others can cost anywhere from a few dollars to several hundred dollars per month.
For example, if you use an email marketing strategy, there are several email marketing apps available for Shopify, such as Klaviyo, Omnisend, and Mailchimp. Prices typically range from free for basic plans to $20-$30 per month for more advanced features and higher subscriber limits.
Furthermore, there are several SEO apps available, such as Plug-in SEO, or SEO Manager. Prices for these apps can range from free for basic features to $20-$30 per month for more advanced functionality.
On the other hand, social media marketing is cheaper. Thus, Shopify offers its own social media marketing tool called "Kit," to create Facebook and Instagram ads. Thus, the costs vary from free to $10/month, depending on the features included.
However, since we mentioned Plug-in SEO, it has other more expensive pricing plans which can even cost you $79.
To summarize, as a beginner, your marketing costs can vary from $10 to $30.
💡 Tip: Check out the 16 Best Marketing Apps on Shopify.
How to Save Money When Starting a Dropshipping Business on Shopify?
Starting a dropshipping business on Shopify is an affordable way to establish an online store, but it's important to keep in mind the costs associated with running a business. Here are some useful tips to save money when starting a dropshipping business on Shopify.
👉 First, take advantage of Shopify's 14-day free trial to build your store. You can choose from a range of free store templates to design your website. After the trial period, opt for the Shopify Starter plan for only $5 per month.
👉 Next, use free marketing channels, such as Instagram, Facebook, and Pinterest, to promote your store and products. Additionally, creating a blog can drive traffic to your site and improve your SEO.
Moreover, when starting out, focus on the essentials and avoid spending on expensive website designs or unnecessary software until your business generates revenue.
👉 Thus, as your business scales up, you will consider using Shopify's pricing plans, but be aware of the transaction fees. So, you can reduce the number of transactions to lower overall fees and encourage customers to purchase more items in a single transaction. However, this is not always possible.
Therefore, to minimize these fees, consider choosing a plan that offers reduced transaction fees. Also, Shopify Payments offers lower transaction fees than many third-party gateways. If possible, use Shopify Payments for your transactions.
However, if Shopify Payments isn't an option for you, consider using a third-party payment gateway such as PayPal or Stripe, which typically charges lower transaction fees.
Now, let's review the mistakes you could make, and find a way to avoid them so you can save your budget to start dropshipping!
Common Mistakes to Avoid When Starting a Dropshipping Business on Shopify
When starting a dropshipping business on Shopify, it's crucial to avoid common mistakes that can impede your success. Here are some common mistakes to avoid:
🔸 Choosing the wrong products
Picking products that are too niche or too broad can harm your dropshipping business. So, it's best to select products that have high demand and low competition to ensure profitability.
For instance, Shopify has various product research tools that can help you find your winning products.
Also, if you are still unsure, just open Google Trends, and search for the products that customers got the most interest in, by simply typing in keywords. Just take yourself in the customers' shoes, and imagine how they would search for some product.
👉 Check out the 10 General Dropshipping Store Examples To Inspire Yours.
🔸 Failing to research the dropshipping suppliers
Ensuring that your dropshipping suppliers are reliable, have good product quality, and deliver products in a timely manner is critical. Failing to research suppliers can result in negative customer experiences and damage to your brand reputation.
Thus, instead of doing this on your own, you can ask for help from dropshipping agents. Or, check online directories like Dropshipping.com for the most reliable dropshipping suppliers.
🔸 Neglecting dropshipping store design
Your website is your storefront, so it's essential to have a professional, user-friendly design.
In fact, ignoring website design can deter potential customers from making a purchase and hurt your brand image.
💡 Tip: Check out the 13 Most Successful Shopify Dropshipping Store Examples.
🔸 Failing to optimize for SEO
SEO is critical to increasing your website's visibility and driving traffic to your store. Hence, neglecting to optimize for SEO can result in low search engine rankings and fewer potential customers.
👉 Therefore, read about SEO for Dropshipping Stores: How to Improve Your Rankings?
Overestimating your marketing strategy
Marketing requires ongoing effort and strategy. Thus, overestimating the effectiveness of your marketing strategy can result in low conversion rates and decreased sales.
Thankfully, Shopify has various marketing tools that can help you promote your dropshipping store properly.
👉 Check out the 7 Tips For Creating a Bulletproof Dropshipping Marketing Strategy in 2023.
The Best Cost-Effective Shopify Plan To Start With (Our Opinion)
As a small business on a tight budget to start dropshipping, opting for the Shopify Basic plan can be a highly cost-effective solution.
This plan offers a range of features, including an online store, a secure shopping cart, unlimited product listings, and 24/7 customer support. Moreover, it allows for mobile commerce and offers a wide variety of add-ons to further customize your store. Also, at this moment it costs $39/month. 👇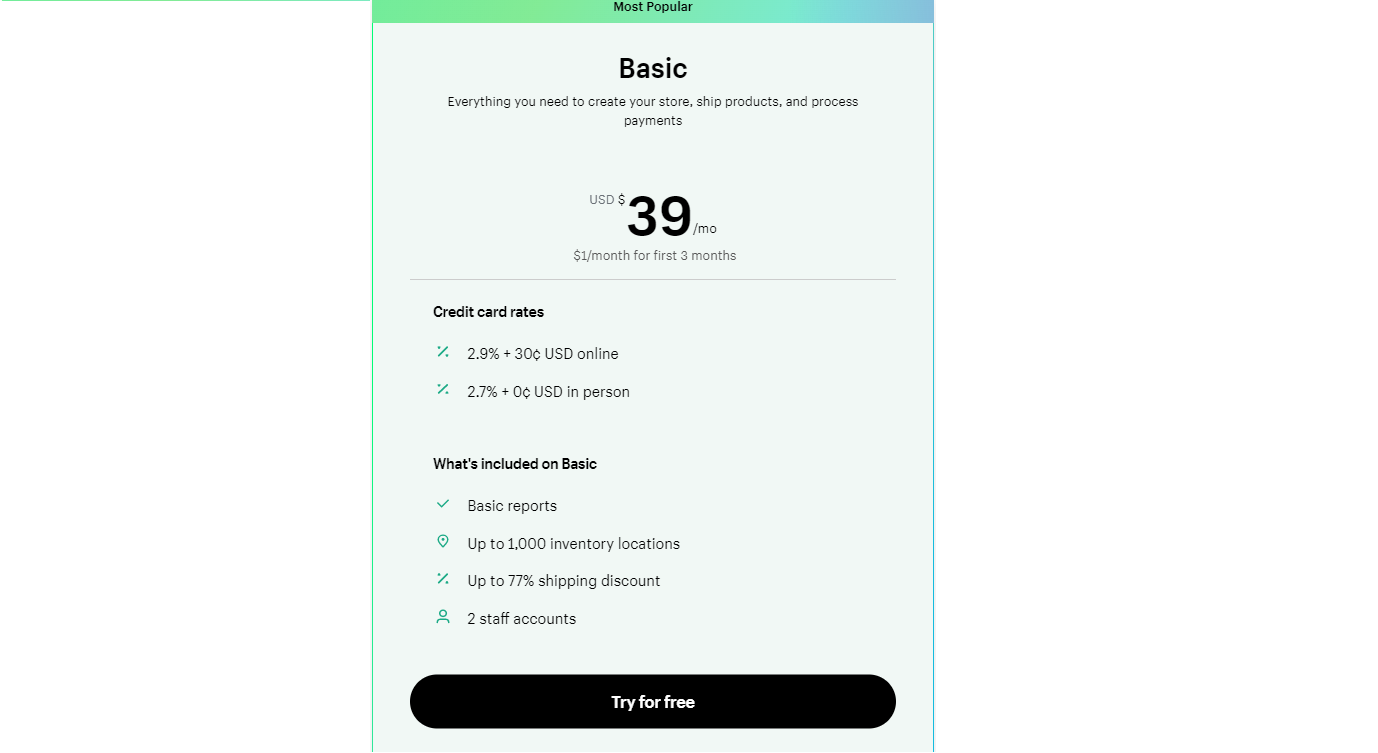 Furthermore, Shopify charges a transaction fee of 2.9% + 30¢ for each sale made using a third-party payment gateway, such as PayPal. However, with the Basic plan, the transaction fee is reduced to 2.0%, making it an excellent option for businesses on a tight budget.
Next, once you have a large and complex store and need advanced reporting and shipping options, as well as 24/7 support via phone, email, and live chat, it may be time to consider the Shopify Advanced plan.
Join the only community and resource hub you'll ever need to succeed with dropshipping
Find winning dropshipping products, learn marketing, download templates and engage with real dropshippers
Never pay for a "guru's" course again. See why 4543+ dropshippers joined us this year!
💡Try DSCOM Hub Now
Conclusion
In summary, dropshipping is an eCommerce business model that allows entrepreneurs to sell products online without inventory.
While starting a dropshipping business can require varying amounts of capital depending on several factors, it is possible to launch a dropshipping business with as little as $50 to $100.
Thus, the minimum budget to start dropshipping with Shopify includes store-building costs, monthly subscription fees, and transaction fees. By considering these factors, entrepreneurs can start their dropshipping business on a tight budget using Shopify.
However, as businesses grow, costs may come up to $500, or even more to $1000.
Moreover, starting a dropshipping business with no money is achievable by using free website builders, finding dropshipping suppliers for free, marketing and advertising for free through SEO, and taking advantage of free shipping offered by some suppliers.