How to Build an Ecommerce Website from Scratch – My Process
by
Aleksandra -
Aleksandra teaches marketing and management at various levels in High School. She writes about marketing, the economics and logistics of the dropshipping business and ecommerce in general.
Chief of Content Marketing
Want to learn how to build an ecommerce website from scratch? I got you!
In this guide, I will help you understand the most important steps and tell you exactly how to build an e-commerce website from scratch.
Also, I will give you tips on how to create a dropshipping store, including the best tools and apps, as well as how to promote your store once you've built it.
So, whether you are a newbie or you already have some experience as an online store creator, you will learn something new and useful to help you build a winning e-commerce store from scratch.
BONUS: Before you dive in, you might want to check out my E-commerce Glossary of terms you might have never heard of before and what they mean in this context.
Quick Steps Review on How To Build An Ecommerce Store From Scratch [For Busy Dropshippers]
Building an ecommerce website from scratch can be a complex process, but here are the general steps you can follow to get started:
➡ Choose a platform
Of course, the first step is choosing the platform that will support you while you build an e-commerce website from scratch.
Hence, there are several ecommerce platforms available, including Shopify, WooCommerce, and Squarespace. Each of these platforms has its own advantages and disadvantages. Thus, it is recommended to conduct thorough research to identify the most suitable platform for your business needs.
For instance, in my experience as a dropshipper, Shopify stands out with its remarkable set of features. The platform provides a plethora of apps and integrations, streamlining the process of establishing a dropshipping enterprise. Conversely, Squarespace lacks dedicated dropshipping functionalities. 👇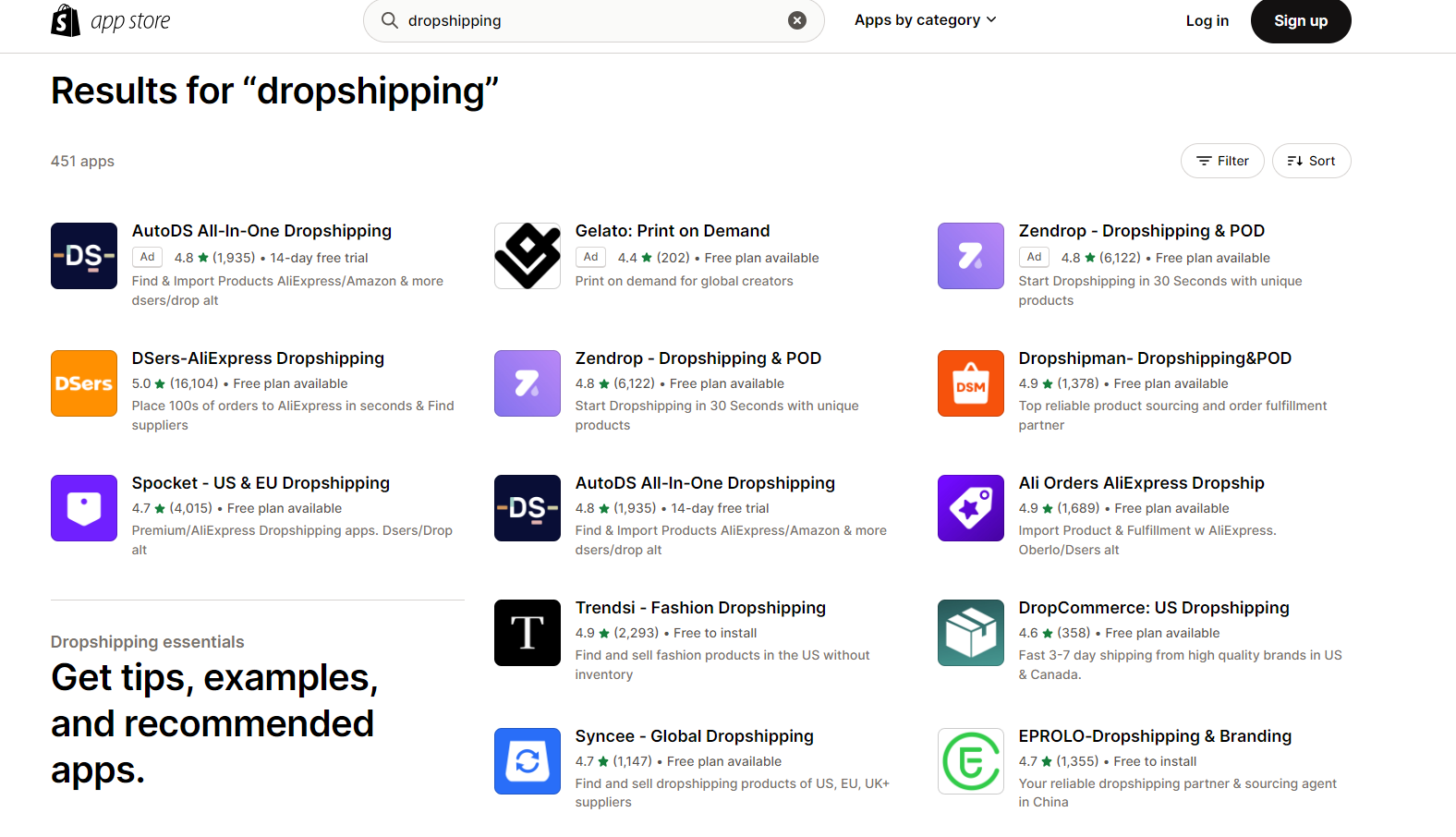 Nevertheless, Squarespace caters to creative individuals, offering an extensive array of customizable templates to showcase their artistic flair. Furthermore, Squarespace's pricing plans are more budget-friendly and come without any additional transaction fees. 👇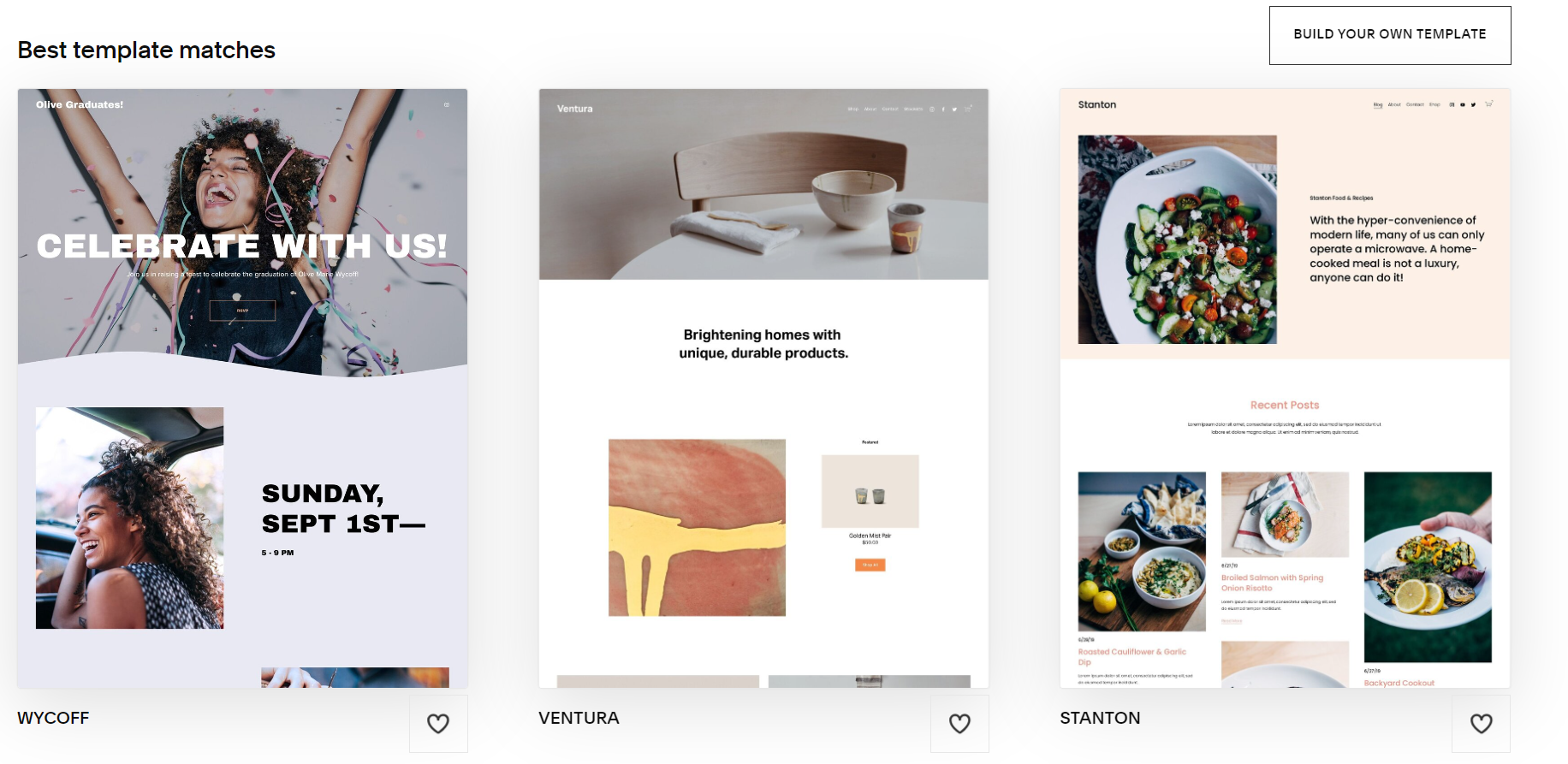 👉 Check out The 8 Best GoDaddy Alternatives For E-Shop Hosting In 2023
➡ Select a domain name and hosting
When it comes to having a website, you need two things: a domain name (which is the address of your website) and hosting (which allows your website to be accessed online). There are many providers where you can purchase both your domain name and hosting, such as Bluehost or GoDaddy.
For example, I have had a positive experience with BlueHost. Not only that it offers a domain name. But, it is a cheap option, starting at $9.95/month.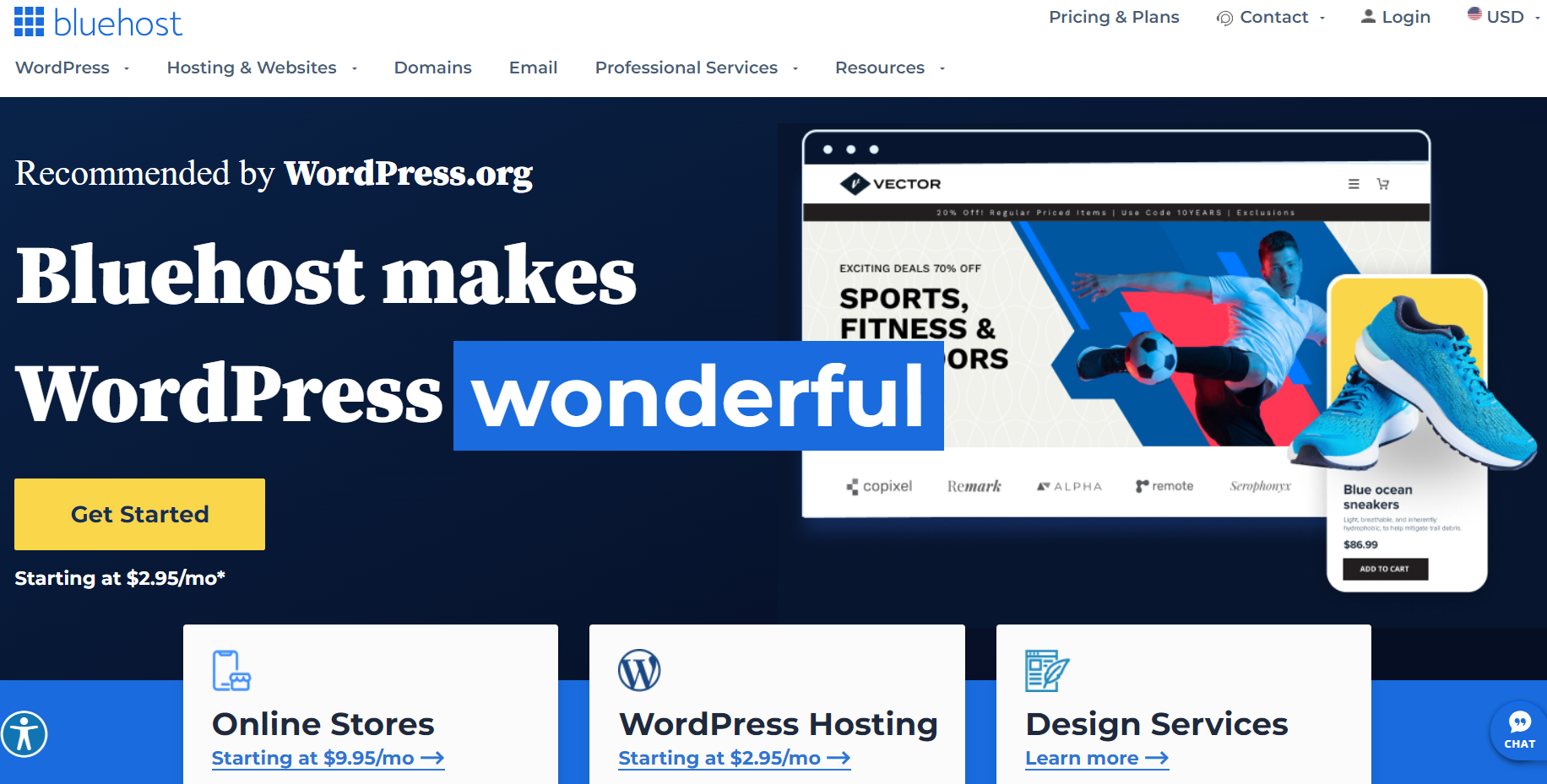 Also, Bluehost offers the added advantage of a complimentary SSL certificate, guaranteeing the utmost security for users' websites. Notably, it excels in WordPress hosting optimization, facilitating effortless installation and seamless management of WordPress websites for its users. So, I recommend it to you.
➡ Install ecommerce software
Once you have selected your e-commerce platform and obtained your domain and hosting, you can proceed with installing the e-commerce software on your website.
👉 Check out my Shopline Review: Is It Worth For Setting Up A Dropshipping Store?
➡ Choose a theme and design your website
The way your website looks and feels can greatly influence how your brand is perceived by customers. It's important to select a theme that matches your brand's style and values and make necessary adjustments to cater to your specific needs.
For example, Shopify is a no.1 for me when it comes to store themes. Plus, even if you are on low-budget, the platform offers amazing free Shopify themes.
Also, check this Shopify store example. It is a great inspiration for me, and it helped me with my store design. Toyshades employ captivating, full-screen, high-quality images that beautifully showcase their products.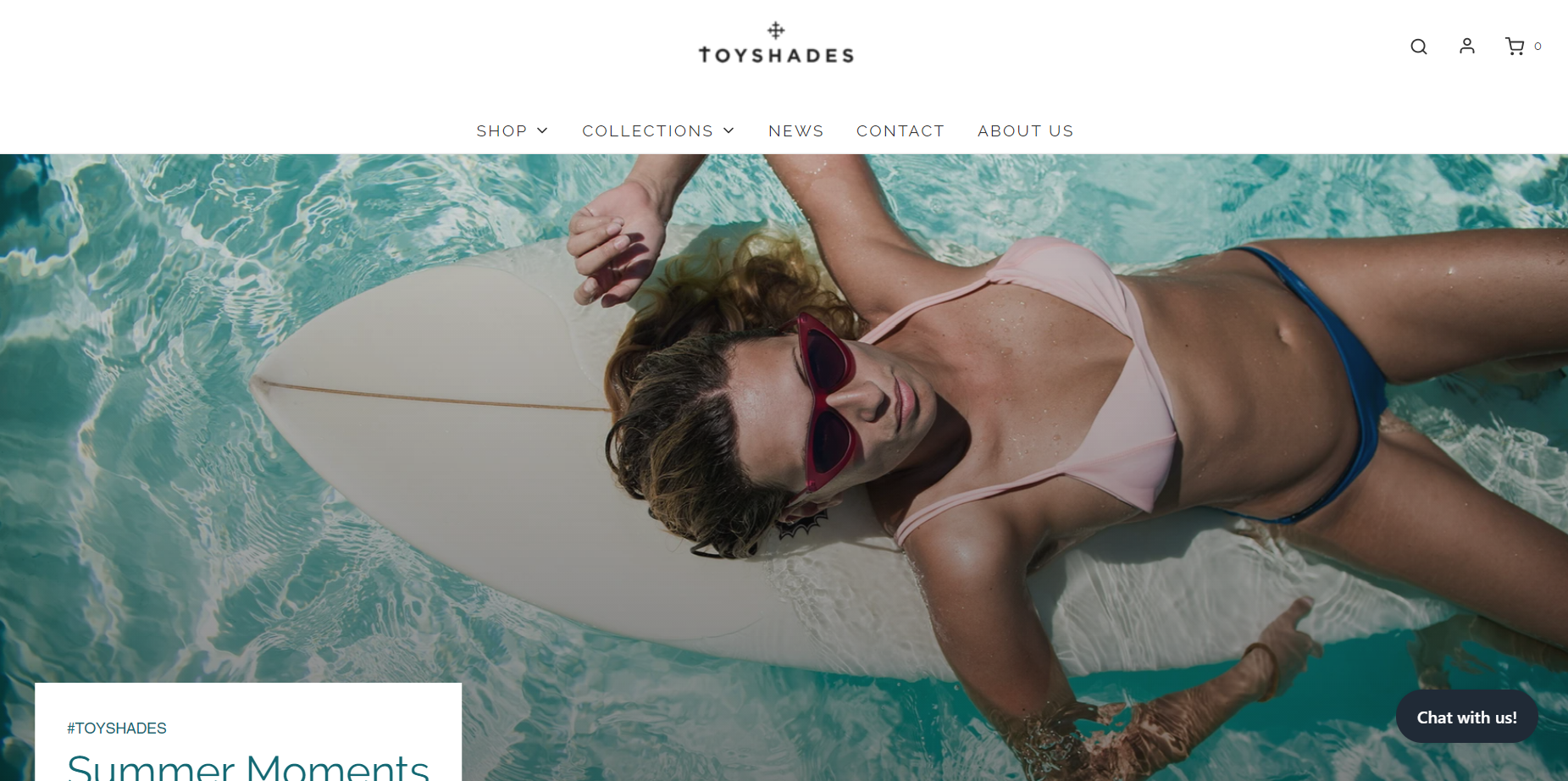 Furthermore, they ensure a user-friendly experience through seamless navigation. This includes a well-structured menu, strategically placed call-to-action buttons (like "Shop Now"), and thoughtfully arranged grid layouts to efficiently present all their content.
➡ Set up payment processing
To facilitate online sales, it's necessary to establish a payment processing mechanism. You can take advantage of the integrated payment processing system provided by ecommerce platforms or alternatively, collaborate with third-party service providers such as PayPal or Stripe.
➡ Add products and categories
After launching your website, you can begin to populate it with your products and sort them into appropriate categories. It's important to provide high-quality images of your products along with comprehensive descriptions so that customers can make well-formed decisions when making purchases.
👉 Learn How to Sell Plants Online in 2023 – Step-by-Step Guide.
➡ Set up shipping and taxes
To effectively manage the shipping and tax aspects of your products, you should consider utilizing the shipping and tax calculators provided by your ecommerce platform. Alternatively, you may explore third-party solutions to help you manage these processes.
👉 Learn about Dropshipping Taxes and Payments – Must-Know Facts.
➡ Test and launch your website
It is important to conduct comprehensive testing of your website before its launch to ensure that all aspects are running smoothly.
After ensuring everything is set, proceed with the launching of your website and commence advertising your products or services to attract potential customers.
Building an ecommerce website (or a simple dropshipping store) can be a challenging process, but following these steps will help you get started and create a website that meets your business's needs.

Now, let's get into more detail so that by the end of this article you will have the minimum knowledge needed to build a simple commerce website and launch your dropshipping business.
Lifetime deal: Get all-access to everything on Dropshipping.com
Access all DSCOM features, resources, courses, live workshops, discounts, winning products, weekly deep dives, directories and all future updates under all-in-one dropshipping HUB.
DROPSHIPPING IS A REAL BUSINESS, DON'T DO IT ALONE. 4553 MEMBERS ALREADY JOINED. YOU CAN PAY OFF YOUR SMALL INVESTMENT WITH JUST 2 SALES ON YOUR STORE.
Grab the deal before it's gone
3 Things To Consider When Learning How To Build An Ecommerce Website From Scratch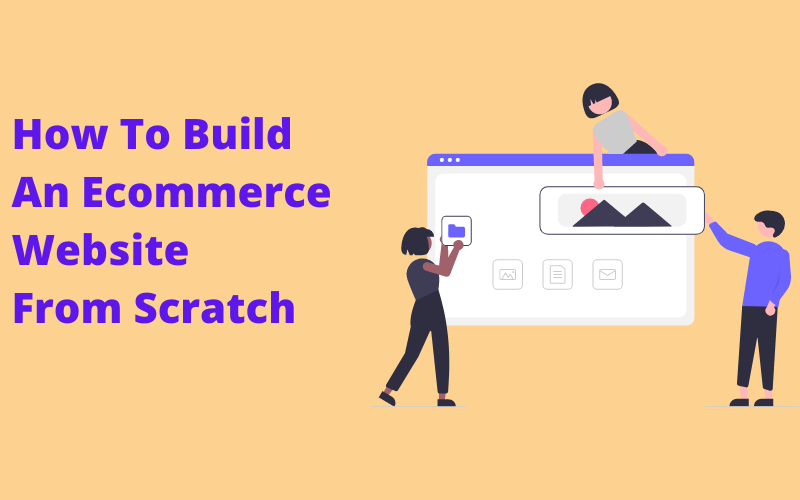 Before learning how to build an ecommerce website from scratch, you need to determine a few important things such as:
1. What Will You Sell?
Although there are lots of dropshipping products to sell online, you need to choose products that are likely to be profitable.
Sure, finding such products takes both time and vast research. However, if you do your research properly, it can save you time as well as make a huge difference to the success of your online business.
Luckily, many dropshipping product research tools are available today. These tools can help you find in-demand products.
For instance, I am personally using the Adserea product research tool. Hence, it helps me easily monitor ad performance across various social media platforms and gain insights into product sales.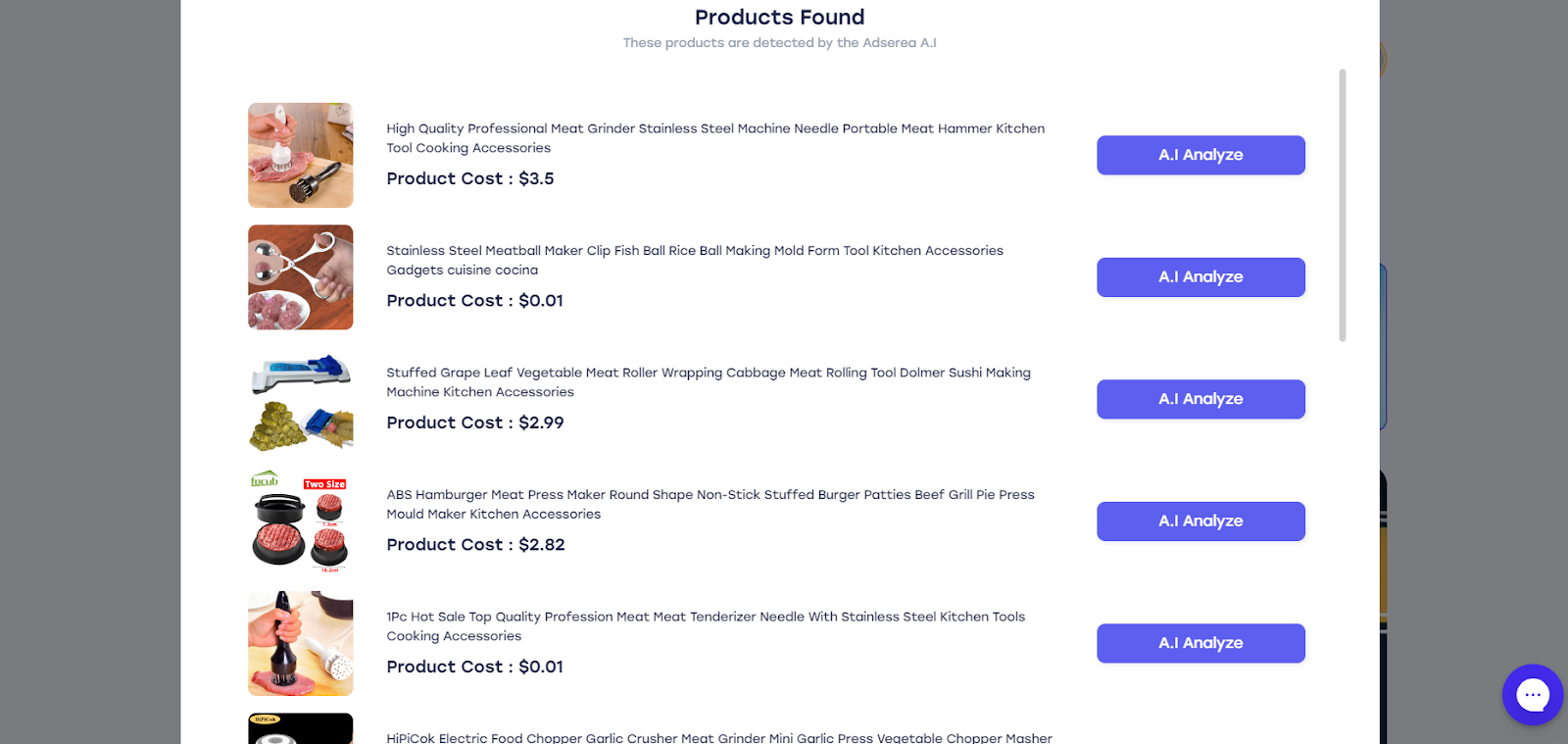 This powerful tool enables me to discover profitable products, craft compelling ad copy, improve advertising conversion rates, create sales-driving product descriptions, seamlessly import products, and access valuable resources tailored to any niche.
Also, I use Ali Hunter to spy on my competitors as well. Hence, once I choose the products I want to sell, I always search for what my competitors are doing, their pricing, the orders they get, sales volume, and more.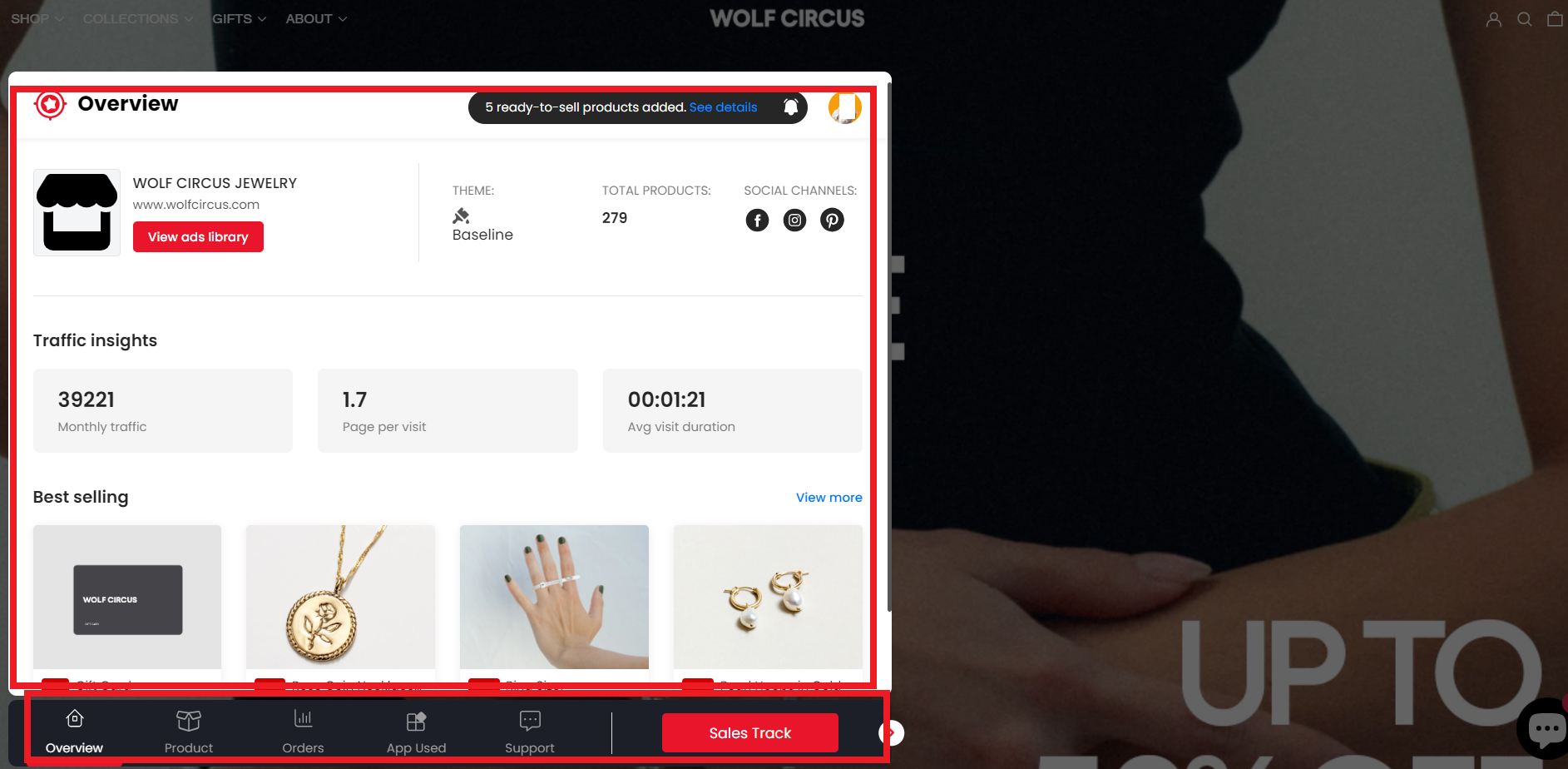 👉 Learn about Jewelry Dropshipping: The Best Niche For Dropshipping In 2023?
Want to sell only one product online? No worries – simply read my previous article about how to create a one-product dropshipping store.
2. How Will You Promote Your Dropshipping Store?
It is also important to map out your dropshipping marketing strategy prior to creating your ecommerce website. Knowing your dropshipping target audience and how you will reach your potential customers will help shape the vision for your online store.
So, take the time to create an action plan about how you want to promote your dropshipping store. For example, start by learning about:
➡Social Media Advertising
When it comes to promoting your dropshipping store, I highly suggest you take advantage of social media ads. Wondering why? First, social media platforms have a large user base, and all of them are your potential buyers.
Hence, depending on the demographics you aim to reach, you should carefully select the platforms that best suit your objectives. For instance, if your products primarily cater to millennials aged between 18-24 years old, leveraging TikTok or Instagram would be a wise choice. On the other hand, if your target audience is older than 30-35 years old, you can consider using Facebook ads.
👉 Read about How To Make Money On Youtube Without Making Videos [2023].
Moreover, these platforms offer comprehensive targeting capabilities, enabling you to refine your audience based on various criteria such as demographics, interests, and behaviors. This level of precision ensures that your ads reach the right people, maximizing the potential for engagement and conversions.
➡ Email Marketing
This dropshipping marketing strategy can definitely help you engage with your customers, and promote your business better. Hence, you can send Newsletters to your customers, and send them emails about your promotions, discounts, new arrivals, and more.
Plus, personalized emails give sense to customers that they are important to you, and build greater trust.
👉 Check out the 16 Best Email Marketing Tools For Shopify.
➡ Improve your SEO
We are talking about how to build an ecommerce website from scratch, right? Well, since your store is completely new, SEO is a must!
In the vast sea of websites, it's essential to make your store stand out and appeal to potential customers. So, what can you do?
Begin by conducting thorough keyword research to identify relevant terms within your dropshipping niche. By incorporating these keywords into your content, you can cater to the specific needs and interests of your target audience.
For instance, I am dropshipping candles, and I want to improve my candle dropshipping store. Here's what I would do first. To accomplish this task, I rely on the assistance of Ubersuggest. This fantastic tool allows me to effortlessly input my product name into its search bar, and in return, it provides me with valuable data about the specific keyword.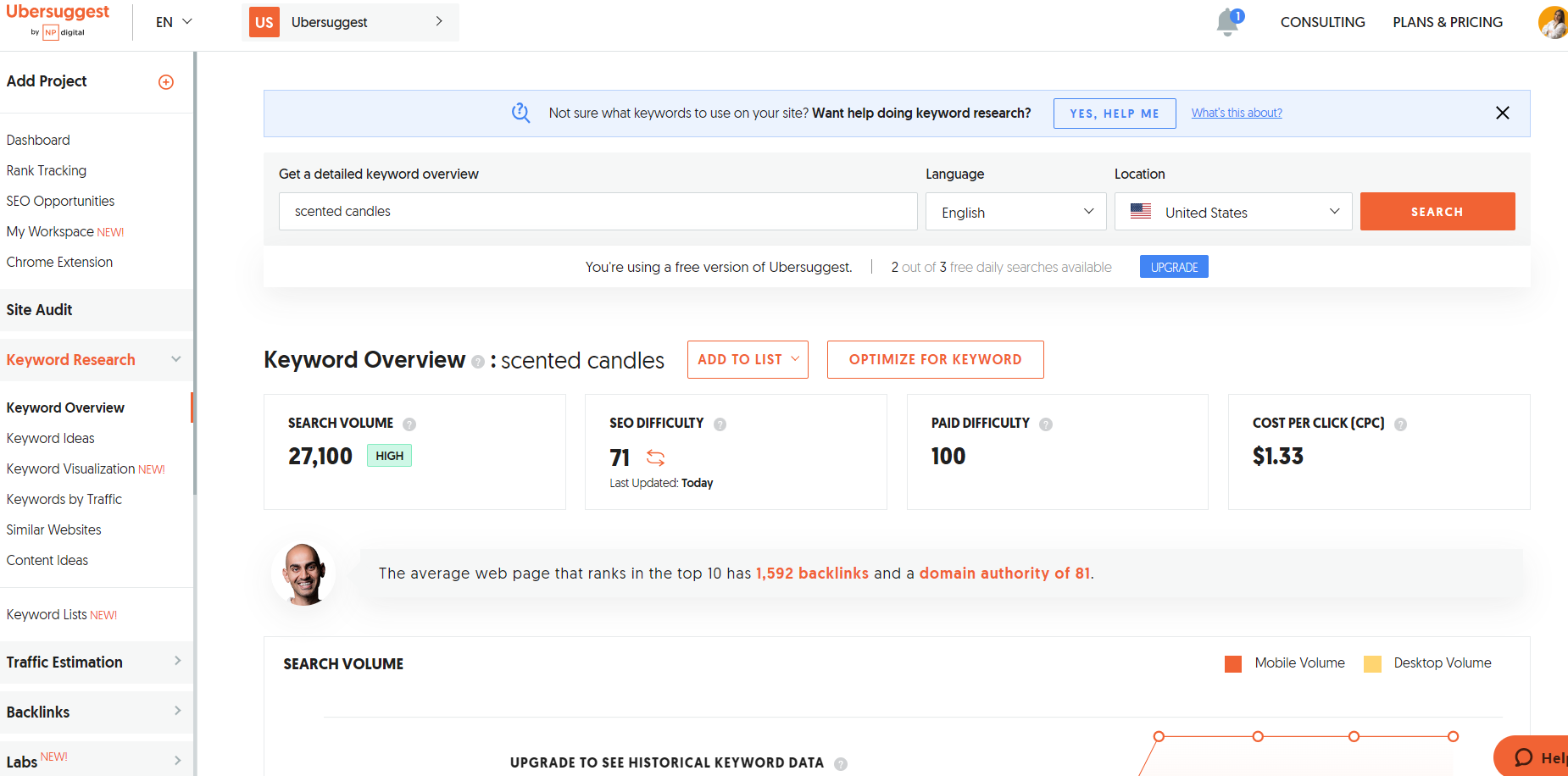 This includes information such as search volume, SEO difficulty, CPC, and other essential insights. Additionally, Ubersuggest goes the extra mile by suggesting other relevant keywords I can incorporate into my marketing strategy.
Furthermore, ensure your product descriptions are well-optimized, combining valuable information with a keyword-rich approach. Also, page loading speed plays a critical role in search engine rankings, so keep it fast!
Fortunately, several dropshipping apps can assist in enhancing your SEO strategy. For instance, I am currently using Plug-in-SEO, which has proven to be a valuable tool in this regard. 👇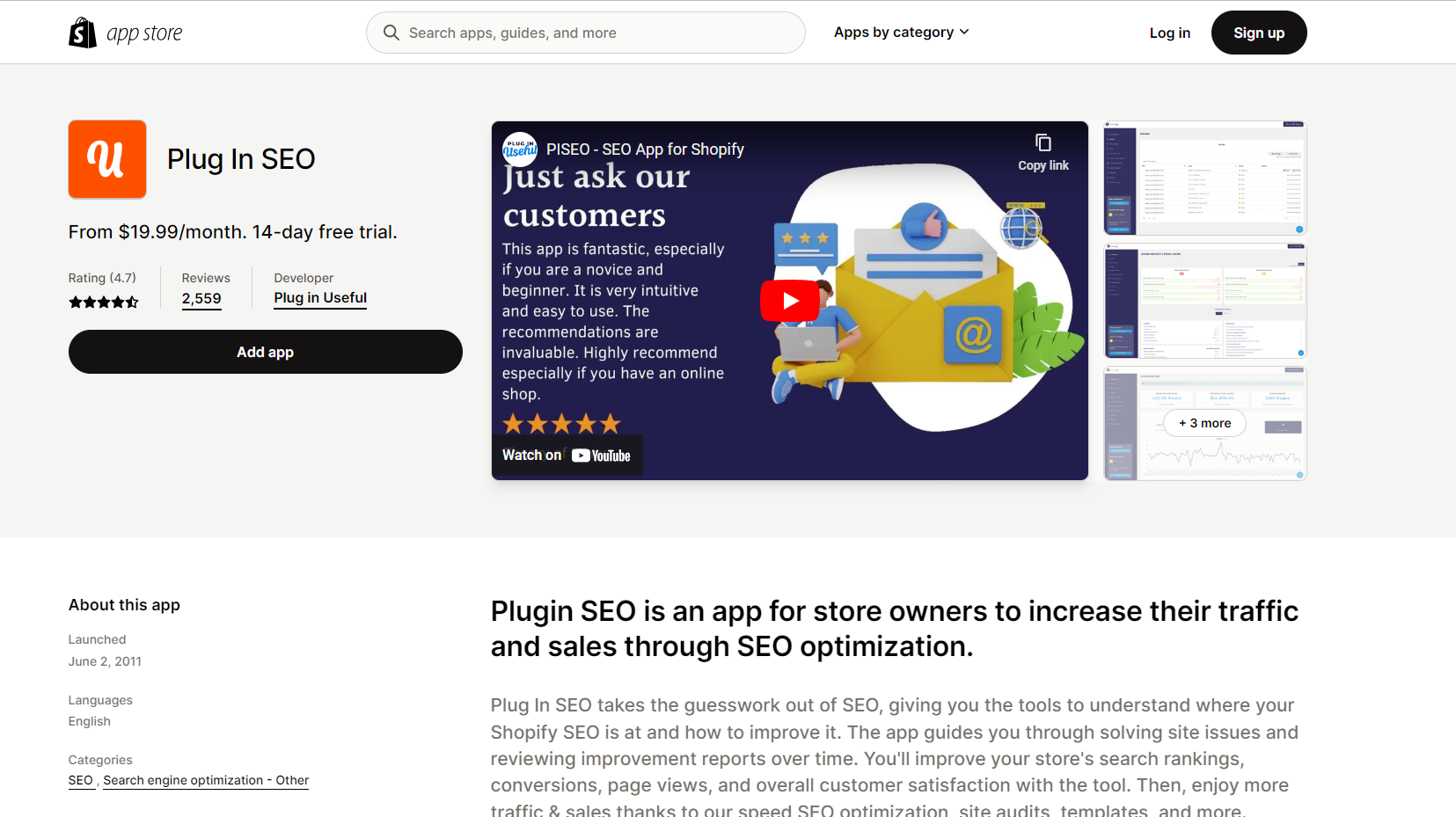 3. How Much Money Will It Take To Start Your Business?
Setting a budget for creating your dropshipping store is also one of the first things you need to do.
Remember that how much you put into your online store will pave the way for how much you will make. Thus, you must know what the initial expenses are when starting a dropshipping business.
You will need to pay for building your website (domain, hosting, themes, plug-ins, etc.) and marketing your store.
To have a clearer picture of what the minimum budget to start dropshipping with Shopify is, read our previous article.
Now, let's focus on the steps, i.e., tips on how to build an ecommerce website from scratch.
3 Ways To Create a Dropshipping Store
Now, before I start digging into some of these options, I must list them, so you can choose the best one for you. Thus, there are three options to create a dropshipping store online.
Option 1. Use an open-source content management system (CMS) to create it from scratch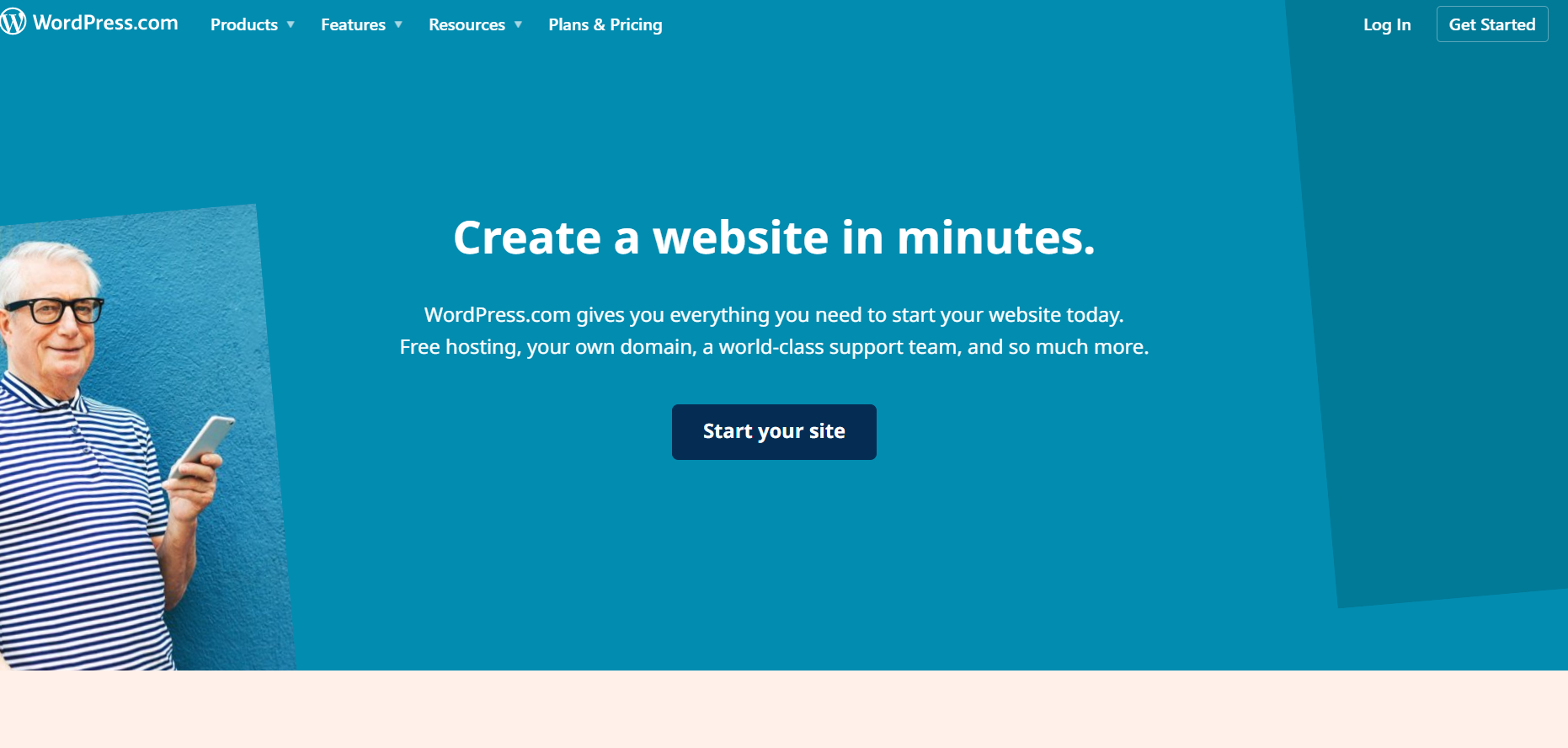 As long as you have some experience building websites, you can create a website from scratch using just an open-source content management system (CMS) such as WordPress.
But to do so, you will need to invest a lot of time and effort into it. Content Management Systems do not usually offer any hosting and domain options included in the plan.
That's why you will have to buy a domain name and hosting from a third-party company. Also, you will have to install extra plug-ins and a payment system set up to create a fully functional online store.
Option 2. Hire a website developer
Another option is to hire a web developer to create a website for you. This approach is the easiest one. But it may cost an arm and a leg. So, if you are a beginner think this through.
But, why do that, when you have plenty of other options?
Option 3. Use An eCommerce Website Builder
The third option is to use a website builder such as Shopify, BigCommerce, Wix, WooCommerce, etc.
Plus, most of these website builders are easy to use and come with ready-made templates and intuitive user interfaces.
Thus, this means that by using one of these website builders, you can create a dropshipping store from scratch without any coding at all. Moreover, these website builders are also known as e-commerce platforms
💡 Tip: READ AND LEARN – Best Ecommerce Platforms In 2023: How To Choose One For Your Store?
👉 Also, check out the Best Dropshipping Websites, Suppliers & Dropshipping Companies For Everything You Need.
Now, let's see how to build an ecommerce website from scratch.
Build Your Ecommerce Website From Scratch (My Guide)
Next, whenever option you pick from the two above which refer to building the dropshipping store completely by yourself, here's what you will need to do.
💡 Tip: Learn How To Set Up Your First Store On Shopify [No.1 Beginners Guide].
Thus, follow our steps on how to build an ecommerce website from scratch. 👇
1. Choose a business and domain name
First, consider that your chosen ecommerce platform may include a free domain with your purchase. This means that you may not have to purchase your domain name.
But, selecting a good business and custom domain name is important to both your branding and the success of your online business.
It is best to pick a business and domain name that describes what you sell online.
Thus, if you use descriptive keywords in your domain and business name, your online buyers will be aware of what you offer.
For instance, let's say you want to sell branded clothing. If this is the case, you need to include the words "branded clothing" in your domain name. In this case, I will try the Shift4Shop domain name generator. 👇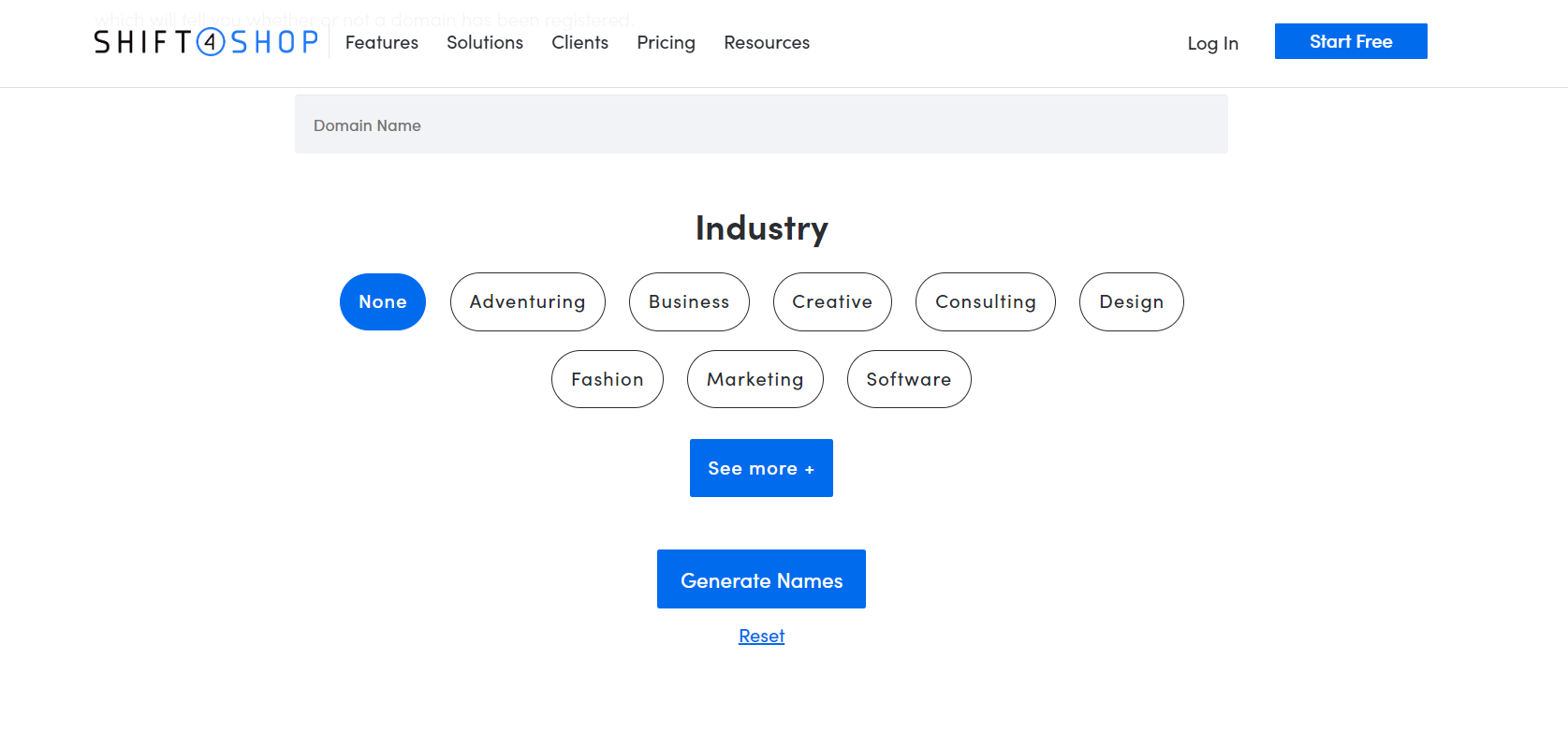 Thus, all you need to do is select the industry, as in my case "Fashion", and type the keywords. Next, wait for the results! 👇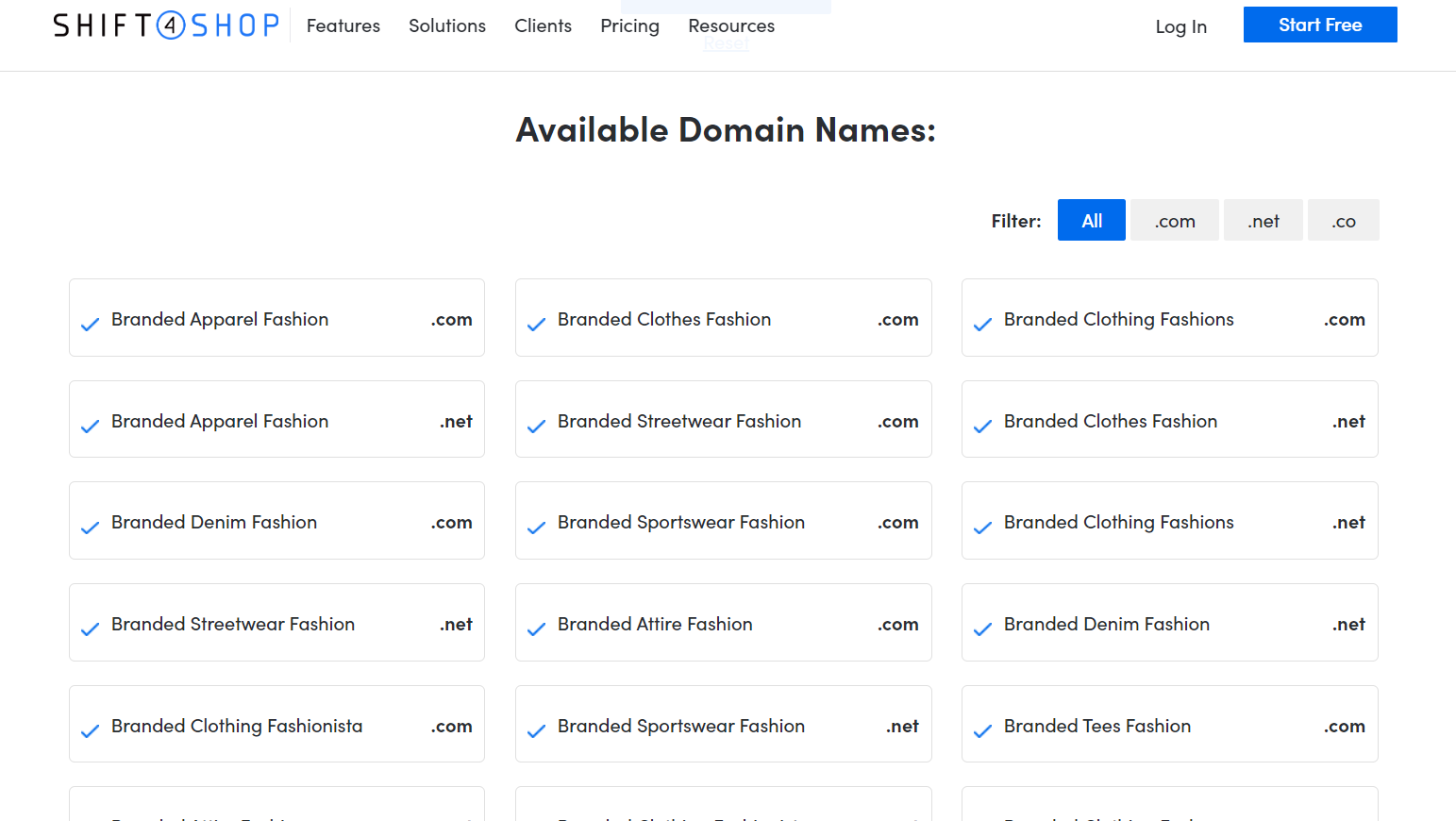 Plus, you need to check if your desired domain name is still available. And, Shift4Shop has done this job for you as well.
2. Pick A Template And Customize It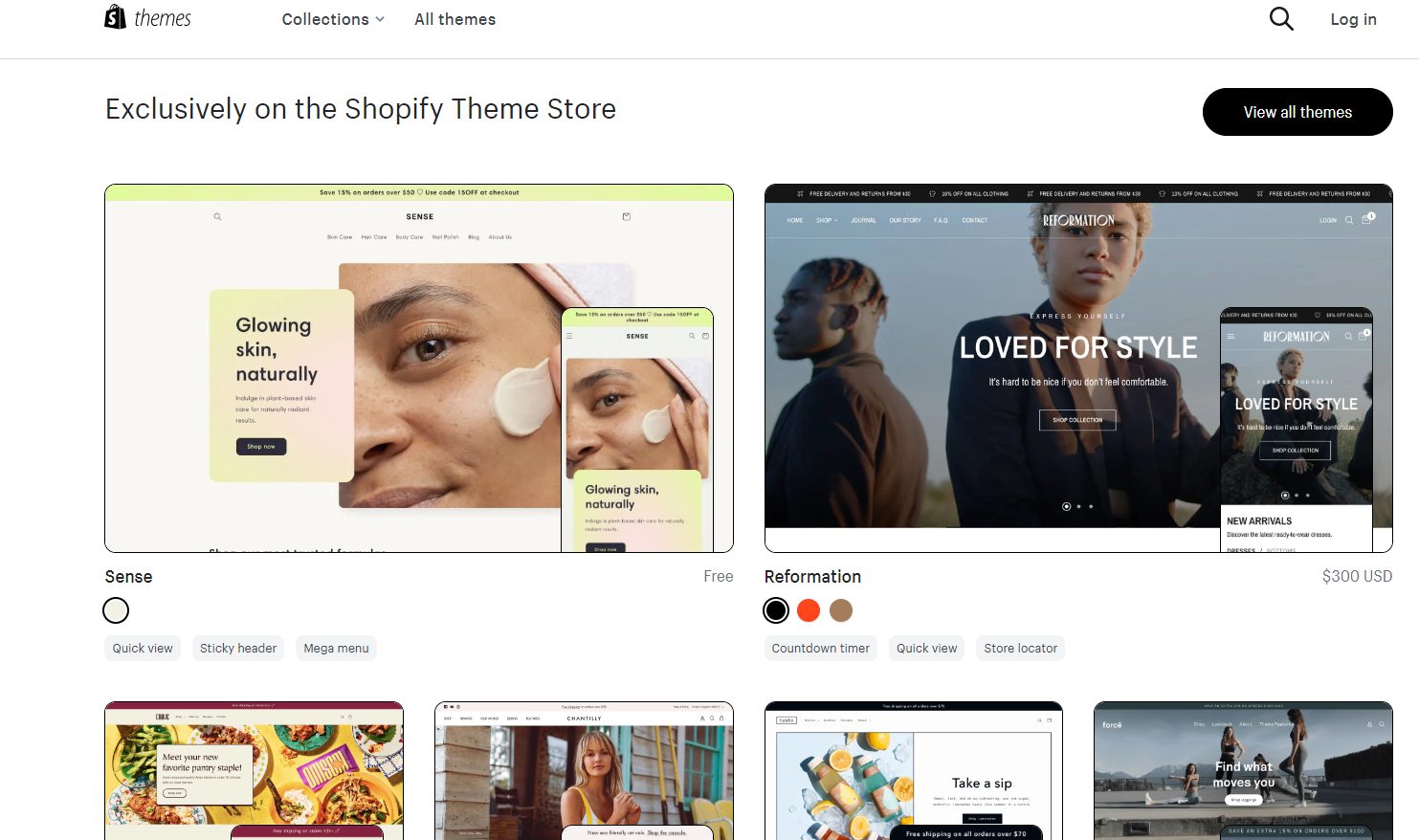 All the above-mentioned ecommerce website builders or platforms come with a wide selection of themes for dropshipping. For example, these are the best Shopify themes and WordPress themes for dropshipping. (In between, check Debutify Theme Review for Shopify & WoodMart Theme Review for WordPress).
👉 DON'T MISS: 10 Ecommerce Trends for Shopify Themes Design.
Depending on your chosen ecommerce website builder, pick a theme that best matches your needs.
Moreover, the theme should define the basic look and feel of your online store. Next, customize it to fit your brand:
Customize text and font sizes;
Configure the color scheme;
Add your logo image and other high-quality visuals;
Add social media buttons and a blog;
Experiment with different product listing types and page layouts.
👉 Check out the Trends to Launch an Ecommerce Site with Shopify Themes in 2023.
For example, if you use Shopify, when you browse the Shopify Theme Store, you'll come across a range of both free and paid Shopify themes that come with their own unique features and designs.
So, to access these themes, simply go to the 'Online Store' tab and select 'Themes'. Depending on your business needs, some themes are best suited for single-product businesses while others work well for larger product catalogs. 👇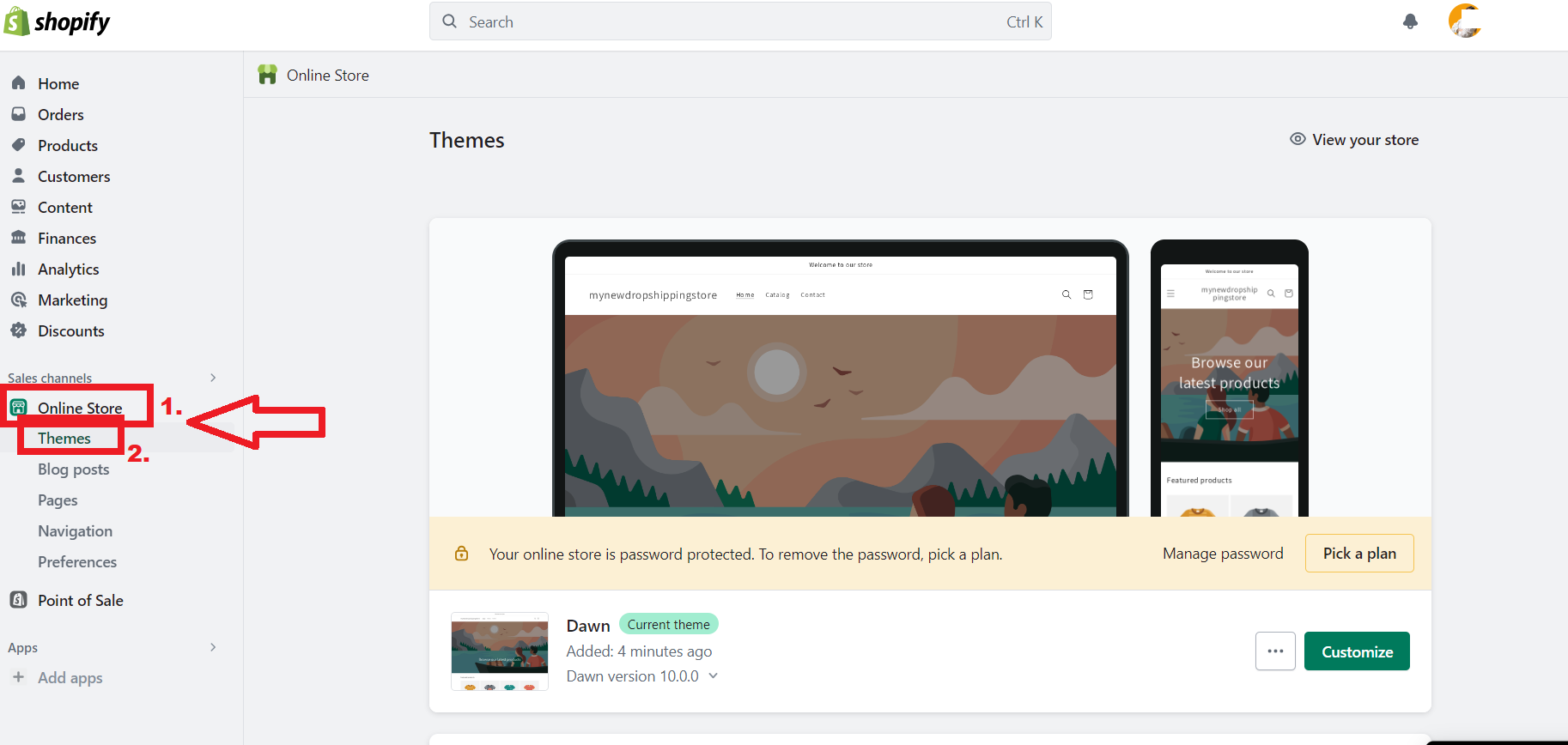 For instance, since I started with branded dropshipping clothing idea, the Brooklyn theme is great for a dropshipping clothing store. 👇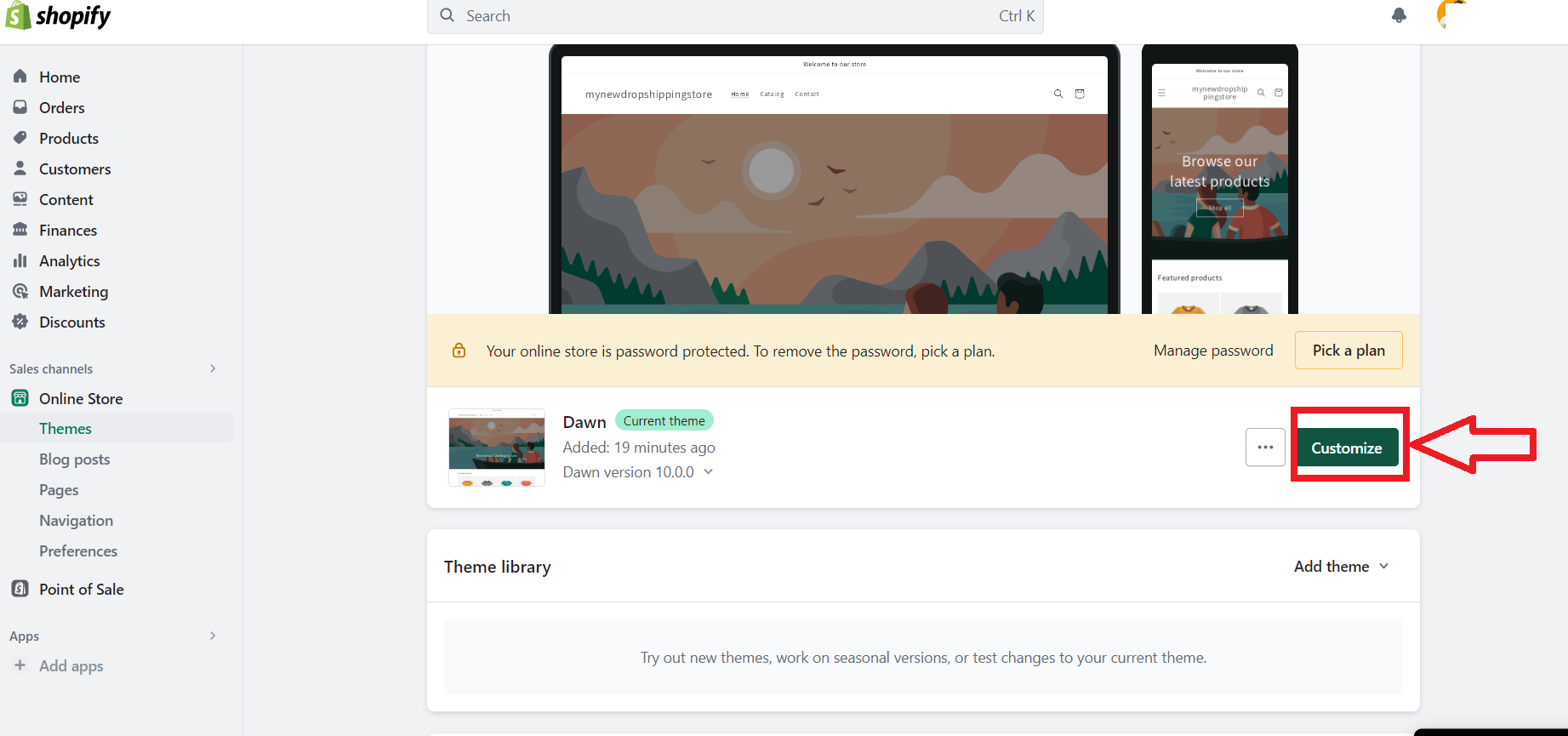 Also, once you pick a theme, you can customize it to fit your brand's style. Therefore, Shopify themes come with customizable sections that can be added, removed, rearranged, or temporarily hidden to suit your preferences.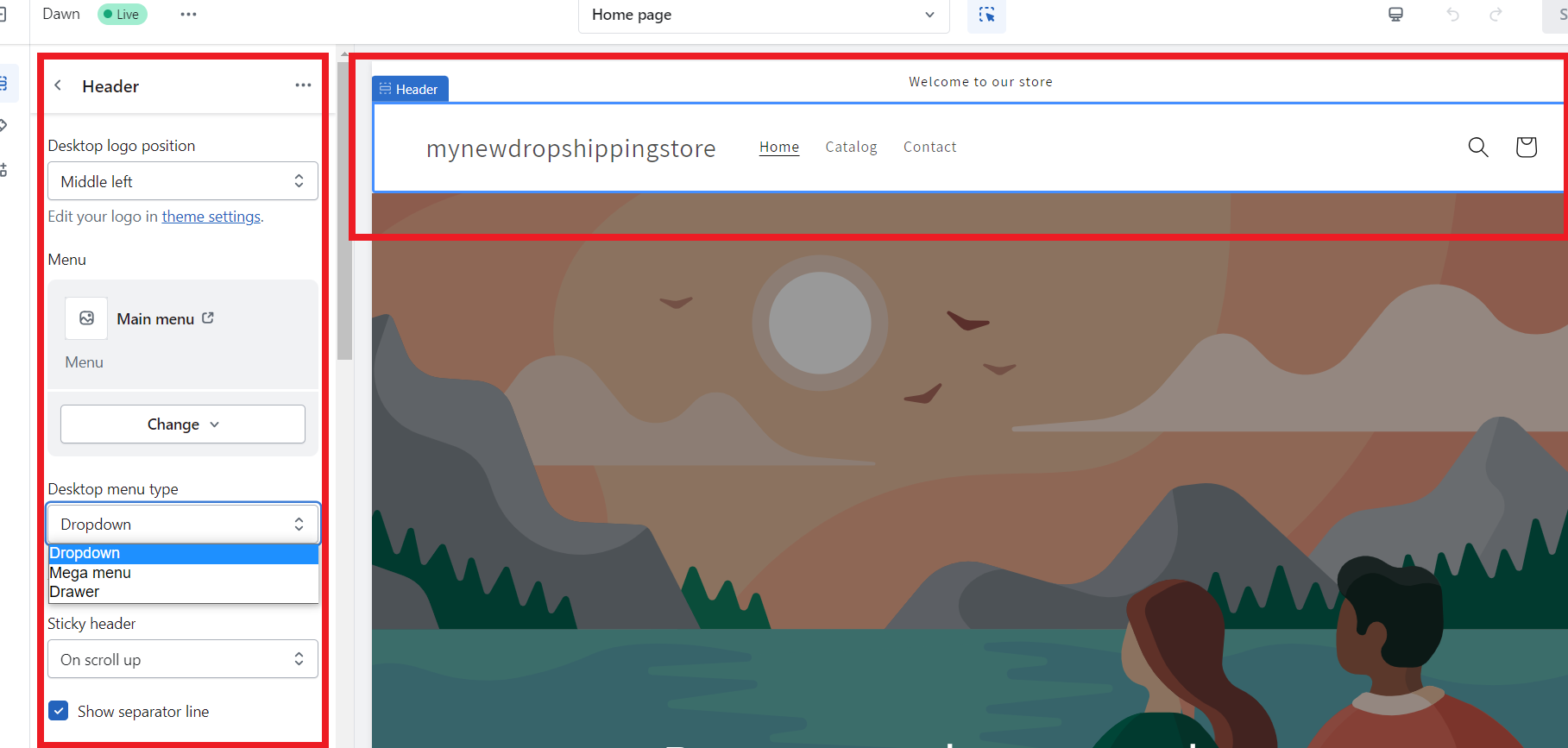 👉 Check out the 13 Most Successful Shopify Dropshipping Store Examples.
3. Add Products
You are learning how to build an ecommerce website from scratch, right? So, now is the time to add products to your online store.
First thing first, since you have a dropshipping store, the most essential page for your website is the product page! Thus, you need to set up your product category pages, upload high-quality product images, and create amazing product descriptions.
💡 Tip: Learn the 5 Expert Tips to Create a High-Converting Ecommerce Landing Page + Examples
Furthermore, keep in mind that most of the eCommerce platforms have a very easy process to import products. For example, if you are using Zendrop, all you need to do is enter the Zendrop Dashboard.
From there, navigate to the "Import List" category in the left sidebar. Once you are in the Import List section, you can use the search function to find the product you want to sell. 👇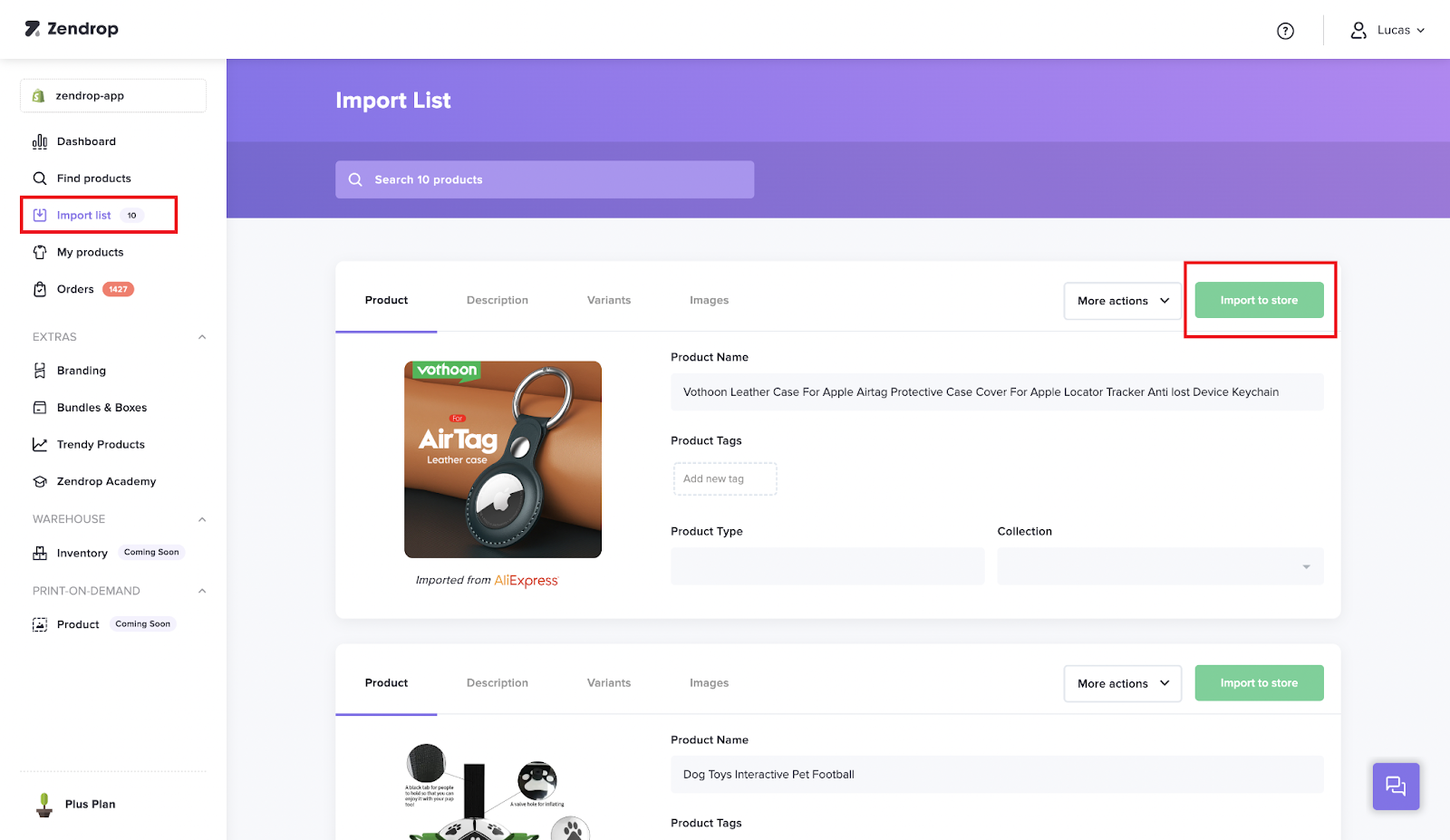 Next, you just need to click the "Import to store" button located in the top right corner of the product display.
To summarize, when importing your products, you will be taken to a page where you can create your product category pages, add your product names and descriptions, and upload your product images.
Set up your product category pages; Creating product categories will make your products easier to discover in searches and through navigation. Enter a name for every single category, and then enter a description. Plus, consider adding extra filters to help your online buyers narrow down their choices.
Add your product names and descriptions; Make sure you list the most important features of your products and highlight the main benefits.
Upload your product images. It is crucial to showcase multiple photos from different angles because customers will not be able to touch, feel, or try out your items.
4. Set Up The Main Pages
Next, despite the product page, there are other main pages that make up your dropshipping store. Thus, their look, design, and navigation are very important as well!
So, what pages make up a dropshipping site? The first ones that come to mind rather than the product page, are the home page, the checkout, and the shopping cart.
For instance, PageFly gives you the option to build your pages from scratch, or by using their design templates. You can try their page creator for free.
However, you must also create other pages that are of utmost importance for your success.
Here are the main pages you need to create:
About Us; This page helps you introduce your dropshipping business to potential customers. It needs to include basic information about you (as a founder) and your store and describe your business' purpose and how it differs from your competition.
Contact Us; A dropshipping store's "Contact Us" page is usually one of the most under-optimized things on the entire website. However, it is actually one of the most important pages on any website, including an ecommerce one. This page should include information about how customers can reach you like by mail, phone, etc.
Terms & Conditions; The purpose of this page is to protect both you and your customers. This page ultimately protects your business and helps you resolve any issues that may come up.
Return & Refund Policy; This is a document that should describe under what conditions your customers can return products they have purchased from your online store.
Shipping Policy. Your shipping policy should outline important information about shipping when an order is placed online. In short, it should include details on your shipping methods and costs, shipping times, etc.
5. Set up the checkout system and payment methods
To set up a fully functional dropshipping store, you must ensure that your store enables online payments from your customers.
As a result, it is important to offer various payment methods and ensure that your checkout process is simple and primed for conversions. This allows you to create an experience that's as simple as possible for your customers.
For example, Shopify offers various payment methods. So, if you want to add Shopify payment methods, you just need to log in to your Shopify store account, and click on Settings –> Payments –> Add Payment methods.👇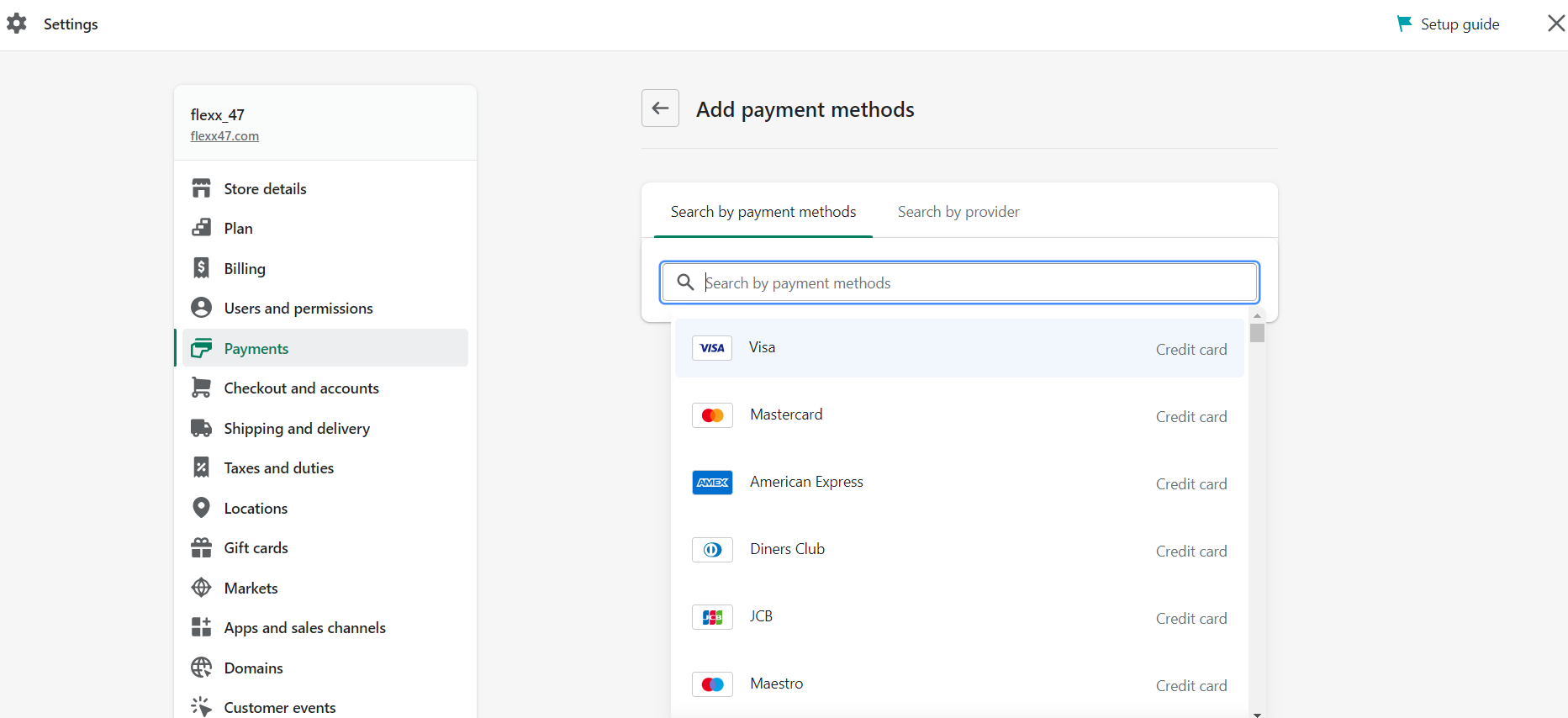 Furthermore, you can also customize your checkout page, and consider adding discounts, coupons, gifts, etc.👇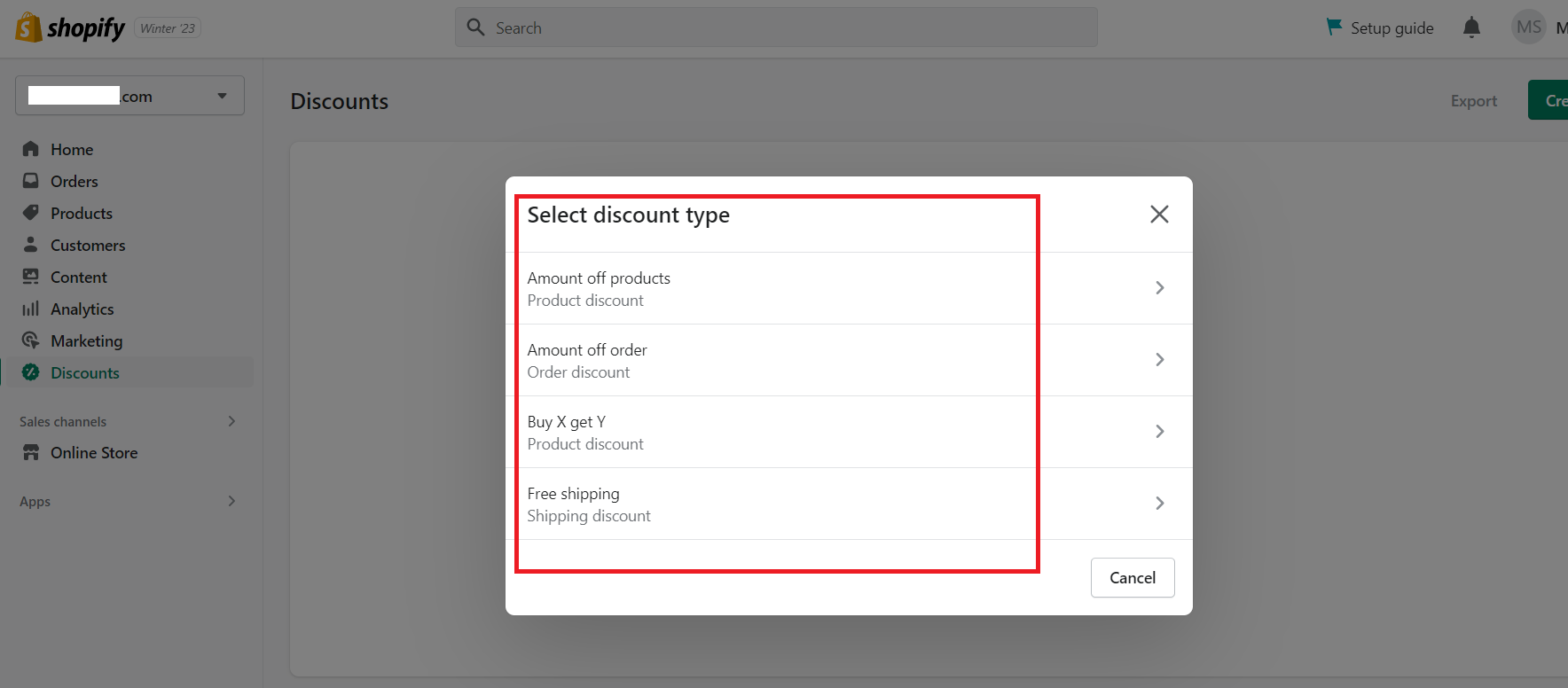 👉 Read about the best payment gateways for Shopify.
Plus, here are a few simple tips on how to simplify your checkout process:
Make it easy for your customers to add or remove products from the shopping cart;
Do not require them to register before checkout;
Keep them on the same domain;
Remove any distractions;
Display trust signals throughout the checkout process.
👉 Check out the Top 11 Shopify Checkout Apps: How to Optimize Your Checkout Page?
6. Install useful plug-ins
You are currently learning about how to build an ecommerce website from scratch.
And you are almost ready to launch your new dropshipping store. However, perhaps you feel like something is missing.
Yes, you are right. And you know what? You can install different plug-ins to add extra functions to your online store and improve its performance.
👉 Check out the Best WooCommerce Dropshipping Plugins for Your Store.
For example, if Shopify is the platform of your choice, you can install some of these Shopify dropshipping apps.
💡 Tip: Check out the 39 Must-have Shopify Tools for Your Dropshipping Store In 2023.
For instance, I am using 60 Seconds App to set predefined discounts for my customers. This way I manage to decrease the cart abandonment.👇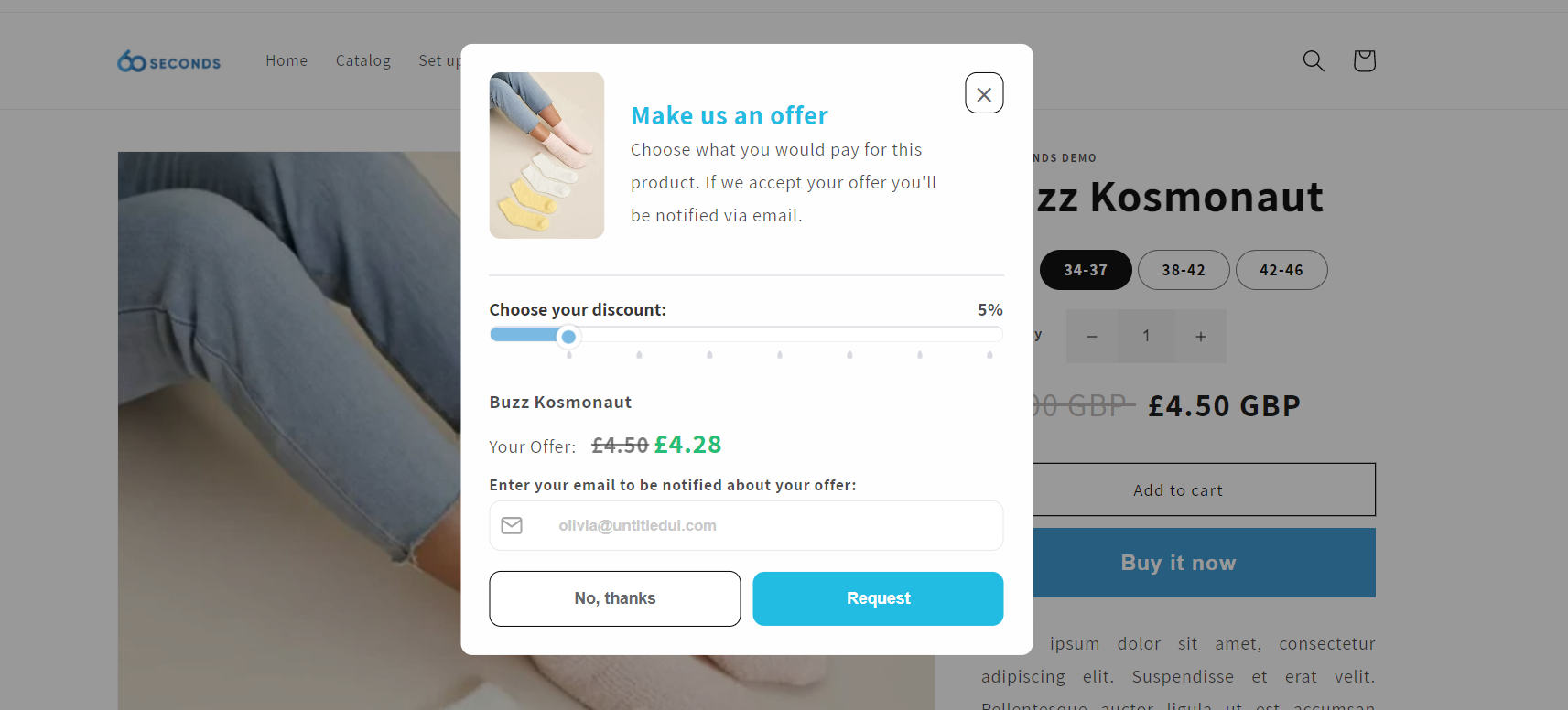 7. Bring Customers To Your Store
You do not want to be just another me-too player in the highly crowded ecommerce market, do you?
So, you must make an effort to get your ecommerce site in front of people if you want them to find you and buy from you.
Of course, how will you spread the word about your dropshipping business, if you don't do a little promotion? In fact, marketing is everything when you sell online!
As mentioned above, you should have developed your dropshipping marketing strategy by now. ​
Your marketing strategy should include things like:
E-mail marketing;
Instagram marketing;
SEO.
💡 Also, check out my guide for Dropshipping Marketing: 14 Best Practices For Your Online Store in 2023.
8. Launch Your Store
Before hitting the "Publish" button, it is recommended to run some simple checks.
Look out for the following things when making the final checks:
Broken images. Broken images look unattractive, provoke rejection, and degrade conversion. That's why you need to ensure all your images are loading fast and in laser-sharp focus.
Typos. Grammar and spelling errors are costlier than you might think. Therefore, this is something you need to check before going live.
Website design. Ensure your design is aesthetically pleasing since it can influence your brand's credibility.
Checkout experience and payment gateway settings. Before driving any traffic to your site, make sure your potential customers can complete a purchase.
Now, it is go-live time. So, just hit the "Publish" button. Well, that is it, you are done.
Join the only community and resource hub you'll ever need to succeed with dropshipping
Find winning dropshipping products, learn marketing, download templates and engage with real dropshippers
Never pay for a "guru's" course again. See why 4543+ dropshippers joined us this year!
💡Try DSCOM Hub Now
How To Build An Ecommerce Website From Scratch – The Bottom Line
If you're starting a dropshipping business, this guide provides a comprehensive roadmap about how to build an ecommerce website from scratch.
In this article, we outline several key steps to take, including selecting a platform, choosing a domain name and hosting, installing ecommerce software, designing your website, setting up payment processing, adding products and categories, setting up shipping and taxes, and testing and launching your website.
Also, we give you our advice on the tools you can use, and how to promote your store. So, take a pen, make a dropshipping business plan, and START!