13 Most Successful Shopify Dropshipping Store Examples
by
Martin -
Martin is an agency owner and SaaS projects maker. His work is featured in the leading ecommerce brands, magazines and podcasts. Talks about Marketing, Business Development, and Growth Hacking!
CO-founder at Dropshipping.com
Want to build a dropshipping store? We are sure you've heard about Shopify! But, even if you still haven't, once you dive into searching for information about store creation, this platform pops up first!
However, it's no wonder why, since Shopify is the BEST eCommerce platform nowadays.
Fact: Did you know that Shopify currently has more than 1 million merchants?
So, before we jump into the best Shopify dropshipping store examples, make sure you sign up for Shopify's 14-day trial period, so you can implement what you will see in this article.
If you are a complete beginner, check our guide: Shopify Pricing Plans & Costs.
In this article, we will guide you through a few Shopify dropshipping store examples you can use for inspiration to succeed with your website. Let's dive in!
What is Dropshipping and Why Building A Shopify Dropshipping Store?
First thing first, what is dropshipping?
Dropshipping is an eCommerce business model where you don't maintain any inventory but instead sell your goods online through a dropshipping store.
Consequently, a dropshipping supplier manages your inventory on your behalf rather than you.
This implies that you don't physically handle the goods you sell and don't concern yourself with the entire supply chain management process.
Instead, you concentrate on establishing and maintaining a positive relationship with your clients as well as improving marketing tactics.
👉 Check out the Pros And Cons Of Dropshipping: Does It Actually Work?
However, this might sound like diving into milk and honey, well it's not! Because before starting you should develop a good dropshipping business plan, and see whether it is worth it for you!
However, how can you start without a dropshipping store? Well, you can't!
But why a Shopify dropshipping store? And, that's a whole other story to tell.
First, setting up a Shopify dropshipping store is relatively easy, especially if you use a platform like Oberlo to help you find and import products from suppliers.
All you need is a domain name, a Shopify account, and a payment processor, and you can be up and running in just a few hours.
What's more, almost every dropshipping supplier, tool, or eCom app integrates with Shopify. High five for that! 👐
As a result, you won't have to worry about things like storage, manufacturing, printing, shipment, refunds, or customer service. These will enable you to add all the necessary features to your dropshipping store.
Not to mention that Shopify has various high-converting templates to use for your store.
👉 Also, check out the 39 Must-have Shopify Tools for Your Dropshipping Store In 2023.
However, let's jump into reviewing the Best dropshipping store examples which can be great inspiration for you!
Lifetime deal: Get all-access to everything on Dropshipping.com
Access all DSCOM features, resources, courses, live workshops, discounts, winning products, weekly deep dives, directories and all future updates under all-in-one dropshipping HUB.
DROPSHIPPING IS A REAL BUSINESS, DON'T DO IT ALONE. 4553 MEMBERS ALREADY JOINED. YOU CAN PAY OFF YOUR SMALL INVESTMENT WITH JUST 2 SALES ON YOUR STORE.
Grab the deal before it's gone
13 Shopify Dropshipping Store Examples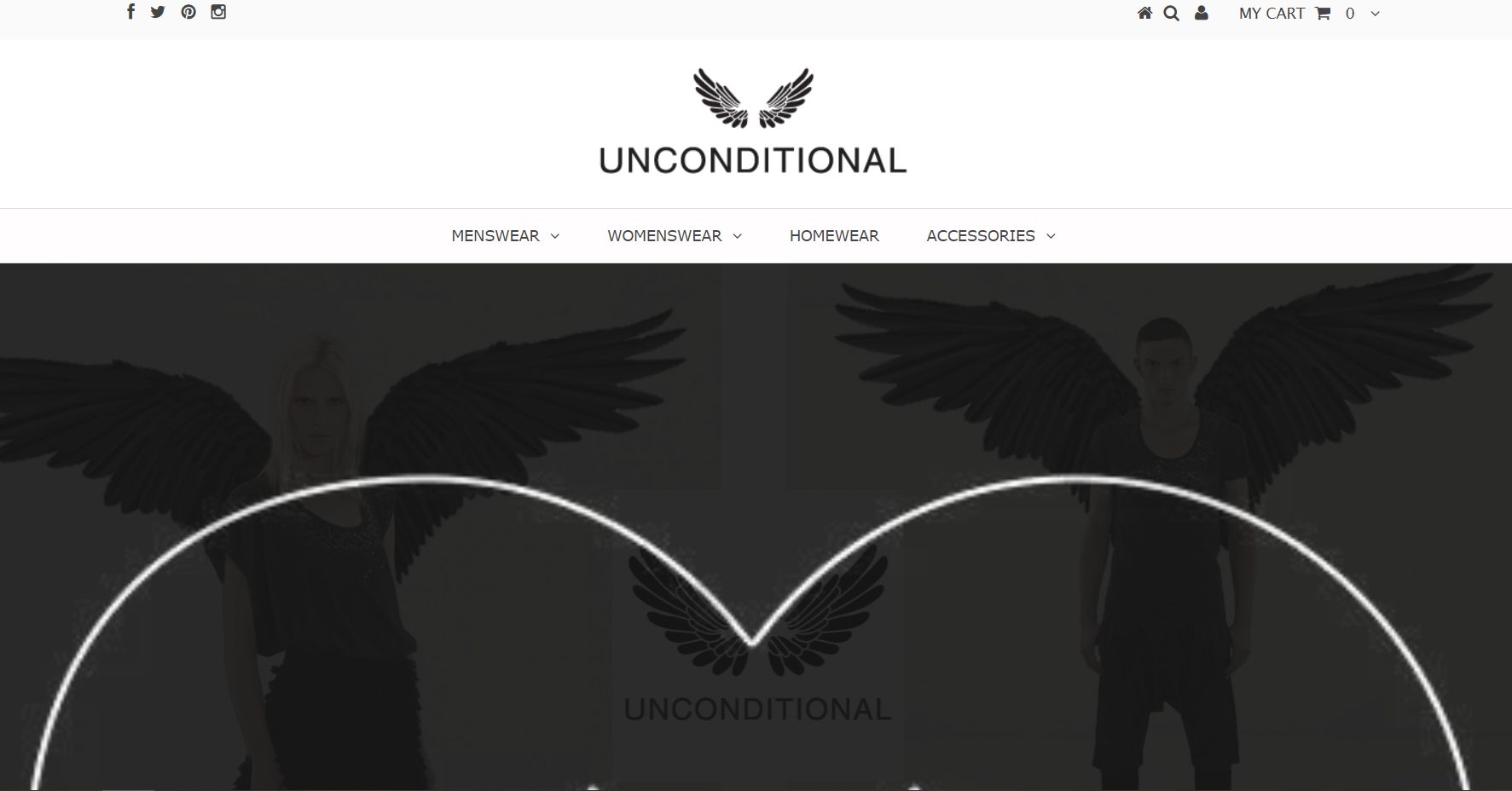 Part of Shopify, Unconditional started over 10 years ago in London. Just by looking at their design, you realize that they are all about premium clothing.
When you scroll through their website, you get to feel their stylish website, and makes you want to buy just from the classic design & photography they have.
Store and Product Page Design
However, if we analyze their store functionality, we might want to say a few words.
First, once you enter their website, there are several pop-up windows displayed, like the one that confirms your location, and the one that displays a Newsletter sign-up form.
Next, they use a Full-Screen photo layout, and a grid of cards to organize all of the content they have on their Home Page. Not to mention that the call-to-action buttons stimulate users to take the next step in the buying process.
Also, the Product Page contains all the necessary information about the product, like photos, description, size guide, and more!
Furthermore, we can see the engaging part here since Unconditional includes the " You may also like" section on every Product Page and stimulate users to add other products to their cart.
Next, their footer act as a great "site map", since it contains all the important sub-categories that show social proof and customer service, like Our story, Contact us, Social Media presence links, and more.
Bestseller Product Offerings
Unconditional Best selling products are :
Black scoop neck t-shirt with gold hand beading and sequins
Black zip funnel neck hoodie
Black drop crotch joggers
Shadow long sleeve t-shirt
Marketing Tactics and Strategy
First, the Newsletter they offer is a great marketing strategy to engage with your customers and keep in touch with them.
Next, giving customers a sense that the business is reliable (their touching story, contact us), and then offering them to engage with you on other platforms like they do (Facebook and Instagram) is a useful marketing tactic.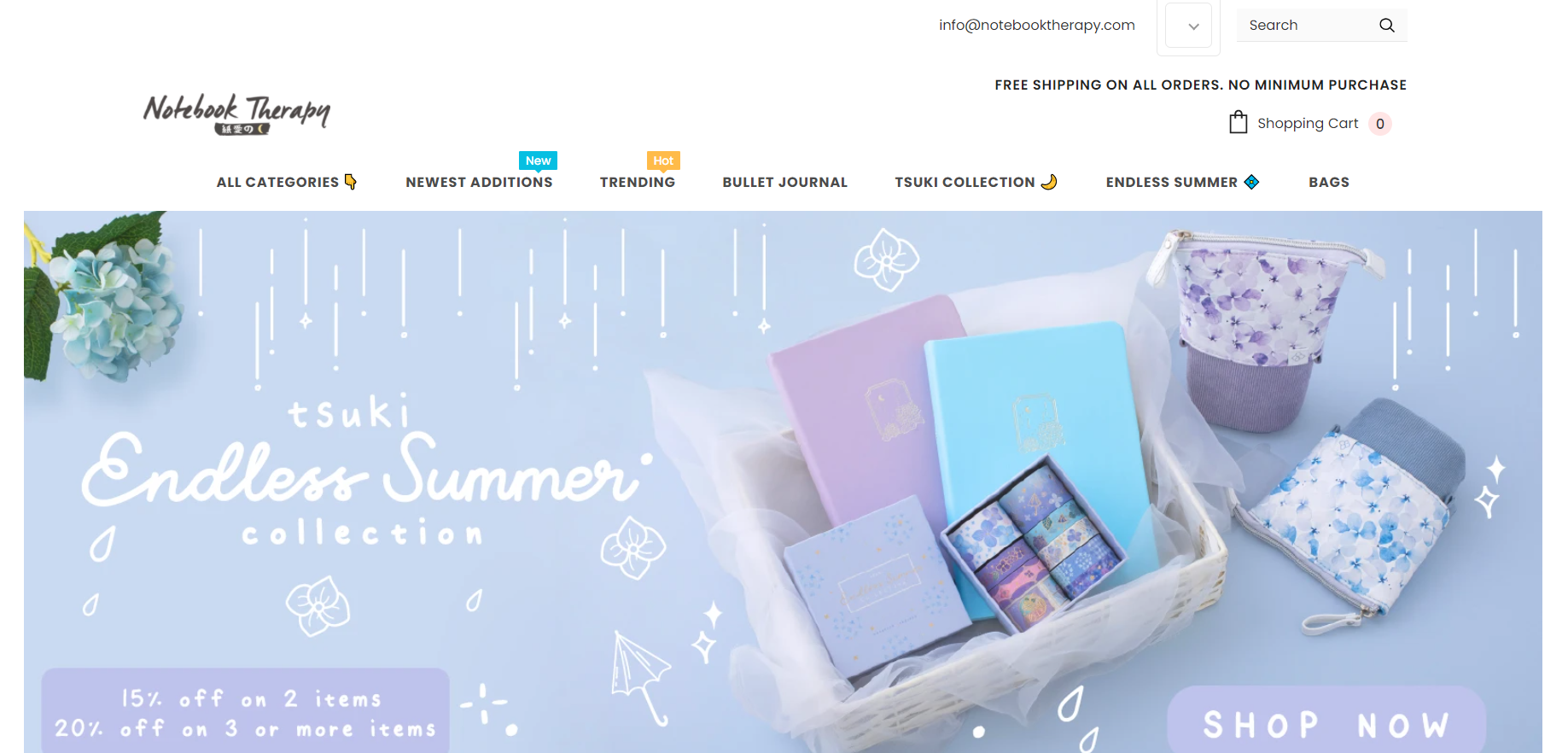 Notebook Therapy is a Shopify store that sells all kinds of notebooks and notebook collections.
However, the site mostly focuses on Japanese and Korean stationery, Notebook Therapy gives colorful vibes to an Eastern-culture audience.
Store and Product Page Design
And here we are! The moment you land on their website, there's an engaging pop-up that offers a $50 off gift card. This one is a great marketing tactic for your business.
Furthermore, let's talk about the store design a little bit. This Shopify store uses a Full-screen photo layout and of course all the necessary call-to-action buttons just in the right place! High five about that! 👐
Remember that call-to-action buttons like "Shop Now" are crucial when you want to trigger customers' reactions.
Also, the website has a well-organized and straightforward horizontal fly-out navigation menu, that consists of four categories, that are easily understood.
Also, if you want an excellent example of a well-organized Product Page, this Shopify store has it all from the in-depth product description and high-quality photos to all the necessary call-to-action buttons.
Bestselling Products Offerings
Their trending selling pieces are Luxury bullet journals, Bullet Journal Stencil Sets, Bullet Journal Tracking Stamp Sets, etc.
Marketing Tactics and Strategies
Next, Notebook Therapy shows social proof by presenting its Trustpilot customer reviews, Social Media presence buttons (Facebook, Instagram, Pinterest), Newsletter sign-up, the 50% off gift card pop-up, etc. All these are also suitable marketing tactics to engage customers.
Furthermore, they also have a Blog, which helps them increase website conversions.
What's more, they reach around 50 thousand monthly visitors and have deeply engaged themselves within their niche. As of now, they are ranked #1 in the U.S. for Japanese & Korean stationaries.
💡Keep in mind that their well-organized Product Page is not just a good store design, but a great marketing tactic as well. What can a customer want more?
In-depth product description and photos from all angles of the product, easy navigation, and buying process. You got it all!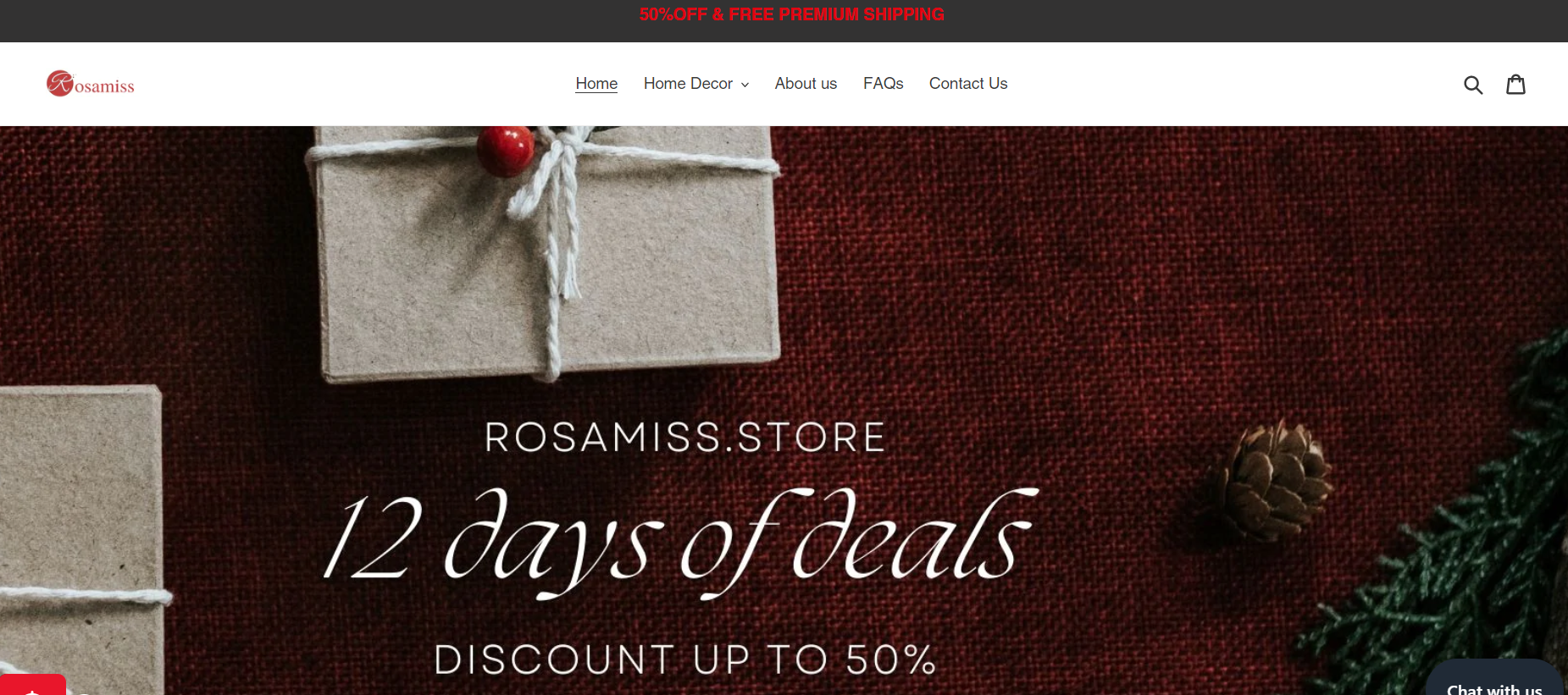 Rosamiss is another great Shopify dropshipping store example that offers shower curtains and bed sets in various designs.
Thus, they offer a huge range of quality products at affordable prices, and ship worldwide with internationally renowned logistics operators, including DHL, UPS, and EMS.
Store and Product Page Design
We must say that this Shopify dropshipping store example is excellent for you. First, the full-screen photo background is eye-catchy and engaging a the same time. Thus, it presents its product offerings and a discount!
Next, the content on the Home Page is organized with the girds layout, and it contains call-to-action buttons in red eye-catchy colors. Also, the website's menu is well-categorized and easy to navigate.
Moreover, the Product Page includes all important information about the product, like detailed product descriptions, pricing, add-to-card buttons, photos, etc. But, what catches our attention are the customer reviews and comments presented on each product page.
Bestseller Products Offerings
Louis Vuitton Shower Curtain
Gucci luxury bathroom shower curtain set
Furniture protective Transparent film
Retractable Clothes Line
Marketing Tactics and Strategy
Rosamiss offers discounts even to 50% off on all of their items, and this marketing strategy can be very effective when boosting sales and website visits as well.
Moreover, they show social proof by adding customer reviews and comments to each product page, and they place contact info right on the home page.
Also, another effective marketing tactic they use is their Newsletter, where customers get information about promotions, news, or sales. Plus, another engaging marketing tactic is their Live Chat.
However, what we find inconvenient is that this Shopify store actually has a Social presence, but no buttons or links on the website which can lead customers there.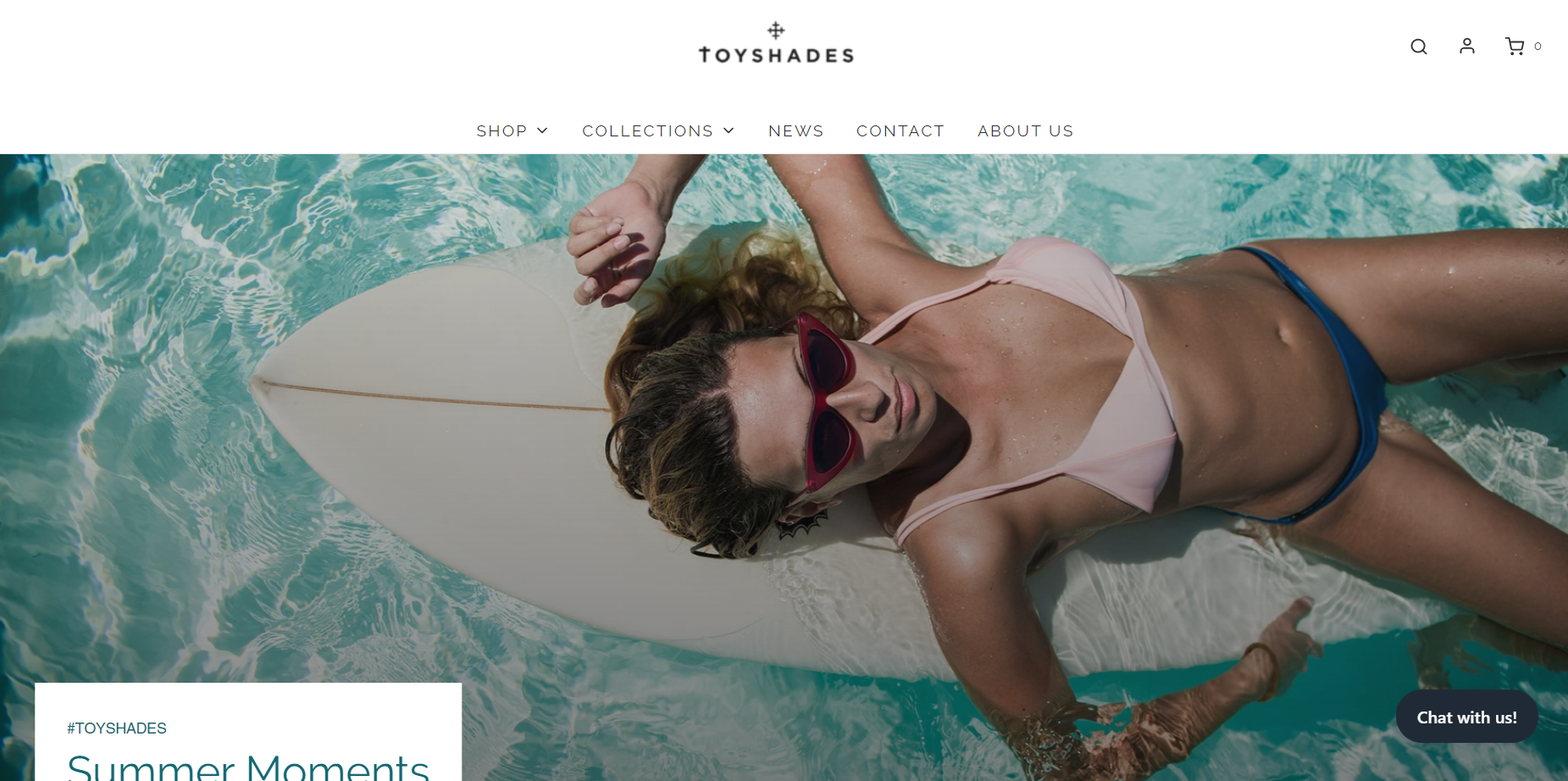 When we are talking about Shopify dropshipping store examples, how can we not mention – Toyshades? There you can find all about eyewear and accessories. Toyshades is a very user-friendly website that is fairly easy to use.
The website has different kinds of product collections you can pick from. There is no way you can miss out since they are always keeping you updated on their most recent eyewear through their social media channels!
Store and Product Page Design
The first impression you get from the website is that we are talking about a serious brand since their website is very well organized.
They use a Full-screen high-quality photo that represents their products. Next thing, they provide easy navigation for customers. Starting from the well-organized menu, the call-to-action buttons (Shop Now), and grids of layout to sort out all the content they have.
Furthermore, their Footer includes all important information about their store, Contact options, Social media presence buttons, About us, etc.
Next, the Product Page contains all necessary product info like in-depth product description, high-quality photos (with zoom-in option), product price, add-to-cart button, etc.
Bestseller Products Offering
Rudge – Matte Tortoise frame with Rose Amber Pentoptic Lens
Rudge – Black Matte frame with Grey Pentoptic Lens
Hillwood – Black frame with Charcoal Pentoptic lens
Marketing Tactics and Strategies
ToyShades has a Newsletter, as one of its main marketing strategies. Also, they are present on Facebook, and Instagram. This helps them gain customer trust and boost customer engagement.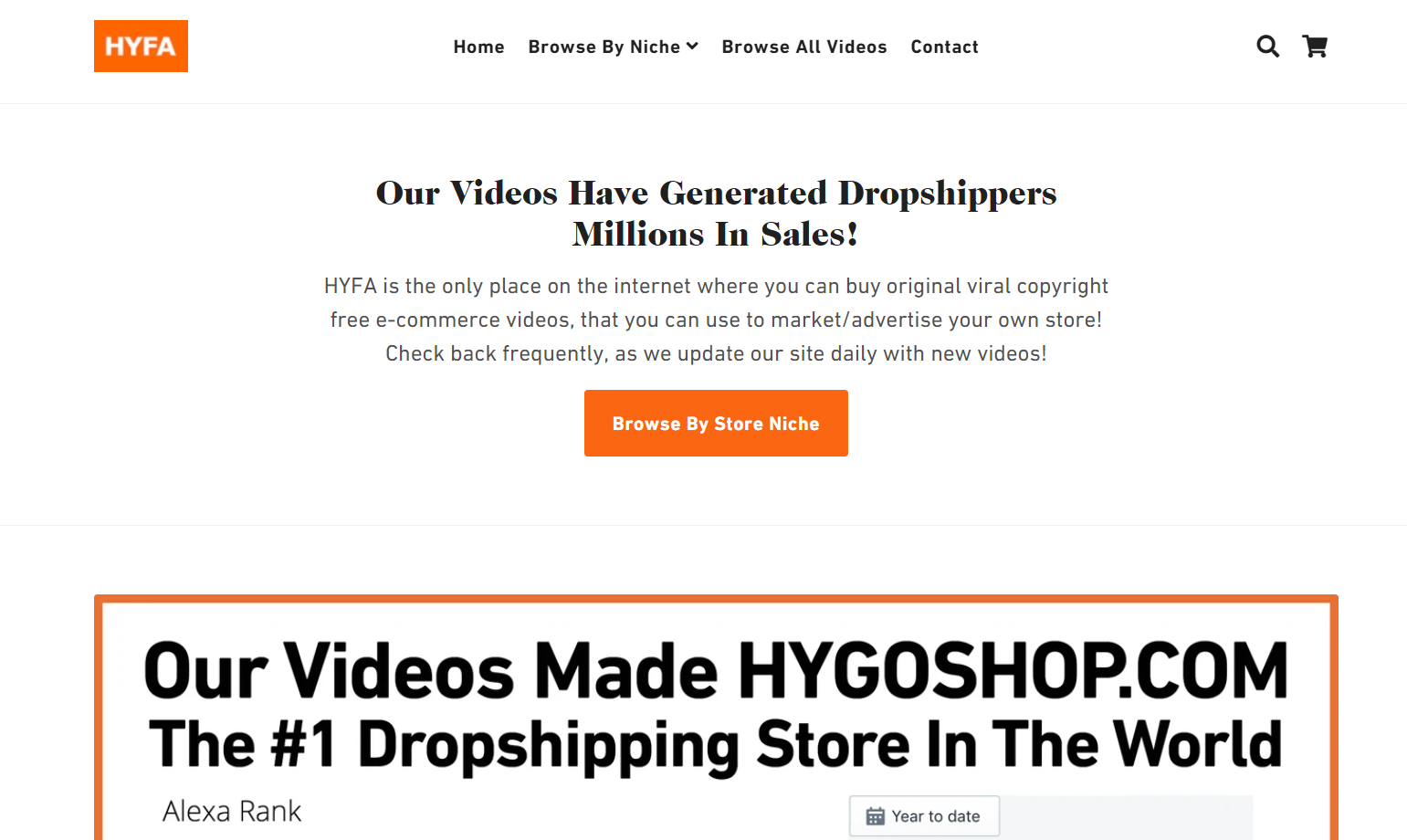 A great Shopify dropshipping store example that shares and sells lots of product videos on their social media sites and their dropshipping store.
Accordingly, on HYFA you can buy the most original viral copyright-free e-commerce videos. All of which you can be used to market and advertise your own store!
However, once you purchase the video you can also use it exactly as it is, or customize it by adding text, logo, captions, cropping it, etc.
Store and Product Page Design
However, we must point out that HYFA does not have the best store design so it can serve as Shopify dropshipping store examples. But still, it sorts out its content into a grid layout, and that's nice when organizing your home page.
Also, the website provides easy navigation since it categorizes the videos under different niche categories.
Furthermore, the Product Page contains all the product info needed like, photos, videos, an add-to-cart button, a description, etc. There are also "You may also like" and "Similar videos" sections included.
Bestseller Product Offerings
Knee Reliever machine video
Baby squeezing feeding bottle
Vacuum Blackhead remover
Drawstring Makeup Bag, etc.
Marketing Tactics and Strategy
HYFA shows a feature called "frequently bought together" that will show products most people buy alongside a product they are interested in. This is a good strategy for gaining more sales.
What's more, this Shopify dropshipping store offers an Affiliate program to their customers.
Also, HYFA claims to be the #1 dropshipping store in the world with a 21.7 million dollar sales total, and an 8.68% customer return rate.
Furthermore, they have a newsletter for dropshipping tips, tricks, and winning products. This is a great way to keep up your relationship with customers. Not just that, but they show a Social Media presence on Facebook, as well.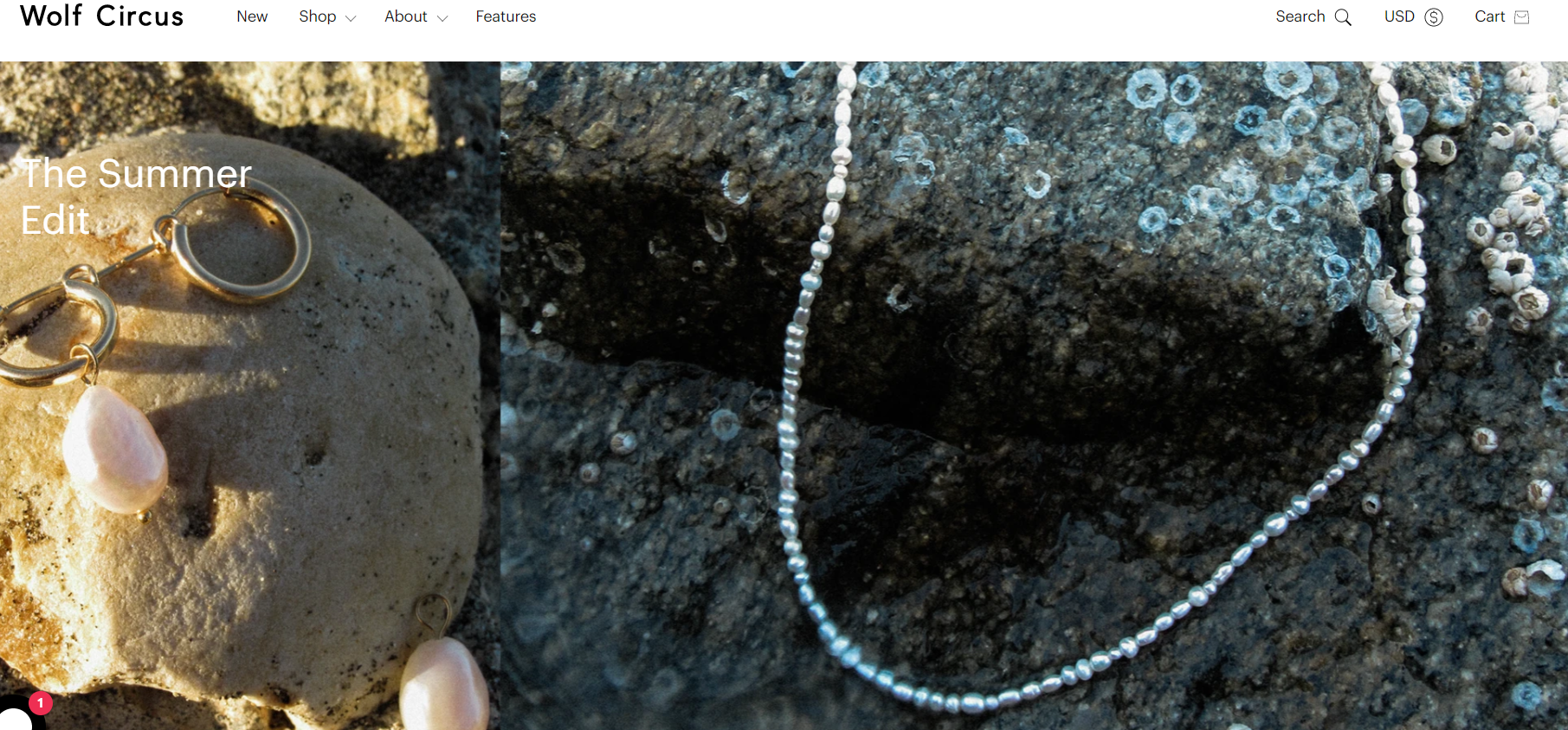 Wolf Circus is one of the best Shopify dropshipping store examples with tons of hand-made jewelry in Vancouver, Canada.
The jewelry is made either from recycled bronze or silver. It is all about luxury in this store. If you want the best accessories associated with gold and silver, then this is it!
Store and Product Page Design
Wolf Circus has a pop-up for choosing your currency before diving into the Home Page. This is all great, but for some customers might be confusing because if you don't choose the currency you can't navigate through the website.
Next, their layout is Full-Screen high-quality images from their product collections. Moreover, all other information on the home page is sorted out with a grid layout. This is a great way to categorize your content if you have too much diversity.
Also, they have a fly-out horizontal menu with well-defined categories and sub-categories. If you need menu Shopify dropshipping store examples, this one is great for you! Hence, All this provides easy navigation for customers.
Another interesting thing is that the mouse cursor is different than the typical one on other dropshipping stores.
Bestseller Products Offerings
Rose Coin Necklace in Gold
Ring sizer
Pearl Hoops in gold
Emeile ring in gold
White Pearl swirl studs in gold, etc.
Marketing Tactics and Strategy
This Shopify dropshipping store marketing tactics include:
Social Media Presence and engagement (Facebook, Instagram, Pinterest)
Newsletter
Discounts
LookBook
Live Chat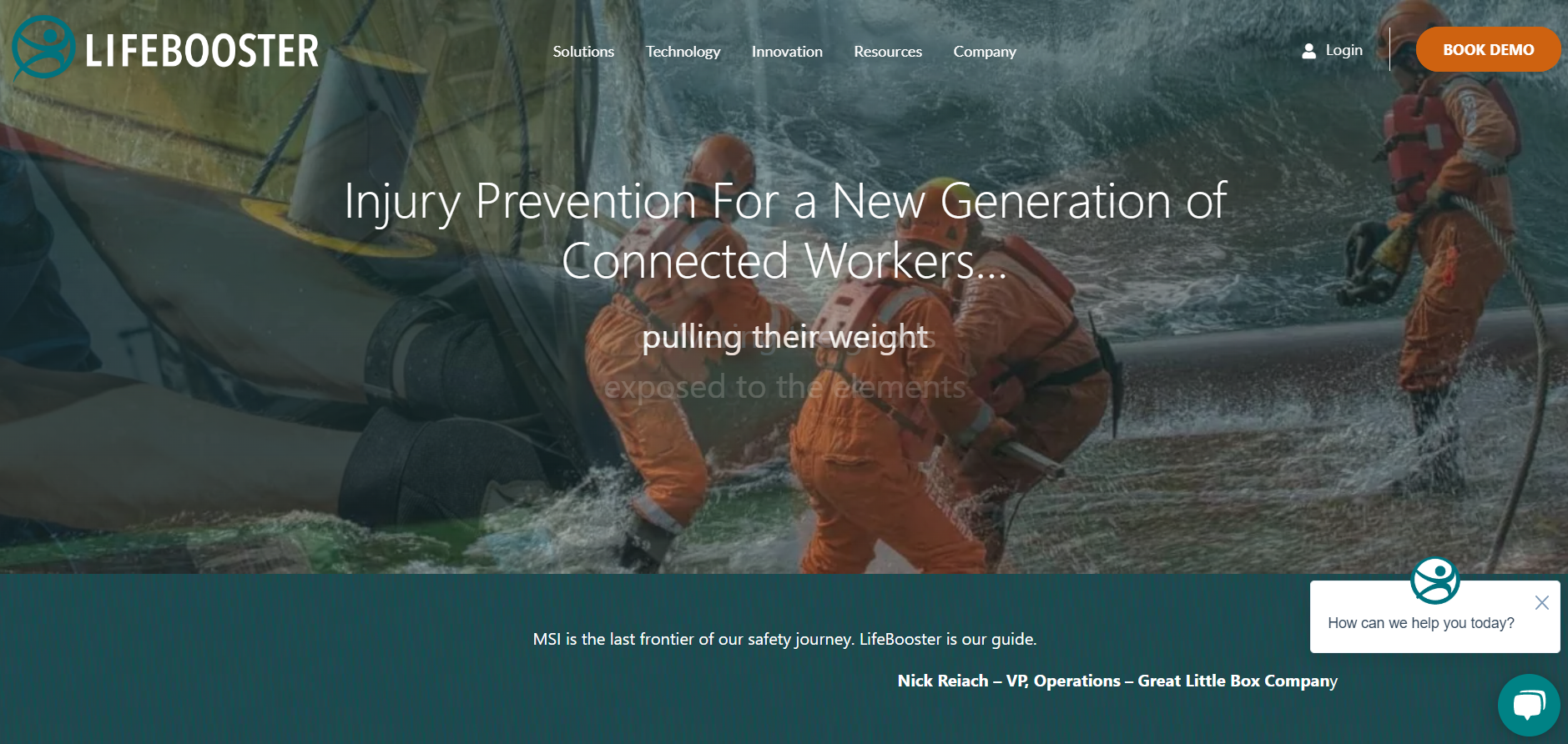 From the name itself, if you are all about boosting your life, then this is the site for you. The site has free shipping on all of its products.
Relatively small compared to most dropshipping sites, but a quick problem solver and has great products.
They are still new to the game so when they are up for a few more years, Life Booster will be in the top 10's!
Store and Product Page Design
The whole layout on their Home Page has Full-Screen high-quality photos. Also, it includes a video that shows off their work. All other information here is presented using paragraphs. Still, the design looks neat and easy to navigate.
Furthermore, the presentation of all of their information on other Landing pages is also very neat, understandable, and easy to navigate for customers.
Plus, the Footer serves as a "site map", so if a customer gets lost on any page, they can always navigate throughout the website from the footer.
Marketing Tactics and Strategy
LifeBooster shows its social media presence with buttons from LinkedIn and Twitter in the footer. That's how they strive to engage more customers and increase site conversions.
Moreover, they offer a 24/7 Live Chat, as a customer support system.
Correspondingly, they provide their customers with valuable information and knowledge with Blogs, Case studies, and their "Booster Shots".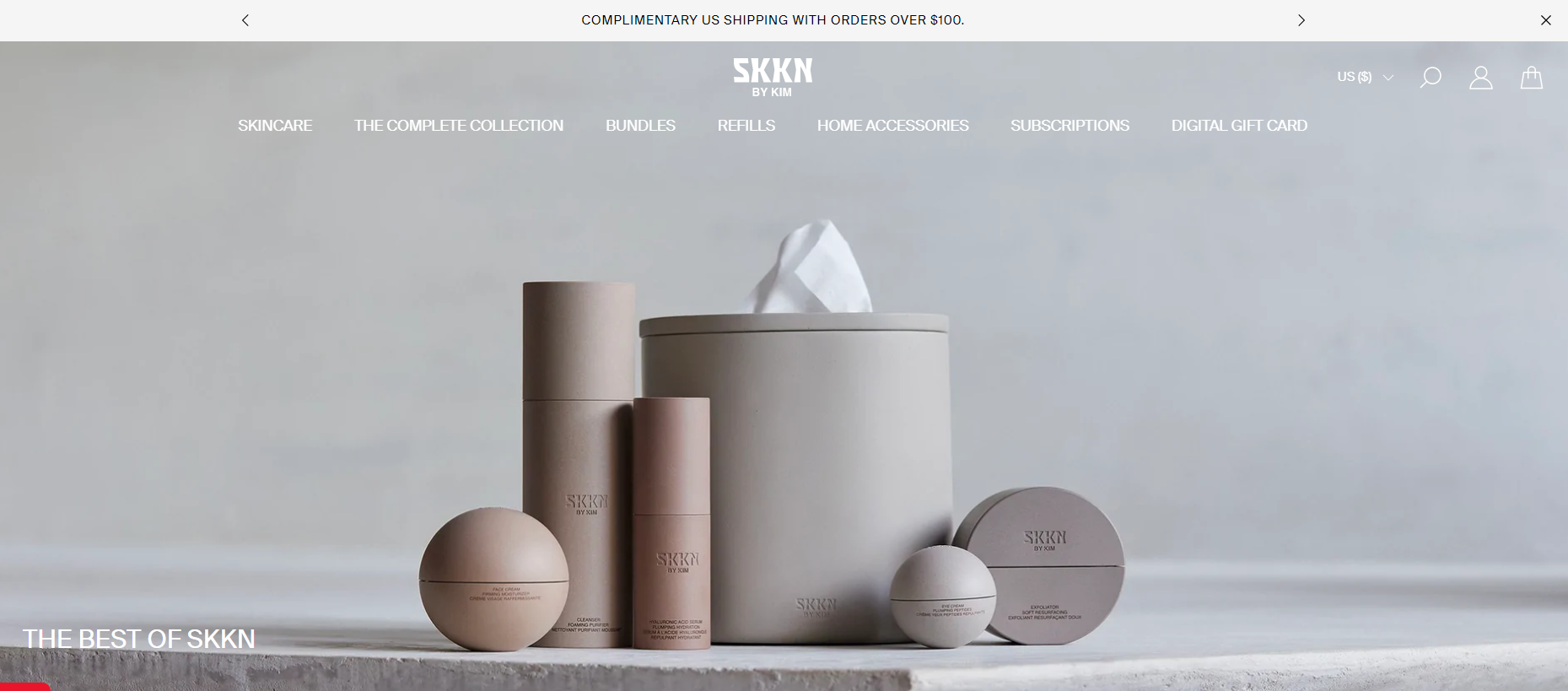 We all know who Kim Kardashian West is. Yes, this is a site that belongs to her and that was built through SHOPIFY. Kim is no joke and has a net worth of billions of dollars.
She not only sells products with extremely high value but also sells them really quickly. There is no such thing as low quality in her book!
Store and Product Page Design
First thing first, as one of the Best Shopify dropshipping store examples, we must say that once you enter the website, you cannot deny the pleasant full-screen photo layout! Also, there is a call-to-action button (Shop Now) in a different color from the background, so it can catch customers' attention.
Next, since this dropshipping store has various diverse content, it sorts its information into a grid layout. And of course, great footer btw, consisting of all important categories and sub-categories and social proof.
The product landing page is also a 10! It has all the needed information for users. Therefore, you should consider adding all these elements, like, high-quality product photos, product descriptions, color availability, "buy now" and "add to cart" buttons, customer reviews, ingredients, share buttons, etc.
Bestseller Products Offerings
CLEANSER 4.2 OZ Volume125 ML
HYALURONIC ACID SERUM 1 OZ Volume30 ML
VITAMIN C8 SERUM 1 OZ Volume30 ML
EXFOLIATOR 1.6 OZ Volume50 ML
Marketing Tactics and Strategy
SKKN by Kim uses various marketing tactics like
Their Digital gift card
Bundles
Subscriptions
Tutorials
Social media presence (Facebook, Instagram, TikTok, Twitter, and Youtube)
Newsletter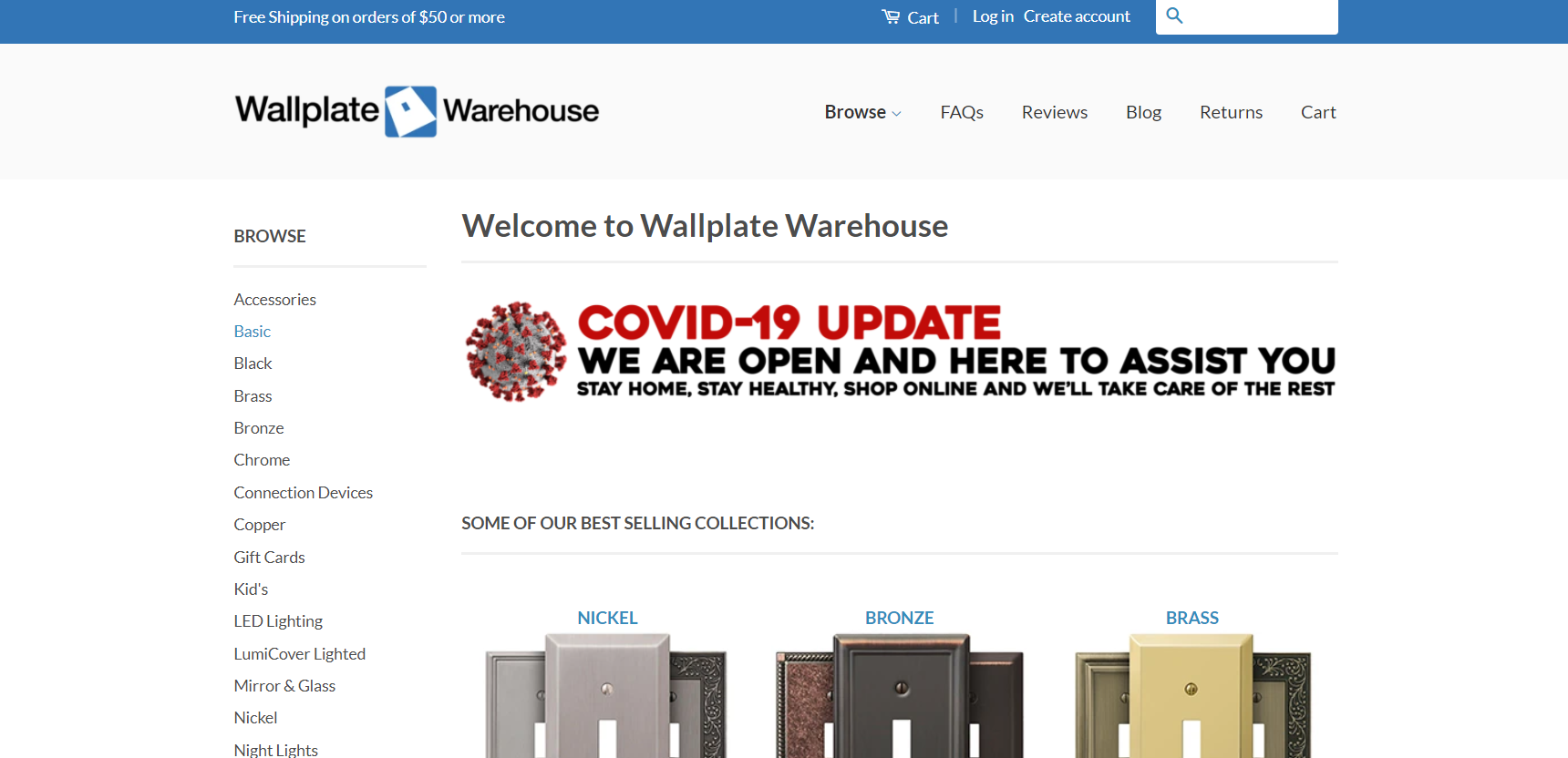 Not very competitive online but has a great number of products in a less competitive niche. From the name itself, the wallplate warehouse is all focused on delivering wallplate products.
It is very hard to find wallplate drop shippers these days, so this niche has very small competition. They also offer free shipping for any products that exceed $50.
However, let's give a little review of this website as a good Shopify dropshipping store examples.
Store and Product Page Design
There are some pros to this website's design, however, the cons are very noticeable as well.
First, this dropshipping store has a well-organized menu, and all the categories and sub-categories are well-defined, as well. This helps customers to navigate and get their information faster.
Also, the footer is great! It has all the important information, like Contact info, social media presence buttons, category links, etc.
However, don't take the homepage as an example. As you can see, it doesn't even give a feeling you are on a homepage, but rather it only lists the products in a grid layout. No full-screen image or other home page design, which is not very welcoming for users.
Also, the product page is okay, having all the necessary information, like photos, description, and add-to-cart buttons, and the checkout process is simple as well.
Bestseller Products Offerings
Century Aged Bronze Steel – 1 Duplex Wallplate
Century Aged Bronze Steel – 1 Rocker Wallplate
Century Brushed Nickel Steel – 1 Duplex Wallplate
Century Aged Bronze Steel – 1 Toggle Wallplate
Marketing Tactics and Strategy
Wallplate Warehouse offers help to customers in any way, like FAQ, Blog articles, Contact via email, phone calls, social media engagement, etc. All these are marketing tactics to keep customers engaged and happy.
Also, offering discounts is one of their marketing tactics.

Have you heard about this Shopify dropshipping store example?
A company that makes hundreds of thousands in revenue just telling you about beard care, and also is one of the best Shopify dropshipping store examples. Many men care about their beards, they will tell you that!
Beardbrand shows you the best ways how to take care of your beard. It was built through Shopify and grew to over 100 thousand dollars in revenue in only half a year!
Store and Product Page Design
Beardbrand has a modern Shopify design. It uses high-quality photos of real models that use its products and presents its products in a grid layout.
What's interesting is that there is a customer rating and reviews displayed on each product.
Also, the product page is well-organized, including all elements like product description, price, videos, photos, buttons, etc.
Also, the footer contains the most important information about the website, and serves as its "site map".
Bestseller Products Offerings
Utility Beard Oil
Utility Balm
Sea Salt Spray
Styling Paste
Marketing Tactics and Strategy
First thing first, the bundle offers! They seem to rock this marketing tactic! There are bundles for each product on the website.
Also, Beardbrand offers discounts and free shipping for orders over $75.
Furthermore, they offer an affiliate program. So, as an affiliate, you'll earn a 15% commission on every qualified buyer you send our way.
Also, what differentiates them from others, and gives a feeling to customers that this a trustworthy website to shop from are their male models.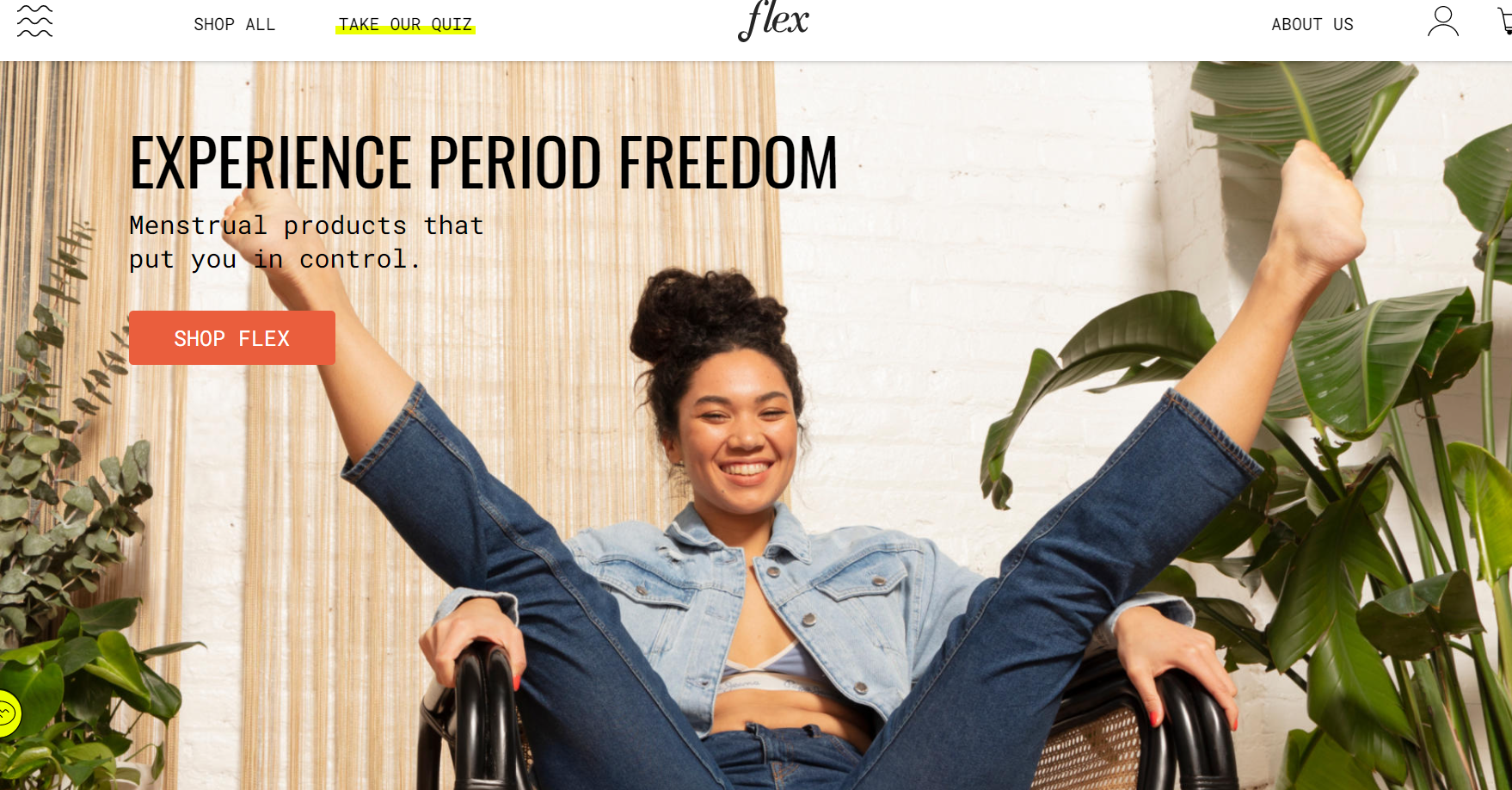 All about an alternative to tampons. This site is all about giving women the best sexual comfort while on their period.
Many think it is funny, but this Shopify store raised millions of dollars every single year by helping many couples!
Store and Product Page Design
Flex is another dropshipping store that we can clearly say is one of the greatest Shopify dropshipping store examples. It has an interesting store design, a colorful Full-Screen image, and the red call-to-action button, which are all eye-catchy!
Also, the menu categories are well-defined and organized, which makes the easy website navigation.
Furthermore, the footer contains all the necessary information, so it is like the website "site map"
Bestseller Products Offerings
Flex reusable disk
Flex cup
Flex Plant+ disk
Reusable disk starter bundle
Ultimate reusable period kit
Cup Starter Bundle
Marketing Tactics and Strategy
First, this dropshipping store offers very affordable bundles, and this is a great marketing strategy to increase sales.
Moreover, they engage customers by offering Blog articles, FAQs, contact info via email and phone number, etc. Also, they are present over social media and they link their presence on the website.
Nonetheless, they have a 24/7 Live Chat. What's more, they have a quiz so the customers can find the right products for them.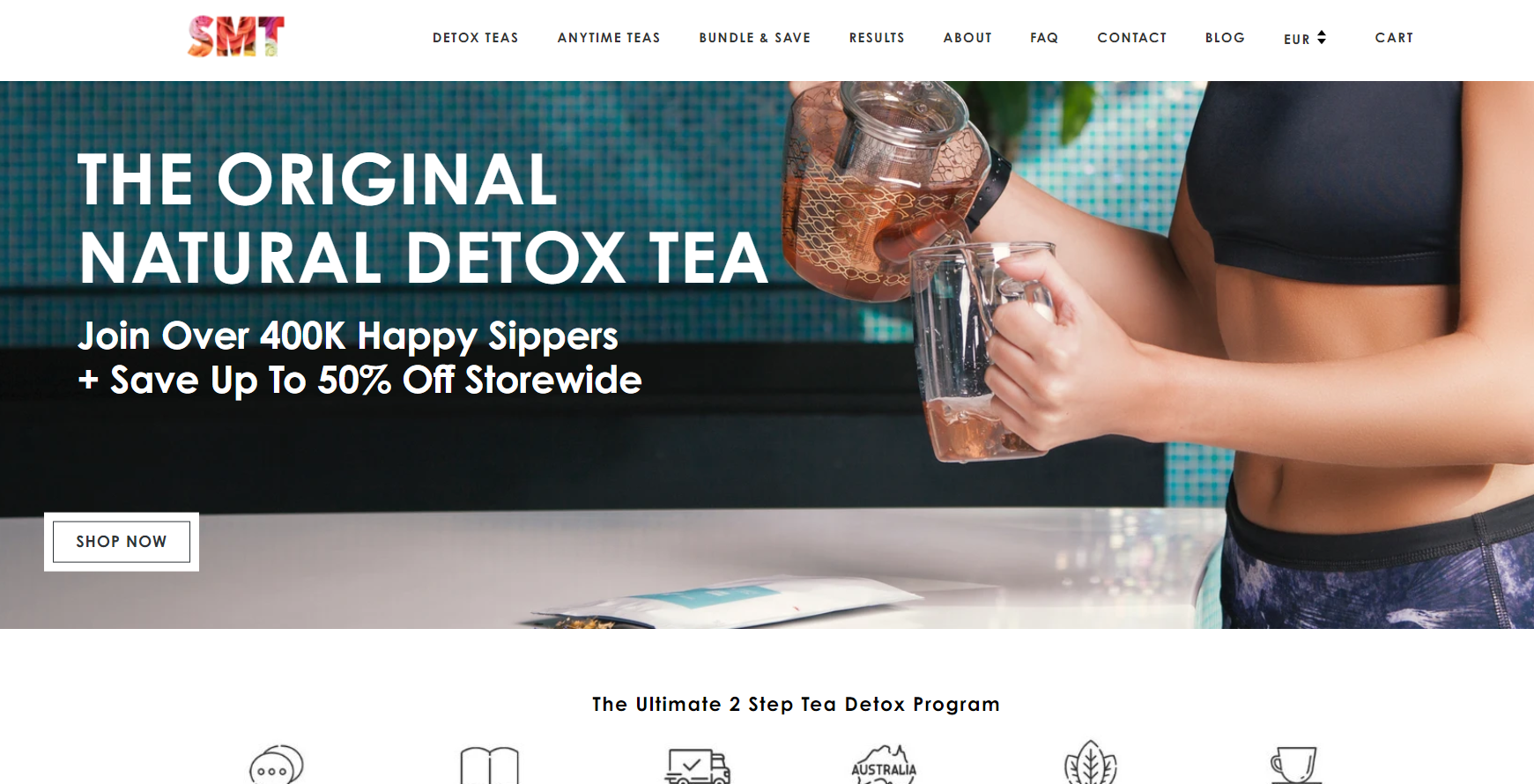 SkinnyMe is all about natural detox teas. They have been in the business for nearly 10 years and created this website with the main goal to help people stay healthy and lose weight.
It is founded in Australia, in 2012. This dropshipping store has over 15.5K visitors per month with a bounce rate of more than 30%.
Store and Product Page Design
Looking for the best Shopify dropshipping store examples? Here we have the perfect one!
Starting with a very impressive pop-up (Enjoy 15% OFF for your first order) with an easy escape hatch, to a very impressive layout, SkinnyMeTea is a perfect example for organizing your dropshipping store!
Giving a quick scan of their homepage we can say, that using the advantage of the grid of cards layout, they managed to highlight all of the most important information on their homepage, without making it look fuzzy!
The first thing we see on their homepage is the high-quality Full-Screen Photo layout. In the center are placed the most important buttons, which can provide them with increased sales and profits! Emphasized by using different colors from the background and typology ("Shop+Save"; "See results"). Great trick!
Furthermore, this dropshipping store provides easy navigation because all of the critical information is available on the homepage and can be accessed from there. The menu is a horizontal fly-out, with 7 well-defined main categories, still following the rule of simplicity to have from 5-7 main categories.
The logo is a link leading to the homepage, and on the right upper side, you can find the search, log in/ sign up buttons, shopping cart, and change currency (EUR, AUD, INR, GBP, CAD, USD JPY).
However, the footer might not be a good example for your dropshipping store. There are lot of information missing, which if you are not on the homepage, but on every other page, your footer will not give you a full-site guide.
Bestseller Products Offerings
SkinnyMe Teatox – 28-Day Pack
SkinnyMe Teatox – 14-Day Pack
Strawberry Tea Strainer
Açai Tea
ComplexionMe Tea
Marketing Tactics and Strategy
Furthermore, when we scroll the homepage we can find information like, why to choose SkinnyMeTea, top picks for the user, customer testimonials with photos before and after, and even video testimonials by customers. All of this content builds social and customer trust!
If you scroll further you will find, ingredients explanations, benefits of using SMT, and how it works, all presented with an interesting graphic design and pictures, FAQ.
Another value-adding content is that there is a customer review on every product they offer.
What's more, they give a lot of discount offers, like 15% off for the first order, free shipping for orders over $40, etc.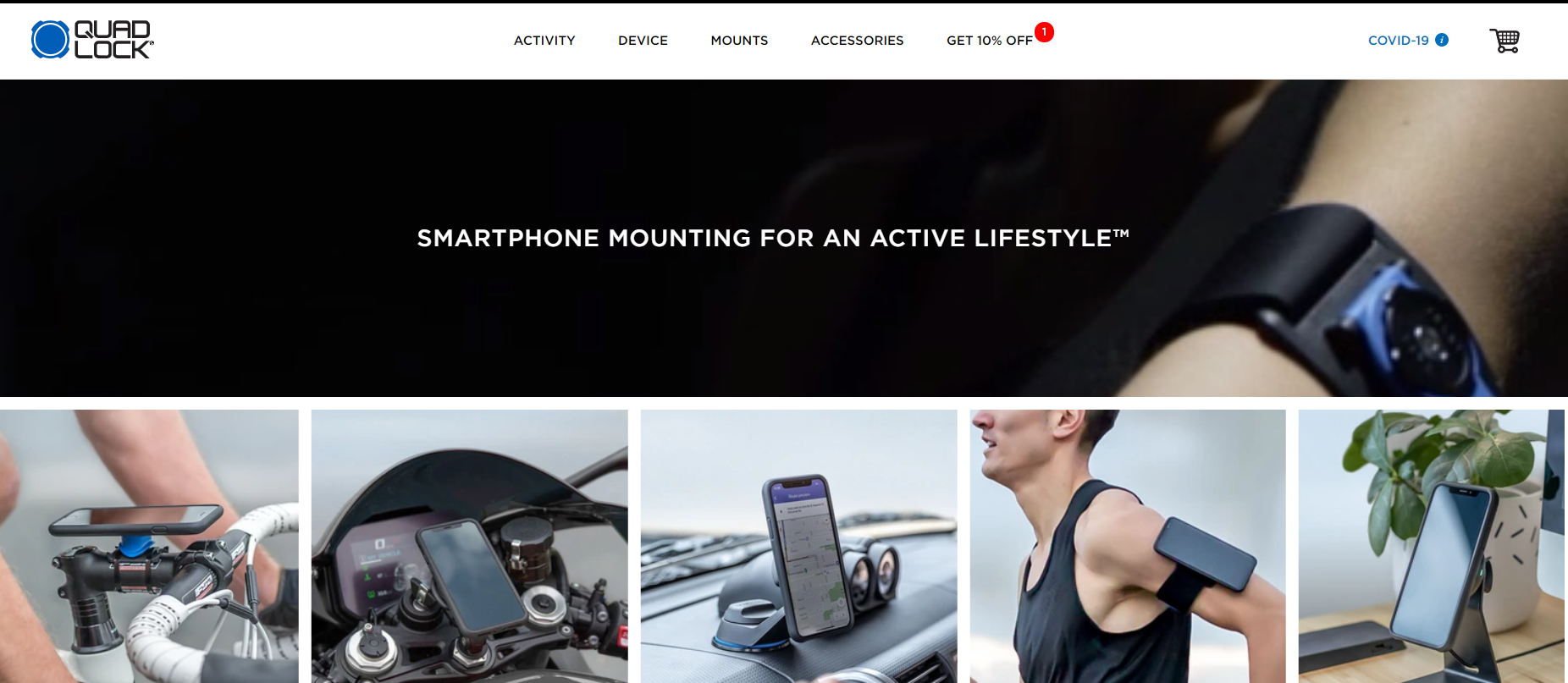 Quadlock is all about allowing you to attach your mobile phone wherever you go. Developed about a decade ago in Australia with Shopify, Quad lock has been a bike mount for many applications such as the belt clip, the wall mount, the tripod adapter, and so much more.
Store and Product Page Design
Again, Quadlockcase store design has one of the best Shopify dropshipping store examples.
Quadlockcase navigation is well-structured. Starting from their horizontal fly-out menu, with categories and sub-categories divided by product type, and named by product's name. There's also a specific category that offers discounts to customers (Get 10% 0FF).
Another value-adding point when analyzing their navigational menu is that there's a "Device" category, which means that customers can see all the products for a specific smartphone model in one place, instead of listing by product category.
Also, they can list the products by specific "Activity". Multiple navigation choices, Nice!
The dropshipping store contains all other navigation elements, like, the logo, log-in/sign-up button, shopping cart button, search button, change currency button, support, etc., all placed in the Navigation, or Header section of the homepage.
Their header also presents some important information about the buying or shipping process.
The product landing page is excellent, so you should take it as an example. It contains all the necessary information about the product, like, price, high-quality photos, even videos, detailed descriptions, customer reviews, comments, etc.
Their layout has a Full-screen video layout, and content is organized with a grid of card design, with realistic pictures and videos from their products. It depends on humans' taste, but all these realistic pictures and colors might seem too much for some users.
Tip: Simplicity is the new trend, so keep it simple, and neat, with a few colors and high-quality pictures.
Bestseller Products Offerings
Desk kit – All iPhone devices
Desk kit – All Pixel devices
Desk kit – All Galaxy devices
Desk kit – All Huawei devices
Universal fit – Tripod adaptor kit
Marketing Tactics and Strategy
This dropshipping business shows customer care in various ways. They provide options for customers to build their own products. Furthermore, they offer Collections, a Live Chat button, Blog, Warranty and Returns policy, a Privacy policy, Verified buyers reviews, etc.
Also, they are active on social media platforms, and this helps in keeping customers informed and engaged with your brand.
Furthermore, another marketing tactic is that they offer discounts and discount codes.
Why Looking For Inspiration From Other Dropshipping Stores?
Simply put, Inspiration!
This is excellent if you're just getting started and are unsure of how your dropshipping business should seem.
Dropshipping stores that receive a lot of traffic may teach you a lot. Definitely from those who are now still getting traffic.
For example, if you want to check dropshipping website traffic, you can use Similarweb, by simply using the website URL. Check this out! 👇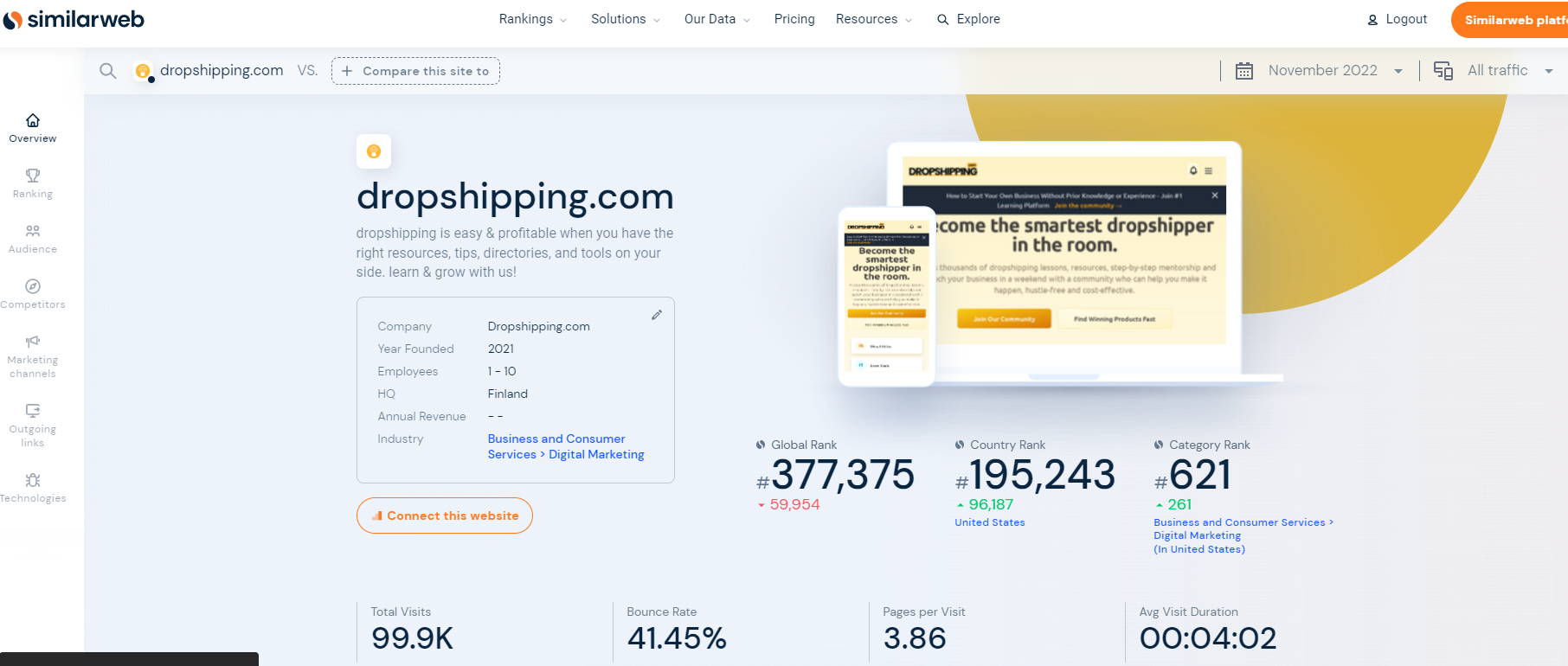 Also, we are not saying copying, but spying on those dropshipping stores, or maybe some of them would be your competitors.
Thus, if their business is running smoothly and showing their best results in sales and satisfied customers, they are certainly doing something good.
So, there's no harm in checking on what they have and what they avoid having. It's actually like somebody has already baked the cake for you!
Next, it is a good thing to check on what content they have in their store and how they present it.
Also, you can view their product prices, dropshipping tools they use, marketing tactics, store elements included, etc. Maybe you will get additional inspiration than the initial one, who knows!
What Makes a Great Dropshipping Store?
First, your store is the first interaction between you and your customer.
So, if you don't seem reliable and trustworthy to them, the interaction between you two sometimes might end even at your doorstep, we mean the home page! We all say don't judge by looks, but we all do the judgment!
That's why a great dropshipping website should have the following characteristics:
Attractive and user-friendly design. Your dropshipping store should have a visually appealing design that is easy to navigate and use.
High-quality product images. The product images should be clear and of high resolution so that customers can get a good sense of what they are buying.
Product descriptions. The product descriptions should provide detailed information about the products, including features, benefits, and specifications.
Fast loading speed. The store should load quickly in order to provide a good user experience and improve the chances of conversion.
Mobile-responsive design. With more and more people using mobile devices to shop online, it's important that your dropshipping store is mobile-responsive and looks good on all devices.
Trust signals. Your dropshipping store should include social proof, such as customer reviews, security badges, and money-back guarantees, to increase customer confidence in the website and the products being sold.
Easy checkout process. Customers like simplicity, so the checkout process should be quick and easy, with clear instructions and minimal steps.
Customer service. Your dropshipping store should provide a way for customers to contact the company with any questions or concerns they may have.
What Big Stores Use or Have Used Dropshipping?
Hmm, where to start? The list here is huge, so we will stick to only a few large retailers who use and have used dropshipping Shopify. 👇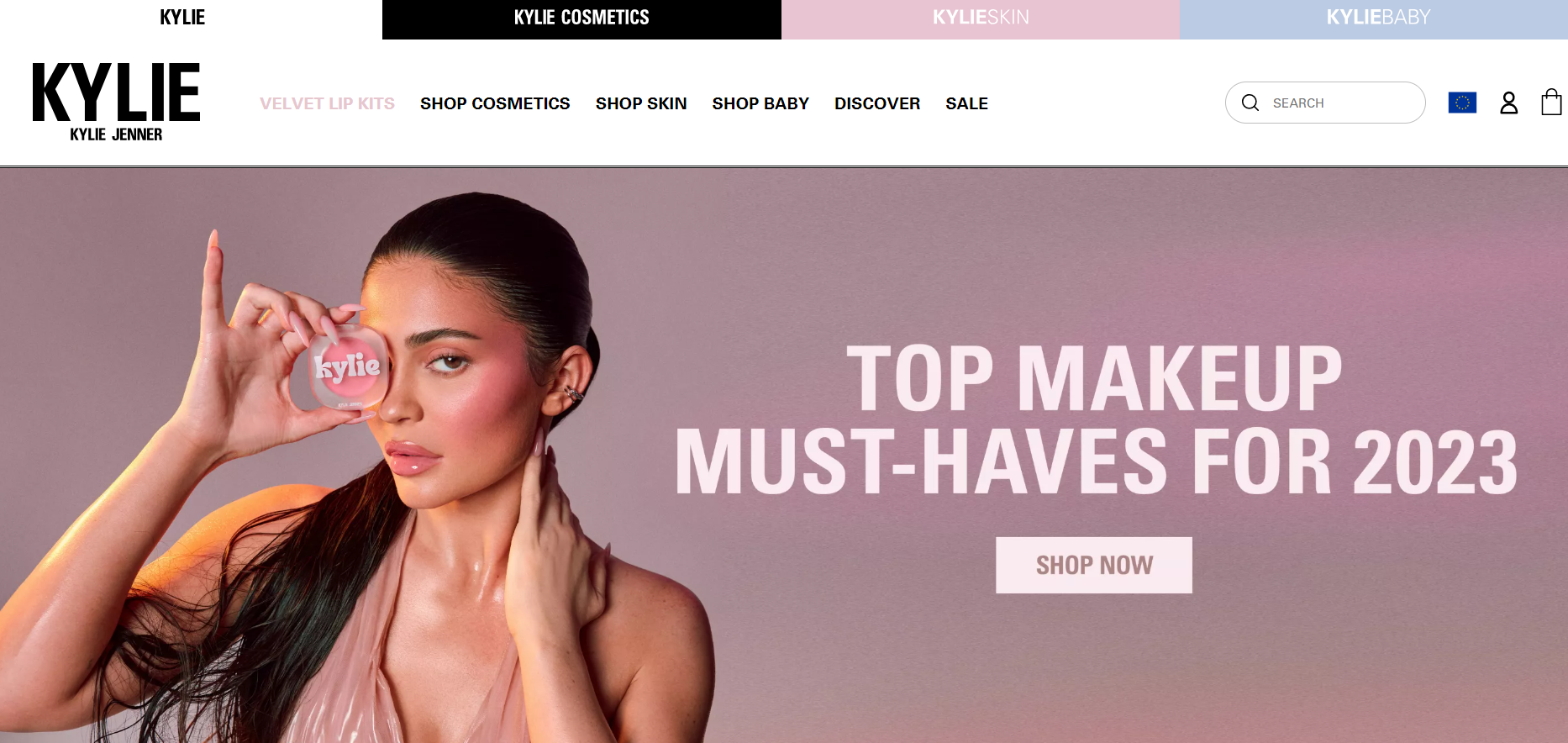 You are probably confused as everyone else, why would Kylie Jenner use Shopify? Well, not because Shopify is simple to use, but because they trust its themes. However, it allows them to deliver a premium user experience, which is precisely what their customers need.
Learn how to change themes on Shopify (a guide for dropshipping beginners).
Offering her customers what they want is Kylie Jenner's long-term objective.
Thus, with Shopify, they can offer multiple payment gateways, mobile responsiveness, easy navigation, fast load times, etc.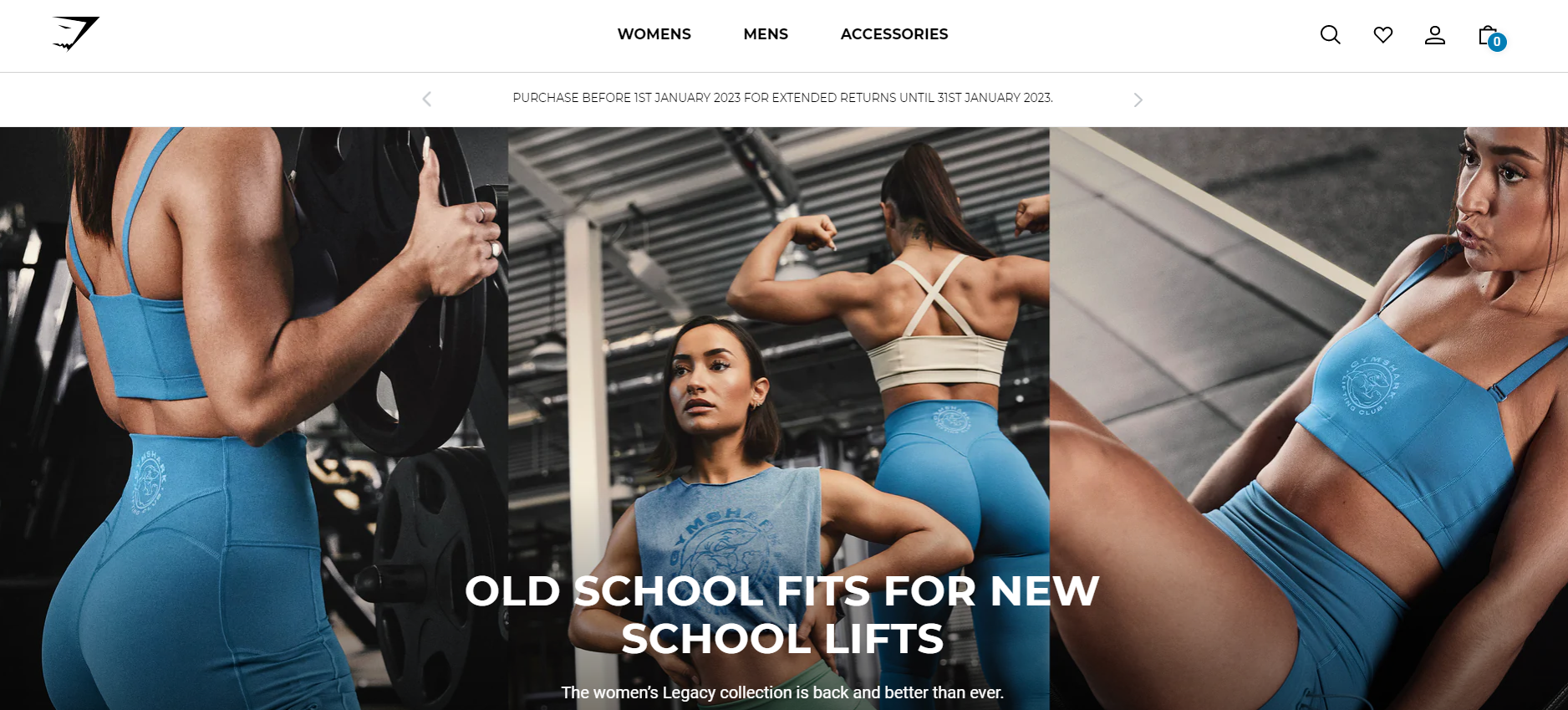 Exactly! GymShark is another well-known brand that uses Shopify for its dropshipping store customization. Actually, the "Brooklyn" Shopify theme is used by Gymshark for their dropshipping store.
So, the fact that this theme is simple to adjust and has a contemporary, minimalist style makes it a favorite among Shopify users. Additionally, it has pre-built features including a slideshow banner, filtered navigation, and product search.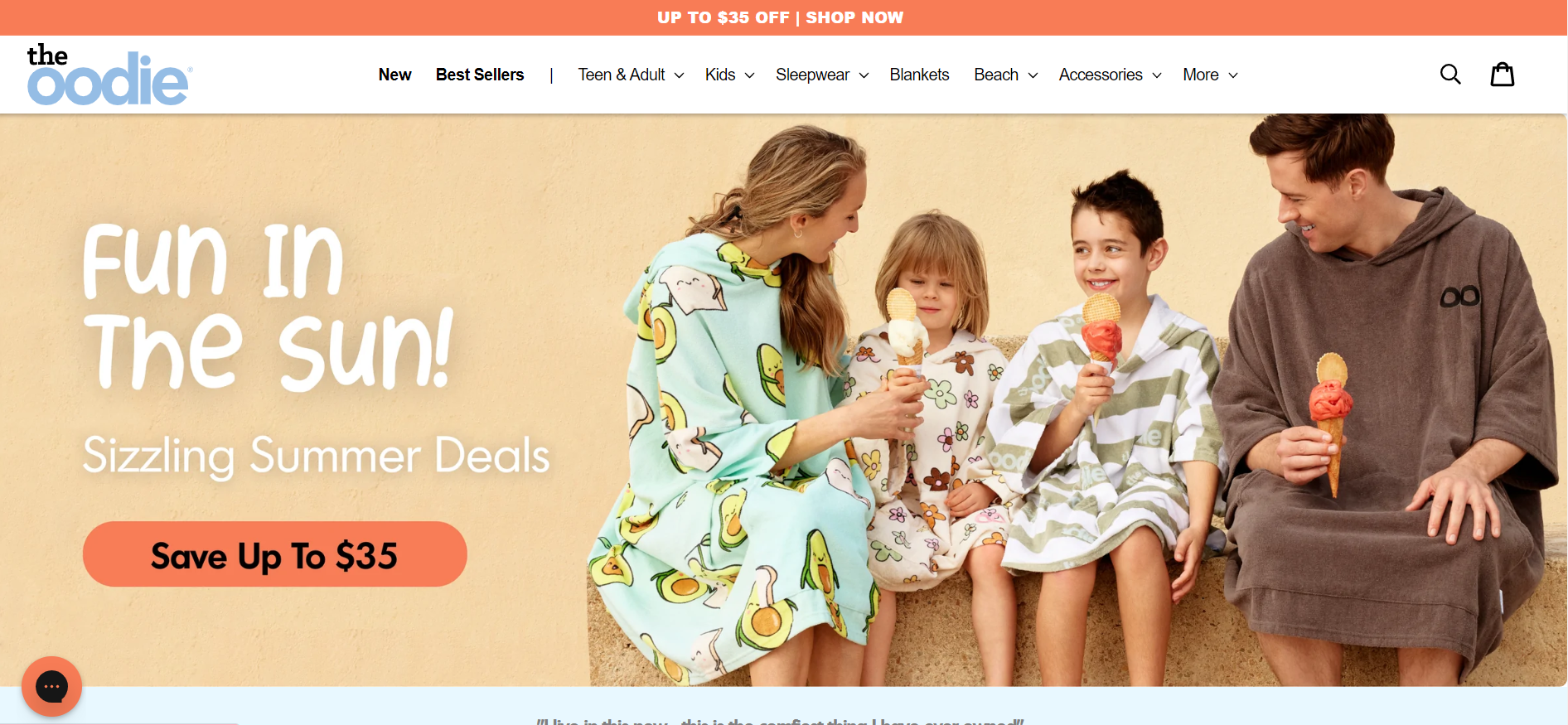 Davie started "The Oodie" with a straightforward, default Shopify website and straightforward product images, which were modeled by his mother and girlfriend.
However, the owner still uses Shopify since it provides customers with easy navigation, an eye-catchy layout, fast loading times, multiple payment gateways, etc.
Join the only community and resource hub you'll ever need to succeed with dropshipping
Find winning dropshipping products, learn marketing, download templates and engage with real dropshippers
Never pay for a "guru's" course again. See why 4543+ dropshippers joined us this year!
💡Try DSCOM Hub Now
Conclusion
These were a few top examples of websites that built their fame through Shopify. There were only 15 of them, but of course, there are many more out there.
These are just some examples to help you get started. If you want to find more ecommerce platforms for your store, land over our ultimate review list of the best Shopify alternatives.
For more information, visit our knowledge center for more weekly tips & tricks on opening or starting your own dropshipping store.
Read Next: Top 10 Best Shopify Affiliate Apps for Shopify Affiliate Marketing.