Before starting a dropshipping business, all beginner drop shippers need an answer to the following question: What is dropshipping, what are the pros and cons of dropshipping, and most importantly, how does the dropshipping business work? Let's explain all of these.
Before we do that, let's explain briefly how this supply chain management method functions.
What Is Dropshipping?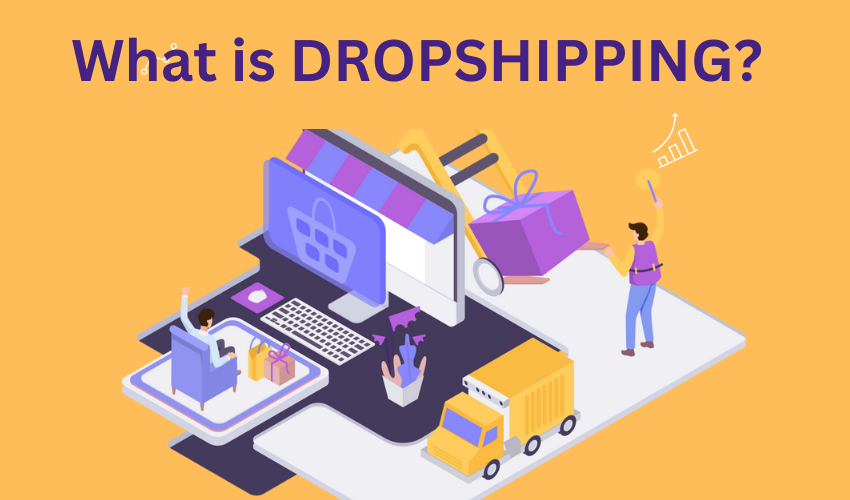 Dropshipping is an eCommerce business model where you sell your products online on an online store, known as a dropshipping store, but you don't keep any inventory.
👉 Learn the Difference between Dropshipping business model and eCommerce.
Instead of keeping inventory on your own, a dropshipping supplier does that for you. So, this means that you have no physical contact with the products you sell, and you don't bother yourself with the whole supply chain management process, but you rather focus on keeping your customers happy and satisfied, and other marketing strategies.
💡 Tip: Read the Step-By-Step Guide to Instagram Marketing For Dropshipping. Also, check out the following:
👉 21 Best Ecommerce Marketing Tools for Dropshipping Store Owners
👉 How To Create a Winning Social Media Marketing Plan For Your Dropshipping Store?
👉 16 Best Marketing Apps on Shopify
Now, let's see how does dropshipping business work.
How Does Dropshipping Work?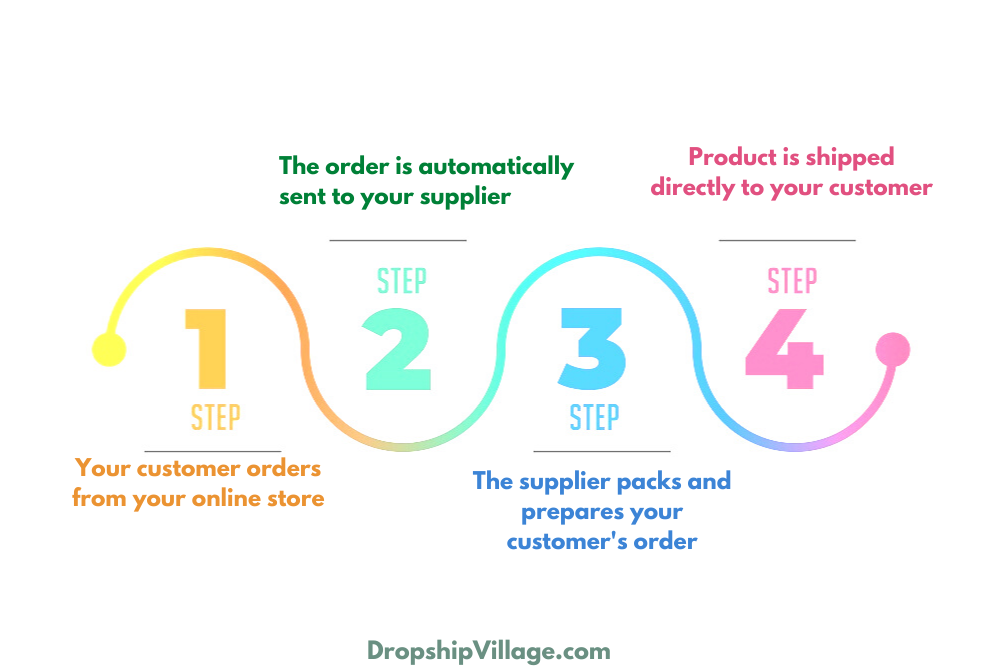 So, you have an online store. Your customers find products they like and make an online purchase, i.e. order. All the shipping details are automatically sent to your dropshipping supplier.
CHECK OUT:
👉 Free List of the Best Dropshipping Suppliers in Europe
👉 21 Best Dropshipping Suppliers in the USA [General + Niche]
👉 20 UK Dropshipping Suppliers for Your E-commerce Store
From then on, all the work is left for them to complete. They find the products, check them for any defects, then pack and ship them to your customer's shipping address.
In other words, it's an order fulfillment method that doesn't require drop shippers to open a company or rent a warehouse.
It's easy because everything is done online, and most of the work is taken care of by your supplier.
Now, since you can't physically see the products, it's best for you to find wholesale dropshipping suppliers, although that's another topic to cover in one of our other articles.
Basically, that's how dropshipping works. Sounds pretty simple, right? Sure, if you're an experienced drop shipper, it does.
But what about the pros and cons of dropshipping?
---
The Pros Of Dropshipping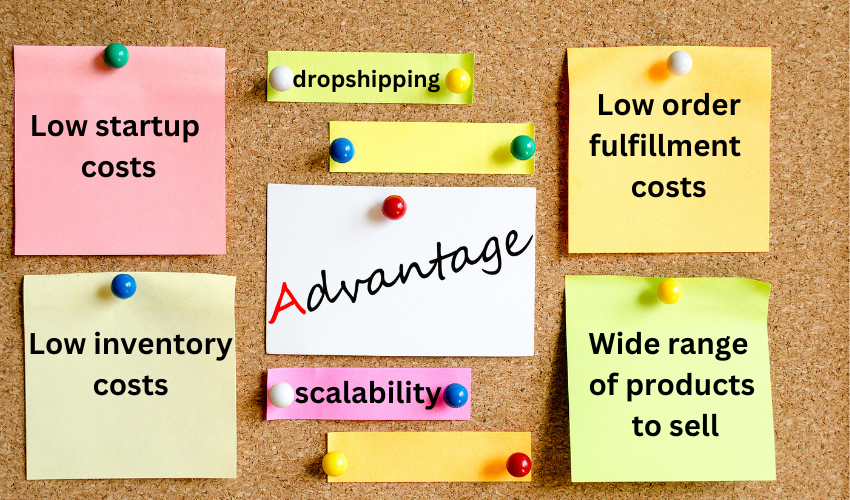 Dropshipping is growing increasingly popular because of the cheaper startup costs, lower inventory management, diverse product options, flexibility, scalability, and other benefits.
1. Low startup costs
Every business has startup costs (of course, how would it start otherwise?), and dropshipping business is no different.
However, it does not contain all the startup costs that other online or brick-and-mortar businesses have. This business model includes:
The amount of all these costs depends on you. For example, you have a choice of building a dropshipping store from scratch on your own or using website builders. Moreover, those website builders have options, from free to premium membership. This is the same for all other startup costs, and dropshipping tools too.
So, maybe now you are interested to start dropshipping for free? And, you obviously have that option!
2. Low inventory costs
Maintaining your inventory needs an initial investment. You'll also need a place to store and arrange your goods (warehouse). And of course,  this requires additional costs.
Dropshipping is a very appealing alternative. You may relieve inventory strain by delegating all of those duties to your dropshipping suppliers. In other words, you have numerous companies that have warehouses, and most of them strictly work as warehouse facilities.
💡 Tip: Consider dropshipping with a US warehouse.
3. Lower order fulfillment costs
In a nutshell, having a good order fulfillment process means always getting all of your purchases delivered on time, without damage, without difficulties, and without any form of excuse. As a result, it comprises:
Inventory management
Returns management
Single and bulk orders fulfillment.
Providing comprehensive reports and analytics
Order packing
Delivery management
Services for kitting
Connecting to your dropshipping store.
Product quality assurance
Dropshipping businesses hire 3PL companies to support their order fulfillment process.
And we guess you can imagine now, why this is one of the dropshipping pros. Dropshippers outsource a great portion of their activities to their dropshipping suppliers, and in a meantime, they pay an arranged price and save their time and additional costs.
👉 Learn about the 10 Best Ecommerce Fulfillment Services For Dropshipping Stores.
4. Wide range of products to offer
There is a variety of dropshipping niches and products that sell well nowadays. The only thing you need to do as a beginner is learn How To Find Winning Products In 2022.
Choosing the best dropshipping niche in 2022 can be challenging, but we will give you a little sneak peek into it. Therefore, you should definitely start by checking out the following topics:
👉 Top 10 Car Accessories Suppliers for Dropshipping & Hot Selling Car Parts Products
👉 Jewelry Dropshipping: The Best Niche For Dropshipping In 2022?
👉 Dog Niche Dropshipping: Top Dog Products & Suppliers for Sellers
👉 Dropshipping Medical Supplies: Top 10 Medical Products & 8 Top Suppliers
👉 Beauty Products To Sell Online: Top 15 Beauty Products For Dropshipping
Moreover, as you can already see – there really are A LOT of different dropshipping products to sell, but be smart because sometimes less is more!
Therefore, make good research when it comes to the matter of how many products you should start with when dropshipping!
5. Scalable business model
Scaling your dropshipping business involves improving your reach, traffic, and revenue. Scaling may also entail establishing your dropshipping business as a market brand, remarketing, enhancing and automating your processes to manage a wider customer base, upselling and cross-selling, and so on.
As a result, your margins are well-defined because dropshipping stores make a payment for inventory as customers make orders.
You must pay for marketing as well as the dropshipping supplier to create and distribute your items.
Everything else can be counted as your dropshipping profit margin, so it's easier to scale growth by adjusting product price and marketing methods than it is for traditional eCommerce businesses or brick-and-mortar with more complex cost accounts.
The Cons Of Dropshipping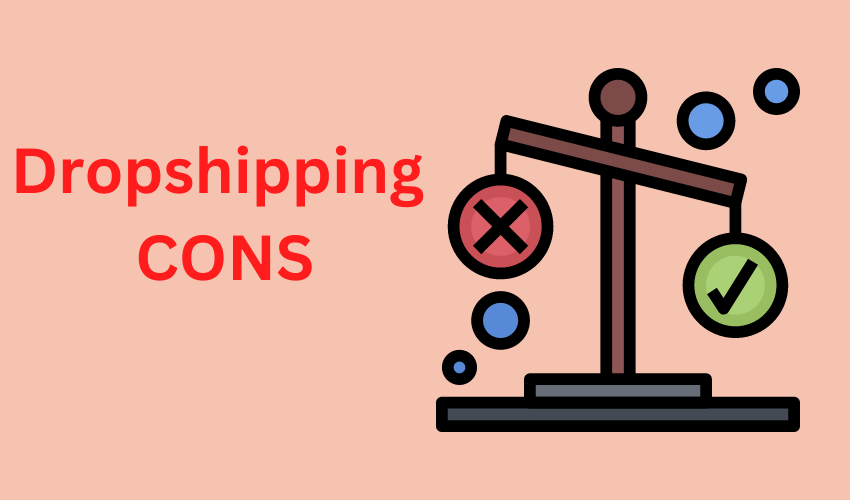 Before you start your own dropshipping business, there are a few things you should know. From high competition to legal issues, let's cover them all.
1. High competition
Everyone starts with a great dose of optimism. It's the right mentality, especially when you're opening an online store. However, being a realist will get you better results.
You can't expect to open a store and welcome customers coming out of nowhere. There are millions of drop shippers online, with at least a portion of them earning decent profits, up to $100,000 per month.
However, to get there, you'll need to put your mind, body, and soul into it. And with most of us having 9-5 jobs, it's rather impossible to do so.
No matter which product category you choose, you will always have competition behind your back.
👉 Check out The Top 15 Best Facebook Ad Spy Tools For Dropshipping.
There are ways to "kill" your competitors, with unique marketing techniques and paid advertising.
Still, good research will lead you a long way. Finding high-profit products where there is not much competition will get you started. One great tool which can help you with this is Thieve.co, so make sure to check it out.
---
2. No control over inventory
The problem with control over inventory is that customers will address you directly, no matter what's happened with the product. If it's defective, they will contact you. If it hasn't arrived for weeks, it's your fault.
For each complaint, you'll have to talk directly to your supplier, which in return must give you a proper answer.
Overall, you're constantly under the pressure of failing to deliver products on time and in perfect condition.
Luckily, most suppliers nowadays are reliable enough to ship orders with 99% customer satisfaction. There is still that 1% left, though, so be prepared for anything. The best advice is to find suppliers with quick response times, i.e. great chat support.
This will remove any delays in the communication between you and the customers. Sure, you can also count these facts as either pros or cons of dropshipping
---
3. Low-profit margins
It's easy to calculate profits. If you'd like to know how, we'll name a few expenses you need to look out for, before you end up making profits by selling enough products.
Dropshipping costs
Monthly advertising costs
Store maintenance fees
Supplier fees
Additional fees (plugins, server maintenance, etc.)
Now, how can you turn these expenses into profits? Everything you pay for should earn you money. Especially advertising/marketing costs.
For example, if you're reselling smartphones for $1000, and you get 10% of the profits, that's $100. However, you've already spent $50 on advertising.
Minus that, the rest is enough to cover the basic profits, such as supplier and store maintenance fees. You still haven't gotten a penny out of it.
Now, picture this time ten. You have now spent $500 on advertising and sold 10 smartphones, earning $1000 in the process. Remove $500 for advertising and another $100 for the fees, and you now have $400 left in your wallet. What's the lesson here? You spend more to earn more potentially.
Please note, this is just a basic example and doesn't necessarily have to reflect the actual profits and expenditures.
The point is, the more you spend, the more you earn if you do things right. Spend more time researching which products to sell before you create ads for them.
Also, make sure to check which social media channels are best to advertise your products. For example, Instagram and Pinterest are currently very profitable for advertising specific personalized dropshipping products.
---
4. Legal issues
You won't find many drop shippers complaining about legal issues and their online businesses being shut down because of it.
However, it is something to be aware of. In short, don't trust suppliers that aren't BBB-certified in the U.S., although most of them are. In fact, around 98% of all suppliers are verified and are already established companies in their respective industries.
However, some of them will use various marketing tricks to fool you into believing they are legitimate businesses.
Don't let their copyrighted logos and fancy '100% certified' banners trick you.
How can you check if a supplier is legit or not? Simply Google their business.
The first results should show the supplier's website and physical address via Google My Business.
To understand better, see the example image below.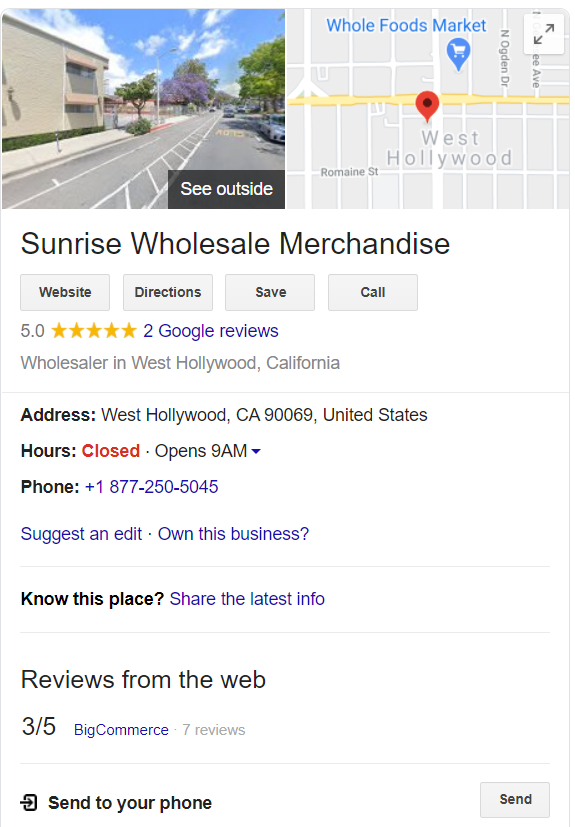 There are reviews by Google users, as well as reviews from other sites. Some of the more relevant sites include TrustPilot, Sitejabber, Capterra, and others.
Here, you can find out everything you need about how a supplier works, directly from the customers, before you decide to connect with them.
It's straightforward to find out more about a supplier since all of these websites have search bars for better navigation and supplier search.
---
Dropshipping Pros and Cons – Comparison Table
| | |
| --- | --- |
| PROS | CONS |
| Low startup costs | High competition |
| Low inventory costs | No control over inventory |
| Lower order fulfillment costs | Low-profit margins |
| Wide range of products to offer | Legal issues |
| Scalable business model | |
To summarize, not only that the PROS overcome the CONS by number, but they actually DO "overcome" them! This means that there aren't any of the cons above that cannot be solved, and transformed into your dropshipping business advantage.
Yes, there is high competition and we are more than aware of that, but you have thousands of marketing tips and tricks, even amazing Ad Spy tools to win over your competition via better offers.
Furthermore, no control over inventory is possible, but only if you don't know how to find your trustworthy dropshipping suppliers. So, this is not 100% insurance that will happen. You are probably not gonna jump into any type of business (not just dropshipping) unprepared and uniformed right?
Luckily, there are various dropshipping platforms, like Dropshipping.com that help you find and choose the most reliable dropshipping suppliers for your business.
What's more, low-profit margins do exist in dropshipping businesses, like in any other. But, this is not something that cannot be solved. You have full support from dropshipping platforms, constantly showing you the right path.
Moreover, Google Trends and a lot of other free tools also show you potential trendy and high-ticket products.
And last but not least, legal issues! Do you know any completely risk-free business model? Yeah, me neither. The only thing you need to do before starting dropshipping is just get fully informed, and learn how to avoid dropshipping scams!
However, we are not pointing out that there are all roses around – there are guns too, but as you can see, you can solve it all once you have all the necessary data in dropshipping.
How To Make Your Dropshipping Business Work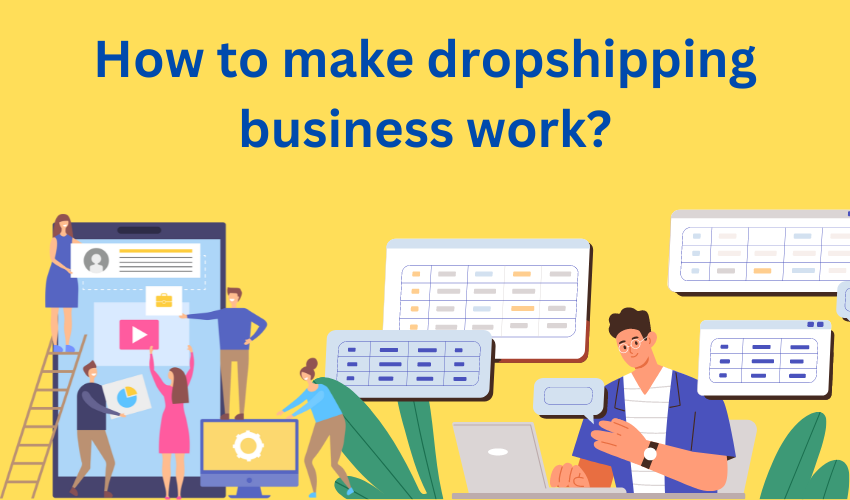 Let's talk about how to make your online store sell products. What can you possibly do to make this happen?
We'll cover a few ideas, enough to make you understand how you can convert this opportunity into profits. These simple marketing techniques require time and money, but eventually, they'll lead you to profits.
These can be counted as both pros and cons of dropshipping, depending on one's point of view.
---
Dropshipping marketing budget
You can freely count these as part of the "pros and cons of dropshipping". Unless you're a genius at digital marketing, you will have a hard time finding customers for free.
The best solution is to separate a large chunk of your budget for advertising. Why should you invest in it? Because you're not giving away the money to social media channels, but instead are investing in your business.
Every customer you paid to enter your site has a chance to "bookmark" your store.
The next time they need a product like yours again, they'll know which online store to visit.
Ultimately, you won't have to advertise and spend that much money, because customer satisfaction will make customers tell others, creating a sort of "word of mouth" advertising for your store.
You are now beginning to get the point. What about the budget and spending?
We'll mention the five most popular channels for advertising your products, and let you decide how much to spend, depending on the types of products, of course.
---
Instagram
One of the best (and cheapest) methods for Instagram advertising is shoutouts.
You can get some for free, by mutually shouting out your business via Instagram stories or posts.
Alternatively, you can find influencers and even get shout-outs for $10-20. Shoutcast is a great tool to find influencers in your industry.
---
Facebook
There is a general rule on Facebook, about promoting your new store. Generally speaking, people spend between $10 to $15 per day. However, this is great if you're selling cheap stuff.
In case you'd like to sell products worth over $100 or $200, you'll need to be more competitive, and at least double the budget to at least $30 on a daily basis. The logic of this is simple.
Those selling high-ticket products earn more profits. They want to beat the competition and are willing to spend more, in order to gain more. This is why you'll need to research the market first.
Make sure to check out the "market research" section at the end of the article, to find out more about which products you should dropship.
---
Google Shopping
You might not be aware of this type of marketing, but even so, watching a few tutorials will help you create a good campaign and set the right budget.
Remember, you will only spend money if someone clicks on your advertisement.
You can set the budget at $20-40 per day, and get lots of clicks in return.
Not all of them will buy something, but even if a small percentage does, you'll already be making profits.
---
YouTube
The world's most popular video-sharing platform can be used by drop shippers with larger budgets, since a single ad may cost at least $180 for a fixed period of time.
It's still worth mentioning because YouTube vloggers are equivalent to Instagram's influencers.
With a little luck, you can get a mention by an influencer for less, depending on your budget.
---
Email marketing
If your store has a 'subscribe' button and you're unaware of it, it means you haven't capitalized on this opportunity yet. All those emails your customers have left can become the basis of your income.
You can use email automation platforms such as Mailchimp to send around 12,000 emails to no more than 2000 of your customers every month, for free. Premium plans are also available if you're willing to invest more in email marketing.
---
Summary
This article answers many important questions about dropshipping through the list of the most important pros and cons of dropshipping.
Maybe after reading this you will ask yourself – Is Dropshipping business worth it?
Yes, it is, and you know it. How does reselling products online for large profits without even touching their sound to you?
Pretty good, right? Let this side income adventure become your 9-5 job and give you more financial freedom.
Use that freedom to either spend your hard-earned on other investments or spend more quality time with your family.