Pros And Cons Of Dropshipping: Does It Actually Work?
by
Aleksandra -
Aleksandra teaches marketing and management at various levels in High School. She writes about marketing, the economics and logistics of the dropshipping business and ecommerce in general.
Chief of Content Marketing
Dropshipping has become a popular business model in recent years, promising entrepreneurs a low-risk way to start their own online store. But does it really live up to the hype? Before diving into this booming industry, it's important to weigh the pros and cons of dropshipping as the right path for you.
If you're considering venturing into the world of dropshipping, it's essential to understand the potential benefits and drawbacks. While it may seem like an easy way to make money, there are certain challenges and risks involved.
By examining the pros and cons of dropshipping, you can make an informed decision about whether dropshipping is a viable option for your entrepreneurial endeavors. So, let's dive in!
What Is Dropshipping?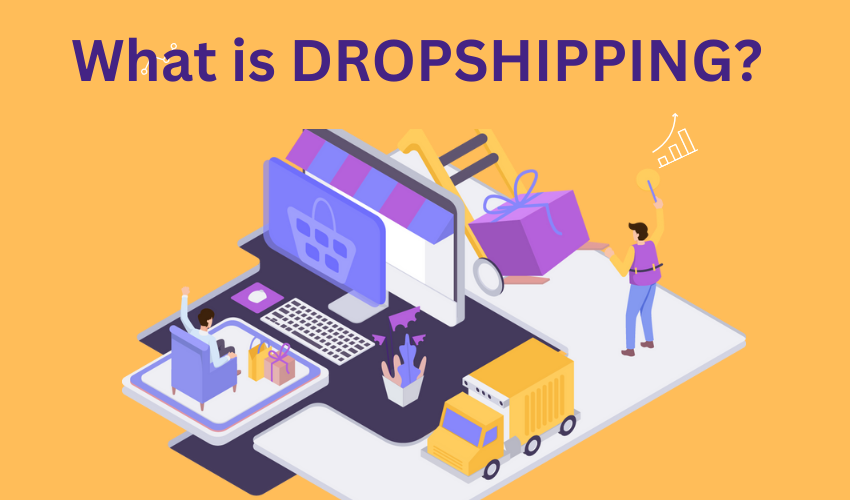 Dropshipping is an eCommerce business model where you sell your products online on an online store, known as a dropshipping store, but you don't keep any inventory.
👉 Learn the Difference between Dropshipping business model and eCommerce.
Instead of keeping inventory on your own, a dropshipping supplier does that for you. So, this means that you have no physical contact with the products you sell, and you don't bother yourself with the whole supply chain management process, but you rather focus on keeping your customers happy and satisfied, and other marketing strategies.
💡 Tip: Read about What Is The Minimum Budget To Start Dropshipping With Shopify?
Now, let's see how does dropshipping business works.
💡 Tip: Learn How To Escape The Rat Race The Real Way? – Leaving The 9 To 5.
Lifetime deal: Get all-access to everything on Dropshipping.com
Access all DSCOM features, resources, courses, live workshops, discounts, winning products, weekly deep dives, directories and all future updates under all-in-one dropshipping HUB.
DROPSHIPPING IS A REAL BUSINESS, DON'T DO IT ALONE. 4553 MEMBERS ALREADY JOINED. YOU CAN PAY OFF YOUR SMALL INVESTMENT WITH JUST 2 SALES ON YOUR STORE.
Grab the deal before it's gone
How Does Dropshipping Work?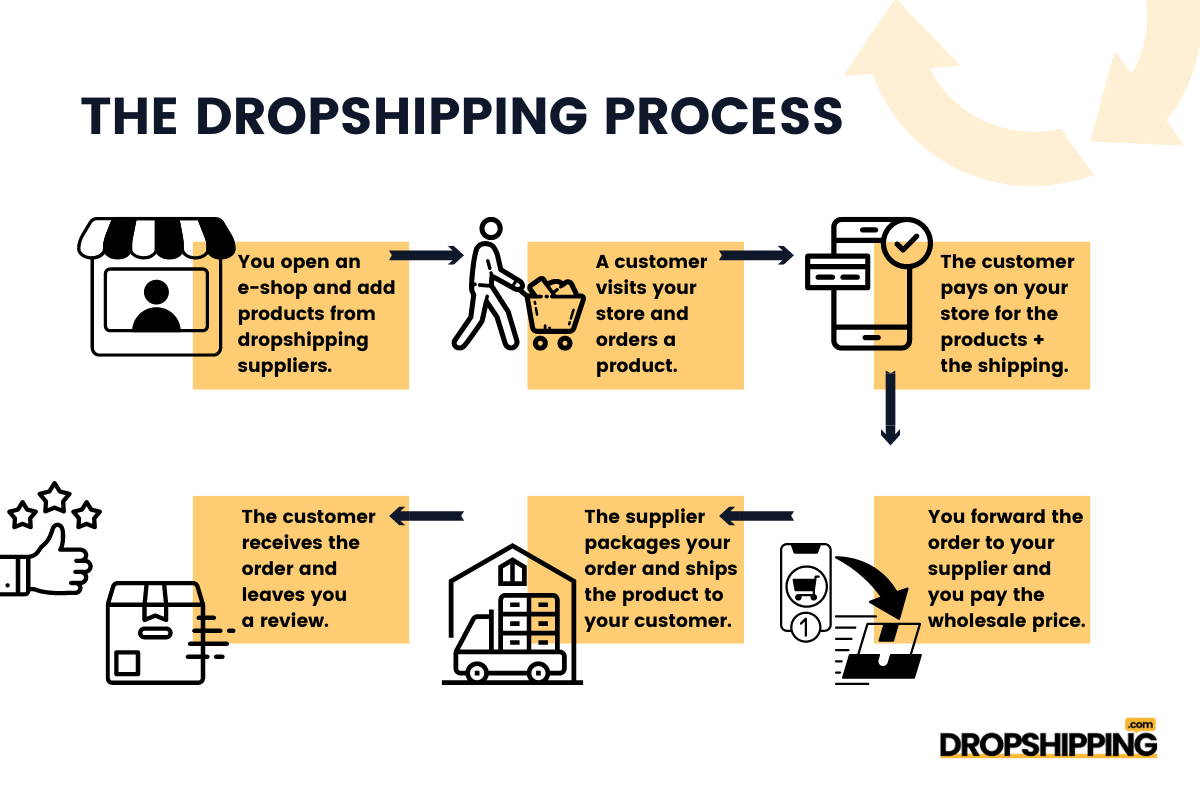 So, in order to explain the dropshipping business model, I will break it down into a few steps:
1. You, as a dropshipper, set up an online store or list products on a marketplace.
2. Next, you partner with a dropshipping supplier or wholesaler who offers dropshipping services.
3. Once you choose the products you like, you select the products you want to sell from the supplier's inventory and list them on your store or marketplace.
4. When a customer places an order on your website and makes a payment, you (the dropshipper) forward the order details to the supplier.
5. The dropshipping supplier processes the order, packs the products, and ships them directly to the customer's address. The retailer does not handle the actual inventory or shipping process.
6. Hence, you pay the supplier the wholesale price of the products, keeping the difference between the wholesale price and the retail price as their profit.
7. The customer receives the products directly from the supplier, with the retailer's branding and packaging if applicable.
And remember, all this is done automatically, thanks to various automation software out there.
👉 21 Best Dropshipping Suppliers in the USA [General + Niche]
👉 Learn How Much Does It Cost To Start Dropshipping In 2023?
Now, let's discuss the pros and cons of dropshipping.
The Pros Of Dropshipping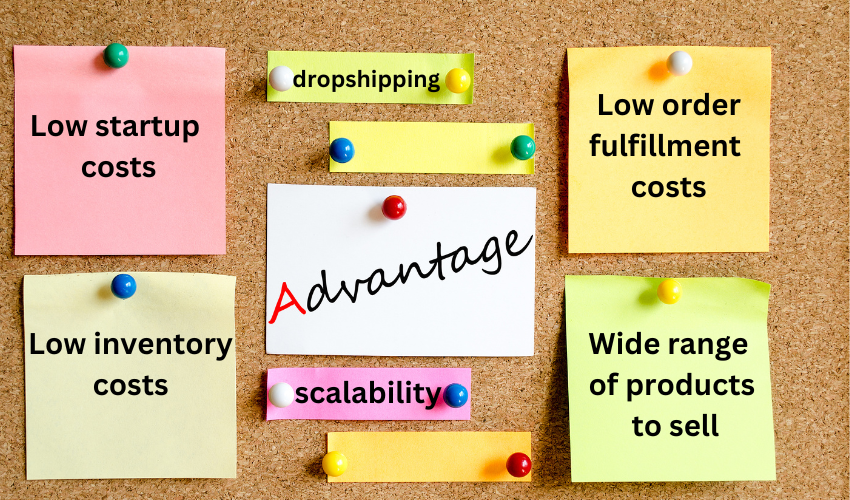 Dropshipping is growing increasingly popular because of the cheaper startup costs, lower inventory management, diverse product options, flexibility, scalability, and other benefits. So, from the pros and cons of dropshipping, let's first consider the PROS.
1. Low Startup Costs
One of the major advantages of starting a dropshipping business is the low startup costs involved. Unlike traditional retail businesses, you don't need to invest in inventory upfront. Instead, you only purchase products from suppliers when you receive orders from customers. 
Furthermore, you don't need to worry about warehousing and storage costs. Since you're not stocking inventory, you don't need to rent or buy a physical space to store your products. This significantly reduces your overhead costs, allowing you to allocate funds to other business areas.
Another cost-saving aspect of dropshipping is that you don't need to handle shipping and fulfillment. Also, it eliminates the need for product development and manufacturing costs.
Moreover, with dropshipping, you can leverage various digital marketing channels, such as social media, content marketing, and search engine optimization, to promote your products at a relatively low cost.
However, here are some of the costs you will encounter in building a dropshipping store, finding a domain, dropshipping tool, etc.
Also, the amount of all these costs depends on you. For example, it depends on which subscription plan you chose from the website builder, the dropshipping tool, marketing tools, and more. Plus, there are lots of free tools as well.
2. Low Inventory Costs
You already know what dropshipping is right? So, you know that we, dropshippers, do not keep inventory. Hence, that's why we have low inventory costs.
For me, this eliminates the need to invest a large amount of money in purchasing and storing inventory. So, I only pay for the products once I have already received payment from the customer, reducing the risk of holding unsold inventory.
So, maybe now you are wondering, how on earth come the "low" inventory costs if you don't keep inventory?
Well, if dropshippers don't keep inventory, they can still incur certain costs related to their business operations. Some of the inventory costs are supplier price, dropshipping platform fees, shipping costs, etc.
Plus, dropshippers may need to invest in various technology tools and software to manage their inventory, track sales, process orders, and handle other aspects of their business.
For, instance, if you need help tracking your inventory, I recommend you check on the Inventory Source automation software. 👇
💡 Tip: Read about Drop Shipping Warehouse: How To Dropship With A US Warehouse?

3. Lower Order Fulfillment Costs
In a nutshell, having a good order fulfillment process means always getting all of your purchases delivered on time, without damage, without difficulties, and without any form of excuse. 
And, one reason why you get lower order fulfillment costs with dropshipping compared to other business models is that you don't have to hold inventory. 
Plus, you don't invest in inventory upfront, reducing the associated costs. Since you only purchase products from the supplier after a customer places an order, you can avoid the risks and expenses of holding excess inventory.
Furthermore, drop shipping enables you to cut down on labor costs. So, all the picking, packing, and shipping orders are done by dropshipping suppliers.
Plus, it also provides comprehensive reports and analytics, order packing and delivery, and more. 
For example, I am using ShipMonk for my order fulfillment, and if I compare it to before, it really helps me lower order fulfillment costs. 
Plus, it integrates with almost every major Ecommerce platform you can think of. And, it helped me deliver better customer service, inventory management, branding services, reliable order tracking.
👉 Learn about the 10 Best Ecommerce Fulfillment Services For Dropshipping Stores.
4. Wide Range Of Products To Offer
And, the best part, you have a plethora of offerings! First and foremost, there are numerous lucrative dropshipping niches to select from.
Next, you have the capability to access a vast inventory of items from multiple dropshipping suppliers. And, all of this, without the inconvenience of procuring and stocking inventory.
So, whether it's fashion, auto parts, medical supplies, electronics, beauty, stickers dropshipping, home decor, or any other category, dropshipping platforms grant access to an extensive array of products. 
Another advantage of the wide array of products available in dropshipping is the opportunity to cater to diverse customer preferences. For instance, by providing a variety of sizes, colors, or variations of a product, you can appeal to a broader audience and enhance customer satisfaction.
Also, what I see as a big PLUS are the various product research tools that can help you find your winning products.
For instance, I am using Minea, which helps me find the products in my niche, and check on its market prices, supplier price, engagement, customer analysis, competitors, and more. 👇
👉 Also, check out the Best Dropshipping Products In Any Niche For Max Profits.
5. Scalable Business Model
Since dropshipping does not require physical inventory management, you can easily scale your operations by adding new products or expanding to new markets.
Likewise, the process of adding new products or suppliers is relatively simple, as there is no need to handle the logistics of stocking and shipping products.
Plus, as dropshipping businesses grow, you can leverage your sales volume to negotiate better pricing and terms with suppliers. This can lead to increased profit margins and further scalability as the business expands.
👉 Check out the Dropshipping Profit Margin: A Step-By-Step Guide For Beginners.
6. Flexible Work Schedule
The dropshipping business model offers you a unique opportunity to enjoy a flexible work schedule and the freedom to work from anywhere in the world.
So, you can say goodbye to the constraints of physical inventory management and order fulfillment tasks, allowing them to focus on growing their business and enjoying a more flexible lifestyle.
Plus, the absence of physical inventory saves you a significant amount of time. Without the need to manage restocking or inventory, business owners can focus on other crucial aspects of their operations, such as marketing, customer service, and expanding their product range.
👉 Learn about Dropshipping: Is It A Real Business or a Get-Rich-Quick Scheme?
The Cons Of Dropshipping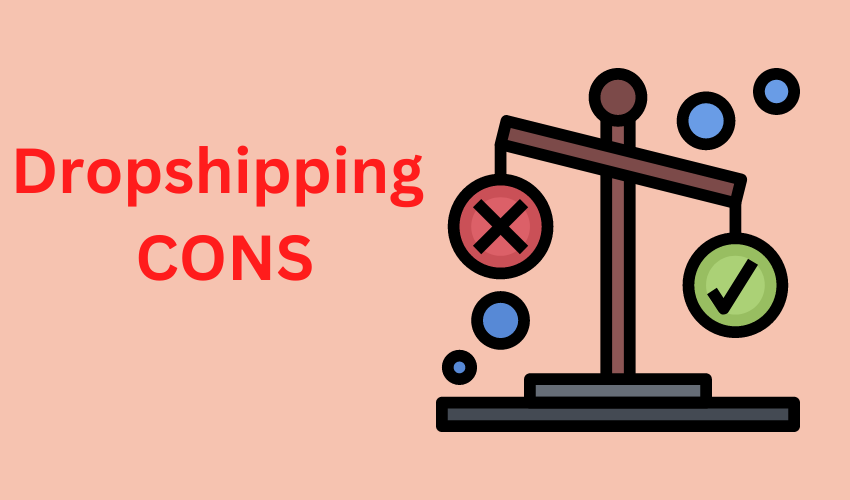 Hence, as I reviewed the "pros" side from the pros and cons of dropshipping, now let's find out the cons! Before you start your own dropshipping business, there are a few things you should know. From high competition to legal issues, let's cover them all.
1. High competition
Everyone starts with a great dose of optimism. It's the right mentality, especially when you're opening an online store. However, being a realist will get you better results.
Hence, the dropshipping business has low barriers to entry. Plus, due to the profitability of many dropshipping niches, of course, it is attractive to many entrepreneurs. 
Thus, expect to fight your battles with high competition. But, I always thrive to find solutions for my problems. So, here's one for this. 
I personally rely on AliHunter. Therefore, when I visit my competitor's website, I promptly acquire valuable information regarding their achievements, best-selling products, and additional details. 👇
 Also, there are various ways to "kill" your competitors, with unique marketing techniques and paid advertising. So, don't let this stop you!
2. No Control Over Inventory
Unfortunately, this is a big deal. And, the problem mostly rises from choosing the wrong dropshipping suppliers since they are the ones dealing with inventory management, packing, shipping, etc.
What's more, when there's a problem with control over inventory customers will address you directly, no matter what's happened with the product. If it's defective, they will contact you. If it hasn't arrived for weeks, it's your fault.
Hence, there are some dropshippers talking about the mistakes they've made since dropshipping suppliers are the most important keys to success.
Let's check on Marcelo's story about choosing the wrong dropshipping suppliers, and what this caused him.
My first f***up was to select a supplier whose quality was not very good, which caused me a lot of complaints and returns. I refunded any customers that complained, which took a big part of my profit, plus I wasn't feeling proud of what I was selling.

My second supplier's product quality was much better than the first one, and I realized the difference between the quality of the same product from different suppliers can be huge. I compared the same item from both suppliers and there was a clear difference between the two items.

My advice is to be sure to get the best quality for a reasonable price. Now, with my new supplier refunds have decreased, and I feel proud of what I sell.
Therefore, I highly recommend you not go blindly when choosing dropshipping suppliers. Instead, ask for help. 
There are numerous reliable dropshipping supplier directories out there. And, one I find helpful is the Dropshipping.com supplier directory.👇
3. Low Profit Margins
This is connected to the low barriers to entry. How so?
Well, since more dropshippers enter the market, this affects the pricing to go down. Hence, eventually, the dropshippers start to lower prices to bit the competition. And, you will have to lower it too. So, this can lead you to lower profit margins. 
Also, not to mention the monthly advertising cost, store maintenance fees, supplier fees, etc. Now, how can you turn these expenses into profits? Everything you pay for should earn you money. Especially advertising/marketing costs.
For example, if you're reselling smartphones for $1000, and you get 10% of the profits, that's $100. However, you've already spent $50 on advertising.  Minus that, the rest is enough to cover the basic profits, such as supplier and store maintenance fees. You still haven't gotten a penny out of it.
Now, picture this time,  selling ten of those smartphones. You have now spent $500 on advertising and sold 10 smartphones, earning $1000 in the process.  Remove $500 for advertising and another $100 for the fees, and you now have $400 left in your wallet. What's the lesson here? You spend more to earn more potentially.
Please note, this is just a basic example and doesn't necessarily have to reflect the actual profits and expenditures. 
For instance, there are various marketing strategies that you can benefit from. Thus, social media ads are very affordable, and help you reach a wider audience quickly.
👉 Check out the 100+ TikTok Bio Ideas For Your Dropshipping Business In 2023.
4. Legal Issues
You won't find many drop shippers complaining about legal issues and their online businesses being shut down because of it.
However, it is something to be aware of. In short, don't trust suppliers that aren't BBB-certified in the U.S., although most of them are.
In fact, around 98% of all suppliers are verified and are already established companies in their respective industries. So, you should not worry about it. 
Also, you need to gain knowledge about dropshipping taxes and payments. And of course, be familiar with many dropshipping accounting matters.
👉 Read about Do I Need an LLC For Dropshipping? The Sellers Guide.
5. Less Control Over Customer Experience
One notable drawback is that dropshippers have limited control over the customer experience. 
One key aspect where dropshippers have less control is shipping. Since you rely on third-party suppliers to handle the shipping process, delays in shipping can occur.  Furthermore, you also have little control over packaging outcomes. 
And more importantly, you have less control over the product's quality. In fact, you don't know what your customers will receive. 
But, what I recommend you do is order product samples. Or, a more smart way to ensure your dropshipping supplier reliability is ordering a product as a customer, and seeing what you will get. Hence, pay attention to the product packaging, delivery times, order tracking, etc.
And, be careful about this, because customers listen to customers. They leave comments and reviews which can destroy your reputation.
💡 READ: Testimonial Advertising: 11 Proven Examples To Sell More.
For instance, if you search for "poor customer service" on TikTok, you'll come across numerous videos sharing customer experiences. 👇
Take a look at the number of views on those videos, and the significance will become evident. You get my point, right?
So, make sure to compensate for all these customer service drawbacks by offering customers multiple ways to contact you, like live chat, phone number, email, social media, etc.
Pros And Cons Of Dropshipping – Comparison Table
PROS
CONS
Low startup costs
High competition
Low inventory costs
No control over inventory
Lower order fulfillment costs
Low-profit margins
Wide range of products to offer
Legal issues

Scalable business model
To summarize the pros and cons of dropshipping, not only that the PROS overcome the CONS by number, but they actually DO "overcome" them! This means that there aren't any of the cons above that cannot be solved, and transformed into your dropshipping business advantage.
Yes, there is high competition and I am more than aware of that, but you have thousands of marketing tips and tricks, even amazing Ad Spy tools to win over your competition via better offers.
Furthermore, no control over inventory is possible, but only if you don't know how to find your trustworthy dropshipping suppliers. So, this is not 100% insurance that will happen. You are probably not gonna jump into any type of business (not just dropshipping) unprepared and uniformed right?
Luckily, there are various dropshipping platforms, like Dropshipping.com that help you find and choose the most reliable dropshipping suppliers for your business.
What's more, low-profit margins do exist in dropshipping businesses. But, this is not something that cannot be solved. You have full support from dropshipping platforms, constantly showing you the right path.
For example, Google Trends shows you potential trendy and high-ticket products. 
For example, as electronics is a high ticket dropshipping niche, I will try to check on Google Trends results about its interest over time. Let's see what I got.
Exactly as I imagined, no signs of stopping! Plus, electronic products have repetitive buying behavior, and profit margins above 40-50%.
However, I am not pointing out that there are all roses around – there are guns too, but as you can see, you can solve it all once you have all the necessary data in dropshipping.
Hence, since I made a summary of the pros and cons of dropshipping, now let's see how dropshipping actually works. 
How To Make Your Dropshipping Business Work?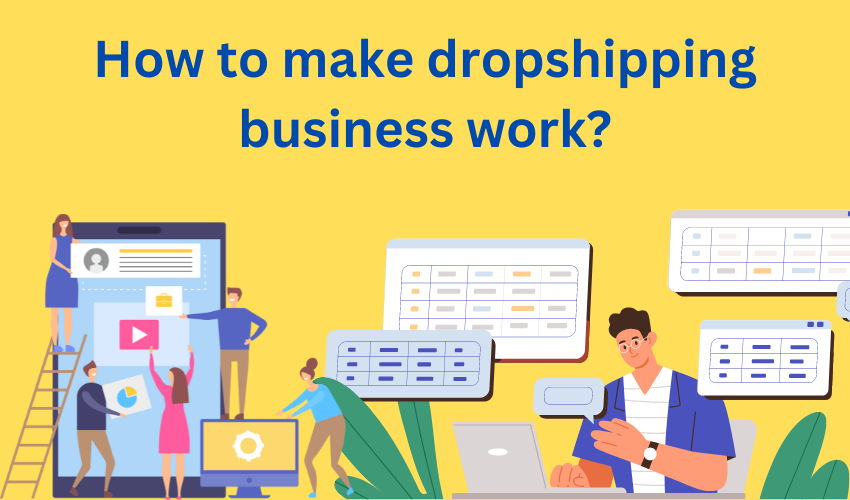 So, when talking about the pros and cons of dropshipping, it is also important to consider how to make your online store sell products. What can you possibly do to make this happen?
I will cover a few ideas, enough to make you understand how you can convert this opportunity into profits.
🔸

Develop A SEO Marketing Strategy

First and foremost, I can certainly say that SEO is the KEY to success. So, you can consider including keyword research, optimizing your product descriptions, improving your website's loading speed, using backlinks, etc.

For instance, use several marketing tools for improving my SEO. And, one of my favorites is the Plug-in SEO Shopify tool.👇
Hence, this way I can keep an eye on my Shopify store and makes sure SEO performance is good.
🔸

Implement Cross-Selling & Upselling Strategies

These tactics involve presenting customers with additional product options or upgrades, either at the time of purchase or throughout the buying process.

Incorporating upselling and cross-selling techniques in your dropshipping store can yield numerous advantages. Firstly, it gives customers the opportunity to explore new products that they may not have previously considered, resulting in increased sales and customer loyalty.

Furthermore, upselling and cross-selling allows you to leverage impulse purchases by enticing customers with complementary or related items.

One successful approach I find helpful is to incorporate a "customers who bought this product also like..." section, which helps customers discover additional products that complement their intended purchase. 👇
👉 Read my Guide To Upselling and Cross-Selling When Dropshipping.
🔸

Social Media Advertising

Utilizing social media advertisements in dropshipping marketing presents numerous advantages. So, if you want to win on the side of the pros and cons of dropshipping, consider this strategy.

Firstly, these platforms offer a wide range of targeting features that enable you to narrow down your audience based on their demographics, interests, and behaviors.

Check out this ad example. 👇
This precise targeting ensures that your advertisements are viewed by the appropriate individuals who are more likely to convert into customers.
Furthermore, there is a general rule on Facebook, about promoting your new store. Normally, people spend between $10 to $15 per day for Facebook ads. However, this is great if you're selling cheap stuff.
In case you'd like to sell products worth over $100 or $200, you'll need to be more competitive, and at least double the budget to at least $30 on a daily basis. The logic of this is simple.
Alternatively, on Instagram, you have the ability to create posts using various formats such as images, videos, reels, and stories. Additionally, hashtags and product tags serve as effective tools for promoting your content.
👉 Check out the Step-By-Step Guide to Instagram Marketing For Dropshipping.
🔸

Start A YouTube Channel

The world's most popular video-sharing platform can be used by drop shippers with larger budgets, since a single ad may cost at least $180 for a fixed period of time.
However,  having a YouTube channel allows you to effectively present your products, offer valuable insights, and establish a devoted customer base.
Hence, by producing on-brand, relevant, and informative videos, you can attract an audience that is genuinely interested in your offerings.
Additionally, YouTube Shorts has become a popular platform for connecting with your target audience through succinct video content.
👉 Learn How To Make Money On Youtube Without Making Videos [2023].
🔸

Email Marketing

If your store has a 'subscribe' button and you're unaware of it, it means you haven't capitalized on this opportunity yet. All those emails your customers have left can become the basis of your income.

With email marketing, you can engage with your customers even more by sending them your Newsletters, promotions, deals, discounts, and more!

You can use email automation platforms such as Mailchimp to send around 1,000 emails to no more than 500 of your customers every month, for free. 👇
However, premium plans are also available if you're willing to invest more in email marketing.
👉 Read about Dropshipping Email Marketing: 16 Best Email Marketing Tools For Shopify.
Top Ecommerce Platforms For Dropshipping
When it comes to dropshipping, having a reliable ecommerce platform is crucial for the success of your business. Here is a list of the top ecommerce platforms that are suitable for dropshipping. And, I mentioned them multiple times in my pros and cons of dropshipping guide, That's why, I will list you the best eCommerce platforms.
One of the most popular and highly recommended platforms for dropshipping is Shopify.
Shopify not only offers a user-friendly interface and a wide range of features, but it also integrates seamlessly with third-party platforms.  Hence, it has various apps available aimed to support your dropshipping business.
Plus, with their easy drag-and-drop editor, you can edit and customize your dropshipping store as you like. And, they also have pre-made paid and free store themes to choose from.
👉 Check out the 13 Most Successful Shopify Dropshipping Store Examples.
Also, Shopify is affordable for beginners, starting at a cost of $32/month, up to $399/month. Read about Shopify pricing plans in-depth.
💡 Tip: Learn How To Set Up Your First Store On Shopify [No.1 Beginners Guide].
Wix is a user-friendly website builder that enables you to bring your online vision to reality, without the need for coding skills.
The platform provides a wide range of customizable templates, drag-and-drop design tools, and an extensive collection of apps and plugins to assist users in creating a personalized website that suits their specific requirements and preferences.
Fundamentally, Wix prioritizes accessibility and simplicity. Its user-friendly interface enables users to swiftly and effectively build a website, even if they lack technical expertise.
As a result, Wix used to be a popular choice for small service-based businesses and freelancers. However, Wix has since evolved and now offers a significant number of e-commerce features.
Furthermore, Wix offers three pricing plans for business and e-commerce, starting at $17 per month and going up to $35 per month, making it highly affordable for beginners.
👉 Check out Wix Dropshipping 101: How to Start & Grow Your Wix Dropshipping Store.
BiCommerce is a convenient ecommerce solution that enables you to effortlessly create and manage your online store from anywhere with an internet connection, eliminating the need to purchase web hosting or install any software.
By utilizing its own servers, BiCommerce eliminates the concern of server maintenance and associated expenses. Instead, you can simply pay a monthly fee to access the platform as a software-as-a-service (SaaS) solution.
Furthermore, BiCommerce provides customizable templates specifically designed to cater to all types of dropshipping stores, regardless of whether you are selling physical or digital products.
Additionally, BiCommerce offers a comprehensive range of marketing tools to support the growth of your business.
BiCommerce offers four pricing plans to choose from:
Standard plan at $29 per month
Plus plan at $79 per month
Pro plan at $299 per month
Enterprise plan with custom pricing.
👉 Read my in-depth BigCommerce Review: Is BigCommerce Right for Dropshipping?
WooCommerce operates as self-hosted, open-source software. This implies that you assume full responsibility for your own domain, hosting, and all other aspects.
Moreover, it is actually a plugin for WordPress, allowing you to transform your WordPress website into a fully operational dropshipping store.
👉 Check out the Best WooCommerce Dropshipping Plugins for Your Store.
Additionally, this plugin empowers you to create captivating eCommerce landing pages, import products from suppliers like AliExpress, and diligently refine everything until you achieve desired outcomes.
Once your products gain traction and begin selling, you can seamlessly fulfill orders through WooCommerce and promptly deliver them to your customers.
In essence, WordPress grants you the ability to establish your own website, while WooCommerce enhances it with genuine eCommerce capabilities.
Thanks to WooCommerce extensions, you can integrate various payment gateways into your store, albeit at an additional cost.
Squarespace is a website builder that enables users to create and publish websites without the need for coding knowledge. It provides a variety of templates and customization options, along with features such as e-commerce capabilities, blogging tools, and analytics.
Squarespace is a popular choice among individuals and small businesses who want to create a professional-looking website without requiring technical expertise.
Furthermore, it offers a user-friendly interface that allows you to easily add and arrange content on your websites through a drag-and-drop system. Additionally, it allows you to register and use your own custom domain name for your dropshipping store.
Squarespace stands out with its integrated blogging feature, which can be advantageous for dropshipping businesses.
Squarespace offers four pricing plans, and users have the option to pay monthly or annually. The plans start at $16 per month and go up to $49 per month.
👉 Check my comparison of Shopify vs Squarespace For Dropshipping – Which is Better in 2023?
How to Choose The Best Dropshipping Suppliers
As I already mentioned above in my pros and cons dropshipping overview, one of the most important decisions you'll make is choosing the right dropshipping suppliers.
Therefore, I will list some key considerations to keep in mind when selecting dropshipping suppliers. 👇
➡

Ensuring Product Quality

Ensure that the suppliers offer high-quality products that meet your customers' expectations. To do that, you can first ask for product samples from your suppliers. 

Or, you can also pretend to be a regular customer, and order some products from this dropshipping supplier, and check on product quality,

What's more, another good technique is to check customer reviews and ratings. What I mostly do here is pay attention to the negative comments, so I can see why are customers mostly not satisfied with them. This way, I get inspiration for what I can ask them before partnering.
➡

Consider Shipping Criteria

Consider the shipping criteria set by the suppliers. Factors to consider include shipping times, shipping methods, and shipping fees. I always check on all these things before parenting with the supplier because these things can lower my profit margins.

Plus, customers do not want to wait. So, it's important to choose suppliers who can deliver products in a timely manner at reasonable costs.
➡

Check On Supplier's Business Practices

Research the suppliers' business practices. Look for suppliers who are reliable, responsive, and have good communication. Consider their return and refund policies as well.

Hence, what I also do here is check on their current business partners, and how their customers are satisfied with the products of this dropshipping supplier.
➡

Write Down A Checklist Of Questions

To evaluate potential suppliers, use a checklist of questions that covers important aspects such as product quality, shipping criteria, and business practices. This is important, so you do not forget to ask something when you are in an interview. Some examples include:

1. What is the minimum order quantity for products?

2. What is the average processing and shipping time for orders?

3. Do you offer any discounts or promotions for bulk orders?

4. What is your return policy for defective or damaged products?

5. Can you provide references or testimonials from other businesses you have partnered with?

6. Are there any additional fees or hidden costs associated with working with your company?

7. How do you handle customer service inquiries and complaints?

8. Do you offer any customization options for products, such as branding or packaging?

9. Can you provide tracking information for shipped orders?

10. What is your policy on backorders or out-of-stock items?
FAQs – Pros and Cons Of Dropshipping
1. How do I incorporate dropshipping into my business?
To incorporate dropshipping into your business, you need to research and select reliable dropshipping suppliers, find your dropshipping niche and products, set up an ecommerce website or platform, add products, optimize descriptions, develop a marketing strategy, etc.
2. Is dropshipping legal?
Yes, dropshipping is legal. Dropshipping does not involve any illegal activities and is a legitimate way of doing business. However, it is important for dropshippers to comply with local laws and regulations, such as obtaining the necessary licenses and permits. 
3. Is dropshipping profitable?
Yes, dropshipping can be profitable if implemented correctly.
Based on the latest data, the global dropshipping industry is expected to reach $243.42 billion in 2023. Also, it is expected that the dropshipping business will be worth $500 billion by 2027.
4. What are some dropshipping product ideas?
Dropshipping offers a vast array of product ideas for you. Popular niches include fashion accessories, home decor, beauty products, and electronics.
Also, using trend research tools like Adserea, Sell The Trend, or Minea, you can identify emerging markets such as eco-friendly products, pet supplies, or fitness equipment. 
👉 Read about How to Sell Plants Online in 2023 – Step-by-Step Guide.
5. Do I need to register a business entity to dropship?
Yes, it is generally recommended to register a business entity before starting a dropshipping business. 
To register a dropshipping business in the US, follow these steps:
Choose a business name
Decide on a business structure. Determine the legal structure of your business, such as a sole proprietorship, partnership, LLC, or corporation. 
Register your business. Register your business with the appropriate government authorities. This typically involves registering with the Secretary of State's office in the state where your business will be located. 
Obtain an EIN. Apply for an Employer Identification Number (EIN) from the Internal Revenue Service (IRS). 
Obtain necessary licenses and permits. Research and obtain any required licenses or permits for your dropshipping business. 
Set up a business bank account. Open a separate bank account for your dropshipping business. 
Understand sales tax obligations. Familiarize yourself with the sales tax requirements in the states where you plan to do business. 
Comply with federal regulations. Understand and comply with any federal regulations that apply to your dropshipping business. 
Obtain business insurance. Consider obtaining business insurance to protect your dropshipping business from potential risks and liabilities. 
Create a professional website. Establish an online presence by creating a professional website for your dropshipping business.
Remember, it is always recommended to consult with a legal or business professional to ensure that you complete all necessary steps and comply with local, state, and federal regulations when registering your dropshipping business in the US.
6. Is dropshipping allowed on eBay?
Yes, dropshipping is allowed on eBay. eBay allows sellers to use the dropshipping business model to fulfill orders. 
👉 Learn about Dropshipping On eBay in 2023 – Pros, Cons & Tips for Beginners.
7. Is dropshipping allowed on Amazon?
Yes, dropshipping is allowed on Amazon. However, there are certain guidelines and policies that sellers must adhere to when using the dropshipping business model on the platform.
For instance, Amazon requires sellers to take full responsibility for the customer experience, including shipping, customer service, and returns. 
Join the only community and resource hub you'll ever need to succeed with dropshipping
Find winning dropshipping products, learn marketing, download templates and engage with real dropshippers
Never pay for a "guru's" course again. See why 4543+ dropshippers joined us this year!
💡Try DSCOM Hub Now
Summary
This article answers many important questions about dropshipping through the list of the most important pros and cons of dropshipping.
Maybe after reading this, you will ask yourself – Is Dropshipping business worth it?
In my opinion, I am certain that, Yes, it is. So, consider these pros and cons of dropshipping, and take advantage of the tips and tricks I gave you about overcoming each of your dropshipping challenges.