12 Best Shopify Spy Tools To Do Competitor Research
by
Aleksandra -
Aleksandra teaches marketing and management at various levels in High School. She writes about marketing, the economics and logistics of the dropshipping business and ecommerce in general.
Chief of Content Marketing
Running a successful Shopify store requires continuous monitoring of your competitors' strategies and performance. But how do you gain insights into their tactics and stay steps ahead in the industry?
Hence, the answer lies in the use of Shopify spy tools. In fact, these ingenious tools allow you to gather valuable data on your competitors and make informed decisions to boost your own business.
In this article, we will explore the 12 best Shopify spy tools that will revolutionize your competitor research game.
How Do You Pick The Best Shopify Spy Tools?
With so many options available, choosing the right Shopify spy tool can be overwhelming. To help you make an informed decision, consider the following factors:
🔸 Features
When it comes to features, Shopify spy tools should offer more than just competitor analysis. Thus, it should provide you with detailed insights into your competitors' marketing strategies, including their advertising campaigns, social media presence, and search engine optimization (SEO) efforts.
💡 Tip: Also, check out the 10 Best TikTok Ad Spy Tools [Honest 2023 Review].
Also, it should allow you to search for products based on specific criteria, such as niche, price range, popularity, and customer reviews. Thus, by analyzing product data, you can identify trending products, find potential gaps in the market, and make informed decisions about which products to add to your store.
So, look for tools that offer a comprehensive range of features, such as competitor analysis, product research, trend tracking, and more.
For instance, trend tracking provides you with real-time data on the latest market trends, allowing you to stay ahead of the curve and capitalize on emerging opportunities. By monitoring trends, you can adjust your product offerings, marketing strategies, and pricing to align with customer demands and maximize your sales potential.
👉 Check out my Intelligynce Review: Is This Shopify Spy Tools Still Useful?
🔸 User Interface
A user-friendly interface is essential when it comes to Shopify spy tools. Hence, it should be intuitive and easy to navigate, allowing you to quickly access the information you need. In fact, a well-designed user interface can save you time and effort in analyzing data and interpreting the results.
When it comes to the user interface, well-designed Shopify spy tools should prioritize data visualization. Hence, it should present the collected data in a clear and organized manner, making it easy for you to interpret and analyze.
Moreover, visual representations, such as charts and graphs, can help you quickly identify patterns, trends, and opportunities, saving you time and effort in extracting insights from raw data.
👉 Also, check out the 39 Must-have Shopify Tools for Your Dropshipping Store In 2023.
🔸 Accuracy and Reliability
The accuracy and reliability of the data provided by Shopify spy tools are crucial for making informed decisions. In addition, you need a tool that can deliver up-to-date and accurate information about your competitors' activities, product performance, and market trends. Thus, this will ensure the success of your research and help you stay ahead of the competition.
So, the tool should use reliable data sources and employ advanced algorithms to ensure the accuracy of the information it provides. In fact, outdated or inaccurate data can lead to misguided decisions and wasted resources.
Therefore, it is essential to choose a tool that continuously updates its data and has a proven track record of delivering reliable insights.
🔸 Customer Support
Lastly, customer support plays a vital role in your overall experience with a Shopify spy tool. Look for a tool that offers multiple channels of support, such as email, live chat, or phone support.
A responsive and knowledgeable support team can assist you in troubleshooting technical issues, answering your questions, and providing guidance on how to make the most of the tool's features.
This level of support can significantly enhance your user experience and ensure that you can leverage the full potential of the Shopify spy tool.
By considering these factors, you can find the perfect Shopify spy tool that meets your specific needs and helps you stay ahead of the competition.
Lifetime deal: Get all-access to everything on Dropshipping.com
Access all DSCOM features, resources, courses, live workshops, discounts, winning products, weekly deep dives, directories and all future updates under all-in-one dropshipping HUB.
DROPSHIPPING IS A REAL BUSINESS, DON'T DO IT ALONE. 4553 MEMBERS ALREADY JOINED. YOU CAN PAY OFF YOUR SMALL INVESTMENT WITH JUST 2 SALES ON YOUR STORE.
Grab the deal before it's gone
9 Great Shopify Spy Tools in 2023
When it comes to running a successful Shopify store, staying ahead of the competition is crucial.
So, in the ever-evolving world of e-commerce, having access to the right tools can make all the difference. Also, that's why Shopify spy tools have become increasingly popular among dropshippers.
Therefore, to ease your search, I have compiled a list of the top 9 Shopify spy tools available in 2023: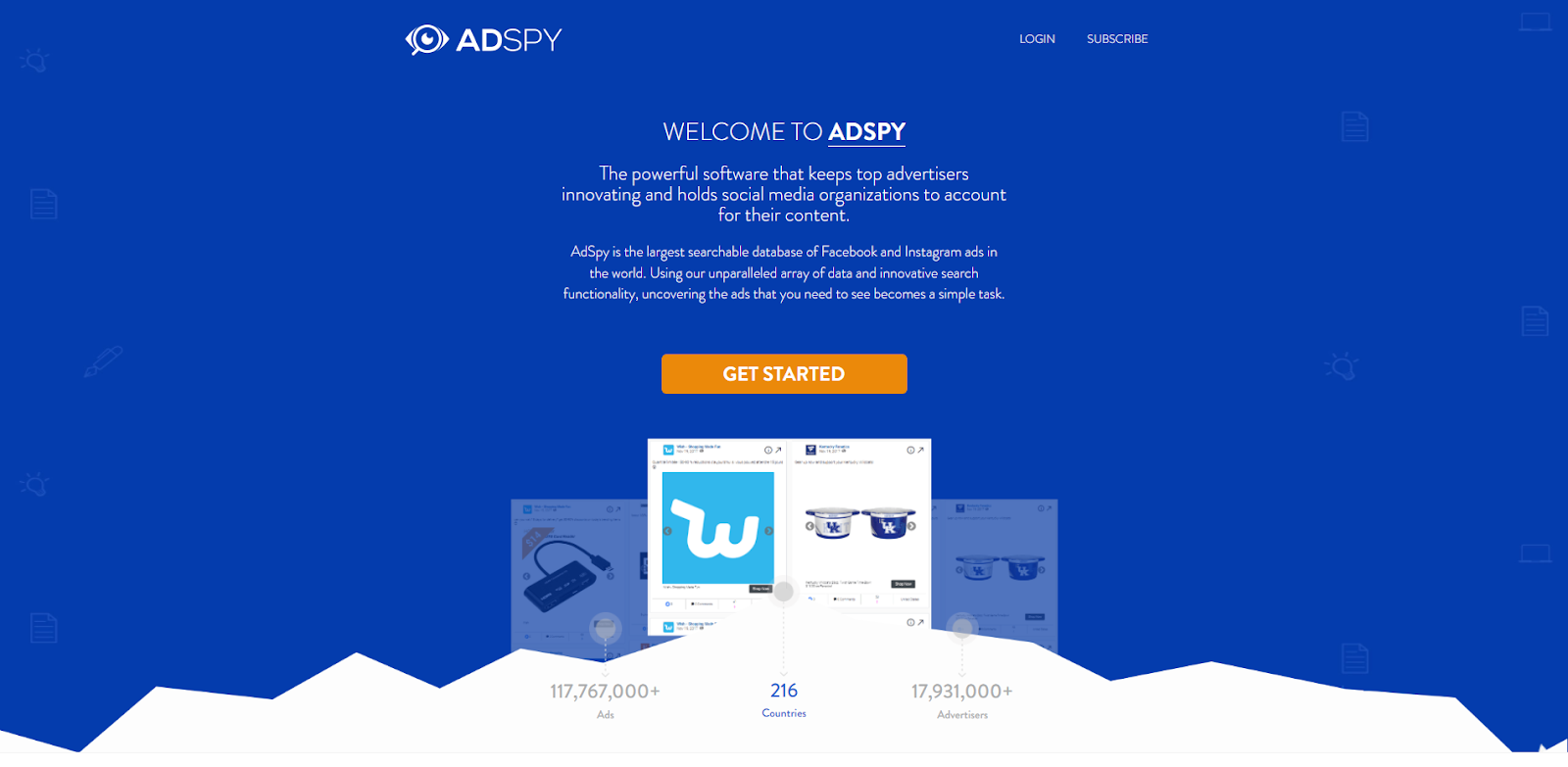 AdSpy specializes in competitor ad analysis, providing insights into their ad campaigns and helping you craft effective advertising strategies.
Thus, by gaining insights into your competitors' ad campaigns, you can understand what resonates with your target audience and create compelling ads that drive conversions.
Moreover, this tool provides data on ad creatives, targeting options, and ad performance metrics, giving you a comprehensive view of your competitors' advertising strategies.
Key Features:
Extensive Data for Searching
Highly Accurate Search Results
Enhanced basic search functionality
Ability to search through comments
Precise demographic information
Affiliate Search capability
Fast and intuitive interface
Pricing:
AdSpy is a higher-priced option compared to other tools on my list, with a monthly cost of $149.
👉 Check out my Dropispy vs Adspy: A to Z Comparison & Expert Review For Dropshipping.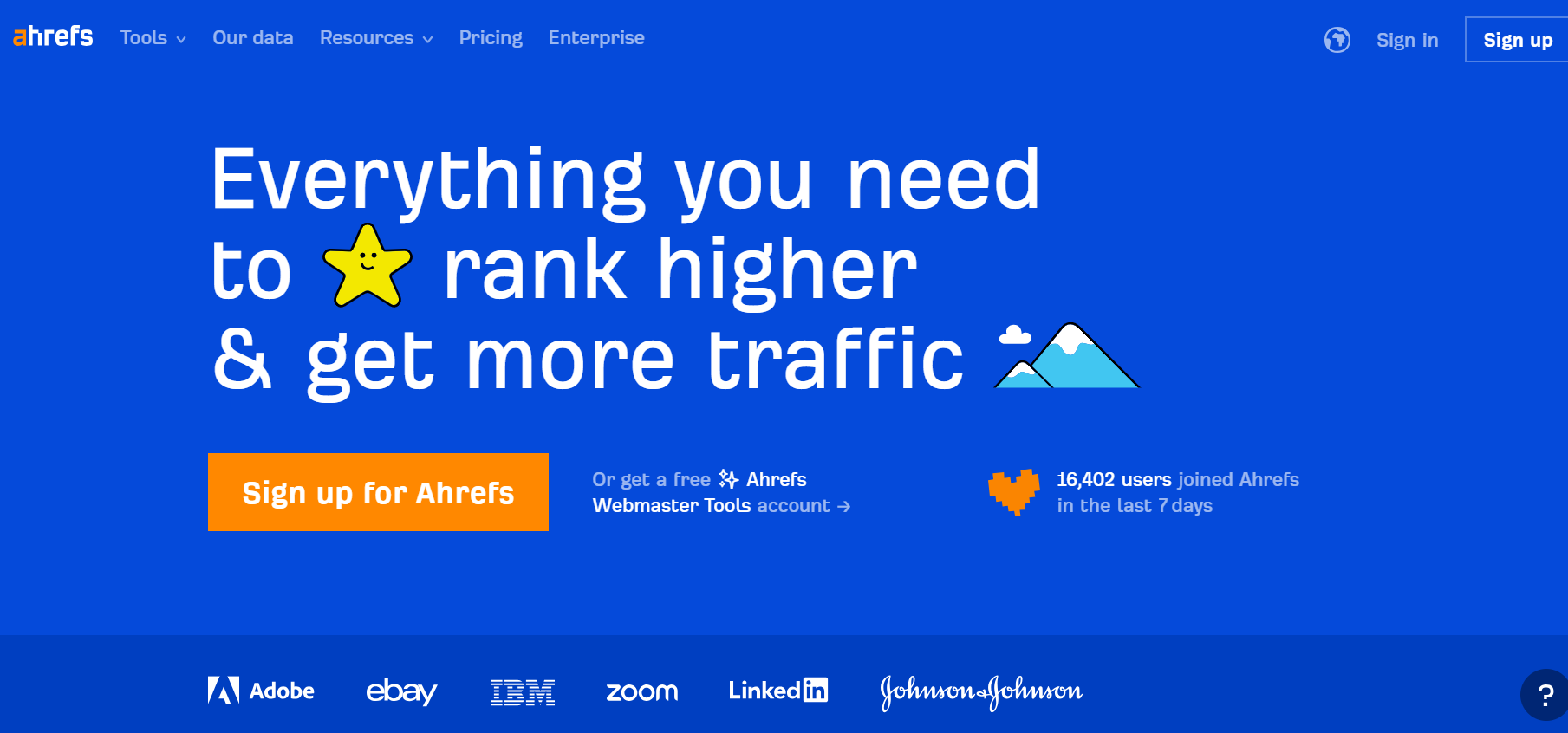 Ahrefs empowers you to perform competitor analysis and conduct keyword research effortlessly. Hence, in essence, it simplifies the process of enhancing your dropshipping website's search engine rankings and attracting a higher volume of organic traffic.
What's even more appealing? You don't have to possess advanced SEO knowledge to utilize Ahrefs effectively. In other words, the tool will detect and highlight any SEO issues that require your attention.

Features:
Backlink Analysis: Uncover your competitors' backlink strategies.
Keyword Research: Identify the keywords driving traffic to your competitors' sites.
Content Explorer: See the most shared content in your niche.
Rank Tracking: Monitor your competitors' search engine rankings.
Pricing
Ahrefs provides four premium subscription options, with the most affordable plan starting at $99.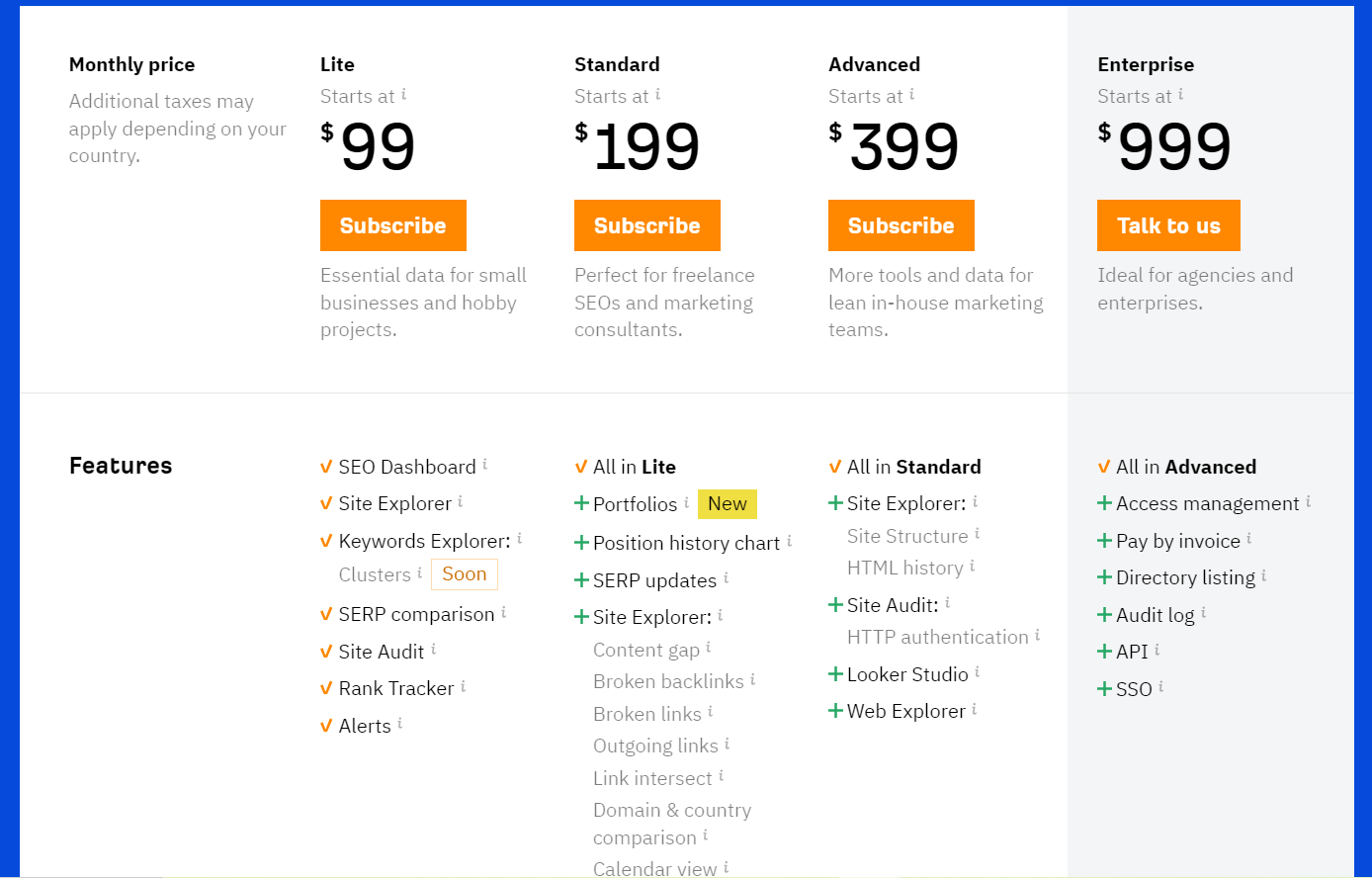 Who is it for: SEO enthusiasts, content marketers, and dropshippers looking to boost their online visibility.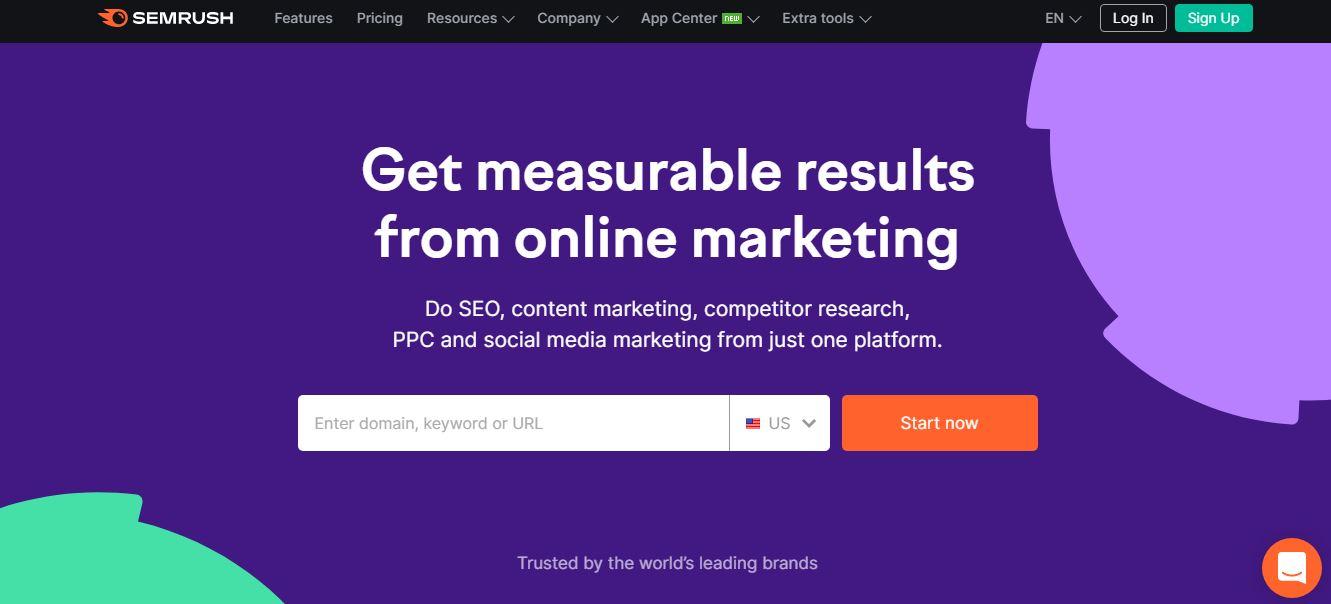 SEMrush is a prominent and widely used all-in-one digital marketing platform and SEO tool. Thus, it is designed to assist dropshippers and marketers in optimizing their online presence and improving their digital marketing efforts.
Features:
Keyword Analysis: Find profitable keywords your competitors are targeting.
Advertising Research: Discover your competitors' ad strategies.
Traffic Analytics: Get insights into competitors' website traffic.
Backlink Audit: Identify and disavow toxic backlinks.
Pricing:
Furthermore, SEMRush offers three pricing plans, starting at $129.95/month.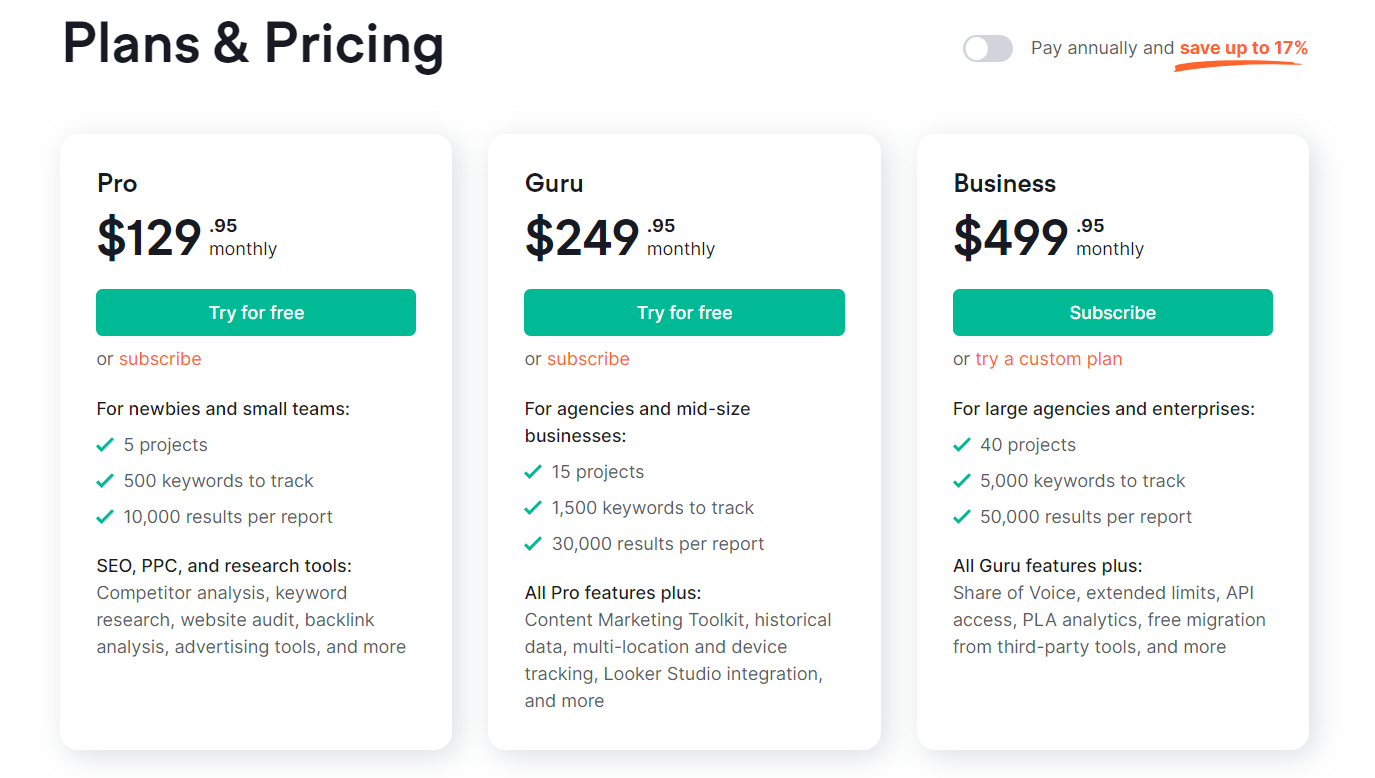 Who is it for: E-commerce businesses and marketers wanting to optimize their online presence.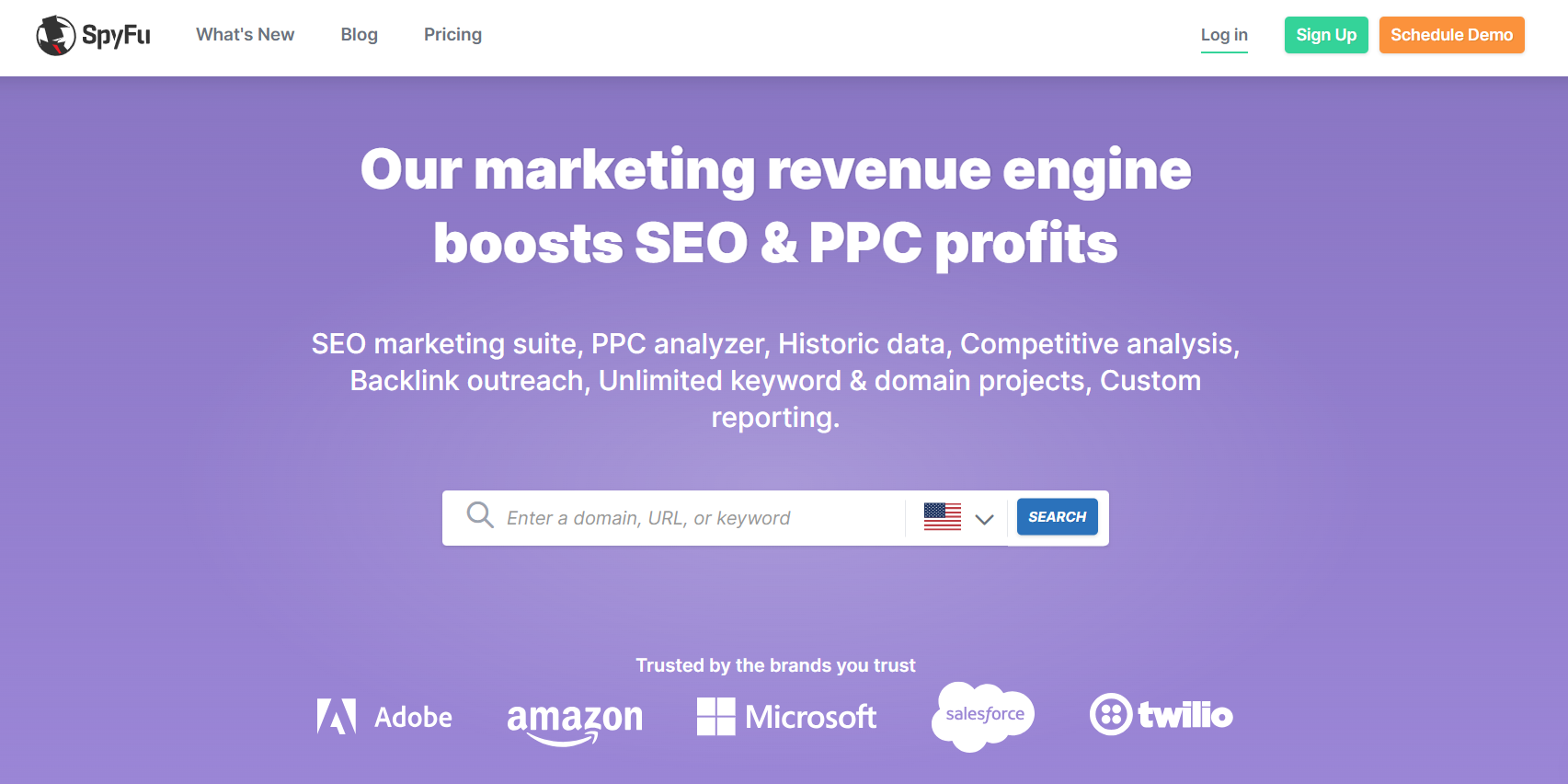 SpyFu is one of the best Shopify spy tools out there. Hence, it proves to be a valuable SEO platform favored by marketers for performing domain and keyword analyses. In doing so, it proves to be an invaluable asset for small-scale marketers, sparing them from the arduous task of sifting through countless web pages.
Also, through the utilization of this tool, marketers can effortlessly monitor the rankings of specific keywords and readily pinpoint their online competitors. Furthermore, it streamlines the process of researching PPC campaigns and notably furnishes comprehensive insights into the backlinks utilized by competitors.
Features:
Competitor Keywords: Access a list of keywords your competitors are ranking for.
AdWords Competitor Analysis: Discover your rivals' AdWords campaigns.
Ad History: See the history of your competitors' ads.
Backlink Tracking: Monitor your competitors' link-building efforts.
Pricing:
This Shopify spy tool presents three pricing tiers, commencing at $39 per month and scaling up to $299 per month.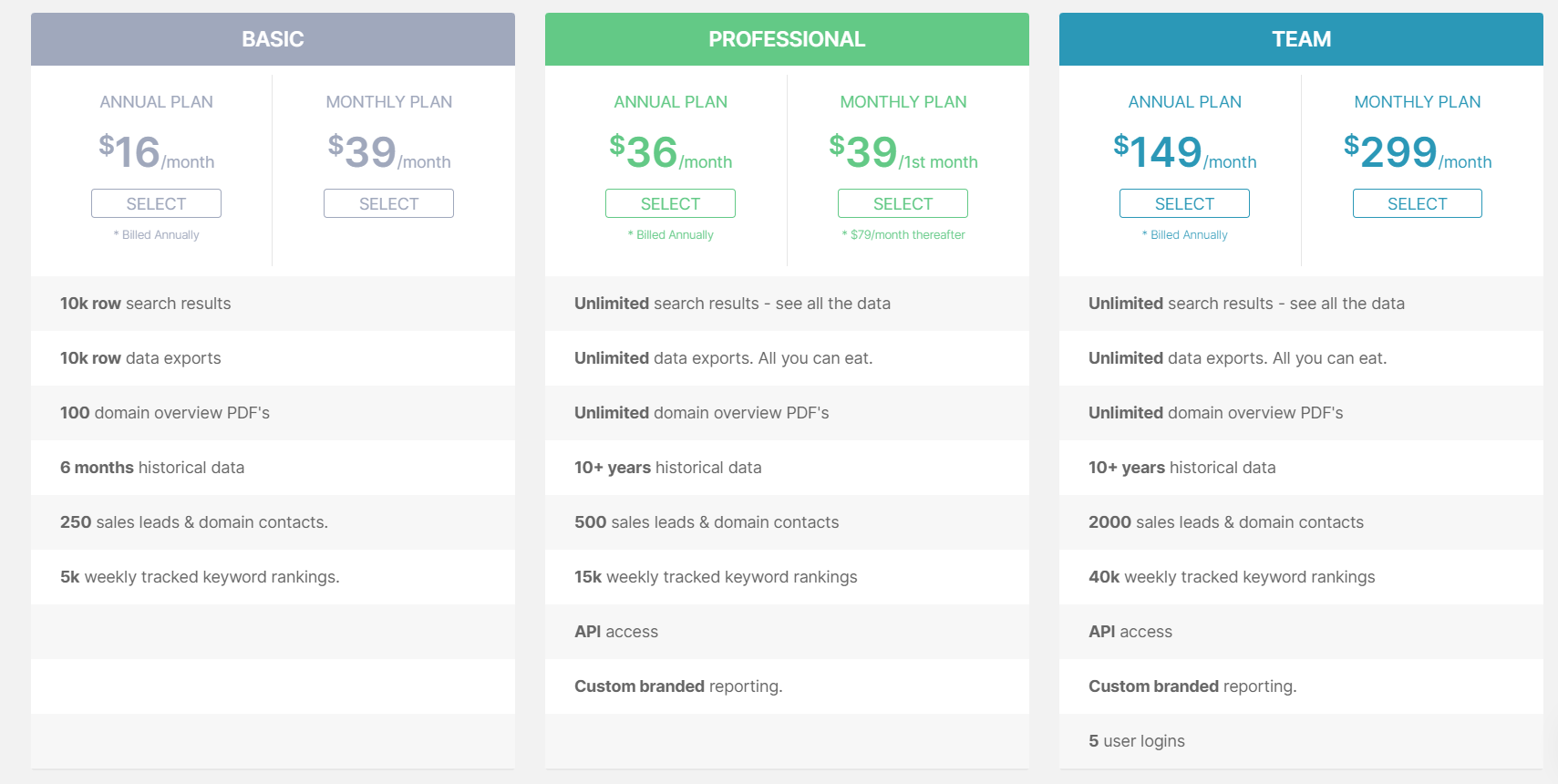 Moreover, should you find yourself unsatisfied with your purchase, you have the option to take advantage of a 30-day refund policy, requiring no explanation or inquiry responses.
Who is it for: Online advertisers and marketers seeking to outperform competitors in PPC campaigns.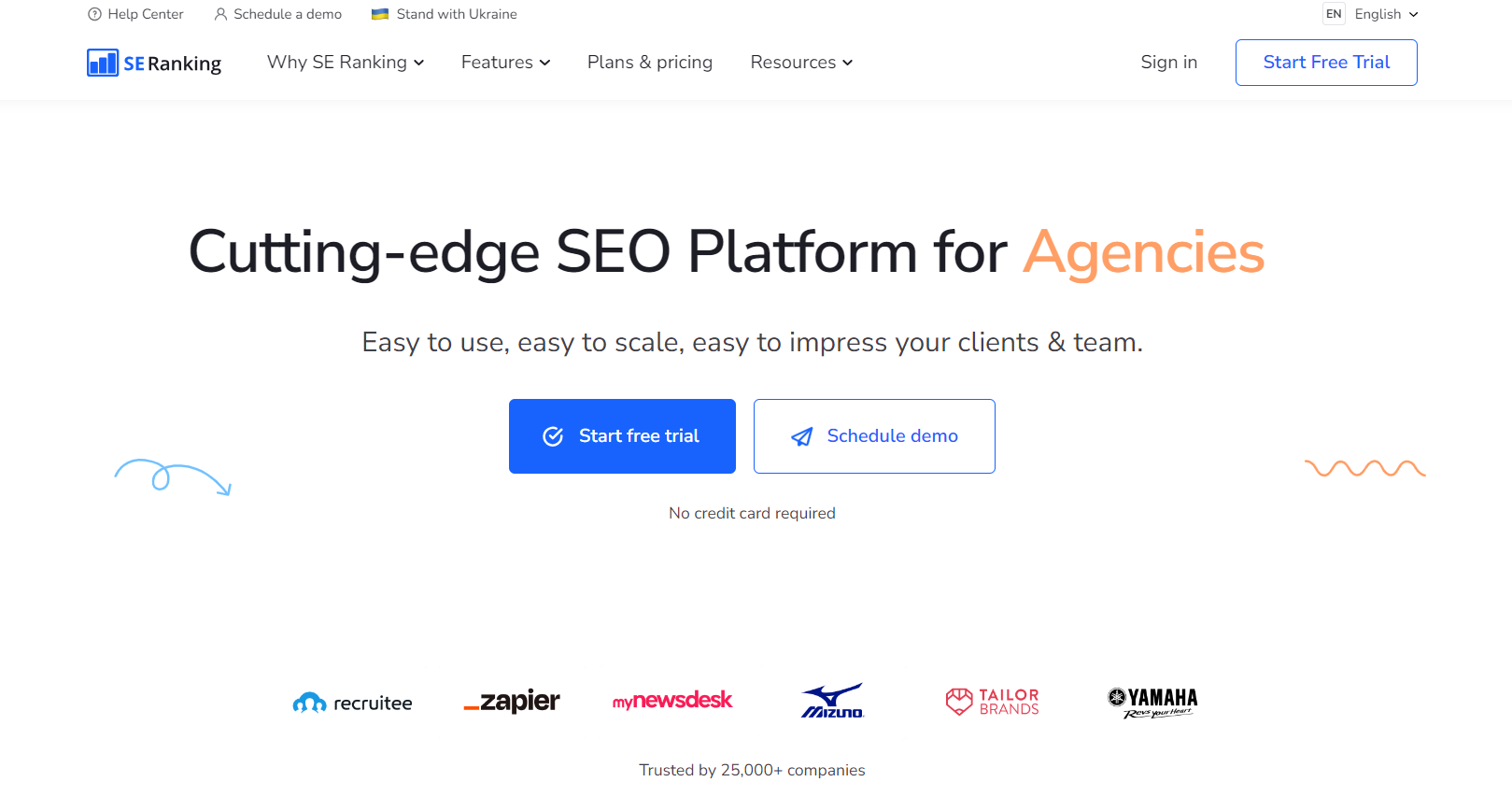 SE Ranking is also one of the best Shopify spy tools. Hence, it is a feature-packed SEO solution used for monitoring keyword rankings, conducting keyword research, analyzing competitors, checking backlinks, optimizing websites, and performing various other SEO tasks.
What sets it apart is its remarkable user-friendliness, coupled with its extensive and precise database. Also, SE Ranking is renowned for its cost-effective pricing options in comparison to competitors, complemented by top-tier customer support services.
Features:
Competitor Research: Analyze your competitors' rankings, traffic, and backlinks.
Keyword Tracking: Keep an eye on your competitors' keyword performance.
Site Audit: Identify and fix SEO issues on your website.
Marketing Plan: Create a customized marketing plan to beat your rivals.
Pricing:
This Shopify spy rool offers four pricing plans starting at $44/month. Also, they have a custom solution for your dropshipping business. Hence, you need to contact their sales team and get the pricing. Moreover, SE Ranking has a 14-day free trial as well.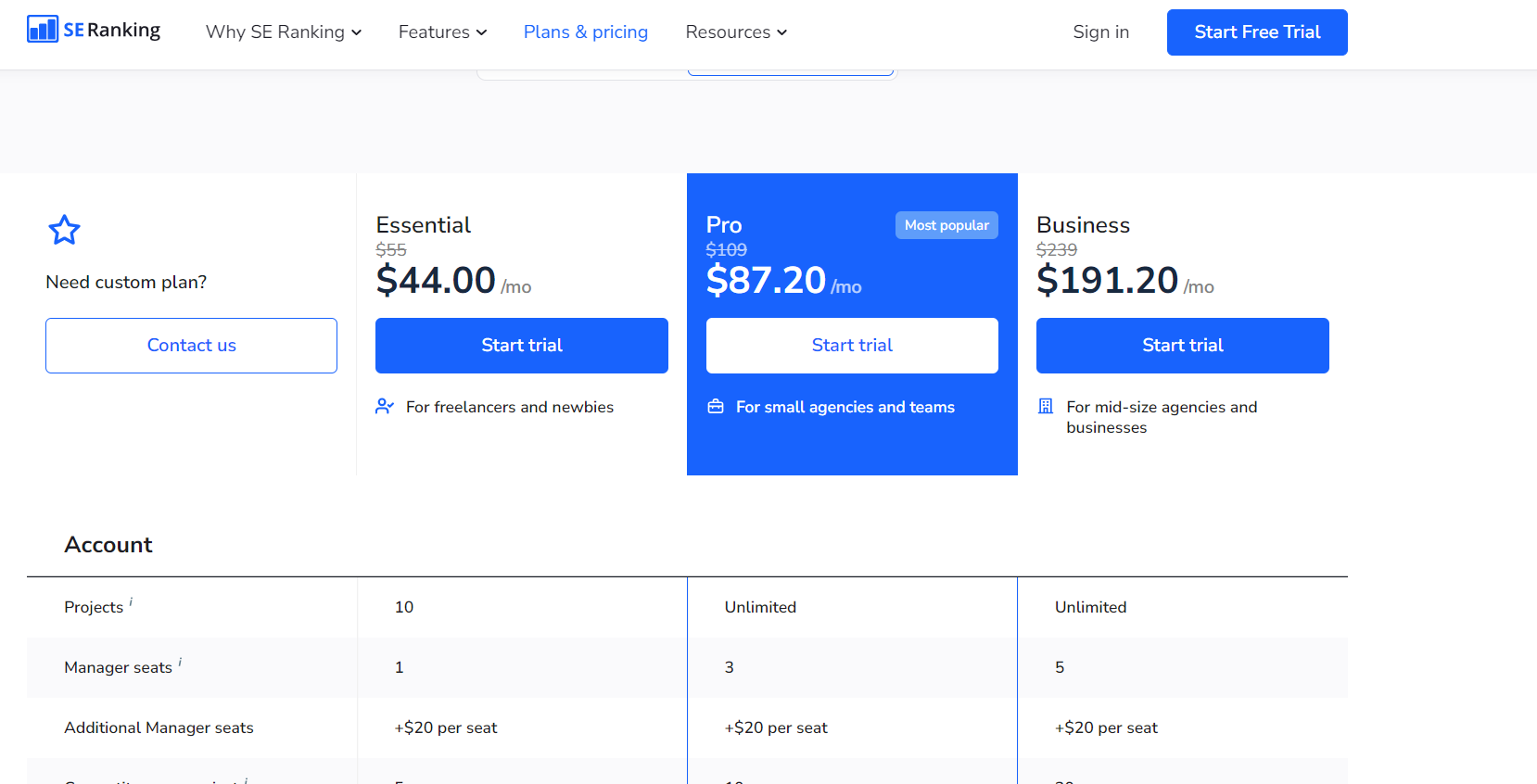 Who is it for: Small businesses and e-commerce stores looking for an all-in-one SEO solution.
👉  READ: Peeksta Review: Finding Best Selling Products Online.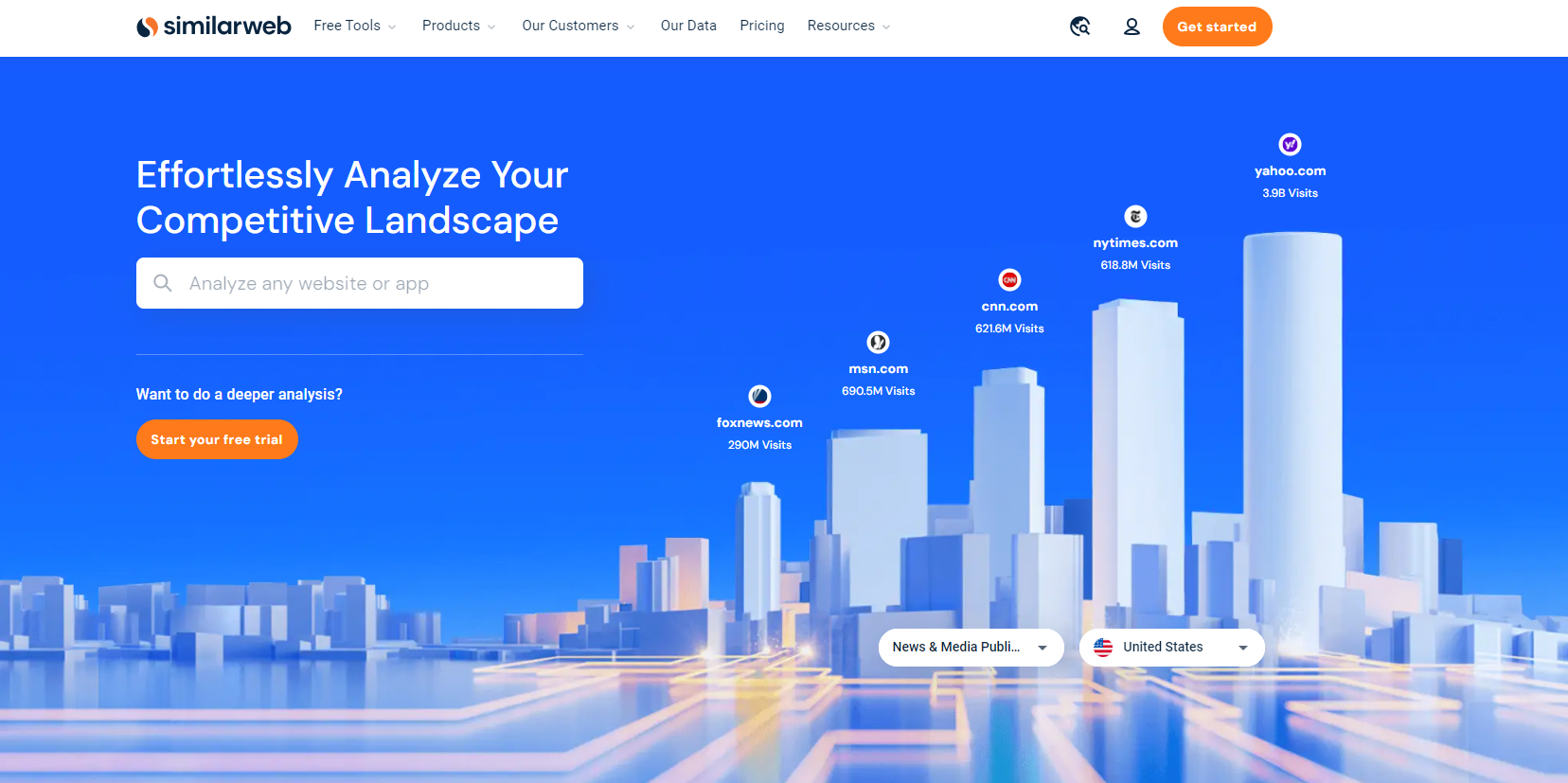 SimilarWeb is an online analytics and market intelligence tool that provides valuable insights into the digital performance of websites and apps. Hemce, it offers a wide range of data and analytics related to website traffic, audience demographics, user behavior, and more.
Features:
Website Traffic Insights: Explore competitors' website traffic sources and audience demographics.
Keyword Research: Discover the keywords driving traffic to your rivals.
Industry Benchmarking: Compare your website's performance against industry competitors.
Mobile App Data: Analyze your competitors' mobile app metrics.
Pricing:
This Shopify spy tool offers four pricing plans, two of which are aimed at individuals, starting at $125/month. Hence, the other two options are for businesses, and you must contact them for a custom quote.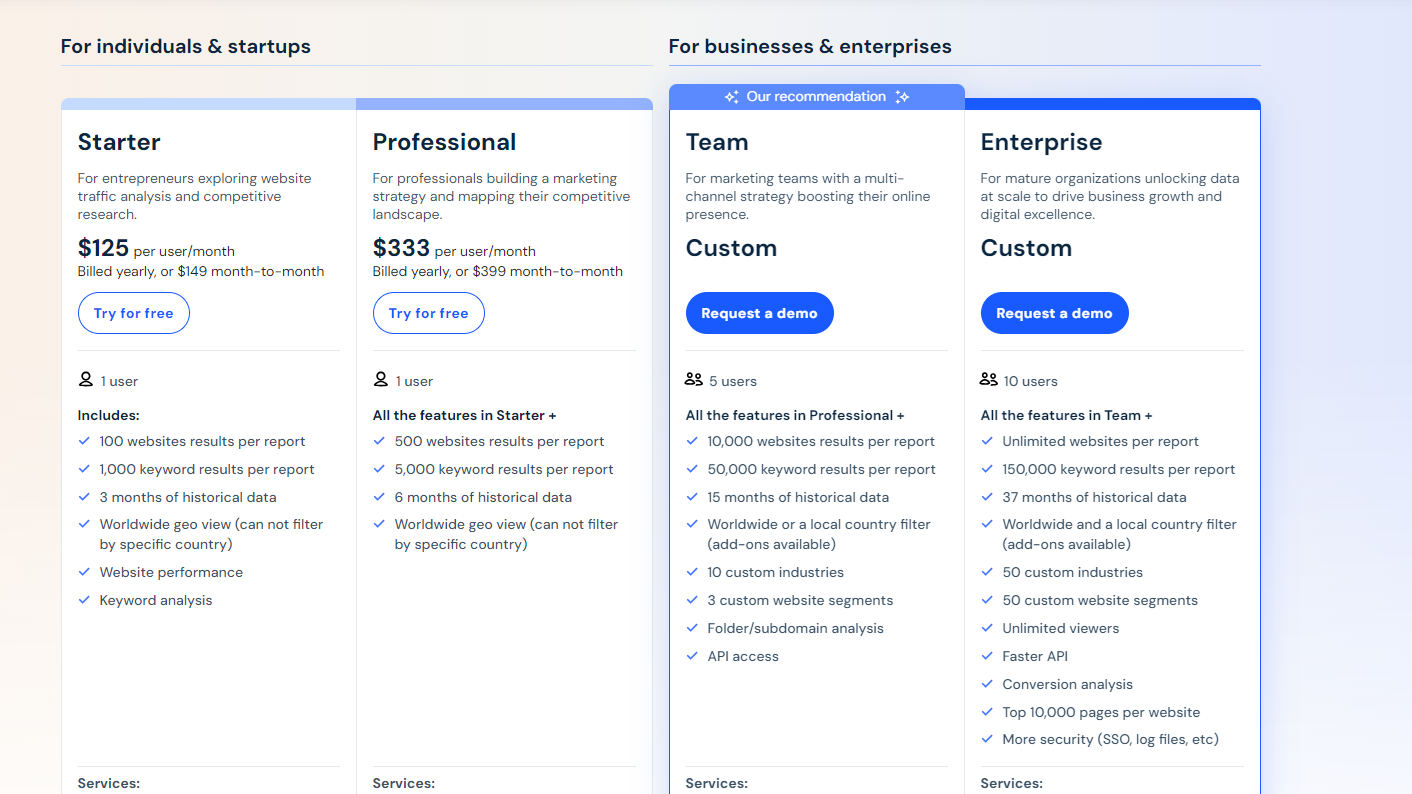 Who is it for: Businesses seeking in-depth insights into competitors' online presence and audience.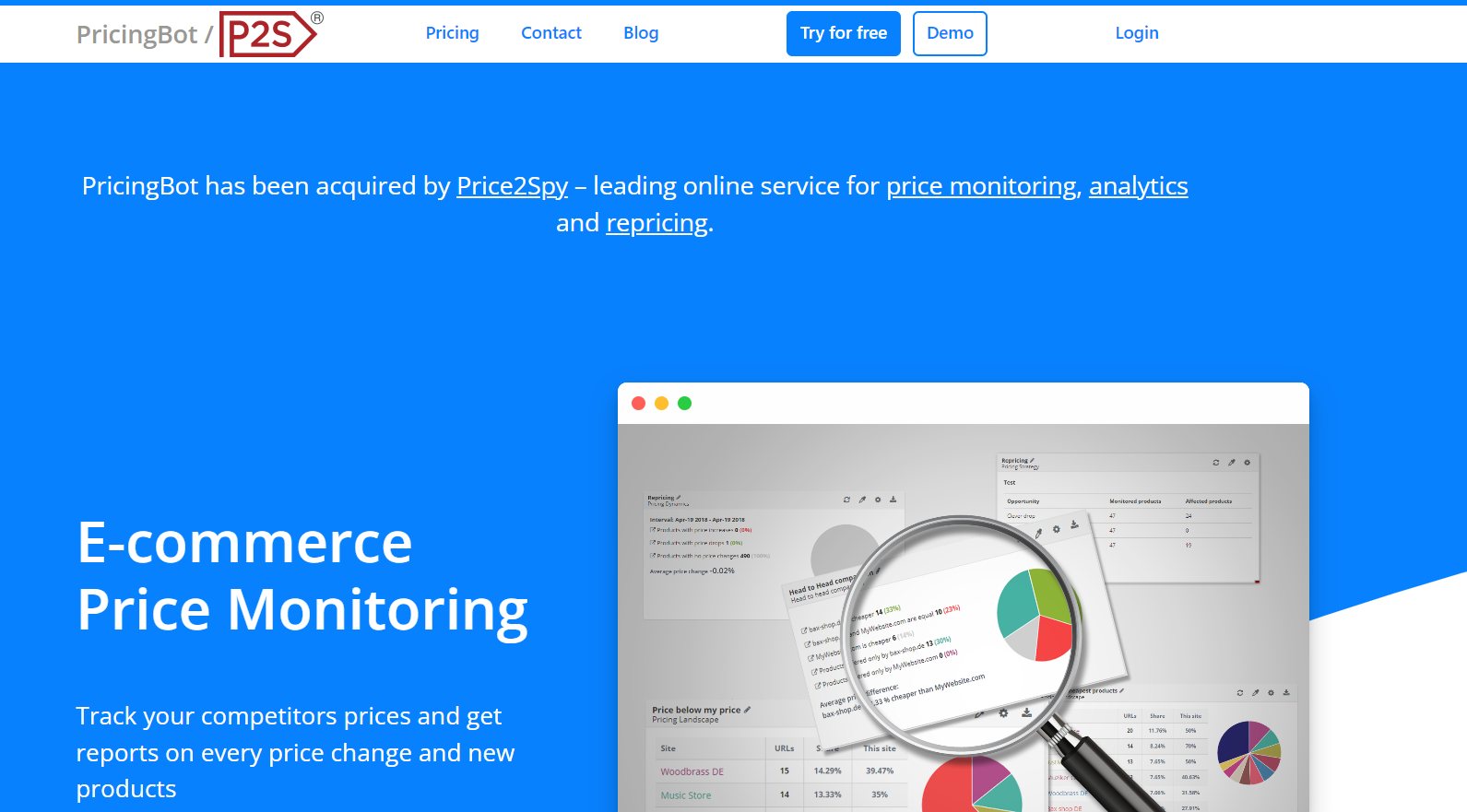 PricingBot one of the best Shopify spy tools. It is a versatile pricing monitoring and dynamic pricing solution tailored for ecommerce and dropshipping businesses.Thus, it automated bots work around the clock, vigilantly tracking competitors' pricing changes and promptly notifying you of any updates.
Moreover, this empowers you to effortlessly access a dashboard, assess your pricing relative to competitors, and make adjustments to your product pricing as needed.
Features:
Competitor Price Monitoring: Track your competitors' prices in real-time.
Price History Analysis: Analyze how competitors' prices have changed over time.
Automated Pricing: Adjust your prices dynamically based on your competitors.
Email Alerts: Receive notifications when competitors change their prices.
Pricing:
This tool offer three pricing plans, starting at $26.95/month. Also, there's a 30 days free trial.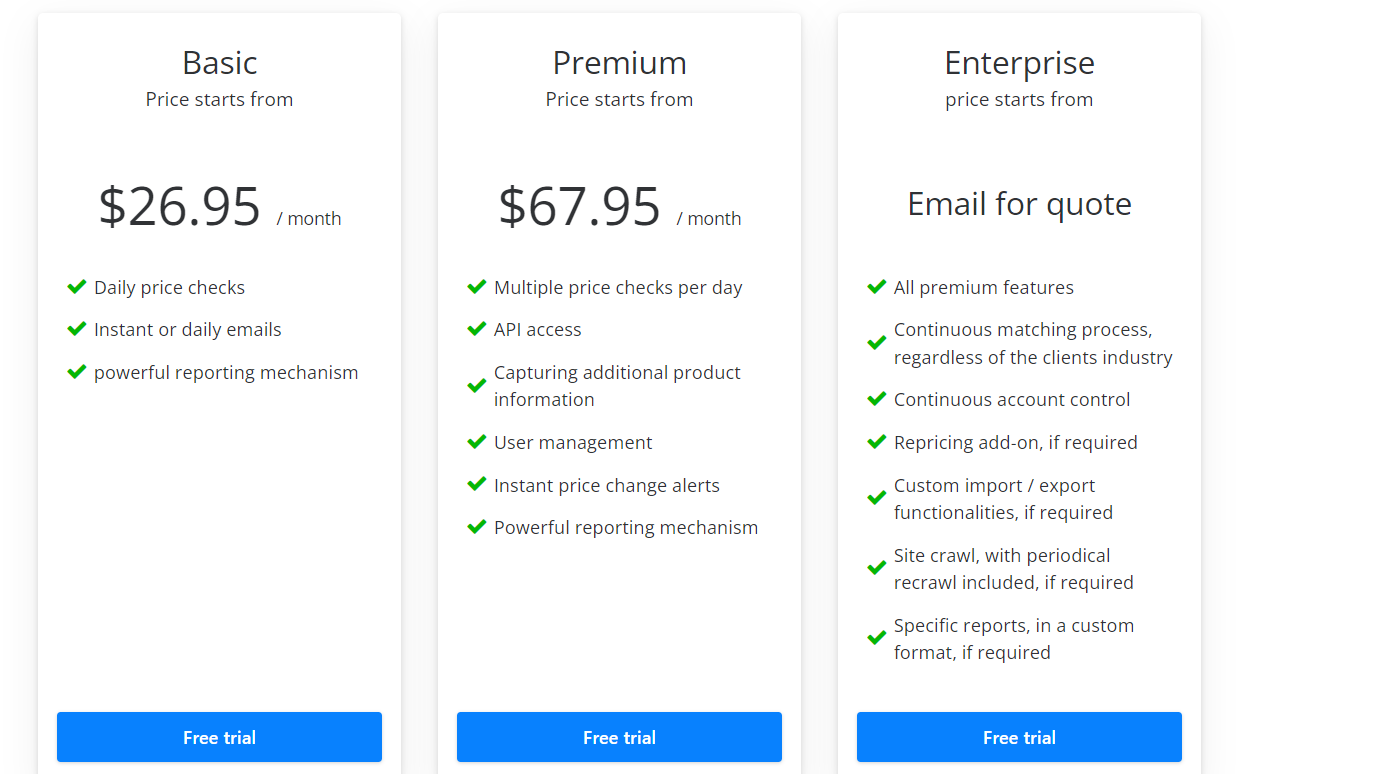 Who is it for: Dropshippers looking to stay competitive in pricing.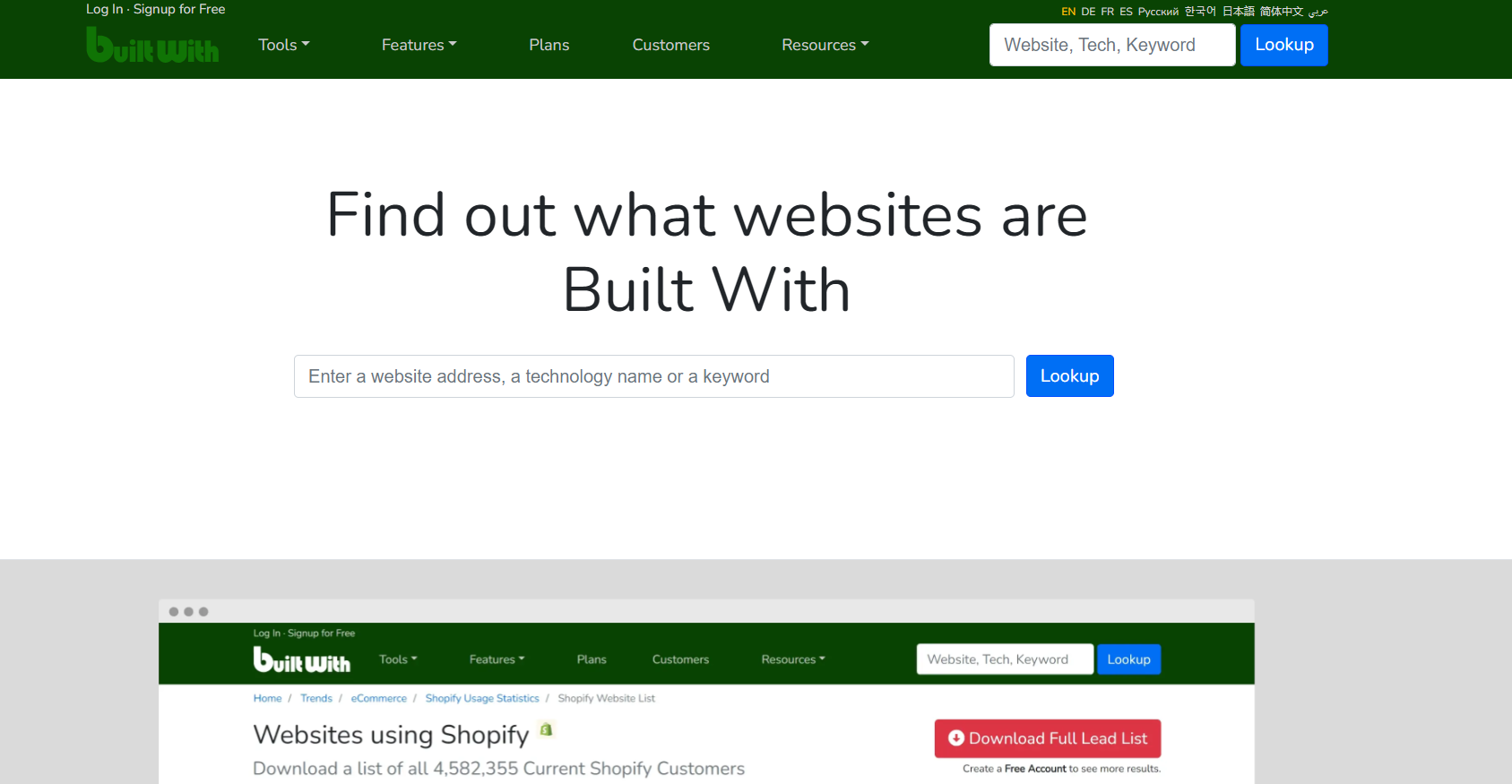 BuiltWith is one of the best Shopify spy tools. It serves as a website profiler, lead generation resource, competitive analysis platform, and business intelligence solution. It offers insights into technology adoption, e-commerce trends, and usage analytics across the internet landscape.
Features:
Technology Profiling: Identify the technologies and tools your competitors use.
E-commerce Trends: Discover trends in your niche based on competitors' technology choices.
Lead Generation: Find businesses using specific technologies and tools.
Data Integration: Access data on millions of websites and their technologies.
Pricing:
Builtwith offers a free forever plan for site lookups. However, if you want more advanced features, you can upgrade to one of their pricing plans, starting at $295/month.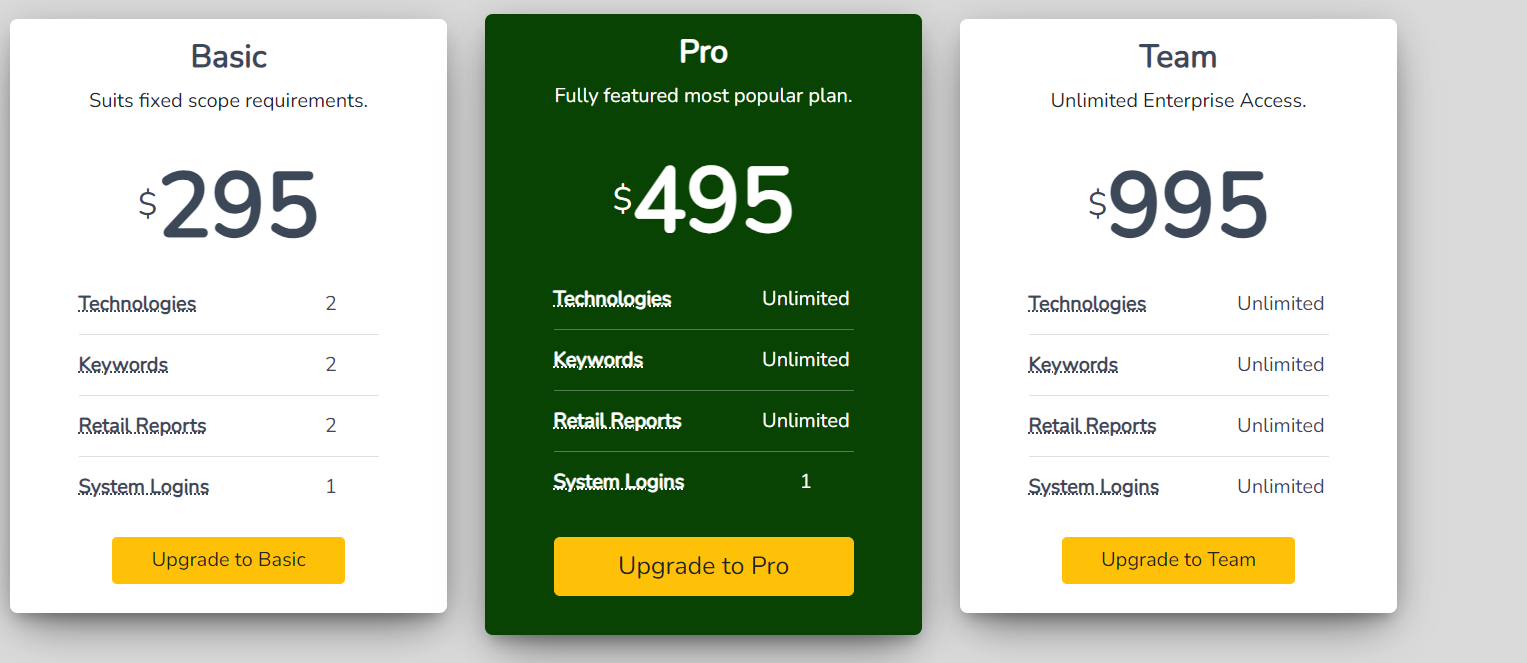 Who is it for: E-commerce entrepreneurs and developers interested in technology trends.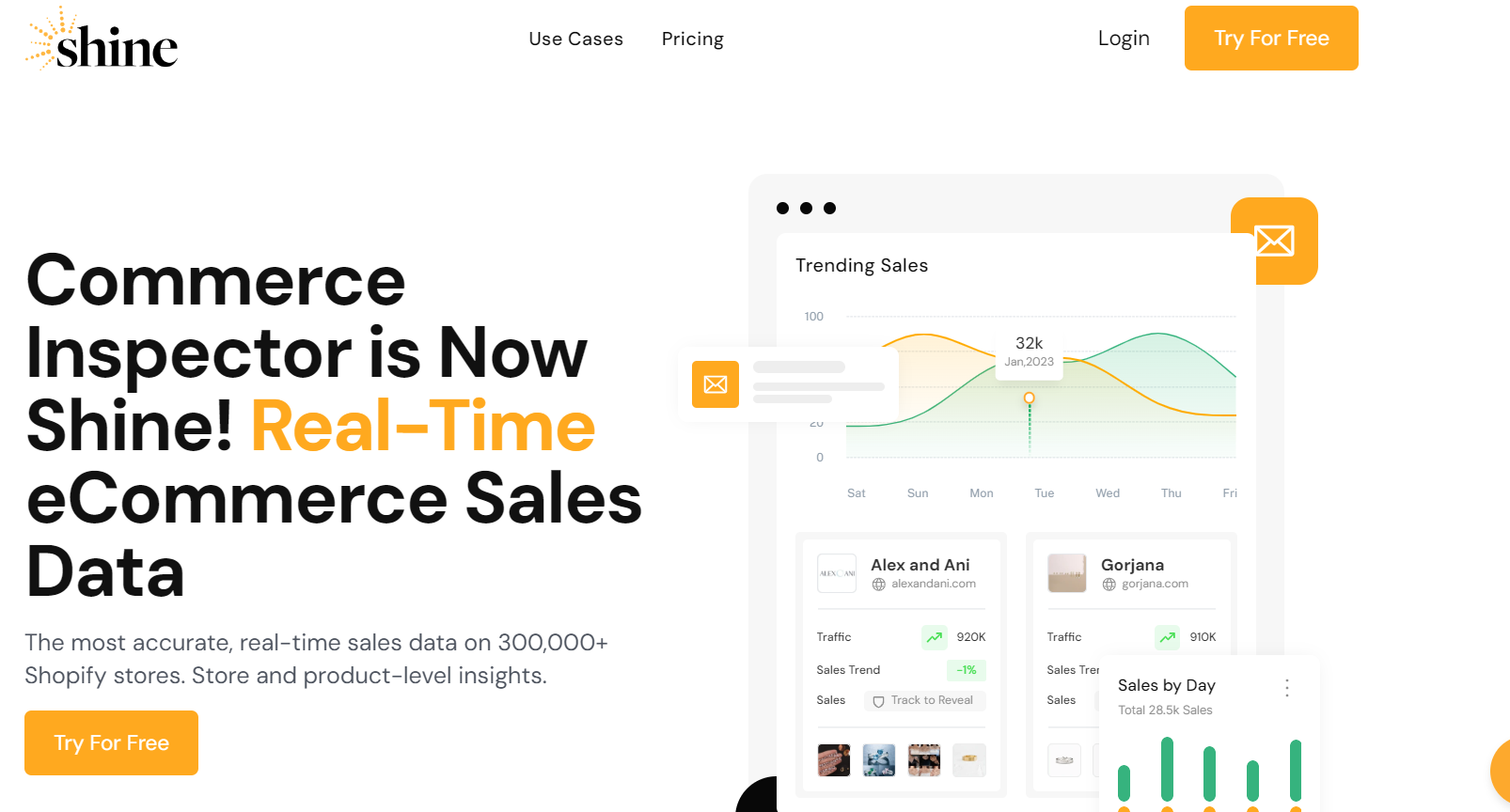 Last but not least of the best Shopify spy tools is the Commerce Inspector. Thus, this tool helps you gain valuable insights into any Shopify store you want.
Features:
Shopify Store Analysis: Gain insights into Shopify stores, including themes and apps used.
Product Discovery: Discover top-selling products in your niche.
Traffic Analytics: View traffic sources and trends for Shopify stores.
Email Marketing Insights: See email campaigns and strategies of Shopify stores.
Pricing:
In additon, this Shopify tool offers four pricing plans, starting at $99/month. Also, there's a free Chrome extension with limited features.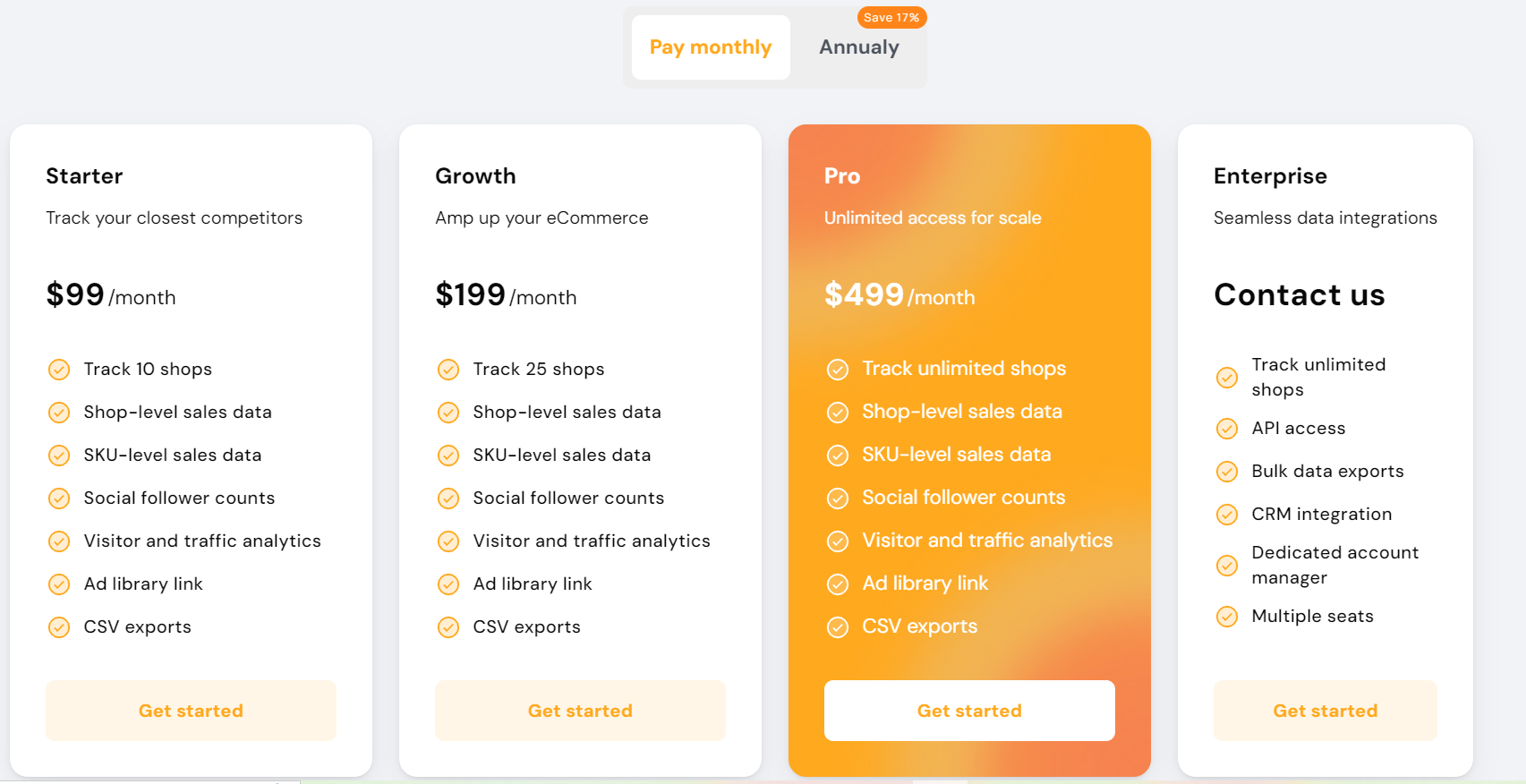 Who is it for: E-commerce store owners looking to analyze competitors on the Shopify platform.
3 Great Shopify Store Revenue Checkers
Tracking your competitors' revenue and sales performance is crucial to understanding their market positioning. Therefore, here are three Shopify store revenue checkers that will provide you with valuable insights:
💡 Tip: Also, learn about Dropshipping Profit Margin: A Step-By-Step Guide For Beginners.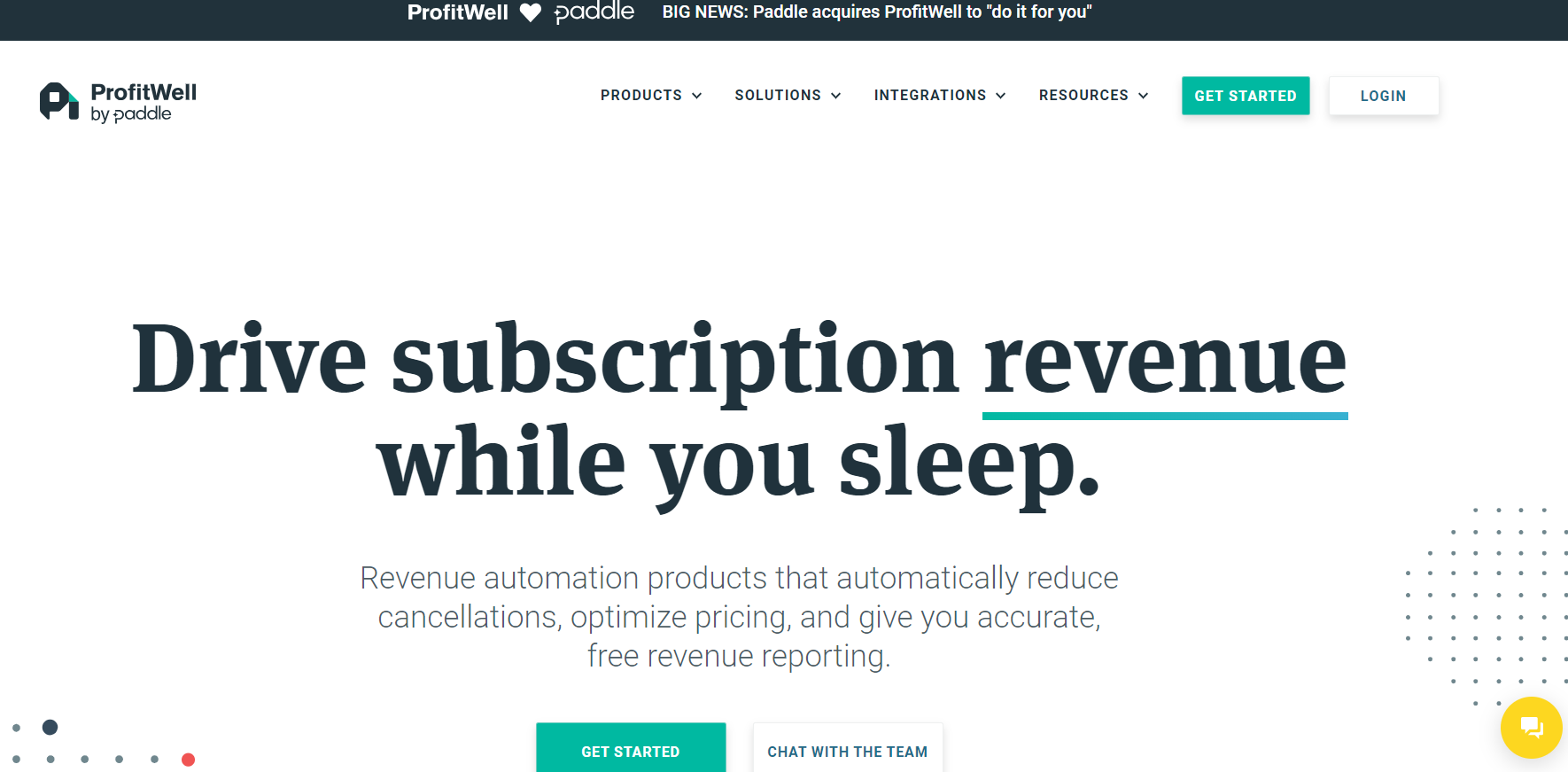 ProfitWell is a revenue analytics platform that helps subscription-based businesses, including many Shopify stores, optimize their pricing and increase revenue.
Features:
Subscription metrics and churn tracking.

Pricing optimization recommendations.

Customer retention and segmentation tools.

Revenue recognition and forecasting.

Pricing: ProfitWell offers a free plan with limited features. For more advanced functionality, pricing is available upon request.
Shopify provides built-in analytics that allow store owners to track their revenue and sales performance directly from their Shopify admin panel.
Features:
Sales tracking and revenue reports.
Detailed order and customer data.
Conversion rate analysis.
Traffic sources and referral data.
Pricing: Shopify's analytics are available to users on various pricing plans, starting from the Basic Shopify plan at $32 per month. However, more advanced analytics features are available on higher-tier plans like Shopify and Advanced Shopify.
👉 Learn about Shopify Pricing Plans: What's The Cost Of Dropshipping With Shopify?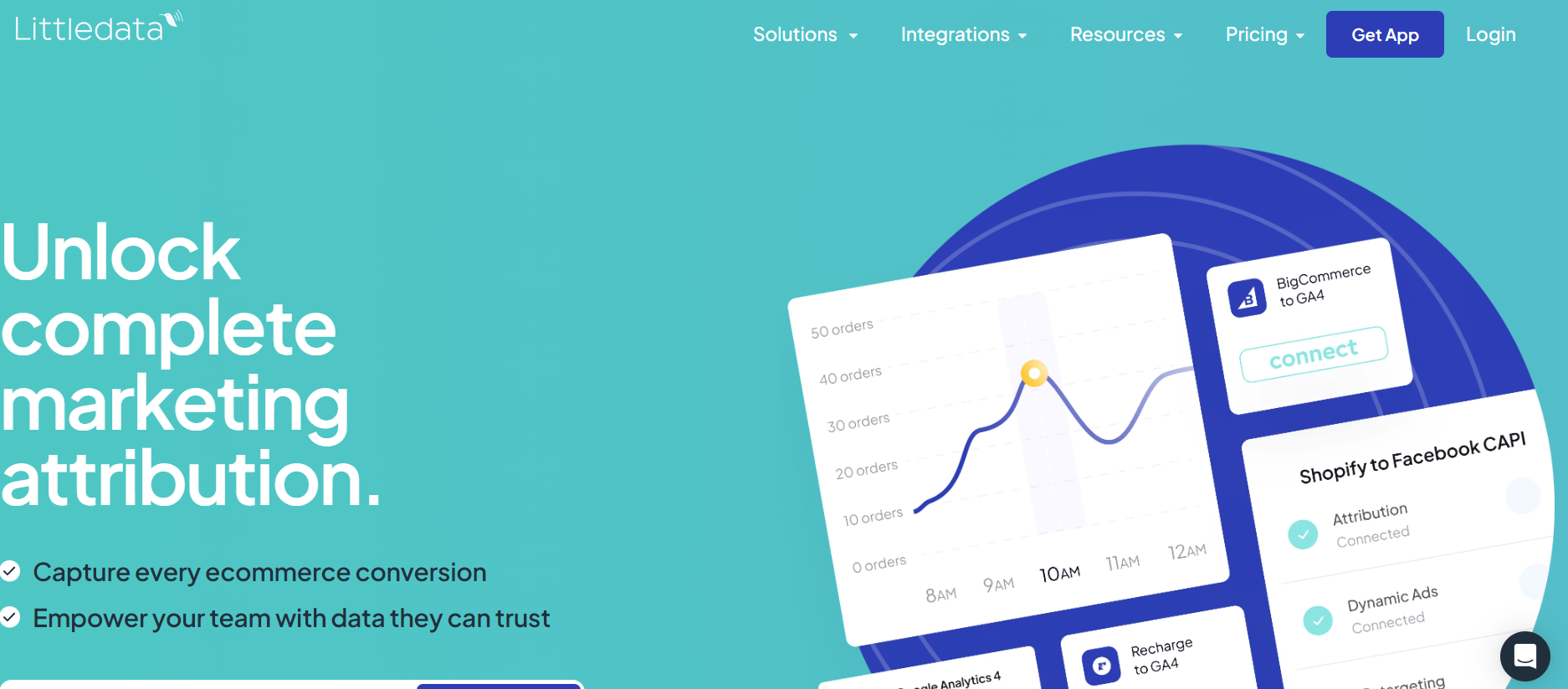 Littledata is a Shopify app designed to provide accurate analytics and insights to help Shopify store owners optimize their dropshipping performance and revenue.
Features:
Detailed revenue tracking and sales attribution.
E-commerce analytics, including customer behavior analysis.
Enhanced data accuracy through automated tracking setup.
Integration with Google Analytics and other data tools.

Pricing: Littledata offers a 30-day free trial. After that, pricing plans start at $59 per month for small businesses and can vary based on the size and needs of the store.
Why Would You Spy On Other Shopify Stores?
Some may question the ethical aspects of spying on other Shopify stores. However, competitor research is a common practice in business to stay ahead of the competition and drive growth. Hence, here are a few reasons why spying on other Shopify stores can benefit your business:
Identify Market Trends: By analyzing your competitors' strategies and performance, you can identify emerging market trends and adapt your business accordingly.
Gather Competitive Intelligence: Spying on competitors' pricing strategies, product offerings, and marketing campaigns gives you a competitive edge and helps you refine your own strategies.
Improve Customer Experience: Studying your competitors' customer engagement tactics allows you to enhance your own customer experience, resulting in increased customer satisfaction and loyalty.
Stay Innovative: Monitoring other Shopify stores helps you stay updated on the latest industry trends, inspiring you to innovate and offer new and exciting products or services.
Optimize Marketing Efforts: By analyzing competitors' advertising campaigns and messaging, you can learn from their successes and failures, optimizing your marketing efforts and achieving better results.
👉 Read my in-depth Shopify Magic Review: A Game-Changer for E-Commerce?
Join the only community and resource hub you'll ever need to succeed with dropshipping
Find winning dropshipping products, learn marketing, download templates and engage with real dropshippers
Never pay for a "guru's" course again. See why 4543+ dropshippers joined us this year!
💡Try DSCOM Hub Now
Conclusion
In summary, spying on other Shopify stores is a legitimate practice that can provide you with valuable insights and help you make data-driven decisions. So, embrace the power of Shopify spy tools, and propel your business to new heights of success.
Now armed with the knowledge of the 12 best Shopify spy tools, you are well-equipped to start your competitor research journey. Also, remember, monitoring your competitors is not about copying their strategies, but rather about understanding the market and finding unique ways to stand out.
So, go ahead, pick the Shopify spy tool that best suits your needs, and embark on a path of continuous improvement and growth for your Shopify store.