8 Best Alternative Dropshipping Website Builders
by
Martin -
Martin is an agency owner and SaaS projects maker. His work is featured in the leading ecommerce brands, magazines and podcasts. Talks about Marketing, Business Development, and Growth Hacking!
CO-founder at Dropshipping.com
Wanna Dropship? 🤗 Do you need a high-converting dropshipping store? Awesome! 🤩 Because you are in the right place. We got you the best dropshipping website builders!
Dropshipping is one of the most lucrative eCommerce models nowadays. Moreover, it's very suitable for beginners!
It cuts your most basic costs, like stocking goods, and allows you to sell with higher profit margins. Perfect right?
In the dropshipping business, you don't keep any inventory in your store. Instead, when you sell a product, you contact your supplier, who distributes the products to your consumers directly. And what is even better, you pay the supplier only when the customer buys the goods.
Well, not all is perfect as it sounds. Of course, there are a lot of challenges and struggles you need to consider first.
If you want to be successful, first you must find the best niche for you, trustworthy suppliers, build a website, and many more, which you can read from our dropshipping checklist.
If you employ the right tools, running a successful dropshipping business is not difficult.
In this article, we will guide you through finding the Best Alternative Dropshipping Business Builders!
What is a Website Builder?
Building a website is essential in the dropshipping business because, without it, you can't sell your products.
Thus, there are three options to consider when building a website:
Firstly, hire a website developer, and let him/ her do it for you! 👨‍
Second, create a website from scratch using just an open-source content management system (CMS) such as WordPress.
Lastly, use a website builder, or platform.
Thus, a website builder is a system that lets you design a website from a variety of features and templates. You don't need to know how to create or code, so no worries.
Website builder might be a smart option for every dropshipper, whether a beginner or not. Wondering why?
Indeed, you get to decide how to brand your website! You may change the fonts, colors, photos, and other customization options. Hence, our recommendation – use a reliable photo editor.
Furthermore, it is a long-term success approach. In addition, you have complete control over branding and marketing, the ability to establish a devoted customer base, and dropshipping tools to assist you in testing, analyzing, and optimizing your dropshipping operation.
When it comes to marketing, you need to have a holistic strategy to grow your business and one of the main pillars is blogging. Many of the website builders do have blogging features available albeit limited.
To enhance your blogging experience you can choose an online tool that will help you optimize your content and reach a bigger audience. There are many tools on the market such as DropinBlog, that you can leverage to your advantage when building your dropshipping website.
Moreover, there are a variety of popular website builders nowadays, like Shopify, Wix, WooCmmerce, Big Commerce, Magento, eBay, etc. But, information about them is everywhere.
LEARN: Read California Business Journal's insightful article here.
👉 Check out our Shopline Review: Is It Worth For Setting Up A Dropshipping Store?
Also, we provide you with a detailed overview of the Best Alternative Dropshipping Website Builders, that are highly suitable for beginners. So, let's dive in!
Lifetime deal: Get all-access to everything on Dropshipping.com
Access all DSCOM features, resources, courses, live workshops, discounts, winning products, weekly deep dives, directories and all future updates under all-in-one dropshipping HUB.
DROPSHIPPING IS A REAL BUSINESS, DON'T DO IT ALONE. 4553 MEMBERS ALREADY JOINED. YOU CAN PAY OFF YOUR SMALL INVESTMENT WITH JUST 2 SALES ON YOUR STORE.
Grab the deal before it's gone
8 Best Alternative Dropshipping Website Builders
1. Spocket
This is one of the best dropshipping website builders! Spocket is a dropshipping app that let you select the finest items to sell from thousands of dropshipping suppliers worldwide.
Plus it gives dropshippers editing options for their website's goods and photos.
Furthermore, once we've decided which goods to add to your store, you may leverage Spocket's product import tool to adjust the data as needed.
Features:
Editing products & photos
Order fulfillment
Order processing automation
Product Catalog
Recommendations for the retail price
Calculating Profit Per Item
24/7 Support
E-commerce integration
Branded Packaging
Branded Invoicing
Pricing:
Spocket offers four pricing plans for users: Free, Starter, Pro, and Empire. Also, they give options to users to pay monthly or yearly, and each of the pricing plans has a 14-day free trial.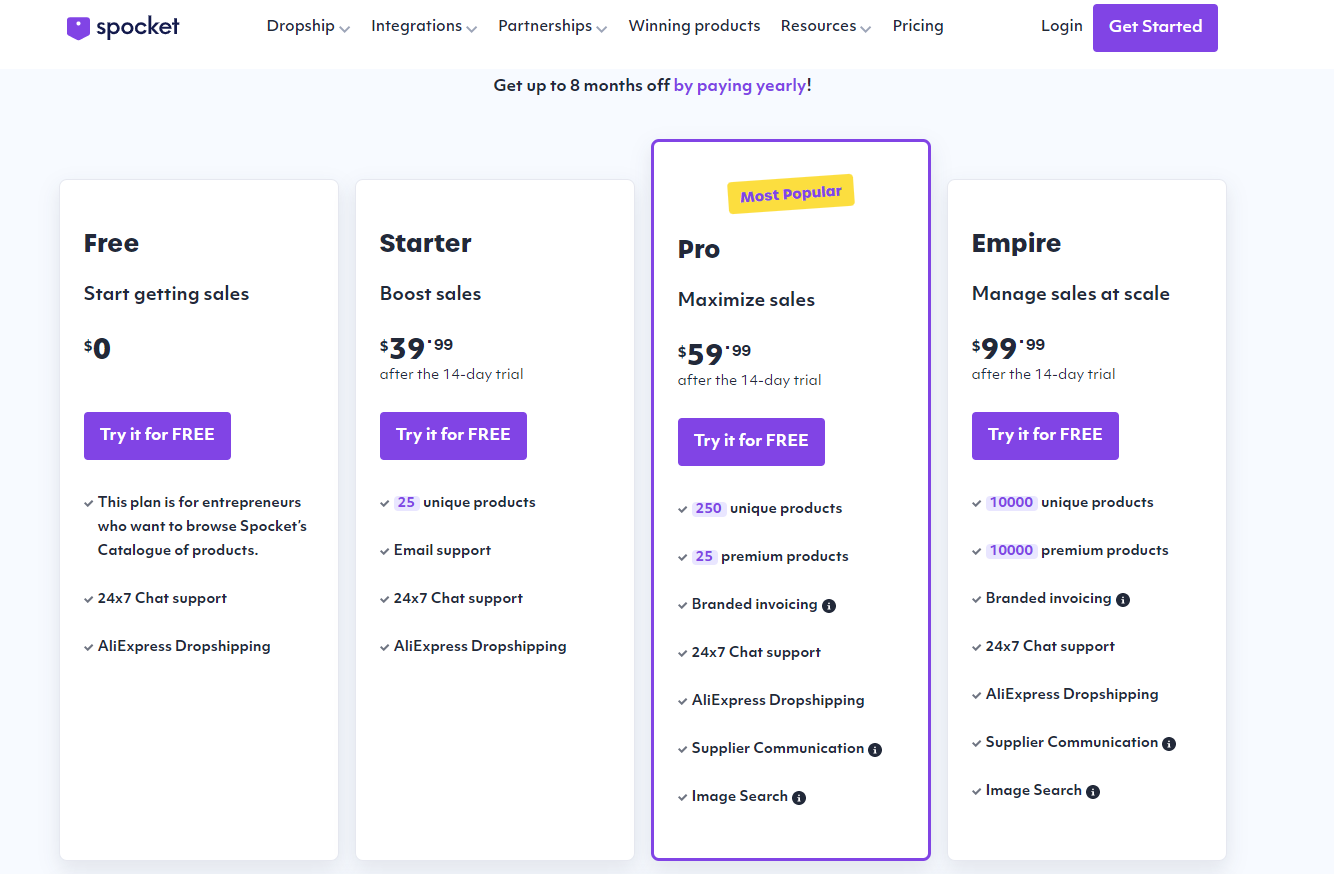 Moreover, if you want to see other pricing options, check it out here.
But consider…
Spocket disadvantages:
It doesn't support key players in the market eBay and Amazon
It doesn't enable you to examine the inventory of suppliers
2. GetResponse
GetResponse is a well-known email marketing platform, but it's also a great dropshipping website builder. Hence, it's ideal for dropshippers who want to quickly set up a dropshipping store.
What's more, this might be your win-win solution if you need a dropshipping website builder that can connect with a robust email marketing system.
The usage of state-of-art A.I. is GetResponse's most distinguishing feature. Also, the system asks you a few questions about your dropshipping business and based on your responses, you have a tailored website in minutes. If you want to customize it later, you can do so, by using their integrated tools.
Moreover, after it's completed, you may begin promoting immediately using the GetResponse email.
Features:
Artificial Intelligence software
Website building without code usage
Adaptable designs
Website templates for specific industry
Performance analysis
Extensive marketing tools
A complete online marketing package
Drag-and-drop editor
Pricing:
GetResponse provides four pricing plans: Free, Email Marketing, Marketing Automation, and eCommerce Marketing. Thus, each plan can be paid monthly, on a 12-month payment, or on a 24-month payment.
Moreover, you can get informed about all other pricing options on their website. In addition, right at this moment May 2023, they offer a discount on all of their pricing plans.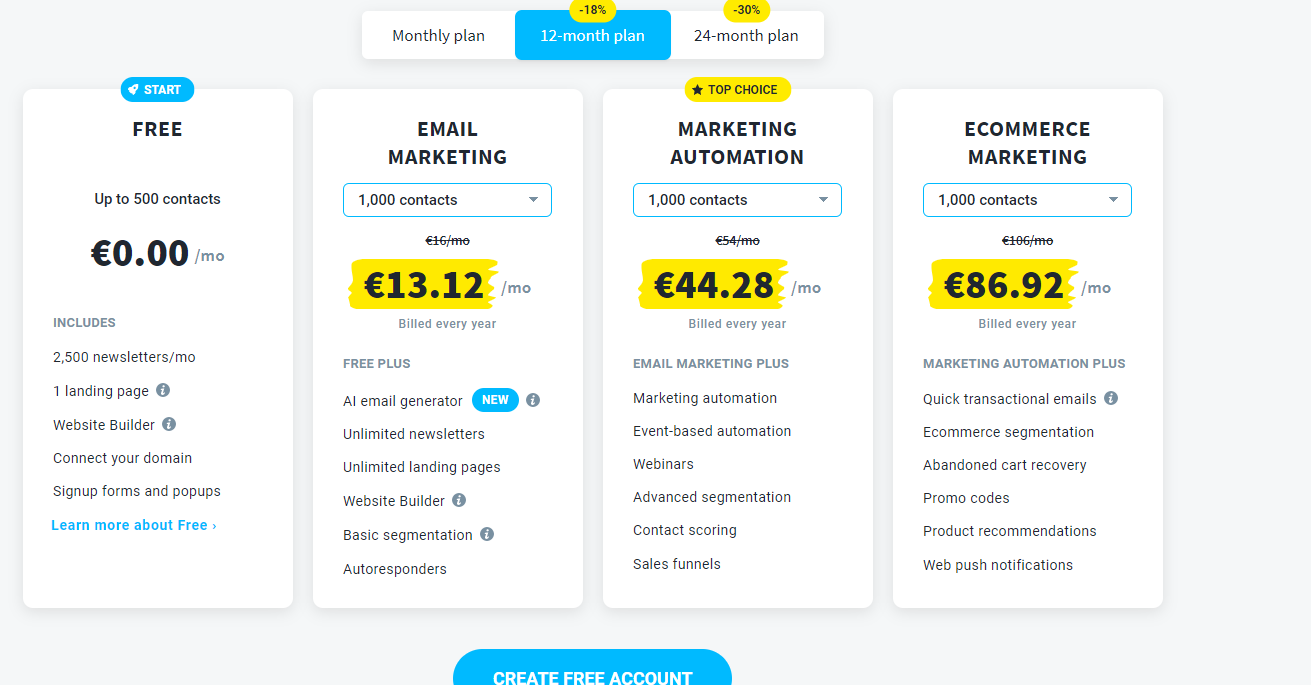 But consider…
GetResponse is still in a beta launch phase
The free plan offered is also a free trial
3. Weebly
Firstly, this is one of the top-rated dropshipping website builders . Moreover, Weebly is best known for web hosting. Hence, Weebly is ideal for producing dropshipping websites because of its simple interface and fast construction options.
👉 Check our in-depth Weebly Ecommerce Review.
What's more, you can get access to customized web page designs as well as valuable tools to help you develop your website. Furthermore, you can quickly create a free website, which can improve your brand recognition and build your consumer base.
In addition, the eCommerce platform on Weebly is one of the best available among drag-and-drop website builders.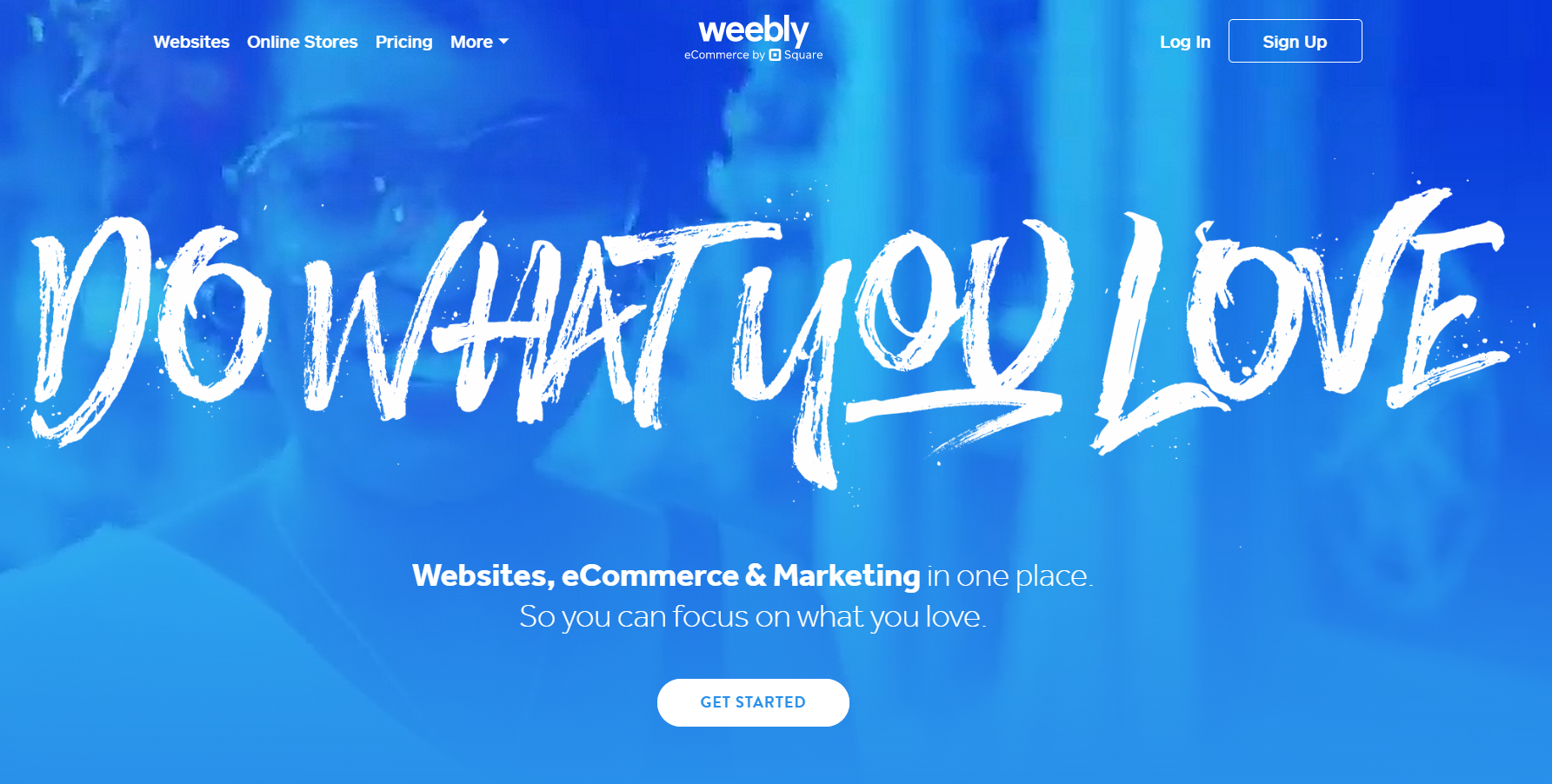 Features:
Inventory tracking.
Highly filtered product search
Responsive templates
Adaptable design
Fully integrated shopping cart
Full-width page editor
Checkout that is secured
Best Drag-and-drop website builder
Simple publication
Applications integration
Domain name registration
Sub-domain for free
Weebly app center/mobile app
Pricing:
Further, Weebly has four pricing plans: Free, Personal, Professional, and Performance. Thus, the pricing starts at $10/month.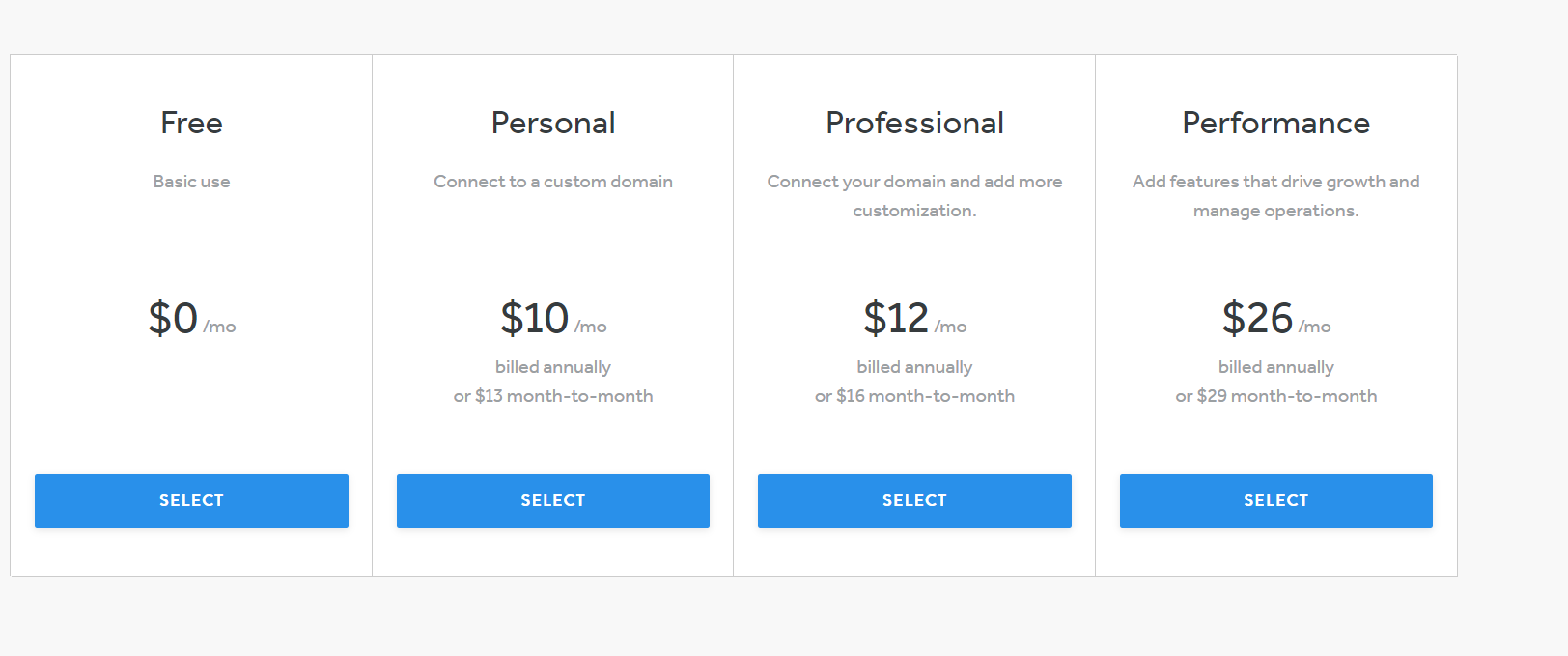 Also, learn more about the features included here!
But consider…
Weebly provides only basic editing tools
There are limits on formatting blog sections
Customer support is paid, and limited in the free plan
4. Zyro
Here are other best alternative dropshipping website builders
Furthermore, the Zyro features cover the majority of what you would need to start your business. Zyro provides a free trial including 500 MB of bandwidth and storage, as well as SSL security, designer templates, SEO, and AI branding.
Also, it has features that make the process of starting a business much easier.
Features:
Free website templates designed by professionals
Drag-and-drop feature
Grid tool
AI writing tools
SEO tool
SSL security
Email support
Live chat
Various payment options
Integrations of apps
Pricing
Zyro offers two pricing plans: Website, and Business plan. Thus, they have discounts on plans very often, just as right now, with 78% and 76% OFF.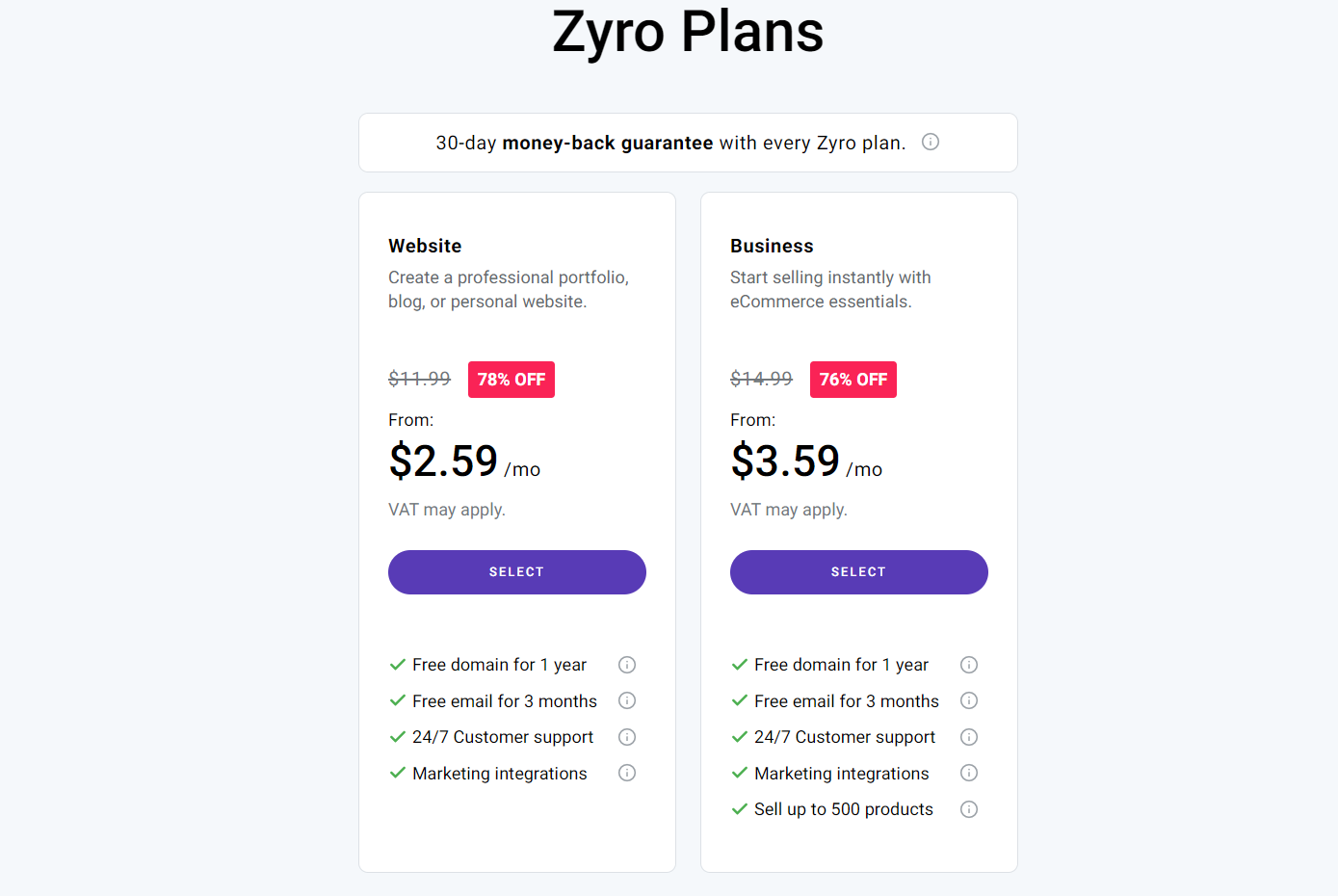 They have a 30-day money-back guarantee for each plan.
But consider…
The customer support team is not very responsive
They offer lack a wide range of apps for dropshipping
Limited customization
5. Shift4Shop
Firstly, this is one of the best dropshipping website builders!
Shift4Shop is a robust and dependable website builder for dropshipping.
It has various cutting-edge features, such as built-in SEO tools, more than 100 professional themes, and interaction with large numbers of third-party systems like Facebook, Aweber, eBay, MailChimp, etc.
Features:
Built-in Blog
Unlimited Bandwidth
24/7 Technical Support
Domain Registration
Facebook Store
Shopping Cart
Web Hosting
100+ Payment Providers
Unlimited Orders
API Access
Mobile-responsive website
Fully customizable design
Completely managed and hosted – no need for software installation
Trustworthy security features
Rapidly expanding dropshipping website builder
Hundreds of cutting-edge feature
Pricing
Shift4Shop has four pricing plans: End-to-end eCommerce, Basic Store, Pro Store, and Plus Store.
Want to learn more? Click here.
6. Squarespace
Squarespace is another alternative dropshipping website builders for Shopify. It began as a website builder for creative people and has now grown to one of the top website builders for dropshipping businesses.
Hence, Squarespace is an excellent choice for you because it offers powerful eCommerce options for your dropshipping store, free domain name registration, and even more.
Also, it has pre-built website templates and an easy-to-use drag-and-drop tool. Moreover, it provides 24/7 customer support and assistance in building your dropshipping store.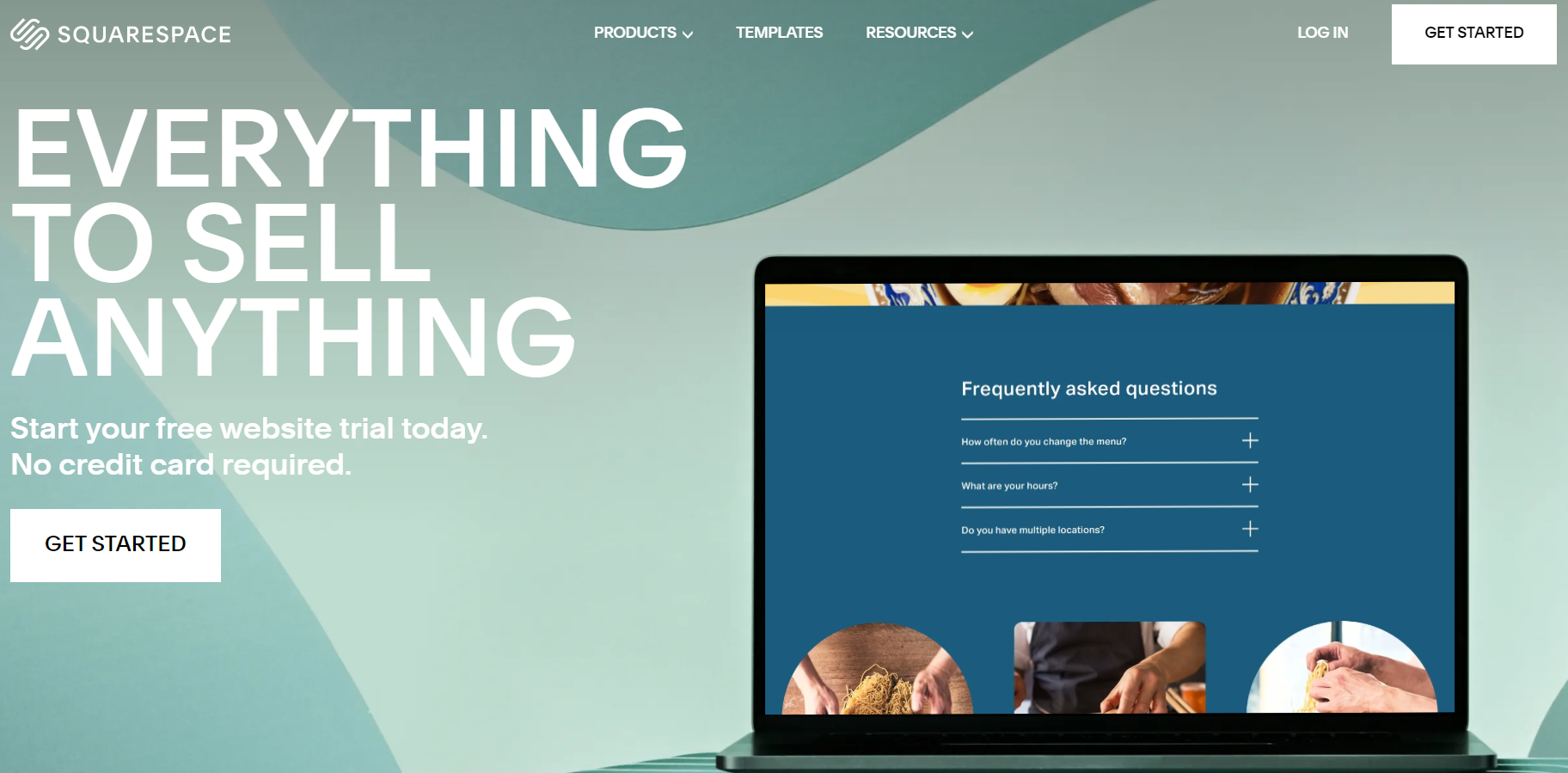 Features:
More than 100 templates
Advanced blog section with
Advanced blog section with
Highly adaptable design
Very dropshipping-friendly features
Custom domain name
SSL certificate
24/7 award-winning customer service
Pricing
Squarespace offers four pricing plans: Personal, Business, Basic Commerce, and Advanced Commerce Plan.
Also, learn about the features included in each plan here.
But consider…
Squarespace offers a limited app store
It doesn't offer a free plan
7. Website Builder
WebsiteBuilder assists you in building your dropshipping website from scratch.
Moreover, they create your website using a sophisticated website builder. After that, you may use the editor to rearrange the design to better suit your brand.
WebsiteBuilder uses AI tools, that first ask you a few questions about any requirements you have, and then they build your dropshipping store.
Domain.com provides you with a detailed guide about installation and how to use Website Builder tips, you can check them out!
Features:
Easy and quick website development
Professional for customizing your design
eCommerce apps
AI tools
Mobile-friendly themes
100+ pre-designed layouts
Font customization
Simple switch domains
SSL security
One-click installation
PayPal integration
Integration of Analytics
Tools for SEO and Social Media
History of Revisions
Pricing
Website Builder provides four pricing plans :
Free plan – $0.00
Premium plan – $7.58/month
Business plan – $7.98/month
eCommerce plan – $11.18/month
But consider…
WebsiteBuilder is not open-source
It offers limited dropshipping ups and built-in features
8. Fiverr
As the first sentence you see once you enter their website – Fiverr is the perfect freelance service for your business. Thus, it is one of the best dropshipping website builders. What's more, their team finds you an expert (freelancer) to customize your dropshipping store as you wish.
Features:
An expert develops the website
24-hour customer service
Various templates
Customizable design
Secured payment
Pricing
The price for website development and customization varies, depending on the expert you choose. Thus, you can check out different experts' pricing here.
Moreover, the website displays a huge fly-out menu with categories according to what you need to be done for you. Once you select it and set filtering, Fiverr displays you, experts, to choose from!
But consider…
With a Fiverr expert, you have less control over the development process
It can be expensive
Join the only community and resource hub you'll ever need to succeed with dropshipping
Find winning dropshipping products, learn marketing, download templates and engage with real dropshippers
Never pay for a "guru's" course again. See why 4543+ dropshippers joined us this year!
💡Try DSCOM Hub Now
Conclusion
Dropshipping business can be a challenging job. But once you find all the right tools for your business, it is not difficult at all!
Building a website is one of the essentials for your dropshipping business because without it you can't make a single sale. You have various options to build a website, like, hiring a web designer, using an open-source, or using a website builder.
In addition, a website builder is a system that lets you design a website from a variety of features and templates. Moreover, you don't need to know any coding!
In this article, we provided you with a detailed overview of the 8 Best Alternative Dropshipping Website Builders. Also, you should read about each of them, and find the best solution for you!