So you're ready to become your own boss and work whenever and wherever you want, but… you're also short on money to invest in a traditional business venture.
You might have heard about dropshipping and want to know – is it really possible to start a dropshipping business for free?
This is our guide on how to start a dropshipping business for free in 2023 (or at least, with a very small initial investment).
How to start dropshipping for free: Is it possible to start such a business with no money?
Unlike a physical store, a lot of startup capital is NOT required for starting a dropshipping business.
The truth is you can start certain types of online businesses, including a dropshipping business, with no money since so many free services, tools, and trials facilitate the possibility.
However, at some point, you will need to invest money into growing and scaling your business.
💡 Tip: Learn How To Escape The Rat Race The Real Way? – Leaving The 9 To 5.
For example, most ecommerce platforms offer free trials so that you can set up your store during the free trial. Still, you will have to choose a paid plan sooner or later.
But why? Because you will want to modify the look and feel of your store and improve its functionality.
You will want to unlock some advanced features and create a truly great experience for your customers, won't you?
Let us give you another example. In the beginning, you can promote your dropshipping store with no money at all.
But in today's ever-changing digital marketing world and competitive dropshipping industry, it is best to use a combination of organic and paid marketing tactics to let the world know about your awesome business and get more people to know about your dropshipping products.
Again, starting any type of business requires some money. But there is always something that you can do to help minimize the starting costs.
So, in this guide, we will teach you how to start dropshipping for free.
Before we go any further, we suggest that you check out our ultimate dropshipping checklist, which is actually a list of the most important things that you need to do before you start a dropshipping business.
Discover top dropshipping suppliers of original US/EU products
You're 2 minutes away from building your ecommerce empire
No credit card required. No commitment.
Get started for free
Dropshipping With No Money: Pros & Cons
Dropshipping can be a low-risk and low-investment way to start an online business, as it allows you to test and sell products without the need to invest in inventory upfront.
However, there are also some potential drawbacks to consider when starting a dropshipping business with no money. Let's see!
Pros
Low startup costs
As mentioned, one of the main advantages of dropshipping is that it requires a relatively low investment to get started. You don't need to purchase any inventory upfront, which means you can get started with a small budget.
👉 READ: What Is the Minimum Budget to Start Dropshipping with Shopify?
Easy to get started
Setting up a dropshipping business is relatively easy and can be done quickly. You can start by setting up an online store, finding suppliers, and marketing your products.
Tip: Check out How Much Does It Cost To Start Dropshipping In 2023?
Flexibility
Dropshipping allows you to sell a wide range of products without being tied down to any specific inventory. This gives you the flexibility to quickly pivot and change your product offerings based on demand.
Easy to scale
Since retailers do not need to worry about physical inventory, it is relatively easy to scale a dropshipping business by simply adding more products to the store.
👉 Read about The Ultimate Guide: How To Find Products To Dropship In 2023.
Cons
Low-profit margins
Because you are purchasing the products you sell from a third party, your profit margins may be lower compared to if you were selling products you sourced and manufactured yourself.
For example, profit margins of around 20% are considered good ones in dropshipping. Thus, everything else that is under 15% might be considered a low-profit margin.
👉 Check out Dropshipping Profit Margin: A Step-By-Step Guide For Beginners.
Lack of control
When you are dropshipping, you don't have control over the quality or availability of the products you are selling. This can lead to problems such as out-of-stock items, late shipments, or product returns.
👉 Read about Dropshipping Scams & How To Avoid Them As a Beginner.
Competition
Dropshipping has become increasingly popular in recent years, which means there is a lot of competition in the market. This can make it difficult to differentiate your business and stand out from the crowd.
👉 Check out The Top 15 Best Facebook Ad Spy Tools For Dropshipping.
Overall, dropshipping can be a viable option for starting an online business with little upfront investment. However, it's important to carefully consider the pros and cons before making a decision.
5 tips on how to start dropshipping for free
We really do not want to repeat this over and over again.
But we want you to remember that even though you can set up your dropshipping store without paying anything, you will surely have to invest money in your business sooner or later.
Now, we will focus on how to start a dropshipping business for free:
1. Identify your niche and products
Choosing your dropshipping niche and products is not that simple. It is ideal to choose products with low to medium competitiveness, good profit margins, and products that you are passionate about.
Unluckily, many excellent dropshipping product research tools that can help you find some best-selling products are not free to use. But do not get disappointed!
There are many free ways to find products for dropshipping in 2023.
💡 Tip: Learn about Dropship Baby Products: A Step-By-Step Guide + Top 24 Products
Here is how to find what to sell online without spending a dime: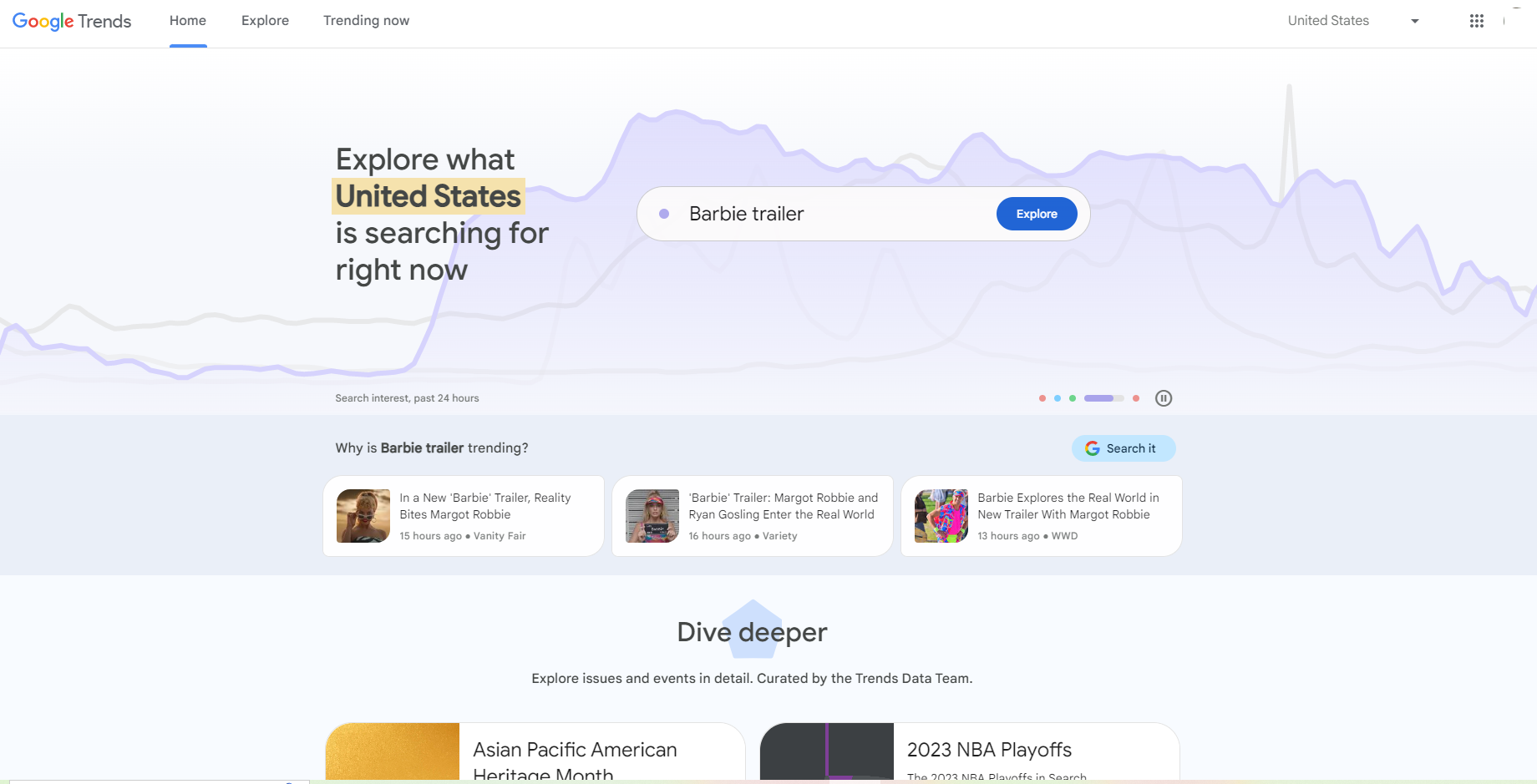 Google Trends is a simple, yet handy tool that allows you to find a dropshipping niche and products to sell online. And the best part? It is completely free to use.
This tool takes multiple factors such as time (e.g. weeks and years), location, and language into consideration, thus helping you analyze the popularity of top search queries on Google.
In brief, it can help you figure out if a market is trending or evergreen.
We have recently created a comprehensive guide to using Google Trends for dropshipping. So, feel free to read it.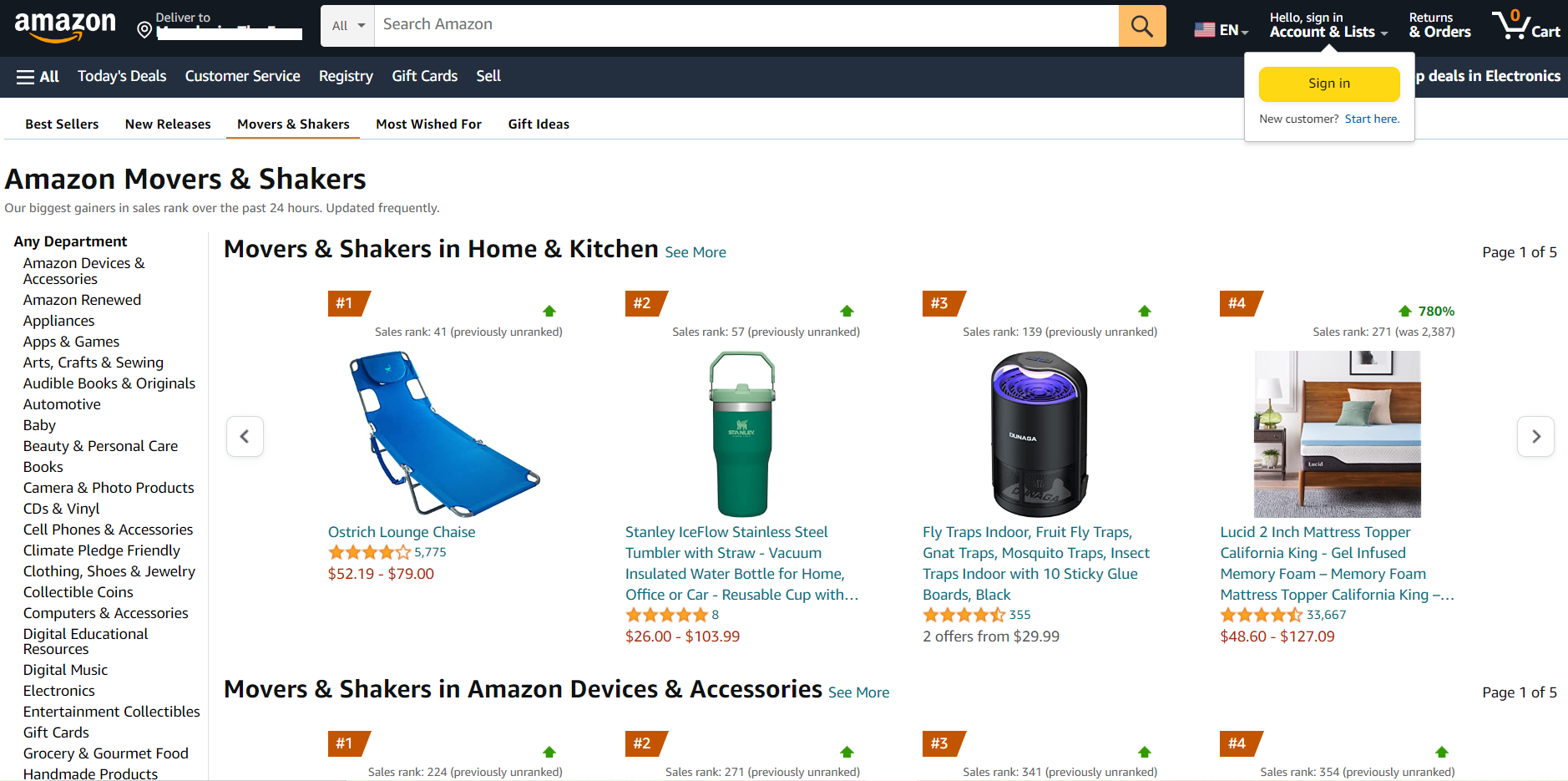 By using the Amazon Movers and Shakers List, you can find out which items are selling well over the past 24 hours.
It is also a free and easy tool to use. To use it, you just need to click on a product category and see the best-performing products in that category.
This tool is created by AliExpress to help you, as a dropshipper, find winning products for your store. Moreover, it is also free to use.
And if you are interested in AliExpress dropshipping, you may want to include this tool in your product research arsenal.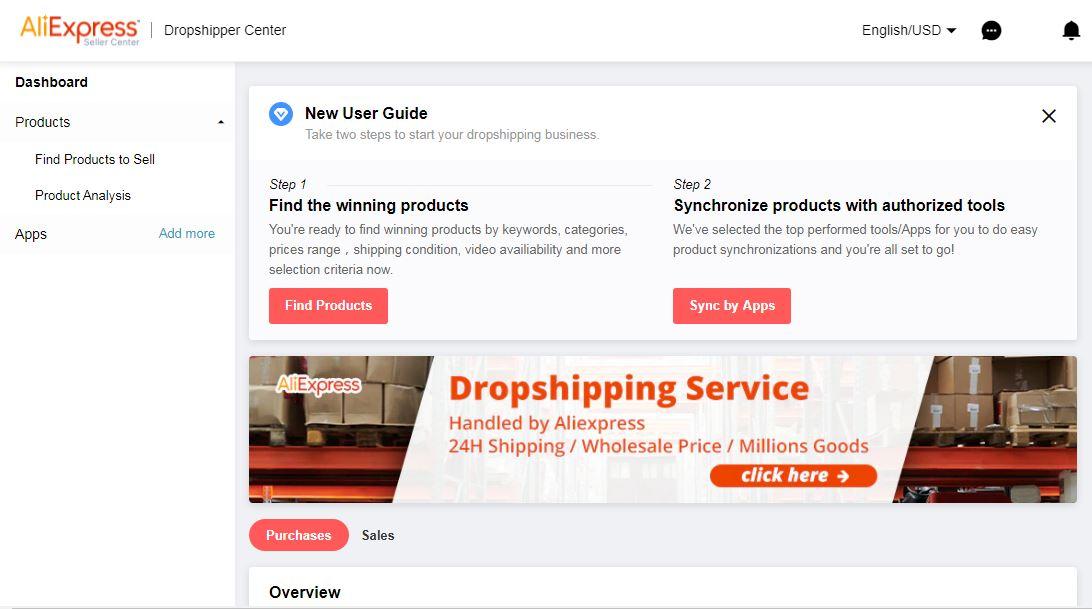 2. Find a supplier
You cannot begin your dropshipping journey if you do not find a dropshipping supplier.
Not only should you find a dropshipping supplier to source products from, but you also need to ensure that the supplier is certified, reliable, and trusted.
But that process is not going to be a simple one, particularly if you do not have a whole lot of money.
Of course, it is still possible to find a good supplier, even if you are on a tight budget. Here is how to do that:
• Search on Google
A basic Google search won't cost you anything. Still, it is a great way to do some initial research.
Simply type something like, "dropshipping clothing suppliers" into Google if you are planning on dropshipping clothing, for example.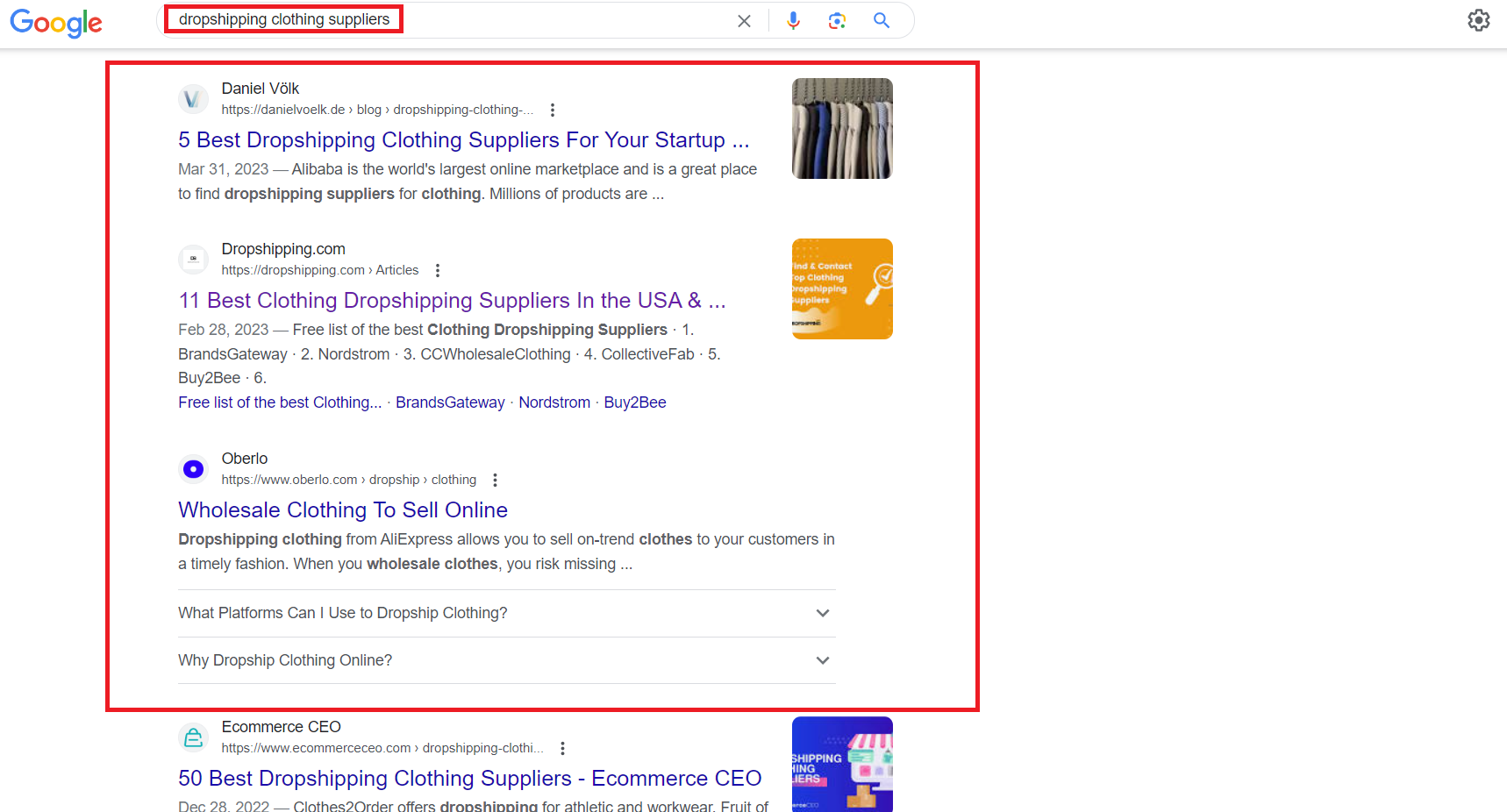 In most cases, you will be able to identify the best suppliers for your online business. Just make sure the supplier you are willing to work with is reliable.
• Use a free supplier directory
An online wholesale & dropshipping supplier directory is actually a list, i.e., a database of suppliers. The database is usually organized by industry, niche, or product.
And most directories employ some kind of screening process to confirm that a supplier you want to contract with is both legitimate and reliable.
Some of the best online wholesale & dropshipping supplier directories do not offer their services for free.
However, there are some online directories out there that allow you to get access to its database of vetted suppliers for free. One such directory is Dropshipping.com.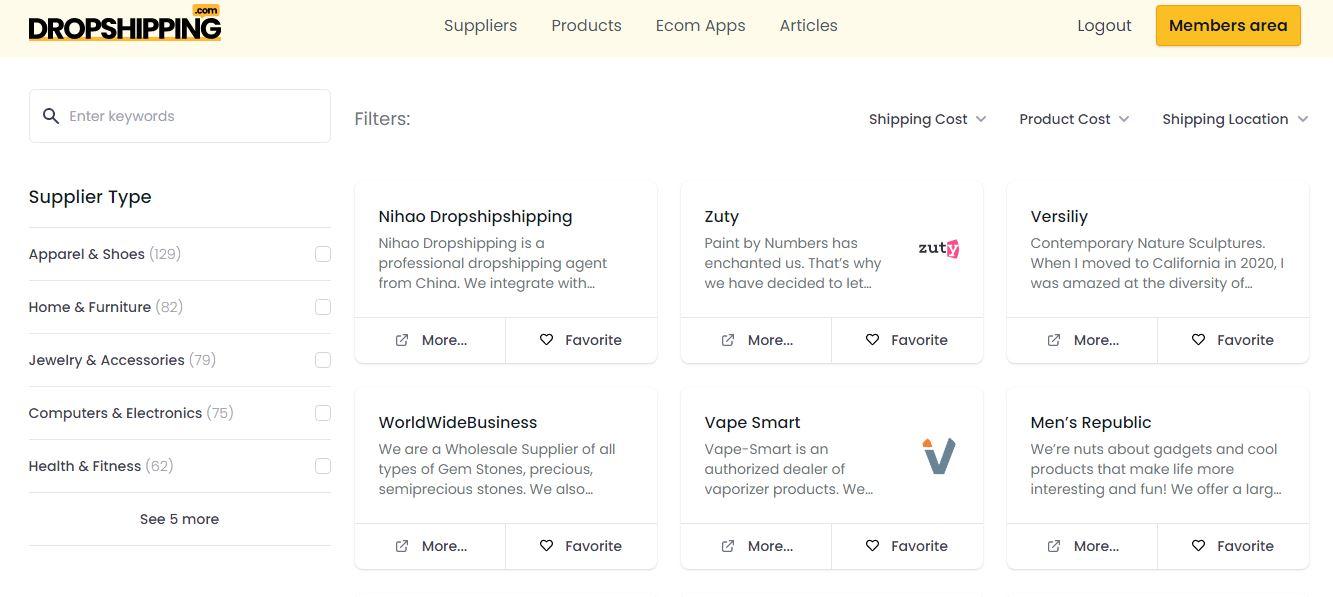 3. Set up your dropshipping store
You should now set up your dropshipping store. But what does setting up a dropshipping store mean?
It means that you need to design your store (e.g., homepage and images), add products to your store, set up payment methods, add checkout and shipping settings, buy a domain, and launch your store so that you can receive orders.
No worries – we will not stray from the topic in this paragraph. We know that the purpose of this article is to teach you how to start dropshipping for free.
As we have already said, almost all e-commerce platforms offer free trials.
Thanks to that, you can set up your store with no money at all. Some of the most popular platforms for dropshipping are the following:
Shopify is an e-commerce platform boasting powerful e-commerce features, great integration, synchronization options, etc.
In addition, it is a favorable choice as long as you want to set up your store with no money.
Again, although you can get started with Shopify for free, it is NOT a complete and forever-free platform.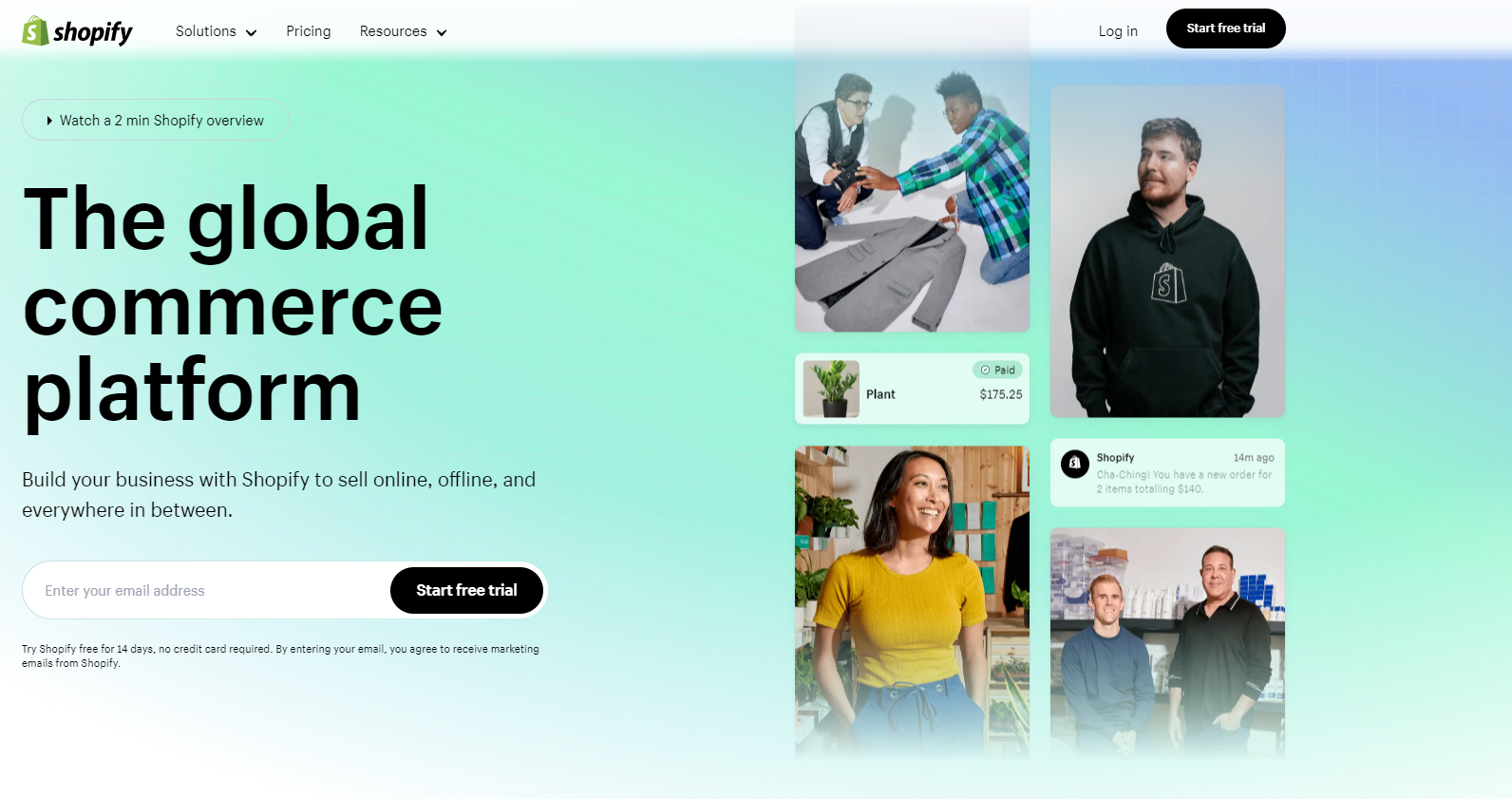 Shopify offers a 14-day free trial. Unlike many other platforms, this platform enables you to sign up without adding your card details.
This means that when using Shopify, there are no hidden costs or things like, "If you forget to cancel the free trial, you will be charged."
Check our guide: How To Pause Or Cancel Shopify Subscription
To sign up for a free trial, you just need to click on the green "Start Free Trial" button in the upper right corner of the Shopify site.
But when the free trial ends, you will have to choose one of the paid plans. Just take a look at the picture below.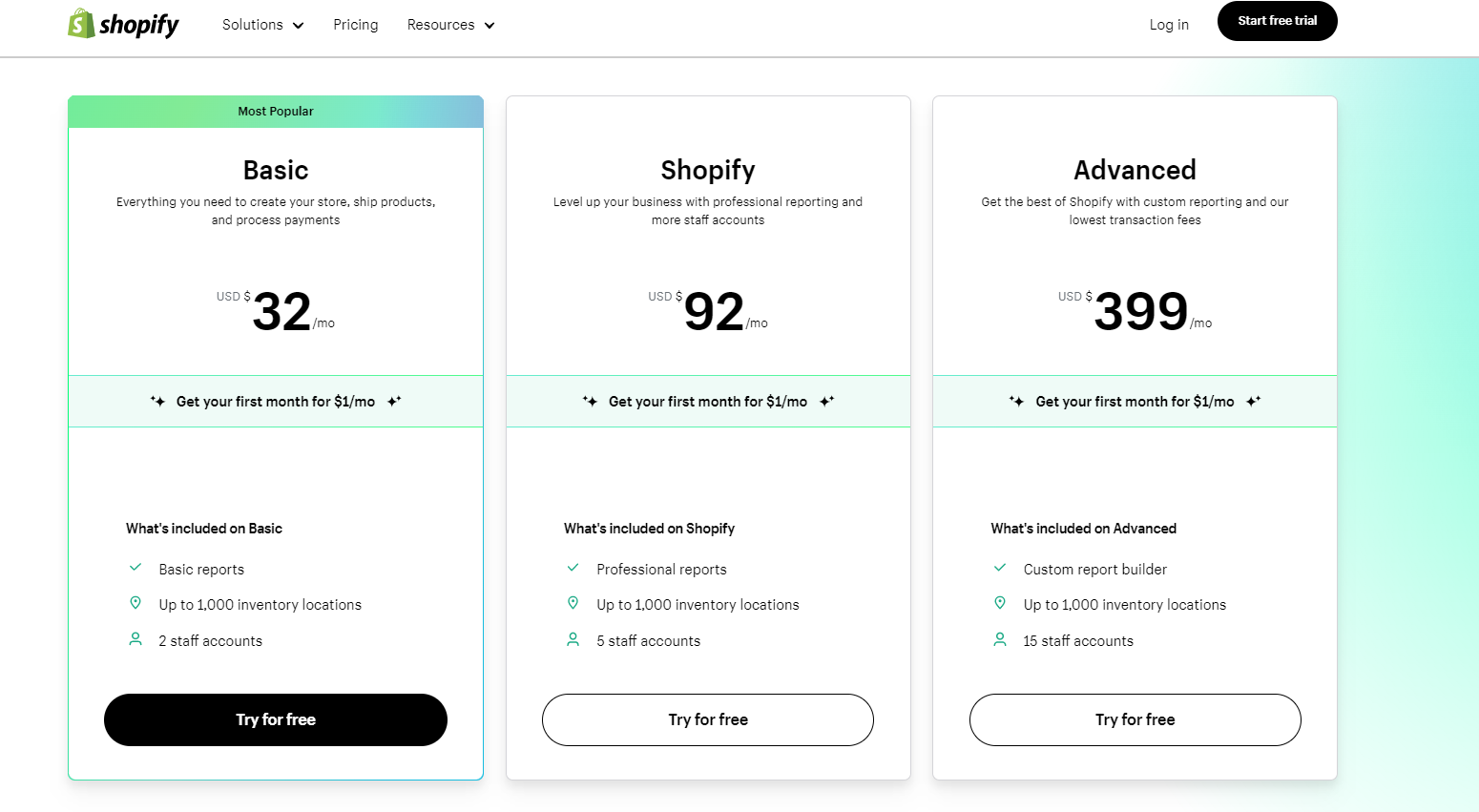 For more information about how to set up your first store on Shopify, read our previous article.
WooCommerce is a fantastic shopping cart plugin for WordPress.
Therefore, you will need a WordPress site so that you can download, install, and use WooCommerce for free.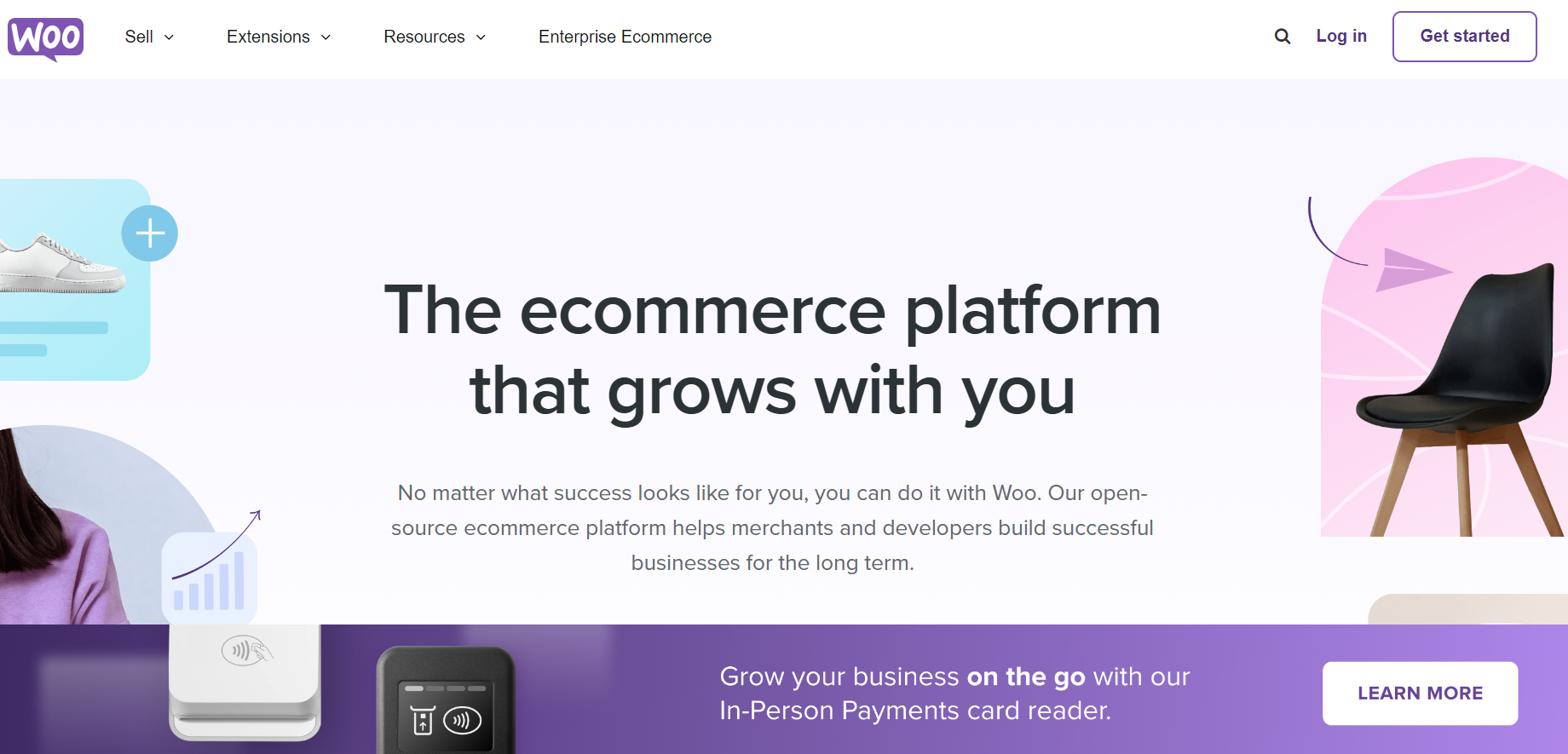 WordPress and WooCommerce are both free to use.
Though this could mean that you can save money, when it comes to setting up a dropshipping store using WooCommerce, you will have to pay certain fees such as hosting and domain fees.
WooCommerce is open-source software. As a result, the costs that may incur will be customizable.
And you will have greater control over how much money you spend when compared to many other e-commerce platforms.
Another great way to set up a dropshipping store for free is to use Ecwid. Namely, it allows you to create an online store and embed it on other platforms via plug-ins.
With it, you can sell on your website, social media, and marketplaces such as Amazon all from a single dashboard.
If you only have a few items to sell (up to 10), Ecwid is entirely free.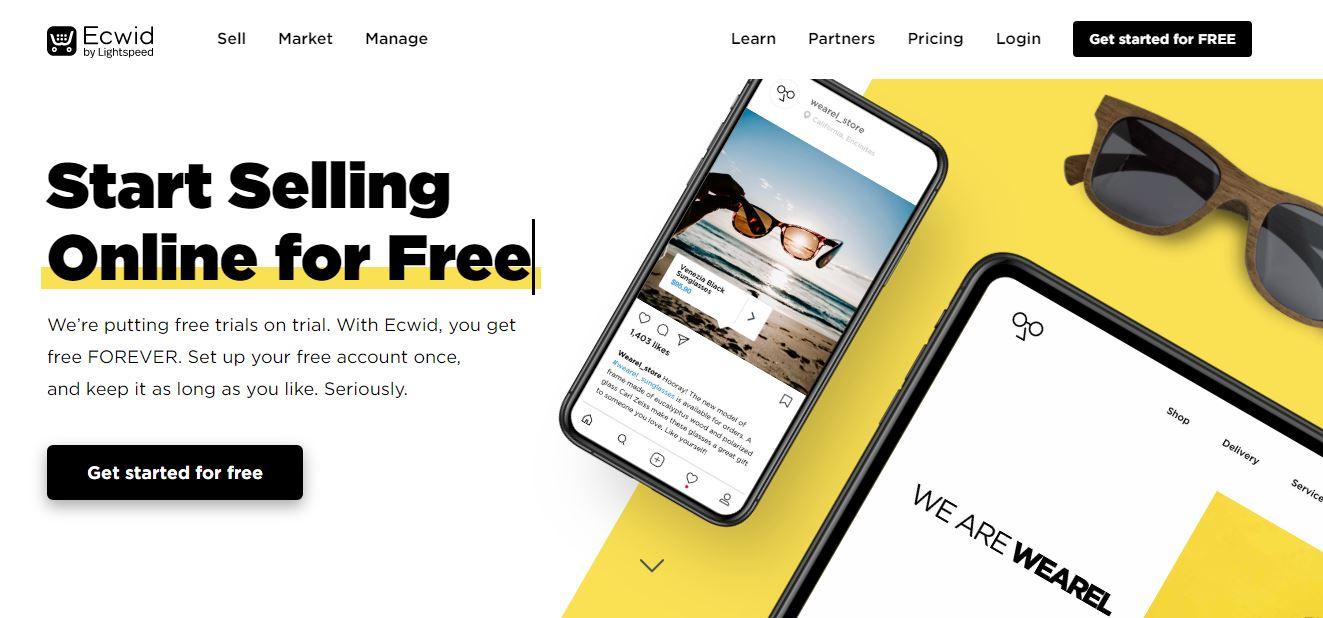 To get started with Ecwid, just visit the Ecwid homepage and tap the "Get Started for Free" button.
You can check out our in-depth Ecwid vs. Shopify review for more information about both platforms.
4. Use free dropshipping software
A dropshipping software solution can provide you with everything you need to run and grow your dropshipping store.
There are many dropshipping software solutions out there. Some are free to use (some offer free trials), whereas others are not.
Furthermore, some integrate directly with e-commerce platforms. So, depending on your chosen ecommerce platform, select the right free dropshipping software for your online store.
Important News: Oberlo is shutting down! Here are the best Oberlo Alternatives. Check our personal favorite and start selling in 5 minutes with an all-in-one platform.
For example, Oberlo is an excellent dropshipping software solution for you if you are using the Shopify platform.
It can help you automate certain processes and import products from AliExpress to your Shopify store. Plus, it offers a free trial.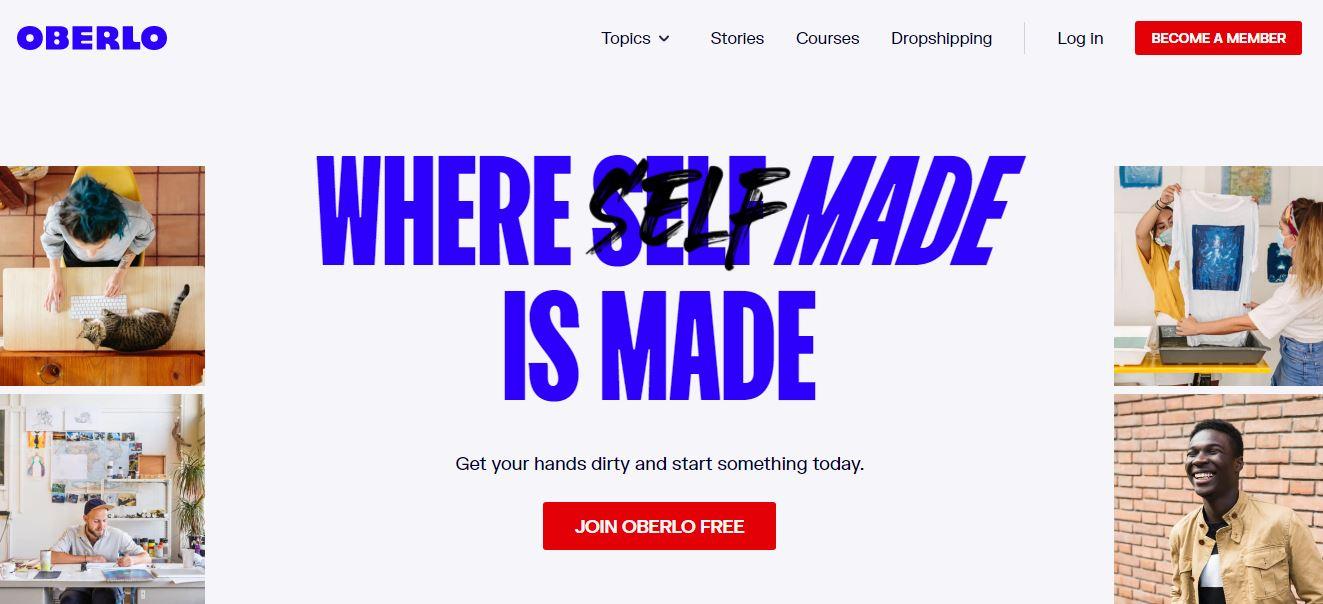 5. Promote your store with free (organic) marketing tactics
Regardless of what you sell, which e-commerce platform you use, and where you sell, you must promote your store and your products.
As already mentioned, it is ideal to use a combination of free and paid marketing tactics to build a solid dropshipping marketing strategy.
However, you can start with free tactics in the beginning.
And here are some of the most effective free marketing tactics to include in your dropshipping marketing strategy:
Search Engine Optimization or SEO is a complex topic. But you do not have to be an SEO specialist to increase organic traffic to your online store.
As a dropshipper, your main marketing objective should be to drive qualified website traffic to your store as well as convert that traffic into real customers. With a good SEO strategy, you can achieve that.
SEO is a free marketing tactic, and it will certainly take time to see results.
But with a good SEO strategy, you can optimize your dropshipping site around specific keywords to rank higher in Google Search results.
This means that with it, you can help people more easily to discover and access your products and online content. And you can do that without paying anything.
Although some of the best SEO tools are paid, others are free to use. Now, we will create a list of the free ones because you want to learn how to start dropshipping for free:
This is one of the best free SEO tools to measure and improve your site's performance.
Additionally, it helps you better understand your website visitors so that you can use those insights to take action.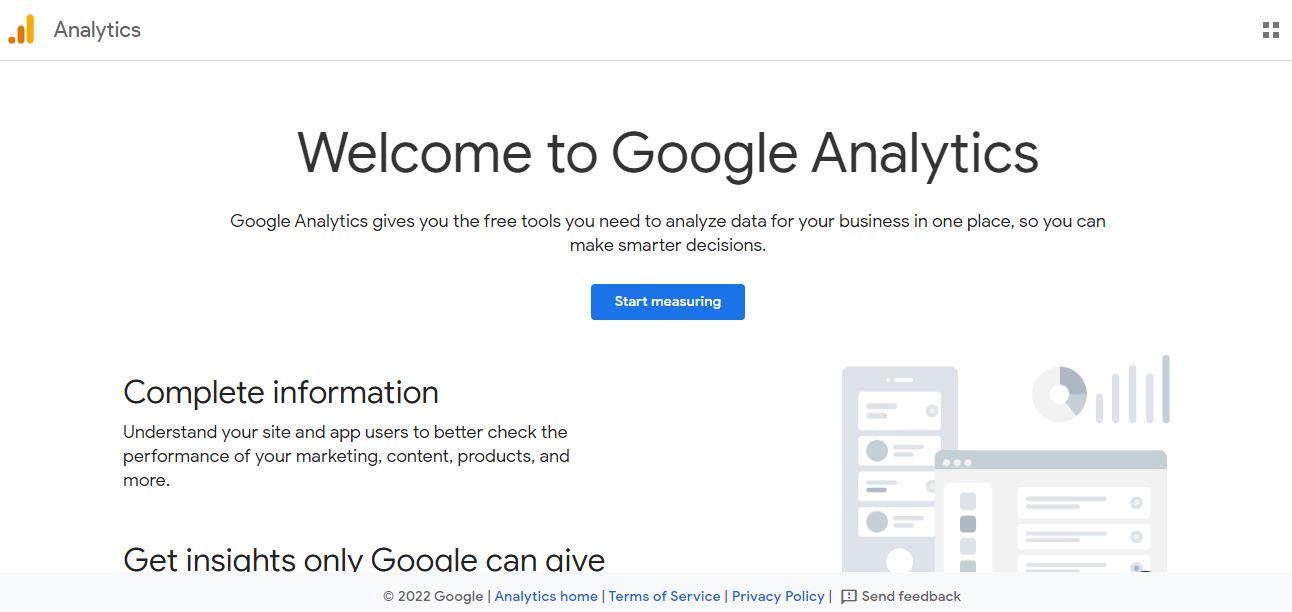 This is another free SEO tool. Still, it helps you get suggestions for keywords related to your products or online store, find out how many times a certain keyword is searched for within one month, figure out how your keywords fit into different categories related to your brand, etc.

Ubersuggest is a free powerful tool that gives you a long list of keyword ideas based on the main keyword you enter.
And this can help you come up with product ideas, find angles for marketing, etc.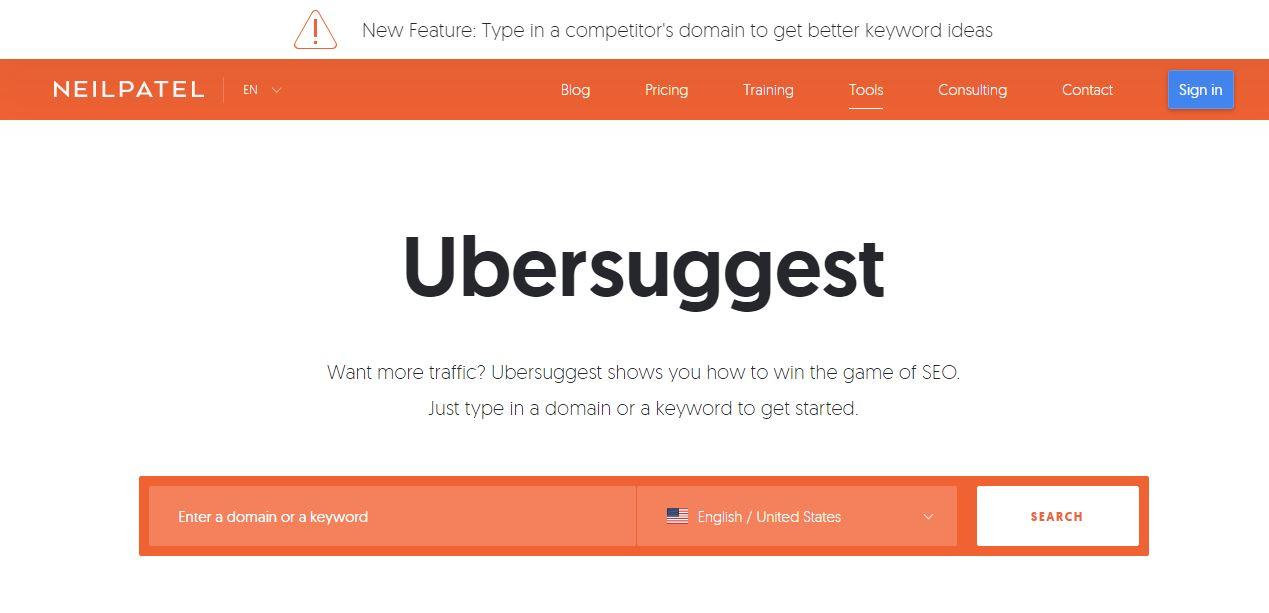 Starting a blog is one of the pillars of an excellent content marketing strategy.
When you have an awesome blog (with informative and relevant content + the right keywords) on your online store, you can easily acquire organic traffic.
In other words, people will visit your dropshipping store if your blog post ranks high in Google Search results.
Let's say you have a blog post that ranks for the query "Best winter boots for women".
If this is the case, you will probably attract a large number of visitors to your online store. And some of them will surely buy your winter boots.
But there is one thing to keep in mind when creating a blog for your online store. When writing your blog posts, you should not try to be aggressive and persuade people to make a purchase at any cost.
Instead, you should do your best to share informative content so that more people can make an informed purchase.
People don't associate churn with dropshipping businesses because they just think you buy Facebook ads or whatever ads and you obtain a customer, and that's it. But if you really focus on retaining customers, that's when you can make a lot more money dropshipping. –Mike Pavlou
Want to succeed in a world where everything people do is shared, liked, and tweeted?
Then, you cannot simply leave social media marketing as an afterthought for your dropshipping store.
That's why you must integrate social media into everything you do before you even get your new dropshipping store off the ground.
What's better, you can promote your brand on social media sites with no money.
So, it is advisable to create social media accounts such as an Instagram account, a Twitter account, a Facebook page, etc., before launching your business.
Limitations for Starting Dropshipping For Free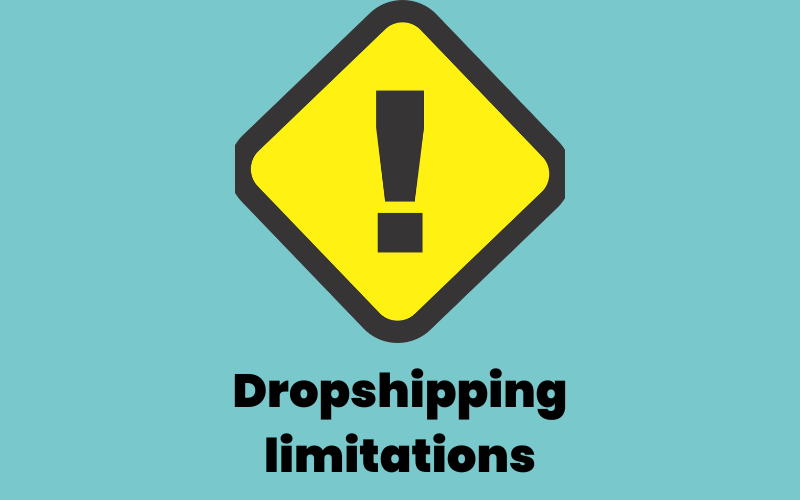 While starting a dropshipping business for free may be an appealing option, there are significant limitations to consider before starting a dropshipping business. Thus, here we will list the most common ones:
⚠️ Limited product selection
Many dropshipping suppliers require a membership fee or minimum order quantity, so you may have limited options for products to sell.
⚠️ Lack of control over the supply chain
Since you are not purchasing and holding inventory, you have less control over the quality and reliability of the products you are selling.
👉 Read about Dropshipping Fulfillment: Supply Chain and Fulfillment Process Explained.
⚠️ High competition
Dropshipping has become a popular business model, and there is a lot of competition in the market. This can make it difficult to stand out and attract customers.
However, you can always try to be a step forward. First, consider building a unique dropshipping marketing strategy.
⚠️ Difficult to build a brand
Without a physical product to sell and limited control over the supply chain, it can be difficult to build a strong brand identity.
However, there are a lot of dropshipping suppliers that offer branding options, like packaging using your logo and colors.
💡Branded Dropshipping: Is Branding Helpful When Dropshipping?
⚠️ Difficulty in providing good customer service
Without control over the shipping and fulfillment process, it can be difficult to provide good customer services, such as quickly resolving issues with orders or returns.
An interesting fact is that, according to Salesforce Research, almost 89% of customers will repeat their purchase because of the good customer service experience in all buying stages.
👉 Read about Customer Service for Dropshipping: The Ultimate Guide of 2023.
⚠️ Dependence on third-party suppliers
Your dropshipping business is only as good as your supplier, so if they have issues with inventory, shipping, or quality control, it can affect your business as well.
As you already know, dropshipping suppliers are the only ones that see the products that have been sent to your customers. So, in the end, if something goes wrong, you are the one that has to deal with unsatisfied customers.
👉 Find out How to Choose The Best Dropshipping Suppliers For Your Store?
The Cheapest Way To Start Dropshipping
As we already mentioned several times, this one might be easy to guess. Of course, you can start by using free or low-cost tools, build your dropshipping store using a free trial from a website builder, use free or low-cost marketing tools, dropshipping suppliers with free shipping or no MOQ, etc.
Before you dive in, check out what Dev Kumar (blogger) claims about Can I start dropshipping with $100-$200? 👇
Yes! You can even I started dropshipping with only 150$ . So i can guide you …

Don't Pay Shopify 29$ charge.😯

Your Main Focus Should Be Collecting More Money!

First of all, start with shopify 14 day free trial.😎

Second, prepapre your store within 24 hour..❤️

Third, Run Google Ads only for the next 10 days with daily budget of 10$ with CPC of 0.50–1$ …

Then, you'll start getting sales; once you realize that this store deserves your time🤔 , then keep your ads continue and yes also buy shopify plan!😀
First of all, it's important to note that while the initial start-up costs may be low, it takes time, effort, and marketing expertise to successfully run a dropshipping business and make a profit.
Dropshipping companies may turn a profit after just one day or even one sale. Other eCommerce models, however, might require a week, a month, or even a year, but it differs.
Thus, as a skilled dropshipping team, we would like to share our experience with you about how to start dropshipping for free or the cheapest way. 👇
Although we've worked with Magento, Bigcommerce, Woocommerce, and Shopify, We'd have to say that Shopify is now the greatest platform to utilize.
However, the greatest method to become successful is to put up an excellent marketing and advertising strategy and to leverage what our market refers to as perceived value. Fortunately, here we will discuss both.
Any online eCommerce shop may be promoted in the same way. No matter what kind of business it is or what dropshipping niche it falls under, the techniques remain the same when the matter is generating traffic.
🔸 Be Active on Social Media
You must first be engaged on social media. A long-term objective for your dropshipping business is to increase its followers, but you must begin right away.
The success of your dropship store depends greatly on developing brand recognition and brand trust.
To start, you should update your Twitter, Instagram, and Pinterest accounts daily (i.e. every day), and on your Facebook company page two to three times every day. Be consistent, don't miss any days!
If you want to post a blog on your website every day, even little messages or reposts of information created by others (sharing and giving credits), simply do it!
Using social media effectively requires adding value for your audience. So, don't limit your posts to promoting your business and its products. Also, you should post content about your dropshipping business, the products you offer, and trends in your industry.
First, you should make use of all the free marketing options. Also, you must generate sales in order to pay for the paid promotion in the next section.
However, it may take some time for the above-mentioned organic marketing campaigns on social media, blogs, etc. to take off and for sales to begin to flow in.
🔸 Boost your marketing with Instagram Influencers
Then, after you have some cash, consider using Instagram influencers. Contact all Instagram influencers and offer them a payment of $5 to $20 (or more for bigger influencers) to post about your products or services on their feeds.
This is crucial for spreading the word about your dropshipping business early on. This is one of the most cost-effective methods to get started, start receiving genuine visitors to your website and start making purchases.
🔸 Follow up with Facebook Re-targeting advertising
After that, use Facebook retargeting advertising. Make sure a Facebook Pixel is included on your website. Then, retarget all of those site visitors, as well as their friends. Keep in mind that, on Facebook ads, retargeting is quite affordable.
👉 Read about Facebook Ads for Dropshipping: The Ultimate Guide For Beginners.
Make Facebook LAA (look-alike audiences) Ads based on people who have placed your items in their basket, started the checkout process, and made a purchase. using Instagram users as a starting point
To contact website visitors who are logged into their Facebook accounts, use the abandoned cart messaging tools on Facebook.
Thus, if a user has had a chat conversation with someone, they are almost certainly going to make a purchase. You want people to keep coming back to your website, right?
This is how any kind of online dropshipping business should be promoted. You must use all of the techniques we discussed above, not just one or two.
Also, your rivals are doing everything and doing it well. So, keep this in mind if you want to compete.
As a result, you'll see a growing pattern if you remain consistent with all of your marketing efforts.
🔸 Establish a perceived value
While it's true that certain niches are far more competitive and crowded than others, y our profitability won't necessarily be affected by it.
First, research is an important element. There are always products in any niche that will be more profitable than other products, especially if the product is trendy.
Next, how much value you provide to items affects a lot of what is involved in dropshipping sales. How impressive the explanation and the image are. How much value can you assign to the object?
For example, consider two retailers (Retailer no.1 and Retailer no.2) who offer the same product from AliExpress at the same price, let's say $3.99 with ePacket delivery.
👉 Retailer no.1 – This vendor utilized the generic supplier description and the "stock" photo. Also, he/she followed all the fundamental steps to focus on distributing mass-produced goods. Thus, this retailer suggested retail price is $10.59 + free delivery. Therefore, the profit he gains is $6.60 before transaction costs.
👉 Retailer no.2 – This vendor placed a personal order and used his own images. The time they spend crafting a unique description, adding coupon codes, security site stamps, warranty/guarantees, etc. is also around two minutes. This seller's regular price is $59.99, but they discounted it to $29.59 with free delivery. Thus, he/she gets a profit of around $30.4.
Thus, retailer no.2 gets higher profit, by improving its appearance, adding more details, and making it appear more professional—all at a higher (before-discount) price. In other words, he/she added additional value to customers!
Overall, being smart and concentrating on the areas that will yield the most return on investment are the keys to beginning a profitable dropshipping business on a tight budget.
Thus, you may create a successful dropshipping business without spending a fortune by employing free or inexpensive technologies, locating affordable suppliers, starting small, and more importantly, leveraging social media and other marketing strategies.
How to start dropshipping for free – The bottom line
Setting up a dropshipping business with no money might seem like a daunting task.
However, with a little planning and guidance, it is perfectly feasible.
And we hope that this guide can teach you how to start dropshipping for free.
Find winning dropshipping products & spy on your competitors
Minea analyses all online advertising to help you find the best products to launch, and the best creatives in your niche in just a few clicks.
Use coupon: DROPSHIPPING30 and get a 30% discount
💡Try Minea For Free
FAQ: Starting Dropshipping With No Money?
Is it possible to start such a business with no money?
Yes, starting dropshipping for free is definitely possible.
How to Dropship with No Money?
You can use a free platform like Shopify Lite, sell your dropshipping products over social media, use free marketing tools, website builder free trial, etc.
But first, check – Is Shopify Legit for Selling?
What Are the Best Free Dropshipping Suppliers?
Some of the best free dropshipping suppliers are CJ Dropshipping, AliExpress, Modalyst, DSers, Salehoo, etc.
How to Create a Free Dropshipping Store?
You can use some website builders' free trials, like Weebly, Spocket, GetResponse, PageFly, etc.
How to Drop Ship for Free with AliExpress?
If you want to know how to start dropshipping for free with AliExpress, follow these steps:
Sign up for a free AliExpress account: Go to the AliExpress website and click on the "Sign In" button in the top right corner. Follow the prompts to create a new account.
Choose a product to sell: Browse through the products on AliExpress and choose a product that you want to sell. Make sure to select a product that is in high demand and has a good profit margin.
Find a supplier: Once you have chosen a product, look for a supplier that offers the product at a competitive price. You can use the "Contact Supplier" button to get in touch with the supplier and ask about their dropshipping policy.
Set up your online store: To start selling the product, you will need to set up an online store. There are many options for setting up an online store, such as using a platform like Shopify or setting up a website on your own.
Add the product to your store: Once you have your online store set up, you can add the product from AliExpress to your store by creating a new product listing. Make sure to include a detailed product description and high-quality images.
Process orders: You will receive a notification when an order is placed in your store. You can then log in to your AliExpress account and place the order with the supplier. Make sure to include the customer's shipping information when placing the order.
Ship the product to the customer: The supplier will ship the product directly to the customer, and you don't have to worry about handling or storing inventory.
Can a Dropshipping Agent Help Me Find Free Dropshipping Suppliers?
Yes, dropshipping agents like Dropshipping.com which have huge supplier databases, also give you information about free dropshipping suppliers and how to start dropshipping for free with them.
Are There Some Good Free Dropshipping Courses or Guides?
There are various websites like Dropshipping.com that have free blog articles that teach you how to be a dropshipper for free, how to start a dropshipping business for free, etc.
How to Offer Free Shipping If You Dropship with No Money?
If you are dropshipping and want to offer free shipping to your customers but don't have the financial resources to cover the cost of shipping yourself, there are a few options you can consider:
Increase your product prices: One way to cover the cost of free shipping is to slightly increase the price of your products. This can help offset the cost of shipping and still allow you to offer free shipping to your customers.
Offer free shipping on orders over a certain amount: You can also offer free shipping to customers who make a minimum purchase. This can help encourage customers to spend more and offset the cost of shipping.
Use a third-party fulfillment service: Some fulfillment services, such as Amazon Fulfillment or ShipBob, offer free shipping options for orders over a certain amount. If you use one of these services, you may be able to offer free shipping to your customers without incurring the cost yourself.
Negotiate shipping rates with carriers: If you are using a particular carrier to ship your products, you may be able to negotiate a lower shipping rate. This can help reduce the cost of shipping and allow you to offer free shipping to your customers.
Offer free shipping as a limited-time promotion: Finally, you could consider offering free shipping as a limited-time promotion to help drive sales and attract new customers. This can be a good way to test the waters and see how your customers respond to free shipping before committing to it on a permanent basis.
Can I Dropship Private Label or White Label Products for Free?
while it may be possible to find some suppliers who offer dropshipping services for private label or white label products, it is not typically a free option.
In order to dropship private label or white label products, you will typically need to pay for the products upfront and then mark up the price to cover your costs and make a profit.
What's the Difference Between Wholesale and Free Dropshipping?
Wholesale and free dropshipping are two different business models that are commonly used in e-commerce. Here is a brief overview of the key differences between these two models:
👉 Wholesale:
In the wholesale model, a business purchases products in bulk from a manufacturer or supplier at a discounted price.
The business then sells these products to retailers, who in turn sell them to the end consumer.
The wholesale model allows businesses to purchase products at a lower price and then mark up the price when they sell the products to retailers.
This model requires businesses to have a physical inventory of products, which they need to store and manage.
👉 Free dropshipping:
In the free dropshipping model, a business does not need to purchase any products upfront.
Instead, the business acts as a middleman, promoting and selling products on behalf of a manufacturer or supplier.
When an order is placed, the manufacturer or supplier is responsible for fulfilling the order, including packaging and shipping the product directly to the end consumer.
The business earns a commission on each sale made through this model.
The free dropshipping model does not require businesses to have a physical inventory of products, which can make it a more cost-effective and flexible option for some businesses.
Both wholesale and free dropshipping can be successful business models, but they are suited to different types of businesses and goals.
The wholesale model may be a better option for businesses that want to have more control over their inventory and pricing, while the free dropshipping model may be a good choice for businesses that want to get started quickly and with minimal upfront investment.
👉 See the difference between Dropshipping and eCommerce.
Are There Free Dropshipping Suppliers in the USA?
There are free dropshipping suppliers in the USA, and some of them are AliDropship, Wholesale2B, SaleHoo, Dropified, Oberlo, Wholesale Central, etc.