Are you looking to step up your TikTok advertising game in 2023? With the platform's explosive growth, it's no wonder that businesses are flocking to advertise on TikTok. But with so many options available, how do you know which TikTok ad spy tools are worth your time and money?
To help you navigate the world of TikTok advertising, I have compiled a list of the 10 best ad spy tools for 2023. These tools will provide you with valuable insights and data to optimize your TikTok ad campaigns and stay ahead of the game.
So, let's dive in and discover the top ad spy tools that will revolutionize your TikTok advertising strategy.
Top 10 TikTok Ad Spy Tools
TikTok has become one of the fastest-growing social media platforms, with millions of users worldwide. Also, Based on research, the typical person spends 52 minutes every day on TikTok. As more businesses recognize the potential of TikTok for advertising, the need for effective ad spy tools has also increased.
💡 Tip: Check out the 100+ TikTok Bio Ideas For Your Dropshipping Business In 2023.
In this article, I will introduce the top 10 TikTok ad spy tools that can help you stay ahead of the curve in your marketing efforts. So, let's dive in and explore these powerful tools!
Minea is widely recognized as the leading solution for uncovering winning dropshipping products and ads.
This has resulted in its widespread usage by dropshippers, marketers, and influencers, primarily due to its intuitive interface, compatibility with various social media platforms, and cost-effective pricing options.
Additionally, this ad spy tool proudly offers the largest compilation of e-commerce ads for Facebook, Pinterest, and Minea TikTok ads, establishing itself as the ultimate tool for spying on advertisements.
Also, to save you time and not repeat information, we can certainly say that thanks to the various filters, sort-by options, and data analytics they provide, you will have no problem finding your winning product!
Key Features:
Minea Facebook & Instagram Ad Spy
Minea Influencer Marketing
Minea TikTok Ad Spy
Minea Pinterest Ad Spy
Minea Shops
Pricing:
The platform offers a forever free plan, and the pricing plans start at $49/month.
👉 Check out my in-depth Minea Review: Find Winning Products & Spy On Ads For Free.
PipiADS has become a sensation in the advertising industry as an exceptional TikTok ad analysis tool. It has gained immense popularity among advertisers and eCommerce marketers due to its extensive range of features and advantages.
This dropshipping tool empowers users to uncover profitable products and evaluate competitors' advertisements, providing them with a competitive advantage in the market.
Additionally, PipiADS grants access to a vast storage of ad creatives, enabling you to gain valuable insights into successful advertising strategies.
Also, in the rapidly evolving online business world, establishing brand visibility is critical, and PipiADS recognizes this. That's why it offers indispensable tools and functionalities to assist businesses in thriving within the digital landscape.
👉 Read my FULL PiPiADS Review 2023: Is This The No. 1 TikTok Ad Spy Tool?
Key Features:
Winning Products
Product Search
Advertiser Search
Etsy Product
Pricing:
PiPiAds offers four pricing plans, starting at $77/month. Plus, PipiAds offers a free forever plan, but there are lots of restrictions on each feature.
However, you have a 3-day Trial at only $1 for each of the pricing plans.
Bigspy is an incredibly powerful tool for spying on ads. This TikTok ad spy tool actively monitors advertisements, gathers the most successful ones, and makes them accessible on its advertising marketing platform.
Hence, by using the BigSpy software, you can gain valuable insights into your competitors and understand what strategies are working for them. Furthermore, the BigSpy tool enables you to stay up-to-date with daily trends and thoroughly analyze the performance of various advertisements.
Plus, you can conduct advanced searches within the database to uncover popular ads and discover compelling trending products to sell.
When it comes to search filters and criteria, BigSpy provides its users with the ability to refine their searches based on factors such as social interaction, language, e-commerce platform type, creative type, and numerous other parameters.
Key Features:
Huge database of 2 million ads
Displays advertisements from over six prominent social media platforms
Includes a powerful search feature
Provides comprehensive information from multiple perspectives
Offers a vast array of creative options
Endorsed by over a thousand individuals
Covers more than nine platforms, including Facebook, Instagram, TikTok, and numerous others.
Pricing:
This tool pricing plan starts at only $9/month. However, their more advanced plans pricing are around $99-$249 per month.
If you have a larger budget for dropshipping, AdSpy is the most effective TikTok ad spy tool available for product research.
👉 Read my comparison: Dropispy vs Adspy: A to Z Comparison & Expert Review For Dropshipping.
AdSpy offers an impressive range of features, advanced filters, and an extensive database to search from. While it may have a higher price tag, it delivers exceptional results.
AdSpy boasts an incredibly vast database that provides valuable insights into social media ad data from a multitude of ads.
Furthermore, AdSpy is a reliable platform that provides crucial data, allowing users to expand their store or discover profitable products to offer in the future.
Despite the wealth of information available, AdSpy remains a user-friendly tool that can be easily mastered by anyone.
Key Features:
Extensive Data for Searching
Highly Accurate Search Results
Enhanced basic search functionality
Ability to search through comments
Precise demographic information
Affiliate Search capability
Fast and intuitive interface
Pricing:
AdSpy is a higher-priced option compared to other tools on my list, with a monthly cost of $149.
DropiSpy is an exceptional TikTok ad spy tool for conducting product research that caters to both beginners and experienced users. It boasts a user-friendly interface and remarkable efficiency.
What sets this tool apart is its continuously expanding collection of numerous dropshipping advertisements, allowing users to effortlessly discover profitable products.
Additionally, it provides incredibly helpful customer support, distinguishing itself from other product research tools in the dropshipping industry.
Moreover, DropiSpy stands out as one of the few dropshipping product research tools that provide real-time data.
Key Features:
Extensive product database
Abundance of real-time data
Top-ranked Dropshipping stores
Vast Ad Database
Accurate Search and Filtering
In-depth analysis of Dropshipping Stores
Exceptional Ad Data
Pricing:
DropiSpy offers three pricing options, starting at $29.90 per month. They also provide a free plan.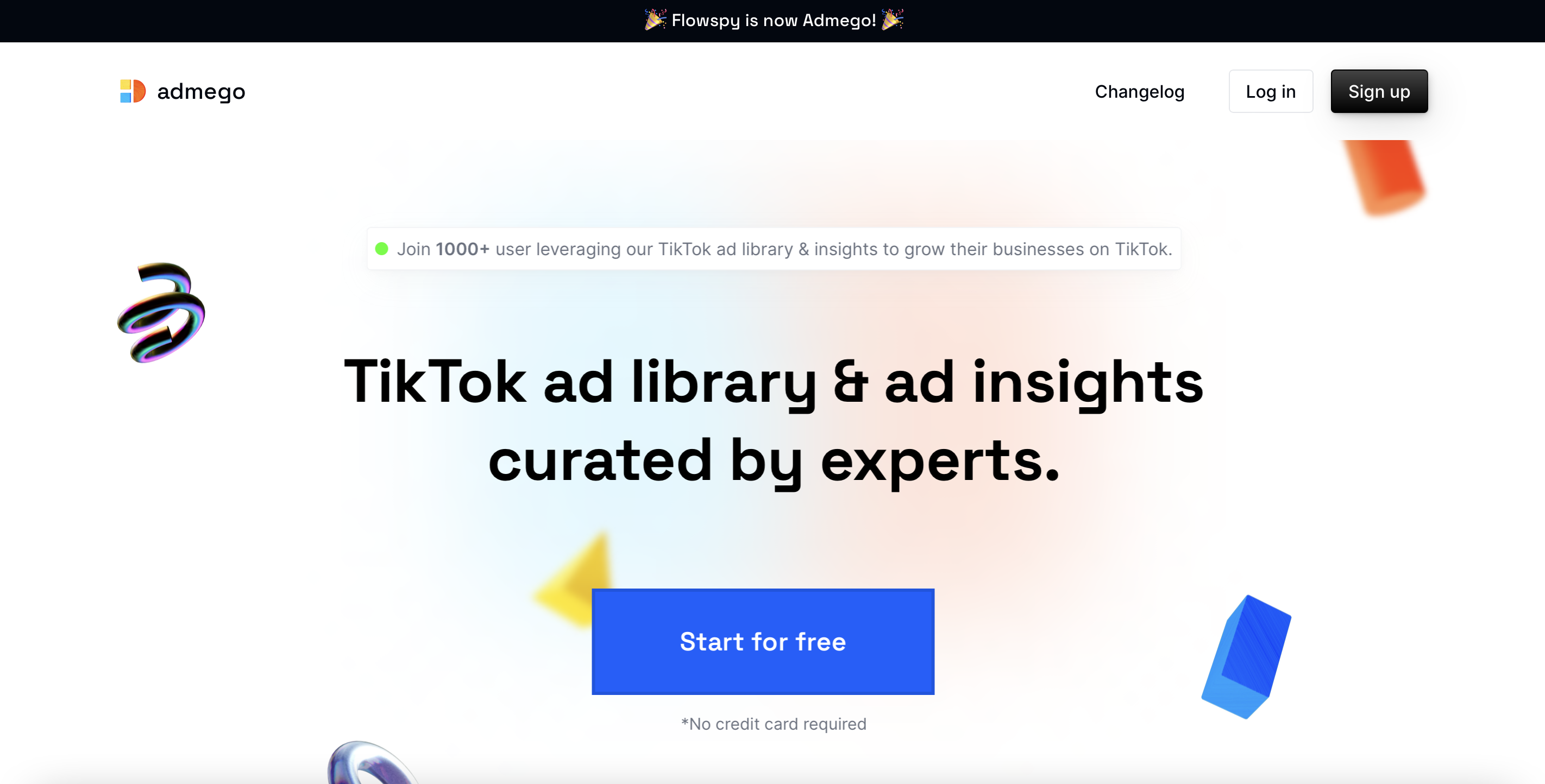 In my search for the perfect TikTok ad spy tool, I came across Admego (formerly FlowSpy), and let me tell you, it's a game-changer. 
This TikTok ad spy tool assists advertisers in swiftly analyzing and uncovering video creations on TikTok. So, if you want to witness how it appears on TikTok, you will also be provided with a direct hyperlink to the original video and publisher.
💡Tip: Check out the 10 Best Dropshipping Video Ads Service For Aspiring Dropshippers.
What's more, FlowSpy has a vast database that actively refreshes daily with up-to-date, comprehensive insights regarding the most recent trends and innovative strategies from renowned influencers and prosperous TikTok advertisers.
Also, you can refine your search outcomes by inputting specific keywords, advertiser URL, domain, advertiser name, and target country. Moreover, you can also check on impression count, like rate, and the number of likes and comments an advertisement has garnered.
Additionally, it provides a range of features such as ad analysis, product analysis, audience analysis, and competitor analysis.
Key Features:
Daily-Updated Database
Winning Video Creatives
Comprehensive Ad Statistics
Advance Filtering
Notifications on Competitor Changes
Pricing:
Flowspy offers a 7-day free trial. Also, there are three pricing plans starting at $49/month.
PowerAdSpy is a powerful TikTok Ads spy tool designed specifically for dropshippers and e-commerce business owners. With its comprehensive features, it provides valuable insights to enhance marketing campaigns.
One of the standout features of PowerAdSpy is its extensive database, boasting 6 million ads from over 15 countries. Updated daily, it allows users to view both current and past ads, along with detailed analytics results.
Not limited to TikTok ad spy, PowerAdSpy is also compatible with other popular social media platforms like Facebook, Instagram, Google, and YouTube, making it an all-in-one tool for advertisers.
With its large database, daily updates, and multi-platform compatibility, PowerAdSpy is a go-to choice for dropshippers and e-commerce business owners looking to optimize their marketing campaigns and stay ahead of the competition.
Key Features:
Cloud-based platform
Filter By Ad Positions
Bookmark The Best Ads
Powerful Search Algorithm
Download Landing Pages
Real-Time data available
Offers a crystal clear visibility of ad analytics
Data Of Millions Of Ads From 100+ Countries
Pricing:
This TikTok ad spy tool offers 6 pricing plans, starting at $49/month. However, they also got promotions to use the app for 3 days at discounted prices, like $7.
AdPeriscope is a powerful TikTok ad spy tool that stands out for its advanced data sorting possibilities.
With a comprehensive set of creatives, it offers a wealth of advertising inspiration for marketers. Additionally, AdPeriscope is considered the best landing page ripping tool in the market, providing valuable insights into competitor strategies.
Thanks to its simple and advanced search options, finding and analyzing competitor's ad campaigns becomes effortless. With AdPeriscope, marketers can stay ahead of the game and make informed decisions for their own advertising efforts.
Hence, you can sort your data by duration, ad strength, date seen & Alexa rank of the landing page. Also, you can search banners and ads by keywords. We scan all the banners for text so that it is completely searchable.
Key Features:
Provides advanced data sorting options
Offers a comprehensive set of creatives
Best landing page ripping tool in the market
Simple search and advanced search are both options
Best landing page ripping tools in the market
Pricing:
This TikTok ad spy tool costs $89.90 per month.
Anstrex is regarded as a comprehensive tool for monitoring all aspects of your competitors' marketing efforts. It is packed with features that assist CPA marketers and affiliates in uncovering new sources of traffic, identifying top-performing creatives, and evaluating niche trends quickly.
With Anstrex, one can easily master the techniques of Native Advertising and create impactful campaigns. By utilizing Anstrex, you can save significant research time as it provides access to more native ad networks than any other solution available.
The standout feature of this program is its extensive database, which currently holds over 10 million native advertisements and caters to more than 15 countries.
Furthermore, Anstrex enables you to uncover marketing secrets and save money while attracting a growing number of visitors.
Key Features:
Three software in one platform
Supports FTP services
Chrome Extension Available for this platform
Save Countless Hours On Research
Quickly Build Awesome Landing Pages
Pricing:
There are three pricing options for Anstrex:
Anstrex Dropship- Free
Anstrex Native – $69.99
Anstrex Push – $89.99
However, it is important to note that investing in this tool may not be worthwhile if you are not running multiple campaigns or have not made substantial investments. Therefore, it is advisable to carefully consider your circumstances before making a decision.
SpyFu is a valuable SEO platform used by marketers to conduct domain and keyword analysis. Thus, it serves as an excellent resource for small-scale marketers, eliminating the need to sift through countless web pages.
By using this tool, marketers can effortlessly track the rankings of specific keywords and easily identify their competitors online. Also, it simplifies the process of researching PPC campaigns and, most notably, provides comprehensive information regarding the backlinks used by competitors.
Moreover, in terms of keyword research, SpyFu presents similar keywords along with their search volume, as well as keywords that are in the form of questions.
Furthermore, SpyFu not only functions as a Google Ads Spy Tool but also offers the ability to spy on various social media platforms, including TikTok Ad Spy, Facebook Ads Spy, YouTube Ads Spy, and Twitter Ads Spy.
👉 Also, check out the Top 15 Best Facebook Ad Spy Tools For Dropshipping.
Key Features:
SEO Research
PPC Research
Keyword Research
Backlink Research
Keyword Rank Tracking
Competitive Analysis
Pricing:
This TikTok ad spy tool offers three pricing plans, starting at $39/month, and it is up to $299/month.
Also, if you are dissatisfied with your purchase, you have the option to benefit from a 30-day refund policy, with no need to provide any explanations or answer any inquiries.
Discover top dropshipping suppliers of original US/EU products
You're 2 minutes away from building your ecommerce empire
No credit card required. No commitment.
Get started for free
What Is A TikTok Spy Tool?
A TikTok Ad Spy Tool is a powerful tool that helps dropshippers on the platform to analyze and research successful TikTok ad campaigns.
This tool is essential for dropshippers because it allows them to gain valuable insights into what works and what doesn't in terms of advertising strategies on TikTok.
Hence, by using a TikTok Spy Tool, you can streamline your product research process by accessing information about top-performing ads and posts. This enables you to identify popular products and effective marketing campaigns, giving you a competitive advantage in your dropshipping business.
How To Choose The Best TikTok Ads Spy Tool?
When it comes to advertising on social media platforms, TikTok has emerged as a powerful player. With its growing popularity and massive user base, dropshippers are increasingly turning to TikTok to promote their marketing campaigns and showcase their products. So, why not give it a try?
So, here I will share with you my tactics for choosing the best TikTok ad spy tool to optimize your advertising efforts and achieve better results.
🔸 Search Filters
Search filters play a crucial role in optimizing the search for specific ads. These filters allow you to narrow down your search based on specific criteria and requirements.
So, for my TikTok ad spy tool, I use Pipiads. Hence, I will show you how a set my filters. 👇
Firstly, I select the "Country Region" option, which in my case is the United States, and opt for Shopify as my preferred platform. Then, I typically refrain from selecting any specific category in the "Category" section, as I haven't yet determined a particular dropshipping niche. Therefore, my intention is solely to explore the current popular selling items.
However, you can choose your dropshipping niche if you know exactly what you are searching for.
Moreover, in terms of "Ad Impression", I typically establish a moderate range, between 10,000 to 800,000 impressions. Consequently, I have no intention of competing with brands that have already established themselves and have impressions exceeding 50 million or those that invest a significant amount in advertising. In fact, I am seeking a product that is relatively uncompetitive.
Moving on, the "Like Rate" holds great significance in my perspective as it indicates whether customers have a favorable opinion of the product. Therefore, I strive to maintain a like rate that surpasses 2%.
Additionally, I will designate a timeframe of approximately 30 days and require products to have a minimum of five ads.
Next, we consider the pricing of the product. Personally, I prefer to set the price above $30 as I believe that TikTok products below this range do not yield satisfactory profit margins.
So, whether it's exploring successful campaigns in a specific industry or analyzing ads with a high reach in a particular region, these filters provide valuable insights for optimizing advertising strategies on TikTok.
🔸 The volume of ads
So, this is the most important factor when searching for TikTok ads. The volume of ads collected plays a crucial role. The more ads a tool has in its database, the higher the chances of finding winning products.
Thus, this is because a larger volume of ads provides a more comprehensive view of successful campaigns and advertising strategies. Also, with a larger database, you have access to a wider range of products and marketing campaigns, allowing for more opportunities for product discovery.
For example, Minea holds almost all the ads on all the networks. On the other hand, AdSpy has over 76 million ads in its database. These ads are published by over 12 million advertisers in 88 different languages
🔸 Price & Special Offers
When it comes to pricing and special offers, TikTok ad spy tools have different plans to cater to various needs and budgets. Some tools offer free trials, allowing you to test out the features before committing to a subscription. These trials are usually limited in terms of time or features but can provide a good overview of the tool's capabilities.
For example, PipiAds, Minea, or Dropisy offer a free forever plan. On the other hand, FlowSpy offers a 7-day free trial. So, you can take advantage of this and see whether the app fits your needs.
Also, most tools have tiered pricing plans, with different levels of access and features depending on the subscription level. These plans often come with a monthly subscription fee, which can range from affordable options for beginners to more comprehensive plans for advanced users.
So, you can always turn from more basic features to a subscription plan that includes advanced filters, additional data insights, and exclusive access to certain ad libraries or creative resources. Hence, you can start small, grow, and use more advanced options of your TikTok ad spy tool.
For example, what I found interesting is that PowerAdspy has promotions on all of its pricing options for 3 days at discounted prices, for something like $1 to $7. 👇
🔸 Ad data available
Next, TikTok ad spy tools provide valuable insights by offering measurable data on various metrics. These metrics include views, social engagement, posting date, and impressions. However, these data vary depending on the platform you use.
Having access to such data is highly significant, as it allows you to make informed decisions about your marketing campaigns.
For example, PipiAds gives you data about ad impressions, ad costs, days, number of ads, likes, ad schedule, and more.
Additionally, you have the ability to monitor the advertiser's website traffic, and its ranking on a global, country, and category level. Furthermore, you gain valuable insights regarding the number of visits over a period of time, specific regions, platforms, or placements. 👇
Frequently Asked Questions
1. How do I spy on TikTok ads?
When it comes to spying on TikTok ads, there are several TikTok ad spy tools available that can provide valuable insights into the strategies and products being promoted.
Hence, you can use tools like PipiAds, Minea, and BigSpy to search for currently running TikTok ads and gather information about the products being promoted.
So, by using these tools, you can identify trending products and evaluate the success of various advertising campaigns.
2. How do ad spy tools work?
TikTok ad spy tools work by monitoring and gathering information from various advertising networks and social media platforms, including TikTok.
Hence, they collect details on ad creatives, ad copy, and targeting strategies. By analyzing this data, you can gain valuable insights into what is working well in the market and adapt your own advertising efforts accordingly.
3. How do I find competitors on TikTok ads?
If you want to find competitors on TikTok ads you can use TikTok ad spy tools. These tools are designed to help marketers dig deep into the world of TikTok advertising and uncover valuable insights about their competitors' strategies.
One of the top TikTok ads spy tools is Pipiads. With its advanced features and comprehensive data, Pipiads allows you to explore the TikTok ads library and analyze top-performing ads. Another popular tool is Minea, which provides powerful search capabilities and advanced filters to help you find and analyze successful TikTok campaigns.
These tools, along with others in the market, are key to uncovering valuable information about your competitors' advertising efforts and shaping your own marketing strategy on TikTok.
4. Can I Find TikTok Ads Through TikTok?
Unfortunately, direct access to TikTok ads is not available within the app. However, you can still uncover and analyze TikTok ads by utilizing ad spy tools and making use of the Discover tab.
5. Why Should You Use TikTok Ads Spy Tools?
TikTok Ads Spy Tools are the perfect tool for anyone in the advertising industry. They provide a wealth of information to help you find winning products, analyze competitors, and optimize your ads. By utilizing these tools, you can stay ahead of the competition and achieve remarkable success in your advertising campaigns.
Find winning dropshipping products & spy on your competitors
Minea analyses all online advertising to help you find the best products to launch, and the best creatives in your niche in just a few clicks.
Use coupon: DROPSHIPPING30 and get a 30% discount
💡Try Minea For Free
Conclusion
TikTok ad spy tools are a game-changer for TikTok advertisers and e-commerce marketers. These tools provide invaluable insights and data that can greatly enhance advertising campaigns. By using these tools, you can find winning products and analyze competitors' strategies, gaining inspiration and avoiding common pitfalls.
Moreover, the advanced filters and comprehensive data offered by TikTok ad spy tools enable you to make data-driven decisions and optimize your advertising strategies. This allows for continual refinement and improvement of campaigns, resulting in better engagement rates, conversion rates, and click-through rates.
In this article, I provide you with valuable insights about the best 10 TikTok ad spy tools and their features and pricing options.
So, don't miss out on the benefits of TikTok ad spy tools – start using them today and watch your advertising efforts thrive.