How To Advertise Your Dropshipping Store For Free?
by
Martin -
Martin is an agency owner and SaaS projects maker. His work is featured in the leading ecommerce brands, magazines and podcasts. Talks about Marketing, Business Development, and Growth Hacking!
CO-founder at Dropshipping.com
And every year, despite "doing their best", many drop shippers fail to retain customers and generate more sales. The main reason for this is that many overlook certain elements crucial to a dropshipping marketing strategy—or they leave them out completely.
For example, a dropshipping business store owner selling clothing online decides to include a dropshipping marketing strategy as part of their business growth plans.
Their marketing strategy involves things like paid advertising and social media marketing.
The store owner thinks that this will help them turn leads into loyal customers and boost revenue. They are not aware that their marketing strategy is incomplete. But such gaps in the strategy can prevent them from attracting new and retaining existing customers.
Can You survive Without Marketing Your Dropshipping Store?
Obviously, a dropshipping business cannot survive for long without a good marketing strategy. So, whether you have just set up your dropshipping store or you are thinking about entering the market, you must develop one.
You cannot start a dropshipping business and believe that by simply adding products to your store, they will sell themselves. Making money in an e-commerce business is harder than you may think.
We do not want to scare you off. We just want to point out the importance of a solid marketing strategy in making your dropshipping business more successful.
Let's make a break and learn more about the concept of Reverse Dropshipping
Lifetime deal: Get all-access to everything on Dropshipping.com
Access all DSCOM features, resources, courses, live workshops, discounts, winning products, weekly deep dives, directories and all future updates under all-in-one dropshipping HUB.
DROPSHIPPING IS A REAL BUSINESS, DON'T DO IT ALONE. 4553 MEMBERS ALREADY JOINED. YOU CAN PAY OFF YOUR SMALL INVESTMENT WITH JUST 2 SALES ON YOUR STORE.
Grab the deal before it's gone
Dropshipping Marketing – The real way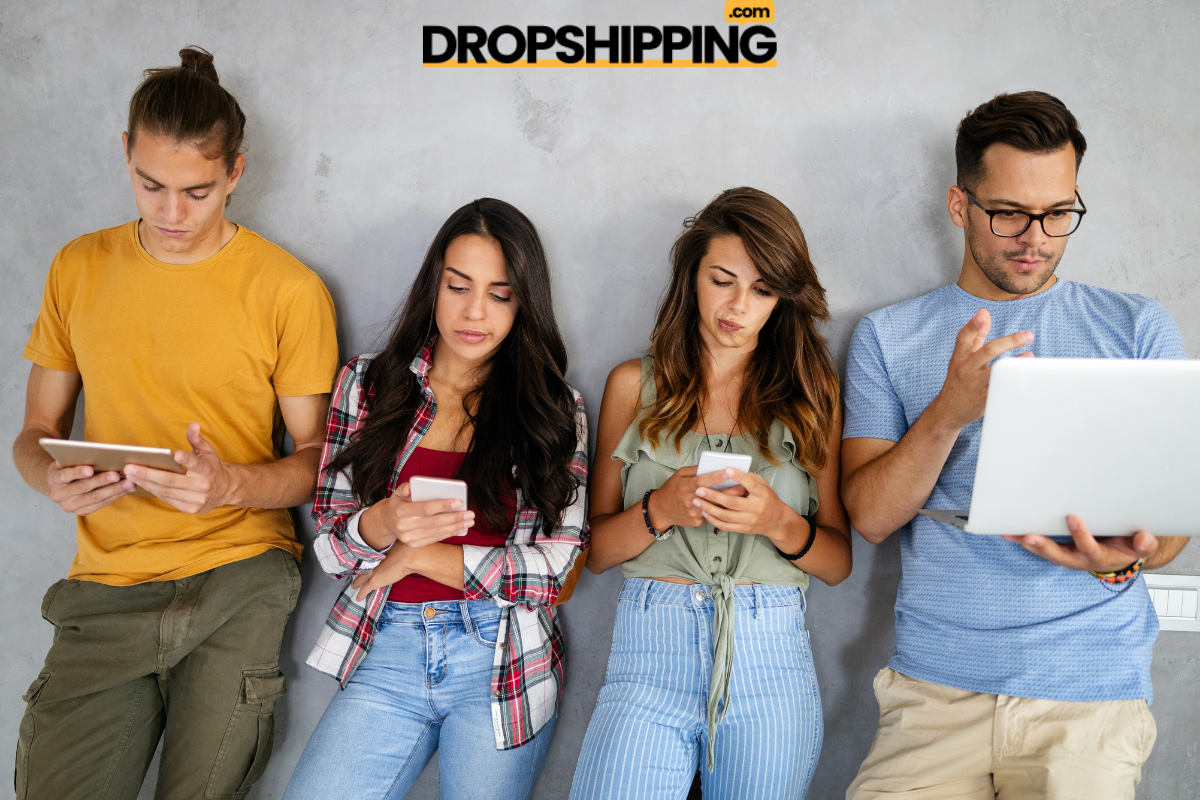 As you already know, the basic idea behind a dropshipping business is that, as an aspiring dropshipping entrepreneur, you do not have to keep any inventory or ship products to your customers.
The primary thing you need to focus on is advertising and marketing. This can help you find the customers who need your products and persuade them to buy from your store.
First and foremost, you need to develop a solid dropshipping marketing strategy that speaks to your audience. And even if your budget is tight, you need to know how to promote your dropshipping store for free.
In this guide, we are going to discuss some powerful organic tactics for dropshipping that cost you time, not money.
In this article, we will cover things like:
Paid vs. organic marketing

Why is organic marketing a long-term strategy?
6 dropshipping free marketing tactics to grow your store organically
Paid vs. Organic Dropshipping Marketing Tactics
With consumers being active on many different platforms, you should decide where, when, and how to effectively reach them. You need to decide how to promote your dropshipping store and get people to notice your start-up.
When it comes to digital marketing, there are multiple types of marketing strategies out there. However, the core of each one falls under one of two categories: paid or organic.
In today's digital era, you have probably heard the terms, 'paid' and 'organic'. Before creating the best marketing strategy for your business, you need to get a better understanding of both terms.
It can help you understand when to use one over the other as well as how to leverage both in an effective integrated marketing campaign. So let's discuss the difference between them.
As its name suggests, paid marketing allows you to pay for online traffic. To put it simply, this approach allows you to target, reach, engage, and convert your audience directly and fast.
Technically, you are paying for ads to directly reach your target audience. And it is one of the fastest ways to help potential customers discover your offerings and brand.
However, it may offer only a temporary boost of revenue, which comes at the cost of paying for ad presence. Plus, you may be interrupting your audience with content they do not always want by using paid marketing.
Organic marketing refers to the use of authentic and value-based tactics to drive website traffic naturally. This approach allows you to promote and grow your business with no money.
The aim of this approach is to bring people to your store by providing what they need instead of directly advertising to them.
In addition, organic marketing is one of the most powerful methods to build an authentic audience for your products. By using this approach, you are actually presenting insights and solutions that align with your audience's goals and pain points so they are more likely to buy from your store.
Unlike paid marketing, organic marketing takes longer to deliver results. However, it is a long-term strategy that can help your dropshipping business maintain its positive results.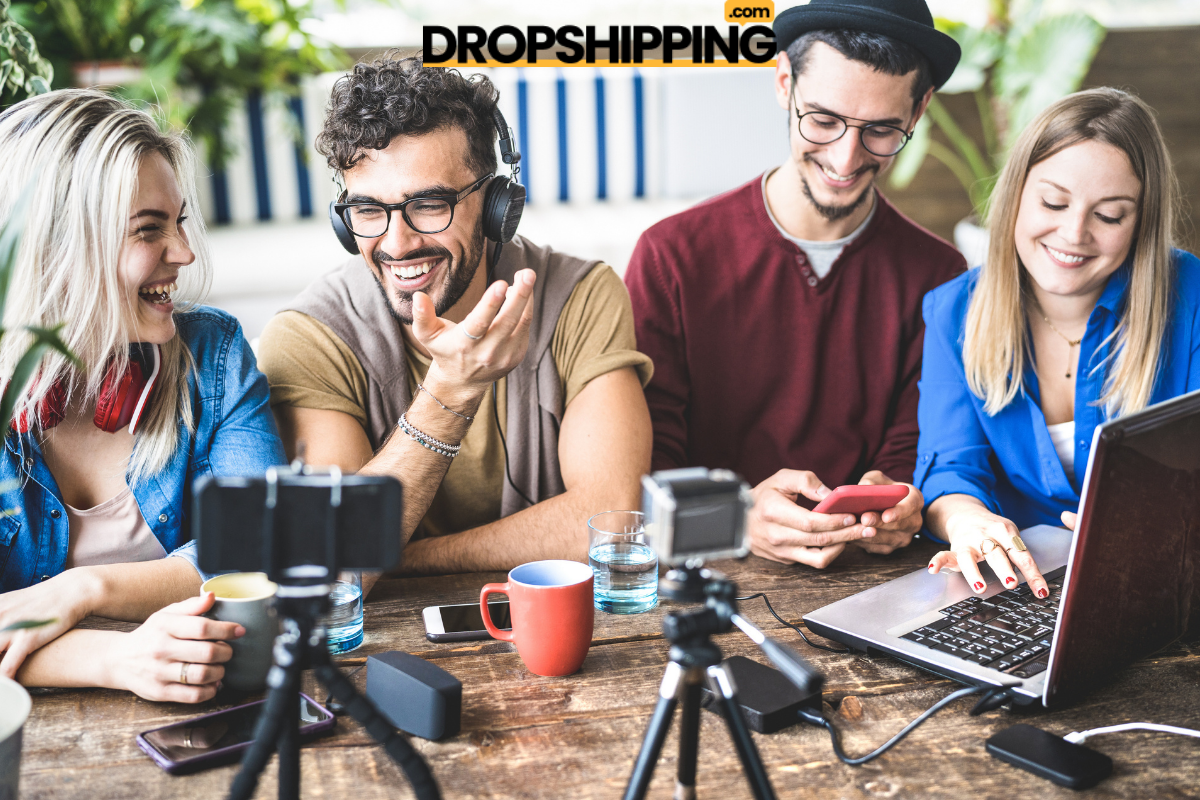 Why Is Organic Marketing a Long-term Strategy For Dropshippers?
In what might be of little surprise to many, marketing is one of the priciest aspects of running an online business.
But the good news is that developing an effective dropshipping marketing strategy is possible even with limited funds.
In short, you can generate organic traffic and cover all the elements crucial to a good dropshipping marketing strategy for free.
Just remember that this is a long-term strategy. It does take more time, patience, and consistency to pull off. Therefore, you should not expect results overnight.
But why is it a long-term strategy?
Although paid marketing can begin to drive leads, revenue, and orders instantly, organic marketing takes a few months to deliver results.
Organic marketing takes longer to deliver results as ranking or appearing in search results may take three to six months, particularly if your goal is page one.
In a nutshell, the results of promoting your online store using organic marketing are not immediate because it is a process that takes time and constant dedication.
If you opt for organic marketing, you must prepare yourself for the wait. However, it is, without a doubt, worth the extra effort.
With organic marketing, you will build meaningful, lasting relationships with your customers.
6 Dropshipping Marketing Tactics to Grow Your Store Organically and For Free
Looking for organic tactics for dropshipping? If you do not know how to promote your dropshipping store, then read on. We have compiled a list of free organic marketing tactics to help you reach prospective consumers and turn them into customers.
Let's look at the basics of what makes a good dropshipping-free marketing plan:
1. Content/blog marketing
If you have no idea how to promote your dropshipping store, content marketing can serve as a great starting point for your marketing strategy.
Content marketing is the act of producing, sharing, and publishing relevant, creative content to reach your target audience. Though a few different types of content marketing exist, we will focus on blog marketing in this paragraph.
Why do you need to start a blog?
To begin with, one of the most effective ways to get free organic traffic is to create a blog on your dropshipping store. The best part is, getting free organic traffic isn't the only reason you need to start a blog.
It is also an amazing way to let your customers know that you are knowledgeable about your niche. Moreover, it helps you educate, entertain, inspire, and delight your audience.
How to create a blog on your dropshipping store
Starting a blog is not an easy task. But luckily, it will pay off after a while. You can use a blogging platform like WordPress for both your website and blog. You need to create a set of guidelines in order to set the tone and standard for your blog.
It is important to create content that your audience and customers would search for and love. You must stay disciplined in your content because you can only focus on a specific range of topics.
Consistency vs quantity
The key to a successful content/blog marketing strategy is consistency. This means that you must stay consistent and produce high-quality, relevant, and valuable content regularly.
Finally, do not forget to update your blog posts every couple of months. Make sure your content stays fresh and relevant by removing outdated and adding some new content.
Let us show you what we mean. If you write a blog post titled "The Best Dropshipping Products to Sell in 2023", the content will only be relevant in 2023. Nobody will be interested in reading your blog post afterward. 
2. SEO (Search Engine Optimization)
SEO is another powerful dropshipping free marketing tool. This topic is so big and complex that it cannot be explained in one article. But we will try to cover the main points here. Again, SEO is one of the best organic tactics for dropshipping that will not cost a dime.
But what is SEO?
SEO marketing is all about getting your website (not just your content) to rank higher in search engine results when one searches for your products, your brand, or any other relevant words or phrases. This will eventually increase search engine traffic to your website.
How to optimize your dropshipping website for search engines organically
Use keywords in your website updates and blog posts 
For the search engines like Google to rank your website higher, you should implement specific, long-tail keywords into your blog posts and website updates.
Let's say you have a dropshipping store selling designer clothing. When planning your keyword strategy, you should use the keyword "the latest luxury fashion trends" rather than "fashion trends".
Remember that people who search for a specific item are more likely to buy from your store. Thus, using more specific, long-tail keywords rather than short-tail ones will ultimately contribute to more organic traffic. 
When it comes to planning your keyword strategy, you do not have to pay a fortune to find the best SEO keywords for your dropshipping business.
You can use some free tools like Google Trends, Google Ads Keyword Planner, and Rank Tracker, to name a few. 
Ensure each page has metadata
By doing so, you can help search engines "understand" what your site is about. You should include a meta description, title tags with relevant keywords, and image tags with alt attributes.
Make sure you have Google Analytics installed on your website
Google Analytics is an excellent analytics tool that gives you information on how much traffic you have on your website. And the best part is that you can install it on your website for free. 
As mentioned above, SEO is a complex topic, so we have just covered one aspect of it, i.e., on-site optimization. You can learn more about all three aspects of SEO (technical SEO, on-site and off-site optimization) here. 
3. Social media marketing
In fact, the usage of social media worldwide is ever-increasing. It is, undoubtedly, one of the most popular online activities that billions of people around the world engage in.
In case you do not speak directly to your audience through social platforms such as Facebook, Instagram, Pinterest, and Twitter, you will miss out on a tremendous opportunity to reach prospects and customers.
Because of this, social media marketing must be an integral part of your dropshipping marketing strategy. It is one of the most effective free organic tactics for dropshipping.
How to incorporate social media into your dropshipping free marketing strategy
Create social media profiles 
Creating profiles on different social media platforms is a great way to build, create, and establish brand awareness.
This can also increase traffic to your website. Of course, it takes time and effort to build up your social media profiles and get results. This is why you must be patient. 
Before creating social media profiles for your dropshipping business, it is essential to identify your target audience and find out what kind of social media platforms they use the most. Are they more on Facebook, Instagram, Twitter, etc.?
If you decide to manage a few social media channels simultaneously, you may want to use tools like Buffer. This tool will help you do that with ease.
Promote your blog and site content on social media 
Your social media profiles may be the perfect channel for sharing your blog and site content with readers. When you have enough loyal followers, you can post all your new content on social media.
Also, relevant and valuable blog content can help you get more followers. This is just an example of the strong relationship between social media marketing and content/blog marketing.
Joining Facebook groups is an amazing option to use Facebook for free traffic.  Practically, all niche categories have their own Facebook groups. So do not overlook this dropshipping-free marketing tactic!
4. YouTube
Do you know how to promote your dropshipping store for free on YouTube? If your answer to this question is "no", then read on!
YouTube is an indispensable marketing tool for all types of businesses to market their products to prospects and customers. Plus, the cost to upload a video to YouTube is free. Thus, creating a YouTube channel is a great dropshipping free marketing technique to increase brand awareness and get free traffic.
Keep in mind that consistency is also an important factor here. Like with content/blog marketing, the more content you publish, the more likely you are to grow your channel and reach a wider audience.
How to use YouTube as one of your organic tactics for dropshipping
Create educational videos
Before uploading educational videos, you must sign up for a YouTube account for your business.
Once you have a YouTube account, you need to start uploading videos that will educate people in your niche.
For instance, if you sell beauty and makeup products, you can inform your audience about your products in a consistent, informative, and exciting manner. You can do so by giving makeup tips.
Upload product review videos 
Product reviews are crucial to building trust with customers. So, create videos that are more about than just the products.
Create videos about the problems, the solutions, the experiences, and the larger vision of what you are trying to build. Just do not forget to use SEO for your YouTube videos too.
E-mail marketing
Despite the popularity of social media, e-mail marketing is still one of the most effective dropshipping free marketing tools. It involves the act of sending e-mails to prospects and customers.
By including e-mail marketing in your dropshipping marketing strategy, you will make people aware of your latest offers and products. And it does not cost anything.
How to prevent prospects and customers from ignoring your e-mails
Let prospects and customers set their preferences 
The line between being annoying and informative is a thin one. Therefore, you should allow people to specify how often they want to receive your promotional e-mails.
Create a sense of urgency
Want to increase the number of people reading your e-mail and visiting your website? Then write an e-mail that lets people know that the offer is available in limited quantities or that time is running out to get a special deal.
Personalization is the perfect way to send e-mails that get people to convert. So, when writing an e-mail, you need to use a person's name. This can have a positive impact on your marketing strategy.
Q&A sites and forums
Many people use Q&A sites and forums like Stack Exchange and Quora to find new information on numerous topics.
That's why it is a good idea to give informative answers to community questions. Also, make sure you include a link to relevant content on your dropshipping website.
Join the only community and resource hub you'll ever need to succeed with dropshipping
Find winning dropshipping products, learn marketing, download templates and engage with real dropshippers
Never pay for a "guru's" course again. See why 4543+ dropshippers joined us this year!
💡Try DSCOM Hub Now
Conclusion
As a new e-commerce business owner, you may not have the time to research and identify free dropshipping marketing ideas.
To help you learn how to promote your dropshipping store, we have rounded up 6 organic tactics for dropshipping marketing. And the best thing about them is that they are available free of charge.
These proven dropshipping free marketing tactics have worked for thousands of online businesses and can work for you. So do not wait for tomorrow! Take action today!