Are you tired of spending hours researching products to sell online, only to end up with disappointing results? Congrats, you've come to the right place. In my Thieve.co review I will explain is this product research tool really worth it?
Before you invest your time and money into Thieve.co, it's important to consider its effectiveness and whether it's worth the investment.
Therefore, I will take a closer look at its features, benefits, and potential drawbacks to help you make an informed decision. So, let's dive in and find out if Thieve.co is the game-changer you've been waiting for in your e-commerce journey.
What Is Thieve.co?
Thieve.co is an incredible product research platform that has been a game changer for me as a dropshipping store owner.
It offers a wide range of features and tools that simplify the process of finding the perfect products to sell. Plus, one of the standout features of Thieve.co is its curated lists of products sourced from AliExpress and other popular online marketplaces such as well. These lists are carefully selected, ensuring I can access the best-selling and trending products in various categories.
Additionally, Thieve.co provides powerful tools for searching and filtering products based on keywords, niches, and even specific stores. This has allowed me to narrow down my search and find the correct products that align with my business model.
💡 Tip: Read about Aliexpress Dropshipping Review: Is AliExpress Good For Dropshipping?.
Now, let's discuss this in detail on my Thieve.com Review.
Discover top dropshipping suppliers of original US/EU products
You're 2 minutes away from building your ecommerce empire
No credit card required. No commitment.
Get started for free
Quick Thieve.co Review
For my busy dropshippers, here's a quick Thieve.co Review. 👇
The best
Easy-to-use interface

Great Product research tool

Best Keyword Tool Finder

Useful Niche Trends Results

Great Store Search

Multiple free product tools

Useful Chrome extension
The worst
Some of the features are not updated

Winning product research tool lacks depth
Starting from
14-day-free trial; Dropship plan – $15/month; Dropship Pro plan – $49/month
Now, let's dive into the FULL Thieve.co Review and explore its features, pros, cons & more.
How Does Thieve.co Work?
The process of using Thieve.co is quite straightforward. This tool explores online marketplaces like AliExpress for the most popular and trending products. It then curates a list of these products, saving users the time and effort of going through hundreds of pages themselves.
Hence, here's what I do when using Thieve. co. 👇
First, Thieve. co has products in various dropshipping niches, like Homeware, Electronics, Outdoors, Men's, Women's, Kids, Music, Sports, and many more.
So, the first thing I do is navigate to the desired dropshipping niche. In my case, I go to the "Homeware" category since I dropship home decor products. Also, I search the "Trending" and "Most popular" sections because I want to see what customers mostly want.
Hence, I scroll through the product list, check on product pricing, etc. So, once I choose my winning products, I click on it and Thieve. co navigates me to the product page.
Here you can find details about the number of times it has been purchased (located below the Buy on AliExpress option). For example, my products have been checked on more than 106 times and have 29 orders. Next, I click on "buy on AliExpress".
👉 Learn How to Reduce AliExpress Shipping Times in 2023.
Furthermore, one thing that I find particularly interesting about Thieve.co is its affiliate relationship with AliExpress. This means that when I make a purchase through Thieve.co, the platform earns a commission.
This allows them to offer the service for free while still providing high-quality product recommendations. It's a win-win situation – I get access to a curated list of awesome products, and Thieve.co earns a little something for its hard work.
👉 Check out the 10 Best Shopify Affiliate Apps for Shopify Affiliate Marketing.
Who Created Thieve.co?
Thieve.co was founded in 2015 by Tim Scullin and his friends from New Zealand. Thus, they started by purchasing products from AliExpress and reviewing the deals they found.
Today, Thieve.co's product selection is hand-selected by over 200 creatives. In fact, it's incredible to see how this platform has grown and the impact it has made in the online marketplace.
Next, let's learn more about it in my Thieve.com Review.
How Thieve.co Selects Products?
When it comes to selecting products, Thieve.co follows a rigorous and meticulous process. Each product must meet strict quality and style guidelines before being added to the curated list.
Hence, a team of curators, like bloggers, designers, and photographers, carefully reviews and approves the products based on their own expertise and market trends. These hand-picked products then go through visual and ratings checks to ensure they meet the highest standards.
However, Thieve.co doesn't stop there – user voting is also a crucial part of the selection process. Users have the power to vote and decide which products make it to the top of the list. So, with Thieve.co swipes, users actually choose whether they like, or dislike the product. Quite a fun technique! 👇
So, this unique combination of expert curation and user feedback guarantees that only the best and most popular products are showcased on Thieve.co.
So, with Thieve.co, you can rest assured that every product has been thoroughly vetted and selected by a team of real people, making it a reliable and trustworthy platform for finding top-notch products.
Thieve.co Review: The Pros & Cons
While Thieve.co offers a range of features and benefits, it's important to consider both the pros and cons before deciding if it's the right tool for your business.
Great Product research tool
Useful Niche Trends Results
Multiple free product tools
Some of the features are not updated
Winning product research tool lacks depth
In this Thieve.co Review, I will explore its pros and cons to help you make an informed decision.
✅ Thieve.com Pros
1. Easy-to-use interface
I absolutely love the easy-to-use interface of Thieve.co. It is simple and user-friendly, making it a breeze to navigate.
The tools are neatly organized into different categories, which can be accessed easily from the left sidebar. Whether you're looking for product research, popular products, or seasonal trends, you can find it all in one place.
2. Great Product Research Tool
This powerful tool allows me to search through various online marketplaces, such as AliExpress, to discover the most popular and trending products in any given niche.
Hence, one of the standout features of Thieve.co is its curated list of products. With just a few clicks, I can access a selection of handpicked products that have been proven to be successful in the market.
In addition, Thieve.co has three main tabs that make it easy to navigate and find the information I need:
The Home tab provides a snapshot of the latest trending products and seasonal trends, giving me insights into what's currently hot in the market.
The Discover tab allows me to explore different product categories and get inspiration for my own store.

The Swipes tab provides me with successful product ideas and strategies to implement in my business.
Also, once I find the desired product, I can check on its popularity among users, like the number of orders, likes, etc.
3. Finding The Best Keywords With The Keywords Tool
One of my favorite features I talk about in this Thieve.co review is the Keywords tool. This tool has been a game changer for me in finding the best keywords for my online store. It allows me to analyze keyword trends over one year and five years, giving me valuable insights into which keywords are currently trending.
I can also filter keywords by search volume and trend level, helping me to focus on the most relevant and high-performing keywords for my business.Not only that, but the Keywords tool also provides me with a list of related search terms. This helps me expand my keyword research and discover new opportunities I may not have considered.
Hence, I will provide you with more detail below in this Thieve.com review.
4. Useful Niche Trends Results
Thieve.co offers a valuable Niche Trends feature that gives me a deep dive into different product niches. This feature provides me with up-to-date information and trends, allowing me to stay ahead of the game and make informed decisions about which products to explore.
In the Niche Trends section, I can find valuable information that helps me understand the current popularity and demand for specific product categories. This is crucial for staying relevant in the ever-changing world of online marketplaces and dropshipping.
👉 Check out the Best 8 Profitable Niches With Low Competition For Dropshippers.
However, I will talk more about this later on this Thieve.co Review.
5. Great Store Search
In the Store Search section of Thieve.co, I have access to an extensive database of dropshipping stores that I can explore and analyze.
Also, I have the ability to filter and organize these stores based on various criteria, such as their monthly sales performance.
By clicking on each store, I gain access to additional details about the store itself. This includes information such as the website URL, Alexa Rank, latest products, and top sellers.
💡 Tip: Learn about Buying A Shopify Store In 2023 – How And Where To Buy?
6. Multiple Free Product Tools
These ones are one of the best features of my Thieve.co Review. And, they are completely free to use, allowing you to explore and uncover popular products without any barriers.
By entering an AliExpress product link, the tool displays and organizes all available suppliers for the product.
This facilitates the ability to assess and contrast various suppliers, taking into account factors such as pricing, shipping durations, and customer reviews.
The content generator tool examines a product listing and proposes high-quality product titles, photos, product descriptions, features, and more, to use in your product listing. Hence, it is using a sophisticated language model to comprehend the complex AliExpress titles.
Thieve AliExpress Reverse Image Search allows users to perform searches on any desired image. Hence, you can easily search by uploading the image or utilizing the Thieve Chrome Extension, directly searching from an image found anywhere on the internet.
The tool will analyze the image provided, detect any available items within it, and conduct a reverse image search across the entire AliExpress platform to locate visually similar products.
By incorporating your product name and highlighting its key features, you can generate three unique product descriptions for your product.
Moreover, this tool places utmost importance on conversion. Its AI-powered product description prompts are specifically crafted to deliver engaging and easily understandable descriptions for products that consumers are eager to purchase. That's why, I think it is very useful for dropshippers.
This tool automatically removes logos from your supplier's photos. The software examines and analyzes every image you upload, detecting distinct components, and subsequently segregates them into separate files that can be downloaded individually.
7. Useful Chrome Extension
The Thieve.co AliExpress Chrome extension is an incredibly valuable tool for anyone in the ecommerce industry.
With just a click of a button, it allows you to find suppliers and manufacturers from Shopify product pages or images.
However, what sets this extension apart is the additional information it provides about the trustworthiness of the suppliers.
It analyzes various factors such as ratings, reviews, and the supplier's history to give you a trustworthy level for each supplier. This ensures that you are making informed decisions and reduces the risk of partnering with unreliable suppliers.
❌ Thieve.co Cons
When it comes to Thieve.co Review, there are a few cons that need to be addressed.
1. Some of the features are not updated
One of the issues with Thieve.co is that some of its features are not regularly updated. For example, the product categories are not always up-to-date, which can create a frustrating user experience. Additionally, the list of products may not always reflect the most popular or trending items, as it is not constantly refreshed.
Furthermore, the analysis tools and data provided may not be current, which can impact the accuracy of the information and hinder users' ability to make informed decisions.
This can limit the effectiveness of the platform in providing accurate and relevant product ideas for users.
2. Winning product research tool lacks depth
Thieve.co's product research tool falls a bit short in terms of depth and features. While it does provide a curated list of popular products from AliExpress and other online marketplaces, it lacks some essential functionalities.
One of the major limitations is the absence of trend charts. Unlike its competitors, like Sell The Trend for example, Thieve.co does not offer detailed trend analysis, making it difficult to identify and capitalize on seasonal trends. 👇
Additionally, Thieve.co lacks in-depth order statistics and product insights, which are crucial for making informed decisions about product selection.
Thieve.co Review: Pricing
Thieve.co offers two pricing plans. First, if you subscribe on a monthly basis, you get this pricing:
Dropship plan – $15/month
Dropship Pro plan – $49/month
With the Dropship plan, you have the ability to:
Browse through a selection of successful products with various filters and sorting options to refine your search based on specific criteria.
Explore different niches and identify popular products that are in high demand.
Utilize a keyword research tool to identify consumer trends and find relevant keywords for your business.
Gain valuable insights about top-performing Shopify stores with the store search feature, allowing you to gather inspiration and learn from successful businesses.
However, you do not have access to early-access products, professionally captured images and videos, carefully curated keywords, or the dropship store search feature. Additionally, your monthly image and supplier searches are limited compared to the Dropship Pro plan.
On the other hand, if you choose to pay annually, you get a 23% discount. 👇
However, both plans come with a 14-day free trial, allowing you to try out the platform before committing to a subscription.
Thieve.Co Alternatives
So, if the features of this tool do not suit your dropshipping business needs, I also have the best alternatives list for you in this Thieve.co Review.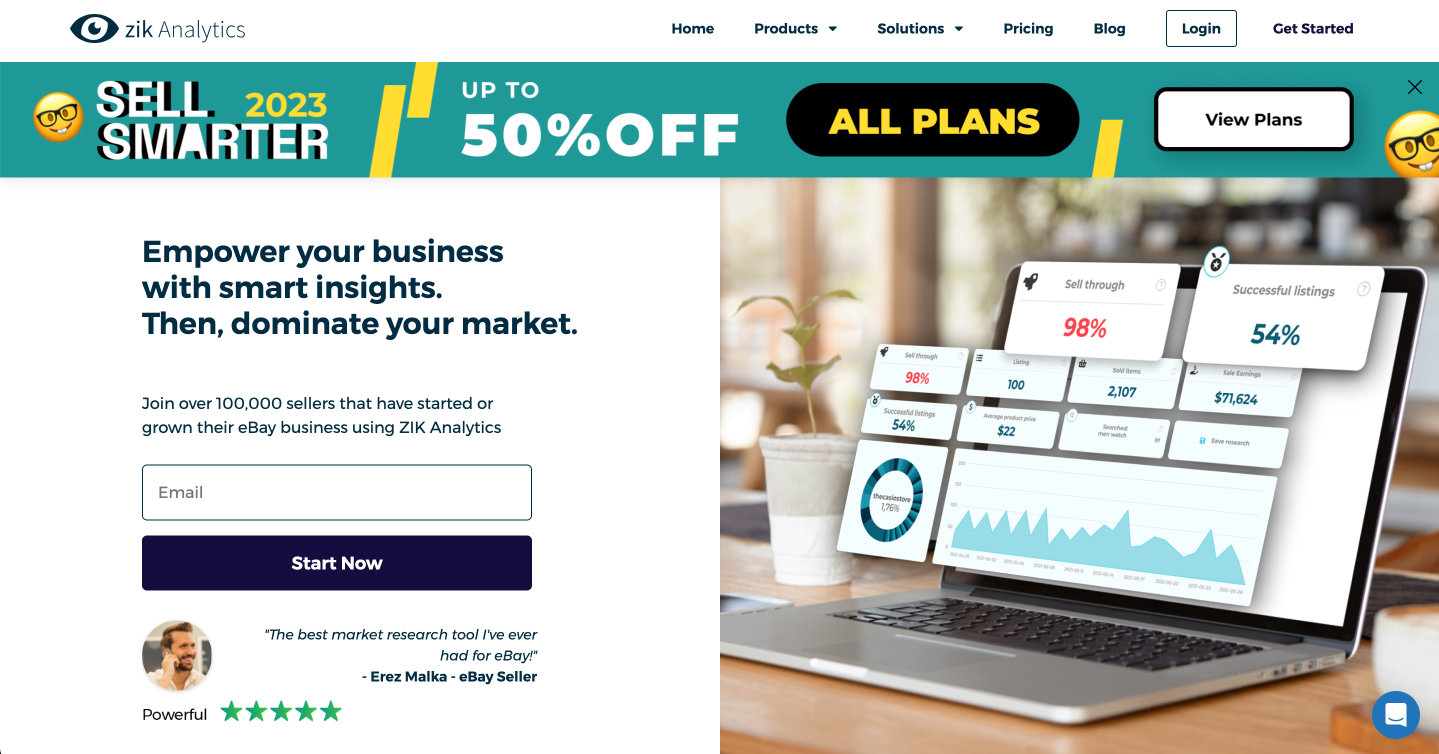 Zik Analytics is a comprehensive tool specifically designed to assist dropshippers in discovering successful products and optimizing their businesses for achievement.
Hence, this tool provides you with product research on various online marketplaces like AliExpress and eBay.
💡 Tip: Learn about Dropshipping from AliExpress to eBay: Step-by-Step Guide for Beginners.
Key Features:
Product Database: Explore an extensive range of products spanning various categories and niches.
Sales Analytics: Gain access to detailed data and metrics to assess the performance and potential profitability of products.
Competition Analysis: Evaluate competitor stores, pricing strategies, and marketing tactics to maintain a competitive edge.
Niche Research: Identify emerging trends and profitable niches to target for your dropshipping enterprise.
Listing Optimization: Enhance the visibility and conversion rates of your product listings.
Price Monitoring: Monitor pricing fluctuations and market trends to adapt your pricing strategy accordingly.
Pricing:
Zik Analytics offers a 7-day trial at a minimal cost of $1, allowing you to experience the platform. Following the trial period, a subscription fee starts at $29.99 per month.
Sell The Trend is a robust solution for discovering profitable dropshipping products, powered by advanced data-driven predictive A.I. technology.
This innovative tool not only eliminates the tedious task of daily product research but also allows you to dedicate more time and effort to your dropshipping store.
Key Features:
Sell The Trend SHOPS
Product Explorer
Store Automation
NEXUS Product Research
Convenient 1-Click Push to Store functionality
Comprehensive Supplier Database
Streamlined Automated Order Fulfillment
Effective Marketing Tools
Pricing:
Experience the benefits of Sell The Trend for free, and if you desire access to all its exceptional features, you can upgrade for just $39.97 USD per month.
And of course, AliExpress has its own product research tool – AliShark. AliShark is an exceptional tool for researching dropshipping products from AliExpress. It offers a wide range of features that make it the go-to choice for sourcing.
Key Features:
Large and constantly updated database
Great product details
Excellent filtering
Real-time data scraping
Plug & Play options
Pricing:
By opting for AliShark Premium, you can access all these benefits for a monthly fee of only $20.
👉 Check out my in-depth AliShark Review: The No.1 AliExpress Product Research Tool.
Thieve Supply – Premium Features
Thieve Supply is an incredible product research tool that offers a range of premium features. With its curated list of popular products sourced from AliExpress, Thieve Supply provides a selection of products that can be a game changer for dropshipping stores and online marketplaces.
Also, to break up the confusions, Thieve Supply is a high-quality offering exclusively available to paying customers. Although Thieve.co and Thieve Supply may appear similar, they are two distinct dropshipping tools for product research.
Thieve.co grants users access to handpicked AliExpress products by creative individuals. On the other hand, Thieve Supply offers an extended selection of approximately 4,000 successful products obtained through the aggregation of real-user data, along with the top-notch suppliers for those products.
So, next on my Thieve.co Review, I will discuss the premium features in detail. 👇
🔸 Products Feature
The ability to search for winning items allows users to find popular, in-demand products from various online marketplaces.
Thieve Supply offers 13 product categories with over 4000 products and allows sorting items by Latest, Trending, and Price (low or high). Also, you can set filters on products based on male or female popularity, conversions, or products most recently upgraded with Premium Content.
Not just that, but you can sort out the products based on:
All products – sorting out all the products on the platform
Thieve Products – showing only publicly published products
Dropship Products – products that have been curated for dropshipping but don't fit the aesthetic
Likes – products you have liked.
What's more, there are even more filters available, like star rating, shipping location, products curated in a recent time range, pricing, sales, etc.
Another valuable feature is the trend discovery and analysis tool, which allows users to explore different niches and uncover emerging trends.
Overall, Thieve.co's Products section is a comprehensive and invaluable resource for product research and trend analysis.
🔸 Niches Feature
The Niche feature on Thieve Supply operates similarly to the Topics feature.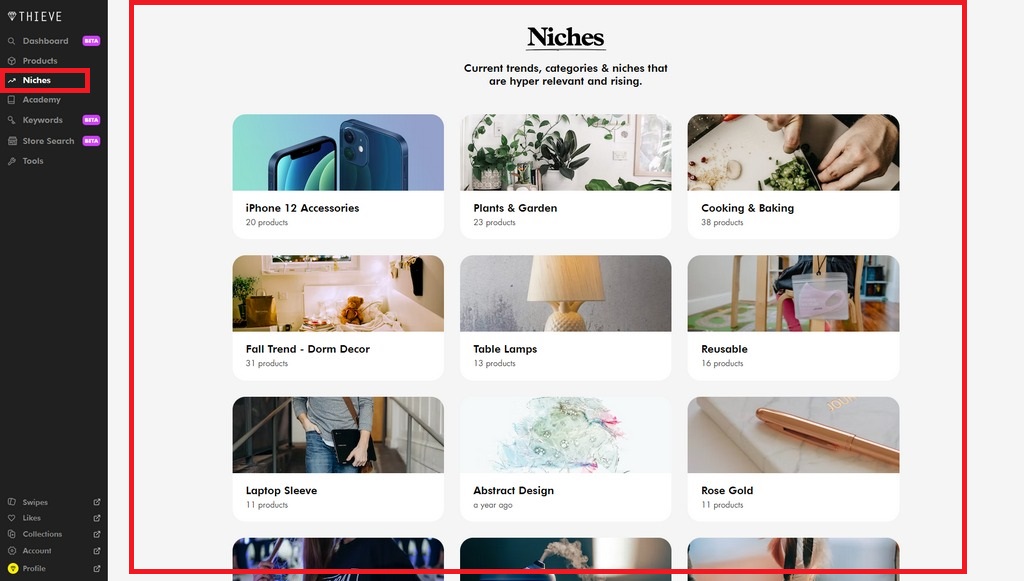 Consequently, you will find a list of products categorized under each title, accompanied by brief descriptions. However, the distinction becomes apparent when considering access for paid users exclusively.
Thus, using this feature provides a concise overview of a specific niche and its associated keywords. Additionally, it offers more comprehensive insights, including competition levels, profitability analysis, and more.
Hence, when accessing an article through the Niches page (available to paid subscribers), the following information is provided:
A brief summary of the niche.
Keywords and trends associated with the topic.
An in-depth analysis encompassing details about the target audience, competition landscape, emerging trends, profitability potential, examples of Shopify stores, related topics, and considerations for product selection.
Unlimited access to Thieve products relevant to the chosen niche.
🔸 Keywords Feature
The Thieve Supply Keywords feature is a valuable tool for conducting keyword research. It offers you the ability to identify emerging consumer trends in advance.
This feature allows for the analysis of trends over both short-term and long-term periods, providing insights into current popularity and future demand.
Furthermore, you can refine your searches using various filtering options, including sorting by search volume and trend change speed, as well as excluding specific categories.
Additionally, by selecting a keyword, you can access supplementary data such as related keywords, related search terms, and related products.
🔸 Store Search Feature
With the ability to search for stores in different categories and sort them by filters such as sales per month, Facebook and Instagram Followers, Monthly App Spend, Theme Cost, etc., I can easily find inspiration and discover successful stores in my desired niche.
Each store listing provides valuable information such as the Alexa Rank, website URL, latest products added, and best sellers. This allows me to evaluate the popularity and performance of each store, giving me insights into their strategies and tactics. 👇
With the Store Search feature, I can learn a lot about each store, browse their product inventory, check on their store's popularity, etc. Of course, using other ad spy tools like Minea, I can also access data about their competitors.
FAQs About Thieve.co
1. Is Thieve.co free?
Thieve. co does not offer a free forever plan. Hence, its pricing starts at $15. However, you have a 14-day free trial.
Also, there are various free-to-use product research tools on Thieve.co.
2. Does Thieve.co have a Chrome extension?
Yes, Thieve.co does have a Chrome extension- The Thieve AliExpress Tools. This handy tool allows you to find suppliers right from Shopify product pages, saving time and effort.
It also features an image search function, which can be useful for finding similar products or checking if an item is available on other online marketplaces.
Additionally, the extension provides product ratings, giving you a quick assessment of the popularity and quality of a particular item.
👉 Also, check out the Top 11 Dropshipping AliExpress Chrome Extensions.
3. Are the products saturated on Thieve.co?
The platform is constantly updating with new and exciting products to prevent any sense of saturation.
Also, Thieve.co takes pride in its verification process, ensuring that all products meet their quality and style guidelines. Not only that, but they also have a feature called Thieve Swipes where you can vote for your favorite products, ensuring that only the best make it onto the platform.
Find winning dropshipping products & spy on your competitors
Minea analyses all online advertising to help you find the best products to launch, and the best creatives in your niche in just a few clicks.
Use coupon: DROPSHIPPING30 and get a 30% discount
💡Try Minea For Free
Thieve.co Review Conclusion
In my opinion, Thieve.co is a useful product research tool for those looking to start a dropshipping business or gain insight into popular products. The platform offers a curated list of products from online marketplaces like AliExpress, saving time and effort in searching for potential winners. And, with so many filtering options, you can narrow down your options effectively.
Also, one of the major pros of Thieve.co is the ability to discover best-selling products and trending items. The platform's analysis tool provides valuable data on growth rates, click-through rates, and conversion rates, helping you make informed decisions about what products to sell. Plus, you access data about the product's profitability, prices, competitors, Alexa Rank, and much more.
However, it's worth noting that using Thieve.co means that multiple users may end up selling the same products. So, it's essential to keep this potential downside in mind and think creatively about how to differentiate one's store.
Despite this potential downside, Thieve.co can still serve as an excellent source of inspiration. Hence, thanks to their excellent features, you can identify trends and consumer preferences that can guide your own product sourcing and development strategies.