Supliful Review: Is It Good For White Label Dropshipping?
by
Aleksandra -
Aleksandra teaches marketing and management at various levels in High School. She writes about marketing, the economics and logistics of the dropshipping business and ecommerce in general.
Chief of Content Marketing
Are you trying to find a white-label dropshipping supplier for supplements? Look no further than this Supliful Review!
White label dropshipping has become an increasingly popular business model, allowing you to sell products without having to handle inventory or shipping. Supliful is a platform that offers white-label dropshipping services, but is it the best choice for your business?
In this article, I will review Supliful and evaluate its features, benefits, and drawbacks to help you make an informed decision.
Whether you are a beginner or an experienced dropshipper, understanding the pros and cons of Supliful will ensure that you choose the right platform for your white-label dropshipping business. So, let's dive into the details!
Quick Supliful Review
The best
Quality & Security

No Inventory Concerns

Reduced Upfront Costs

Opportunity To Expand Your Brand
The worst
Limited customization options

International Shipping Restrictions
Starting from
Free plan – $0/month; Starter plan- $49 per month; Creator Plan- $349 per month; ADD-ONS: Label Design -$199/one-time payment; Shopify Store Design – $949/one-time payment; Brand Accelerator at $1990/one-time payment; CPG Launchkit-$487/one-time payment. There's a production fee after selling a product.
Lifetime deal: Get all-access to everything on Dropshipping.com
Access all DSCOM features, resources, courses, live workshops, discounts, winning products, weekly deep dives, directories and all future updates under all-in-one dropshipping HUB.
DROPSHIPPING IS A REAL BUSINESS, DON'T DO IT ALONE. 4553 MEMBERS ALREADY JOINED. YOU CAN PAY OFF YOUR SMALL INVESTMENT WITH JUST 2 SALES ON YOUR STORE.
Grab the deal before it's gone
What Is Supliful And Who Is It For?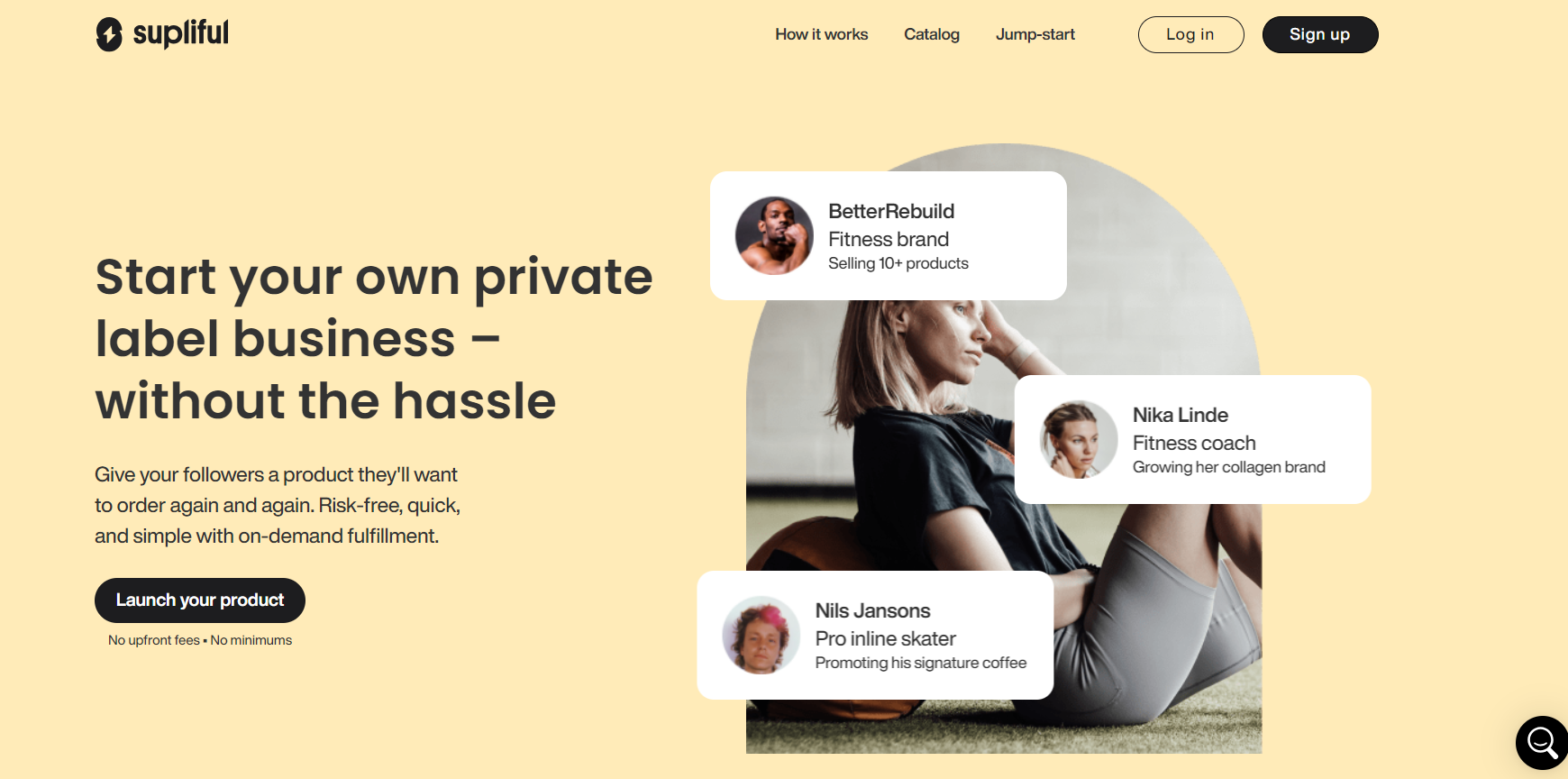 Supliful is a platform that enables anyone, whether you're an influencer, a dedicated business owner, or simply someone interested in dropshipping and e-commerce, to launch and sell their own branded supplements.
One of the great things about Supliful is its diverse product selection, which includes everything from vitamins to proteins, and even some fun options like personalized coffee. What sets them apart is their commitment to ensuring that these products not only have appealing labels but are also genuinely top-notch and safe for use.
Also, as an FDA-registered company, Supliful ensures that your private label designs are thoroughly checked for full compliance with regulations. By partnering with Supliful, you can steer clear of the challenges associated with sourcing products and maintaining inventory that might never find buyers. After that, they pack and ship your products to your customers.
However, keep in mind that this dropshipping supplier lets you customize your designs only, but you cannot change any product ingredients.
Now, let's dive into my in-depth Supliful Review.
Supliful Review: Key Features
Supliful offers a range of features designed to empower dropshippers to create and market their own branded supplements and health products. So, next on my Supliful review, let's see what you have on your plate.👇
🔸 Wide Range of Products
Supliful offers an incredible opportunity to expand your brand and tap into the vastness of the supplement world.
With over 100+ unique products in their catalog, you can choose from a wide range of health supplements, like vitamins & minerals, proteins, blends, natural extracts, and many more. Next, you can easily add them to your product line.
What's more, you can sort them out by target audience, or purpose, like mental health, body health, weight control, etc.
This allows you to cater to diverse customer needs and preferences, making your brand more appealing to a larger customer base.
👉 Learn How To Start Vitamins Dropshipping? From A to Z(inc) Guide.
🔸 Branding
When it comes to branding options, Supliful offers a wide range of choices to customize product labels.
They understand the importance of creating a unique brand identity, and their platform allows you to personalize your labels based on their preferences. Hence, the platform offers many add-ons to satisfy your needs:
Supliful understands that every brand is unique, and so are its design requirements. They offer customization options that allow you to create a label that perfectly aligns with your brand's identity.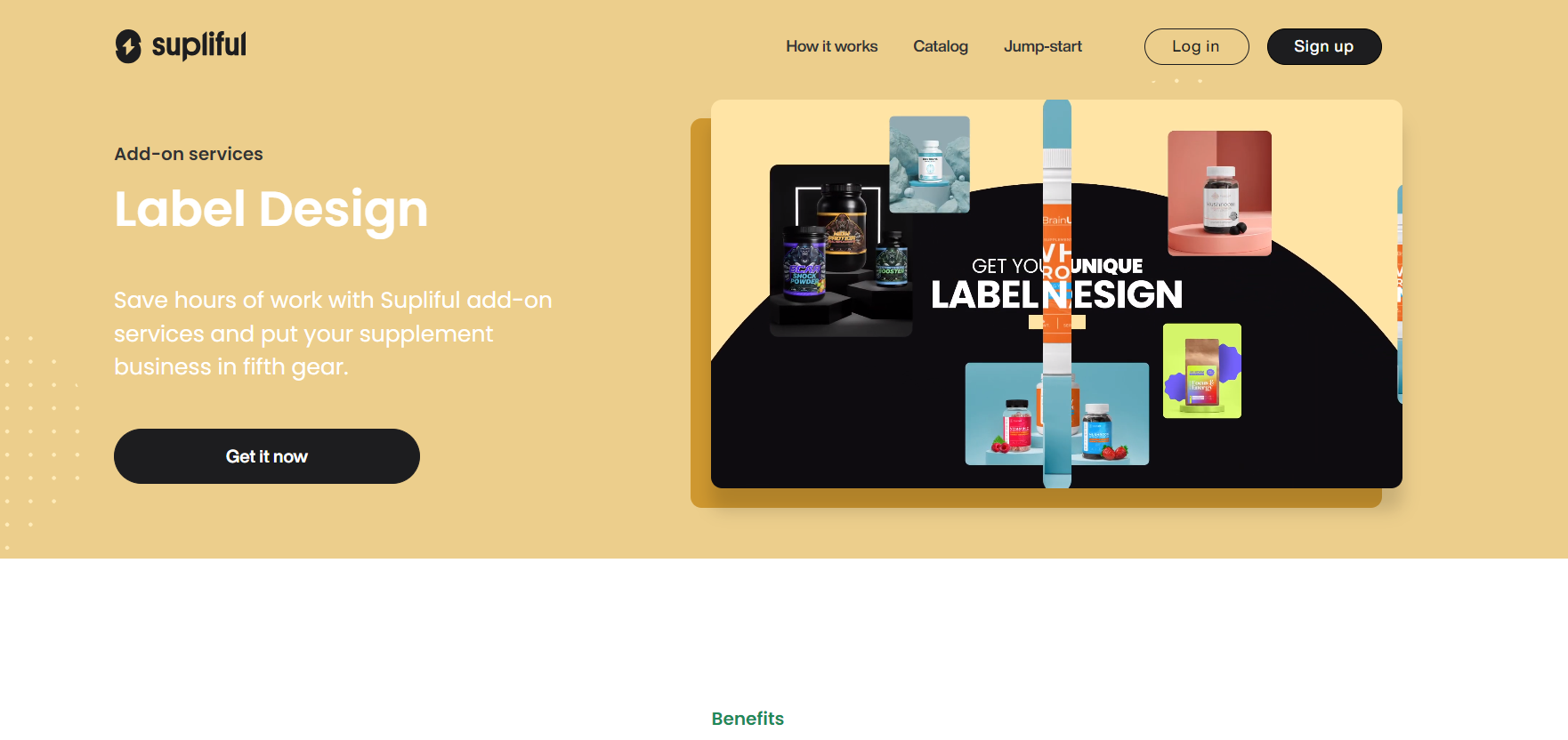 Also, If you're not a design expert or simply want to ensure a polished and professional look, Supliful offers design services to assist you. Their team of skilled designers can work with you to create a label that captures your brand's essence.
So, from concept to execution, they guide you through the design process, ensuring the final product is a true reflection of your brand.
Supliful offers store design solutions that cater to your specific needs. And, that's next to explain on my Supliful Review.
So, they provide you with an eye-catching layout and easy navigation within 10 days. Moreover, they tend to optimize every element from product layouts to CTAs, driving revenue.
Also, they customize all customer-facing touchpoints and settings to match your branding and operational needs.
So, whether you're looking for a minimalistic label or a vibrant and colorful design, Supliful has you covered.
If that wasn't enough, Supliful even offers a custom Shopify theme specifically designed for selling supplements, making it easier than ever to create a professional and user-friendly online store.
💡 Tip: Check out the Debutify Shopify Theme Review: Is Debutify The Right Theme for Dropshipping?
The Supliful Brand Accelerator is a program designed to empower dropshippers and businesses in the supplement industry.
It's a powerful toolkit that provides you with the resources, knowledge, and tools necessary to accelerate the growth and success of your supplement brand.
💡 Tip: Check out the Free Dropship Websites: Start Dropshipping With $0
The program typically starts with a self-guided launch kit. Thus, this kit includes a wealth of instructional videos and resources that cover critical topics related to starting and growing a supplement business.
So, you'll gain insights into product selection, branding, marketing strategies, and other essential aspects of the supplement industry. In fact, these resources serve as your foundation for building a successful brand.
Also, as part of the program, you have the option to acquire a premade Shopify store specifically designed for selling supplements.
🔸 Quality Assurance
This dropshipping tool is a step above the rest. They prioritize the safety and effectiveness of their supplements by producing FDA-compliant products. This means that the ingredients used in their supplements are carefully regulated and monitored to ensure the highest quality standards.
Supliful also goes the extra mile by thoroughly vetting their suppliers. Hence, they have a rigorous screening process in place to ensure that only trusted and reliable suppliers are used for their products.
For me, this gives me peace of mind knowing that the supplements I am offering to my customers are coming from reputable sources.
Moreover, regular testing is another key aspect of Supliful's quality assurance practices. They conduct strict testing procedures to ensure that their supplements meet the highest standards of quality and purity.
In addition to their quality assurance measures, Supliful also offers the option to obtain dropshipping business insurance through their partnership with Founder Shield. 👇
🔸 Order Fulfillment Management & Integrations
With Supliful's all-in-one solution, you no longer need to use multiple services for every aspect of your supplement business. Hence, from product creation to packaging, shipping to after-sales support, Supliful has your back!
This level of convenience is truly unparalleled and saves you the hassle of dealing with several different providers. Everything you need is in one seamless platform, allowing you to focus on growing your business.
During fulfillment, Supliful selects the ordered products from their inventory and adds the custom labels that were approved earlier. The products are then expertly packaged and prepared for shipping. This attention to detail ensures that each order is carefully handled and reflects the professionalism of both Supliful and the store owner.
When it comes to shipping, Supliful dispatches the orders under the store's name. This not only enhances brand consistency but also builds trust with customers. With each package, customers receive their personalized products with the store's branding, reinforcing the store's commitment to quality and customer satisfaction.
Also, this dropshipping tool seamlessly integrates with Shopify and WooCommerce. So, you can add your store and connect it with Supliful without a hassle.
Suppliful Review: Pricing
Supliful offers a variety of pricing plans to suit different needs. So, first in my Supliful Review, I will discuss each of their main plans. 👇
The Free plan provides an excellent opportunity to explore Supliful without any initial expenses. You can initiate the development of your brand without any upfront charges.
Moving on, we have the Starter plan available for just $49 per month. This plan includes all the features of the Free plan and adds valuable perks such as up to 15% discounts on products.
Next in line is the Creator Plan, priced at $349 per month. Tailored for established brands and influencers, it not only inherits all the benefits of the Starter plan but also grants you access to a dedicated account manager. With a generous 15 hours of support each month, it's akin to having a committed team by your side.
Beyond these primary plans, Supliful also offers additional options. These include the label design service, available for a one-time payment of $199, the Shopify Store Design at $949/one-time payment, and the Brand Accelerator at $1990/one-time payment. 👇
Also, they have a CPG launchkit that can help you discover ideal customers, and build a brand, and a store. And, while writing this Supliful review, it costs $487/one-time payment.
➡ Supliful Production Fee
This platform also charges a productive fee only once a customer buys from you. So, this is similar to print on demand services. Hence, there are no other upfront costs for on-demand products.
Also, on their website, you can check on your profits, based on your sales price and number of followers, minus their production cost. Thus, based on customer interaction averages, I get potential profit calculations for a month.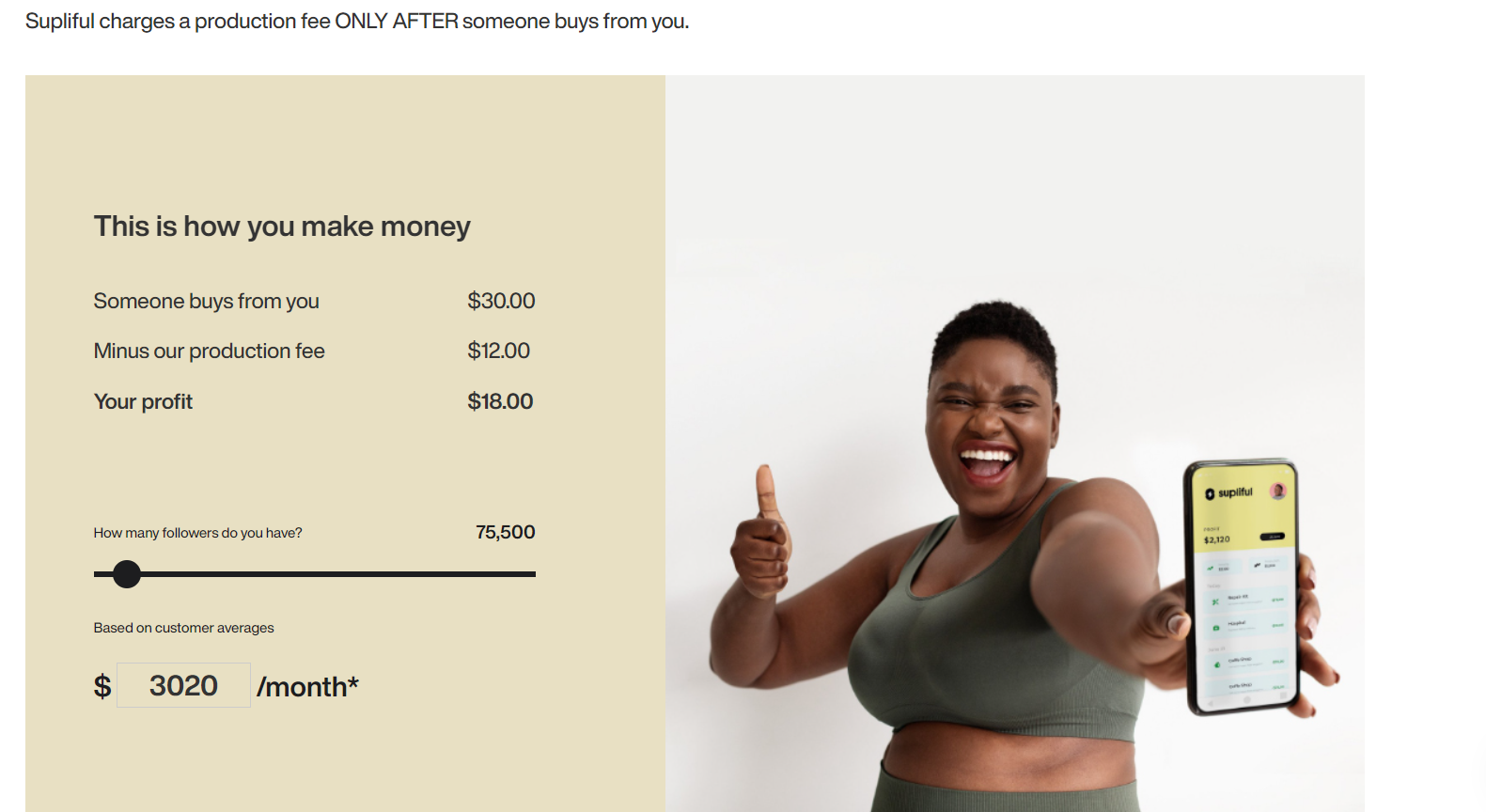 How To Use Supliful? (My Approach)
Supliful has the tools and resources to help you succeed. But, how to use them properly? In this Supliful Review, I will show you my steps for using Supliful.
Step 1 – Register on Supliful
The first step requires you to sign up on Supliful. So, go to their website and click on the "Sign up" button in the right upper corner. Then, you need to fill out this form with your data. Next, click on "Register".
Step 2 – Connect your ecommerce platform
The next step is to connect your dropshipping store with Suplifull. So, you have three options to choose from, Shopify, WooCommerce, or Supliful Storefront. By doing so, you can automate order fulfillment, saving you time and effort.
Moreover, keep in mind that you can also connect and sell your products to your social media channels, like TikTok or Instagram.
One convenient option is to connect Supliful with Shopify through the Supliful app. This integration allows for seamless syncing between the two platforms, ensuring a smooth experience for you and your customers.
However, if you prefer, Supliful also offers a hosted storefront option. While this option is more straightforward, it does come with limitations such as a less appealing URL and limited features.
Step 3 – Select a product
When it comes to selecting a product on Supliful, the process is incredibly straightforward. With their extensive range of products, it's easy to find something that suits your business needs.
So, you can choose the product from the "My Products" list or browse their catalog. In this case, I will edit a product from "My Products". 👇
Step 4 – Customize & Publish The Product
Once I find the perfect product, I can customize and sell it as my own. To do so, head over to the product edit page and make any necessary changes to the product information. So, I will simply click on the "edit" (pencil) button. 👇
Here you can change the product title, add a price markup, change the product description, etc. However, keep in mind that you cannot change information like health claims, benefits, country, and serving sizes. 👇
Also, Supliful offers customizable label design templates. With their collaboration with Canva, you can easily create stunning label designs that reflect your brand aesthetic. Hence, their templates make it a breeze to add your logo, brand colors, and unique text elements.
So, you can click on "Canva editor" if you want to access the app. 👇
Next, a new window will show up, and you need to click on "Use Template". After that, you will be redirected to Canva, where you can make your changes. 👇
Once you are done, you can upload your design as PDF. So, after the upload, your product image will change automatically. Then, you can publish it to your store.
Supliful Review: Pros & Cons
Next in my Supliful Review, I will share my personal experience and discuss the pros and cons of using Supliful as a supplement supplier.
Opportunity To Expand Your Brand
Limited customization options
International Shipping Restrictions
Pros Of Using Supliful
✅ Quality & Security
Supliful offers a range of high-quality, FDA-compliant supplements that are perfect for dropshipping. With over 100 white-label products available, I never have to worry about running out of options for my customers.
✅ No Inventory Concerns
First and foremost, Supliful has completely eliminated any concerns I used to have about inventory management.
With Supliful's infrastructure and expertise, I no longer have to worry about predicting demand or dealing with overstock or shortages. They have a seamless system in place that takes care of all these challenges for me.
What's more, their verification process ensures that the custom labels I upload are accurately matched with the ordered product. This gives me peace of mind knowing that the right product will be selected, and my customers will receive exactly what they ordered.
Not having to worry about inventory management has been a game-changer for me. It has freed up so much of my time and allowed me to focus on other aspects of my business, such as marketing and customer service.
✅ Reduced Upfront Costs
With Supliful, I no longer have to deal with the hassle of managing inventory or shipping logistics.
Thus, they handle all of that for me, which has significantly reduced my upfront costs and allowed me to focus more on growing my business.
✅ Opportunity To Expand Your Brand
Another huge advantage of using Supliful is the opportunity to expand my brand. They offer personalized products and product recommendations, which allows me to cater to my customers' specific needs.
So, whether it's creating a custom supplement blend or adding my own branding to the product labels, Supliful makes it easy for me to offer a unique and customized experience to my customers.
Cons Of Using Supliuful
❌ Limited customization options
While they offer a range of personalized products and product personalization tools, the platform does not allow customization options for the actual product formula or ingredients. So, this can be limiting for those who want to create a unique blend or formula.
Hence, by not providing options for customizing the product formula or ingredients, Supliful may not cater to the specific requirements of customers looking for a personalized and tailored supplement. And, this may take away some of your customers.
❌ International Shipping Restrictions
When it comes to shipping internationally, Supliful does have some restrictions in place. Unfortunately, not all countries are eligible for shipping, which can be a bit disheartening for our international customers. While we strive to cater to a wide range of customers, there are certain limitations that we have to abide by.
Hence, Supliful faces difficulties in catering to a global audience due to its fulfillment center being located in the United States.
For instance, shipping to regions such as Europe can incur costs ranging from $5 to $32 per shipment, which can be quite substantial, particularly when striving to maintain competitive pricing. Also, orders that contain more than 10 items might take 3-10 business days just to be fulfilled.
However, I will also provide you with a link about this matter in my Supliful Review. 👇
👉 Here you can check on their shipping details.
These restrictions are mainly due to legal regulations and customs policies that vary from country to country. It's essential for us to comply with these rules and ensure that our products are delivered safely and legally.
❌ Arguably Product Formulations
Unfortunately, it's crucial to thoroughly examine the ingredients list. In the case of Supliful, there have been some potential concerns regarding questionable product formulations. One specific example is the inclusion of ingredients like sugar and glucose syrup in their gummies.
These ingredients may raise eyebrows for health-conscious customers who are looking to support their well-being.
Sugar, for instance, is often associated with negative health effects such as weight gain and increased risk of chronic diseases.
So, for individuals who prioritize clean and wholesome ingredients, finding these substances in their supplements can be worrisome.
Is Supliful Worth It?
When it comes to my experience, I would say yes. Supliful helped me design my dropshipping store and showcase my personalized Vitamin C gummies. But, let's see what other customers say about this. 👇
When it comes to Supliful review, other users also have had overwhelmingly positive experiences. The customer testimonials consistently mention how user-friendly the interface is. People love how easy it is to navigate through the platform and create their own products.
So, on the Shopify app store, the platform is rated with 4.8/5 stars, which is excellent!
Also, they mention how the straightforward product creation process allows for a seamless experience, making it hassle-free to get your supplements up and running. And, that's what I can confirm as well.
Moreover, on Trustpilot, the platform is rated with 4.2/5 stars, with 76% of positive comments.
However, some users have mentioned that there are limited options when it comes to products and customization. And, that's why there is negative feedback as well. Also, customers complain about shipping times and delays.
But, that's something that Supliful mentions in their shipping details. Hence, you must consider shipping times and processing times, as well.
Supliful Alternatives
When it comes to finding the best dropshipping suppliers, there are several alternatives to Supliful that offer a range of benefits. So, in this Supliful Review, I will mention some of the best ones.
OK Capsule is a dropshipping supplier in the United States that specializes in supplements and vitamins. They offer the option to customize the supplement formula, ensuring that it only contains the specific ingredients needed for your target audience.
Also, this dropshipping supplier provides unique packaging options. For instance, you have the ability to create supplement packs that are tailored to address specific conditions like high cholesterol. Alternatively, you can completely personalize the packs to align with the individual goals of your end customers.
Regrettably, in order to establish a partnership, a deposit is required to initiate the process, and a MOQ of 4,000 orders must be placed annually.
This particular coffee dropshipping supplier, specializing in private label dropshipping, is definitely worth considering if you have an interest in selling coffee with your own branding through dropshipping. The coffee is roasted in the United States, ensuring high quality and freshness.
In addition, this supplier seamlessly integrates with Shopify, making it even more convenient for you. Dripshipper is actually a dropshipping app specifically designed for Shopify.
To get started, all you need to do is create a Shopify store and install the Dripshipper app. It's important to note that after the 14-day free trial, there is a monthly fee of $30.
One of the standout features of Dripshipper is its efficient shipping process. They strive to ship their freshly roasted coffee within 3 to 5 business days from the time the order is placed.
Vitalabs, located in McDonough, Georgia, USA, is a reputable supplier and manufacturer specializing in private labeling. Their product range is priced between $1 and $10, and they strive to process orders within 1-3 days.
They offer a wide selection of premium supplements and nutritional products, including the option for private-label vitamins and supplements. Additionally, they provide non-GMO supplements and organic vitamins for production.
So, if you are involved in dropshipping vitamins and dietary supplements, it is highly recommended to consider partnering with them.
Join the only community and resource hub you'll ever need to succeed with dropshipping
Find winning dropshipping products, learn marketing, download templates and engage with real dropshippers
Never pay for a "guru's" course again. See why 4543+ dropshippers joined us this year!
💡Try DSCOM Hub Now
Final Thoughts
In conclusion, this Supliful review sheds light on the potential of Supliful as a white-label dropshipping supplier for supplements and health products. Supliful offers a wide range of features and benefits that make it an attractive option for both beginners and experienced dropshippers.
One of its standout features is its extensive product catalog, encompassing over 100 unique products in various health categories, allowing businesses to cater to diverse customer needs. The platform's emphasis on branding, with customizable label designs, store design solutions, and a brand accelerator program, provides dropshippers with the tools to create a unique and professional brand identity.
Supliful's commitment to quality assurance and FDA compliance, along with its rigorous supplier vetting and regular testing procedures, ensures the safety and effectiveness of the supplements it offers.
Ultimately, whether Supliful is worth it depends on your specific business needs and goals. Many users have reported positive experiences with the platform's user-friendly interface and straightforward product creation process. So, collect this Info and make your decision.