How does the word FREE, or unlimited sound to you? Hmm… For us, it sounds like a good deal.
Are you a dropshipping newbie with a limited budget, or are you interested in dropshipping for free? You are in the right place!
Have you heard about the GrooveKart platform? This amazing platform helps you in finding winning products, customize your dropshipping store, import images, and custom domains, use templates, integrations, and more – ALL THAT FOR FREE!
What's more, you haven't heard even half of it.
Therefore, in this article, we will provide an in-depth Groovekart Review, and we will guide you through everything you need to know about GrooveKart dropshipping.
Let's start!
What is Groovekart?
We will start our Groovekart Review, with a quick explanation of what the Groovekart platform actually is.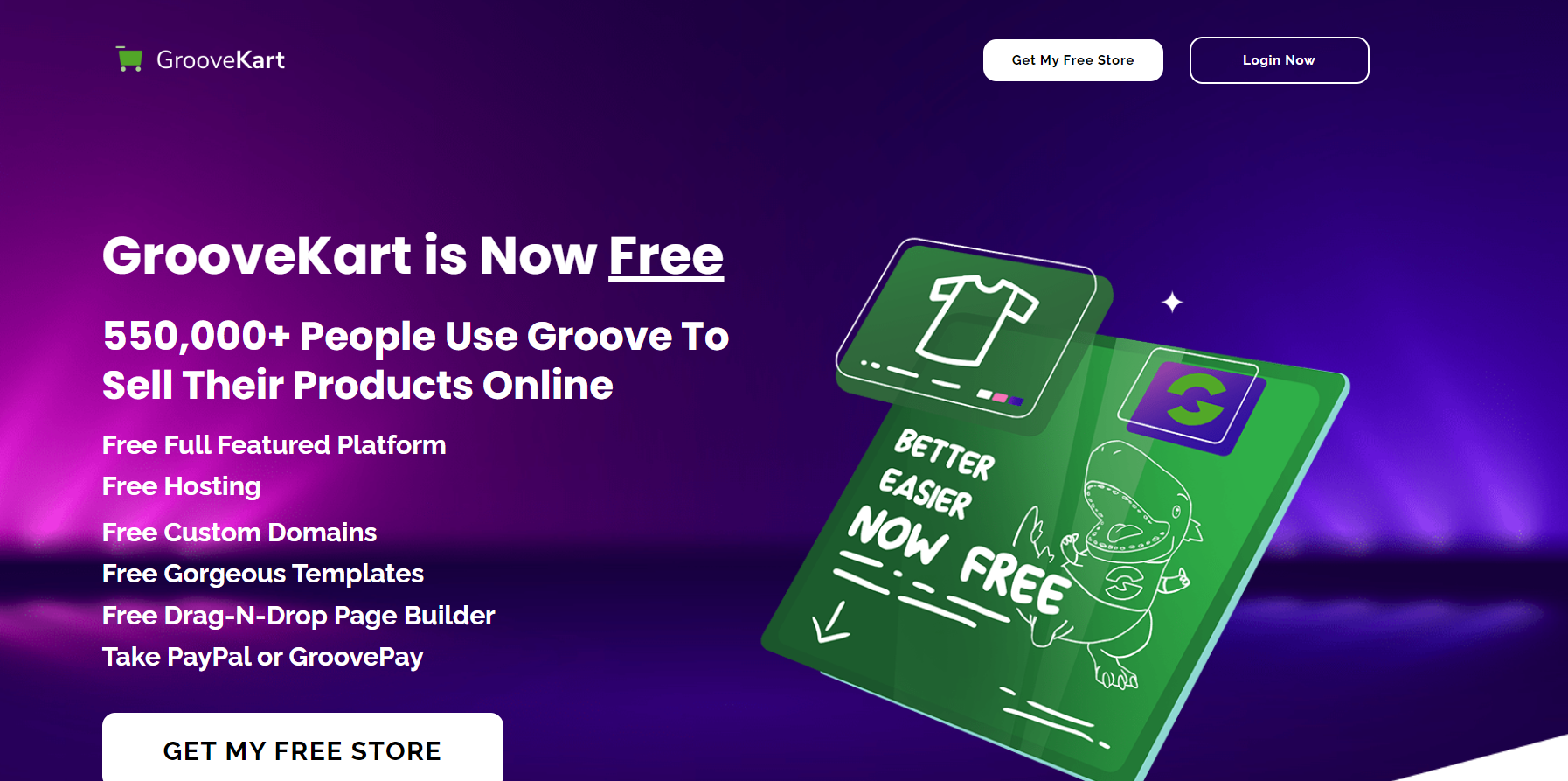 GrooveKart is a robust e-commerce platform that enables you to create and maintain your own dropshipping store.
👉 Check out: How to Build an eCommerce Website from Scratch – Dropshipping Store.
The software provides a vast selection of templates to select from and a number of useful features that may truly level up your productivity in the dropshipping business.
Two of the most well-known marketers in performance marketing, lead generation, and online business in general, Mike Filsaime and John Cornetta, founded Groovekart in 2018.
In fact, this is not all! With Groovekart dropshipping you will have free web hosting, custom domains, selling locally and internationally, marketing research and apps, etc.
Additionally, you can sell tangible goods online using GrooveKart.
Also, It is a FREE eCommerce platform that is simple to use, affordable, has more functionality, and comes with built-in standards without the need for pricey applications.
Besides, one thing you should remember about Groovekart dropshipping is that the tool only costs 2% of the revenue from your business.
Without a doubt, this app is a great deal for dropshippers! Groovekart dropshipping uses a distinctive business strategy in which it purchases all of its goods from wholesalers and stores them in a warehouse.
👉 Also, read Everything You Need To Know: Dropshipping Business Model Explained.
As a result, GrooveKart fulfills online orders by selecting the item from its warehouse, packaging it, and then sending it to the consumer.
Discover top dropshipping suppliers of original US/EU products
You're 2 minutes away from building your ecommerce empire
No credit card required. No commitment.
Get started for free
Groovekart Review 2023: Quick Overview
If you have no time for reading the full Groovekart honest Review, here's a quick one for you! Take a look.👇
The best
Beginner-friendly

Powerful and excellent apps and features

Easy to use

Cost-effective tool

Cloud-based technology

24/7 customer support

Mobile responsive templates

Quick loading speeds
The worst
There's a learning curve needed before you start

Still in the Beta testing mode

If you don't have a premium account, you will be charged a transaction fee of 2% on each sale
Starting from
FREE; $149/ month; $199/month $299/month
Groovekart Review 2023: Pros and Cons
And, what's a review without the Pros and Cons?
In addition, in this Groovekart Review, we will guide you through its Pros and Cons.
PROS
CONS
✅ Beginner-friendly
❌There's a learning curve
needed before you start
✅ Powerful and excellent apps and features
❌ Still in the Beta
testing mode ( relatively new platform)
✅ Easy to use
❌ If you don't have a premium account,
you will be charged a transaction fee of 2% on each sale.
✅ Cost-effective tool
✅ Cloud-based technology
✅ 24/7 customer support
✅ Mobile responsive templates
✅ Quick loading speeds
Even though the platform has its Cons, it is not something you can't deal with.
First, the platform does not have any coding, but still, there's a learning curve you should pass through if you want to use Groovekart. But, is that so bad? Think about it, maybe you will gain more knowledge or information than you thought you knew.
Next, The platform is relatively new, but that still doesn't win the fact that it has excellent features even for FREE!
Lastly, the main disadvantage of Groovekart is that it charges you 2% of each sale if you use the app for free. But, you can always switch to the premium account, and after that, you won't be charged.
GrooveKart Review: Features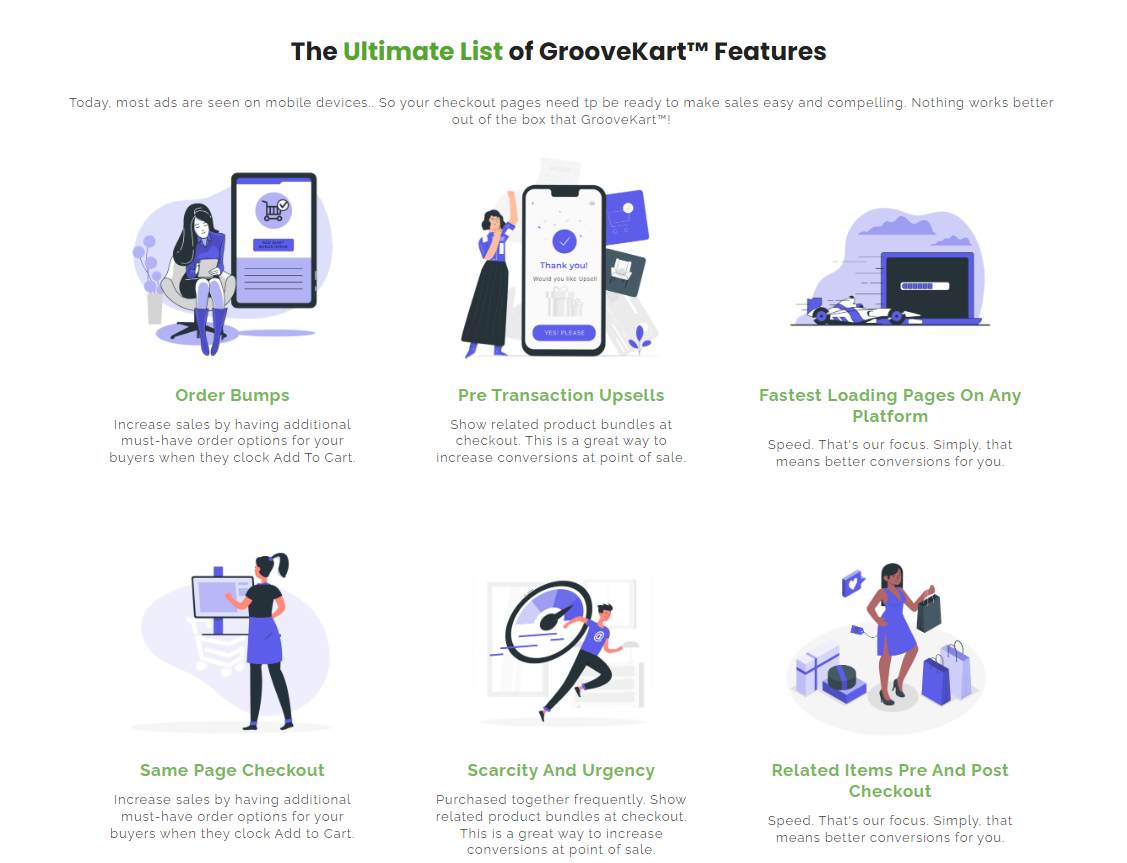 Payment Solutions
GrooveKart excels in integrating many payment options without any problems. It supports the most frequently used payment gateways, like PayPal, Stripe, and Authorize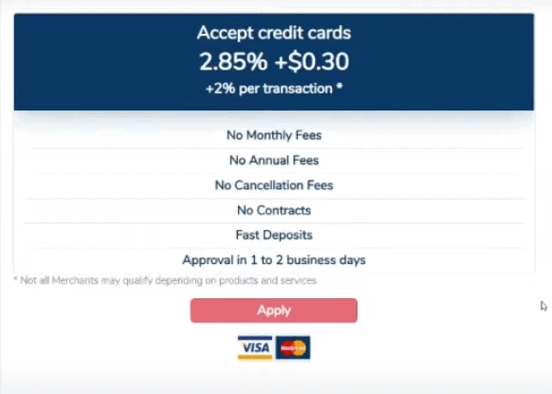 Also, GrooveKart does not charge you a fee for each transaction performed via your store, unlike the majority of e-commerce software suppliers.
It means that you won't be charged anything for using the platform to handle payments.
Additionally, GrooveKart allows you to establish all payments according to your conditions without the freedom of any additional costs.
In reality, you are the only one who keeps the money you make, no one else gets a piece!
👉 Check out the 7 Best Payment Gateways For Shopify In 2023.
Store Builder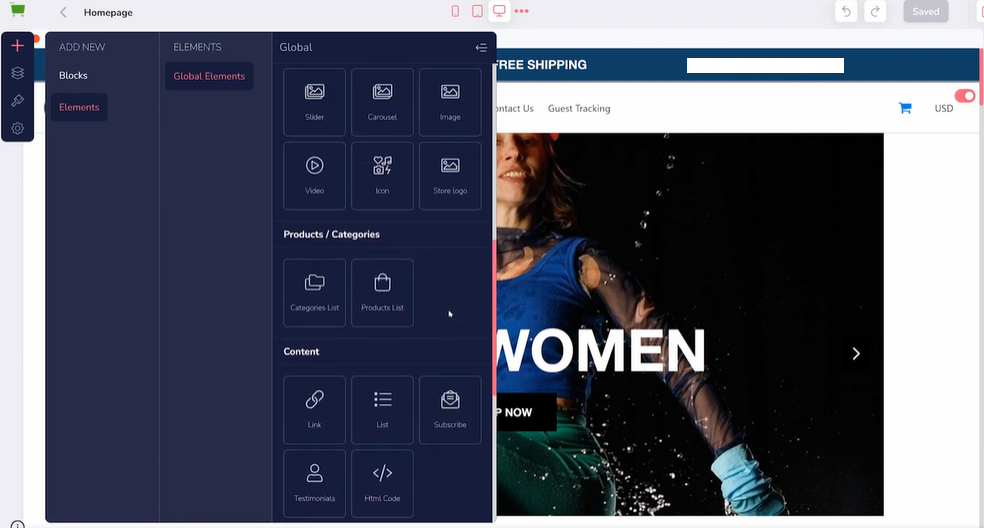 Groovekart allows you to build your whole e-commerce store now. In fact, you don't even need to know how to code to create a custom website.
Also, customizing a dropshipping store with the Groovekart store builder is easy, due to its wide range of customizable content blocks and the easy-to-use drag-and-drop editor.
Moreover, there are also several done-for-you templates. Product pages, sales funnels, and even entire websites.
Even better, all GrooveKart templates were evaluated for high conversion rates and general user engagement according to the newest industry trends.
👉 Check out the Best Alternative Dropshipping Website Builders.
Landing Page Builder
The drag-and-drop interface of the landing page builder is user-friendly. It allows you to create the landing page of your dreams without the need for any programming knowledge.
However, if you don't feel like creating it yourself, you may choose from dozens of available, free Groovekart themes. All you have to do is add your brand's colors, items, and personalized content.
Of course, you are free to add additional CTA buttons, content blocks, opt-in forms, and other interactive elements to the pre-made templates to further dress them up.
👉 Get inspiration from the store that makes millions with dropshipping.
Product Design Tool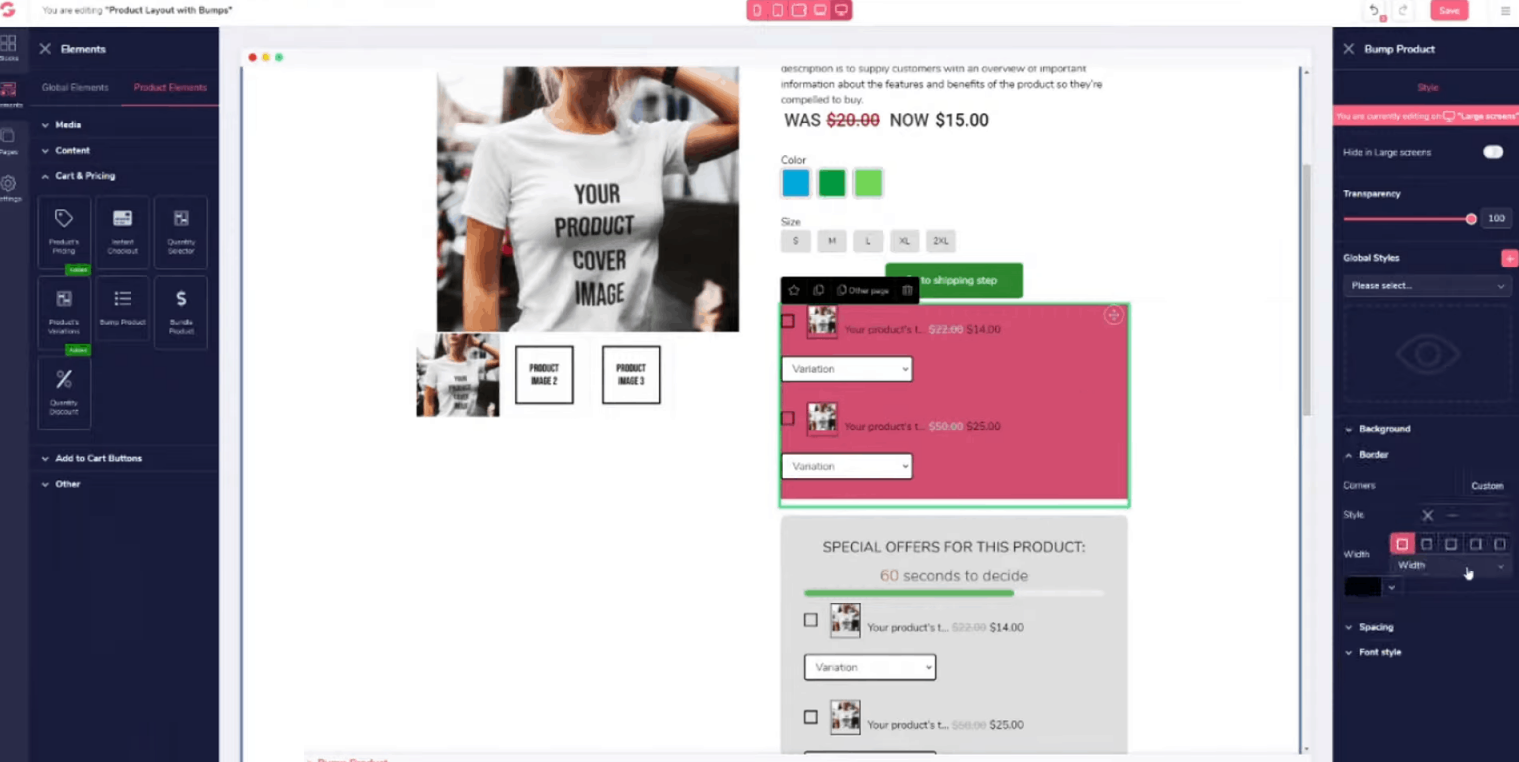 Using the common drag-and-drop interface of the platform with only a few clicks you can quickly design customized items.
So, whether it's a sweater, bag, sneaker, banner, or something else, you can take your logo and unique designs and paste them on your product. The sky is the limit here for you or your creativity too.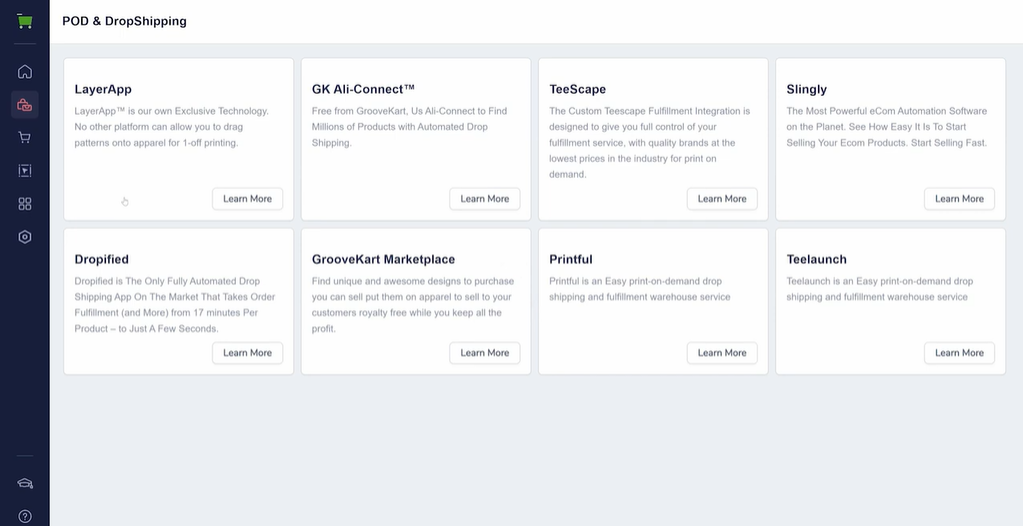 You may also get comprehensive customized print-on-demand features from GrooveKart, and automatic dropshipping possibilities as well.
GrooveKart dropshipping enables you to sell well-known items through dropshipping even if you don't have any items to offer.
This helps you offer distinctive goods that are in great demand while saving space on your inventory.
GrooveKart will send the items you purchase from a third-party vendor to your customers for you, so you don't even have to worry about it.
GK Ali-Connect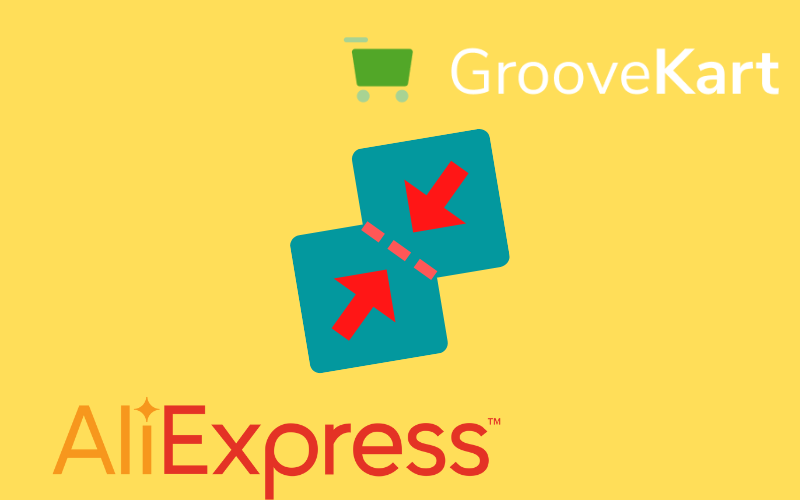 Thanks to this GrooveKart dropshipping tool, AliExpress is directly connected to GrooveKart. This implies that without leaving your website, your customers will be able to purchase straight from one of the top online retailers.
Additionally, the Ali-ConnectTM feature supports dropshipping, which offers countless opportunities for your business.
In fact, you might launch a few separate businesses that target various dropshipping niches using the millions of items offered on AliExpress to help your own store grow.
Import from Shopify
If you already made up your mind to switch from Shopify to GrooveKart, don't worry you are not left alone!
You can easily transfer all of your data from Shopify into GrooveKart with just a few clicks.
All of your clients, photos, goods, and purchase history may be transferred in a matter of seconds.
Also, you won't lose any data during the easy and quick switch from Shopify to GrooveKart.
Help Desk Software
With GrooveKart, you can run your online store without spending money on a separate customer service platform or ticketing system.
The software includes a built-in help desk that enables you to communicate with your clients directly and address any difficulties they might be experiencing in real-time.
It allows you to keep track of discussions and updates on client requests and functions exactly like a normal ticket system.
Built-In Help Desk for Admins
GrooveKart also enables you to incorporate a fully functional live chat system for your dropshipping store.
Therefore, you can communicate with customers in real-time using the integrated Chatra app, which has been shown to improve customer loyalty and enhance conversions.
The best part is that GrooveKart provides the live chat feature for free as part of its basic package.
Advanced Security
GrooveKart uses the most recent security procedures and regulations as an extra precaution to guarantee everyone's safety.
To begin with, all transactions are encrypted, and all client data is held in compliance with legal standards recognized by the world community.
Plus, GrooveKart is GDPR and DCMA-compliant.
Coupon Management System
With the help of GrooveKart's sophisticated coupon management system, you can create and use a variety of coupons and voucher codes, as well as arrange discounts and promotions for certain goods.
As you can probably understand at this point, the system is straightforward, user-friendly, and intuitive, enabling you to add new offers with a few simple clicks.
Haven't you heard that coupons and discounts are one of the most effective marketing tools?
Thank us later, but if you haven't used them yet don't wait for a second longer! It is incredibly easy to implement, and it will also unquestionably greatly enhance your checkout conversions and recurring business.
Marketing Automation and Tools
With the help of GrooveKart's comprehensive sales funnels, you can strategically map out your customers' buying journeys.
A complete set of social tools is also provided, including pop-ups for social networking.
After that, The platform can be integrated with some of the most well-known marketing automation tools available, such as MailChimp, Zapier, and others.
👉 Check out the Dropship Automation Software: 12 Best Dropshipping Software To Automate Your Store.
Additionally, GrooveKart will provide thorough analytics, reports, and very accurate consumer activity and transaction data. This enables you to start making data-driven decisions about your dropshipping business rather than working blindly.
Not to mention, Groovekart offers you unlimited upsells at no additional cost.
Overall, compared to most other e-commerce platforms GrooveKart provides more in terms of marketing.
💡Also, read about the 16 Best Marketing Apps on Shopify.
Training and Community
GrooveKart includes a ton of helpful training videos that will help you improve your advertising strategies. Even better, tutorials are offered not just for the basics but also for more complex ideas and marketing strategies.
Additionally, you can depend on the specialized Facebook group to find answers to your questions, discover helpful or unusual suggestions for improving the functionality of your online store, or read about the experiences of other like-minded digital marketers.
Order Bumps
Order Bumps are another essential feature for an online business. This feature will help you maximize every transaction.
If you're not familiar with it, it's just a small box that consumers may check when they check out to add more items.
As a result, anytime a consumer completes the checkout process and puts in an order, they are presented with the option of adding a discounted item to their shopping cart.
You won't find this feature at any of Shopify stores, but GrooveKart has it.
Scarcity And Urgency
Some of the most popular sales tactics for dropshipping stores include the use of scarcity and urgency tools.
The scarcity and urgency features are completely integrated into GrooveKart so you can add them to your online store to boost conversions. So, GrooveKart offers:
Labels like "selling fast", "limited stock," etc.
Timer countdowns on your pages
Groovekart Pricing
The GrooveKart platform is a favorite among eCommerce and dropshipping beginners because of its free membership.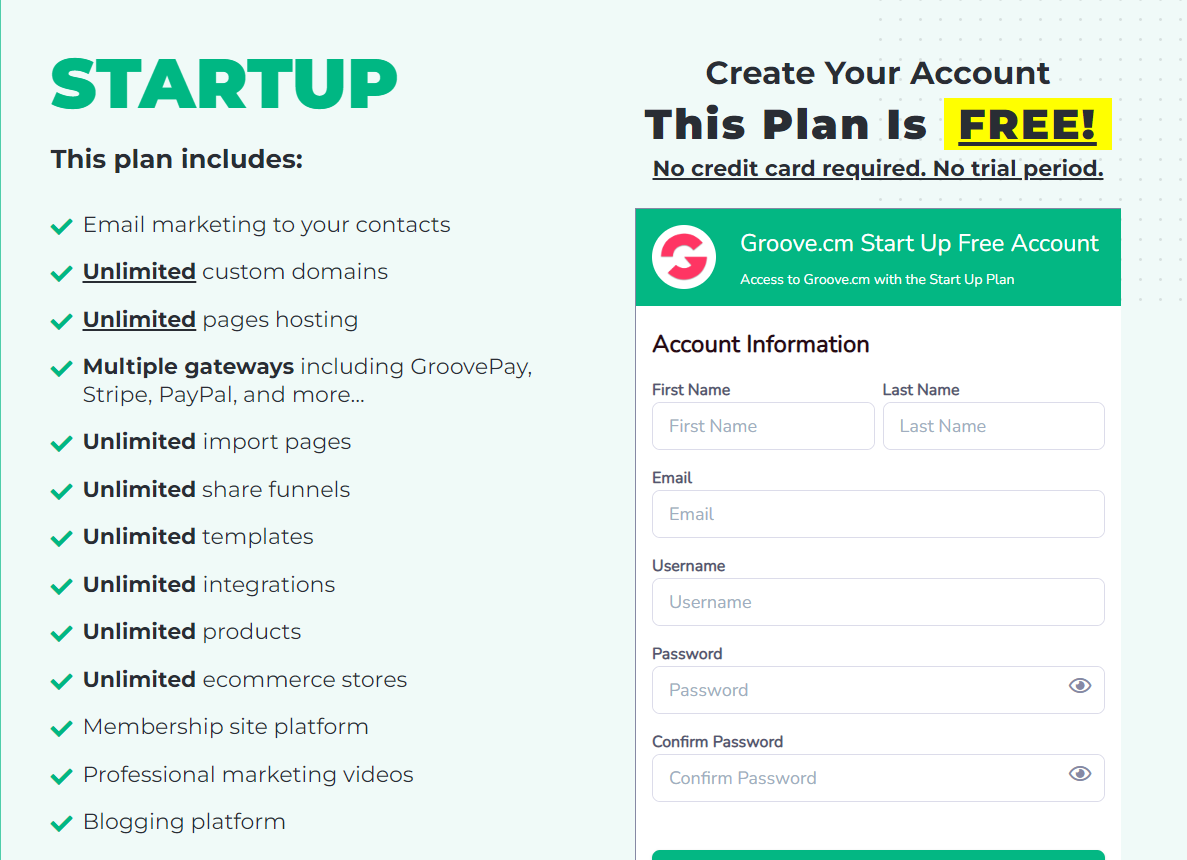 So, the Groovekart platform free membership includes:
Free hosting
Custom domains
Free templates
Drag and drop builder
Choose one processor from the available three
However, users must pay third-party payment processor costs. But, you won't have to pay any payment processing costs once you upgrade to the premium membership.
Plus, Groovekart is that it charges you 2% of each sale if you are using the app for free.
On the other hand, there are three pricing plans:
Creator plan – $149/month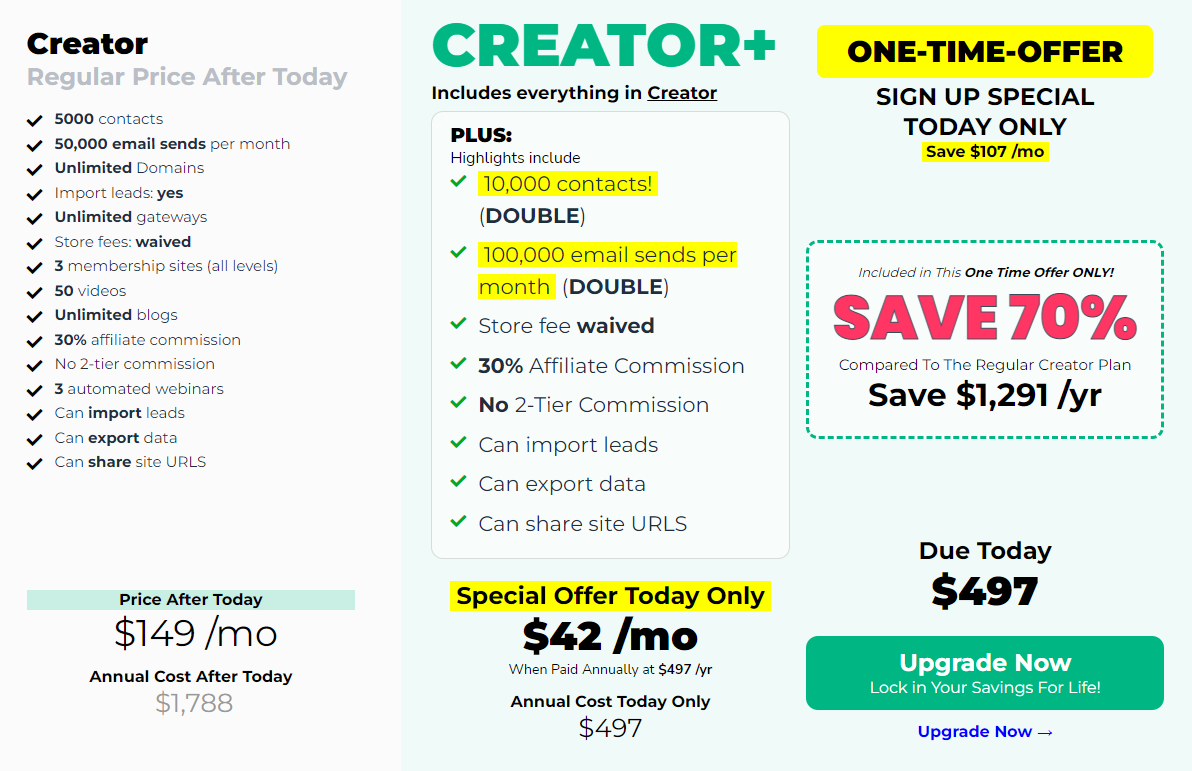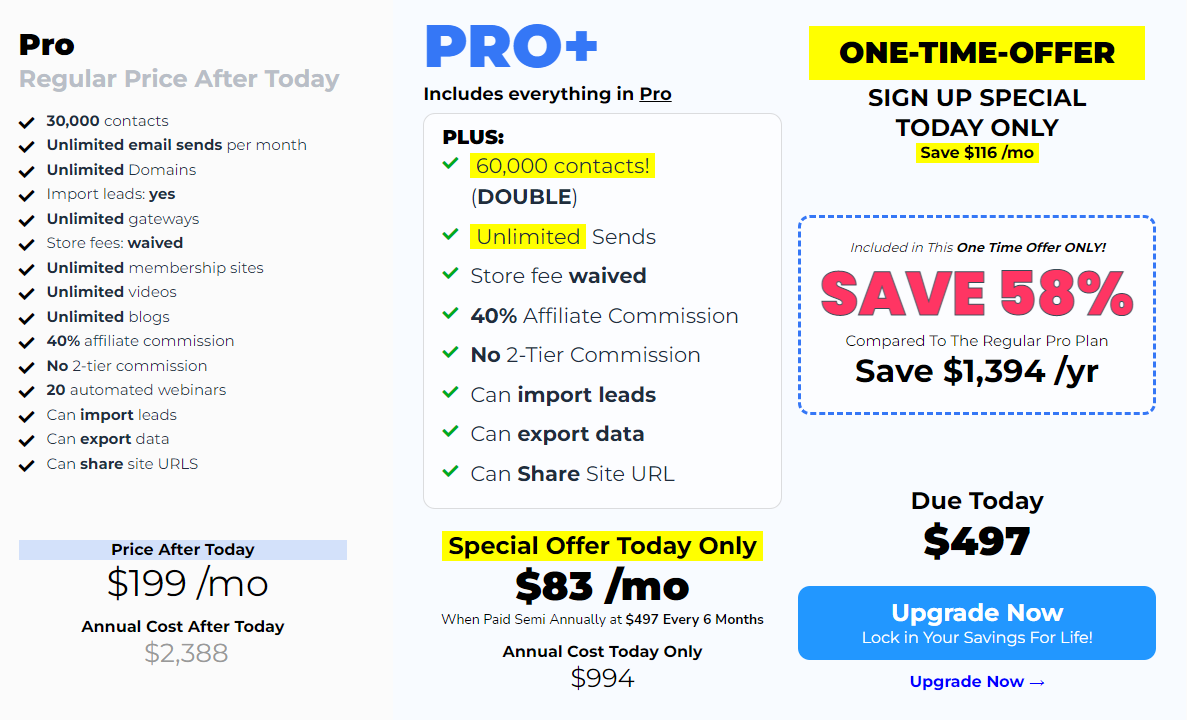 Premium plan – $299/month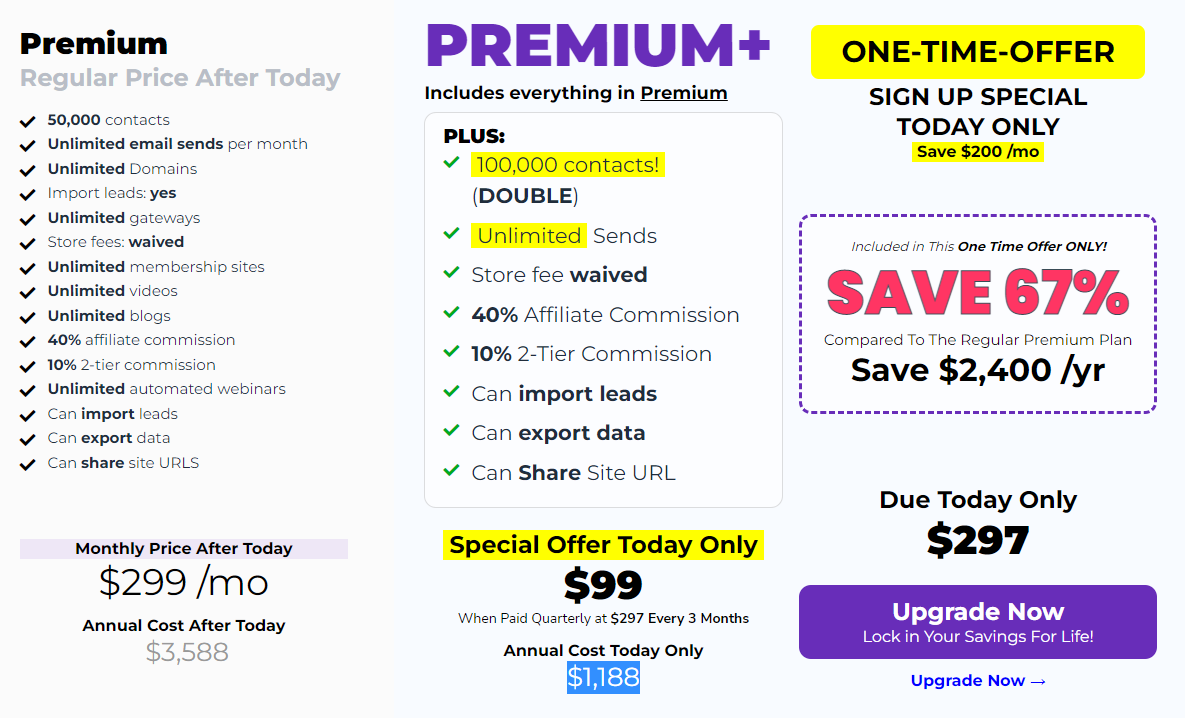 Indeed, even if the free membership has some restrictions, the fact that you can run your dropshipping store for free and just be charged for payment processing is a fantastic offer.
Now, let's proceed with our Groovekart Review! Which are the Groovekart platform alternatives?
Groovekart Alternatives
WooCommerce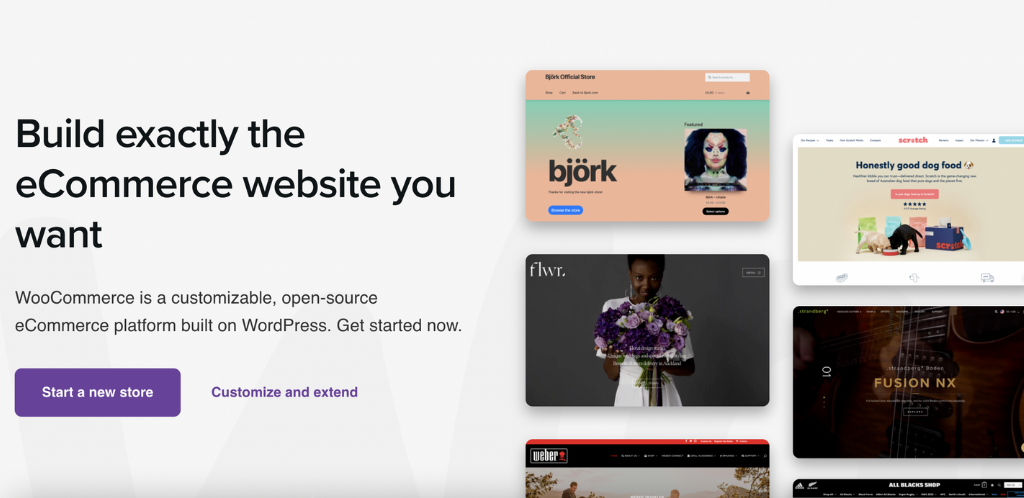 You can start and manage an eCommerce business with the help of the WordPress theme and plugin WooCommerce.
👉 Read about Everything You Need To Know About WooCommerce Dropshipping.
Additionally, setting up WooCommerce is simple. There is no need for a separate registration because it is a WordPress extension
Besides, it only takes a few easy steps to set up integrations with payment processors, autoresponders, and other services.
Plus, If you want to create an online store quickly and easily, you should utilize WooCommerce. Although it's not as user-friendly for beginners as Groovekart.
However, WooCommerce shouldn't be used if you just have a little dropshipping budget. And, that's where Groovekart triumphs once more.
Magento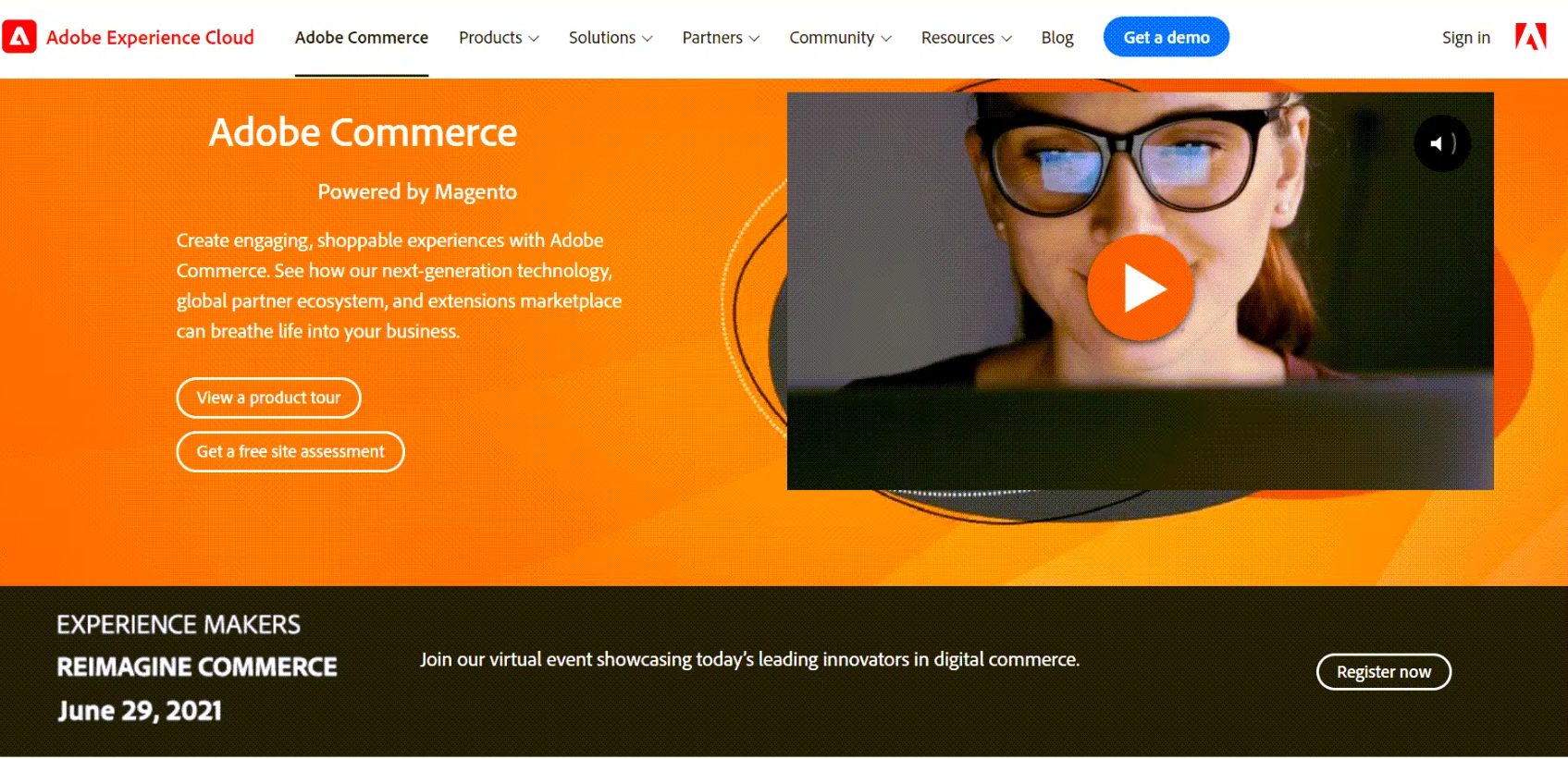 Magento is one of the most customized options for your dropshipping business, provided by Adobe.
Long story short, it gives you total control over your website.
Also, it is one of the best open-source eCommerce platforms and is typically used by medium and large-sized online businesses.
However, Magento's major drawback is that it is a difficult platform to use. This indicates that if you are not tech-skilled, you can run into some problems.
Additionally, connections with various payment systems could cost money. Plus, the subscription plans are pricey and the free plan lacks a number of necessary features.
So, if we compare this with the Groovekart review, we can certainly say – this is not happening here!
Ecwid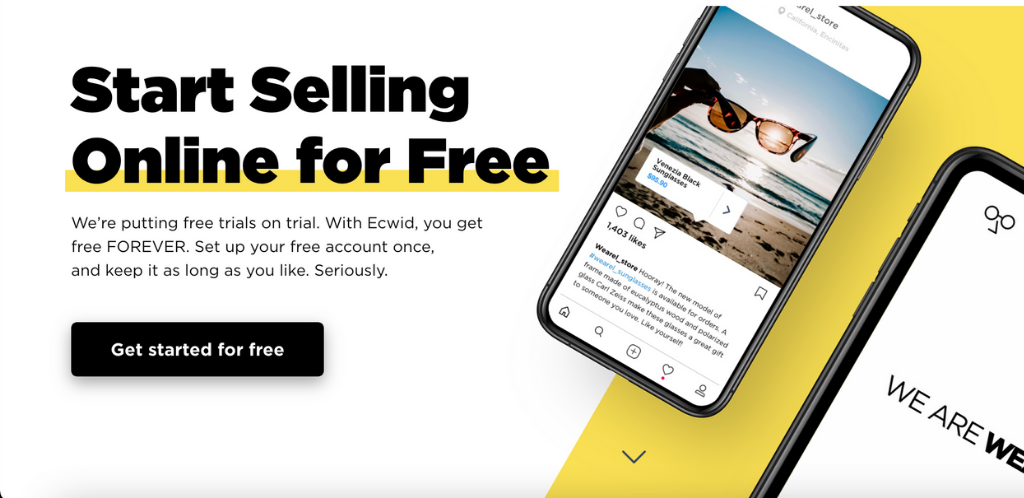 Ecwid is a plugin for e-commerce businesses that enables you to include several e-commerce features on your website. While its reputation has been established on its ability to integrate into any platform and increase revenue.
However, the main Ecwid feature is that you can completely customize your dropshipping store here. And, this is what makes this dropshipping platform a great competitor of Groovekart.
Besides, If you want to create a brand-new store from scratch and you want to concentrate primarily on SEO, you shouldn't use Ecwid.
Ecwid is one of the best free Shopify alternatives and is very simple to use, although it is deficient in several aspects for extremely scalable eCommerce businesses.
Also, check out the Ecwid vs Shopify: The Ultimate Comparison of The 2 Dropshipping Titans.
Wait a minute, have we mentioned the biggest Groovekart dropshipping rival? Not yet!
Well, that's the next topic in our Groovekart Review. Let's go!
Groovekart vs Shopify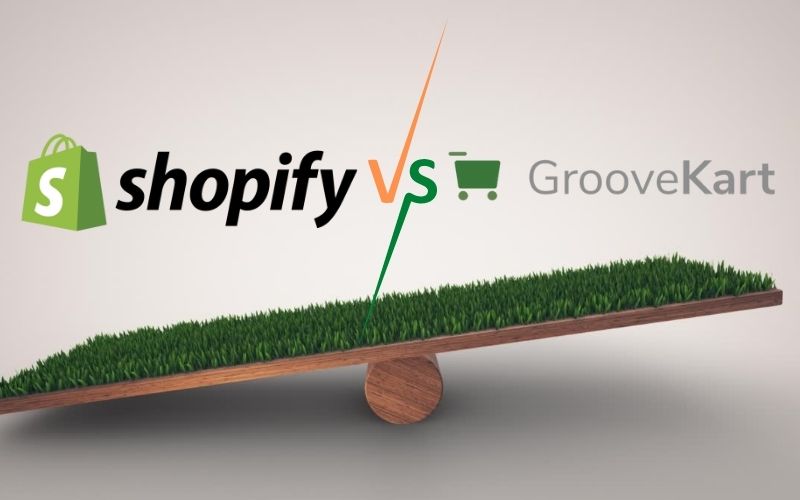 GrooveKart is at least as effective as Shopify. Plus, It offers functionalities that are unavailable on Shopify or any other eCommerce platform.
Comparing Groovekart vs Shopify, we can certainly say that Groovekart offers far greater value for the money, it is included with all other Groove suite products and has no in-app purchases or hidden costs.
Undoubtedly, It was collaboratively created with assistance from experts who have expertise in the eCommerce industry and who understand the challenges that online sellers are facing.
Moreover, GrooveKart is currently referred to as the "Shopify Killer" by many business executives since it provides all the features that Shopify delivers + more!
Not to mention that Groovekart is actually cheaper than Shopify, and once you get its premium membership there are fees (not the case with Shopify).
To sum it all up, keep in mind the following:
Shopify charges additional transaction costs. Comparing Groovekart vs Shopify, the Shopify app will charge you a fee for each transaction done at your store even if you are on their premium plan. Well, Grovekart does not do that.
The cost of Shopify Apps is additional. Contrarily, all GrooveKart applications are included in the platform and don't cost extra, plus you may use all the GrooveFunnels apps as well.
Some Shopify layouts don't work well on mobile devices. The store and landing page builder on Shopify is top-notch. However, not all Shopify website layouts and designs are mobile-friendly, but GrooveKart is.
Is Groovekart Worth it?
GrooveKart is definitely worth trying. Let us give you a little reminder of thousands of why it is!
First,
Also, this software also has the benefit of not charging you a transaction fee for each sale, unlike Shopify. You keep all of your earnings. The GrooveKart platform provides free sales funnel assistance to help you sell more of your products.
Additionally, the Groovekart dropshipping has three print-on-demand methods built in to help you expand your store's inventory quickly and earn more money.
Find winning dropshipping products & spy on your competitors
Minea analyses all online advertising to help you find the best products to launch, and the best creatives in your niche in just a few clicks.
Use coupon: DROPSHIPPING30 and get a 30% discount
💡Try Minea For Free
Is Groovekart Legit?
The GrooveKart platform is definitely legit!
The most recent encryption standards are used by GrooveKart. Also, GrooveKart is one of the safest places to conduct your business thanks to this technology.
They are both GDPR and DCMA compliant. In fact, GrooveKart takes security and privacy seriously.
However, if you search through Trustpilot, maybe you will come across other information, talking about Groovekart as a scam.
Once you check the link you will actually realize it by yourself and get all the accurate info about creating your Groovekart dropshipping store.
And of course, you have a full GrooveKart Review here that talks precisely the opposite of dropshipping scams!