Zendrop Review: Zendrop Shopify Pricing, Features, Pros & Cons, Shipping Times
by
Martin -
Martin is an agency owner and SaaS projects maker. His work is featured in the leading ecommerce brands, magazines and podcasts. Talks about Marketing, Business Development, and Growth Hacking!
CO-founder at Dropshipping.com
Have issues with dropshipping from China? Or, are you looking for inexpensive products, you want to sell at premium prices? You are not alone, we got a fantastic app for you!
But first, let us ask you, Do you want to offer viral items in your store right away? And, there you go, you got it all with one app – Zendrop dropshipping!
Zendrop is an online marketplace that links trustworthy suppliers with online retailers and dropshipping stores.
Also, there are no language difficulties (with suppliers like AliExpress), long shipment delays, or misbranded packaging.
Zendrop provides exceptional customer service from the United States, the shortest delivery times, unique branding on all goods, and an English-speaking crew available to assist you 24/7.
Want to know more? Let's dive into our Zendrop Review!
Zendrop Review (Quick Overview)
Hey busy people, we know, time is money. So, if you are out of time reading the whole Zendrop Review, or acknowledge what is Zendrop, here we have a quick review for you. Check it out!👇
The best
Numerous items available

Recognized and trustworthy suppliers

Fast shipment and tracking accessible

Handing returns and refunds

They provide a free plan

24/7 Email assistance and live chat

Saves time, efforts and money
The worst
Some of the most useful features are accessible exclusively on the Pro plan.

If you just want to pay month to month, $49 is a bit much.

Custom packaging and private labeling are only available with a MOQ order.
Lifetime deal: Get all-access to everything on Dropshipping.com
Access all DSCOM features, resources, courses, live workshops, discounts, winning products, weekly deep dives, directories and all future updates under all-in-one dropshipping HUB.
DROPSHIPPING IS A REAL BUSINESS, DON'T DO IT ALONE. 4553 MEMBERS ALREADY JOINED. YOU CAN PAY OFF YOUR SMALL INVESTMENT WITH JUST 2 SALES ON YOUR STORE.
Grab the deal before it's gone
What Is Zendrop?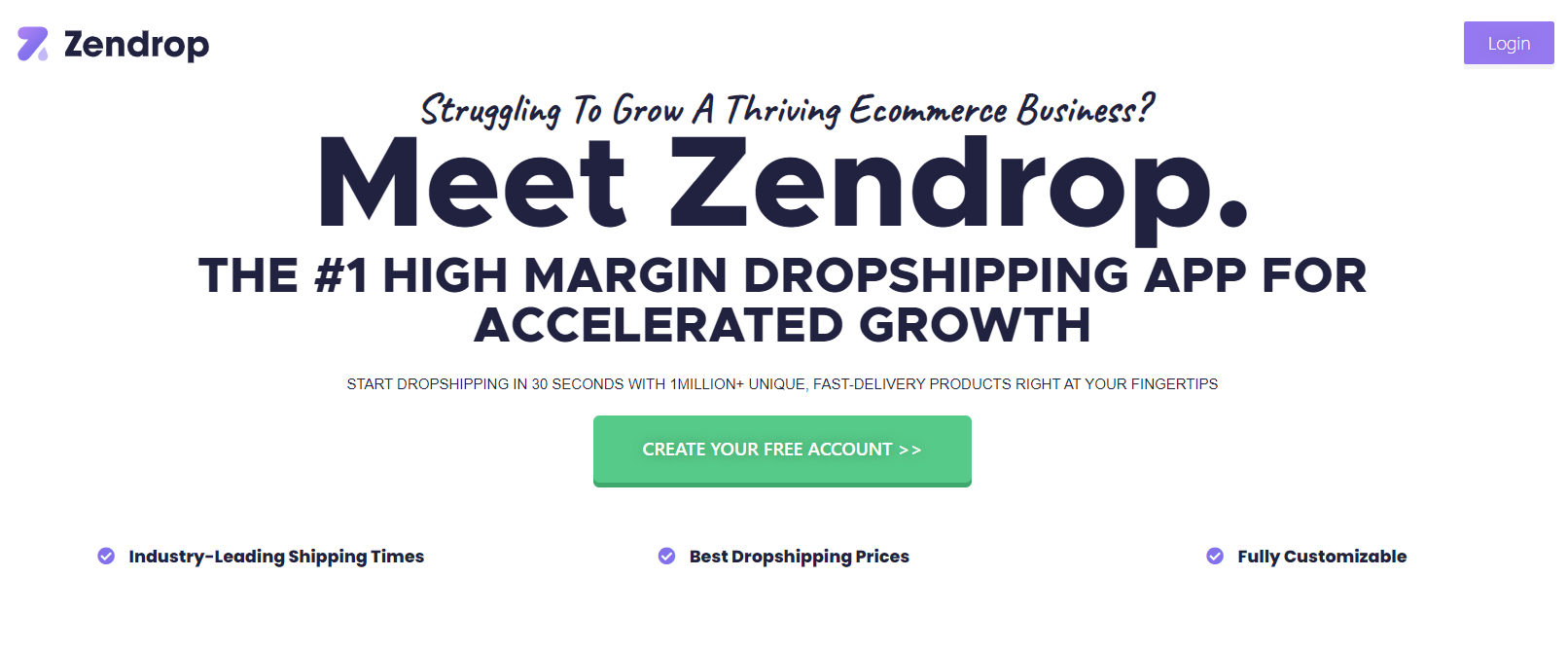 Zendrop (formerly Silk Road) is a platform created by dropshippers for dropshippers.
This is software that can help you avoid many of the problems that come with dropshipping from China.
👉 Learn How To Dropship From China to the USA [Best Practices].
Initially, Zendrop founders were frustrated with their reliance on AliExpress suppliers to run their business, slow communication, long shipment times, and so on.
To summarize, Zendrop dropshipping is simply a large marketplace where entrepreneurs can discover low-cost items to add to their dropshipping store and sell at a premium price.
What's more, as the dropshipping model implies – you don't keep any inventory, you just sell virtual goods. But, with Zendrop, you also don't have to bother about product packing or shipping because the company whose products you sell does it all.
Is Zendrop Legit?
YES. Zendrop is definitely legit!
We know that many of you have this question. But, Zendrop is not a scam. If we start with the purpose of building it – Dropshippers built it to help other dropshippers solve many problems they had while running their business.
Also, this problem called for a more reliable, automated, and long-term fulfillment system.
If you're unsure about Zendrop's legitimacy, start with the free trial.
How Does Zendrop Work?
First, you need to sign up and create an account on their website.
After that, you will be eligible for the 7-day trial period, during which you will be able to use the app and evaluate its performance. However, keep in mind that the Zendrop free version has limited functionality.
On the other hand, if you find the Zendrop free trial helpful, you can subscribe to the premium while using our coupon code: – to get
Next, once you log in, you will land on the Zendrop dashboard. Here you can use all of their features (we will discuss later in this Zendrop review), import products, and start selling.
Hence, you can create custom cards for your customers, brand your orders, etc.
Also, using the Auto fulfillment feature, all of your orders will be sent to your dropshipping suppliers automatically and they will fulfill your orders. You can also get a tracking number for the order, or choose express shipping as well.
👉 Correspondingly, consider that you can fulfill your orders by yourself if you want to.
Zendrop works directly with Chinese suppliers and manufacturers to acquire high-quality items at the most competitive pricing.
Once an order is made with Zendrop, they handle product sourcing, inventory management, packing, branding, and direct distribution to customers.
Zendrop Features
Auto Fulfillment
This is one of the most unique features of Zendrop. Fulfilling orders used to be a time-consuming and labor-intensive procedure, especially if you sell in bulk.
As a result, the dropshipping agent would be obliged to spend a large sum of money on a virtual assistant each week to assist with order fulfillment. Luckily, that is now all in the past.
👉 Check out the 5 Best Dropshipping Agents For Easy Start & Dominating The Niche.
Thanks to Zendrop, the entire procedure can be totally automated. You simply need to click the fulfill orders button on Zendrop to automate the entire process. Next, Zendrop will complete your order after you place it.
And, here's how to do it:
Step 1 – Enter the Zendrop Dashboard.
Step 2 – From the left sidebar choose the "Orders" category.
Step 3 – Once the "Orders" category is displayed, you can see all your orders.
Step 4 – On the upper right corner turn on the "Auto Fulfillment" option, by simply pulling the button to "ON".
Tracking
Not just fulfilling orders is automated, but tracking them too. Zendrop will instantly update your account whenever they obtain tracking information from their Chinese supplier.
Check out the Best 12 Wholesale Dropshipping Suppliers In India, China, And Canada.
Also, through Shopify's API, your customer will obtain their tracking number.
Product Sourcing
This is also a very unique Zendrop feature, and here's how it works!
If Znedrop has the product you want to sell, Then you simply need to follow these steps:
Step 1 – Enter the Zendrop Dashboard.
Step 2 – From the left sidebar choose the "Import List" category
Step 3 – Once the Import List displays, you can choose the product you want to sell, by searching for it in the "Search" area.
Step 4 – Once you find the product you want to sell, you simply click the "Import to store" button, displayed on the right corner of the product you want.
On the other hand, If Zendrop does not have a product from AliExpress that you aim to sell, simply enter the product's details into Zendrop, and Zendrop will source and automate the entire process.
You may begin selling the exact goods right immediately, and Zendrop will provide you with a quotation whenever a transaction is completed, which is often around the price advertised on AliExpress. This effectively means that practically everything sold on AliExpress is also available on Zendrop.
Custom Packaging & Private Labeling
Branding is the process of developing a strong and well-known name for a specific business.
And, if you're selling China items, which are known for being low-quality (even if they aren't), unique packaging and branding is a must for your dropshipping business.
Thankfully, custom packaging and private labeling are accessible at Zendrop, but only when you purchase a MOQ (minimum order quantity).
When you give information to Zendrop, they will contact their fulfillment team for a quote, and you will receive pricing information.
💡 Tip: Read about Private Label Dropshipping – 20 Suppliers To Start With.
Thank You Cards
You can create your own thank-you cards to include in packages sent to clients, and you can personalize them with your own image, title, message, and address. Here's how to do it:
Step 1 – Enter the Zendrop Dashboard.
Step 2 – From the left sidebar choose the "Branding" category
Step 3 – Once the "Branding" category displayed, you will see a "Thank you" card displayed.
Step 4 – Right above the Thank you card, you can enable the "Custom" and set "Branding ON". And there you go! Customize it however you like!
Furthermore, you can also provide promo codes and discounts to entice customers to make future purchases. Accordingly, you can use this tool to help promote your Shopify store.
This is a really strong tool for building your brand and establishing a recurring business without having to pay for advertisements.
Zendrop Pros and Cons
| | |
| --- | --- |
| PROS | CONS |
| ✅ There are numerous items available | ❌ Some of the most useful features are accessible exclusively on the Pro plan. |
| ✅ They order the items for you if they don't have them | ❌ If you just want to pay month to month, $49 can be tricky for complete beginners. |
| ✅ Zendrop exclusively works with recognized and trustworthy suppliers | ❌ Custom packaging and private labeling are only available with a MOQ order. |
| ✅ Zendrop obtains items directly from dropshipping suppliers rather than passing them through many intermediaries to ensure that you get the cheapest price | |
| ✅ Returns and refunds are handled in a very fair and reasonable manner | |
| ✅ They provide a free plan that you can use to see if it's worth it before you subscribe | |
| ✅ Excellent features | |
| ✅ Fast shipment and tracking accessible | |
| ✅ The entire procedure is quite automated, which will save you a significant amount of time | |
| ✅ 24/7 Email assistance and live chat | |
Zendrop Shipping Times
Most of the Zendrop products are shipped from China, and there is express shipping for these orders. However, they also offer US-based suppliers for extra fast shipping.
So, the shipping options that Zendrop provides are
Economy shipping. This is the cheapest choice, however, we do not suggest it. Prices are a fixed fee of $1.50 to the United States and $3 to the rest of the world. With this, Zendrop shipping times are much longer, and the major reason I would avoid budget shipping is that the box would include a Chinese address. Unfortunately, this delivery method is the only choice in a number of countries.
Regular Shipping. This shipping option costs a bit more, but it is far superior to the prior one. Prices are a fixed fee of $2 to the United States and $3.50 to the rest of the world. Shipping times are significantly faster than with economy shipping. The shipping labels are generated in China using Zendrop's shipping carriers, and the return address is in the nation of your customer.
Express Shipping. This shipping option costs $6 for items weighing less than 450g and $9 for packages weighing more than 450g. Despite the little price increase, you have the option of charging your consumers an additional fee for fast shipping.
In consequence, keep in mind that the Zendrop shipping times differ from one country to another. For example, shipping to the USA with the Regular Shipping option may take from 7 – 15 days, but to Australia could take 6 – 12 days. Take a closer look. 👇
Zendrop Returns
Zendrop products can be returned. However, there are several cases in which you can have a return, and these are
If the goods take more than 5 days to arrive after the estimated delivery date. You are entitled to a refund, but only after you have shown confirmation that you have previously repaid your consumer.
Damaged/ defective product. Zendrop will provide you with a complete refund or replacement if you provide proof of product damage in the form of a photo or video.
Lost/ stolen product in transit. Zendrop will collaborate with you to decide how to manage the matter.
This makes things a lot easier for you because most of the time since returns are one of the most challenging components of the dropshipping business since you are held responsible for something that is absolutely out of your control.
👉 Check out the Pros And Cons Of Dropshipping: Does It Actually Work?
Zendrop Shopify App
There is a Zendrop Shopify App available in the Shopify app store. Then, you can rapidly add trendy goods to your store after integrating Zendrop with your Shopify dropshipping store.
Furthermore, you may benefit from the assistance of their excellent customer success team, rapid shipping worldwide, and 100k+ trending goods to easily add to your business.
However, here's a little help for you if you want to connect your dropshipping store with the Zendrop Shopify app:
Step 1 – To begin the store connection procedure, you must first establish a Zendrop account. Go to the Zendrop website and click the "SIGN UP FREE" button to establish a Zendrop account.
Step 2 – After completing the sign-up procedure, your Zendrop account will display, and now you first need to link your Shopify store by providing your Shopify store URL.
Step 3 – To find your Shopify store URL, open your Shopify store, go to the Home page, click the browser URL, and copy it. Tip: Once you copy the Shopify Store URL, make sure that anything after the.com is removed.
Step 4 – Return to your Zendrop account and paste the URL into the appropriate section.
Step 5 – Finally, click the "Connect" option to complete the process.
And, there you go, you have a 5-step simple-to-integrate process, and a lot of time-saving, support, happy customers, and more!
Zendrop Pricing Plans
There are three Zendrop plans, of which one is a free plan, and the other two pricing plans cost $49/month, and $79/month. What's more, you have a choice to subscribe these Zendrop packages per year too.
💡Tip: If you look closer, choosing a yearly subscribed Zendrop plan might be more cost-effective. For instance, if you choose the Pro plan you will get to pay $33/month, instead of $49. Which is a way cheaper. It's the same for the Plus plan – you will pay $45/month, instead of $79.
Zendrop Alternatives
Spocket
Spocket is a platform that solves a major challenge for dropshippers who wish to dropship to the United States and Europe.
They feature a vast range of items that are held in US and EU warehouses, allowing for quick shipment to those regions.
Furthermore, this dropshipping software provides high-quality products, high-quality suppliers, large profit margins, rapid shipment, automatic sales, and other benefits.
👉Check out our Ultimate Guide to Dropshipping With Spocket in the EU & US.
Zendrop vs Spocket
If we compare this Zendrop alternative with it, we will realize that that are more similarities between them.
Features: Spocket provides many of the same features as Zendrop, such as sample orders, delivery tracking, branded invoicing, etc. On the other hand, Zendrop provides greater overall branding for your items and auto-fulfillment.
Pricing: Socket's Pro plan, which costs $29 per month for an annual subscription, is the greatest value for novices, and is close to Zendrop's pricing. Both platforms provide a free plan.
CJ Dropshipping
CJ Dropshipping is a one-stop platform for dropshipping that includes product sourcing, order production, and shipment fulfillment. You may think of the platform as a cross between Oberlo and Aliexpress.
The platform does not charge any fees. There are no minimum orders, monthly subscriptions, storage fees, or set-up expenses. Additionally, there are no fees for selling products.
CJ Dropshipping offers Free Applications, Large Inventory, Product Catalog, Customization, Warehouse and Suppliers, Quality Control, Product Images & Videos, Order Fulfillment & Order Management, etc.
👉 Check out the CJ Dropshipping Review: How Does It Work? Pros & Cons, Comparison & Features.
Zendrop vs CJ Dropshipping
Features: CJ Dropshipping provides a fulfillment service in some countries, allowing you to store your items at their warehouse and distribute them to your consumers directly from the warehouse for rapid shipping. Zendrop includes extra options for branding your items, such as thank-you notes, packaging, and private labeling. Zendrop also has a product-sourcing function. Also, CJ Dropshipping doe not charge additional fees like MOQ, while Zendrop does.
Pricing: CJ Dropshipping has an extra plus here because it is free to use. However, because this platform act as a middleman between you and the suppliers, it will charge a little markup on the items, so it may not be the cheapest alternative.
Ali Dropship
AliDropship is another tool that links directly to AliExpress and simplifies the process of importing and modifying items.
In reality, AliDropship is almost a full-fledged dropship automation program. It provides a Shopify app that links to your store as well as a WordPress plugin that allows you to effortlessly incorporate their service into your site.
The platform is simple to use and significantly reduces the cost of AliExpress dropshipping.
Zendrop vs Ali Dropship
Features: Both platforms have similar features, but Ali Dropship has extensions, plugins, and add-ons that Zendrop does not include. However, the branding at Zendrop is way better.
Pricing: Ali Dropship costs $299 and it's yours after you pay, which is not the case with any other platform. Also, Ali Dropship does not offer a free trial, while Zendrop does.
Zendrop Review – Worth Trying It?
Reading this Zendrop Review, you can even come up with an answer by yourself!
But, summing it all up, If you can afford the $49 monthly fee, Zendrop is a great choice for dropshipping newbies.
It streamlines the entire process, eliminates risk, assists in automation, and provides branding choices that will help your dropshipping store build customer trust.
If you are experiencing or are afraid about experiencing these issues, Zendrop is definitely worth trying it!
Join the only community and resource hub you'll ever need to succeed with dropshipping
Find winning dropshipping products, learn marketing, download templates and engage with real dropshippers
Never pay for a "guru's" course again. See why 4543+ dropshippers joined us this year!
💡Try DSCOM Hub Now