Content marketing for dropshipping is one of the most important marketing practices you can have in order to help you increase the overall traffic on your site.
It makes your customers feel connected to you instead of just being a bunch of loyal customers (which is important too).
You want to always get as much content as you can out there. Here are some of the best tips to do so.
What Is Content Marketing?
Content marketing is a strategic approach that focuses on creating and delivering useful and valuable content to a certain audience.
Content marketing strategies are popular trends in the e-commerce business and for making money online. The business model itself has a low entry barrier and is a great way of promoting an online store, especially when it is new.
Effective content marketing is very good for attracting new customers, building brand awareness, increasing revenue, and conversions themselves.
Over a long period of time, you will also start to build a fan base for your content marketing. Consumers will start trusting you for all the content you produce and that will lead to many benefits for your online store after.
Discover top dropshipping suppliers of original US/EU products
You're 2 minutes away from building your ecommerce empire
No credit card required. No commitment.
Get started for free
Why Do You Need Content Marketing For Your Dropshipping Store?
Content marketing is its own way of promotion, its own marketing strategy. It is one of the best ways to enhance your business goals and to function cooperatively with your other marketing strategies. In other words, you can consider it as a map. It is the GPS that will lead you to your goal.
Your content marketing strategy should all resonate around how your dropshipping store will attract, acquire, retain and engage potential customers.
Many dropshipping businesses fail to incorporate a content marketing strategy and that is exactly what separates one with a strategy and one without. It is the key strategy that will make your dropshipping store unique and different from the rest.
According to research done by B2B findings, nearly 70% of the most successful dropshippers out there have a content marketing strategy set up, while the rest don't. It showed that it helps them stay focused on their priorities. It is from the tactical decision that you choose to make, develop, and plan for.
Step-By-Step Guide For Creating a Content Marketing Strategy For Dropshipping
It isn't that difficult to create a content marketing strategy, but if you don't know which steps to take, it can be difficult at the same time. You want to make sure you are providing helpful information to your audience so they will want to come back and visit you.
Target Audience
One of the most important factors when you are setting up a content marketing strategy. Every content piece you post needs to have a target audience. Otherwise, you will never know which audience you are targeting.
By knowing your target audience, you want to know which direction you are heading. Writing general content or targeting a broad market is never a good idea. You want to consider the following:
Interests

Location

Gender

Age group
Before you set up your target audience, take into consideration some of the following questions:
What makes me unique from the rest?

Who am I targeting?

Will this content be valuable to them?

Can I be a trusted creator?
Will you be someone writing content about home decor, accessories, car parts, books, or what? Will you have something unique that the others don't?
Goals/Objectives
If you don't have a goal, you most likely also don't have a direction. Every dropshipping store has different goals, missions, and objectives, while others don't even have any!
When you do though, you know what you are doing and if you are on the right path or not. It saves you time and shows if your content is on the right path with what you want to achieve.
When writing down your goals and objectives, you want to take into consideration the following:
Who are your loyal customers

SEO Ranking

Generating leads

Engagement rates

Brand awareness

Website Traffic
There is also a technique most people use when creating goals, and that is SMART:
Specific-

no complexity

Measurable-

by using data

Attainable-

be realistic

Relevant-

steps to the final outcome

Time-specific-

stats a time frame in which the goal should be complete.
Some examples would be: aiming to gain 10 new customers, increasing revenue by 15%, website traffic by 50%, etc.
KPIs
A good way for measuring how you perform is related to your goals. Most KPIs that are tracked for dropshipping is like we mentioned above:
Brand Awareness-

website traffic, social media followers, sign-ups, email subscribers.

Conversions-

conversion rate & abandonment rate.

Engagement-

Likes, shares, comments, etc.

Revenue-

site traffic, daily sales, purchase rates, etc.

Loyalty-

reviews, long-term customers, word of mouth, returning customer rate.
Content Marketing Sales Funnel
Creating the right content marketing strategy for dropshipping includes also understanding the way people buy from your dropshipping store.
There are 3 stages in the content marketing sales funnel:
Awareness-

The new customer, the first time they hear about your content and dropshipping store. This is when customers will most likely not buy from you but just scan what you are all about.

Consideration-

customers are wondering if they should buy from you or not. This is all about first impressions and if you are targeting the right audience.

Decision-

the customer finally decides if you are their right choice or not. This is the stage where they decide if they will be your customer or never return again.
Each stage has its own way of promotion and needs a different type of content strategy. We wrote an entire article on what to consider when creating content for every stage of the sales funnel, check it out here.
Types of Content Marketing
There are many different types of content marketing that are used for promotion. This all differs from the channels you choose to promote on to the forms also. Here is a list of the different types of content marketing channels and forms:
Blogs –

content in written form. Content that is usually produced every week or every month.

Emails –

email marketing campaigns, newsletters, promotions, etc. A very strong way of content marketing and personalization with customers.

Photos –

content marketing with photos. Usually on social media, paid ads, website photos, etc. An effective way of creating content is when the photos have promotional text and are of high quality.

Product reviews –

usually referrals, or great reviews done by your customers. This is mainly word of mouth but is one of the best types of content marketing out there.

Social Media – regular

posting on Instagram, Facebook, Twitter, LinkedIn, etc. Great for engagement rates and personalization.

Paid ad campaigns –

Google ads, paid social media ads, website ads, etc. Great for increasing exposure, especially when you are doing great organically too.

Videos –

YouTube, Tiktok. Product video ads. Can be great especially when you have a celebrity using your product. Has great organic growth and reach
💡 Tip: 10 Best Dropshipping Video Ads Service For Aspiring Dropshippers
You can't do every type of content marketing. It is important to focus on what type of content marketing is helpful to you and which one gives you the best results.
Creating Content
Online content is created every minute, all day, every day. There are millions of posts, videos, and photos, that are posted on social media every single minute. Count to 60, then, just imagine that in those 60 seconds, millions of posts have already been posted. Interesting, isn't it?
According to a study done by Smart Insights, every minute of the day, there are 3.5 million videos watched on YouTube, over 15 million texts sent, 210 million emails sent, nearly 100 million hours watched on Netflix, 21 million snaps created, half a million comments on Facebook and about 700 thousand videos watched on TikTok.
💡 Tip: Learn How To Make Money On Youtube Without Making Videos [2023].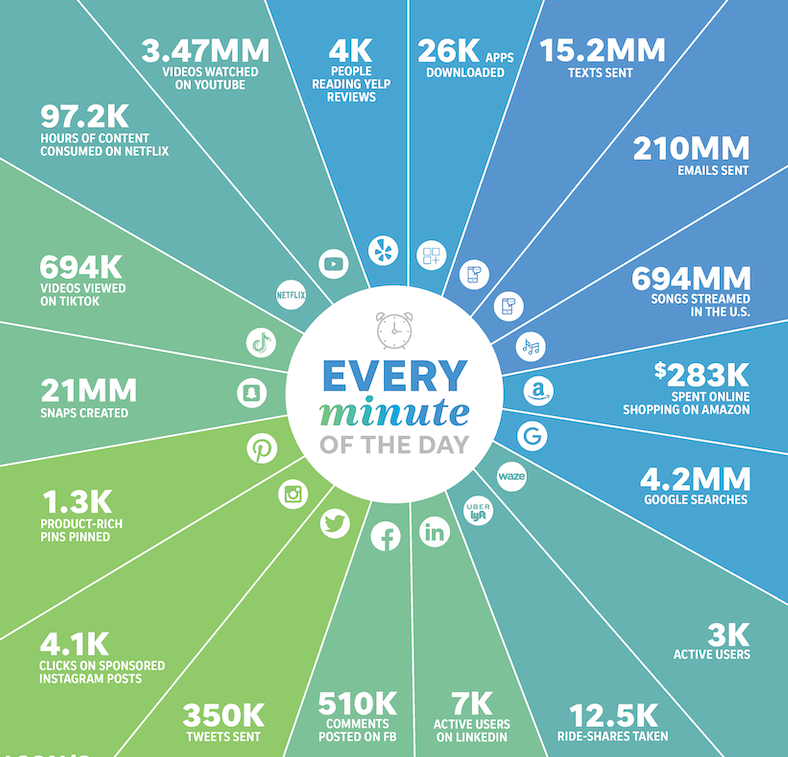 You see for yourself that there is a lot of content being consumed every single minute in the social media world. Everyone is trying to put themselves out there. For that reason, you want to create something very ordinary. Something that is not easily found on the net is always unique.
The best thing you can do is to always stay updated on the latest marketing trends. This way you are creating content that is not consumed yet that much. You always want to follow up with what your competitors are doing.
Try thinking of many ideas and see if they are on the net already. Maybe this way you can distinguish if you are creating unique content or not.
To achieve the uniqueness factor, web marketers must write content with a unique vocabulary. But at the same time, they have to maintain the readability score to ensure the quality of content.
Since the internet is the only source to collect relevant information, it's wise to gather data and then paraphrase it in your wording. With the help of a paraphrasing tool, you can feature trending topics by relating them to your idea or topic.
Achieving uniqueness can be daunting at times and limited ideas can hinder the process of content creation. Fortunately, there are tools like paraphraser that can assist you in such circumstances.
Such paraphrase tools can help you rewrite any text in so many different ways, helping you present your ideas with originality, and cleverness without taking much of your time or asking for any effort from your side. 
👉 Check out the 100+ TikTok Bio Ideas For Your Dropshipping Business In 2023.
Content Distribution Channels
There are many channels through which you can distribute your content, here are some of the most important:
Website-

useful for publishing your articles/blogs. Great when you have subscribers/followers on your website, and for increasing your SEO ranking.

Email Newsletters-

personalized relationships with your audience. Usually includes the latest offers, discounts, or even one on one communication with your customers.

YouTube/TikTok-

Video content marketing. Can be in their own way good if the videos promote an interesting product and are high quality.

Social media channels (Instagram, LinkedIn, social media)-

best for communicating directly and engaging directly with your audience. Most dropshipping stores in modern days can't function without at least 1 social media channel

Quora/Reddit-

Quora and Reddit are great for driving organic growth to your website, and also, for posting questions and getting answers related to what you are trying to promote.

Google Ads-

great for paid growth. If you are starting out and looking for a way to uplift your dropshipping store, Google ads are always a great paid option.
SEO Optimization
Never post content and disregard SEO. Especially when you are writing blogs and articles. social media is one of the best ways to get organic growth and to stand out from other dropshipping stores.
What you can do to optimize your SEO is the following:
Write a shorter meta description

Use the keyword once every subtitle

Write short clear sentences

Avoid long paragraphs

Include multiple internal and external links

Write articles anywhere from 1500 to 4000 words

Include photos
By optimizing your search engine optimization, you are also allowing more people to constantly come back to your content. According to research done by social media, it showed that SEO helps you get more clicks than PPC, better analysis & reports, and helps you save money in comparison to paying for ads and not having a good optimization site.
💡 Tip: Read about What Is A Digital Creator vs Influencer + How To Boost Your Brand?
How to Become a Better Content Writer
Just like the tips, we gave you on SEO and SEM, it also counts a lot for writing content. To become a better content writer, follow these tips:
Stay updated-

always write trending news and make sure you are not being left back with the content you are writing. According to research done by

social media

, it showed that those who post more frequently on the latest news, keep blogs fresh, and post more than 15 blogs per month.

Write long articles-

those who know how to do their research don't write articles that are only 500 words long. They write very long articles, anywhere from 1800 to 4000 words. This also makes it better for reading more and getting to know more about your website.

Write short sentences-

if you read the English grammar book, you'll find out that for the best range, you want to write sentences that

don't exceed 20 words.

It is hard to keep track but maybe use YOAST, Rankmath, or any other plugin that might help you in telling you if your readability is good or not.

Don't use advanced language-

you aren't here to take an IELTS test, so avoid writing in advanced language. Not everyone you are writing for is a doctor, so be careful. Use basic and simple words to understand, and everyone will love to read from you.

Research-

don't write content you think is right. Instead, do your research and find out what statistics say. Don't copy, but write it in your own style of writing. This will show that you are focused on delivering value and not just getting visitors.
How to Improve Your Content
The most important thing about improving your content is turning it into sales. Always keep in mind that to improve your content, you have to be targeting the right audience. This way you know you are helping the people that you know are in need of your content.
Try also posting on social media at least 3-5 times a week. Staying engaged with your audience means you have good content.
Post at least 2-5 articles a week on tips & tricks you have for your target audience. Customers love to be understood when they buy, and when they know you are trying to help them, that'll just shift into long-term customers.
Create email campaigns that are personalized. Send discounts, gifts, invitations from time to time. This is where people will see that you care about them.
Find winning dropshipping products & spy on your competitors
Minea analyses all online advertising to help you find the best products to launch, and the best creatives in your niche in just a few clicks.
Use coupon: DROPSHIPPING30 and get a 30% discount
💡Try Minea For Free
Conclusion
We gave you a guide on how to create a content strategy for dropshipping. It is all up to you to implement it.
For more latest news, tips & tricks on how to improve your content marketing for dropshipping, visit our website here.