The Top 15 Best Facebook Ad Spy Tools For Dropshipping
by
Aleksandra -
Aleksandra teaches marketing and management at various levels in High School. She writes about marketing, the economics and logistics of the dropshipping business and ecommerce in general.
Chief of Content Marketing
The performance of the ad spy tools you use in the field of Dropshipping is the key to your success. Ah yes, you already know something!
Indeed, spy tools are nowadays indispensable for your dropshipping business if you dream of having overwhelming results. That's why we will see the best ad spy tools in this article.
There are many Ad Spy tools out there. However, we will provide you with all the necessary information from which you can choose according to your dropshipping business requirements.
Moreover, you will learn everything you need to know about the Best Facebook Ad Spy tools and their pros & cons!
A General Idea About The Best Adspy Tools
Spy tools are ad spy apps on the web and usually have a fairly comprehensive database. This database becomes an asset that Dropshippers and e-merchants often consult in order to receive reliable information on the best Facebook ads.
On this point, the best Facebook ad spy tools are essential for the innovation of your dropshipping commercial activities.
Wanna use it? Just subscribe to an ad spy tool that provides you with better winning ads in real time! If this is the result we get with spy tools, then where does this performance come from?
What exactly makes this spy tool have a massive and comprehensive database?
Well, this amazing tool has features of various relevant filters and an ad sorting system. It is also for this reason that an ad spy tool can be qualified as "powerful" when it has:
A high volume of general and e-commerce ads,
A wide variety of filters and a sorting system for ads.
Lifetime deal: Get all-access to everything on Dropshipping.com
Access all DSCOM features, resources, courses, live workshops, discounts, winning products, weekly deep dives, directories and all future updates under all-in-one dropshipping HUB.
DROPSHIPPING IS A REAL BUSINESS, DON'T DO IT ALONE. 4553 MEMBERS ALREADY JOINED. YOU CAN PAY OFF YOUR SMALL INVESTMENT WITH JUST 2 SALES ON YOUR STORE.
Grab the deal before it's gone
Advantages of Using Facebook Ads Spy Tools
Long story short, Facebook Ad Spy tools will provide you with a new degree of knowledge and understanding about what is going on, back down to the basic level, and will help you gain perspective over the whole advertising scene.
Furthermore, the key benefits of these great Ad Spy tools include assisting you with:
✅acquiring high-converting social traffic for a minimal cost per click
✅follow your competitors' efforts to learn which landing pages they use in various GEOs and what their sales page text looks like,
✅ability to research what type of material your rivals are providing, what CTAs and links are being utilized, and how well the audience connects with various types of content on the ad,
✅investigate every aspect of your competitors' strategies
✅see what's working in the long run and what's hot right now
✅capacity to backward engineer competition ads
✅design your own unique campaigns that establish your own distinct position within the marketplace
👉 Read more about Facebook Ads for Dropshipping: The Ultimate Guide For Beginners.
Since you are ready, now let's learn how Ad Spy Tools work!
👉 Read my Supliful Review: Is It Good For White Label Dropshipping?
How do Ads Spy Tools work?
Let's start from the point that there are four types of Ads Spy tools, like
Social Media Spy Tools
Display Ads Spy Tools

Native Spy Tools

Search Spy Tools
However, all these types of tools have now and there the same way how they work.
Therefore, first, Ad Spy tools use keyword provision. Using a particular monitoring tool, the Brand user submits keywords related to their product or service.
After collecting the keyword, the monitoring program collects all matched advertising from the Search Engine and Social Media results pages for research and analysis.
It is important to know that this type of study can save you a lot of time, money, and effort doing split-test and advertising. Moreover, competitive research is essential since it might provide consumer feedback, which can help make a Facebook Marketing Plan more targeted and attractive.
👉 Check out my SimplyTrends.co Review – Is It Good For Shopify Stores Spying?
👉 Learn How To Create a Winning Social Media Marketing Plan For Your Dropshipping Store.
📲 Tool Recommendation: Explore Adserea for product spy.
Tips for Creating Ad Campaigns
Next are the tips for Creating Ad Campaigns. After analyzing and researching the Ads for a certain period, the system delivers an analysis of which Ad components are effective for your dropshipping business and why. To continue, brands may apply these tips while creating Facebook Ad Campaigns.
💡 Tip: Learn about all the necessary strategies and tactics you can use for promoting your dropshipping store.
Furthermore, as for the best Facebook Ad Spy tools concretely, most fresh advertisers choose this as a channel because each platform has a unique dashboard and features.
Also, most of the platforms provide tutorials as part of their plans to help customers comprehend the dashboard and functionalities. Moreover, there are several videos on YouTube about platform usage as well.
💡Tip: Learn how to Dropship on Facebook Marketplace in 2022.
Now, let's see the best Facebook Ad spy tools!
💡 Tip: Read about The Power Of Product Advertisement: How To Increase Your Sales?
List of the Best Facebook Ad Spy Tools
Once we covered what spy tools are, let's talk about the 11 Best Facebook Ad Spy for ads!
We start the list with one of the" best" of the best Facebook Ad Spy Tools. Minea analyzes all online ads to help you find the best products to launch and the best ads.
Minea is the most complete tool on the market!
Why?
Because Minea is, in one tool and one subscription, all these networks, all these tools:
A spy tool for Facebook, Pinterest, and TikTok ads (Adspy tool) with the largest database of e-commerce ads.
A product placement spy tool. All product placements from influencers on Instagram and Snapchat, across 30+ markets.
A spy tool for online stores. All the data was gathered to monitor the biggest e-commerce stores.
💡Try Minea For Free
Based on our research, practical experiences, and testimonials, we can assure you that Dropsispy is the best ad spy tool today!
Read more: The guide to Testimonial Advertising for ecommerce brands.
Indeed, if you want to move forward in your activities, this ad spy tool has many features that can get you there. Also, Dropispy is recognized as one of the few ad spy tools that have comprehensive features.
Moreover, with an intuitive interface that motivates, the software is designed to be accessible to everyone. Dropispy is one of the most affordable & best dropshipping ad spy tools with top-notch features!
In addition, the thing that puts the tool ahead of others is that the Dropispy app has in itself an ad spy tool and a Shops spy tool too.
💡 Tip: Check out the Dropispy vs Adspy: A to Z Comparison & Expert Review For Dropshipping.
Thus, using its ad spy tool, it spies on Facebook ads and collects them. Then, it stores them in its large database in order to make them accessible to its users in real-time.
In this way, from the moment you have access to the ad spy tool, you can find all the relevant information you need about your competitors.
The app then allows you to find the winning product that will boost your earnings in your business.
In the same way, it gives you all access to online advertising and provides you with the best ones that will help you establish a better and more innovative marketing strategy.
Furthermore, the Dropispy spy tool allows you to know the smallest details about the trending winning products that your rivals are pushing.
Additionally, based on its Shops spy tool, the Dropispy tool scours the web and collects useful information on the activities and evolution of potential successful shops.
In addition, it allows you to find the popular winning products that are highlighted in each of these shops. Let's observe in the image below the atmosphere of Dropispy's Shops Spy tool:
In addition, the Dropispy app allows you to access the ranking of countless shops in order of popularity thanks to Alexa Rank.
Do you see how awesome this best ad spy tool is? Oh yes, all you have to do is try it to realize its incredible performance!
To wrap it all up, this tool is offered at a flat rate (€29 per month), although it has these many features.
In fact, the performance of Dropispy rhymes with the will of its designers- to create and put on the Dropshipping market a spy tool accessible to all in terms of price-quality ratio!
Are you surprised by our ranking of Dropispy in front of AdSpy perceived as the giant of the Dropshipping market? Yes, you will definitely agree with us when you read this in-depth AdSpy vs Dropispy benchmarking article.
Now, what will we say concretely about AdSpy?
Regardless of your status in e-commerce, you would have heard of the AdSpy app many times before. It is an ad spy tool that is often perceived as the best ad spy tool on the web.
With a massive and complete database, it provides you with all the information that can help you achieve good results in your field of business. This best ad spy tool has many features and provides you with multiple options for searching, filtering, and sorting ads.
In this sense, it allows you to establish a better marketing strategy, easily and quickly find winning products, and innovate as quickly as possible.
💡 Tip: Read the 7 Tips For Creating a Bulletproof Dropshipping Marketing Strategy in 2022
Nevertheless, although AdSpy has features that meet our desires in order to have better results in Dropshipping, its price is too expensive. This is why many are reluctant to adopt it in their online activities.
When you examine the data on the image above, you will understand that the ad spy pricing is unique and is 149$ per month. Isn't it too expensive? Oh yes!
It is this aspect of too high a price that makes many prefer to adopt Dropispy which has the same functionalities and which is cheaper (29€/less).
Here's another comparison article to make it easy for you to decide: Dropispy vs Adspy.
How about BigSpy, the fourth on the list?
Like Dropispy and AdSpy, Bigspy is a powerful ad spy tool. The BigSpy app snoops on the ads collect the winners and make them available on its ad marketing platform.
In this way, the BigSpy software helps you to know exactly your rivals, to know what is a hit at their level, then adopt it in your strategy according to your expectations.
In addition, through the BigSpy tool, you have the possibility of discovering the trends of each day and above all reviewing the performance of the various ads.
When you opt for BigSpy, you have the possibility to:
Collect ads on the web,
Access reliable information related to the ads collected,
Perform advanced searches in the database to unearth hot ads and find interesting trending winning products to sell.
Do you see how often the app gives you many possibilities, including those that give you the right to enjoy various features of BigSpy for free?
At this point, we would like to help you get more information about the app. To do this, we invite you to read this article based on a comparative analysis called Dropispy vs BigSpy.
What about the Poweradspy tool?
Poweradspy software is an ad spy tool that collects ads from many sources and delivers them to Dropshippers and e-merchants.
By this means, you obtain from the tool the ideal information you need to know the strategies of your competitors in order to put in place your strategic approaches which will surpass theirs.
In addition, the software offers you the details of the ads collected in order to allow you to examine their level of relevance. This will allow you to make better decisions in your industry.
Although this ad spy tool has very impressive features, it is no wonder that it has a small volume of ads. And believing that the strength of a spy tool comes from its large volume of ads, we might wonder if Poweradspy can be a competitor of AdSpy.
In addition, it will also be important to tell you that Poweradspy has a Free Plan which gives you the possibility of accessing all the features of the software in order to test it effectively.
It must be admitted that the Poweradspy app is one of the few spy tools that have such a functional free plan!
Finally, what should we expect from Drop point?
Going through Facebook ads spy tools not to mention Drop point would be unacceptable due to several aspects.
Since it is the cheapest ad spy tool of all, it is designed to help beginners and those who do not have enough financial means to feel better about their Dropshipping activities.
Moreover, although it's very low cost is a major advantage for beginners and others, the lack of several features is a problem that reduces the performance of the tool.
Briefly and seriously, Drop point has very limited functionality compared to other ad spy tools.
Finally, if we compare Drop point to all the previously discussed spy tools, we would say that it is feature-poor due to its very low ad volume and sorting system.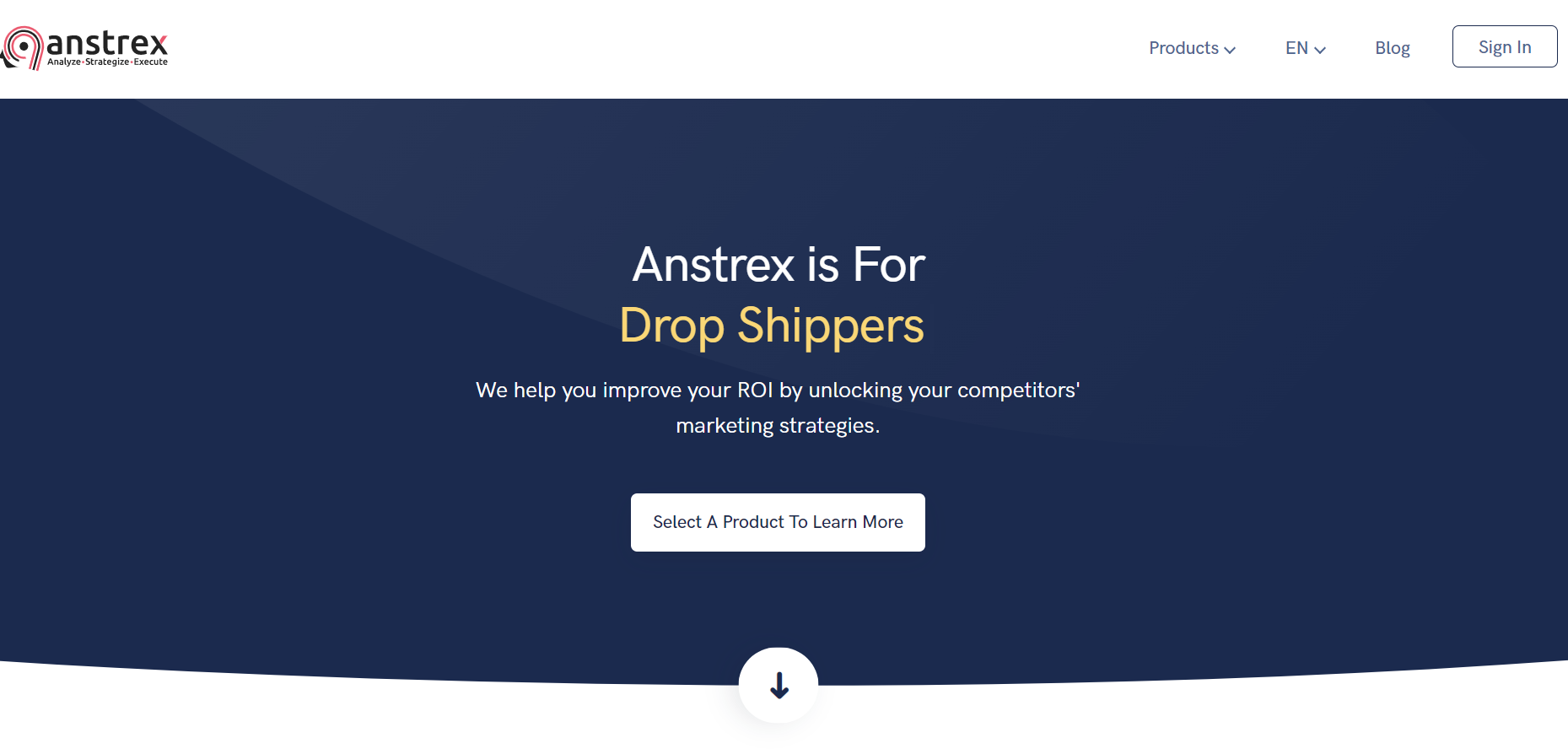 Anstrex is seen as an all-in-one tool for spying on all parts of your competitors' marketing. It's jam-packed with tools that help CPA marketers and affiliates discover new traffic sources, identify best-performing creatives, and evaluate certain niche trends in minutes.
With Anstrex, you can simply learn the tricks of Native Advertising and design effective campaigns. You may save many hours of research time by employing Anstrex, which gives you access to more native ad networks than any other solution on the market.
The best thing about this program is that it has the largest database, which now has more than 10 million native advertisements, and it primarily serves more than 15 countries.
Moreover, with Anstrex you can easily save money on marketing and discover their secrets, while simultaneously driving more and more visitors.
There are three pricing plans for using Anstrex:
Anstrex Push – $79.99
Anstrex Native – $59.99
Push + Native – $124.99
However, please NOTE that it can be not worth paying for this tool if you're not running multiple campaigns, or have not invested more. So, think about it!
SEMRush is a legitimate and widely used business intelligence software and a competitive research tool. With the help of this tool, you can now simply determine if a competitor's keywords are paid or organic.
Moreover, SEMRush is an essential tool for observing what your competition is doing.
Furthermore, you may use this tool to employ all of the profitable keywords for your dropshipping store, backlinks to a website, top traffic-driving pages, keywords that a specific eCommerce store ranks for, and a variety of other analytics that might help you improve and expand your own dropshipping store.
SEMRush pricing starts at $119.95/month. However, they provide 2 other pricing plans. Take a look.👇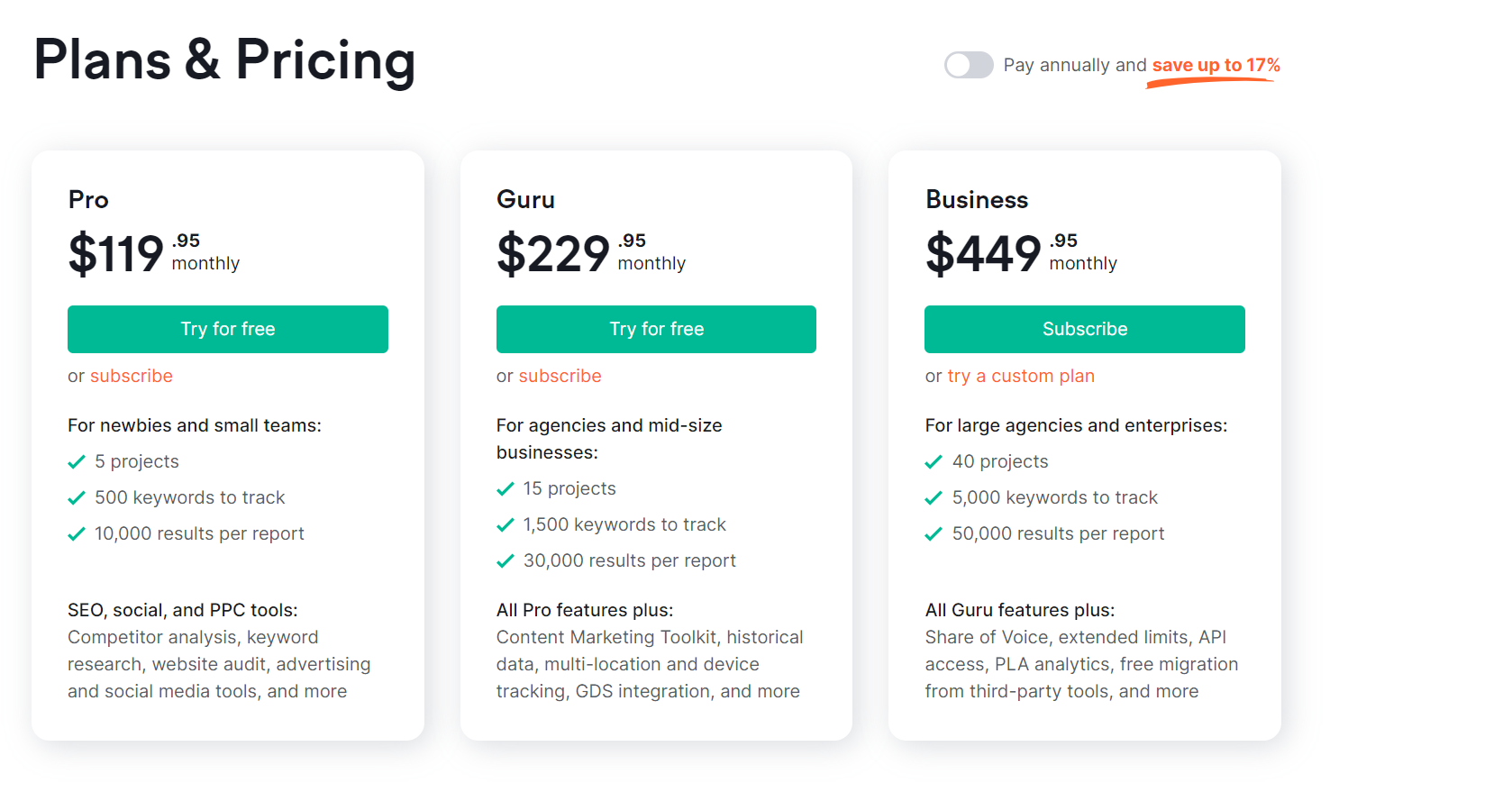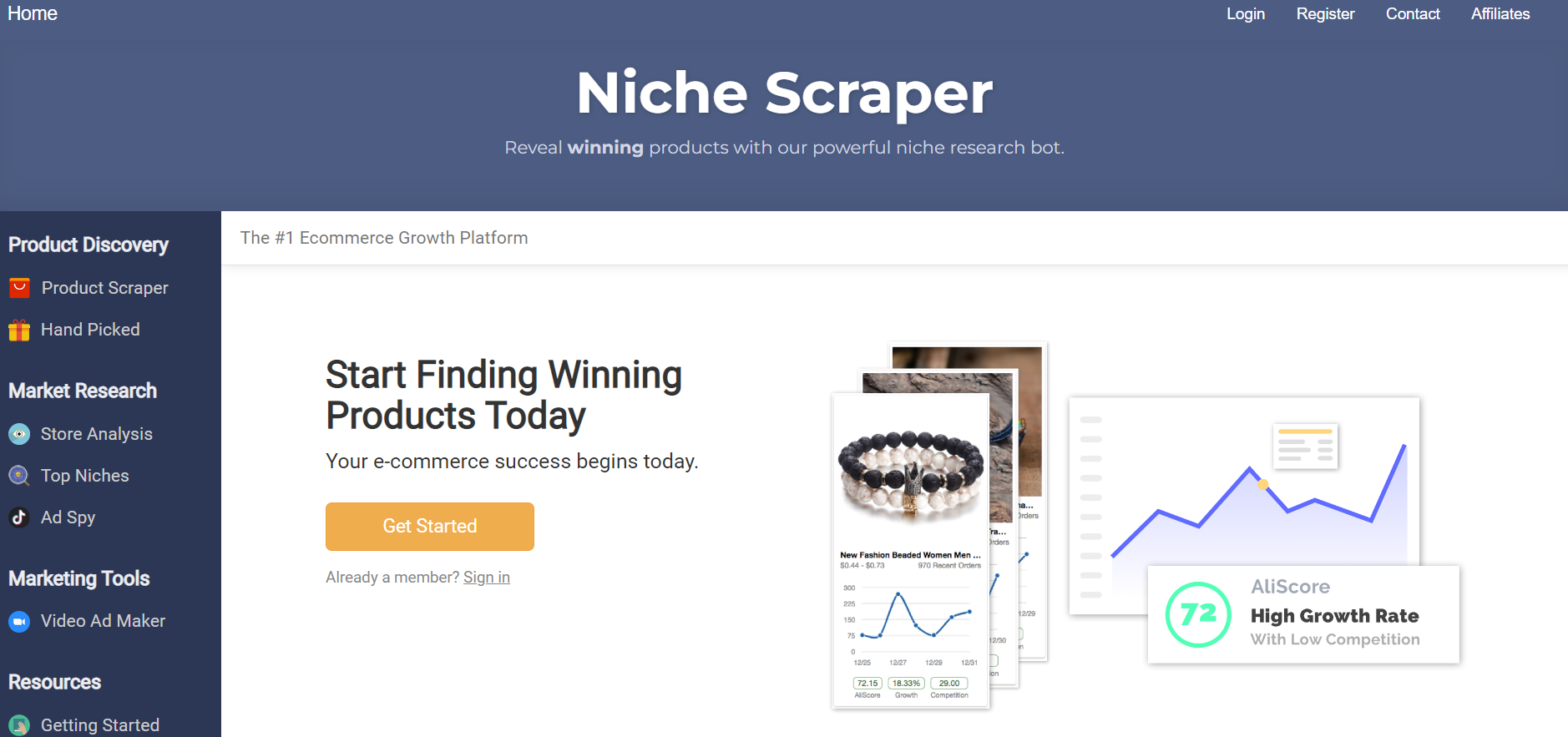 Nichescraper is a tool that, owing to its intriguing characteristics, assists dropshippers in finding winning items.
👉Learn How to find winning products in 2022.
It's a tool that will help you locate winning products on both Aliexpress and Shopify.
👉 Check out the 12 Best Shopify Spy Tools To Do Competitor Research.
👉 Check out the 16 Best Marketing Apps on Shopify.
Furthermore, Nichescraper now provides five key functions to assist you in increasing your sales and turnover. The options are endless thanks to the filters that Nichescraper provides, like:
Browse through 20 distinct categories
Find high-quality items in a given region
With AliScore, you can quickly determine a product's "power."
Determine whether the product sheet includes a video.
Search by keyword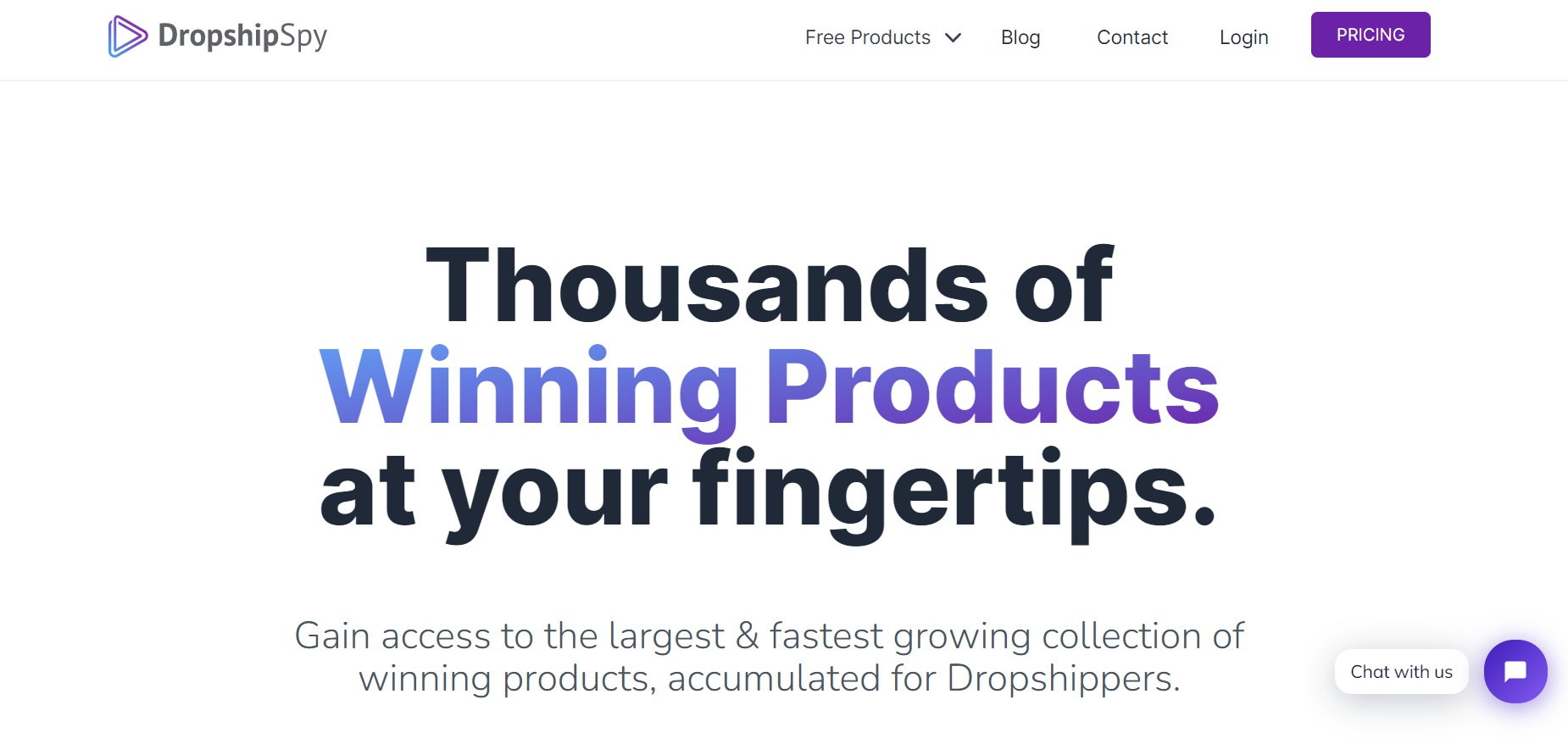 Dropship Spy is an all-in-one solution that provides all of the tools needed to run a successful dropshipping business.
This amazing Facebook Ad Spy tool adds new Social Proof Products that have been obtained through social media and run through a calculation designed to assess the products' engagement score.
However, product research isn't the sole benefit of this tool. It also assists you with adverts, which is beneficial for dropshippers who are not marketing knowledgeable.
What's more, you may order video advertising generated from genuine footage, as well as slideshows with and without text. Specialized audiences are created for you to employ in your Facebook ads.
Furthermore, Dropship Spy has various apps on its app store, like
Review Downloader – CSV files for each product
Instagram Influencers -full list of Instagram influencers in a certain niche
Shopify Connect – direct integration with Shopify App
Traffic Search – for checking out your competitor's traffic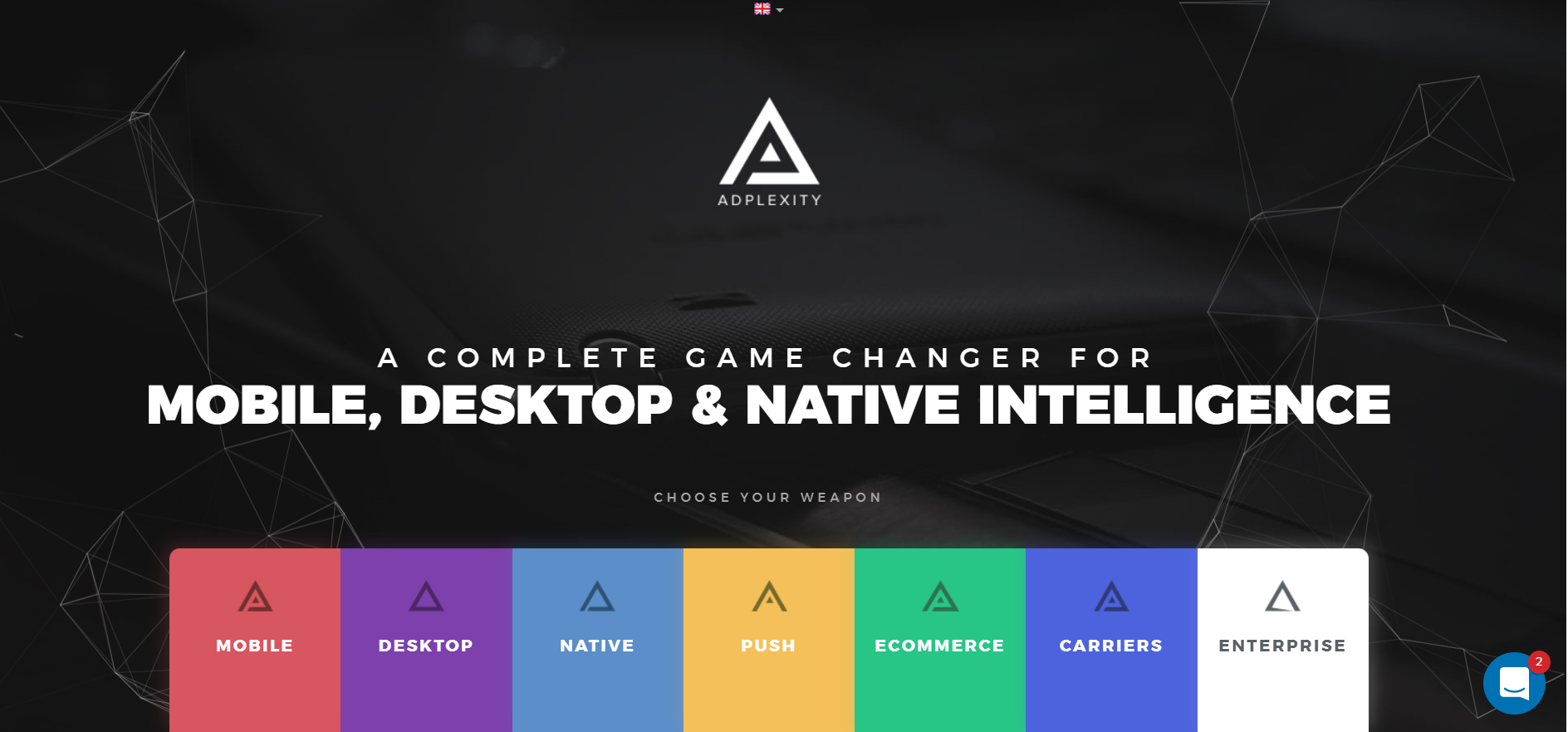 AdPlexity is a platform for professional marketers that want to explore beyond social search and evaluate competitive campaigns for dropshipping, eCommerce, Mobile, Desktop, Native, and Push Ads across all the biggest sources.
It has some sophisticated filters and is a terrific tool for seeing what marketing and other affiliates are currently executing.
What's more, you may evaluate competitor campaigns through a network and track level, as well as uncover any other ads that the advertiser is conducting.
It's also a terrific time saver, as it has numerous sophisticated capabilities including the ability to download competitors' landing pages in one click.
Furthermore, although it's wonderful for social advertisements, AdPlexity is more of an all-in-one platform for different traffic sources and is widely recognized as a market leader in the sector.
You may use this Facebook Ad Spy tool to access features such as:
Real-time analytics into desktop campaigns
Examine the pop-up traffic sources
Get landing pages, banner advertisements, and integrations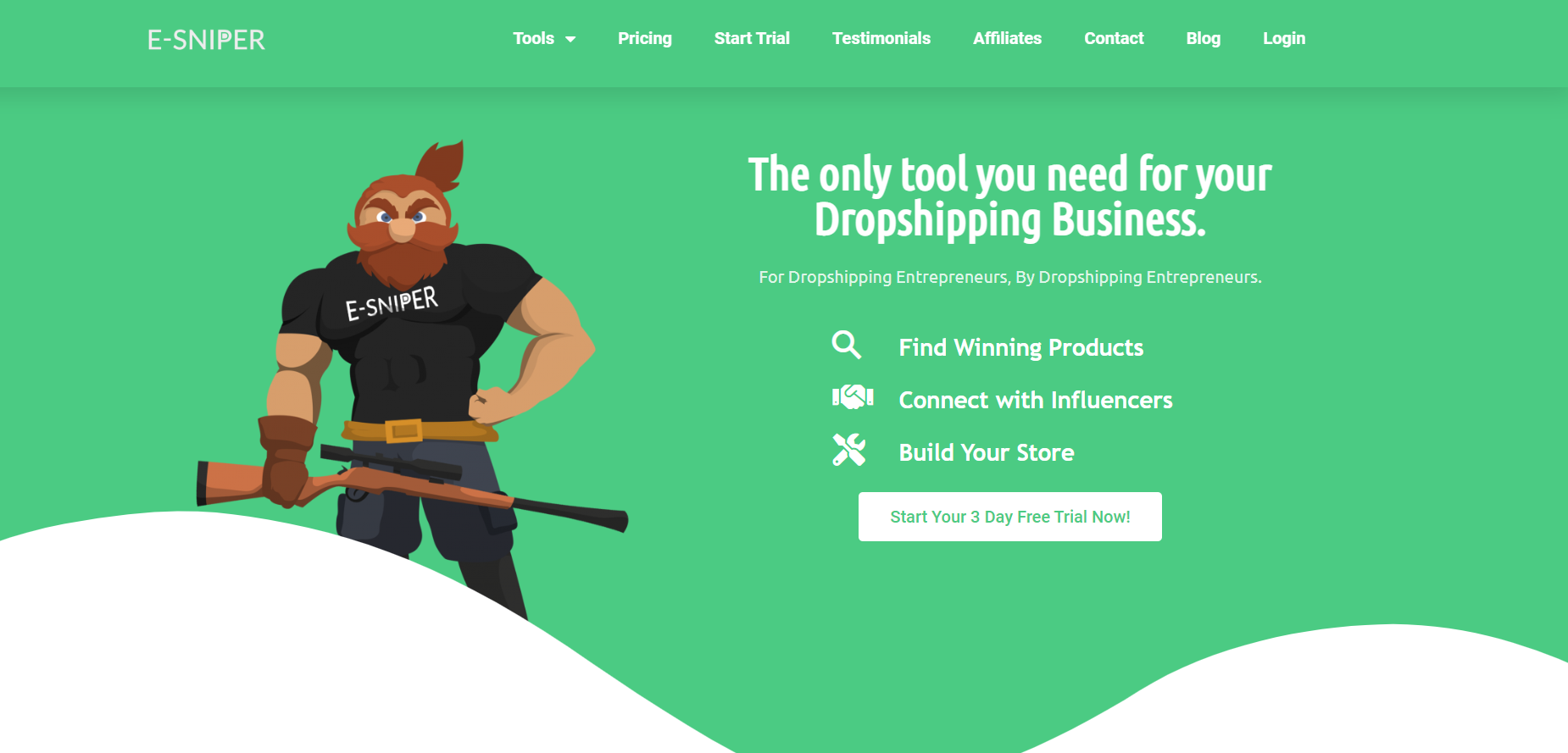 Wait a minute, we are not going anywhere – we have a sniper here. We mean, e-Sniper!
This ad spy tool provides you with more than just an ad spy. First, this dropshipping software allows dropshippers to explore and track the profitability and engagement levels of certain items.
Besides, E-Sniper enables you to simply fulfill and ship orders to your customers in just a few clicks.
With this App managing the majority of your Dropshipping operations, you'll have more time to communicate with your clients and plan the finest marketing strategy.
On top of that, it is simple to earn large sales with a large selection of trendy products. You may also discover the ideal target demographics for each product.
E-Sniper features comprehensive platform fusion between AliExpress and Shopify, allowing for optimum sales funnel optimization.
In addition, this amazing app has four features and each of which play important role in finding winning dropshipping products:
AliSniper – a tool for quickly finding winning products in any dropshipping niche, and importing desired products directly to your dropshipping store.
InstaSniper – this tool works with Instagram and helps dropshippers boost their sales and marketing on Instagram, access powerful influencers for a specific niche, and help them collaborate.
ViralSniper – This tool provides a demographic picture of every hot product currently available. It includes statistical analysis of the market, insights on the right areas to target for your ad campaign, and finding the target audience ( here E-sniper is no.1).
ShopSniper Tool – this tool helps you identify products with the highest and lowest competition. Furthermore, it provides information about the newest and hottest products across all dropshipping stores.
In addition, E-sniper costs only $29/ month but also gives a 3-day free trial. 👇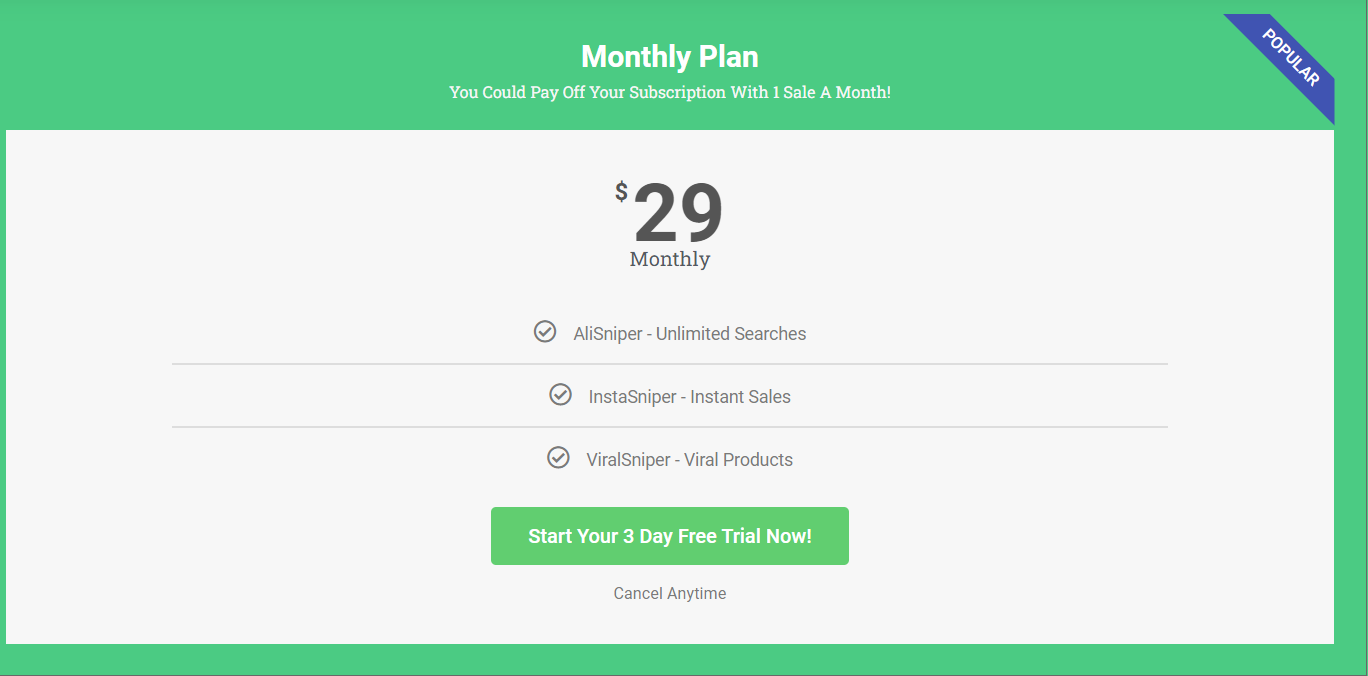 There are also the Best Facebook Ad Spy tools for free, and we will review some of them below!
List of the Best Free Facebook Ad Spy Tools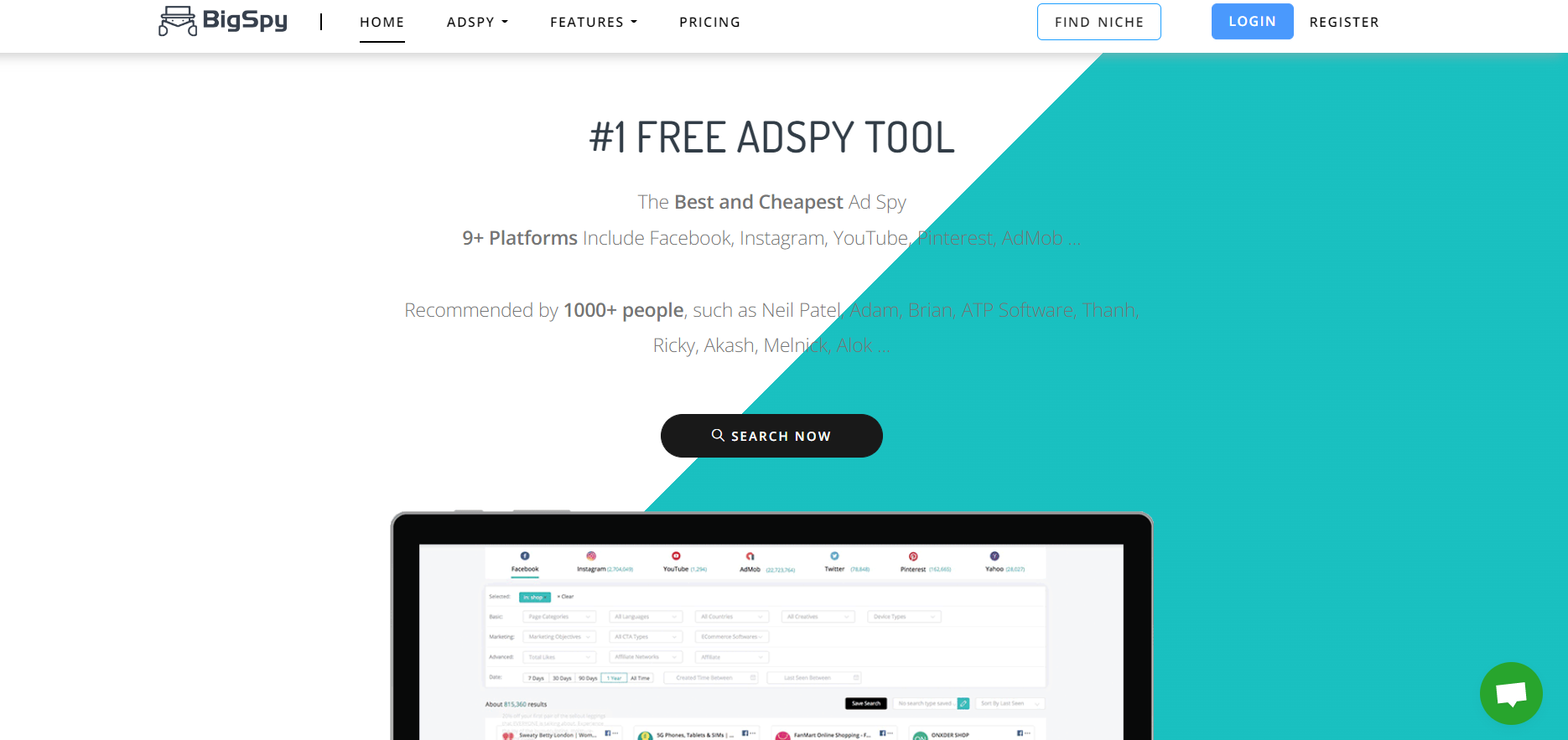 Confused? Yes, we have this one listed above in the paid Best Facebook Ad Spy tools. However, instead of its premium features, this platform has various Free features too!
You may search for top and trending creatives in your dropshipping niche, as well as marketing objectives and CTAs.
So, if you're simply running a few campaigns and don't want all of the features given by the premium platforms, give BigSpy a shot.
Furthermore, you can favorite (click on "favorite") a creative or a dropshipper whose way of advertising you like from the list of search results and add them to your collection to receive free updates whenever that dropshipper launches a new campaign.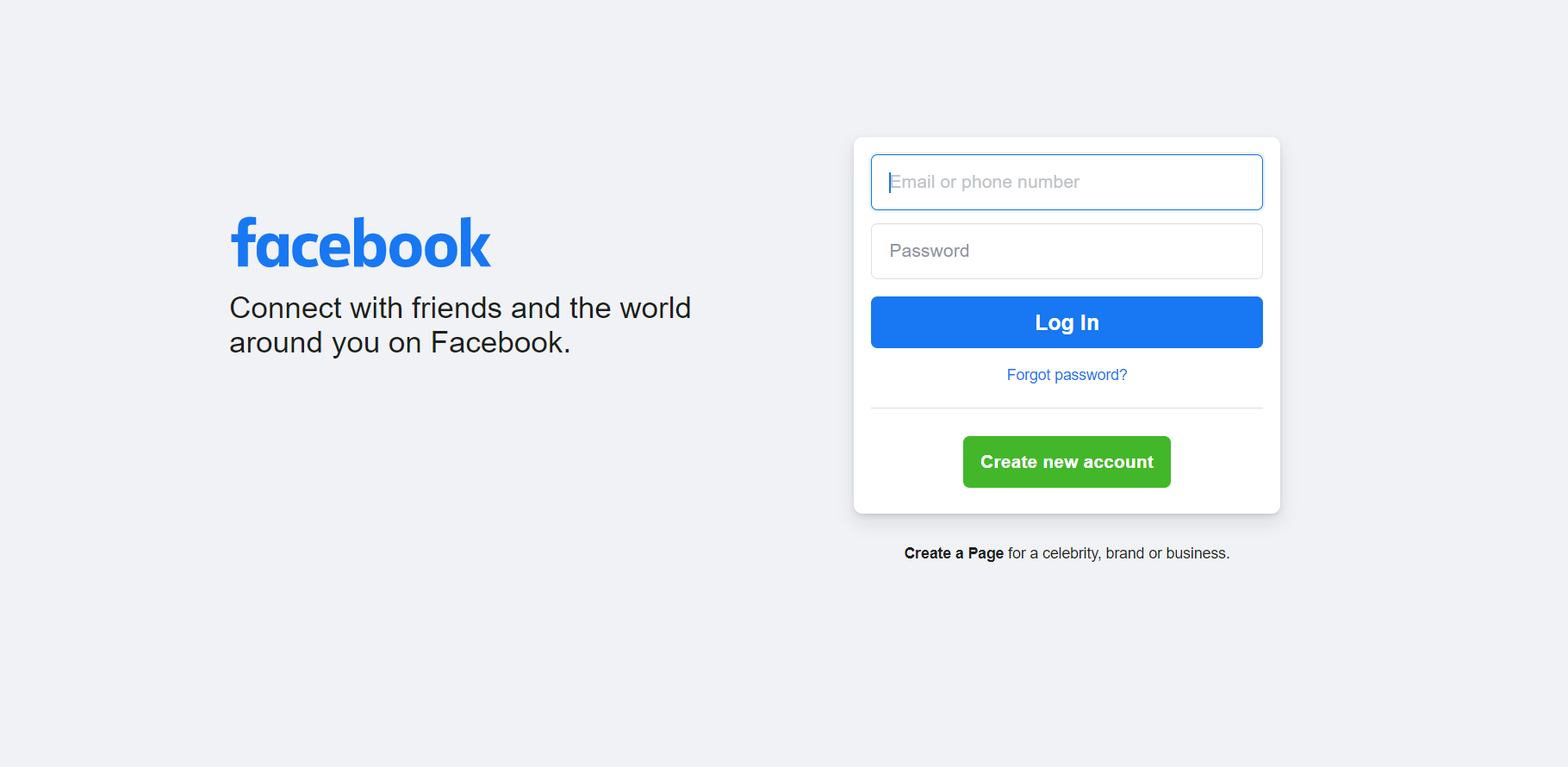 Facebook itself – Of course!
What's better than the app itself to provide free ad spy services?
The new Facebook page section was added in response to the growing demand to increase transparency on Facebook advertisements and pages.
This is good news for dropshippers since you can now view what Facebook ad sites are running right from the page.
This is an excellent starting point for spying on your competitors' advertisements. It shows you which advertisements are currently performing well and assists you in determining the hooks and CTAs advertisers are utilizing in your niche.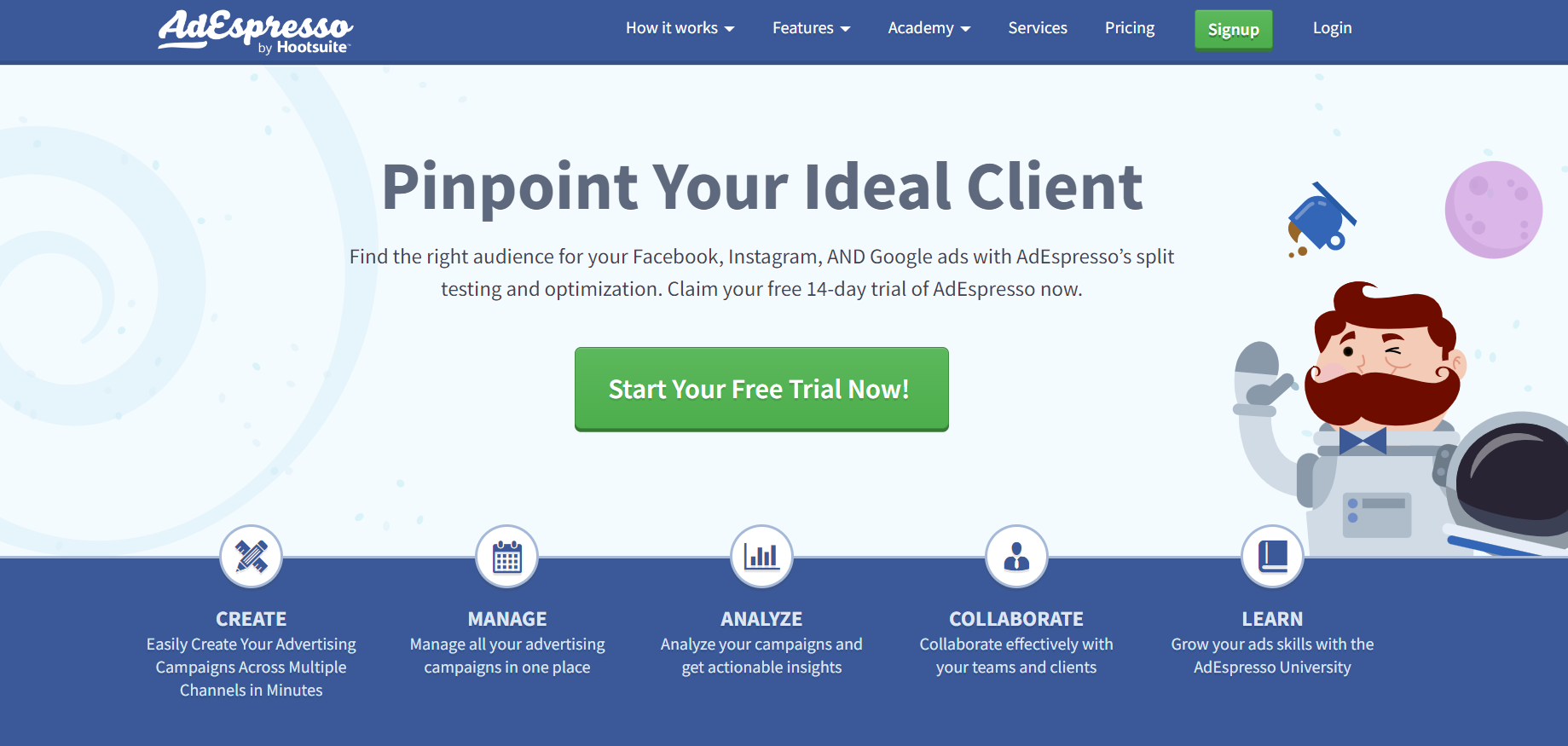 AdEspresso is a terrific ad spy tool that helps you to get ideas for your own campaigns and learn about what's working in a variety of dropshipping niches. You can rapidly discover what messaging is popular and what ad styles are effective in your niche.
Moreover, this ad spy tool is a free set of handpicked ads from various niches that include plenty of features to assist dropshippers with their ad campaigns, ranging from creative testing to budget management.
Furthermore, it's divided into parts for each Facebook ad style and includes insights into what's great about the ad and why this particular campaign is effective for you.
However, their free tool is restricted to a curated list of Facebook ad samples, which, although good for inspiration. But, the AdEspresso ad spy tool lacks certain key information, such as audience lists and targeting, that you may want to employ in your own campaigns.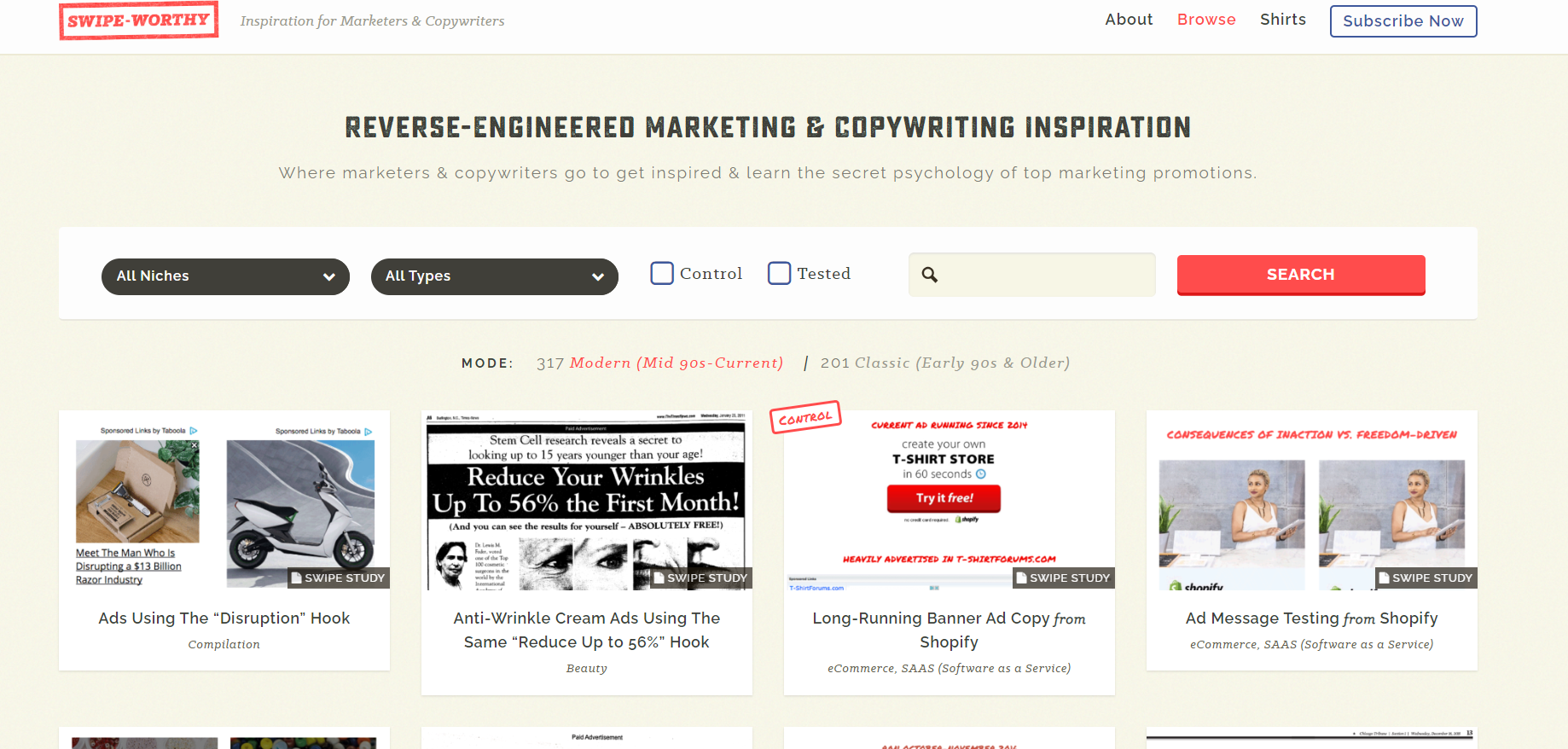 Swipe-Worthy is more than merely displaying cool graphics and engaging messages. It focuses on customer psychology and marketing strategy, which will inspire you to design your own winning campaigns.
This fantastic free ad spy tool assists you in breaking down the dynamic aspects of an ad to see why it is effective. It's an excellent resource for educating marketers on the importance of strong ad text and provides some insightful insights into why a certain ad set is effective in that sector.
You'll also learn a lot about creating great ad content, split testing, and how to break down a campaign into its pieces to assess the message and intent behind the ad.
However, please keep in mind that their database is very restricted in terms of search results. Therefore, maybe you won't necessarily receive the most recent trends in your dropshipping niche or discover which advertising your competitors are currently employing.
Facebook Ads Spy Tools No Longer Available
MagicAdz
Magic Adz was a social advertising intelligence spy tool that allowed you to develop winning campaigns, follow rivals, and evaluate trends.
But, like we said " was". Today this ad spy tool is off the table of dropshipping Facebook ads spy tools.
Adfox
AdSova was one of the ultimate Facebook advertising intelligence spy tools.
They covered News Feed, Desktop, and Mobile.
Unfortunately, we are no longer able to use this Facebook ad spy tool.
Social Ads Tool
Because of its uniqueness, this ad spy tool stood out from the crowd.
You may use it to change the execution of Facebook advertisements based on the customer's purchasing habits.
This tool is no longer available, but don't worry, we've included a number of fantastic free and paid Ad spy tools above.
Adsova
The AdSova ad spy tool is no longer accessible. This program had an interesting feature that allowed users to quickly identify emerging and existing patterns.
You could simply enter a keyword, and AdSova will identify all popular Facebook posts and advertisements in a second.
Macaw.Pro
Track, search, filter, download, use, and profit from the world's greatest user acquisition tactics! Dropshippers might perform all of these activities while using the app.
Unfortunately, Macaw.pro is no longer available.
AdSwiper
Instead of using automated scripts and algorithms to scan Facebook feed data, the tool accepts ad submissions from its wide network of users.
Ads may be found using keywords, message length, the name of the advertiser's page, button type, and country. However, this Ad Spy tool has been shut down and is no longer in use.
Join the only community and resource hub you'll ever need to succeed with dropshipping
Find winning dropshipping products, learn marketing, download templates and engage with real dropshippers
Never pay for a "guru's" course again. See why 4543+ dropshippers joined us this year!
💡Try DSCOM Hub Now
Conclusion
Ad spy tools are important keys for e-commerce. They are the product of commendable technological innovation. Moreover, they are simple, practical, and useful, and they have the ability to quickly make your Dropshipping business prosper.
This is why professional advertisers appreciate them at their fair value.
No matter which spy tool you choose for your business among the Top 15 best Facebook ad spy tools listed above, you can achieve your goals soon after using them.
Also, check out the Top 10 places to Find Products for Dropshipping in 2023!