Top 11 Shopify Checkout Apps: How to Optimize Your Checkout Page?
by
Aleksandra -
Aleksandra teaches marketing and management at various levels in High School. She writes about marketing, the economics and logistics of the dropshipping business and ecommerce in general.
Chief of Content Marketing
It's getting serious dear dropshippers! The checkout process is actually no game.
It is the final destination before your customers make a purchase. And, believe us, this is the exact spot where many of the dropshippers make errors, and send customers home without buying.
Remember, even if the customer has added products to their shopping cart, it doesn't mean they will purchase. They usually leave because of the complex or time-consuming checkout process.
Actually, did you know that most of the dropshipping income losses are a result of cart abandonment?
So, let's make this Shopify checkout process simple! In this article, we will guide you through the best custom Shopify Checkout Apps, and features for you! Let's begin.
Introduction to Shopify Checkout Apps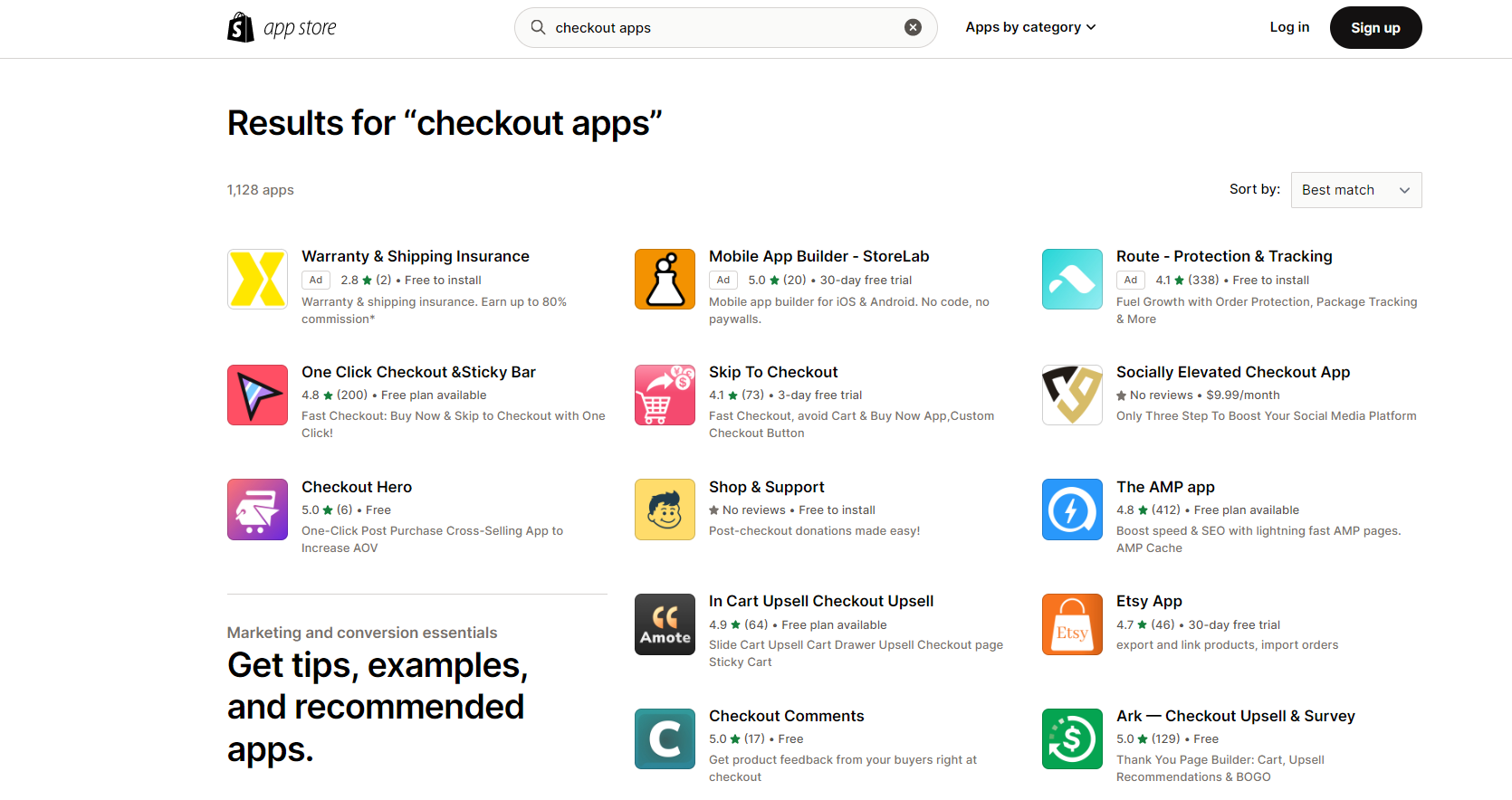 Shopify Checkout Apps are third-party applications that work with the Shopify platform to make shopping easier for customers.
In fact, Shopify checkout apps add features like Shopify custom checkout pages, tools to recover abandoned carts, and the option for customers to make one-click upsells. So, these features help create a smoother and better checkout experience for customers.
Using these apps can even boost sales and help you get more customers. They're easy to get from the Shopify App Store and easy to manage, too.
What's more, Checkout Shopify Apps are very important for online stores. They're a crucial part of the shopping process and can help keep customers happy and satisfied. When shopping is easy and fast, customers are more likely to keep coming back and telling others about your store.
Finally, these apps can make shopping easier by reducing any frustration during checkout and making it faster for customers to complete their purchases.
👉 Discover Is Shopify Legit in 2023? +6 Common Shopify Scams.
Now, let's review the key features of the Shopify checkout apps!👇
Lifetime deal: Get all-access to everything on Dropshipping.com
Access all DSCOM features, resources, courses, live workshops, discounts, winning products, weekly deep dives, directories and all future updates under all-in-one dropshipping HUB.
DROPSHIPPING IS A REAL BUSINESS, DON'T DO IT ALONE. 4553 MEMBERS ALREADY JOINED. YOU CAN PAY OFF YOUR SMALL INVESTMENT WITH JUST 2 SALES ON YOUR STORE.
Grab the deal before it's gone
Key Features of Shopify Checkout
Features are the ones that make checkout apps glow. In reality, it really matters what a dropshipper can do with a specific Shopify checkout app, and what it covers.
For that purpose, we will list the key features your custom Shopify checkout app should provide for you. Take a look.👇
🔸Ensure a Secure and PCI-Compliant Checkout Process for Your Dropshipping store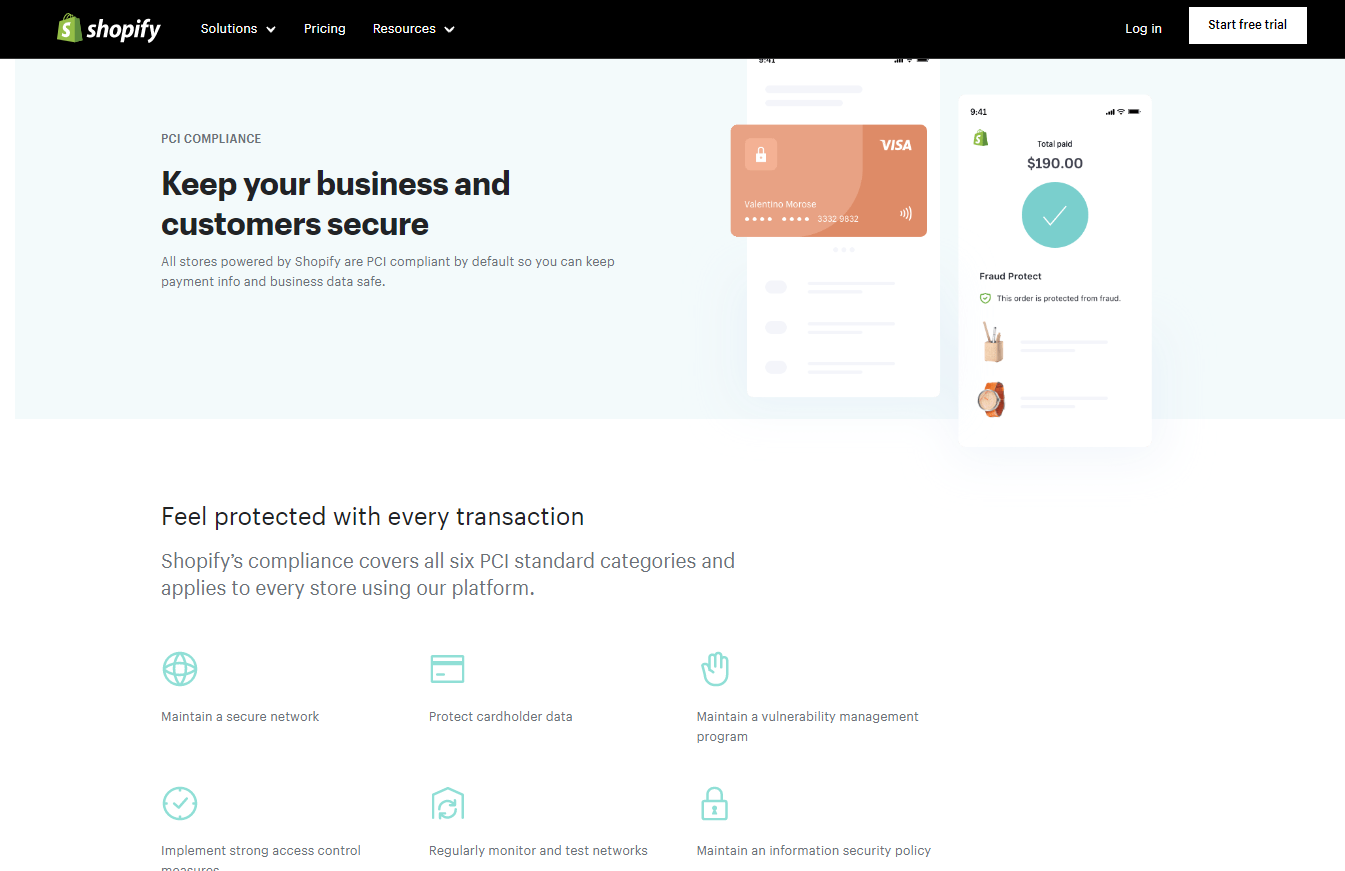 Making a payment online is a big deal for customers. They need to feel confident about giving you their money and credit card information.
But it's not just about trust. It's also about following rules and avoiding problems with the law. And, it helps build a good reputation for your business.
💡 Tip: Read about Shopify vs. Custom Store for Dropshipping – What's Better & Why?
To make sure your store has Shopify secure checkout, there are a few things you can do.
➡ First, use a secure connection like SSL encryption to protect your customers' information during checkout. Shopify checkout automatically provides this security for you.
➡ You should also make sure your store is PCI-compliant, which means you follow the best practices for keeping customer information safe and making secure transactions.
Shopify checkout is already PCI-compliant, and you can use Shopify Payments as your default payment gateway.
➡ What's more, it is important to work with trusted payment providers like PayPal, Stripe, Google Pay, and Apple Pay. These providers offer extra protection for your customers' information and secure transactions.
➡ To add an extra layer of security, use two-factor authentication (2FA) for your Shopify account. This helps prevent unauthorized access. And, make sure to regularly update your software to get the latest security features and fixes.
👉 Learn How To Pause Or Cancel Shopify Subscription? [2023].
➡ Finally, be sure to check for fraud in your checkout process. Shopify checkout has features to help with this, but it's still important to keep an eye on things and take action if necessary.
By following these steps, you can help ensure that your customers feel safe and secure when making a purchase from your store.
👉 Read about Dropshipping Taxes and Payments – Must-Know Facts.
🔸Accept Multiple Payment Methods for a Seamless Checkout Experience
Customers prefer to have a range of options to choose from, so if you want to meet their needs, it's a good idea to offer multiple payment methods.
Different customers have different payment preferences, and some payment methods may not be supported in certain countries.
By offering a variety of payment options, you can cater to the needs of customers who are more likely to shop with you if their preferred payment method is available.
👉 Check out the 7 Best Payment Gateways For Shopify In 2023.
Long story short, this can result in higher conversion rates, as customers are more likely to complete a purchase when they can pay in a manner that suits them.
Furthermore, shopping cart abandonment is a common issue in dropshipping. But, having multiple payment options can reduce this risk by providing customers with a hassle-free checkout process.
So, if you want to add Shopify payment methods, you just need to log in to your Shopify store account, and click on Settings –> Payments –> Add Payment methods.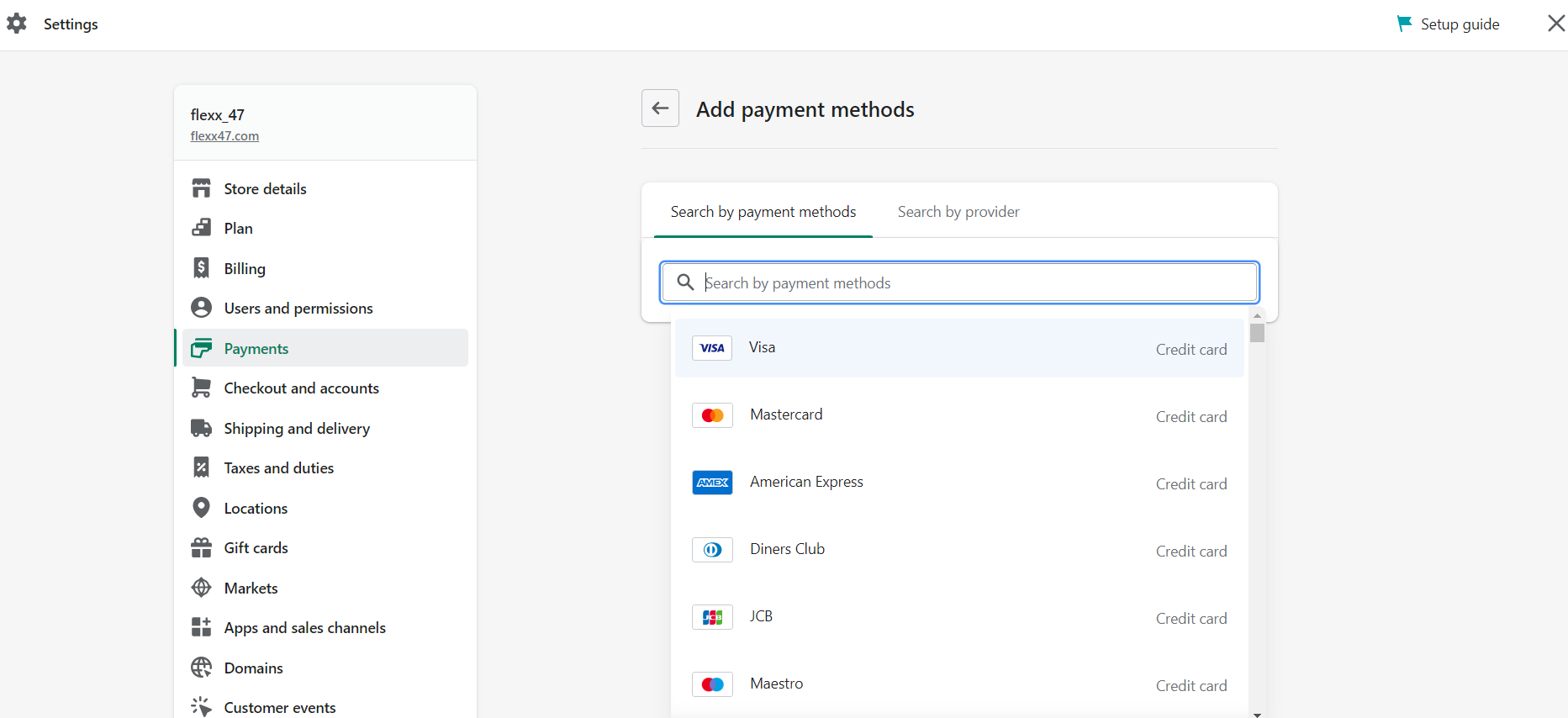 👉 Learn How To Open and Manage Multiple Shopify Stores (Tips + Apps).
🔸 A Mobile-Optimized Checkout Page
Making sure your checkout process works well on mobile devices is important because a lot of people do their online shopping using their smartphones.
A mobile-optimized checkout page makes shopping easier and more convenient for customers. It lets them complete their purchases using their smartphones without having to switch to a desktop computer.
This can help you sell more and decrease the chances of customers leaving their shopping carts.
Here are some tips for making the custom Shopify checkout page work well on mobile devices:
Customize the checkout page design: Use Shopify's theme editor to change the look of your checkout page so it's easy to use on mobile devices.
Reduce the amount of information: Remove any fields from the checkout process that are not necessary and make sure the main navigation is easy to see.
Increase the font size: Use a font size of 14–16 because smaller fonts are harder to read on mobile devices.
Offer guest checkout: Let customers complete their purchases without having to create an account. This makes the checkout process easier and reduces the risk of shopping cart abandonment.
Show order summary: Give customers a clear summary of their order that includes the total cost, shipping information, and any taxes or fees.
Having a mobile-optimized checkout page that loads quickly on mobile devices can improve the overall customer experience and help you sell more.
Now, try to analyze the Shopify SKKNbyKim store checkout process on your mobile device vs desktop according to the previous tips, and you will get our point! 👇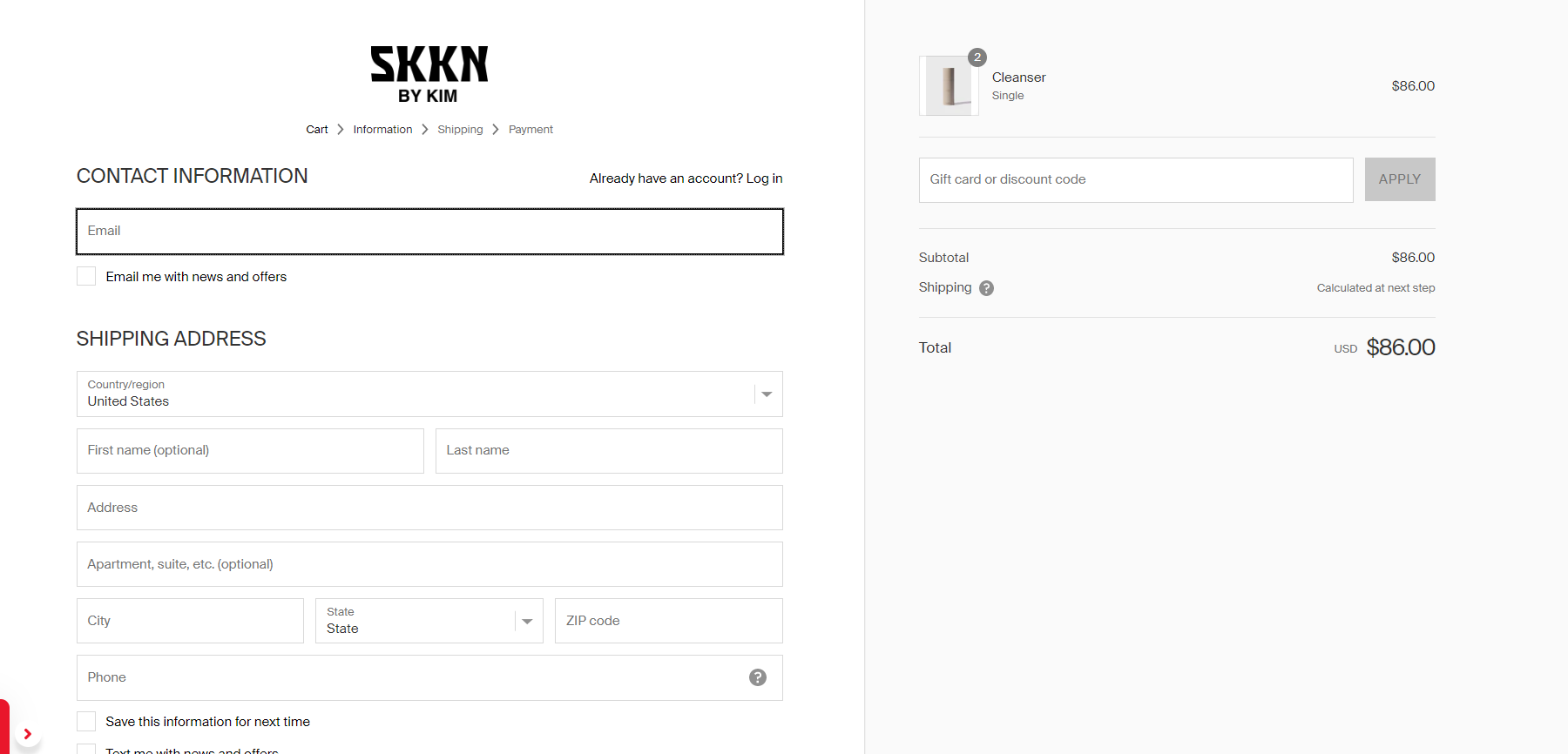 🔸Streamline Your Checkout Process with Customer Information Saving
If people that shop at your dropshipping store have to enter their information every time they make a purchase, they can become frustrated easily. This actually takes a lot of their time and becomes a boring task.
But, you can make shopping easier and faster for your customers by saving their information from previous purchases.
Shopify makes it possible for you to do this. To start, encourage your customers to make accounts in your store. This way, they can save their shipping and payment information so they don't have to enter it every time they shop.
Shopify also lets you use their API to fill in the checkout fields automatically with the customer's information like their shipping address, email, and payment details.
💡 Tip: Get inspiration from the 8 Order Confirmation Email Examples & Templates For Ecommerce.
This enables you to deliver Shopify express checkout and helps prevent shopping carts from being abandoned.
Finally, with Shopify, you can offer a Shopify one-click checkout option for customers who have saved their payment information.
This means they can complete their purchase with just one tap, without having to enter any information. Making shopping easy and fast will keep your customers happy!
🔸Offering Coupons, Gift Cards, and Store Credit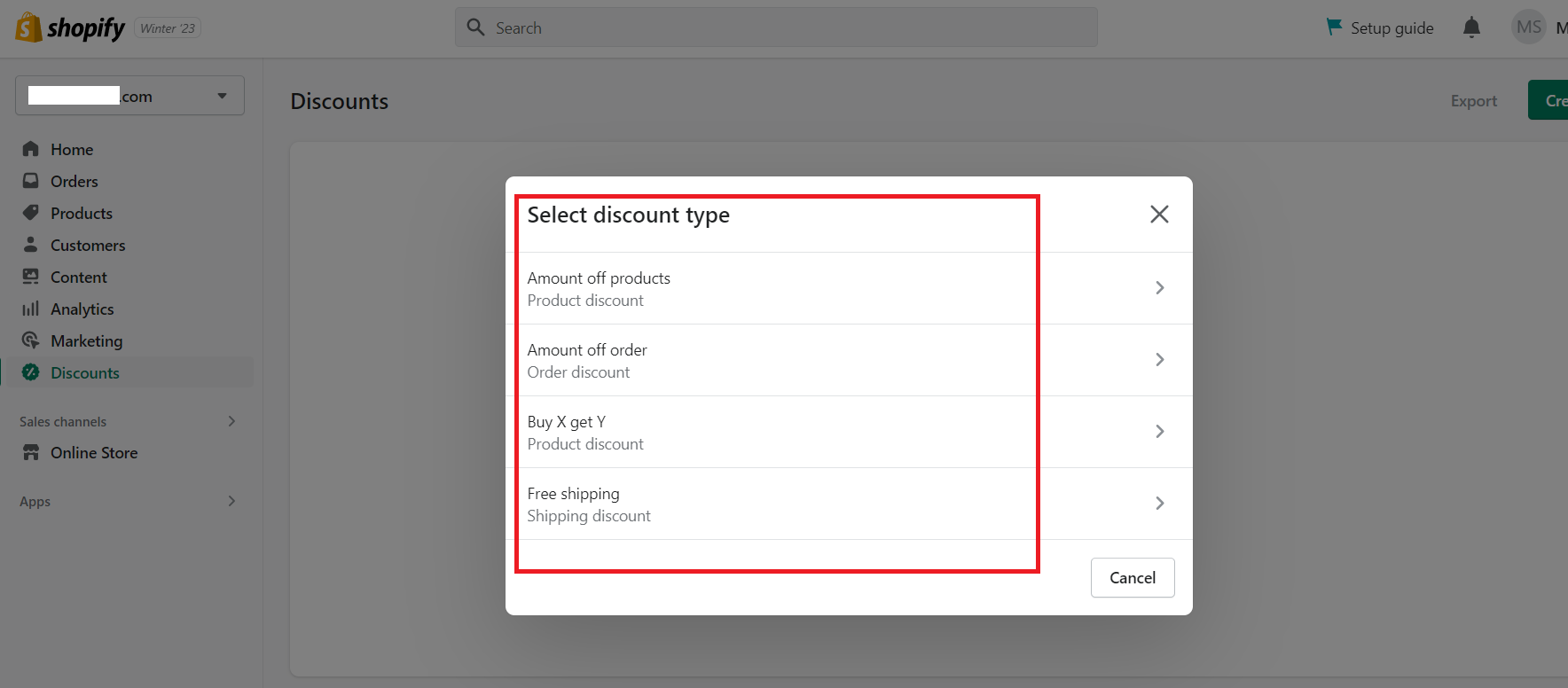 Offering coupons, gift cards, and store credit can definitely boost the checkout experience for your Shopify store. T
hese tools not only incentivize customers to complete their purchase, but they also show your appreciation for their business and can foster customer loyalty.
Dropshippers may use the Shopify gift card feature, which is available for all Shopify pricing plans. Thus, you can offer prepaid vouchers or value cards with a predetermined amount that can be used to pay for goods.
These gift cards include a special code that customers may enter at the Shopify custom checkout page. So, depending on the retailer's specific settings, different persons may use them once or several times.
However, keep in mind that the Shopify gift card can only be redeemed through Shopify checkout, such as your Shopify store, the POS, or the buy button.
👉 Learn How to Remove 'Powered by Shopify' – Short Guide.
Consequently, coupons are a fantastic way to sweeten the deal for customers and give them an extra push to complete their purchase. And, setting up coupon codes with Shopify is a breeze, making it simple to offer discounts right at checkout.
Lastly, the Shopify store credit feature allows customers to earn and redeem credit towards purchases on your store.
However, store credit cards can be earned through various actions, such as making purchases, referring friends, or participating in loyalty programs.
Also, keep in mind that to use Shopify store credit, customers must have an account in your dropshipping store.
🔸 Customize Your Checkout Page with Themes and Apps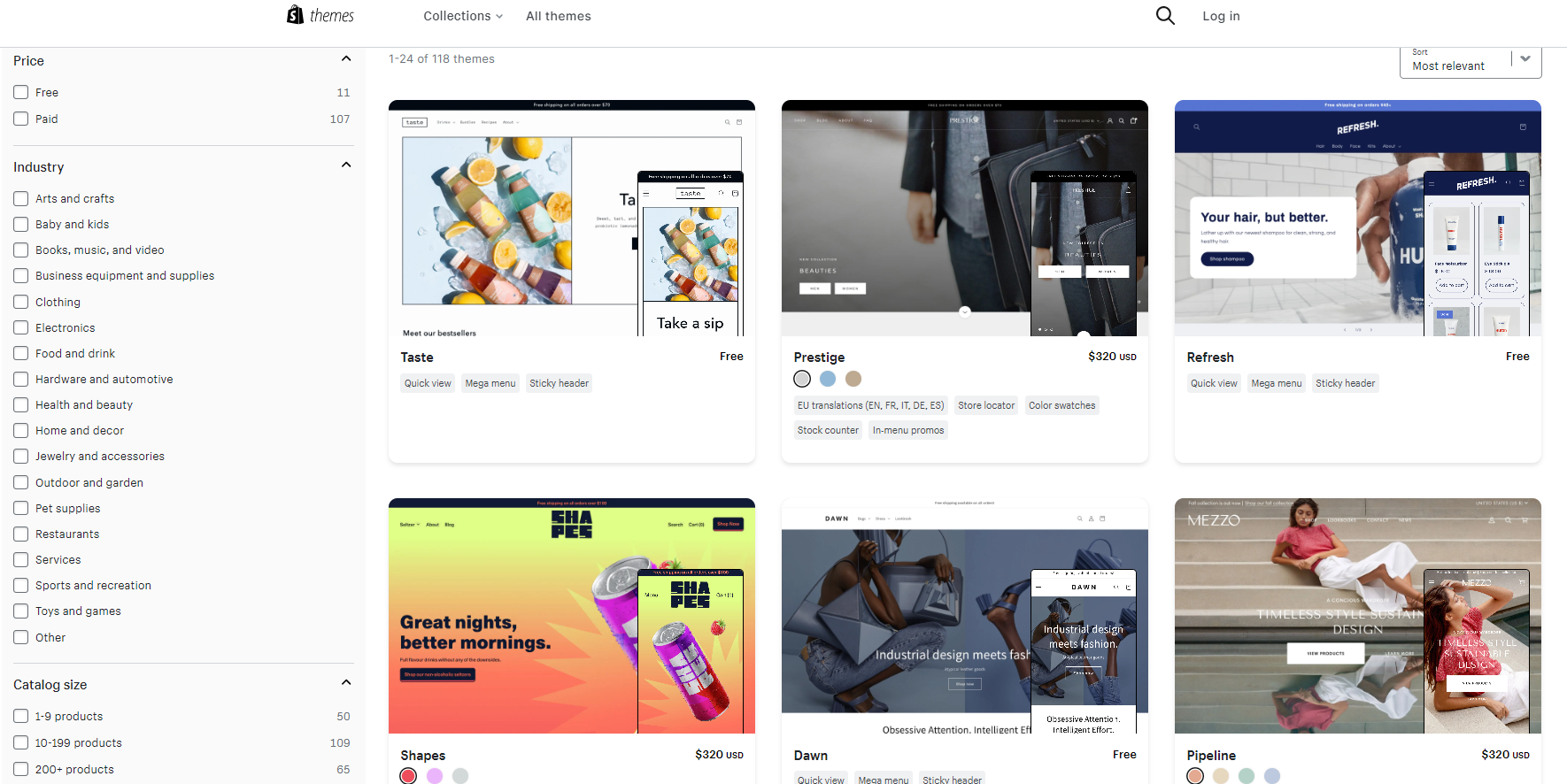 Customizing your checkout page with themes and apps can help you improve the user experience, increase sales, build trust with customers, and collect valuable data.
What's more, the most successful stores nowadays are the ones using Shopify themes. Wondering why?
Well, somebody already thought about the most needed buttons on your checkout page and all the elements that won't slow down your store.
💡 Tip: Check out Shopify vs Squarespace For Dropshipping – Which is Better in 2023.
In the meantime, they thought about great and eye-catchy design, smooth coloring, and easy navigation. Believe us, customers love all of this!
Also, a customized checkout page can help to build trust with your customers by giving your brand a professional look and feel. In fact, a well-designed checkout page can help to establish your brand as a reputable and trustworthy business.
👉 So, we recommend you check on the 11 Best Shopify Themes for Dropshipping Stores.
However, even pre-made templates on Shopify can be customized as well. So, the only thing you do is choose among the 100+ themes Shopify offers. See? It's that simple!
Furthermore, Shopify search is user-friendly, since you can search for a specific theme according to your dropshipping niche and products. Thus, the layout will probably match your needs!
For example, take a look at the NCLAbeauty Shopify checkout page. All the elements and buttons are placed in an eye-catchy position. The theme itself has smooth coloring that points out the brand.👇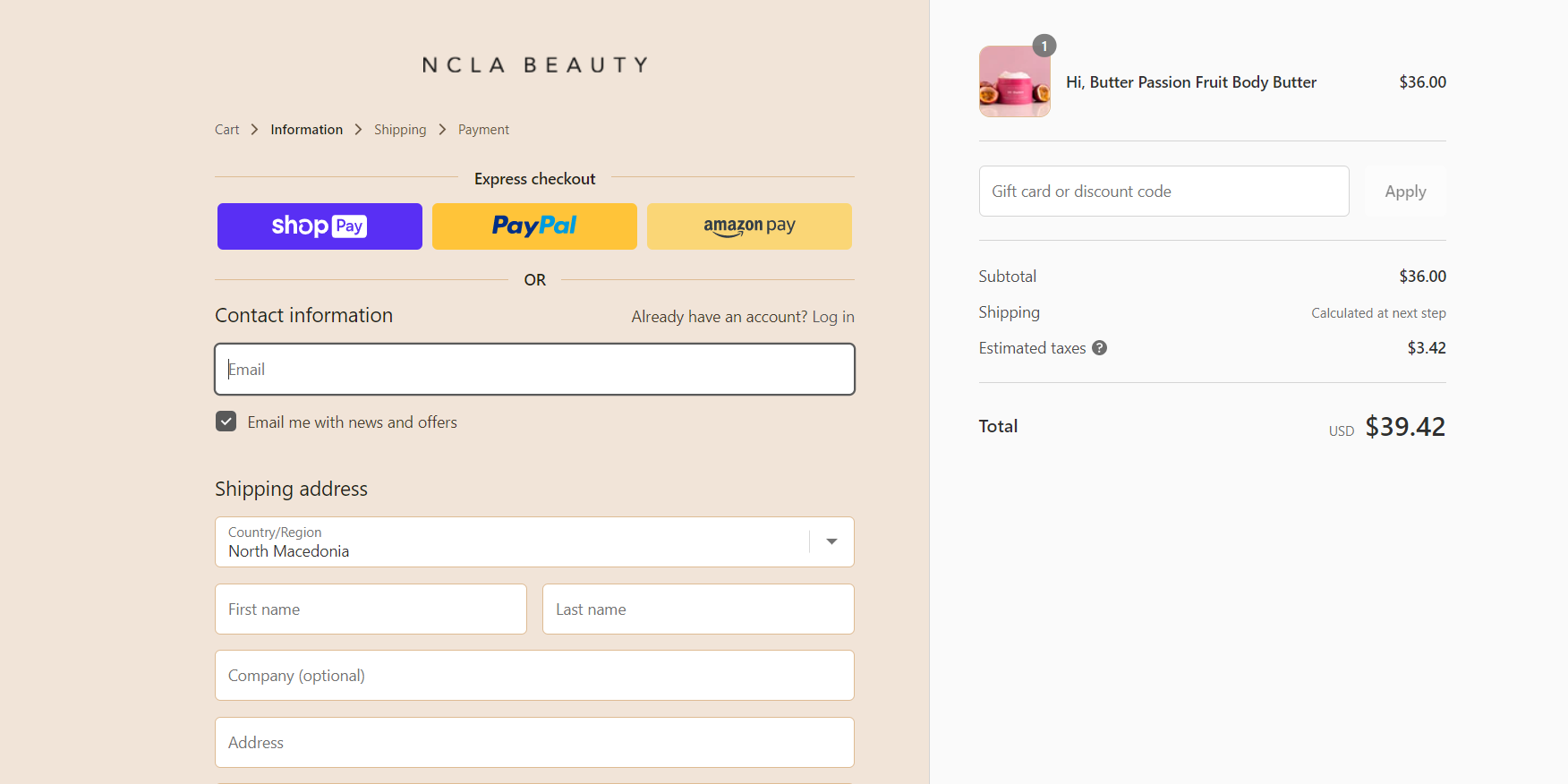 The best part is that customers that don't want to signup can buy as well. And this increases your dropshipping sales! Check out the FULL NCLABeauty store design review.
More about Shopify Checkout Apps and suggestions above in the article! 👇
🔸 Abandoned Cart Recovery
If customers get bored, they leave! So, let's entertain them a little bit! Thankfully, Shopify has your hands full here.
💡Tip: Read about How To Recover Abandoned Carts For Shopify Dropshipping Stores.
First, you can use Shopify intent popups, thus, right before they want to leave their shopping cart, you can offer them some discounts, or gift cards. For instance, you can use Shopify apps like OptiMonk, and help yourself out!
Or, have you heard about the 60Seconds App? This Shopify app gives customers the ability to set predefined discounts, and send a request for them!
Additionally, you can also send them emails. Luckily Shopify has various email marketing apps that can help you out.
👉 Also, read about Klaviyo vs Privy: Who Is the Most Installed Shopify Email Marketing App?
🔸Multi-Currency Support for Your Dropshipping Business
Last but not least, Shopify allows you to set multiple currencies to your dropshipping store!
Shopify has built-in support for multiple currencies, allowing you to display prices in different currencies on your store.
This can be especially useful for your dropshipping businesses, so you serve customers from different countries.
What's more, Shopify Checkout Apps will support you with a customizable currency switcher, international payment gateways that support multiple currencies, etc. Let's find out more!
Benefits of Using Shopify Checkout
Shopify Checkout brings you a wide range of benefits for businesses of all sizes. Let's review some of them!
✅ Seamless Checkout Experience
With Shopify Checkout, customers can complete their purchases with ease thanks to its seamless checkout experience.
For example, the platform offers multiple payment options, including credit cards, PayPal, and Apple Pay, and integrates with a variety of shipping carriers to ensure fast and reliable shipping.
✅ Increased Sales
Not only does Shopify Checkout make it easy for your customers, but it also helps boost your sales! The platform is designed to optimize conversion rates with features like Shopify one-page checkout, automatic tax calculation, and abandoned cart recovery.
That means your customers can quickly and efficiently finish their purchases, leading to more sales for you!
👉 Learn How to Remove 'Powered by Shopify' – Short Guide.
✅ Secure Payments
We all want our customers to feel secure while they shop, right? Well, Shopify Checkout has got you covered there too! It's fully PCI compliant and uses industry-standard security measures to protect your customers' data and ensure secure transactions.
This helps build trust with your customers and reduce the risk of fraud.
✅ Customizable Design
Shopify Checkout is fully customizable! You can add custom branding, change the color scheme, and add custom images and messaging to make the checkout experience unique to your brand and your customers.
✅ Mobile Optimization
Don't worry about your customers shopping on the go either! Shopify Checkout is optimized for mobile devices, so your customers can complete their purchases on their smartphones and tablets with ease.
💡 Tip: Discover How To Optimize Shopify Image Sizes In 2023 + Pro Tips
✅ Easy Integration
Shopify Checkout is easy to integrate with other e-commerce platforms and tools, including Shopify's own suite of apps and plugins. This means you can extend the functionality of your checkout page and add new features as your business grows.
So, whether it's integrating with email marketing platforms, shipping carriers, or payment gateways, you can create a seamless checkout experience for your customers!
Top Shopify Checkout Apps
Next, we will list the Best Shopify Checkout apps for your dropshipping store. Let's drive some traffic! 👇
Shopify Payments is a built-in payment solution that lets you start accepting payments nearly immediately after signing up.
The best part is, you don't need to set up a third-party supplier to process with Shopify Payments – the service is included with all subscription options. As a result, the cost is determined by the pricing plan of your membership.
However, Shopify Payments has a competitive processing fee for each payment method, making it a perfect alternative for businesses that use Shopify as an eCommerce platform or point-of-sale system.
Shopify Payments offers multiple payment options such as credit cards, debit cards, Apple Pay, Google Pay, and Shop Pay. It's also easy to set up and is already part of the Shopify platform, so merchants can start accepting payments quickly and easily.
Transactions processed through Shopify Payments are secure and encrypted, which helps to protect against fraud and security breaches. What's more, there are no setup or monthly fees, which makes it an affordable payment option for small businesses and startups.
Also, Shopify Payments supports over 50 different currencies, which means merchants can sell products to customers worldwide.
👉 In addition, Shopify pricing starts at $5 up to $399. So, you have plenty of options. Therefore, check out the Shopify pricing plans and additional fees here.
Also, before using Shopify Payments you should consider that it is available only in several countries. And, if you dropship in multiple currencies you will be charged the regular Shopify Payments processing fee and a currency conversion fee.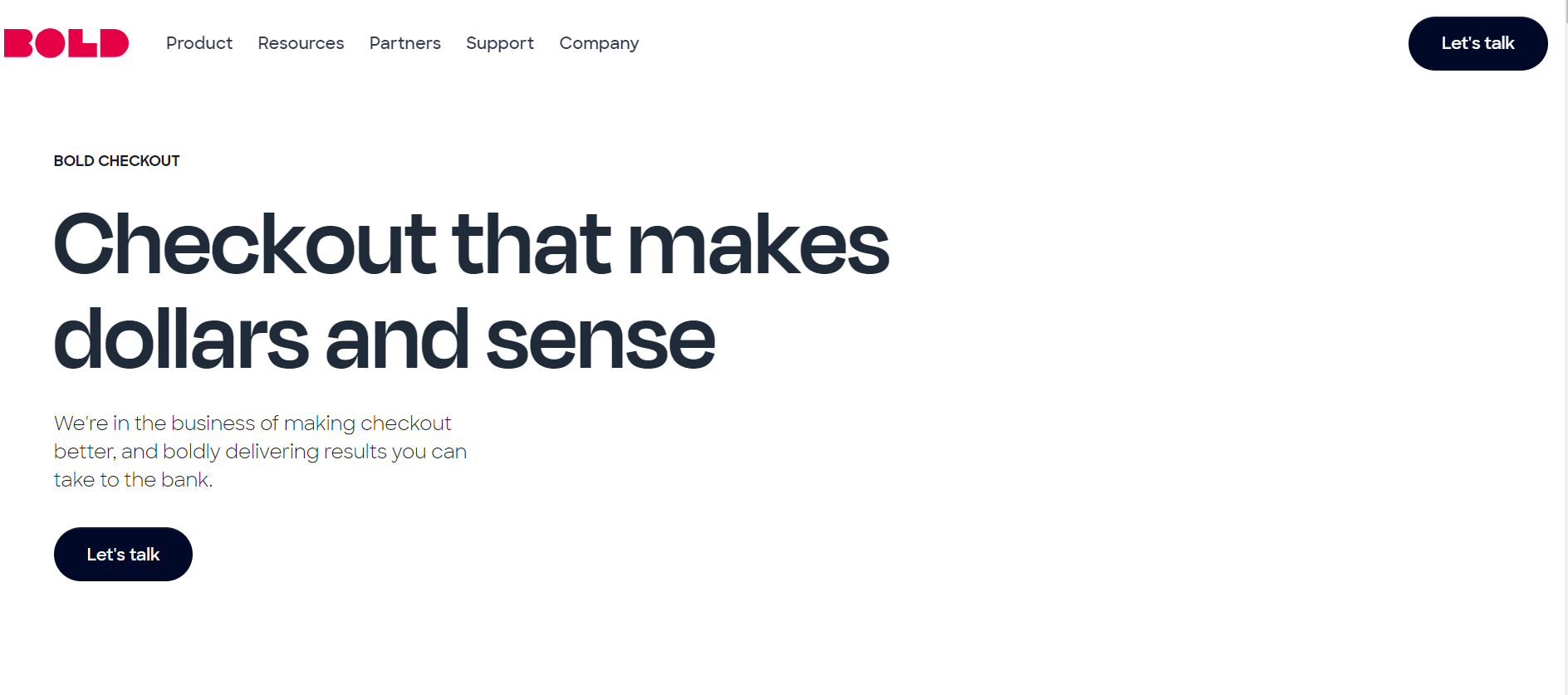 Bold Checkout is a checkout app that can be added to Shopify. It makes the checkout process more enjoyable for customers. By using this app, customers can finish their purchases more quickly and easily.
With Bold Checkout, you can customize the appearance of your checkout page. You can choose the layout, colors, and language to create a more streamlined and consistent experience for your customers.
Moreover, this app simplifies the checkout process by allowing customers to complete their purchase on a single page, without having to navigate to different pages or fill out long forms. This saves time and makes the checkout experience more efficient.
Accordingly, Bold Checkout pricing starts at $49.99/monthly, with a 1% transaction fee. But, the best part is, you can try the app even for 60 days free!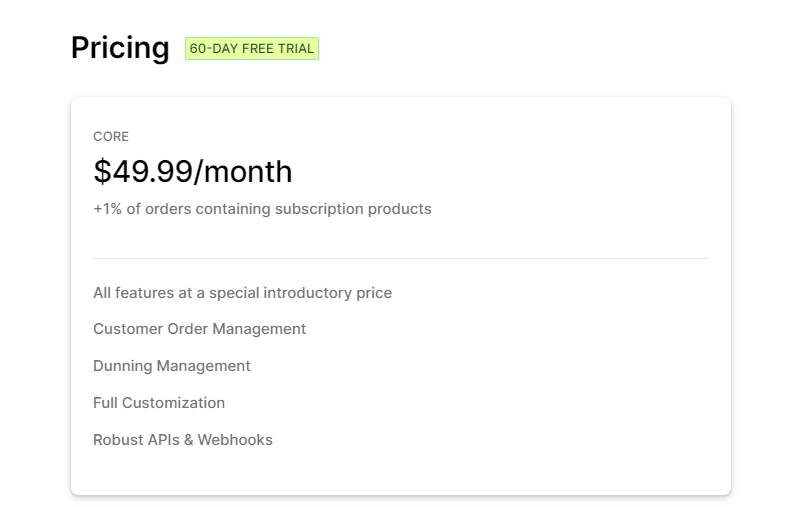 In addition, users can use Bold to enhance their checkout functions with two significant features:
Billing in many currencies – over 150 currencies to pick from. Your consumers can make cash changes in real time.
Bold Cashier – a ready-to-use cashier service that includes numerous payment choices, a developer-friendly Shopify API checkout, and upsell changes after checkout.
Also, with over 150+ real-time currencies and 54 languages to pick from, it enables you to grow into different foreign marketplaces. There is also no need for any additional credit card conversion fees.
Bold Commerce also interacts with all major payment processors, including Stripe, PayPal, and Net 30.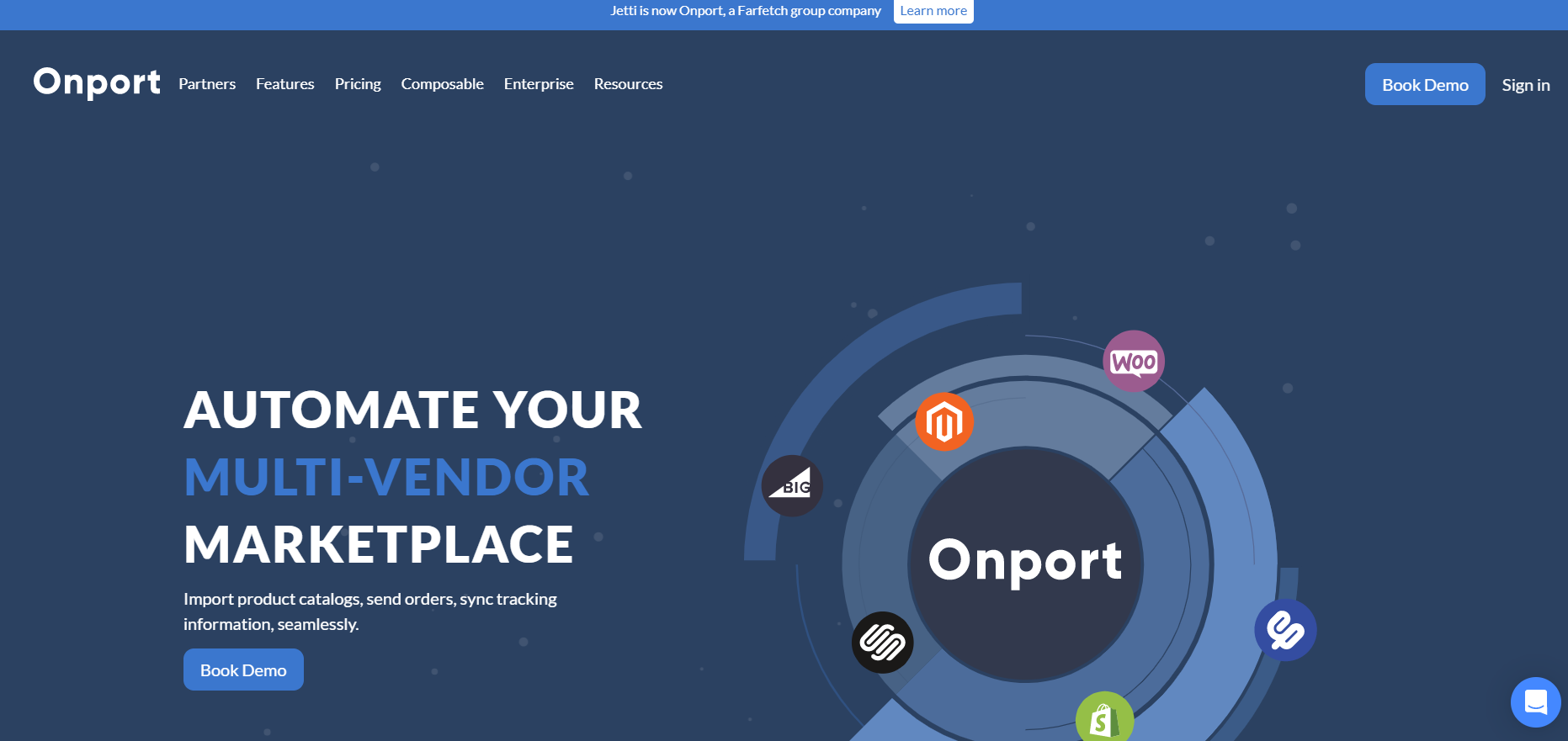 Onport Checkout is a third-party app for Shopify stores that allows merchants to provide their customers with a streamlined and customizable checkout experience.
This Shopify Checkout is designed to optimize the checkout process, making it faster and easier for customers to complete their purchases, and helping to increase conversion rates and boost sales for merchants.
Some of the key features of Onport Checkout include:
Customization. Onport Checkout allows merchants to fully customize the look and feel of their checkout page, including the layout, color scheme, and language. This can help to create a seamless and branded experience for customers.
One-page checkout. Onport Checkout simplifies the checkout process by allowing customers to complete their purchase on a single page, without having to navigate to multiple pages or fill out lengthy forms.
Auto-filled forms. Onport Checkout uses auto-filled forms to pre-populate customer information, reducing the number of fields that customers have to fill out and speeding up the checkout process.
Multi-language support. Onport Checkout supports multiple languages, making it easier for merchants to sell their products to customers around the world.
Furthermore, Onport Checkout integrates with a variety of payment processors like Stripe, PayPal, Klarna, Aurhorize.net, Shopify Payments, etc.
However, Onport is way more expensive than other Shopify checkout apps mentioned here. Its pricing starts at $1000/month. Take a look.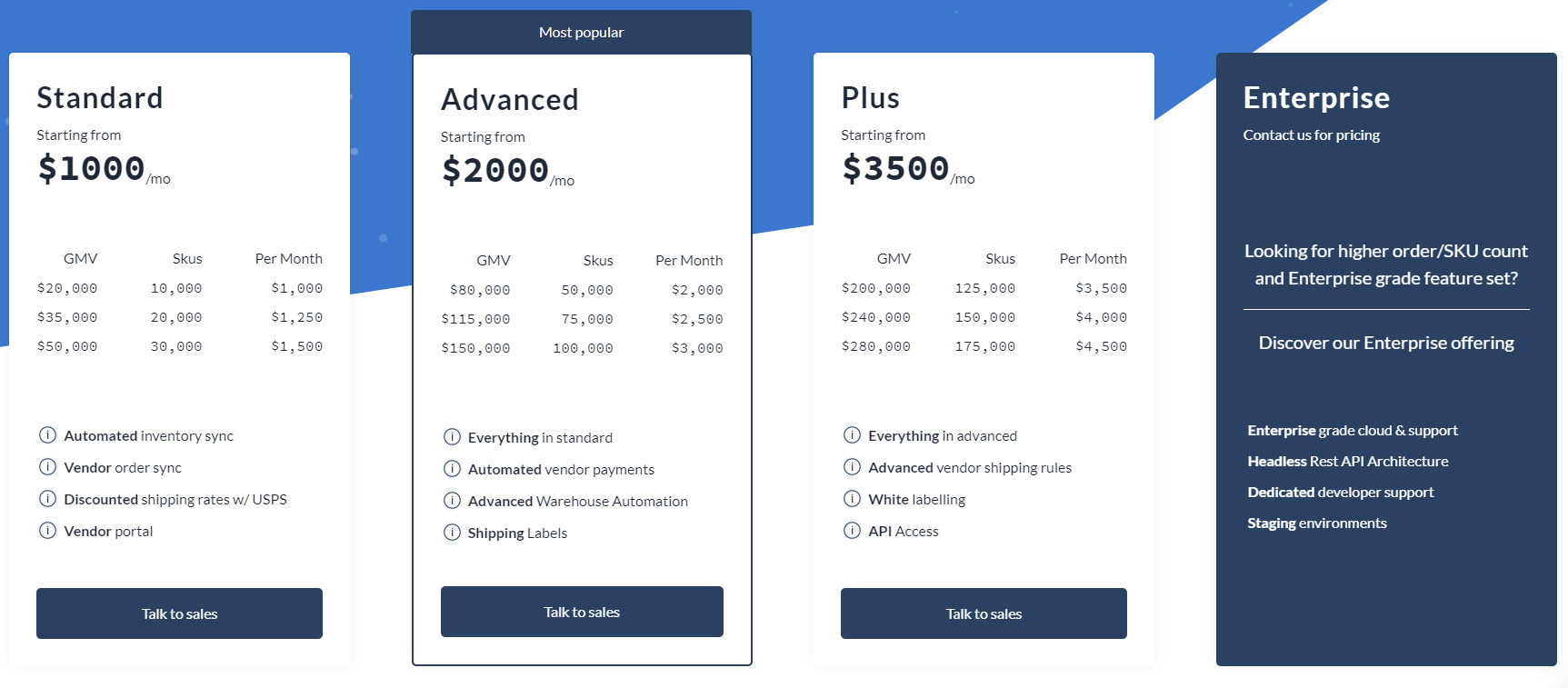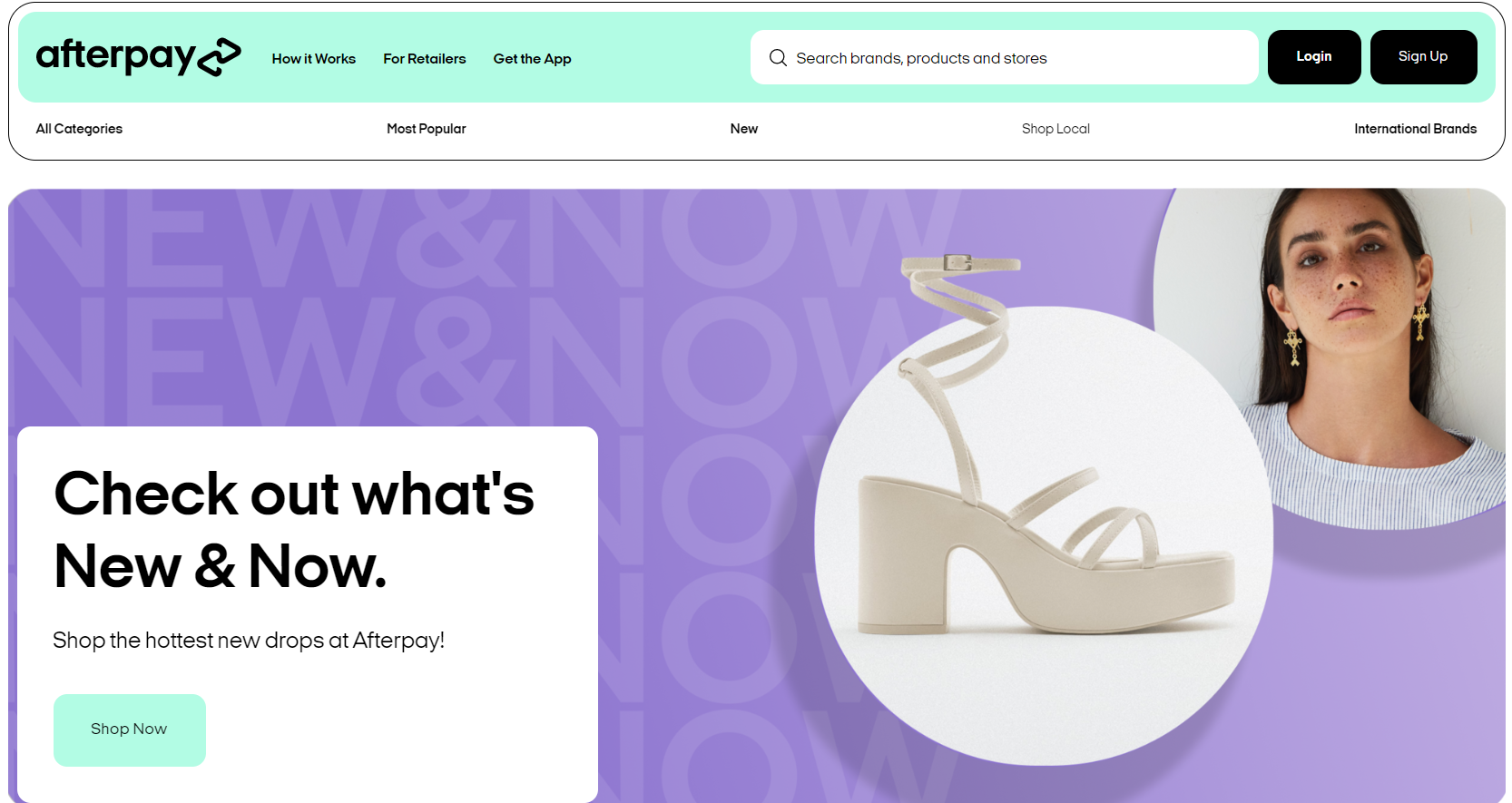 Afterpay is a buy now, pay later service that offers a number of features to make the checkout process more convenient and flexible for consumers. This Shopify Checkout App supports a wide range of credit and debit cards, making it easy for consumers to use the service.
Nonetheless, Afterpay integrates with various payment processors, like PayPal, ApplePay, GooglePay, etc. What's more, this app also supports bank transfers as a payment option, giving consumers an alternative to using a credit or debit card.
Some of the key features of Afterpay checkout include:
No interest or fees
Automatic payments
Online and in-store shopping
Easy account management
Support for multiple payment methods
Real-time approval
Flexible payment schedules
The best part is when you pay on time, Afterpay is a free service, which means there are no upfront costs or interest charges.
The only costs that may be incurred are late fees if your planned payments are unsuccessfully completed. But, you are always notified about it in your Afterpay account previously. For example, late fees in the United States are limited to 25% of the order amount.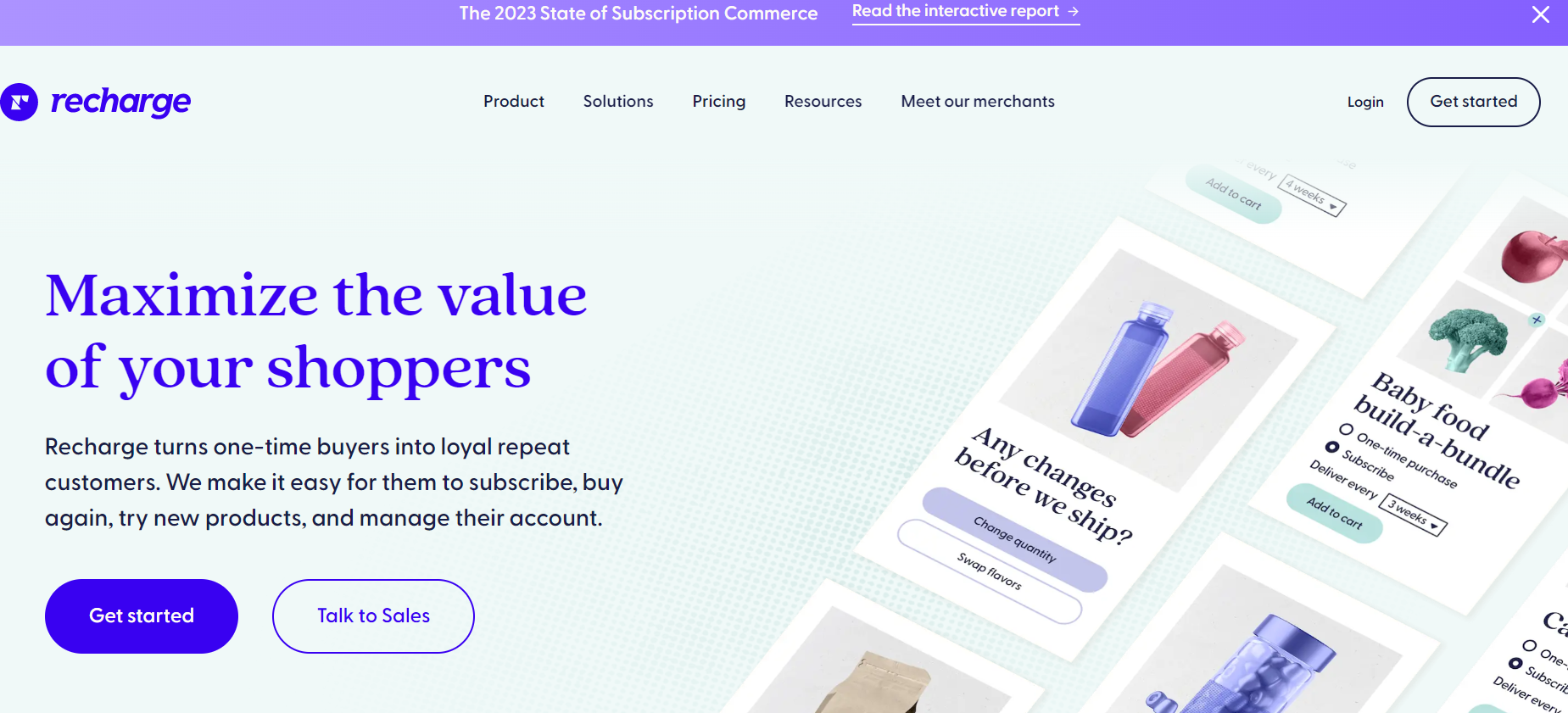 Recharge Shopify Checkout is a service that helps Shopify store owners manage subscriptions. This means you can offer products or services that customers can subscribe to, such as monthly deliveries of coffee or beauty products.
The recurring payments are managed through your Shopify store, making the billing process seamless.
Customers can choose when they want their deliveries. What's more, their payments are automatically charged on a regular basis. This helps build trust and satisfaction with your customers.
By using the ReCharge Subscriptions app, you can track the lifetime value of your customers and maintain a connection with them.
Thus, this is not something that Shopify stores are able to handle on their own, which is where the ReCharge App comes in. It provides a way to handle recurring payment charges in a way that's easy to manage.
However, Recharge pricing starts at $99 up to $499. For more info, check the pricing here.👇

In reality, ReCharge and Shopify, have different account management pages. So, if a consumer has an account in the Shopify store and goes through the ReCharge checkout, the two accounts will be connected together but not fully merged based on a matching email address.
On the other hand, If the customer does not have a Shopify account, they must create one in order for the Shopify to ReCharge link to be created.
Because the two accounts are distinct, any changes (mail address changes, credit card expiry, etc) made by a customer in one system are not reflected in the other.
By using the One-Click Checkout app you can make it easier for customers to buy products from your store. Thus, you can make this by adding two buttons on your dropshipping store: "Add to Cart" and "Buy Now".
In fact, with this Shopify Checkout app, these buttons can be set up to take customers directly to the checkout page, or a pop-up can appear that summarizes the items in their cart.
Furthermore, you can also add a "Sticky Add to Cart" bar and a "Sticky Checkout" bar that are always visible and ready for customers to click. These bars can be customized to match the design of your store.👇

This Shopify app pricing starts at $9.95, and it is free to install. However, if you want additional features you can subscribe to their Priority support pricing plan.👇


With Product Warnings, you can create popup messages for specific products in your dropshipping store. These messages can warn customers about issues like delayed shipping, products that are sold out, or items that are available for pre-order.
Thus, Product Warning key features are:
Display warning popups when you click Add to Cart or Checkout
Create global warnings or specific warnings for goods, versions, or collections
Warnings might be directed at specific nations, states, or provinces
Customize the look, buttons, icons, and content of the warnings
Display warnings or completely block checkout for the goods involved
Furthermore, Product Warnings comes with two pricing plans: a free one and an unlimited plan that costs $9.95 per month.👇


The MultiBuy Sales Booster is a tool that helps customers buy multiple copies of the same product or add many different products to their cart all at once, without having to visit individual product pages. It's an easy way to save time and simplify the buying process.
MultiBuy Sales Booster Key features:
One-click checkout
Quick buy items
Sticky Header for products
Multiple & user-friendly layouts
Also, the MultiBuy Sales Booster has a single pricing plan, which costs $2.99 per month. Also, they offer a 5-day free trial.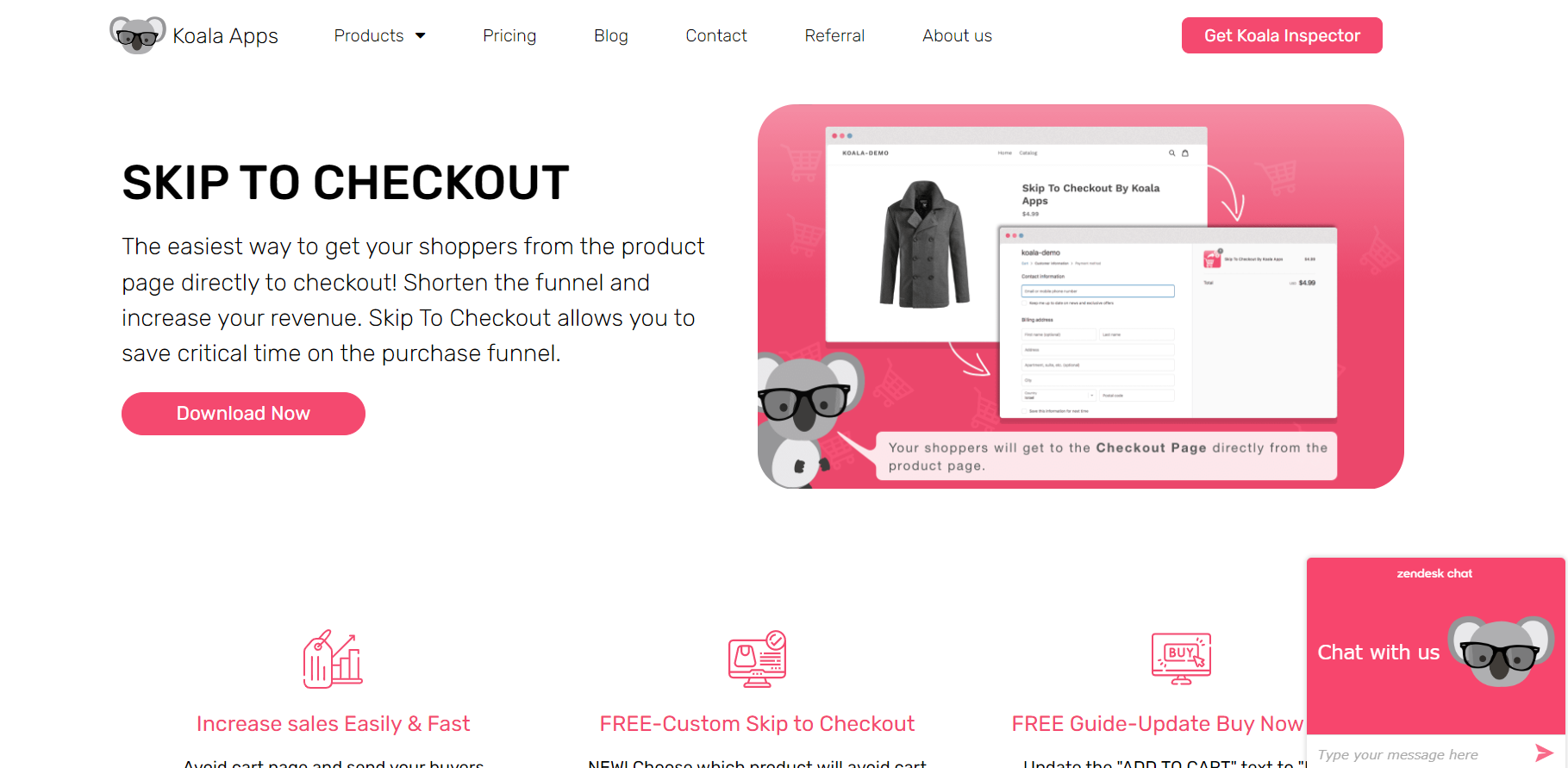 Skip to Checkout is an essential app for every Shopify store. It is designed to make the checkout process faster and more convenient, which can increase sales and reduce the number of abandoned carts in your store.
With Skip to Checkout, you can provide your customers with the product they want quickly, without having to go through the Cart page.
What's more, you can customize the app to decide which "Add to Cart" button will send your buyers directly to the Checkout page, and which will take them through the Cart page. In fact, this helps to shorten the purchase process and increase your revenue.
Also, Skip to Checkout offers three pricing plans, starting at $7.99. Also, you can take advantage of their free trial and see if this Shopify checkout app is a fit for you!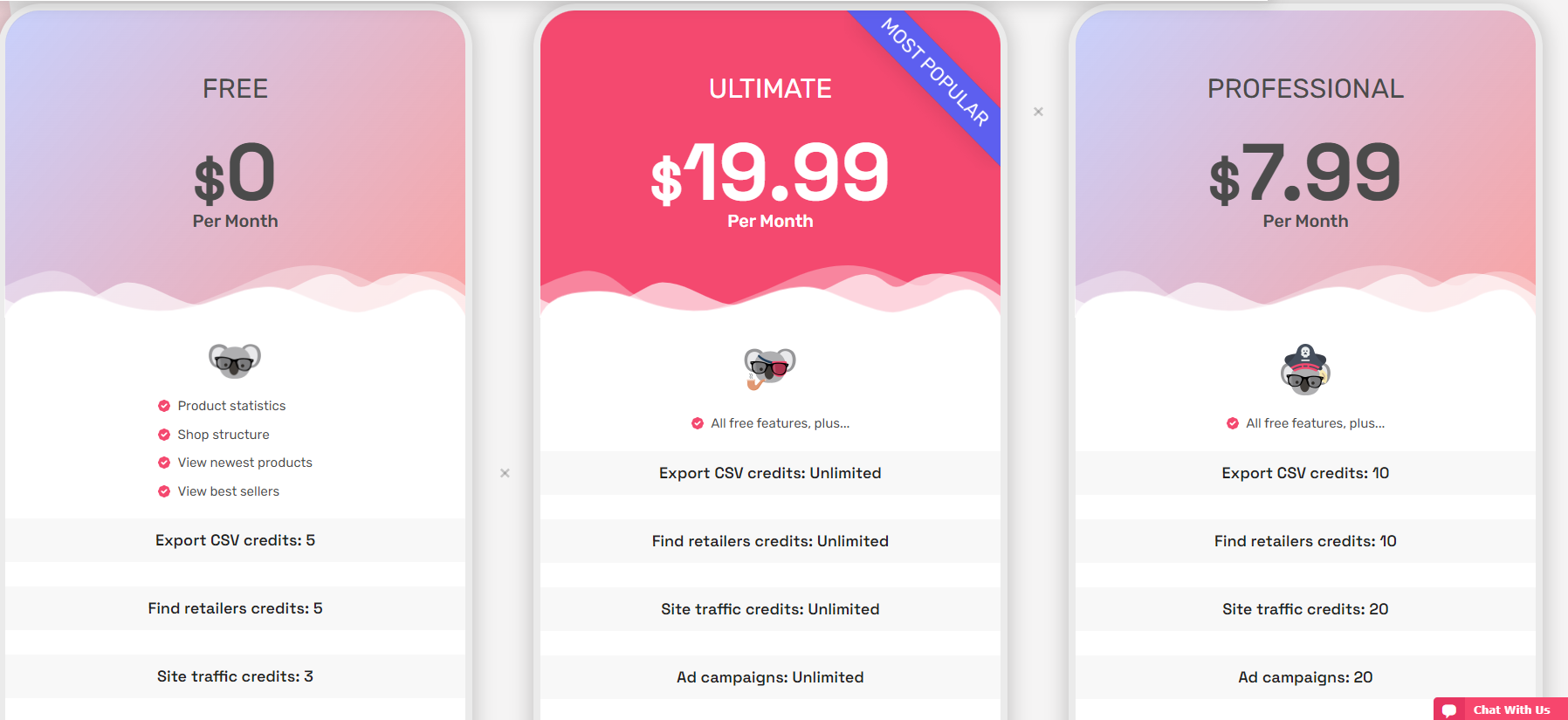 Checkout Comments is a Shopify app that allows customers to leave comments on the checkout page. Thus, these comments can be previewed before being displayed on the product pages.
Also, by having customers leave comments, store owners can gain insights into why a customer purchased an item, which can help generate new marketing and product ideas.
Furthermore, these comments can be used as user-generated content to increase organic traffic and sales.
The app is easy to use, ensuring a smooth checkout experience for customers.
Additionally, Checkout Comments comes with 24/7 support through chat and email, making it easy for you to get assistance when needed.
Key features of this Shopify Checkout app are:
Make sure your checkout comment questions are unique and tailored to your business.
Disable the auto-publish feature so you can manually moderate the comments before they're displayed on your site.
Add an area for customers to write comments during checkout to provide valuable feedback.
On product pages, showcase checkout feedback from previous customers to add social proof and build trust.
Customize the language and tone of the text to align with your brand voice and messaging.
The best part, you get all this for FREE.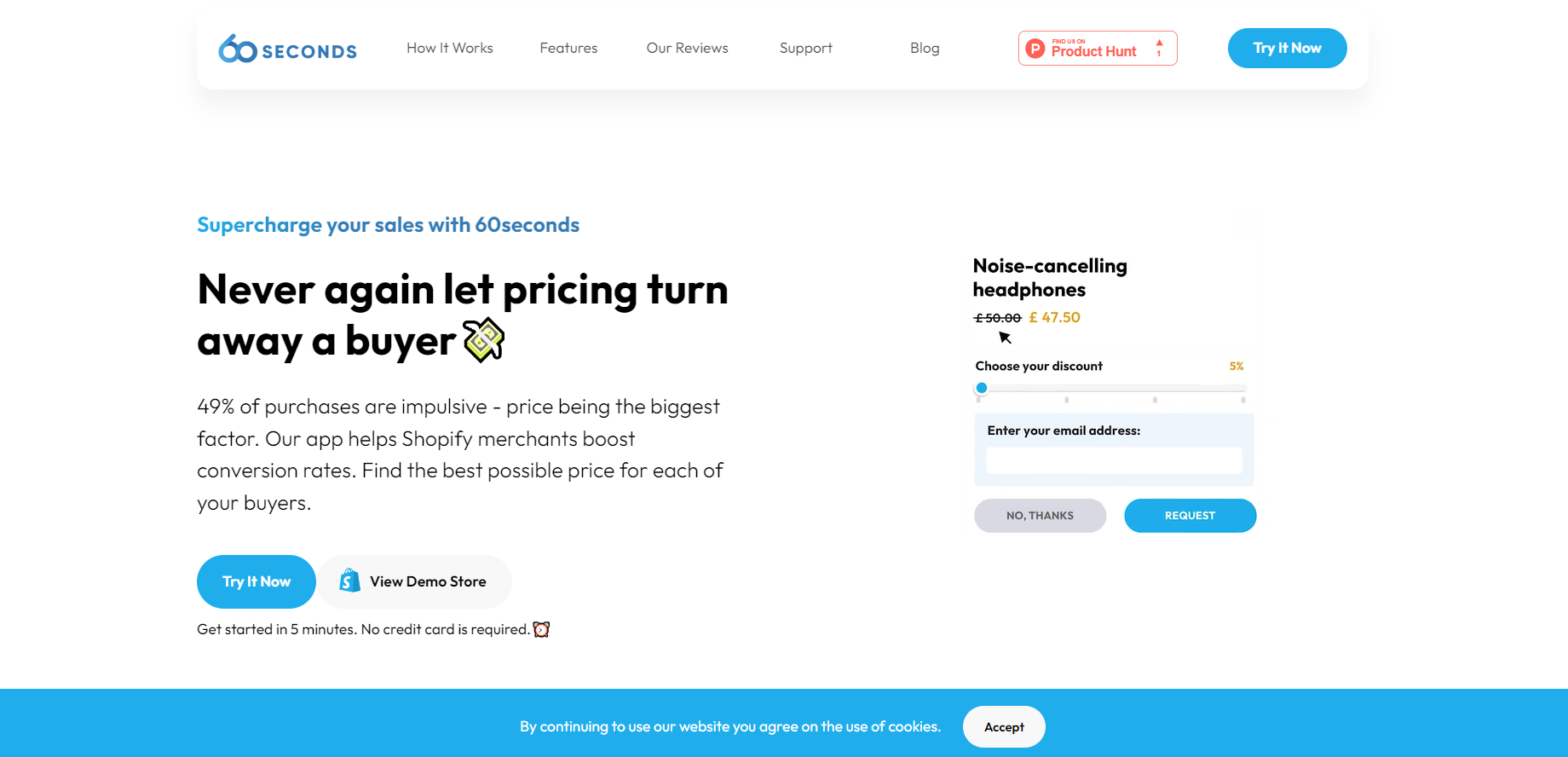 Last but not least, 60 Seconds Shopify is an amazing tool that let customers set predefined discounts for a specific product.
However, you have full control over it since they need to send you a request about the discount offer, and you get to accept it.
Actually, this Checkout Shopify app helps you reduce cart abandonment, and leads customers to the Shopify custom checkout page.
What's more, the 60 Seconds App provides a 14-day free trial for users to try out the app. It also offers three pricing plans, with the lowest starting at $9.👇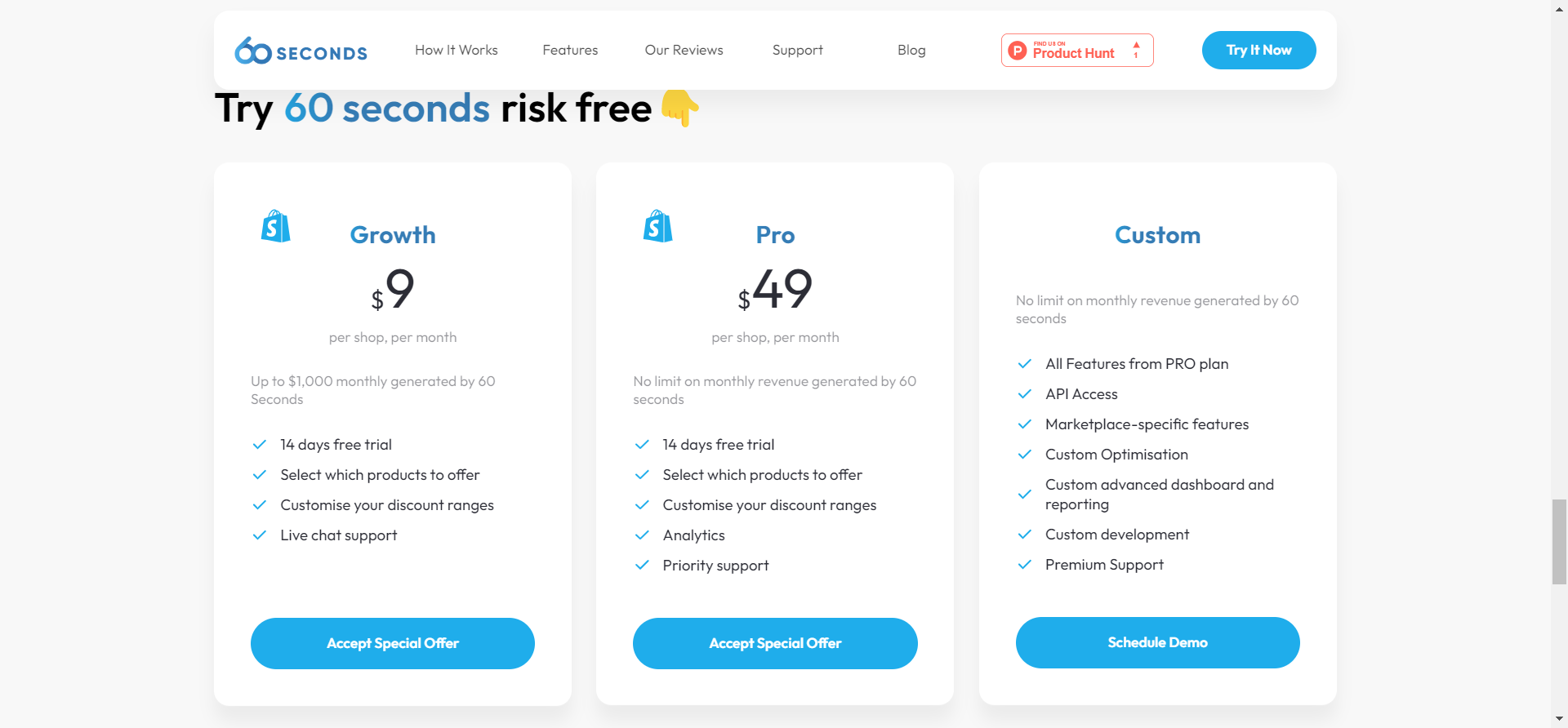 💡Tip: Read the FULL 60 Seconds App Review.
Shopify Checkout Examples
Now, let's see how Shopify checkout apps actually make your checkout process more user-friendly. In addition, we will review several Shopify Checkout examples stores and their checkout processes. 👇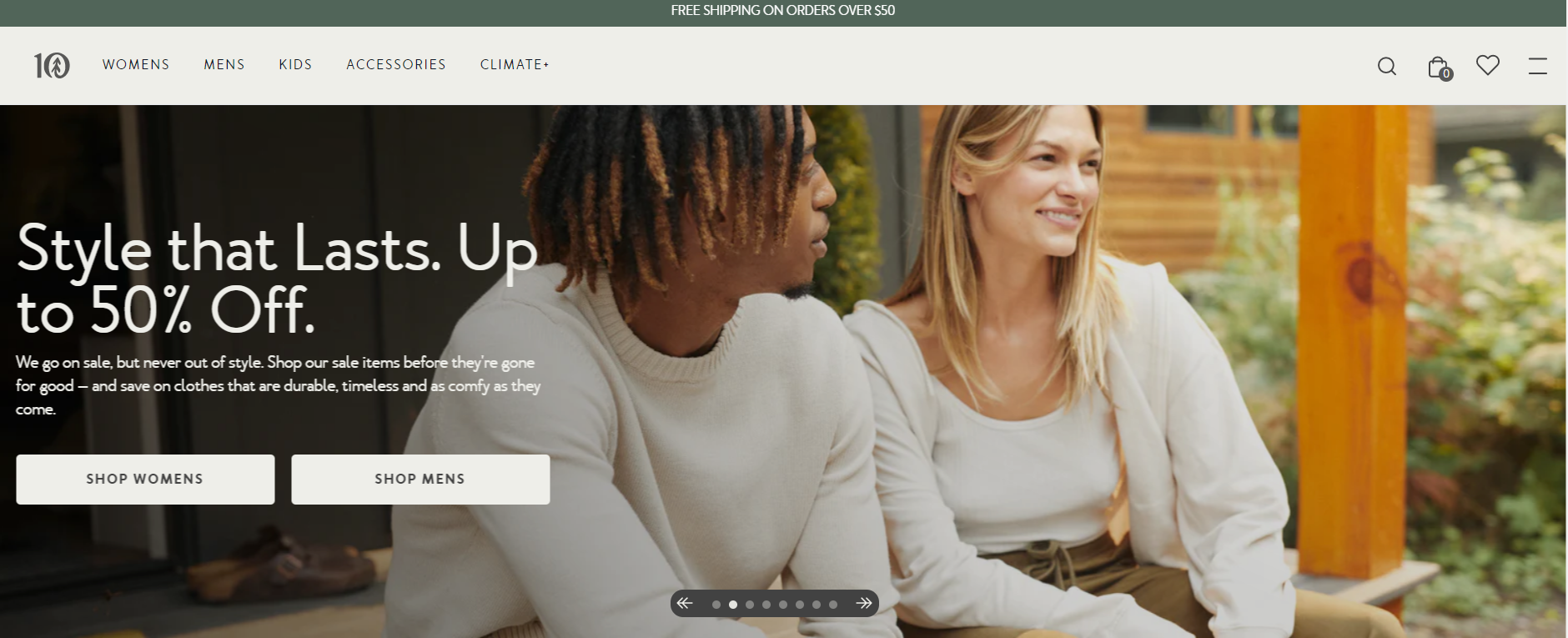 Tentree is a dropshipping Shopify store that sells clothes for women, men, and kids.
👉 Check out the 11 Best Clothing Dropshipping Suppliers In the USA & Europe.
But, let's skip to the checkout process here. The first thing we can conclude is that Tentree keeps it simple and easy when it comes to designing the checkout page.
First, the checkout displays as a pop-up from the right corner, but it has all the necessary information to push customers to take an action.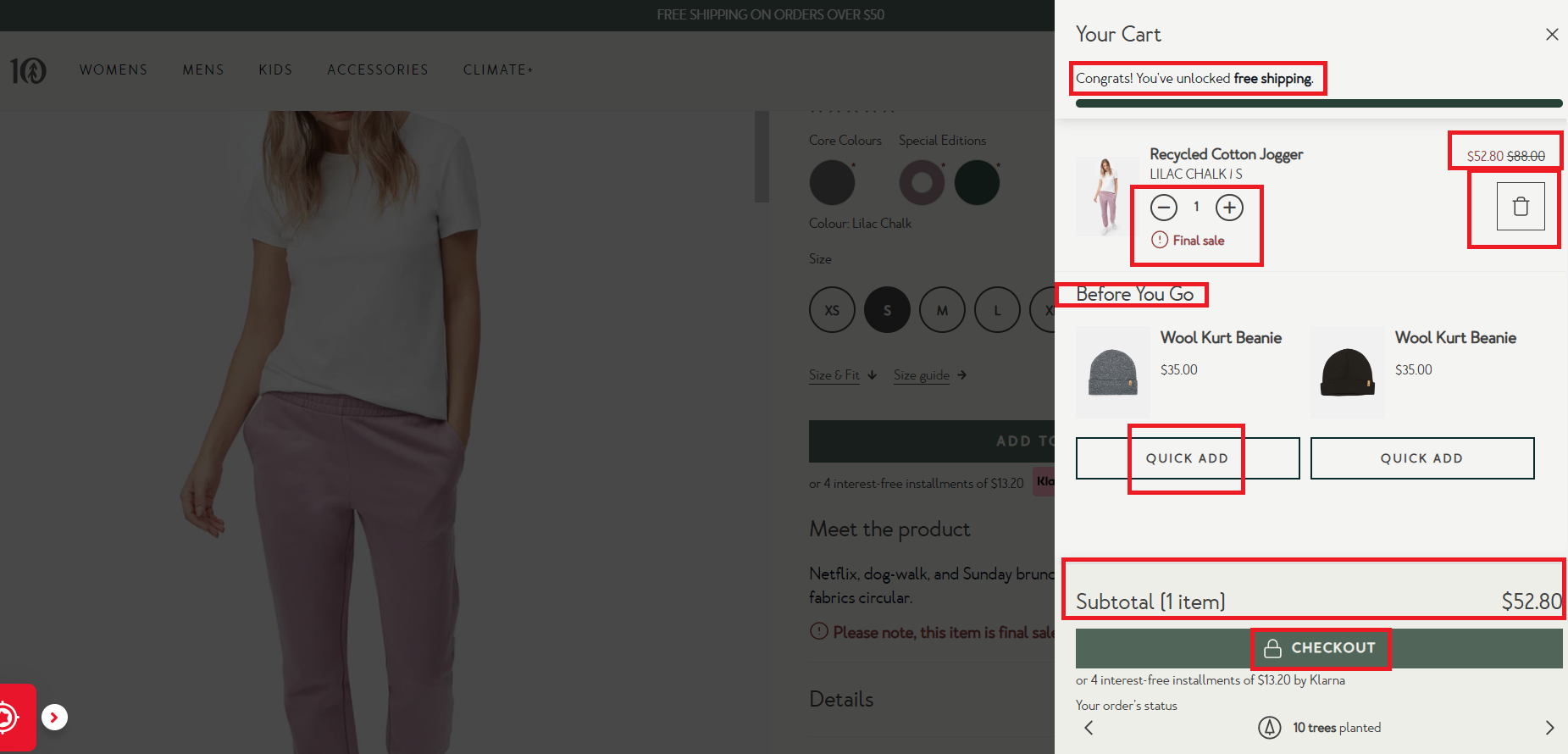 There's information about "free shipping", suggestions about other products with the "quick add" button, a "delete if you want" button, etc. More importantly, the total price is strictly given, with the calculated discount, so this doesn't make any confusion.
Next, once you click on the "checkout" button, you will proceed to the checkout landing page! Pay attention here. 👇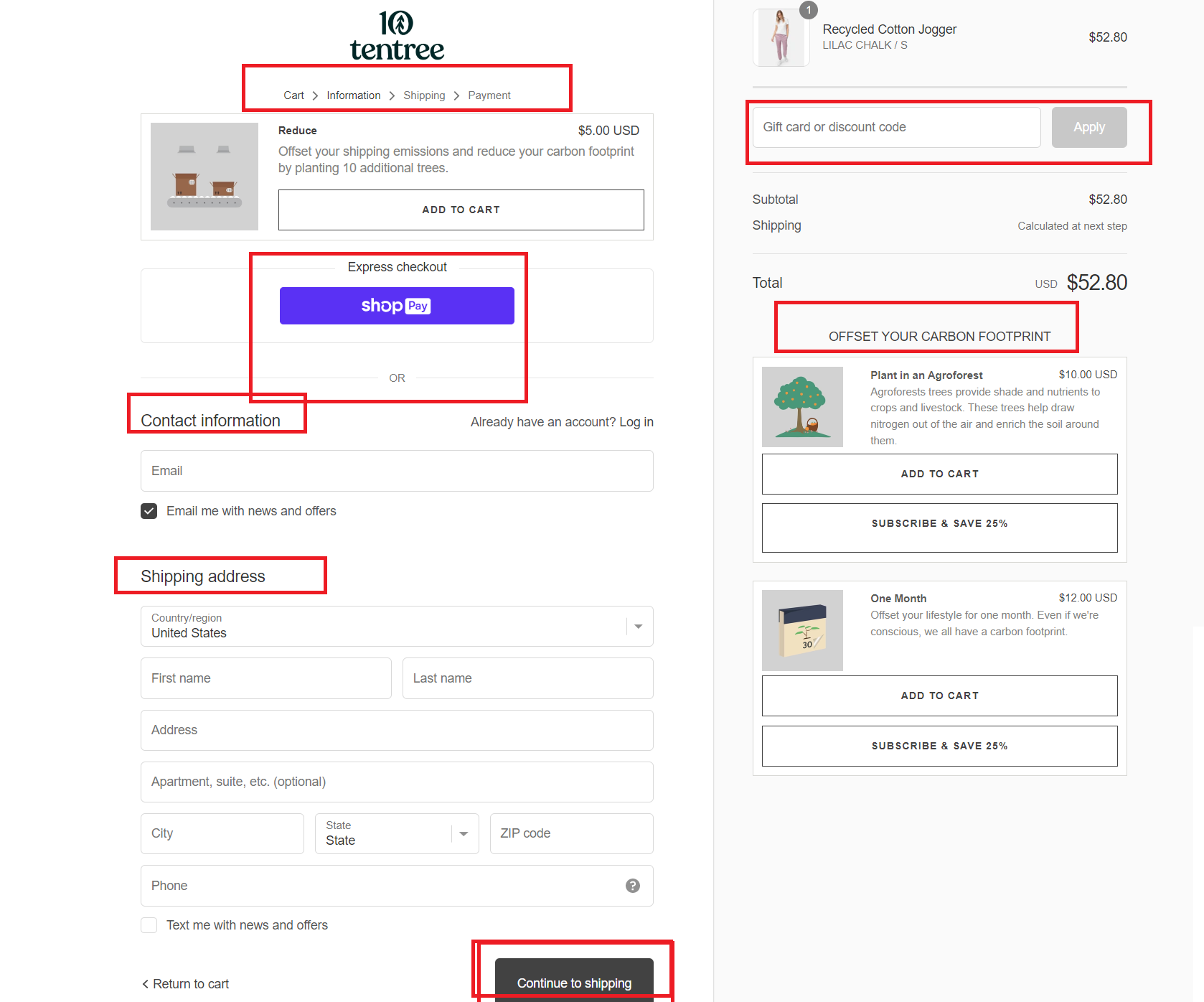 The first feeling a customer gets is that he/she won't be lost, since there are breadcrumbs helping them find their way in the checkout process!
In addition, as their strategy implies, they include unique add-ons in which buyers may have an additional 10 trees planted for $5 more—an offer that should appeal to a substantial portion of their eco-conscious population. Also, check out their "offset your carbon footprints" section.
Next, they do not confuse customers by requesting too much information. The fields are really simple, allowing buyers to breeze right through them. Also, they allow customers to use the checkout as a guest. So, they can pay and do that with ShopPay.
Furthermore, gift cards or discount codes! There's a form where customers can write the discount code or the gift card, and the discount will be immediately calculated.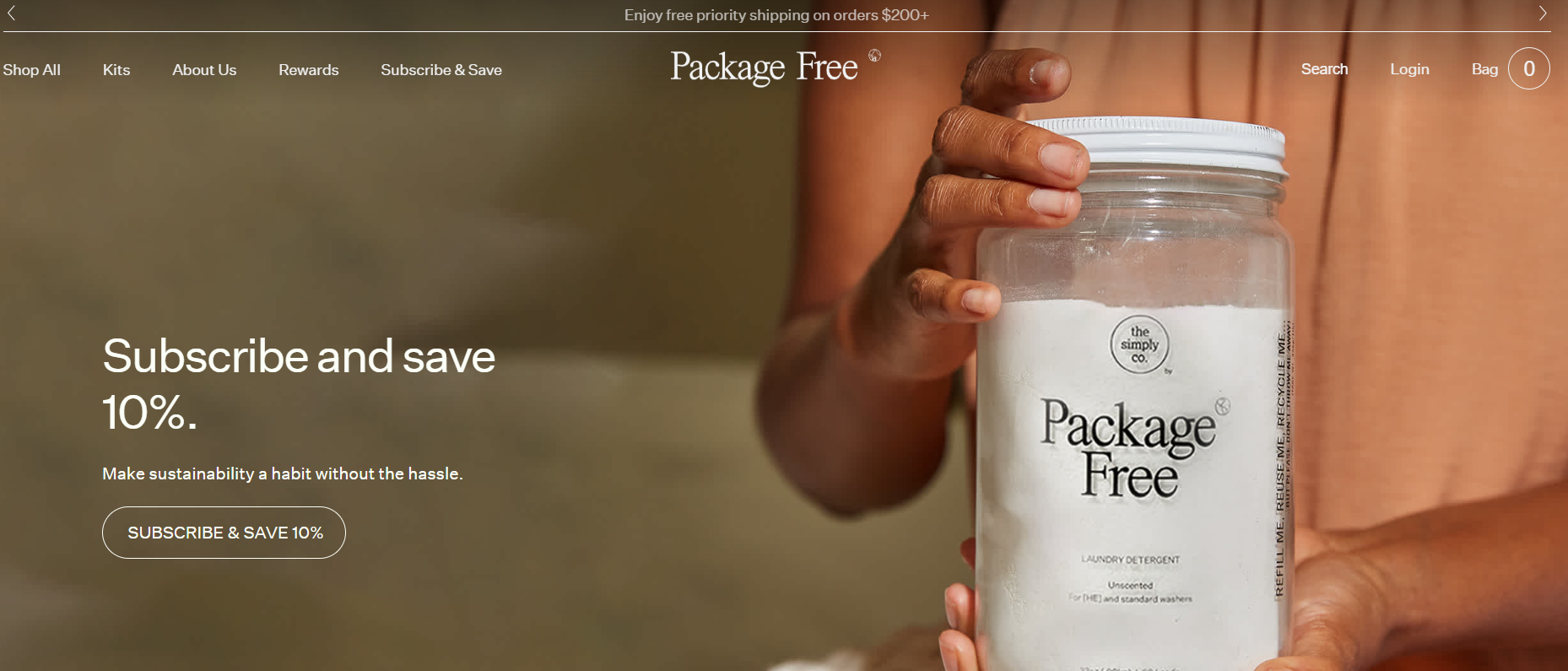 This Shopify dropshipping store sells sustainable, green, eco-friendly, plastic-free products to help customers live a zero-waste, minimalist, and low-impact lifestyle. Now, let's review their checkout page!
Package free checkout first appears as a popup from the right corner as well. Thus, the information you can find here is when customers can get free shipping, calculated total price, quantity, other products the customers can add, etc.
What we found interesting here is, regarding the "checkout" button, customers can also choose whether they want to send it as a gift. 👇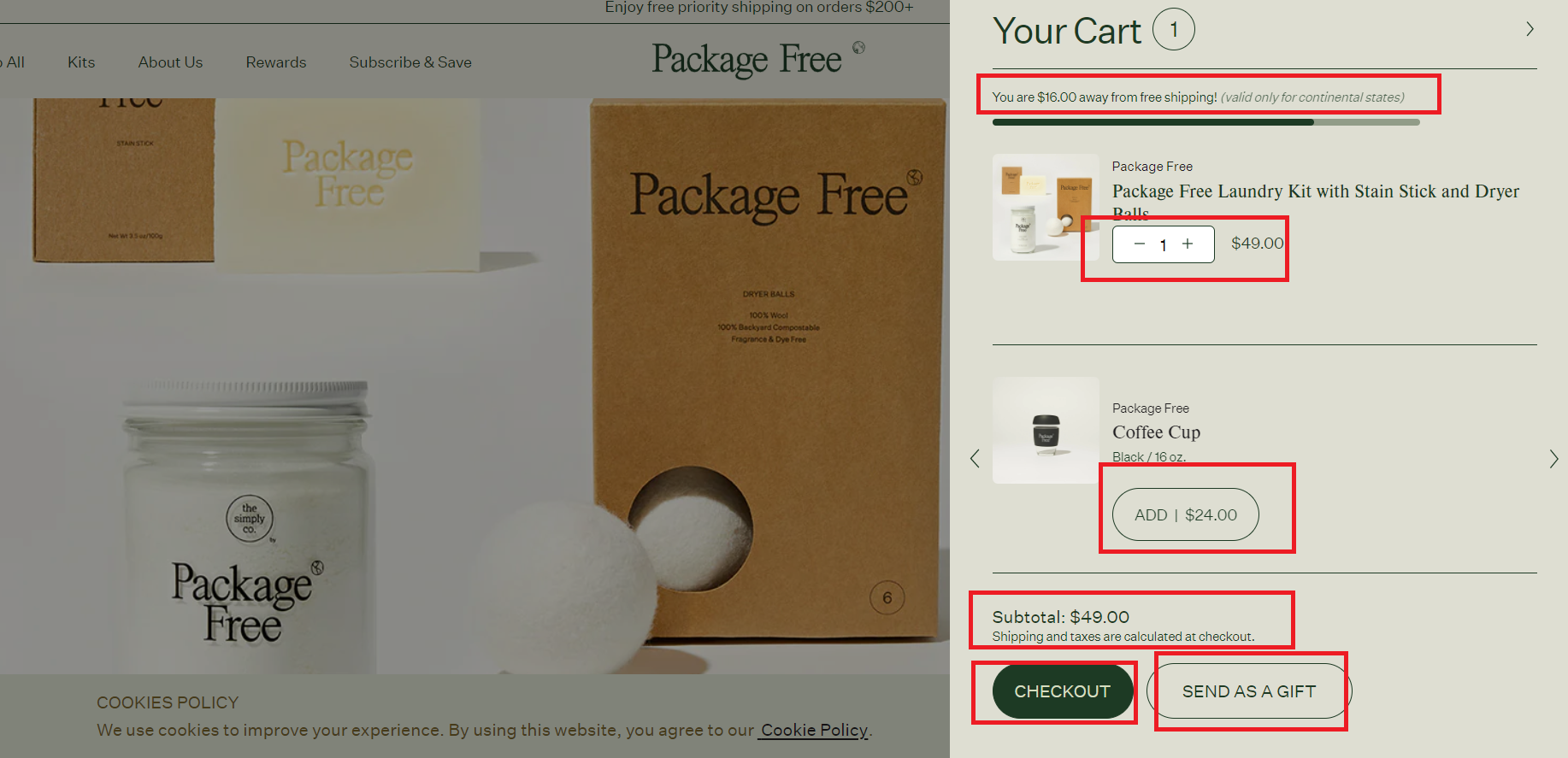 Furthermore, the checkout page has a simple and easy-to-navigate design with the brand coloring, so customers can have the feeling that they are still at the Package Free shop.
Moreover, the breadcrumbs at the upper side of the page help customers see where they are as well.👇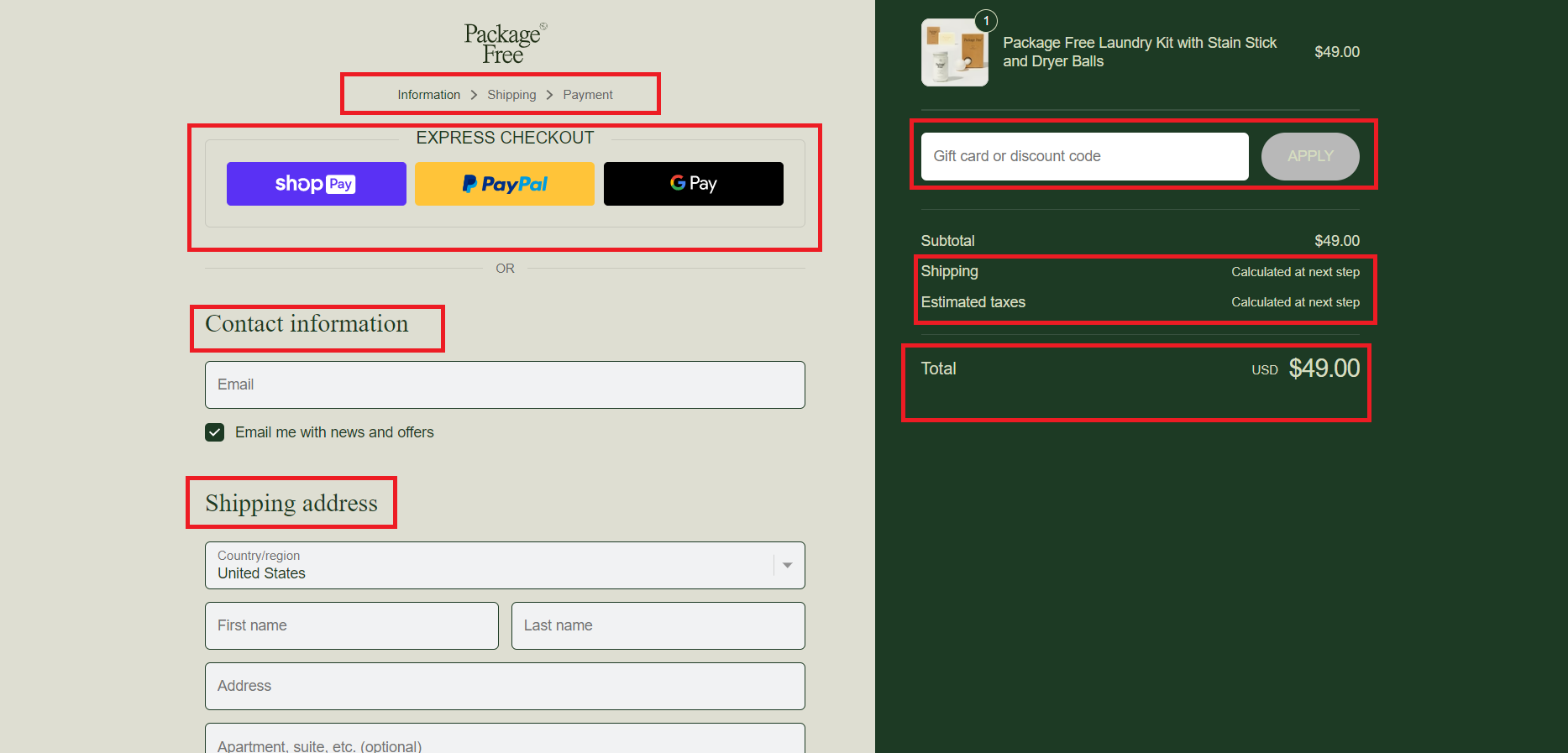 What makes this checkout process easy is how they simply demand the information. So, they only require the essentials, such as a customer's email and delivery address, and avoid unnecessary data that might possibly slow down the checkout process.
More importantly, Package Free Shop allows customers to use express checkout via Shop Pay, Google Pay, and PayPal and accepts a variety of payment methods.
Also, they have a handy place for inserting gift cards or discount coupon information. Additionally, they inform the customers about additional costs like taxes so they won't be confused later.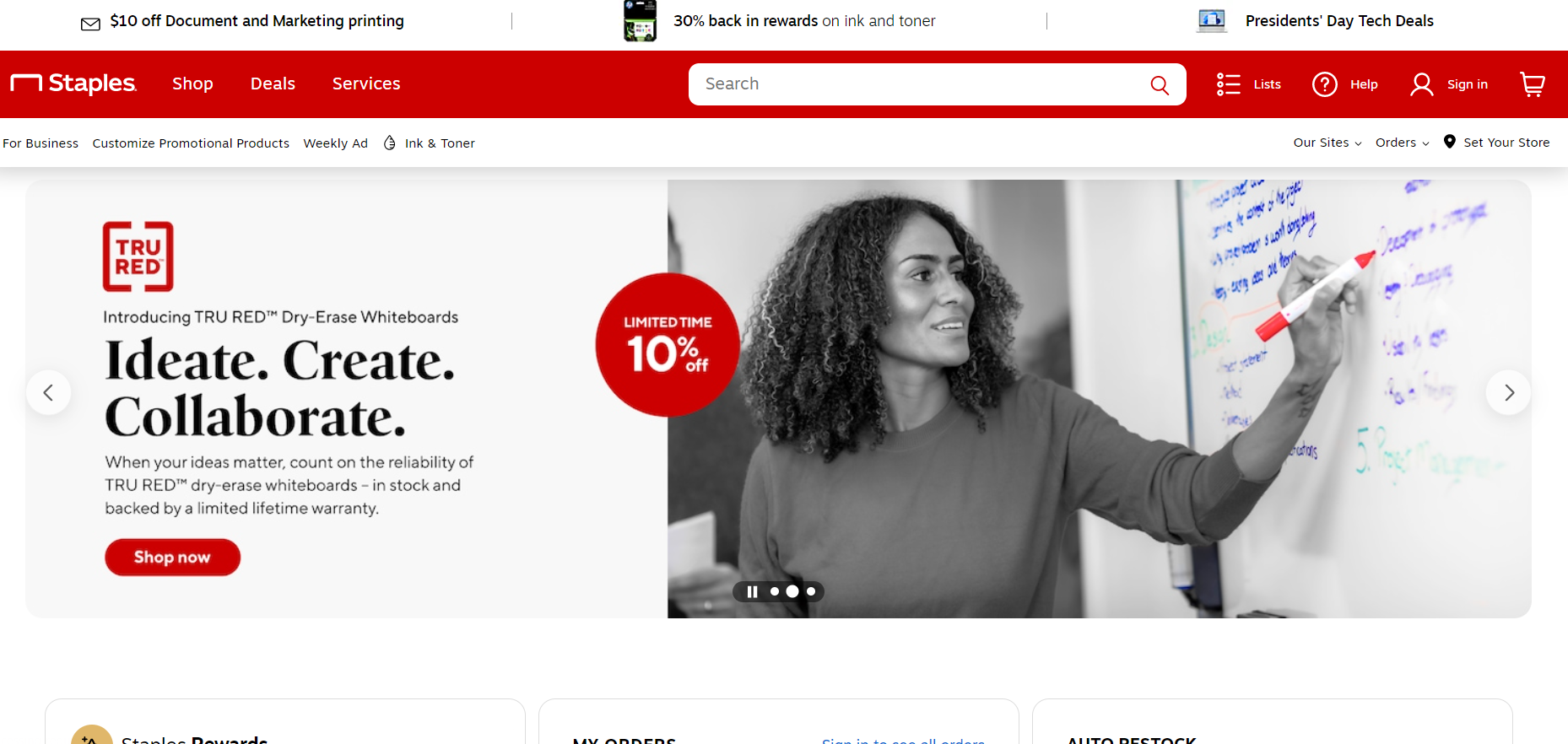 Staples is a dropshipping store mostly for office supplies and accessories. Actually, this is one of the best Shopify acquisitions since 2006. Now, let's see what makes the Staples checkout process that special.
Once you click on the "checkout" button, Staples gives you the option to buy with or without an account. If you choose to buy without an account, you will proceed to the checkout page.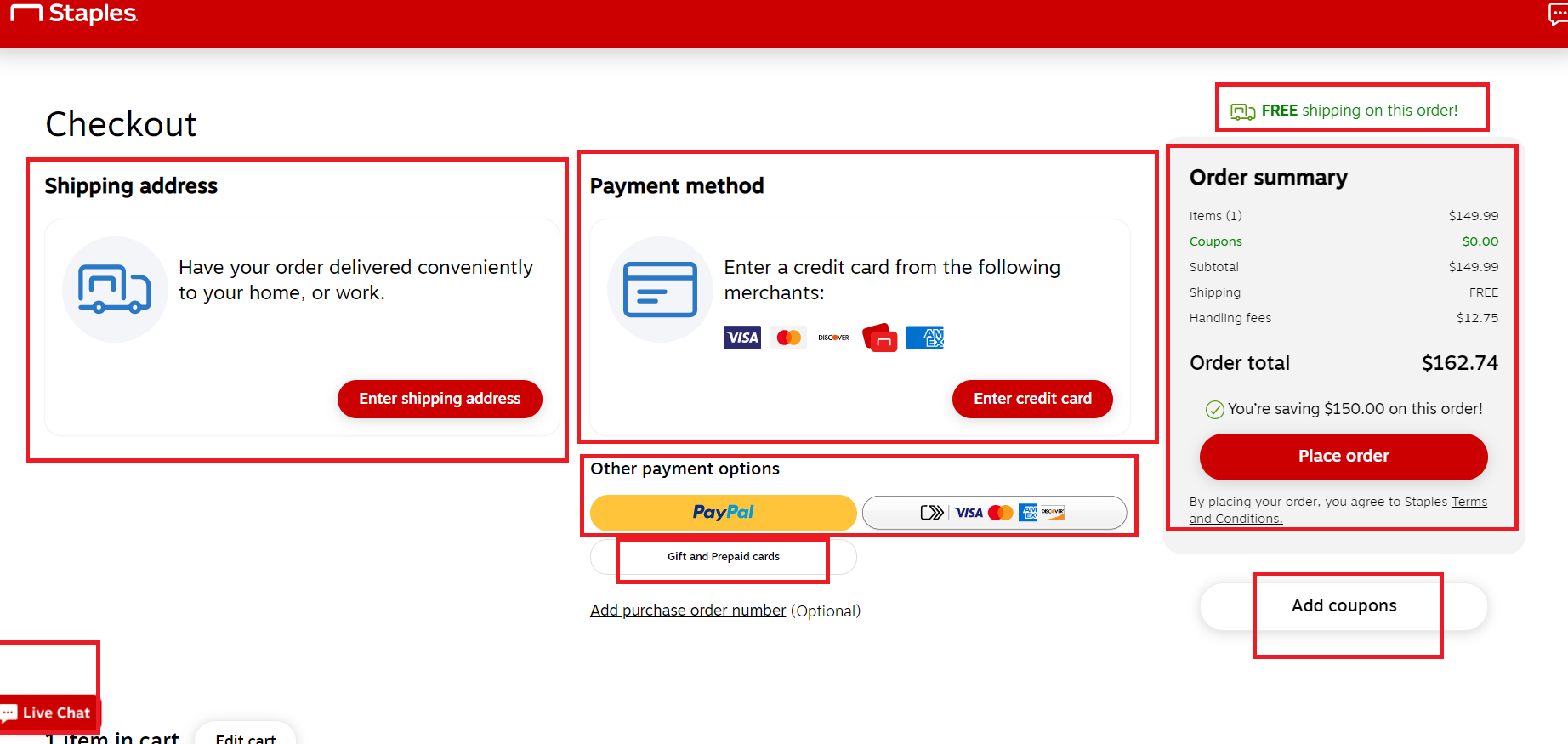 Here customers need to provide information about the shipping address, and the payment method. Thus, they can choose from Visa or MasterCard, American Express, and PayPal.
Also, there's a "gift and prepaid cards" and an "add coupons" button. So, customers can get a discount if they have coupons as well.
Moreover, once the customer adds all the info, they get the Order Summary, where they can see the total cost.
Also, if something goes wrong, Staples has Live Chat support that customers can access immediately from the left bottom corner.
But, the interesting part here is how all these windows display. Actually, they appear in the right corner as a pop-up. So, once the customers add the specific info, they click on submit and proceed to add the next one.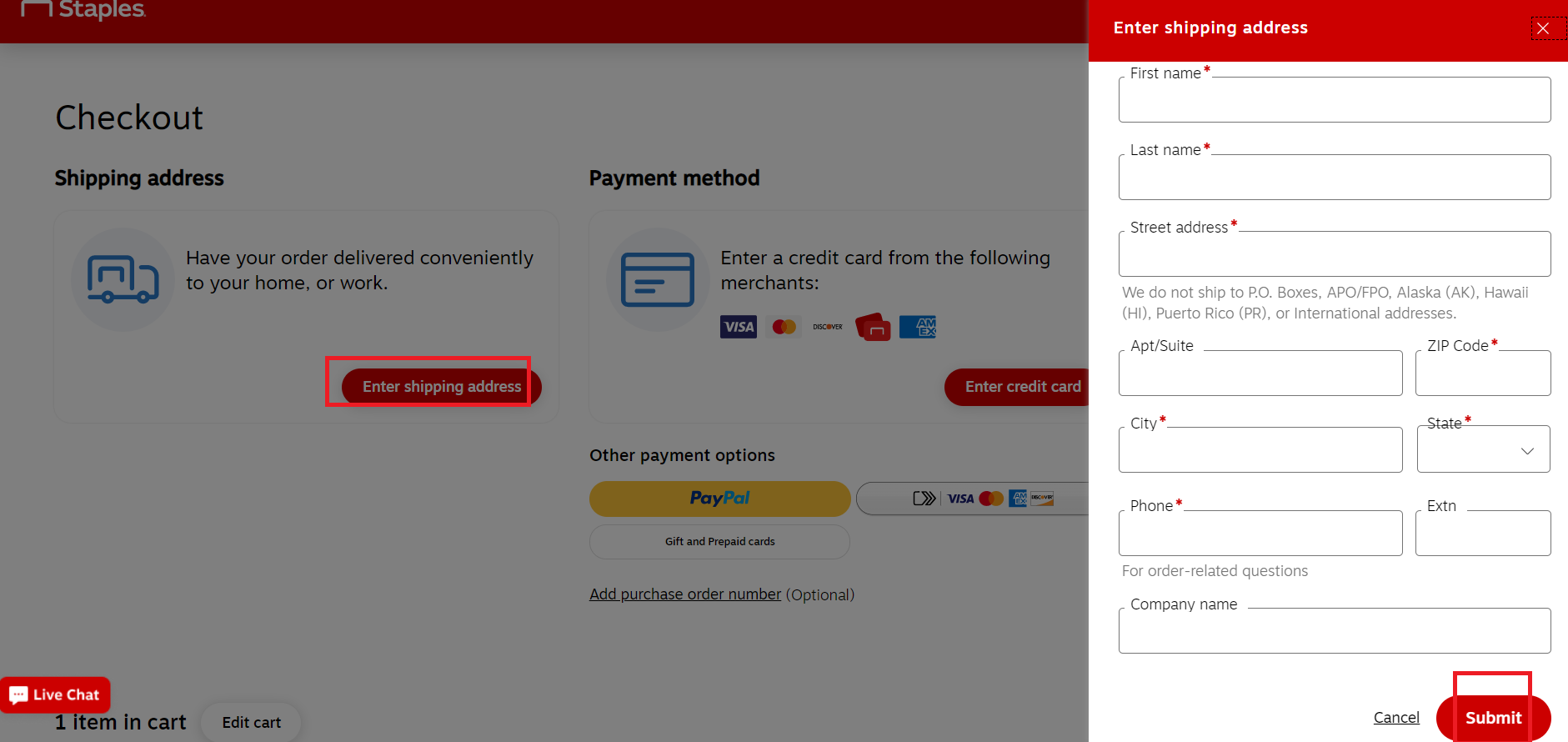 However, please keep in mind that, even if this looks interesting and unique, it can be confusing for customers. Also, not seeing all the added info in one place can also lead to an unpleasant experience.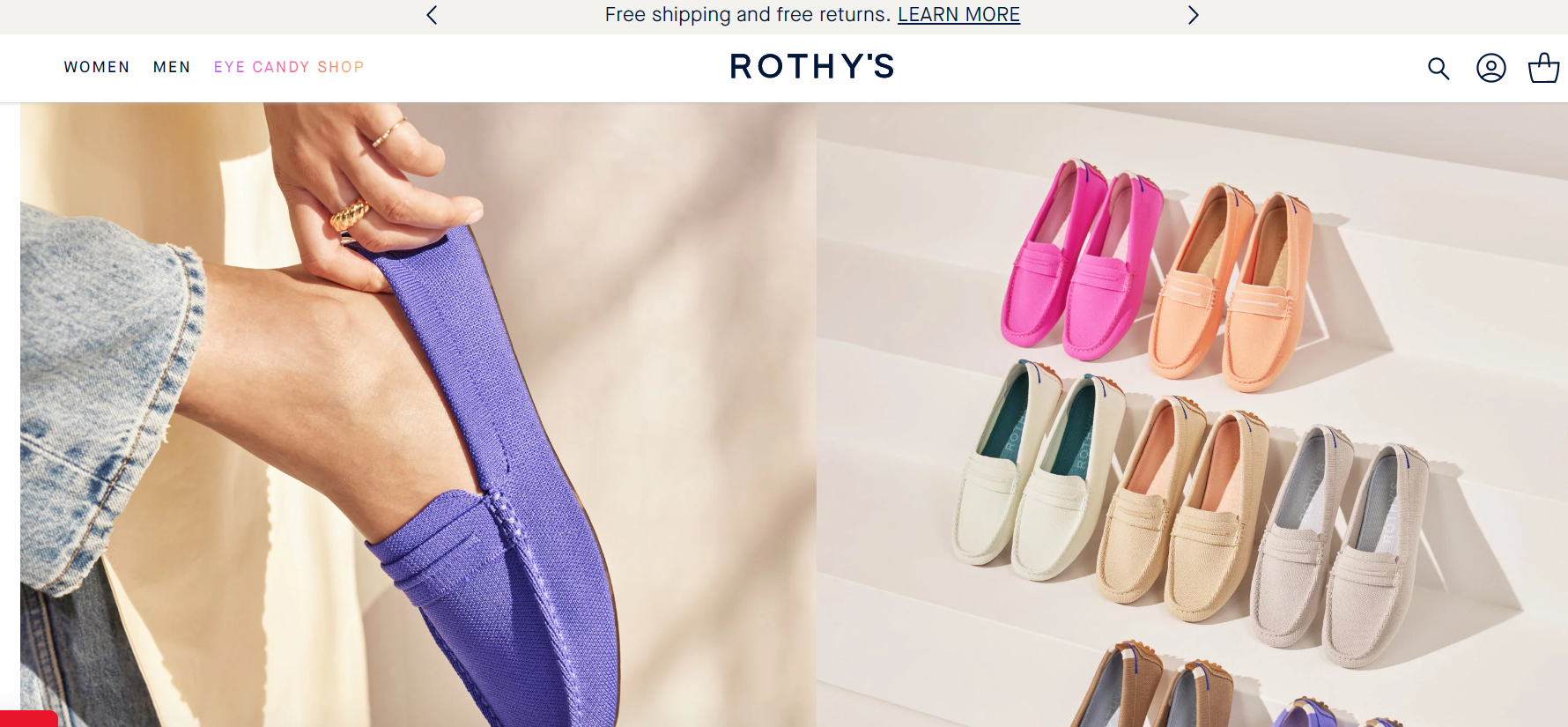 Rothy's is a fashion dropshipping store that specialized in handcrafted ballerina flats created from recyclable materials.
Their checkout page, like the rest of their Shopify store, has a simple look. The checkout page design is a basic blend of white and beige, with plenty of white space between objects and fields.
As Package Free and Tentree, this dropshipping store also includes breadcrumbs, giving the customers a sense of where they are in the checkout process, and how much they have until they finish. 👇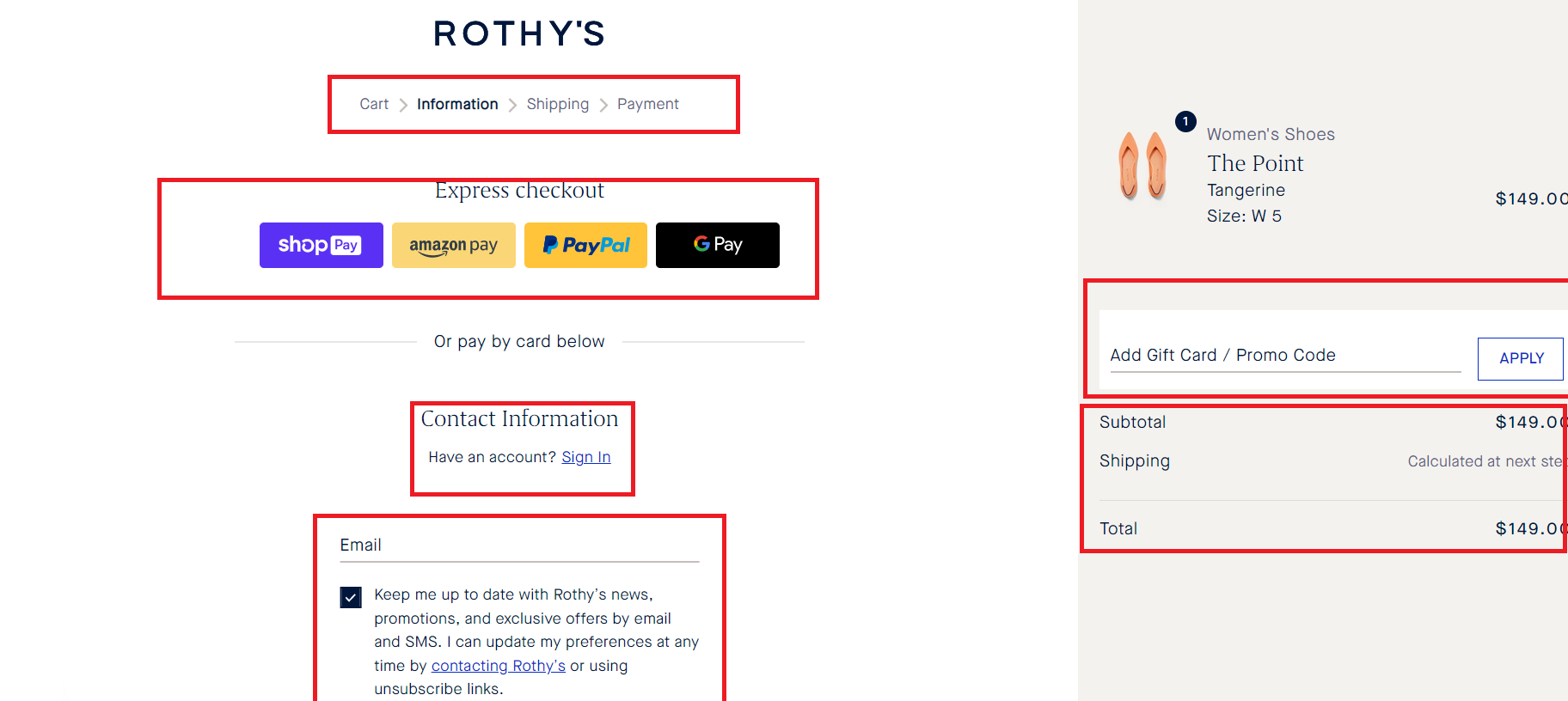 Thus, Rothy's informs customers right away that they may use Shop Pay, Google Pay, PayPal, and Amazon Pay to finish the checkout process.
However, they require only the most essential shipping info, keeping the checkout process simple and fast.👇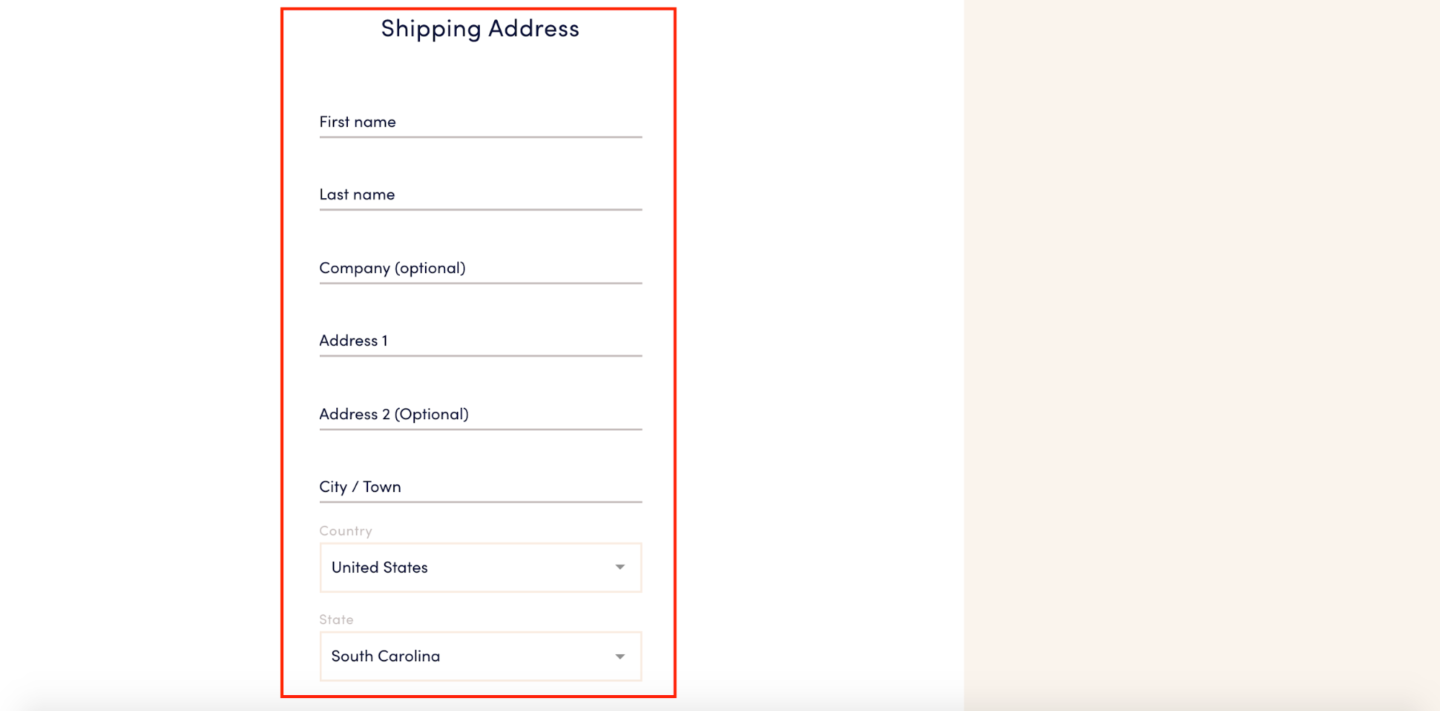 Also, they make it extremely simple for customers to enter a gift card or promotional code.
Plus, a great marketing trick is that they require customers' email to send them information about promotions or news.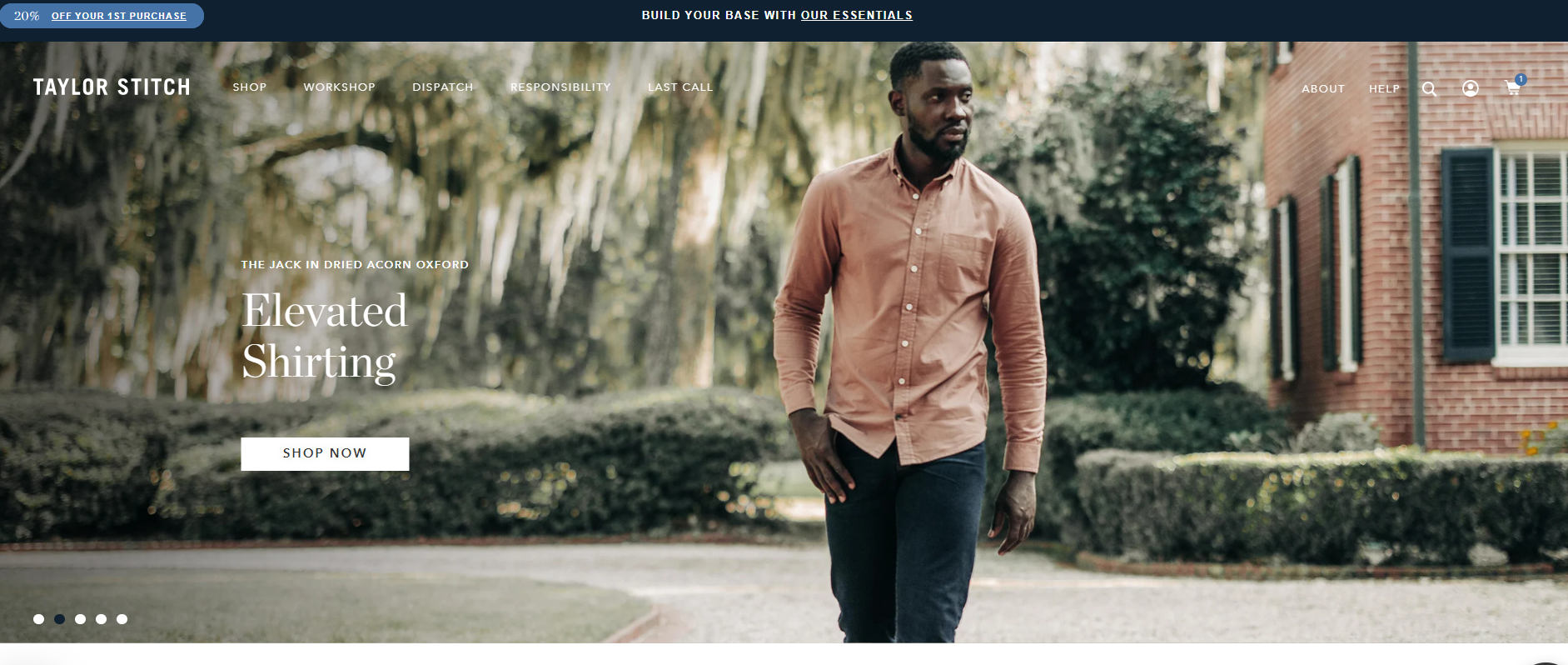 Taylor Stitch is a dropshipping men's clothing brand. The store has all the necessary elements and info on its checkout page, just like all other dropshipping stores mentioned above.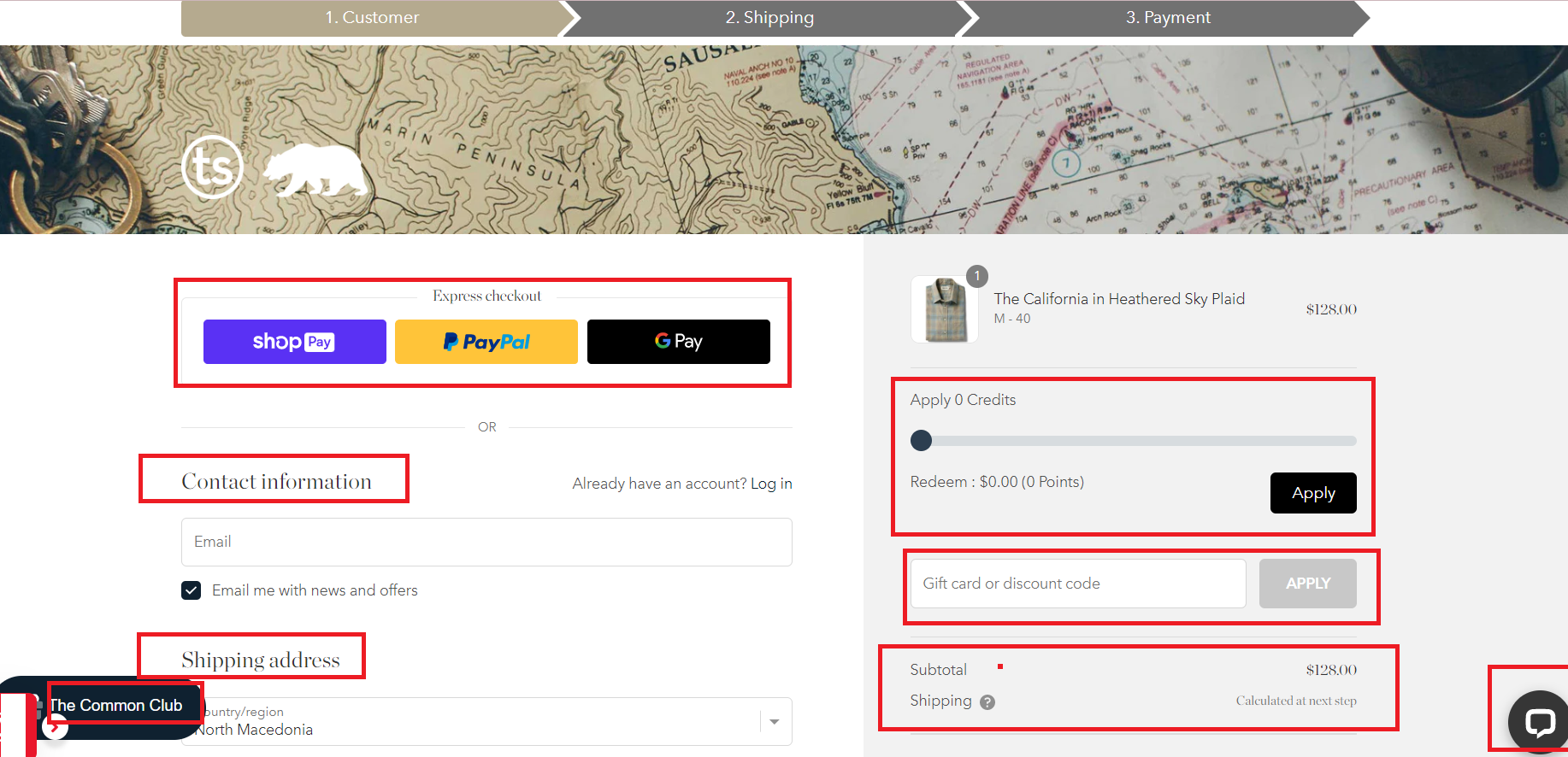 So, to save up your time, we will tell you what differentiates them from others, and actually makes their checkout process glow! The "Why Choose Us" section. 👇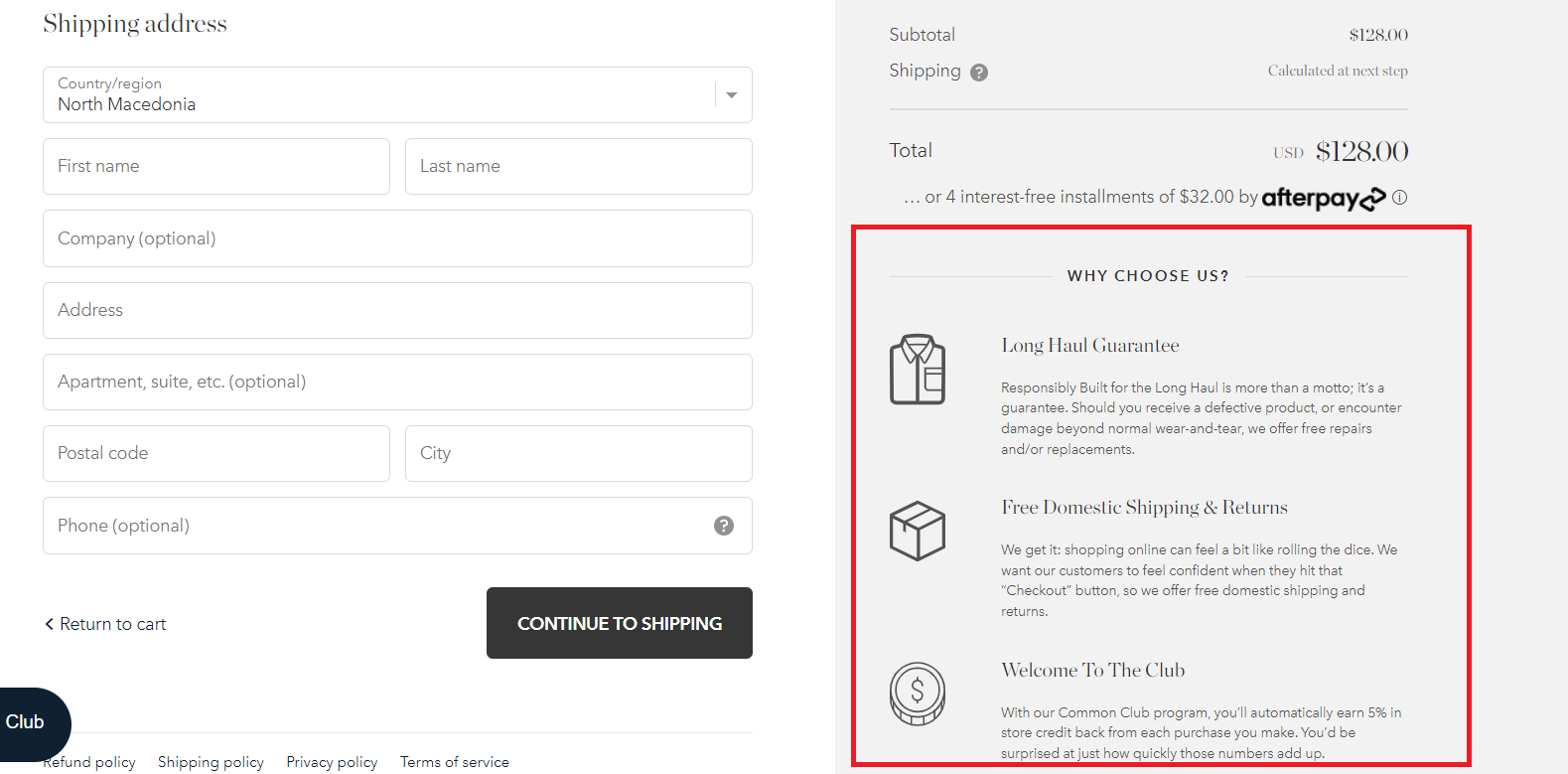 This dropshipping store actually guarantees product replacement and repairs, and free domestic shipping and returns. This is what increases their conversion rates.
Also, their Common Club allows customers to earn 5% in-store credit for every transaction they make.
Join the only community and resource hub you'll ever need to succeed with dropshipping
Find winning dropshipping products, learn marketing, download templates and engage with real dropshippers
Never pay for a "guru's" course again. See why 4543+ dropshippers joined us this year!
💡Try DSCOM Hub Now
Conclusion
If you're running a dropshipping store, Shopify checkout apps can be a game-changer for you. These apps can make your checkout process faster, increase sales, and give your customers a better shopping experience.
When choosing a checkout app, keep in mind things like how much it costs, what it can do, and whether it works well with your store's design and other apps. Also, checking out reviews and comparing different options can also be super helpful in finding the perfect fit for your store.
All in all, investing in a checkout app can really pay off in making your Shopify store more efficient and profitable. With the right app and its features, you can create a checkout process that's easy and hassle-free for your customers, which can mean more dropshipping sales and happier customers.