Wondering how to sell plants online in 2023? Where do you even begin? How do you stand out in a crowded market and make a profit?
Selling plants online can be a lucrative business, but it requires careful planning and execution. Whether you're a seasoned plant seller or just starting out, there are steps you can take to ensure success.
If you're looking to start or grow your online plant business, this step-by-step guide is for you. From setting up your website to marketing your products, we'll cover all the essential steps you need to take to sell plants online in 2023.
How To Sell Plants Online In 2023 – Is It Worth It?
As someone who loves plants and has experience selling them online, I can confidently say that selling plants online is a profitable business in 2023.
With the increasing popularity of online shopping and the growing awareness of the benefits of plants, more and more people are turning to the internet to purchase plants of all kinds – from indoor plants to outdoor plants, and even rare or delicate species.
Plus, according to a report from Grand View Research, the global plant-based market size is $27.97 billion in 2022 and is expected to grow CAGR of 6.0% from 2023 to 2030.
Also, need some extra inspiration? Have you heard about The Sill? This is a great example of how to sell plants online.
The Sill is a modern plant online store for the modern plant lover, offering a wide selection of indoor plants in different sizes and colors. The Sill's website is user-friendly, with helpful categories like 'pet-friendly plants' and 'low-light plants,' making it easier for customers to find the perfect plant for their space.👇
Now that we have established that selling plants online is profitable, let's dive into the step-by-step guide on how to sell plants online.👇
Discover top dropshipping suppliers of original US/EU products
You're 2 minutes away from building your ecommerce empire
No credit card required. No commitment.
Get started for free
1. Market Research
One of the most important steps in conducting market research is researching popular plants. This can be easily done through online searches and plant forums, where you can gather information about what types of plants are currently in demand.
So, you can think about selling various types of plants like, bamboo, flowers, herbs, or ground covers. Plus, It's important to keep in mind factors such as seasonality and regional differences when considering which plants to sell.
What I personally do before starting to sell plants online is use Google Trends. This tool allows you to track the popularity of search terms over time, which can help you identify trends and predict future demand for certain plants.
For example, let's say you want to sell ground covers. Let's see Google Trends results.👇
As you can see, these products' demand is definitely on the rise. But, more interesting is that it depends on the region. For example, the climate in Australia is much warmer and drier on average. That's why, the demand there is higher.
Furthermore, once you have identified popular plants, it's important to evaluate the competition. Take the time to research your competitors' online stores and evaluate their presentation, target market, and pricing strategies. By doing so, you can develop a competitive strategy that sets you apart from the rest.
👉Learn the Tips for Creating A Short Business Plan.
Moreover, consider market regulations that may apply to your business. Depending on where you are located, there may be specific regulations or restrictions on selling certain types of plants.
👉 Check out the Dropshipping Taxes and Payments – Must-Know Facts.
Let's see, what else do you need to learn about how to sell plants online?
2. Find Suppliers / Grow Your Own
➡ Find A Supplier
When it comes to selling plants online, finding a reliable supplier is key. Thus, here are some factors to consider when choosing a supplier for your online plant business. 👇
First, think about the types of plants you want to sell. Do you want to specialize in indoor or outdoor plants? Are you interested in offering rare or exotic species? This will help you narrow down your options.
Another crucial factor to consider is the quality of the plants. Therefore, look for suppliers who have a reputation for producing high-quality plants and who take care of their shipping and handling processes.
Shipping is also an important consideration. You want to choose a supplier who can get your plants to your customers quickly and safely. Thus, make sure they offer adequate packaging, such as heat packs during cold weather, and have reliable delivery options.
After considering these factors, it's time to start searching for a supplier. For instance, there are various dropshipping supplier directories where you can search for plant suppliers. In addition, the Dropshipping.com supplier directory has over 2000 suppliers to choose from.
Moreover, here are some recommended options:
HydroPro Sales Inc – It is based in the US and sells grown landscape plants and specializes in hardy groundcover plants. The product costs range between $50-100, and the average order processing time is 1-3 days.
Bower & Branch – This supplier offers a wide variety of plants for both indoor and outdoor use. They also have a dropshipping program available, which can be useful if you don't want to handle the shipping process yourself.
Monrovia – Monrovia is a well-known nursery that offers a vast selection of plants, including rare and exotic species. They also have a strong reputation for high-quality plants and can provide personalized advice and recommendations.
➡ Can you Dropship Plants Online?
First, what is dropshipping? It is a retail fulfillment method where a store doesn't keep the products it sells in stock but instead transfers customer orders and shipment details to the manufacturer, another retailer, or a wholesaler, who then ships the goods directly to the customer.
So, can you dropship plants online? Yes, absolutely. Many plant suppliers offer dropshipping programs that enable you to send orders directly to them, and they'll handle the shipping and handling of the plants.
Plus, the advantages of dropshipping plants are numerous. Firstly, as a dropshipper, you won't have to worry about holding inventory or managing shipping processes, which can be a significant relief if you have limited storage or resources.
Additionally, working with a reliable dropshipping partner can help you to expand your business and reach new customers without the need to invest in additional resources or infrastructure.
Finally, if you do not have much expertise in plant care, a reputable dropshipping partner can provide you and your customers with the necessary guidance and advice to help ensure that plants arrive healthy and happy.
However, you need to be aware that you have a lack of control over the shipping and handling of plants can lead to some uncertainty about the condition of plants upon arrival. That's why, you need reliable dropshipping suppliers.
👉 Check out the 13 Best Directories To Find Wholesale Dropshipping Suppliers.
➡ Work With a Local Nursery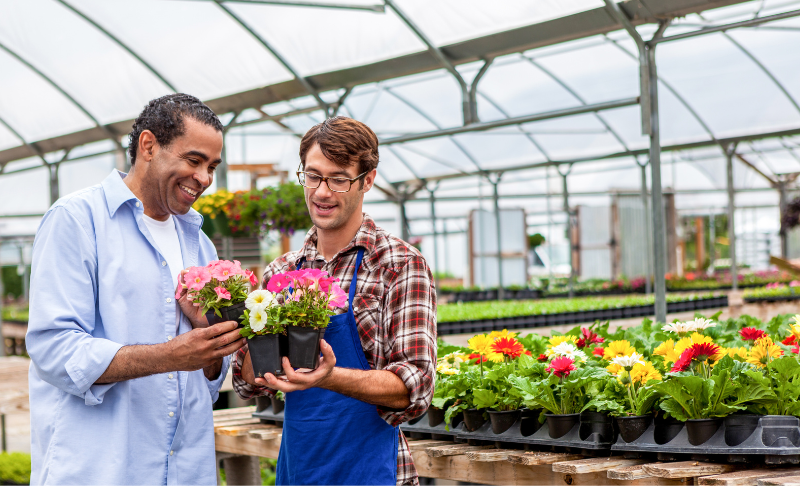 To begin with, local nurseries are a great source of plants. So, what do you get if you choose them as your source to sell plants online?
They often have a vast selection of different species, both common and rare, and they tend to have a better selection than online wholesalers who might not have the same variety.
Moreover, the plants are of high quality and are typically raised with care, ensuring that they arrive healthy and in good condition. This quality ensures that you can offer the best quality to your customers, which in return would improve their satisfaction with your services.
Furthermore, local nurseries also offer their plants at competitive prices compared to other sources. While their plants may not have the same economies of scale as large wholesale retailers, they often make up for this in terms of quality and variety.
Also, by establishing a long-term relationship with a local nursery, you may be able to negotiate better prices, which can significantly boost your profit margins in the long run.
Another benefit that comes from working with a local nursery is that you can influence what plants the nursery grows. By consistently purchasing a specific type of plant, you can show the nursery that there is a demand for it, thereby encouraging them to increase their supply. This mutually beneficial partnership allows the nursery to cater to your needs while simultaneously meeting demand from other buyers.
➡ Grow Your Own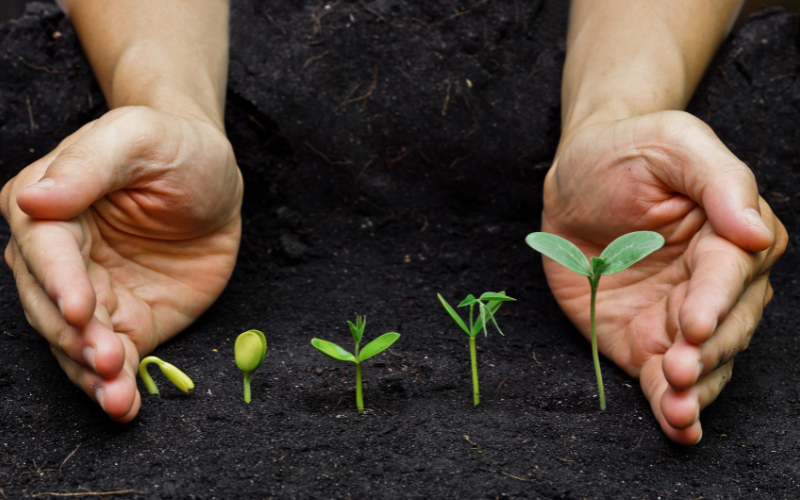 As someone who has always been passionate about plants, I am excited to share with you the idea of growing your own.
Growing your own plants brings you many benefits, like having control over the supply and quality of the plants. Thus, this is a precious option for those targeting the high-end market, where people appreciate the origin story and the effort put into each plant.
But, I am not gonna lie, this is not easy and requires lots of effort and time.
So, growing your own plants does come with a cost. Therefore, carefully considering the equipment and time investments required is a crucial first step.
One potential challenge that many may face is sourcing plants during the growth phase. Buying mature plants can be expensive and time-consuming, which is why I suggest using your own backyard to grow plants on a smaller scale. And, this, on the other hand, requires space and inventory to do all of this!
Nonetheless, the true advantage of growing your own is the ability to tailor your gardening efforts to what your customers want. This flexibility provides endless possibilities for innovation, pleasing both you and your customers.
Also, backyard gardening offers more control over nutrient content, pesticides used, and growing methods, allowing you to assure the quality of every plant you grow.
3. Make Your Store
➡ Create An E-Commerce Store To Sell Plants Online
First thing first, if you want to sell plants online, you must open an online store. So, I will keep this clear. In my opinion, the best way to do it is by using a website builder.
So, you might want to consider platforms like Wix or Shopify as they specialize in ecommerce and offer various templates and customization options to create an attractive, functional, and user-friendly website.
💡 Tip: Here you can learn How To Set Up Your First Store On Shopify.
Also, when using an ecommerce platform, you will have access to customization features that allow you to personalize the experience according to your brand and message. The key to creating a successful ecommerce store to sell plants is selecting a design that best fits your brand and products.
However, more important when building your dropshipping store is delivering easy navigation and stunning store design. Why?
As customers will interact with your store entirely online, it's important to showcase clear and high-quality images along with detailed product descriptions. You can include information like plant species, care level, and other details that help buyers make an informed decision.
Moreover, categories can also help you organize your products. When creating categories, think about what can help the user get to the plant they want. This might involve grouping plants according to species or care level, making the selection process more straightforward.
Furthermore, to boost your sales and SEO ranking, you can create helpful content such as a blog about how to take care of specific plants. By doing so, buyers can gain more plant knowledge and show a greater interest in your products.
➡ Can You Sell Plants Online Without An eCommerce Store?
If you don't want to build an eCommerce store, you have an alternative to other selling channels!
One option is utilizing social media platforms such as Instagram, Facebook, and TikTok. In fact, social media platforms provide an excellent opportunity to showcase your plants and connect with potential customers.
For example, Clara Leung is a successful entrepreneur who has found a unique way to combine her passion for plants with her desire to make money.
As a plant seller, Clara has been able to turn her hobby into a thriving business, selling thousands of propagated plants on Facebook Marketplace. 👇
Her business, Clara's Green House, strongly shows the power of plants to improve the well-being of her customers and is a firm believer in the art of Feng Shui.
However, keep in mind that each of the platforms has a different audience. So, in my experience, from all the social media platforms, Facebook might be the best choice to sell plants online. Hence, your target audience will probably be women aged between 35-55 years old. And, Facebook is the right place in these terms!
Moreover, you can also sell plans on marketplaces like Amazon or Etsy. They also provide access to a vast audience of potential customers. Plus, they have established reputations and a built-in customer base.
These platforms also have a lot of tools to help you manage your shop, including listings, shipping tools, and customer management features.
💡 READ: Shopify Vs Etsy: The Ultimate Reviews For Online Sellers.
5. Set up promotional Channels
As someone with a passion for plants, I know that getting an online plant business up and running can be incredibly rewarding. However, simply setting up an online store is not enough to guarantee success. It's essential to establish a strong online presence and utilize various promotional channels to attract potential customers and increase dropshipping sales.
Now, here are some ideas for promoting your plants online.👇
➡ Content Marketing
One of the most effective ways to sell plants online and promote them is through content marketing. So, by creating valuable and informative content, such as blogs, articles, and guides, you can establish yourself as an expert in the field and build trust with potential customers.
Content marketing can also boost your search engine rankings, making it easier for people to find your website.
👉 Learn How to Create a Content Marketing Strategy For Your Dropshipping Store.
For example, Bloomscape is a successful plant online store. However, despite the great sales they make, they also offer a blog for their customers to educate them more about watching out for their plants.👇
➡ Social Media Marketing
In addition to content marketing, social media platforms like Instagram and Facebook can help to generate interest and attract potential customers to your online store.
However, it's important to set up these platforms effectively to maximize their potential.
Therefore, choose the platforms that align with your target audience and post high-quality images of your plants, along with engaging captions and hashtags to increase visibility and reach.
Here's a little inspiration about how you can yourself on Facebook and sell plants online. For instance, House Plant Shop communicates with its audience over Facebook, sharing stories, promotions, and high-quality photos. 👇
➡ Google Ads
Another powerful promotional channel is search engine marketing (SEM) through Google Ads. Hence, by bidding on specific keywords related to your plant business, you can place ads at the top of Google search results pages, increasing visibility and driving traffic to your website.
👉 Check out Google Ads for Dropshipping Stores: A Beginners Guide In 2023.
To set up effective Google Ads campaigns, conduct thorough keyword research and craft compelling ad copy to entice people to click through to your website. For example, I use Ubersuggest for keyword research.
Let's try it out! Let's say you want to sell plants online, and you specifically want flowers. Hence, I will write "flowers" as a keyword and see the results.
The app gives me results about the search volume, CPC, keyword difficulty, keyword ideas, and more.
➡ Promotions & Giveaways
If you want to sell plants online, giveaways are a way to expand your customer base! So, consider partnering with other businesses to offer promotions or giveaways to grow your audience and attract new customers.
Hence, collaborating with plant-related businesses, such as nurseries or garden centers, can help to broaden your reach and attract new customers who may not have discovered your online store otherwise.
You could also consider offering discounts or exclusives to customers who follow you on social media to incentivize loyalty and encourage repeat business.
➡ Email Marketing
Finally, email marketing campaigns can be a powerful tool to keep existing customers engaged and informed of new offers and inventory.
By collecting emails through your website or social media platforms, you can build a database of loyal customers who are interested in your business.
Use email marketing to send newsletters, promotions, and updates about new products to keep customers engaged and interested in your online plant store.
👉 Check out the 16 Best Email Marketing Tools For Shopify.
Effective promotion can take time, effort, and resources, but the benefits of a successful online plant business are well worth it.
6. Keep Experimenting & Ask for Feedback
To succeed in the plant industry, an open mind and willingness to experiment are crucial. Therefore, stay ahead of the competition with new marketing, pricing, and website strategies.
One great way to experiment is by seeking feedback from customers. After all, they are the ones who will ultimately decide whether or not your business succeeds. So, by listening to their feedback, you can gain valuable insights into what is working and what needs improvement in your online plant business.
Plus, this is a great opportunity for promoting yourself as well. Showing customer testimonials on your website can show others that your business and products are legit! Just like Bloomscape does.👇
Another important aspect of experimentation is trying out different marketing methods and strategies. This can help increase customer engagement and ultimately lead to increased sales.
Also, it's also crucial to keep track of competitors, industry news, and trends in order to stay up-to-date with the market.
Tips To Boost Sales When You Sell Plants Online:
Whether you are just starting out or have been in the business for a while, these tips can help you take your plant selling to the next level. So, let's dive in!👇
🔸 Include Great Product Photos
As a plant enthusiast and online seller, one thing that I've learned is that having great product photos is key to attracting and retaining customers. Here are some tips that I've found to be helpful when it comes to capturing the best product photos for my online plant business.
First and foremost, I always use natural lighting when taking photos of my plants. Not only does natural lighting create a more authentic representation of the plant's colors, but it also ensures that the photos have a warm and inviting feel to them. Here are some of my photos.👇
I typically try to photograph my plants near a window with indirect sunlight, as this provides just the right amount of brightness without washing out any of the plant's details.
Also, the white background is best if you place the photos on a website. Hence, not only makes the plants stand out more, but it also provides a clean and professional look to the photos. 👇
Lastly, I make sure to take photos from different angles and perspectives to showcase the plants in different ways.
🔸 Write Detailed Product Descriptions
When it comes to sell plants online, one of the most crucial aspects is to provide detailed descriptions of your products. Not only do these descriptions help potential buyers make informed decisions, but they also showcase your knowledge and expertise in the plant industry.
To begin with, it is essential to describe the key physical and defining characteristics of the plant you're selling. Start with its size, color, type, and any other key details that make it stand out. Provide an overview of its key advantages, such as being low maintenance or pet-friendly. However, remember to keep it concise and to the point.
Next, include the scientific name of the plant in your description. This not only displays your expertise but also helps customers search for the plant more accurately.
Moreover, be sure to provide care instructions that address vital points such as sunlight, water, soil type, and appropriate climate. Thus, make sure to emphasize any unique features that set the plant apart from others. These may include flowering habits, seasonal characteristics, and environmental sensitivity.
🔸 Make Sure To Categorize Your Plants
When customers come to your online store, they want to be able to find what they're looking for easily, without getting bogged down in a maze of information. This is where categories and easy navigation come in.
So, to organize your online plant store effectively, you will need to create categories that will help potential customers find what they're looking for easily.
Hence, you can categorize them by plant type, care requirements, size, color, and style. This will allow your customers to quickly navigate your website and find the plants they want with minimal hassle.
Here's an example of how you can categorize your plants based on plant type in your online store:
1. Outdoor Plants:
Flowering plants
Shrubbery
Trees
2. Indoor Plants:
Succulents
Foliage plants
Flowering plants
3. Air Plants:
Hanging plants
Terrarium plants
By using categories like these, you can ensure that your customers will be able to quickly find the plants they want, whether they're looking for indoor succulents or a tree to plant in their garden.
🔸 Market-Conscious Pricing
Getting the price right can make or break your business. Therefore, it is essential to have a market-conscious pricing strategy in place. Here, I will explain the importance of setting a suitable pricing plan and how to do so. 👇
➡ Seasonal Factors
Seasonal factors play a massive role when it comes to the cost of the plants. The costs of the plants you are selling will change accordingly with their seasons, and you need to keep that in mind while pricing them.
For example, some plants might require more maintenance during specific months, and that extra cost should translate into a higher price tag for the plant. You must make sure to find a balance between fluctuating costs and how much money you can offer your customers.
➡ Market Research
Market research is also incredibly important in determining a suitable pricing strategy. Without proper research, you can end up overpricing your products and losing prospective customers.
What's more, you must gain a better understanding of what is the pricing of your competitors for similar products. Because, in the end, your customers will make purchases based on the best deals they can find.
Plus, what I always check on before pricing my products is the profit margins and price range. For example. let's say you want to sell Succulents. The supplier prices for these products vary from $2 to $49. But, it can also be higher from $50 to $500.
Either way, the profit margins are around 50-60%.
➡ Customers Requirements
Moreover, it is good to determine what your potential customers are willing to pay for a particular plant.
Hence, you can determine this through online surveys or focus group discussions. Hence, you can ask your peers or community members what value they place on certain plants.
➡ Costs
The cost of buying and growing plants is the basic when it comes to pricing your products. Plus, you cannot arbitrarily raise prices if the cost of buying or growing a plant goes up. You need to find a way to cut other costs to cover the increase in expenses.
Additionally, keep in mind the cost of running your website and promoting your business also add up to your pricing.
So, being mindful of these factors allows for offering quality plants at fair prices while staying profitable.
👉 Read about How To Price Dropshipping Products: Definitive Guide For Beginners
How To Ship Plants Securely?
I completely understand the importance of proper packaging and shipping when it comes to sending live plants to customers. Plants are delicate items that require careful handling to avoid damage or even death during transportation.
➡ Use Eco-Friendly Packaging Materials
First, it's important to use eco-friendly packaging materials. I always look for materials that can be recycled or biodegraded for a more environmentally-friendly approach.
It's also crucial to protect the plant from moisture, as excess moisture can cause fungi or mold growth. To prevent this, I use absorbent padding inside the box to soak up any excess moisture.
👉Check these Eco-Friendly Dropshipping Suppliers: Free List of Suppliers & Products.
➡ Allow Air Ventilation
When packing the plants, it's also essential to allow for air ventilation. Plants need air to survive, and properly ventilated packaging will help ensure that the plant doesn't suffocate during transportation. I always use boxes with air holes or include small openings to allow for air circulation.
➡ Legal Requirements
It's also worth noting that there are legal guidelines when it comes to shipping plants. Some plants may be considered invasive species and are illegal to ship or sell in certain areas. Before shipping any plants, it's important to do your research and abide by any legal guidelines for your area.
➡ Use Third Party Shipping Providers
Third-party shipping services can simplify the shipping process for entrepreneurs. These companies specialize in shipping delicate and live items, including plants, and can provide personalized packaging and shipping solutions.
Thus, some people prefer to use courier services like FedEx or DHL, while others opt for national mail carriers like USPS.
💡 Check out the 21 Best 3PL Companies For Handling Your Dropshipping Logistics.
This can take the hassle and stress out of the process, allowing business owners to focus on other aspects of their business.
👉 Learn What Does Shipped Mean In Dropshipping?
FAQs
1. Can you make money selling plants online?
The answer is "Yes!" It is entirely possible to turn your passion for plants into a profitable online business. However, it requires dedication, hard work, and a willingness to put in the time to build a strong foundation.
The profit margins for plants vary from 20-60%. Plus, based on Grand View Research, the global plant-based market size is $27.97 billion in 2022 and is expected to grow CAGR of 6.0% from 2023 to 2030.
3. Where can you source your plants to sell online?
You can start working with plant dropshipping suppliers and wholesalers. These wholesalers can offer a wide variety of plants at a lower cost because they purchase in bulk.
Another option is to work with local nurseries. These nurseries may be willing to sell their plants at a discounted rate to help support a fellow local business. limited.
Furthermore, you can also try to grow plants on your own. This can be a fulfilling option for those who enjoy growing plants and want to offer unique, high-quality selections to their customers. decision.
4. Which online channels are best for plant sales?
There are many options available to sell plants online, including setting up your own e-commerce website, social media platforms, or using third-party vendors like Amazon or Etsy. The best choice depends on your specific goals, resources, and target audience.
5. What plants are best to sell online?
When it comes to selling plants online, there are many options to choose from. So, how to find your winning products?
➡ First, succulents and bamboo are great plants to consider when starting an online plant business. These plants are low maintenance and highly resilient, which makes them perfect for shipping.
➡ Another option to sell plants online that are easy to ship is herbs. Herbs such as basil, thyme, and rosemary are popular among home cooks and are commonly used in many dishes. Additionally, they are easy to grow and can be propagated from cuttings, making them cost-effective to stock.
➡ Ornamental grasses are another low-maintenance plant option that can survive shipping. A bonus of ornamental grasses is that they can be grown in containers, making them a great option for those with limited space.
➡ Many landscape plants can also be sold online. These plants are typically bigger and more mature than houseplants, making them more expensive, but also more profitable. Selling landscape plants can also lead to larger purchases, as customers may be interested in purchasing multiple plants to create a cohesive garden design.
6. How can I see which plants are best to sell online?
By conducting thorough market research, considering current trends, analyzing competition, and choosing low-maintenance plants, you'll improve your chances of success in the market.
Additionally, partnering with local nurseries or dropship partners can help you source plants that are well-suited for your region's climate.
Find winning dropshipping products & spy on your competitors
Minea analyses all online advertising to help you find the best products to launch, and the best creatives in your niche in just a few clicks.
Use coupon: DROPSHIPPING30 and get a 30% discount
💡Try Minea For Free
Conclusion
In conclusion, selling plants online can be a profitable and rewarding business venture. Plus, through dropshipping, it's possible to start your online plant business without the need to invest in inventory, shipping materials, and storage facilities.
The key to success is to research the market size, select the right plant species, and provide exceptional customer service.
With the right payment processing and dropship partners, you can easily expand your plant business and reach a wide variety of online customers.
As an online plant seller, always remember to focus on delivering excellent customer service, timely delivery, and high-quality plants sourced from reliable wholesalers. The market size for online plant sales is only expanding, so get started on your plant-selling journey today!