Want to set up your first store on Shopify and develop it into a stable source of revenue?
E-commerce platforms like Shopify are beginner-friendly and easy to use. Namely, Shopify enables you to create an online store and manage your day-to-day business operations.
OUR RECOMMENDATION: Before you dive in, make sure you sign up for Shopify to get a 14-days trial period, so you can start building your first store on Shopify.
It helps you take the guesswork out of designing an e-commerce store as it provides a wide variety of pre-made, ready-to-use templates.
This e-commerce platform is a very popular, easily accessible, and affordable solution for your dropshipping business. Not to mention all the freedom and functionality it gives you to make changes to your website.
With over 1.7 million businesses worldwide using Shopify, it is an all-in-one e-commerce platform to start, run, and grow a dropshipping business.
Plus, dropshipping businesses are very appealing since they do not have the traditional hurdles that many other ventures face.
Now, let's get down to business.
Do you know how to create your first Shopify store and get it off the ground? Read on to find out…
A step-by-step guide on how to set up your first store on Shopify:
To be successful at dropshipping and learn how to create a Shopify store, you need to understand what dropshipping is and do your research first.
This way, you will identify your target market, find in-demand products, and come up with a unique business name.
Now, your main goal is to create your first Shopify store. So, start taking the following steps toward your goal.
1. Sign up for a Shopify Account
Sure, to sign up for a Shopify account, you need to go to Shopify.com and use the signup form.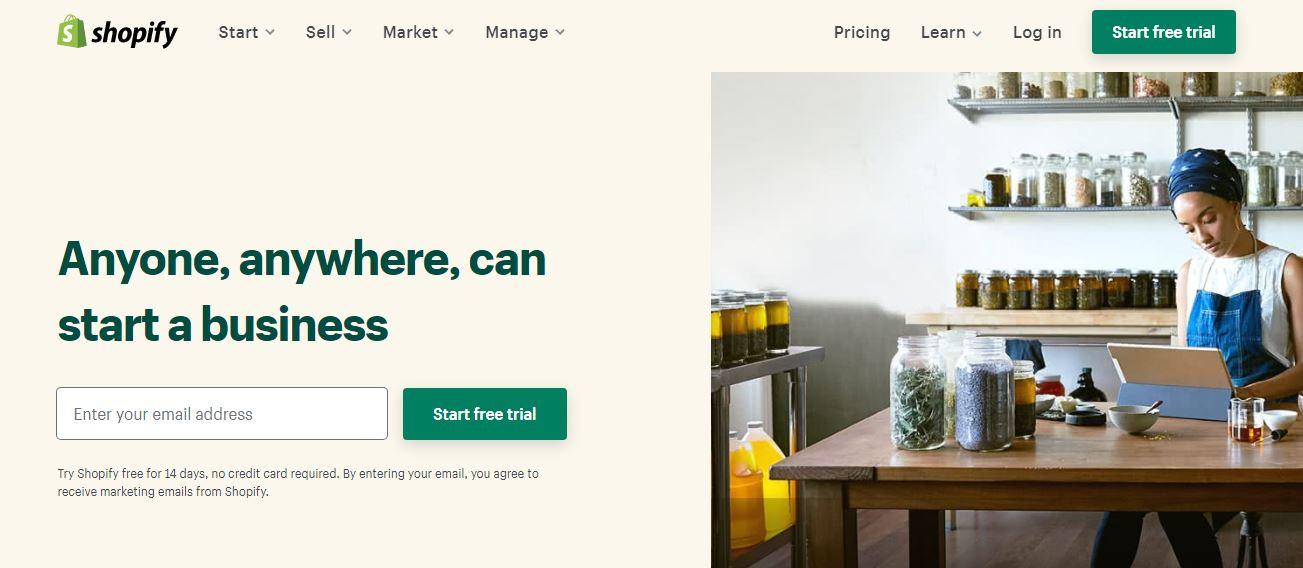 Enter your e-mail address and click the 'Start free trial button to start your free 14-day trial. Also, you need to enter your unique store name.
The example we will be using in this guide is a clothing dropshipping store called "Our New Dropshipping Store".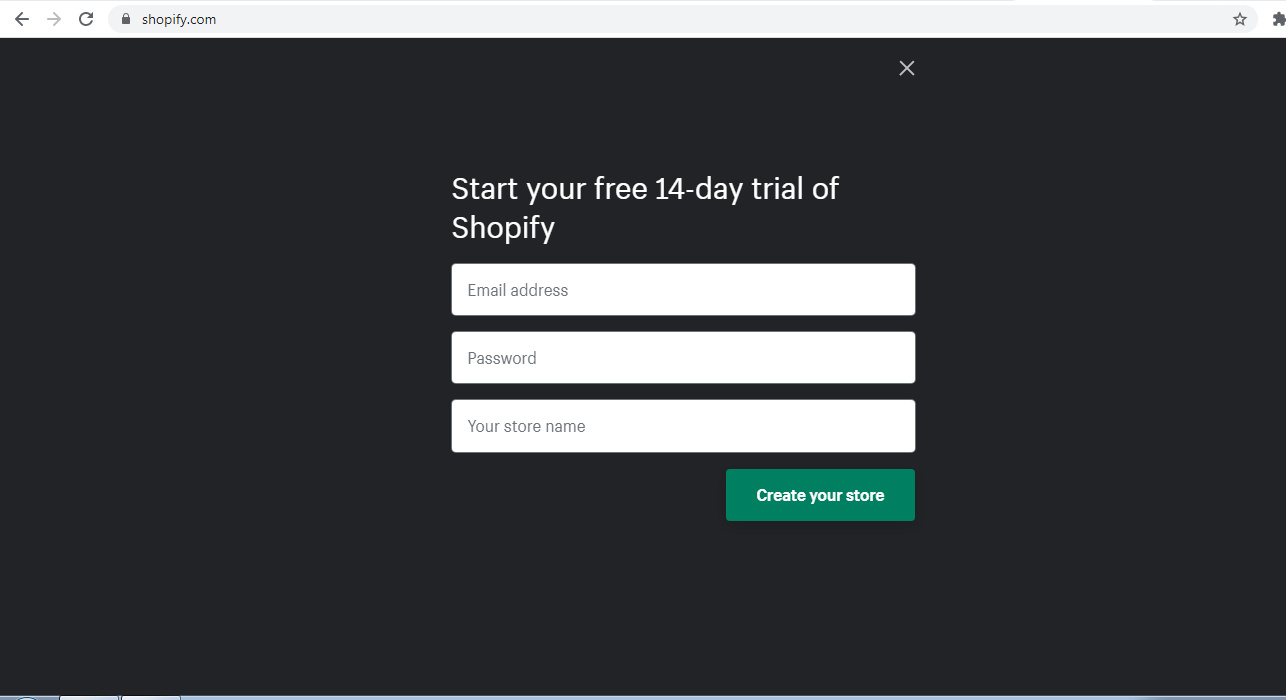 Then, you need to provide some additional information about whether you are already selling or not and the industry you will be operating in. You also need to add an address, country/region, and phone number.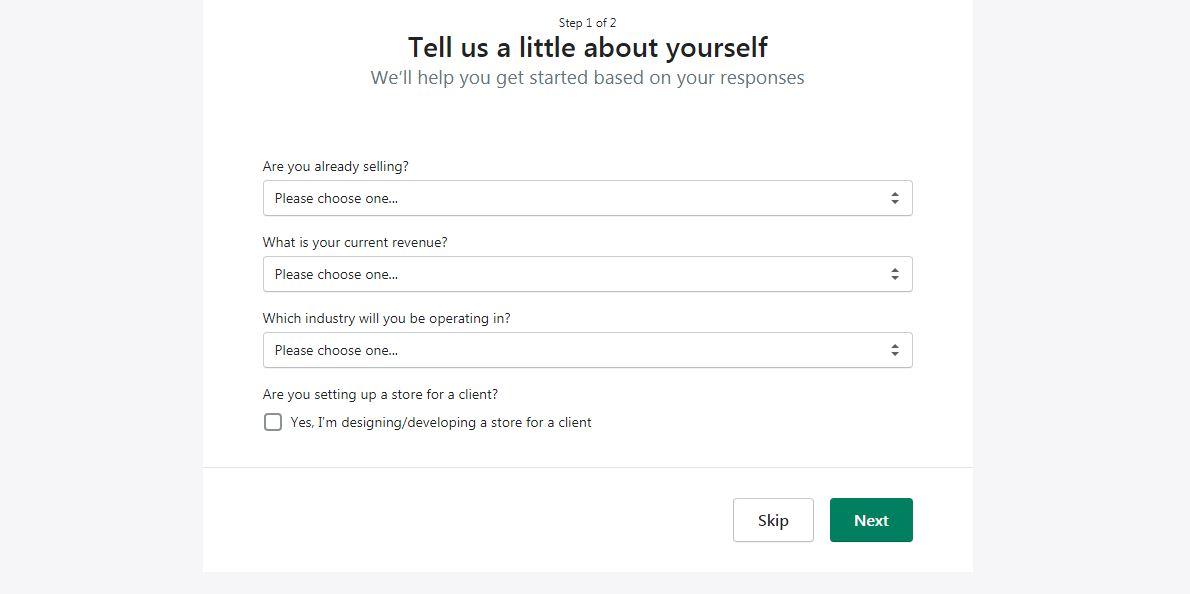 Once you have signed up, you will be directed straight to your store admin screen. And it will look like this.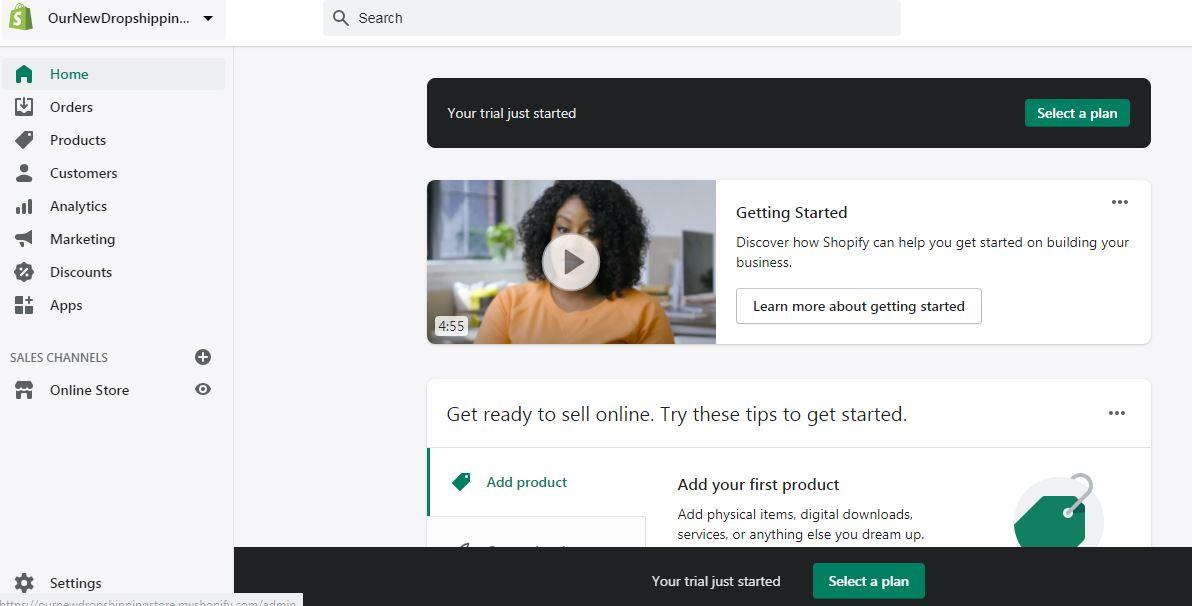 With this, you have taken the initial step in creating your first Shopify store. Next comes the customization of your first Shopify store.
2. Customize your store
The truth is, there is a difference between an operational store and an exceptional Shopify store. But what is it that separates the best from the rest? Let's find out together!
– Choose the right theme
In the Shopify Theme Store, you will find both free and paid Shopify themes. And each theme has its own set of features and styles.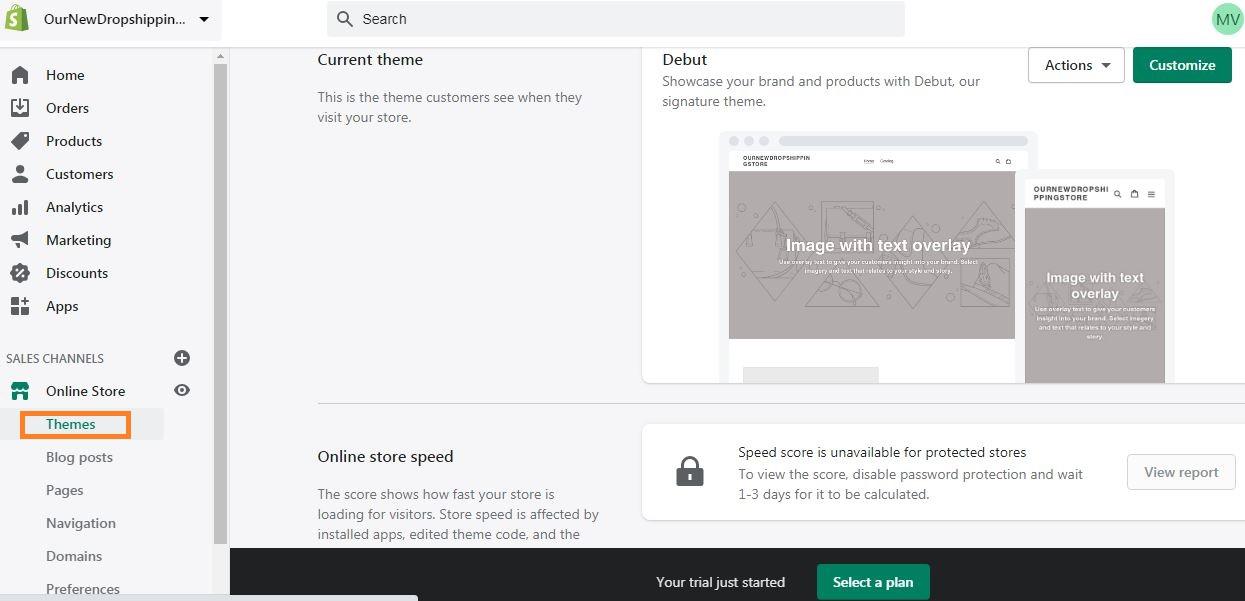 As you can see, you need to go to 'Online Store' and then click 'Themes'. Some themes were specifically designed for single-product businesses, whereas others were for larger product catalogs.
Moreover, some themes are universal and suitable for selling various products, whereas others were designed with a specific niche in mind. For example, the Brooklyn theme is suitable for a modern clothing store.
Before browsing themes, make a list of must-have features. This means that you must give some thought to the functionality you will need, like customization and flexibility.
Also, make sure your chosen theme has a beautiful and modern design. To get ahead in the game, don't miss our ultimate review & guide – Debutify Shopify Theme.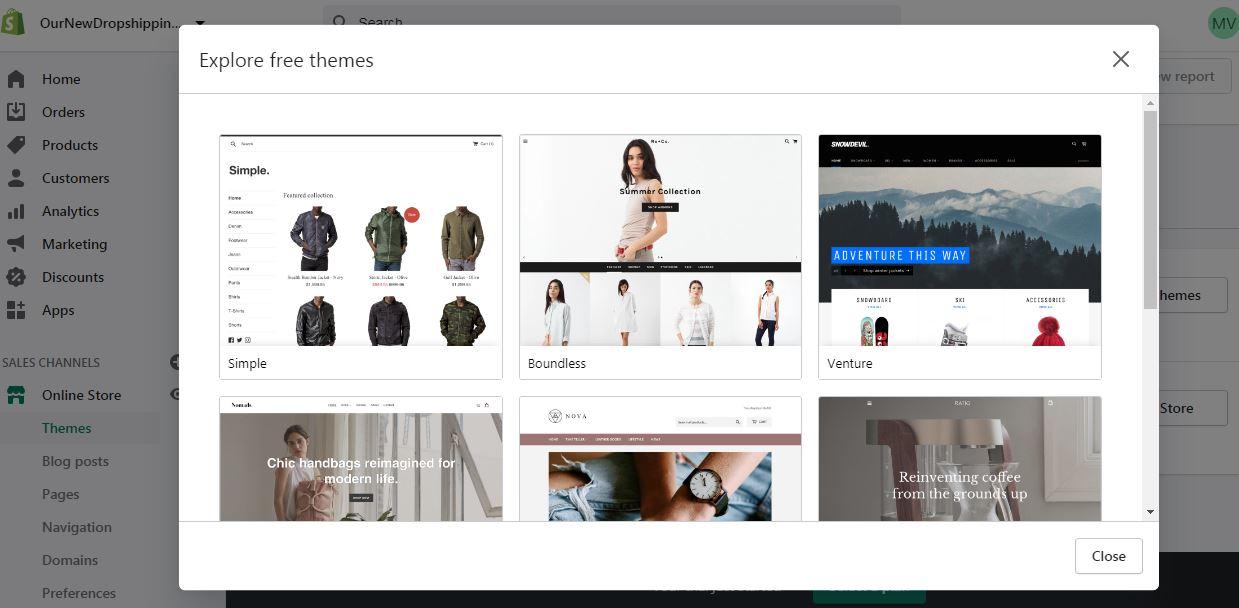 – Design your homepage
Once you have chosen a theme, you need to customize it. You should not worry in case you are unsure if it is the right theme for your first Shopify store.
Sure, if you do not like the theme, you can change your mind later.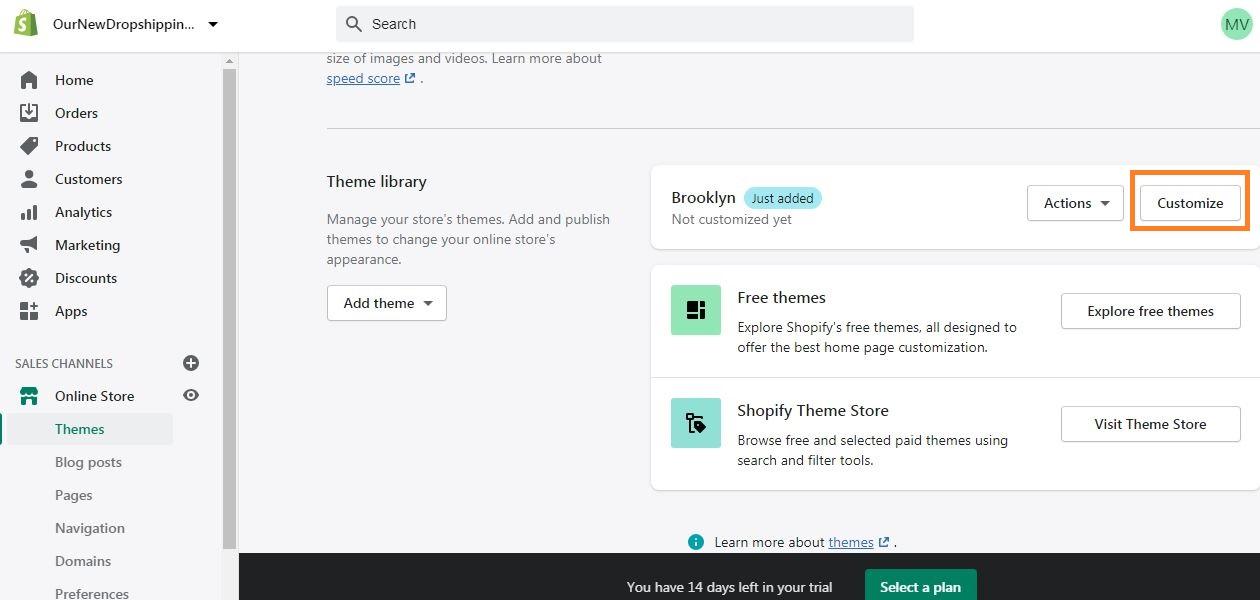 Your theme has sections that you can remove, add, rearrange, or temporarily hide.
In addition, they give you control over all the basic functionality of your dropshipping store.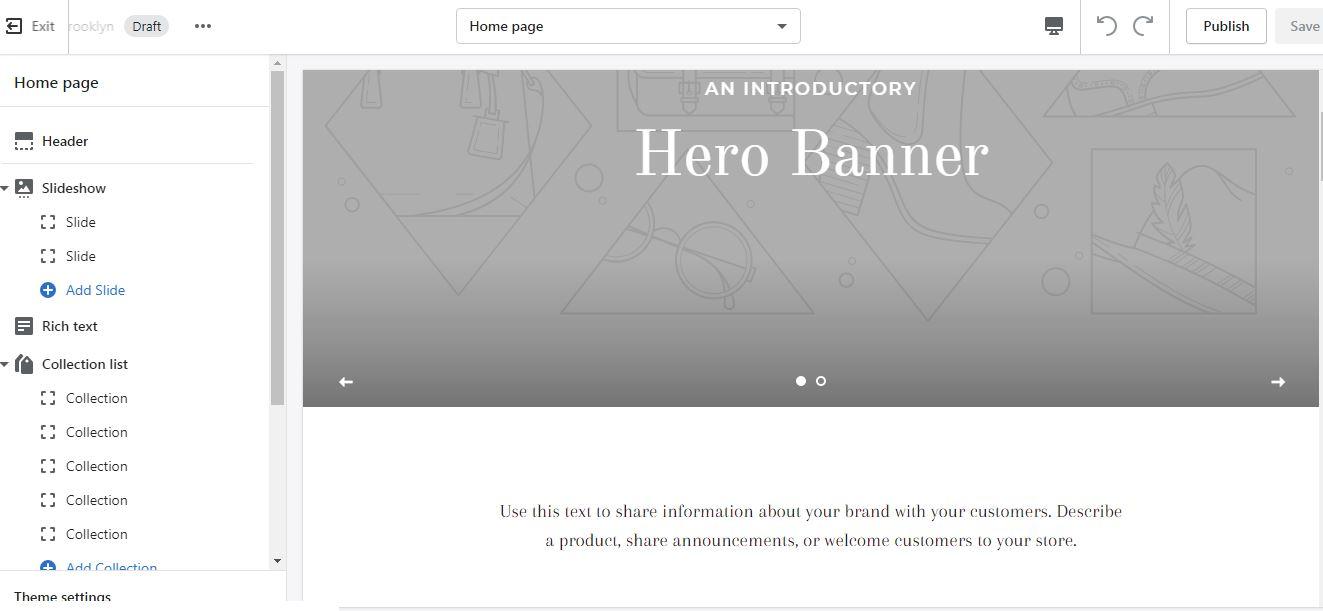 While designing your Shopify landing page, focus on your visitors. Simply help your visitors understand what your dropshipping business is about and what you sell.
In the header section, make sure your navigation menu is so clear that visitors and customers can find their way around your site.
To customize the look and feel of your first Shopify store, including typography and colors, go to Theme Settings.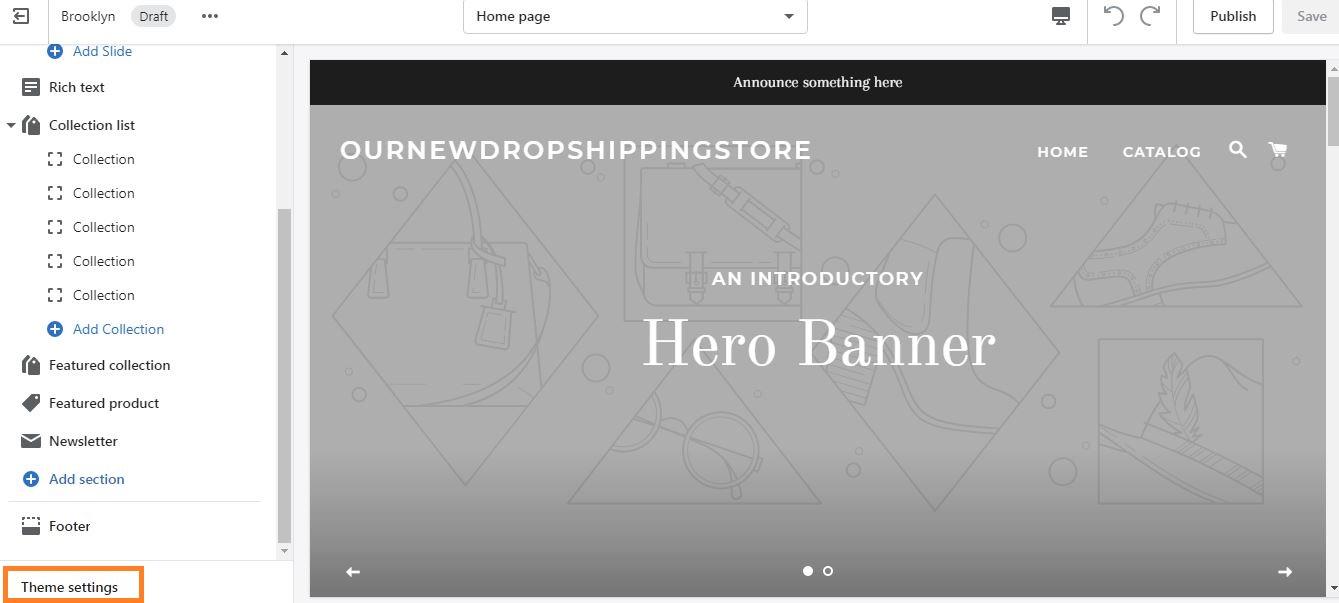 – Customize the style of your checkout
Under the same tab, you can customize the style of your checkout as well.
As your customers will use your checkout pages to enter payment and shipping information for their orders, avoid distracting them and making the information hard to read.
Though you may want to add different colors to your checkout pages, you should keep the design simple. It is also a good idea to add your logo here.
Also, do not forget to set up automatic reminder e-mails for customers that will reach your checkout without completing their purchases.
By doing so, that person will receive an e-mail about their checkout abandonment.
Another important thing to do when customizing the style of your checkout is to give customers an option to subscribe during the checkout process.
Then, you can reach out to them with discount deals and new products. This is a good e-mail marketing technique to generate more sales.
– Install dropshipping apps
Shopify has many powerful dropshipping apps that can help you optimize and grow everything from product sourcing to marketing.
If you want to install Shopify (Affiliate) dropshipping apps, go to 'Apps' and then click the 'Shop for apps' button.
By clicking this button, you will be directed to the Shopify App Store where you can find the right apps for your first Shopify store.
For example, some of the best Shopify dropshipping apps to find suppliers and products include BigBuy, Spocket, and Inventory Source.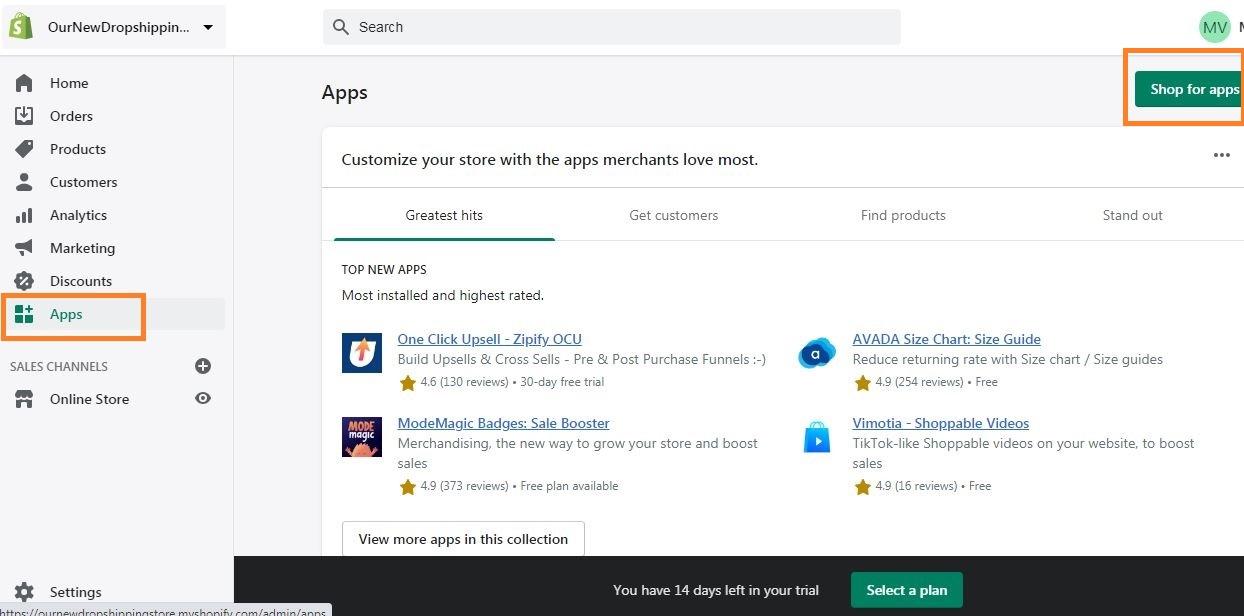 3. Upload your products
To set up your first store on Shopify, you must upload some products. First, click 'Products' and then click the 'Add product' button to create your first product listing.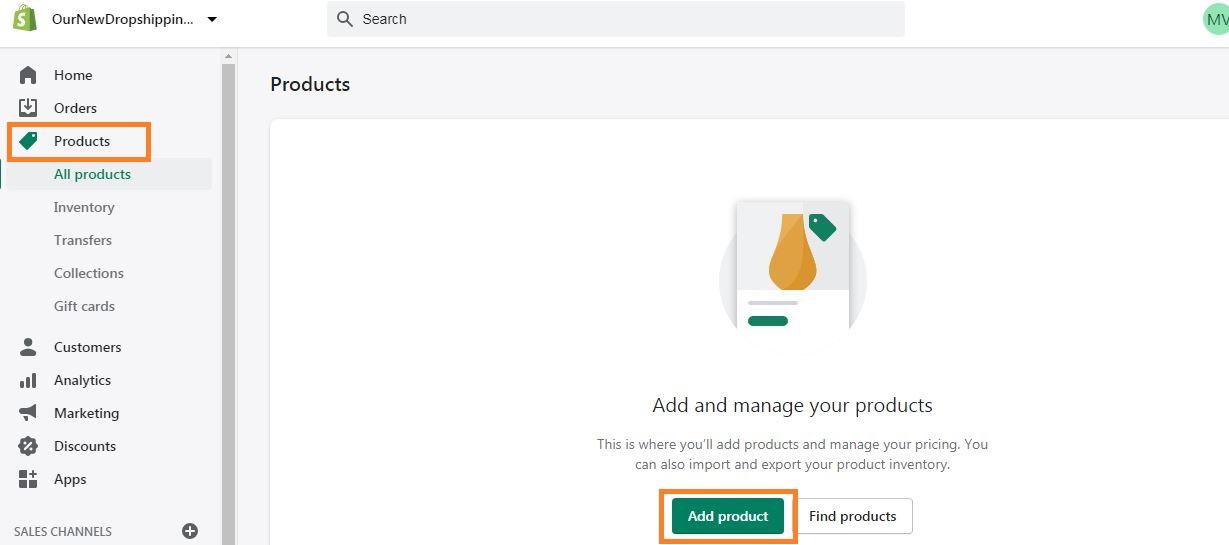 As mentioned above, you can use a dropshipping app to import products into your Shopify store. Let's take Oberlo, for example.
To start adding products using Oberlo, you need to install the Oberlo app on your store. We have already discussed how to do so.
But to add products, go to the Oberlo app and then click "Find products". Next, you need to enter a keyword in the search bar or select a product category to search for products.
Once you have found a product that you want to import into your store, move your cursor over the product and then select 'Add to import list'.
Additionally, you can import your dropshipping items either individually or in bulk. As long as you want to import a single product, you will see the 'Import to store' button next to the product that you want to add. Then, click that button.
However, in case you want to import several products in bulk, you need to check the products you want to add and then select 'Import all to store'. You will find your imported products on the 'Products page'.
Not only will you have to create your first product listing, but you will also have to customize your products with titles, descriptions, photos, and other details like quantity and collections. And here is how to do that:
– Title and description
This is where a customer goes to learn about your product and decides whether or not to purchase it. So, create a short product title to let customers know what the product is.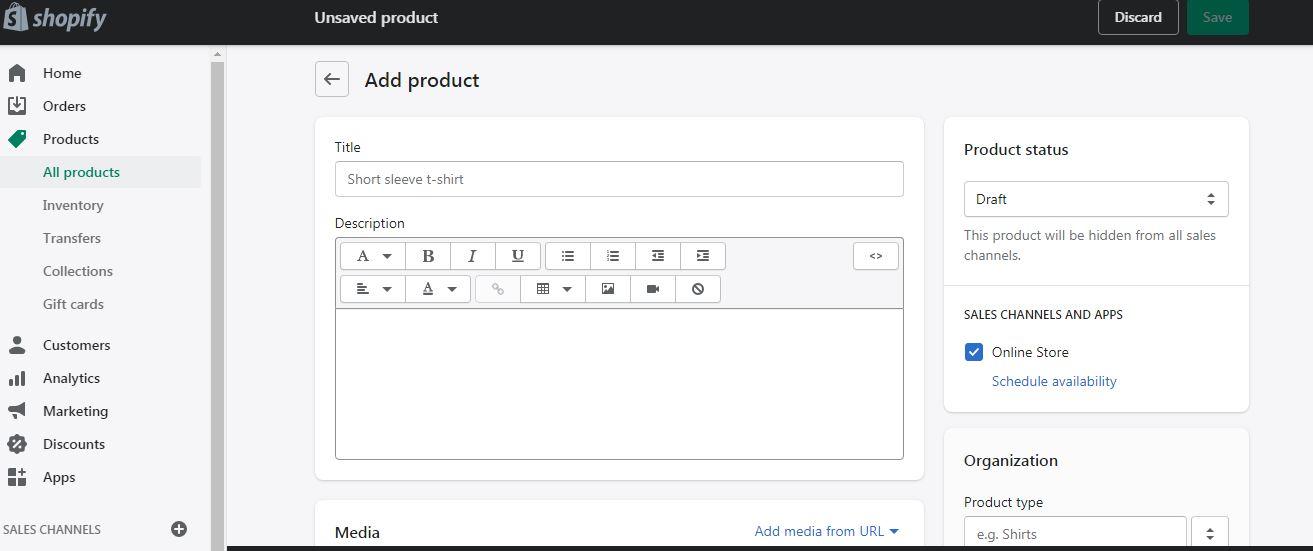 When it comes to product description, create a creative description providing customers with enough information to make them want to buy your product instantly. Make sure your product description answers the following questions:
What makes my product different or more appealing to customers than other similar products on the market?
How does my product address my customers' biggest pain points?
What do customers gain from buying my product?
Also, you may want to optimize your product pages for SEO with good keywords. You can do so at the bottom of the 'Product page'.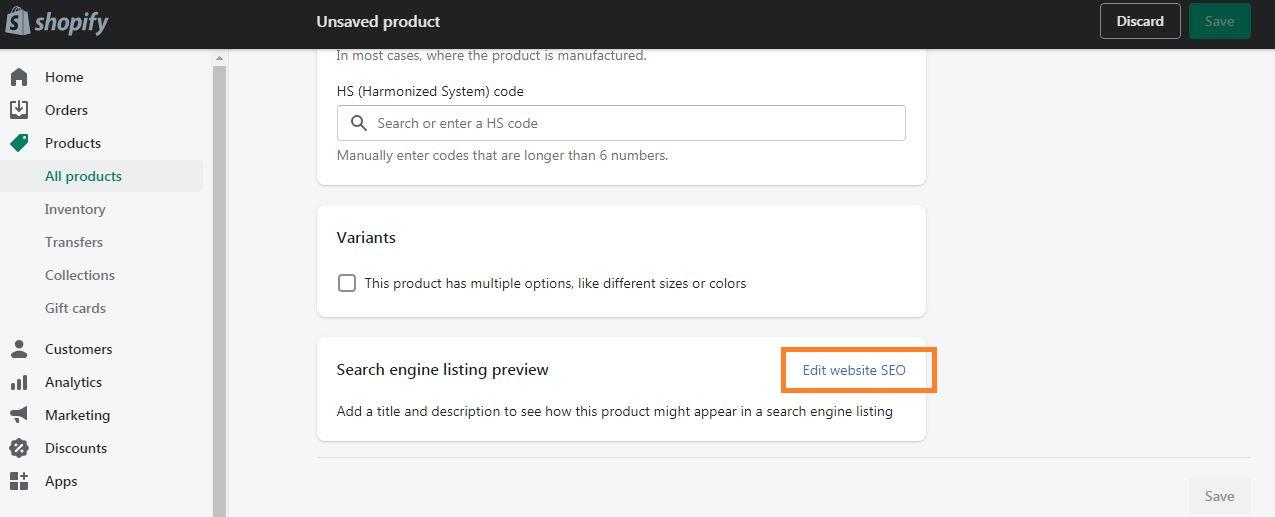 – Photos
Yeah, we strongly recommend taking your own professional product photos. But you can also use the product photos from your dropshipping suppliers. So, it is up to you to decide what to do.
Just keep in mind that you should keep all photos in the same dimensions to keep your first Shopify store looking tidy. As illustrated below, you can upload your product photos in the 'Media section' of the 'Product page'.

Here, you can also set prices for your products and create product categories. On this e-commerce platform, product categories are called collections (a group of items with similar features that people may look for when visiting your store.)
For instance, if you are about to set up your first clothing store on Shopify, your visitors may look for clothes specifically for kids, men, or women. That's why it is very important to create product collections.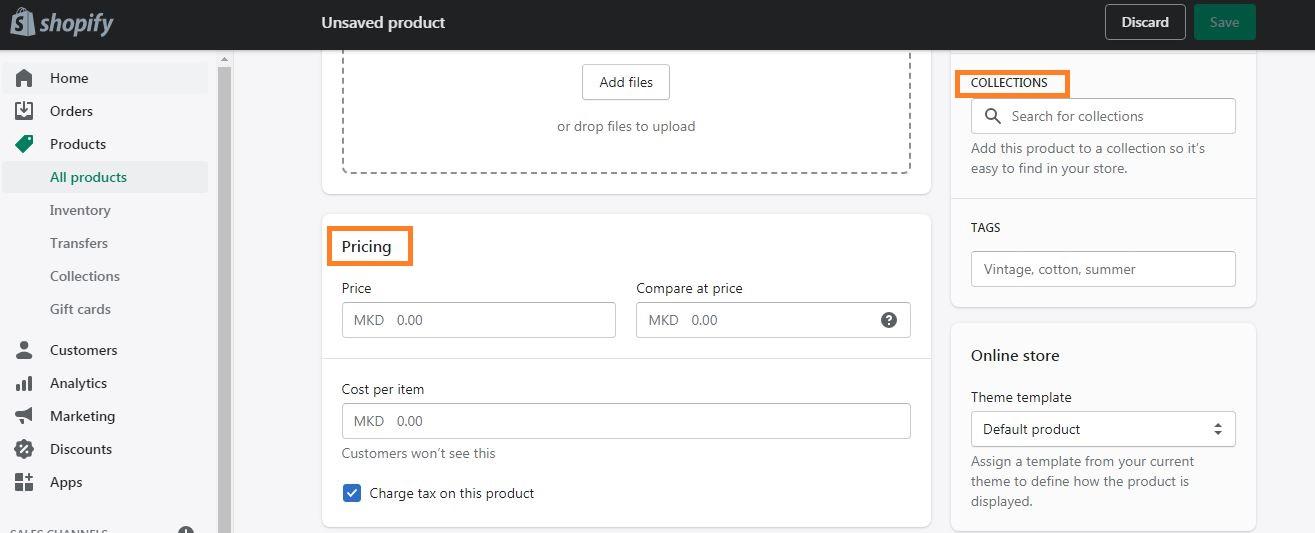 4. Set up payments
Want to get paid by your customers and accept various forms of payments such as Shopify Pay, Google Pay, credit cards, etc? If so, you need to use Shopify Payments when you set up your first store on Shopify.
Under 'Store settings', you need to select 'Payments'. When choosing a payment gateway, ensure you know exactly what payment methods your target audience prefers. Thus, you may have to conduct a survey or do your own research. Then, you can choose a payment method accordingly.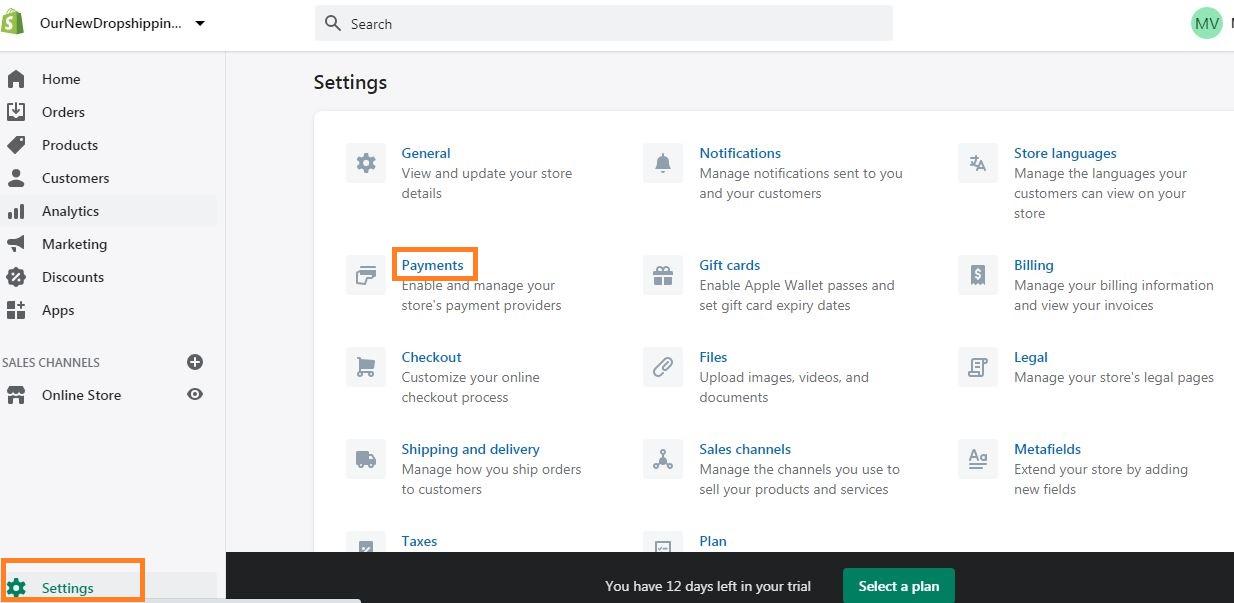 5. Create some key policies and pages
Aside from designing your homepage and uploading your products, you also need to create some key policies and pages for your first Shopify store. You need to do so to make your visitors trust your site and tell them who you are and what you do.
Luckily, Shopify has a few useful tools that can help you create Terms & Conditions, Privacy Policies, Return & Refund Policies, etc. You can access them by going to 'Store settings' and then clicking 'Legal'.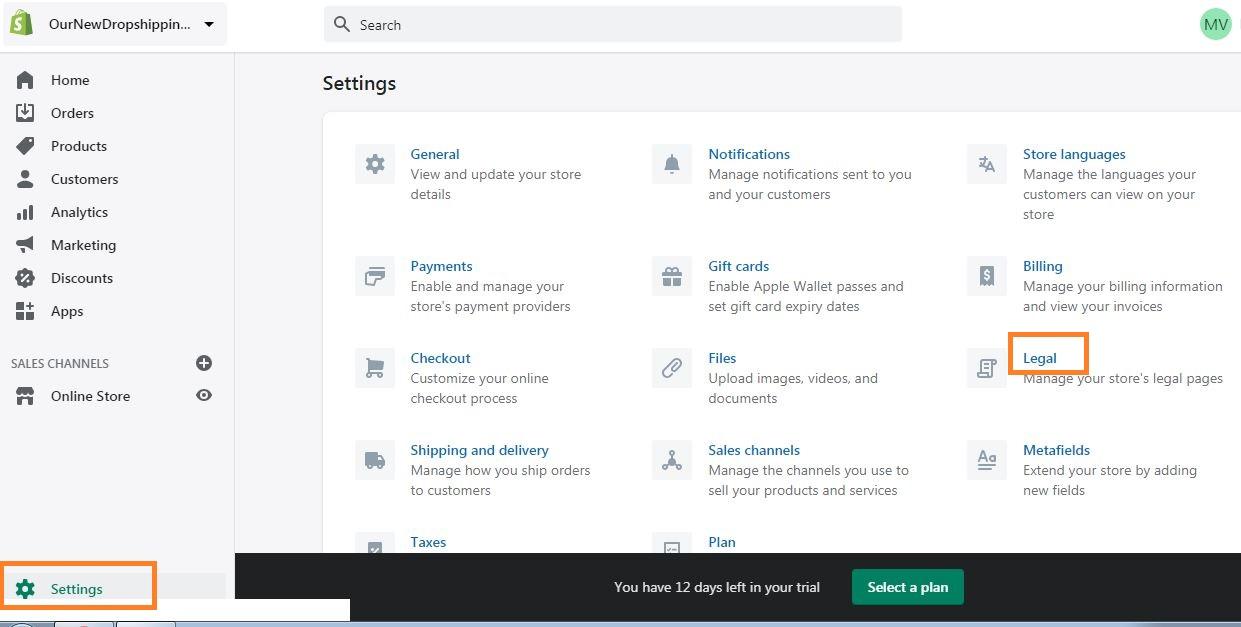 Once you have created these policies, they will be automatically linked in the footer of your checkout pages.
People who visit your site and are willing to buy something may need to see your policies before they check out. Therefore, you should link your policies in the navigation menu so that your customers can find them.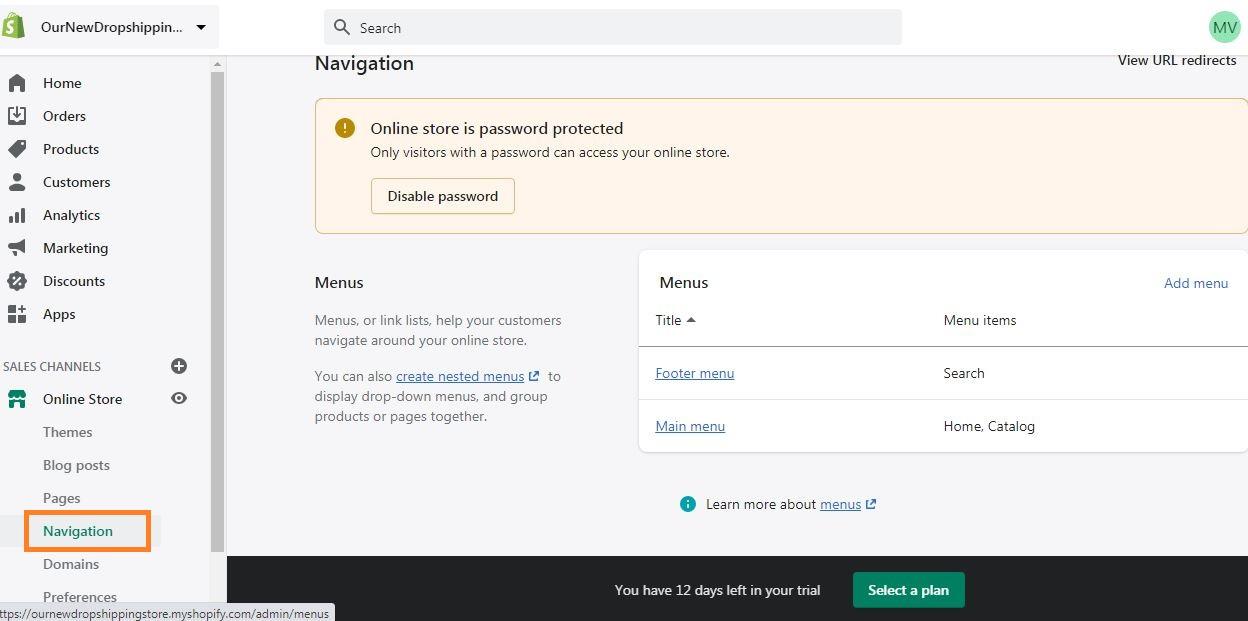 Moreover, you should also create the 'About Us,' 'Contact Us', and 'FAQ pages' to add information about your first Shopify store. These pages are sometimes some of the first stops when someone visits your site.
So, make sure they are informative, useful, and unique to make a great impression on your visitors. You can create them under 'Online store' > 'Pages' > 'Add page'.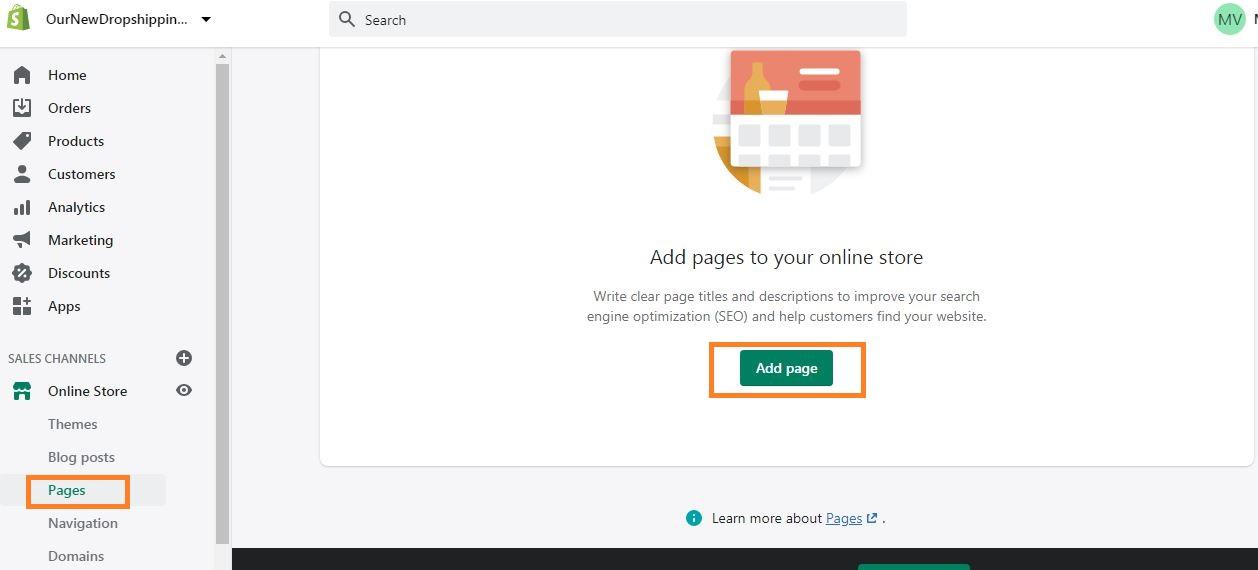 6. Set up your taxes properly
When you create a Shopify store, you also need to set up your taxes properly. As a dropshipping store owner, you need to collect sales taxes from your customers and report and remit those taxes to your tax authorities.
Fortunately, Shopify auto-calculates taxes and updates them regularly. What does this mean? This means that you can set your dropshipping store on Shopify to automatically manage the tax rates you charge to your customers.
Remember, Shopify can help automate charging sales taxes, but it does not remit or file your taxes for you.
This is why you should consult a tax professional who can determine your tax liability and advise you on how to file and pay your taxes.
To set up your taxes, go to 'Settings' and then click 'Taxes'.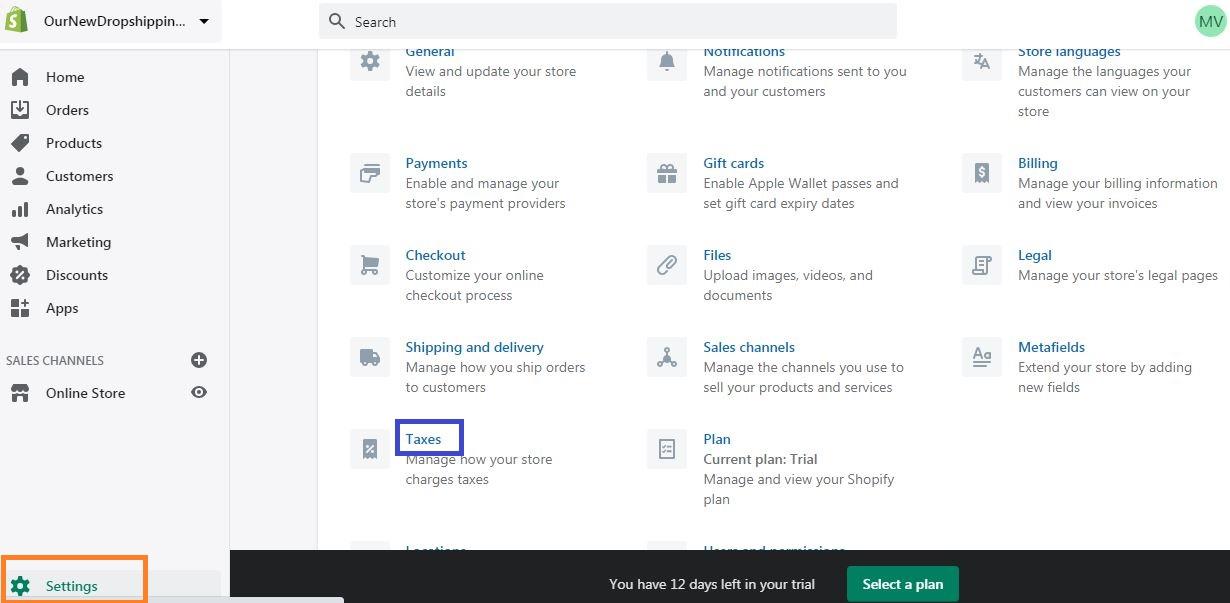 7. Add a custom domain
When you set up your first store on Shopify, your primary domain does use the format 'your-first-Shopify-store-name.myshopify.com'. But this is not a great searchable site, and it may make you seem unprofessional.
Without a good custom domain (a unique branded name that identifies your site), you can't establish your brand. Therefore, you need a custom domain.
You can customize the domain for your dropshipping store by going to 'Online store' > 'Domains'. Then, you will see you have three options:
Connect to an existing domain (You can select this option if you already own a custom domain.)
Use a third-party domain (You can buy a custom domain from a third-party provider such as GoDaddy, Bluehost, Dreamhost, etc.)
Buy a domain from Shopify (You can buy a Shopify domain that reflects your brand.)
We recommend that you choose the third option, i.e., buy a domain from Shopify. Of course, the choice is yours!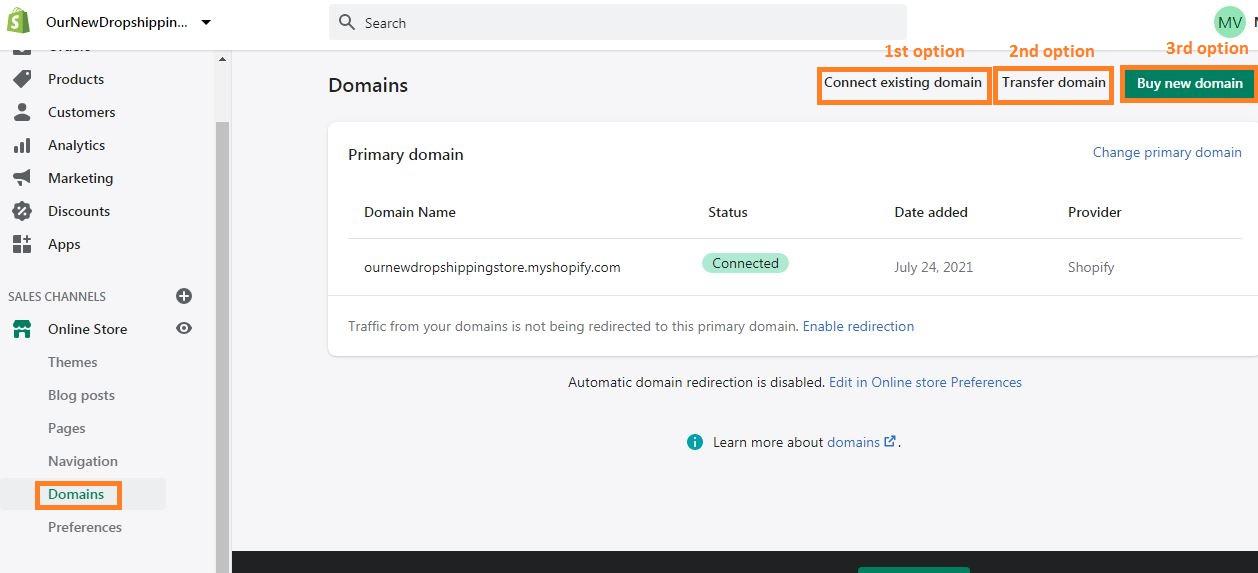 8. Launch your first Shopify store
Now that you have set up your first store on Shopify, you need to launch it. Before you do so, you must remove your storefront password. Otherwise, your customers cannot access your site even if it is published.
You can remove password protection by going to 'Online Store' > 'Preferences' > 'Password protection'. However, to do so, you must pick a paid plan.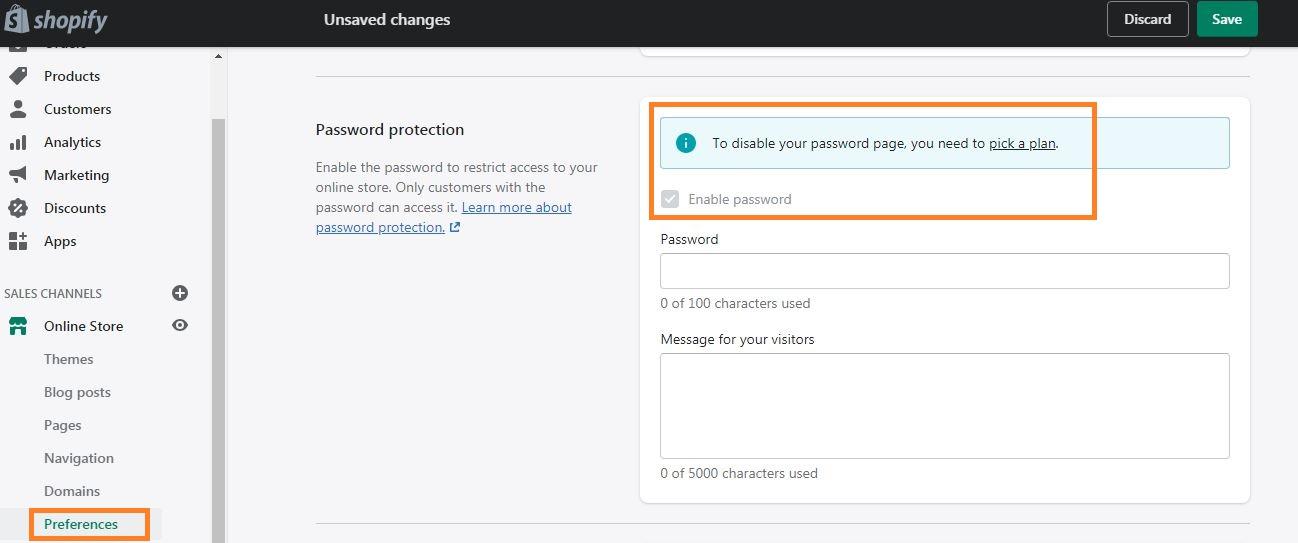 Also, it is important to place a test order to see how the checkout process works.
Start Your Dropshipping Journey With Your First Shopify Store
Your first Shopify store is open for business. Congrats!
Hopefully, you will expand your dropshipping business and reach new heights in the future.
Also, you can check out these 15 successful Shopify dropshipping stores to learn from their example.