15 Ways to Double Your Dropshipping Conversion Rate On Your Store
by
Martin -
Martin is an agency owner and SaaS projects maker. His work is featured in the leading ecommerce brands, magazines and podcasts. Talks about Marketing, Business Development, and Growth Hacking!
CO-founder at Dropshipping.com
The dropshipping conversion rate is one of the most important things dropshippers should focus on.
That's a fact for every business selling online. But when it comes to e-commerce stores, conversion rate metrics are essential.
Simply: Our sales volume depends on our dropshipping store conversion rates, right? And, that is why we are here.
In this article, we will give you 15 proven ways to double your dropshipping conversion rate in 2023. What's more, we will guide you through the best tools to increase conversion rates. Let's start!
What Are E-Commerce Conversion Rates?
The conversion rate is the percentage of all visitors who buy or make another desired action, such as subscribing to your newsletter or signing up for an account. on your website. For example, if you have 100 visitors and 20 buys from it, then your conversion rate would be 20%. It is a whole simple idea, to sell more to the same number of overall visitors!
Any conversion rate from 3% and over is considered to be good. That would be 3 sales per 100 visitors. It may sound easy, but when you lack technique, it definitely isn't easy.
Lifetime deal: Get all-access to everything on Dropshipping.com
Access all DSCOM features, resources, courses, live workshops, discounts, winning products, weekly deep dives, directories and all future updates under all-in-one dropshipping HUB.
DROPSHIPPING IS A REAL BUSINESS, DON'T DO IT ALONE. 4553 MEMBERS ALREADY JOINED. YOU CAN PAY OFF YOUR SMALL INVESTMENT WITH JUST 2 SALES ON YOUR STORE.
Grab the deal before it's gone
Why Is The Dropshipping Conversion Rate Important?
Because they reflect how your overall business is performing. If you have a low conversion rate, then that means something is wrong with the way you promote.
Thus, by tracking your dropshipping conversion rate, you can determine the success of your marketing efforts and identify areas for improvement.
In fact, a higher conversion rate means more sales and revenue, while a lower conversion rate means potential lost sales and opportunities.
💡 Tip: Check out What Are The Most Common Pitfalls and Mistakes In Dropshipping?
This is the magic of conversion rates, they can easily tell you if you are on the right path or not.
👉 Want more Expert Advice for Beginners? Check our Guide!
How To Calculate Dropshipping Conversion Rates?
Let's get straight to the point. Calculating dropshipping conversions is pretty easy. All you have to do is collect your numbers of total visitors and the number of conversions for a certain period.
Next, divide the number of conversions by the total traffic and multiply by 100 to get your conversion rate as a percentage. Here's the formula. 👇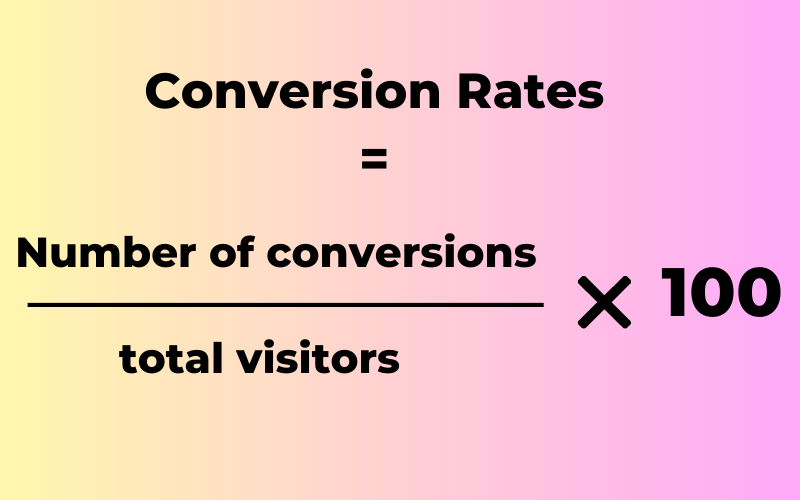 For instance, let's assume you have had 10,000 visitors from your dropshipping store in the last month, and out of those visitors, 350 made a purchase. Your conversion rate would be 3.5% (350/10,000 x 100).
15 Ways How to Improve Your Dropshipping Conversion Rates
1. Optimize Site UX Design (Main Page)
New visitors face 2 choices whether they should continue buying at a new store they just visited or not.
To solve this issue, you have to make sure your Shopify Landing Page has the correct design. Website design is very important and is a great way of improving simplicity and increasing customer trust.
Choose the right theme – it only takes a few seconds before anybody forms an opinion about your site.
Live chat – always use this as a direct way to communicate with any newer customers who are unaware of your site.
Security – show full trust and users that their payment is secure and not a scam. It is always difficult for users to trust you at the beginning.
👉 Check out the 13 Most Successful Shopify Dropshipping Store Examples.
👉 For inspiration, make sure you also check our BlendJet Review.
2. Use High-Quality Images
Images are considered to be one of the most attractive features of a website. So, instead of having a bunch of long boring text on your website, photos are exactly what makes things simple and speak a thousand words. The more images you have, the more likely you will convert.
Maybe your real question is what kind of images to use? Well, it is pretty simple. Use images that define your product, and don't use any basic type or low-quality ones, use the highest quality.
What's more, you can even try shooting some photos in certain areas with your product, and use them on your website. Images that are shown with product usage are just as interesting.
For example, check out the GymShark high-quality images. 👇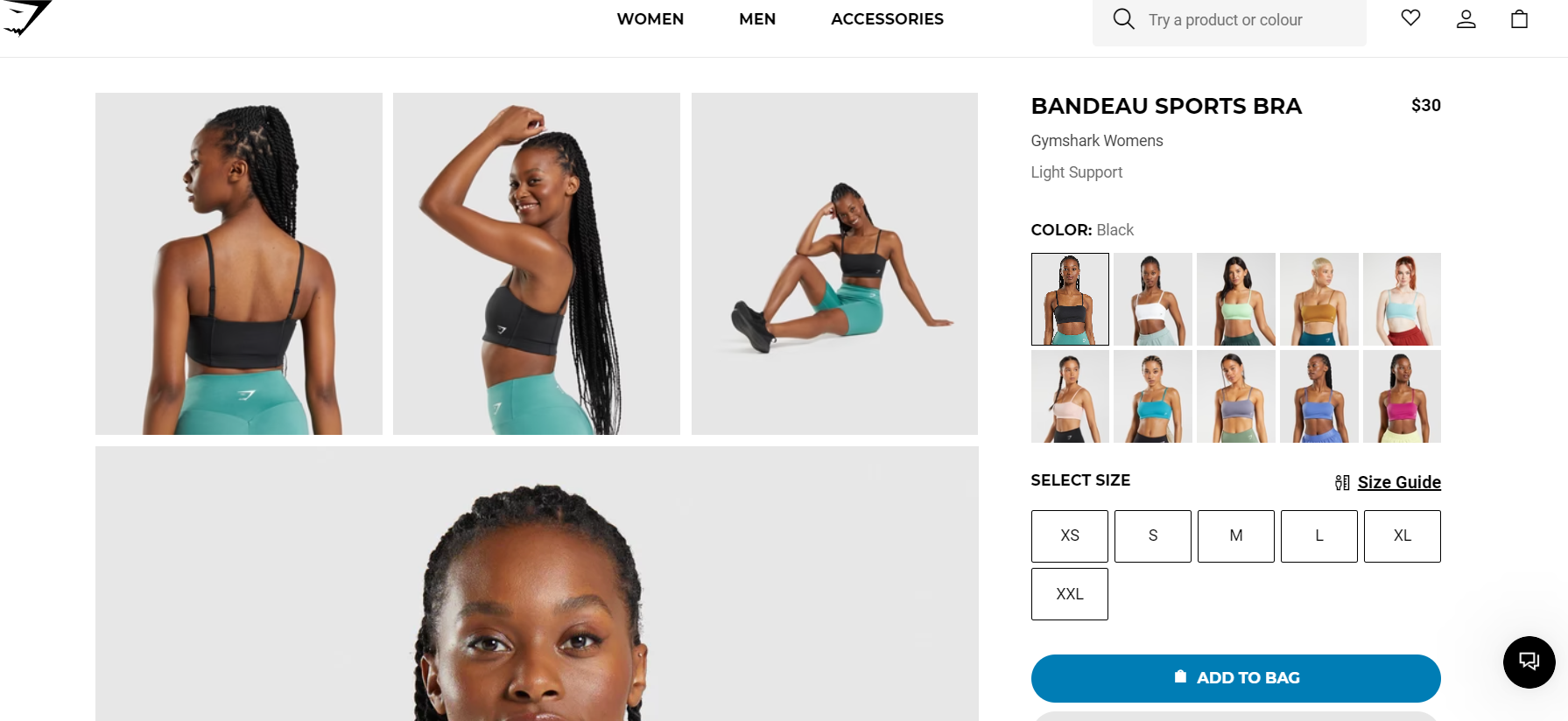 👉 Read about the 50 Biggest Shopify Stores to Inspire Every Dropshipper.
3. Product Reviews
If you want to easily build trust, then just try to form good relationships with your customers and make them write good reviews about you. Other than images, product reviews are very crucial to get that golden ticket to converting high sales.
The very main reason product reviews increase conversions is that they lower anxiety in the customer. In fact, they will say that someone else bought off your site and was satisfied. People will always feel better when others were also satisfied.
For example, let's take Amazon product pages. There's no single page without a product review. And still, we are talking about a high-converting eCommerce website. 👇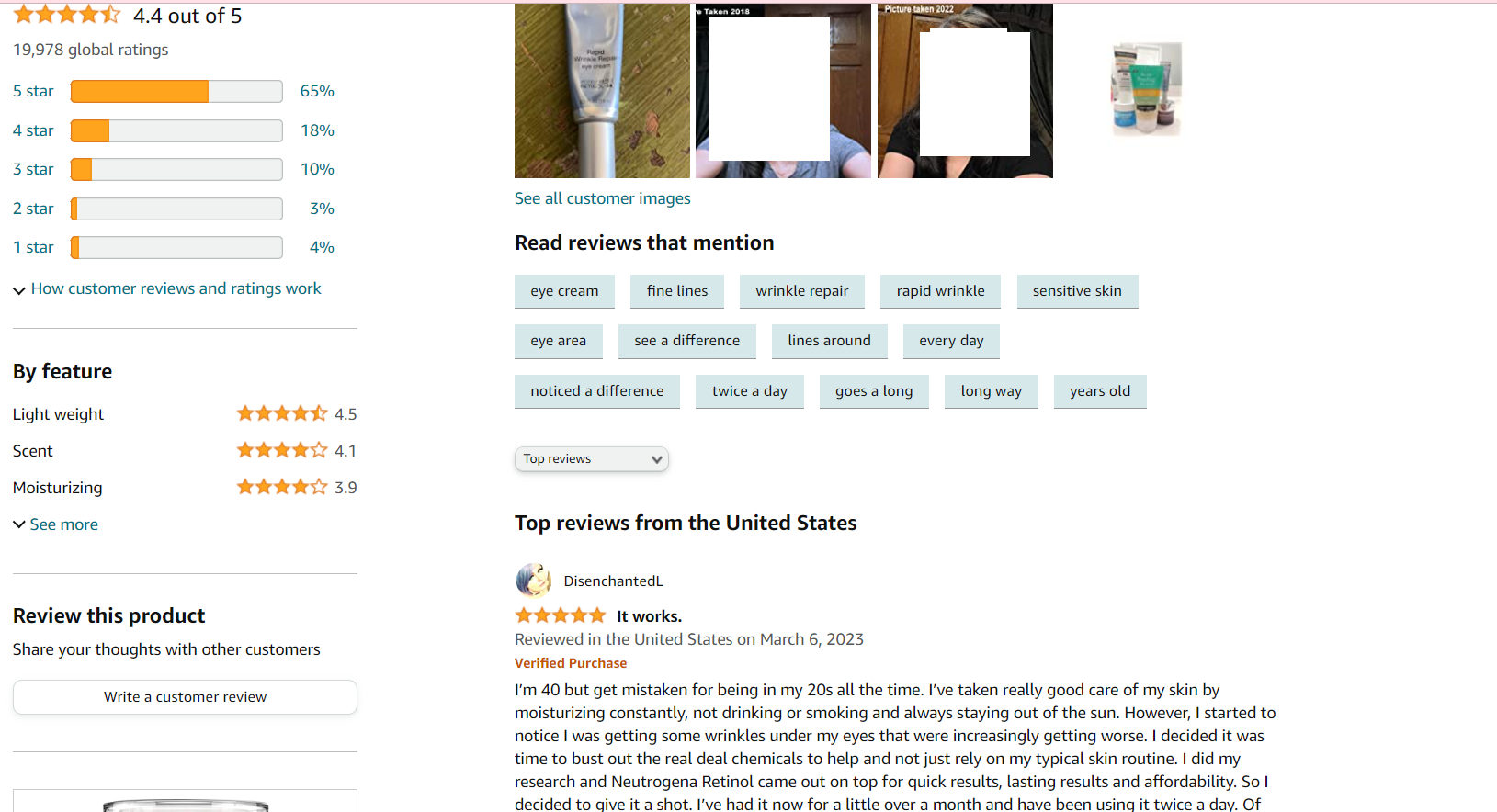 Customers trust customers, and of course, they love to have a friendly opinion when they need it the most. So, consider adding a product reviews section to your dropshipping store.
4. Product Descriptions
First and foremost, always avoid writing short product descriptions. According to some research, it showed that bad product descriptions were one of the main reasons people return their carts. It is all because customers might be fooled into thinking they are buying something they need but might end up being something else.
Nothing will destroy your conversion rates faster than a lack of product descriptions or low-detail product descriptions. You want to get into some deep details when describing your products in order to increase your dropshipping conversion rate.
For example, QuadLock dropshipping store has its way with product descriptions. Not only does it write in-depth product descriptions, but also it displays videos about product features. 👇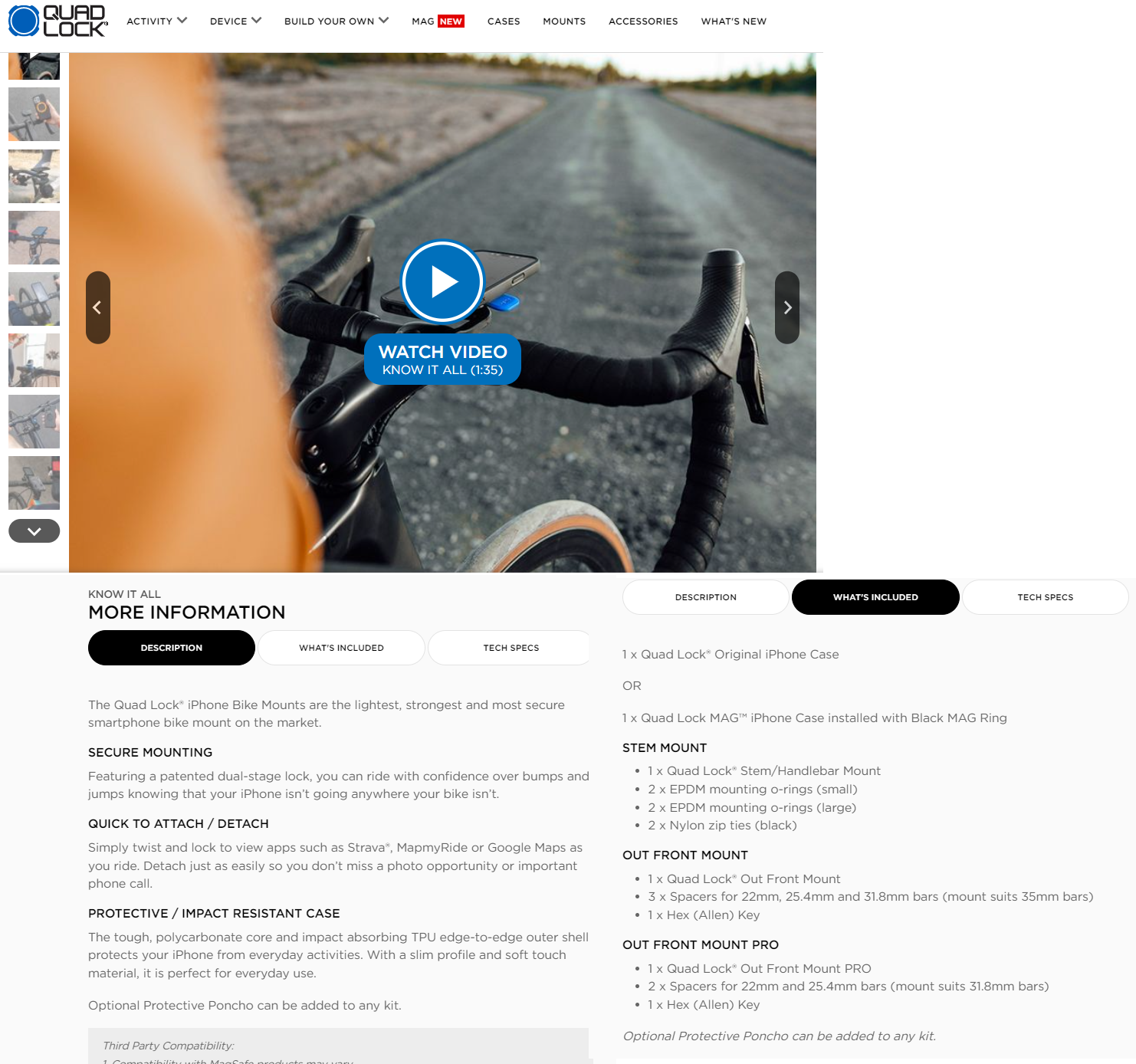 5. Bundles
You link one product to another. Over time, when someone becomes a loyal customer, they may end up buying more things. This will increase conversion rates as when they will see one thing is linked to another, it'll appear worth it to them and maybe even cheaper.
Bundles can be another good way of also looking unique. Not every dropshipping store offers many bundles all the time so this is your chance to show that you are different.
For instance, SkinnyMeTea dropshipping store uses this strategy to boost its conversion rates. Moreover, they even have a "bundles" product category.👇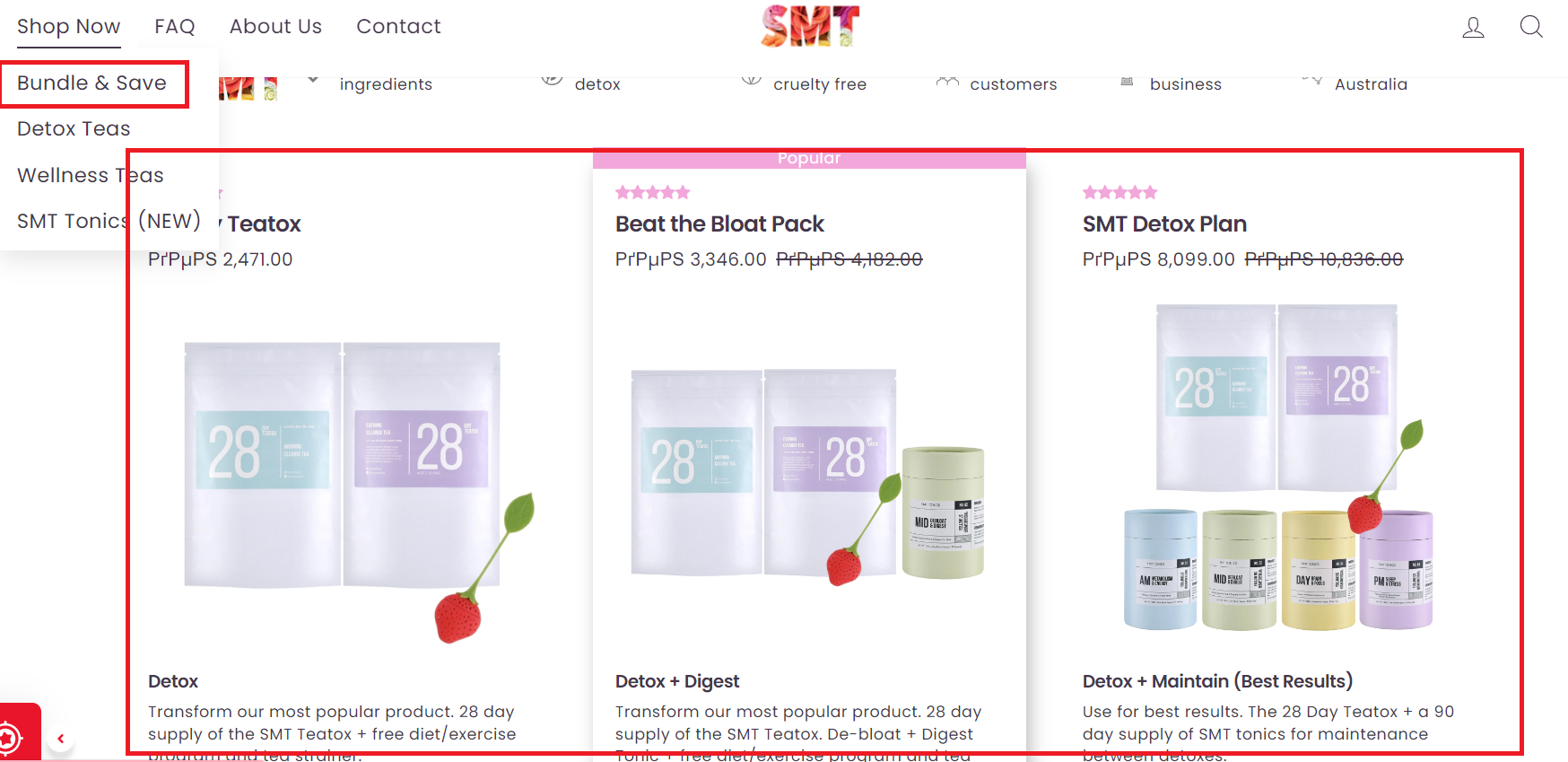 6. Discounts
Not really always a good idea to do, but from time to time, it can always be good to use discounts as a way of increasing buying rates. If you both combine bundles and discounts together, the conversion rates without a doubt will go up.
In fact, nobody likes full prices, so when you put an expensive product at a discount, then you will definitely see customers feel the urge to buy. They will know that the discount is limited, and that is where the urge is created.
💡 Tip: Learn How to Set Up Shopify Discounts: 5 Important Things You Should Know.
Furthermore, you can also try using famous discount holidays as an advantage, like Black Friday, Christmas, and many more holidays.
However, avoid not putting up discounts during this period, because almost all dropshipping stores do. The only thing you will be doing is hurting your dropshipping conversion rate.
For example, on Shopify, you can choose from various discount types, and offer them to your customers. 👇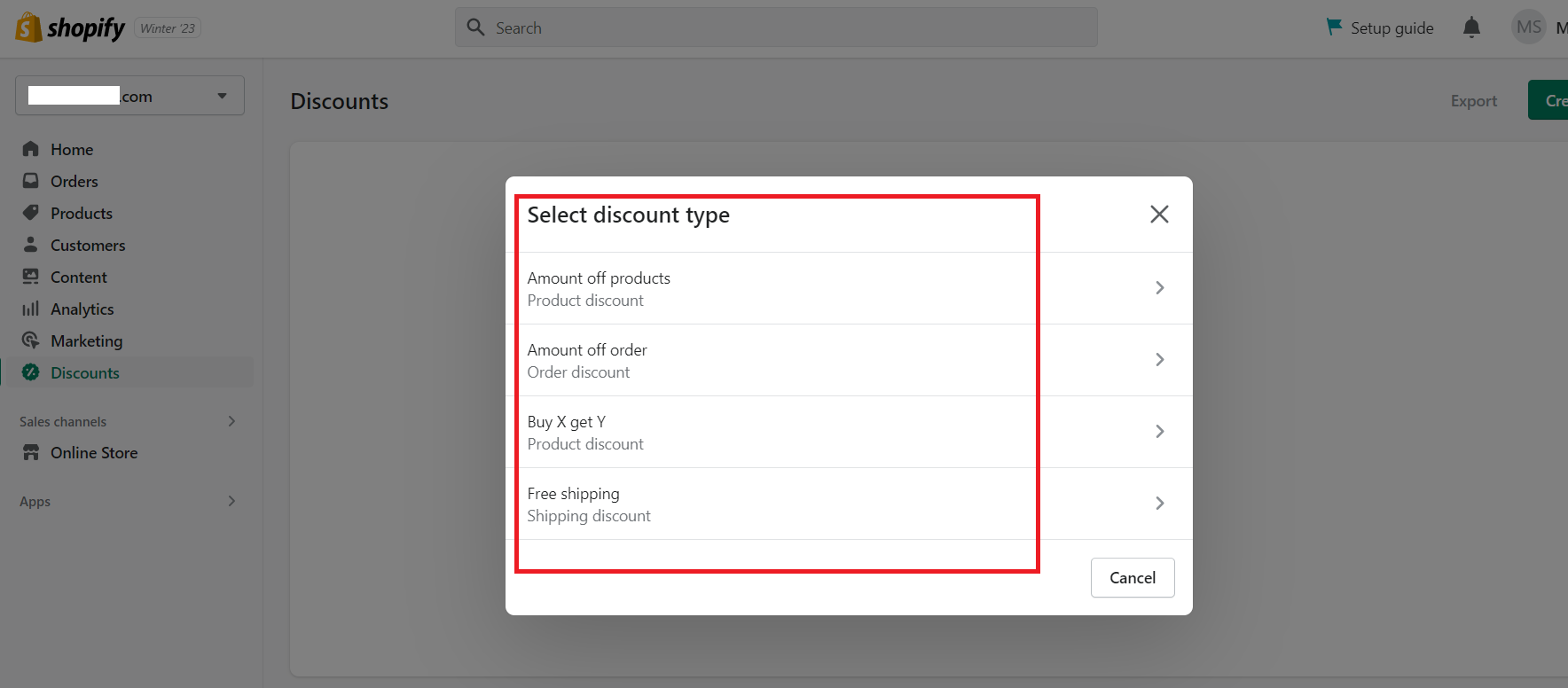 👉 Here you can find the top 10 trending products you can dropship for Christmas.
7. Fast Delivery/Free Shipping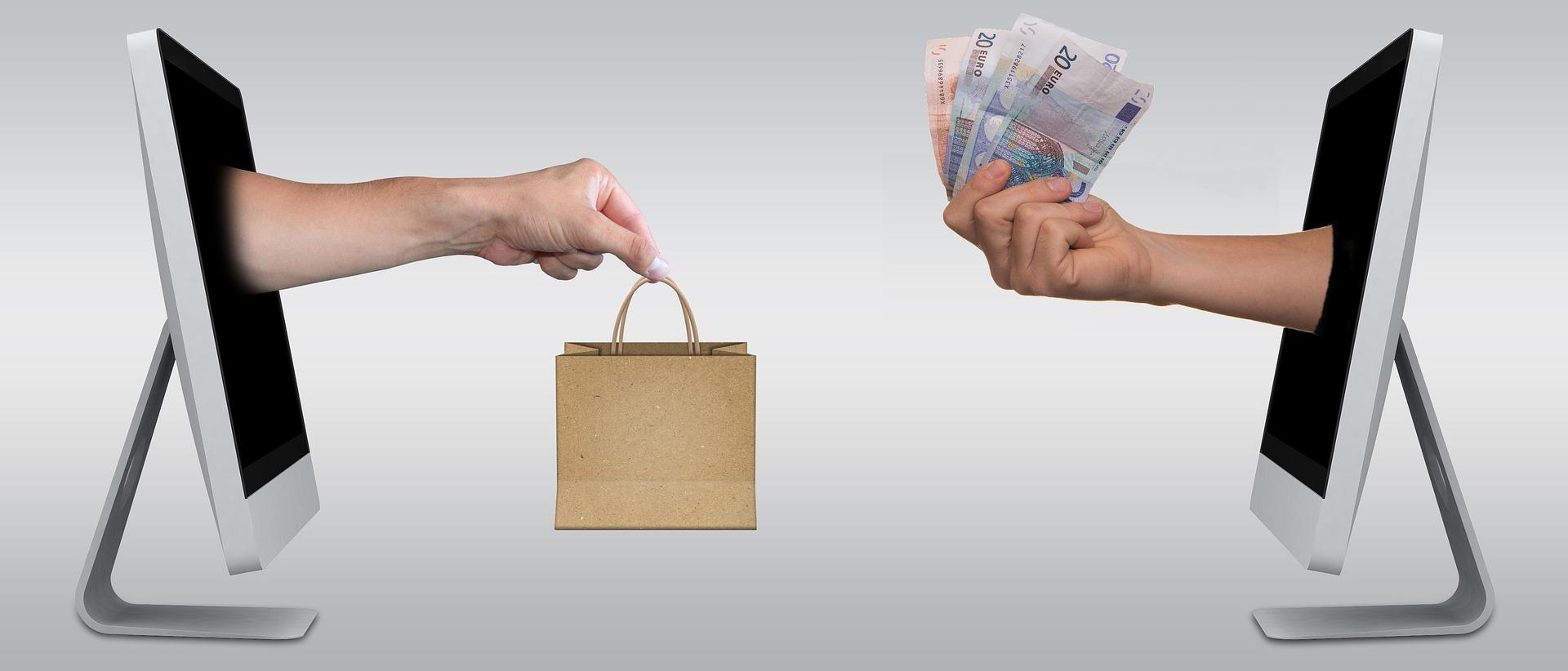 What customers hate the most out of order is waiting too long for a product and paying shipping costs. You can lose many sales if your shipping cost seems too high or even if you have a long delivery time. Your conversion rates will just go to another store and most likely never come back.
Therefore, don't be afraid to remove the shipping costs and to speed up deliveries. It'll definitely be worth it instead of losing many customers, leading to losing lots of profit along with it. A good indicator for increasing your dropshipping conversion rate.
8. Many Payment Methods
The more payment options you add, the more comfortable your customers will feel. That is because, across countries worldwide, everybody has different payment methods.
Having many alternatives available will give freedom to many users around the world as someone may firmly rely on PayPal, Payoneer, or a credit card, or someone else may rely on Bitcoin and many different payment methods.
👉 Familiarize yourself with the dropshipping taxes and payment methods before you start your Dropshipping Journey.
When you only have a few payment methods available, then many users might run away from you, increasing your abandoned cart rate and lowering your conversion rates by a huge amount.
👉 Check out the 7 Best Payment Gateways For Shopify In 2023.
9. Email Campaign Offers
You wouldn't imagine how much email campaigns can increase conversions. They are a great way of personalizing with your customer and sending special offers just for them.
Even for newcomers, you can send personalized new emails that contain an ebook, a special offer, or even free guides to your products.
In addition, email campaign offers are even better when you have frequent visits from a customer. It is all because you can use website cookies to track what they are viewing more and then send them personalized emails on what to purchase.
Furthermore, there are many dropshipping sites that will send offers to their customers every month, either a discount or anything else. This is the key to increasing the dropshipping conversion rate.
👉 Check out the Dropshipping Email Marketing: 16 Best Email Marketing Tools For Shopify that can help you increase your conversion rates.
10. Gifts After Purchase
Everyone loves gifts because they don't have to pay a dime for them. Gifts are one of the most interesting things you can add or give your customer once they buy from you. It can also be one of the main reasons you create loyal customers.
The best gifts you can offer are the ones that are in your niche, and also those that are personalized with your customer's purchase. This increases loyalty, even more, when a customer gets a gift that is similar to what they purchased.
For example, you can offer gift cards on Shopify including a special code that customers can enter at the Shopify custom checkout page. 👇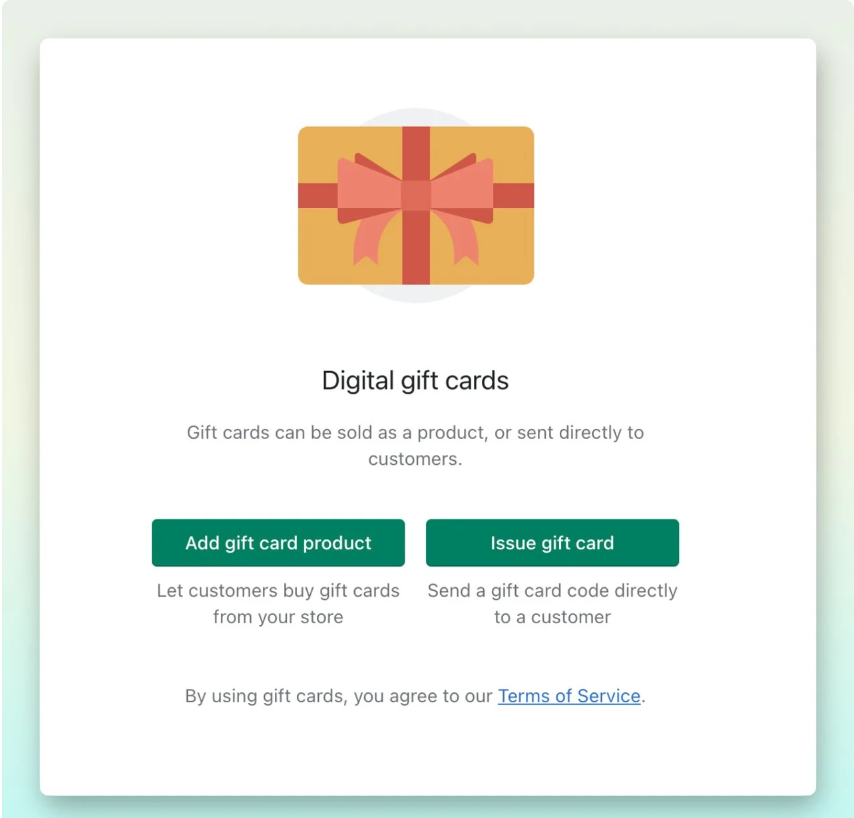 👉 Find the Best Gift Dropshipping Suppliers and products to sell.
11. Have a Specific Niche
Conversion rates a highly affected when you decide what niche to target. If you're targeting the wrong niche, then there are many things that can't help you no matter what you try to do.
💡 Tip: Learn How To Find The Best Dropshipping Niche for Big Profits [Top 10 Niches].
Find out what products are the most demanded in the market, and go with those. See if they have a good selling rate or not. If not, then don't waste your time trying to sell something that isn't demanded.
You can follow any steps, but what isn't in demand will never increase conversion rates. People will always run to buy what they want, and if that is your product, then you chose the right niche.
Also, you can consider starting a One Product Dropshipping Store as well.
12. Be Responsive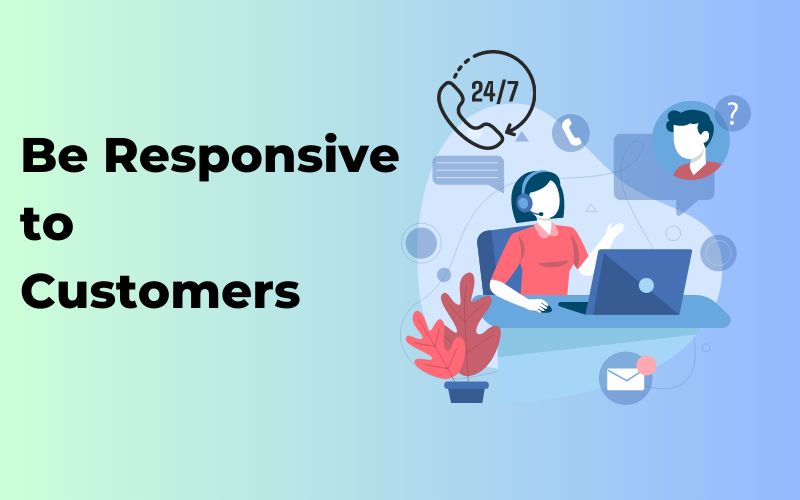 If someone finds something unclear when they try buying something from you, being unresponsive is the last thing you want to do.
Moreover, make your contact information simple and easy to find. Many dropshipping stores try to only use FAQs as a way to answer questions, but it doesn't always work that way.
Most customers might have many questions that aren't on the FAQ page, and when they can't find the question, they will just get angry and leave. That is why you want to mention as much contact information as possible. Be there for your customers at all times. This will highly impact your conversion rates.
What's more, make sure you offer them multiple ways to contact you, such as 24/7 Live Chat, FAQs, an email address, and a phone number.
13. Return Policies
Return policies are a good way of increasing the comfort of the buyer. Once they see that you have a return policy, they have more trust and feel more comfortable in buying a product.
Plus, always avoid selling products without a return policy on your dropshipping store. It makes your dropshipping store look more like a scam, makes it harder to build trust, and also can plunge your dropshipping conversion rate.
14. Video Marketing
Also another way you can use your products to market and build brand awareness. As we mentioned in many articles before, using the help of video or social media influencers can greatly help build your brand awareness. Once you get to this point, trust will be easily won.
Read about
Dropshipping conversion rates go up once your brand awareness is high. They will see that there is something good behind your products because an influencer is in them!
💡 Tip: Learn about the 7 Video Marketing Tips To Promote Your Dropshipping Store.
15. Use Referral Programs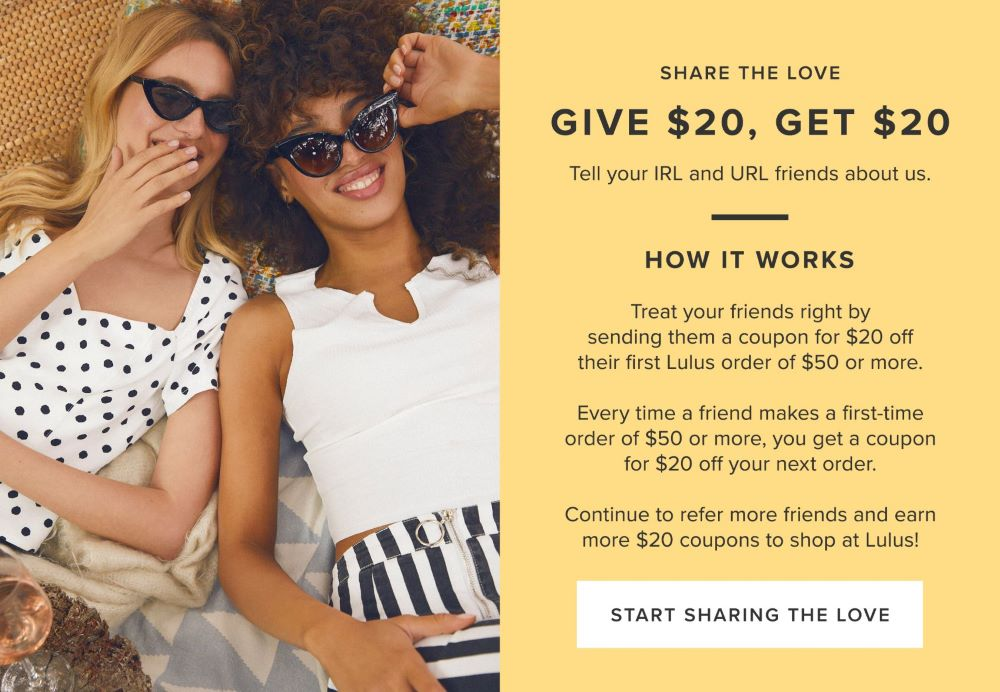 Many people underestimate the power of referral programs. In fact, referral programs are the same as the power of word of mouth. It is like when your friends recommend you to visit a new bar or to go somewhere. You most likely will feel better about visiting that place.
Thus, once referrals start to come into play, you will see that they will start multiplying. You may even try giving a gift, discount, coupon, or something else if someone does a referral. Some examples can include a $50 gift card, a 10% coupon, a free item, a premium plan subscription, etc.
When you start giving something, you will for sure get something in return. Many dropshipping businesses do this in order to increase their dropshipping conversion rate.
💡 For instance, check out apps like LoyaltyLion, or Referral Candy which are best for running referral programs.
8 Best Tools To Increase Dropshipping Conversion Rates
Next, we will list the best Shopify tools for conversions. Let's dive in!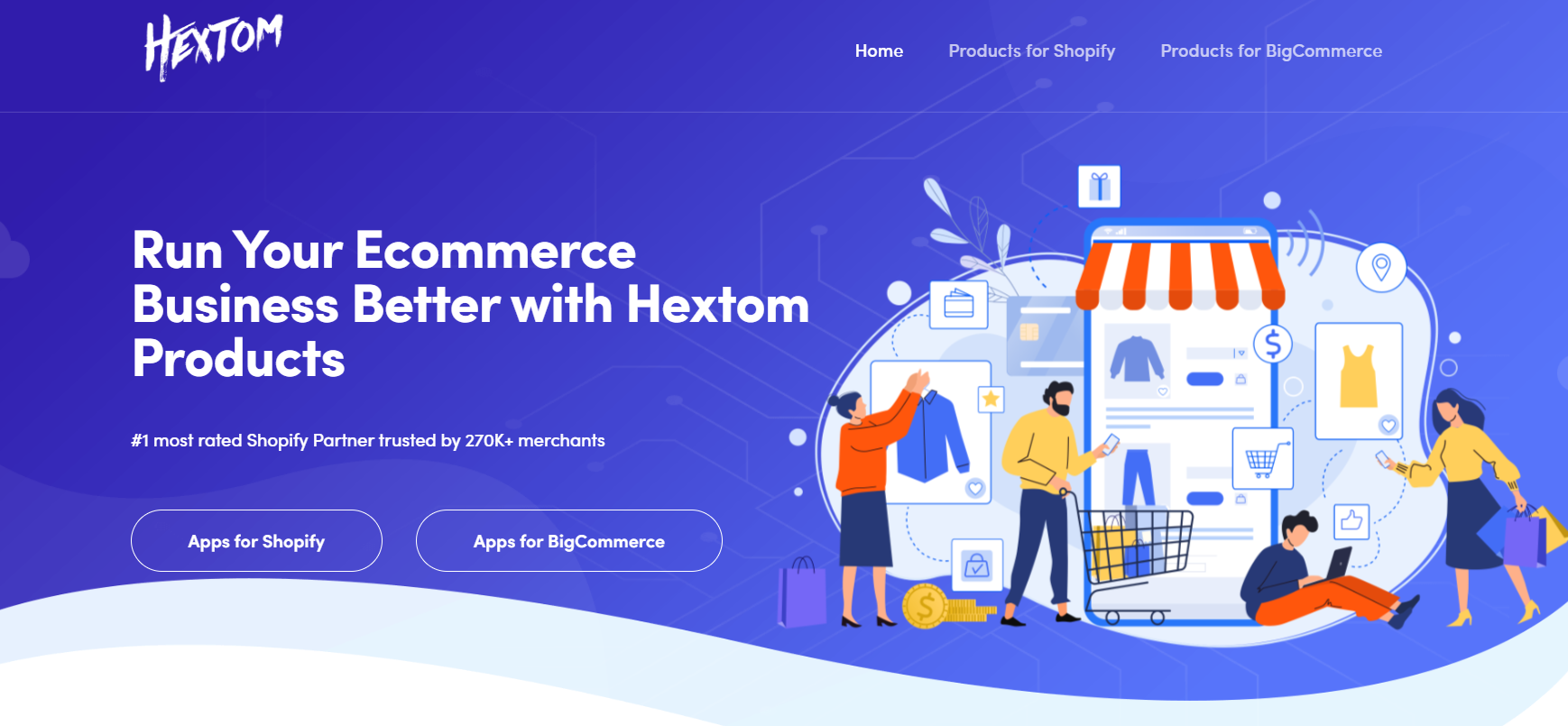 Hextom's Free Shipping Bar tool for Shopify that enables you to create a free shipping bar for your dropshipping store.
This tool aims to inform your customers of how much more they need to spend to qualify for free shipping. Thus, as customers add more products to their shopping carts, the Free Shipping Bar displays progressive messaging.
Moreover, Hextom's tool includes geotargeting, which allows you to offer various deals to customers in different countries. The currency detection feature ensures that shipping offers are displayed in the correct currency.
Moreover, Hextom's Free Shipping Bar provides two pricing options: Free or Premium, which costs $9.99 per month.

CareCart's Sales Pop-ups aim to create a sense of urgency for viewers, which can motivate them to make a purchase. This tool was specifically designed to help Shopify store owners recognize the impact of customer buying behavior influenced by these pop-ups.
Moreover, it offers a wide range of features that you can incorporate into your Shopify store, such as countdown timers, stock countdown bars, and sales notifications. Additionally, the app features recent order alerts, which show what other customers are buying and create FOMO (fear of missing out) for potential buyers.
To experience the benefits of Sales Pop-up, you can take advantage of its 14-day free trial and then subscribe for only $4.99 per month.

ReConvert Upsell & Cross-Sell is a tool for dropshippers that can help you turn one-time visitors into loyal customers by personalizing your thank you page.
The tool offers many features, including reorder buttons, post-purchase surveys, tailored suggestions, and countdown clocks. Additionally, you can create a customized landing page using a simple drag-and-drop builder.
Moreover, with the ReConvert thank you page, you can also track sales, place repeat orders, provide bundle-style cross-selling, and more. Also, the tool comes with a 30-day free trial and has four pricing plans starting at $4.99/month.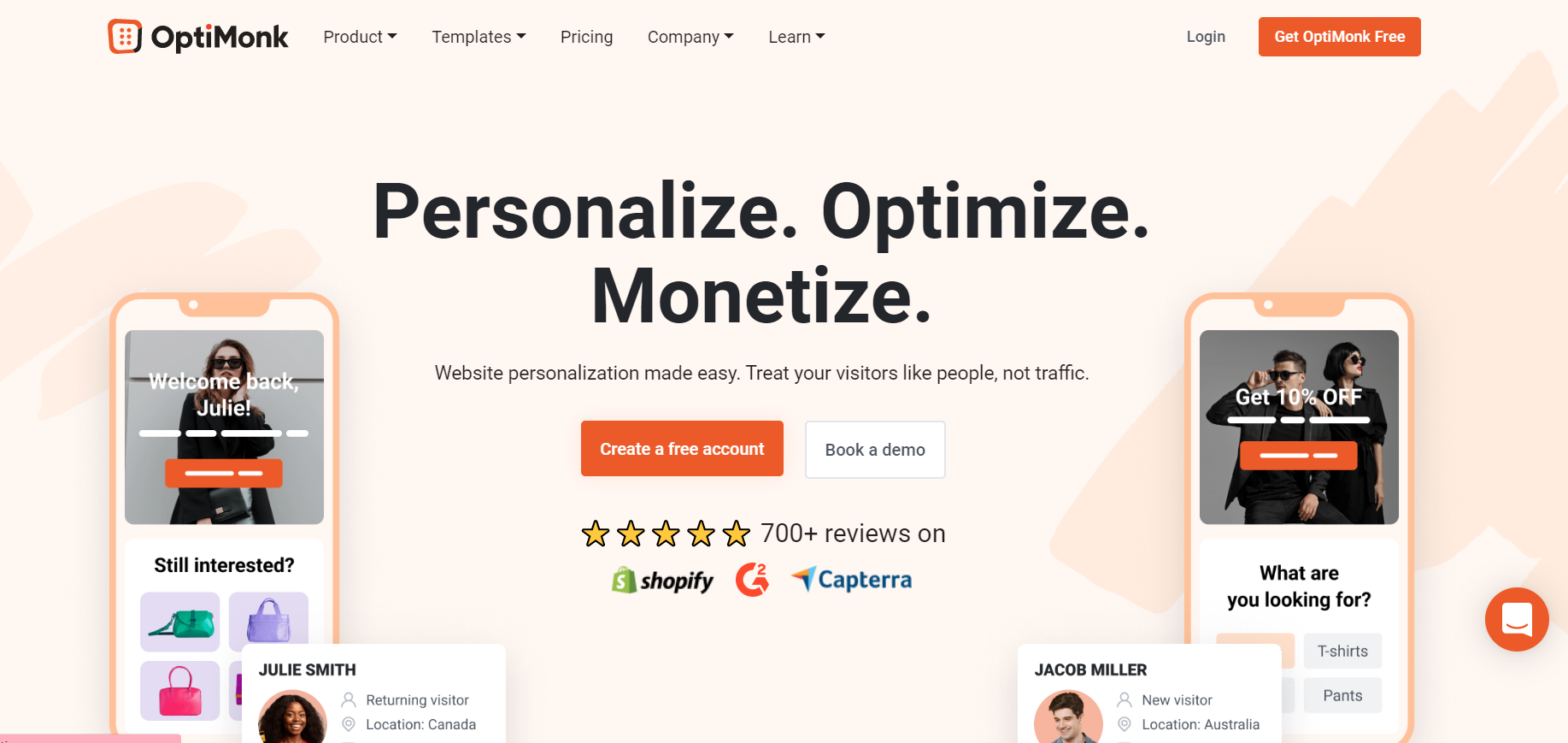 OptiMonk is a Shopify tool designed to help boost your dropshipping conversion rate by creating engaging pop-ups. With this powerful tool, you can convert website visitors into paying customers and increase your sales.
Thus, OptiMonk offers a range of features that include high-converting themes, a no-code editor for easy customization of pop-ups, a theme kit that allows you to create your own on-brand templates, and point-and-click placement for the effortless embedding of content on your website without any coding skills required.
The best part, this app is available for free, and if you want access to advanced features, you can select from various pricing plans starting at $39.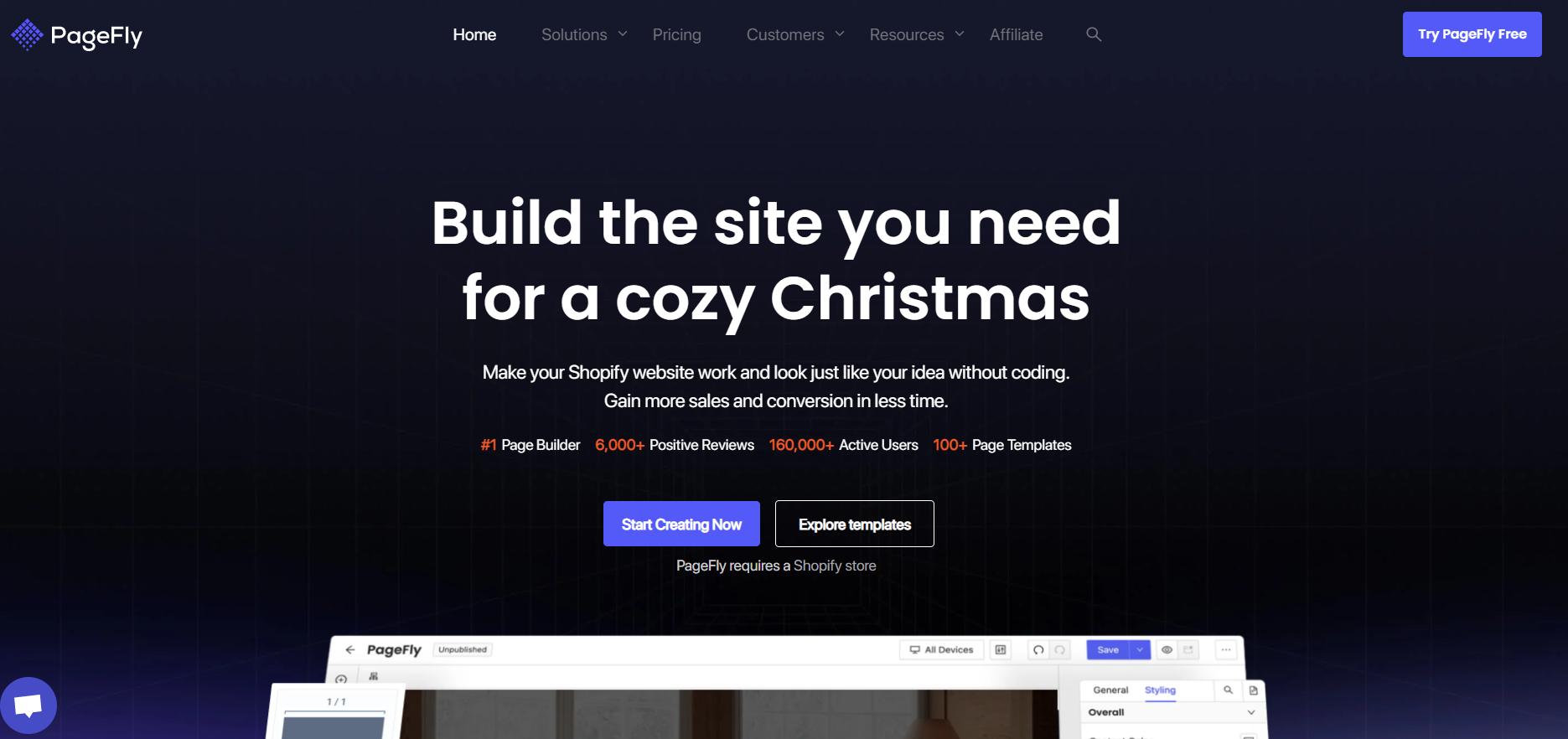 PageFly is a drag-and-drop page builder tool. It allows you to create visually appealing and unique Shopify pages for your dropshipping business with ease. Additionally, it comes equipped with powerful features that can help you enhance your SEO results and effectively manage various marketing campaigns, including:
Creating a sense of urgency to accelerate conversions
Gathering customer references and information to build trust
Integrating with popular Shopify apps in areas such as reviews and ratings, subscriptions, email marketing, push notifications, upsell and cross-sell, order tracking, and more
Using the drag-and-drop editor to quickly modify the appearance of your dropshipping store.
Using features like a sale countdown timer, custom forms, a low-in-stock badge, an add-to-cart button, and a pricing comparison to increase conversion rates
Expanding your social media presence to attract more customers.
What's more, you can try Page Fly for free, and if you want to upgrade for more features, their pricing plans start at $4.99/month.
👉 Thus, if you are interested, check out in-depth PageFly Review: Website Builder To Customize and Optimize Your Shopify Stores.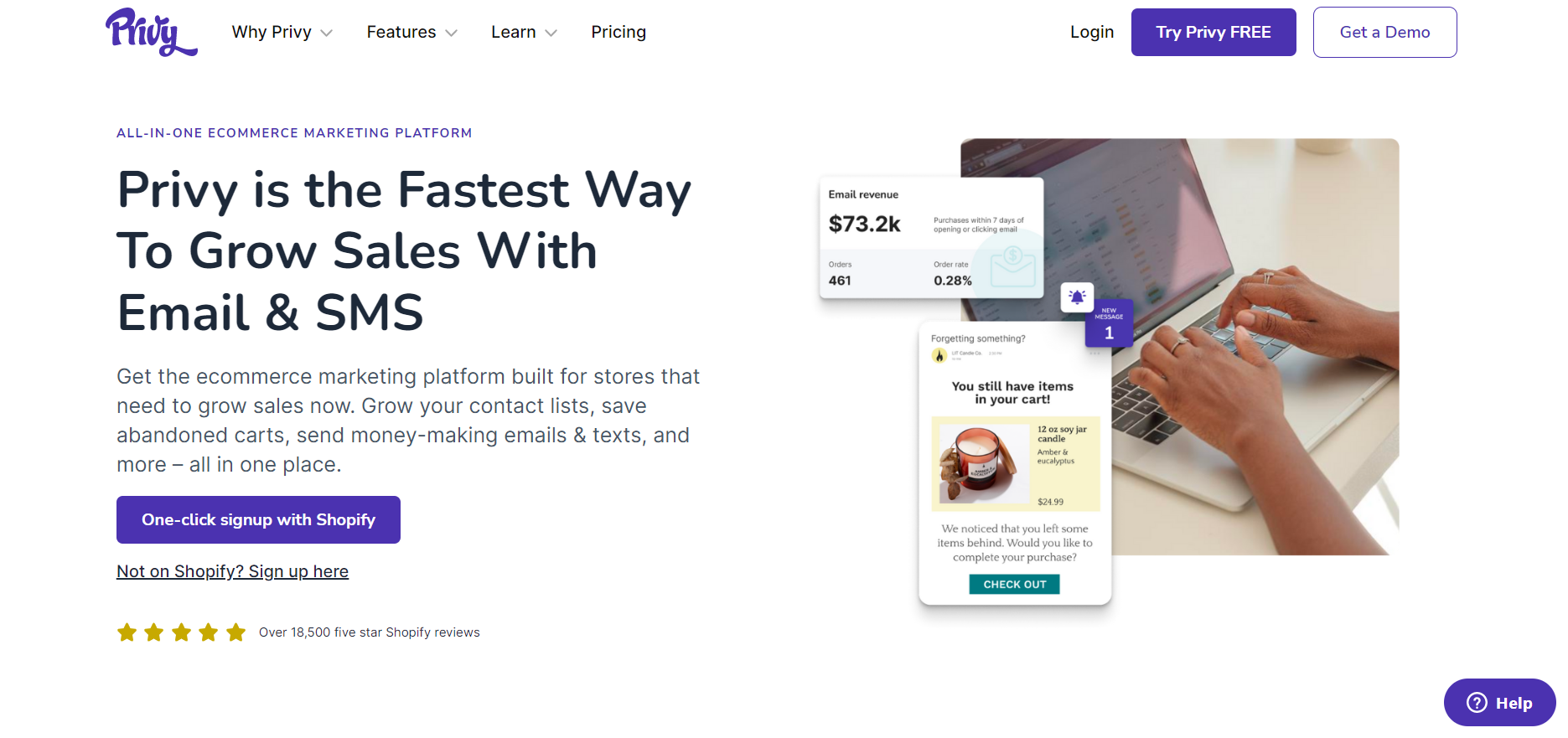 Privy is a powerful Shopify tool that can help boost your online sales through effective on-site advertisements like pop-ups, banners, bars, and automated emails.
Moreover, this dropshipping conversion rate tool offers a wide range of features, including
newsletters
cart abandonment
customer win-back
Welcome emails
list growth
spin to win
cross-sell
free shipping bar
A/B testing
auto-responders
campaign management, and many more!
Furthermore, Privy offers a 15-day free trial that includes all display types, targeting rules, design features, and more. Also, for businesses with higher traffic, pricing starts at $15 per month.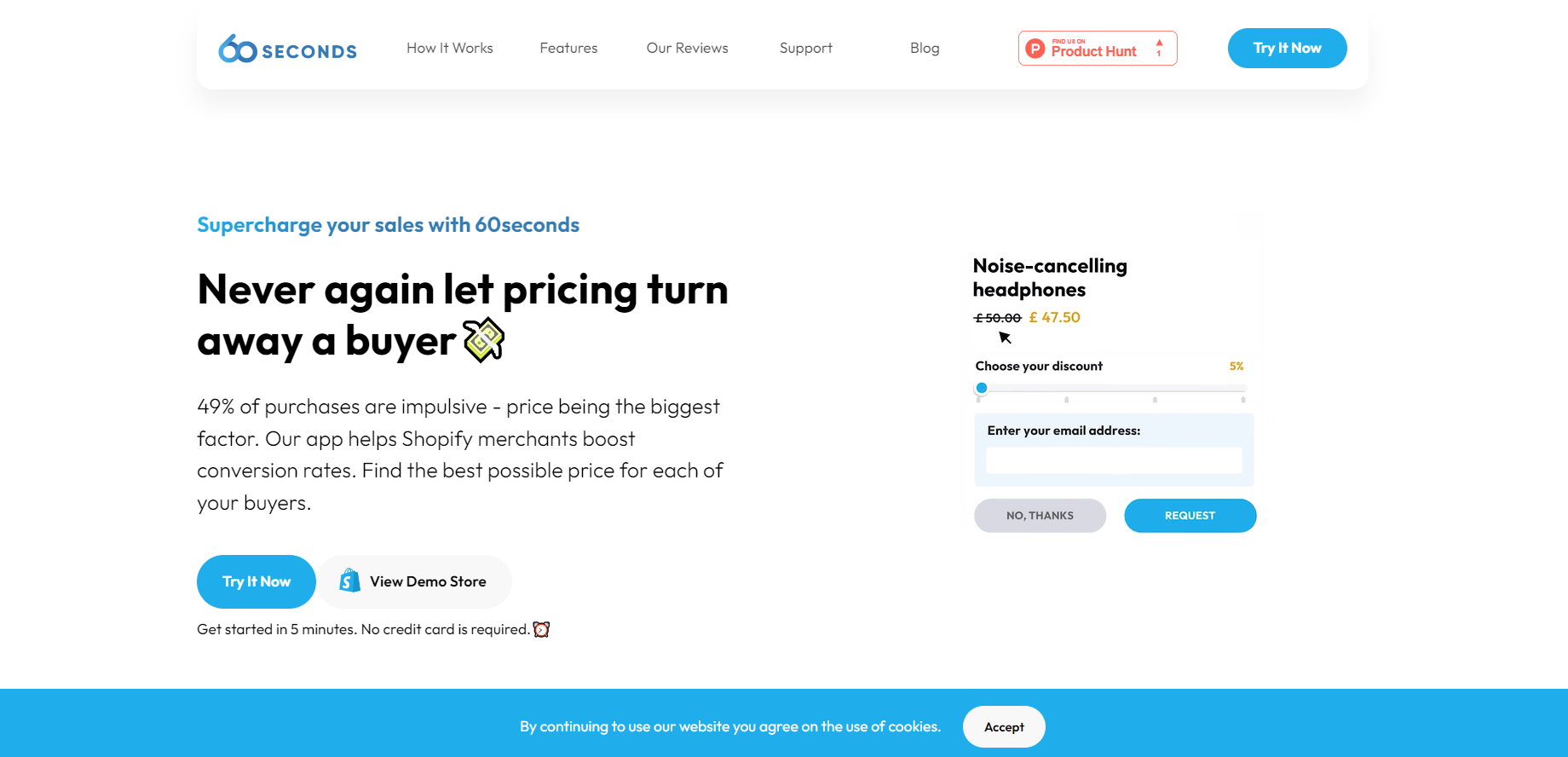 The 60 Seconds Shopify app helps you with boosting sales conversion rates. Its features not only assist in decreasing bounce rates but also allow tracking of revenue and sales, among other things.
The best part, you can set predefined discount rates for your customers. By doing so, you can demonstrate to your customers that you value them and their needs.
However, you have complete control over the discounts offered, as customers must submit an offer that you can either accept or reject.
Furthermore, the application appears as a pop-up on every product page with a discount rate.
In addition, there are three pricing plans available for this dropshipping Shopify tool, with the lowest starting at $9 per month. Additionally, there is a 14-day trial period.
👉 Read our FULL 60 Seconds App Review: How To Use Discount And Pop-Up App To Increase Sales on Shopify?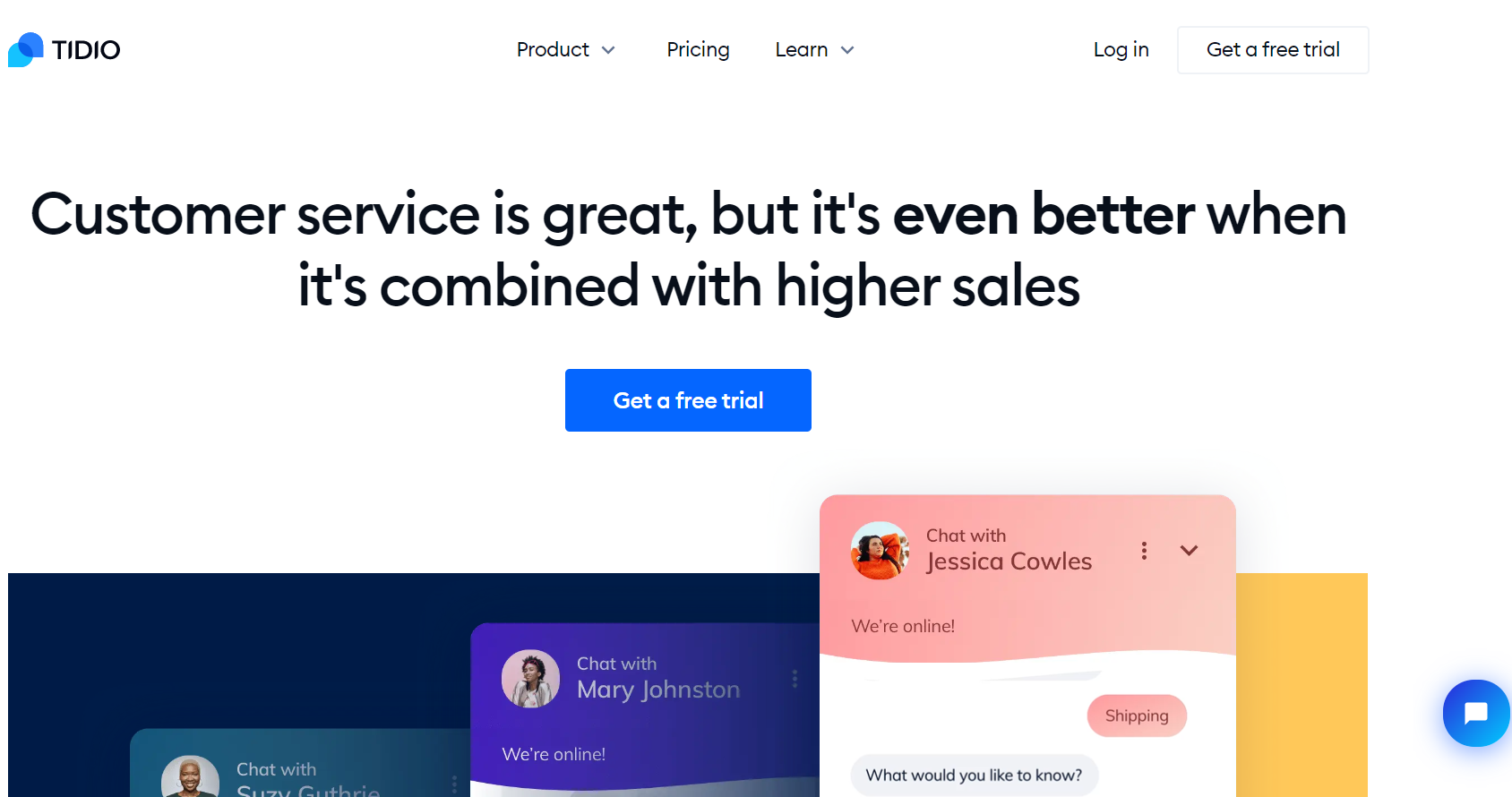 Tidio is a website integration tool that is incredibly robust. It allows you to customize the website widget to fit your design and send targeted messages based on the user's page.
What's more, Tidio provides a live chat widget that's easily accessible to customers, making your business available around the clock. With AI-powered chatbots, you can engage with customers in real time and close more sales. Currently, more than 300,000 websites use Tidio.
Furthermore, Tidio offers a free plan with which you can set up your dropshipping store, and its pricing plans start at $19/month.
👉 In addition, check out the 39 Must-have Shopify Tools for Your Dropshipping Store In 2023.
Other Metrics For Measuring Dropshipping Conversion Rates
➡ Bounce Rate
Bounce rate is the percentage of visitors who leave your website without taking any action after landing on a single page.
However, keep in mind that a high bounce rate can indicate poor user experience, irrelevant content, or slow loading times.
➡ Click-through rate (CTR)
CTR is the percentage of clicks on a specific link or advertisement out of the total number of impressions. In addition, a high CTR can indicate a strong offer, effective messaging, or relevant content.
➡ Exit Rate
Exit rate is the percentage of visitors who leave your website from a particular page after visiting multiple pages.
Thus, it can indicate the pages where visitors are most likely to leave your store, which can help you to improve their user experience.
➡ Average Session Duration
Average session duration is the average amount of time a visitor spends on your dropshipping store during a single session.
In fact, this metric provides insights into user engagement and the quality of your store's content and design.
➡ Average Page Depth
Average page depth is the average number of pages viewed per session on your website. It can give you insights into the level of engagement with your dropshipping store content and the effectiveness of your store's navigation.
The Bottom Line – Increase Your Dropshipping Conversion Rate
In conclusion, this comprehensive guide provides valuable insights on enhancing your dropshipping conversion rate.
Our recommended strategies have been tested and proven to be highly effective.
Additionally, we have highlighted the top Shopify tools that can assist in boosting your conversion rate.
What's more, to stay informed on the latest marketing trends and excel in the dropshipping industry, make sure to subscribe to our site.
Join the only community and resource hub you'll ever need to succeed with dropshipping
Find winning dropshipping products, learn marketing, download templates and engage with real dropshippers
Never pay for a "guru's" course again. See why 4543+ dropshippers joined us this year!
💡Try DSCOM Hub Now
Frequently Asked Questions
What is a dropshipping conversion rate?
Dropshipping conversion rate is the percentage of visitors to your dropshipping store who take a desired action, such as making a purchase, subscribing to your newsletter, or signing up for an account.
How to calculate dropshipping conversion rate?
To calculate your dropshipping conversion rate, divide the number of visitors who completed a desired action (such as making a purchase) by the total number of visitors to your website, and then multiply by 100 to get a percentage.
What is considered a good dropshipping conversion rate?
While a good dropshipping conversion rate varies by industry, a typical benchmark is around 3%.
Can external factors impact dropshipping conversion rates?
Yes, external factors like changes in market trends, competition, and economic conditions can impact dropshipping conversion rates.
How to improve dropshipping conversion rates?
There are several strategies to improve your dropshipping conversion rate, such as optimizing your dropshipping store user experience, offering high-quality product descriptions and images, providing customer reviews and social proof, offering discounts and promotions, etc.