Running a personal e-commerce store can be a daunting and time-consuming task.
Since we have a lot going on, including marketing, secure checkout, product shipping, and speed optimization, completing these tasks requires significant resources and time.
However, we have a solution for you! Fortunately, many Shopify tools can help you reduce your workload and make tasks that take a long time easier.
Thus, you can use these Shopify tools to import products, design a logo on your phone with just one click, and do more.
Therefore, here we will introduce the Top 39 Useful Shopify Tools for your dropshipping business success. Let's get all the details!
Best Shopify Tools For Customer Support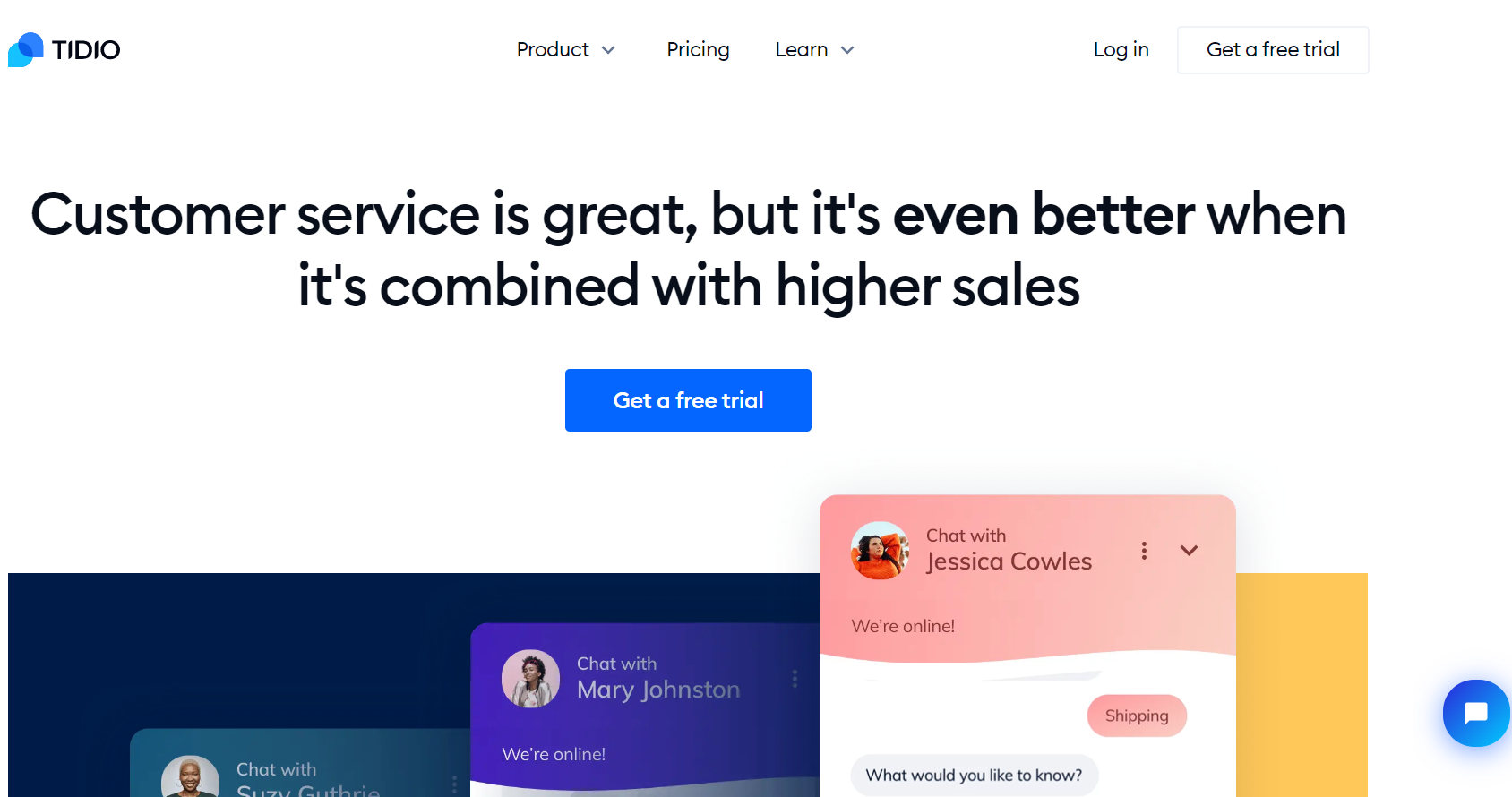 Tidio works in line with its motto of "Live Chat Boosted with Bots."
They feature a pretty strong website integration that lets you style the website widget to match your design, and customize it to send particular messages depending on whatever page the user is.
Additionally, a readily accessible live chat widget makes your business accessible around the clock, and chatbots powered by AI engage clients in real-time so you can complete more sales. Also, more than 300,000 websites use it right now.
Plus, Tidio features a user-friendly UI and suitable chatbot components. Moreover, it gives you the ability to add custom fields and tags, apply conditions in your chatbot flows, integrated live chat, respectable AI & NLP, and all of this for a fair price.
Moreover, Tidio integrates with Shopify, Presta, Squarespace, WordPress, and more.
Furthermore, Tidio offers four pricing plans:
Free – $0/month; There's a Shopify free tools version of this app, and you have an amazing option to launch your personal website, no commitment necessary.
Communicator – $19/month; The ideal choice for medium-sized teams that base customer assistance on real-time chats.
Chatbots – $39/month; A useful add-on with self-service automation that may be coupled with other subscriptions.
Tidio+ – $289/month; It is a solution for expanding companies seeking cutting-edge features and committed support.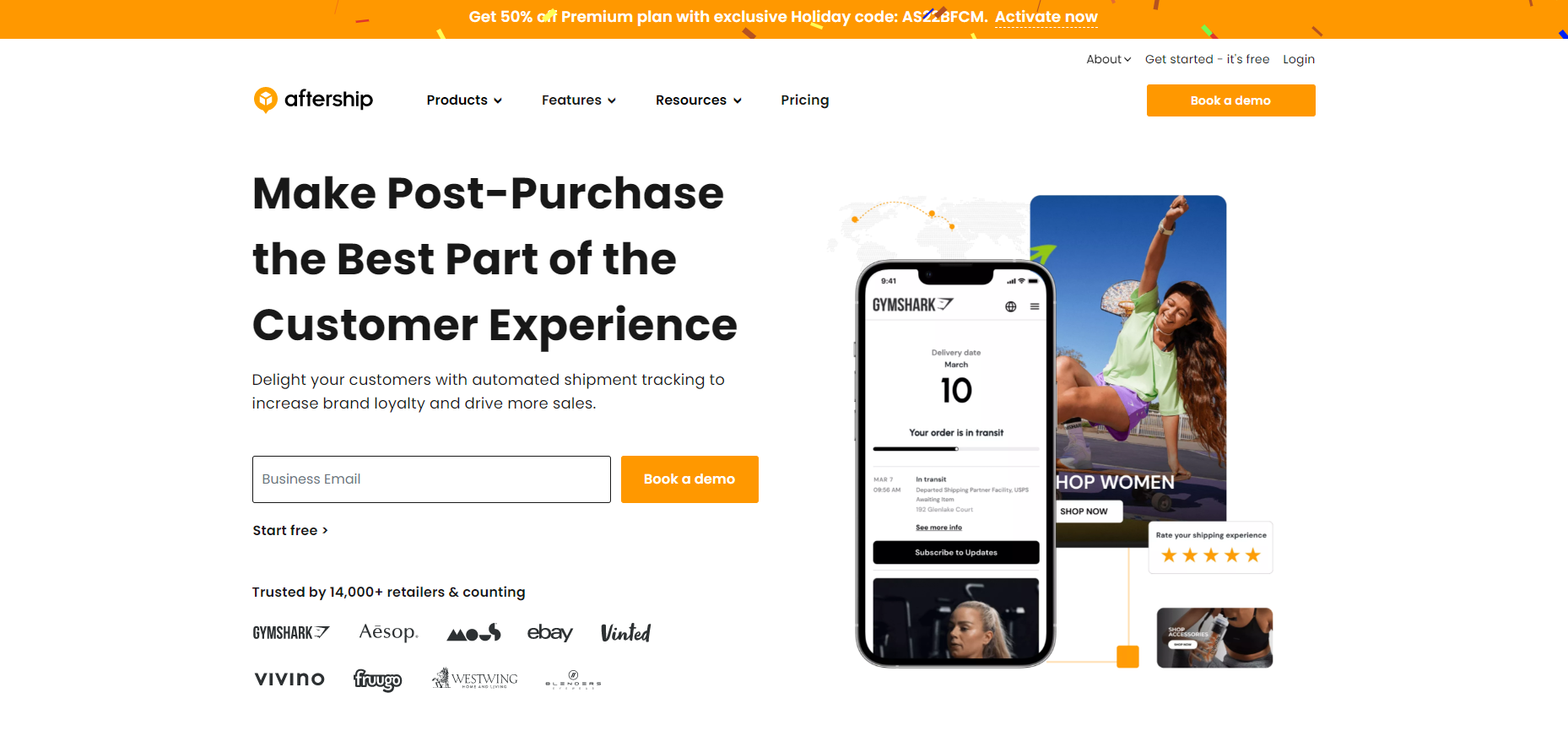 Once an order has been shipped, AfterShip makes it easy to track it. It provides you and your clients with ongoing information on the progress of the shipment.
Besides, AfterShip protects your delivery, through the InsureShield insurance company. What's more, insurance coverage is flexible, advantageous, and easily implemented when required.
Next, there are several features in AfterShip that address every aspect of the client retention and after-sales process. So, here is what you'll discover:
Use the AfterShip Track Button on your website to track orders quickly.
Automatically add the tracking URL from AfterShip to the order confirmation and order history pages of your Shopify store.
Customers can get delivery alerts by email, SMS, WhatsApp, and Facebook Messenger.
Set up alerts for information that has been received, is in transit, is on its way to be delivered, is available for pickup, has been delivered, an attempt has failed, and exceptions.
Schedule when the SMS is to be sent, depending on the buyer's timezone.
Depending on the order language, automatically send email updates for various delivery milestones to enhance the post-purchase experience.
Set up automated email update workflows to auto-alert customers when the order status changes.
Send shipping notifications from your email address
Customize messages to include your logo, URL, and product recommendations
Next, AfterShip has four pricing plans:
Essentials – $11/month
Pro – $119/month
Premium – $239/month
Enterprise – custom pricing
However, the cost for the Essentials pricing plan changes once you set the number of shipments you have per month. For example, if you have more than 100 shipments, let's say 300, the pricing won't be $11/month, but higher. In this case, it will cost you $23/per month.
Also, you can choose to pay annually.
Smile Shopify tool is an app that will help you make more sales through referral marketing. It can help you spread the word about your store and motivate your users to make more purchases.
However, Smile is a great Shopify tool for engaging your consumers in sustained loyalty. With the help of this software, which links with your business, you can give your customers a nice discount in exchange for bringing their friends and family to your website.
Key features of this Shopify tool:
Check your results more conveniently with Smile Analytics.
Plan a referral or VIP-based loyalty program to generate more sales.
Moreover, the tool has a user-friendly backend that makes it stand out as a top Shopify tool.
Not to mention that this app is ideal for getting your website referred to other people. Moreover, there is a huge presence in the internet community. Therefore, Smile ensures increased visits and sales constantly.
Smile is one of the best Shopify free tools, which means you can start with the free version. You need to update your account to the premium plan for more advanced features.
Thus, the premium pricing of this Shopify tool depends on which platform you want to integrate with: Shopify, Wix, or BigCommerce. The next step is choosing the pricing plan.
However, all of the pricing plans start at $49/month.
💡 Tip: Check out Customer Service for Dropshipping: The Ultimate Guide of 2023.
Discover top dropshipping suppliers of original US/EU products
You're 2 minutes away from building your ecommerce empire
No credit card required. No commitment.
Get started for free
Best Shopify Tools For Finding And Adding Products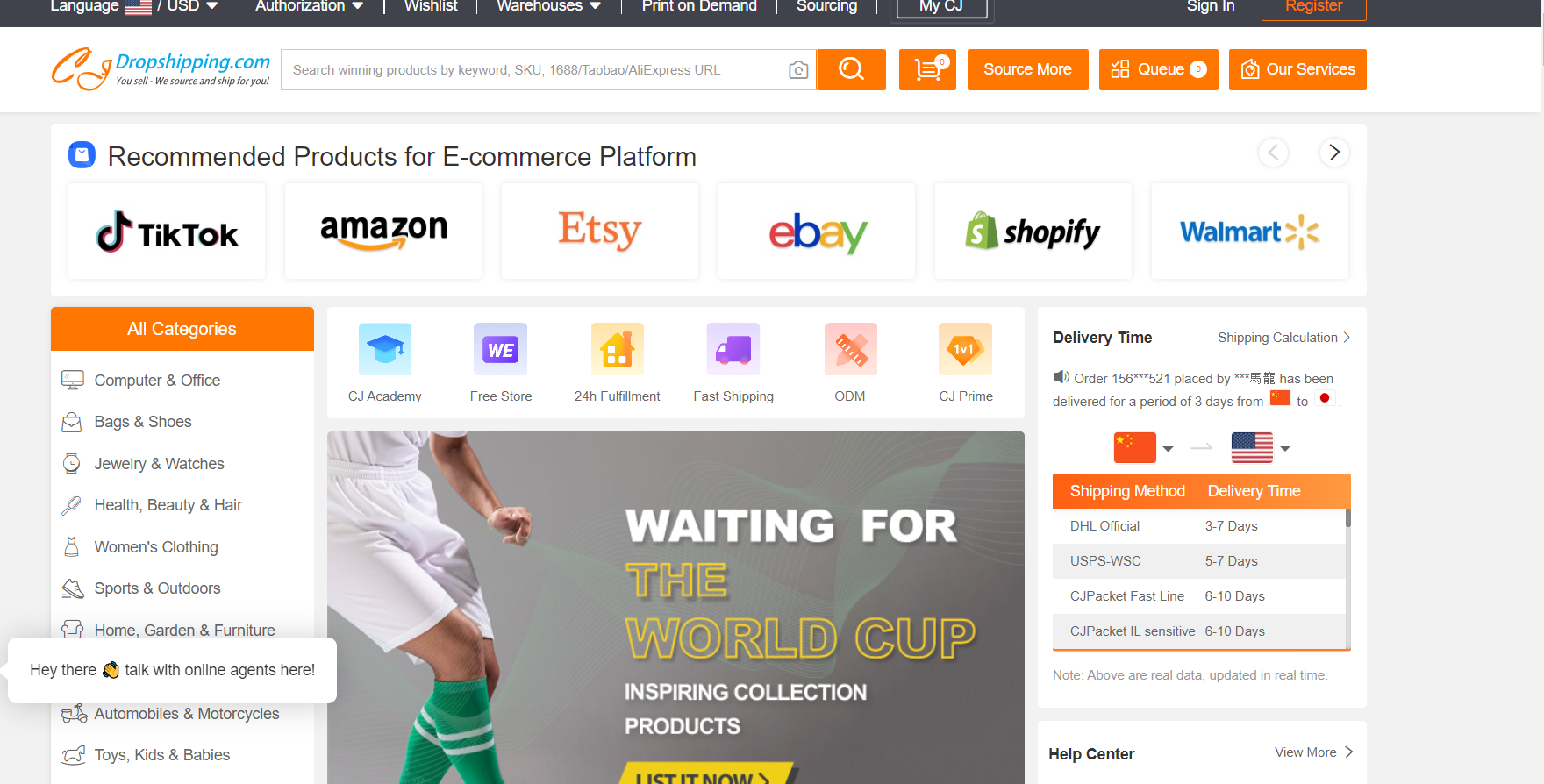 This is an all-inclusive dropshipping Shopify tool. CJ Dropshipping combines product sourcing, order processing, and shipment fulfillment, and makes a perfect platform for all of the dropshipping business aspects.
The platform uses a no-fee approach. This means there aren't any setup costs, monthly fees, minimum orders, or storage fees. Additionally, selling products is also free of charge.
Correspondingly, only a handful of the advantages that you may gain from using this fantastic Shopify product are:
A broad selection of items.
There are no charges for purchasing goods from CJDropshipping.
Automated order fulfillment synchronization and processing order synchronization.
Products are delivered quickly thanks to a global network of warehouses, including those in the US, China, and Germany.
To sum it up, the features you will find on CJ Dropshipping are :
Free Application
Large Inventory
Product Catalog
Customization
Warehouse and Suppliers
Quality Control
Product Images & Videos
Order Fulfillment & Order Management
Integrations
As we already mentioned, CJ Dropshipping is a completely free Shopify tool. Moreover, when you join up for the first time, you receive 90 days of free storage in Indonesia, China, and Thailand, and 30 days of free storage in US and German facilities.
👉 Also, we recommend you to read the full CJ Dropshipping Review: How Does It Work? Pros & Cons, Comparison & Features.
First, we recommend you check our in-depth Zendrop Review. Now, follow our quick Review and the most important info.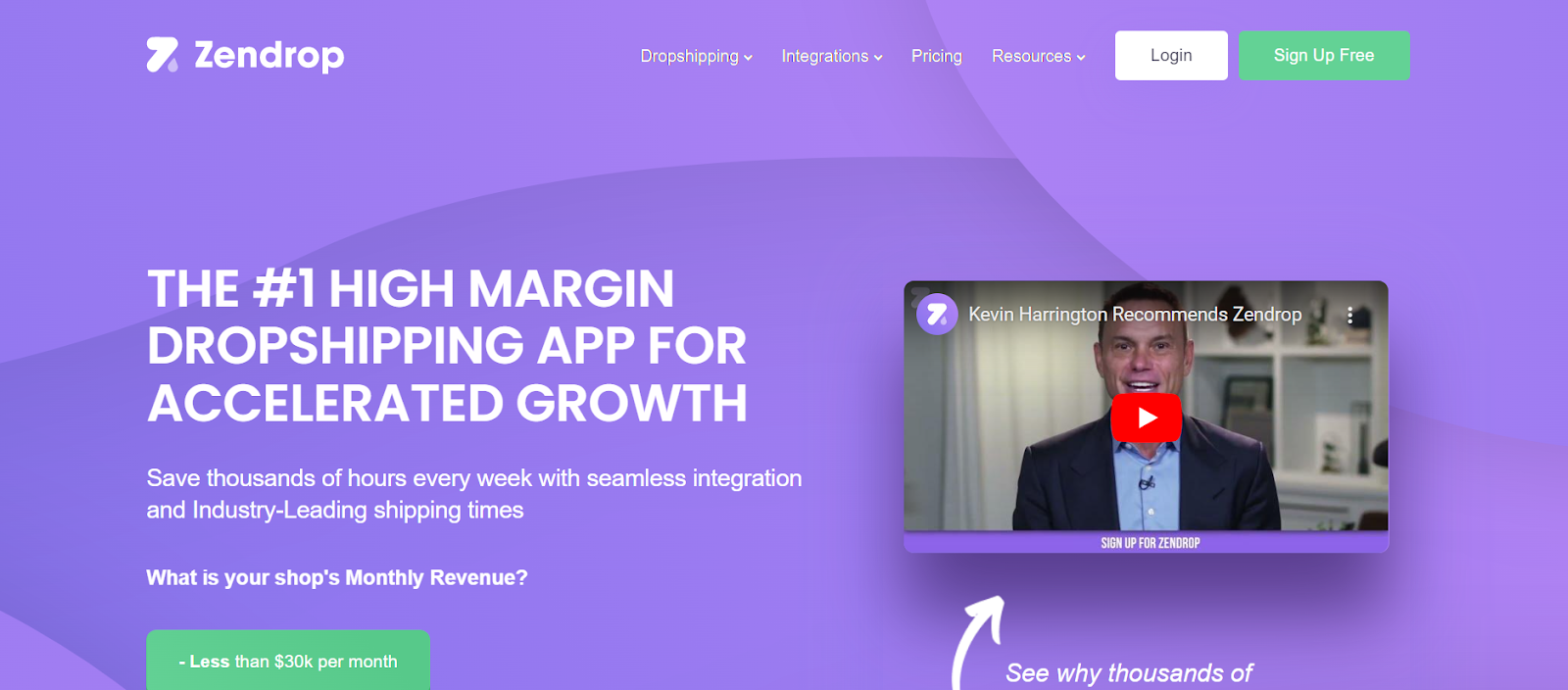 Zendrop is a platform designed by dropshippers for dropshippers.
Simply said, Zendrop dropshipping is a sizable marketplace where business owners can find cheap products to add to their dropshipping stores and sell at a premium price.
Yet, with Zendrop, your dropshipping suppliers handle everything, so you also don't have to worry about product packing or delivery.
Hence, this Shopify tool provides various features, like:
Thank You Cards – You can create your own thank-you cards and include them in packages sent to clients, and you can personalize them with your logo, image, title, message, and address.
Auto Fulfillment – this feature is the best one of all. Zendrop automates the whole order fulfillment process for you. Also, it is very simple to use.
Tracking – Tracking is also automated with Zendrop. This feature will instantly update your account whenever they obtain tracking information from their Chinese supplier.
Product Sourcing – You can source products from the Zendrop Product list, or if there isn't a product you are searching for, you can simply enter the product's details into Zendrop, and Zendrop will source and automate the entire process.
Custom Packaging & Private Labeling – custom packaging and private labeling are accessible at Zendrop, but only when you purchase a MOQ (minimum order quantity).
Furthermore, there are three Zendrop pricing plans: one is free, while the other two have monthly fees of $49 and $79, respectively. Additionally, you have the option of subscribing to these Zendrop packages annually.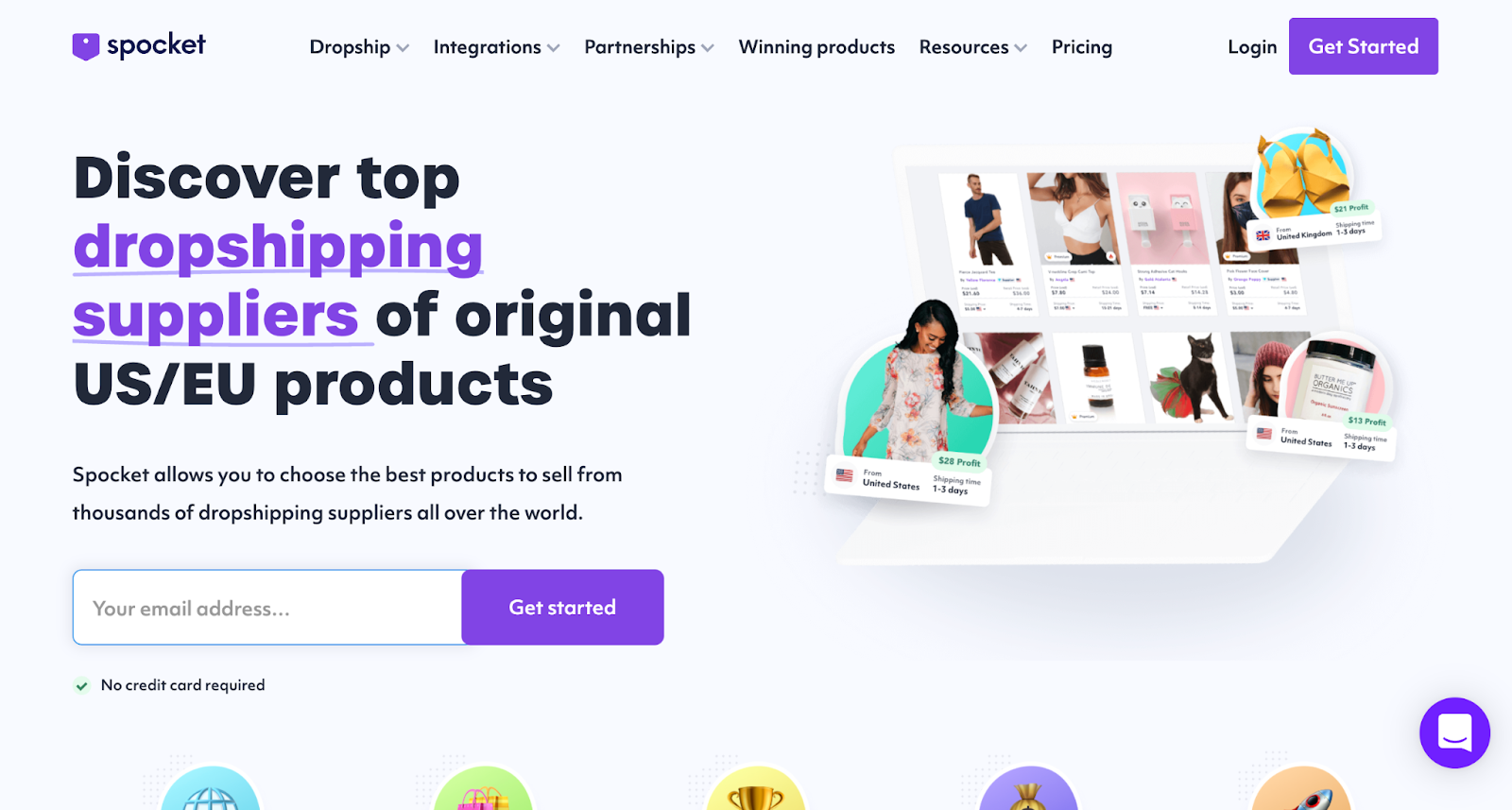 Spocket Shopify tool is actually a huge marketplace that enables you to select top-notch goods and sell them from a variety of vendors all around the world. It links dropshipping suppliers and retailers in the US and EU.
👉 Take a look at the 11 Best Clothing Dropshipping Suppliers In the USA & Europe.
As a result, Spocket is regarded as an application only for dropshippers seeking to offer high-quality goods. When compared to other dropshipping marketplaces, the costs are significantly higher overall.
Spocket is crucial when considering the long-term advantages of a dropshipping business. There is no need to worry about delivery quality because Spocket is in charge of it.
Moreover, Spocket has various benefits, like
High-Quality Products
Trustworthy Suppliers
High-Profit Margins
Fast Shipping
Free Trial and Basic Plan
Sales Automation
Product Samples
Product Customization
👉 Check out Spocket Dropshipping: The Ultimate Guide to Dropshipping With Spocket in the EU & US.
Also, this Shopify tool includes four pricing plans:
Free – $0/month
Starter – $29.99/month
Pro – $49.99/month
Empire – $99.99/month
Best Shopify Tools For Fulfillment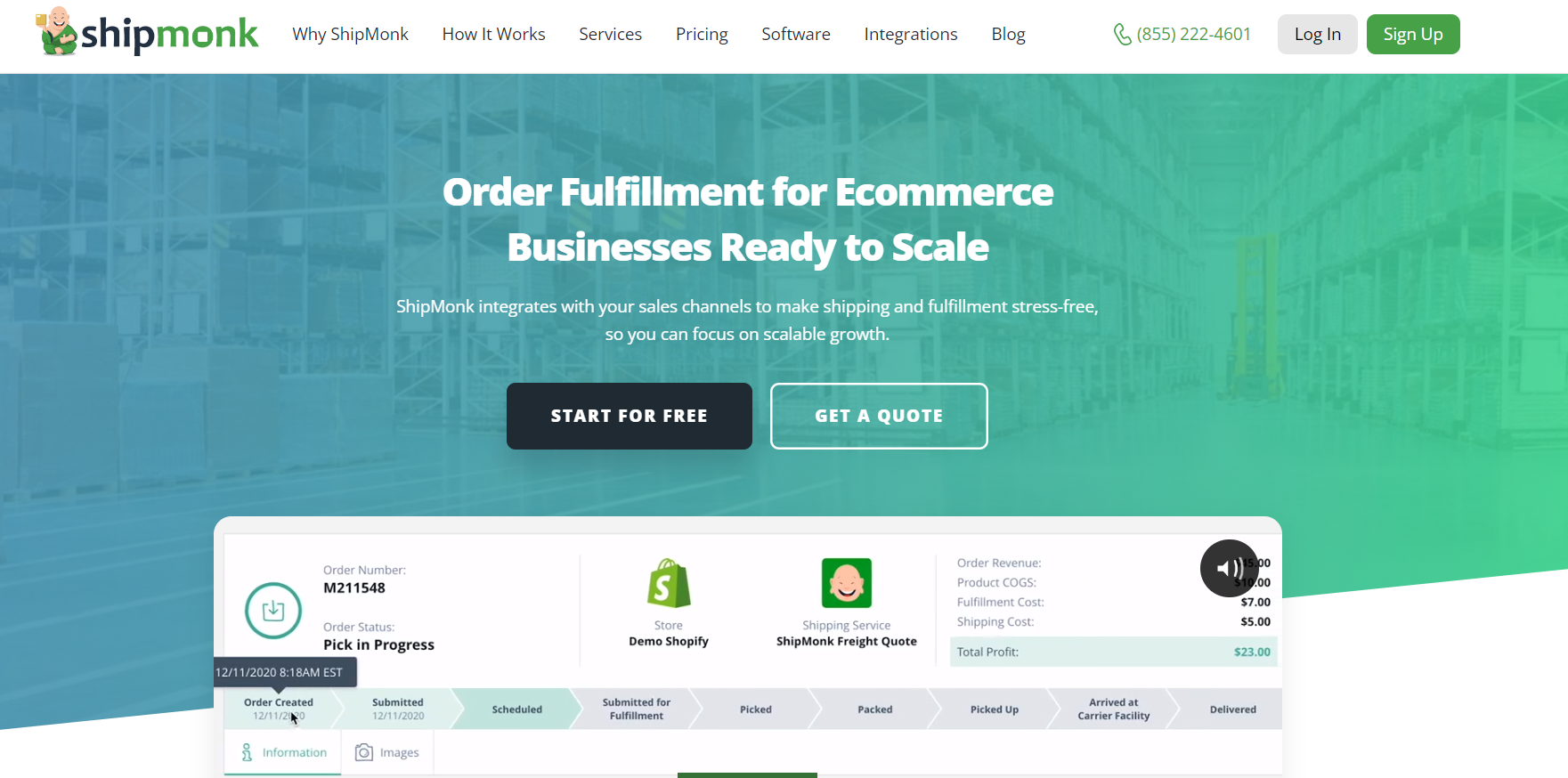 ShipMonk selects, packages, and ships your goods around the world. To make the process of selling products online really simple, this Shopify tool interfaces with hundreds of shopping carts, management tools, merchants, and other platforms.
Definitely, you should give ShipMonk some attention if you're seeking e-commerce fulfillment services with the US and European warehouses.
Moreover, this Shopify tool is compatible with practically all significant e-commerce platforms.
Thus, ShipMonk can manage the whole fulfillment process for businesses of all sizes by combining cutting-edge technologies and dependable software.
ShipMonk's main features are:
Analytics and reports for every order
Order fulfillment automation
Branding services
Extremely flexible services
Inventory management
Subscription box fulfillment
Unmatched customer service
Reliable order tracking
Also, if you want to know the ShipMonk price, you can use ShipMonk's price calculator to estimate their fees and the total costs, or you can get a quotation.
👉 Check out How to Truly Find the Best Fulfillment Company for Your Drop Ship Business.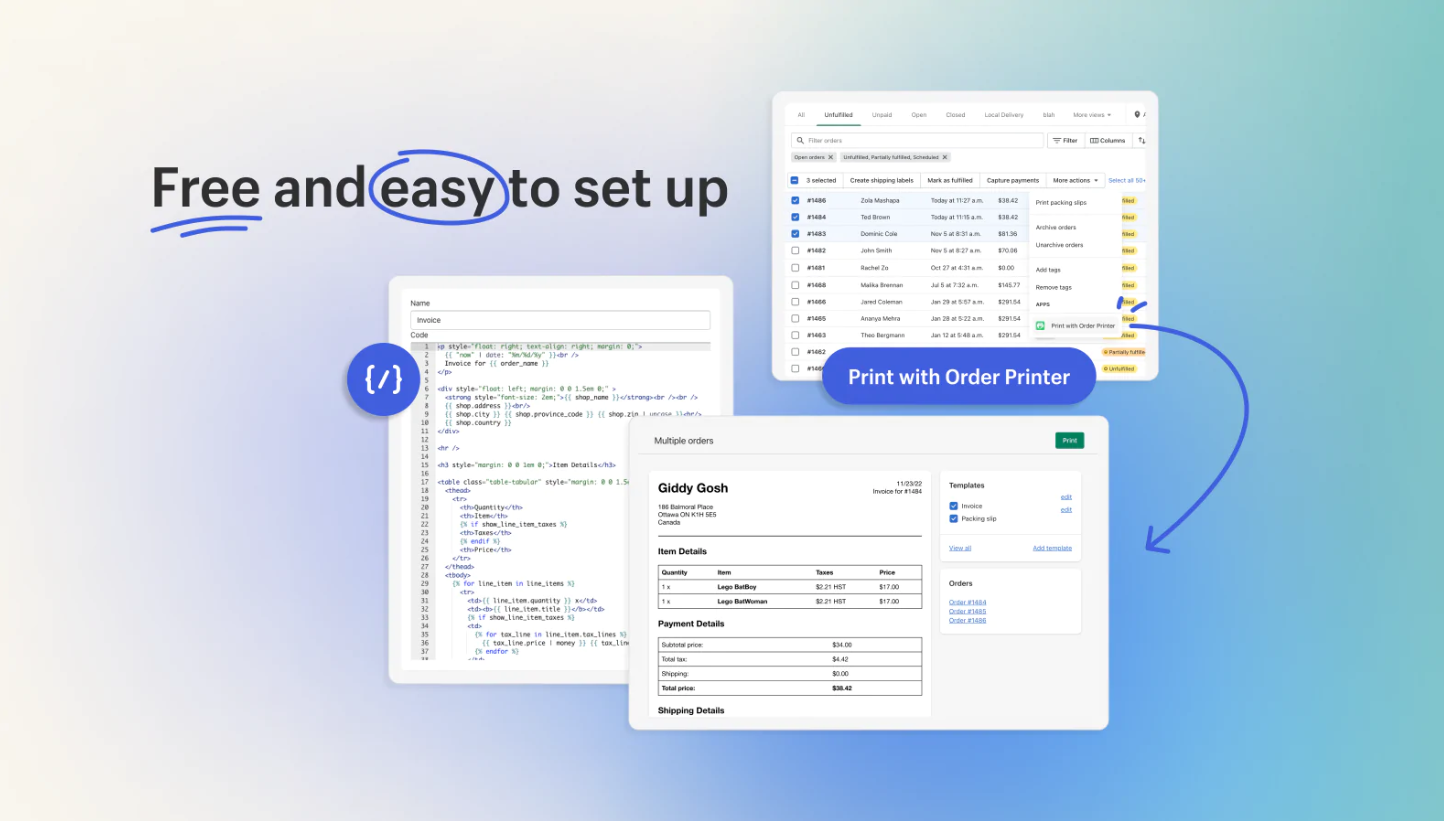 Order Printer is a Shopify FREE tool that enables you to create and print documents from your orders. What's more, it also enables you to print packing slips and receipts in addition to invoices.
However, if you want to modify these pages in any way, even for something as easy as adding your company logo, you'll need a basic understanding of HTML.
Also, if you know how to code, this is good, but if not, you are stuck with the default template. In addition, for those who value design and for firms that are concerned with appearance and branding, this can be a problem.
Not just that, but you cannot send bills to your clients automatically with Order Printer, and the software lacks some advanced features.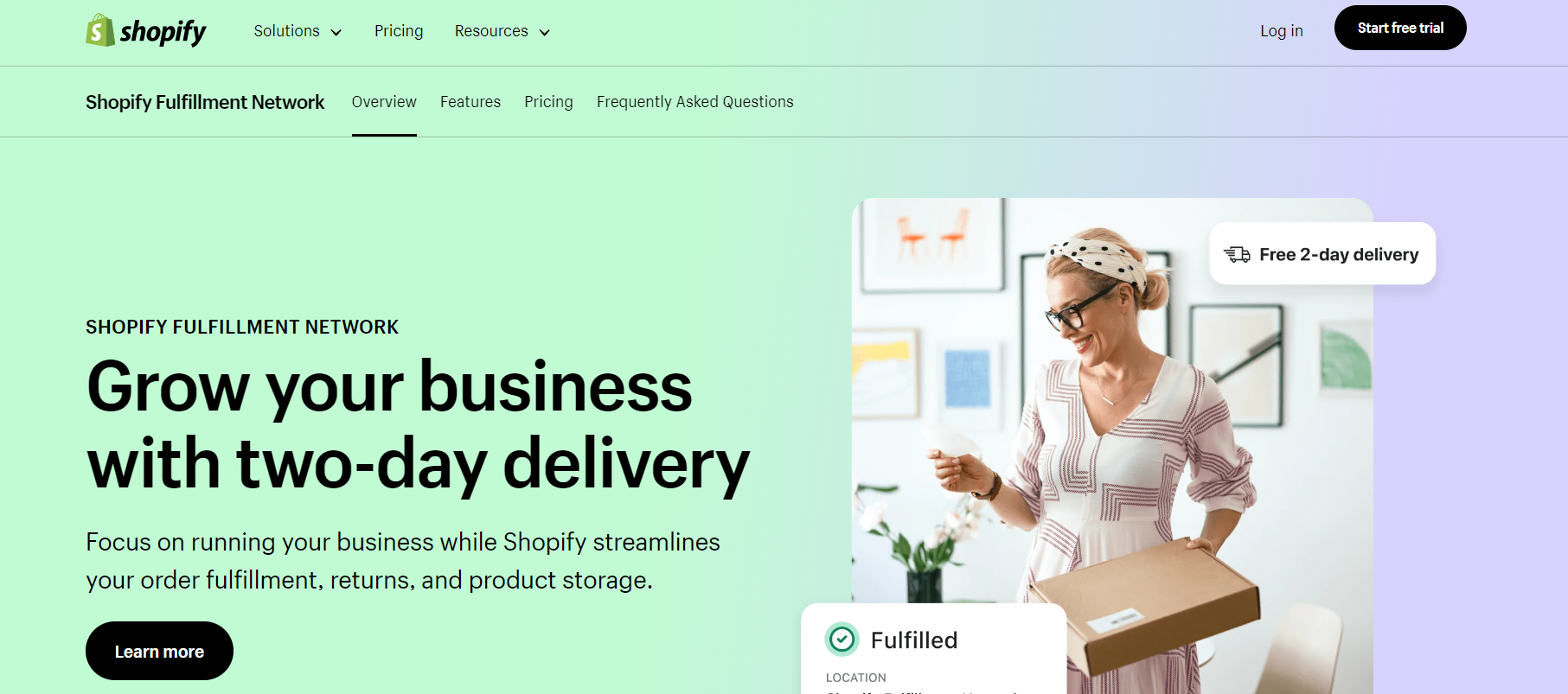 One of the greatest services available is Shopify Fulfillment Network, but only if your business is on Shopify and not on another platform.
Additionally, you are free of paying any upfront storage fees for the first six months if you use Shopify and its Fulfillment Network. So, you only have to pay a charge when Shopify fulfills and delivers a product you've sold to a consumer.
SFN features are:
Two-day delivery
Order packing
Returns Management
Branding services
Inventory management
Order fulfillment automation
Analytics
In addition, take a look at all SFN solutions. 👇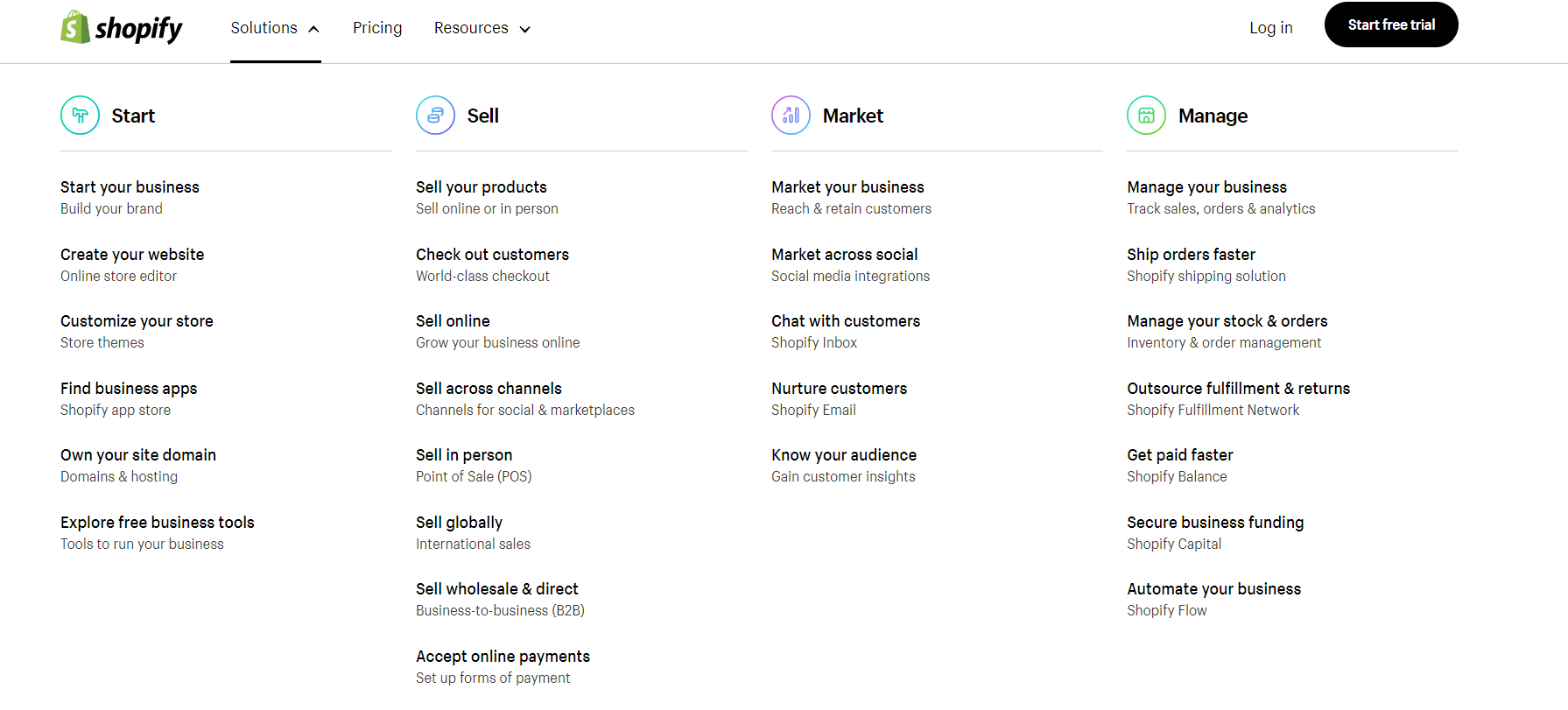 Best Shopify Tools For Merchandising and Print On Demand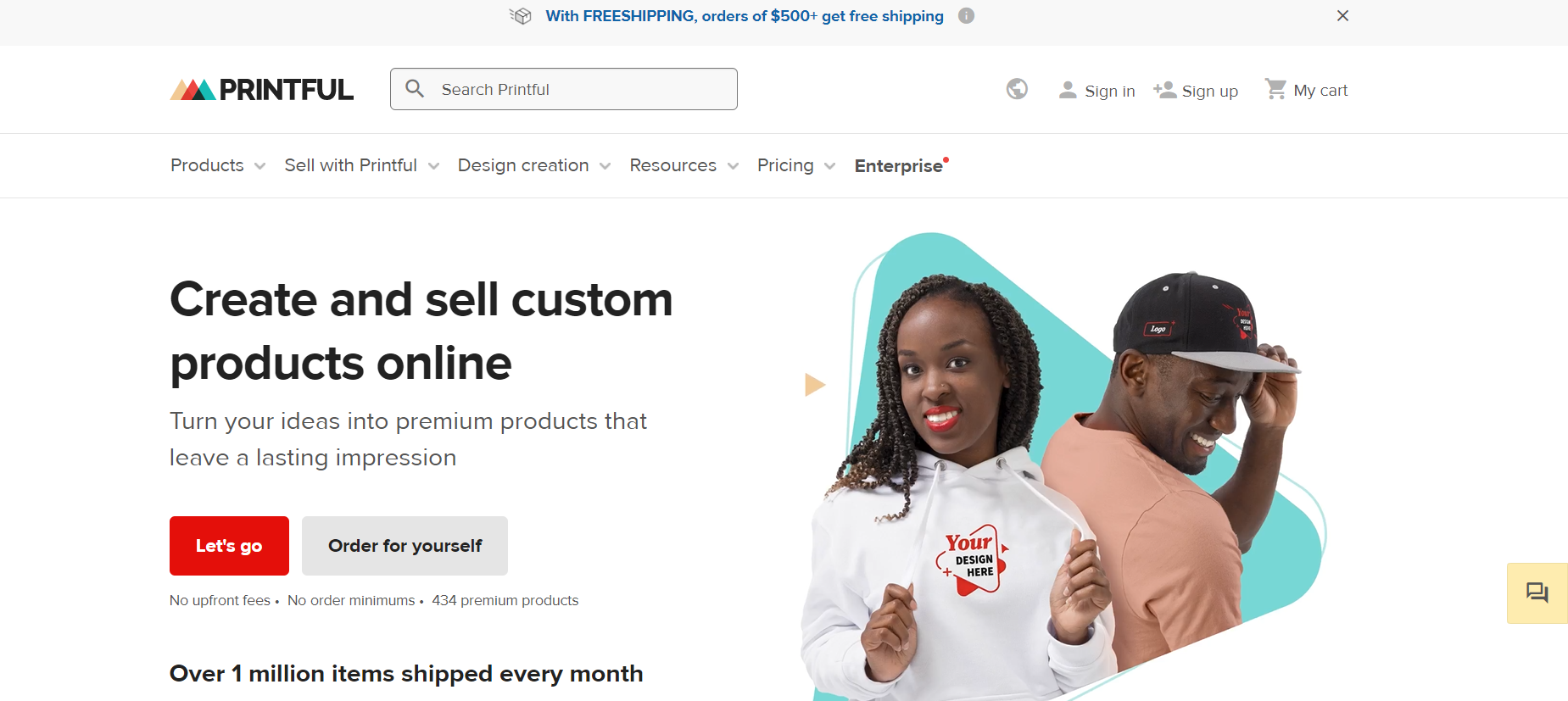 When you first visit Printful, you can quickly look around at every type of product they have available in their catalog.
Hence, Men's and women's apparel, children's clothing, dropshipping headwear, accessories, even pillows, coffee mugs, towels, mouse pads, and much more are all included in this.
Also, you may sell everything from t-shirts and pillows to mugs and accessories thanks to the combination of custom printing and dropshipping.
Printful features include:
Online Store Integration
Suppliers directory
Shipping
Quality
White Label & Branding
Product Categories
Bulk Orders
Customer Support
Plus, the best thing is that you are not responsible for printing or delivery. But, all of that will be handled by Printful. This implies that Printful will automatically process and send a customer's order when they place it.
Furthermore, you may use their on-site mockup generator to see precisely how your designs will appear on the products.
Next, Printful offers three pricing plans:
FREE plan – $0/month, includes everything you need to run your dropshipping store, premium products, and built-in tools.
PLUS plan – $9/month includes Printful's main features and tools, plus premium design and marketing tools
PRO plan – $49/month, includes everything in the Plus plan, free embroidery file digitization, free premium stock images & more.
👉 Check out Print on Demand Dropshipping: Apliiq vs Printful – Which is Better?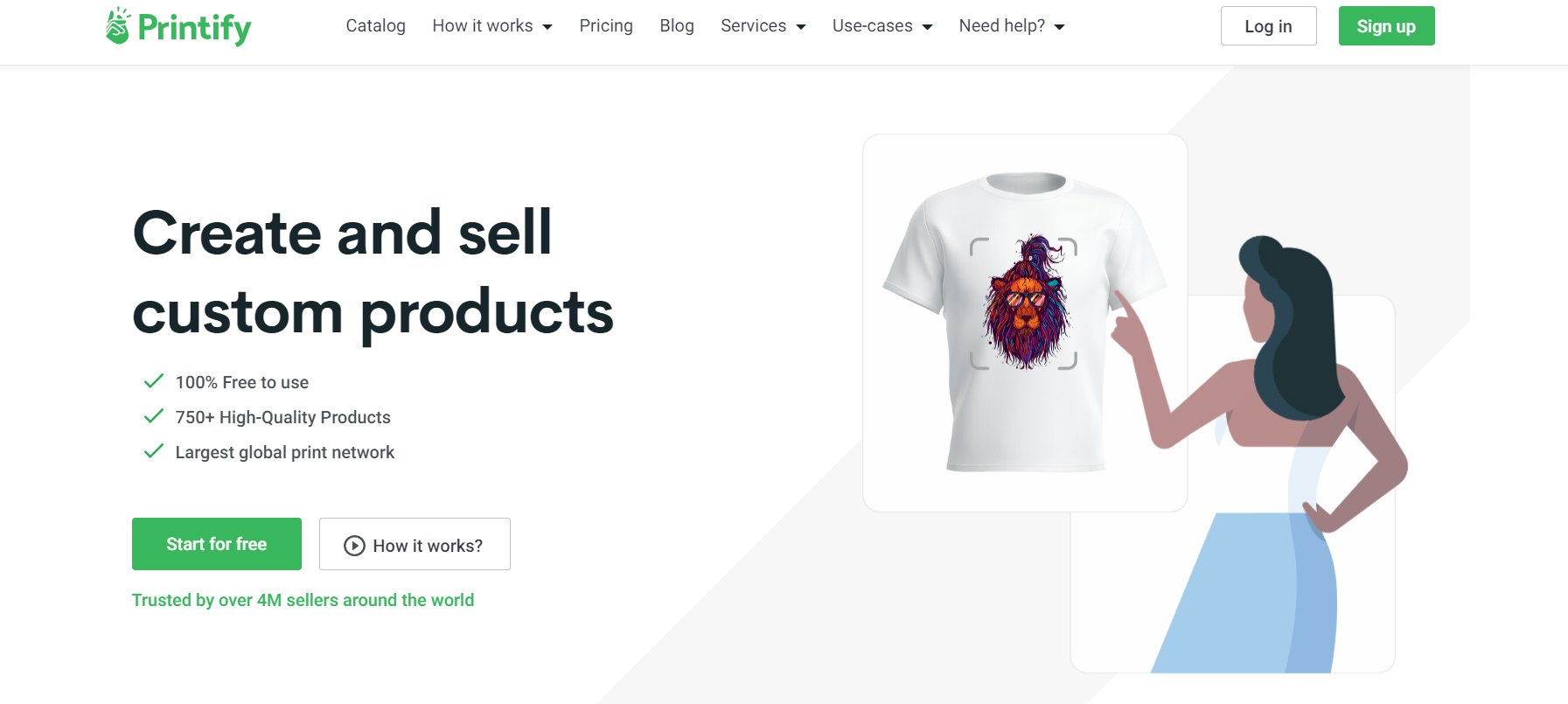 Printify is very similar Shopify tool with Printful, even though their names are extremely similar. But, behind the curtains, a lot of other distinctions between them.
👉 Check out Printful vs Printify – Which Platform Is Better for print on demand dropshipping?
First off, Printify also provides a fantastic tool for creating mockups of your designs that you can completely tweak. But, this Shopify tool appears to have a more straightforward editor and user interface.
In addition, Printify offers a wide range of products, such as accessories and home decorations, as well as clothes for men, women, and children.
Also, Printify integrates with the biggest eCommerce platforms, like Shopify, Etsy, WooCommerce, eBay, and more.
But, keep in mind that this Shopify tool doesn't create its own merchandise as Printful does, and this can affect the quality of the products.
Lastly, Printify offers three pricing plans
Free Plan – $0/month
Printify Premium – $24.99/Month
Enterprise – Custom Pricing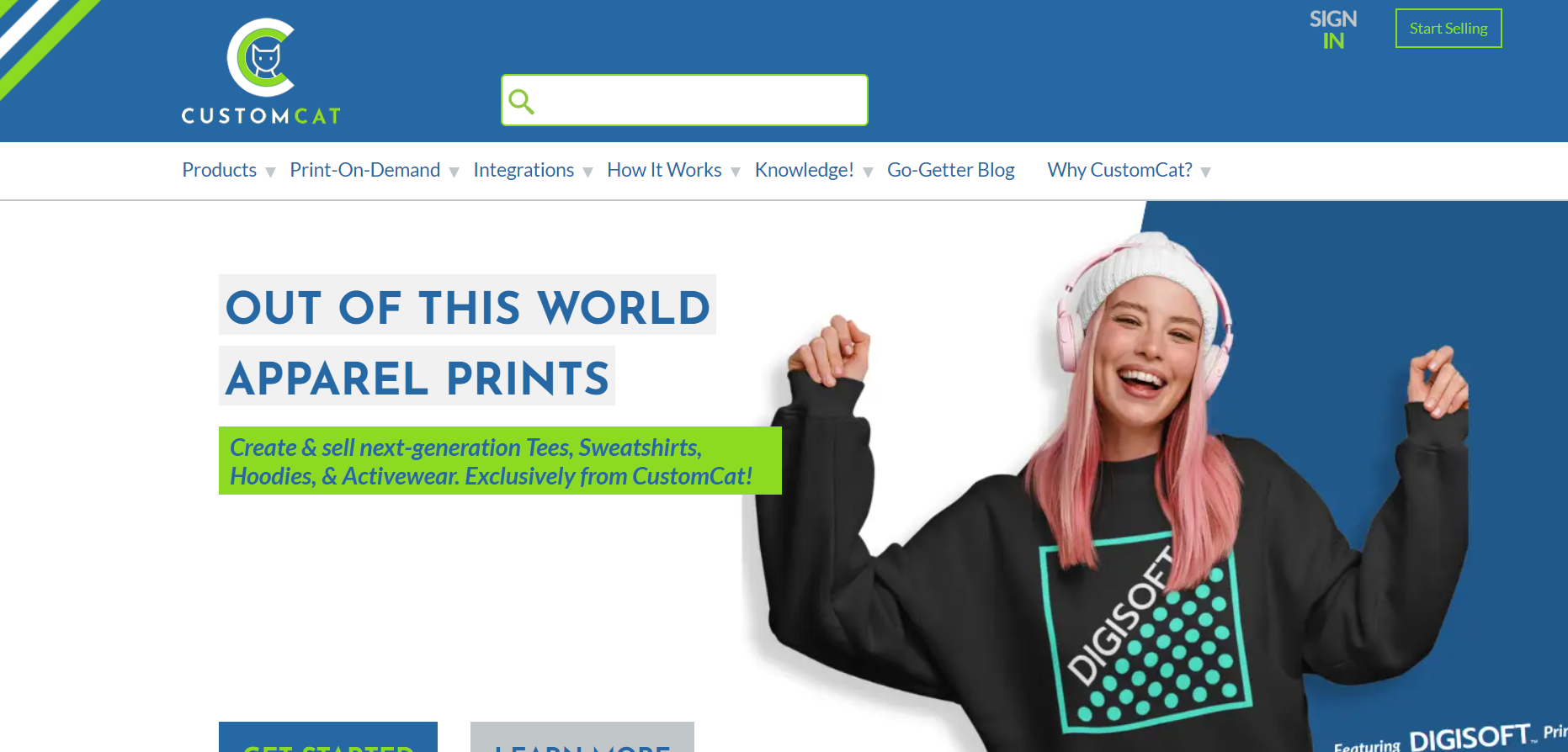 CustomCat is one of the best Shopify tools which has a 600-person crew working for them. More significantly, drop shippers have access to more than 10.000 product SKUs.
Also, it has one of the largest product catalogs. They will provide hundreds of items that are ready for branding and logos.
Additionally, they provide direct-to-garment printing, 3D dye diffusion, unique embroidery, and reasonable rates.
👉 Take a look at The 10 Best Print-On-Demand Dropshipping Companies.
Best Shopify Tools For Managing Orders And Shipping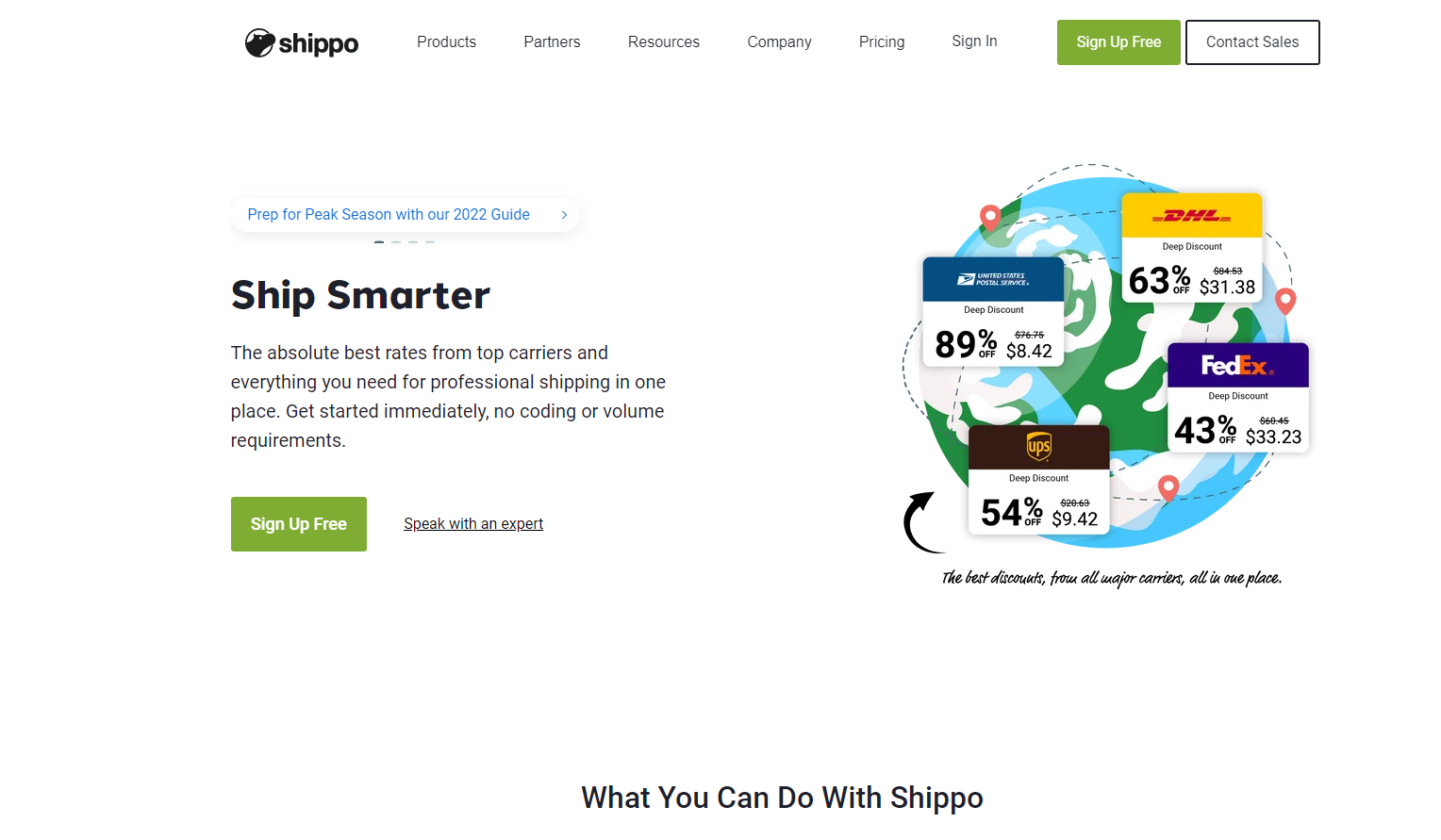 Shippo is a useful SaaS platform that streamlines the management of the order fulfillment process for dropshipping businesses.
This Shopify tool helps companies keep track of their inventory, and shipping expenses, and even develop relationships with suppliers.
Additionally, Shippo makes fulfillment simpler by forging a strong link between your company and shipping activities.
Through its customized API, the platform is connected with its online enterprises. From there, they link with some of the most well-known worldwide carriers, like FedEx, UPS, DHL, USPS (priority mail, etc.), and many more.
Shippo Main Features:
Ease of use – it is very simple to use, and it's a well-structured tool
Order Management – Shippo offers numerous options for managing various selling channels. Also, it operates as a central platform that allows the privilege to arrange order fulfillment across all of your channels.
Managing Carriers – Shippo is a US-based order fulfillment service, but it also offers shipping choices to almost every country.
Integration & Add-ons – Shippo has integrations with a variety of marketplaces, eCommerce platforms, and shipping providers.
Furthermore, this Shopify tool offers three pricing plans:
Free – 30-days Free
Starter– $10/month
Premium– you should contact them for pricing.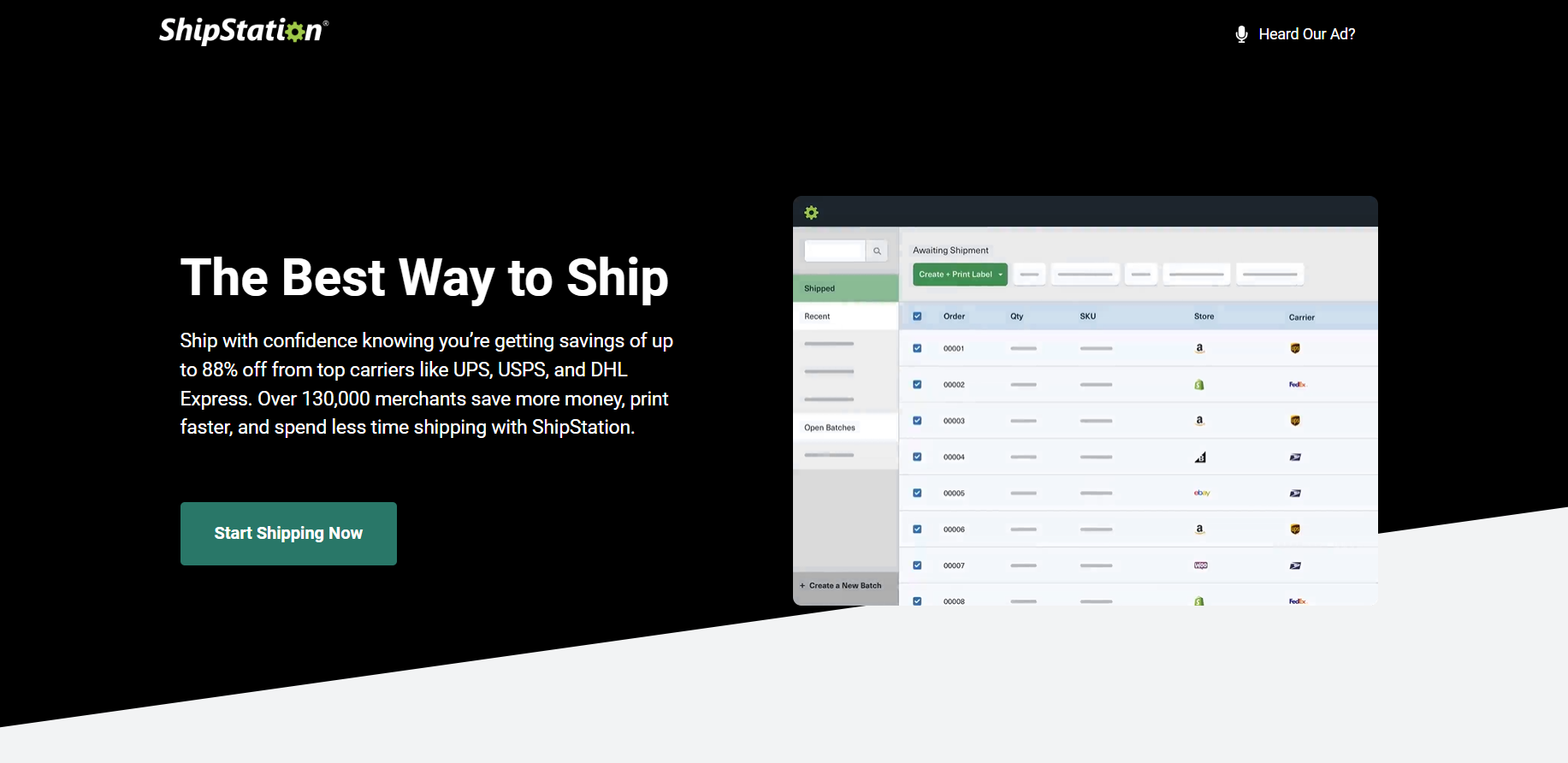 ShipStation is a multi-carrier web-based solution that helps you automate and handle orders from the most popular shopping carts and sales channels. What's more, it speeds up the fulfillment process.
👉 Check out Shippo vs Shipstation: Extensive Comparison For Dropshippers.
Additionally, ShipStation automatically interacts with shipping services, e-commerce sites, shopping carts, and a range of other crucial sales channels.
Also, this Shopify tool enables you to use its complex capabilities to organize order data, work with several shipping providers, track shipments, and more, by linking numerous accounts to a single subscription.
ShipStation has the same features as Shippo, but they are slightly different in usage:
Ease of use – ShipStation has a more sophisticated, but more complex platform than Shippo. But, it provides you with an automatic onboarding assistant that helps with system training.
Order Management – This Shopify tool has three different types of automation: service mapping, product automation, and automation rule.
Managing Carriers – ShipStation offers various integrations with significant carriers like Hermes, DHL, Fulfillment by Amazon (FBA), Canada Post, Royal Mail, UPS, and FedEx.
Integrations and Add-ons – ShipStation is the best platform for integration since it offers more than 270 app integrations.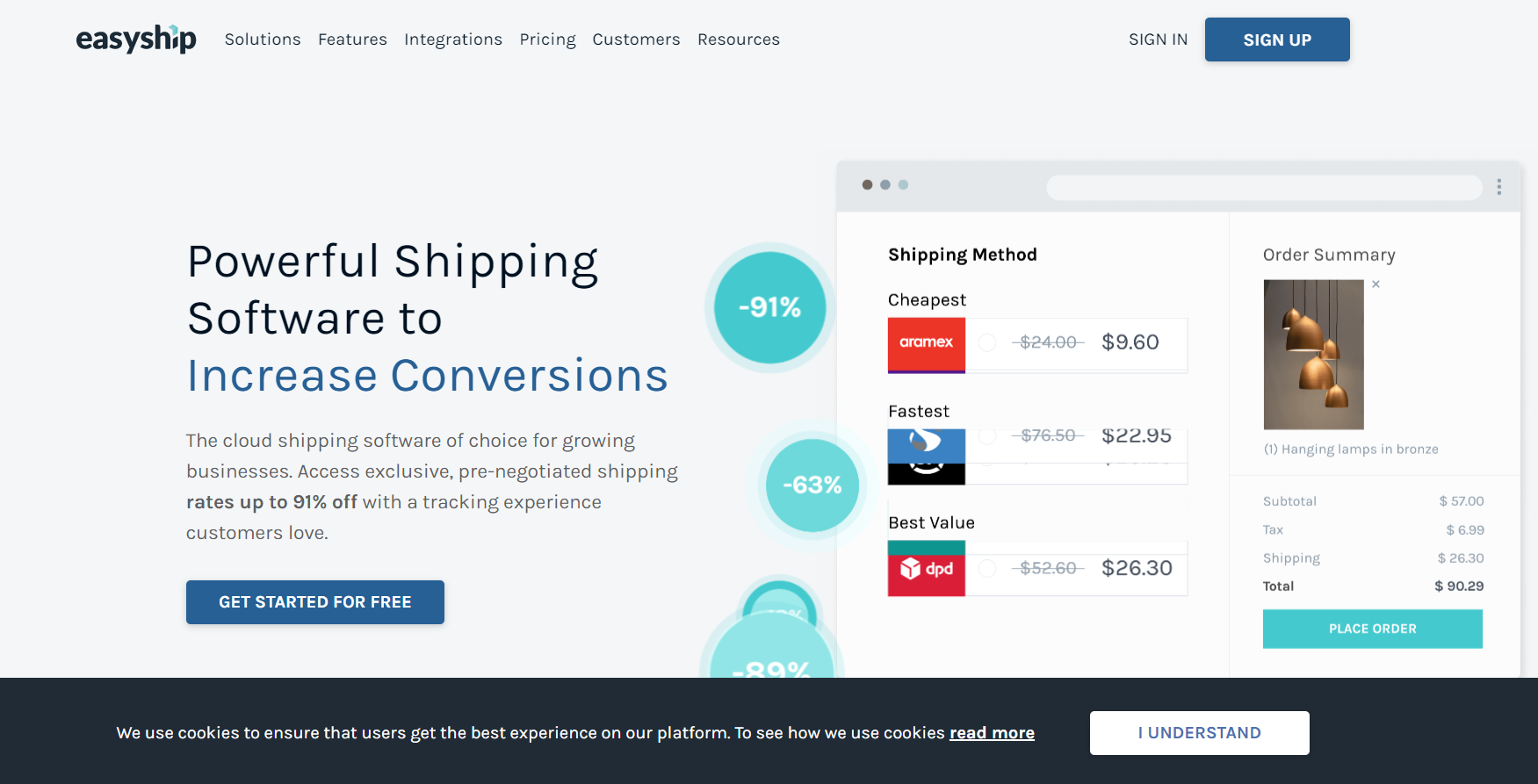 EasyShip Shopify tool is one of the best cloud-based platforms for saving your time and shipping globally.
Thus, the first of many qualities that make it the ideal option for overseas Shopify dropshipping companies is that they provide you access to more than 100 international firms.
At Easyship you will find automated order updates and synchronization, one-click label printing, USPS discount rates, and streamlined tax and duty calculations.
However, the list of features you can take advantage of are:
Shipping Dashboard
Discounted Shipping Rates
Global Fulfillment
Duties & Taxes Visibility
Branding Suite
Optimized Store Checkout
Easyship Collect
Shipping Insurance
Next, Easyship has three pricing plans:
Plus Plan starts at $29/month (up to 500 shipments)
Premier Plan at $49/month (up to 1500 shipments)
Enterprise pricing is available upon request
Best Shopify Tools For Reporting For Your Business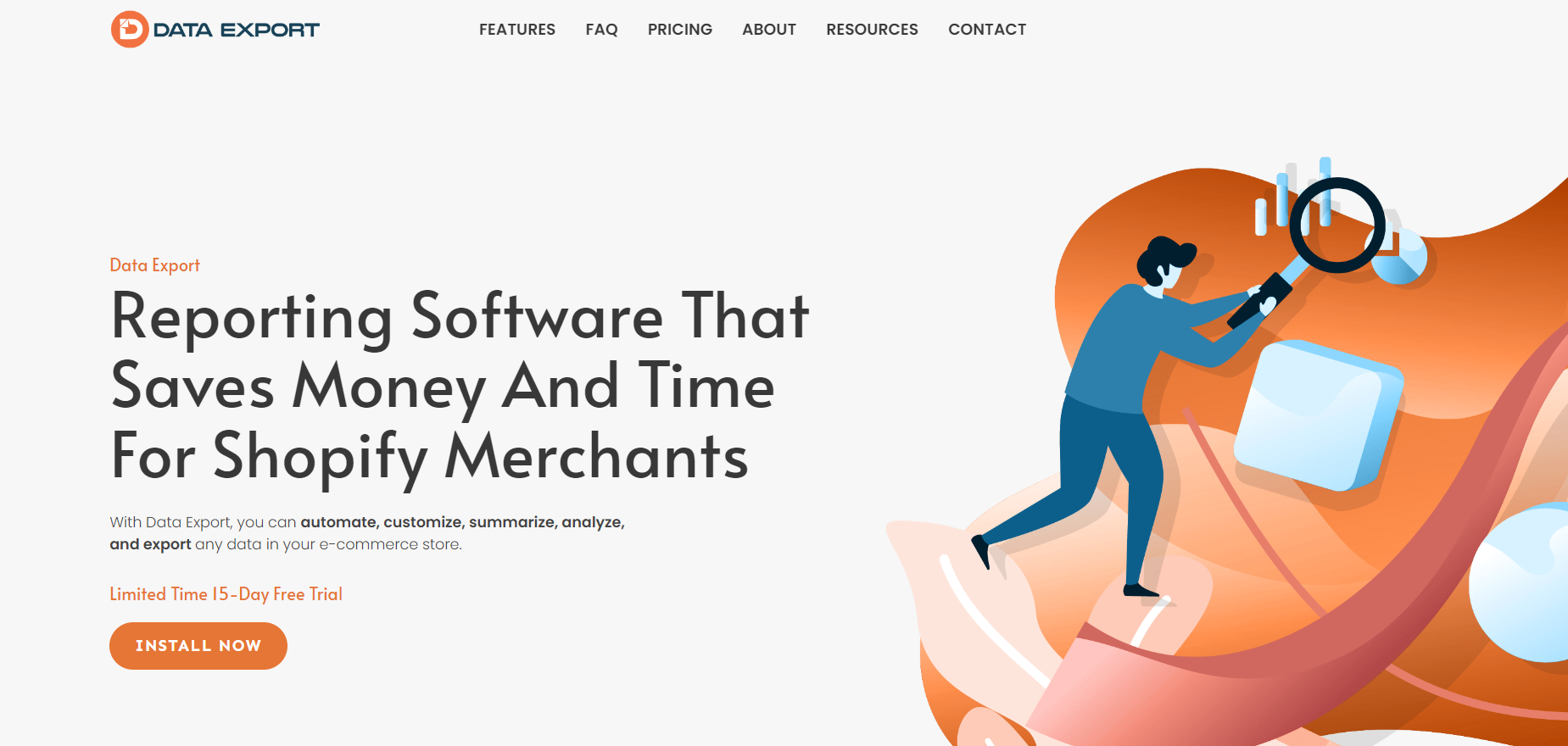 Data Export is a tool that enables you to report and evaluate sales, product, marketing, customer, Dropshipping accounting, tax, and transaction data, for many online store operators.
Since Shopify supports more than 100 different field types, you may extract any data from your online store. Not just that, but you can also export the data in every file type.
Additionally, you may see certain aspects of your store's e-commerce data with this Shopify tool, or you can summarize the same details.
Data Export IO features:
Live Record Preview – It lets you see data instantly before downloading it for export.
Expert Assistance – You receive free assistance from Expert Assistance in preparing your first report.
Easy automation – You may plan data sends by email, FTP, etc.
Line Item Level Detail – Access information based on specific product SKUs
Summary Level Detail level – Easily summarize records by Day, Week, Month, etc.
Next, this Shopify tool offers five different pricing plans:
Free – $0/month
Basic – $7/month
Shopify – $12/month
Advanced – $25/month
Plus – $35/month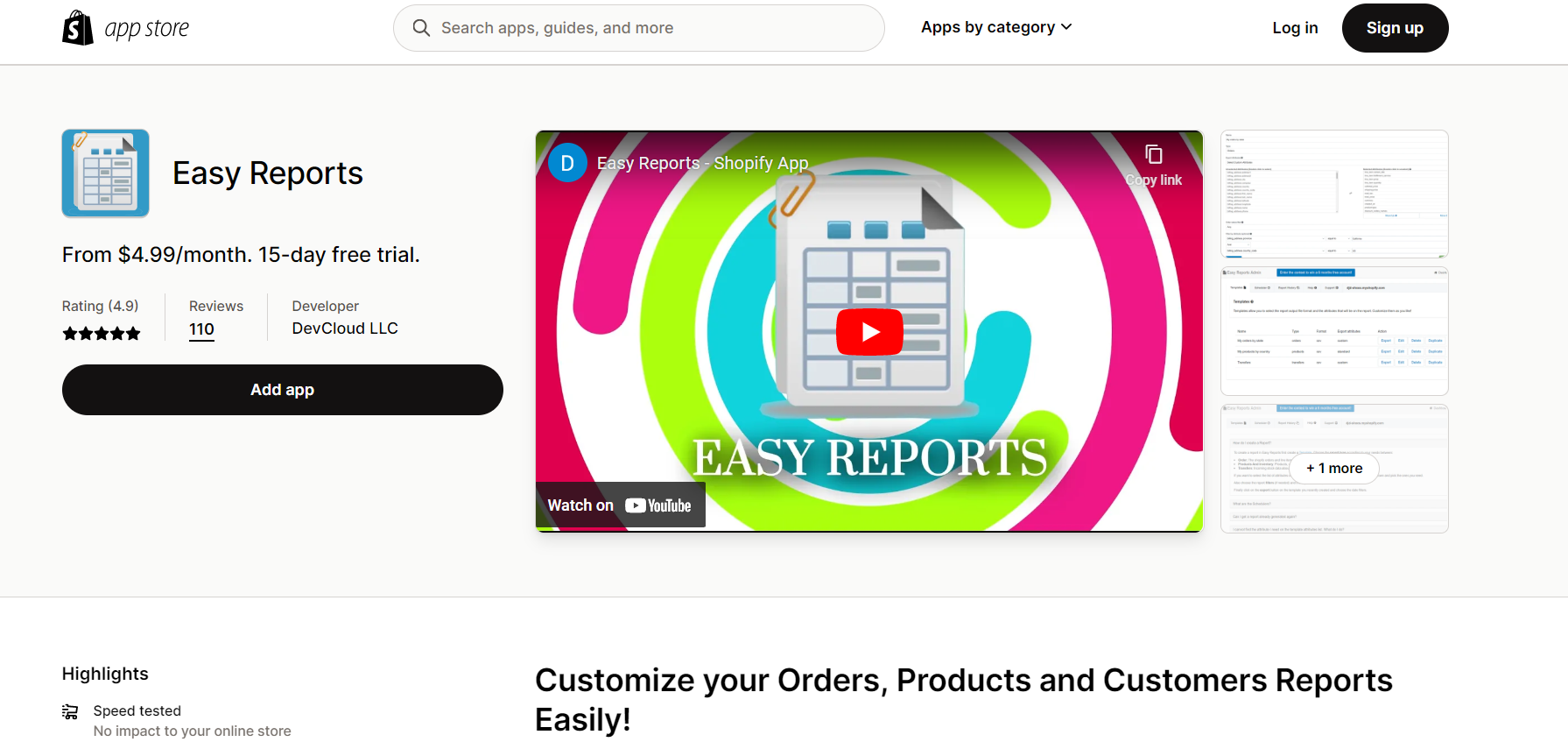 Easy Report is an ERP-connected MIS and reporting automation tool that makes it easier to create reports.
Hence, you can easily and adaptably create reports about your Shopify orders, goods, inventory, and customers.
Additionally, you may choose any order, line item, product, variation, or customer characteristic that your report may require.
Plus, you can add filters to your output data. Next thing you know, the report will be generated for you by Easy Reports in a matter of seconds.
Besides, you may choose the output format among XLS, CSV, PDF, and JSON.
This Shopify tool has four pricing plans, and all of them contain all of the features :
Basic plan – $4.99/month (for stores on the plan "Basic Shopify")
Standard plan – $9.99/month (For stores on the plan "Shopify")
Advanced plan – $19.99/month (for stores on the plan "Advanced Shopify")
Plus plan – $99.99/month (for stores on "Shopify Plus")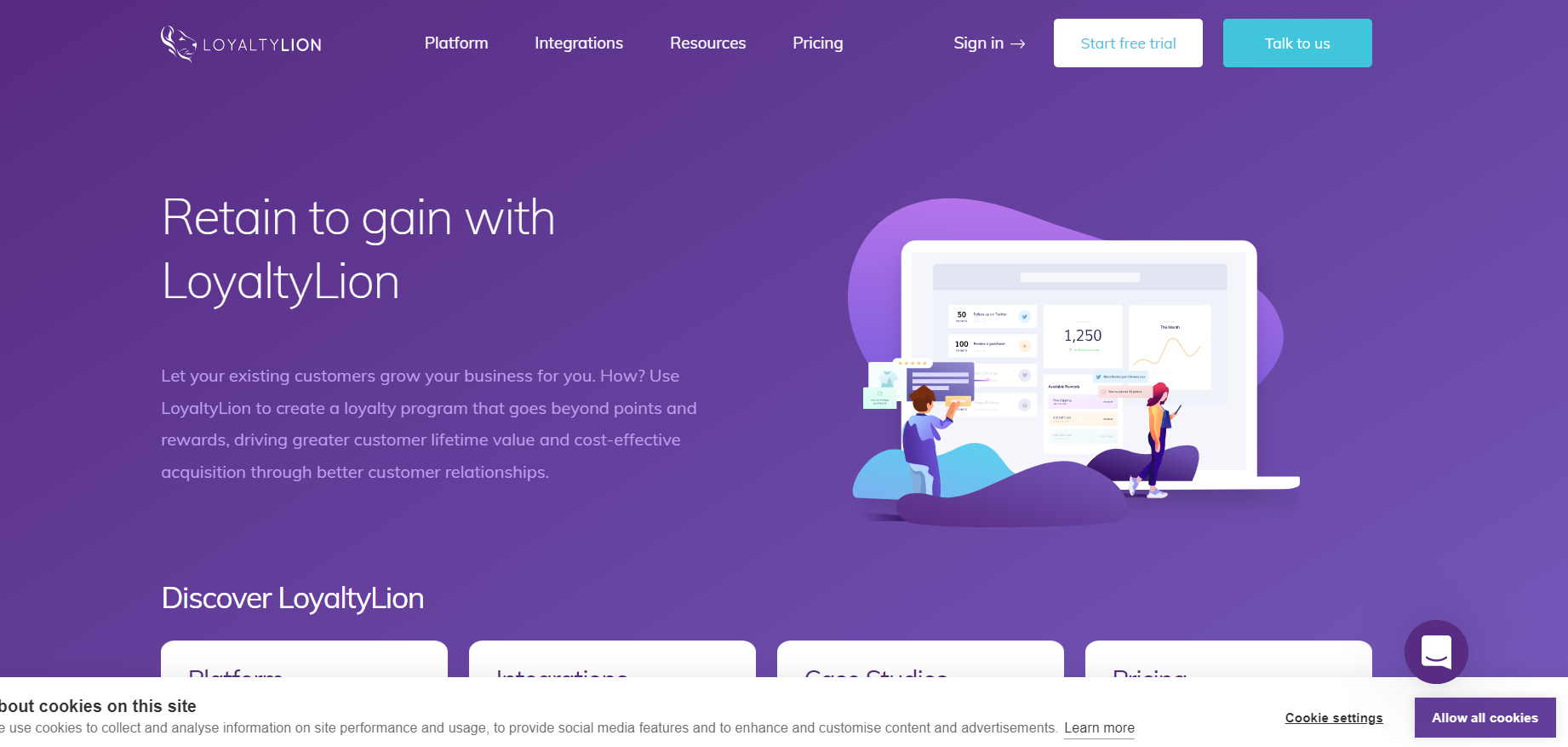 LoyaltyLion is a Shopify data-driven platform for loyalty and engagement, that drives global e-commerce companies' sustainable development.
As a result, LoyaltyLion is used by e-commerce businesses to develop loyalty programs that go beyond points and awards, increasing client lifetime value and enabling more cost-effective customer acquisition.
Additionally, by encouraging them to choose to engage actively with your business, this Shopify tool assists you in generating more income from your current clients.
Moreover, this Shopify tool has various amazing features, like:
Advanced features ( In-Cart Rewards, Instant Points, and Tiers)
Referrals
Integrations ( Shopify Plus, Shopify, Magento, BigCommerce, Shopify POS, API)
Customization
Customer Communications
Loyalty program analytics
Next, when it comes to pricing, we must point out that this tool is expensive, and not everyone can afford it. Thus, it offers three pricing plans:
Classic – $399/month
Advanced – $729/month
Plus plan – $1650/month
Best Shopify Tools For Marketing In General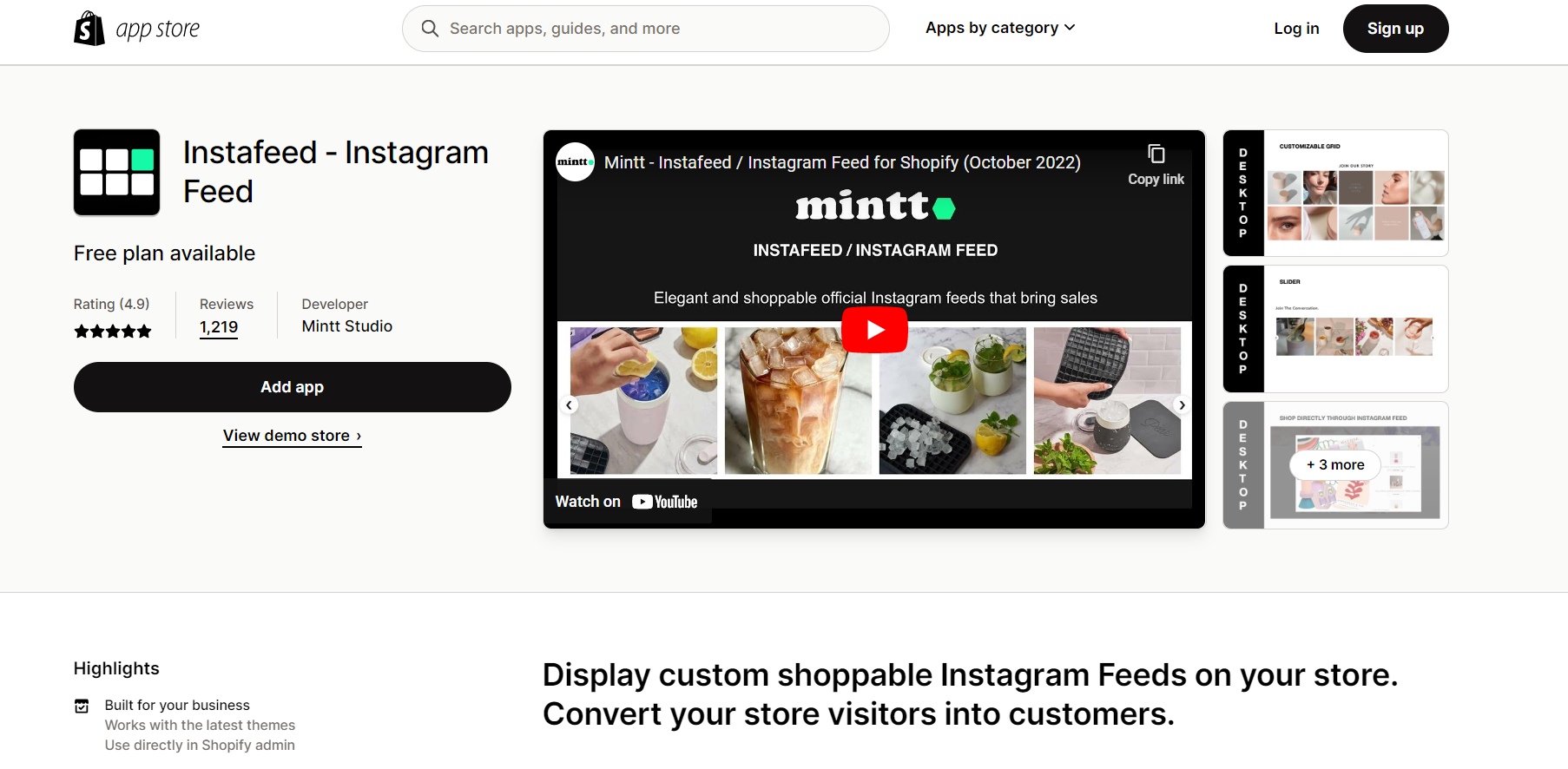 This is one of the best Shopify tools that automatically update your store with the most recent posts from your Instagram feed. What's more, you can choose to just show particular items.
Additionally, you can quickly and precisely integrate minimally, sophisticated Instagram feeds into your store using Mintt – Instafeed.
In fact, Instafeed also contains advanced features like shoppable feed and IGTV, regarding of the majority fundamental features like grid and slider layouts and likes displays.
To sum it all up, with Instafeed features you can:
Display posts, like photos, reels, and videos in a grid or slider format (squares or tiles)
Filter your articles with hashtags
Layout adjustments may be made manually or automatically based on visitor screen resolution.
Mobile-responsive rows and columns
Create shoppable Instagram feeds by including several product tags in your posts.
Plus, this Shopify tool is consistent with all Shopify themes and doesn't impact website speed.
Instafeed offers three pricing plans:
Free – $0/month
Pro plan – $4.99/month
Plus plan – $19.99/month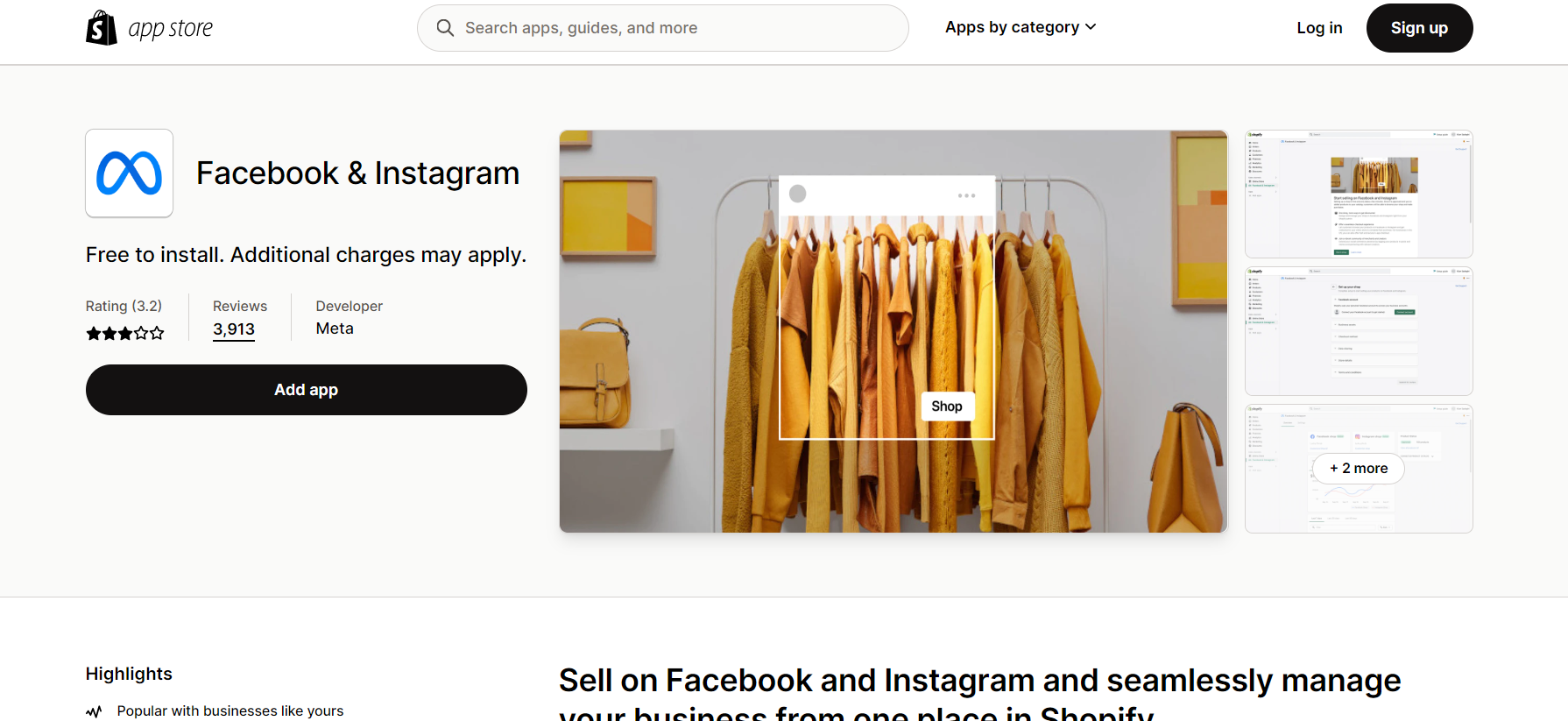 Shopify Facebook & Instagram Shopify tool lets you sell and market your dropshipping products where your customers are.
Actually, you can sell from a single inventory while quickly posting advertising and shoppable posts by automatically syncing your suitable Shopify items to your Facebook and Instagram shop.
Therefore, on Facebook shops, this tool enables you to:
Customize your store on Facebook Shops and give it your Shopify store style and feel.
Create collections and group different things in your inventory, to make it easier for customers to find your products,
Manage your Shop across all platforms or manage a unique shopping experience for Facebook and Instagram in one location.
👉 Check out Facebook Marketplace Dropshipping: How to Dropship on the Facebook Marketplace In 2023.
Also, on your Instagram shops, you can:
Promote your company and products to the 1 billion Instagram users who are looking for the latest trends.
Eliminate obstacles to purchasing and offer a consistent in-app shopping experience from product discovery through checkout.
Sell from a single inventory – Use a single product inventory that syncs with all of your selling channels.
Allow clients to explore and purchase your items directly from the Instagram app.
💡 Tip: Learn more about Instagram Marketing for Dropshipping (Step-by-step guide).
Furthermore, the app installment is free, but you can have additional charges later on. Hence, most of the charges depend on your marketing campaign budget that you personally set.
However, selling your products on Facebook and Instagram with Shopify is free, because these channels are included as part of your Shopify plan.
Plug in SEO Shopify tool, as its name suggests, keeps an eye on your Shopify store and makes sure SEO performance is good.
Once installed, the app will automatically detect all SEO aspects of your store – including keywords, speed, blog content, broken links, and other SEO issues – so you don't need to check pages individually. This is one of the best Shopify apps for SEO.
Next, the Plug-in SEO Shopify tool can send email alerts when an SEO issue is detected. Then you will know there is an SEO problem you need to fix in your Shopify store. Moreover, it will offer you free instructions and code snippets to fix SEO.
Lastly, Plug in SEO allows you to check and improve SEO for more organic traffic. With it, increasing your sales by getting more organic traffic is easy.
In fact, the Plug-in SEO Basic Scanning is free for you to use. However, to get more features from this Shopify tool, you should purchase its premium version for $29.99 per month.
Also, this Shopify tool has two other pricing plans: $49.99 and $79.99.
Best Shopify Tools For Sales And Conversion Optimization

Sales pop-ups (developed by CareCart) compel viewers to act by generating a sense of urgency. Actually, this Shopify tool was created with the thought that the customer buying behavior depends on this pop-up, or the decision to click away or purchase the goods.
Next, with Sales Pop-Up you can select from a variety of pop-ups for your Shopify store, including stock countdown bars, countdown timers, and sales notifications.
Additionally, the app displays recent order alerts to show visitors what other customers are purchasing. As a result, there is an increase in FOMO, or fear of missing out.
Furthermore, the tool also provides customizable sales pop-ups, where you can select from a variety of designs and alter the appearance of the pop-up so it can match your dropshipping store layout.
This Shopify tool has a 14-day free trial. Also, you can get it for only $4.99/ month.
👉 Check out the 10 Tips for Writing Content That Will Level up Your Dropshipping Store.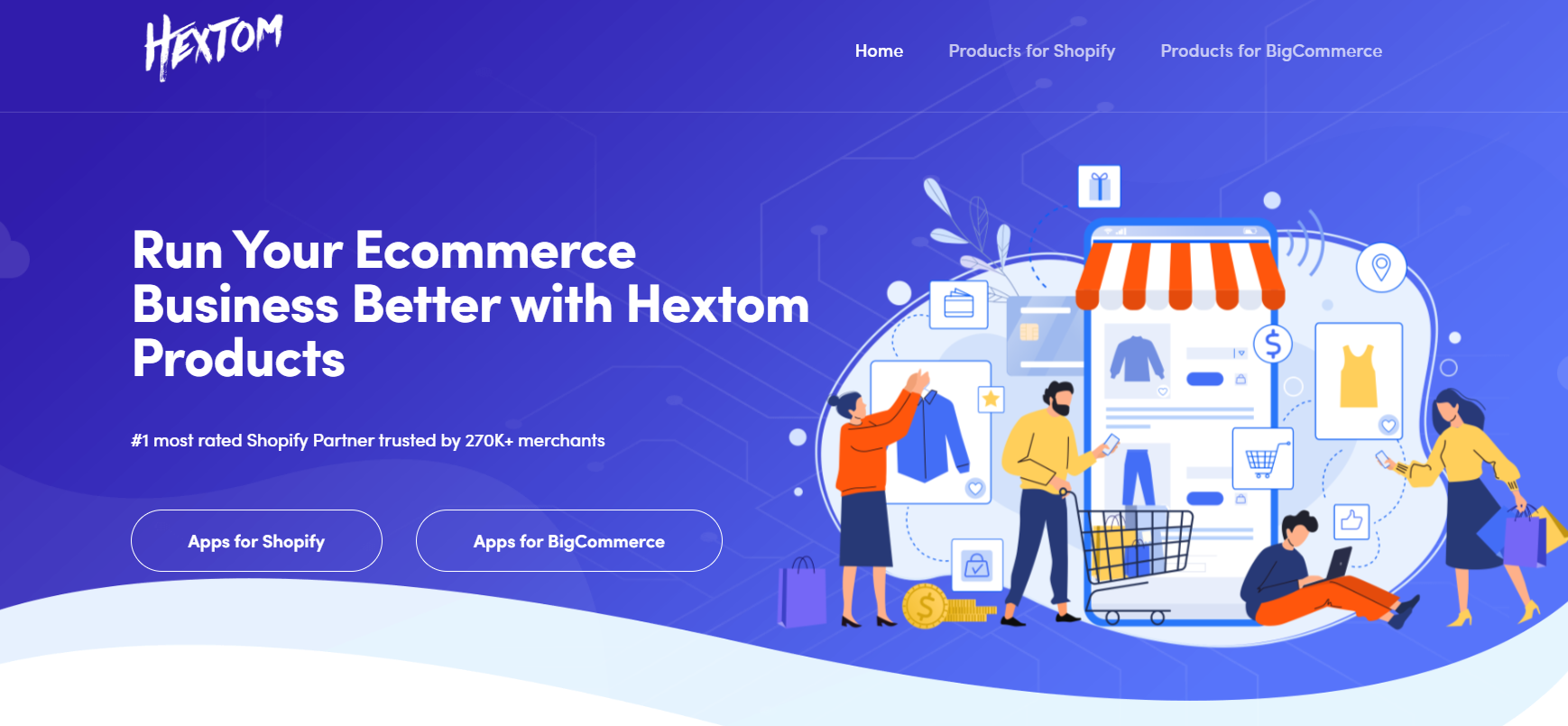 The sole purpose of the Hextom Free shipping bar tools Shopify is to enable you to design a free shipping bar for your online store.
Also, this is one of the best tools Shopify provides.
Thus, in order to inform consumers how much more they need to purchase in order to receive your free shipping. So, the Free Shipping Bar shows progressive messaging as customers add more products to their shopping carts.
Additionally, the bar is totally customizable and offers sophisticated targeting options like geographical location, customers, pages, etc.
Hextom features include:
Displaying progressive messages when customers add more products to their shopping cards
With geotargeting, you can present various offers to customers in various countries.
Make sure your shipping offers are displayed in the proper currency by using currency detection.
Make all of the bar's adjustments to suit your store's design.
Also, Hextom Free Shipping Bar offers two pricing options:
Free – $0/month
Premium – $9.99/month

Fortunately, there are many Shopify dropshipping applications available to boost sales and conversion rates.
ReConvert Upsell & Cross-Sell is a dropshipping Shopify tool specifically designed to assist you in customizing your thank you page and converting one-time visitors into loyal clients.
In particular, it gives you access to tools like reorder buttons, post-purchase surveys, tailored suggestions, and countdown clocks and lets you create your landing page using a drag-and-drop builder.
Additionally, you can track sales, place repeat orders, provide bundle-style cross-selling, and more with the ReConvert thank you page.
Not to mention that you may immediately re-engage clients who have just completed a purchase with this app.
Besides, ReConvert's conversion-focused post-purchase upsell funnel may help you increase AOV and boost each sale's profit.
Also, this Shopify tool has a 30-day free trial, and offers four pricing plans:
Upsell BASIC – $4.99/month
Upsell PREMIUM – $7.99/month
Upsell PREMIUM PRO – $14.99/month
Upsell ENTERPRISE – $29.99/month
Best Shopify Tools For Sourcing And Selling Products
DSers is one of the best Shopify tools for AliExpress dropshipping. Also, this Shopify tool is the official partner of AliExpress.
Plus, DSers AliExpress dropshipping tool is the best AliExpress dropshipping tool that makes it easy to start and operate a successful dropshipping store on Shopify. Not to mention that it is a great automation tool for a dropshipping store.
Furthermore, this Shopify dropshipping tool helps dropshippers find better suppliers in a few seconds. When doing an online dropshipping business, store owners have to think about earning more margins. Therefore, DSers Supplier Optimizer comes here to reach out to better suppliers for the items.
In addition, with another feature – Variants Mapping, dropshippers can add more than one supplier for one product. The feature is useful when the main supplier is out of stock. The owners can continue selling with other suppliers' inventory.
What DSers can provide is more than this. This Shopify tool is also good for managing multiple stores, tracking orders, and placing 100s of orders with a click.
DSers provides users with a free plan with basic features for newcomers. And if dropshippers want to scale their dropshipping business, they can reach an advanced plan at $19.9/month. Explore all DSers pricing plans.
Also, read about Spocket vs Oberlo vs DSers vs AliDropship: Which One to Pick in 2023? (A Comparison).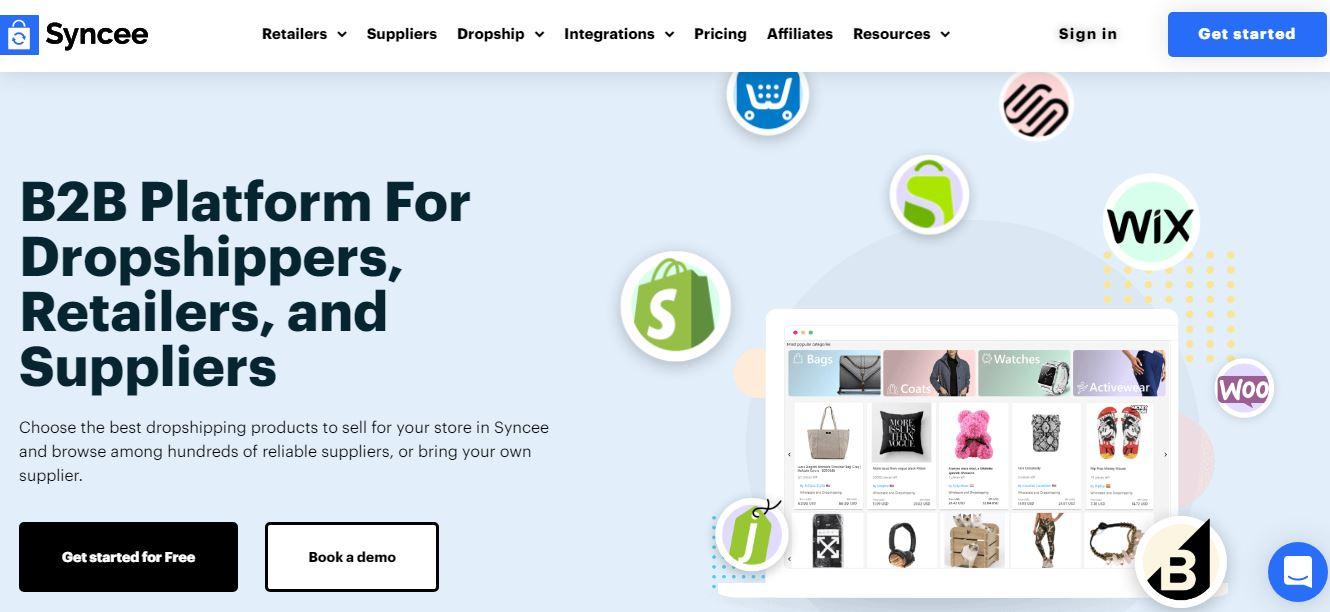 Syncee tools Shopify is a B2B platform where you can search through millions of items in a variety of categories, and also chooses trustworthy dropshipping suppliers from places like Europe and the US.
What's more, it's simple to identify local dropshipping companies that offer quick delivery.
Basically, Syncee integrates with several eCommerce platforms such as Shopify, Wix, WooCommerce, BigCommerce, Squarespace, Ecwid, and hundreds of dropshipping suppliers.
So, all you have to do is one-click order fulfillment, product importing, and automatic inventory management.
Given this, we can claim with certainty that Syncee may be a full dropshipping solution for your dropshipping business.
Additionally, this Shopify tool has no upfront registration fees. Also, they let you speak with vendors, and narrow your search.
Lastly, Syncee has four pricing plans:
Starter Plan – $0/month
Basic Plan – $29/month
Pro Plan – $49/month
Business Plan – $99/month
AliDropship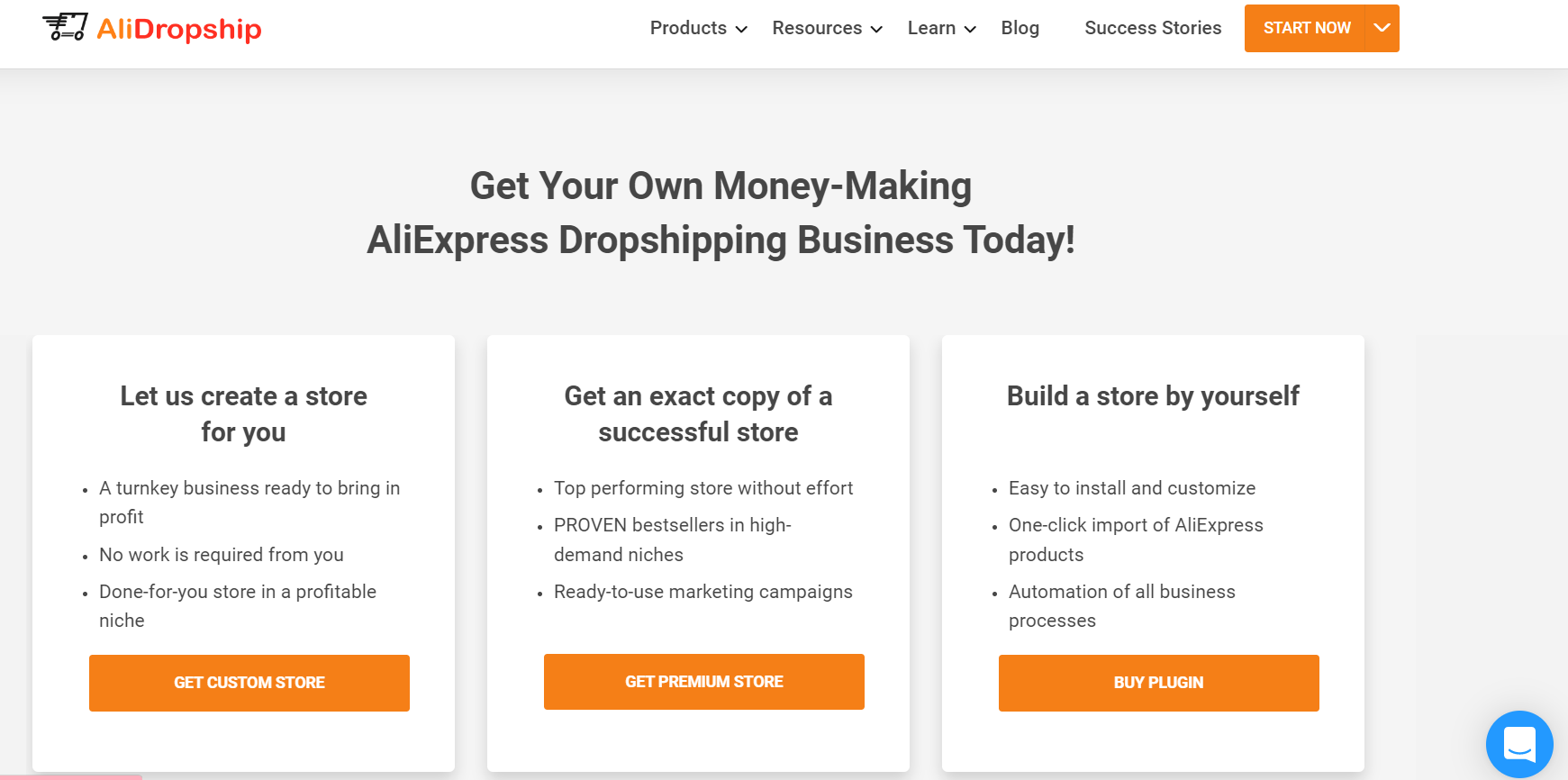 With AliDropship tools Shopify, you can quickly incorporate their technology into your website thanks to a WordPress plugin and a Shopify app that links to your store.
It is very simple to use and undoubtedly increases the cost-effectiveness of dropshipping on AliExpress.
Additionally, AliDropship makes integrating with a few platforms, like WooCommerce, AliExpress, WordPress, and Shopify, very simple.
However, AliDropship is not just about finding products and adding them to your store, but also you can:
An Artificial-Intelligence tool to improve your store and product catalog
Pre-built custom dropshipping stores
Store hosting, setup, and support services
Countless add-ons for improving your store
Help with marketing
Get access to tested and proven premium products that sell better
Lots of high-converting store themes
A chrome extension for extra convenience
Lastly, this Shopify tool has a 7-day free trial, and its pricing starts at $19.99.
Best Shopify Tools For Store Conversion Optimization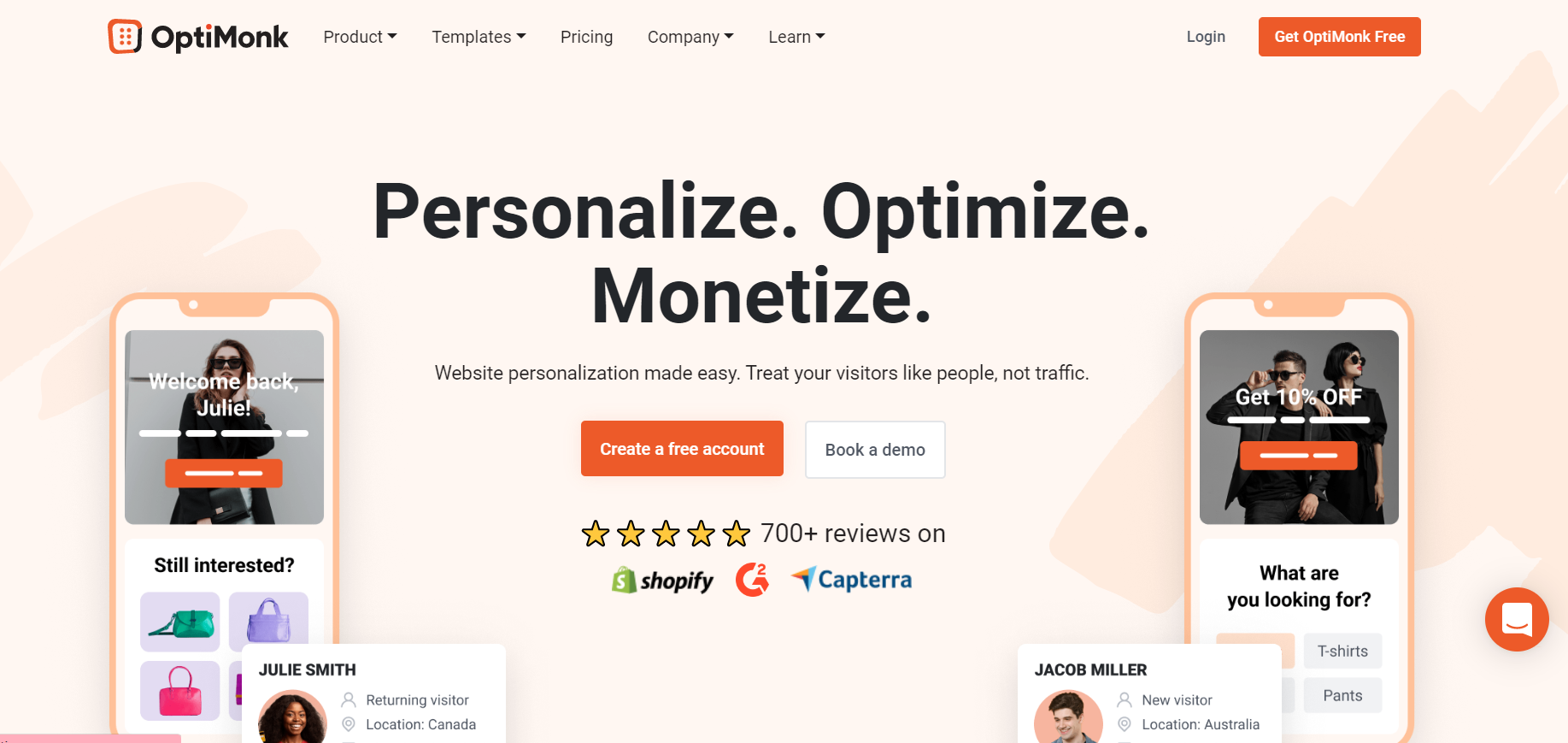 OptiMonk is a Shopify tool that enables you to design pop-ups and improve your dropshipping conversion rate. This Shopify tool can increase your sales by helping you turn website visitors into paying clients.
What's more, it allows you to advertise dropshipping items, limited-time offers, and much more.
OptiMonk features:
High-converting themes
No-code Editor – Create popups from scratch or adjust pre-built templates quickly.
Theme Kit – Create your own on-brand template collection.
Point & Click Placement – Choose where to place embedded content on your website with no coding needed.
Custom Javascript & CSS – Insert custom CSS or JavaScript code to customize your popups.
Custom Input Fields – Gather any data you need with campaigns above first name and email address.
Live Preview – you can check your campaign before it goes live.
Saved styles like design buttons, text blocks, discount codes, and other campaign elements.
Also, you can have OptiMonk for free, but if you want to have advanced features, their pricing plans start at $39. Check other pricing plans here.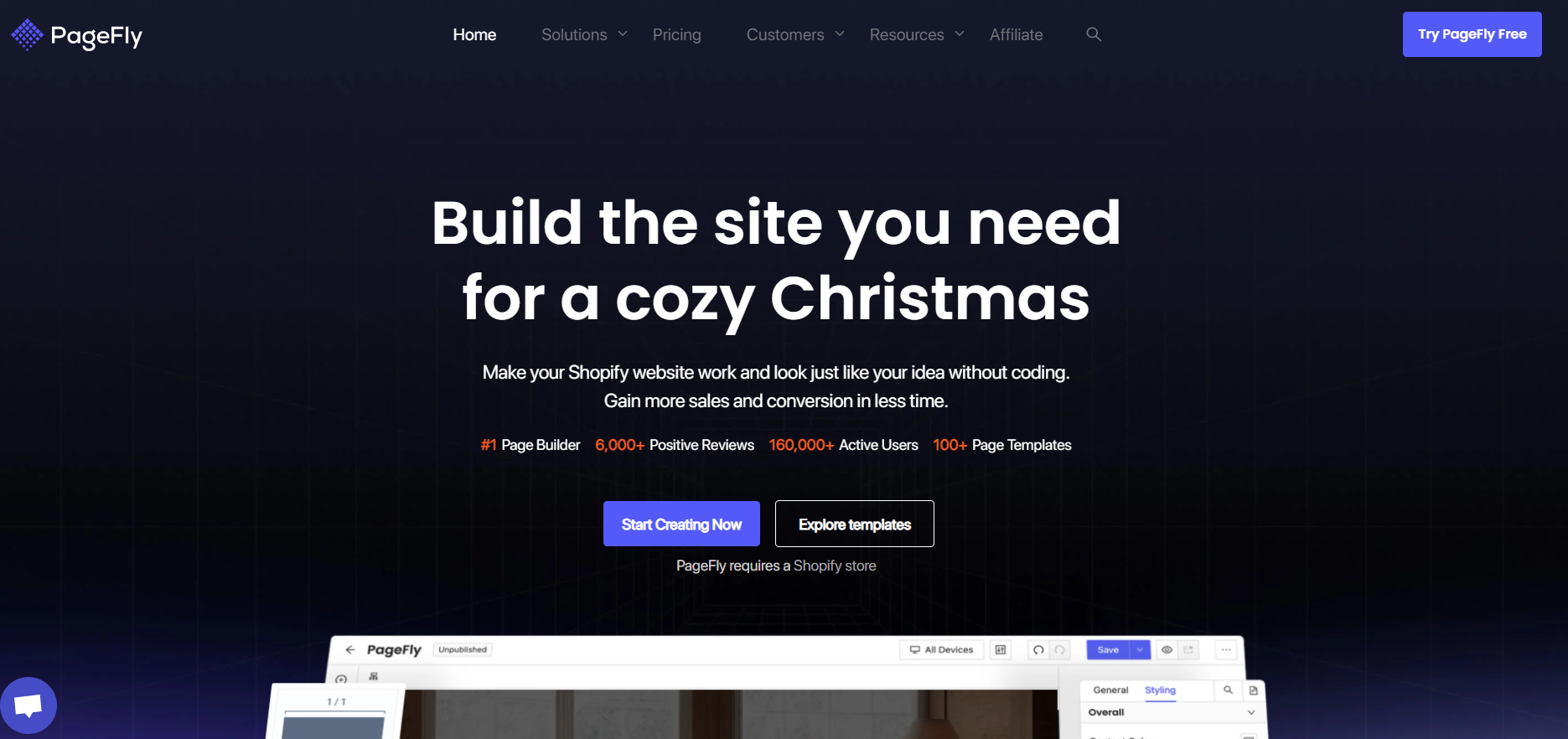 To begin with, the Pagefly Shopify tool is actually a straightforward drag-and-drop Shopify page builder. You may design your own special Shopify pages with this tool.
Without writing any code, Pagefly enables you to create landing pages, password pages, product pages, blog post pages, collection pages, and more.
Additionally, you may export your pages as HTML files and manually submit them to your dropshipping store or publish them right away.
👉 Read the FULL PageFly Review: Website Builder To Customize and Optimize Your Shopify Stores.
Not to mention that this Shopify tool provides a selection of layout elements and parts, which are what give each page a beautiful appearance and simple navigation.
Most importantly, this amazing tool assists your dropshipping business in enhancing SEO results and managing any form of a marketing campaign, such as
Creating FOMO to increase and speed up conversions
Get references and information that might help you build trust.
Integration with well-known Shopify apps in a number of areas, including reviews and ratings, subscription, email marketing, push notifications, upsell and cross-sell, order tracking, etc.
A drag-and-drop editor that includes Slideshow, Tabs, Accordion, and Hero banner components to rapidly alter the appearance of your business.
Use a Sale Countdown Timer, Custom Forms, a Low-in-Stock Badge, an Add to Cart button, and a pricing comparison to increase conversion rates.
Your social media presence is seen by users.
PageFly offers three pricing plans:
Free – $0/month
Pay as you go – $29/month
Enterprise – $199/month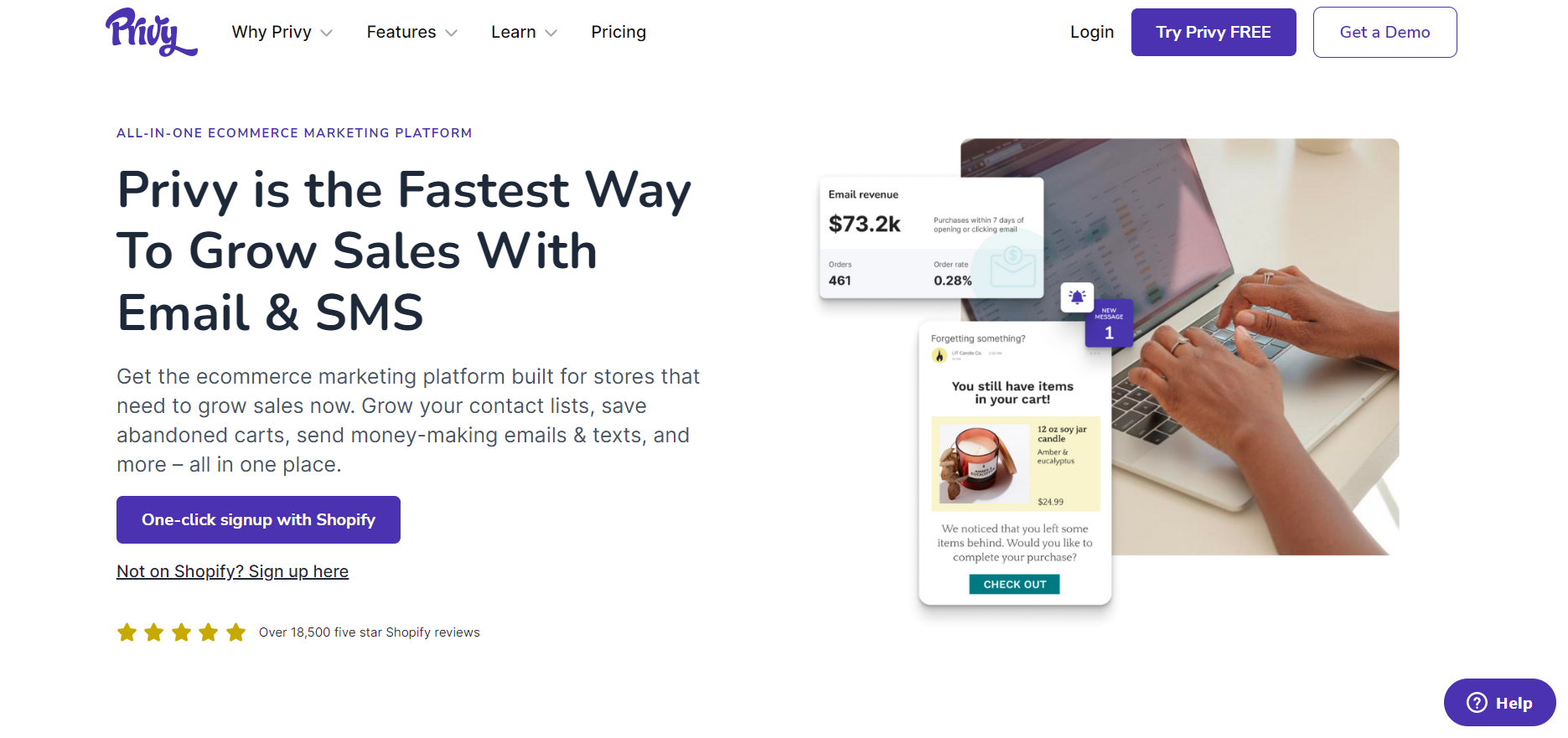 Privy is a free Shopify tool that is designed primarily to promote online sales with focused on-site advertisements including pop-ups, banners, bars, and automated emails.
Using traffic from your website, online shop, social media platforms, mobile users, and in-store customers, this Shopify application helps you expand your email list. Furthermore, none of this requires any coding or programming expertise.
Nonetheless, this Shopify tool has a long list of features, including:
Newsletters
Cart Abandonment
Customer Winback
Welcome Emails
List Growth
Spin to Win
Cross Sell
Free Shipping Bar
Privy Text
Broadcast
A/B Testing
Auto-responders
Campaign management
Contact management
Drip Campaigns
Dynamic Content
Email Marketing
Event-triggered actions
Landing pages/web forms
CAN-SPAM Compliance
Mobile commerce
Promotions management
Segmentation
Subscriber management
WYSIWYG Editor
Additionally, this application integrates with a number of well-known email and eCommerce platforms, including Magento 2, Shopify Plus, Bigcommerce, Klaviyo, Mailchimp, Bronto, Dotmailer, Hubspot, and WooCommerce.
Privy offers a 15-day free trial that includes all display types, targeting rules, design features, and more. However, for higher-traffic businesses, pricing starts at $15/month. Check other pricing plans here.
👉 Check out the Dropshipping Email Marketing: 15 Best Email Marketing Tools For Shopify.
Best Shopify Tools For Dropshipping Store Design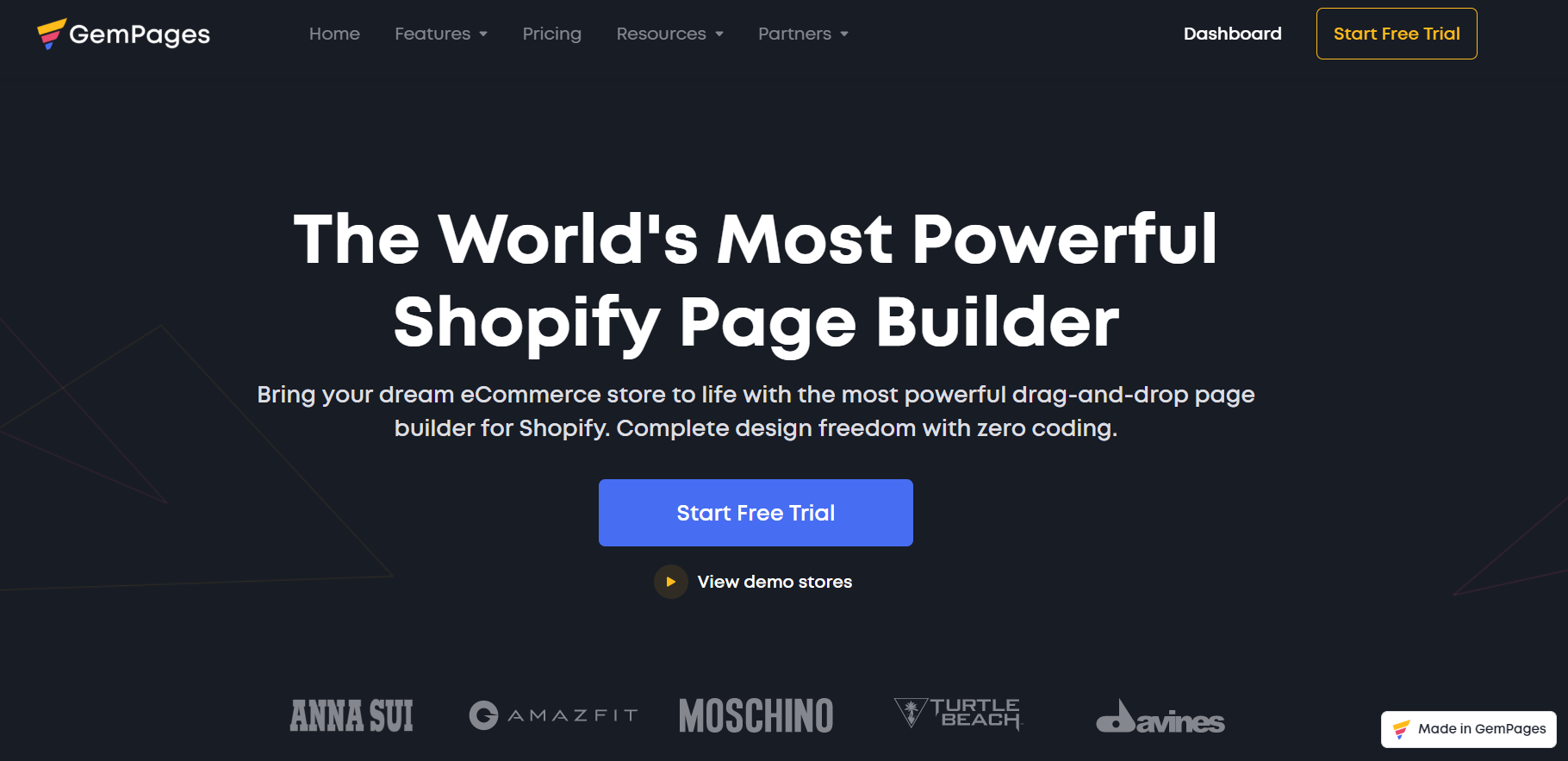 GemPages is a Shopify website builder with which you can create and edit home pages, landing pages, product pages, collection pages, blog posts, etc., with an easy drag-and-drop editor.
Additionally, it provides you with a number of SEO built-in tools to assist you to raise your SEO rating.
Using this all-in-one website builder has several benefits, but the biggest one is that you may modify your store design without knowing a single line of code.
What's more, this tool is jam-packed with connectors, blocks, templates, revenue generators, and design elements. You get quick access to more than 60+ block elements and 65+ layouts, and it works with any Shopify theme.
👉 However, learn How GemPages Work and Is It Worth It for FREE.
GemPages Advanced Features:
Edit Pages – you can customize your Landing Page, Home Page, Product Page, Collections Page, and Blog Post Page.
Analytics – GemPages allows you to do A/B testing campaigns.
SEO – To ensure SEO friendliness, GemEditor uses clean code while creating web pages. Besides, you can modify SEO tags and descriptions in your page settings.
Help Center – At the Help Center, you will get guides and information about how to start, what to use, and how it works questions.
GemPages offers a free plan, but if you want to use their advanced features, the pricing plans start at $29. If you want to see other pricing plans click here.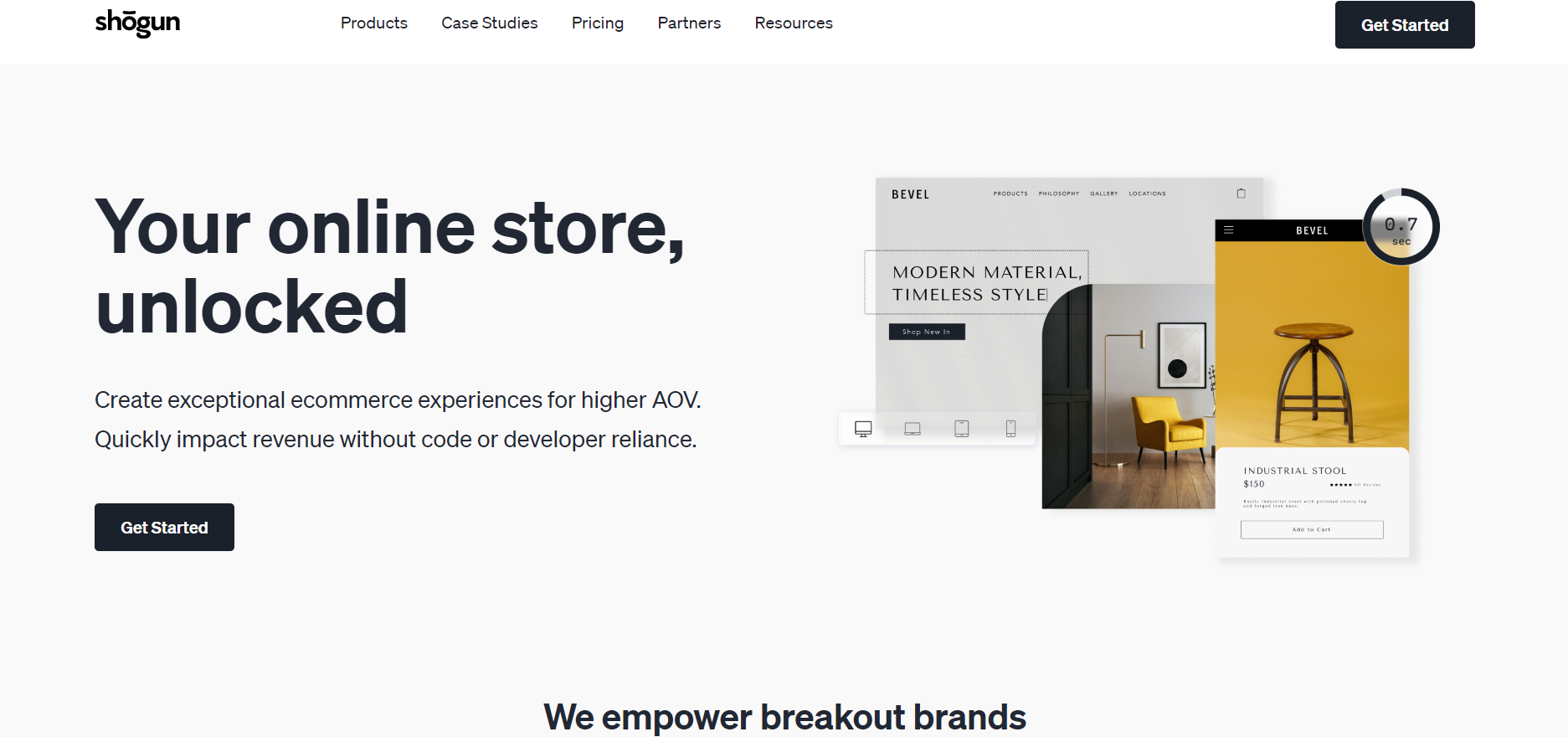 Using the Shogun app, you can design eye-catching, personalized pages for Shopify. It is designed to be straightforward and simple to use, and you can use it with any Shopify theme.
Further, the pages are created to be mobile responsive, and you may view a preview of your page at any time.
With Shogun, you can also quickly and easily develop landing pages with improved conversion rates by utilizing the aesthetic styles of your current BigCommerce design.
Not just BigCommerce, but this Shopify tool also integrates with Magento.
Due to this, developing marketing campaigns and product promotions may be done perfectly and without worry.
Additionally, Shogun offers a variety of features, like
Add custom HTML, CSS and JavaScript
Drag-and-drop editor
Pre-made page templates
Creating high-converting landing pages
A comprehensive library of elements that make your landing pages attractive to users
Extremely knowledgeable database and responsive support system
Technical support by experts
However, Shogun does not offer a free trial, and its pricing starts at $39. Check out all Shogun pricing plans here.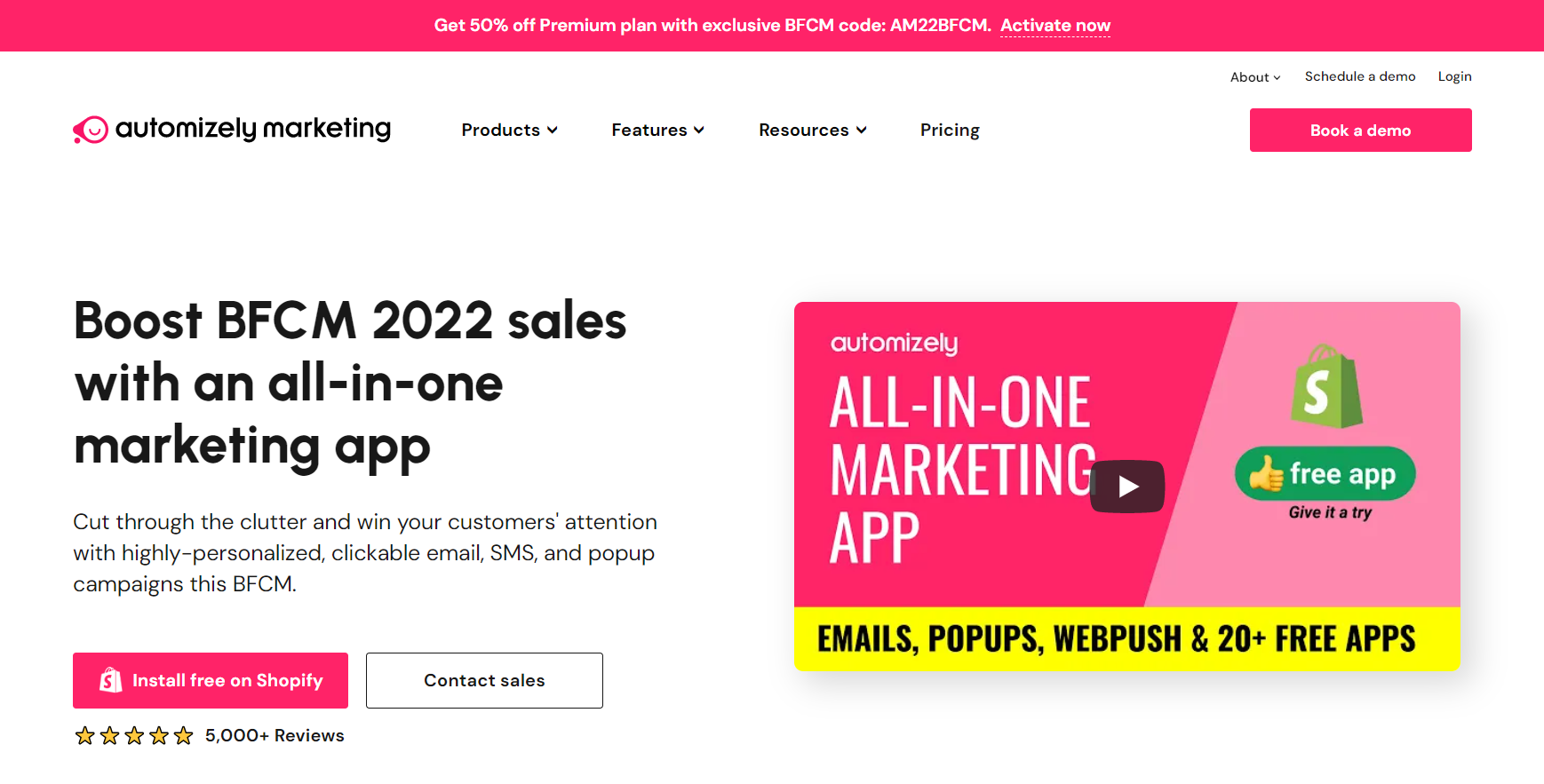 Automizely Marketing also provides dropshippers with cutting-edge solutions including AI-powered product recommendations, countdown timers, promotional bars, and email and SMS marketing promotional bars.
Additionally, this Shopify tool provides a complete platform for eCommerce marketing automation.
Thus, dropshippers can now create leads, client interaction, and sales with the aid of excellent sales and marketing tools and user interfaces.
Not just that, but Automizely features list is huge:
Product recommendations
Email newsletter
Stock countdown bar
Web push notifications
Blinking browser tabs
Social proof popups
Email marketing automation
Free shipping bar
Instant search bar
Sales stickers
Website popups & forms
Countdown timer
Facebook live chat widget
Contact management(CRM)
Announcement bar
Mobile app builder
AI-predictive EDD widget
However, Automizely does not offer a free plan, but it starts at $11. Check all pricing plans here.
Best Shopify Tools For Dropshipping Store Management

You can use the Shopify Buy Button tool to display product images, descriptions, and pricing on your website while also allowing visitors to make an immediate purchase.
Thus, being able to make purchases immediately on your website without having to visit another page to complete orders saves you and your clients time and energy.
What's more this Shopify plug-in integrates with Wix, WordPress, Squarespace, and more website builders.
Also, for anybody wishing to sell online, including bloggers, artists, authors, designers, podcasters, or influencers, the Shopify Buy Button delivers a seamless checkout experience. Even better, you may customize the button to match your logo.
What's more, this Shopify tool is free to use.

Shopify Flow tool claims to speed up and simplify order handling for retailers. Thus, it operates simply even for beginners without coding or development skills.
Additionally, it is displayed in a simple and user-friendly interface, enabling the development of automated processes straightforward.
Businesses should be able to create unique processes with only a few clicks by using the trigger, condition, and action logic-based three-step visual builder.
What's more, you can alter a Shopify Expert to do the automatic workflows within your browser, or you can choose from pre-made layouts.
However, this Shopify tool is still only accessible to Shopify Plus businesses at this time and is still in beta.
Shopify Flow features:
Tracking email campaign
Creating urgency for low-inventory items
Checking and acting on fraudulent orders
Stock control
Promotion campaigns
Identify, categorize, and manage customers
Automatically add new products to collections based on keywords in the product description
This Shopify tool is free to install but you may have some additional charges afterward.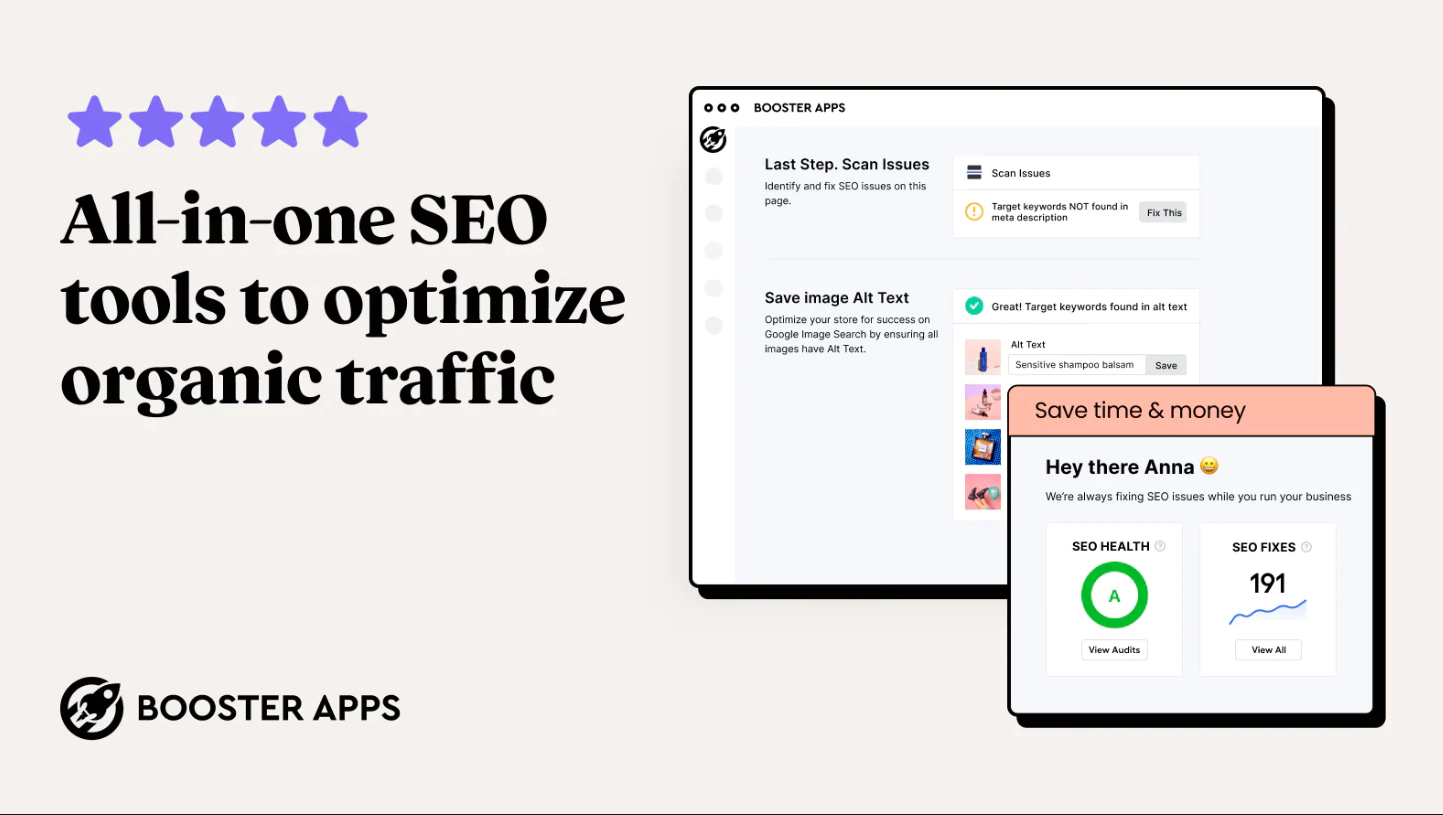 Thanks to a variety of SEO features, Booster SEO may raise your rankings, traffic, and sales, with the use of optimized meta tags, alt text, sitemaps, and structured data.
To begin with, the program makes images' alt text and meta tags useful for search engines.
Furthermore, any broken links are immediately redirected to improve user experience and conversion rates, and any broken links are immediately redirected as well. Your photos are also compressed by the Booster app to speed up loading.
In addition, this Shopify tool uses the URL Keyword Optimization tool to examine your URL structure. 
More importantly, the SEO Booster tool makes weekly SEO Health Reports so you can see and analyze all SEO metrics and see what needs to be improved.
This Shopify tool offers three pricing plans:
Free – 1-day free trial
Pro plan – $39/month
Premium plan – $69/month
💡Tip: Read about SEO for Dropshipping Stores: How to Improve Your Rankings?
Best Shopify Tools For Building Trust And Security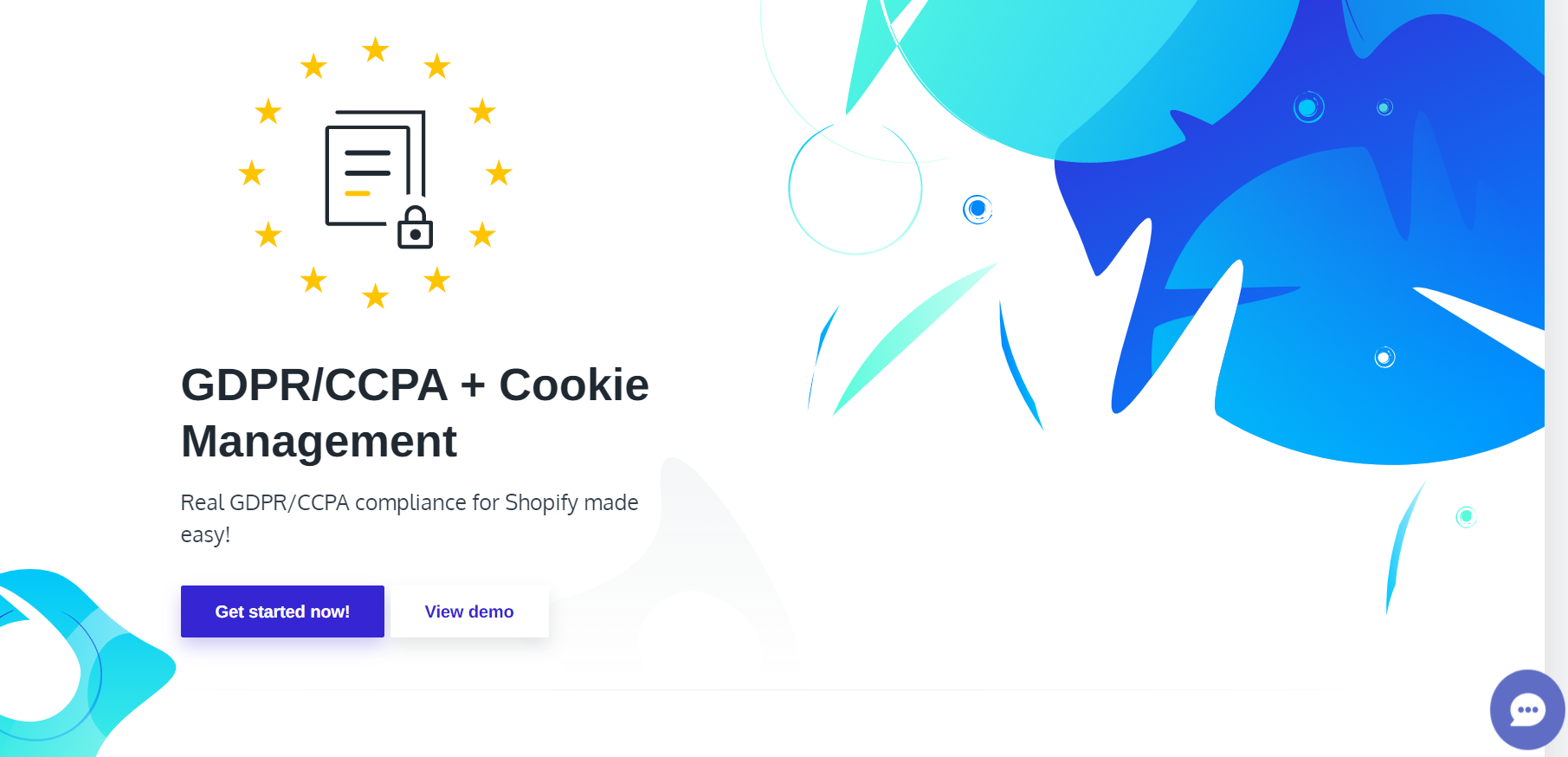 With the help of this Shopify tool, you can quickly take charge of your consent process and privacy policy. Hence, I t will make it easy for you to have a store that complies with the CCPA or the GDPR.
Therefore, GDPR/CCPA + Cookie Management is a MUST for you whether your Shopify store is based in the EU, EEA, or California, or you ship to EU/EEA nations.
GDPR/CCPA + Cookie Management Features:
Data export – Both visitors and merchants are able to export any type of data.
GDPR/CCPA page where your consumers may submit requests to modify, obtain, or delete their personal data.
Visitors may select precisely which cookies to accept with the cookie control feature.
This tool offers three pricing plans:
Free Plan – $0.00/month (7- day free trial)
Standard Plan – $7.99/month
Pro Plan – $14.99/month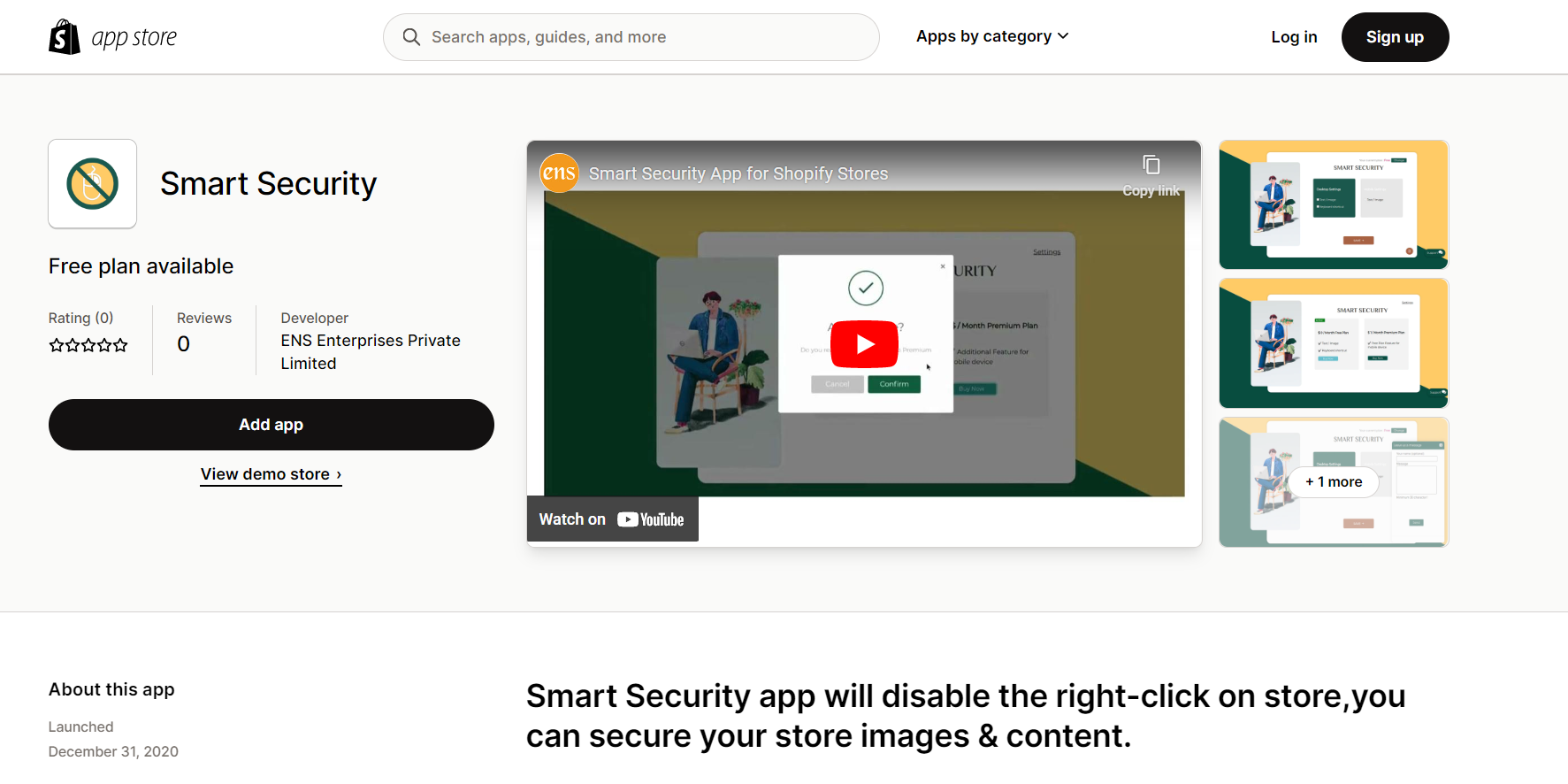 Smart Security tool resolves the issue of online content theft of images or text by disabling the right click. Also, all browsers, themes, and mobile devices support Smart Security. 
What's more, there are no additional code updates and the setup of the app is simple.
Smart Security features:
Simple installation
Instantly generates the code to protect your text and graphics so that customers can Continue to shop and add items to their carts without interruption.
No coding or design experience is necessary
Completely mobile friendly
Increases the security of the material in your business Instant Photo Protection
24/7 customer service
This Shopify tool is FREE to use, but if you want to use additional mobile features, you should pay $1/month.

Cozy AntiTheft is a Shopify tool that protects your dropshipping store photos, content, text, etc. Thus, turning off important browser features, makes it more difficult for hackers to steal your data.
Therefore, by using this Shopify technology, retailers may limit content access and prevent downloads of their photos and material.
Cozy AntiTheft features:
Disable Right Click: This option opens a popup that allows theft. Users are unable to save images or copy the content.
Disable Drag Drop: this prevents photo theft using the widely used drag-and-drop technique.
Disable Keyboard Shortcuts: prohibits users from using keyboard shortcuts to copy content.
Responsive App: works on both desktop and mobile platforms.
What's more, these Shopify tools are completely free to use.
👉 Check out Dropshipping Scams & How To Avoid Them As a Beginner.
Find winning dropshipping products & spy on your competitors
Minea analyses all online advertising to help you find the best products to launch, and the best creatives in your niche in just a few clicks.
Use coupon: DROPSHIPPING30 and get a 30% discount
💡Try Minea For Free
Wrapping up the Best Shopify Tools
Shopify offers great functionality, and you can increase its versatility by using various apps in the Shopify marketplace.
Additionally, Shopify Plus offers some exclusive apps. While we encourage you to check out the full app store, here are 39 of the Best Shopify Tools for your online store.
These Shopify tools will help you find products for sale, create a professional website, market your products, and more.
Using these free tools allows you to keep your business costs low and build a more profitable business. You'll find more Shopify features crammed into the backend of your store, so feel free to explore everything Shopify has to offer.
After reading this post, I hope you have already found which Shopify tool you need now and installed it without hassle. Happy store running in 2023!