Shift4Shop Reviews: Full Platform Review for Dropshippers
by
Martin -
Martin is an agency owner and SaaS projects maker. His work is featured in the leading ecommerce brands, magazines and podcasts. Talks about Marketing, Business Development, and Growth Hacking!
CO-founder at Dropshipping.com
Shift4Shop reviews – is Shift4Shop the ideal platform for your dropshipping business? Let's find out together.
One of the most common dropshipping mistakes dropshippers make is that they choose the wrong e-commerce platform for their online stores.
When starting a dropshipping business, it is very important to choose the most suitable platform for your business.
That's right. But why is it so bad to choose a platform that's not perfect for you? Because it can "handcuff" you in many ways.
First, you may be unable to navigate it and get the most out of it.
Second, you may overpay for it. (It may be too pricey.)
Third, you may not be able to use the tools you need and meet your business goals.
Finally, you may not be able to grow and scale your business.
So, if you are looking for some Shift4Shop reviews, we have got you covered.
What is Shift4Shop?
Shift4Shop (formerly 3dcart) is one of the oldest e-commerce platforms that you can use to create an online store.
3dcart was established as an e-commerce shopping cart software and website builder in Florida, the United States, in 1997.
But, in 2020, a payment processing and technology company called Shift4 Payments acquired 3dcart and rebranded it as Shift4Shop.
Today, Shift4Shop provides you with everything you need to build, grow, and manage your online store.
It is a feature-rich platform, which serves businesses of all kinds and sizes in many different industries. We will talk about its powerful features in a minute.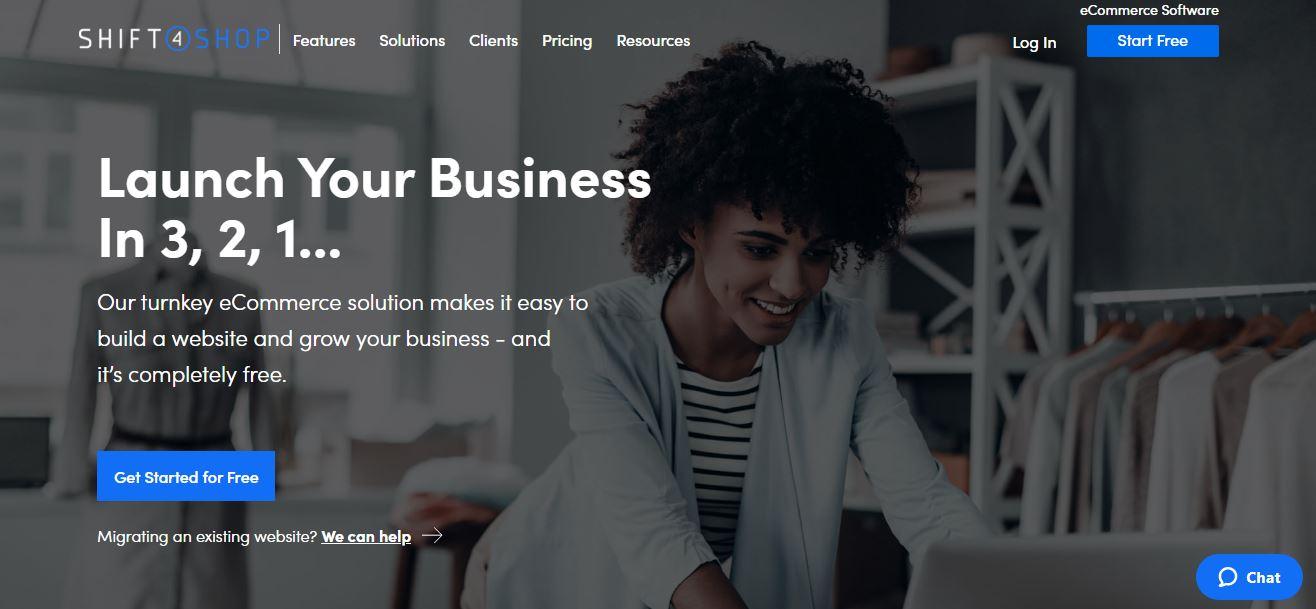 But, first, let's see if you can use it for dropshipping.
Lifetime deal: Get all-access to everything on Dropshipping.com
Access all DSCOM features, resources, courses, live workshops, discounts, winning products, weekly deep dives, directories and all future updates under all-in-one dropshipping HUB.
DROPSHIPPING IS A REAL BUSINESS, DON'T DO IT ALONE. 4553 MEMBERS ALREADY JOINED. YOU CAN PAY OFF YOUR SMALL INVESTMENT WITH JUST 2 SALES ON YOUR STORE.
Grab the deal before it's gone
Can you use Shift4Shop for dropshipping?
Yes, of course. Not only is Shift4Shop good for dropshipping, but it can also make the entire process of dropshipping much easier.
With hundreds of built-in features, it can help you succeed in dropshipping. Regardless of your dropshipping niche or supplier, you can build and scale your business using this platform.
Now, we will focus on our Shift4Shop reviews, i.e., a comprehensive review of Shift4Shop, which includes the platform's most important features, solutions, pricing, and more.
Shift4Shop reviews: Is Shift4Shop a great e-commerce platform for a dropshipping business?
Do the features and characteristics of this platform meet established standards? Better yet, do they surpass them?
Should you use this platform to set up your dropshipping business? Read on and eliminate as much guesswork from the decision-making process as you can. In addition, in this comprehensive list, we've reviewed the best Shopify alternatives for Dropshipping.
Ease of use
You do not want to invest in a platform that's too hard to use, do you? Luckily, Shift4Shop has designed the back-end of its e-commerce platform in such a way that any user can use it to start an online store with ease.
In short, building a dropshipping store using this platform is very easy to do. For example, you will not find it difficult to choose a theme, add products to your store, and select payment methods to offer to your customers.
Features
Before choosing a new e-commerce platform, it is crucial to understand which features are most important to your business as well as to your customers.
This e-commerce platform has its own set of unique features and functions. And they are as follows:
• Website builder
Shift4Shop allows you to easily build a website with a streamlined, built-in online store.
In addition, it handles everything on the technical side, including reliable and secure web hosting, powerful shopping cart and checkout, PCI-compliant security to enable you to accept credit cards, etc. You just need to sign up, customize your store, promote it, and sell your products.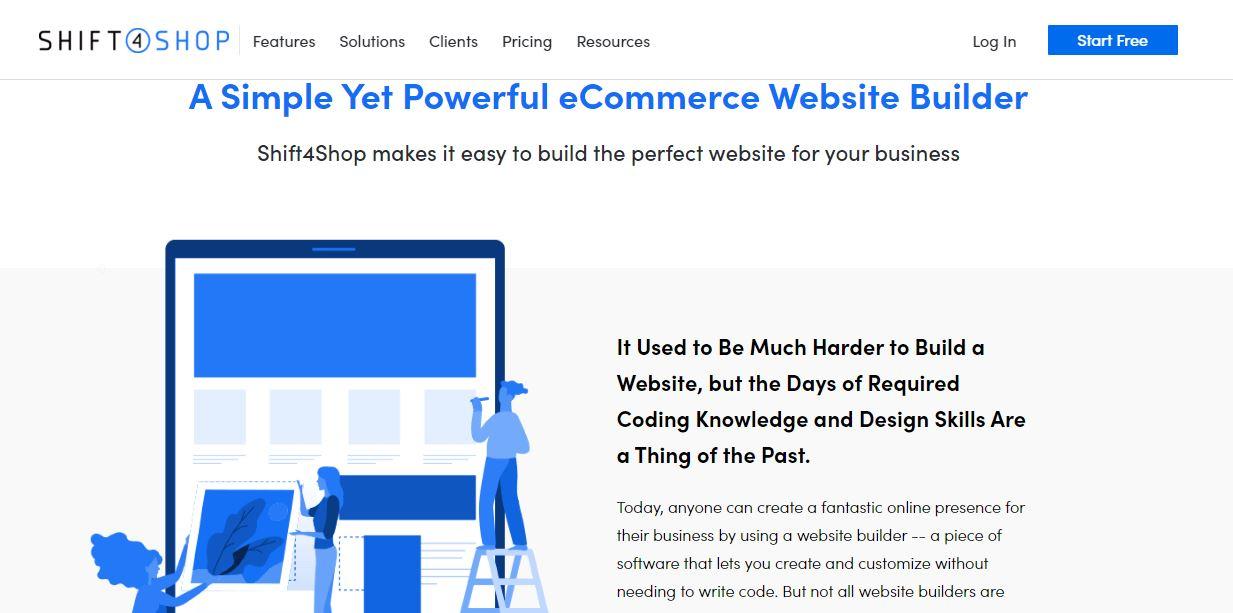 • Customization
With Shift4Shop, you can create and customize your dropshipping store using its theme editor. Its theme editor is intuitive and straightforward to use and requires no coding.
However, when it comes to the platform's selection of themes & templates, it currently offers about 100 options. This is a small number compared to the large number of themes that Shopify offers.
And some might look a bit dated. But the platform's graphic designers are working on adding more themes with modern design. This way, your dropshipping store can appear modern or contemporary.
Also, there is an app store where you can download some free plugins or buy premium ones to extend the functionality of your dropshipping store.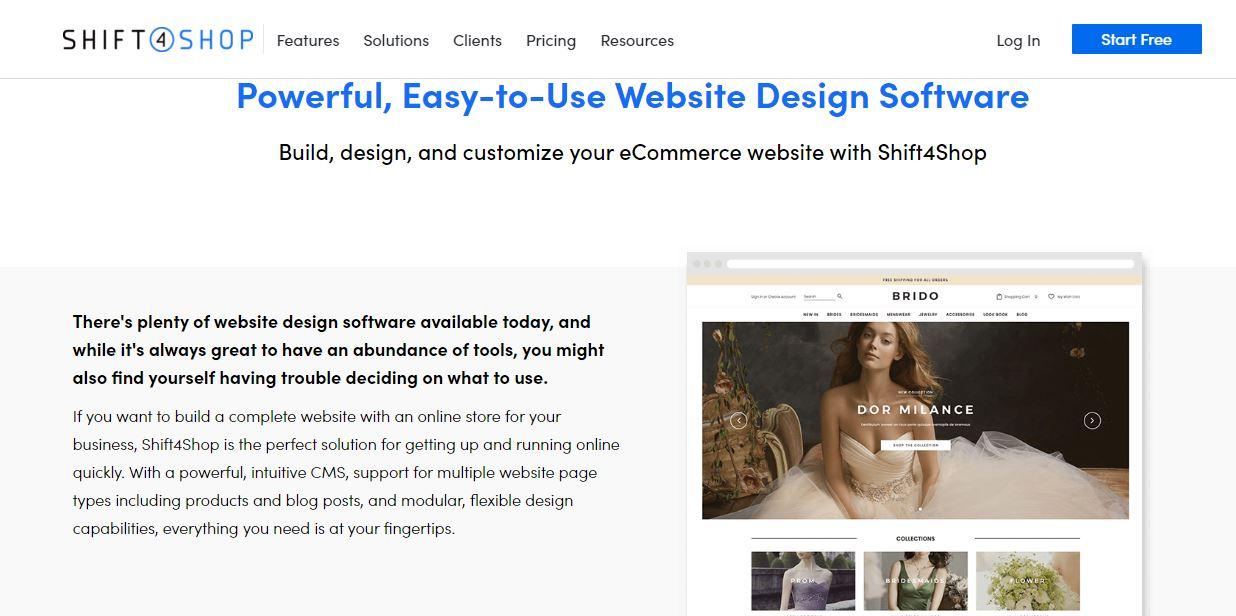 • Inventory & order management software
By using the platform, you can also take advantage of its built-in inventory management software. What kind of software is it?
As you might have guessed, it is a kind of software that allows you to add, edit, organize, and track products. Additionally, here's the ultimate list with the Best Dropshipping Software for 2023.
And the best part? With it, you can manage any amount of inventory. Simply put, you can do that no matter if you have several or thousands of products in your dropshipping store. And, yes, you can add many products to your store at once.
Aside from its inventory management software, Shift4Shop also boasts potent order management software.
This type of software simplifies the act of order processing and makes your orders more organized.
In brief, orders are placed automatically with your dropshipping suppliers. This eliminates the need for you to constantly monitor your store.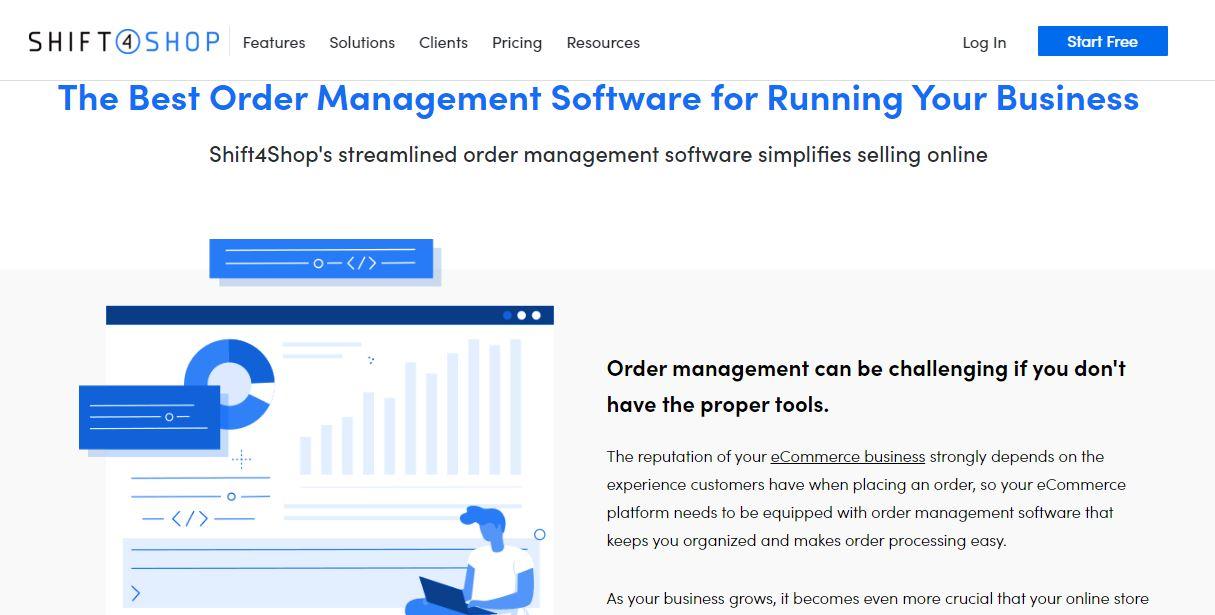 • Payment gateways
Since the platform works with 100+ payment gateways, you can give your online buyers the flexibility they need to choose the one they need.
If you build your dropshipping store with Shift4Shop, you can offer your customers the choice to pay with Authorize.net, Stripe, PayPal, Square, and many more.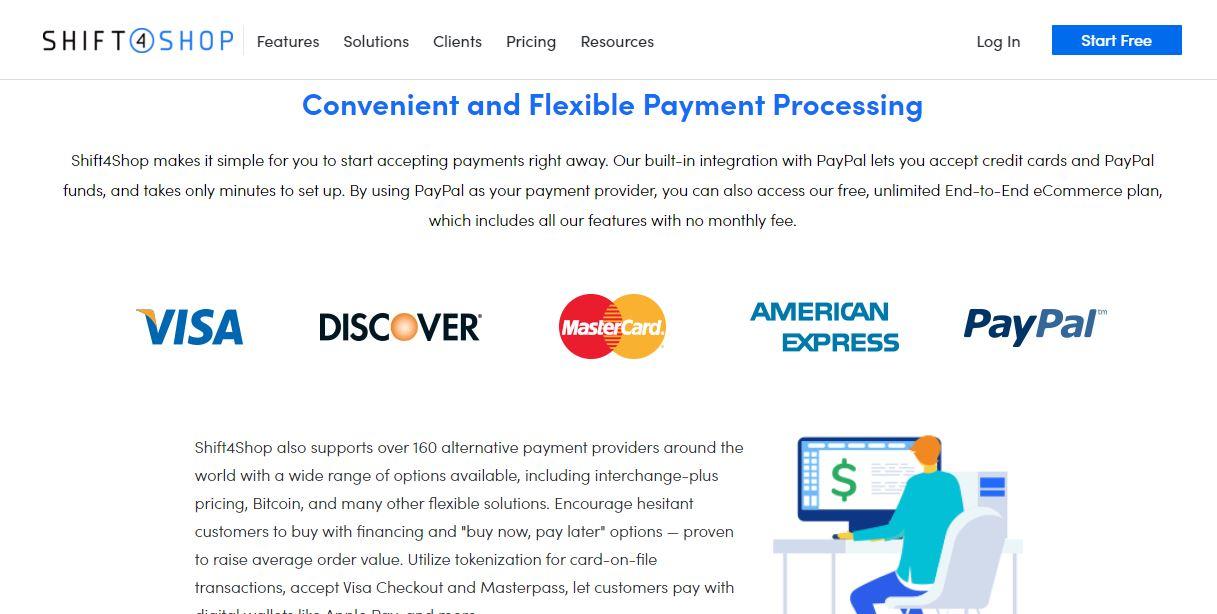 • Marketing tools
It is important to understand that whether your online business is new in the dropshipping industry or has reached the point of maintaining a well-established customer base, you must have a solid dropshipping marketing strategy.
For instance, if you are launching a new online venture, you will have to make big impressions and attract customers to your store.
But if you are an already established dropshipping business, you need to keep your existing customers coming back.
This platform has multiple fantastic built-in e-commerce marketing tools that can help you increase your brand awareness and improve customer retention.
Some of these tools enable you to automate your dropshipping marketing strategy. And they can help you facilitate different aspects of your digital marketing strategy, including: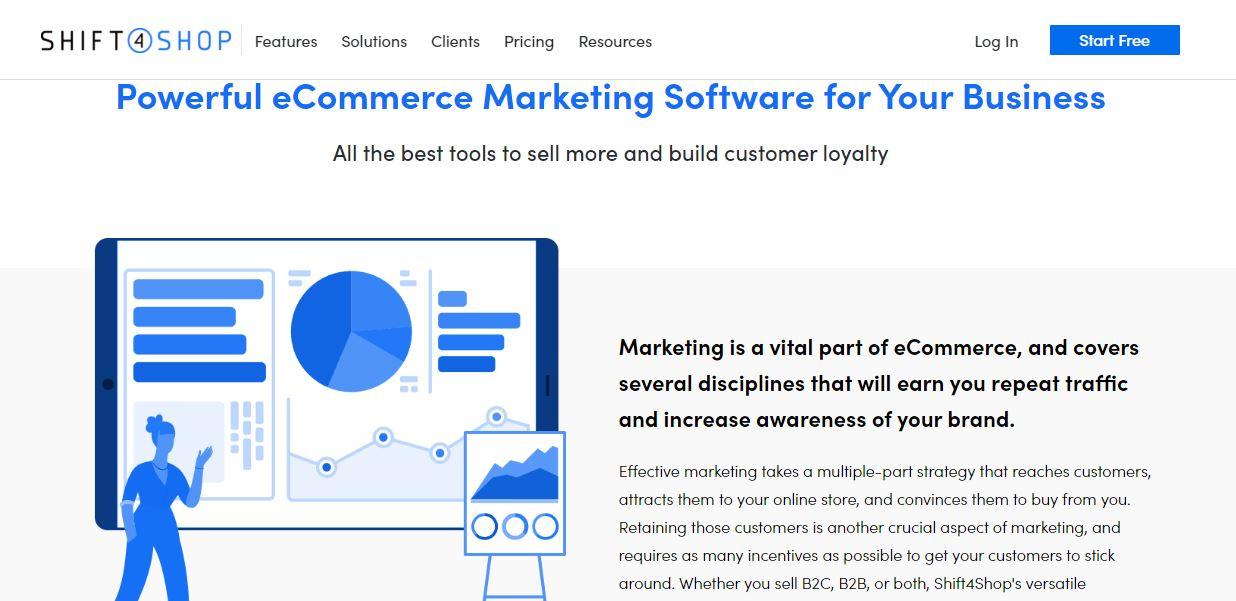 • Mobile e-commerce
Due to the increasing use of tablets and smartphones worldwide, more and more e-commerce sales around the globe are being generated via mobile devices.
This means that more and more customers are buying products online by using their mobile devices.
And if you use Shift4Shop for building your online store, you will have a mobile-friendly website thanks to the platform's ultimate mobile-friendly website features.
This way, you can give your customers the shopping experience they are looking for – to buy products from your store by using their smartphones.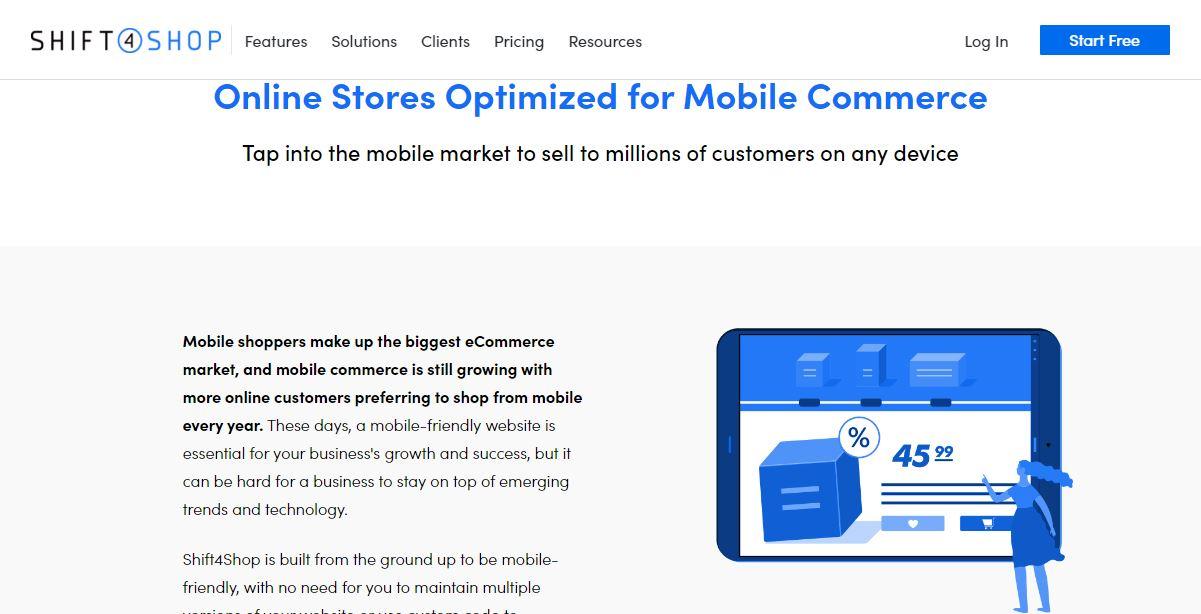 Customer support
The platform's team is contactable 24/7. Support is available via live chat, e-mail, and phone. (But do not fail to read one of our next paragraphs focused on Shift4Shop reviews from customers to find out if customers/users are satisfied with the platform's customer support.)
Also, Shift4Shop has a help center, including a forum. But only Shift4Shop users can use this forum. A
s a Shift4Shop user, you can use the forum to get your questions answered by other community members, take part in conversations, and learn more about the platform in general. However, the only downside of the forum is that it is not very active.
On the platform, you can also find an expert who can help you with all your development, design, and marketing needs.
Free business tools
Certain business tasks are difficult to do as long as you do not have the right tools.
But Shift4Shop provides you with free business tools that can streamline your operations and ease your work. Some of the best free tools that you can use on the platform include:
Again, these are just some of the tools you can use on the site for free. You can find more information on this topic here.
Pricing
Shift4Shop offers three pricing plans to help you find one that fits your budget and business needs.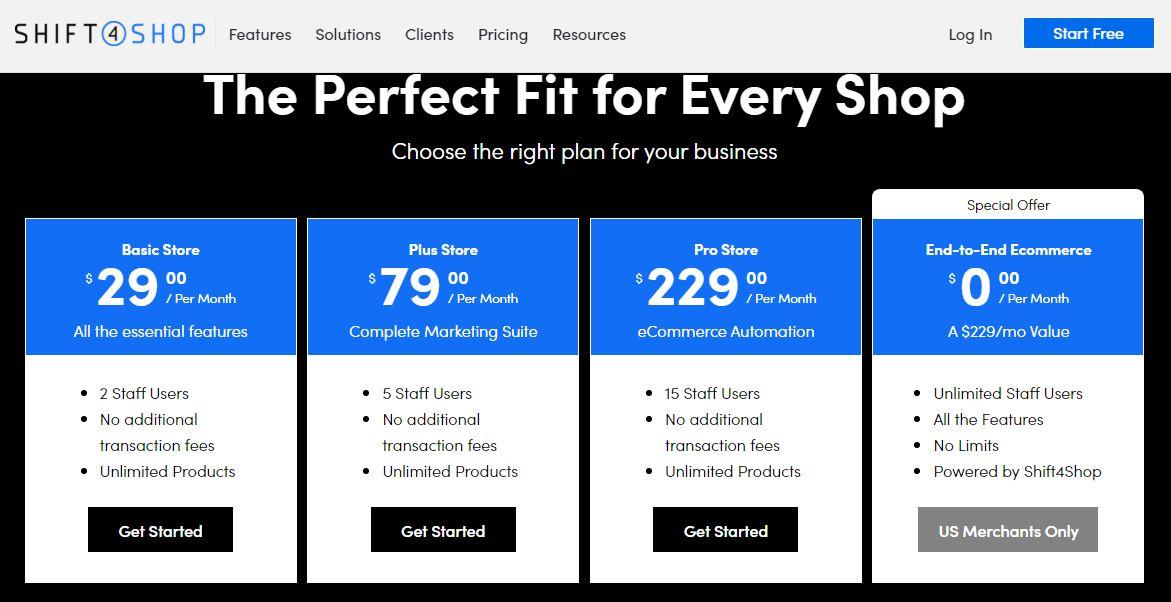 Basic Store: $29 per month; This is the cheapest option. It costs only $29 per month and includes all the essential features.
Plus Store: $79 per month; This is a pricier option. But it is a complete marketing suite.
Pro Store: $229 per month; This is obviously the most expensive plan. And with it, you can enjoy more advanced features, including e-commerce automation.
If you pay one year in advance, you will get a 10% discount.
Also, it is important to point out that all pricing plans include unlimited orders, no additional transaction fees, secure web hosting & domain registration, shopping cart, 100+ payment providers, and more.
There is also a special offer on the site for US merchants only. This special offer is called End-to-End Ecommerce.
As far as e-commerce functionality goes, it is the most advanced package. But it is free of charge. However, as we have already said, it is only available to users based in the United States using Shift4Payments.
Shift4Shop reviews: What do users think about the platform?
Like it or not, online reviews can show how useful an e-commerce platform is. So, it isn't advisable to choose Shift4Shop if you have no idea what users think about the platform.
Perhaps you do like to spend too much time checking Shift4Shop reviews on the internet. If so, we have a solution for you. Just scroll down to check out our summary of Shift4Shop reviews.
The most commonly mentioned advantages of using Shift4Shop seem to be that it is a reasonably priced and easy-to-use platform.
Nevertheless, the most common complaints seem to be that customer support is not excellent on the site and that it takes a bit longer to get a response.
Sure, all this is great if you do not want to waste your time analyzing hundreds of online reviews. However, it wouldn't kill you to actually visit these two review sites (Capterra and G2) and find out what we are talking about.
List of pros and cons of Shift4Shop
Should you use this platform for creating your dropshipping store? Or choose another one? Still unsure what to do?
Then, check out our list of pros and cons of using Shift4Shop.
Pros
You do not need any tech skills or coding know-how to build a dropshipping store.
You can choose from 100+ payment gateways.
There are many powerful inventory & order management tools on the platform.
The marketing tools are also fantastic. For instance, there is a built-in blog and CRM on the platform. You can also benefit from its well-rounded set of SEO tools.
Cons
The platform does not provide you with a wide selection of free themes. Most of its free themes are quite basic and simple.
The free plan is not available to international merchants. It is only available to store owners based in the United States. And they should also use Shift4Payments.
Join the only community and resource hub you'll ever need to succeed with dropshipping
Find winning dropshipping products, learn marketing, download templates and engage with real dropshippers
Never pay for a "guru's" course again. See why 4543+ dropshippers joined us this year!
💡Try DSCOM Hub Now
Shift4Shop reviews – Final thoughts
Shift4Shop is a secure, scalable, and easy-to-use e-commerce platform. Though it is one of the oldest e-commerce platforms, it is not the most popular one.
But it may prove attractive to dropshippers on tight budgets, especially those based in the United States.
Of course, dropshippers, who are located outside of the United States, can also use the platform. But they will have to choose one of the above-mentioned paid plans.
Do you like the features of this platform and everything it offers?
Whether you are a new dropshipper looking for a platform to set up your first dropshipping store or you want to move from another platform to Shift4Shop, Shift4Shop may be the right solution for you.
It can help you get started (if you are a new dropshipper). Also, it can help you grow your business (if you are an experienced online merchant.)