If you are on the hunt for the best WordPress theme for your dropshipping business, today is your lucky day. You have come to the right place!
In this article, we will share with you some stunning options and help you choose the best WordPress theme for your dropshipping business.
But if you are new to dropshipping, it is important to understand the pros and cons of dropshipping and learn more about the dropshipping taxes and payments.
Also, you need to avoid these common dropshipping mistakes.
Now, let's get back to the point.
Are WordPress themes good for dropshipping?
WordPress is one of the most popular website builders in the world.
Or more specifically, it is not a typical website builder, but an open-source content management system used by over 708 million websites worldwide.
Briefly, it is a free, open-source website creation platform for building websites from scratch. And WooCommerce is a popular WordPress plugin that helps turn a WordPress website into a fully functional online store.
But you may be asking yourself whether WordPress themes are suitable for dropshipping stores.
Well, the main benefit of WordPress themes is that they save a lot of time by offering ready-made templates for different types of websites, including those for dropshipping.
To put it another way, WordPress themes are perfect for bloggers, hobbyists, and people that love to make an online journal of their thoughts.
Still, they also do wonders for e-commerce businesses, including dropshipping stores.
We could continue with the benefits.
However, let's now focus on how to select the best WordPress theme for your dropshipping business.
Discover top dropshipping suppliers of original US/EU products
You're 2 minutes away from building your ecommerce empire
No credit card required. No commitment.
Get started for free
How to select the best WordPress theme for your dropshipping business
Just like failing to find the best dropshipping niche for your business, a poorly designed dropshipping store may turn your prospective customers off immediately. And this is where dropshipping themes come in.
Namely, if you are planning to start a dropshipping store with WordPress, you need to select the best WordPress theme for your dropshipping business. And you can do so by considering the following factors:
• Ease of use
Sure, many WordPress themes come with a variety of options. But this makes them hard to set up and use. Thus, it is better to use a simple and flexible theme.
A WordPress theme that's easy to install and use is ideal for both beginners and experienced WordPress users that like to keep things straightforward.
• Responsive design
When was the last time you wanted to buy something, and you grabbed your smartphone and searched the web for immediate results?
We are guessing it was a few days ago. And your customers will probably do the same when they find themselves in a similar situation.
So, you must choose the best WordPress theme for your dropshipping store and make sure it works on mobile devices.
• Overall page load speed
In general, website page load speed is the time it takes for somebody to see the content after they have landed on a webpage.
As your WordPress theme can greatly affect the overall page load speed, you need to pick a theme that's fast.
That way, you will make your dropshipping store more discoverable and boost your conversion rate.
• Developer support availability
This is something that you may not take into consideration when choosing a WordPress theme. But once you install your theme, you will have to make an update sooner or later.
Most WordPress themes have information about the developer. And you should not ignore this information.
Of course, you should also take into account customer reviews and ratings. This will give you a lot of insight.
• Compatibility with SEO tools
Your chosen theme will encapsulate your brand's aura and help provide a good user experience. And you may forget about the search engine optimization (SEO) aspect of it.
However, an SEO-friendly theme is important for search rankings. Therefore, when choosing the best WordPress theme for your dropshipping store, ensure it is compatible with SEO tools.
• Aesthetics
Last but not least, the visual aesthetics of your online store can leave a strong impression on your visitors. And it is the theme that makes your dropshipping store look aesthetically appealing or not.
At first glance, website visitors are impressed by the website design. If they like it, they will continue their operations on the site.
So, it is very important to choose a beautiful and professional-looking theme for your store.
The best WordPress themes for dropshipping: 10 great options to choose from
The number of themes that this website builder supports is truly incredible. And here are our top picks for your dropshipping store.
Price: $59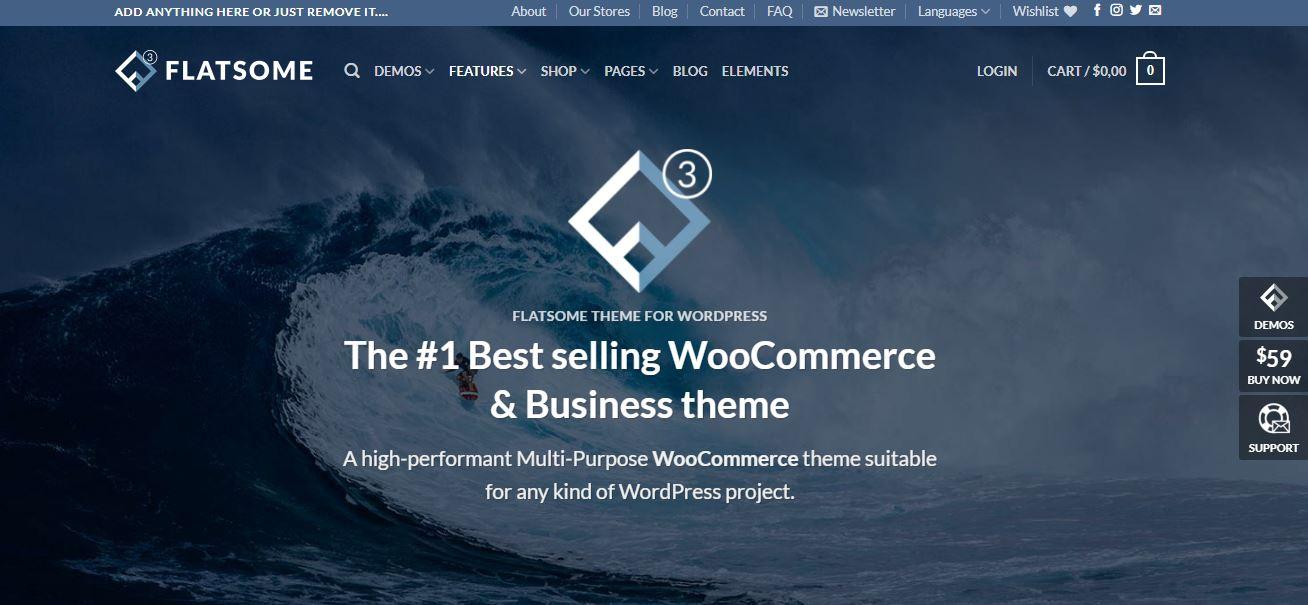 Flatsome is one of the most popular WooCommerce themes for online stores with thousands of positive reviews.
Furthermore, it might be the best WordPress theme for dropshipping – it has all the tools needed for a super-fast responsive website with an amazing user experience.
In brief, it is a highly customizable and versatile theme.
Features:
Mobile-friendly and responsive design;
SEO optimized;
Several shop demos;
Catalog mode option;
Product pages with unlimited options;
Drag-and-drop page builder and high customization level.
Price: $59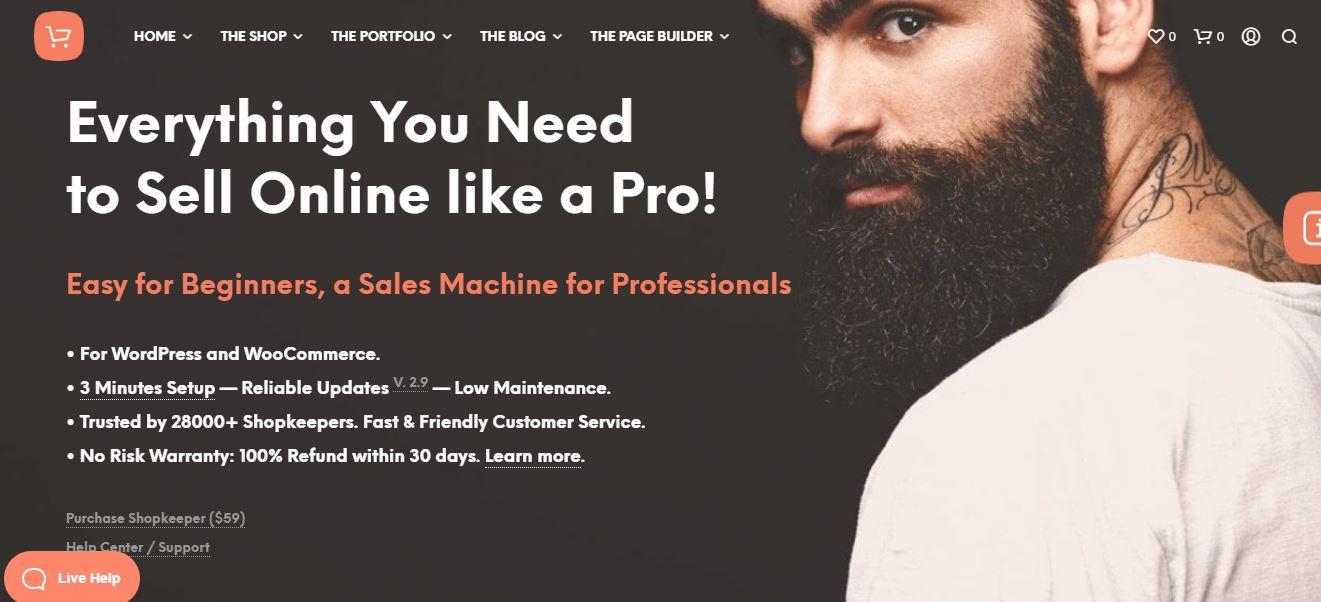 In the highly competitive e-commerce world, this WordPress and WooCommerce theme will put your dropshipping products in the best light, grab the attention of your website visitors, and even motivate them to click the "Buy Now" button.
Features:
Mesmerizing, minimalist, and responsive design;
SEO optimized;
Endlessly customizable; (But you do need any prior coding knowledge or experience.)
Extensive product pages with options like long-form content, images, reviews, related products, etc;
Excellent customer support.
Price: $59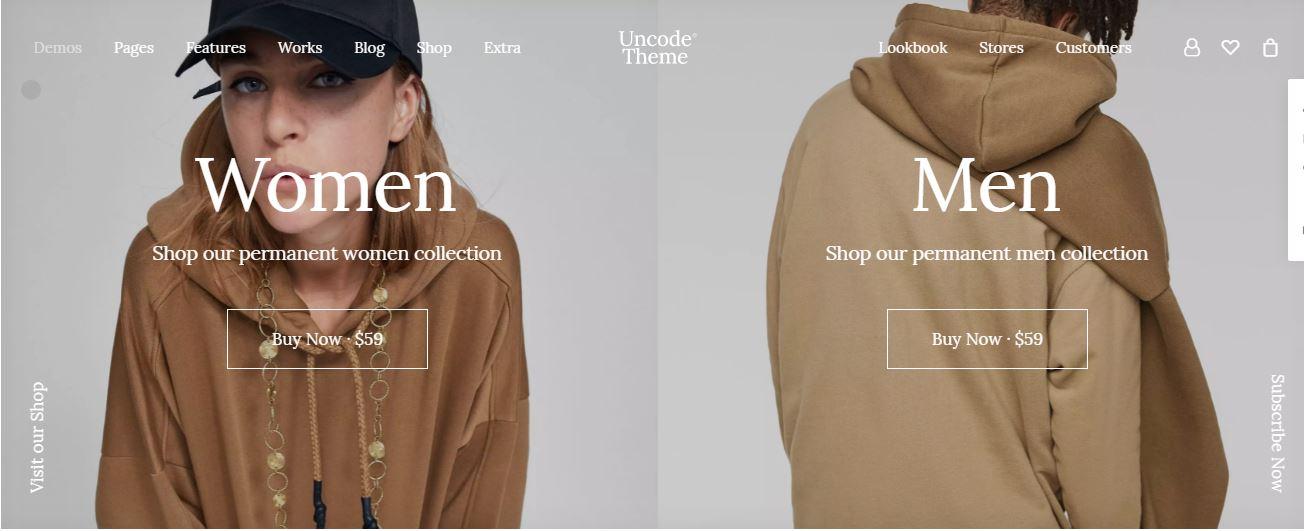 This is a creative multipurpose WordPress and WooCommerce theme. With its ultra-professional look, it is a good choice for an e-commerce store.
In a word, Uncode might be your best WordPress theme for dropshipping things like clothing and elegant products. Here we list the best EU and US-based clothing dropshipping suppliers.
Features:
Price: Yearly access – $89 or lifetime access – $249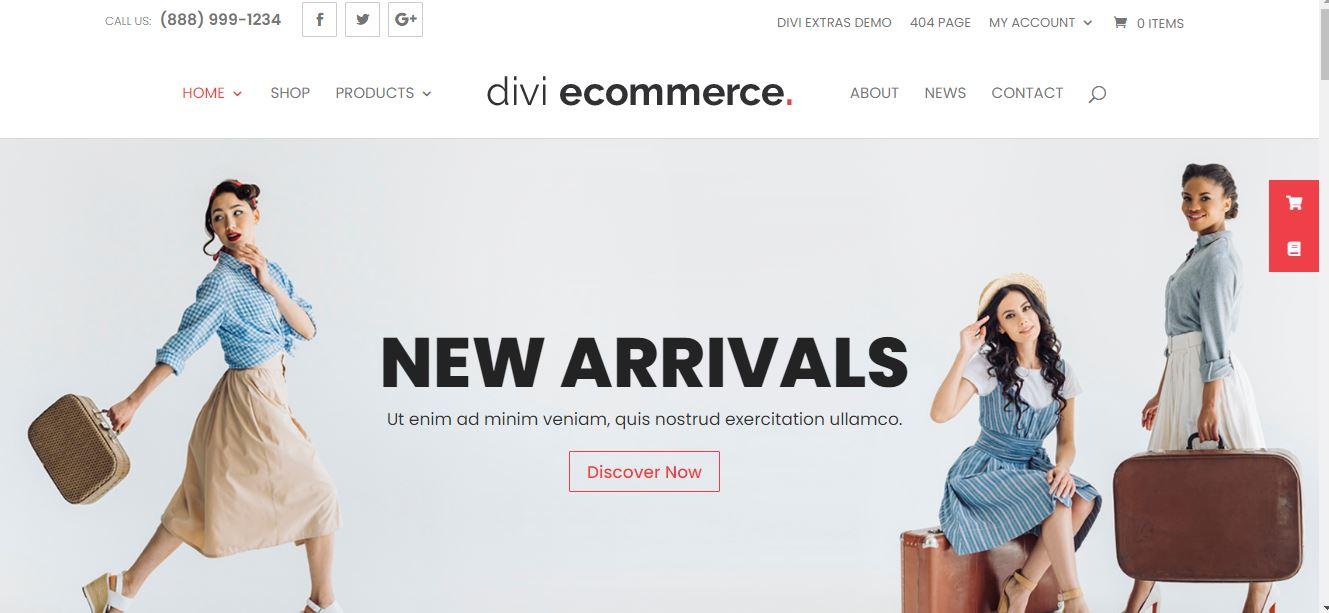 Divi is not only a premium WordPress theme. It is also a versatile tool that helps you build a professional website with ease.
The highlight of Divi is that it has an incredibly advanced page builder called Divi Builder. And this theme comes with all the features and options to build an amazing dropshipping site.
Features:
Eye-catching design;
Complete design control options;
Large library of pre-built e-commerce templates and layouts;
Full-width functionality;
Split testing content optimization tool. (With this tool, you can optimize your content for high conversion rates)
Price: $59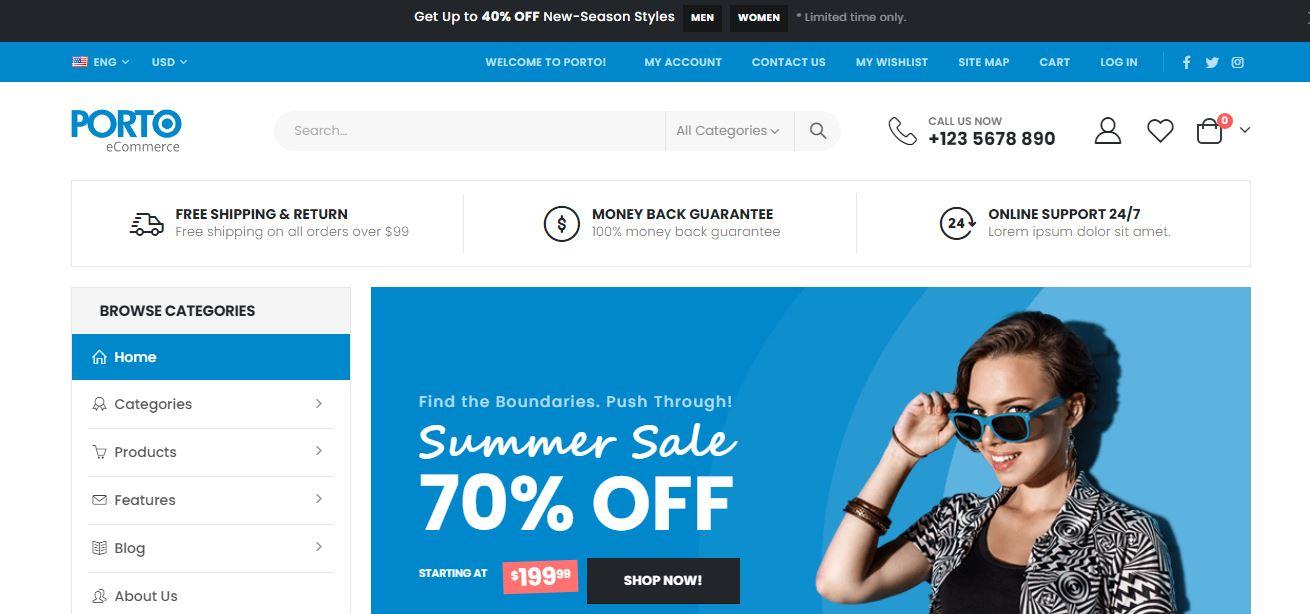 As a powerful niche-specific theme, Porto comes with over 30 different layouts to help you showcase your items the right way, depending on your niche.
Sure, if you do not like this option, you can use Porto's page builder straight from your WordPress Dashboard.
Features:
Responsive design;
SEO-friendly;
Demos come with one-click install features; (This can be great for a quick start.)
Social sharing features;
Speed optimization tool;
Compatible with WooCommerce.
Price: $60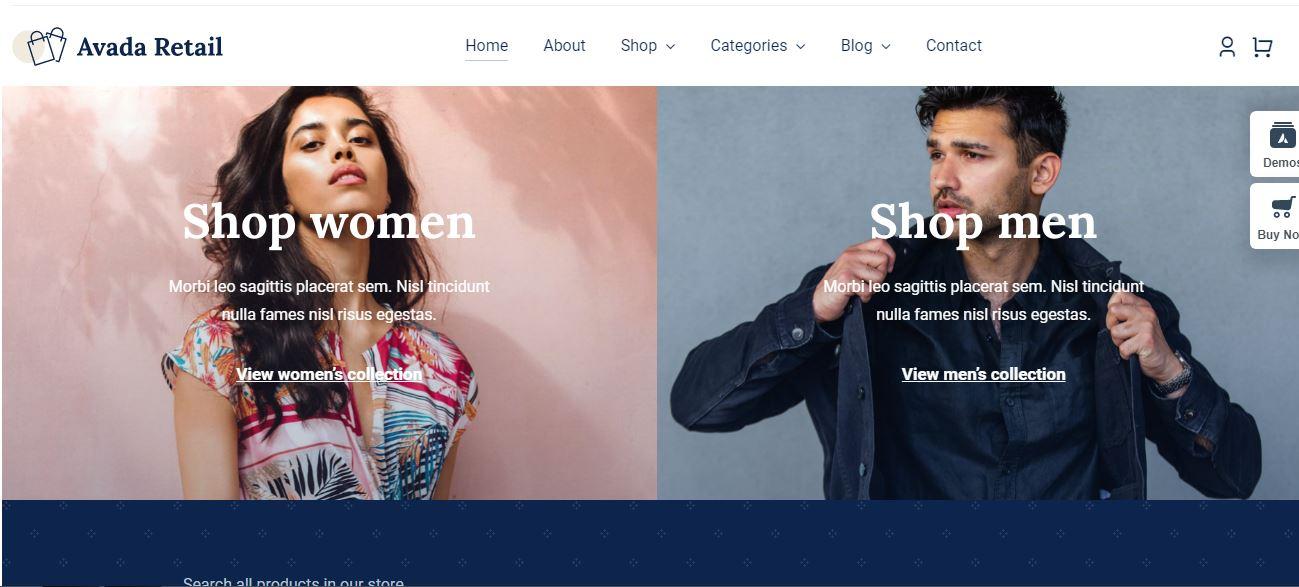 As one of the top-selling WordPress themes on the largest WordPress theme marketplace, ThemeForest, Avada can help you create a professional-grade dropshipping website.
Unsurprisingly, the theme has a multitude of options, which allow you to add almost any element to your site even if you do not have any coding knowledge.
That's why it might be the best WordPress theme for your dropshipping store.
Features:
Fully responsive design;
Fusion Builder – Avada's Page Builder, which actually functions as a potent drag-and-drop page builder;
Background image blur, fading effects, and other animations;
Large library of elements to insert into your content;
Advanced WooCommerce customization.
Price: $49
Marketo is a clean, multipurpose WordPress theme that comes with a professional vertical menu.
And if you are interested in selling a wide array of products, Marketo is well worth a closer look.
Features:
Modern drag-and-drop user interface;
Various demos to choose from; (For example, you can choose from demos for dropshipping furniture, electronics, watches, jewelry, auto parts, etc.)
Multi-vendor functionality; (This allows you to create a multi-vendor marketplace where other sellers can sign up and list their items for sale on your site.)
Fully compatible with WooCommerce and Elementor.
Price: $59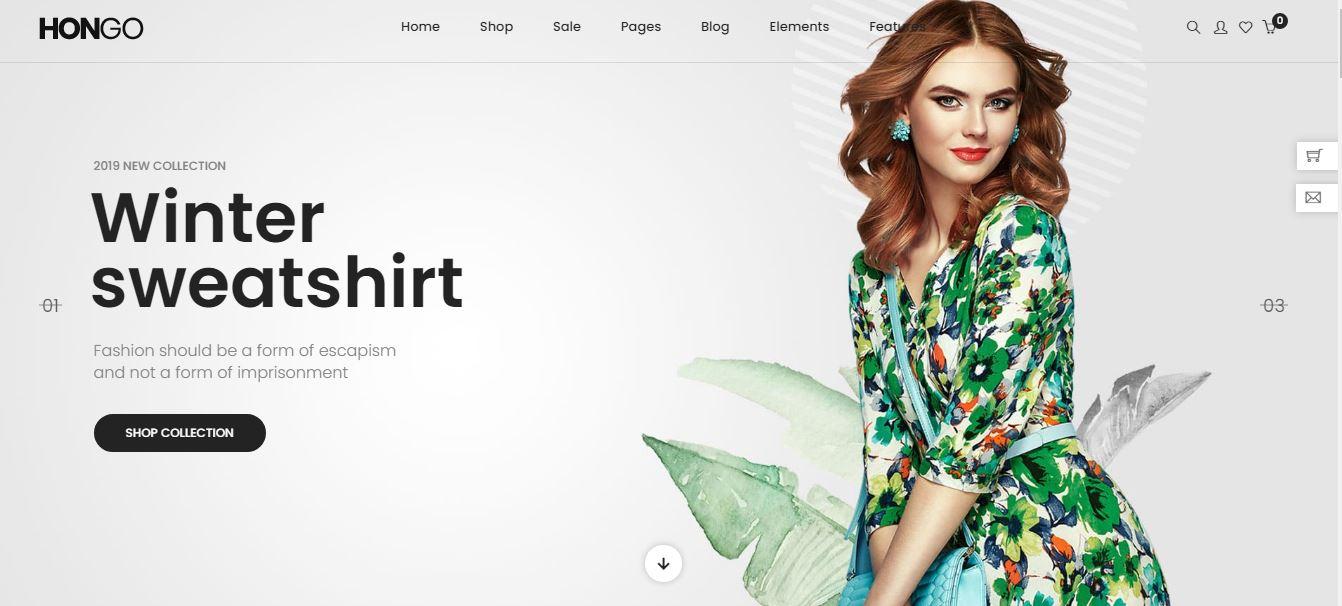 This WordPress theme offers different templates and layouts focused on a specific type of product like furniture, lingerie, jewelry, etc.
What's more, the theme also has a few more general-purpose designs suitable for a wide range of products. But you can adjust and repurpose even a purpose-built store demo for selling another category of products.
Thus, Hongo works for almost any type of dropshipping store. By installing this elegant and clean theme, you can sell any type of product online. To find and source relevant product on your dropshipping store, check our comprehensive AliShark Review.
Features:
Catalog mode options;
360-degree product view feature;
Product Quickview;
SEO optimized;
Fully compatible with WooCommerce.
Price: Free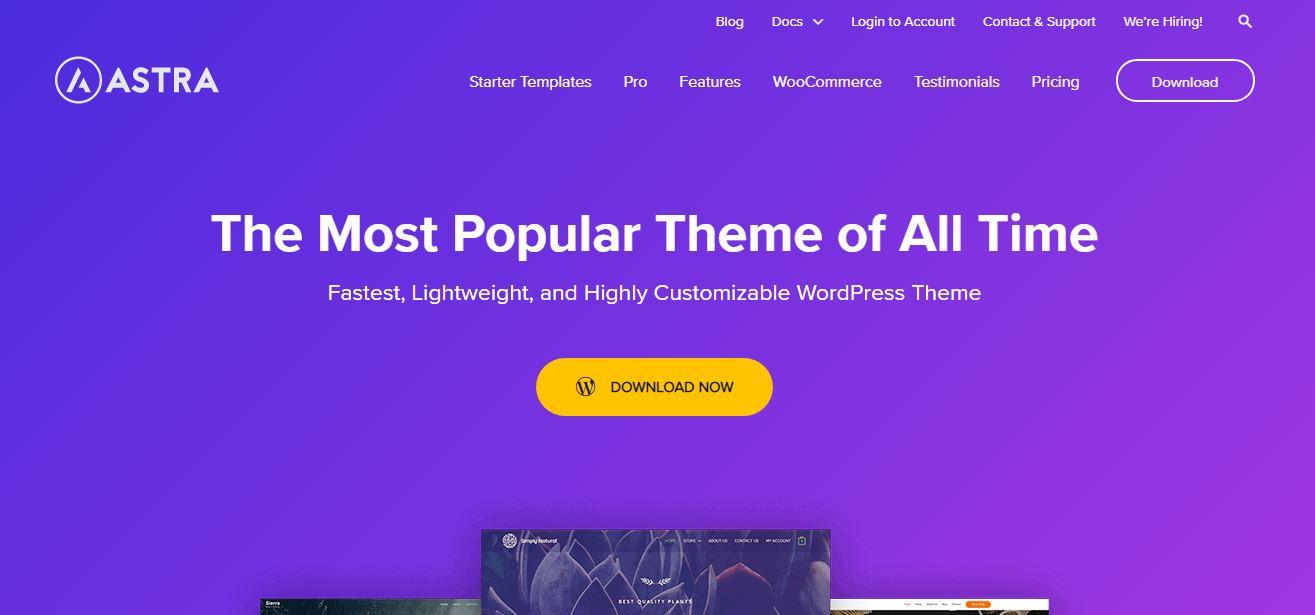 Is Astra the best WordPress theme for dropshipping? Read on to find out! This free WordPress theme is one of the most popular out there.
In addition, it is a simple and lightweight theme designed for any type of website or dropshipping store. The main advantage of Astra is that it is an incredibly customizable and feature-rich theme.
Sure, you do not have to pay anything to install Astra. But for some advanced e-commerce features, you will have to pay a fee of $47.
Features:
Multiple page layouts;
A few custom widgets;
Suitable for beginners;
Pre-built SEO components and fast page load time;
Seamless integration with several page builders, including Divi Builder (mentioned above), WooCommerce, and more.
Price: Free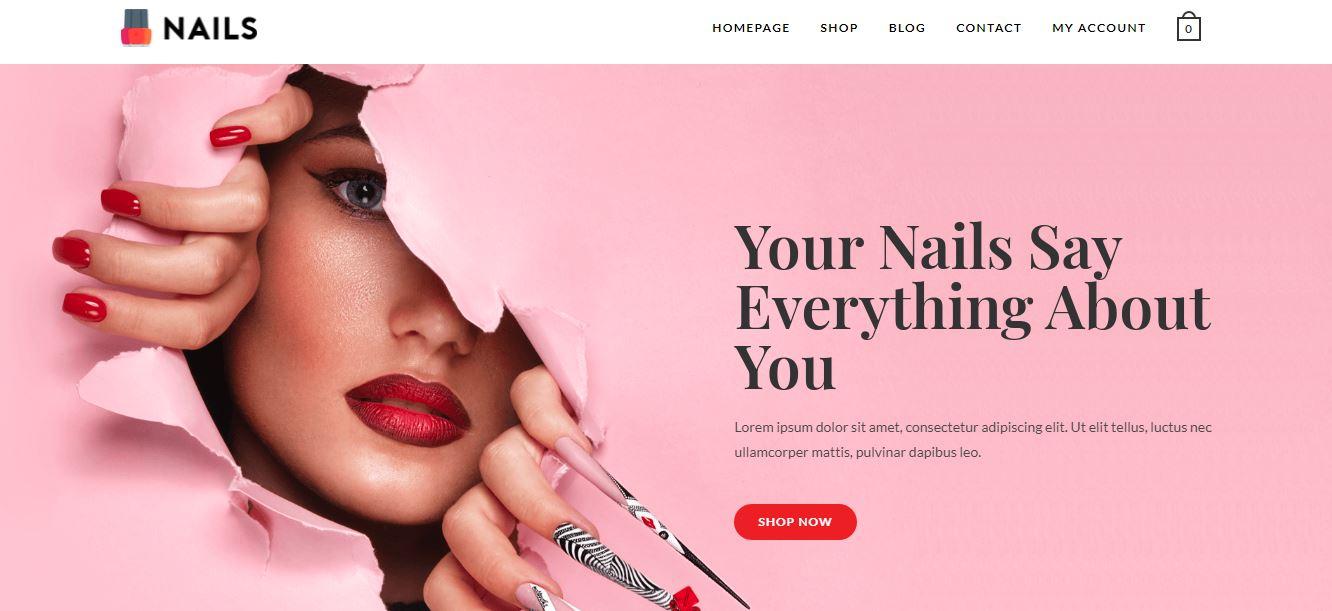 As one of the best free WordPress themes on the market, OceanWP boasts some pro features. You can enhance OceanWP's features with a variety of free and premium/paid plugin extensions.
In short, this is a fully customizable theme, designed for any kind of purpose, including a dropshipping store.
Features:
Responsive design;
Built-in SEO tools and fast page load time;
Smooth parallax scrolling effect;
Modern design, with great animations and interactive sections;
WooCommerce ready;
Multiple language support.
Which is the best free WordPress theme for e-commerce?
You can find 8,000+ free themes in the WordPress theme directory.
Here is one of our favorite themes for dropshipping stores – WoodMart WordPress Theme Review. Check it out! 🤩
But having too many options may paralyze your ability to make the best decision for your business. Plus, not all of them are suitable for e-commerce.
And here comes the question: "Which is the best free WordPress theme for e-commerce?"
Out of all the themes listed above, only two (Astra and OceanWP) are available for free. And they are our top picks for the best free WordPress themes for e-commerce.
Find winning dropshipping products & spy on your competitors
Minea analyses all online advertising to help you find the best products to launch, and the best creatives in your niche in just a few clicks.
Use coupon: DROPSHIPPING30 and get a 30% discount
💡Try Minea For Free
The bottom line
In conclusion, it is clear that with the best WordPress theme for dropshipping, you can get your e-commerce store ready for business.
Choose the best theme to stand out from the crowd and see a huge amount of traffic streaming through your site.