When we are talking about Amazon vs Shopify, we are talking about one of the biggest dropshipping e-commerce platforms in the world.
To see how big they are, let's look at some numbers. If you haven't tried Shopify yet, we suggest signing up for free and learning by doing. Here's your Shopify sign-up link for a 14-days trial period.
Shopify runs over half a million e-commerce businesses around the world. Amazon gets over 200 million monthly views on its website!
Before we choose a winner, let's see what are the differences, and the pros & cons of both platforms.
Amazon vs Shopify – Pros & Cons
Here are some pros of Amazon:
Affiliate Marketing- even if you don't sell directly on Amazon, you can make money through its affiliate marketing program. Many bloggers or dropshipping sellers make 30% passive income just from using this tactic.
Traffic- Amazon is the king of getting traffic. Whatever you sell, your product won't be lacking any traffic. The website gets over 200 million monthly views so they are enough to help you with exposure
Premium services- There are premium services Amazon can handle for you just like handling your storage, packaging & shipping it ready for you. This makes it easier for you to run your online dropshipping business.
Here are some cons of Amazon:
Branding – because you are not running on your own website, it is difficult to take credit for yourself. There are also stories where Amazon destroyed businesses that either didn't sell any of their products or those that sold lots of them. 
Big Competition – You aren't the only one selling on Amazon, so don't think you are just going to go there and sell from the first day. Amazon won't let you be the greatest, so just remember that!
Transaction fees – Amazon charges more from your profit than Shopify. Shopify's maximum transaction fee is 2% per sale, while Amazon charges anywhere from 2.9% to 3.9%!
Pros of Shopify:
E-Commerce Tools – Just like WordPress is great for blog websites, Shopify is great for e-commerce sites. You have different kinds of tools that are very helpful in building your online store. This makes it easier for you versus building it from scratch.
Brand Promotion – unlike Amazon, Shopify allows you to promote your brand and allows you to be in full control of it. It feels as if you never used Shopify in the first place!
Low Transaction Fees – The maximum fee Shopify will charge you is 2% of your sales. That is nearly half of what Amazon charges!
Cons of Shopify:
Monthly Fees – The only con I would include about Shopify is that it has fees to it. Whatever you add to your website, the more fees you will pay.
No sales big expenses – If you don't sell anything, your expenses can highly overtake you and potentially come to you closing down your e-commerce store!
Must use Premium plan – With basic plans, Shopify won't allow you to access any reports or special e-commerce tools to use for your online dropshipping store.
MUST-READ: Is Shopify Still The Best Platform For Dropshipping?
What Are The Differences – Amazon vs Shopify for Dropshipping?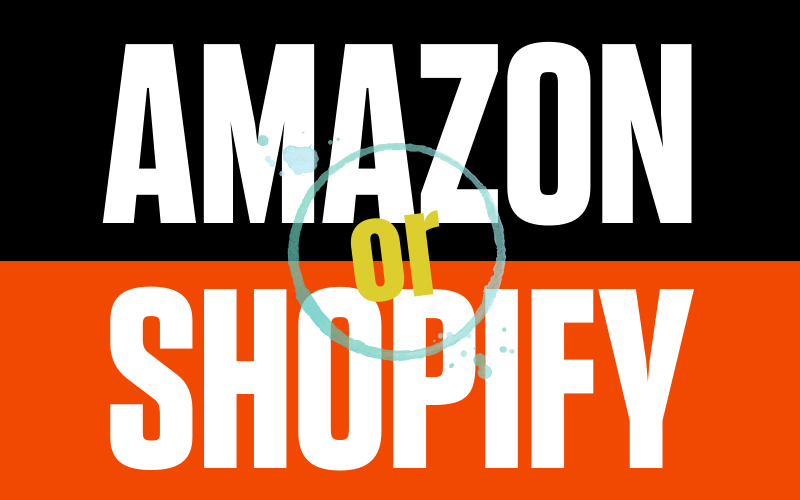 If you want to make money, both platforms are a great option. Both the platforms offer tools you can use but they aren't exactly the same. They both operate in their own ways.
Shopify is a unique e-commerce platform that gives you the needed tools and designs to build your own dropshipping website.
Amazon is not exactly that, Amazon is more about letting you use their website with other sellers to make a profit.
You can imagine it this way, Amazon would be just like if you used someone's office to do business. Whatever you do, you can't really promote yourself as much. It is more of an office with individual sellers and not a team.
Shopify is just like renting a building and doing business there. You don't owe the building but you can promote yourself as much as you want. You have your own store, maybe even a team, and can do anything you want.
Shopify vs Amazon
Autonomy
Without a doubt, Shopify is the winner here. Since you own your own e-commerce store, that also means you have autonomy.
As long as you pay your monthly fees, your autonomy on Shopify will always belong to you without any external interference.
Amazon on the other hand as we mentioned before doesn't have much autonomy here.
You aren't using your own website or designing it according to your preferences. The only thing you have control of is your product.
Design
Amazon has its own design and of course, won't let you play with it. Since Shopify allows you to make your own website, you have the autonomy to play with its design.
You also have many themes that allow you to customize it just the way you like to.
Fees
When it comes to fees, Amazon takes an upper hand. Shopify has more fees to pay since you are paying a monthly subscription and have to pay more if you are using more third-party apps.
Amazon has fewer monthly fees than Shopify, but at the same time takes more commission fees per sale.
The monthly professional plan on Amazon costs $39.99 no matter how many units are sold.
With Shopify it is different, the advanced Shopify monthly plan starts at $299 per month, and you also have Shopify plus that starts at $2000 per month.
Some of the biggest e-commerce brands worldwide use Shopify plus. And that's a big deal! It includes unlimited transactions, products, inventory management, and future-proof built-in AR, video, and 3D media on product pages.
You also have 18% higher conversions and Shop Pay which is a 60% faster checkout.
Consumer Trust
Here, most of us know what the answer already is. Amazon has been around since 1994 and has probably already gained the trust of many consumers. Many people still aren't too familiar with Shopify.
If you ask random people about both platforms, the majority will tell you that they know Amazon better than Shopify. So, you have a trust advantage here with Amazon.
Payment Methods
Amazon mostly allows Credit & debit cards as the main payment methods while Shopify allows any kind of payment method. Just to mention Paypal, Payoneer, Stripe, etc.
Can You Use Both Amazon and Shopify for Dropshipping?
Nobody said you can't!
Even if you choose to advertise and build your legacy on both platforms, you can.
You can connect both platforms by integrating your Amazon selling account to Shopify to reach customers instantly.
You can compare both business models by learning the differences between Dropshipping and Retail Arbitrage. 
Amazon vs Shopify – Who Wins?
So it comes down to Shopify vs Amazon, who is the real winner? Is it the autonomy of Shopify, or is it the already made Amazon? Here is your answer:
If we look at which platform is better to have a dropshipping store, then it is definitely Shopify.
Since Shopify gives you flexibility and allows you to run your store however and whichever way you want, this lets you run your online e-commerce store without any distractions.
You don't have to worry about brand awareness, promotions, design, flexibility, autonomy, etc.
And of course think about the minimum budget, to start your dropshipping journey. We covered this topic in-depth here.
On the other side, we also have online sellers who don't want to take the liability of taking care of everything by themselves.
They prefer to choose a platform that is ready for them and doesn't waste their time and energy creating an online store. In this case, you want to choose Amazon.
The answer all comes down to what you want. What kind of seller are you? What is your goal? Once you know this, then you can find out who wins for your case.
IDEA #1: Spocket Dropshipping: The Ultimate Guide to Dropshipping With Spocket in the EU & US
IDEA #2: Wish Dropshipping: Everything You Need To Know As A Beginner
Was this blog helpful, make sure to visit our site for daily updates on how to run a successful dropshipping store?