10 Best Shopify Affiliate Apps for Shopify Affiliate Marketing
by
Aleksandra -
Aleksandra teaches marketing and management at various levels in High School. She writes about marketing, the economics and logistics of the dropshipping business and ecommerce in general.
Chief of Content Marketing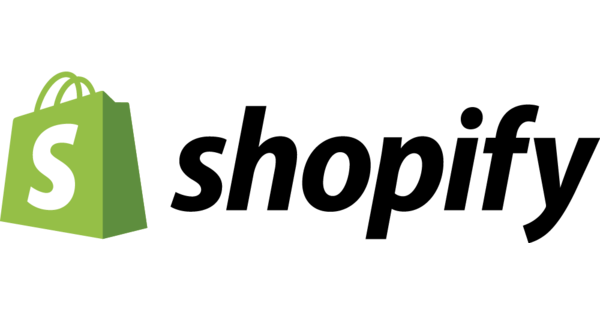 Shopify affiliate apps are another great way of increasing your sales through the Shopify platform. So, let's start with an affiliate example right away, if you click and Try Shopify with a 14-day trial period, we are going to earn commissions as Shopify Partners. Simple? Okay, let's dive in.
Shopify is considered to be the leading platform for Shopify dropshipping stores. What makes it different from the rest are the many apps you can download from their app store and automate your processes.
If you are a Shopify user, then we have some good news for you.
The platform has a huge list of affiliate apps you can use. Here's our ultimate Shopify apps buyer's guide.
Now, let's figure out how we can use these apps to our advantage.
What Are Shopify Affiliate Apps?
Shopify Affiliate Apps are apps that help you advertise your brand with affiliates and influencers.
An affiliate program is commission-based advertising where affiliates advertise all your products and refer potential new customers to your Shopify store in an exchange for a commission.
*Influencers can use these apps to gather new connections, apply, and monitor results.
Before we go in, get familiar with one of the most popular Shopify Apps out there Spocket for Dropshipping.
It's time to explore them. Make sure you stay till the end, we are sharing the most important info so you can make a healthy decision on which app to use, when, and how.

You can try Spocket For Free!
👉 Discover the GoHighLevel Review: The Secret Weapon for Marketing Success.

Lifetime deal: Get all-access to everything on Dropshipping.com
Access all DSCOM features, resources, courses, live workshops, discounts, winning products, weekly deep dives, directories and all future updates under all-in-one dropshipping HUB.
DROPSHIPPING IS A REAL BUSINESS, DON'T DO IT ALONE. 4553 MEMBERS ALREADY JOINED. YOU CAN PAY OFF YOUR SMALL INVESTMENT WITH JUST 2 SALES ON YOUR STORE.
Grab the deal before it's gone
Top 10 Best Shopify Affiliate Apps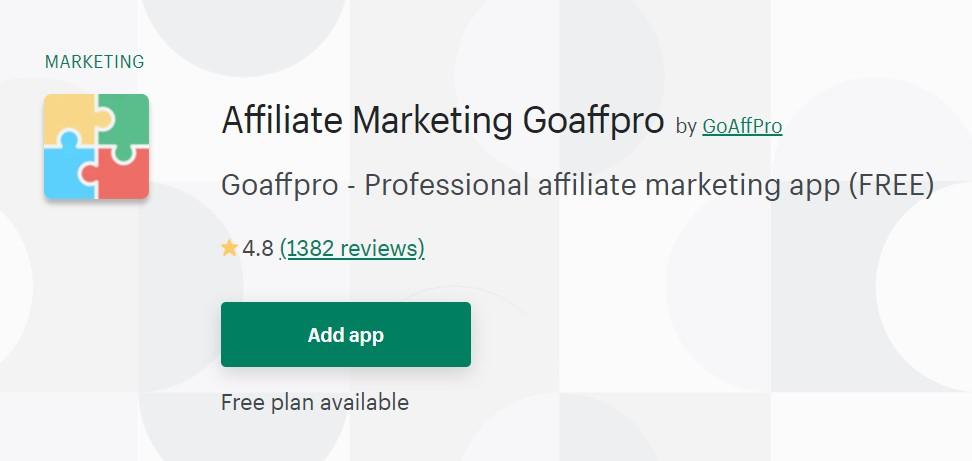 With over 1,000 reviews, Affiliate Marketing Goaffpro comes close to achieving a near-perfect 5-star rating on the Shopify app store. It is a professional affiliate marketing app that offers you a free marketing plan.
The app's main goal is to convert all your new customers into affiliates.
By doing this, they get encouraged to post more about hot deals on social media platforms like Facebook, Instagram, etc.
You may ask how Shopify users can turn new customers into affiliates? This is done through a customized portal. You can set up product-level commissions, monitor transactions, and accept all payments through PayPal.
With this app, you can monitor partner orders through 2 methods: coupon codes and referral links. Coupon codes can be produced automatically or put together for a specific promotion.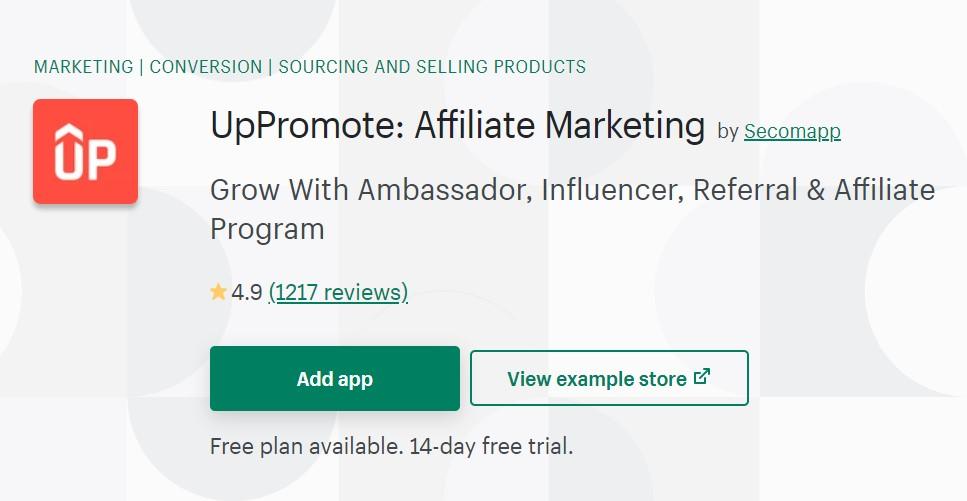 With UpPromote, you can get affiliates to sign up through a registration form and allow them to promote their products through coupons or links. You are allowed to create unlimited offers, so there is no limit to that. Let's not forget that you are able to test the app through a 14-day free trial.
The app gives you detailed instructions on setting everything up in just a few minutes.
You are able to track every click and order affiliates with different tracking methods. The performance tracker allows you to analyze product trends and analytics.
UpPromote has an easy payout process, it integrates with Paypal, helping you perform payments automatically with just a few clicks.
BONUS: 7 Best Payment Gateways For Shopify In 2023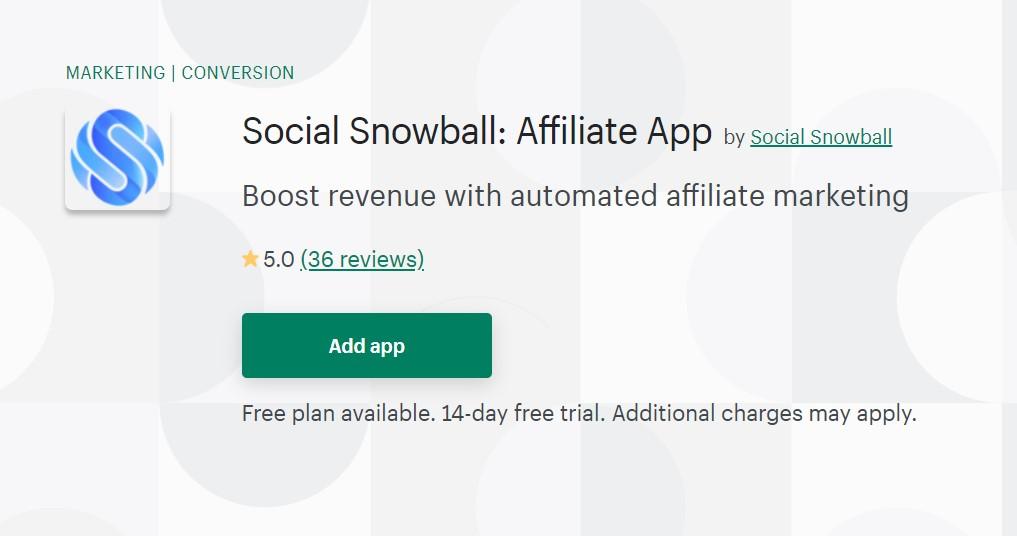 A Shopify affiliate app that requires minimal effort for everything. Social Snowball scores a perfect 5-star rating on the Shopify app store with nearly 40 positive reviews.
The app automatically signs up customers to an affiliate program, instead of them having to do so. It provides them a link or coupon code where they can earn a commission if they share it with their friends or family.
Online sellers can track their affiliates and progress through the Social Snowball dashboard. The Shopify affiliate app offers 6 payment methods and has a flexible customer support service.
Social Snowball has helped all of its users earn extra revenue from their automated affiliate programs. Even though it has under 100 reviews, the app was only launched last year and has been gaining popularity quite quickly since then.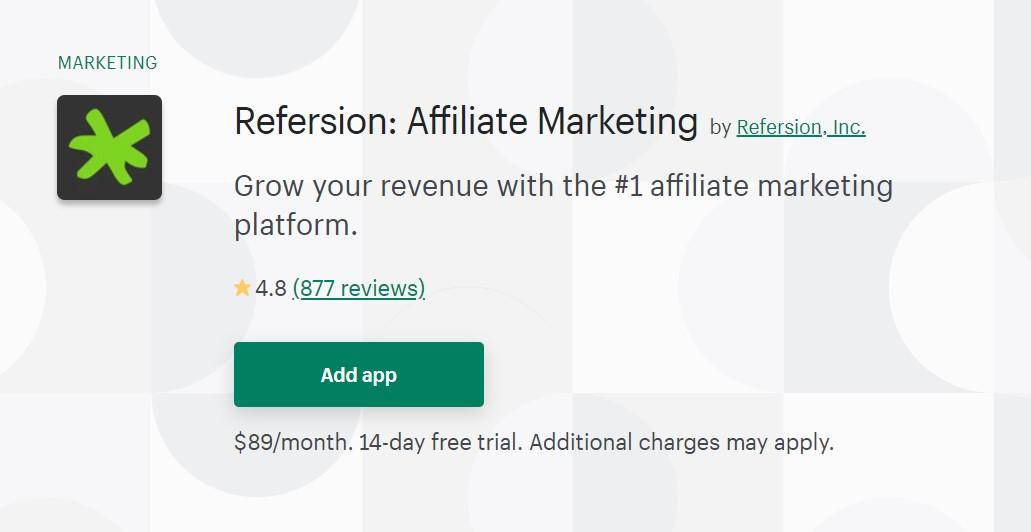 Refersion is a big player in affiliate marketing. Their affiliate marketing software combines all of its top features into one single tool.
If you own an eCommerce store on Shopify, this tool gives you a customized dashboard that can help you monitor the fees you pay to influencers and affiliates.
Affiliate commissions can be customized by affiliates. They receive their own customized dashboard after signing up, where they can set up campaigns, update personal information and run reports.
The big downside of Refersion is its high price of $89 per month and that funding is only available in the United States. On the other hand, you do get access to over 5 thousand potential partners at the beginning of your setup!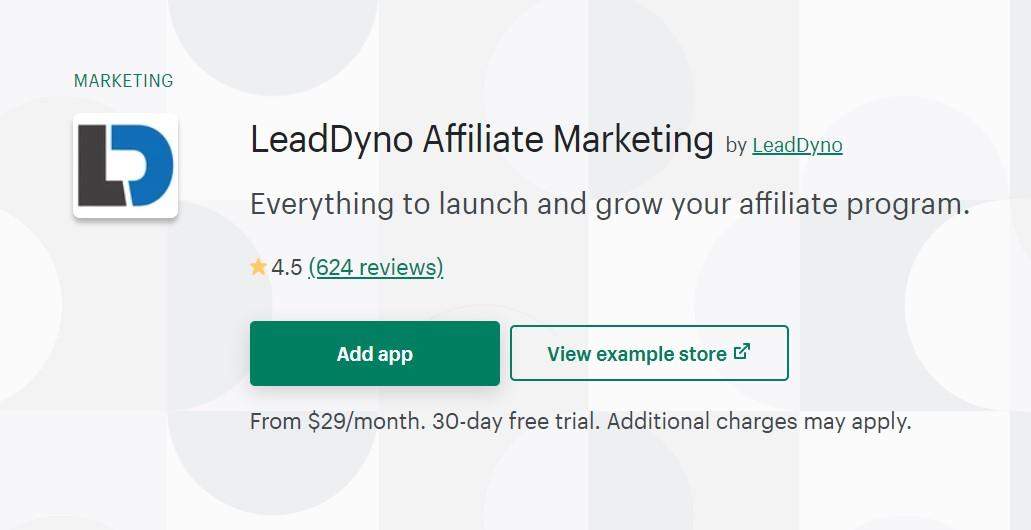 Many of the Shopify affiliate apps offer a 14-day trial but LeadDyno extends this to 30 days! It is a great affiliate marketing tool for those who don't have much knowledge of affiliates. The setup is simple and only takes a few minutes to set up.
Even if you don't know what to do, don't worry. LeadDyno assists you in promoting all your merchandise, having substantial customer support from the other affiliate apps. Customer service is available 24/7 and grants you a free connection to their partner network.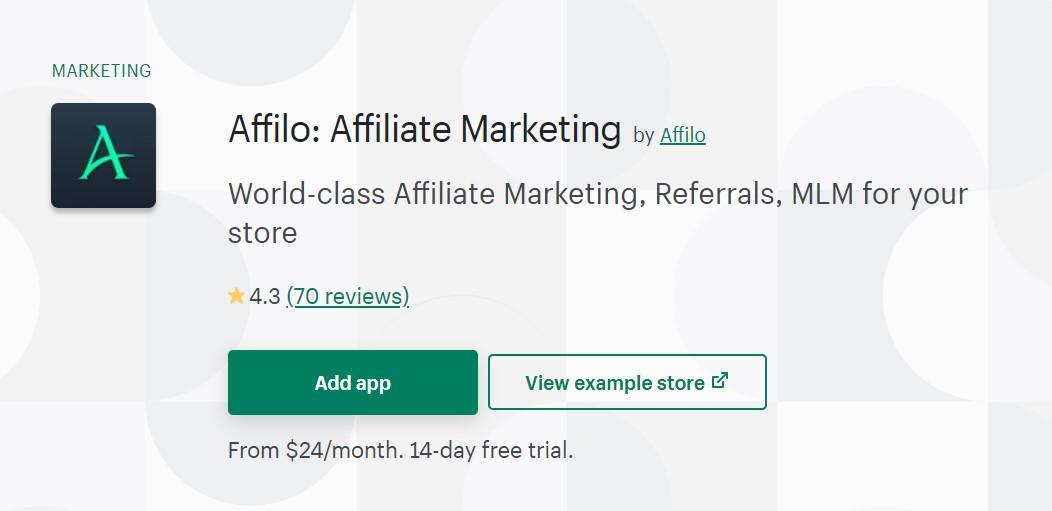 Don't let Affilo's reviews fool you. The app grants you access to unlimited affiliates, offers, links, orders, and so much more. This allows you to have many options for rewarding your affiliates.
Affilo offers three types of commissions:
Flat-rate commission– a fixed-rate payment made. Isn't based on percentage.
Percent-based commission- all commission earned by affiliates is by the amount of revenue they achieve.
Product-level commission– commission is earned from the number of products sold. Every product sold gives different earnings.
A great feature of Affilo is that you can change the commission rates at any time. You can offer commission rates based on the performance of marketers.
Here are a few highlights of Affilo:
Can use Paypal to pay your affiliates
The app has great templates to help with signups and managing affiliates
Many customizable commission scheme options
You can use links and coupon codes with your partners to drive more traffic to your website and make purchases.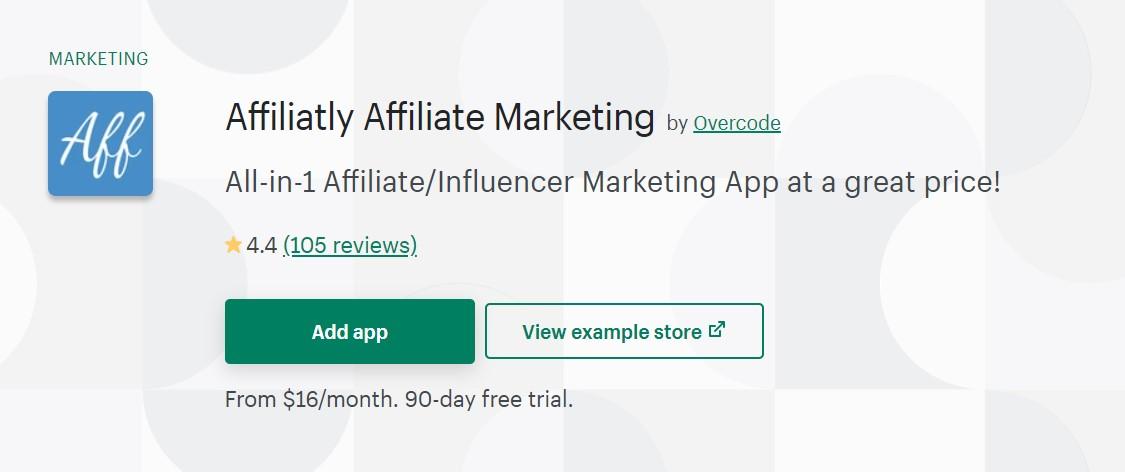 Affiliatly gives you the chance to place an unlimited number of referral orders. As a matter of fact, keep in mind you do have a limit to the number of partners you can have.
Unlike the other Shopify affiliate apps, Affiliatly allows you to use their platform for up to 90-days! You can monitor the program through many methods:
Coupon codes
QR codes
Links
Customer's email
You can pay your affiliates through PayPal or gift cards. Let's not forget that you may also provide your affiliates with banners or other content in order to help them sell your products or services.
Learn more: Shopify Marketing for Beginners
Here are some of the major benefits you get from Affiliatly:
Easy setup
Unlimited transactions
Providing affiliates with more promo materials to promote your products and services
2 payment methods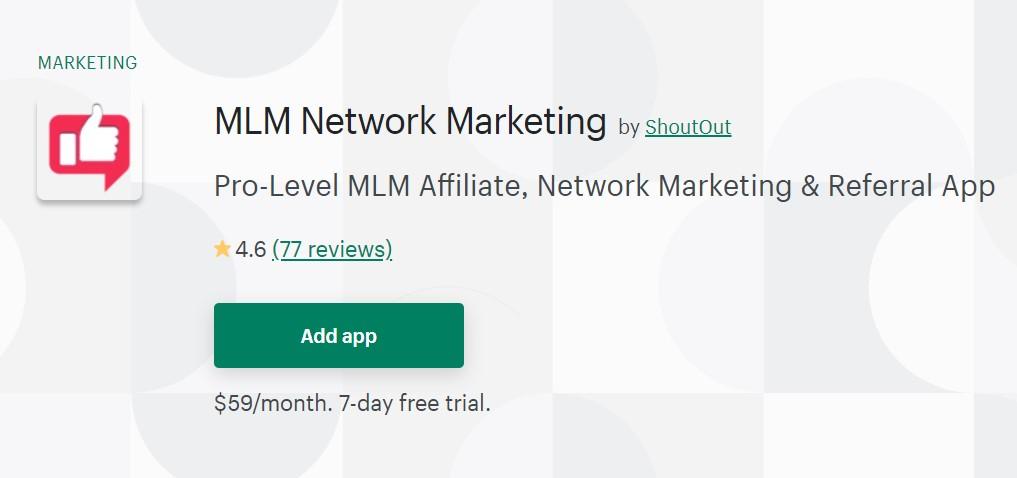 ShoutOut is a Shopify affiliate app specifically designed for online retailers. Identically, disregarding how much traffic or revenue you receive, the app fees are fairly low. Although, it only offers a 7-day free trial.
You can use the influencer's network to increase your traffic and revenue, without any additional costs. Its main motto is to pay your affiliates based on how much revenue you make.
Here are a few highlights of the app:
Sign-up templates
Affiliate dashboards
Automatic refunds
Discount code tracking
Only one plan offered by the app
Bamboo: Referral Program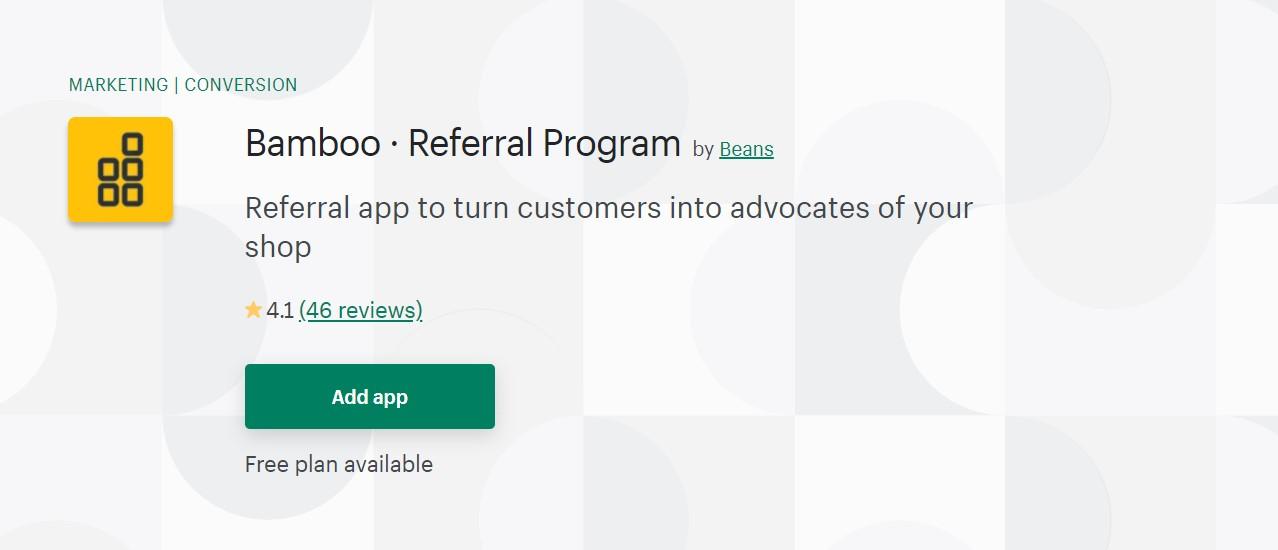 Has a new referral program that rewards customers when they promote your products to their friends and family members. Once your customers sign up, they get a referral link they can share. Next, whenever a family member or friend makes a purchase, your customer gets a reward.
Bamboo is a great app that takes advantage of affiliate and word-of-mouth marketing at the same time. A great way to attract new customers.
One of the only top Shopify affiliate apps that are for free! You can download the premium version too, which allows you to refer up to 400 people vs 30 with the free version.
Bamboo highlights:
Up to 400 referrals per month
Allows you to integrate referral campaigns with emails and popups
Excellent referral program that builds trust quickly with new customers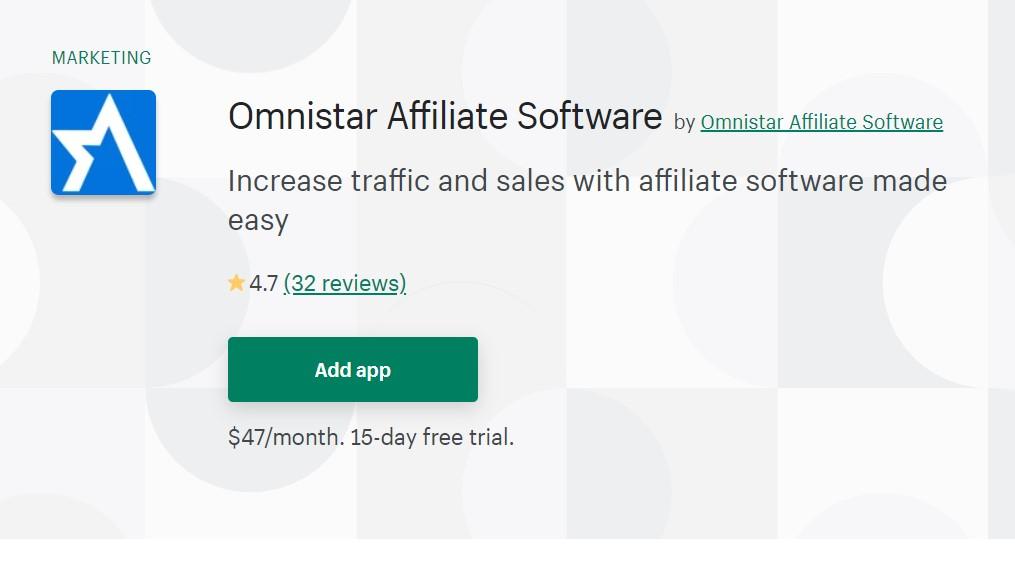 Omnistar's main goal is to help you build and maintain your affiliate program without much effort. Furthermore, it provides free networking tools and easy-to-navigate dashboards that are specifically designed for managing affiliates.
Here are a few free networking tools designed for handing affiliates by Omnistar:
Email templates
Banners
Social media widgets
BONUS: Check our extended list of the best marketing apps on Shopify.
Affiliates have an easy sign-up process and are paid by PayPal. you are able to set up a multi-tier referral network and earn referral perks such as discount cards, vouchers, and many other bonuses.
Omnistar's customer service is indeed excellent, although it does not support any recurring affiliate earnings. Moreover, let's not forget that you also have to use external email services to contact affiliates.
Join the only community and resource hub you'll ever need to succeed with dropshipping
Find winning dropshipping products, learn marketing, download templates and engage with real dropshippers
Never pay for a "guru's" course again. See why 4543+ dropshippers joined us this year!
💡Try DSCOM Hub Now
Conclusion
These were our top 10 best Shopify Affiliate apps. However, there are many affiliate apps on the Shopify app store, although we recommend these as we saw they have better reviews and may make your life easier when doing affiliate marketing.
Influencer marketing is a big part of affiliate marketing. Learn more about influencer marketing for dropshipping.
Also, we have created an ultimate guide with the 10 best Shopify Dropshipping Apps. Check them out to update and grow your store.