Shippo vs Shipstation: The Ultimate Comparison For Sellers
by
Martin -
Martin is an agency owner and SaaS projects maker. His work is featured in the leading ecommerce brands, magazines and podcasts. Talks about Marketing, Business Development, and Growth Hacking!
CO-founder at Dropshipping.com
When you are dropshipping, there are several things that are very important to keep on track. Inventory management, order fulfillment, and more importantly – shipping management.
Your customers must have trust in your ability to fulfill their orders quickly and to deliver their orders in good condition.
Thankfully, there is various shipping management software out there, and you have a chance to choose. And, some of the best nowadays are Shippo and ShipStation. But which one is better?
In this guide we will make an in-depth review and comparison between Shippo vs Shipstation.
What Do You Need To Know About ShipStation and Shippo for Order Fulfillment?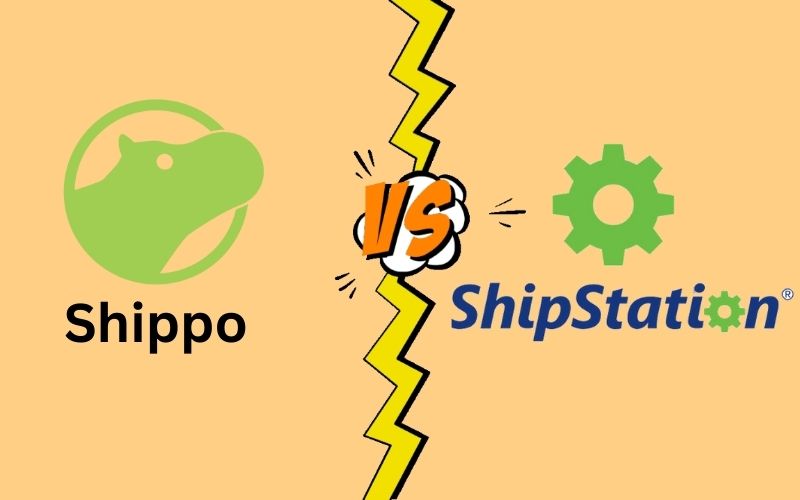 ShipStation integrates with the majority of eCommerce platforms, shipping services, payment gateways, and shopping carts. Also, it connects quickly to the majority of selling channels.
What's more, the ability to simultaneously import data from several sources is tremendously helpful for eCommerce businesses.
👉 Read about Data In Dropshipping: The Importance & Characteristics Of Data In Ecommerce.
Furthermore, this dropshipping platform succeeds as a leader in the shipping and order fulfillment process because of its sophisticated features including multi-carrier shipping, multi-account connections, and shipment tracking.
On the other hand, Shippo is a really excellent tool for managing inventories and fulfilling orders. This service offers a wide range of fantastic features for any small organization. Shippo may be used to improve and automate a number of sub-processes in your fulfillment process.
In fact, a versatile API provided by the platform enables eCommerce companies to integrate it into their online stores. This makes it simple for online retailers to communicate with international carriers including USPS, UPS, FedEx, and DHL, which also lowers e-commerce shipping costs.
👉 Check out the 7 Best Payment Gateways For Shopify In 2023.
Additionally, it makes the entire delivery procedure visible. This is excellent for increasing customer satisfaction.
What's more, orders from eBay and Etsy as well as Magento conversions may all be managed in one place.
It's also important to point out that the Shippo interface is incredibly simple, making it an excellent option for beginners who are unfamiliar with coding and websites.
Shippo and ShipStation are outstanding companies handling order fulfillment and shipment management.
Both platforms serve thousands of eCommerce businesses worldwide and will first appear to be similar service providers. However, both platforms really cater to different sorts of businesses and retailers.
💡 Tip: Learn about Dropshipping Fulfillment: Supply Chain and Fulfillment Process Explained.
Because of this, a thorough comparison of Shippo vs Shipstation is required, analyzing all the important features, costs, pros, and cons.
Lifetime deal: Get all-access to everything on Dropshipping.com
Access all DSCOM features, resources, courses, live workshops, discounts, winning products, weekly deep dives, directories and all future updates under all-in-one dropshipping HUB.
DROPSHIPPING IS A REAL BUSINESS, DON'T DO IT ALONE. 4553 MEMBERS ALREADY JOINED. YOU CAN PAY OFF YOUR SMALL INVESTMENT WITH JUST 2 SALES ON YOUR STORE.
Grab the deal before it's gone
Quick Shippo Review
However, for those who don't have the time to read the full Shippo vs ShipStation Review, take a quick look at the short Shippo Review!
The best
Best-in-class technology

Integrates with major eCommerce platforms, delivery companies, and marketplaces

Free trial available

Reduced carrier fees

Great back-end setting

Simple-to-use elements

Flexible navigation and an easy user interface

No technological expertise is necessary
The worst
Limited customer support

No built-in marketing apps for integration

Basic security features

Difficulties with billing

Discounts could be smaller
Starting from
Starter – 30-day-free-trial; Professional – $10/month; Premier- contact sales
The Ultimate Shippo Review: Shippo For Dropshipping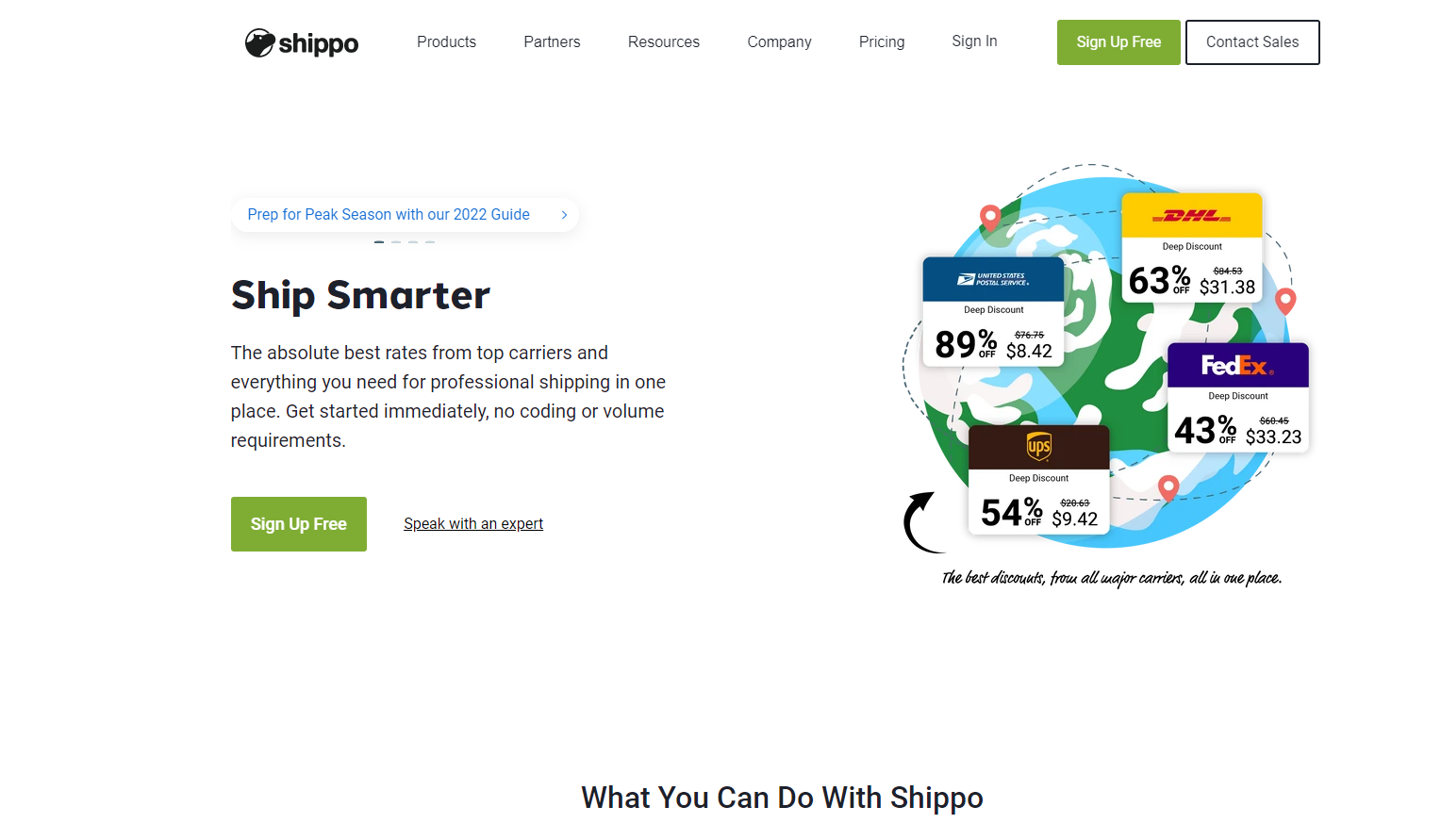 Shippo is a functional SaaS platform that makes it easier for businesses to manage their order fulfillment process.
Undoubtedly, more than 35,000 e-commerce businesses have used the service since its founding in 2013, and they have all benefited from its shipment management capabilities.
In addition, the results are clear today as well. This order fulfillment software has 4.2/5 stars, with 74% of customers voting for 5 stars, on Trustpilot. Also, most of the comments show great customer service.
However, we always prefer to take a look at trustworthy software review websites, like Software Advice. So, according to Software Advice, Shippo is an excellent platform rated as 4.8/5 stars. 👇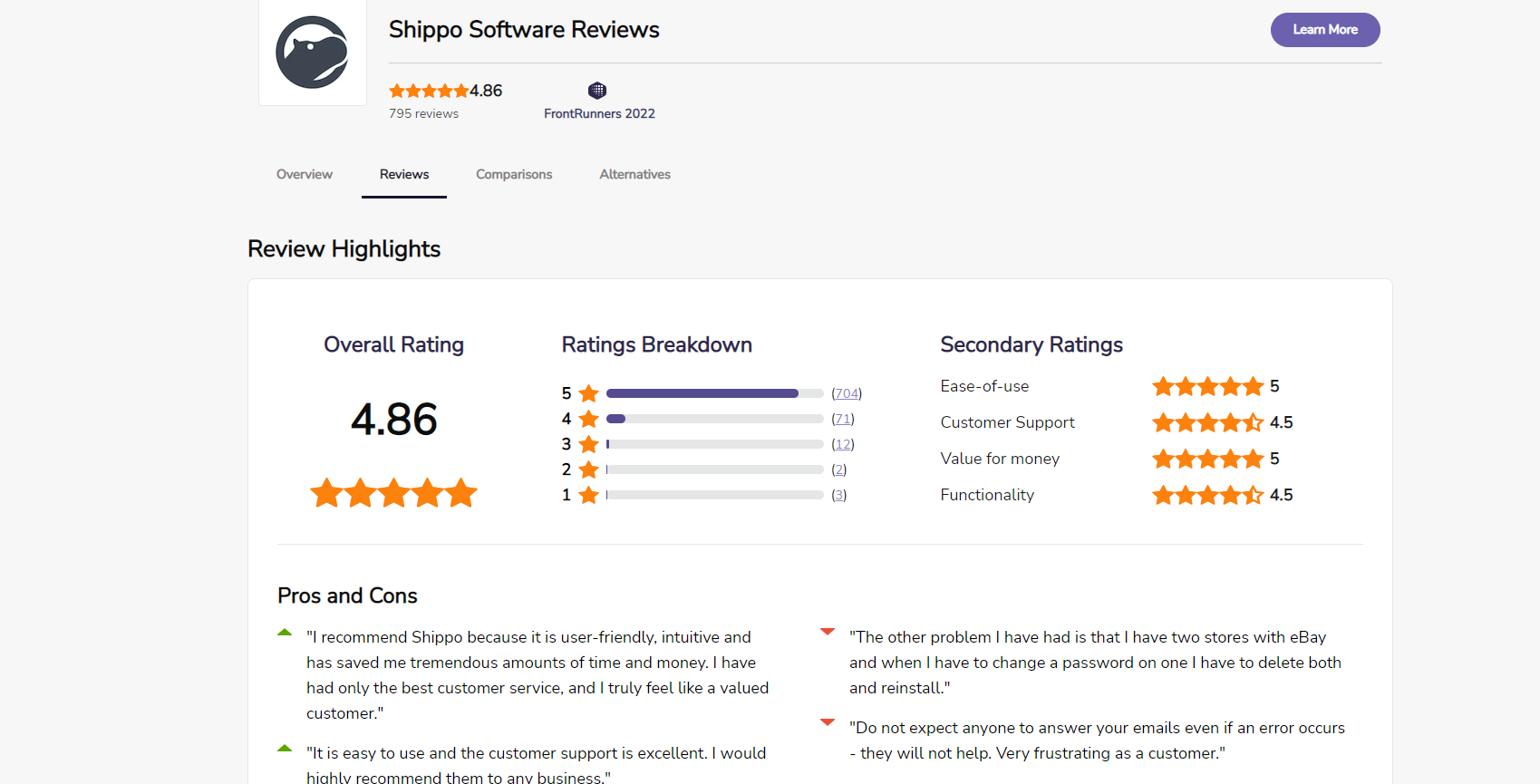 Along with this, Shippo assists businesses with managing inventory, and shipping costs, and even building connections with companies like DHL.
Besides, Shippo simplifies fulfillment by creating a solid connection between your business and your shipping operations.
The platform is integrated with their online businesses via its customizable API. From there they connect with some of the most well-known international carriers, like DHL, USPS (priority mail, etc.), UPS, FedEx, and many more.
How Does Shippo Work?
Firstly, Shippo will sync with your inventory once you have connected it to your website, and then it will keep track of your clients orders.
Next, all client purchases are subsequently collected by the system, where you may organize carriers, create pre-paid shipping labels, and keep track of the status of your deliveries.
When you're finished, Shippo sends all that data about order fulfillment back to your eCommerce database.
The platform also succeeds in updating your clients about any changes. Thus, since customers are constantly interested in the status of their orders, these monitoring capabilities translate to excellent customer service.
👉 Check out the Top 8 White Label Dropshipping Suppliers In the USA [+Tips & Products].
Now, the more important part of the Shippo vs ShipStation Review – the features!
Shippo Key Features
Ease of Use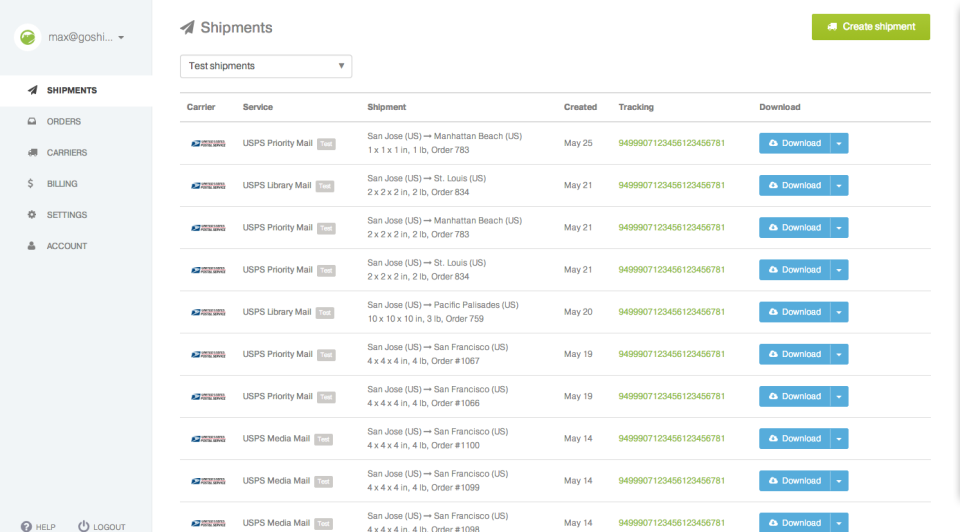 The UI of Shippo is simple to use and well-structured. Indeed, even beginners find this platform and its features highly flexible to use thanks to its simple design.
However, you must first connect your online store to your Shippo account after creating one.
Therefore, you may simply copy the URL of your website and paste it into your Shippo account. This is most common if you run a Wix or Shopify store.
Furthermore, the interface of your online store will then be redirected by Shippo, where you can track orders and keep an eye on your inventory.
For the first 30 days, there is no fee to start using Shippo. But when the free trial time expires, you'll need to pay at least $10 a month to continue using the service.
Instead, you might choose Shippo's Pay-As-You-Go package, which costs just 5 cents for each shipping, without including the associated postal fees.
The simple interface from Shippo gives you easy access to your orders, shipments, statistics, and settings.
Absolutely, you won't have any issues getting the flow of things. Even unskilled retailers are able to start fulfilling orders straight away.
Order Management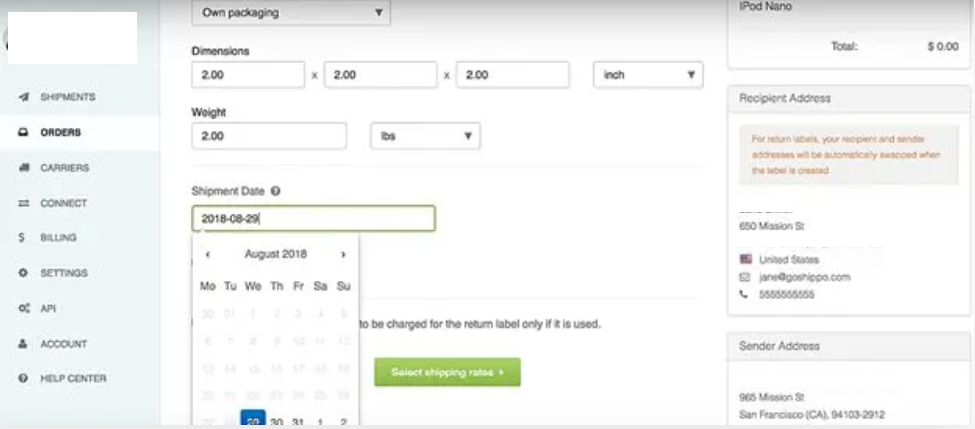 Shippo offers countless possibilities for managing various selling channels. It functions as a central platform that allows freedom to organize order fulfillment across all of your channels.
Thus, it makes it simpler for multichannel sellers that wish to control all shipments and orders from a single platform.
Shippo's Order Management provides a variety of information on order specifics, including shipping service details, carrier details, delivery addresses, and many more. Your clients can also receive real-time delivery updates along with an expected delivery time.
This software simplifies your order tracking since it provides detailed carrier information and shipping services info.
Additionally, Shippo offers batch printing features with its services, enabling you to print package labels and shipment information for large orders.
Even more than 100 prints for packaging can be produced simultaneously. Moreover, it provides discounted shipping insurance so that you are not concerned about any losses.
Furthermore, Shippo will update its ETA if anything changes until a package are successfully delivered. However, it will still show the initial ETA in the meantime so you can identify late delivery.
Managing Carriers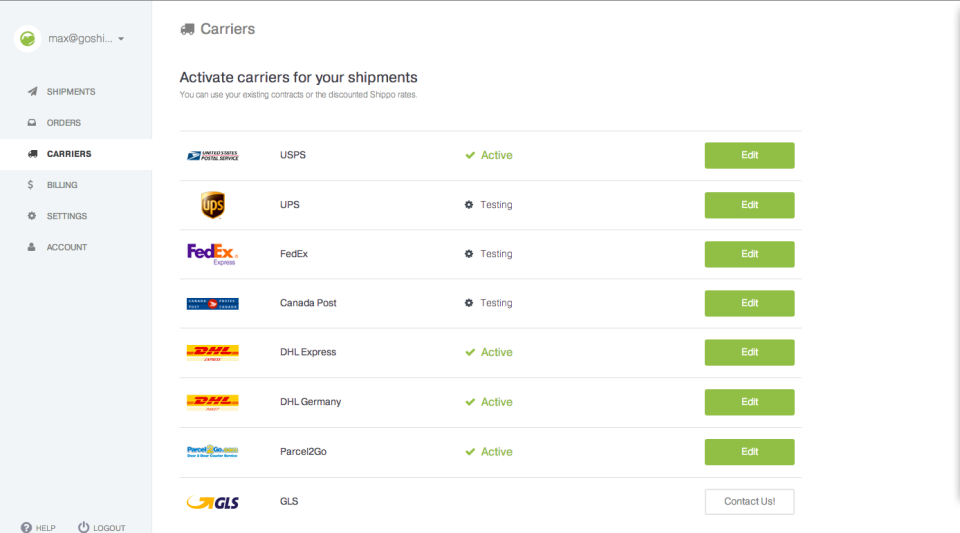 Shippo is a US-based order fulfillment service, but it still offers shipping options to almost every country.
Thus, it collaborates with more than 50 trustworthy shipping carriers, including USPS, FedEx, DHL, UPS, and many more.
However, you can integrate with alternative providers to complete an order if it comes from an area where Shippo doesn't ship orders.
Shippo enables you to evaluate all shipping costs from all carriers in real-time so you can make a decision based on your budget. Also, it offers multiple shipping rates, like
Up to 40% off USPS rates
Up to *77% off UPS Ground rates
Up to *88% off UPS International
84% off USPS Retail Prices
29% off FedEx rates
Up to 78% off GlobalPost Economy
Up to 72% off GlobalPost Standard
Up to 74% off GlobalPost Plus
Finding the ideal group of carriers should be simple given that they cover a variety of locations and offer various delivery charges for your orders.
However, we have something better for you on this matter. Therefore, keep reading the Shippo vs ShipStation comparison.
Integrations & Add-ons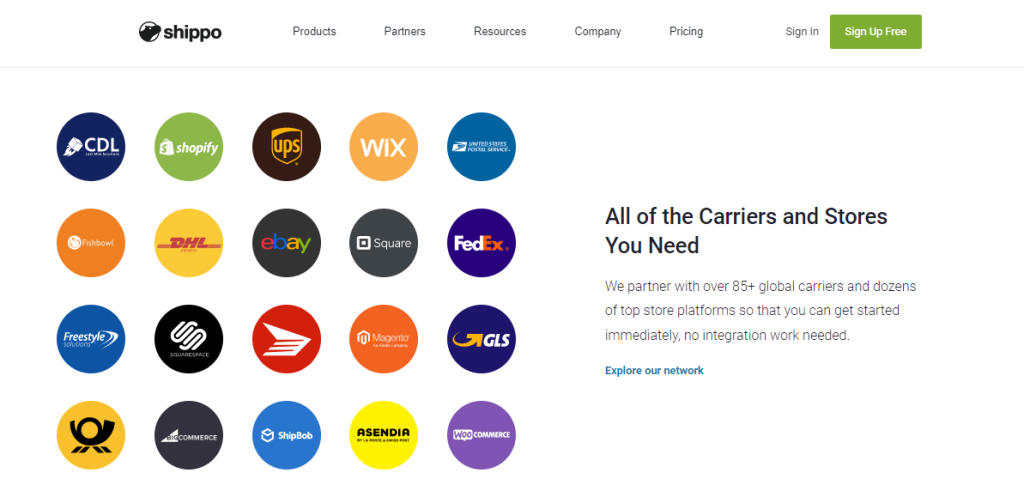 Shippo is a dynamically adaptable platform that has pre-built interfaces with a variety of marketplaces, eCommerce platforms, and shipping providers.
You may integrate with well-known brands like Shopify, Wix, WooCommerce, BigCommerce, and Magento. Additionally, if you operate a business on marketplaces like Amazon, Etsy, eBay, etc., Shippo might be your best order fulfillment system.
Furthermore, more than 55 shipping companies are supported by Shippo, including USPS, FedEx, UPS, Canada Post, DHL Express, and others.
Additionally, Shippo gives you the option to create a custom integration using its Orders Endpoint shipping API if a certain app isn't already supported.
Shippo Pricing
Maybe the most important advantage of Shippo vs Shipstation is exactly the pricing. This platform has more flexible pricing plans.
Shippo offers three pricing plans: Free, Starter, and Premium. 👇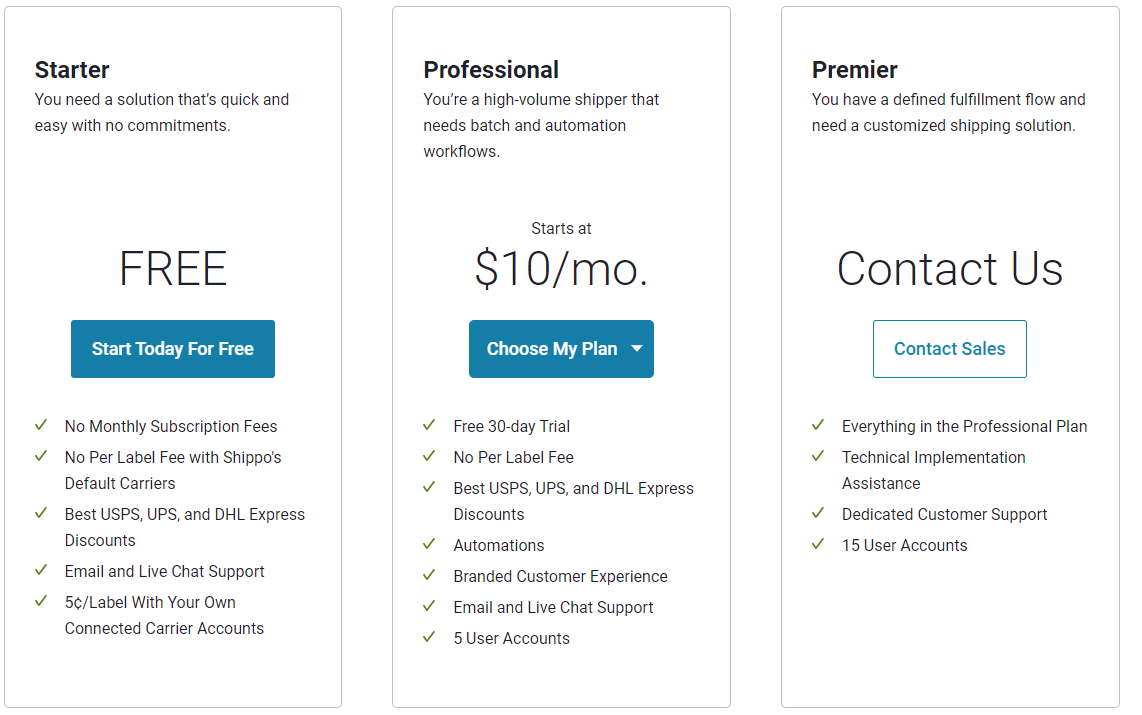 Not to mention, that Shippo offers a pay-as-you-go option, and a 30-day free trial, which is very cost-effective for the users.
Shippo Pros And Cons For Order Fulfilment
If you wish to send around 50-5k orders each month Shippo is a fantastic option. It enables you to handle all order-related operations and monitor costs effortlessly.
Additionally, it has a free plan, which is excellent for those just starting out in eCommerce. Moreover, this incredible platform has the best technology, and it provides the best back-end settings and elements.
Moreover, it is the best-in-class tech since you are able to coordinate your order fulfillment strategy across all of your stores from a single platform.
However, with every PROS, there are CONS as well. Thus, there are some backward regarding Shippo as well. The limited customer support, lower discounts, and no marketing app integrations.
👉 Check out 7 Tips For Creating a Bulletproof Dropshipping Marketing Strategy in 2023.
Also, if you need assistance with things like shopping carts, shipment tracking, or packing slips Shippo might not be your best option.
Let's take a look at the list of its PROS and CONS.
Shippo Order Fulfilment – The Pros
✅ Best-in-class technology
✅ Integrates with major eCommerce platforms, delivery companies, and marketplaces
✅ Free trial available
✅ Reduced carrier fees
✅ Great back-end setting
✅ Simple-to-use elements
✅ Flexible navigation and an easy user interface
✅ No technological expertise is necessary
Shippo Order Fulfilment – The Cons
❌ Limited customer support
❌ No built-in marketing apps for integration
❌ Basic security features
❌ Difficulties with billing
❌ Discounts could be smaller
Shippo Competitors
Shippo vs Shopify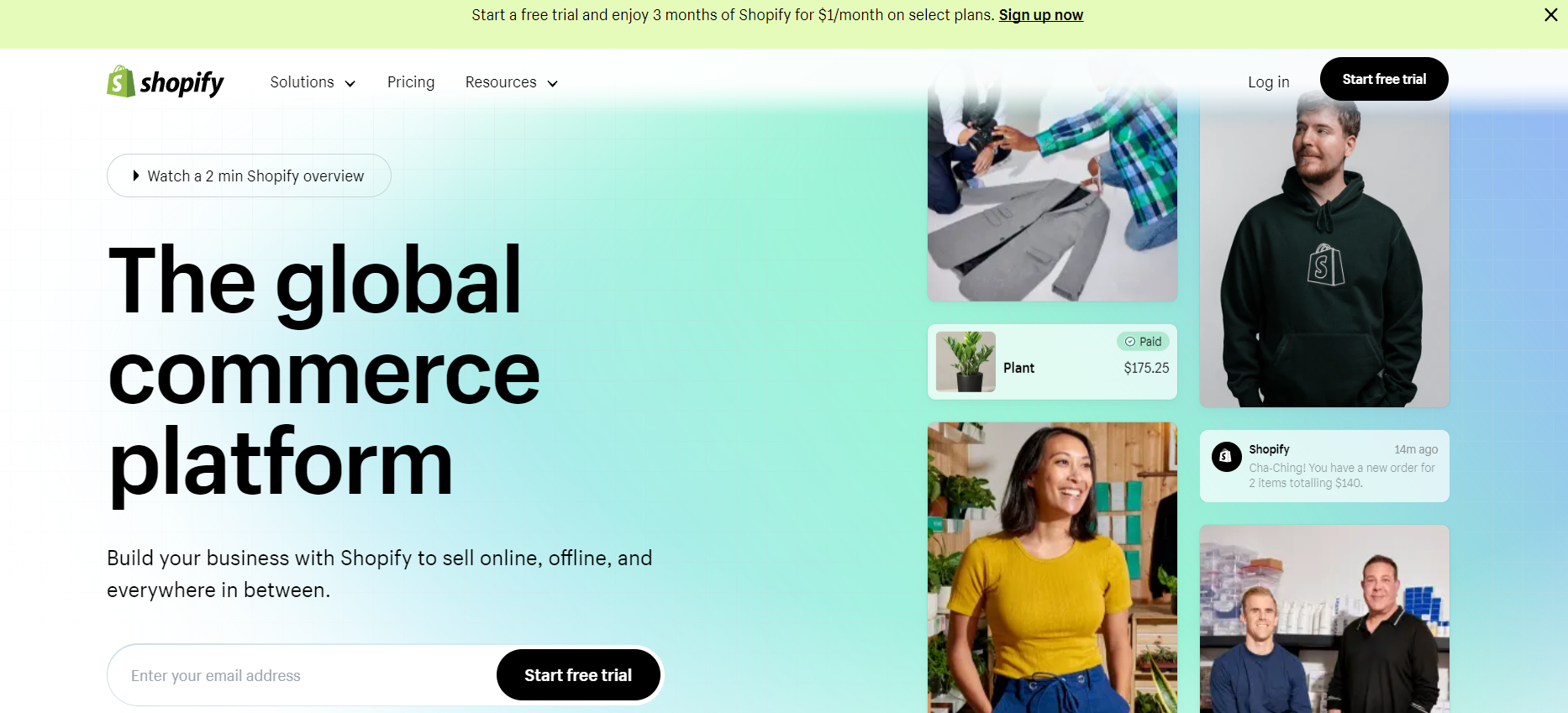 We all know Shopify as the #1 eCommerce platform, but is it in every aspect? Well, this depends on what is important to you!
First of all, we must mention that the main goal of both companies differs from one another.
Thus, Shippo is a multi-carrier shipping platform that enables eCommerce companies to easily find the cheapest shipping prices, print labels, automate fulfillment, track deliveries, and handle refunds.
Also, it integrates with eCommerce platforms like Shopify, WooCommerce, Magento, BigCommerce, Volusion, and 3dcart. This means that it works great with Shopify dropshipping stores.
In contrast, Shopify is a top eCommerce platform with more than 500,000 merchants globally.
Next, while Shippo is a more cost-effective choice for small businesses, Shopify has more features. Therefore, Shopify is a good choice if you're seeking an e-commerce platform with excellent shipping services.
💡 Tip: Take a look at the Best Dropshipping Websites, Suppliers & Dropshipping Companies For Everything You Need.
However, Shippo is an excellent alternative if you're searching for something more reasonably priced.
Additionally, when comparing Shippo vs Shopify, Shopify bills customers a monthly subscription for access to their platform, which also covers shipping options. On the other hand, Shippo charges a per-transaction fee for their services.
👉 Check out the Best Alternatives to Shopify.
Easyship vs Shippo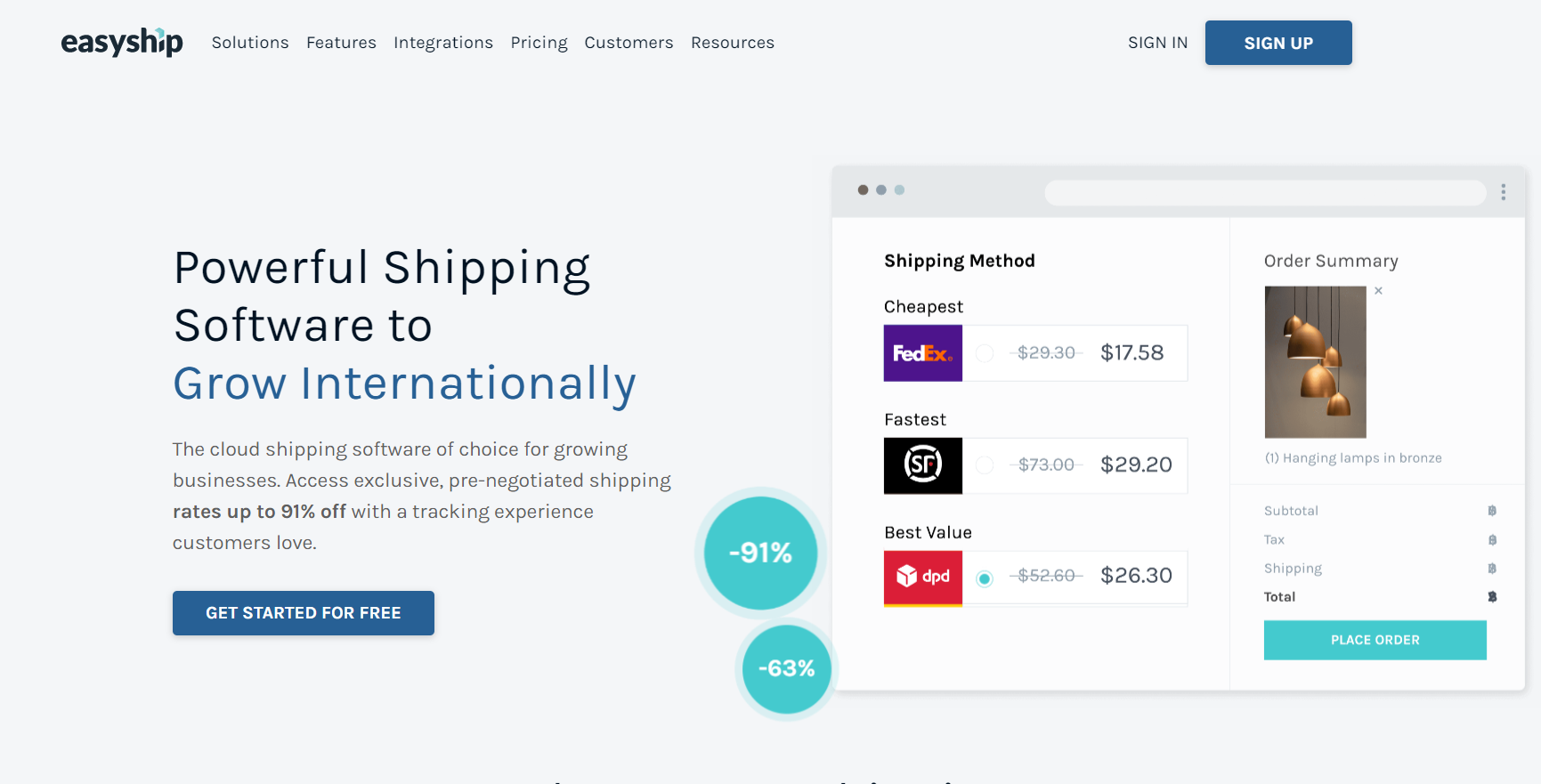 Easyship provides a more comprehensive solution whereas Shippo may be slightly simpler to use.
Next, EasyShip provides excellent 3PL partner services like warehousing. This merely gives it an edge over Shippo.
However, Shippo provides incredible discounts for US-based retailers delivering both domestically and globally. Therefore, Shippo has an advantage over Easyship in that its clients enjoy cheaper delivery costs and more discounts.
Another advantage of Shippo vs EasyShip is that Shippo offers a wide range of price points, whereas Easyship offers less. This way Shippo satisfies customers' needs regarding shipping quantities, dimensions, etc.
Additionally, Easyship features a calculator that provides UPS, shipping costs, couriers, discounts, and tracking status, whereas Shippo only offers a UPS shipping Shippo calculator.
Shippo vs ShippingEasy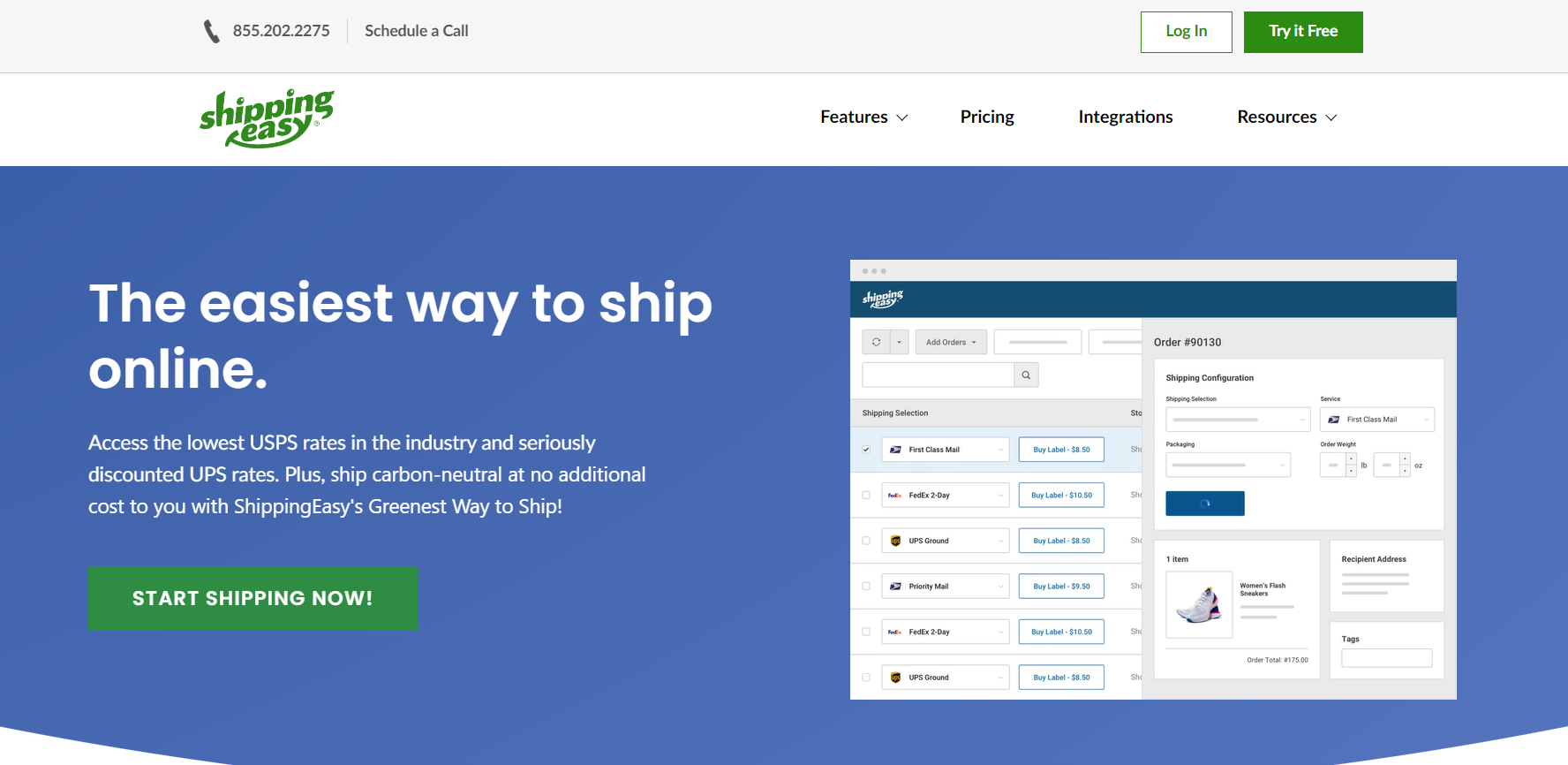 The most well-known shipping software systems are Shippo and ShippingEasy. Both of them have a ton of features and are quite affordable. However, there are various differences between them when it comes to delivery choices, customer service, price, etc.
First, ShippingEasy offers monthly membership rates based on the number of features and shipments, while Shippo employs a pay-as-you-go strategy where consumers pay for the number of labels.
Next, ShippingEasy only covers FedEx, UPS, and USPS carriers, Shippo supports these four and more other.
Additionally, ShippingEasy offers comprehensive customer service with availability through phone, email, and live chat 24/7, and this is where it is better than Shippo.
However, we must point out that ShippingEasy wins in terms of features. Order administration, shipping labels, postage buying & tracking, and automated order importation are all features of this platform.
Additionally, it provides sophisticated product catalogs, marketing features, and solid business analytics insights, which Shippo lacks.
Shippo vs Stamps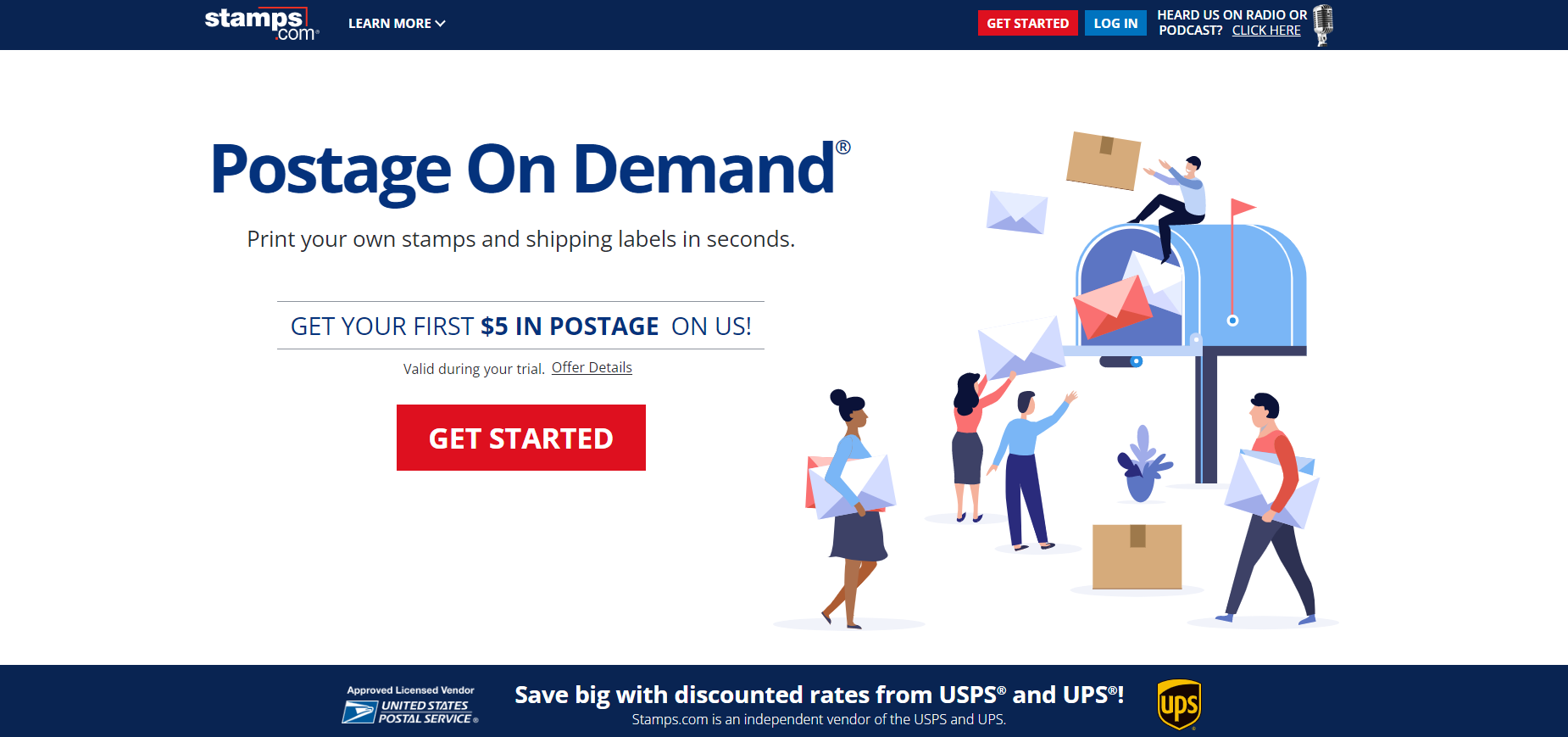 Stamps is great for dropshipping businesses that ship the majority of their goods by priority mail. They also offer you a free scale (shipping costs only).
On the other hand, Shippo could be an excellent option for you if you own a small business. Also if want to integrate a reduced shipping service with your online marketplace, eCommerce store, or shopping cart, this one is the best!
So, comparing Shippo vs Stamps, Shippo provides a pay-as-you-go service without a monthly subscription.
Next, While Stamps solely employs USPS as a carrier, Shippo interfaces with over 30 delivery partners.
Also, while Stamps offers a downloading version for PC, Shippo is cloud-based. However, in contrast to Stamps, Shippo does not offer shipping essentials like boxes and weights.
Nonetheless, keep in mind that although both services provide cheap shipping and a sizable number of integrations, neither service offers a mobile app for shipping in transit.
Further, what is the Shippo vs Shipstation review, without the ShipStation review by itself? Let's start with the ShipStation review.
Quick ShipStation Review
If you don't have the time to read the in-depth Shippo vs ShipStation Review, take a quick glance at the short ShipStation review. 👇
The best
Numerous customization options

Available automation features

Lots of marketing integrations

Various global shipping options

Onboarding Assistant

Great technical support
The worst
Incline learning curve

Technical problems might occur often

The packing slips are terrible

Bad customer service

Expensive pricing plans
Starting from
Starter – $9/month; Bronze – $29.99/month; Silver – $59.99/month; Gold – $99.9/month; Platinum – $149.9/month; Enterprise – $229.9/month
The Ultimate ShipStation Review: ShipStation For Dropshipping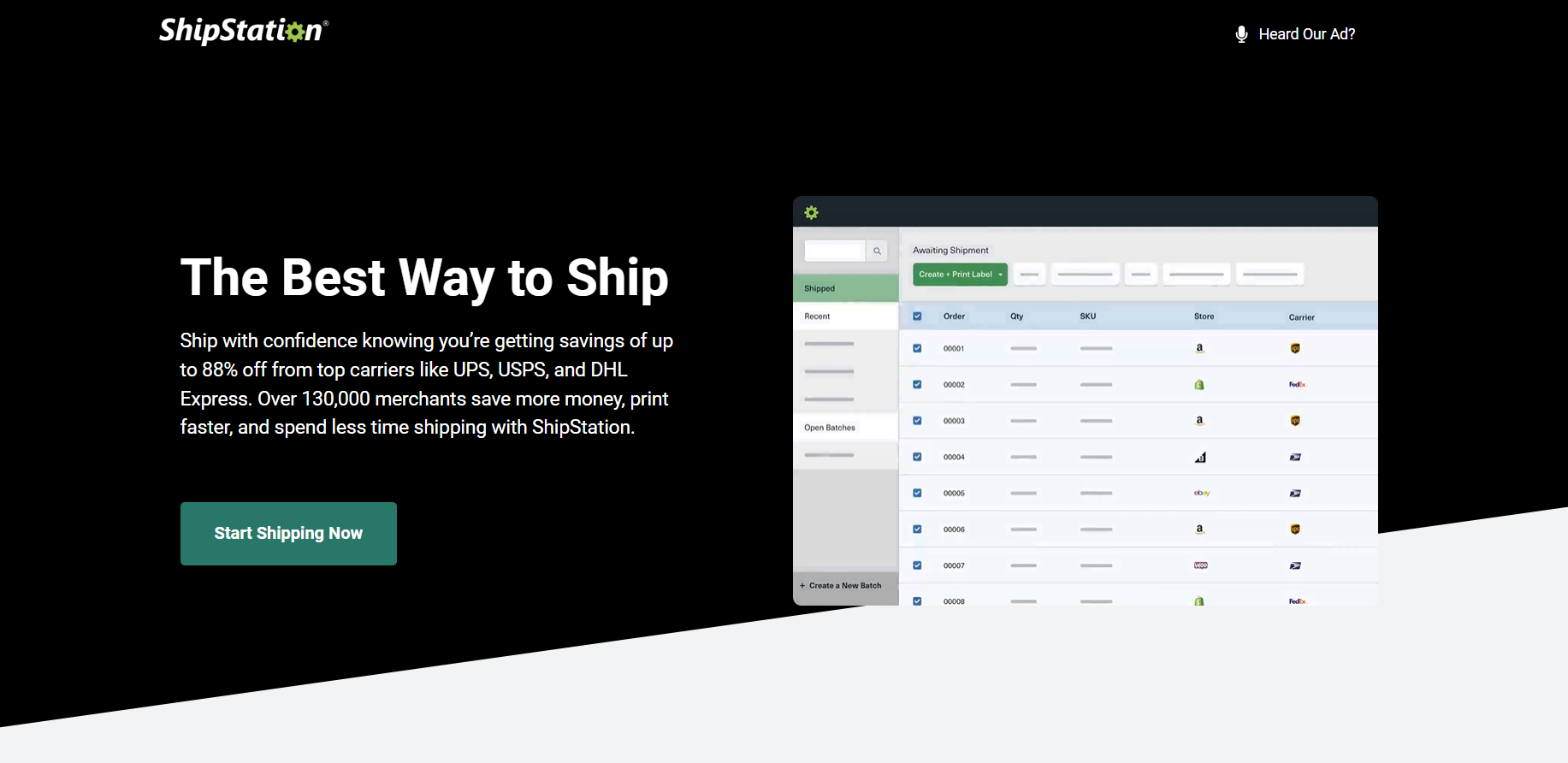 Bryon Wier and Jason Hodges founded ShipStation in 2011, and it has since become one of the most effective shipping software available.
This multi-carrier web-based solution speeds up the fulfillment process and includes a number of features that help you automate and process orders from the most widely used shopping carts and sales channels.
Also, ShipStation seamlessly integrates with shipping companies, e-commerce platforms, shopping carts, and a variety of other important sales channels.
Thus, you have the ability to import order data from many sources at once if you have sufficient integrations synchronized to ShipStation.
However, it also gives you the option to link many accounts to a single subscription and utilize its sophisticated features to coordinate with different shipping carriers, arrange order data, track shipments, etc.
Also, according to Software Advice, ShipStation is rated 4.6/5 with the aim of great ease of use, customer support, functionality, and integration options. 👇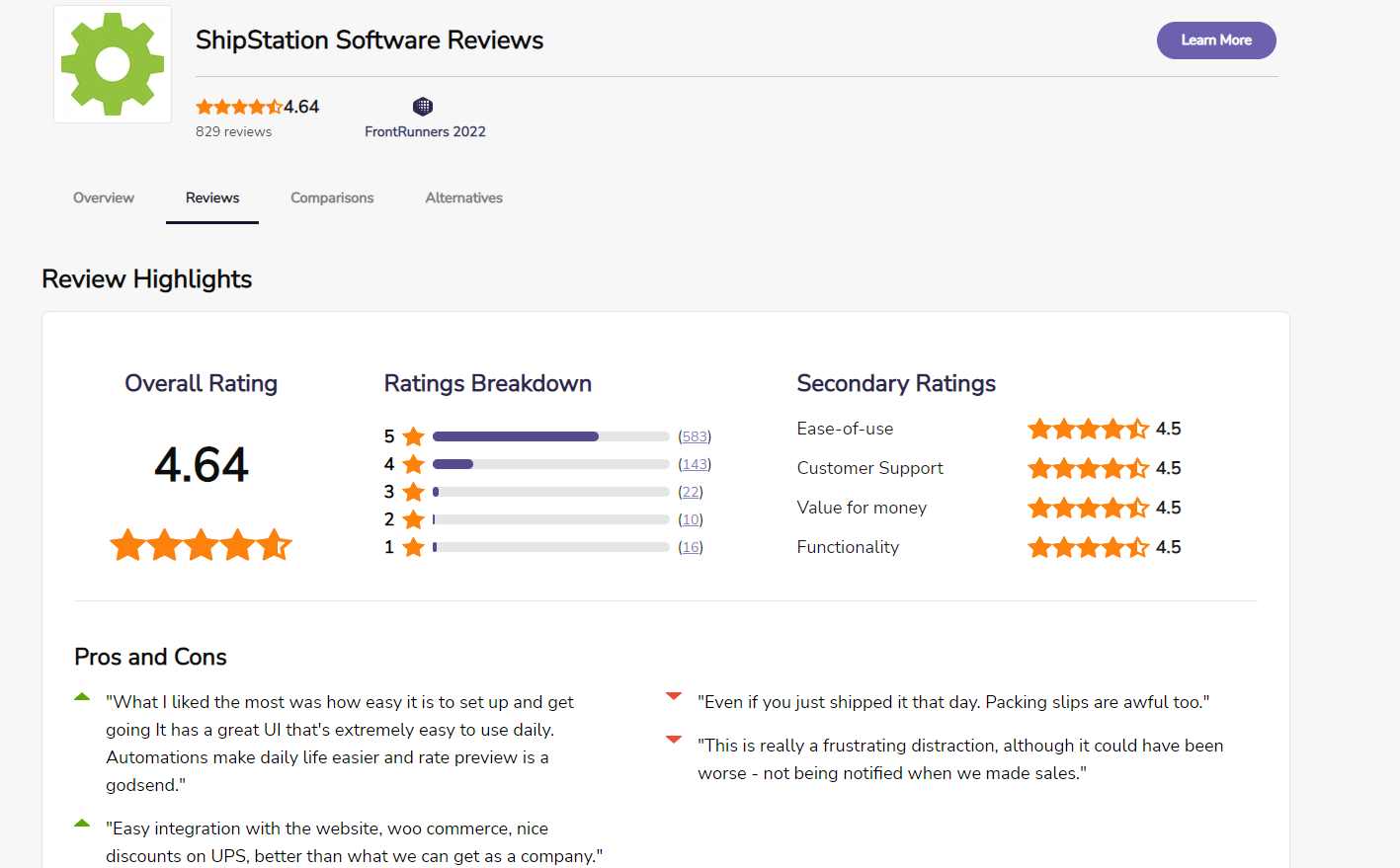 How does ShipStation work?
First, ShipStation imports orders from an integrated order source, such as an eCommerce website.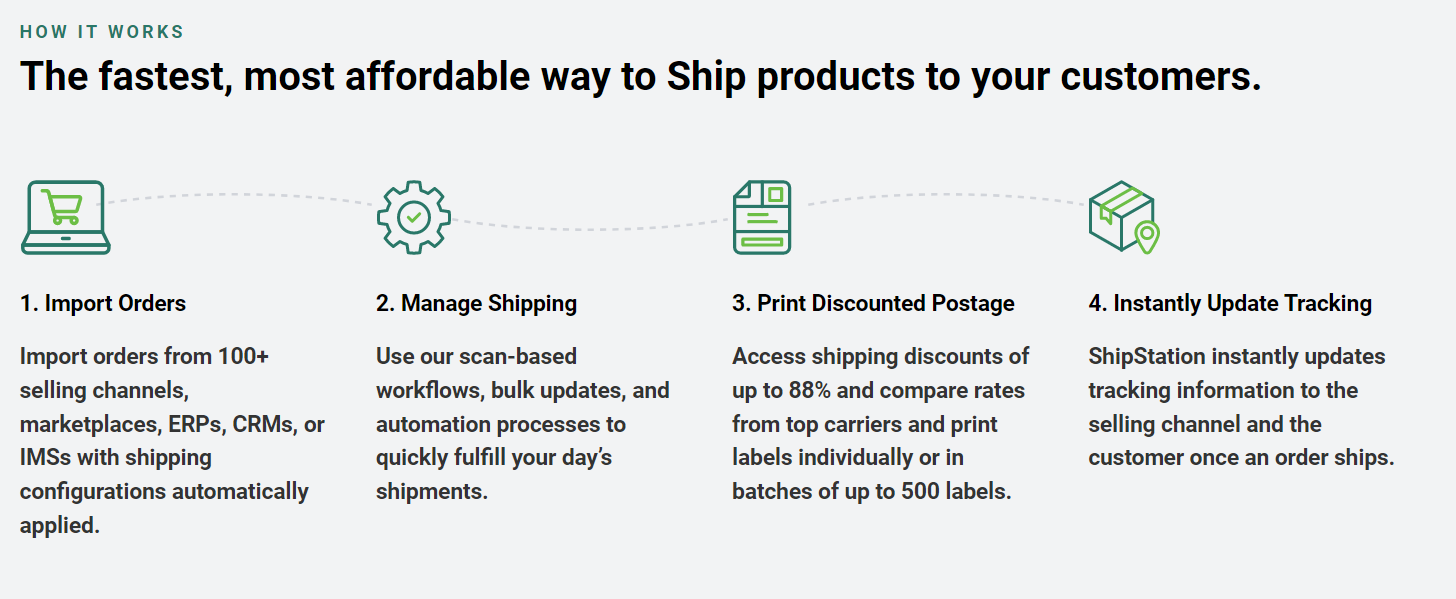 By selecting "Update All Stores" from the menu on the account site, you can add any orders that customers make through one of your shipping channels to ShipStation. What's more, you can also choose to only import orders from a specific store.
Then, after importing the order into the software, you may choose the shipping service and carrier for the package, generate postage estimates, and print a shipping label.
Following that, ShipStation notifies your customer and the selling channel of the shipping details and offers tools for tracking shipments and handling returns.
ShipStation Features
Ease Of Use
ShipStation is unquestionably more sophisticated than Shippo, but more complicated as well. However, the same factor that makes it more complicated due to its steep learning curve also makes it more advanced.
However, ShipStation provides an automatic onboarding assistant that helps with system training at some level.
What's more, it should not be surprising that ShipStation smoothly interacts with the majority of online businesses and selling channels given its sophisticated features. Not to mention, that it has a way better and elegantly designed UI.
Furthermore, ShipStation is also a very adaptable platform that offers a wide range of connections with different selling channels. It is simple to connect to e-commerce platforms, online markets, shopping carts, etc.
For example, you can access the Store Setup under Account Settings on your ShipStation platform and find any selling channel you need to integrate with.
Additionally, unlike Shippo, this platform provides a 30-day free trial, but there is no pay-as-you-go shipping option.
Order Management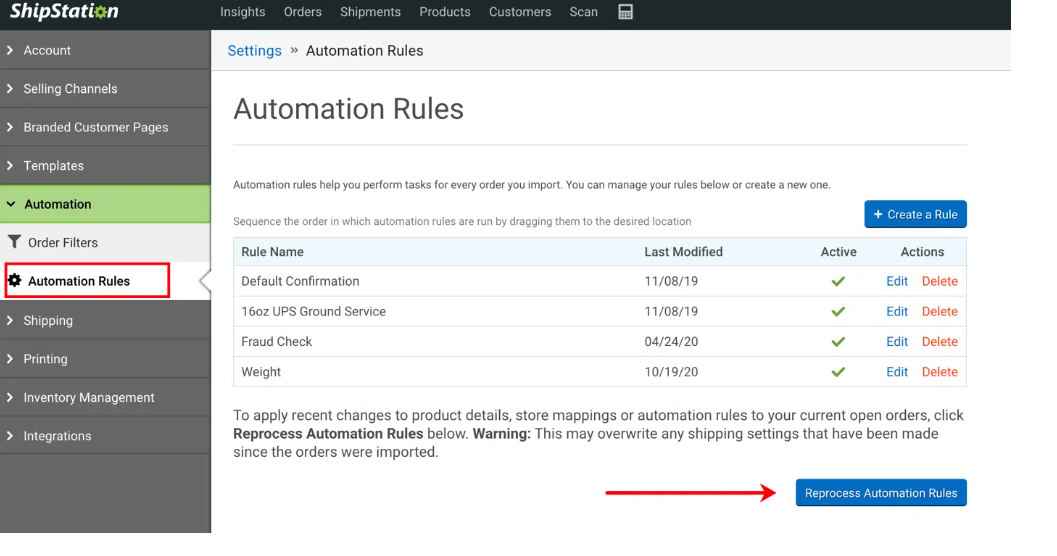 ShipStation makes it simple to manage all of your orders from a single platform thanks to direct connections with more than 70 of the most popular selling channels.
Consequently, ShipStation's built-in automated tools make managing order shipments simple. Within the platform, there are three different types of automation:
Service Mapping – Service Mappings operate in line with the shipping choices customers provide at checkout.
Product automation – is the ideal method for managing a product's bulk orders across many sales channels.
Automation Rule – this advanced shipping automation tool enables you to specify your criteria in accordance with the regulations for order fulfillment.
Additionally, ShipStation offers standard system functions like label printing, alert sending, weight adjustment, etc. ShipStation offers the same batch label printing, label personalization, and order return management features as Shippo.
We must mention when comparing ShipStation vs Shippo, Shipstation rules here!
With ShipsStation you can combine the orders into a single shipment and shipping label while keeping the integrity of each order.
On the other hand, ShipStation enables you to divide orders into numerous shipments when sending a single order that contains products from many locations.
Next, order management in ShipStation provides a variety of filters. You can use filters to only see orders that meet the criteria you choose, such as destination, tag, store, etc. As a result, you can combine, rapidly inspect, prioritize, and mark orders that require particular attention.
Additionally, you may manually make orders, upload a CSV, utilize an API, or connect a selling channel to sync as many orders as you like across as many sources as you require.
Carrier Management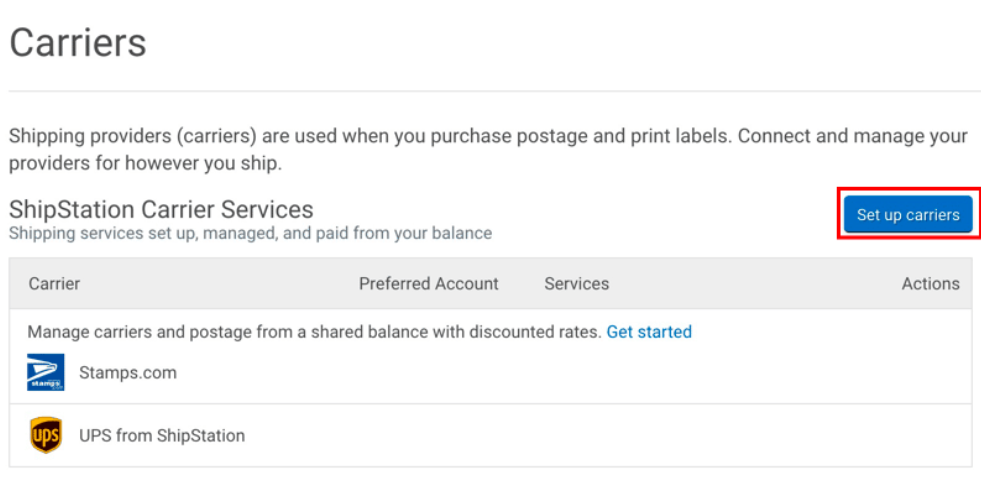 ShipStation collaborates with several well-known carriers all around the world. You can reduce shipping expenses using the platform without losing logistical effectiveness.
Given this, you may choose as many integrations from its list of important services as you like.
As a result, significant carriers including Hermes, DHL, Fulfillment by Amazon (FBA), Canada Post, Royal Mail, UPS, and FedEx have teamed up with ShipStation. Basically, you'll have access to a wide range of domestic and foreign options.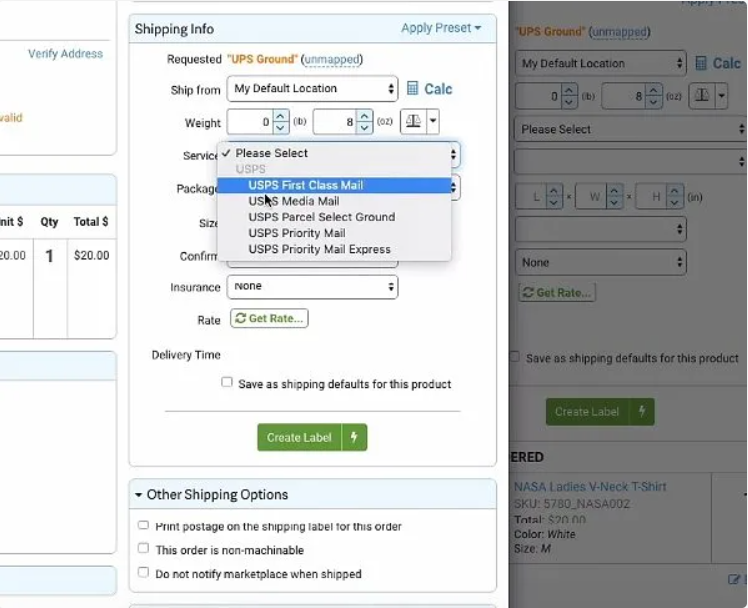 Furthermore, ShipStation has a tool for comparing the real-time rates of the carriers.
Nevertheless, sending your package through USPS entitles you to get low prices due to a partnership between the two businesses. DHL Express, FedEx Advantage Program, Hermes, and GlobalPost are additional alternatives for discounts.
So, comparing ShipStation vs Shippo at this point, Shipstation wins!
Integrations & Add-ons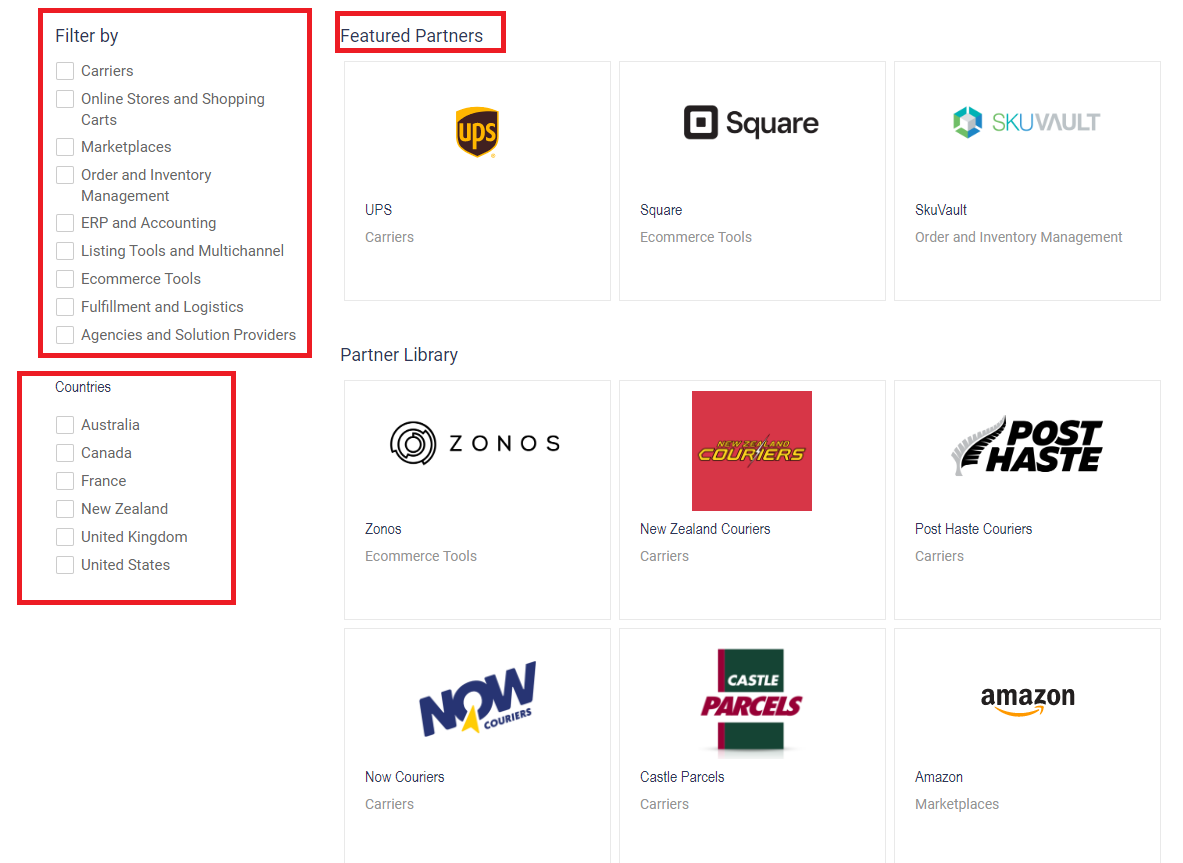 ShipStation is a way ahead in integration with marketplaces and eCommerce platforms. That's why we call it the BOSS in integration.
More than 55 eCommerce platforms and marketplaces are integrated with this platform.
Additionally, it supports more than 270 app integrations and all of the apps that Shippo offers.
Besides, payment services, inventory control, eCommerce systems, marketplaces, marketing, CRM, shopping carts, and other integrations are included.
Ultimately, you can search for integration apps in almost every field, and filter them by field, or by country.
Also, when reviewing Shipstation vs Shippo, we can certainly say that ShipStation is better here as well.
ShipStation Pricing
Just like they claim – "Plans that meet all of your needs". Shipstation has 6 different pricing options, so you get to choose what most suits your requirements. Take a look. 👇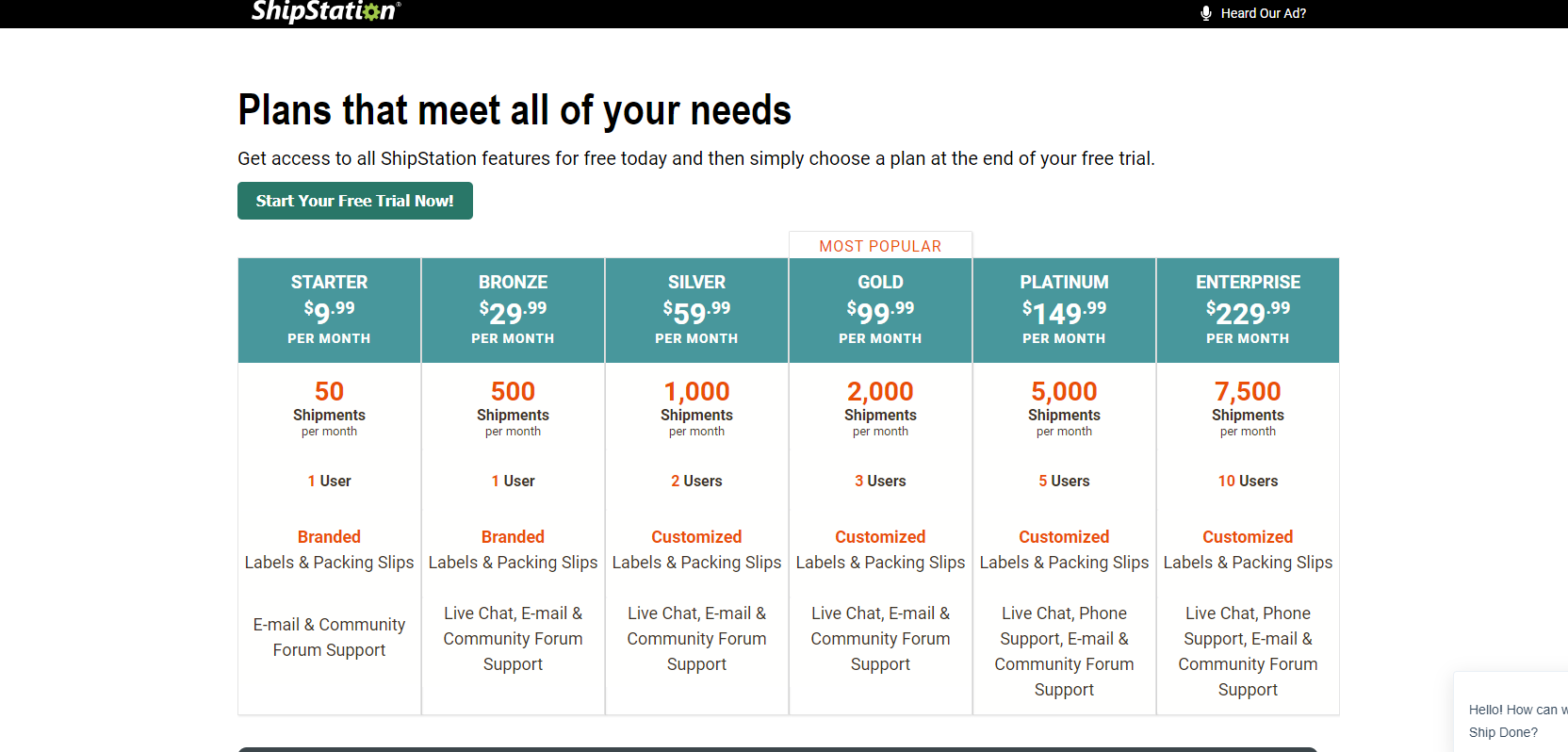 Moreover, they offer a free 30-day month trial, but they do not offer the pay-as-you-go option.
ShipStation Pros And Cons For Order Fulfilment
For dropshippers that manage hundreds of orders but only send a few shipments, ShipStation is the perfect solution. Moreover, it is a perfect platform for small to medium-sized businesses as well.
Additionally, it is simple to link with Shopify, which can greatly simplify your life if you already have a Shopify business.
As a result, ShipStation excels in customization and integration, making it a terrific option for businesses looking to get the most out of their software. Another benefit is the ease of use and back-end simplicity.
Unfortunately, ShipStation has various restrictions that should also be taken into account.
For instance, ShipStation appears to have a critical situation with technical issues. Numerous unfavorable reviews suggest that technical issues with things like slow software, bugs, and unavailability are frequent.
However, comparing Shippo vs Shipstation, Shipstation offers better technical support than ShipStation.
Now, let us guide you through the list of the most important ShipStation Pros and Cons.
ShipStation Order Fulfilment – The Pros
✅ Numerous customization options
✅ Available automation features
✅ Lots of marketing integrations
✅ Various global shipping options
✅ Onboarding Assistant
✅ Great technical support
ShipStation Order Fulfilment – The Cons
❌ Incline learning curve
❌ Technical problems might occur often
❌ The packing slips are terrible
❌ Bad customer service
❌ Expensive pricing plans
Next in our Shippo vs Shipstation review, are the ShipStation competitors!
ShipStation Alternatives
Shipstation vs Shopify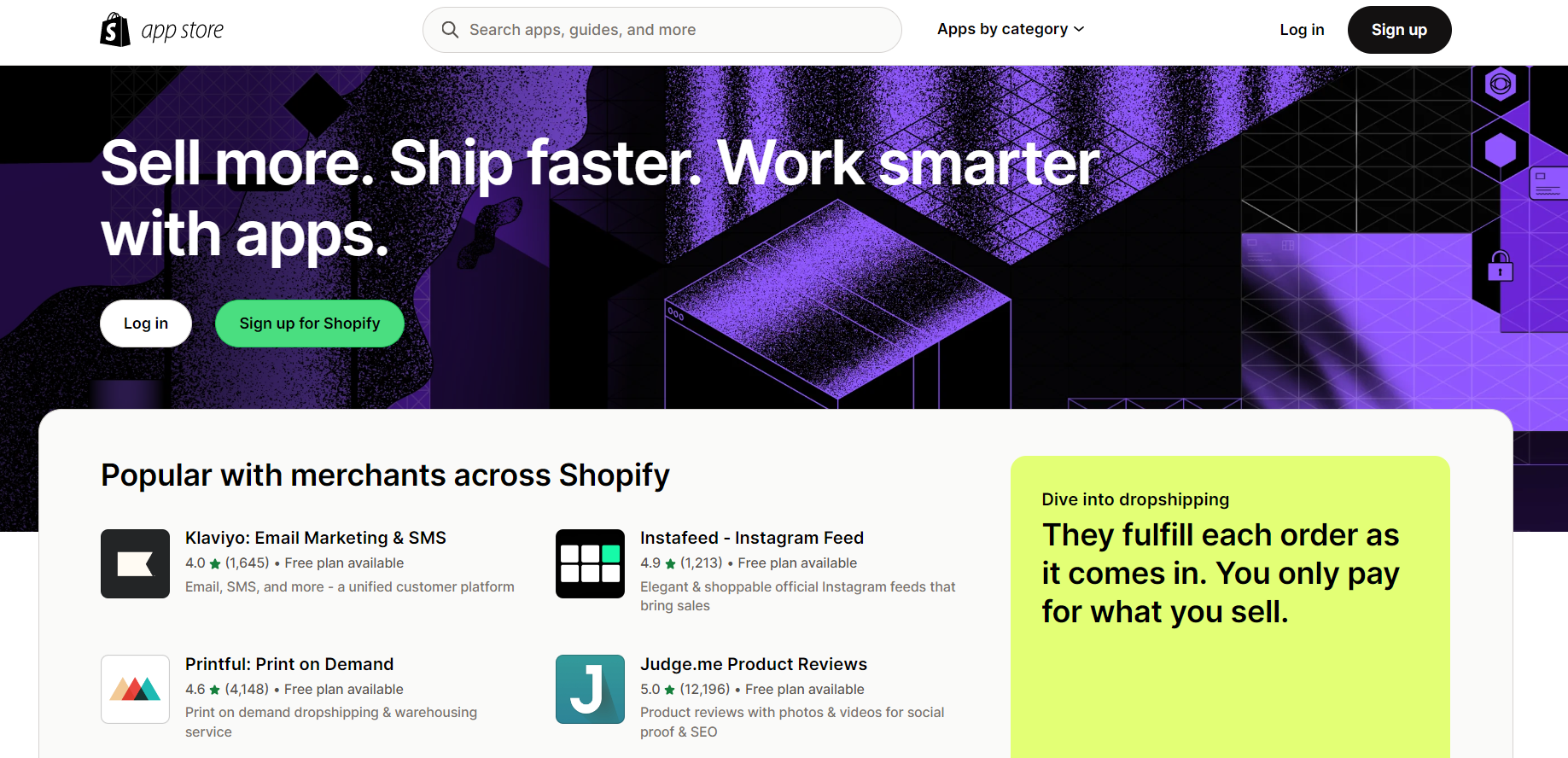 Both Shopify and ShipStation provide dropshippers with a variety of fantastic features. You can realize that features and services are remarkably comparable. In the end, everything comes down to your specific requirements.
First, bigger companies that sell on numerous platforms, including Amazon, eBay, Etsy, and Walmart, benefit most from ShipStation. However, there is one warning: many users mention a challenging learning curve.
On the other hand, Shopify comes pre-configured with a ton of features. Additionally, Shopify's app ecosystem is vast, with more than 7,000 applications and growing, providing additional features.
To sum it all up, the main differences between ShipStation vs Shopify are:
Shopify solely functions for Shopify users, but ShipStation interfaces with a few significant eCommerce platforms
Shopify doesn't automate as many operations as ShipStation
Shopify calculates taxes at the time of checkout, whereas ShipStation does it separately
Shopify only offers 3 pricing options, compared to ShipStation's 6 pricing options
Shipstation vs Stamps

There are various differences between Shipstation vs Stamps.
First, Stamps offers superior use coverage over a wider range of website categories, including Business & Consumer Services, Arts & Entertainment, Finance, and more.
On the other hand, ShipStation is in the lead in 5 more categories, including Sports, Home & Garden, Sports, and Lifestyle.
So, according to these facts, it depends on what dropshipping niche you are into.
👉 Choose the Best Dropshipping niche NOW.
Furthermore, ShipStation leads in the United States, Canada, the United Kingdom, Australia, and 23 other nations, whereas Stamps leads in India, Indonesia, Germany, Brazil, and 32 other nations.
💡 Tip: Check out the Free List of the Top Dropship Suppliers in Canada.
Next, ShipStation is a web-based shipping application created specifically for multi-channel retailers. Anyone who ships physical goods while selling on various platforms, such as eBay, or Amazon, may save time and money while using this platform.
On the other hand, those who want to print USPS postage stamps and shipping labels straight from their computer can use Stamps as a better option.
Also, this eCommerce business is perfect for online retailers, small and medium-sized organizations, e-commerce sellers, and individuals.
When it comes to pricing, ShipStation wins this too. It offers more pricing plans than Stamps, and it has a free trial, which Stamps does not.
Furthermore, when comparing the quality of ongoing product support, feature updates, and roadmaps ShipStation is the preferred option over Stamps.
So, our advice is – if you are looking for more shipping carrier options then ShipStation is your better option. While, if the majority of your products are sent through priority mail Stamps is your top choice for sure.
Also, ShipStation offers you more automation than Stamps, and if you want to grow bigger ShipStation is definitely your better choice.
ShipBob vs ShipStation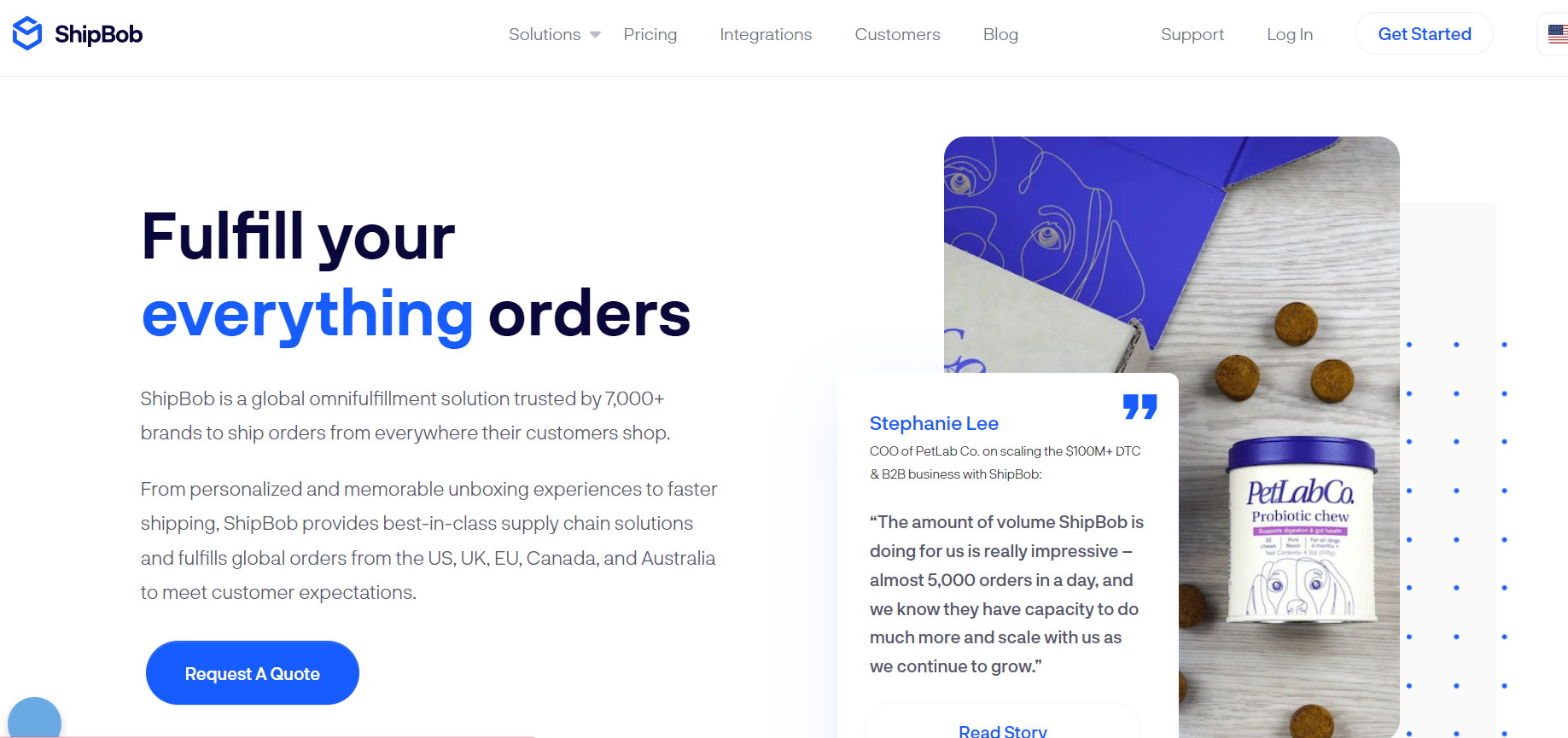 ShipStation is a web-based SaaS shipping software with multichannel features, whereas ShipBob is a top worldwide 3PL that also offers standalone warehouse management software for brands with their own warehouse.
👉 Check out our in-depth ShipBob Review.
ShipStation is a fantastic shipping platform if your company is small and handles order fulfillment in-house.
However, working with a 3PL like ShipBob or using ShipBob's warehouse management system is a better alternative for you if you manage your own warehouse or are trying to outsource fulfillment.
Next, ShipStation connects seamlessly with ShipBob's technology so that businesses may use its powerful shipping API.
With this connection, online retailers can sync orders from all sales channels to ShipBob automatically. So, you can choose their preferred shipping method, and have orders dispatched immediately to the closest ShipBob location for picking, packing, and shipping.
As you can see, these too work much better together, than separated. In other words, they complete each other's cons.
Shippo vs ShipStation: What's Better?
Here we are, to the most important question in our Shippo vs ShipStation Review – Which one is better?
First, we must say that this mostly depends on your needs and requirements. However, we will give you our thoughts on this.
Shippo is a more friendly platform, thus, customers that want a little assistance getting started with order fulfillment should choose this option.
Also, it's a fantastic tool with plenty of useful features that are also simple to use. Therefore, you don't need any technical knowledge to figure things out.
Additionally, there is a free trial available and a pay-as-you-go option (which ShipStation lacks), and the flexible price structure makes it simpler to manage your budget.
On the other hand, for larger businesses, ShipStation can be a better option. This platform can help you when it comes to serving dropshippers worldwide. There are many cutting-edge features to explore and strong integrations to simplify your life.
Therefore, in our point of view, when you initially start your dropshipping business, it is better to choose Shippo, since it is more cost-effective and simple to use.
And, you can switch to Shipstation when you want to upgrade your business, since it offers more integrations, carrier possibilities, and automation.
Join the only community and resource hub you'll ever need to succeed with dropshipping
Find winning dropshipping products, learn marketing, download templates and engage with real dropshippers
Never pay for a "guru's" course again. See why 4543+ dropshippers joined us this year!
💡Try DSCOM Hub Now
Shippo vs ShipStation: General Q&A
Is Shippo cheaper than USPS?
Yes, Shippo is definitely cheaper than USPS. You may save up to 80% with Shippo compared to regular postage costs. Also, Shippo provides USPS shipping rates that are less expensive than those available on the USPS website.
ShipStation rate comparison
With ShipStation you get:
Ip to 40% off USPS rates
Up to *77% off UPS Ground rates
Up to *88% off UPS International
84% off USPS Retail Prices
29% off FedEx rates
Up to 78% off GlobalPost Economy
Up to 72% off GlobalPost Standard
Up to 74% off GlobalPost Plus
How much does Shippo cost?
Shippo offers a 30-day free trial to customers. Also, it has a pay-as-you-go option. Moreover, it
Shippo calculator (where to find it)
You can find the Shippo calculator on the Shippo website.
👉 Go to the Shippo website, Choose Tools, then click on the Shippo calculator.
Is Shippo free?
Yes, Shippo offers a 30-day-free month trial.
Is Shipstation free?
Yes, ShipStation offers a 30-day-free month trial.
Shippo customer service contact
On the Shippo website, you can choose various contacts with Shippo, like contact sales, contact support, API docs, and the Help center.