Want to start Alibaba Dropshipping, but don't know whether is the right decision? Don't worry, I got your back!
Starting a dropshipping business on Alibaba may seem daunting at first, but with the right guidance, it can be a lucrative venture.
In this article, I will cover everything you need to know, from finding reliable suppliers to setting up your online store.
By the end, you'll have the knowledge and confidence to kickstart your own successful Alibaba dropshipping business. So, let's get started!
Alibaba Dropshipping: The Marketplace Explained
The Alibaba Group is a Chinese company that specializes in retail and e-commerce. The company was founded in 1999. And its main purpose was to connect Chinese manufacturers and suppliers with global wholesalers and retailers.
Today, it is actually one of the largest e-commerce companies in the world. In fact, Alibaba Group owns several online marketplaces, including Alibaba.com, AliExpress, Tmall, and Taobao. 👇
In this article, I will give you a step-by-step guide about dropshipping on Alibaba.com. Also, I will refer to Alibaba.com as Alibaba. So, let's dive in.
💡 Tip: Read about Is AliExpress Legit And Safe For Buying And Selling?
Discover top dropshipping suppliers of original US/EU products
You're 2 minutes away from building your ecommerce empire
No credit card required. No commitment.
Get started for free
What Is Alibaba.com?
Alibaba.com is a leading online business-to-business (B2B) platform that connects buyers and sellers from around the world.
The platform offers a wide range of products and services, including electronics, clothing, auto parts, fitness products, and more.
It also offers various tools and services to facilitate trade between buyers and sellers, such as secure payment options, logistics support, and dispute resolution services. Hence, it also has a large number of reputable and trustworthy merchants.
Plus, Alibaba offers Trade Assurance. This is a verification program that allows you to only work with verified, reputable suppliers.
But is Alibaba dropshipping allowed? You will have to keep reading to find out.
💡 Tip: Check out Is Walmart Dropshipping Still Working? – My Guide, Tips & Tricks.
Does Alibaba Support The Dropshipping Business Model?
Yes, Alibaba does support the dropshipping business model. And, you can start Alibaba dropshipping and make money online through your dropshipping store.
Hence, they have an Alibaba dropshipping center, which is specifically designed for dropshippers. So, you can connect your Shopify, or WooCommerce store with Alibaba, and start importing the desired products.
But it is actually a bit harder to find and work with dropshipping suppliers on Alibaba compared to dropshipping with AliExpress. But, with the right guide, you can do it with ease.
That's why, in this article, I will guide you through all the important steps for Alibaba Dropshipping.
Pros & Cons Of Alibaba Dropshipping
So, before I dive in, I will guide you through the benefits and drawbacks you will get from Alibaba.com.
Posibility to negotiate prices with suppliers
Product customization options
A bit challenging to find dropshipping suppliers and products
Long shipping times and high shipping costs
I hope that my pros-and-cons list will assist in your future decision-making process and help you make a sensible decision regarding Alibaba dropshipping.
✅ Pros
➡ Huge product selection
Alibaba offers customers a huge selection of products. On the marketplace, you can find products across many categories, including Apparel, Textiles & Accessories, Bags, Shoes & Accessories, Electronics, Gifts, Sports & Toys, and more.
Moreover, the number of Alibaba items available for dropshipping is constantly growing.
➡ Wholesale pricing
The marketplace is an excellent place to buy products at wholesale prices and then resell them and make a good profit margin.
Simply put, Alibaba merchants who sell their products in large quantities often set very low prices for their products. As a result, retailers or those who buy these products can enjoy a good profit margin.
➡ Possibility to negotiate prices with suppliers
Unlike with AliExpress dropshipping, with Alibaba dropshipping, you can bargain the price of an item with the supplier.
To do so, you need to start the ordering process and move to the 'Negotiate with Supplier' section. In short, as a dropshipper sourcing from Alibaba, it is possible for you to negotiate a better price.
➡ Product customization options
Many products listed on the marketplace are customizable.
But what does this mean? This means that many Alibaba suppliers are willing to customize their products in a way that will please you and your customers. This is great if you are interested in private-label dropshipping.
❌ Cons
➡ There's a MOQ
One of the most common challenges many dropshippers face when searching for products and suppliers on the marketplace is the Minimum Order Quantity (MOQ). It is the lowest amount of a certain item that a supplier is willing to sell.
Sure, many Alibaba suppliers do not sell to the end consumer. Hence, they sell in bulk to wholesalers. However, some suppliers on the marketplace will allow you to buy as few as one item from them.
Also, it is important to point out that the MOQ is almost always negotiable on Alibaba.
➡ A bit challenging to find dropshipping suppliers and products
Again, it can be a bit challenging to find Alibaba suppliers/sellers that are willing to offer dropshipping services. Yeah, it is hard but not impossible.
➡ Long shipping times and high shipping costs
Shipping from China to, let's say, Europe or the United States, may be pricey due to the distance.
Regarding shipping times, if an order is shipped by boat, your customer may wait for a couple of weeks to receive their order.
But if it is shipped via air, your customer will surely receive their order faster. Each supplier on Alibaba has their own shipping times and costs. So, it would be wise to negotiate with a potential supplier to lower potential shipping times and costs.
👉 Check out the 11 Best China Dropshipping Suppliers [General & Niche Dropshippers].
How To Start Dropshipping With Alibaba
For first-time dropshipping entrepreneurs, Alibaba dropshipping might seem a bit challenging. In this simple guide, I will explain how to start dropshipping from China to the USA almost immediately. Let's dive in!
1. Create An Account
To start dropshipping with Alibaba, you need to create an Alibaba account. So, simply go to Alibaba.com. Then, in the right upper corner, you will see the login icon, so click on it. Next, click "Join for free" to register a free account.
You will be asked to provide certain information, including your name, country, e-mail address, phone number, company name, trade role, etc. 👇
However, I advise you to select "Buyer" for the trade role because you are looking to source products from Alibaba and resell them through your own dropshipping store, right?
2. Find Your Dropshipping Products
Now, the next step is to choose your dropshipping niche and find your winning products. Thankfully, Alibaba has a huge product base. What's more, it is all at affordable prices.
Hence, I will tell you what I do when choosing my Alibaba dropshipping products.
Call me old-fashioned, but I use Google Trends to check if this dropshipping niche has high interest. Thus, let's say I want to dropship beauty products.
Here I can check interest in beauty products over time, over a region. Plus I can see which products customers mostly search for.
Next, once I make sure that this dropshipping niche is in high demand, I go to the Alibaba search bar, and type in " beauty products".
After typing that keyword in the search bar and selecting "Products", thousands of results will appear. But, what exactly to look for on a product page? Let's see!
➡ The Product Page
So, once I enter the specific product page, I keep my attention on a few important things. As you can see, the pricing you get mostly depends on the quantity you order. Hence, more quantity = lower pricing.
➡ Unit Price. One of the first and most important things you will definitely want to check before you start Alibaba dropshipping is the product price. In the example above, you can see that the unit price is $6.27 – $8.79. Unit price is the price for a single item.
➡ Minimum order quantity (MOQ). Another key consideration here is the MOQ or the minimum order quantity. In the same example, you can see that the fewest number of units you need to purchase at one time is 1 piece.
However, one important thing I want to mention here is that oftentimes, the minimum order quantity of a product is visible front and center. But, sometimes, you must scan the page to find that information.
For instance, for this product page, I had to scroll over it to find this info, which btw it is valuable.
Also, I personally use product research tools to find my winning products. For instance, Minea is one of my top product research tools. 👇
It helps me find winning products over social media, and examine their performance, price, engagement, audience interest, etc. Plus, this way I can spy on competitors as well. Hence, I get insights into how they are selling those exact products.
👉 Check out my Minea Review: Find Winning Products & Spy On Ads For Free.
3. Find Dropshipping Suppliers
Next, finding vetted dropshipping suppliers is one of the most challenging things to do. But, on Alibaba, you got all the information on a plate.
So, here's what I do. First, I navigate to the "Manufacturers" section on the Alibaba.com website.
Now, since I know that I will dropship beauty products, I will search for dropshipping beauty suppliers. So, I type in " beauty products" in the search bar.
Also, once I get my results I select "verified manufacturers" since I want to be sure that they are trustworthy.
Plus, you can use the left sidebar to find the right supplier for your product.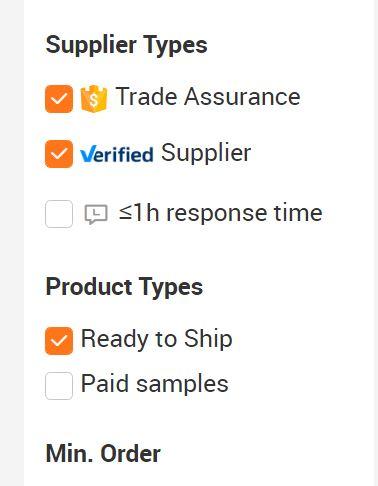 It would be wise to use the filters "Trade Assurance" and "Verified Supplier". This way, you can find and work with inspected, verified, and reliable suppliers.
In addition, "Fast Dispatch" and "Ready to Ship" are also great options to check. Why? Because there is a greater likelihood that suppliers that meet these criteria offer dropshipping services.
🔸 Contact The Suppliers
When contacting a supplier, you need to ask them a few questions, such as:
What is your minimum order quantity (MOQ)?
What is the cost per unit?
How long will orders take to arrive in the US?
What are your payment terms for new customers?
What is the cost to order a sample?
So, to contact the suppliers Alibaba provides a messaging system that allows you to directly communicate with suppliers.
Thus, you can send inquiries, negotiate prices, and discuss product details through this platform. Look for the "Contact Supplier" button on the supplier's page to initiate communication.
Also, if you have specific product requirements or need quotes from multiple suppliers, you can use Alibaba's "Request for Quotation" feature.
Fill out the necessary details, such as product specifications, quantity, and delivery terms, and submit your request. Suppliers who can meet your requirements will then contact you directly.
Also, some suppliers on Alibaba have a Live Chat feature enabled, allowing you to directly communicate with them in real-time. Look for the Live Chat icon on the supplier's page and click on it to start a conversation.
However, most of the suppliers also use the app WeChat. So, you can consider downloading it.
But, remember that most of the suppliers have difficulties understanding the English language, and they use Google Translate to make a conversation.
4. Choose Your Payment Method
Alibaba dropshipping offers four payment methods. Hence, here I will list and explain the options you have. 👇
➡ Telegraphic Transfer or T/T Payments
When making payments to Chinese suppliers, it is common to use Telegraphic Transfer or T/T payments. This method requires the full payment to be made before production begins.
However, bank transfers can be slow and complicated, making them unsuitable for dropshipping.
➡ Alibaba Trade Assurance (ESCROW)
Escrow services act as intermediaries, holding the buyer's money until the order is confirmed to be satisfactory. This method provides a secure way to transfer funds.
However, similar to bank transfers, it may not be the quickest option. Therefore, while it offers safety, it may not be the most ideal choice for dropshipping.
➡ Credit and Debit Card Payments
You can make payments on Alibaba using credit and debit cards from MasterCard, Visa, and American Express.
However, keep in mind that there are transaction fees associated with this payment method.
➡ PayPal
PayPal is user-friendly for buyers and offers decent buyer protection. However, suppliers often avoid this method due to platform fees, and difficulties with withdrawing funds. Plus, there are often chargebacks by dishonest buyers.
In my opinion, PayPal might be the best choice for new dropshippers.
The Alibaba Dropshipping Center
The Alibaba Dropshipping Center is a free tool that can help you quickly search for dropshipping products with fast processing times, low shipping costs, and no MOQ on Alibaba.
If you want to start Alibaba dropshipping and find dropshipping suppliers and products on Alibaba in no time, using the Alibaba Dropshipping Center is a smart choice.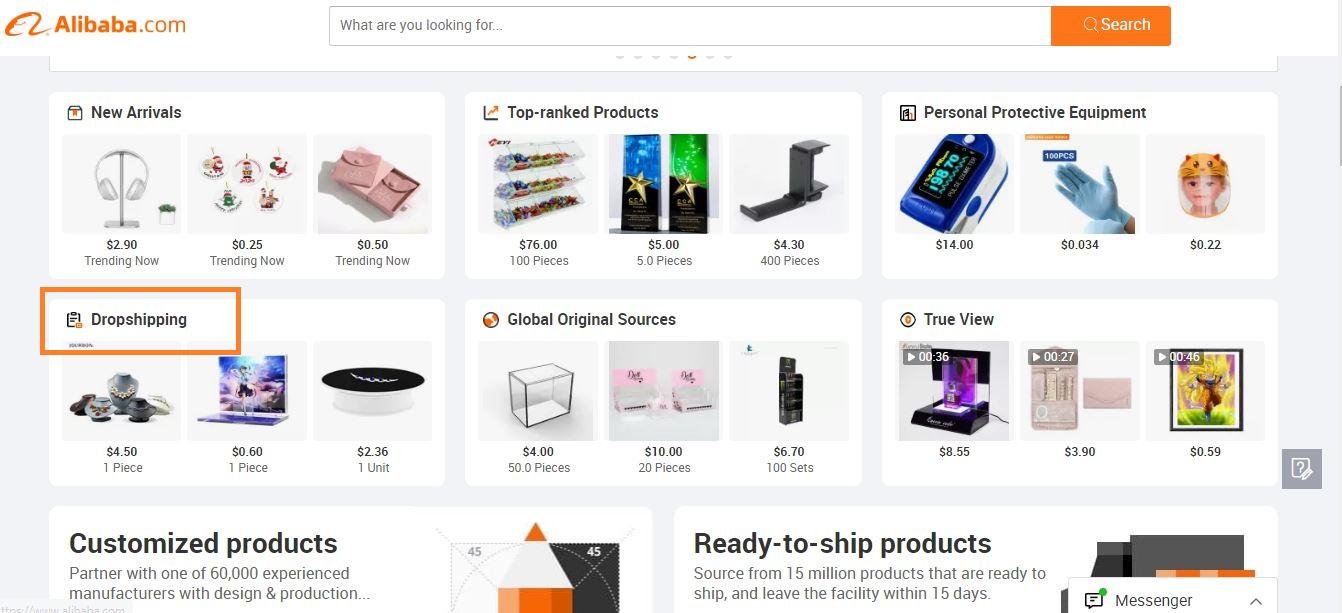 It has a few important features, including:
🔸 Search Products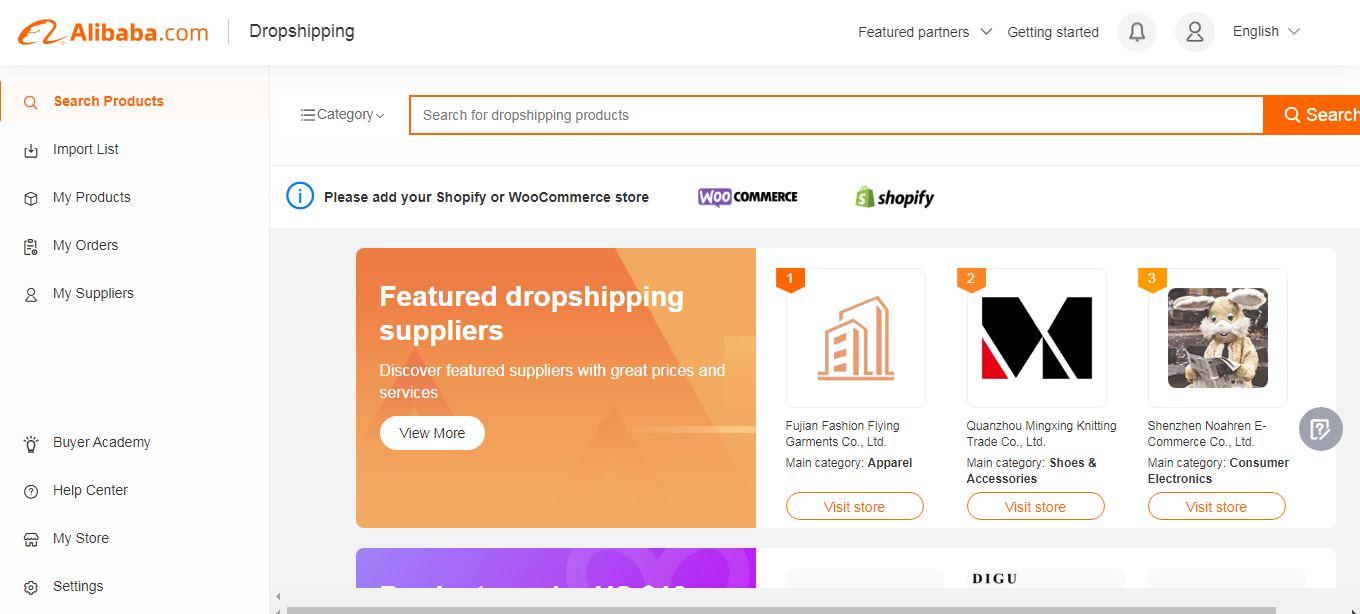 Thanks to the "Search Products" feature of the Alibaba Dropshipping Center, you can find products without a minimum order quantity. Just select a category (consumer electronics, apparel, home & garden, etc.) and you will see many products under that category.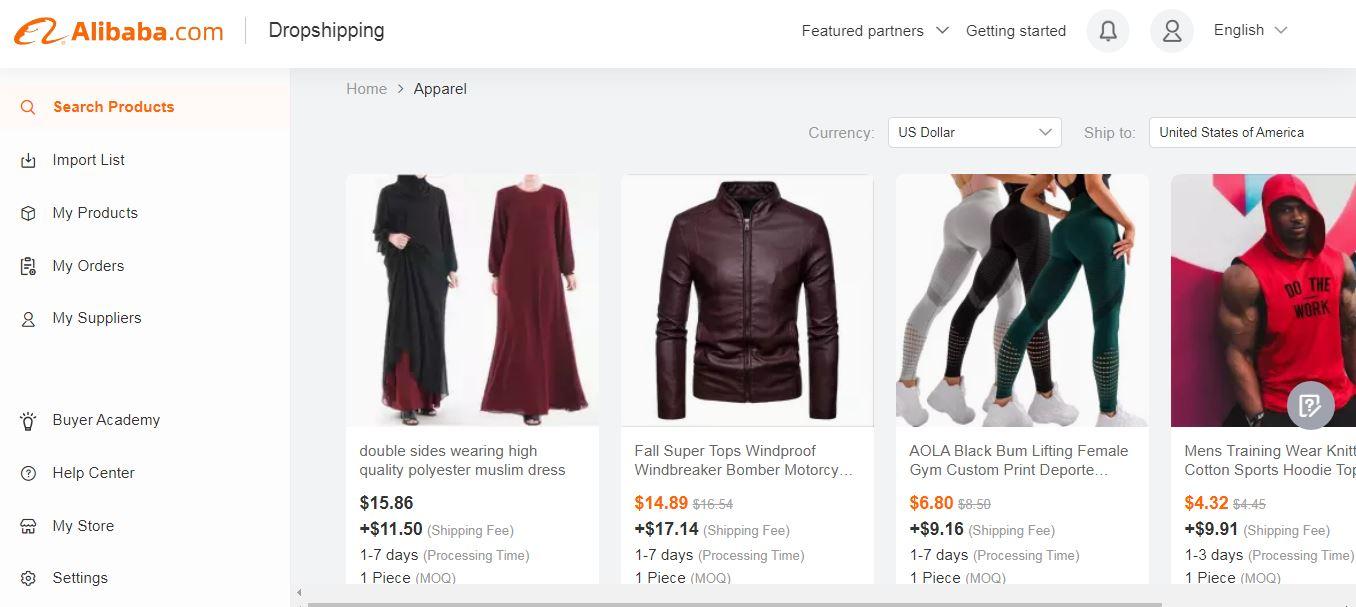 Take the category "Apparel", for example. There are a variety of clothing items in this category, and all of them have fast processing times and no MOQ.
🔸 Import List
So, aside from allowing you to find great dropshipping products and suppliers, the Alibaba Dropshipping Center also lets you add your chosen products to your import list with one single click.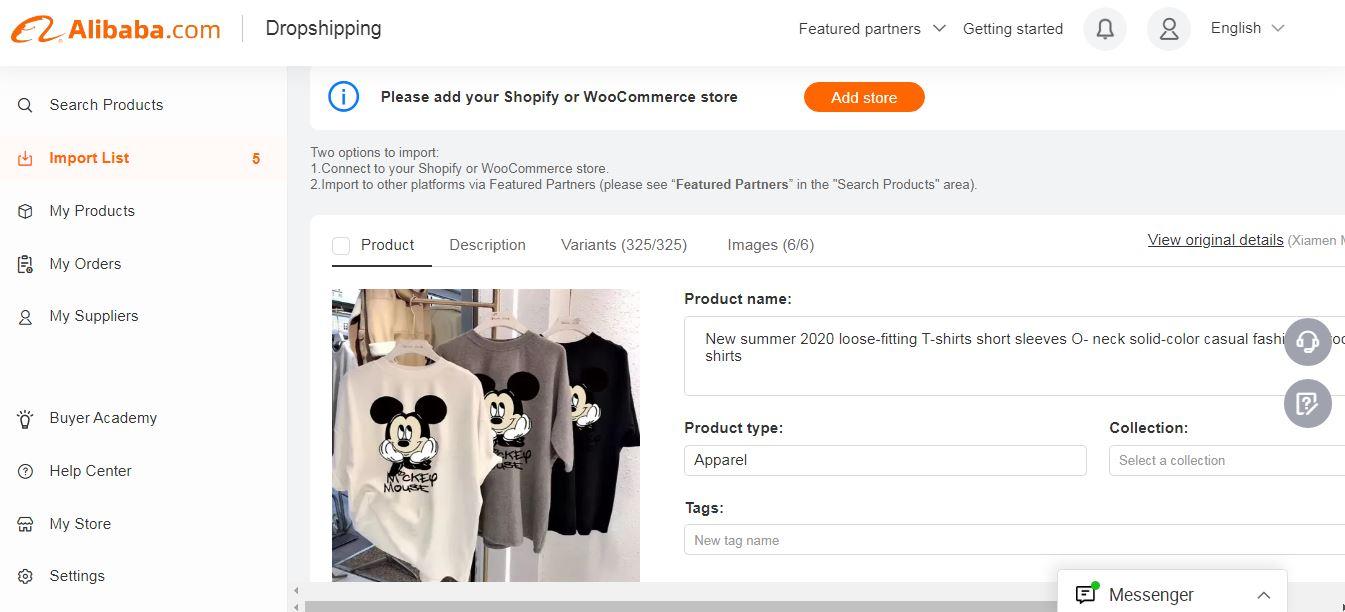 🔸 My Store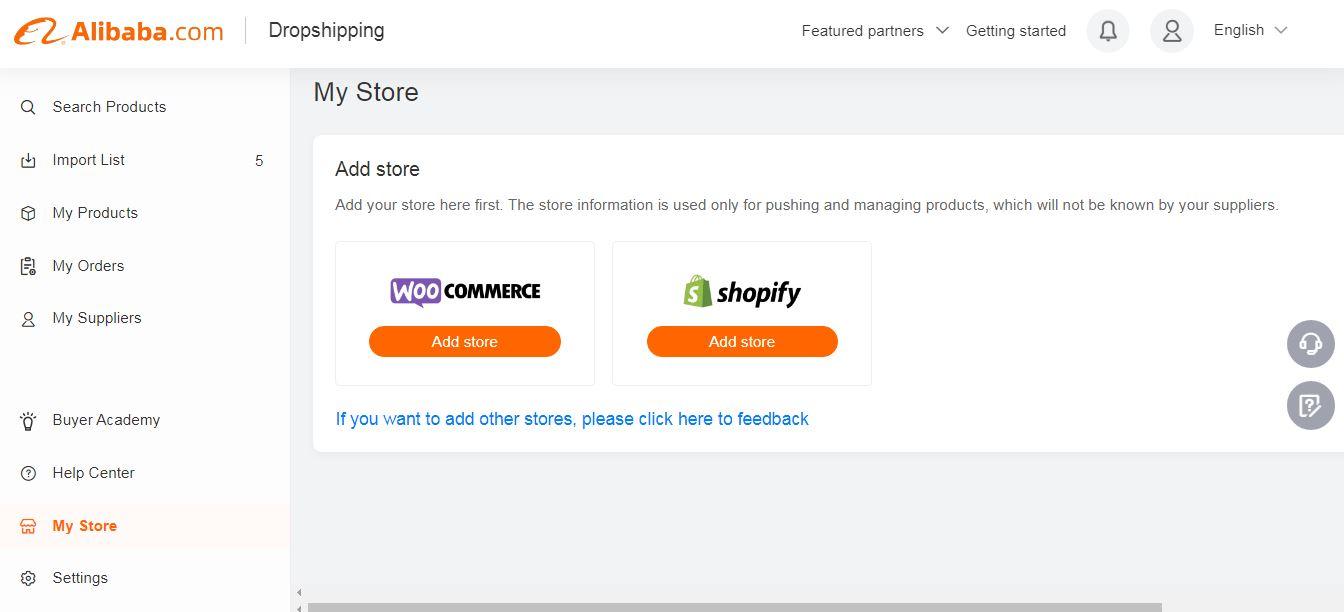 This is also one of the key features of the Alibaba Dropshipping Center. Here, you can connect your WooCommerce or Shopify store to Alibaba.
However, I have a little BONUS for you. 👐
Namely, the Alibaba Dropshipping Center has partnerships with a few companies. Some of these companies are Modalyst, Spocket, Syncee, and Dropified.
👉 Read about Spocket Dropshipping: The Ultimate Guide to Dropshipping With Spocket in the EU & US.
This means that you can unlock some new features when using it.
Or more specifically, you will be able to use many other e-commerce platforms for your online store (not only Shopify or WooCommerce) and import dropshipping products to your online store within a few clicks. Plus, you can automate the order fulfillment process with Alibaba suppliers, and so on.
👉 Also, read about Shopify vs Squarespace For Dropshipping – Which is Better in 2023.
➡Hire a dropshipping agent
If you are not interested in doing your own search or using the Alibaba Dropshipping Center, then you may want to hire a dropshipping agent.
Well, many dropshipping agents do product sourcing and fulfillment from AliExpress. However, there are not too many agents out there that are willing to help you make the entire Alibaba dropshipping process easier.
💡 Here you can learn How To Find a Dropshipping Agent.
Now, let's see how you can start Alibaba Dropshipping with Shopify, and use the features mentioned above. 👇
How To Start Alibaba Dropshipping With Shopify
As you can see, the Alibaba Dropshipping Center along with its partnerships can help you start dropshipping with Shopify and source products from Alibaba.
Here I will provide you with a step-by-step guide for dropshipping from Alibaba to Shopify. Let's see!
Step 1 – Go To Alibaba Dropshipping Center
First, you need to go to the Alibaba Dropshipping center and click on the "Menu" button in the left corner. Next, once the menu displays, click on the "My store" section.
Step 2 – Add Your Shopify Store
From here, you need to add your Shopify store. As you can see, you can choose other platforms as well. So, in this case, I will choose Shopify. Hence, I will click on the "Add store" button.
Step 3 – Add Shopify Store Name
Next, a new window will pop up, where you need to add your Shopify store name. However, remember to remove the https//, and only keep the name of your store. Then you click on " Add store".
Step 4 – Instal Dropshipping Alibaba App
After that, you will be redirected to your Shopify admin Dashboard. Here you need to install the Dropshipping‑Alibaba Official app. So, click on the "Install app" button.
Step 5 – Connect Shopify and Alibaba
Now, under the "My Store" section on Alibaba Workstation, you can actually see that your Shopify store and Alibaba are connected. Hence, you can now start importing products.
Step 6 – Search Products
So, from the Alibaba menu, click on "Search Products", and you can type in any product keyword on the search bar.
Step 7 – Add Products to Import List
Once you found your product, from the product page, click on the " Add to Import List" button from the right sidebar. 👇
Step 8 – Edit Your Products
Now, a pop-up window will display, and you need to click on the " Go to Import List" button.
Hence, here you have the ability to modify the name, product description, add tag, collection name, pricing, and images prior to importing products into the store. So, if you want to do that, just click on the "edit" icon next to the product you chose.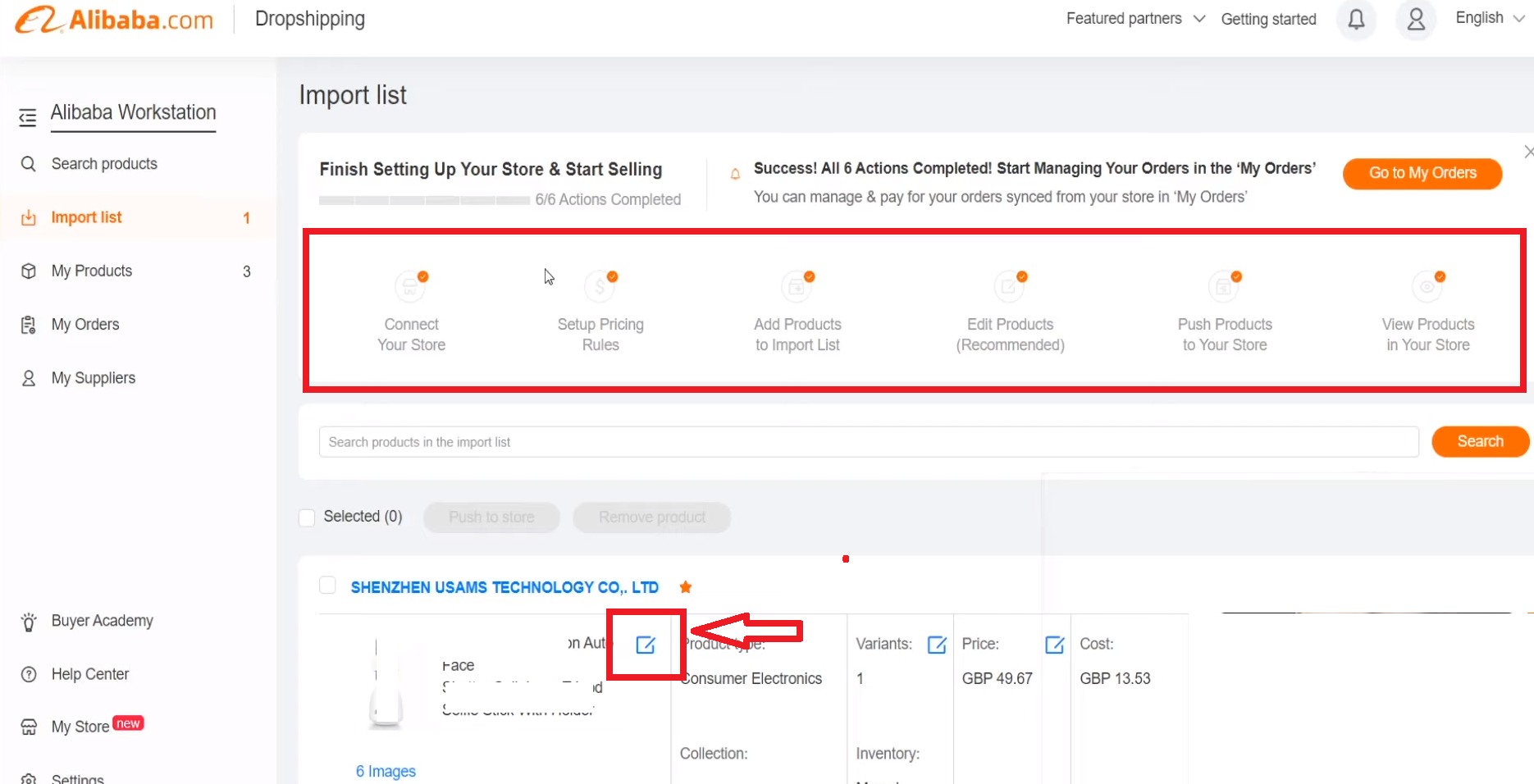 Step 9 – Check Your Products On Shopify
Once you edit your dropshipping product, you can see that the product is actually added to your Shopify store. So, go to your Shopify admin > Products, and there you can find the product.
Next, you can start dropshipping Alibaba products and fulfilling orders.
Alibaba Dropshipping FAQ
1. What is the difference between AliExpress and Alibaba dropshipping?
Both AliExpress and Alibaba are large Chinese online marketplaces.
But the main difference between them is that AliExpress sellers can sell their products to the end consumer, whereas Alibaba sellers usually engage in B2B transactions.
As we have already said, it is easier to find and work with dropshipping suppliers on AliExpress than on Alibaba.
However, Alibaba dropshipping has its own advantages. And Alibaba can be a great platform for dropshipping entrepreneurs.
2. Is Alibaba dropshipping worth it?
Yes, with the launch of the Alibaba dropshipping center, dropshipping on this platform became easier than ever.
Hence, with a few quick steps you can start Alibaba dropshipping. Plus, it offers affordable pricing, and it is an excellent place to purchase products in bulk.
3. Is Alibaba safe?
Alibaba can be a safe platform to use, but it is important for buyers to take necessary precautions and use their judgment when making transactions.
Thus, Alibaba has implemented various verification processes to ensure the legitimacy of its sellers. They offer a verification program called "Gold Supplier" for sellers who meet certain criteria, providing an extra layer of trust and assurance for buyers.
Also, it offers a buyer protection program called "Trade Assurance" that helps protect buyers in case of any issues with their orders. This program provides financial compensation and mediation services to resolve disputes between buyers and sellers.
4. Can anyone order through Alibaba?
Yes, anyone can order through Alibaba. Alibaba allows individuals, businesses, and organizations to purchase products and services directly from suppliers and manufacturers.
So, whether you are a small business owner, a retailer, or an individual looking to buy in bulk or for personal use, you can create an account on Alibaba and start browsing and ordering products from various suppliers.
5. Can you get scammed on Alibaba?
It is possible to get scammed on Alibaba. While Alibaba is a legitimate and reputable online marketplace, there have been cases of fraudulent sellers and scams reported on the platform.
It is important for buyers to exercise caution and take certain precautions to minimize the risk of being scammed. These precautions include: researching the seller, verifying the company, using secure payment methods, communicating effectively, avoiding suspicious offers, reading product descriptions carefully, etc.
👉 Learn about Dropshipping Scams & How To Avoid Them As a Beginner.
6. Why is shipping from Alibaba so expensive?
Shipping from Alibaba can be costly due to various factors, such as the geographical distance between Alibaba, which is based in China. Additionally, factors such as product volume, shipping methods, customs fees, import taxes, and duties can impact the cost.
Also, keep in mind that fluctuations in currency exchange rates between your currency and the Chinese yuan can also impact the overall cost of shipping from Alibaba.
Find winning dropshipping products & spy on your competitors
Minea analyses all online advertising to help you find the best products to launch, and the best creatives in your niche in just a few clicks.
Use coupon: DROPSHIPPING30 and get a 30% discount
💡Try Minea For Free
Final thoughts
Do you agree with me that Alibaba is not only suitable for wholesalers and retailers, but for dropshippers as well? Are you ready to become an Alibaba dropshipping store owner?
Alibaba dropshipping offers a wide range of products to choose from and provides a convenient and efficient way for dropshippers to start and scale their e-commerce businesses.
Plus, running through this step-by-step guide we were able to see that thanks to Alibaba dropshipping center, you can connect your Shopify store with Alibaba and start dropshipping with ease.
Do not waste your time, and go after that! Just remember that this role asks for focus, hard work, and, of course, resilience.